Ha Suk-jin, Yoon So-hee cast in tvN hybrid variety-reality-drama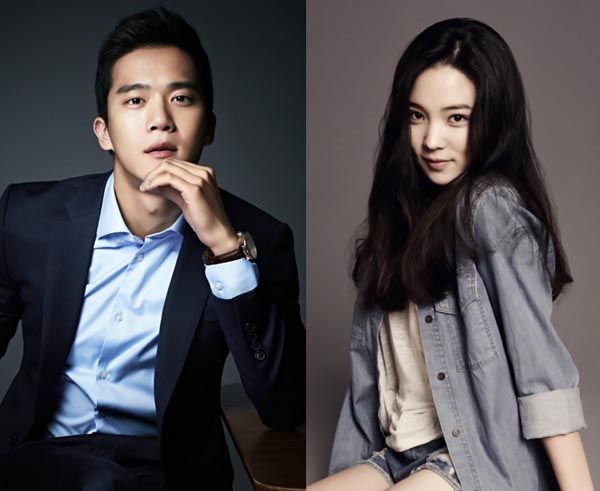 Ha Suk-jin, Yoon So-hee
When news was first released about tvN taking on a new program in the "variety drama" hybrid format, I wasn't quite sure what it meant by that term. Now casting confirmations are in, and I'm still not clear about After the Show Ends and what makes it variety, though my interest has ticked up a notch to hear that Ha Suk-jin (D-Day, Legendary Witches) and Yoon So-hee (Memory, Marriage Not Dating) have signed on.
The project is described as a "variety program with a unique format" in combining elements of both drama and reality. That said, it doesn't sound like a variety program to me at all, inasmuch as it appears to be mostly scripted, and is even called a straight-up romance drama by some reports. It features a twentysomething woman who seems like an ordinary office worker during the day, but has a secret other life at night as a charismatic fighter. There's also mention of a drama within the show titled Iron Lady, though not what it's about.
The show does promise to show the "real selves" of the actors, and the subtle feelings and moods amongst the cast members. Moreover, it'll be 100 percent pre-produced, which seems to me a particularly risky prospect in the variety world, where audience reactions and tastes won't be factored into the direction of the show at all. Although, maybe that's less important since it certainly doesn't sound like any variety show we're familiar with. (Every time that a variety-drama project gets announced, I wonder if Korean producers don't actually know how to meld variety and scripted drama together, because they end up sounding just like dramas with staged "real" moments.)
Directing is Heo Cha, an assistant director on Snowpiercer, with writer Jo Sung-geol (of thriller movies The Target and Hide and Seek) set to write scripts. Furthermore, PD Sohn Chang-woo of Infinity Challenge and We Got Married is onboard in his first project for tvN after making the move from MBC.
PD Sohn said, "With After the Show Ends, we set out from the initial point of curiosity about what would happen to the real-life relationships of the leads of a drama when the cameras turn off, and whether the lovelines in the drama could come true in real life." It's an ambitious idea, and for the sake of fostering more creative ideas in the future, I hope it pulls off its intentions (even if I still have my doubts).
In addition to Ha Suk-jin and Yoon So-hee, the show will also feature Girls Day idol Yura (Dodohara, To the Beautiful You), model Ahn Bo-hyun (Descended From the Sun), and BtoB idol Minhyuk (Sweet Savage Family). It plans to air in July.

Yura, Ahn Bo-hyun, Minhyuk
Via MBN
RELATED POSTS
Tags: After the Show Ends, cable programs, Ha Suk-jin, Yoon So-hee