Helpers and colleagues cast for MBC suspense drama W

Lee Tae-hwan, Kang Ki-young
A whole crop of supporting roles have been announced for MBC's "romantic suspense melodrama" W, which stars Lee Jong-seok (Doctor Stranger) and Han Hyo-joo (Dong Yi) and comes from the writer of Nine and Queen Inhyun's Man. I've been eager for more information about this drama because what little was released sounds so fascinating, so I'm happy to have these additional descriptions.
The drama has quite the fresh premise: It takes place in Seoul in 2016, but crosses two dimensions that exist in the same space—that is to day, combining reality with an alternate reality. Han Hyo-joo plays a doctor whose comic-book-writer father goes missing, and when she goes in search of him, she finds a bloody man (Lee Jong-seok) in his studio. It sounds mind-bendy and intriguing and really very nifty.
The latest casting includes two actors who've played sidekicks multiple before; Lee Tae-hwan and Kang Ki-young were recently both in Come Back, Ajusshi as two of Kim Su-ro's endearing gangster underlings. I have to admit I was so busy squealing, "Seung-jae-yaaaaa!" that I only belatedly realized that the two were actually buddies in another earlier drama, High School King of Savvy, as Seo In-gook's two dopey hockey-playing friends. I love them!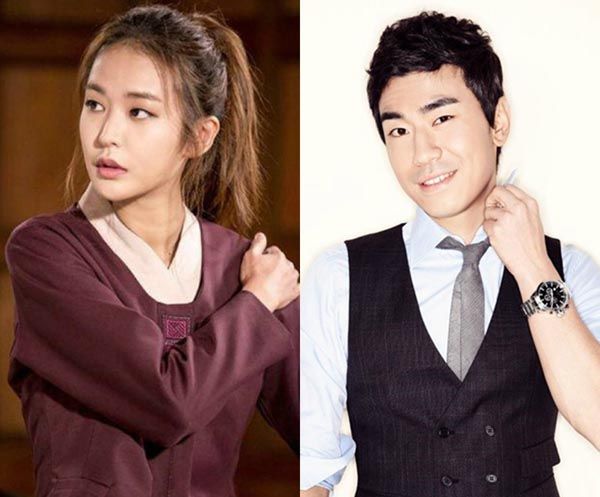 Jung Yoo-jin, Lee Shi-un
Lee Tae-hwan will play a former martial artist and current bodyguard to our hero; he's a faithful right-hand man who's "sometimes like a friend, sometimes like a hyung," and always there to help. Kang Ki-young's friendship is in the other dimension, as Han Hyo-joo's colleague and second-year resident in cardiothoracic surgery. Lee Shi-un (Remember—Son's War) will play a pupil of the heroine's father.
Casting for model-turned actress Jung Yoo-jin (Moorim School, Heard It Through the Grapevine) was previously announced, though now we know that she'll be Lee Jong-seok's secretary and close friend. As if it weren't enough to be a former Olympic gold medalist in shooting, she's also a computer science genius. Well, as long as those skills help keep Lee Jong-seok safe, I'm all for it. She was previously referred to as Han Hyo-joo's rival, and based on the description I'm going to assume that means romantic rival. Unless she's also a cardiothoracic surgeon in her spare time, that is.
This writer, Song Jae-jung, is particularly gifted in bringing together two parallel tracts and plotlines into the same space, having done so with great aplomb in Nine and Queen Inhyun's Man. Both those dramas also made use of time periods that intersected in the present, and I'm curious to see how W will pull off two different dimensions. I could really use a fresh premise in dramaland right about now!
W premieres on July 20, following Lucky Romance as a Wednesday-Thursday drama on MBC.
Via iMBC
RELATED POSTS
Tags: Jung Yoo-jin, Kang Ki-young, Lee Shi-un, Lee Tae-hwan, W–Two Worlds