KBS in talks to extend Neighborhood Lawyer Jo Deul-ho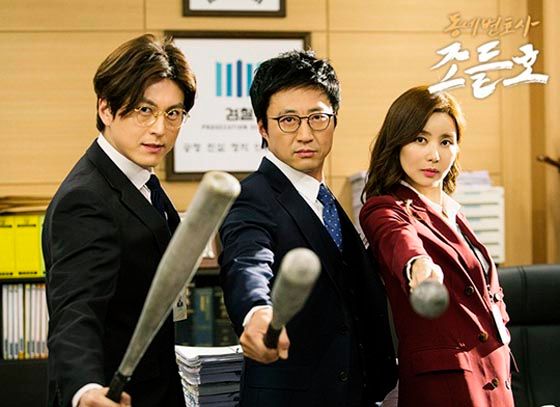 Neighborhood Lawyer Jo Deul-ho is performing well for KBS as the ratings leader on Mondays and Tuesdays, having just hit the 15% ratings mark this week. So it's no surprise to hear that KBS is considering a 4-episode extension for the legal/underdog/human drama, and it seems easy enough to give it a few extra hours; the drama is feel-good and pretty straightforward as a procedural, so an extension wouldn't disrupt the show's pattern too much. In Jo Deul-ho time, I'd say that converts to about an extra case and a half.
That being the case, it seems a reasonable supposition to attribute this extension more to the following drama, Beautiful Mind, which seems to be struggling to pull together in time for its premiere. (Beautiful Mind, why can't you pull it together? I want you to be good, if just for Jang Hyuk and Park So-dam's sakes!) A source with Neighborhood Lawyer did state that an extension had been under consideration for several weeks and that Beautiful Mind's schedule was "absolutely not the reason" for it, so there is that.
I have a hard time believing that since Beautiful Mind has had a rough time of it, taking a long time to secure its leads and having to delay shoots more than once. There was also a scheduling conflict with its leading lady, Park So-dam, who is still filming her prior commitment, pre-produced drama Cinderella and the Four Knights. KBS even scheduled a four-part miniseries, Baek-hee Has Returned, which gave Beautiful Mind an extra two weeks of lead time, which it dearly needed because it had planned to begin filming at the end of May for a June 20 premiere, which seems nuts. An extension here would earn Beautiful Mind another two weeks and push it to early July.
Neighborhood Lawyer Jo Deul-ho has not given the final confirmation yet and is reportedly in negotiations with its cast and staff, but an extension looks likely at this point. This would extend the drama from its originally planned 20 episodes to 24, to be followed by Baek-hee Has Returned, and then Beautiful Mind.
RELATED POSTS