Lucky Romance: Episode 2
The conflict is established, the characters are put in place, and now it's time to let them clash and see what happens. There's some comedy, as we would expect, but actually it feels that the character development is hewing more natural than screwball for the most part. It's not what I expected from such an offbeat premise, but I'll look at it optimistically as take it as a good thing.
Episode Grade: B
(Okay, I'm seeing the flaw with our new episode grading system, in that there's room for little inconsistencies along the way since we're more than one person. For instance, I don't mean to say today's episode was a huge drop in quality from yesterday's—I think they were fairly close—but the grades may fluctuate a bit depending on personal preference. Still, we're hoping that in the grand scheme of things, the feature will be more worth it than not, and we'll keep trying it out.)

EPISODE 2 RECAP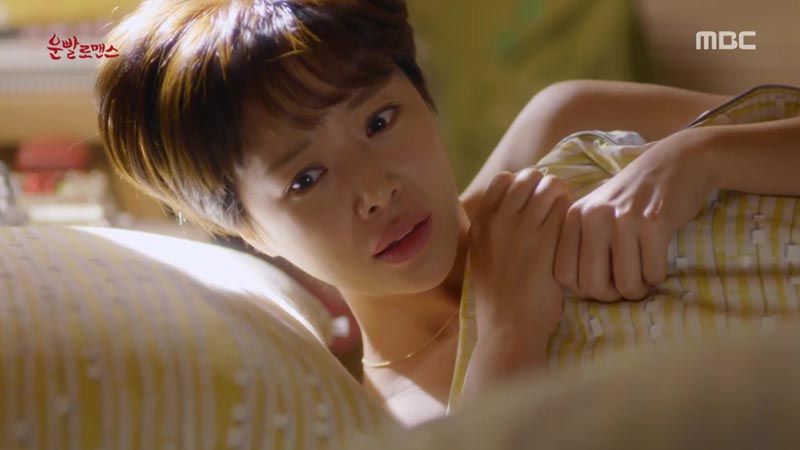 After getting roaring drunk while searching for her lucky tiger man, Bo-nui wakes up in bed in the morning and is a little alarmed to find herself half-dressed under the covers. She remembers the fortuneteller instructing her to sleep with a tiger man in order to save her sister's life, and had sat in a bar afterward, trying to convince herself that it wouldn't be a big deal.
She'd called out an old sunbae to meet her, mustered up the nerve, and then blurted, "Sleep with me once!" …which was a fantasy sequence, phew. She'd decided she needed more liquid courage before getting to her request, and tossed back a shot.
So now, Bo-nui calls out apprehensively to the lump in bed next to her, only to find it's a white stuffed bear. Looking around, she finds a large envelope, which triggers another memory: She'd gotten progressively drunk last night because every time she'd started to make her request, she'd reached for her glass instead. And finally, her sunbae had asked, "Do you have insurance?"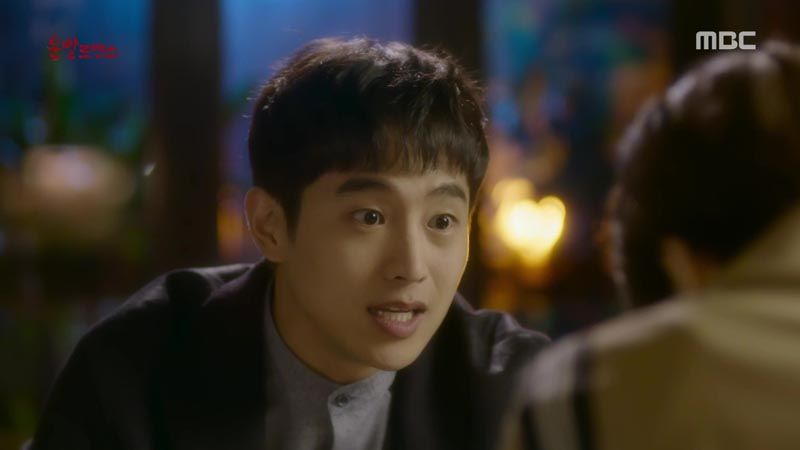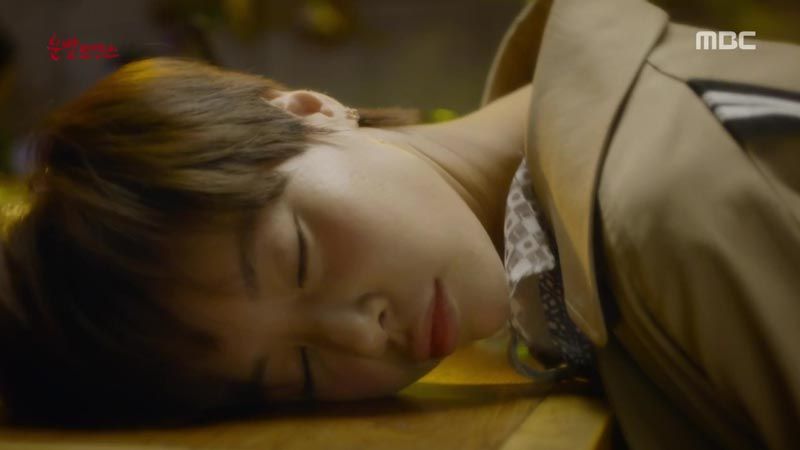 Bo-nui looks at the insurance papers in her hand with chagrin, since she hardly has the extra funds to put toward a policy. Her friend Dal-nim calls, and after a brief search finds her phone in the fridge, she sighs to her friend about not remembering much of last night. The recollection of asking a lamppost about being born in the year of the tiger floats to the surface, and she adds that while something should have occurred last night, nothing must have happened.
Speak for yourself. Across town, fastidious tech genius Su-ho brushes his teeth furiously, going through a whole pile of fresh toothbrushes that can't scrub clean the memory of last night. He can't even bring himself to touch his dirty clothes, which Bo-nui had vomited on, and ends up doing monkey contortions to put them into the trash with his feet.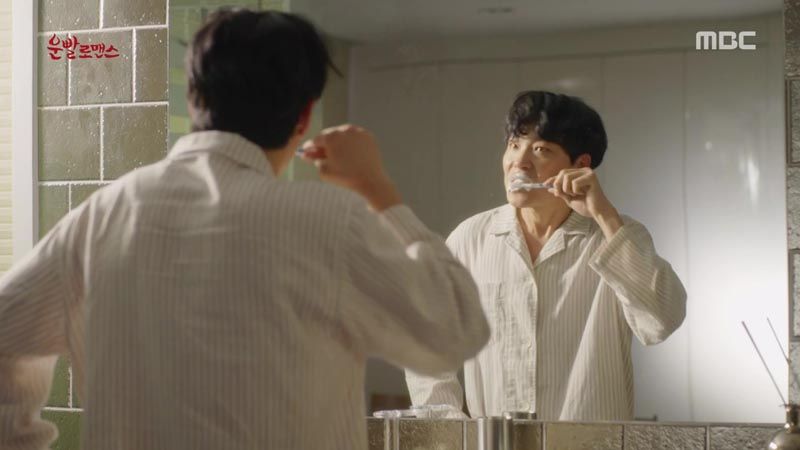 Bo-nui stiffens when her landlady knocks on her door, and she's about to pretend she's not home until her loud cell phone ringtone gives her away. She opens the door and starts to explain that she'll pay soon, but to her surprise, the landlady tells her kindly that she can have more time, adding that Bo-nui should have told her about her sibling. She gives her a container of kimchi, and tells Bo-nui she can take her time with the rent, which is sweet.
Tennis player Gun-wook/Gary gets his health evaluated at the orders of his agent Seol-hee/Amy, who has laid out strict plans for his training heading into his next match. To her shock, Gun-wook not only doesn't care about Wimbledon, he's actually intending to skip it, and has informed the tennis association. He wants two months off, and ignores her sputtering protests as he heads off with a spring in his step.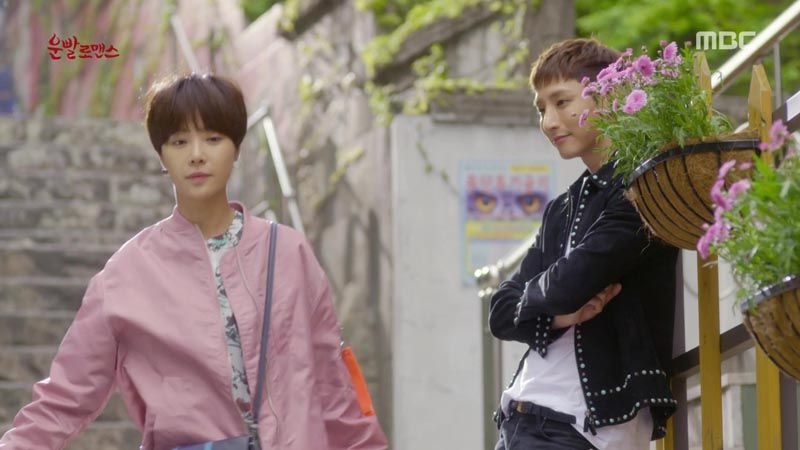 Gun-wook heads to Bo-nui's apartment building, and a flashback shows us how he'd found her things outside the other day when her landlady was about to kick her out. A childhood drawing of her family had confirmed that it was the same Bo-nui he'd known, and he'd carefully brought all her belongings inside and paid the landlady all of Bo-nui's back rent. Ah, he'd called himself her younger brother and asked the landlady not to mention this to noona, so this is the sibling situation she'd mentioned.
Gun-wook waits for a while outside, and snaps to alert when Bo-nui steps out, smiling expectantly… and then is put out when she doesn't recognize him. Heh. Did that poke a hole in your ego balloon, big star?
On the bus, Bo-nui notices a passenger playing a game that looks like Genius II, but when she checks online, it's not available yet. She tries to ask the man where he got his, but he snaps at her in Russian.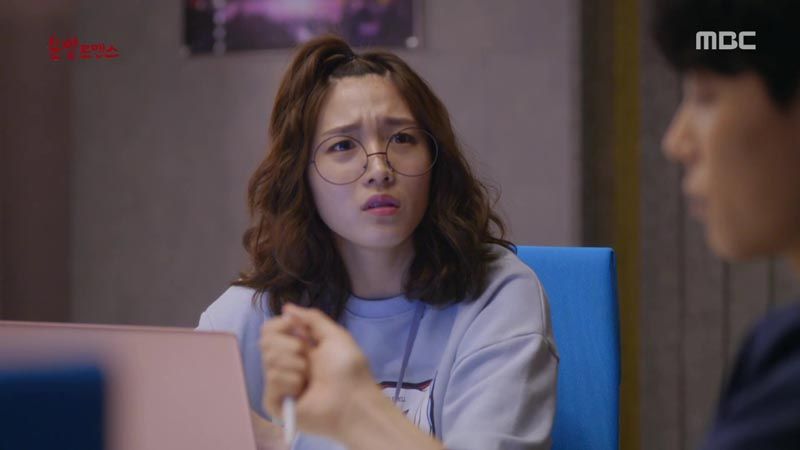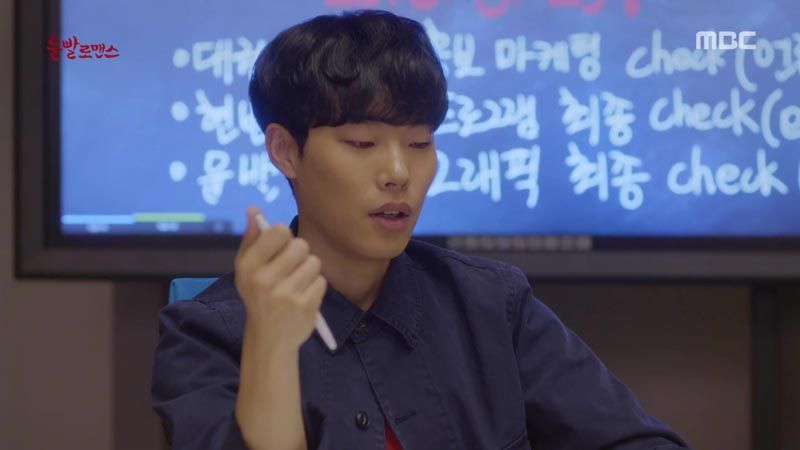 It's a huge problem for Zeze Factory, who is in panic mode because their launch isn't for a month. Those two rogue programmer spies have leaked it to Russian sites and skipped the country, apparently having planned this for a while. Su-ho meets with a lawyer, but there isn't much they can do about it, and the press is having a field day.
Without a better solution, Su-ho announces to his team that they'll give up on the game launch. He lays out the reasons logically, unemotionally: A lawsuit is unlikely to get them very far, they'll be regarded as the knockoff, and this is their responsibility for not managing their employees.
His employees are afraid he wants their resignations, but he replies that their solution is to launch a new game as quickly as possible. He assigns tasks immediately, so they can launch their new game instead of Genius II in one month. Yeesh. He adds that he can accept resignations four weeks from now, as though there wasn't already enough pressure.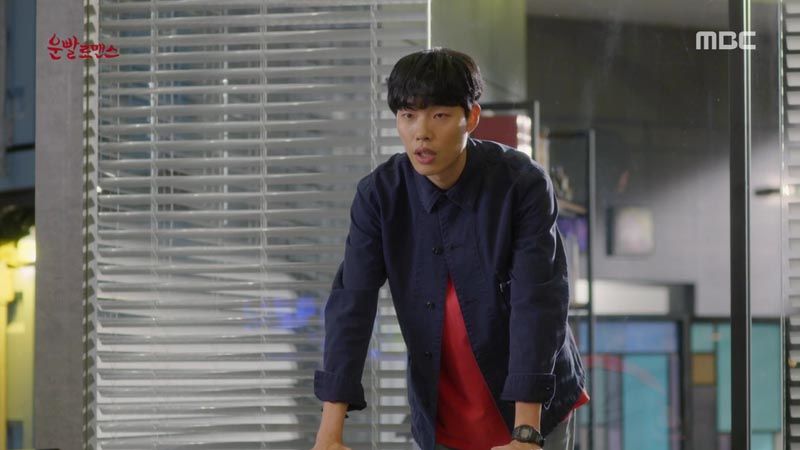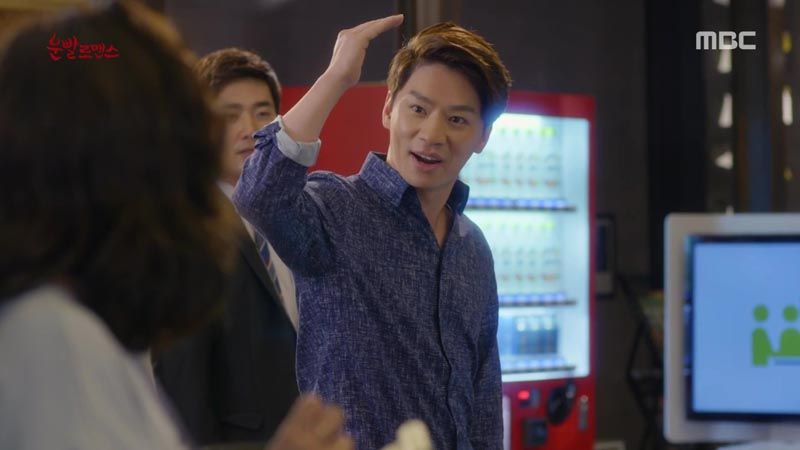 As Su-ho's friend Han Ryang-ha leaves the meeting with the lawyer, the team asks him about coffee deliveries, knowing him mostly as the guy who runs the coffee shop downstairs. Ryang-ha says with exasperation that he's the top stakeholder in the company, which fails to impress anybody, and adds ineffectually, "I'm a really high-up person! Do you know that?"
Bo-nui drops off a bag of clothing at an alteration shop, which is another of her various part-time jobs. She declines more work this time, however, since she needs to spend her time finding her tiger man.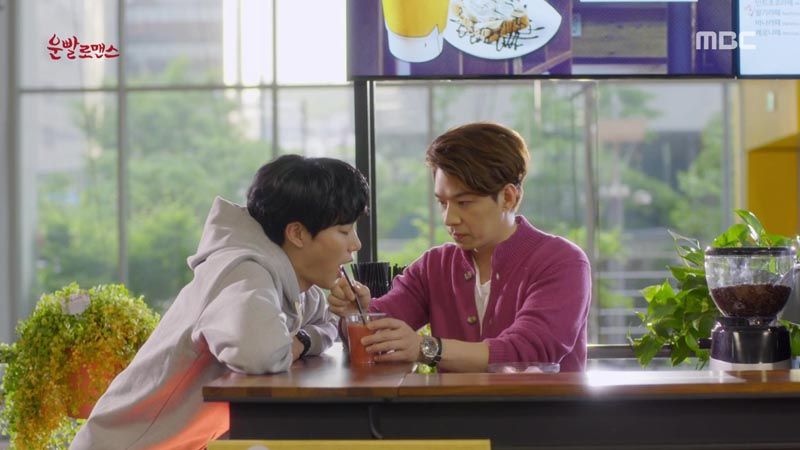 Su-ho spends all day, night, and day again working on the new game, as does his team, who know better than to complain (within earshot) about the grueling schedule. Su-ho drops by Ryang-ha's coffee shop and falls asleep in the middle of drinking his juice, and Ryang-ha carefully slips some tissues under his head to let him nap.
Bo-nui goes to work at the convenience store, where she takes advantage of the opportunity to card every male customer in search of a tiger man (the zodiac is on a 12-year cycle, so that would be anybody aged 6, 18, 30, 42, and so on). No luck.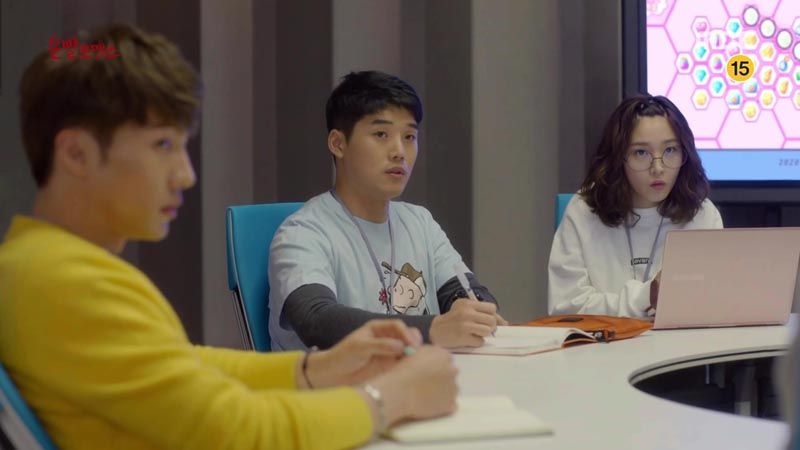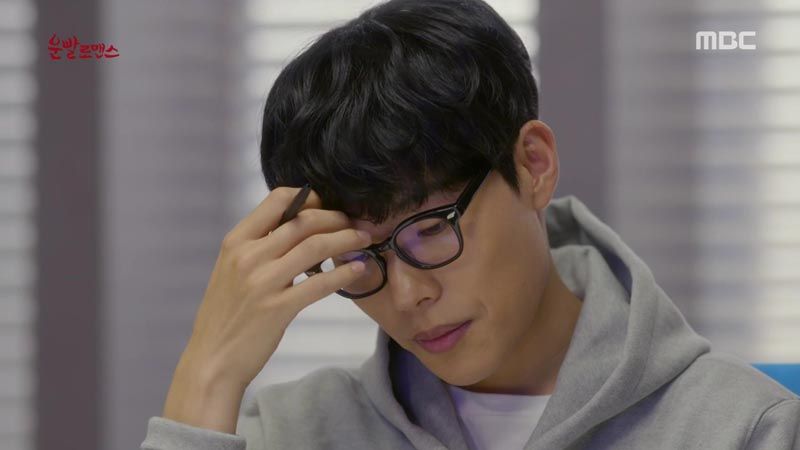 No luck for Zeze Factory either, where the employees present the ideas they've managed to whip up in the past two days, none of which is very impressive. When one employee balks at the demanding timeline, Su-ho points out that he doesn't want artistic masterpieces, and that he wants results over hard work. He gives them three more days to come up with new ideas.
Su-ho and Ryang-ha go out for fried chicken, and it turns out they're also friendly with the same Chicken Shop Ajusshi who'd given Bo-nui a ride. Ryang-ha asks if Ajusshi has heard any discarded ideas from other IT company employees who frequent the shop, hopeful for even a scrap.
Su-ho dismisses that request, and when Ryang-ha's eyes light up at to see a notice for an open game design competition, he waves that idea aside too, saying that the entries won't be any good. But Ryang-ha doesn't seem convinced.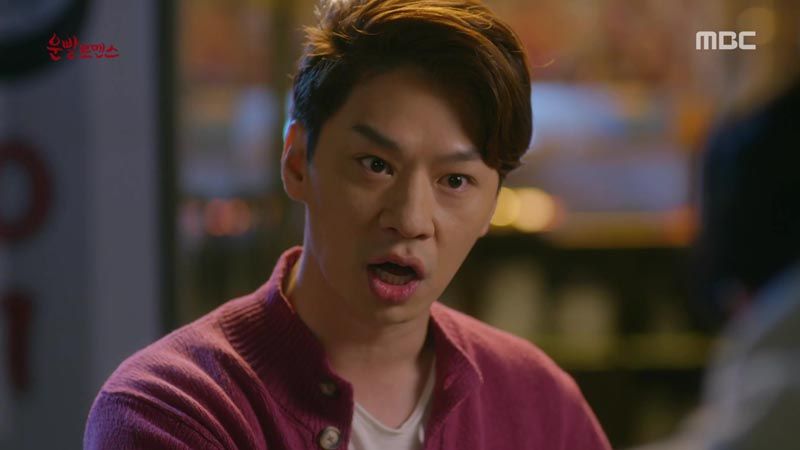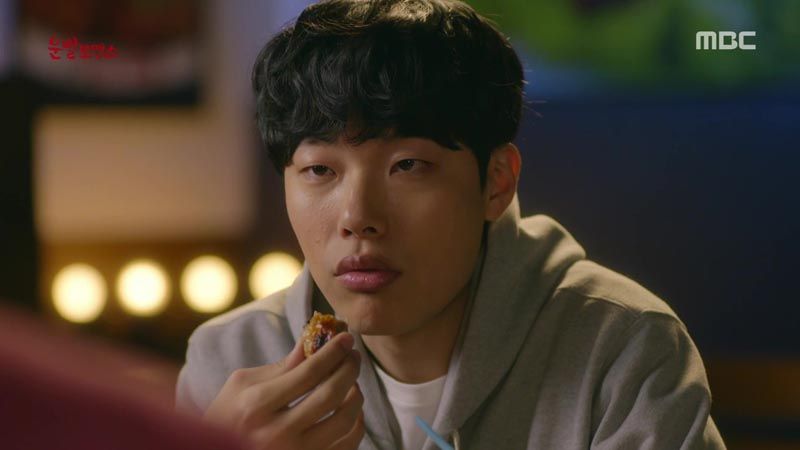 Bo-nui gets called out by her gambling-addicted boss, and when he doesn't have her back pay for her, she gets up to leave right away. He says she'll regret leaving without hearing him out, and she sighs, "My whole life is a regret."
The boss excitedly brandishes a flyer at her—that notice for the game concept contest. He knows she submitted an entry, and has heard (belatedly, since his cell phone had gotten cut off) that she's advanced past the preliminaries… which means she's got a shot at that 30 million won prize. Bo-nui lights up in excitement, until her boss informs her that presentations are due tomorrow.
Bo-nui and her boss return to their old office in a dilapidated building, a small tech company named Daebak Soft. She thinks it's too much work to do in one night, but her boss urges her to take this heaven-sent opportunity, reminding her of how hard they worked on the idea together.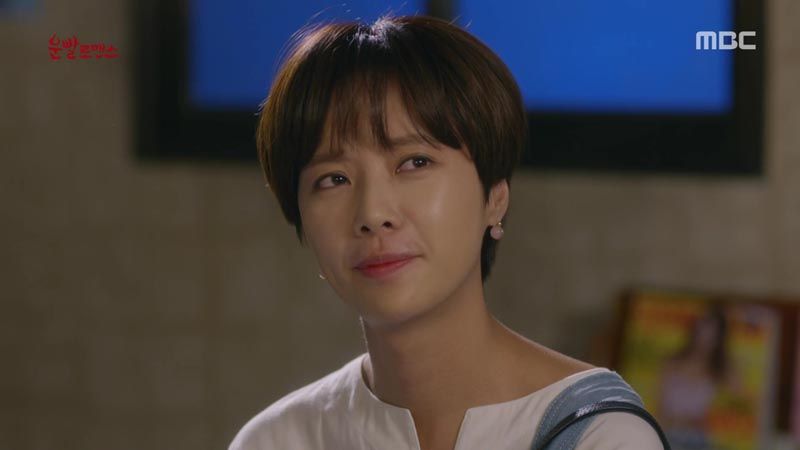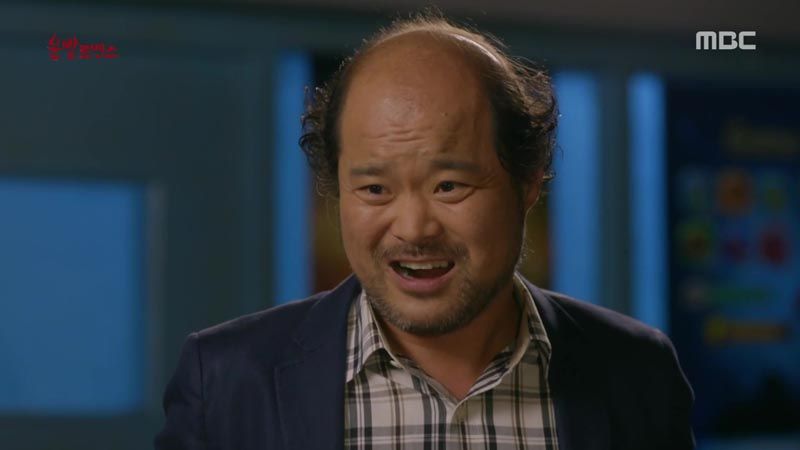 The reminder revs her engines, and she decides to give it a shot, and they set out to work through the night to pull together a presentation. The morning finds them exhausted but successful, and they both head off to get ready, agreeing to meet at the presentation hall.
Bo-nui arrives there first, stopping to sprinkle salt in strategic places, and grows increasingly worried when she sees no sign of her boss.
Meanwhile, Su-ho slinks into the hall, hiding his face as he sits down to hear the presentations. The first several ideas don't do much for him, seeming either too familiar or too childish. Then Daebak is called, and Boss Won is still unaccounted for, so Bo-nui takes the stage alone—wearing a stuffed raccoon head borrowed from the prop room. Does she have some weird face/recognition/exposure superstition?
Bo-nui incorporates the raccoon head into her introduction, saying that wearing it allowed her to see things she didn't see otherwise, and made her think that sports games could apply the same principle.
Su-ho finds her intro speech dull and rambling and is ready to cross her off the list. But when she gets to the crux of the idea—sports games played through the eyes of the player—he recognizes an interesting concept and sits up in attention.
As she presents the simplified mock-up of her concept, Su-ho envisions the fancier, developed version in his mind. She acknowledges that there are games that have done this, but says they'll go one step further in entering the very lives of their sports stars. Su-ho sees the potential for this as a VR (virtual reality) experience and nods along with interest.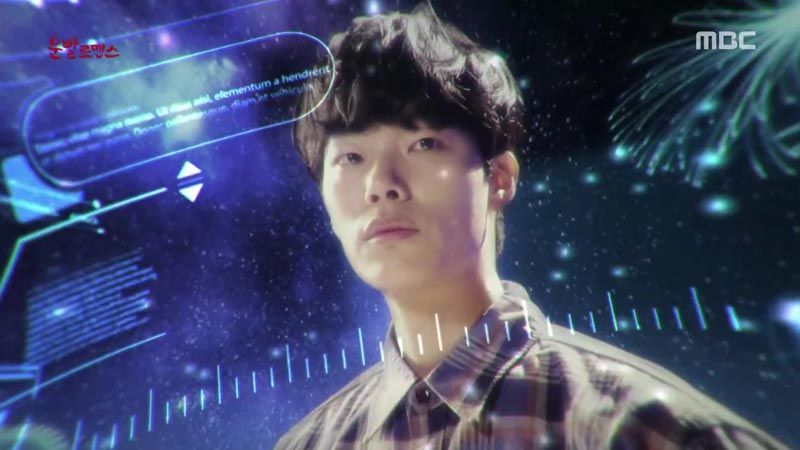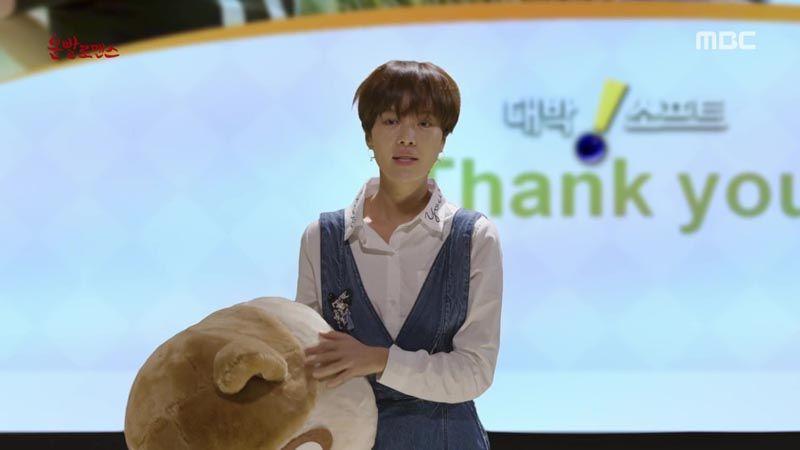 And then Bo-nui concludes the presentation, and pulls off the raccoon head, and Su-ho has a vague sense of recognition. She states her name, and then the pieces click into place: The cleaning lady, the bunny suit, the drunk girl, and now the raccoon.
Bo-nui acknowledges that her boss was scheduled to present the idea, and that it's a violation of the rules to send someone else. Even so, she felt it was such a waste of their efforts to not at least present, and thanks everyone for listening.
Su-ho follows Bo-nui out of the hall and jogs her memory about their encounters, wondering if she has a fixation with animals. He asks if she ever found her tiger, which makes her wonder how he knew that. He reminds her of their encounter when she was drunk, and her mind goes back… to the lamppost she threw up on… which turned out to be Su-ho instead. Haha.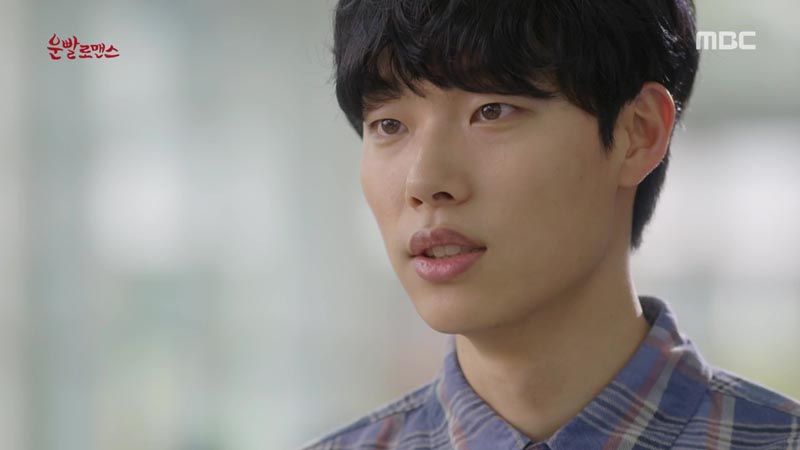 He assures her that he isn't angling for an apology or for gratitude, but she's mortified at the memory and pretends she doesn't know what he's talking about. She hurries away with a hasty excuse.
Outside, she runs into her boss, who's only now arriving after falling asleep unexpectedly. She tells him with disappointment that their idea didn't cut it, and figures she'll have to keep working part-time jobs.
Gun-wook wastes no time moving into Bo-nui's apartment, and when he sees her approaching, he waits expectantly for her to recognize him. When she passes without a glance, he calls out to her and prods her, asking if she doesn't know who he is, perhaps via the news.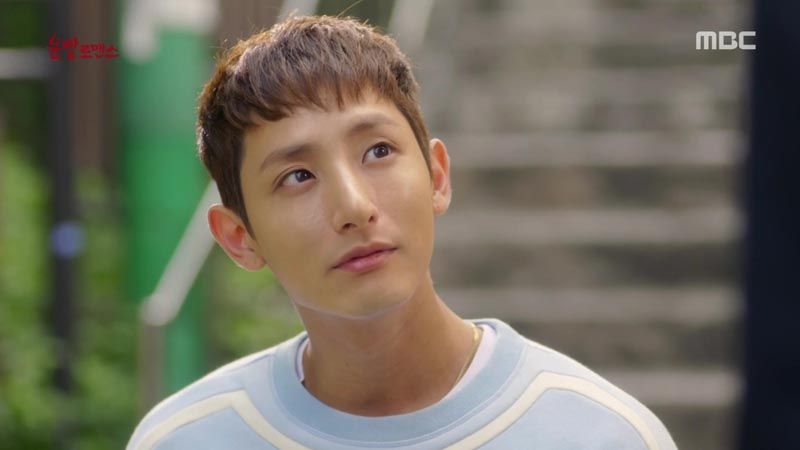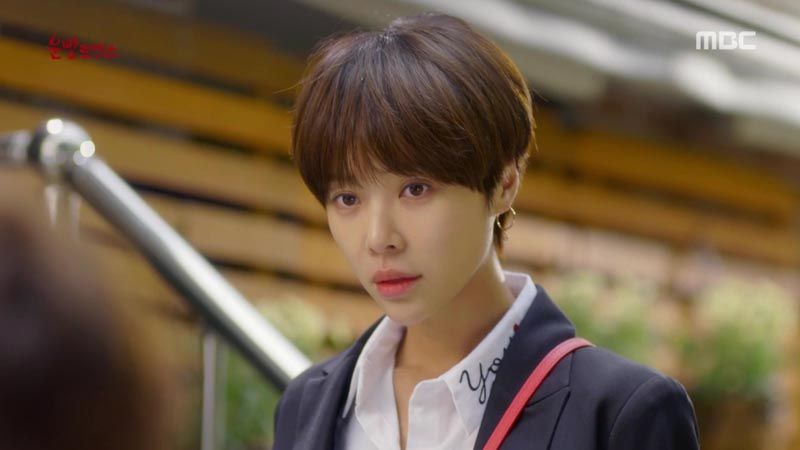 She has no idea, saying she doesn't watch the news since she has enough unhappiness in her own life without seeing more of it in the world, and then clocks the moving van and figures he's a new neighbor. She offers him one of the candles in her shopping bag and welcomes him, then continues inside.
Su-ho mulls over what he knows of Bo-nui, and asks her friend Dal-nim for more information. Dal-nim leaps to her defense, thinking he's still stuck on the accusations of corporate espionage, and explains how Bo-nui was a scholarship student at the top of her class in the computer engineering department, even if she didn't manage to graduate. She was even almost hired at Zeze.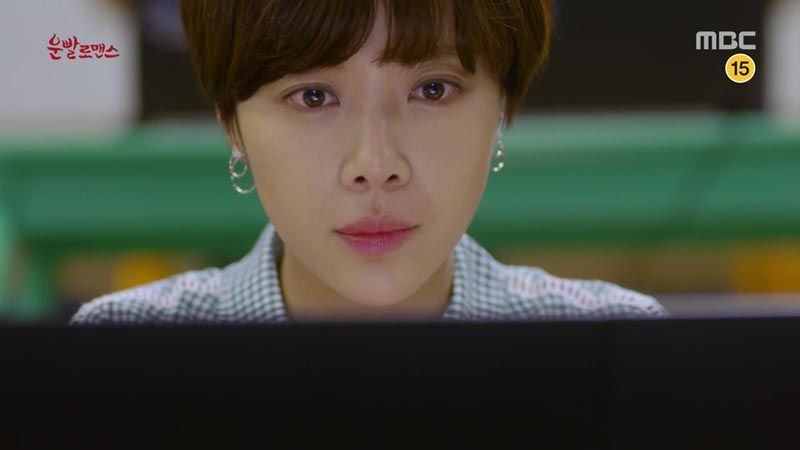 Su-ho sits up in surprise, and Dal-nim says Bo-nui was a finalist in their open recruitment and was the first applicant to find a bug in the software. In flashback, we see a room of applicants sitting before computers, and one by one they get up and leave the room, shaking their heads. Su-ho watches behind the scenes, while Ryang-ha chides him for making it too difficult to find the bug, and that after four hours, it's no wonder people are giving up.
Just as Su-ho declares that nobody's passing this round, they get word that somebody found the bug. But when they get to her desk, Bo-nui has already left.
That night, Bo-nui prays for the gods to send a tiger to her, and to save Bo-ra. She offers, "Please, if you only let her wake up, I can endure living the rest of my life not seeing her."
A pounding noise brings her down from the rooftop, and she's not particularly enthused to see Gun-wook banging on her door. He asks to borrow a hammer, and while she hands one over, she's unexpectedly curt with him. It doesn't bother him too much… although he's still a little miffed not to be recognized.
He hits his finger by accident and heads next door to ask for a band-aid, put out when she tells him to leave the hammer outside the door. He cheers up when Bo-nui seems worried to hear he injured himself, and as she wraps a band-aid around his finger, Gun-wook thinks back to a fond memory, when as children Bo-nui had done the same and wiped the tears from young Gun-wook's face.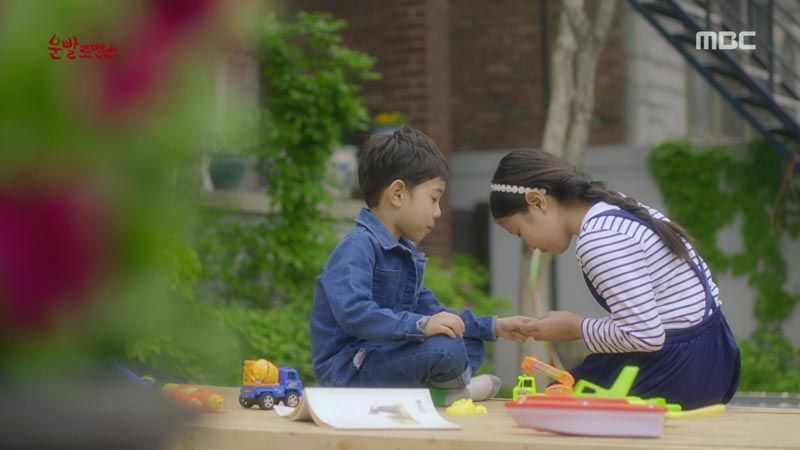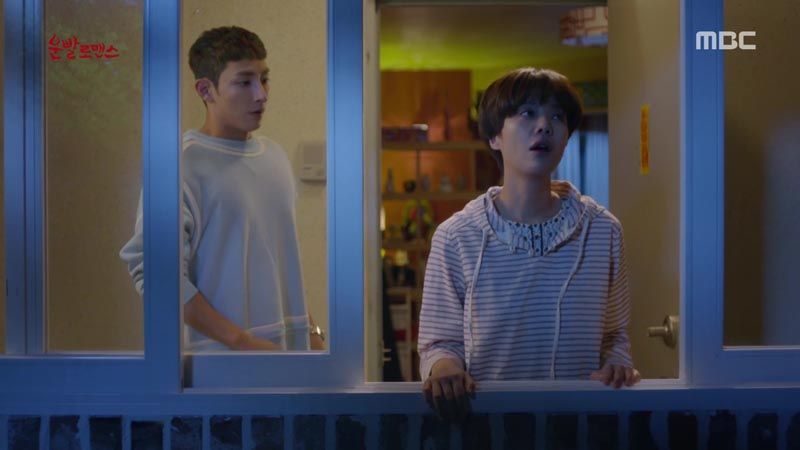 Bo-nui again cautions him to be careful and explains that there are a lot of things she has to be careful of, like opening her door to strangers. He points out that they're neighbors, but she asks him to ask other neighbors in the future or buy the things he needs.
She's about to shut the door on him, and Gun-wook lurches to grab it before it closes. He offers to buy her dinner for all her help, pressing when she declines, and when he pulls open the door, the force sends Bo-nui scuttling out into the hallway. Whoa, cool your jets, buddy.
She's fairly annoyed by now, and Gun-wook tries again by saying he's pretty famous. Bo-nui replies that she doesn't care if he's famous, adding, "Although who knows, if you were a tiger sign…"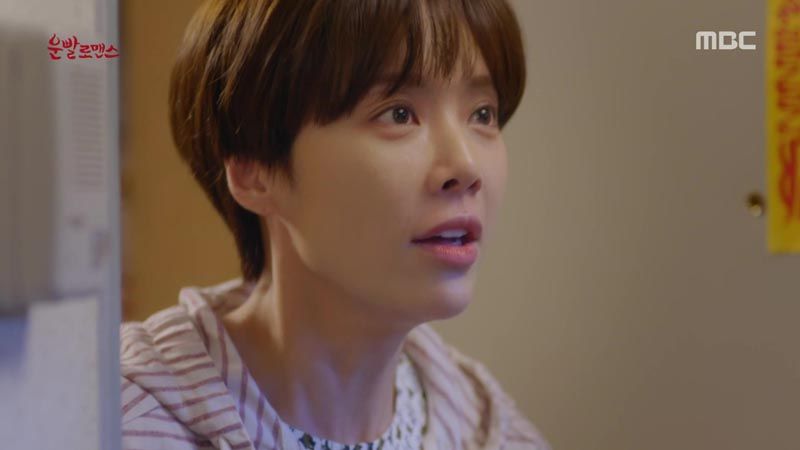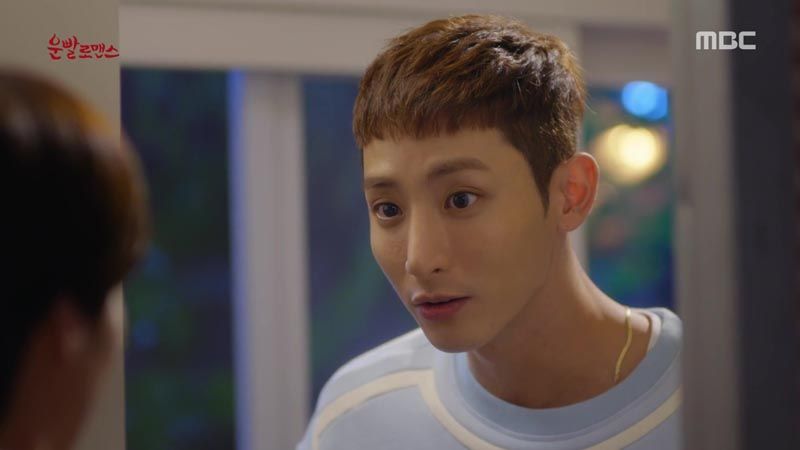 Gun-wook grabs the door before it closes. "And If I am?" Bo-nui looks up wide-eyed and asks if he is, and he answers, "Then would you eat with me?"
Taking that for a yes (don't do that!), she's suddenly eager to eat together right away, and he suggests dinner tomorrow. She agrees enthusiastically… and tells him to bring proof of ID with him. HA. At least she thought that far?
Gun-wook gives tennis lessons to kids, with ever-present agent Seol-hee watching. She asks where he moved his lodgings, since she knows he checked out of the hotel, wondering why he's suddenly so fond of his mother country when he hadn't even liked talking of Korea for years. He plays it off like he enjoys the fame, and just promises not to cause any trouble. He just wants two months.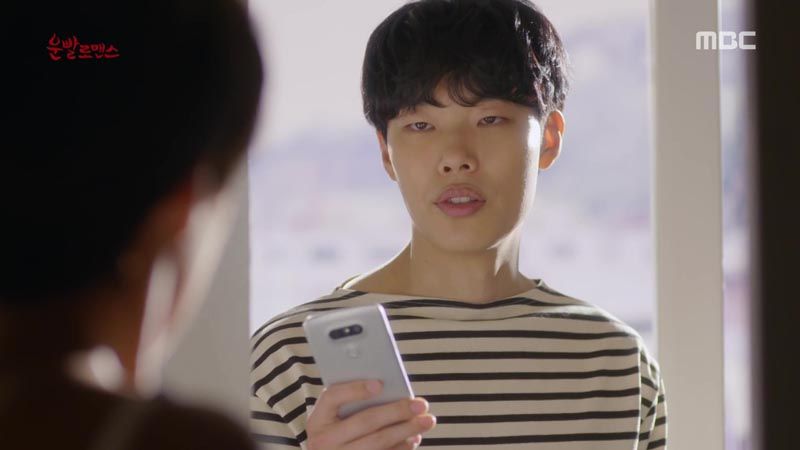 Bo-nui gets ready for her dinner date with Gun-wook, piling on the makeup and fretting about how to go about this whole seduction deal and ignoring her calls and messages. Her doorbell rings while she's still getting ready, so she peers out with her half-done face—and starts when she sees Su-ho there, not Gun-wook.
Su-ho's been trying to call all day, and she exclaims defensively that she's really not a spy, and that she does remember the drunk night and understands that he must be upset. Still, she accuses him of going too far to actually seek out her home to argue about it.
Su-ho can't get in a word edgewise, and finally cuts in to say that he isn't here for an apology. Instead, he brings up her game idea and launches into business talk: investors, platform, and contract terms.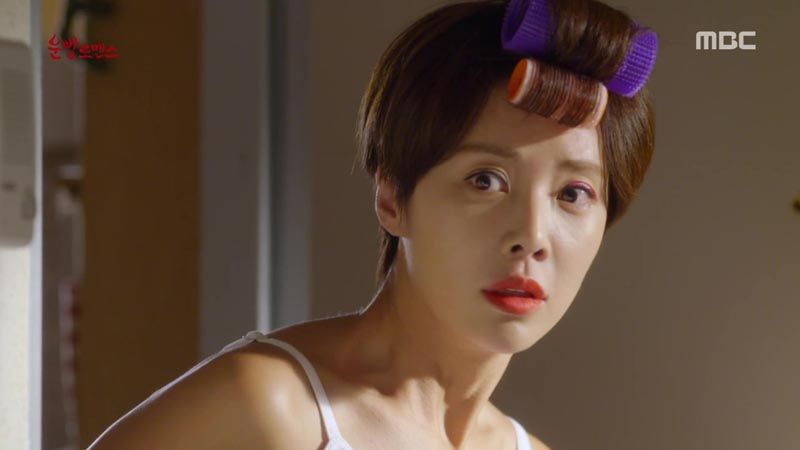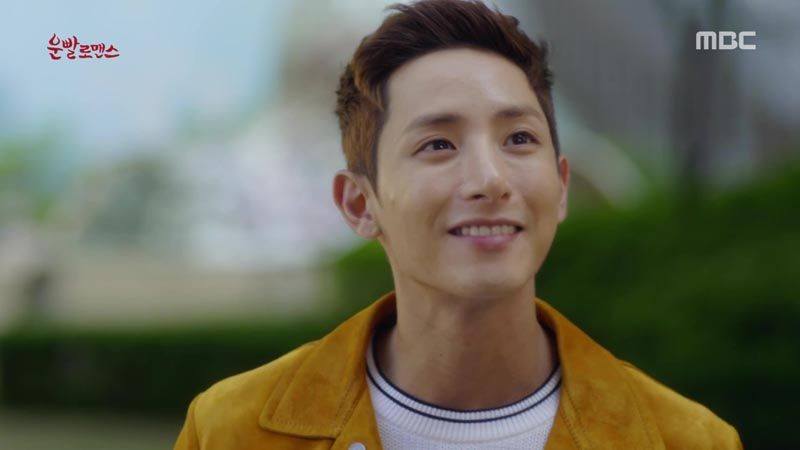 Blink, blink. Bo-nui stares blankly, and he clarifies that he's offering to buy her game. But it's almost time for her date and Bo-nui's acutely aware of the ticking clock, and dismisses him quickly, suggesting that he talk to her boss instead.
Su-ho prevents her from closing the door in her face, pointing out that her boss doesn't answer any of his calls, and presses for her to decide right now. He says he doesn't trust her or her boss at all, since it defies any explanation for her to apply to a job, spend hours debugging a program, and then leave.
Bo-nui points out that employees also have a choice in deciding whether they want to work for a company, and she'd decided not to work for Zeze. She keeps casting nervous looks down the hallway for Gun-wook (who has by now pulled up to the building with flowers), but that comment is a blow to Su-ho's pride. He stammers that she'd decide against his company… and go to Daebak instead?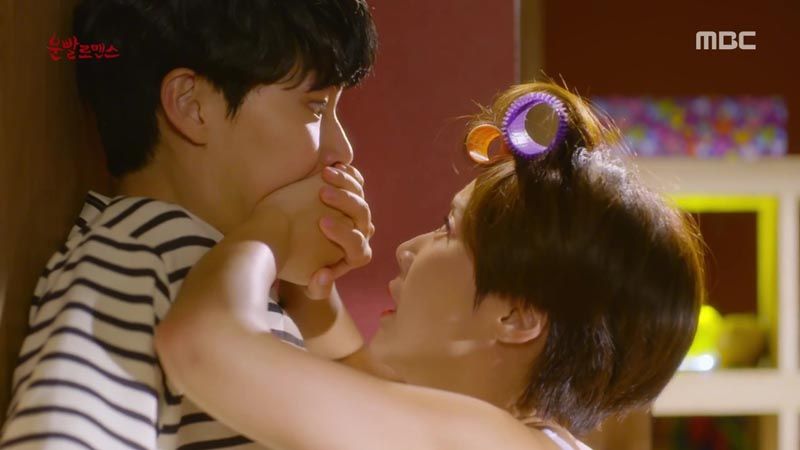 She affirms that, saying that her game (titled "If") is similar—it's up to her to decide whether to develop it with Daebak or to take his money and give it to him. Su-ho starts to ask for her answer again, just as Gun-wook heads up the stairs whistling, and Bo-nui looks at her half-dressed state and panics. She grabs Su-ho, yanks him inside her apartment, and shuts the door before Gun-wook arrives.
She claps a hand over Su-ho's mouth and shoves him against the wall, eyes widening when Gun-wook rings her doorbell and announces, "I'm here!"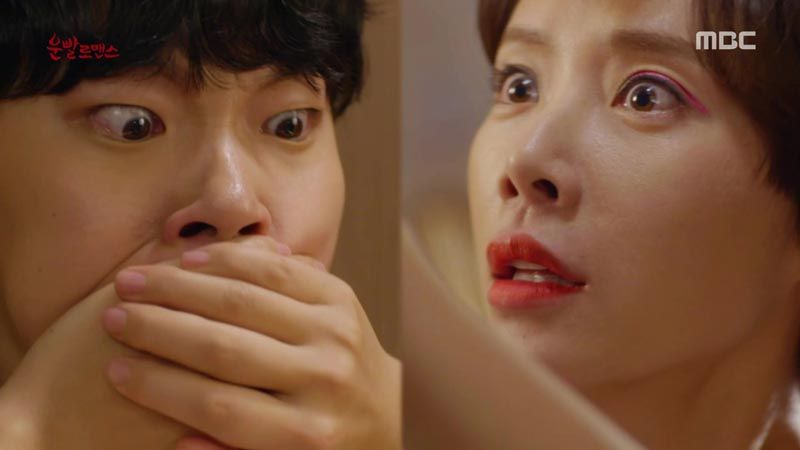 Epilogue. Labeled "that night," we're back to that drunken encounter, where Bo-nui teeters along, carrying the overstuffed teddy bear. Su-ho slowly follows at a distance, until Bo-nui arrives at her front stoop… and then kicks off her shoes and lies back on the ground, using the bear as a pillow. Yawwwwn.
Su-ho tells himself he's done enough by seeing her home, acquitting himself of helping further… and then carries her inside anyway. She's mumbling to herself drunkenly, and he wonders why she's hunting tigers at night, just as she lurches up and flings her arms around his neck, asking, "Where are you going?"
Su-ho freezes, staring at her face, and she slurs, "I won't let you go." She grabs him close, and kisses him right on the lips.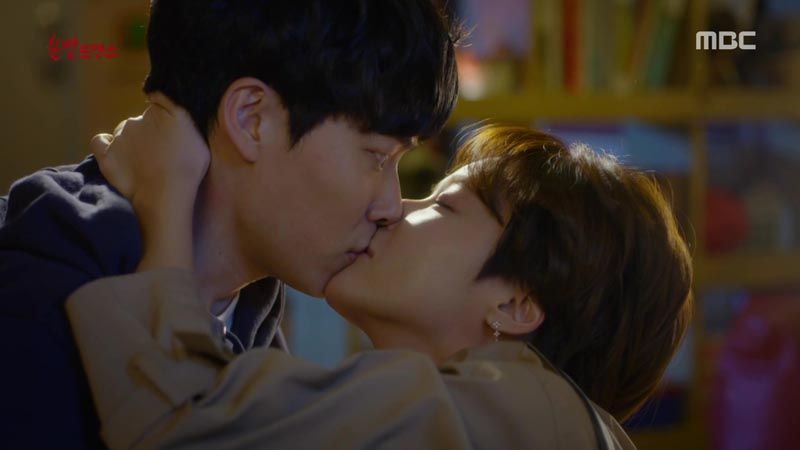 COMMENTS
Okay, I'll talk about the webtoon once and then drop it henceforth, since dead horses don't need beating. I don't think a drama has to be exactly like its source material and don't ding it for being different. But in the case of Lucky Romance, I have to say I'm feeling disappointment that so much of its quirky, cute potential has been cut out by changing so much of the basic premise. Essentially, it feels like they took the Bo-nui character and setup and discarded everything else—which, of course, is entirely their prerogative. I don't even think this new setup is bad or flawed. It's just that the original was actually weird and funny and different, but the drama feels very much like a standard rom-com.
(I mean, how can you read about a hilariously miserly hero and not be itching to see that onscreen? For instance, refusing to date ever because dating costs money, or going around collecting the heroine's scattered salt piles to reuse for pickling. That's gold.)
That said, if you're going to smooth out those eccentricities, I do like the way these actors are doing it, in a way that feels natural and not, say, mere representations of standard K-drama cliches. I like that Su-ho isn't an asshole, or a standard prickly hero who's just uptight because the archetype calls for it; I like that he doesn't denigrate Bo-nui even after all the numerous indignities she's inflicted upon him, and that while he's an exacting boss with impossible expectations and standards, he's not a mean person.
But Hwang Jung-eum is, to me, the reason the show works, because she gives Bo-nui reason and purpose underneath the outlandish setup. I like her best when she's not being over-the-top and shouty (because she can be so loud), and she's got a way of connecting to her characters that makes it easy for me to accept their reality. Even though I think her superstitions are nonsensical, I respect that she believes in them, and that they come from a place of heart and caring.
Plus, I'm glad that this episode explained her job background in greater detail, because about the time she arrived at her twentieth part-time job I was over it; we get it, you're the Candiest Candy who ever lived! At least now it's established that she had a full-time job in the field of her choice; it's just that her circumstances (and maybe perennial bad luck) landed her in a bum deal where she got fleeced of all her salary. I grudgingly accept the Candy setup, so long as it's temporary and gone, say, tomorrow.
I'm not really feeling the second leads, but time will tell whether they'll develop into nicely fleshed-out characters (or remain standard romance complications). At least I do think I'll enjoy the side characters like Dal-nim and Ryang-ha, and enjoy the idea of our two computer nerds working together. Mostly I feel optimistic that I'll like this drama and look forward to the chemistry between the leads—and while I'm not sure it'll be one to really grab me heart and soul, I'm content to keep watching it for what it is. (And while there's life, there's hope?)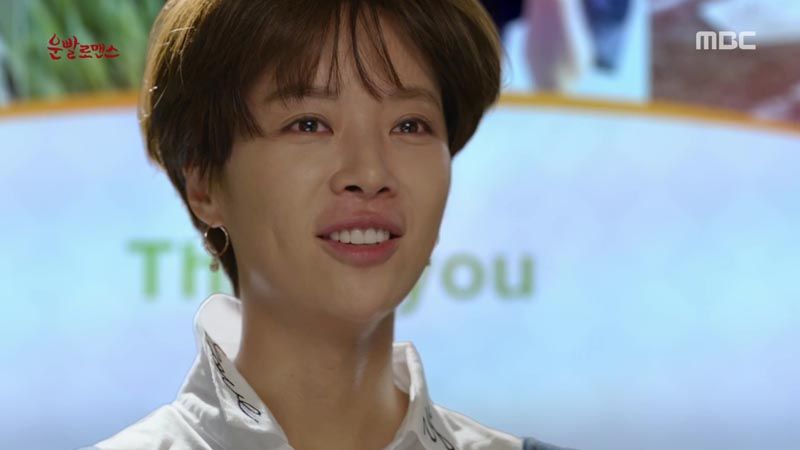 RELATED POSTS
Tags: Episode 2, featured, Hwang Jung-eum, Lee Chung-ah, Lee Soo-hyuk, Lucky Romance, Ryu Joon-yeol