Lucky Romance's charm-filled (literally) promo posters
Aw, the more I see of Lucky Romance, the more I really, really hope it pulls off the cute, vibrant spirit it's touting from its promotional materials. It's difficult to know for sure because the teasers so far have been pretty brief and I can't really get a feel for what the show itself will deliver, but if you could make a drama good by willing it… well, we'd have a lot fewer broken hearts in dramafanland, I suppose.
My favorite thing about these posters (aside from the bright yellow color, recalling the fortune talismans/charms that our heroine is forever arming herself with) is that the heroine's (Hwang Jung-eum, She Was Pretty) sassy and bold, and going after Ryu Joon-yeol (Answer Me 1988) with gusto. In the poster up top, the copy by her head reads, "You're mine!" while Ryu Joon-yeol, kneeling behind her with a grimace on his face and steam coming out of his head, reacts with a shocked "WHAT?"
In the two faux talismans featuring the two leads, the writing on hers repeats, "Fall in love, fall in love, fall in love, fall in love…" His, on the other hand, chants, "Break the superstition, break the superstition, break the superstition…" Sorry buddy, but my money's on her.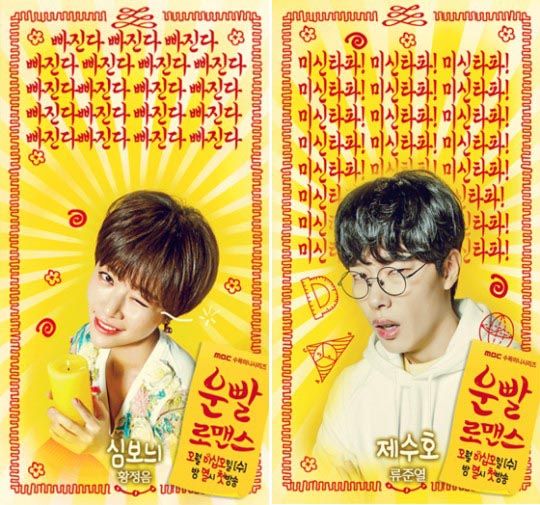 Below, Hwang Jung-eum has Ryu Joon-yeol tied up (rawr) to a spinny wheel, with the copy asking the question, "The tiger blessed by the gods — could he become my love?" There's a stuffed tiger perched nearby, to reference Ryu's character being born in the year of the tiger: The heroine's bad luck requires, supposedly, a tiger man to ward off, hence her fixation on getting him to fall for her.
And below that, Hwang pouts and tugs on his arm, asking, "My love… is it you?" His face may look like he wishes it weren't, but WE ALL KNOW BETTER.
Lee Soo-hyuk (Neighborhood Hero) and Lee Chung-ah (Vampire Detective round out the main cast as second leads (and first loves to the main leads, of course).
Premiere week is upon us! Lucky Romance kicks off its run this Wednesday, May 25, in the MBC timeslot following the recently wrapped revenge thriller Goodbye Mr. Black.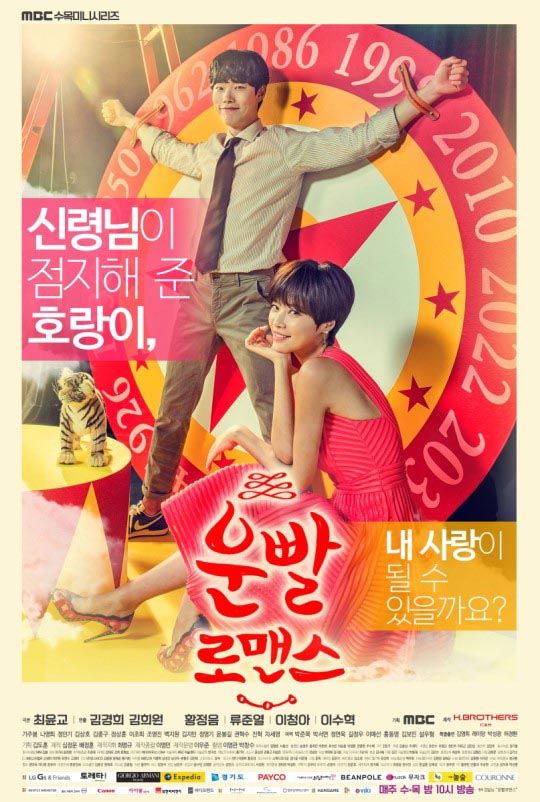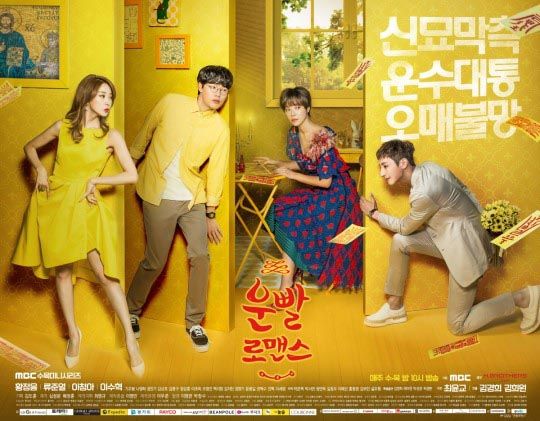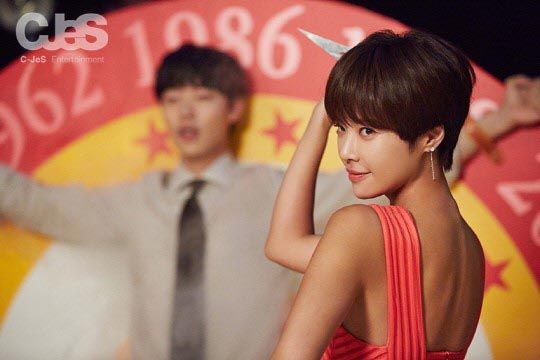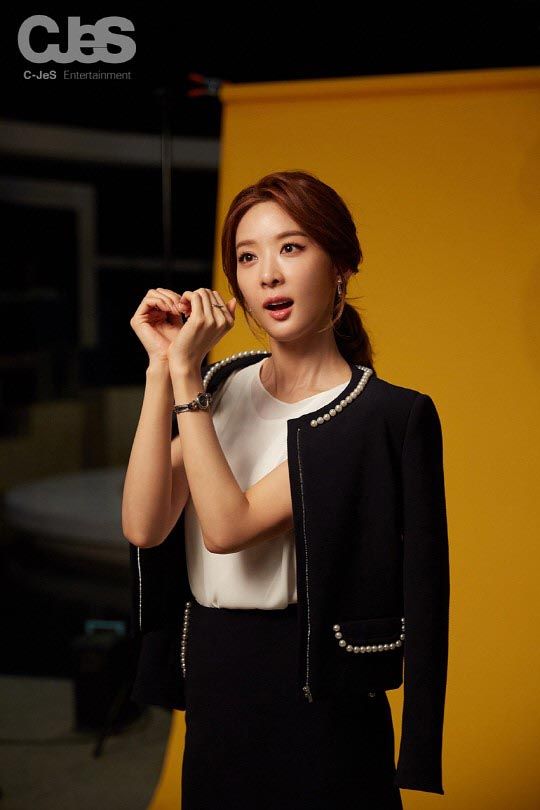 Via Sports Chosun, WowTV
RELATED POSTS
Tags: Hwang Jung-eum, Lee Chung-ah, Lee Soo-hyuk, Lucky Romance, Ryu Joon-yeol