Master–God of Noodle: Episode 1
It's official: Noodles aren't a joke anymore as Master–God of Noodle opens with a dark and suspenseful first episode — everything the title isn't. You wouldn't think a mere noodle could evoke so much emotion, but when it becomes a stand-in for childhood, for innocence lost and parents murdered, it's serious business indeed.
Note: This is just a first-episode recap BUT I AM HOOKED. Who's with me?

EPISODE 1 RECAP
The opening montage shows a man walking into a restaurant. This is MOO MYUNG-YI (Chun Jung-myung). In voiceover, he says that everyone has memories relating to noodles, from the janchi guksu served at weddings, to the everyday pleasure of bibim guksu.
And then…there's royal pheasant buckwheat noodles, he says, as that very dish is brought to him. Noodles are first experienced by their aroma, he continues. Lifting the bowl to his face, he inhales the scent. Then the taste, and finally — he sets down his empty bowl — the thought of it remains.
He remembers the taste of the noodles his mother used to cook, and how his father devoted his whole life to perfecting an idea of a taste…until he was killed. At the hands of the man walking in now, KIM GIL-DO (Jo Jae-hyun). The world slows down and Gil-do approaches Myung-yi's table.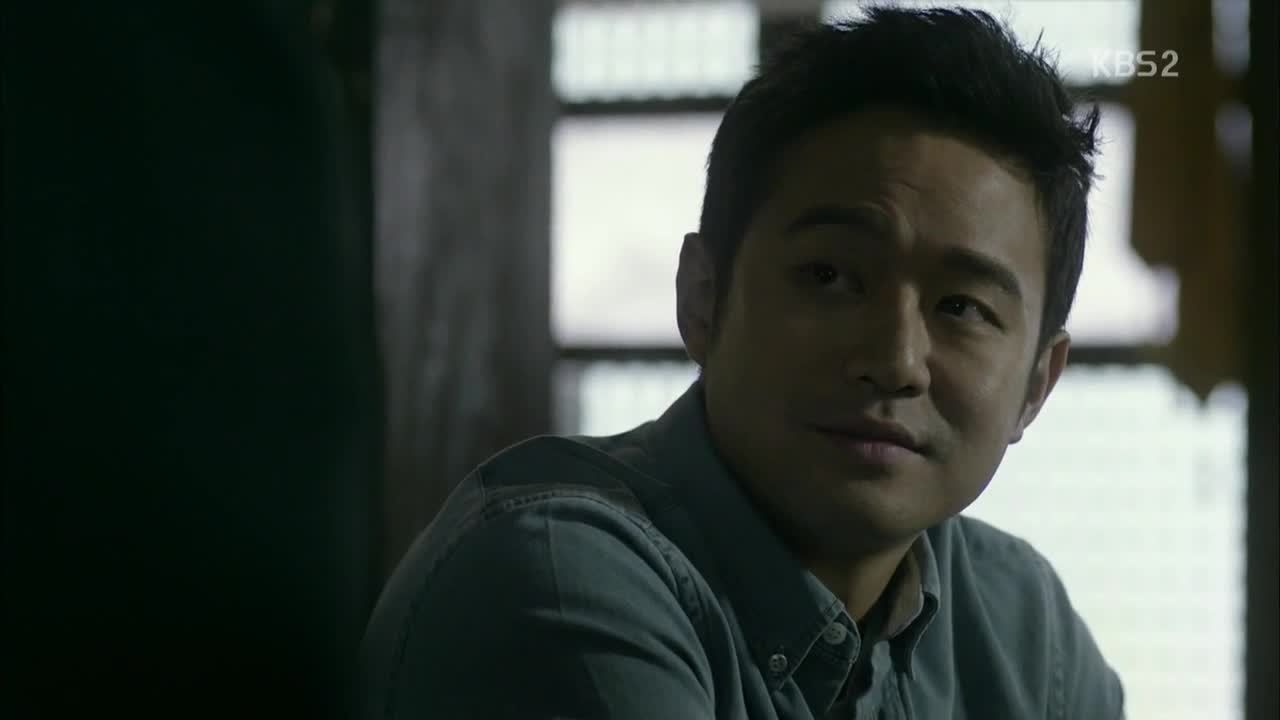 He stops and asks Myung-yi how he liked the noodles. Myung-yi smiles easily, and no, they haven't met before, he tells Gil-do. But to himself, he says this is the fourth time. They walk away in opposite directions, and Myung-yi vows to himself, "Yes. I will certainly return. To kill you."
Rewind to 1970, where we meet child-Gil-do. He only needed to see something once to imitate it perfectly, Myung-yi says. He watches a crying scene from a film and we see him re-enact it to finagle food from a vendor, in a darkly funny sequence where Myung-yi's narration cuts each lie open. Sobbing, Gil-do says his father's dead (he's not) and his mother's sick (she left them), and his siblings are crying with hunger (he's an only child).
Myung-yi tells us that Gil-do could fool anybody except his father, who is an abusive brute, belting his son harshly at any and no provocation. As he grows up, the abuse continues, and now a young man (played by Baro), he leans against the same wall, looking out with dead eyes as his father tirelessly beats him.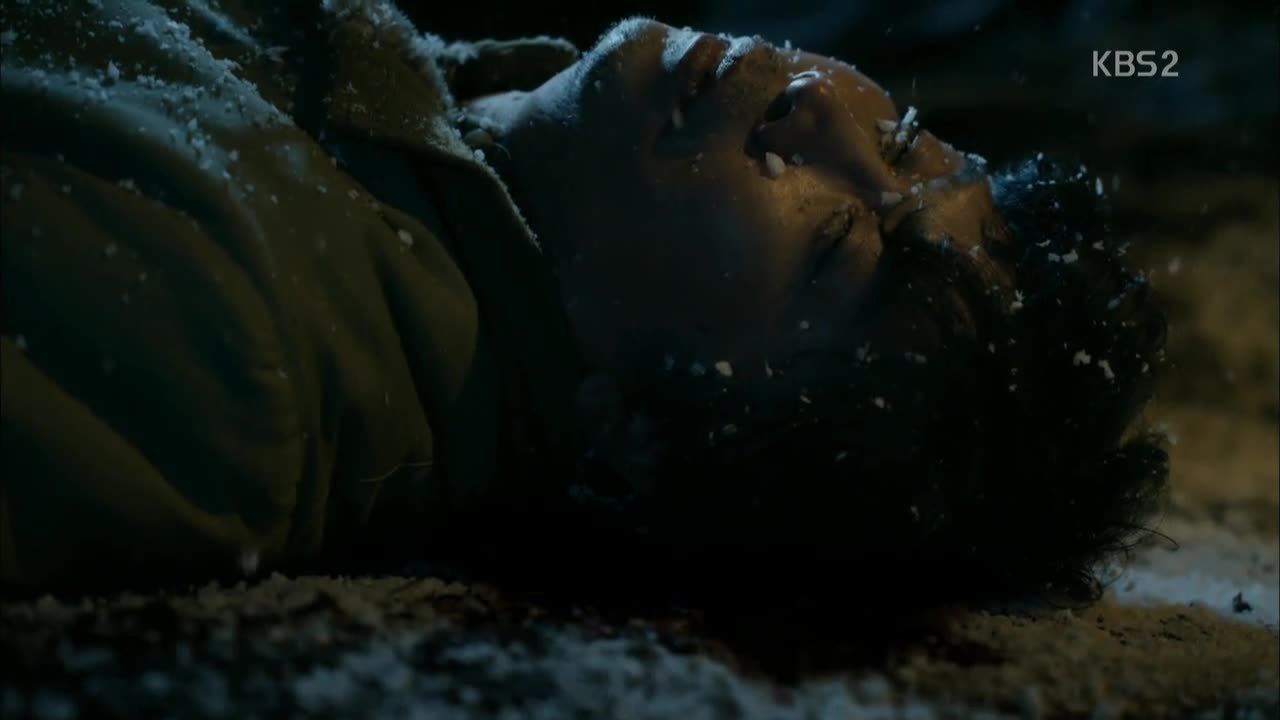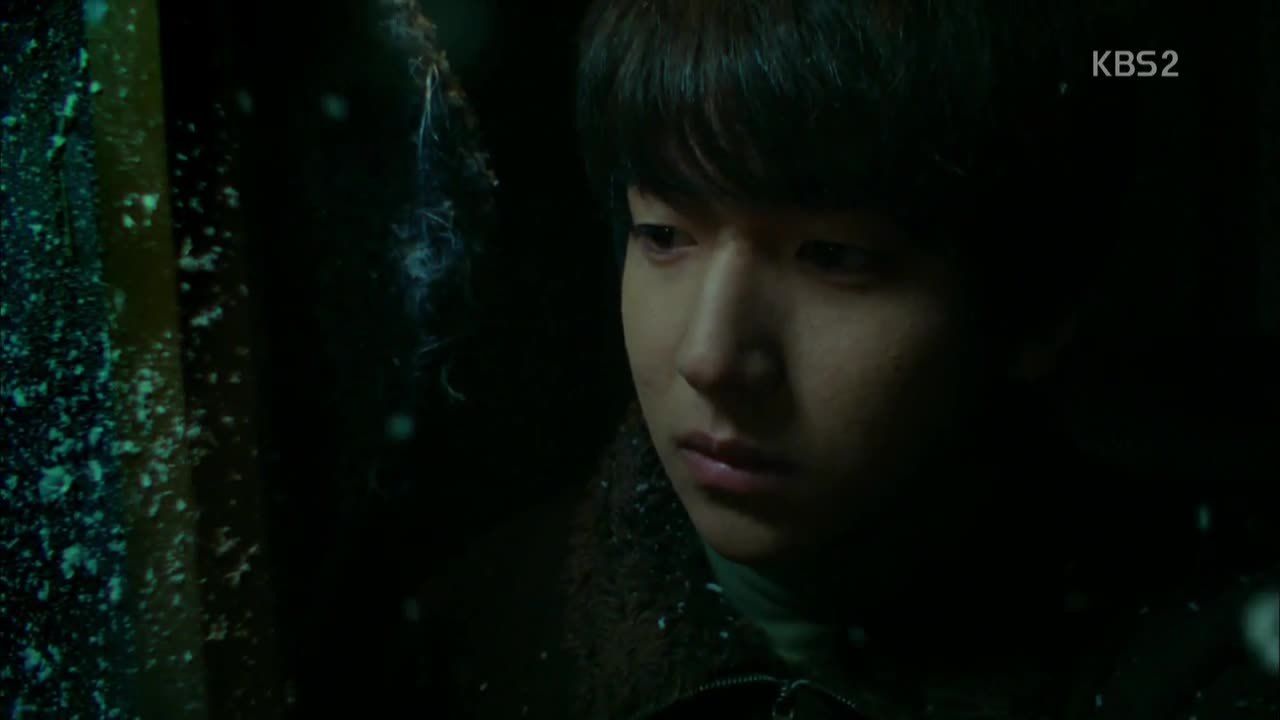 One snowy night, Gil-do catches the flakes in his hand, and the camera shifts to show us his father lying nearly unconscious outside, a pool of blood around his head. He turns his head towards his son, but Gil-do just shuts the window against the night.
Fast-forward to 1980. In a busy market where Gil-do now works, a couple ask him for Pink Floyd's Ummagumma, which he doesn't know. They leave, laughing at his ignorance, but the man's letter jacket (and hot girlfriend) holds his eye. Myung-yi, talking directly to the Gil-do in his story, says he knows what he's thinking: that he wants to turn into that guy.
Night finds Gil-do tampering with the guy's ID cards which he stole, replacing the pictures with his own. From his name and jacket, to his big glasses and hot girlfriend, he becomes him completely. But that creepy smile is all his own.
Gil-do responds to an ad looking for a live-in tutor, which promises to pay well. He's shown into a huge office lined with medals, where the owner inspects his transcripts and hands over a wad of cash: He has to bring his kid up to scratch for college entrance exams, and is told to use whatever means necessary. If Gil-do fails, he dies. Aw, you could've been friends with Gil-do's dad.
That night, Gil-do prowls around the owner's office until he discovers the safe. Inside, he finds a huge amount of cash and an envelope marked "top secret". Just as he's about to open it, the housekeeper discovers him. I don't like that look in his eye…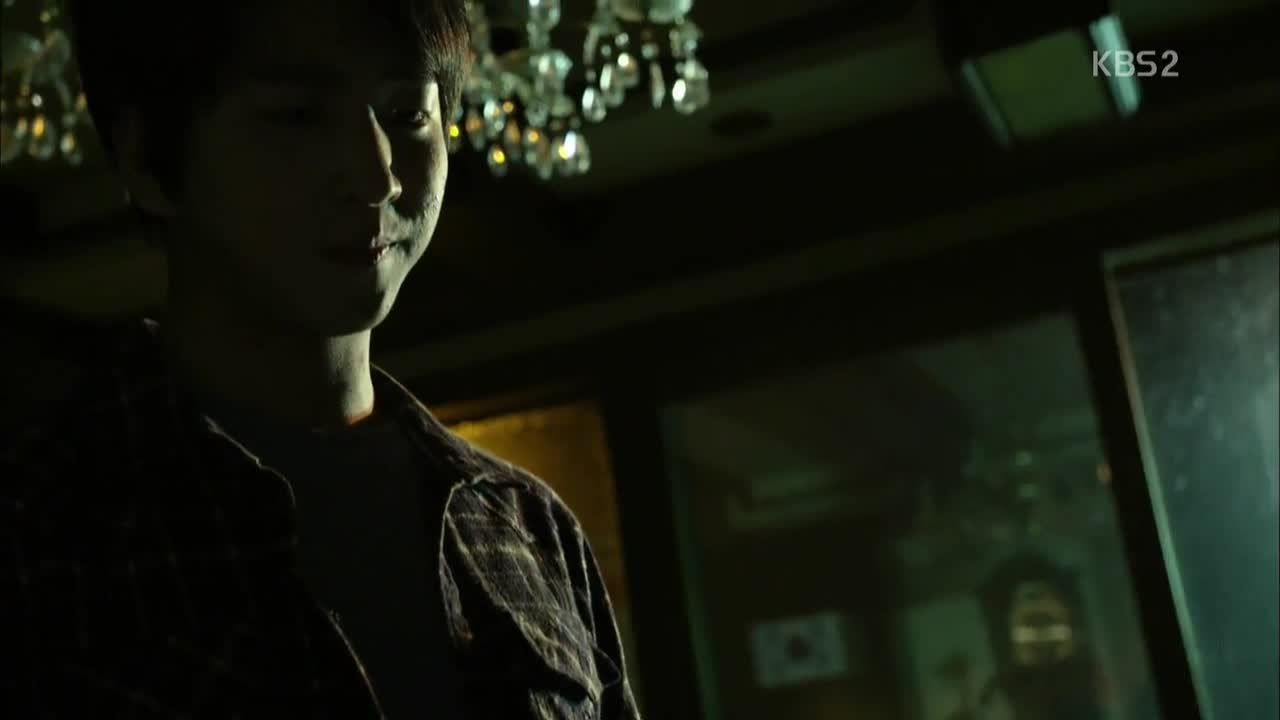 He tells her to act like this didn't happen — he'll put the money back. While he talks, he walks toward her, counting down in his head. On three, he bludgeons her with a heavy bowl he covertly picked up. And then he's gone, taking cash, secret envelope, and murder weapon with him.
Gil-do makes his way down the docks with his head down. A soldier in uniform passes him, leaving an impression. And now he becomes a soldier, proud in his uniform. But he stops suddenly short at the sight of a wanted poster of himself. Not to worry though, because now he's a flight attendant, striding into a hotel. And when he comes out, he's someone else again.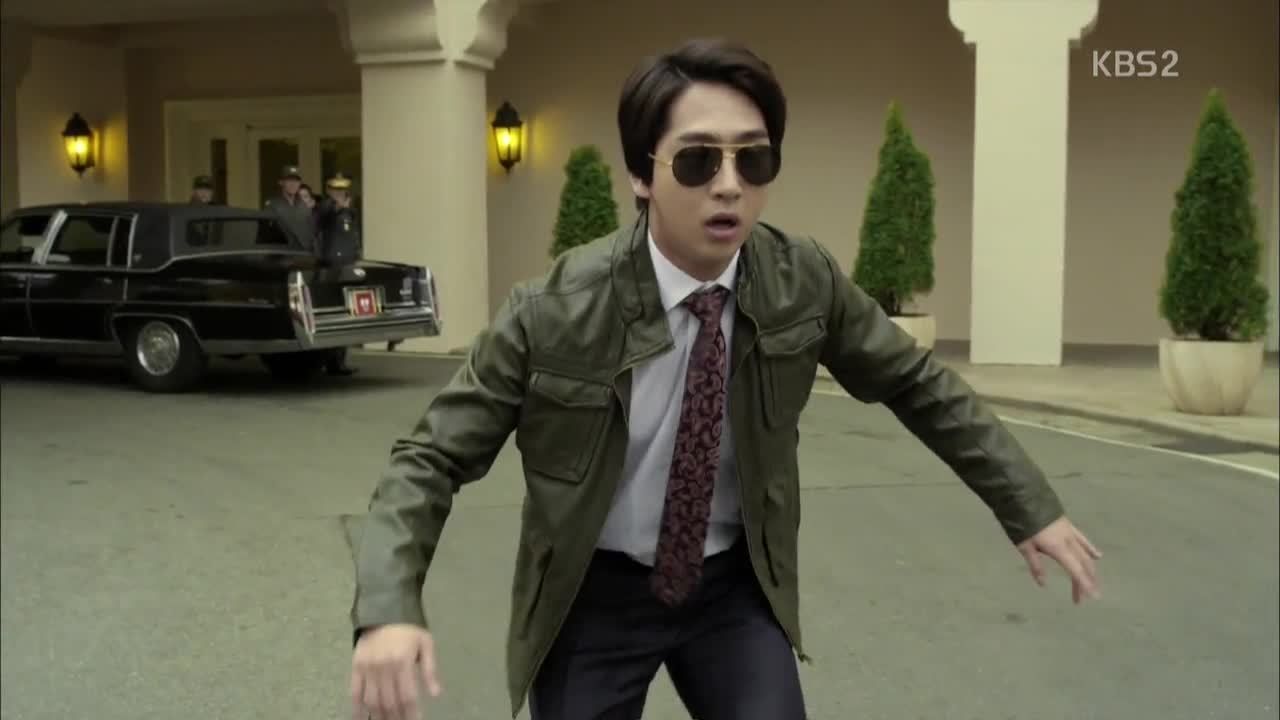 A VIP car pulls up, and Gil-do freezes when he comes face-to-face with the occupant because uh-oh, it's the man whose safe he robbed. He tries for nonchalance but the owner recognizes him and pulls out his gun, and Gil-do runs for his life.
1983. A bedraggled figure looks down on a remote, snow-covered cabin. Inside, a young man kneads dough to make noodles, and labors over a hot pan. "Ha Jung-tae. A person mad about noodles," Myung-yi describes him, "My father."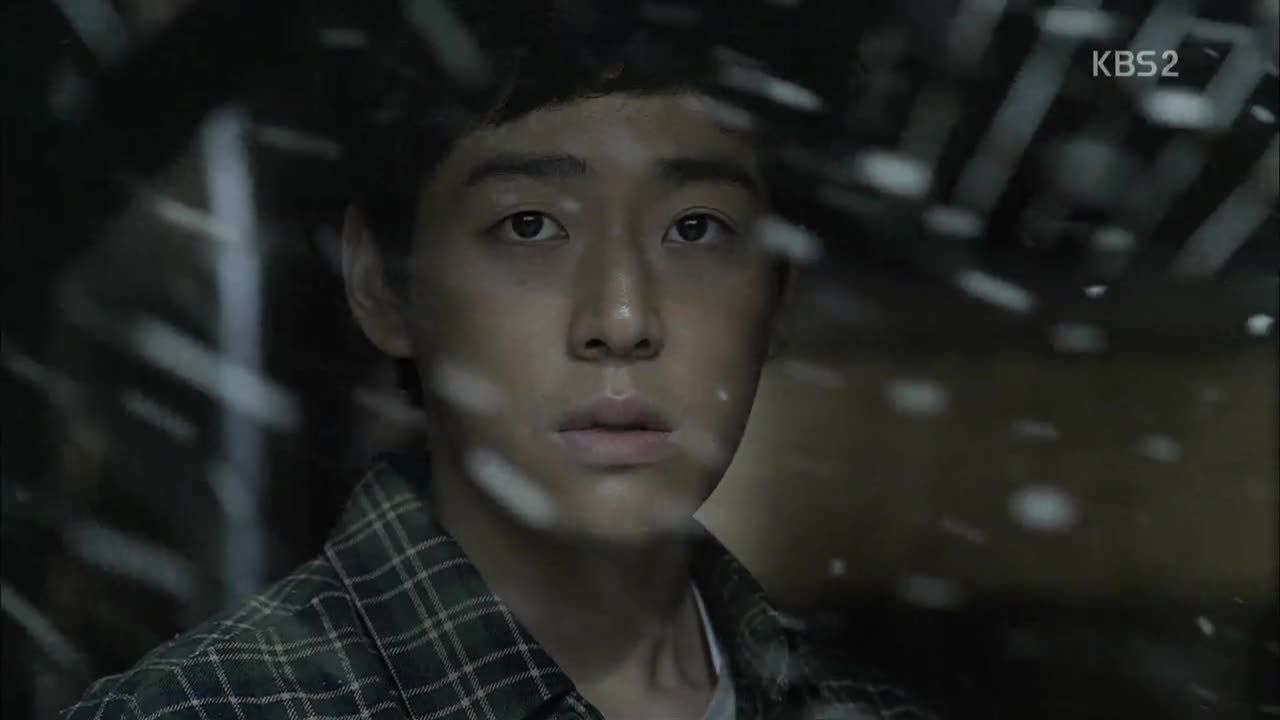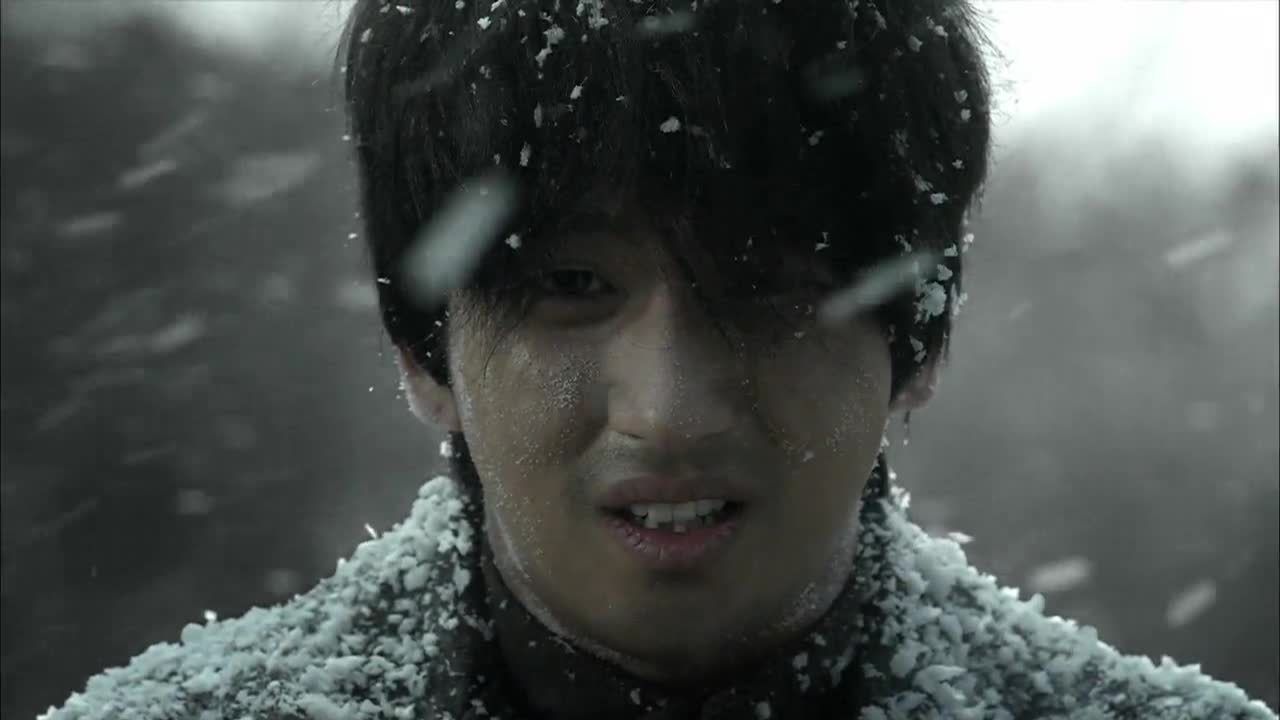 Just as Jung-tae (Noh Young-hak) is about to enjoy the fruits of his noodly labors, there's a knock at the door. Pretend you didn't hear it. Don't open it, I beg you, thinks Myung-yi.
"Father was lonely, and Kim Gil-do needed a place to hide," he relates. And so, Jung-tae takes him. And slowly, under his affectionate tutelage, Gil-do learns about making noodles and making a friend, as he receives warmth and praise for what is probably the first time in his life. He promises to work hard, and Jung-tae suggests they visit Chi Myun Restaurant, a famous noodle house in Masan.
Gil-do gapes at the crowd as they line up to get in. While they eat, he overhears a pair of men behind them talk. Apparently the establishment's owner is looking for a successor, who will inherit the restaurant and marry his beautiful daughter. Jung-tae doesn't notice, and Gil-do stares off into the distance at the daughter.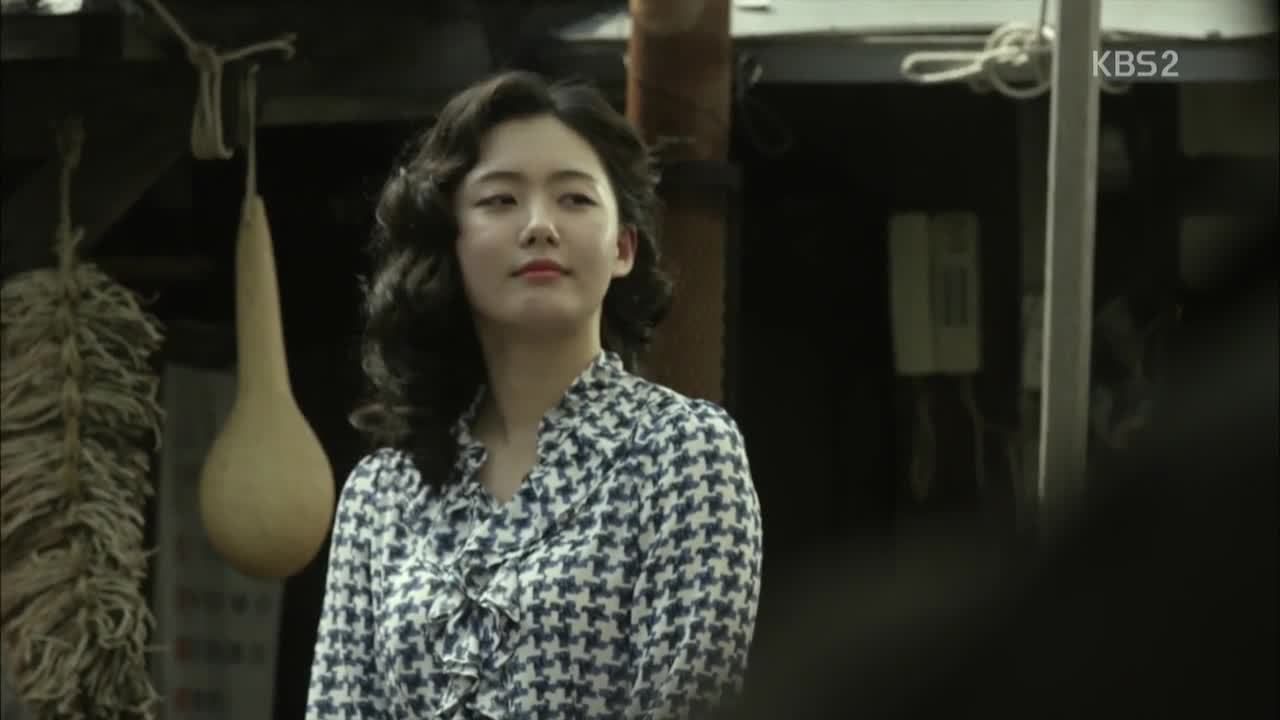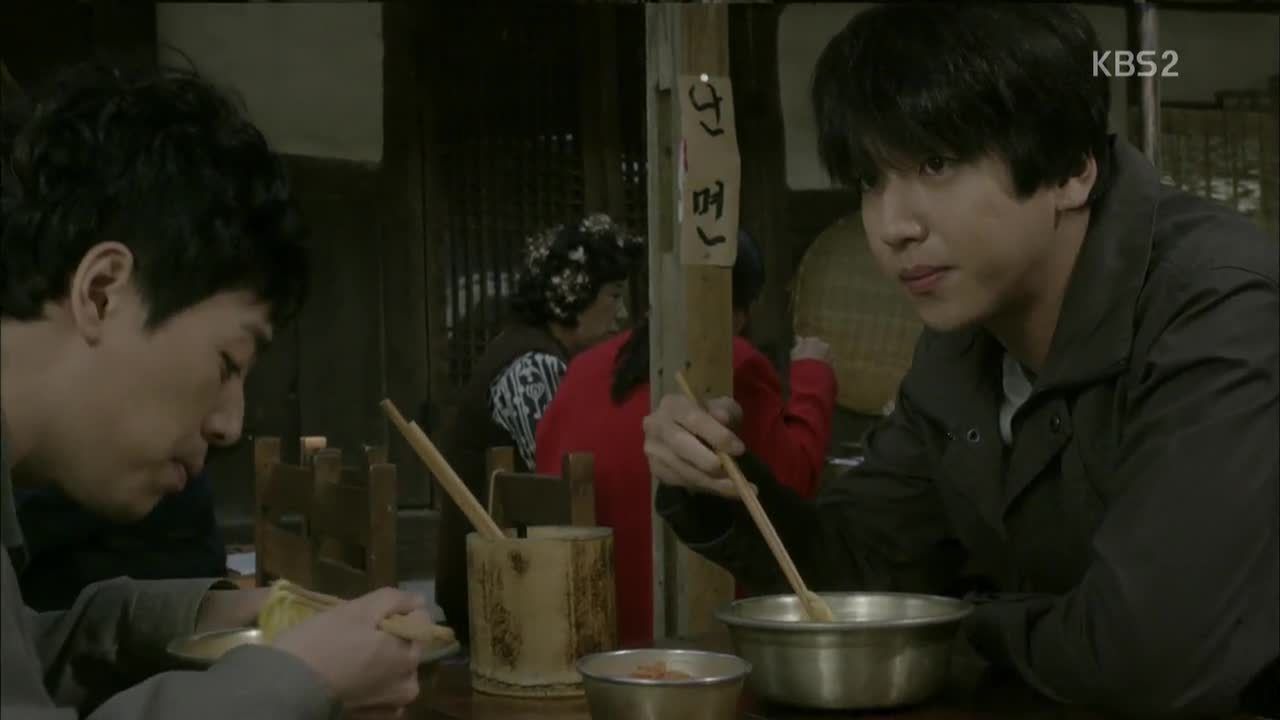 He's silent on the train journey home, until Jung-tae starts to talk about how good the noodles they had were. Gil-do brings up the idea of starting their own business — he's skilled enough that they could make a lot of money.
But Jung-tae's not going anywhere until he perfects his royal pheasant buckwheat noodles. He still prefers kneading dough to counting money, he says. He settles into a nap, while Gil-do stares at him in a way I find unsettling in its emptiness.
Sometime later, Jung-tae visits a supplier, and is frozen by the sight of a wanted poster for Gil-do, which names him a murderer. When he leaves, we see he's torn it off and taken it with him.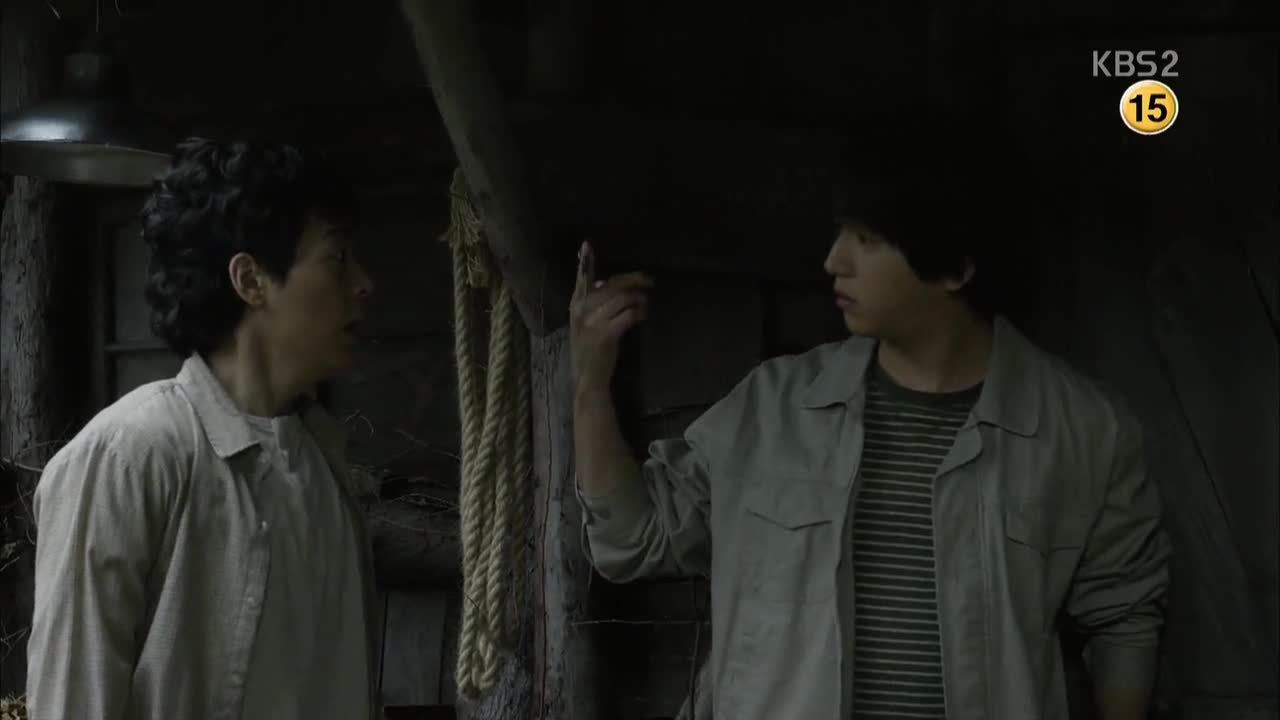 Back at his place, Gil-do comes looking for the tractor key, and Jung-tae directs him to his coat pocket. The belated realization of what else is in his pocket sends him running. Oh god, I'm as scared as he is, but coming out, Gil-do says it was on the table. He seems perfectly normal, so Jung-tae follows his lead and sees him off with a smile.
But once Gil-do drives away, Jung-tae recovers the poster and after a last look, he throws it into the fire.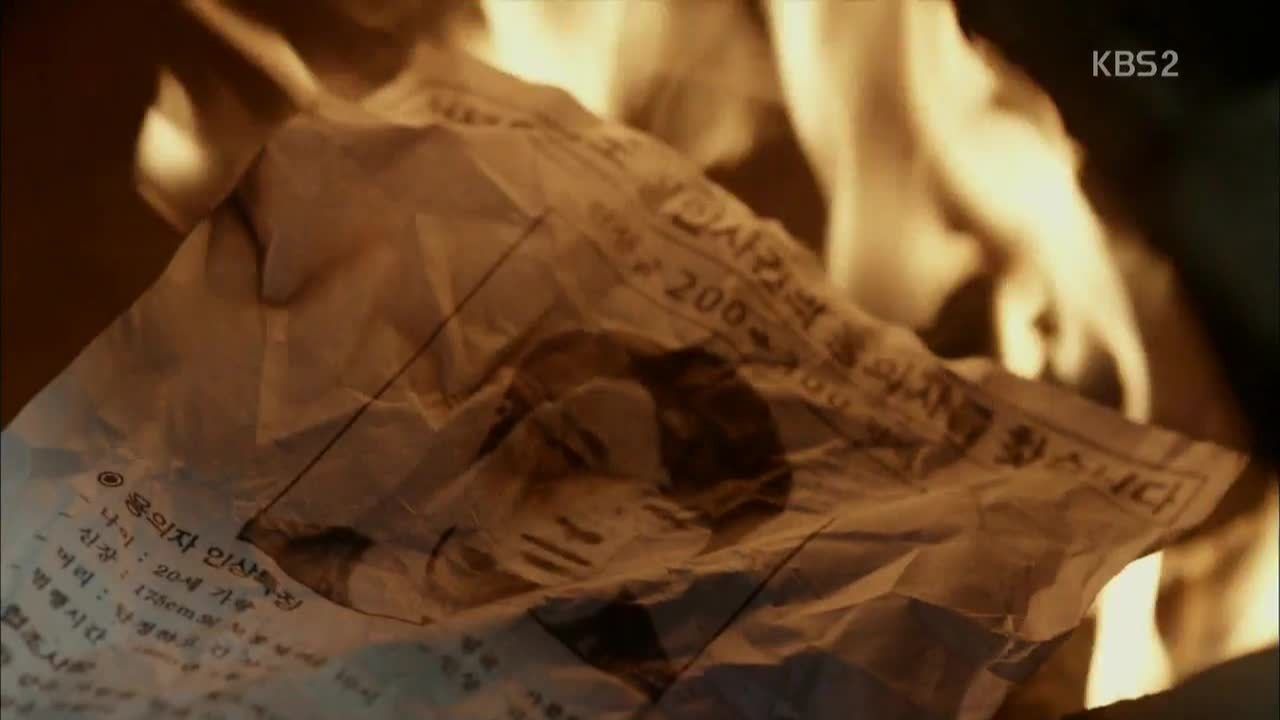 Gil-do returns to find Jung-tae napping at the table, head bowed over an open notebook. He stares at him with dead eyes. Noooo. Jung-tae looks up, and Gil-do says he heard they could find a certain type of mushroom which they need on a mountainside. The worry is evident on Jung-tae's face.
They trek down the mountainside in uneasy quiet, and Gil-do prepares to go down the sheer rock-face, but Jung-tae stops him, saying he'll do it. Face full of uncertainty, he descends on a single rope.
He calls up when he's ready to come up, but Gil-do brings out a knife instead, and starts to saw. Jung-tae cries out and scrambles upwards. He's only a few feet from the top when the rope snaps, and he plunges down.
Back at the cabin, Gil-do leafs through Jung-tae's noodle notebook, lips quirking into a sharp smile. Elsewhere, a woman comes across Jung-tae's battered body at the base of the mountain.
Jung-tae's name is called out at a municipal office, and…that's right. The man who answers is Gil-do: "Yes. I'm Ha Jung-tae," he tells her. She gives him his official seal and ID card, and a copy of his family registry. Holding the card bearing Jung-tae's name but his photo, his smirk grows. With his new identity, he seeks out Chi Myun Restaurant, and lets himself in through its grand doors.
Meanwhile, Jung-tae recovers in hospital, tended by the woman who found him. Myung-yi tells us that although his father survived, he lost all his memories, and only a homing instinct brought him stumbling back to his cabin. Gil-do, however, won his way into the Chi Myun family — with Jung-tae's stolen recipe — to become its heir.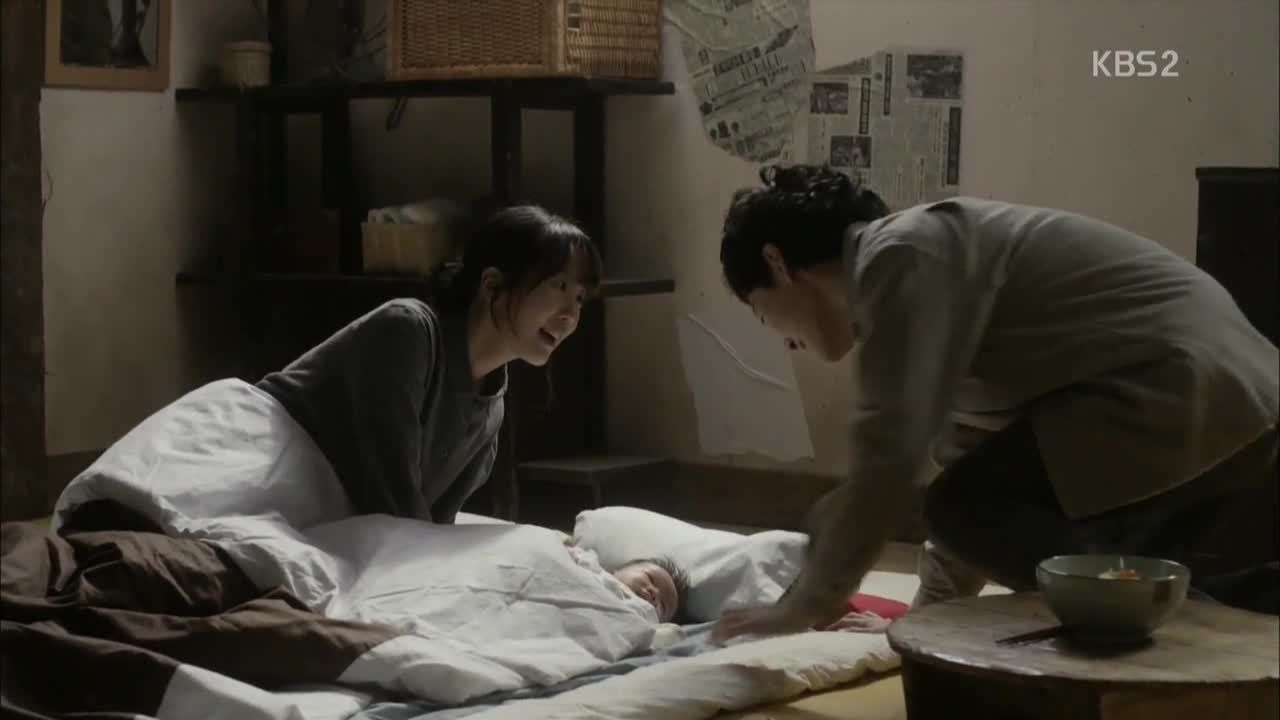 But his father gained something far more precious. It's 1989, and his now-wife has just had a baby: "Me. Choi Soon-seok. Your everything," says Myung-yi.
Gil-do's (now played by Jo Jae-hyun) charmed life continues, but by 1995, something's soured, as his wife (Lee Il-hwa) stands as far away from him in a group-photo as possible. Myung-yi tells us that the more his restaurant grew, the more a monster Gil-do became.
The three of them, on the other hand, lived a life of simple joys. Although Jung-tae's accident left him simple, his instinct for noodles remained. Their happiness made what little they had always more than enough.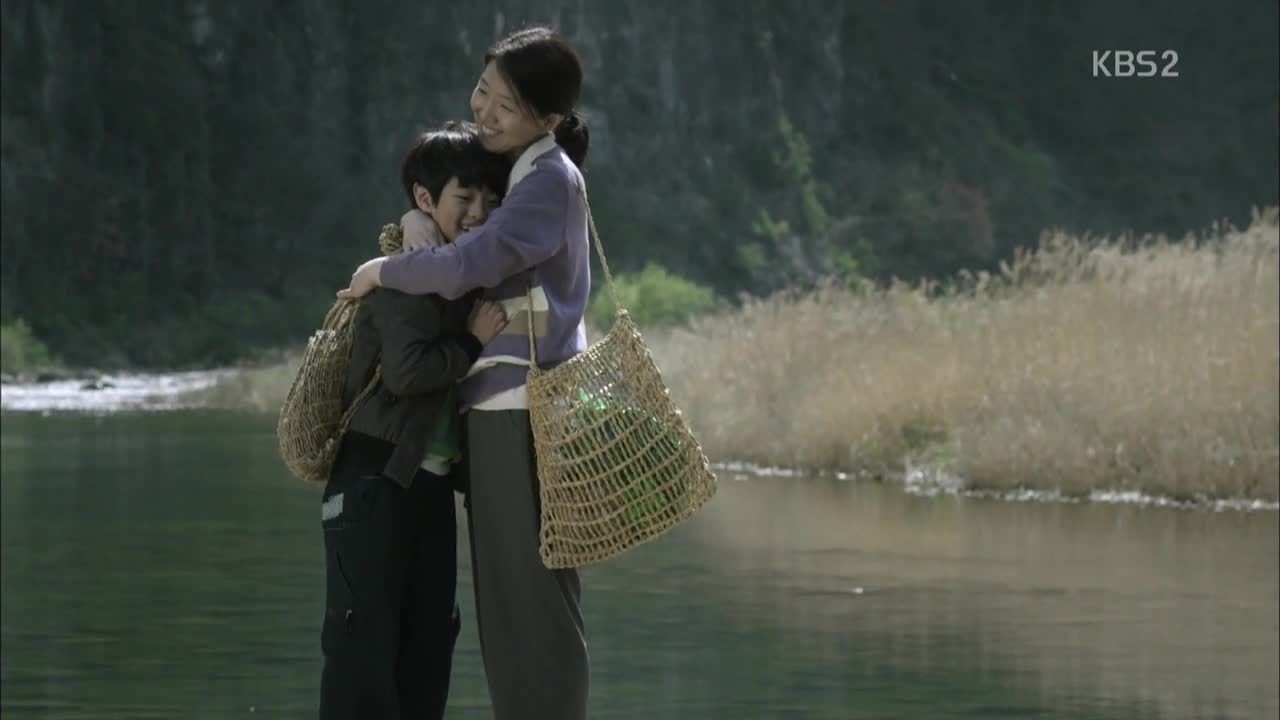 Little Soon-seok skips across stepping stones in new shoes, and his mother apologizes for not buying them sooner. He just laughs and asks if he had ever gone barefoot. She worries about his schooling while he lives on the mountain, but Soon-seok knows Dad couldn't handle living in town and is cheerful about the commute.
At home that night, Soon-seok asks his father his name, but he doesn't know. He follows Soon-seok to help him clean up, but a piece of paper makes him writhe in shock. It's a bit of newspaper with a picture of Gil-do as the first place winner of a noodle competition, but of course under Jung-tae's name.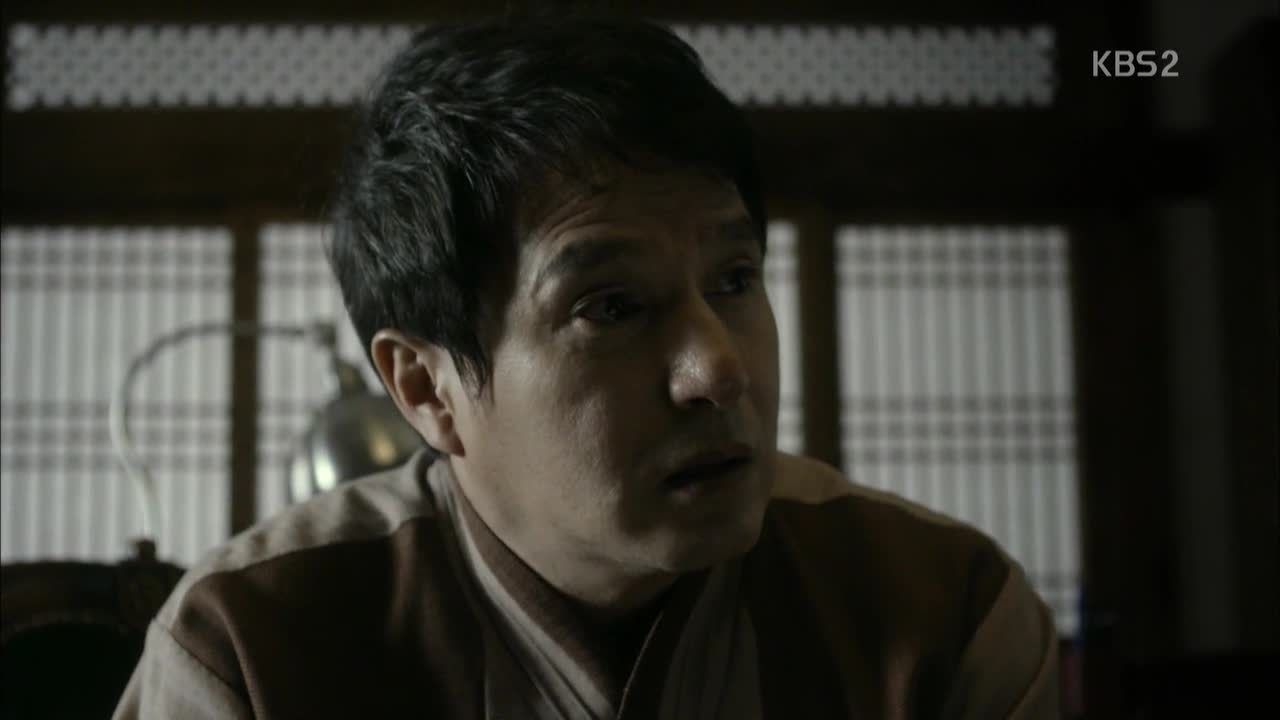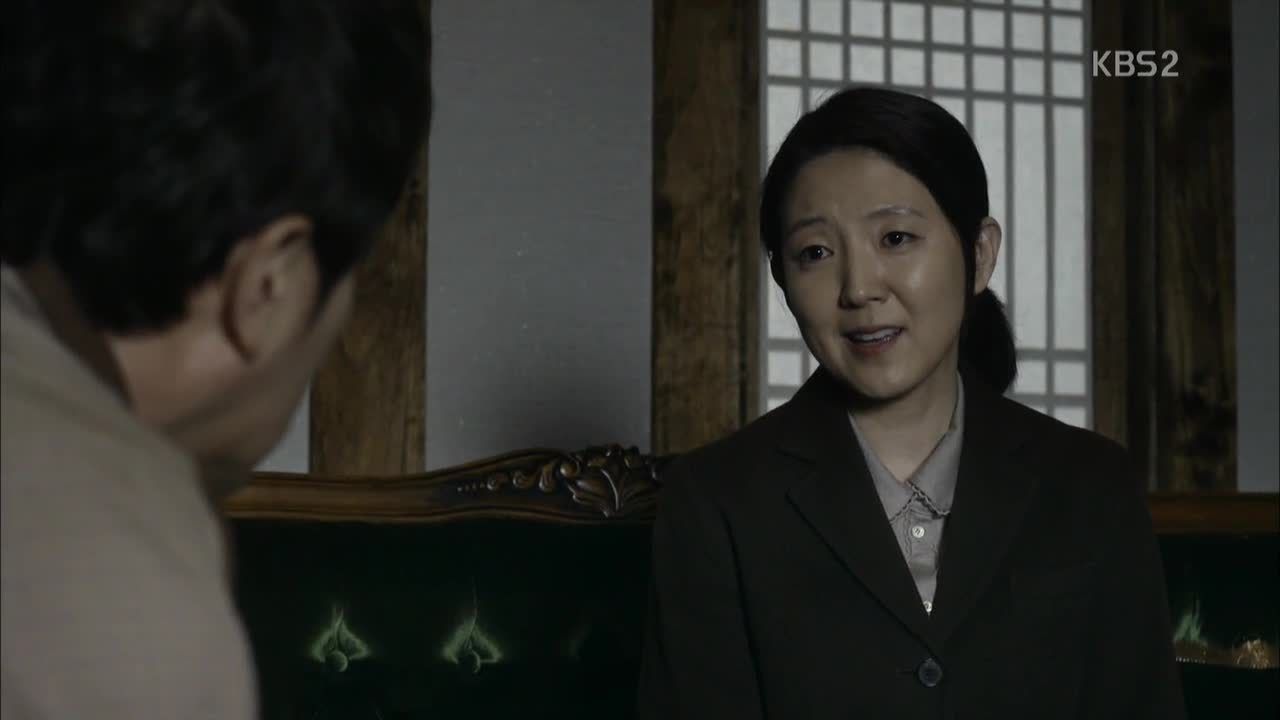 Paper in hand, Mom comes to the restaurant to look for "Ha Jung-tae". He freezes when she asks him if he knows someone called Kim Gil-do and smoothly shifts into creepy mode, asking her if she knows Gil-do. I'm pretty sure his shock isn't feigned, but obviously for all the wrong reasons. He tells Mom that he'll come to visit them himself, since he has a debt to repay his old friend.
Mom returns home happy, thinking she's discovered her husband's real identity. She tells Soon-seok about Dad's old friend, and figures he could even get a job at the restaurant. They look over at Dad, who brings over their noodle-supper.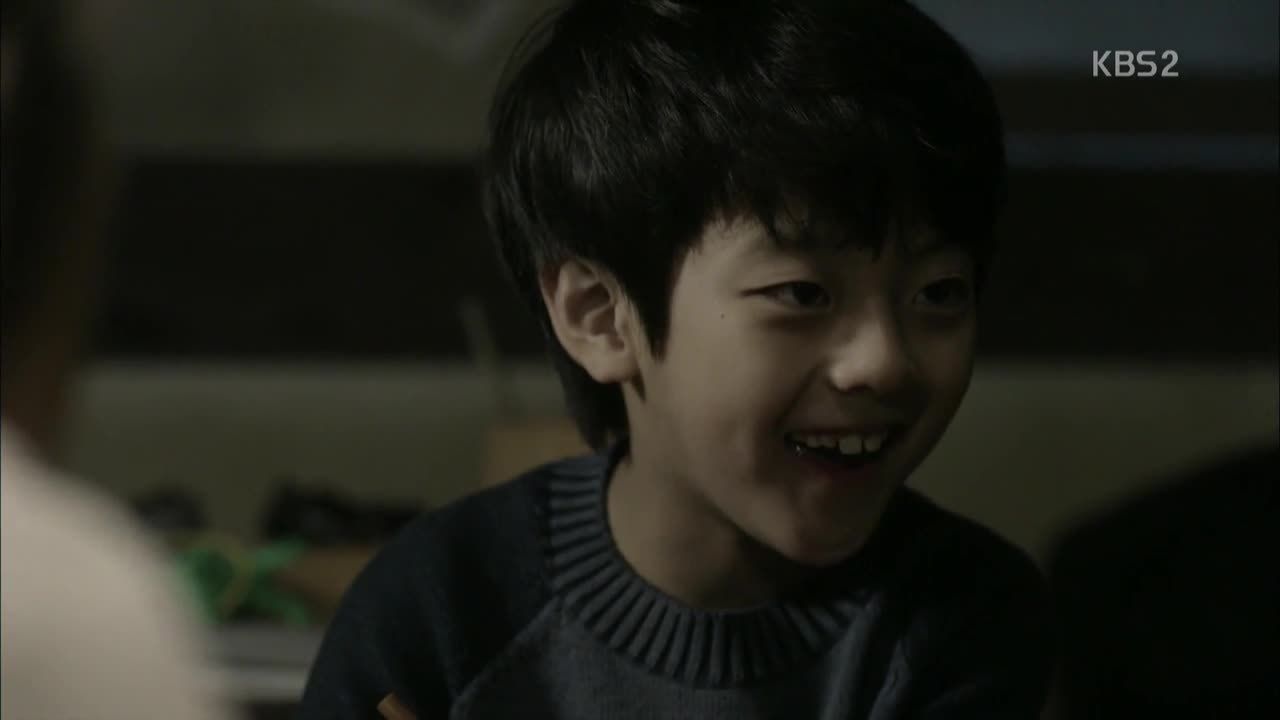 They gather happily around, and Mom is just about to tell Soon-seok his father's name when all of a sudden she keels backwards — dead?!
Jung-tae screams at Soon-seok not to eat it, before he, too, collapses. Oh my god, it's the garnish Jung-tae was putting on the noodles, wasn't it? They must have been from Gil-do. But Soon-seok passes out as well.
Their bodies lie inert, and sure enough, Gil-do is there, dousing the place with petrol. He looks down at their bodies, remarking to himself that although Jung-tae lost his memories, he found his way home like a lost dog, and even got himself a wife and kid. But she shouldn't have come looking for him, he says, pouring petrol over their bodies. Jung-tae twitches.
He discovers Soon-seok's name on his school workbook, and reminisces about his good times with Jung-tae, kneading dough and making noodles. Making a torch from Soon-seok's book, "I'm sorry but…I'm not sorry at all," he says, since they were the ones who came looking for him. With a sneer, he drops the torch.
Fire engulfs the cabin. He turns back to look at the inferno one more time, just as Soon-seok's eyes flutter open to see him leave. Jung-tae, rousing, crawls to Soon-seok and smothers the flames on his body, heedless of the flames ravaging his own. He desperately tells Soon-seok to go, and then tries to save Mom, who hasn't stirred at all. He collapses beside her, and Soon-seok sobs for them as everything is swallowed up in the blaze.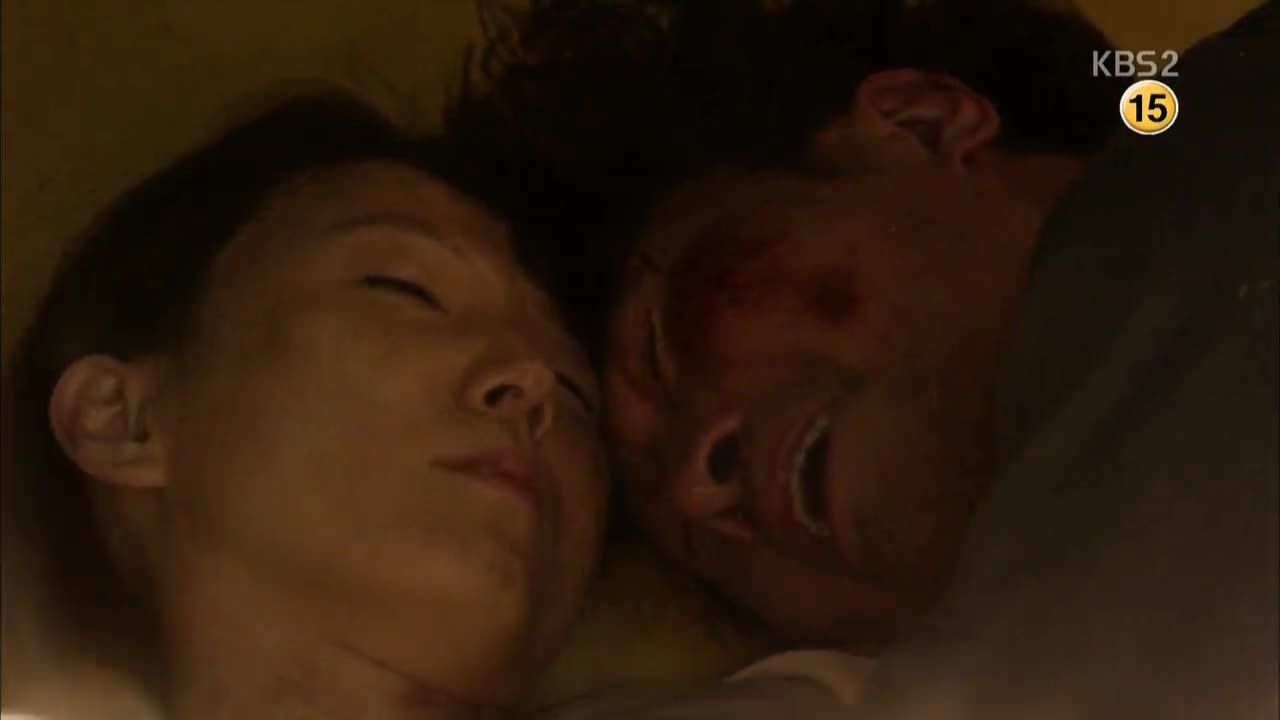 Soon-seok breaks a window to escape, and down the way, Gil-do turns back at the sound. He returns to check, and Soon-seok gets a look at the man who killed his parents. He huddles behind a tree, in terror of being discovered, but approaching sirens force Gil-do to leave the scene.
So too does Soon-seok. He wades across a stream, fire burning behind him. He stows away in a truck that takes him from Daegu to far-away Yangpyeong. Limping and bleeding, he finds himself in front of a police station. He passes it. Instead, he enters the gates of an orphanage, crying with grief and pain as the scene fades out.
A policewoman inspects Soon-seok's injuries, and gently tries to get his name or any other identifying information, but he remains unresponsive. The grumpy director snaps that they should just call him "moo-myung" ("nameless"). While the director gripes about another mouth to feed, Soon-seok closes his eyes as he struggles to hold in his tears.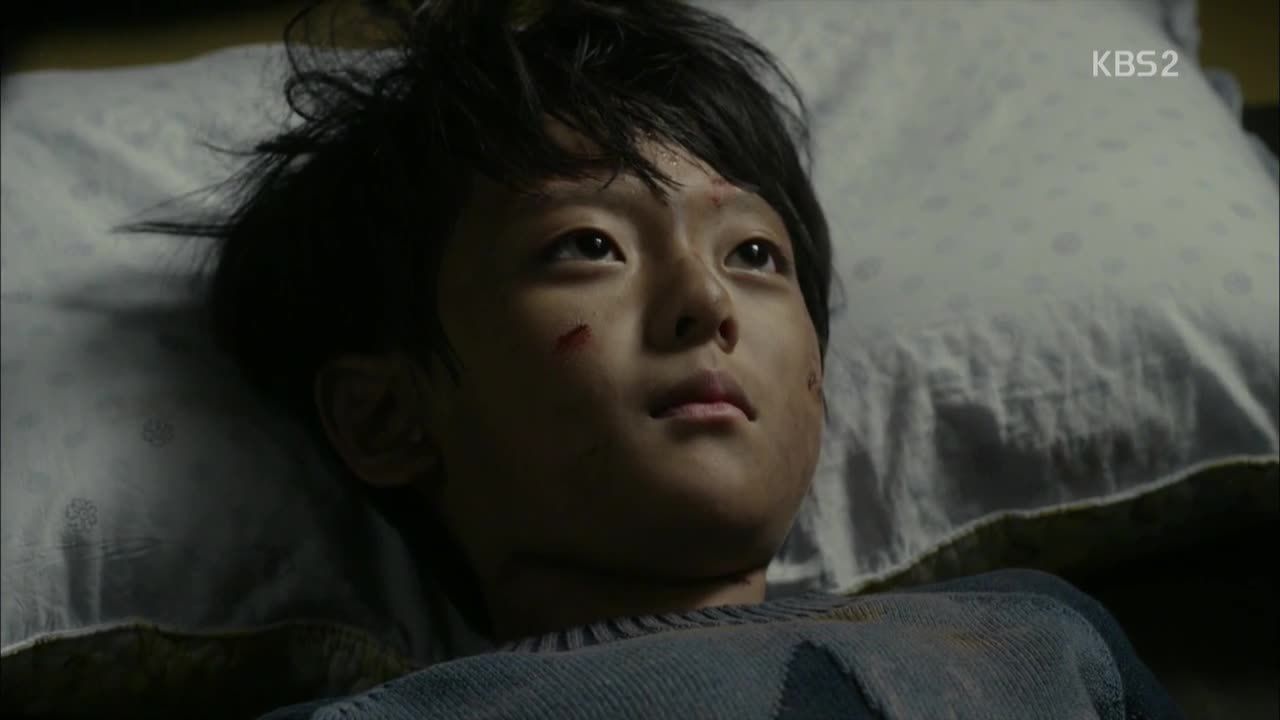 "Choi Soon-seok became Moo Myung-yi, like Kim Gil-do became Ha Jung-tae," Myung-yi narrates.
Little Myung-yi wakes, drenched with sweat, from nightmares of the fire and Gil-do's face. A girl sees him from the doorway, and she quietly closes the door.
In the day, the orphanage boys play football, but Myung-yi doesn't participate. The girl, CHAE YEO-KYUNG, puts a pair of worn shoes beside him, and says one of the boys, GO GIL-YOUNG, stole them. There's an outgrown jacket from another boy, PARK TAE-HA, who doesn't steal. Both boys wave from the field.
Myung-yi says he doesn't need them, but the girl tells him he does. This is a place where you only get things by making noise. Myung-yi says that he's different to them, and Yeo-kyung is sympathetic. It's hard when you first arrive: The food won't go down, and the words don't come out. "But you're the first person who's been like that for two months," she says.
Her parents were murdered, she tells him, but she can't avenge them even if she wanted to since the murderer was already executed. She gives him a pair of bright red mittens tells him to do his best to bear it — that's all they can do here.
As she leaves, Myung-yi asks if she was there too, when her parents died. He gets no reply.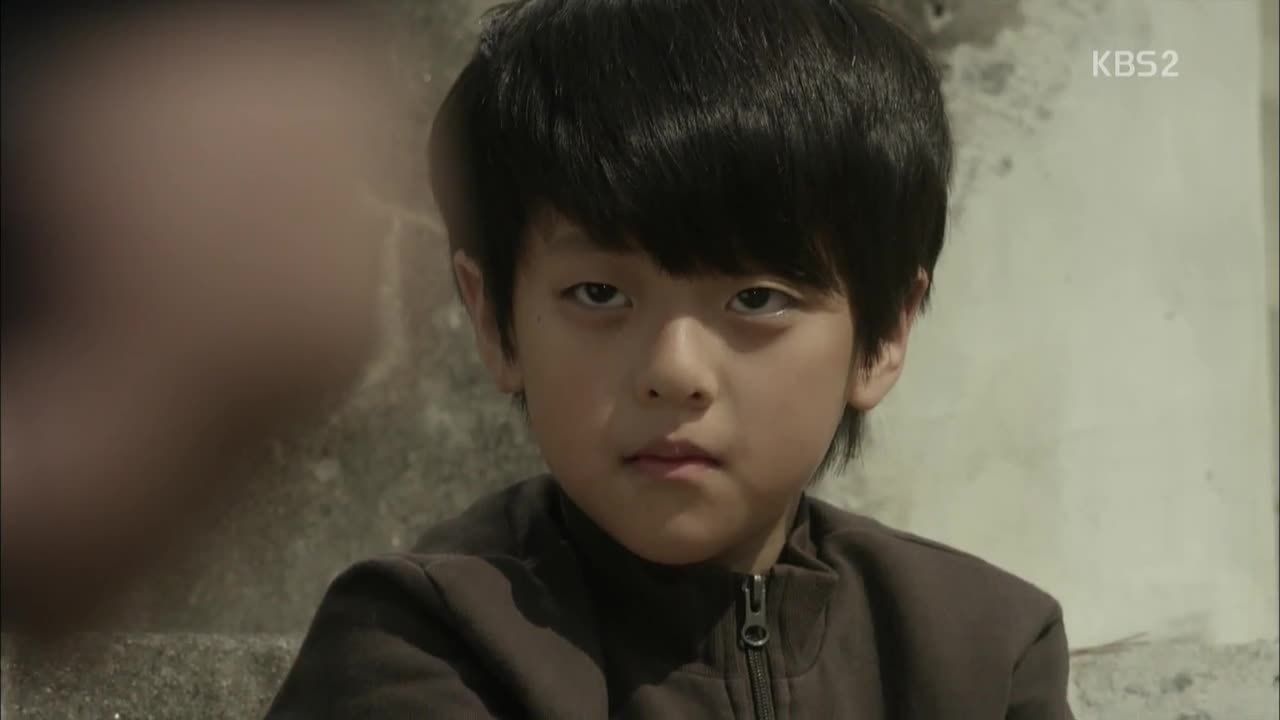 The shoes remind him of the new pair his mother had bought him that happy day. He starts to cry, but puts them on. Tae-ha (the kid who doesn't steal) comes over and tells him to join them, unless he prefers crying.
Slowly, Myung-yi learns to smile again, as he's taken in by the other boys. He and Tae-ha play and run together, side by side.
And now we sprint into 2007, where a grown-up Myung-yi runs through narrow streets, Tae-ha (Lee Sang-yub) still at his side.
Their thieving friend Gil-young (Kim Jae-young) gets a beating from a group of gangsters for stealing a motorbike. He won't give up the money he got from selling it either, and claims that he's got backup coming. The boss doesn't believe him, until Myung-yi and Tae-ha appear a moment later, panting from their run.
The gangsters charge, but the boys make short work of them, and it's almost poetic how their kicks fly in sync. Gil-young must not be a fighter, because he cowers from the melee. As the last gangster standing, the boss grandstands but fails to impress them. He smashes a piece of wood against his own head and knocks himself out, an action which puzzles and entertains them in equal measure.
Gil-young thanks his friends for the rescue, but ha, Tae-ha just wants his leather jacket (which Gil-young must have pinched) back. Myung-yi reproves him for getting involved with the gangsters in the first place, and follows Tae-ha. Glum Gil-young checks on the roll of banknotes hidden in his sock. Cheering up, he runs after his friends.
They still live at the orphanage, and they're in trouble with Yeo-kyung (Jung Yumi). She tells Tae-ha off while tending to his cuts, but when she comes to Myung-yi, she softens and treats him gently without rebuke. Gil-young she ignores altogether, haha, and tells him to go clean.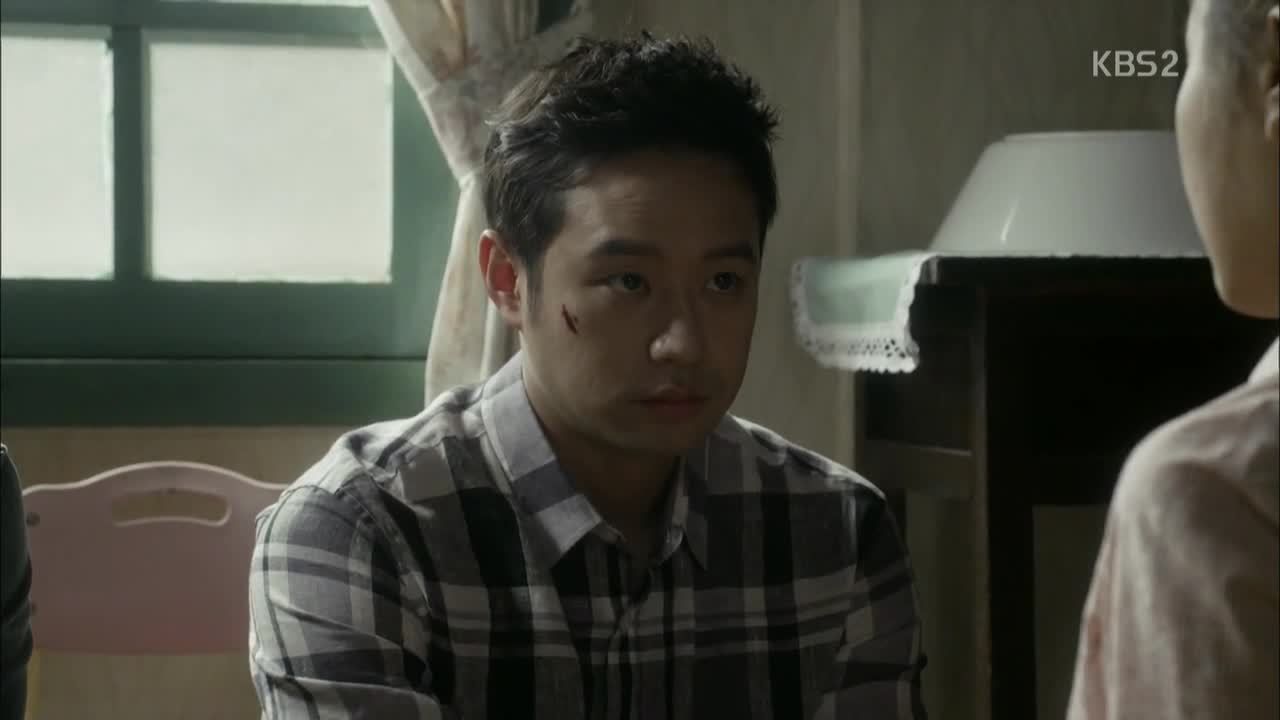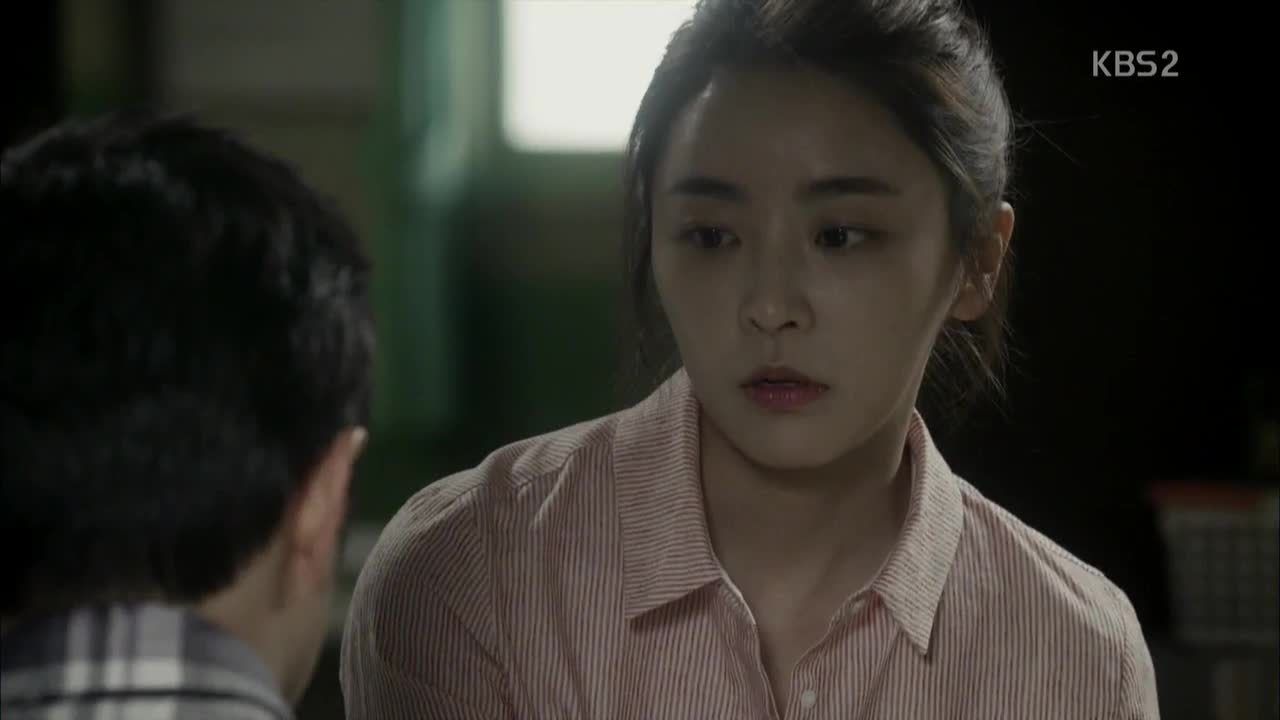 With the other boys furtively pointing out Gil-young's leg, she rolls up his trouser and finds the money taped to it. She rips it off and smacks him for trying to get away with it. With affectionate pats, the other two leave him to cry over it. In voiceover, Myung-yi says they were happy at the orphanage, while they had each other.
It seems they now take care of the everyday running, but the old director is still there. Yeo-kyung argues with him after hearing that there have been even more cuts in their already woeful funding.
For some reason, he forces her to call him "dad", which comes off pretty creepy. He tells her to clean up the kids for an important guest tomorrow, and in parting, says she should put a bit of makeup on that pretty face. Definitely creepy.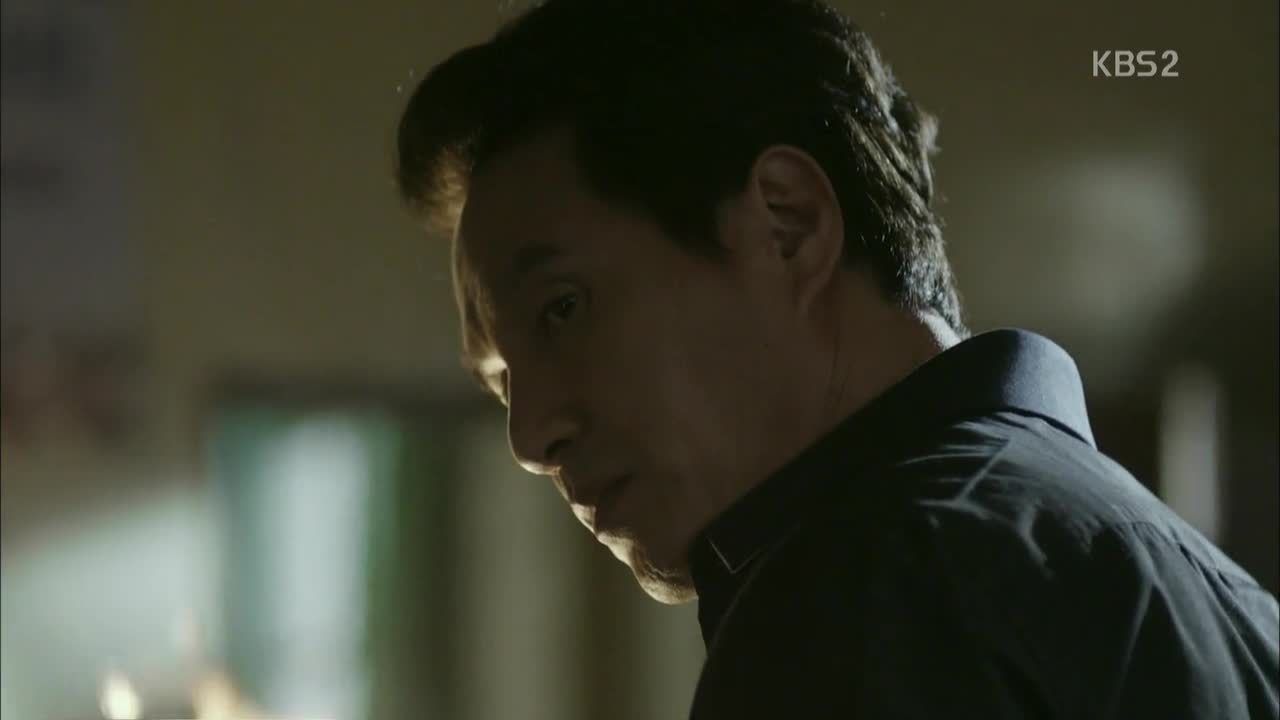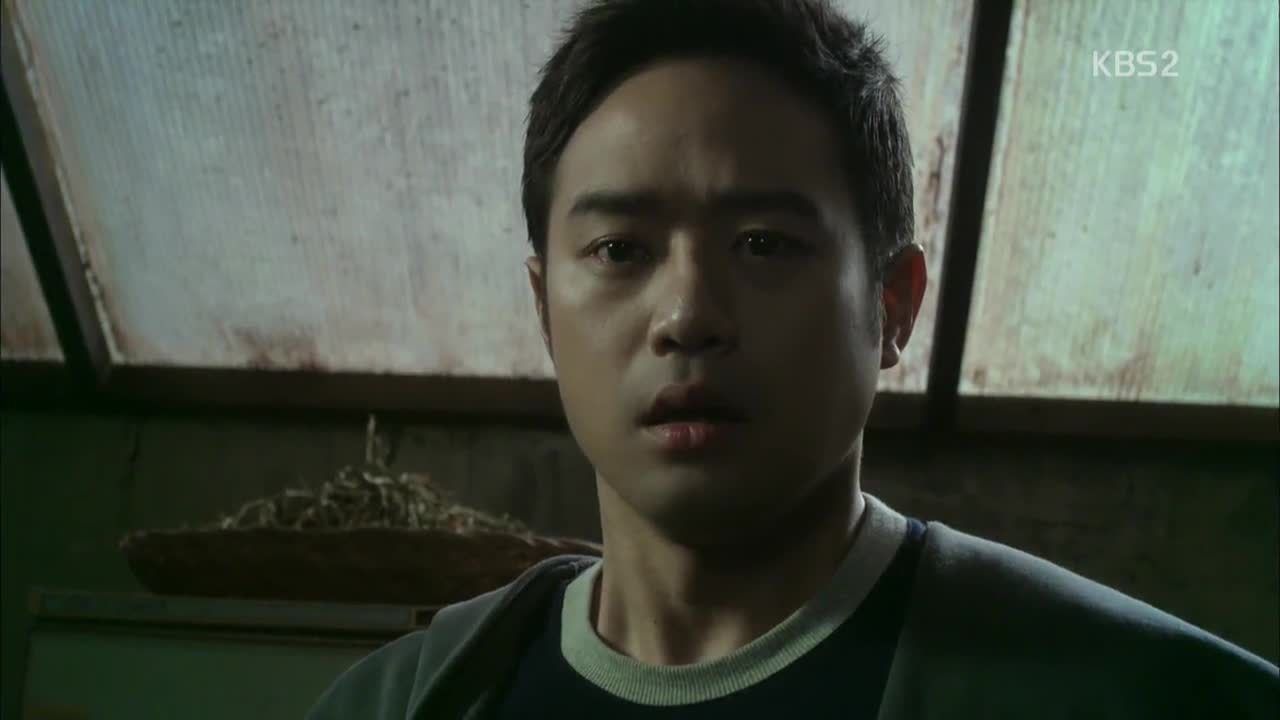 The next day, everyone gathers for group photos, and Myung-yi is sent to the kitchen to help with the food. He approaches the chef, who's just lighting up the stove. The flames leap up and outline his profile, sending Myung-yi reeling into memories of the fire that destroyed his family. It is of course none other than Kim Gil-do, and Myung-yi's breath comes in short as he relives that horrible night.
Glad for the help, Gil-do offers him a knife. Myung-yi stares at it, and ever so slowly reaches out to take it. His fingers tighten around the handle, and he looks up at the man giving it to him.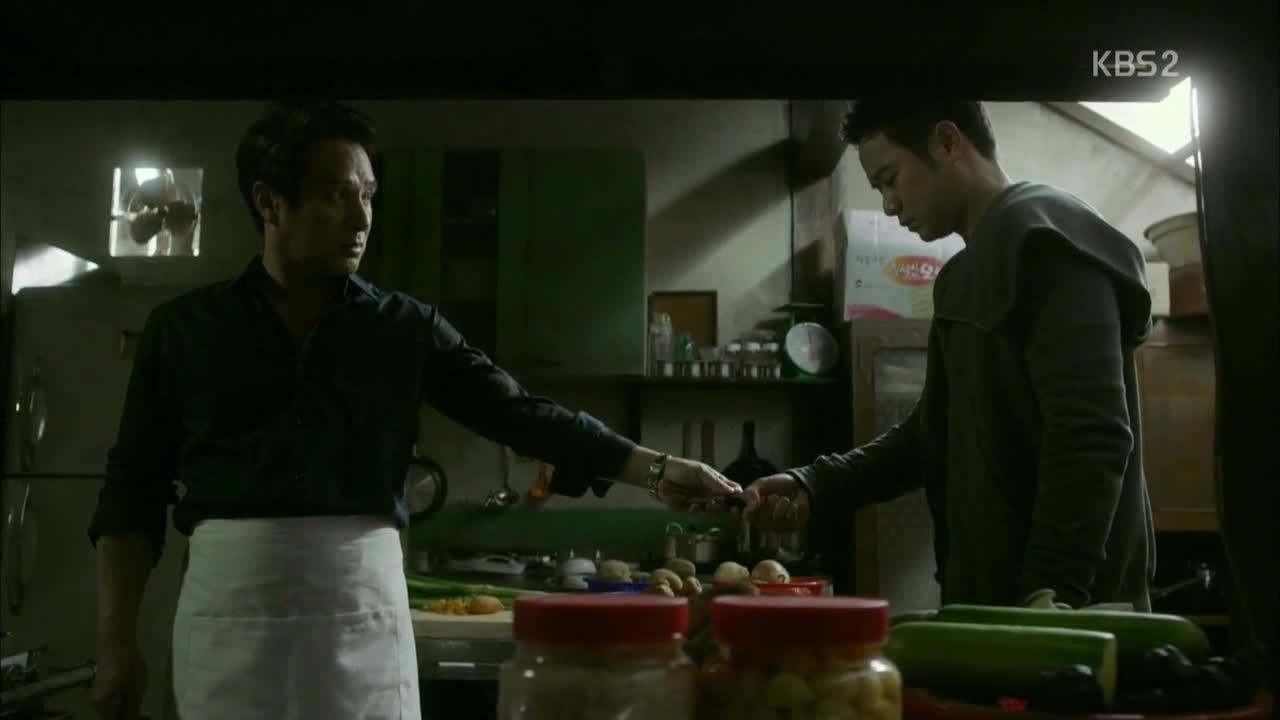 COMMENTS
I think I loved this opener. Is it safe to say that yet? I'm wary of the possibility that Master–God of Noodle could go the way of Age of Feeling, but I'm determined to enjoy it to death until it does (but it won't, right?). I enjoyed the touch of making Myung-yi a third-person narrator throughout the episode. It gave a simultaneous sense of connectedness and detachment, closeness and distance, in that we were in Myung-yi's head, but his were the only thoughts we had access to. Did anyone else think Gil-do knew exactly who he was, in the opening scene?
Gil-do offers a wealth of complexity to unravel, even at this early stage. I like — and find eery — that it wasn't made clear whether he killed his father, or if he just died. Whichever it was, I don't think there's any doubt that the prolonged abuse he suffered at his hands played a key role in making him the monster Myung-yi dubs him. There's a not-insignificant element of tragedy in that, too, and it reminds me of murderers in dramas I Remember You and Signal (incidentally: Lee Sang-yub).
I'm impressed at how well Baro carried the dark elements of Gil-do's character and so far, he's a well-crafted villain. I'm certain that there was a level of reality in the friendship between him and Jung-tae while it lasted — those smiles were real, the camaraderie genuine. It was clearly the first time he'd ever been liked and cherished, and his wonderment and uncertainty were real, too. But none of that could take root inside Gil-do, who only knows one response to threat: to kill. If other people have fertile and responsive spirits, Gil-do's is barren and empty.
There's also an appealing symbolism in his talent for mimicry: No matter how good he is, it will never be the same as the real thing. His cracks are beginning to show, and I hope it all goes somewhere dark. But only medium-dark, because if it's too dark, I'll have nightmares. And chameleon Gil-do is genuinely chilling, taking on and shedding identities like coats, and most likely doing away with the original owners. How many people has he killed? He chases money, but does it fill the hole inside of him? How much would it take? And he is trying to fill himself up with something, but the problem is, there's no such thing as enough when you're feeding a bottomless hole.
Jung-tae's a great foil to Gil-do, because he's almost an absolute opposite. On the mountain, you could see in his eyes that knew that everything was wrong, but he offered to go down anyway. Who does that? It's like he can't help it, and I'm certain that that's what Gil-do banks on. Manipulation is, to a good extent, by consent, and Jung-tae consents when he goes along on the trip in the first place, and again when he goes down the mountain. That's not to say it's his fault, because of course it's not at all, but it's his handicap when faced with a ruthless manipulator. All along, I couldn't shrug off the feeling that Jung-tae only lived as long as he did on Gil-do's sufferance. It's why his end feels so tragic and his whole arc got me in the gut (although that might also be something to do with Noh Young-hak, too).
And that brings us to Myung-yi. I don't think we've seen enough of him yet — this episode was really Gil-do's — but I'm invested in his revenge already. I think the backstory that was served this hour got me emotionally invested much faster than if we had been given it in scattered flashbacks. And in the case of Myung-yi, his childhood counterpart really brought the tragedy of Soon-seok home. And there's something much more stark and profound about the relationships he makes at the orphanage. If there's anyone in the world who can begin to understand him (and he them), it's a fellow orphan. The grief, the loss of their parents and their former lives, they all share it. That is the stuff unbreakable bonds are made of, and the weight of that is evident between the four friends. I fully expect them to be by Myung-yi's side while he does his revenging. The noodles are long, but the days are short.
RELATED POSTS
Tags: Chun Jung-myung, Episode 1, featured, first episodes, Jo Jae-hyun, Jung Yumi (2), Master–God of Noodle