Mirror of the Witch: Episode 2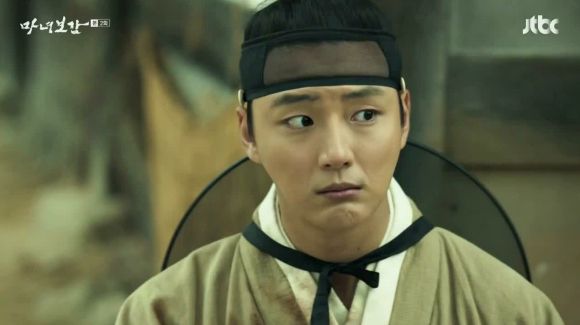 I found the lighter tone of this episode to be a pleasant surprise, after the darker and more gruesome — but absolutely gripping — first episode. I don't think the differing tones are at odds with each other; the show balances the two well, even within one episode. In all, I really appreciated having a little more breathing room to get to know our younger characters and learn more about their relationships before we get back into the swing of things with the black magic/royal curse storyline.

EPISODE 2 RECAP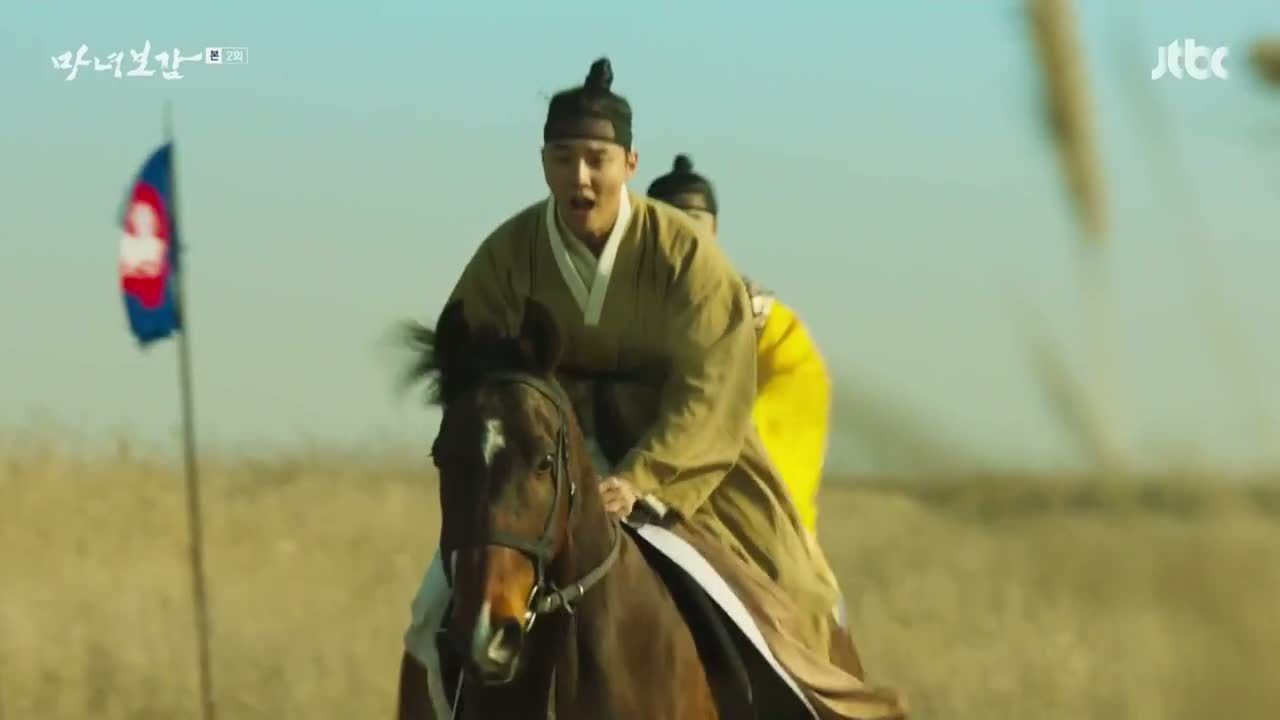 Seventeen years after the birth of the twins, we open on a field where two men compete in a horserace in front of a cheering crowd. The competitors are half-brothers HEO JUN (Yoon Shi-yoon) and HEO OK (Jo Dal-hwan), and the crowd places their bets on who will win. It seems widely known that Jun is the brother to back, as we see most everyone putting their money on him. But one man, hiding himself behind a fan, comes forward and says he'll take the gamble on Ok.
Just then, we see Jun overtake Ok in the race, to the delight of the crowd. From behind, Ok waves a white handkerchief in the air — it's a signal to his cronies, who are hiding further down the course ready to sabotage Jun. As Jun approaches, they throw buckets of dirt in his face. Jun falls off the horse, and to the disappointment of most of the spectators, Ok wins the race.
Ok rides over to Jun, who's still on the ground, in a fake show of concern. Jun is gracious, telling Ok he will always trail behind him. Ok tells Jun not to feel bad, since a win is just a win.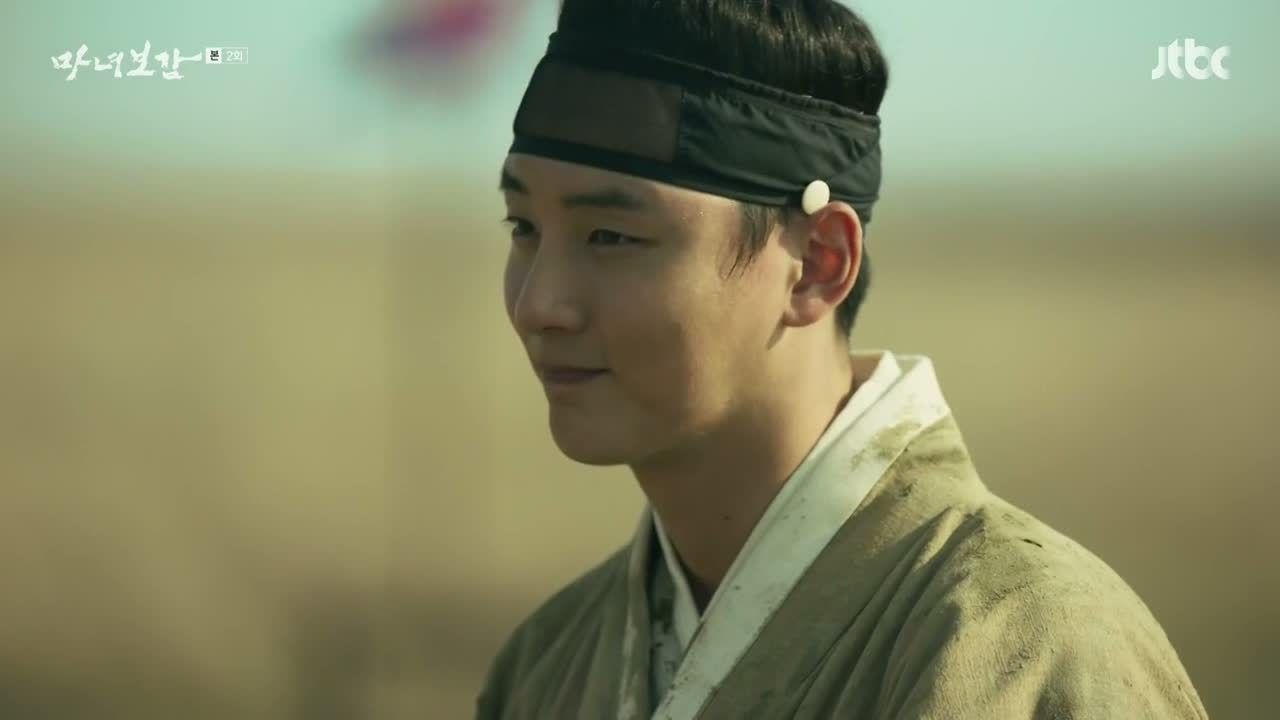 Jun says he won't: "I didn't lose the race I was supposed to win; I lost the race I was supposed to lose."
Pleased with his victory, Ok offers to buy a round of drinks. Jun turns it down, saying he has something to do.
Ha, it turns out the guy who bet against Jun is a friend of his, DONG-RAE — they must have hatched the plan knowing that Ok was going to cheat. Unfortunately, it didn't earn them much: just over 10 nyang. Dong-rae says at this rate, Jun will never get to his goal of 500 nyang.
All of a sudden, Dong-rae gets up and tries to leave. Jun is immediately suspicious and stops him. Wordlessly, using just his facial expressions and hand gestures, Jun forces Dong-rae to take off his top, revealing a string of coins hidden inside. The two then burst into laughter — Jun's incredulous, Dong-rae's embarrassed. Jun collects what's his, while Dong-rae swears up and down he doesn't know how the coins got there.
Meanwhile, Jun's brother Ok is drinking and celebrating with friends. He asks the group how much money they made off his win, to which the answer is: none. Surprisingly, Ok takes it in stride, chiding them for not taking advantage of a clear opportunity. He is curious, though, about who actually won the bet. One of his friends says Heo Jun's friend Dong-rae made off with the entire pot.
At that, Ok remembers Jun's words from earlier, about losing the race he was "supposed" to lose. Ok angrily throws his drink at the gayageum player next to him, realizing that he's been played.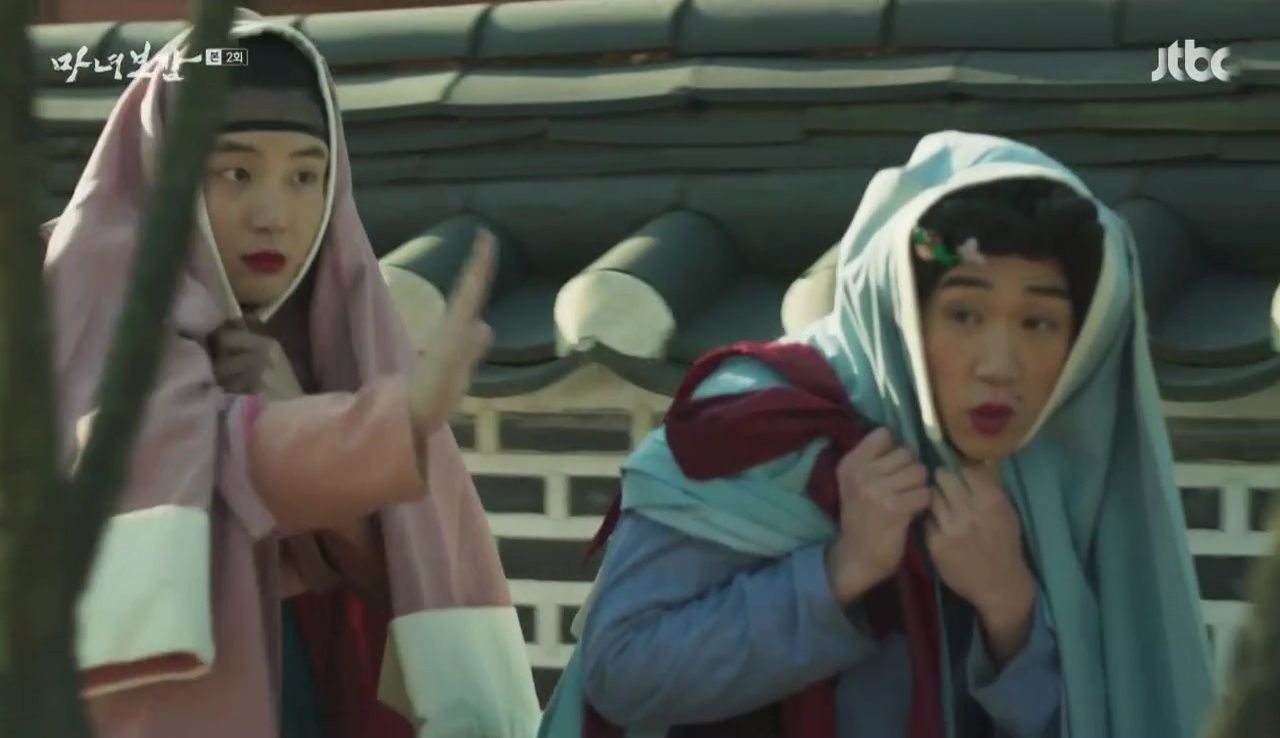 Jun and Dong-rae skulk towards the palace, dressed in women's clothing and carrying heavy trunks on their shoulders. Using a secret code, they gain entrance to the palace and are led to meet with a group of young shamans. Ha, they're there to peddle some magical potion, claiming that it will help the ladies increase their chest size.
The two talk up their product to all in attendance, giving out free samples and offering deals. Jun in particular seems to be a real smooth-talker — he's not the slightest bit ruffled when another shaman interrupts their sales pitch by accusing the two of being con artists. Instead, Jun takes the opportunity to rally the group together to chant about the power of believing in the medicine.
Together with Jun, the shamans chant: "Trust, in myself. Trust, in you. Trust, in this. I can do it! You can do it! We can do it!" By the end, everyone is pumped up, and they all down the medicine.
On their way out of the palace, Jun notices something shiny on the ground and picks it up — it's a fragment from one of the shields that was used to try to deflect black magic from entering the palace 17 years ago. Of course, Jun doesn't know that, merely saying to Dong-rae that they could probably get some cash for it, whatever it is. At that moment, the palace guards appear, and Jun and Dong-rae make a run for it.
Jun is able to evade the guards by hiding out in a nearby building, but just as he's able to catch his breath, he backs straight into Hong-joo and her own team of guards. Jun keeps a smile on his face as he deftly avoids their swords — even the one that narrowly misses his crotch — and expertly maneuvers around them, slipping through unscathed. Hong-joo lets him go as she watches him, expressionless.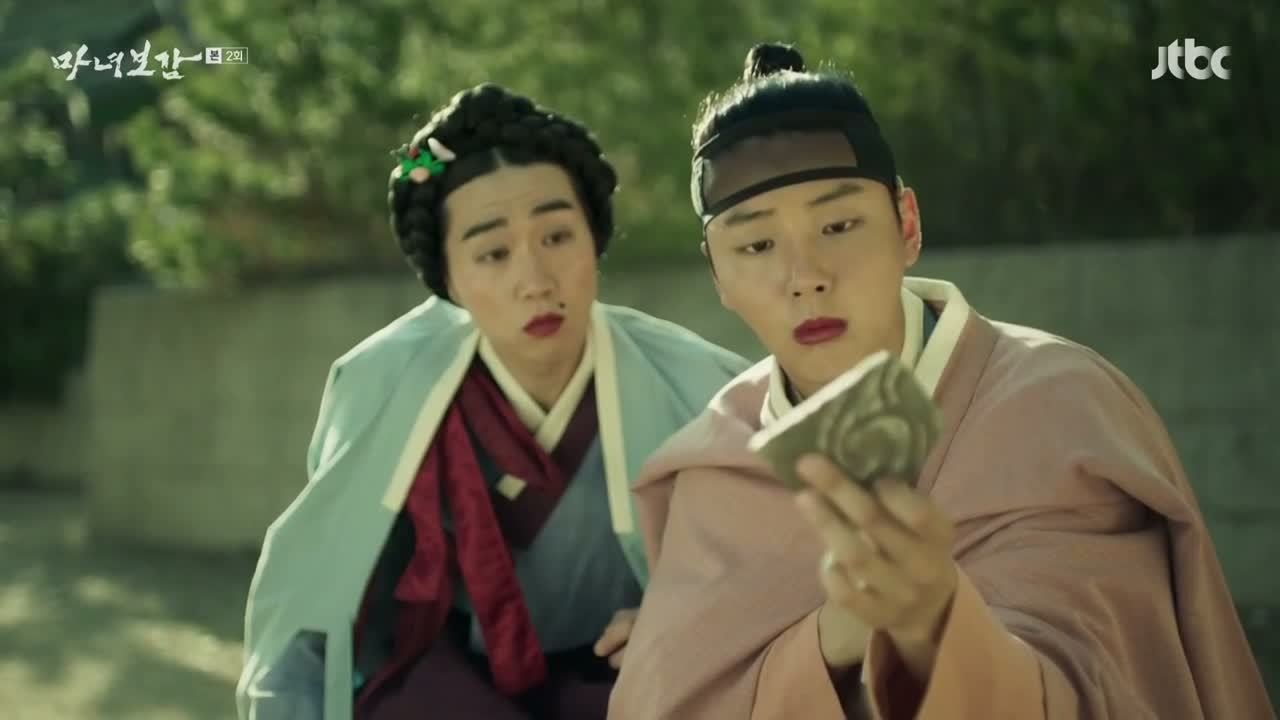 At the palace, we meet the grown-up PRINCE SUNHOE, the twin brother to our cursed princess, who sits before the queen dowager and the queen. His 17th birthday is tomorrow, but he's feeling burdened and troubled, though he's not sure why. His eunuch says it's probably because the prince is ready for marriage. Both the queen and the queen dowager are tickled at this thought, but they agree, much to the prince's embarrassment. It looks like he'll be getting a wife soon.
Besides generally feeling down, the prince has also been having trouble sleeping, because he's been having strange dreams where he sees a girl that looks like him. At this, the queen dowager and the queen both look stricken, and exchange glances.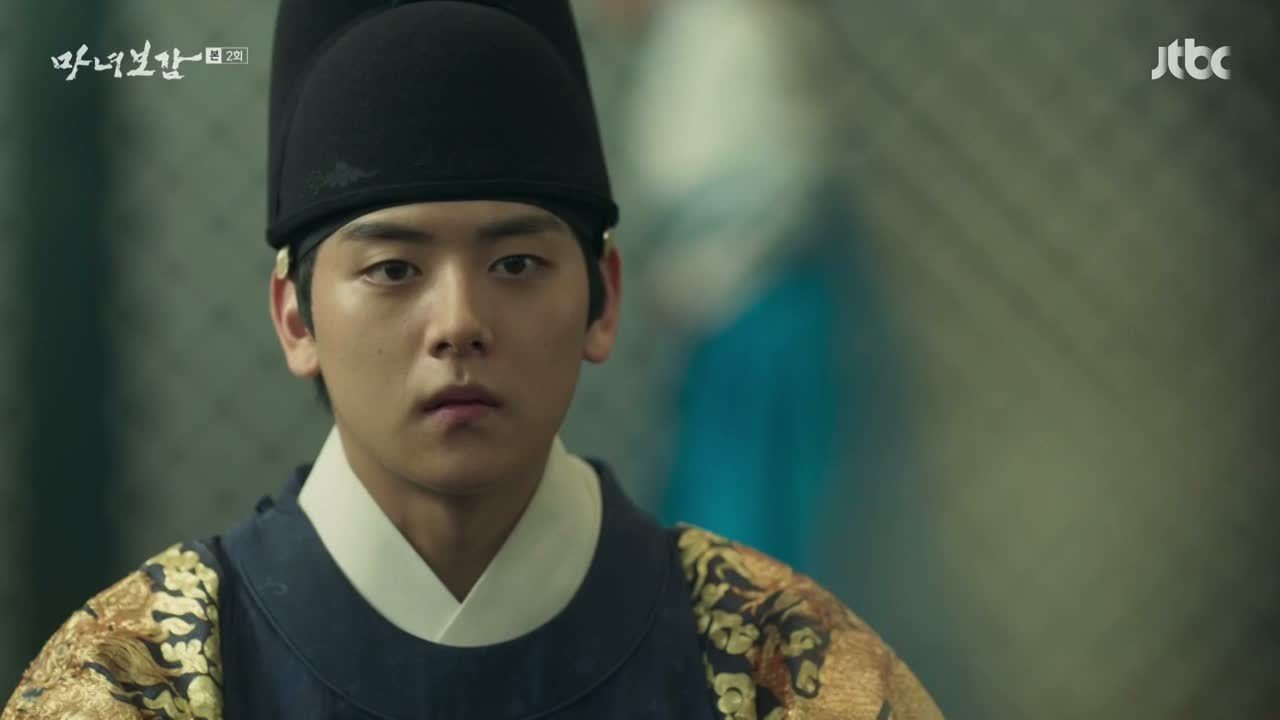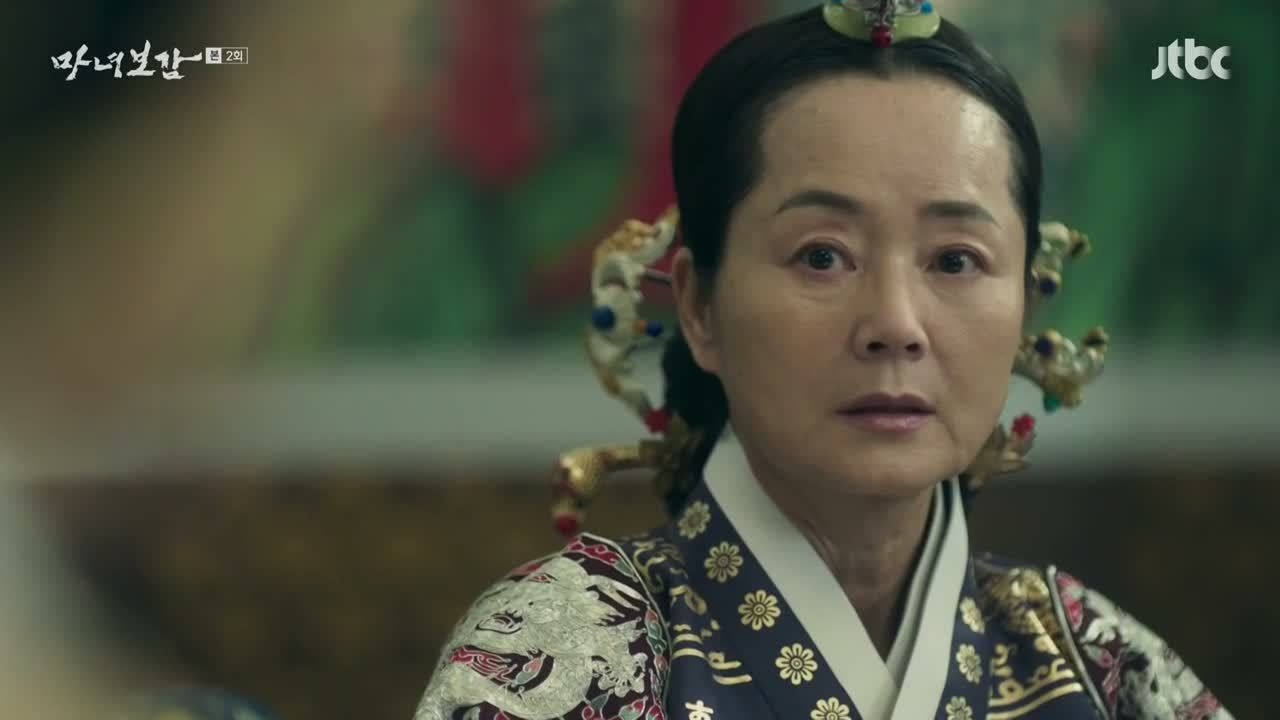 Once alone in her quarters, the queen thinks back to the curse placed upon her twins, when she's interrupted by Hong-joo. The queen asks Hong-joo if she thinks tomorrow's birthday celebrations will really be okay, given the shaman Hae-ran's curse and her last words. She tells Hong-joo that Prince Sunhoe has even been seeing a girl in his dreams.
Though Hong-joo's expression falters a bit at the news about the prince's dreams, she reassures the queen that all is well. The curse has tied Hong-joo's fate to that of the princess: if Hong-joo is alive, it means the girl is dead; if the girl is alive, then Hong-joo would be dead. Hong-joo's living presence is proof that everything was settled 17 years ago.
Despite her confident words, Hong-joo exits the room with an unsettled look on her face.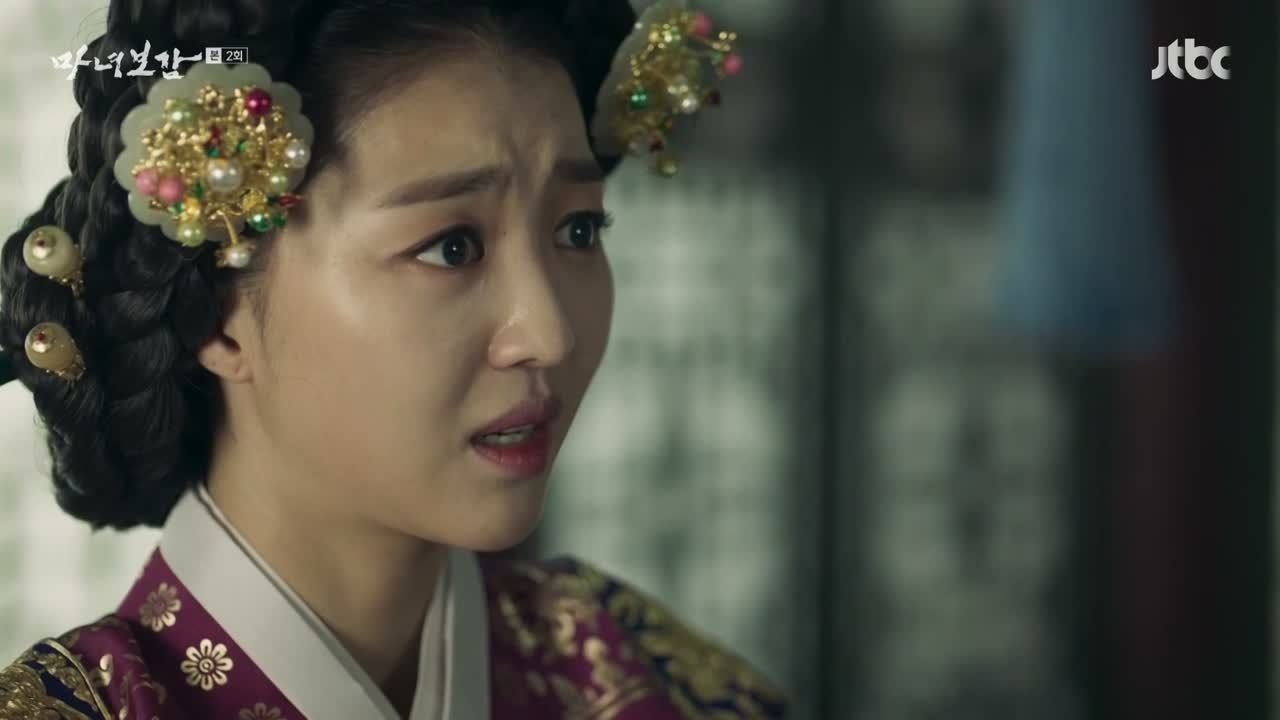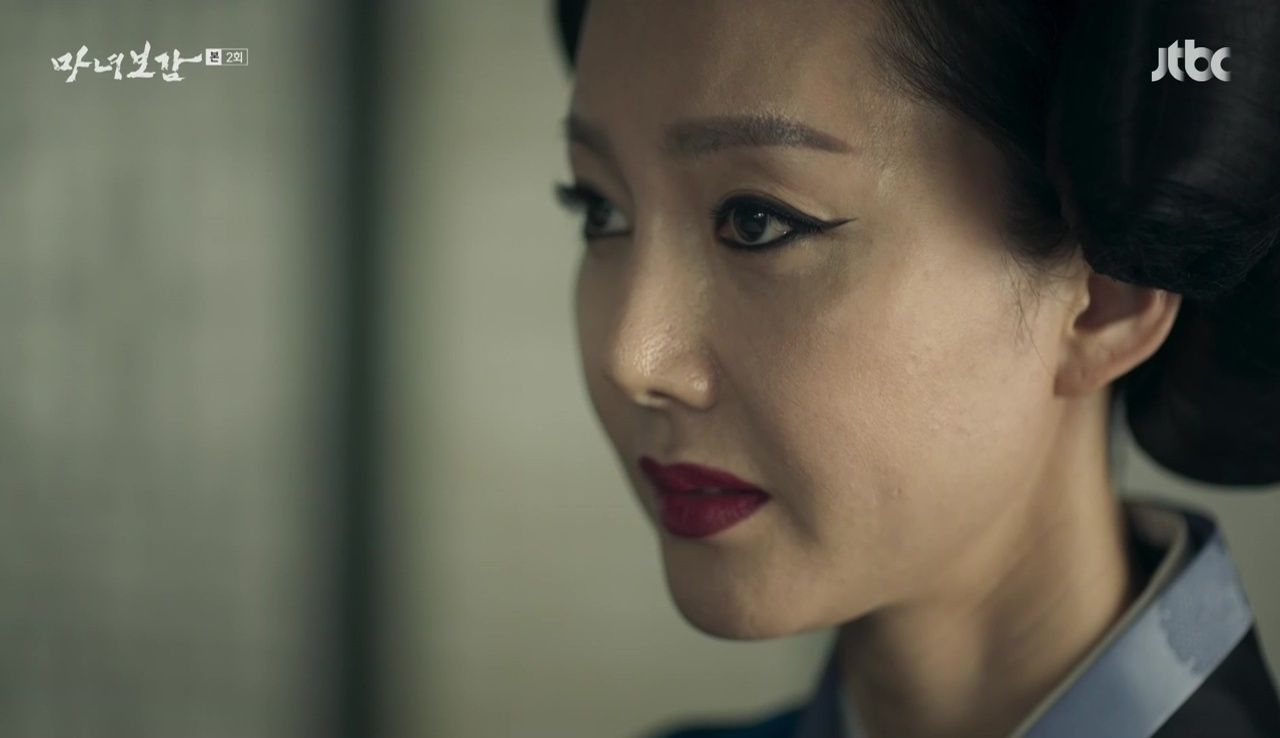 Jun's brother Heo Ok drunkenly walks through the marketplace with his entourage when royal guards push their way through the crowd, carting what looks to be dead bodies with missing limbs. The gisaeng accompanying Ok says they must be corpses of those who dared to enter the Black Forest. Apparently, no one who goes to the Black Forest comes back alive, and the kite that flies above the forest is rumored to be made out of the clothes of those who died there.
Ok spots Heo Jun and Dong-rae coming towards him and decides to pick a fight over their horserace. After failing to get a response out of Jun about having rigged the bet, Ok asks him if he needs money. He points to the kite above the Black Forest and asks Jun to get it for him, to the gasps of his entourage.
Jun starts to walk away, but Ok ups the ante and offers to pay 500 nyang for the kite. This stops Jun in his tracks — the promise of that much money is too powerful for him to pass up, even if he knows exactly what Ok is trying to do. Agreeing to the deal, Jun asks Ok to keep his promise to pay. Ok says of course he will, telling Jun, "I'm your hyung." The look on Jun's face as he struggles to keep his composure is heartbreaking.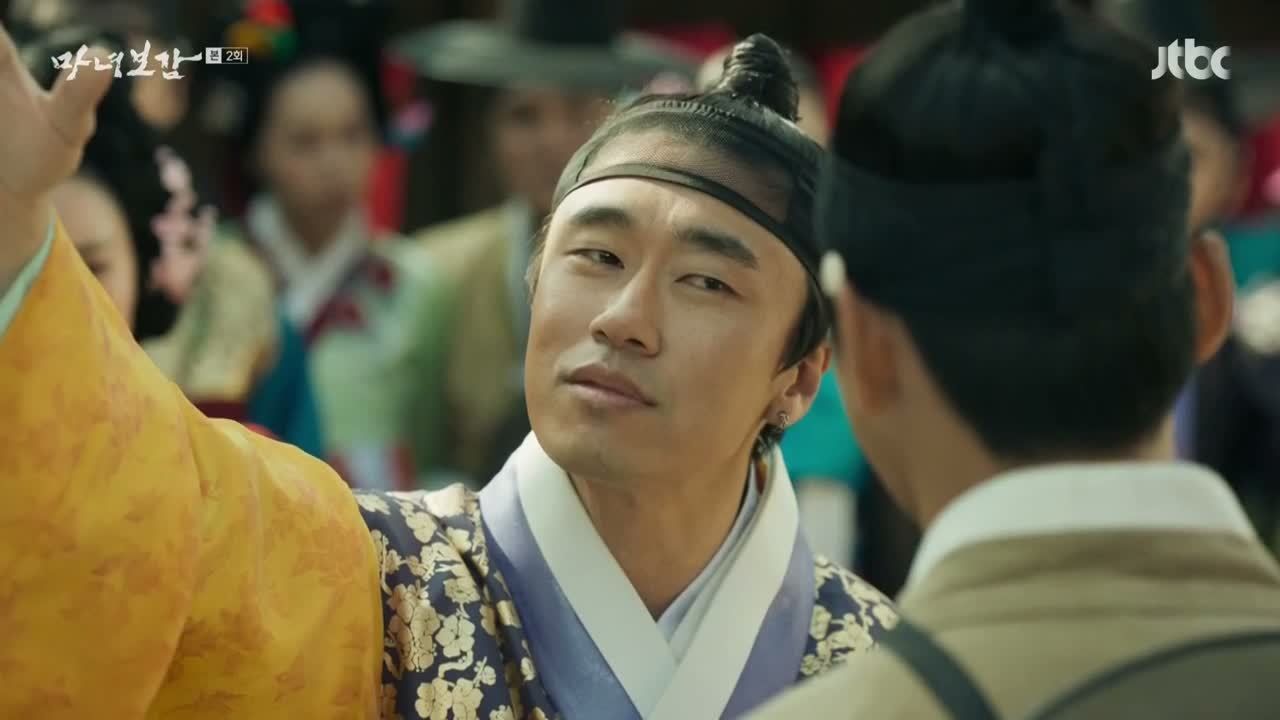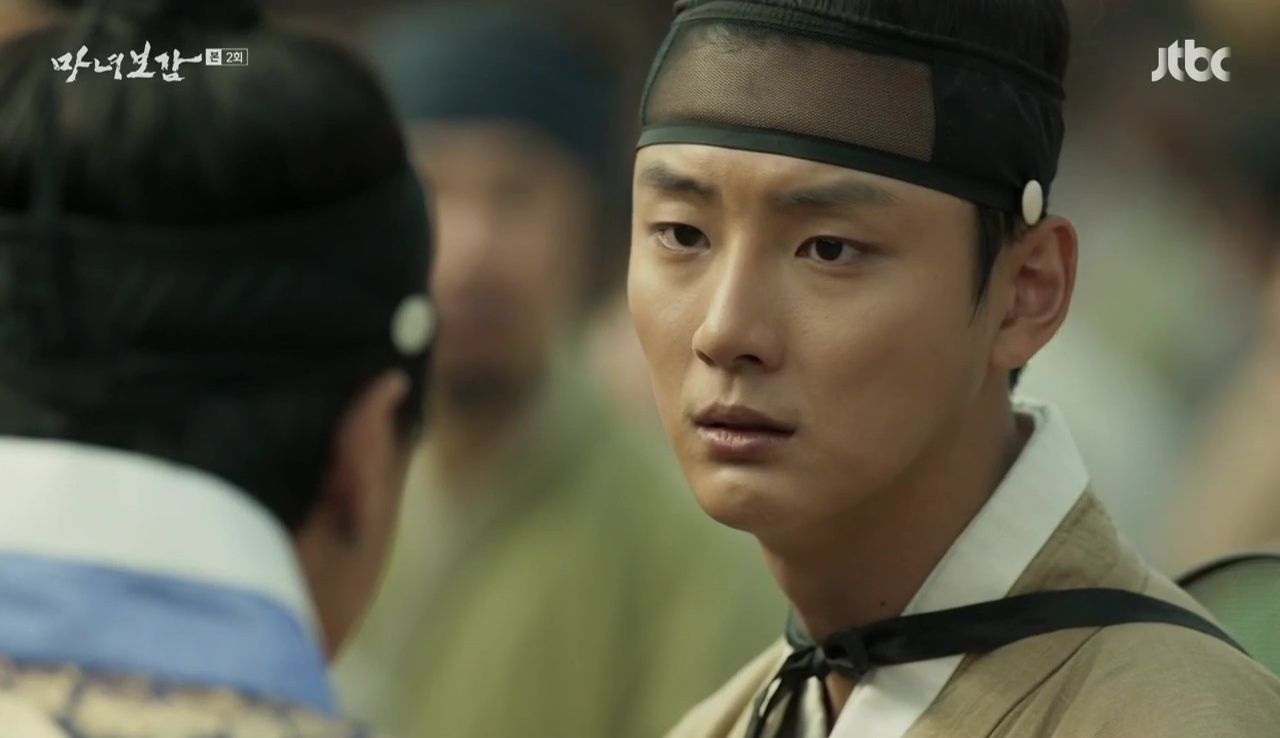 Jun starts out for the Black Forest immediately while Dong-rae tries to talk him out of it — he could die, after all. But Jun reverts back to his usual jokey tone, saying the money will be totally worth it. As we see the two head into the mountains, in voiceover we hear Ok bidding farewell to Jun giddily.
On their trek, Dong-rae asks Jun if he's heard the rumors about the cursed ghost of Black Forest. She has a pretty face, but she ends up ripping out the hearts of unsuspecting visitors and eating them.
Jun looks sufficiently freaked out, then says very seriously to Dong-rae: "So, how pretty is she?" HA. Jun scoffs and tells Dong-rae there's no such thing as ghosts.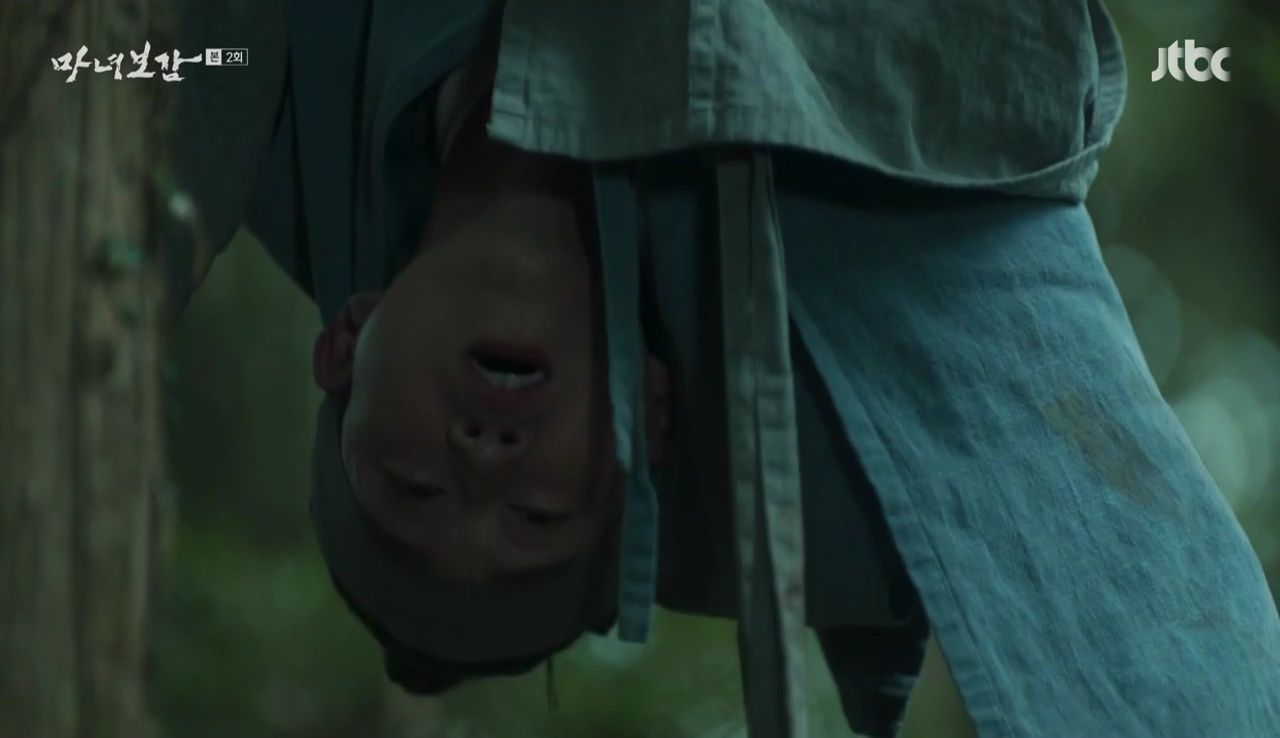 Ghosts or no, the path they're on is pretty creepy, and glowing eyes watch them as they pass. All of a sudden, a loud noise scares Dong-rae, and he almost falls into a giant pit filled with snakes. Dong-rae crawls away from the hole, and immediately gets his foot caught in another trap, which leaves him dangling upside-down from a tree. Both the pit and the rope were clearly set up by someone to keep unwanted visitors out.
Jun looks concerned for Dong-rae at first, but then his expression shifts as something else catches his eye… Did Dong-rae just pee his pants?
As the two soldier on, Dong-rae sheepishly asks Jun to take this secret to his grave, covering his crotch with his hands. Jun agrees, giving him this hilarious little fist pump as a sign of solidarity.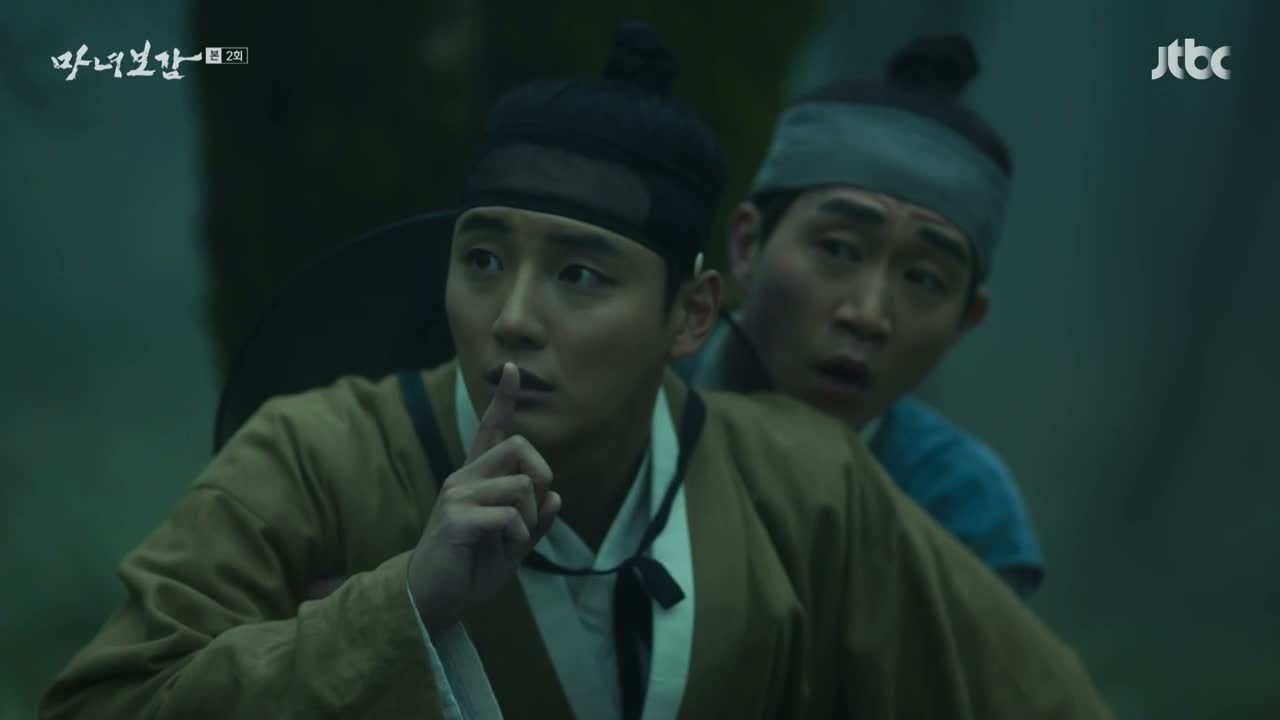 They pass by a tree that's roped off with a yellow talisman on it, and Jun stops, suddenly getting a bad feeling. Cue the roar of a tiger and rustling among the plants, as the beast slowly begins to stalk them like prey. Jun whips out a knife and tells a cowering Dong-rae to run on the count of three. But Jun only gets to two before the tiger roars again, causing Dong-rae to run off by himself.
Jun finally sees the tiger, and it's huge — no way can he take it out on his own. He turns around and runs as fast as he can in the other direction, but the tiger just chases after him. Jun trips and falls but keeps going deeper into the forest, and the tiger appears to slow down and lose him.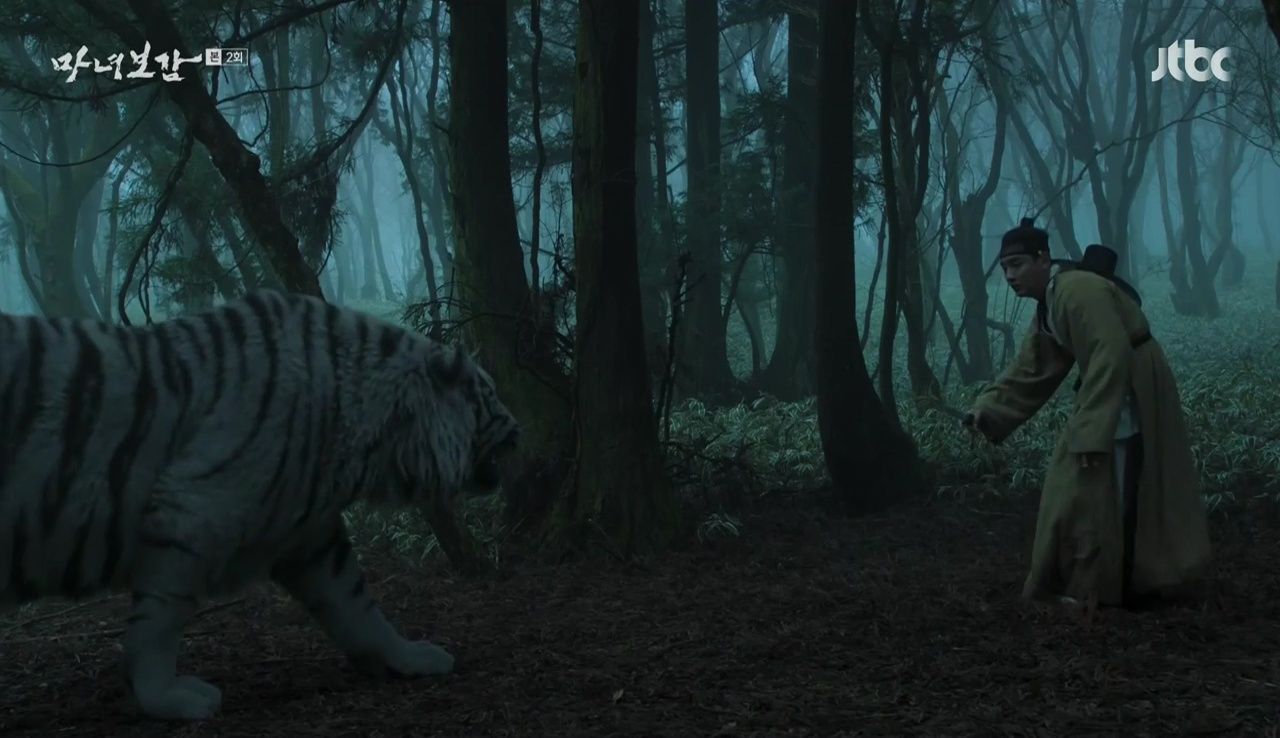 Jun catches his breath, feeling safe, but then a familiar roar comes from just a few feet away, and Jun finds himself face to face with the beast.
Gripping his knife tightly, Jun tries to reason with the tiger, saying he really needs the money. It almost works, as the tiger starts to leave — but then it changes its mind and runs towards Jun at full speed, knocking him to the ground.
As they tussle, the broken piece of the shield that Jun discovered earlier at the palace falls to the ground.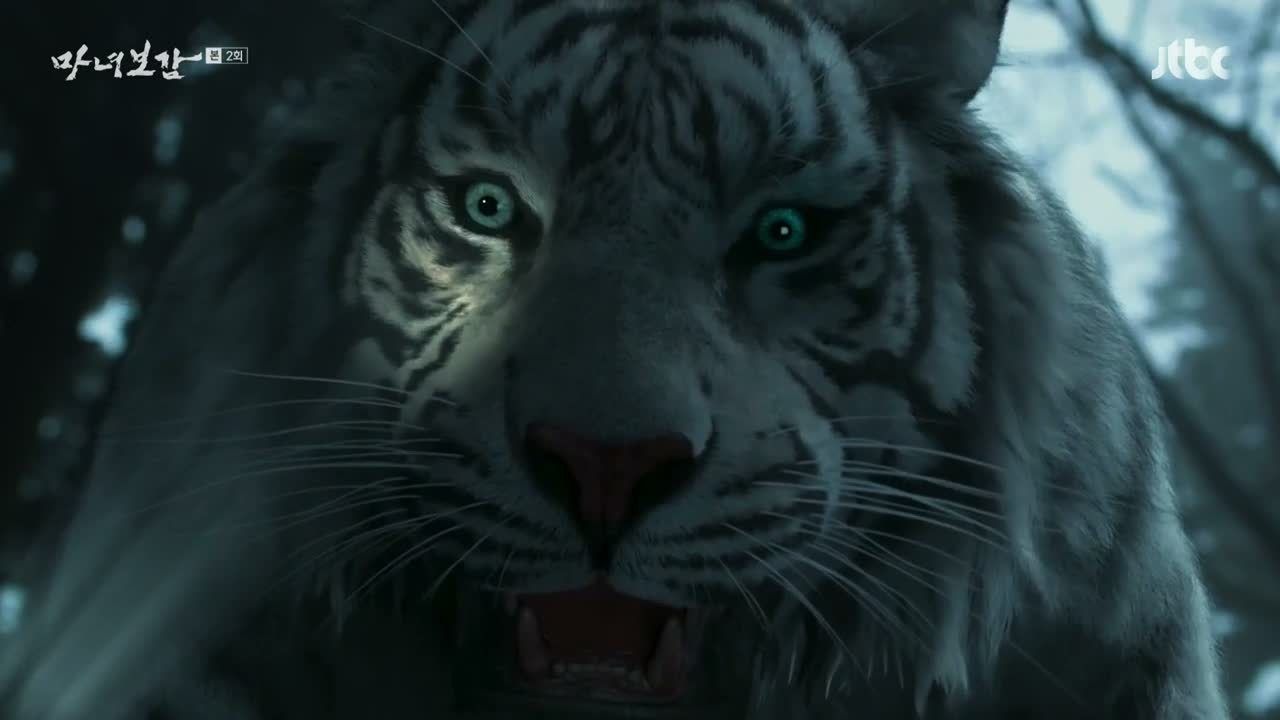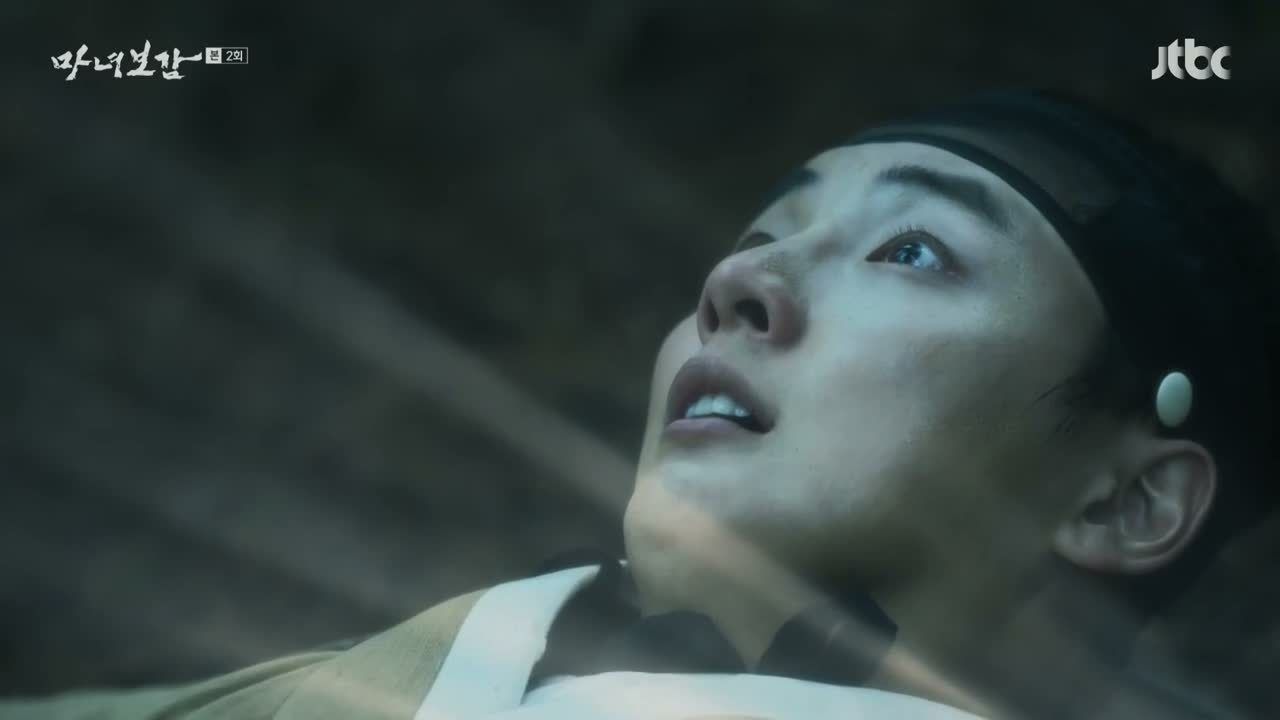 Suddenly, the shield starts radiating with light, its rays hitting the tiger's eyes. The light seems to do something to the tiger and it retreats, leaving Jun alive and well. Shocked and relieved, Jun picks up the shield and continues on his way.
He eventually comes to a clearing where he finds an eerie looking house, nestled below the ground and roped off with the same yellow talismans that we saw on the tree in the woods. Jun calls out to ask if anyone's home, then makes his way down into the property towards a tall tree, where we see the handle of the kite.
With the 500-nyang kite finally within reach, Jun climbs the tree and manages to cut the kite free, only to be startled by a bird. He falls, losing his grip on the kite string, and watches in disbelief as it flutters away.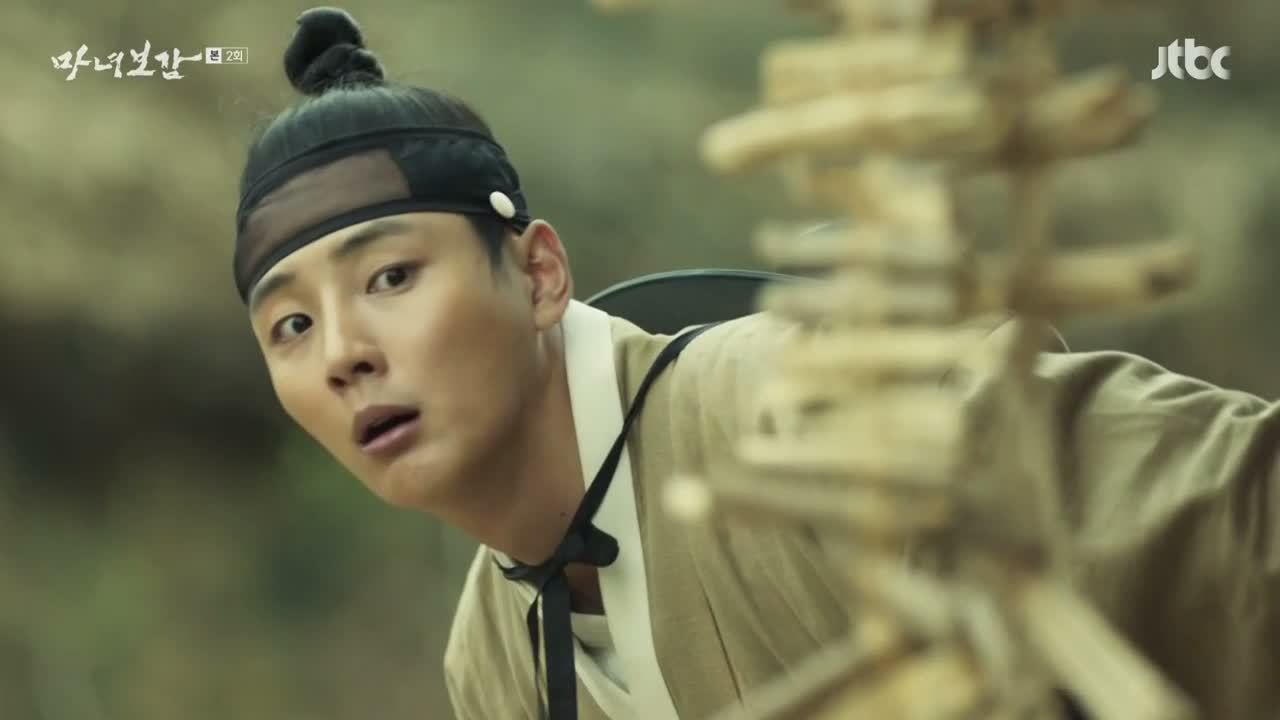 Jun can't lament for too long, as he hears a clanging sound coming from the house. He peeks around the corner; when he sees nothing, he turns back around, only to be hit squarely in the face by a round metal lid.
He comes to and finds himself tied to a tree, facing a young girl hiding behind the very lid that she used to knock him out. Jun's reaction is funny: He demands to know who she is, like she's the intruder instead of the other way around. The girl, who is our heroine YEON-HEE (Kim Sae-ron), bristles at his brazen attitude and the two start bickering.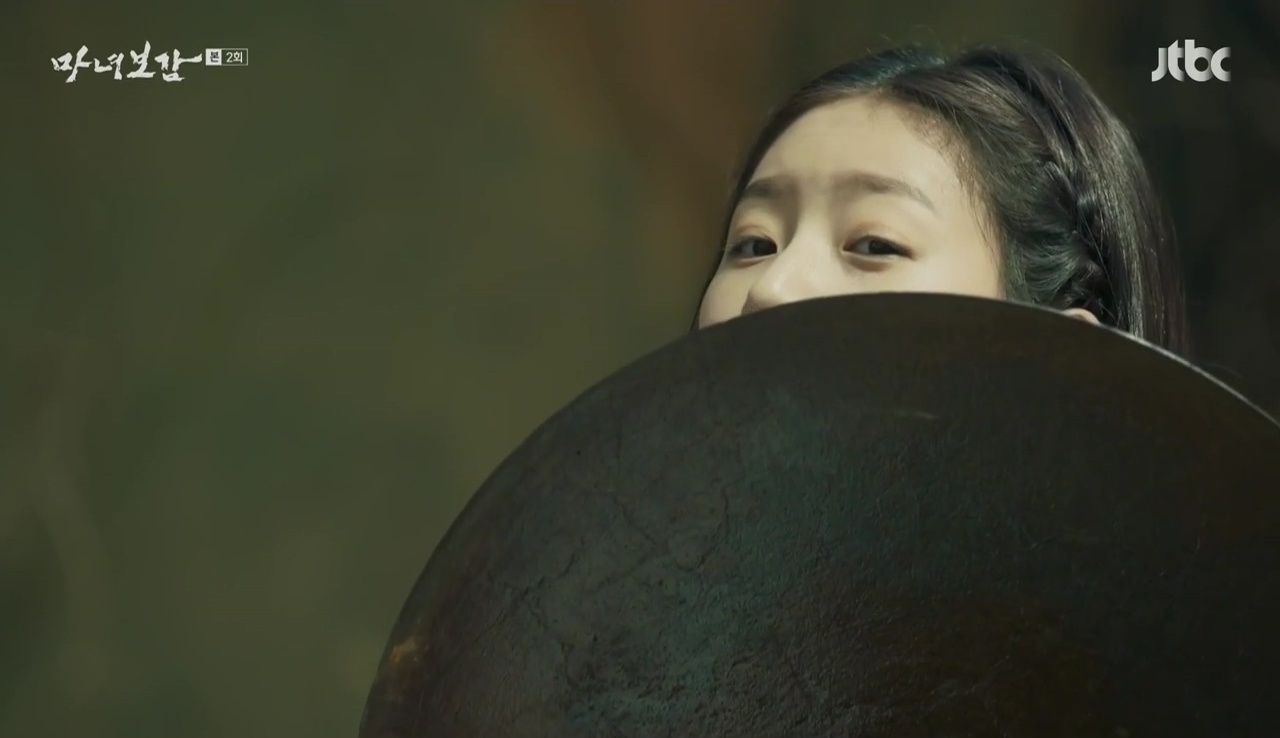 Jun makes a remark about the creepiness of the house, calling it fit for a ghost, then remembers Dong-rae's story about the pretty ghost of Black Forest. He's quickly convinced that Yeon-hee must be that ghost, and she's looking to rip out his heart and eat it. In an attempt to repel her, he starts offering up prayers, loudly. Yeon-hee responds by shoving a radish in his mouth.
Once she gets him quiet, she inspects him more closely and decides that he's not a threat. She offers to untie him, but only under one condition. She leans in close and says, "Let me eat it." He screams.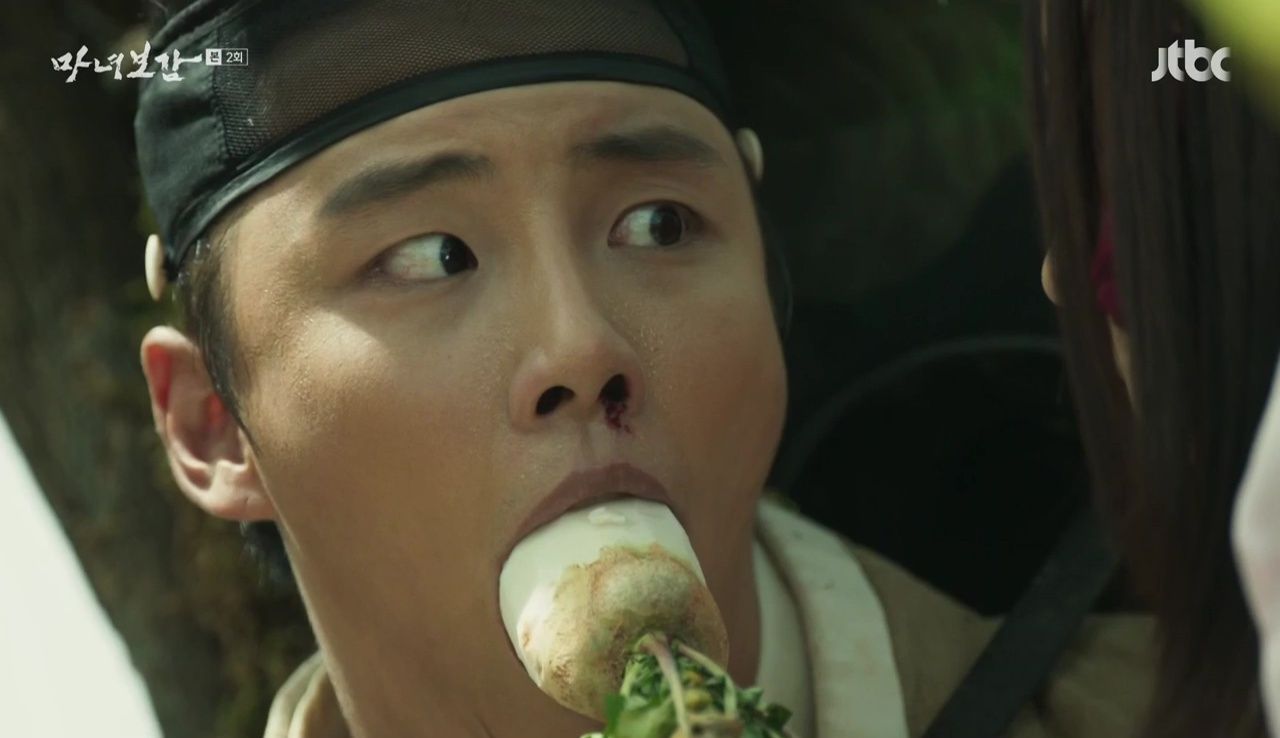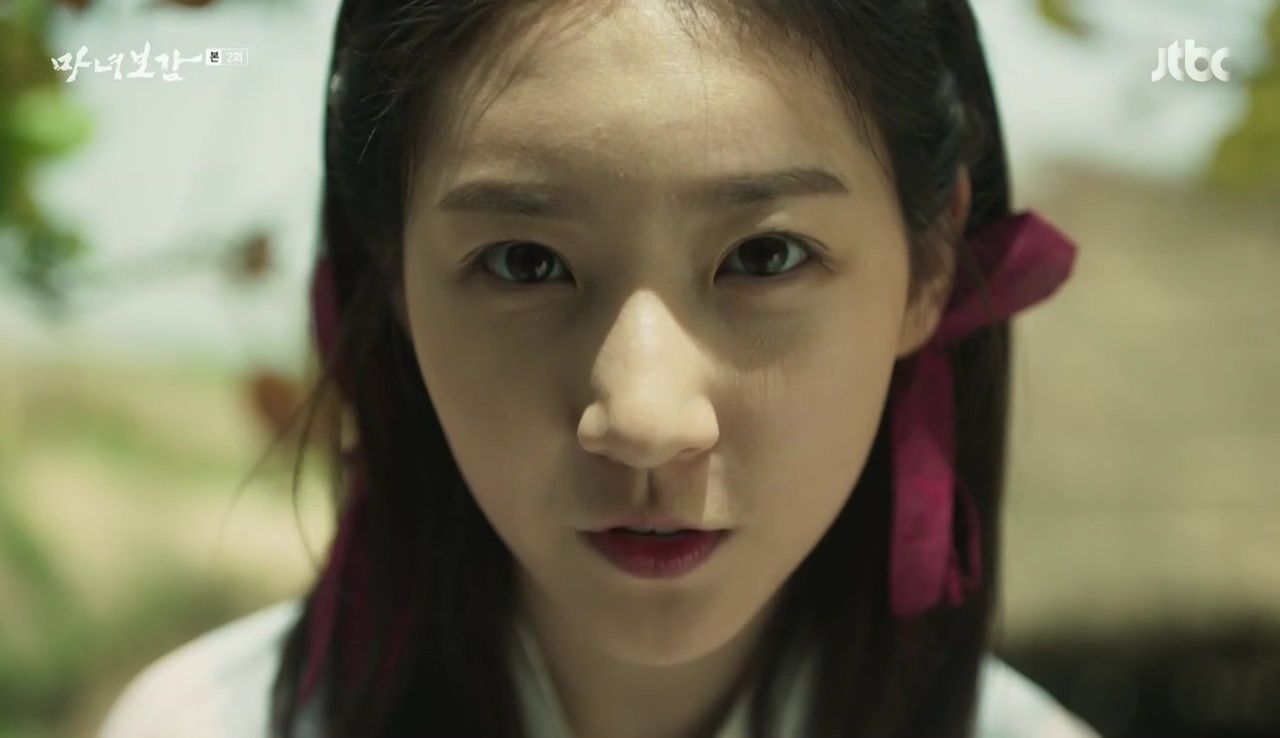 Cut to her pointing to persimmons hanging up high in a tree just outside of the property. Jun doesn't understand why she doesn't pick the fruit herself, but she says sadly that she's not allowed to leave. He gives in and picks the fruit, earning a small smile from her.
Back in the woods, we see Taoist master Choi Hyun-seo examining the trap that caught Dong-rae, looking concerned that it was set off. We see that he's with a woman (his wife, maybe?), and the two exchange worried glances.
Meanwhile, Yeon-hee devours the persimmons while Jun looks on, intrigued. When Yeon-hee asks Jun how he got to this house, Jun jumps up, remembering his original mission: to find the kite.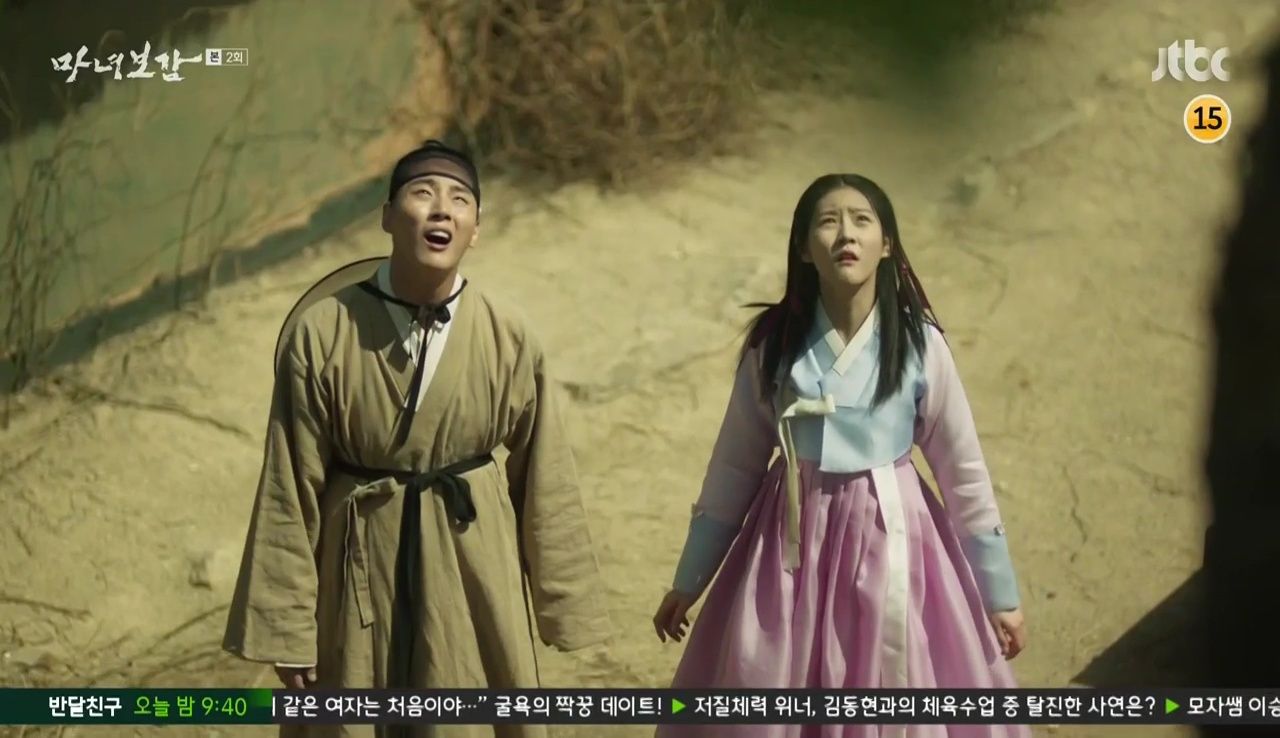 Yeon-hee turns out to be the owner of said kite, and she is not pleased to discover that Jun let it loose. They have a cute exchange where Jun keeps calling the kite "his kite," and she takes offense, calling him a thief. She says the kite is her most prized possession, and he replies that it's important to him too. That doesn't make Yeon-hee feel any better though, so he offers to "take care of it."
By which he means he'll make her a new, albeit poorly constructed kite. She's not impressed with his handiwork, so he tries to take it back, and a brief tug of war ensues. It ends with him pulling a little too hard and Yeon-hee collapsing into his arms, her head on his chest.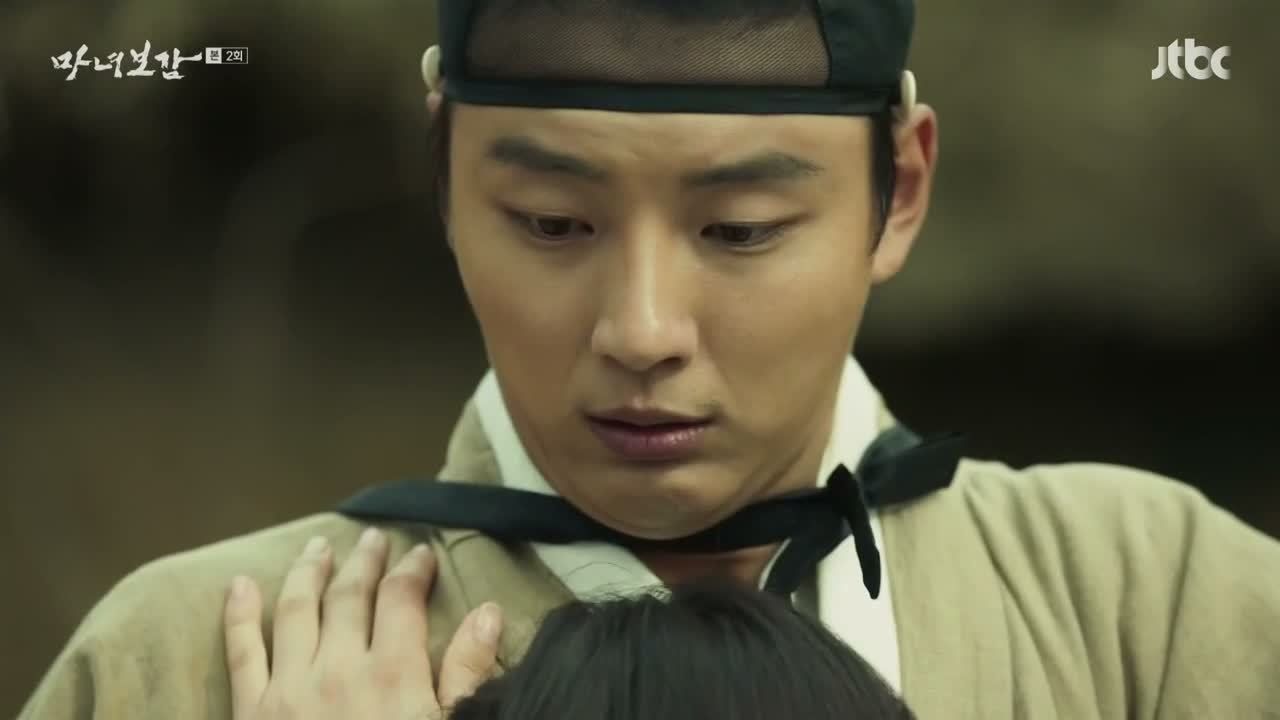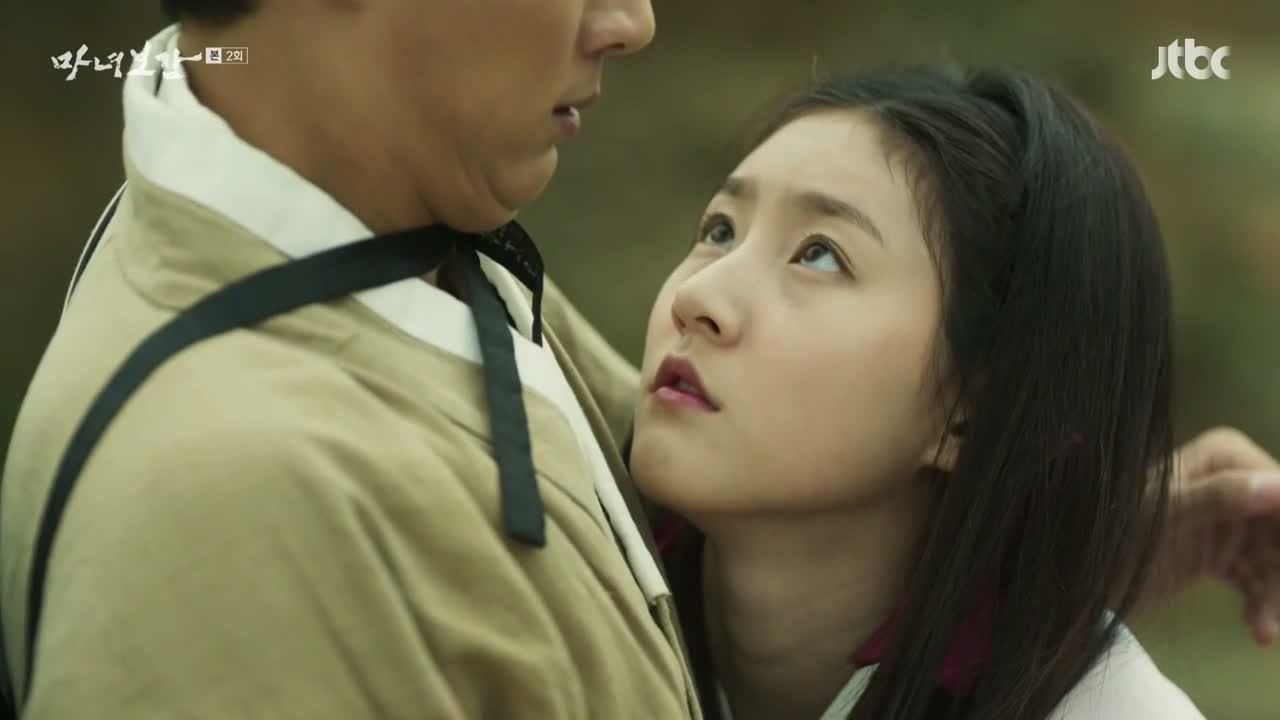 We hear Jun's heart beating loudly. Jun looks totally flustered, while Yeon-hee, with no trace of embarrassment, marvels at the firmness of his chest, saying that he's a "healthy man." He quickly jerks away, but Yeon-hee just pulls him back in and presses herself up against his chest, wanting to listen to his rapidly beating heart.
He wriggles free and stammers that girls can't do stuff like that, but doesn't have an answer when Yeon-hee asks why. She notices his cheeks glowing bright red and reaches out to feel his forehead, making him jump at the contact. She stares very seriously at him, then all of a sudden she winks.
Confused, Jun asks her what she's doing. She winks again with her other eye, expecting some sort of response. She explains that in the book she's reading, a woman's wink is supposed to cause nosebleeds in men. She winks again, and again and again. Jun is hilariously freaked out, pleading with her to stop.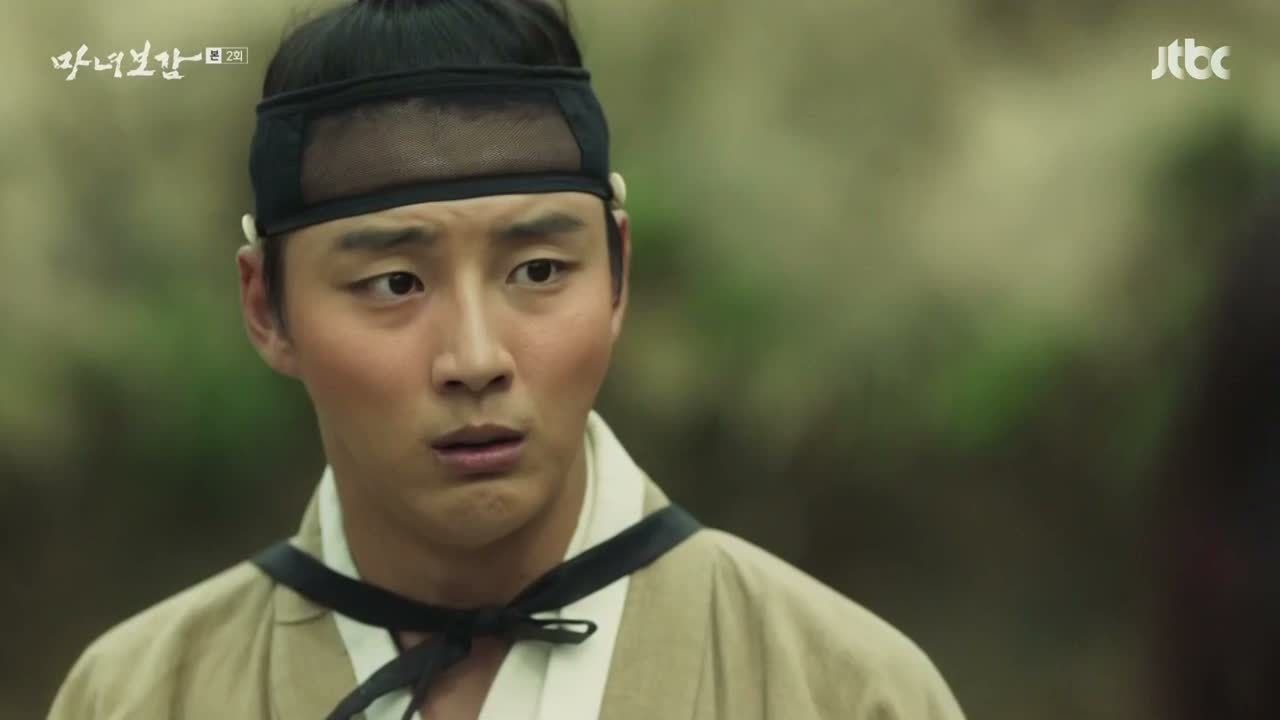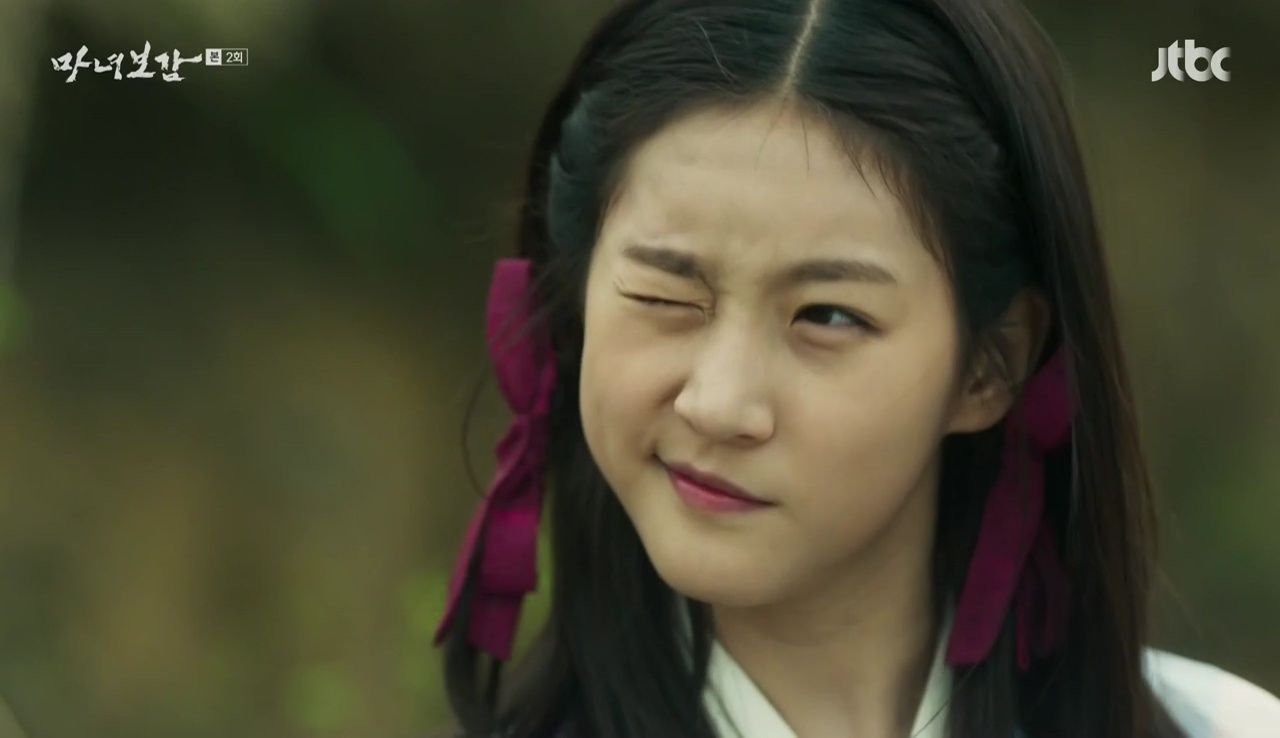 Just then, Yeon-hee hears the sound of her name being called. Panicked, she sends Jun off and quickly straightens up to greet Hyun-seo, calling him "Father," as he storms onto the property.
Hyun-seo immediately raises his voice at her, accusing her of forgetting his warnings about staying within property lines. He makes it clear that under no circumstances can she ever set foot outside of the house.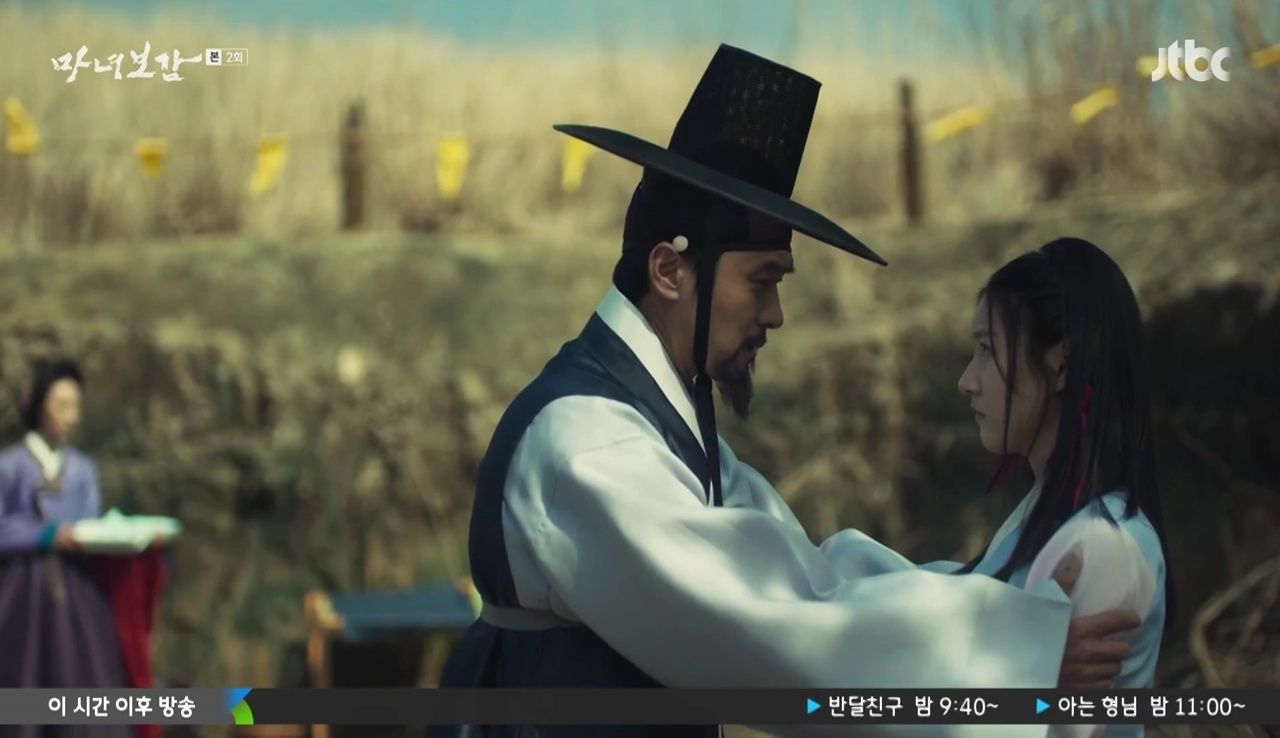 Hyun-seo's companion indeed turns out to be his wife, and once Hyun-seo leaves, she brings Yeon-hee some new clothes. Yeon-hee looks grateful, calling her "Mother," but she avoids Yeon-hee's gaze and also leaves, saying nothing.
Meanwhile, we see Jun hiding out just beyond the perimeter of the house. Having seen the whole exchange, he looks sorry for Yeon-hee.
Hyun-seo and the other members of his bureau are huddled over a map. One of them, YO-GWANG (Lee Yi-kyung), says they've found the location of the Mauigeumseo — the book that supposedly holds the key to breaking Hong-joo's dark curse on the princess.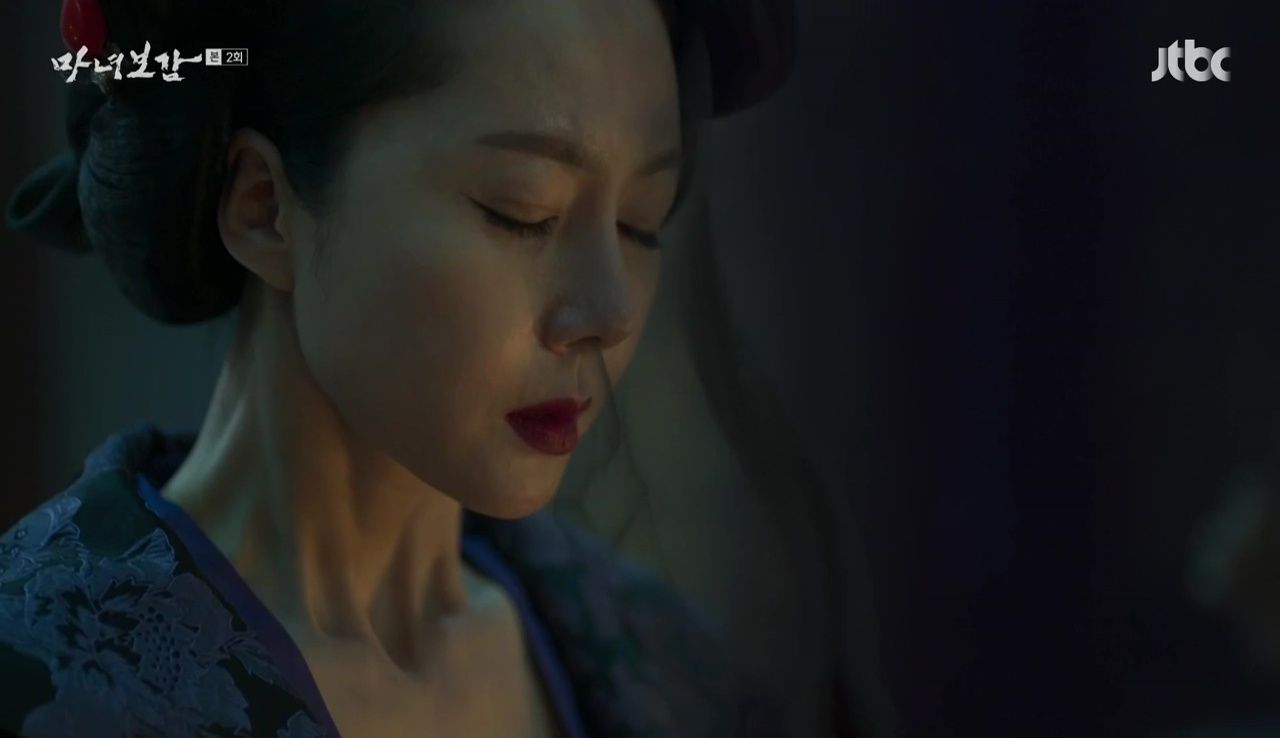 As Hyun-seo continues his conversation with Yo-gwang and the team, we see Hong-joo in her lair, sprinkling ingredients into her cauldron and breathing in magical black fumes.
Hyun-seo says that if Hong-joo knows the princess is still alive, she will sacrifice the girl to strengthen her own ability to perform black magic. Hong-joo's goal is more than just becoming a powerful black witch — she plans to use her powers to destroy Joseon completely. The only way to stop her is to break the curse, and so they must find the Mauigeumseo, no matter what.
He flashes back to 17 years ago, when he brought baby Yeon-hee to her father King Myeongjong, and told the king that his cursed daughter was the only one who could stop Hong-joo.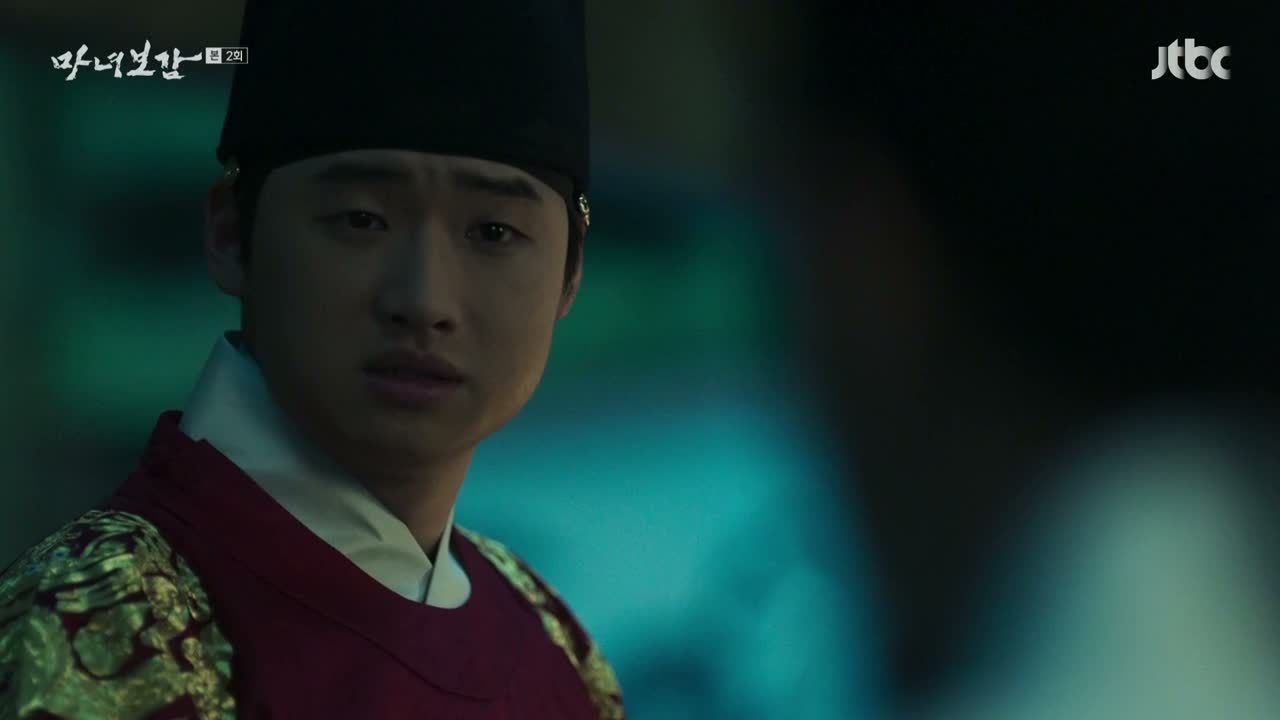 The king told Hyun-seo that he knew of the evil plans hatched by his mother and Hong-joo five years before to dethrone the previous king, but he did nothing to stop them. He said he was being punished for his past sins, and apologized to his baby daughter for being so powerless.
The king then gave Hyun-seo a directive: Save the child, break the curse, and stop Hong-joo. Hyun-seo promised to do so.
Back in the present, Yeon-hee looks at the kite Jun made for her, then thinks back to when she was in his arms. Her thoughts are interrupted by the arrival of POONG-YEON (Kwak Shi-yang), to whom she refers fondly as her older brother. Poong-yeon comes bearing gifts: first, a bouquet of wildflowers, and second, a flying lantern, just in time for the flying lantern festival in town the next day.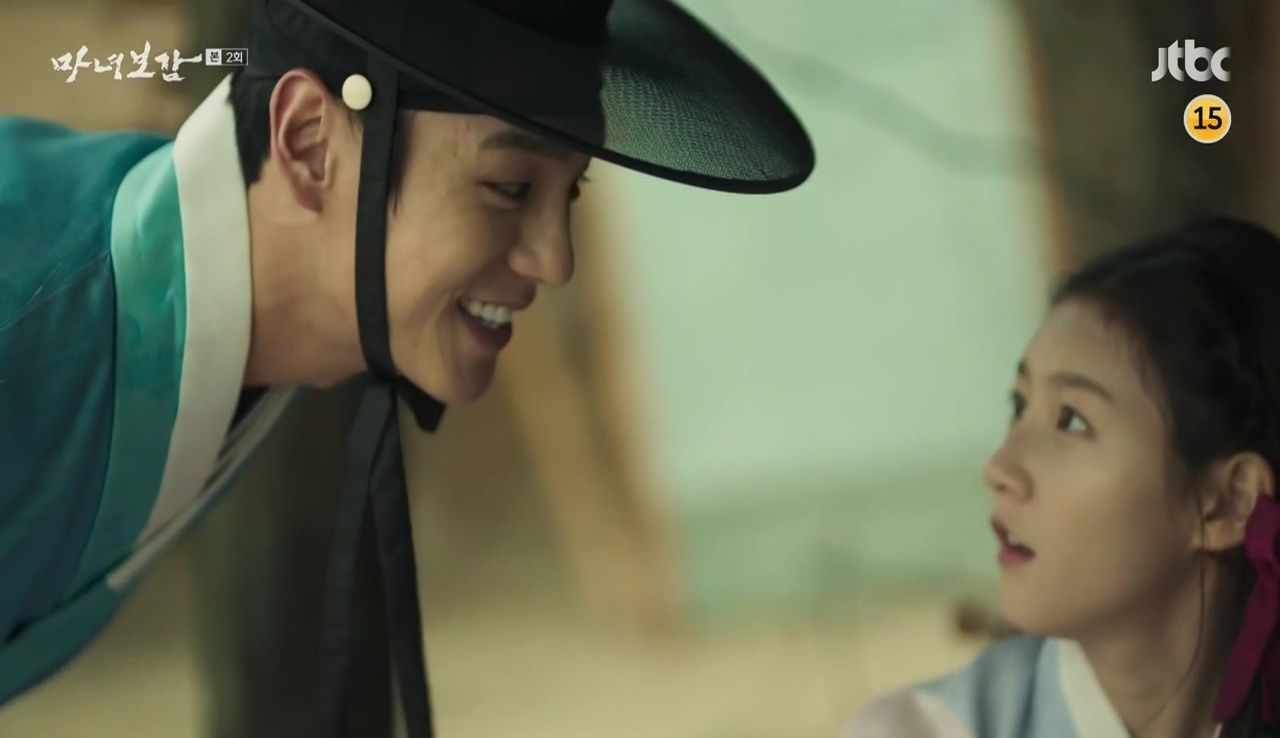 He tells Yeon-hee the lantern is her birthday present; if she writes a down a wish, puts it in the lantern and lets it fly, her wish will come true. Since she won't be able to attend the festival, he offers to release the lantern for her. Yeon-hee is visibly moved by his thoughtfulness.
Gazing at Yeon-hee tenderly, Poong-yeon thinks back to a conversation with his father, Hyun-seo. Hyun-seo angrily forbade Poong-yeon from visiting Yeon-hee; when Poong-yeon protested, his father asked if he had romantic feelings for her. Shocked by the question, Poong-yeon didn't answer, but Hyun-seo shut him down with the warning that nothing can happen between them.
Given the way Poong-yeon is looking at Yeon-hee, it seems it's too late for him.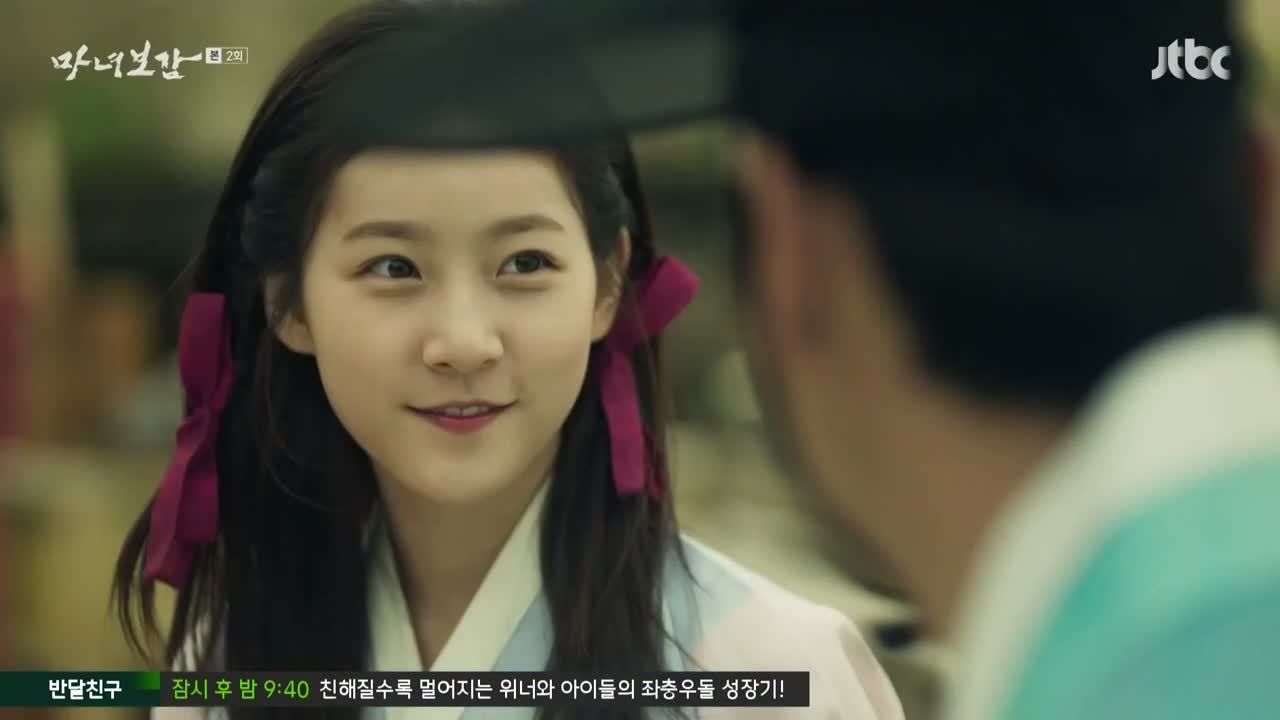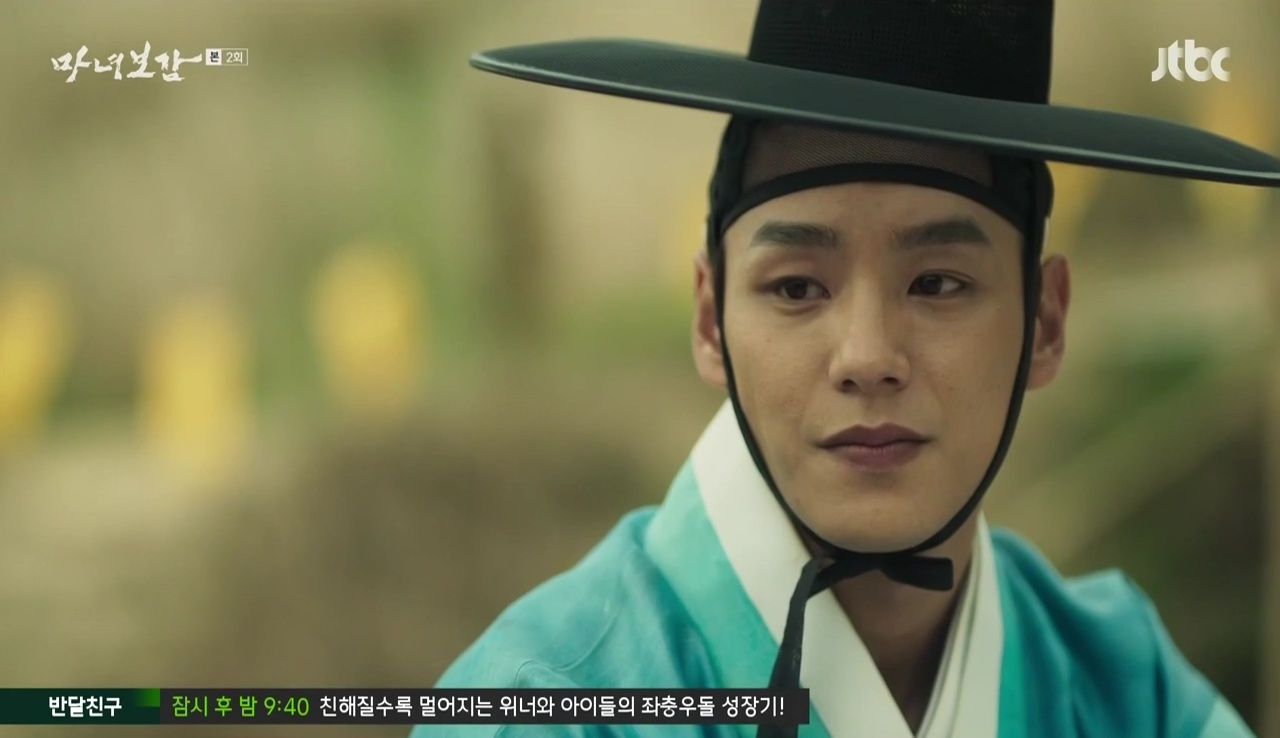 Yeon-hee writes down her wish and asks Poong-yeon about the festival, unable to hide her longing to go see the event for herself. Poong-yeon, clearly affected by Yeon-hee's loneliness, can only look at her sadly.
Back to Heo Jun, who heads back towards the forest, while also thinking of Yeon-hee trapped in that house. Just then, he spots the kite — it's stuck on a tree high above some giant rocks near the entrance of a cave. It seems impossible for Jun to get to, and he's on the verge of giving up.
But, he thinks back to Yeon-hee calling the kite her most prized possession, and he starts to climb.
Jun gets up close, then slips, but manages to regain his footing. He gets close enough to grab the kite, only to slip and fall straight down towards the rocky terrain below, kite in hand.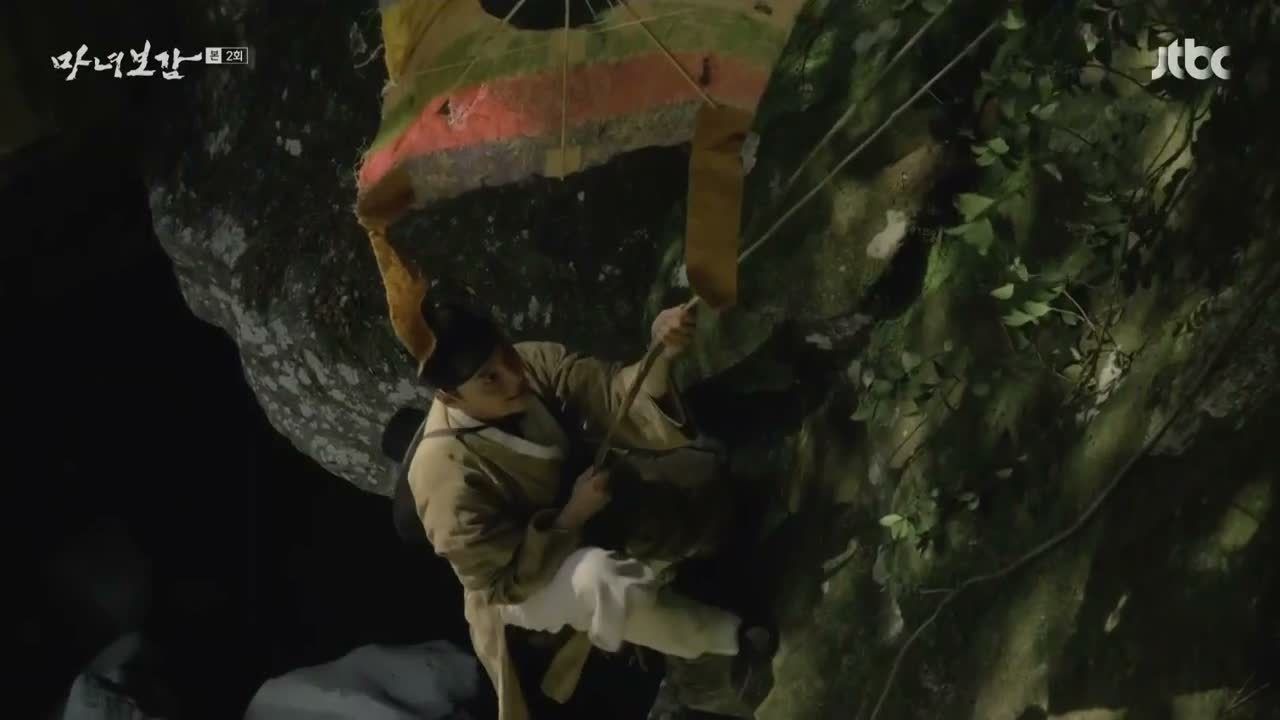 COMMENTS
Heo Jun's the real star of this hour, and I'm loving the way Yoon Shi-yoon is portraying him. On the outside, he's the smart, confident, silver-tongued hero who doesn't hesitate to take on big risks if it means getting what he wants. His escapades with his sidekick, Dong-rae, were especially entertaining to watch — it seems like the two just have a lot of fun, even in the midst of life-threatening situations.
You get a glimpse of what's going on inside — the deep wounds, the insecurities, the desperate need for money — from Jun's interactions with his brother Heo Ok. The exchange they had in the marketplace when discussing the kite deal was so heart-wrenching, because you could see in Jun's face how hurt he is by his brother's actions, and how he's maybe even a little embarrassed that he can't just walk away from the deal, or fight back against Ok outright. That look on Jun's face when Ok makes him the 500-nyang offer, and then again when he calls himself Jun's "hyung"? Oof, that got me right in the heart.
As for the dynamic between Jun and Yeon-hee, our main couple, I'm cautiously optimistic. I know that there's been controversy about the decision to cast Kim Sae-ron in this role, and I have to admit, Yeon-hee does come off as a tad girlish in her scenes here. That said, her banter with Heo Jun was fun to watch, and it seems like they have good chemistry, so I'm hoping that as the story unfolds and we see more of her, this will be a non-issue.
I like the way Yeon-hee's characterized so far — she's sheltered and naïve, but she's also spunky and thirsty for any sort of human interaction beyond the boundaries of the property she's trapped within. It's no wonder she warms up to Heo Jun so quickly when she meets him (after she decides he's not a criminal, that is) — he's probably the first person she's had an extended conversation with who's not a member of her "family." Not only that, he treats her as if she's a normal person instead of something to be hidden away. I can only imagine how thrilling this kind of interaction with a new person would be for her, having been locked up her entire life.
I'll be interested in how Yeon-hee's relationship with Hyun-seo develops moving forward. It seems that up to this point, she's been an obedient daughter, not daring to push back against him or his rules. But as we can see, she's not a little girl anymore — she's interested in what the world has to offer, whether it's the lantern festival or the young men that she might meet beyond the boundaries of her house (or, in Jun's case, within it.) It's not quite clear how much Yeon-hee knows about her situation and the history that preceded her, but I think it's safe to say she doesn't know much. Will Hyun-seo choose to bring her into the fold, and enlist her help in dealing with Hong-joo's black magic? Or will Yeon-hee find out the truth in a different way, unraveling the only close relationships she has come to know? I'm betting on the latter.
Since this episode was mostly used to introduce the rest of our main cast and set up the dynamics of everyone's relationships, we'll have to wait for upcoming episodes to advance the story. Even without concrete plot developments, though, I found the episode to be well paced and engaging; the beautiful camerawork, along with Yoon Shi-yoon on screen, didn't hurt, either. I'm looking forward to seeing how the series unfolds and getting some answers as to where we are with Hyun-seo's quest to break Yeon-hee's curse.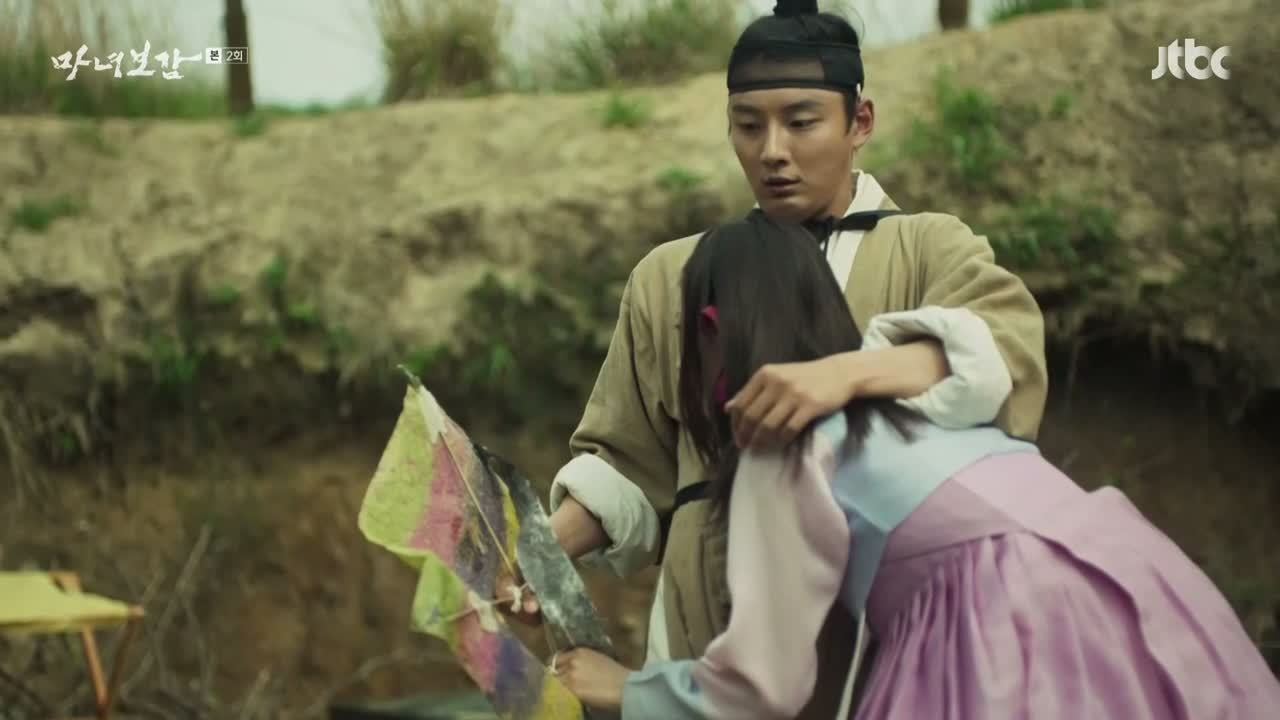 RELATED POSTS
Tags: Episode 2, featured, Jang Hee-jin, Kim Sae-ron, Kwak Shi-yang, Lee Sung-jae, Mirror of the Witch, Yeom Jung-ah, Yoon Shi-yoon