Mirror of the Witch: Episode 4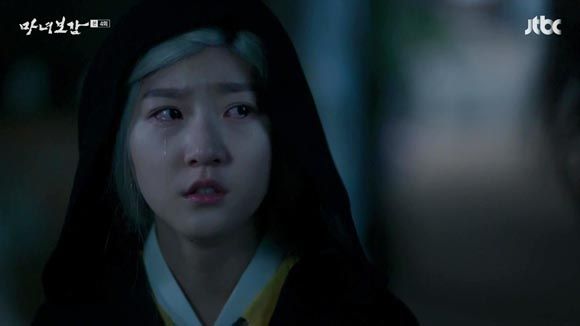 There are two battles to fight today: one against time, and the other against black witch Hong-joo, who's on the hunt. The hero and heroine's stories unfold separately for a large part of the episode, with one trying to understand herself and the other wrestling with decisions that affect his loved ones, but both struggle with the same question throughout — whether or not it's possible to escape the life you're born into, and to change your destiny.

EPISODE 4 RECAP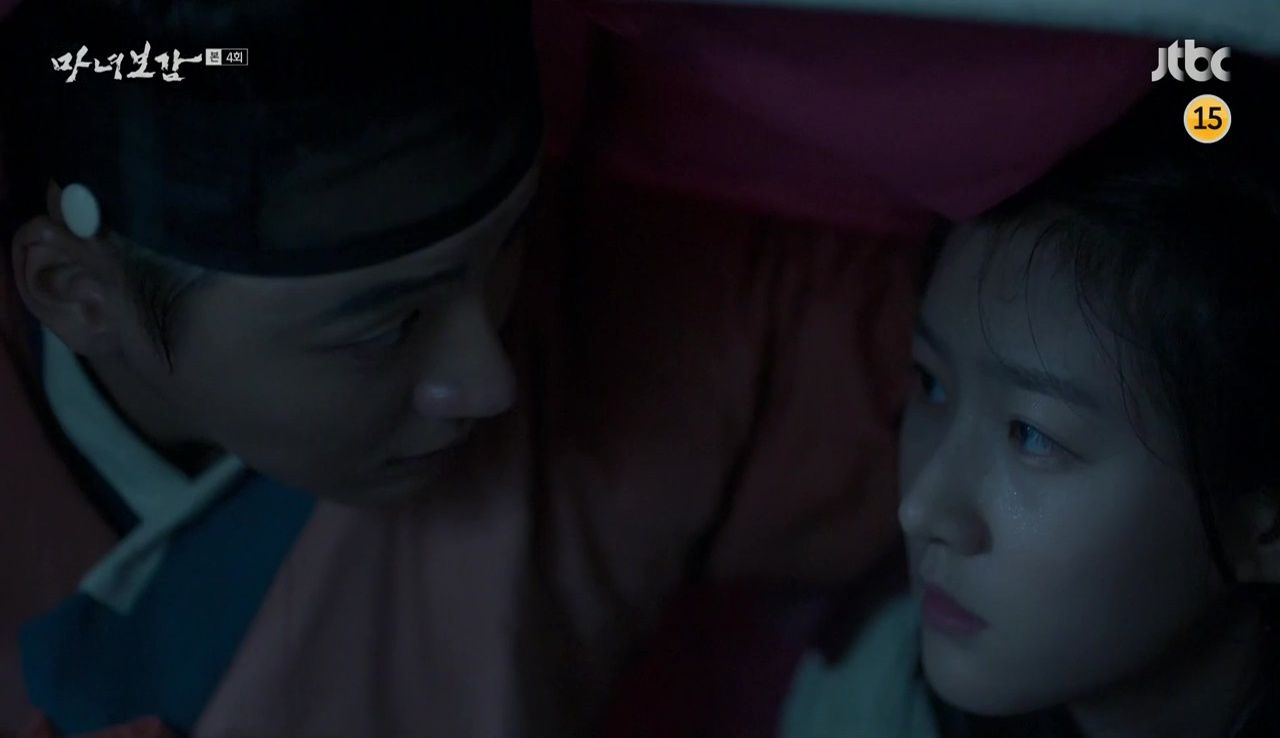 We rewind back to Heo Jun and Yeon-hee at the palace, hiding out in the rain. Yeon-hee hallucinates Poong-yeon's face in place of Jun's and loses consciousness; just then, Poong-yeon arrives.
The three wait out the storm beneath a doorway, with Poong-yeon carrying the still-unconscious Yeon-hee on his back. Poong-yeon seems annoyed at Jun's clucking over Yeon-hee's state, just giving Jun a look up and down.
Jun realizes that he's still in drag and laughs it off, telling Poong-yeon not to misunderstand: These clothes are his "work" clothes, of sorts. Ha.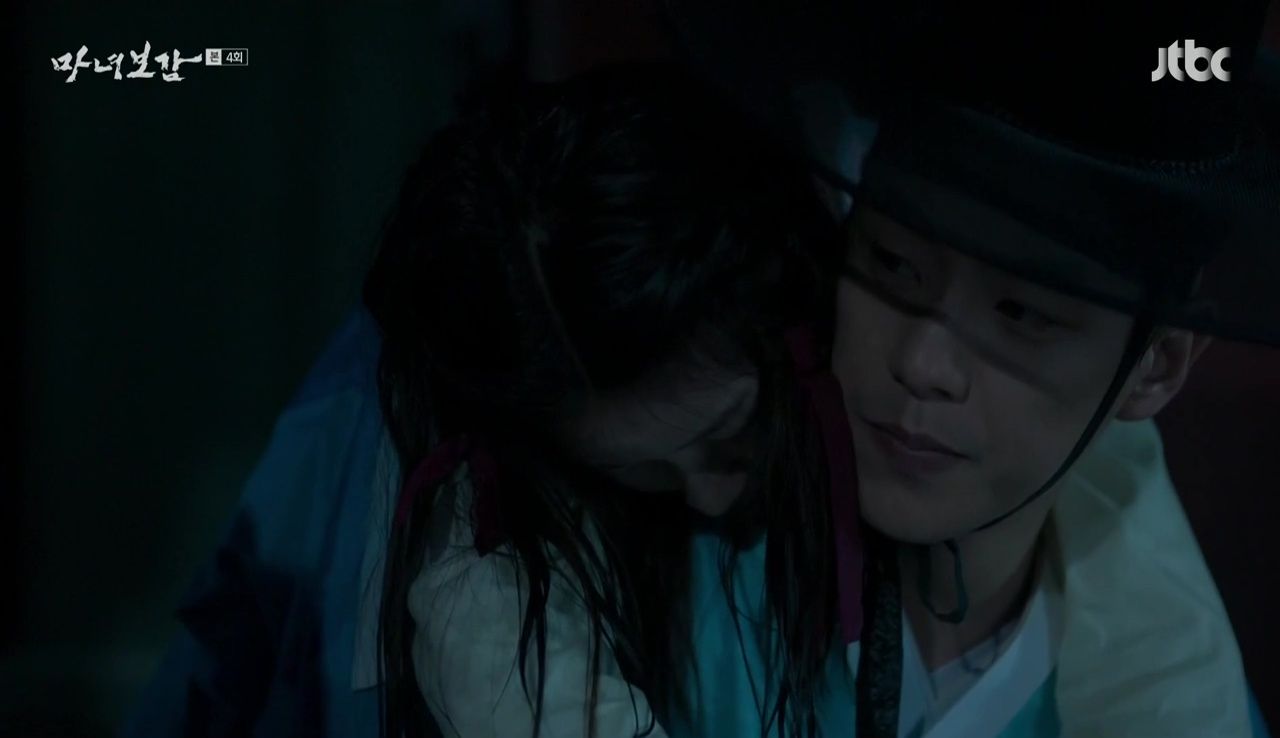 Poong-yeon cuts off Jun's rambling and asks if he knows his little sister. Jun hesitates, then says no. Poong-yeon thanks Jun for his help and says he'll take it from here. Jun watches them go with a flabbergasted look on his face.
Jun returns home, wondering how Poong-yeon and Yeon-hee could be related. He lets himself worry about Yeon-hee for just a second before deciding he has more important things to worry about.
As if on cue, Jun sees his mother across the way suddenly being taken by two masked men. Horrified, he runs after them, then sees the men putting a big sack over his mother. He starts to calls out to her, but is hit on the head from behind, then carried away.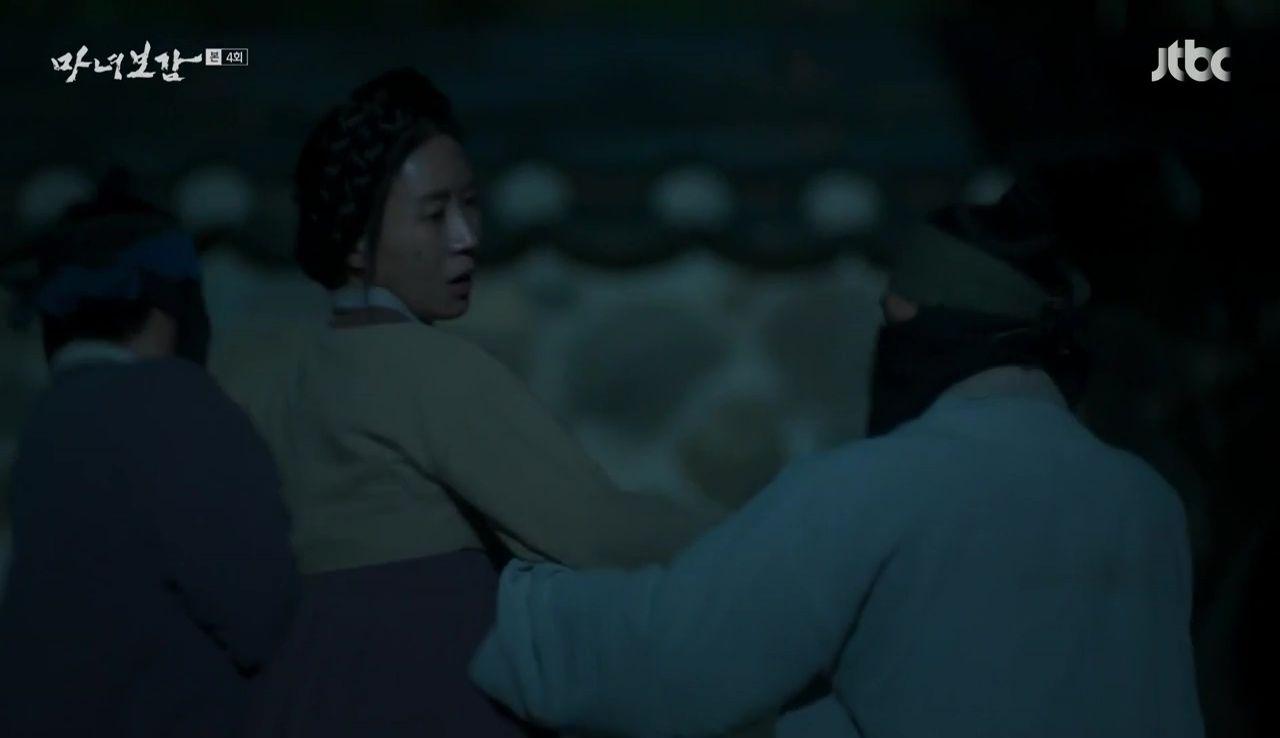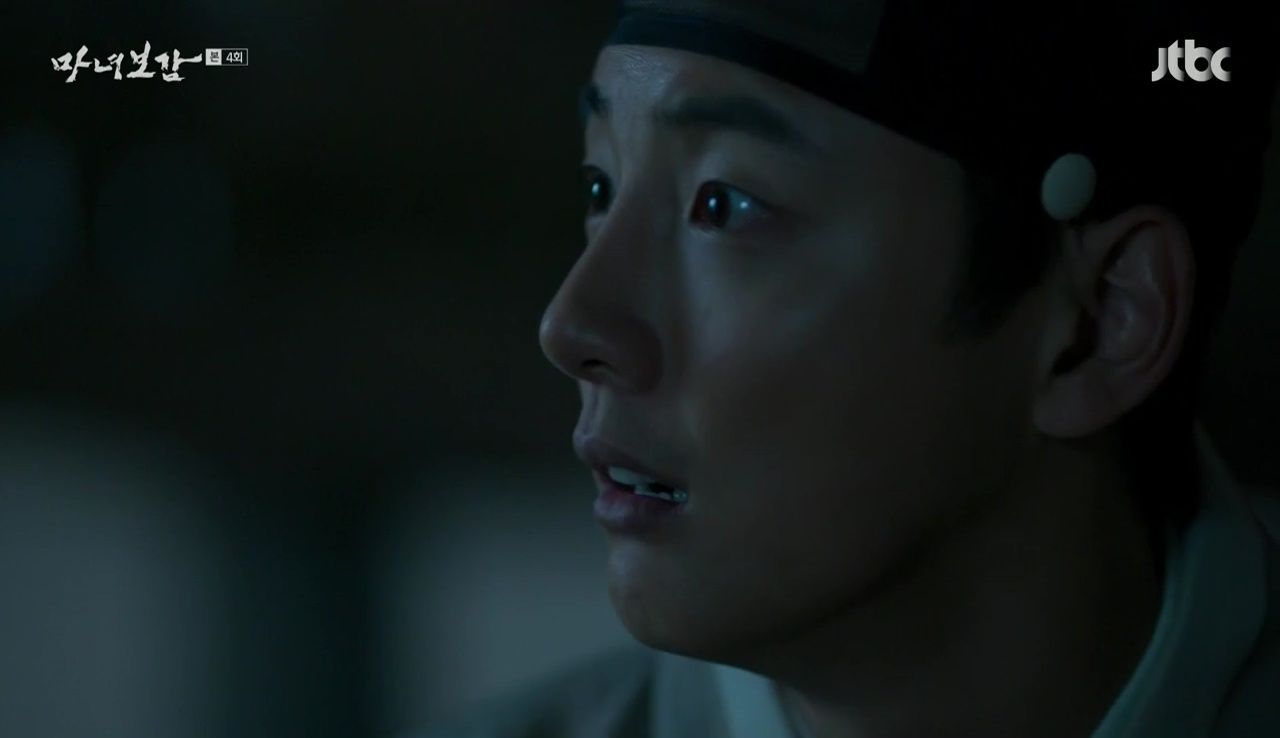 Back at Yeon-hee's house, we revisit the scenes of the screeching black shadow attacking Yeon-hee and turning her hair white. Cut to a similar scene at the palace, where Yeon-hee's twin brother Prince Sunhoe is under the same attack, his hair white as well. Then, we're back to Poong-yeon who collapses after returning home, coughing up blood. Hyun-seo checks the back of Poong-yeon's ear, and sure enough, the curse has now made its mark on him.
Hyun-seo rushes to Yeon-hee's and finds her limp on the floor. She looks disoriented as she opens her eyes, and all he can do is scold her for not listening to his warnings. Yeon-hee's confused and frightened, unsure as to what's going on with her, and she asks him to save her.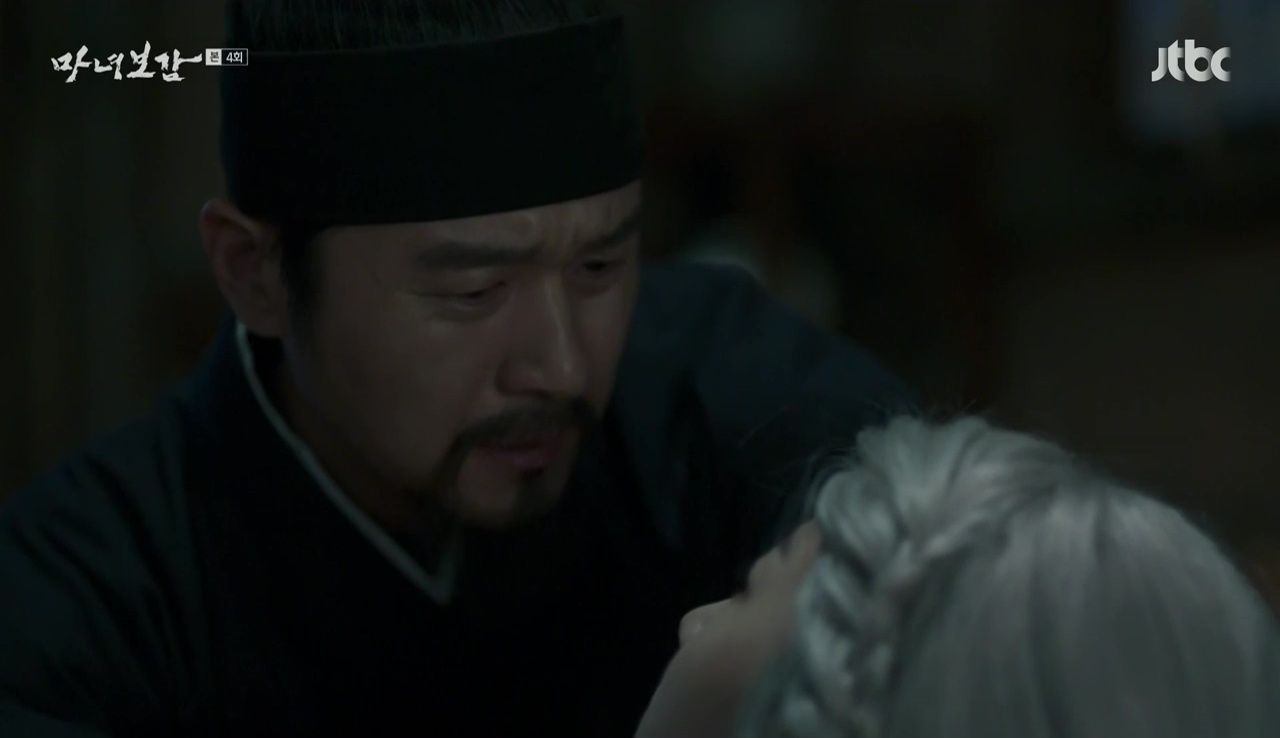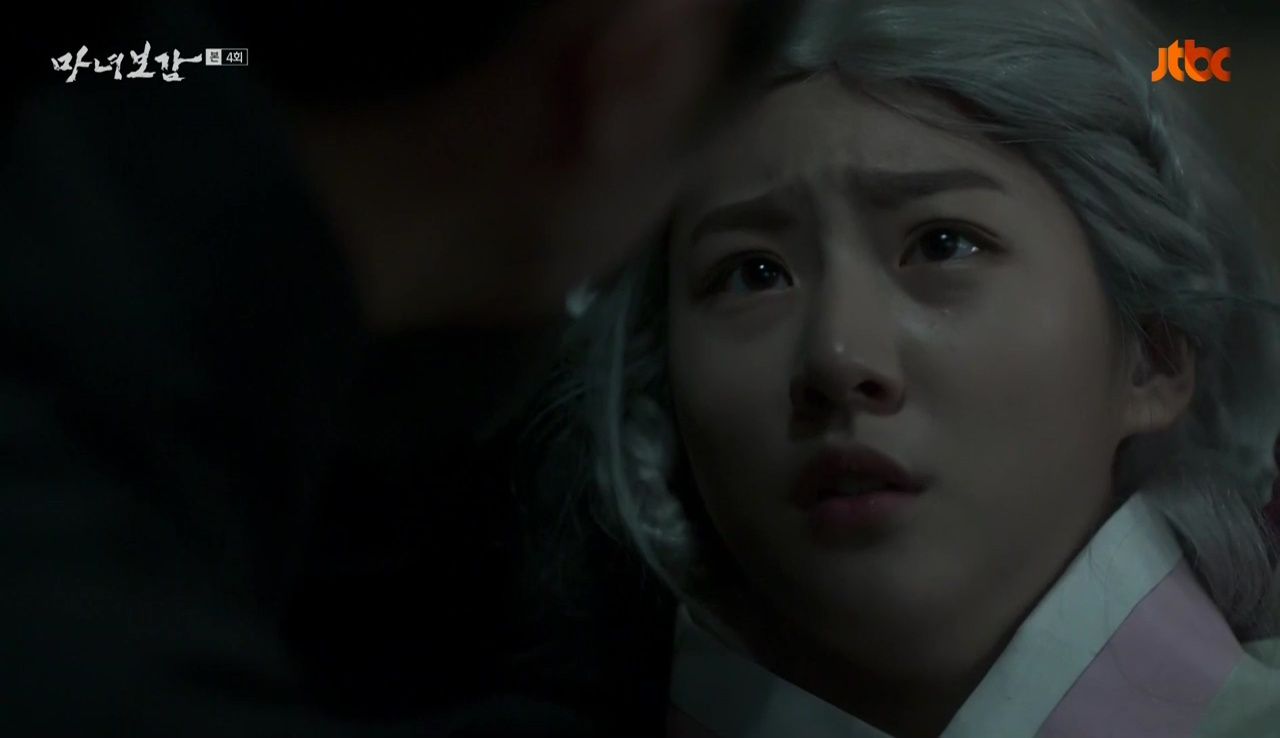 At the palace, Prince Sunhoe remains unconscious while the queen dowager barks at Hong-joo, demanding answers as to what's happening. The queen is beside herself, grabbing Hong-joo by her shirt and screaming at her to save the prince. She continues to wail, and it becomes too much for her: She faints and collapses onto the prince.
In the midst of the commotion, Hong-joo remains still, her expression unchanged. Her eyes at once hard and fiery, she utters three words: "Choi Hyun-seo."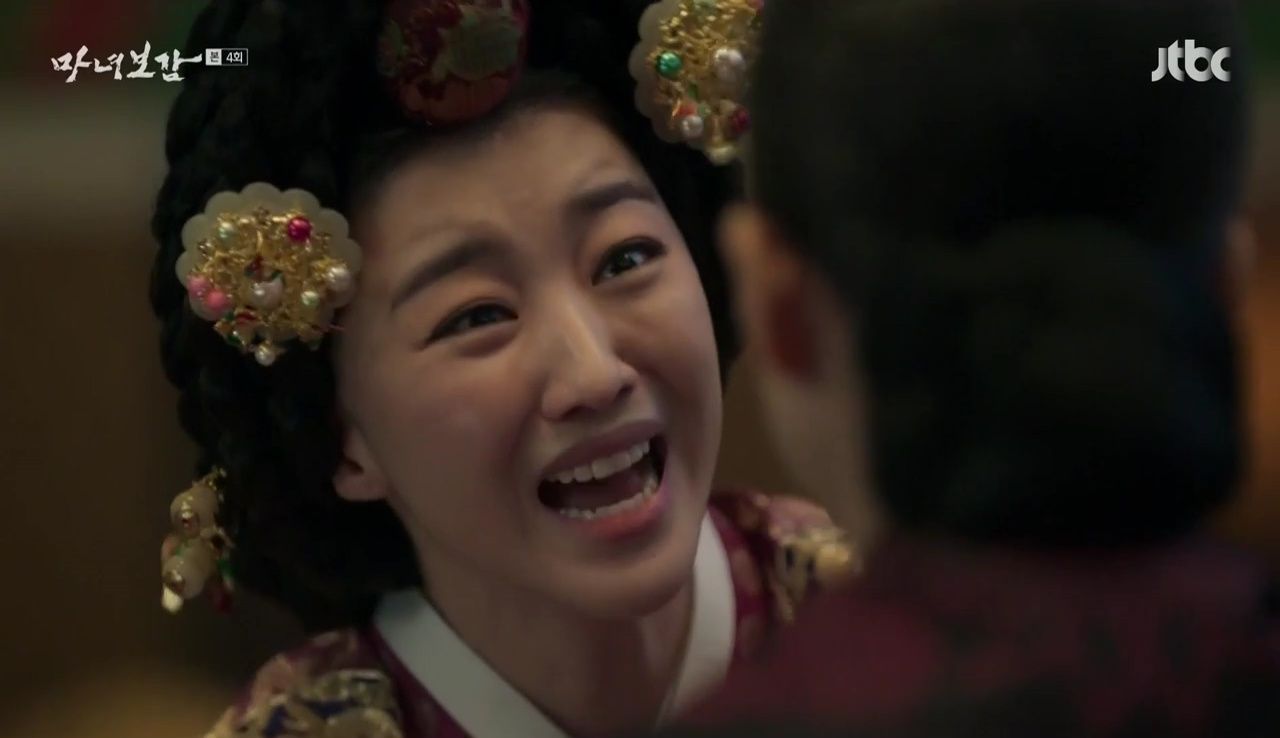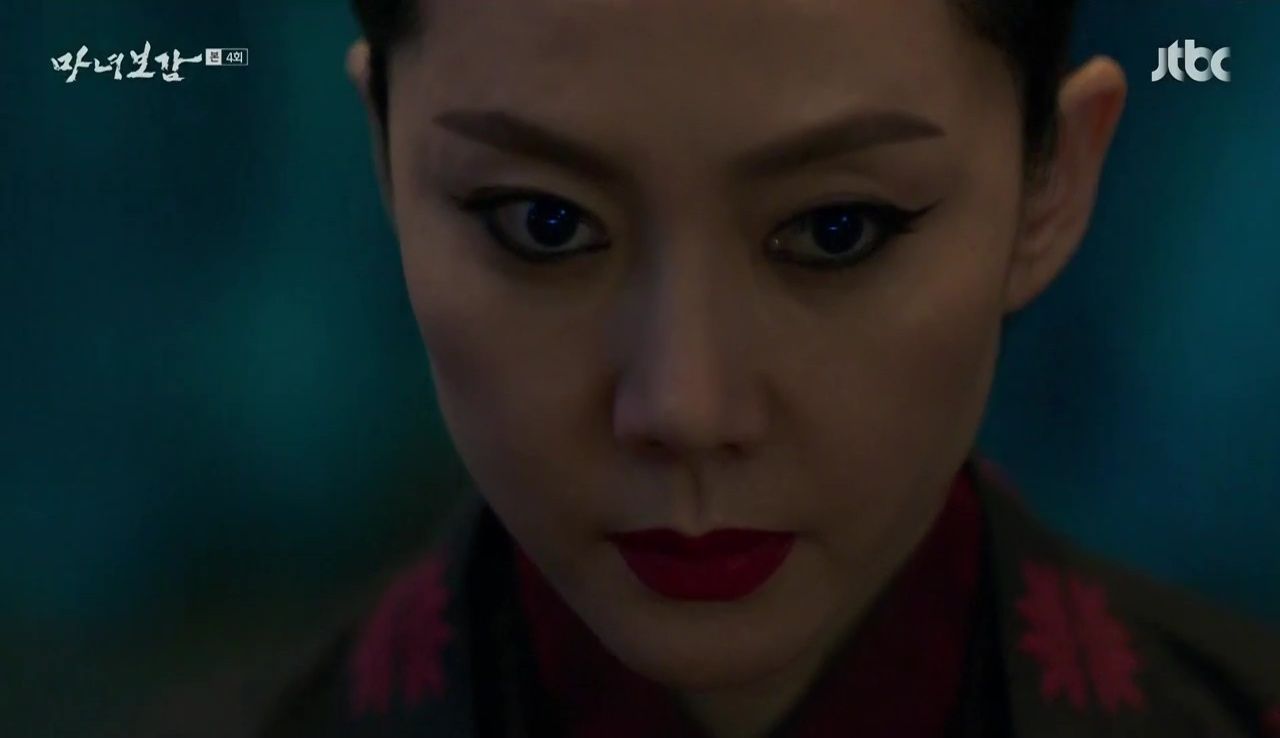 Jun wakes up somewhere in the woods and quickly staggers up to catch a glimpse of his mother wrapped up in the sack. He's held back from rushing to his mother by several men, and then he sees Heo Ok's mother, Lady Sohn, step out of the shadow.
She tells Jun that she thought he was a smart boy, but she's displeased that he doesn't know his place — she intends to show him tonight where he stands. Panicked, Jun pleads with her to stop whatever she's got planned. But she's unmoved, and gives the order to begin.
Still in the sack, Jun's mother is beaten to a pulp in front of Jun's eyes. Jun screams and calls out to his mother repeatedly, but he continues to be held back. Lady Sohn watches the proceedings with a smirk on her face.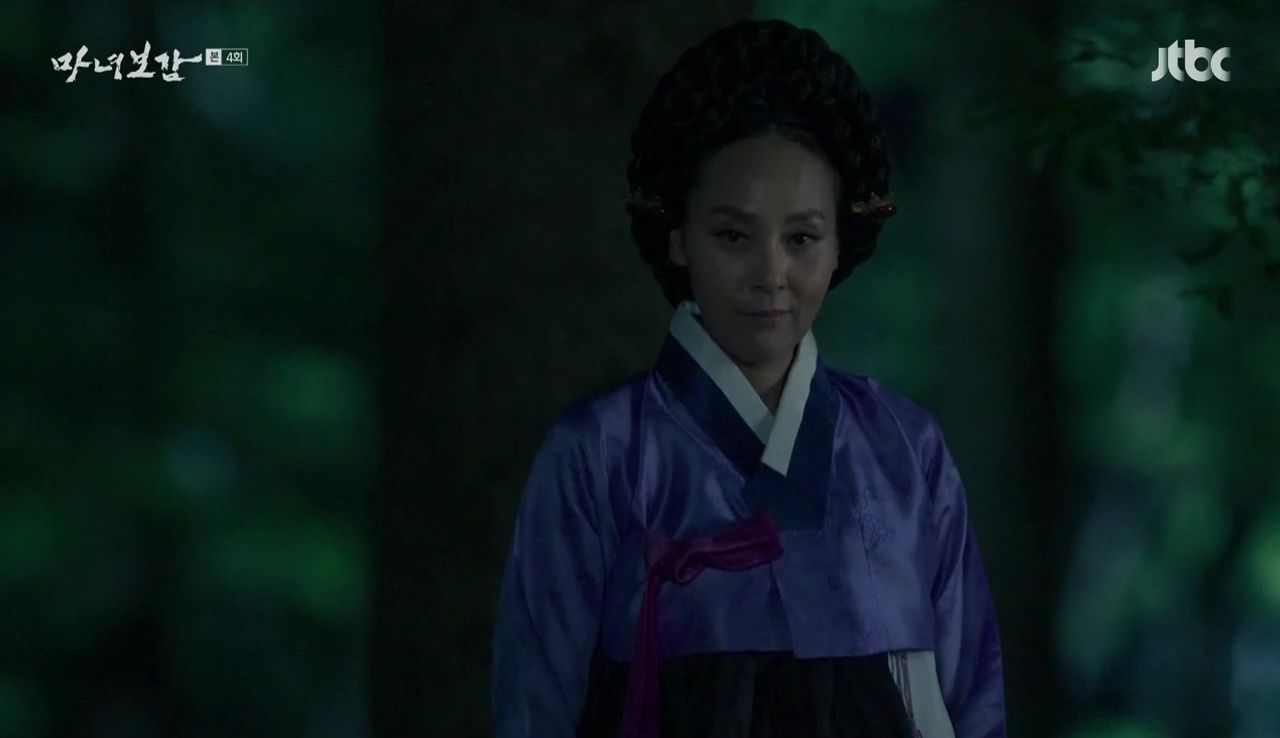 As blood seeps onto the sack, Jun grows increasingly desperate. On the ground now, he crawls over to Lady Sohn to beg for forgiveness, and for his mother's life, sobbing hysterically.
Lady Sohn raises a hand to stop the beating. Looking right at Jun's trembling, tear-streaked face, she tells him she's heard about his plans to buy his mother out of slavery.
She goes on to say that in life, there's one thing people are wrong about — the belief that if you just work hard enough, you can work your way out of your circumstances. But no matter how much you work, you can't escape who your parents are.
She tells Jun that he should not have been born — that would have been what's best for both him and his mother. She warns him that he shouldn't try to escape his lot in life, and he shouldn't try to fight against it. He should live as if he was a dead man; that's the only way he and his mother can live.
Jun nods furiously, his head bowed. Lady Sohn smiles in victory and turns away, finally allowing Jun to approach his mother.
Jun opens up the sack, only to find that it's not his mother inside after all — instead he finds a bloody pig's head. In shock, he turns around to face Lady Sohn, who leaves him with one final warning: "If you didn't understand my words today, your mom will be in the sack next time."
Jun rushes home, desperate to see his mother, and finds her outside hanging up laundry. He wordlessly steps in to help, fighting back tears as he notices the bruises and scrapes on her hands and face. After a few quiet moments, Jun says to his mother: "Let's leave this house."
Poong-yeon lays in his room in bad shape; he can't even take a spoonful of medicine without coughing up worrisome amounts of blood. As his mother frets over him, Poong-yeon calls out to her and starts to open his eyes. He looks over at his mother, but his eyes focus instead on a terrifying ghost just next to her.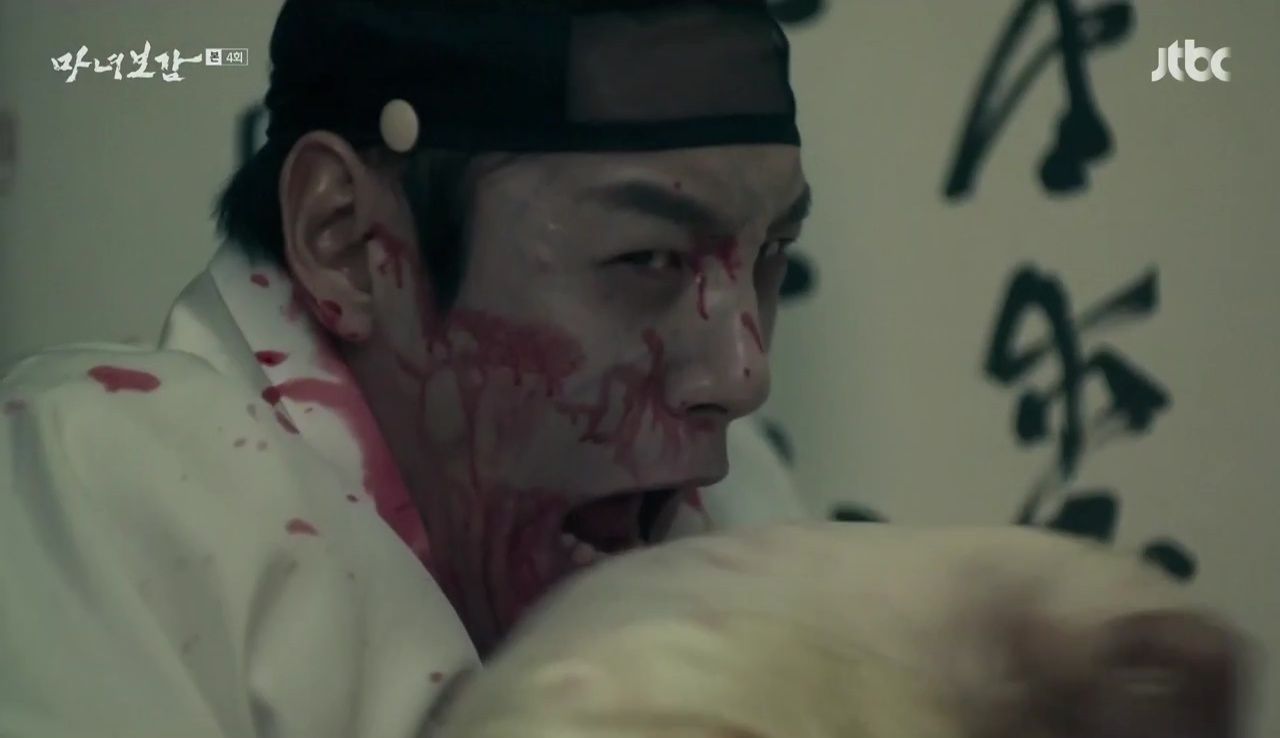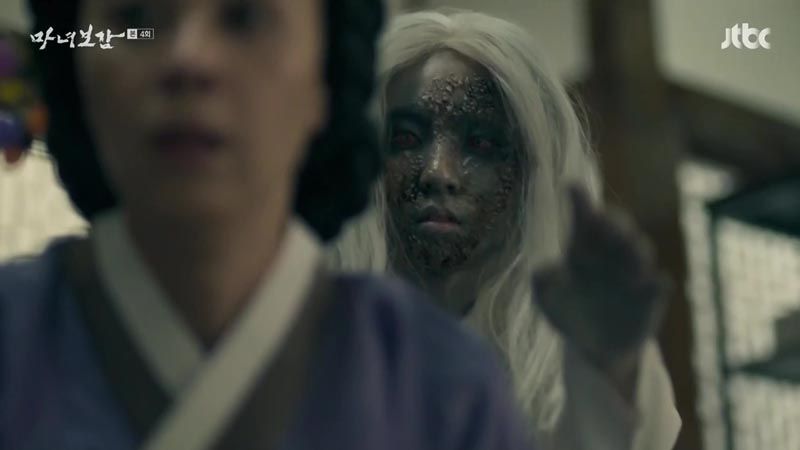 He immediately freaks out, screaming "Ghost!" while his mother tries to calm him. She can't see the ghost, but we certainly can, and the gruesome figure reaches for Poong-yeon as he screams.
Yeon-hee awakens in her room. She gets up and reaches for her mirror, but it goes crashing into the wall. She starts to hear the screeching of spirits, and with head in her hands, she screams — and this causes all her furniture to fall over. Young Taoist master Yo-gwang bursts into her room to see if Yeon-hee is okay; Yeon-hee just looks at her hands and faints.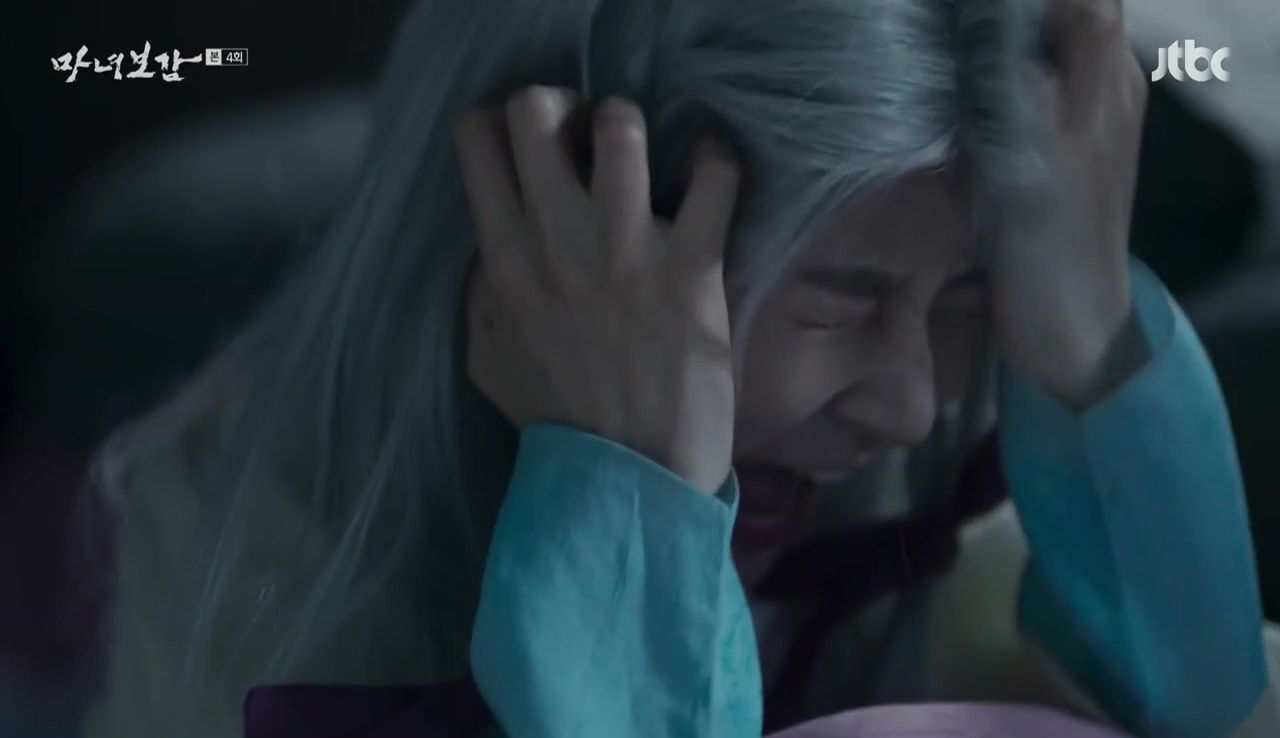 The Taoist masters tell Hyun-seo that Yeon-hee's newfound powers (from the activation of the curse?) can't be controlled just yet — whenever she releases energy, she loses consciousness.
They argue among themselves about what to do next — they're almost out of time, as the spell on the Black Forest is beginning to break. One of the masters says Yeon-hee needs to be moved to Cheongbing Temple as soon as possible, and another says that it's too dangerous — if Hong-joo finds out, then everything is really over. Hyun-seo seems at a loss for what to do.
Yo-gwang cleans up the mess at Yeon-hee's while she sits against the wall, head in her hands. He tries to cheer her up, telling her not to worry; everything will go back to normal once she goes to Cheongbing Temple. Yeon-hee's curious to hear more about the temple, but Yo-gwang just tells her she'll learn more once she's there.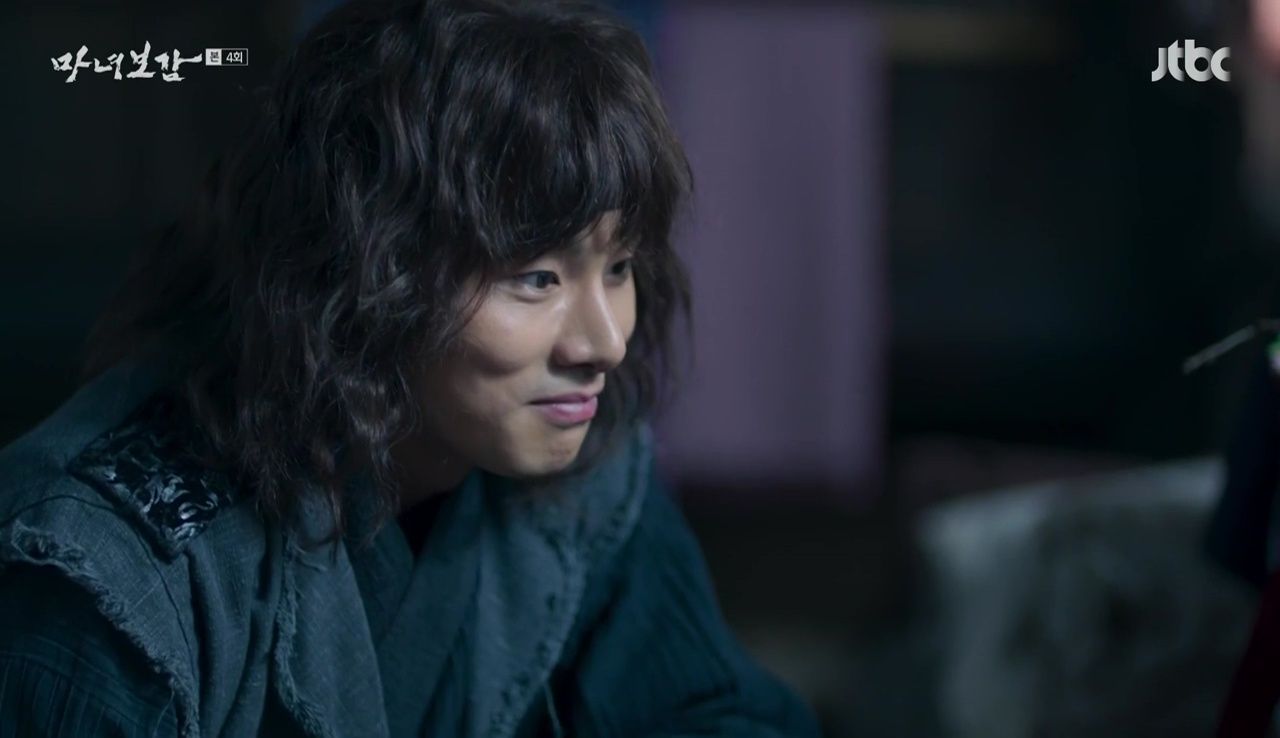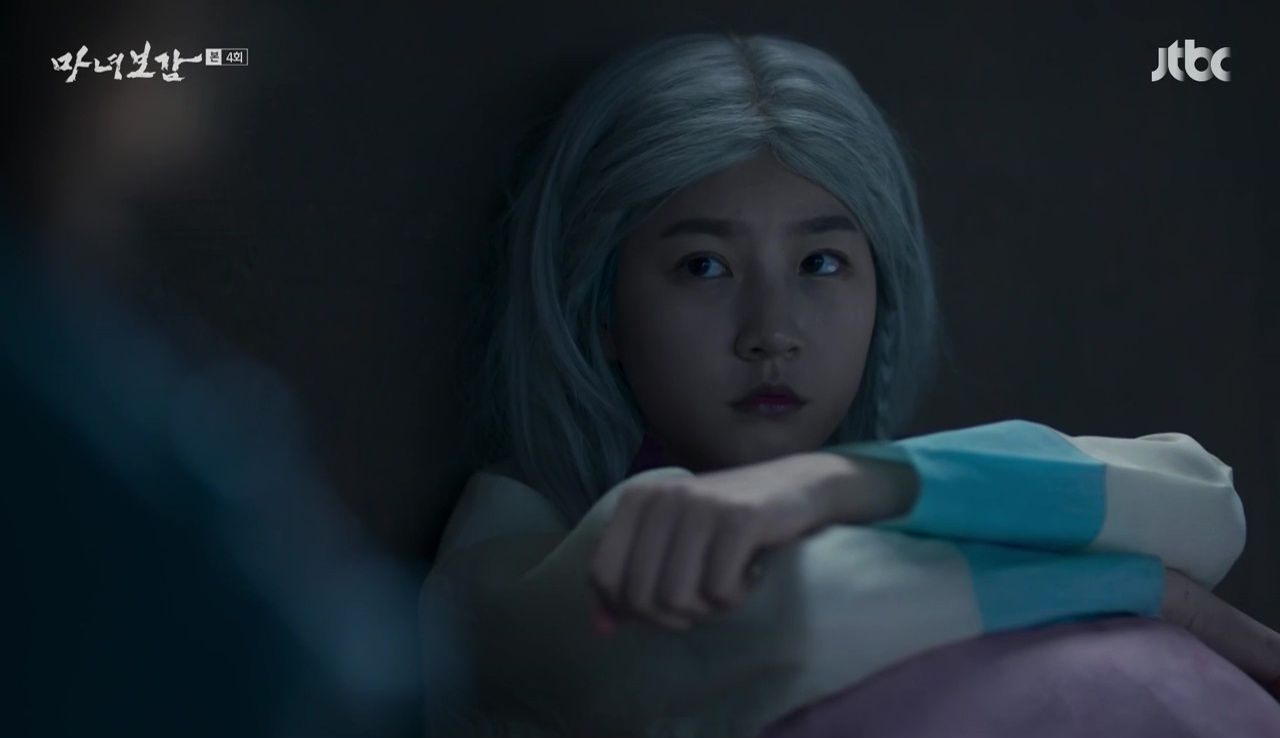 Yeon-hee's convinced that her father now hates her for disobeying him and causing all this trouble. Yo-gwang reassures her that he doesn't — but he mentions that Hyun-seo must be having a hard time, since Poong-yeon's been affected, too. Alarmed, Yeon-hee asks Yo-gwang what he means.
Cut to a group shamans performing some kind of healing ceremony for Poong-yeon, with Poong-yeon's mother bowing down in prayer. We focus on one of the shamans: She sees the ghost that Poong-yeon saw earlier, points her sword at it in horror, then collapses on the ground.
Just outside the walls of Poong-yeon's house, Yo-gwang and Yeon-hee crouch down to avoid being seen. Yo-gwang knows that it's dangerous for them to be there, but he can't say no to Yeon-hee's pleas to go see Poong-yeon. Yo-gwang says they need to be quick — the talismans they have won't last much longer.
They sneak into Poong-yeon's room, and Yeon-hee sinks down next to Poong-yeon, looking devastated.
Poong-yeon slowly opens his eyes and looks directly at Yeon-hee, but all he sees is that same ghost. He starts crying and pleading at her to go away and to never come back, saying he wants to live.
Yeon-hee doesn't know that he's not really seeing her in front of him, and she just looks at him with tears streaming down her face, taking his words to heart.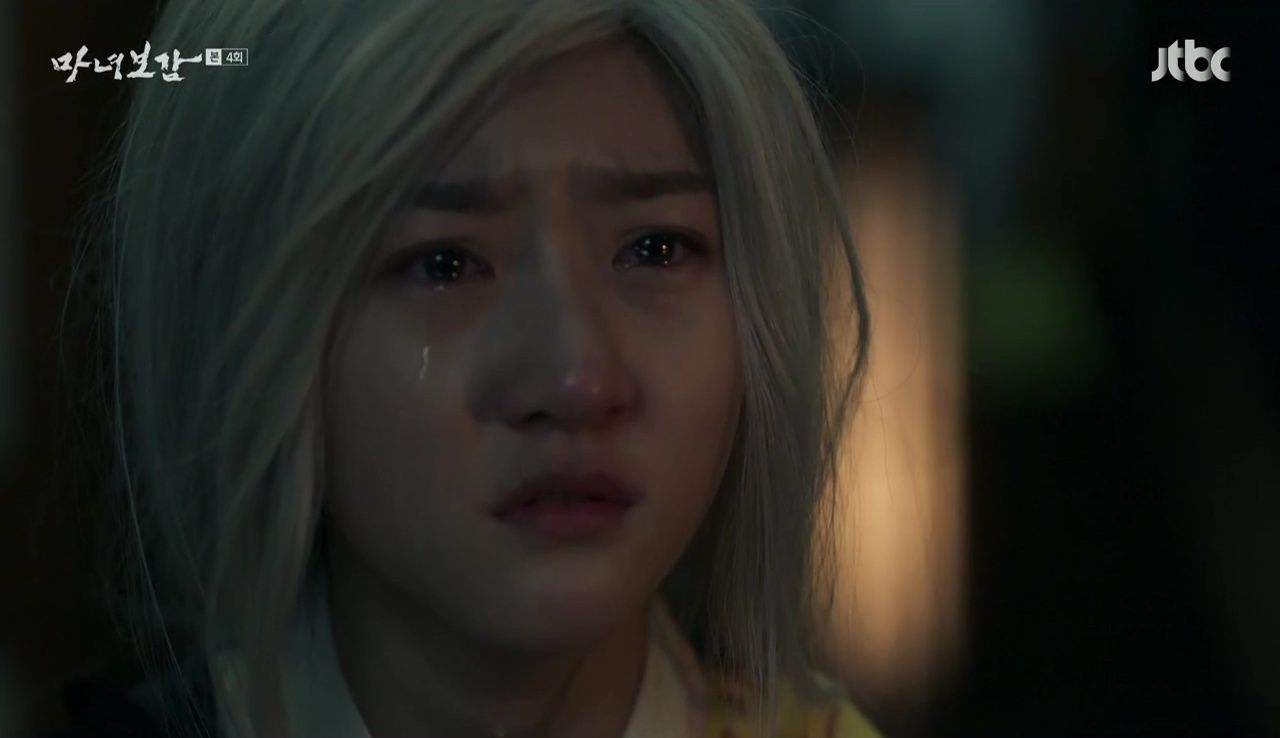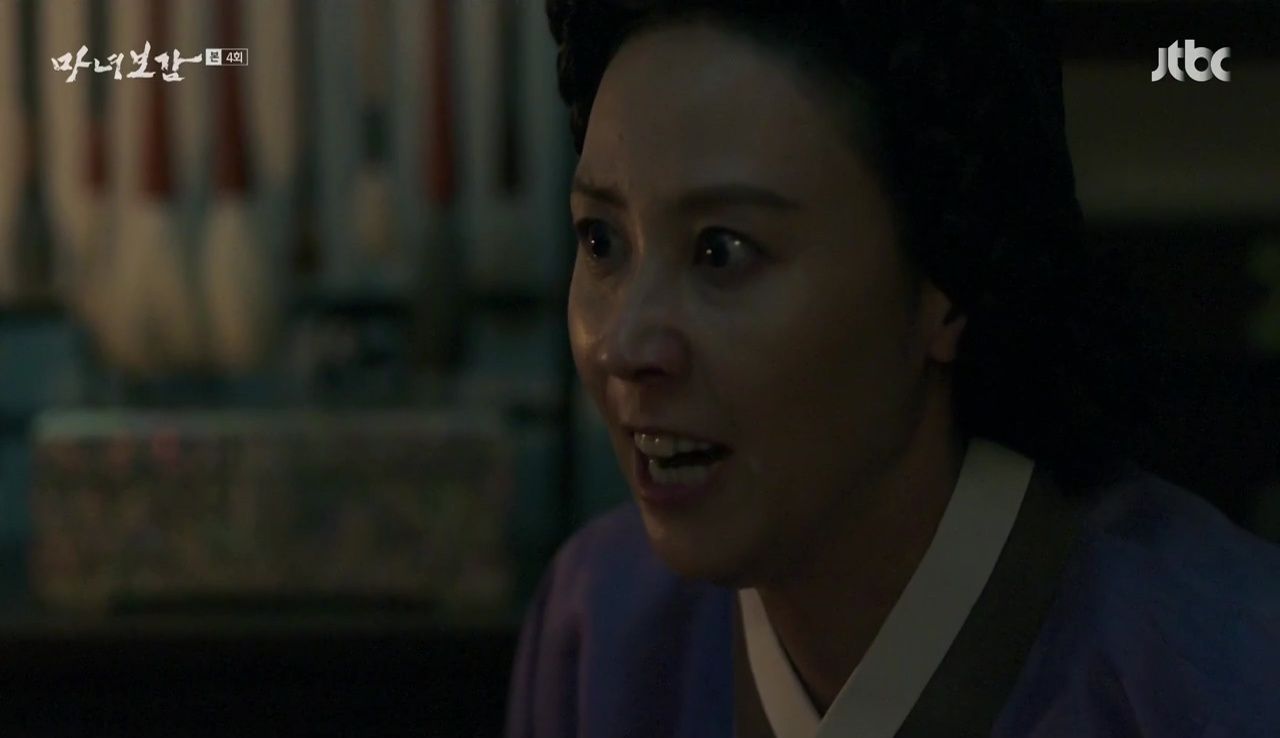 Just then, Poong-yeon's mother enters the room. She's instantly furious, cursing out a bewildered Yeon-hee for daring to set foot in her house.
She's the first to tell Yeon-hee that she's cursed, and that everything that's happened is her fault. It's the reason why she couldn't ever love Yeon-hee as her real daughter; it's the reason why Yeon-hee should have never been born. With desperation in her voice, she begs Yeon-hee to disappear, far away from Poong-yeon.
The door opens again; this time, it's Choi Hyun-seo and his team. While Yeon-hee gazes up at Hyun-seo with a look of betrayal in her eyes, Hyun-seo avoids eye contact with her, instead ordering Yo-gwang to leave with Yeon-hee.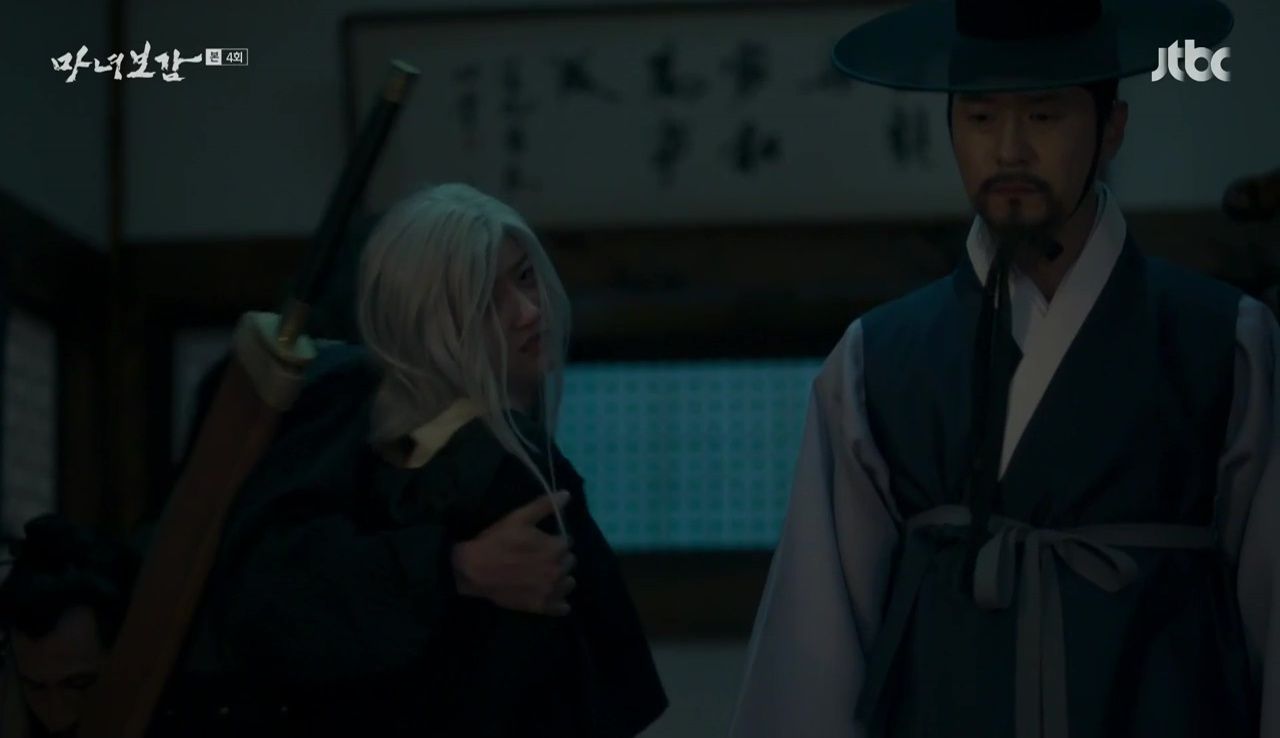 Yeon-hee looks to be in shock as Yo-gwang leads her out of the house, but then stops short and tells him that she'll go to Cheongbing Temple. She'll do whatever they ask of her, if it means they can save Poong-yeon.
Back in Hyun-seo's house, a servant announces a visitor from the palace. Since they're running out of time, Hyun-seo tells his team to take Yeon-hee and leave for Cheongbing Temple without him. He'll follow with the Mauigeumseo.
Hyun-seo then meets with his visitor, who is revealed to be none other than Hong-joo.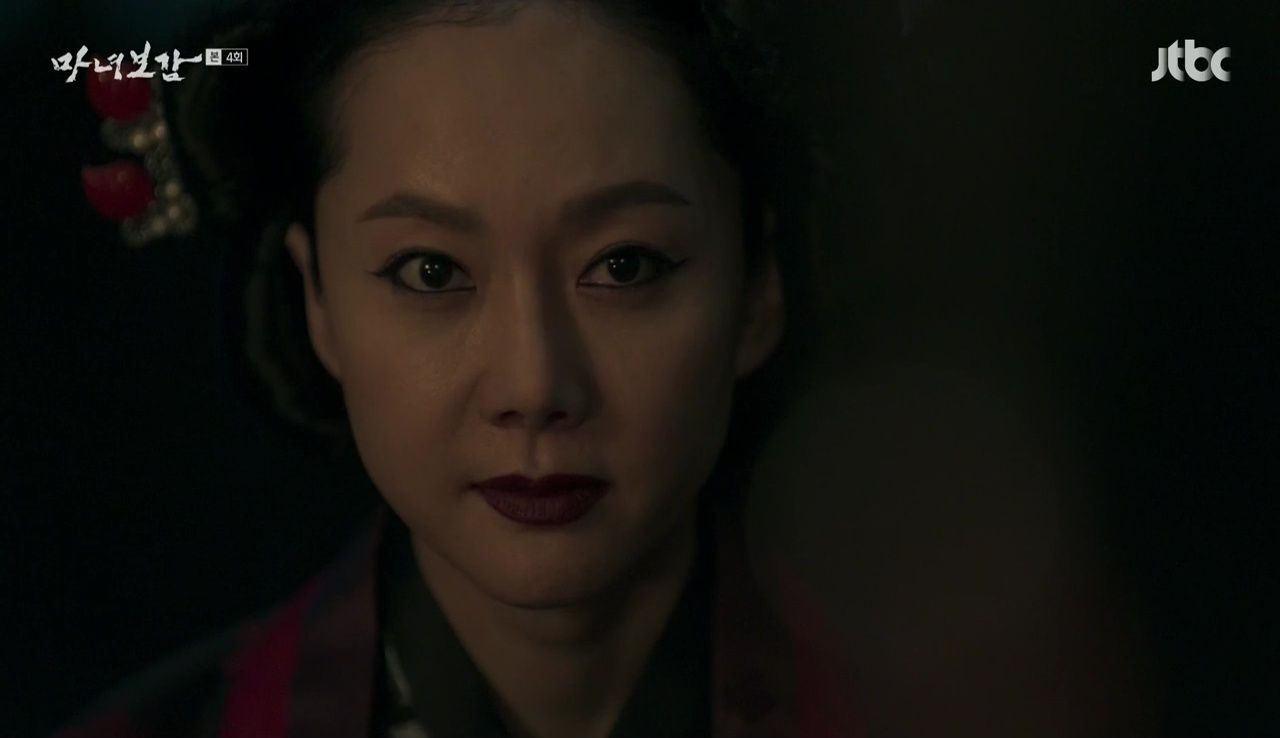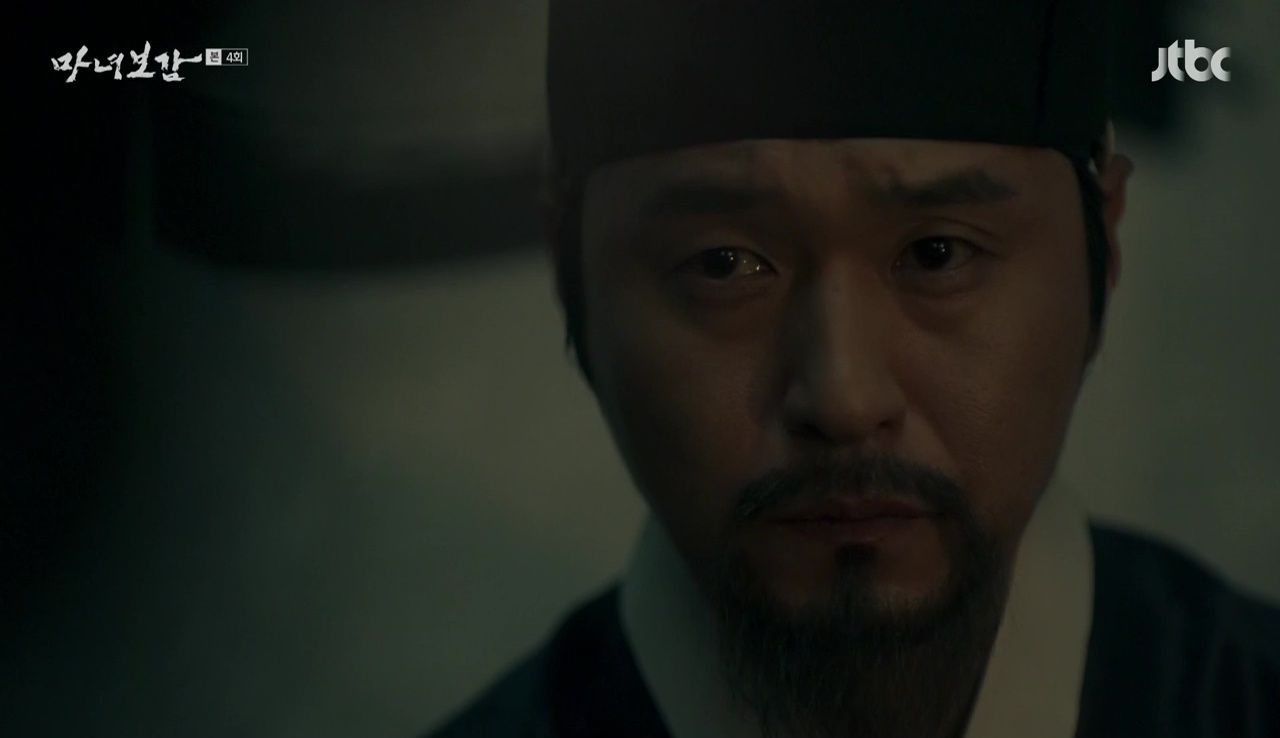 With a cold smile on her face, she tells Hyun-seo she's come to apologize — she underestimated him. It's her fault, really, for actually believing him 17 years ago when he said he would kill the princess. Her smile fading, she demands to know where the princess is now.
Hyun-seo replies that the princess is dead. She smiles at him, asking if that's his answer. Hyun-seo doesn't respond, and she gets up to leave.
As Hong-joo makes her way out of the house, she hears Poong-yeon's whimpers and stops outside his door to listen in. Hyun-seo catches her and points her towards the exit.
Sensing an opportunity, she leaves Hyun-seo with some parting words: If the princess is really alive, Hyun-seo has defied the orders of the queen dowager and placed the prince's life in danger, and thus will be punished for those crimes. She adds that those who've been afflicted with the princess' curse will suffer from a terrible illness and die within two weeks.
She pauses, then says that of course, these things won't come to pass — because there's no way that the upstanding, patriotic Hyun-seo would ever make a decision that would cause such destruction.
Still in Poong-yeon's room, Poong-yeon's mother overhears Hong-joo's every word, looking horrified. So it comes as no surprise when she follows Hong-joo out of the house and calls out for her to stop. A satisfied smile spreads across Hong-joo's face.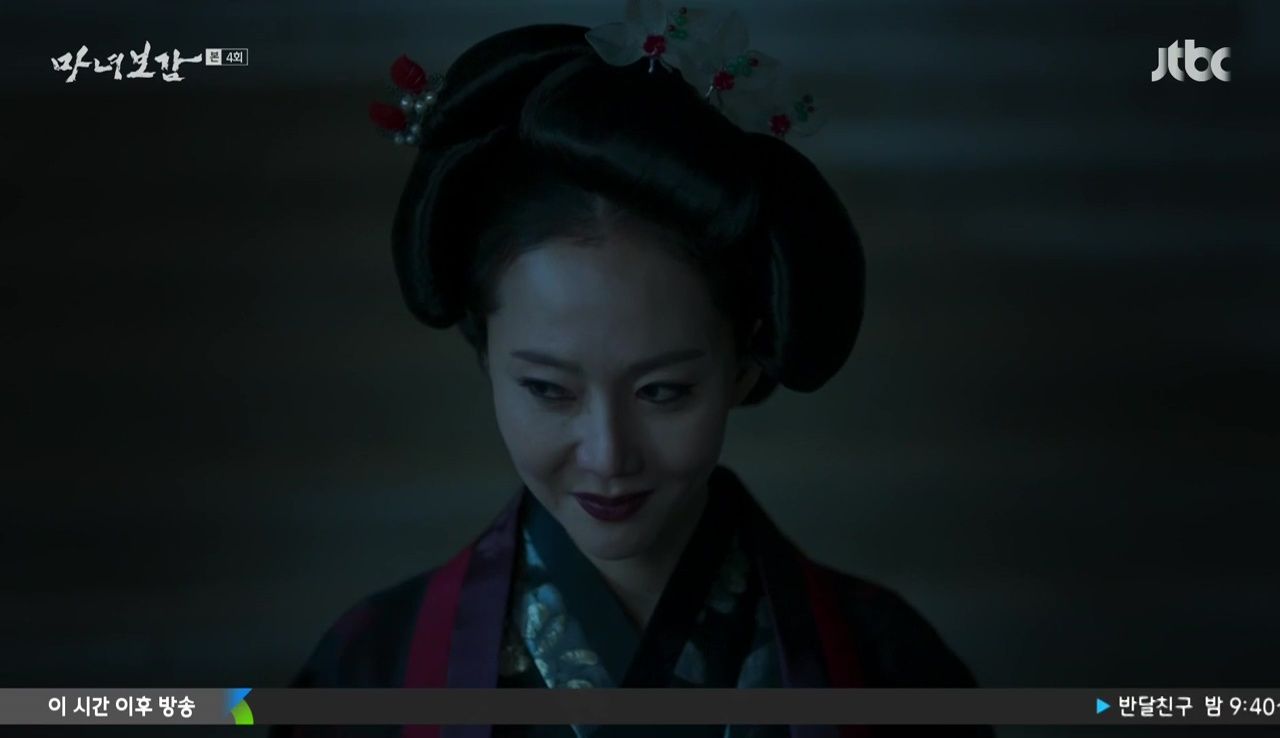 Heo Jun heads towards a building in the dark of night, looking around nervously to ensure no one sees him. He knocks on a door, then knocks again. An old man eventually opens the door, but tells Jun they're closed.
Jun stammers that he's looking to buy boat tickets to Ming. The old man rebuffs him, but Jun pleads, unable to take no for an answer. The man finally tells Jun to return in two hours with 200 nyang.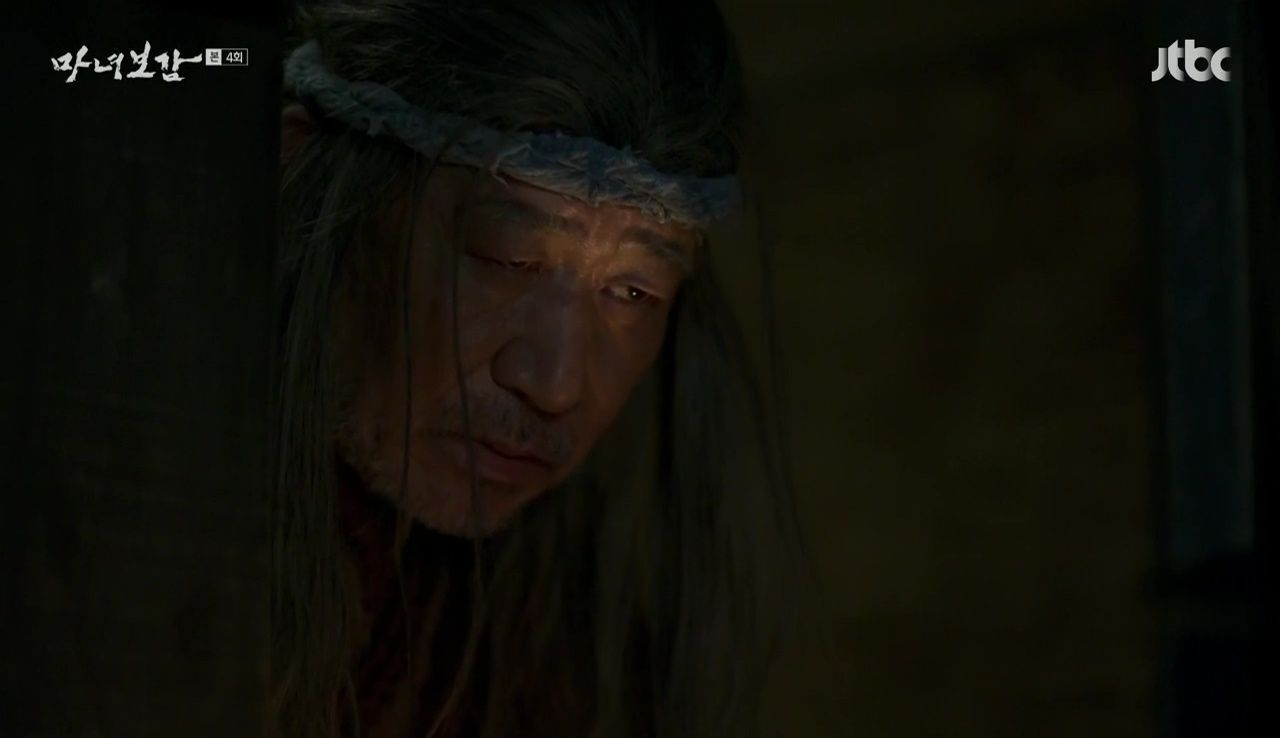 When Jun returns home, his mother is having second thoughts on their plans — the more she thinks about it, the more dangerous it sounds to try to smuggle themselves out of the country.
Jun stoops down to help her pack the rest of her things, and tells her he's had to give up a lot while living in this house — pretending to make mistakes or be less intelligent (for Heo Ok's benefit) — and he doesn't want to live like that anymore. He takes his mother's bruised hand and says that starting now, they should live the way they want.
The two quietly sneak out of the house, his mother clinging to Jun's arm. Behind them, a servant sees them leave.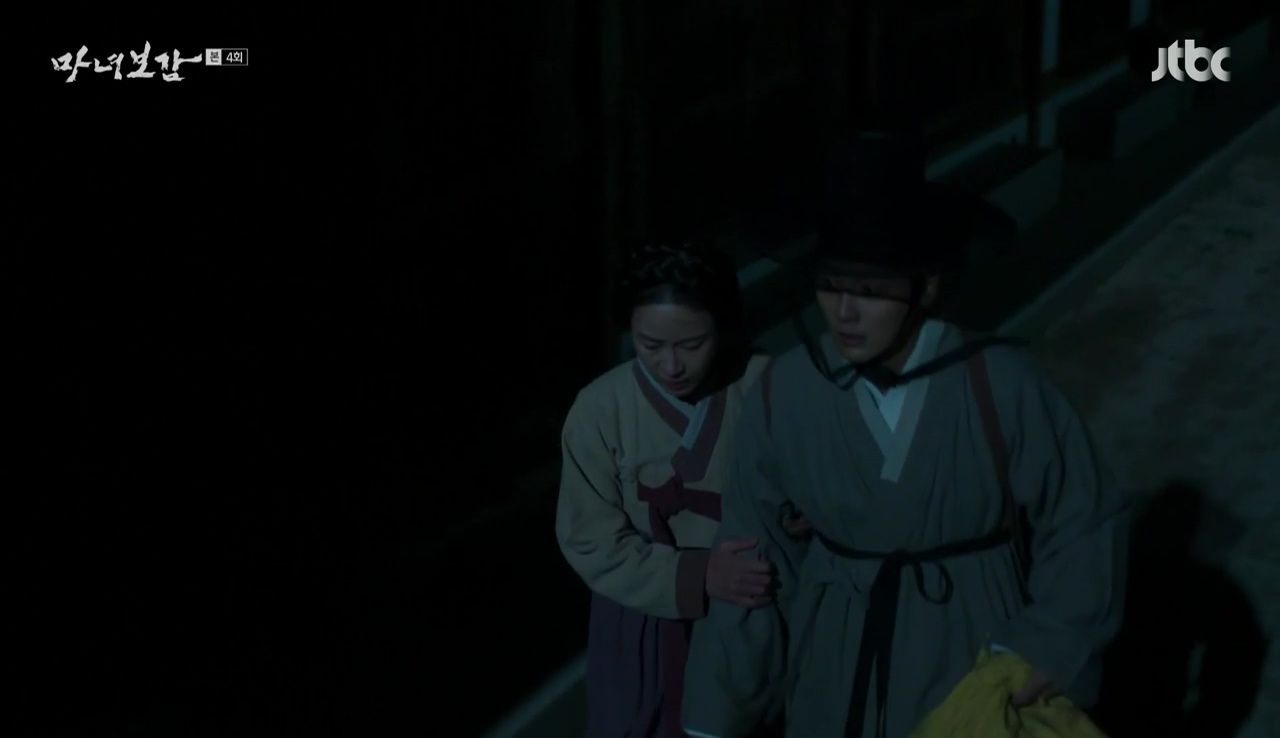 Jun's brother Heo Ok is doing his usual thing, drinking and hanging out with his crew of friends and gisaengs. They all admire some fancy jewelry specially imported from abroad, and feeling generous, Ok offers to let everyone pick out a piece each.
Their revelry is interrupted when the servant who saw Jun and his mother leaving comes by, wanting to talk to Ok. As the servant whispers in Ok's ear — undoubtedly letting him in on the news of Jun's departure — Ok's expression changes.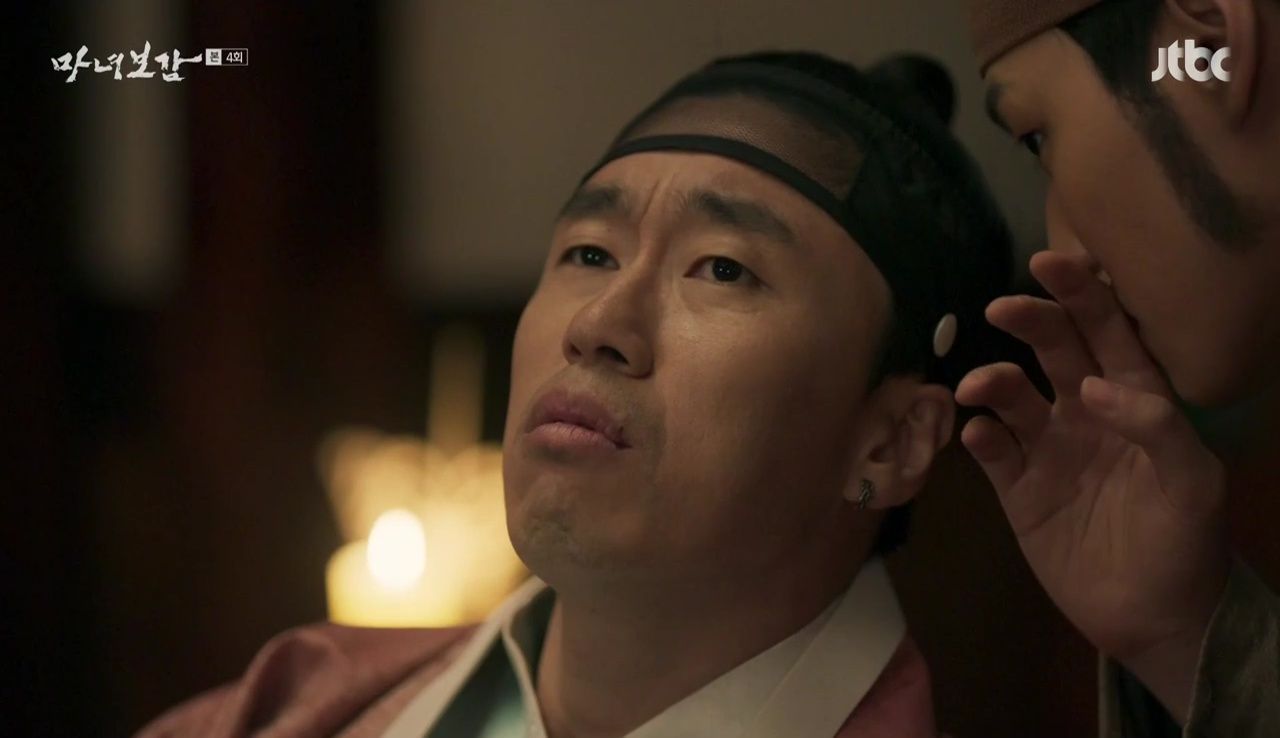 Jun and his mother arrive at a ramshackle building that's already crowded with others looking to make the same journey. Jun settles his mom in a corner to wait while he procures the boat tickets. Before he leaves though, he takes an extra moment to squeeze her hands and give her a reassuring smile.
Jun finds the old man and presents him with 200 nyang. After handing over the tickets, the man tells Jun that he only ever sells one ticket to each person — everyone who buys a ticket either successfully gets to Ming, becomes fish food on the way, or gets caught.
He says most people are caught, because it's not easy to get away from those slave hunters. If you get caught, you die a terrible death; if you don't, you live your life as a fugitive. He tells Jun he could still change his mind. But Jun just says whatever happens, he will get on that boat. In response, the man tells Jun not to be a minute late for the boat, which is set to leave at 1 a.m.
Dressed in all black, Hyun-seo retrieves the Mauigeumseo from a box hidden away in the walls of his house. He thumbs through its pages and rips out a page with a picture of a tree on it, then puts the page back in the box. He returns to box to its original hiding place. (Curiously, a second later, it looks like a different box is put away, but it's not clear by who. We'll have to see if it's an error, or if it actually means something.)
Hyun-seo hides the Mauigeumseo inside his shirt and rushes out of the house when his wife intercepts him, pleading with him not to go. As he turns to face her, and she tells him that it's all over.
Meanwhile, Hong-joo and her guards trek through the Black Forest, ostensibly on their way to Yeon-hee's hiding place. Hong-joo stops at the tree with the talisman on it and rips it off, crumpling it in her hands and throwing it to the ground.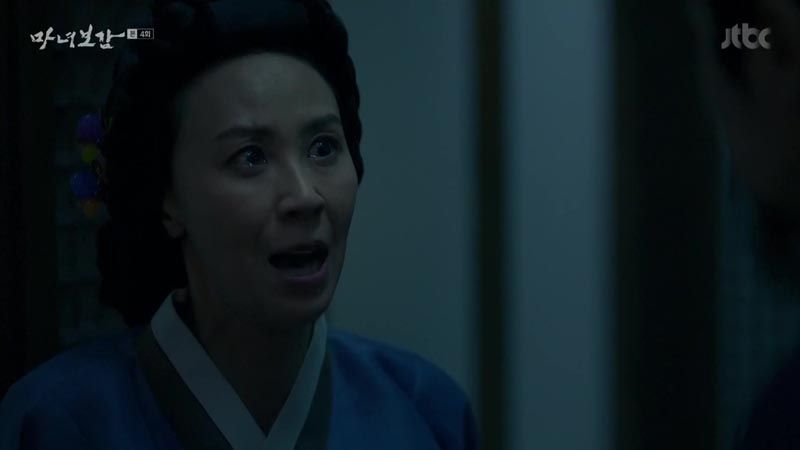 Back to Hyun-seo, who is stunned by his wife's confession: She's told everything to Hong-joo in hopes that Poong-yeon will be saved. Hyun-seo tries to argue that Hong-joo is the one that must be stopped in order to save Joseon, but his wife couldn't care less about saving the country — not when Poong-yeon is dying. She says Hong-joo was clear: If Yeon-hee dies, Poong-yeon will live. Hong-joo also promised to cover up everything if Hyun-seo stops interfering. His wife begs Hyun-seo to stop.
Yeon-hee sits while Yo-gwang packs up for their journey to Cheongbing Temple. But as soon as they open the doors to depart, they're met with arrows from Hong-joo's guards.
Yo-gwang avoids getting hit by immediately retreating inside with Yeon-hee; they also have some backup from the Taoist masters, who were waiting for them outside. Yo-gwang tells Yeon-hee to wait in the house, then unsheathes the biggest sword EVER and heads outside.
The Taoist masters run out to meet Hong-joo's rapidly approaching army, and it's clear that they're outnumbered. As the two teams face off, Hong-joo calls out the Taoist masters for harboring a cursed child, saying they are unfit to serve the palace — then orders her guards to attack. The fight is on.
Initially, the Taoist masters hold their own against Hong-joo's guards; Yo-gwang in particular is kicking ass, taking on multiple swordswomen and helping another master avoid trouble.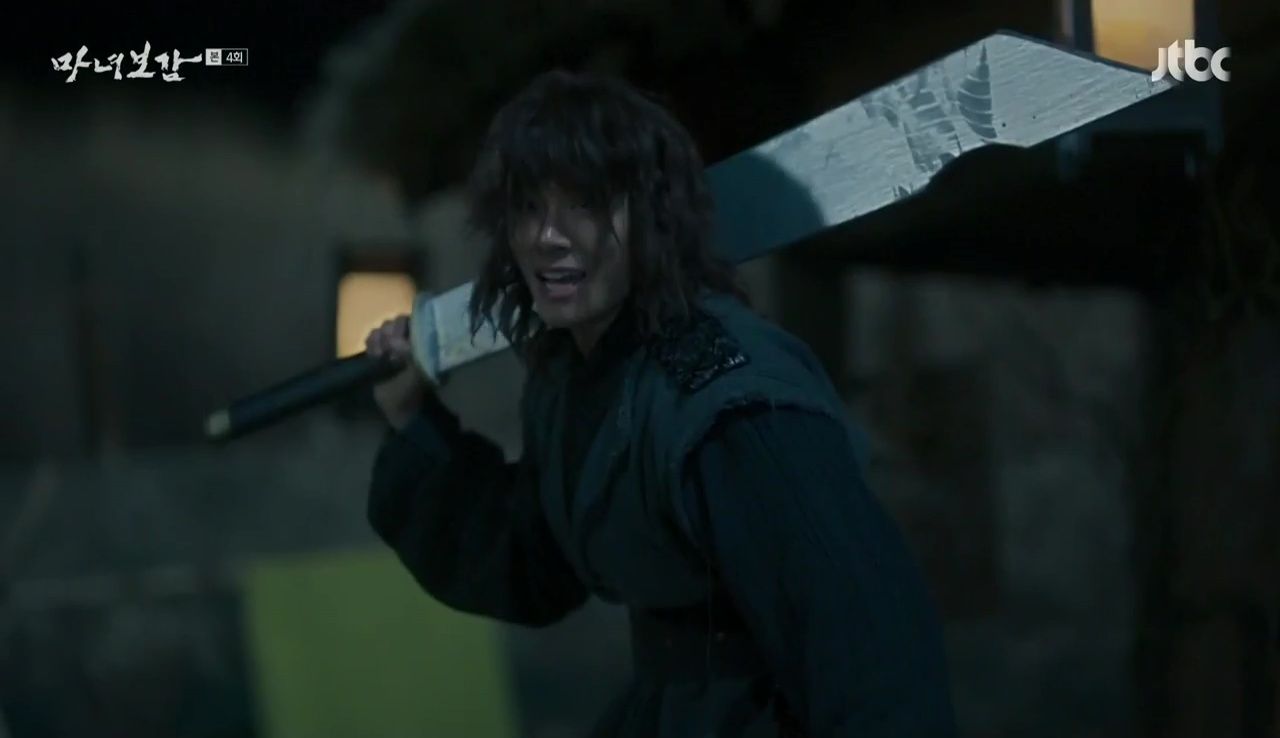 Alas, this is not to last, as the blind Taoist master takes a hit and falls to the ground. Another master comes to his defense, but gets stabbed.
Yo-gwang watches in horror as the blind master is the next to be killed. The guards take advantage of Yo-gwang's momentary lapse in focus, knocking his sword out of his hands and capturing his arms and legs with chains.
As Yo-gwang shouts out helplessly, the remaining masters fall prey to Hong-joo's army. The guards then surround him, swords pointed.
Hong-joo, who's been watching the bloodshed from afar, makes her way to Yo-gwang. She calls them all fools for dying like this, all because of the girl. She raises her hand as a signal for her guards to attack Yo-gwang, but at that moment, Yeon-hee bursts through the doors. Hong-joo's eyes widen at the sight of the princess.
Face to face with Hong-joo, Yeon-hee asks her to explain: What does she mean when she says everything is because of Yeon-hee?
With a hint of pity in her eyes, Hong-joo finally clues in Yeon-hee to the details of her curse. She tells Yeon-hee that all of the people she loves will die, and all who love her will die as well. Yeon-hee's eyes glisten with tears as she looks at Yo-gwang on the ground, coughing and gasping for breath.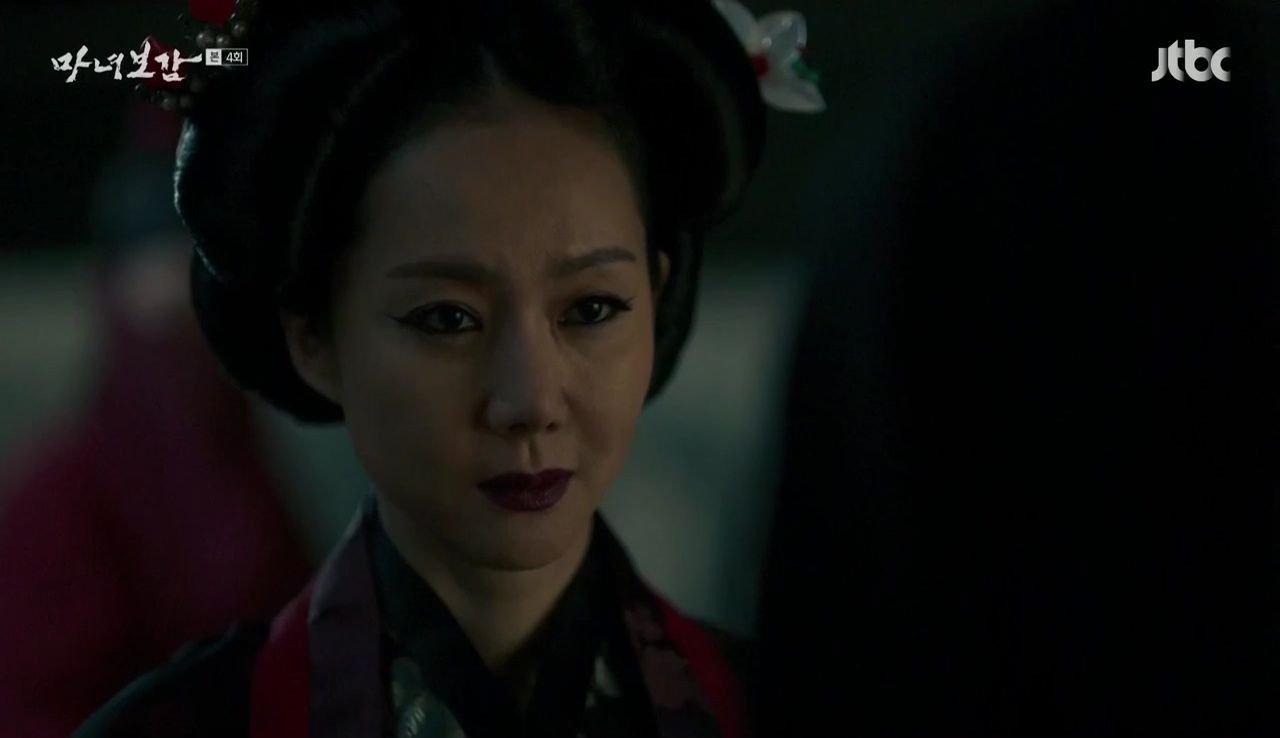 Hong-joo brings Yeon-hee close and asks her why she was born at all, when no one wanted her. She tells Yeon-hee that there is a way to stop her misery and sadness, and to save everyone. All Yeon-hee has to do is die.
At this, Hong-joo raises her hand once more. Swords point at Yeon-hee.
Suddenly, we hear Hyun-seo's voice, shouting at them to stop. He rushes to Yeon-hee, only pausing when he sees his fallen team members. Blocking Yeon-hee with his body, Hyun-seo unsheathes his sword. Hong-joo angrily tells Hyun-seo not to interfere anymore, saying she will no longer forgive his actions.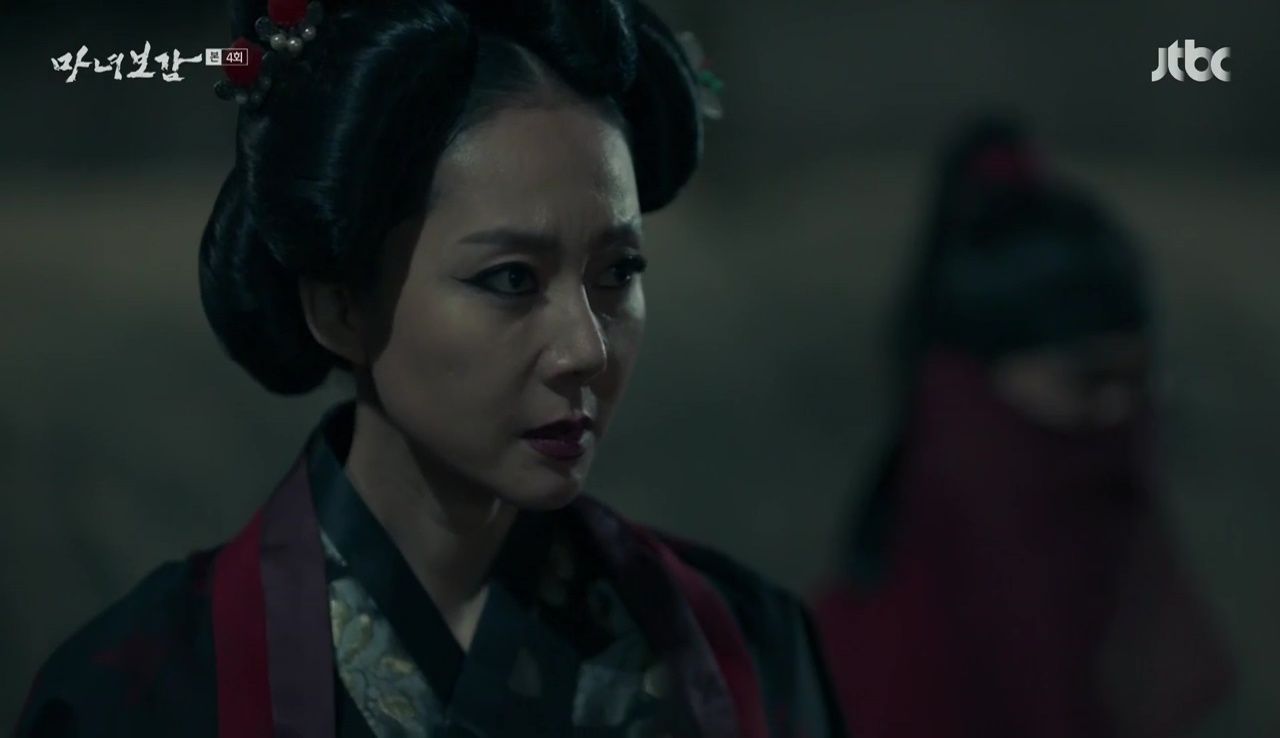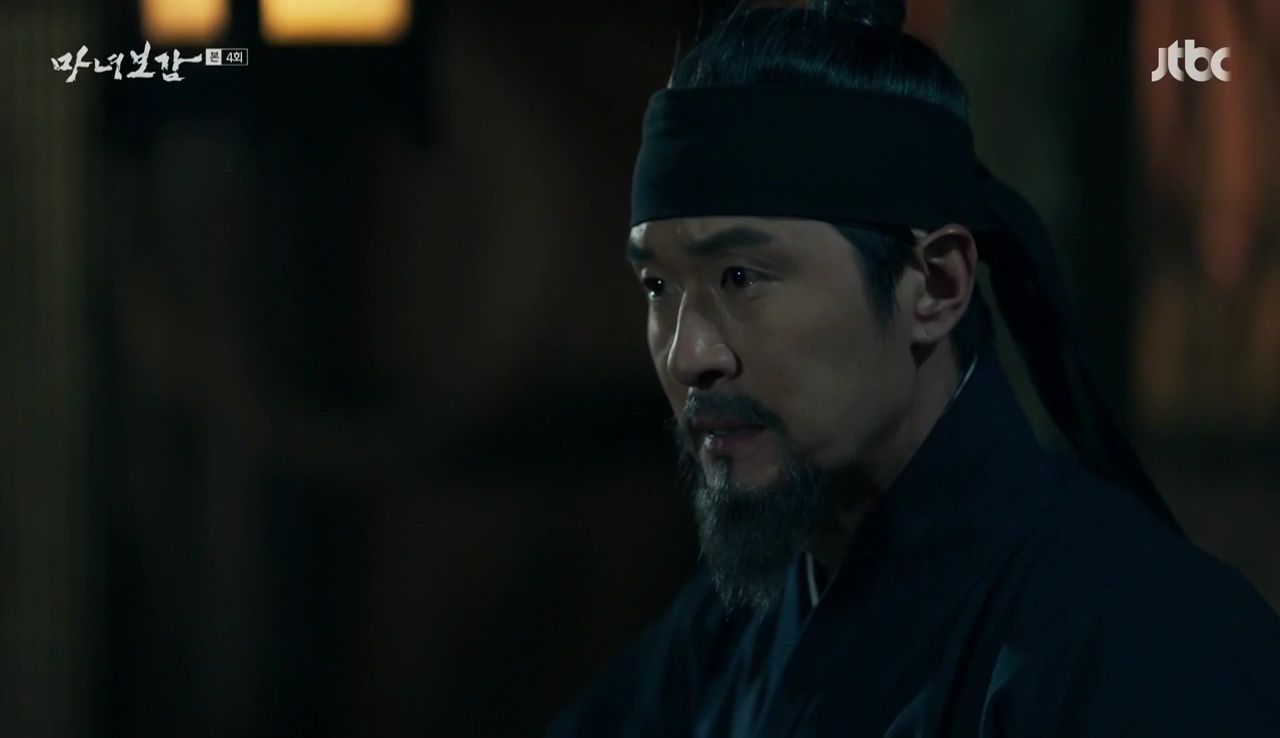 One of Hong-joo's guards moves to attack Hyun-seo, but Yo-gwang pulls himself up just in time to throw a knife at the attacker. Picking his sword off the ground, Yo-gwang tells Hyun-seo to run. Hyun-seo and Yeon-hee flee.
Yo-gwang bravely tries to fight off Hong-joo's army, but it doesn't take long before he falls to the ground, badly injured. With his last ounce of strength, he grabs Hong-joo's leg to try to stop her from rushing after Hyun-seo.
She looks down at him, takes a sword from her guard, and delivers the final blow.
Hyun-seo and Yeon-hee run through the rocky terrain, with Hong-joo and her guards trailing closely behind. The guards come to a cliff and look around, having seemingly lost the pair. Hong-joo tells her guards they couldn't have gotten too far, and the search continues.
Further down the cliff, we see Hyun-seo and Yeon-hee, safely hidden. Hyun-seo turns to Yeon-hee and hands her the Mauigeumseo. His voice urgent, he tells her that once he steps out of the hiding place and catches the eye of the guards, she must run straight ahead without looking back.
Yeon-hee protests, saying she'd rather just die. But Hyun-seo grabs her and tells her that she must live, head to Cheongbing Temple, and break the curse. That's the only way everyone will live.
Taking a softer tone, Hyun-seo apologizes, then wishes her a happy birthday. With that, he's off.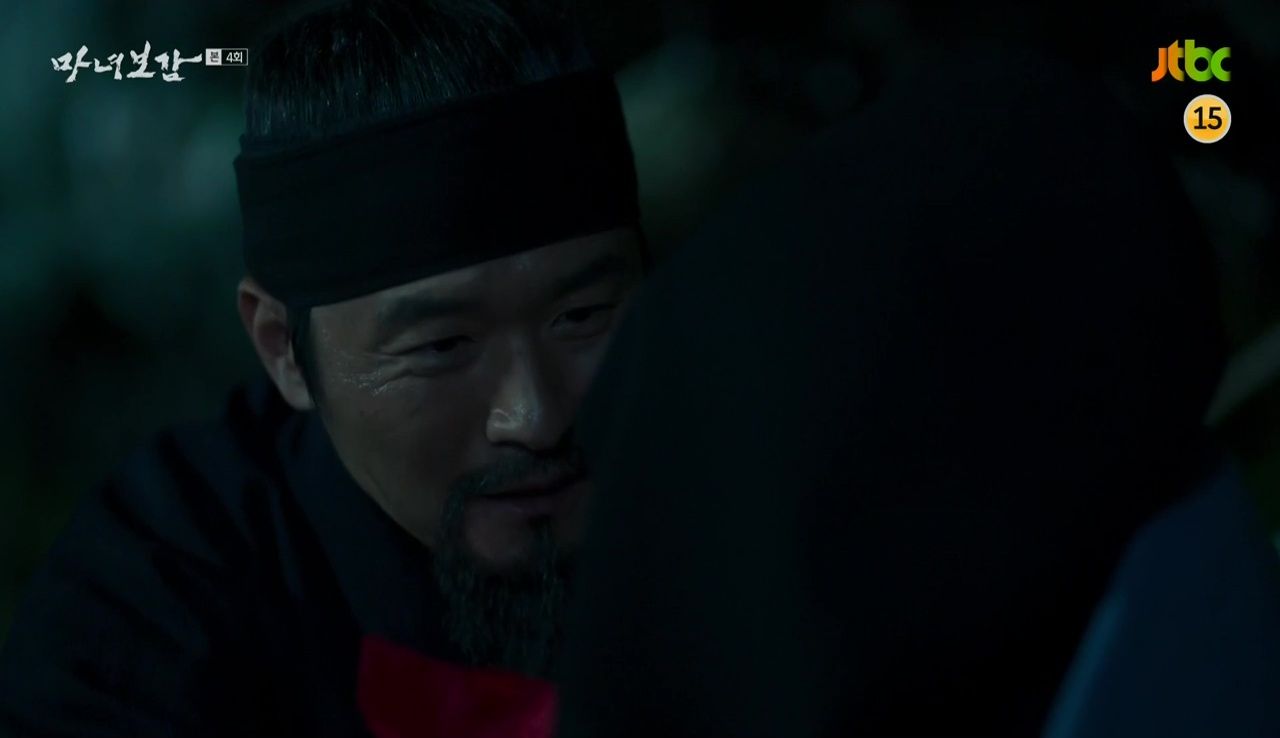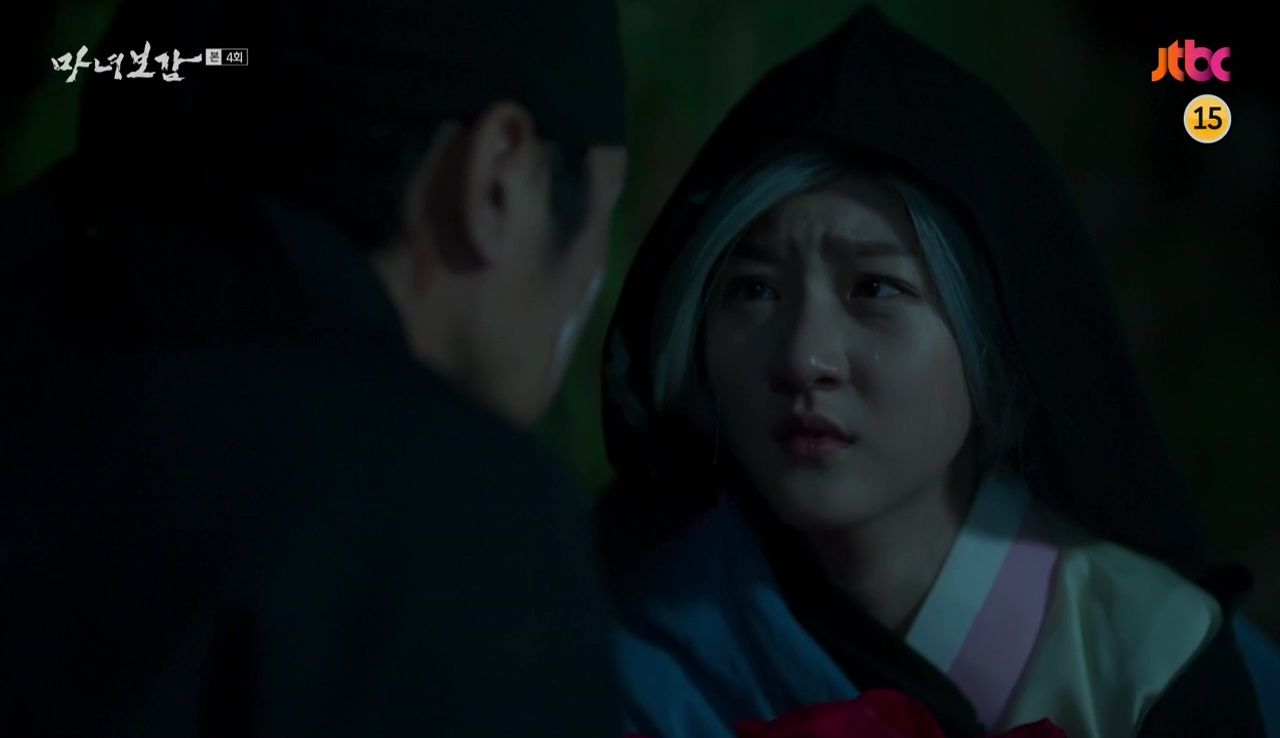 The guards spot him in no time and a chase ensues. He runs through the woods as fast as he can as the guards attack from afar, shooting arrows and throwing knives. A small knife hits Hyun-seo's leg, taking him down and allowing the guards, with Hong-joo, to catch up to him.
Still in her hiding place, Yeon-hee unwraps the Mauigeumseo and thinks back to Hyun-seo's directive. With a determined look in her eyes, she packs up the book and departs. Unfortunately, Hong-joo's guards are right on her tail.
Meanwhile, Hyun-seo and Hong-joo face off once again in a conversation we've heard before: She demands to know the whereabouts of the princess; he feigns ignorance. Struggling to his feet, Hyun-seo tells Hong-joo that it is the will of the heavens for the girl to live.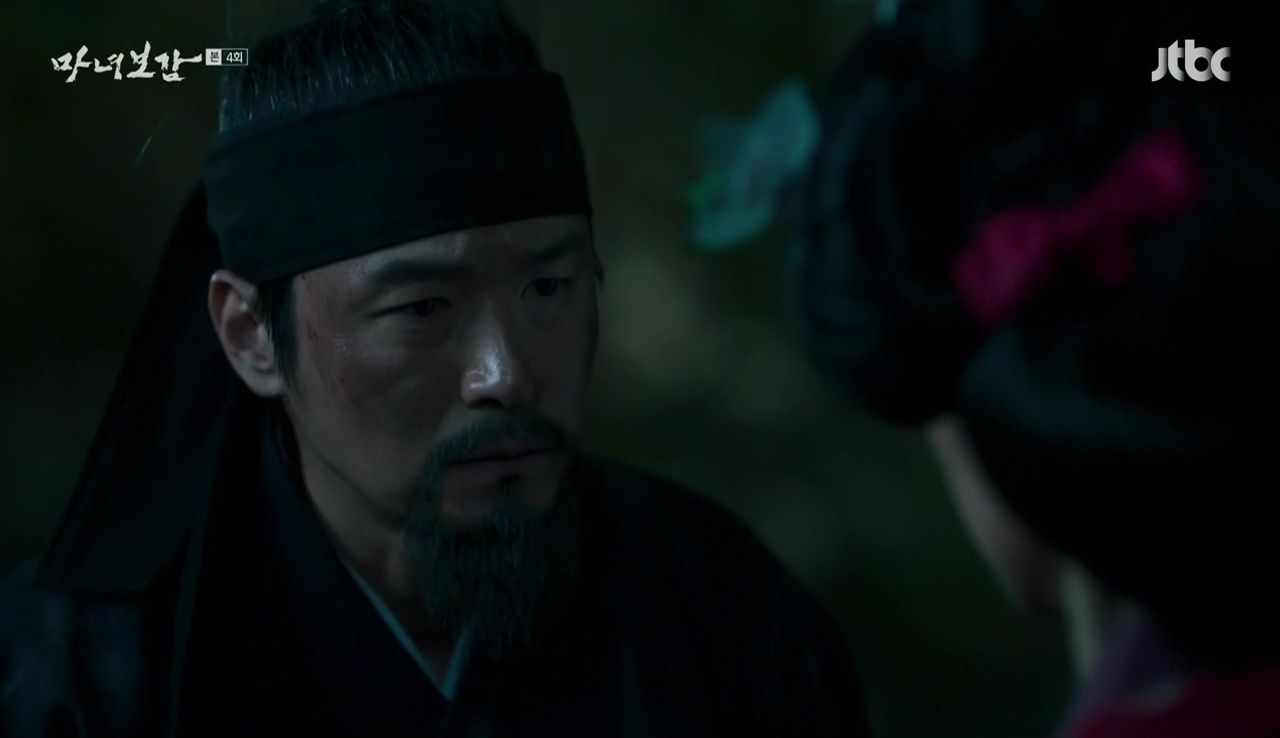 Hong-joo scoffs at this supposed "will of the heavens." Yielding to a fate that's always been unjust — is that the will of the heavens? Being born without anything, being trampled on and ridiculed by the rich, but still needing to bow before them — is that the will of the heavens Hyun-seo is so set on defending?
Hyun-seo says that part of their duty — both he and Hong-joo both — is to forge the right path for the will of the heavens to be carried out upon.
But Hong-joo says she won't live like that anymore. From now on, she'll be the one trampling on others on her way to the top. Hyun-seo insists that this isn't the right way, as he pleads: "Don't ruin yourself anymore." He starts to turn away, while Hong-joo looks like she's on the verge of tears.
A guard places a sword in Hong-joo's outstretched hand, and with no hesitation, Hong-joo puts the blade straight through Hyun-seo's back.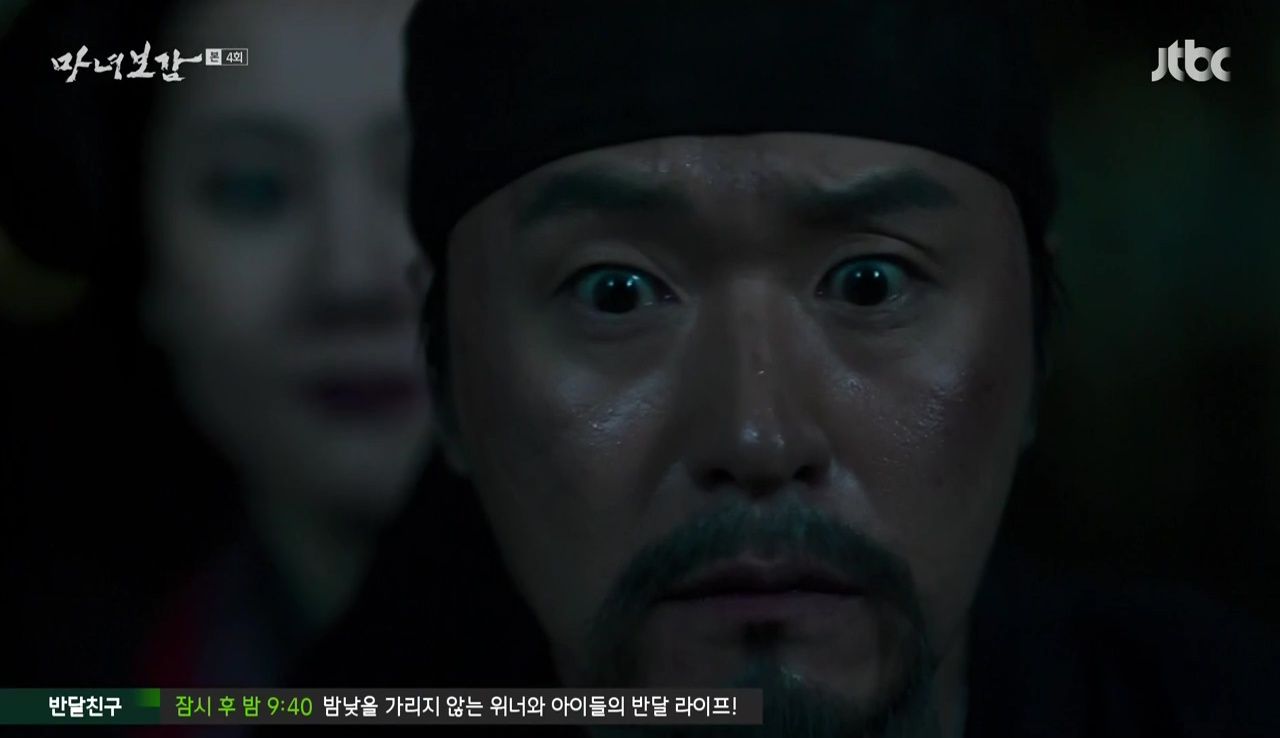 Her chin trembling, Hong-joo apologizes for paying him back this way, after all he's taught her. She says that from now on, she will be the one that determines the will of the heavens, instead of the other way around. She pulls the sword out of Hyun-seo, and he crumples to the ground.
Jun is on his way back to his mother when he sees Hong-joo's guards rushing towards him. He hides, watches the guards run by, then catches a glimpse of their target: Yeon-hee, stumbling through the forest. Jun pulls out the piece of the magical shield he's been holding onto, and grasping it tightly, he runs after them.
Yeon-hee somehow manages to dodge the guards' arrows as she clumsily makes her way through the woods. But soon, she reaches the edge of a cliff, and she's forced to turn around and face her attackers. We then see Jun come up to the scene, where he first sees Yeon-hee, then a guard getting ready to shoot.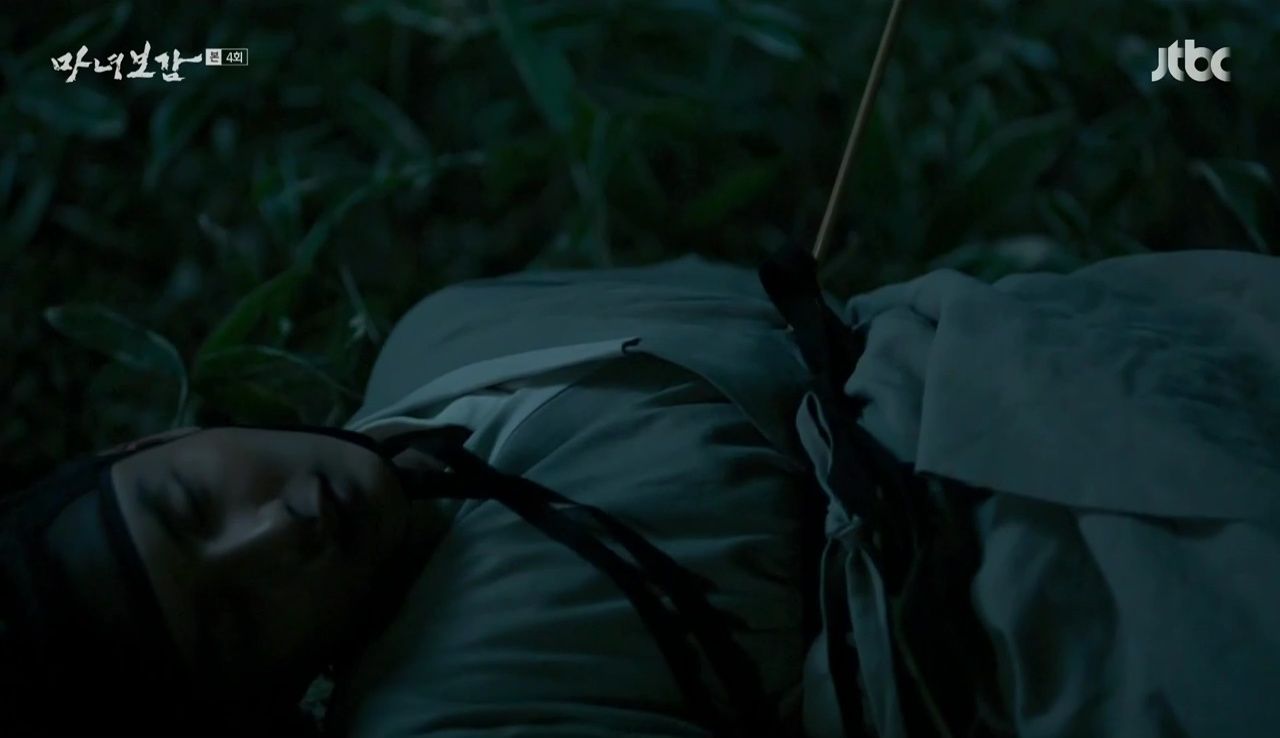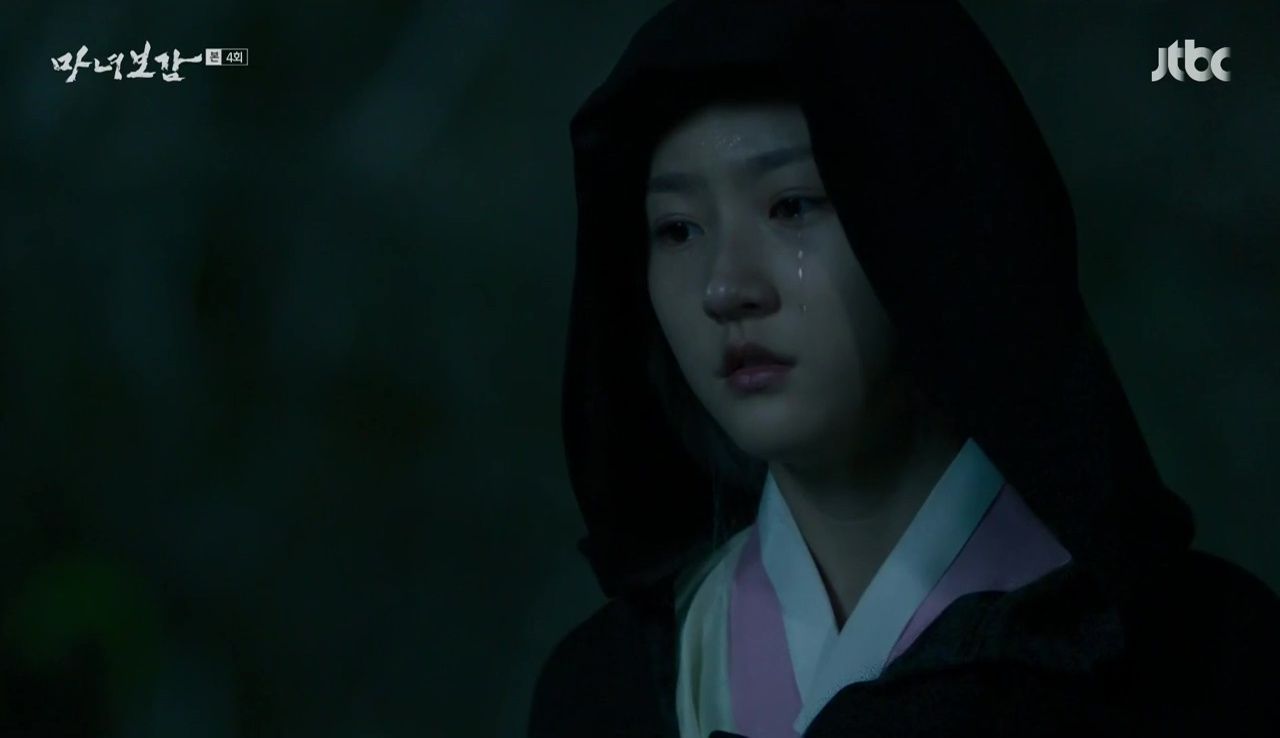 Yeon-hee braces herself for the arrow when Jun flies out and takes the hit in her stead. However, his sacrifice seems to be in vain, as the guard shoots at Yeon-hee again, this time hitting her squarely in the chest. The arrow's impact causes Yeon-hee to fall off the cliff and into the water below.
Once Yeon-hee hits the water, its surface turns to ice. Still very much alive, Yeon-hee swims frantically to the top, but can't break through the ice. The mark of the curse behind her ear starts to glow, then stops; at the same time, she stops struggling against the water.
As she closes her eyes and floats downward, we hear in voiceover her words to Hyun-seo that it would be better if she dies, then Hyun-seo's response that she must live. We see a shot of her broken fingernail, then one of the kite Jun made for her (which I guess she was carrying with her) as she sinks to the bottom.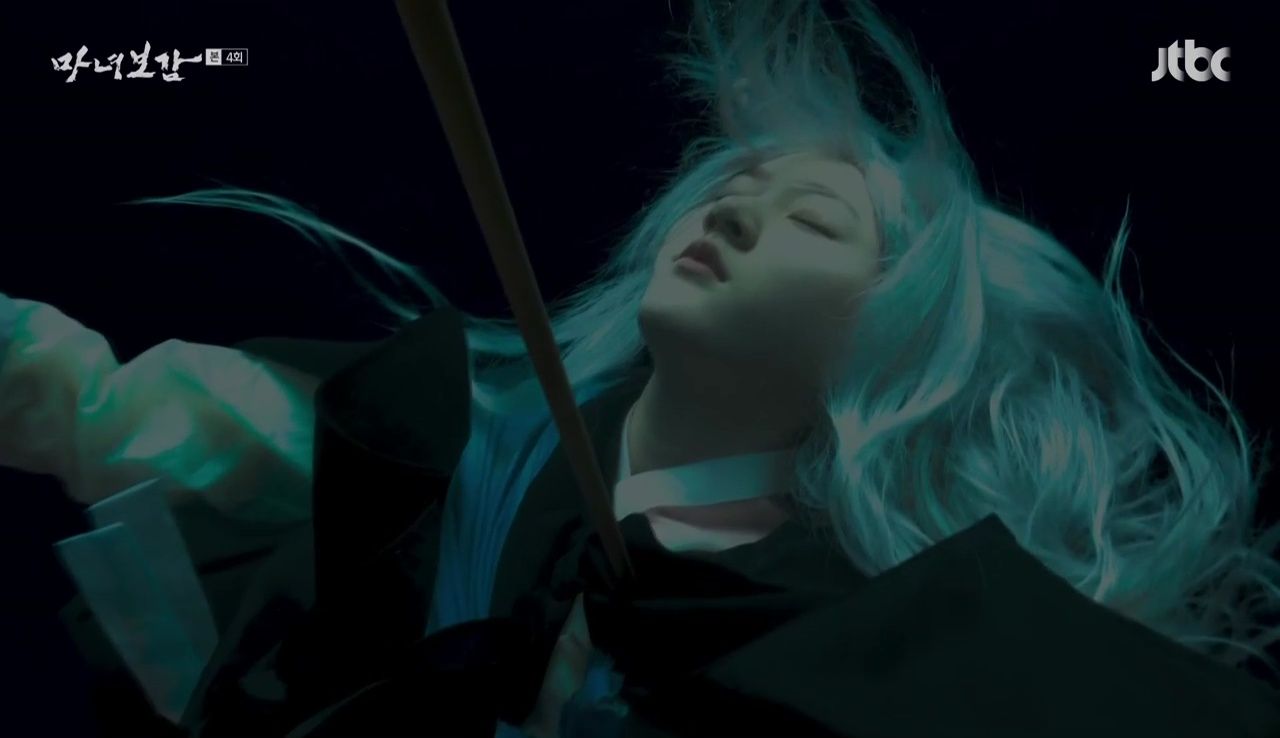 COMMENTS
Wait, so… all of the Taoist masters are dead? Choi Hyun-seo is dead? If that's really true, I did NOT see that coming. I expected Hyun-seo (and the rest of his team) to continue to play an integral role in the fight against Hong-joo's black magic, and though I could see how it would make sense for him to become less critical to the story as we move along, I didn't think that he'd be out of the picture so soon.
I'm glad we got a little more insight into Hyun-seo's relationship with Hong-joo — that is, before she literally stabbed him in the back. Yeom Jung-ah plays Hong-joo with such restraint, and she did such a great job in giving us a glimpse into Hong-joo's pain and conflict as she argued with Hyun-seo about the paths they each needed to take. You can't discount Hong-joo's evil deeds and use of black magic by any means, but the battle that she's fighting — the need to blow up a system that's not working, rather than Hyun-seo's method of playing by the established rules — is actually understandable, and something we — and other characters in the story — can relate to.
In fact, Hong-joo's struggles align quite closely to the ones faced by Heo Jun: He too was born with nothing, looked down upon by the rich, and given no opportunity to make something of himself. He can't stand the idea of playing by the rules and living as a slave; so he opts for an even more dangerous plan, just to try to get out of his current situation.
Of course, Jun's story also has parallels to Yeon-hee's, as both characters are told over and over again that they should not have been born. Though it remains to be seen how exactly Jun will be integrated into Yeon-hee's quest to break the curse, you can see how their shared experiences of feeling unwanted will draw them closer to one another.
There's still so much to uncover when it comes to Yeon-hee's curse, like what the deal is with her new powers. Also, why is it that only Poong-yeon's been inflicted with the curse, when there are others like Hyun-seo and Yo-gwang who clearly care(d) for Yeon-hee, and she for them? I think it remains to be seen whether or not the deaths of the Taoist masters could really be attributed to Yeon-hee's curse — that's Hong-joo's explanation, but it could also be, you know, because she ordered her guards to kill them.
Though I found some scenes in this episode to be a little repetitive, there's no denying that Mirror of the Witch continues to deliver heart-pounding action, along with spectacular visuals (that ghost seriously made my skin crawl, and the last scenes of Yeon-hee in the water — just beautiful!) Finally, it bears repeating that Yoon Shi-yoon is just phenomenal in all aspects of this role — he hits all the right notes, whether comedic or emotional, making the drama worth watching for his scenes alone.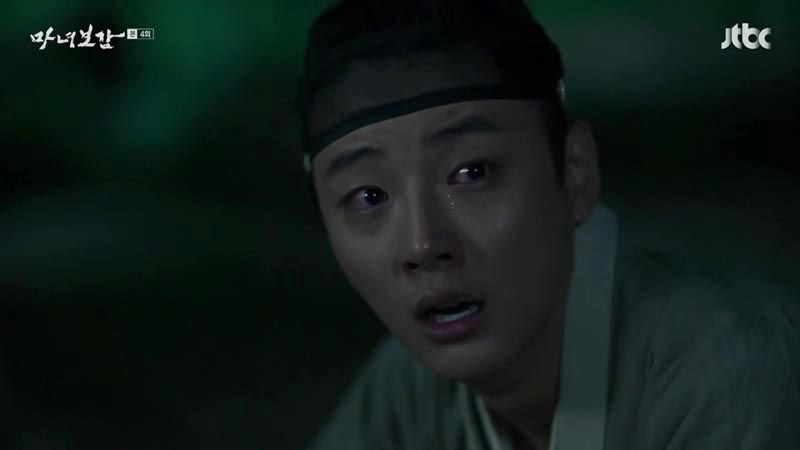 RELATED POSTS
Tags: Episode 4, featured, Jang Hee-jin, Kim Sae-ron, Kwak Shi-yang, Lee Sung-jae, Mirror of the Witch, Yeom Jung-ah, Yoon Shi-yoon