Mirror of the Witch: Episode 5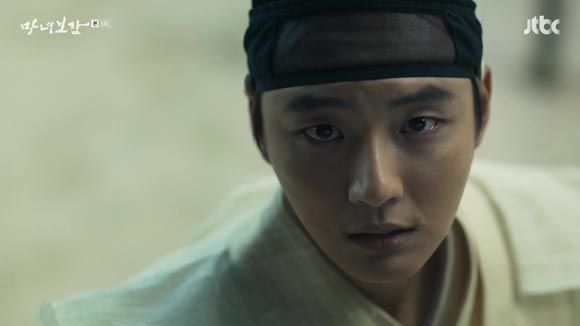 This episode sets the stage for future plot development, especially with the introduction of three new characters and the arrival of a new threat. As the events from the night of the twins' seventeenth birthday come to a close, we jump to the consequences of the aftermath from that fatal night. There's multiple dramatic reveals in this episode and I'm excited for what's next to come!

EPISODE 5 RECAP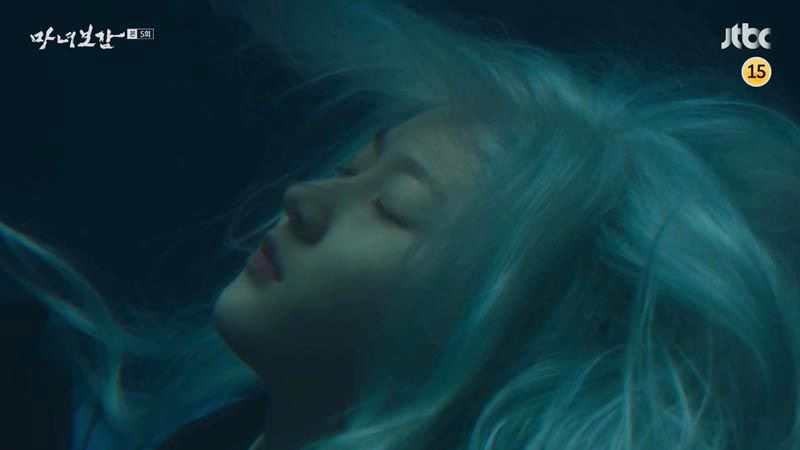 The hunt for the hidden princess finds Yeon-hee cornered on a cliff by black witch Hong-joo's fighters. Jun intercepts the first arrow shot at Yeon-hee, but she's shot by a second and falls over the cliff into the lake. Upon contact, it ices over, trapping her below the surface.
The shamans report back to Hong-joo that they were unable to find Yeon-hee's body. Hong-joo understands that the cursed princess won't be easily killed, but doesn't understand why. She attempts to cast a spell, but dark veins appear on her arm and she recalls the curse uttered by the young shaman Hae-ran, that Hong-joo would die at the hands of her own black magic. She looks at her marked forearm in alarm.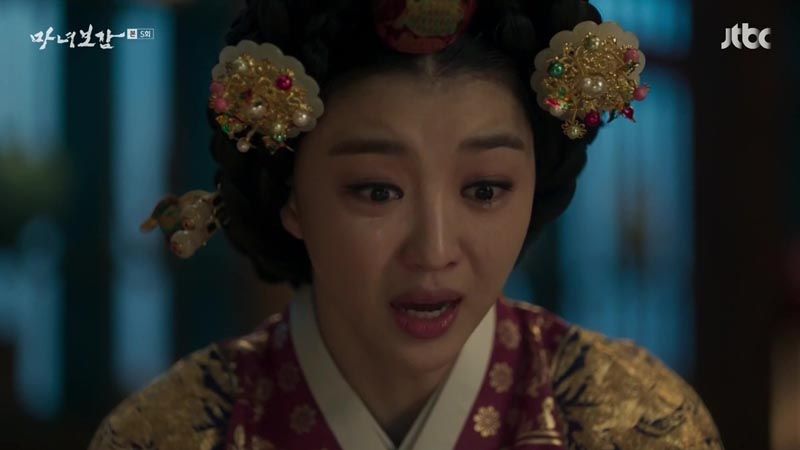 Both Prince Sunhoe and Poong-yeon wake up, to the relief of their anxious mothers. It appears the curse has lifted; the prince's hair returns to its original black the curse tattoo fades from behind Poong-yeon's ear. The prince says he's hungry, and Poong-yeon appears much better as well.
Back at Yeon-hee's house in the forest, amidst the scattered corpses of her Taoist master protectors, someone places a talisman on the body of young Yo-gwang. It shines brightly, and the man carries Yo-gwang away.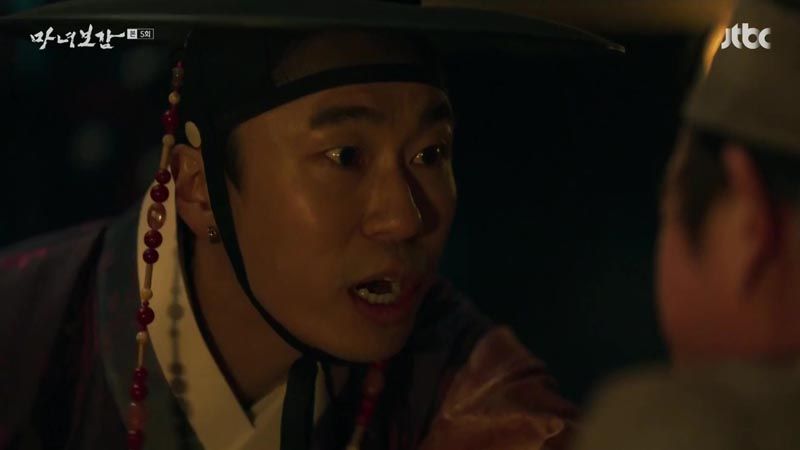 Oh no! Heo Ok's cronies have captured Jun's friend Dong-rae and beat him up, demanding information—both Jun and his slave mother have disappeared. Dong-rae insists he knows nothing, so Ok picks up a sickle and threatens to cut his ear off, and his friends hold Dong-rae down. It looks like he'll really do it and at the last moment, Dong-rae breaks.
Jun wakes up in the forest, still with the arrow in him. When he pulls the arrow out, the mirror fragment tucked in his clothes glints briefly before falling to the ground in pieces. The broken pieces dissipate into smoke and glittering lights, which move up to heal his wound. In its place, a mark appears on Jun's chest in the shape of the tree that was in the Mauigeumseo book, on the page that Hyun-seo ripped out and locked away.
Then Jun sees the boat passes and remembers his mother waiting for him, and runs back to meet her.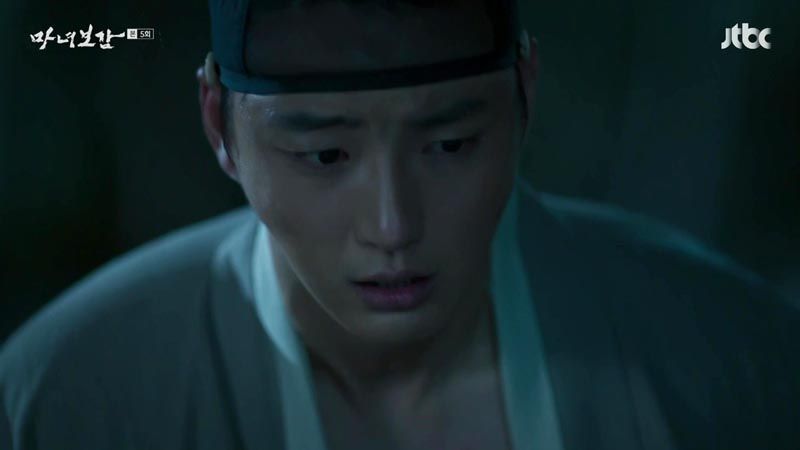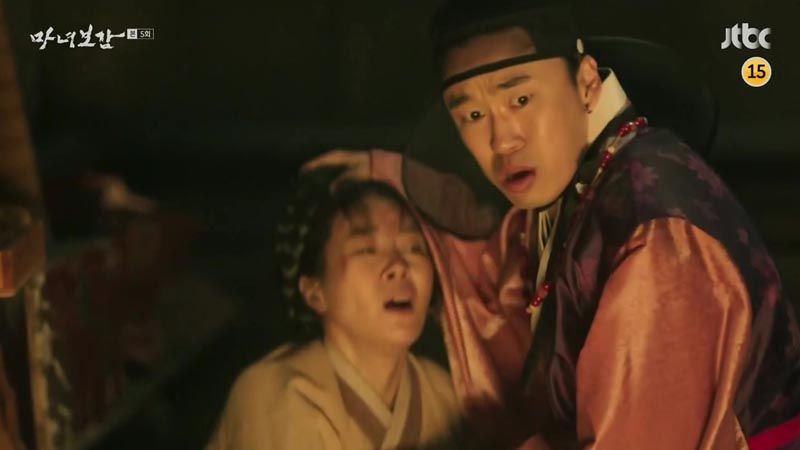 The smugglers begin loading the passengers, but Jun's mother hangs back, waiting for Jun. Someone calls out a gentle "Mother!" and she turns around in relief, but her face quickly falls when she realizes that it's Ok.
Jun's mother begins to beg for forgiveness, insisting this was all her idea and that Jun knew nothing of it. Ok throws her to the ground, in the process knocking over a lamp onto a bale of hay. The fire quickly burns and blocks the entrance before either of them realizes it.
Ok panics but manages to knock out wooden bars on the high windows, but can't climb that high. He literally drags Jun's mother over to use her as a stepping stool, and she clutches him as he climbs over. Instead of helping her escape, Ok shoves her back, falling outside safely while Mom is stuck inside. A burning beam lands on her and she collapses.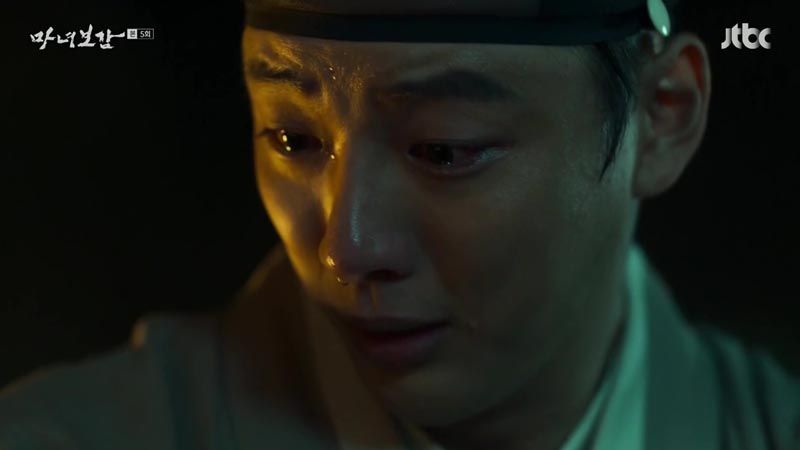 Ok cowers out of sight as Jun runs up screaming for his mother. Luckily, Jun is able to knock out part of the wall and carries his mother outside. She's still alive, but appears to be fading fast, and her eyes flutter open as she weakly apologizes that he wasn't born to a better mother and that she couldn't give him more. The desperation in his voice as he tells her that he didn't need anything else from her is heart-breaking.
He apologizes to her over and over, but the life fades out of her and she falls limp. Jun breaks down in sobs over her body, and a yellow lacquered ring falls out of her hand.
Ok wails with panic his entire way home, wracked with guilt as he tells his mother that he's responsible for Jun's mother's death. But Lady Sohn tells him coldly that he did nothing wrong, and that his life is of course more important than a slave. She orders him to consider tonight's events as nothing more than a bad dream.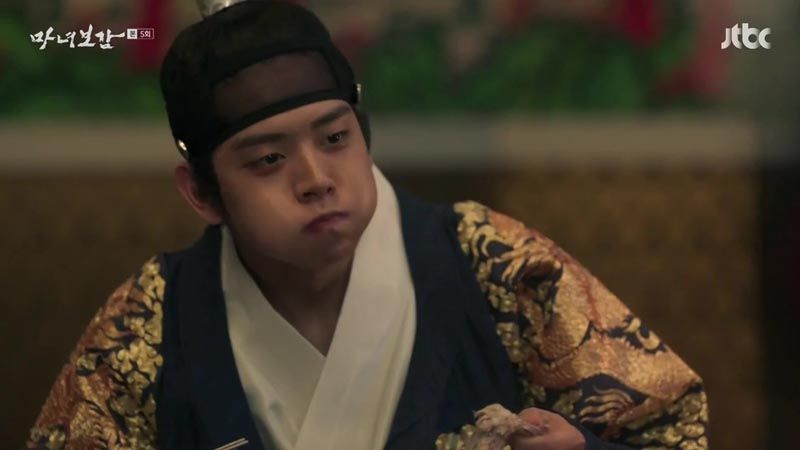 At the palace, the prince appears healthier than ever, demonstrating a voracious appetite. While the queen and the queen dowager are pleased, this clearly confuses Hong-joo.
As Hong-joo takes her leave, the queen follows her out and asks after her health. The queen assumes that if Hong-joo is still fine, then the princess must indeed be dead. However, this does not explain why the prince fell ill. Hong-joo tries to explain it away as an unrelated event, but the queen remains suspicious.
So Hong-joo asks, "And if it were because of black magic that the prince fell ill, what would you do about it?" The queen is alarmed, asking what she means to do, and Hong-joo replies that she should not worry.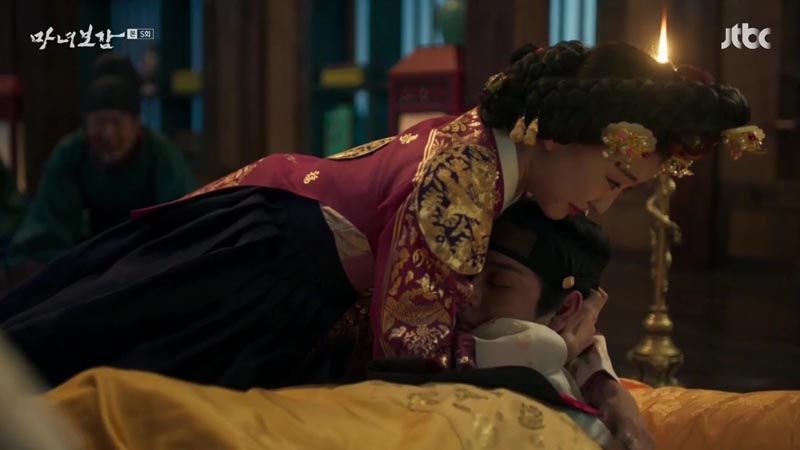 That night, a swordsman stealthily enters Hong-joo's quarters but discovers that the rooms are empty. He reports to the queen that Hong-joo has disappeared. At that moment, a serving lady runs up in distress to inform the queen that the prince is dead.
As the palace mourns the passing of the prince, Hong-joo overlooks the proceedings from afar, holding a jar. A flashback to the night before shows Hong-joo carrying that same jar into the prince's chamber. She'd passed her hand over the prince's sleeping face, and his eyes had snapped open. She'd directed the black shadow to leave his body and contained it the jar, while the prince had choked and convulsed.
In the present, the jar rattles and black mist swirls around it, but Hong-joo keeps her hand on the lid, quieting the contents of the jar. She notes that a knife is more painful leaving the body than entering it.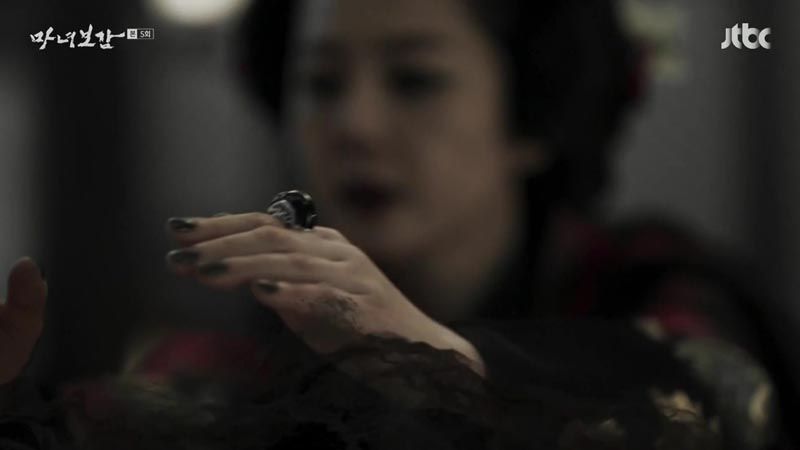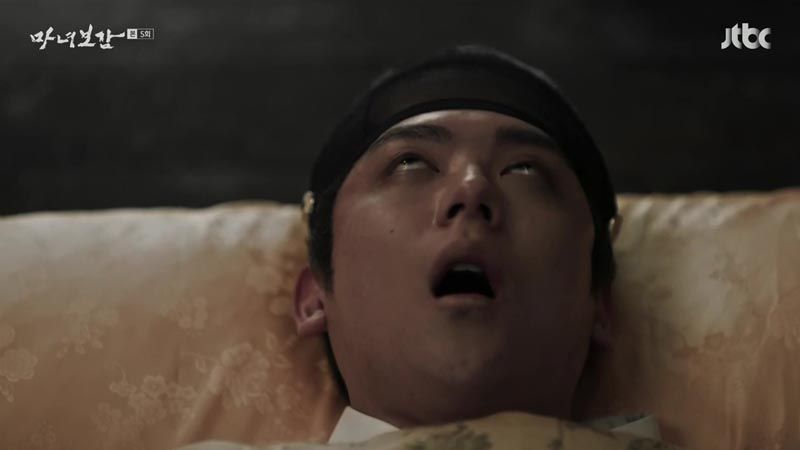 In his mourning clothes, Jun performs the last rites for his mother, pouring a cup of liquor over her grave. He holds the yellow lacquered ring in his hands as he mourns.
Jun returns to town and runs into Ok, who is once again drunk in broad daylight. Ok staggers up to Jun, demanding that he take a drink in honor of his birthday. He taunts Jun by pretending to forget that today was Jun's mother's memorial, his usual provoking self. Suddenly, Ok flashes back to Jun's mother begging him for mercy and has a moment of conscience.
Jun surprises him by taking the liquor and drinking it. His voice is choked with emotion as he wishes his half-brother a happy birthday and a very long life.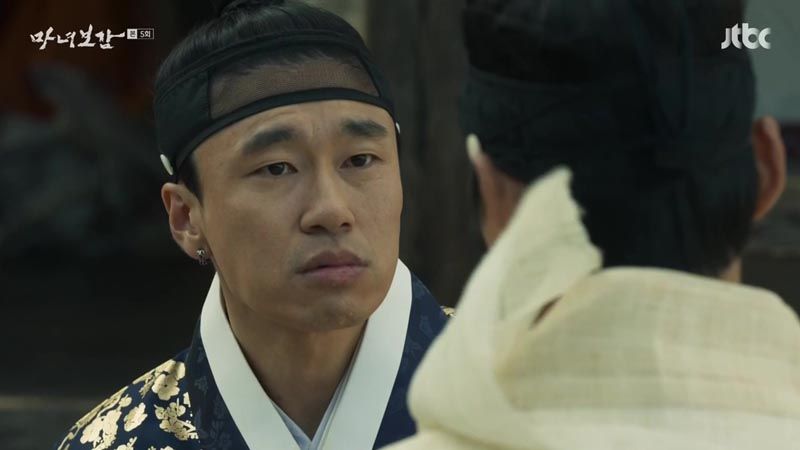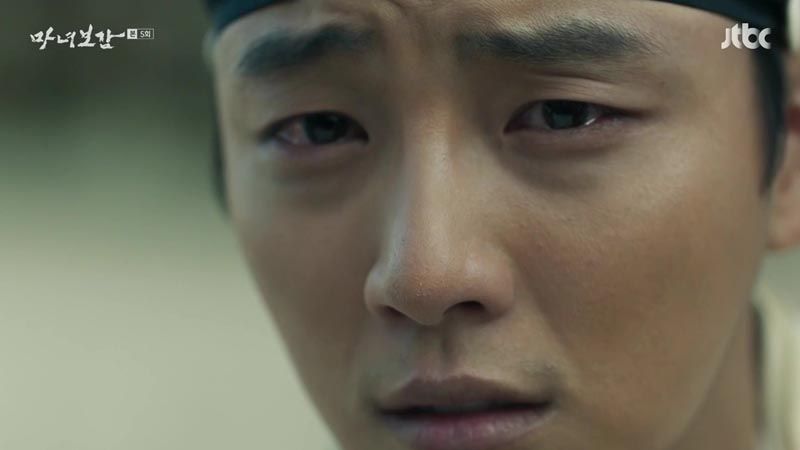 Then, Jun holds up the yellow lacquered ring, saying that Ok dropped it. Ok is surprised, saying that he thought he'd lost it—and confirming his guilt to Jun, whose eyes harden as he realizes what this means.
5 years later.
A girl, cloaked in white, moves through Cheongbing Temple. A narrator tells the story of a girl hiding in the heart of the forest with pale skin and blood-red lips—she can move things without touching them and can even control life. He calls her a witch, and we finally see that the girl is Yeon-hee.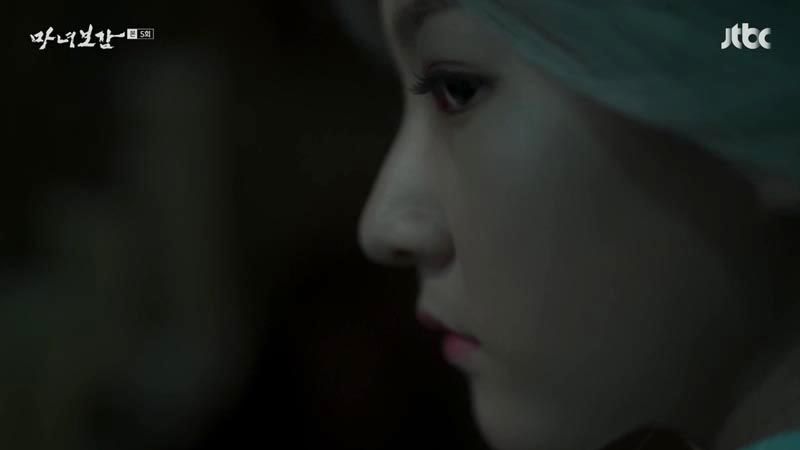 Our narrator turns out to be a gambler enjoying spooking the ladies with his tale. The ladies shriek as he brings the story to its highlight: at the full moon, the witch turns into a monster that steals people's hearts.
His tale doesn't frighten one man though, who comments that the story of the heart-eating monster is familiar and boring. The camera pans over to Jun, his arms around the ladies on either side of him and looking an awful lot like his irresponsible older brother.
Someone sitting behind the group asks whether this person might be the one called Red Cloak. The storyteller agrees, claiming that no one's actually seen Red Cloak because "she" can disappear in midair. The mysterious man interjects that the Red Cloak could be a man, not a woman. This throws our narrator off and the gamblers quickly return to their game.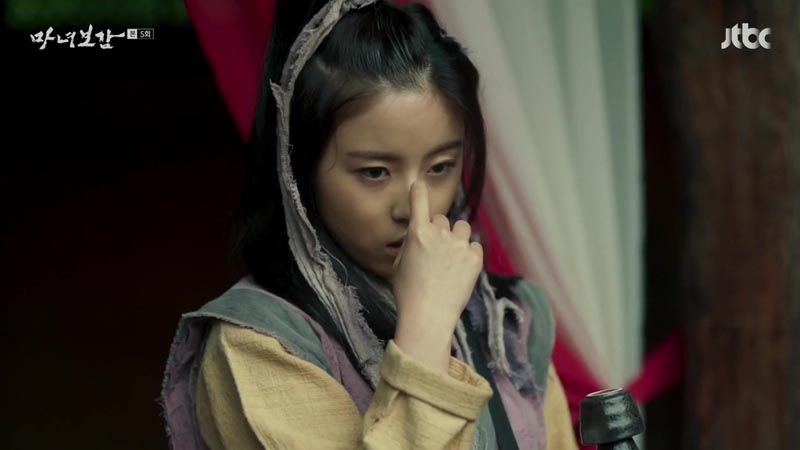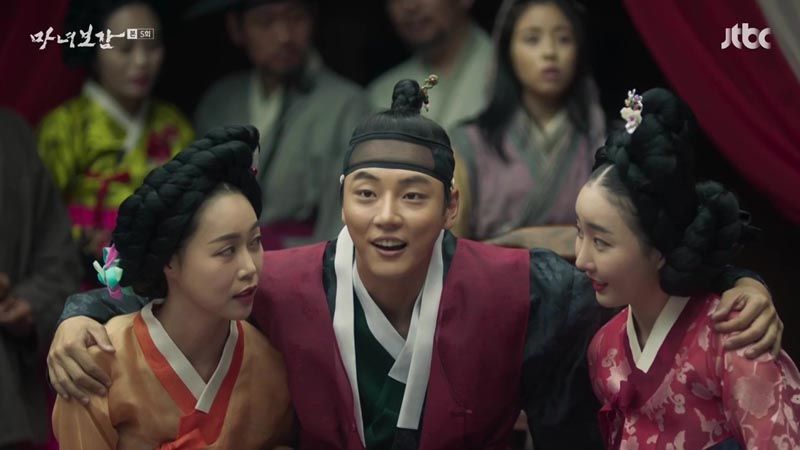 A plainly dressed girl wanders behind the circle of gamblers (played by Dohee), who is clearly in cahoots with several of the gamblers, signaling to the ringleader which cards Jun is holding.
Jun goes all in, and the cheaters follow suit, confident that they know which cards Jun is holding. It turns out however, that Jun is already onto their con; he places his cards down, which are suddenly different—and now the winners.
He plops down two wanted notices of the ringleader and his buddy, identifying their crimes as illegal gambling and rigging games. Jun adds that he was rather disappointed in their con abilities, HA.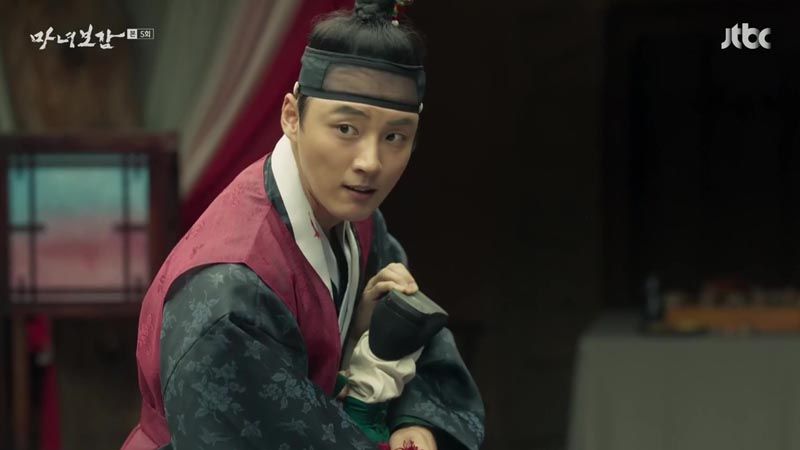 One cheater lunges for Jun with a weapon, but he handles it deftly, tying the gamblers up with the sashes of their own clothing. Shouts of "Catch them!" fill the air and gamblers scatter just as police officers burst into the gambling den. Jun makes his escape out the window just as Ok and his officers arrive to collect the cheaters.
Ok's superior congratulates him on yet another successful arrest. Ok accepts praise with false modesty, and his superior hints at a promotion while asking him to catch that Red Cloak too.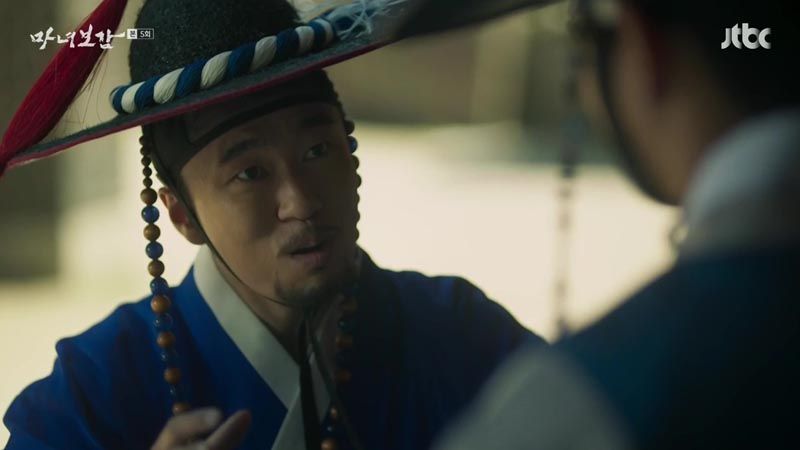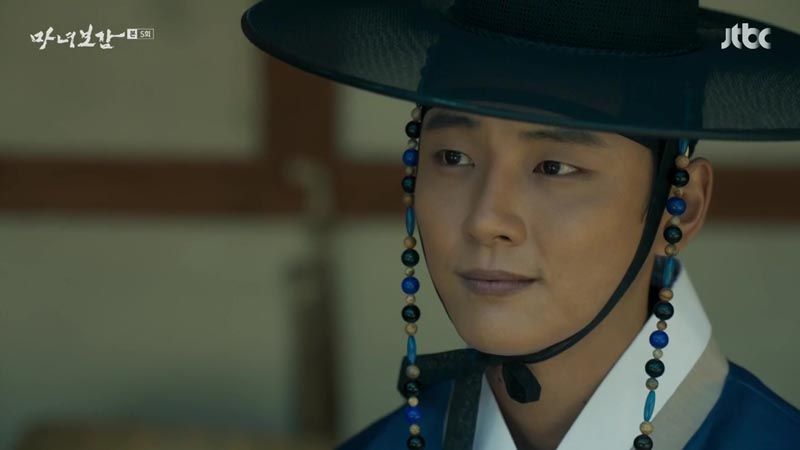 But it looks like Ok's arrests are all Jun's doing. Ok finds him later and tosses a string of coins at him, giving him money in exchange for taking all the credit. Jun smiles brightly and speaks with extreme humility, saying that helping out Ok is the least he could do for the generous family that raised him.
Ok tells him that it's a relief that Jun finally knows his place, being useful like this instead of wasting his time dreaming of government office that's out of reach. Jun agrees with such deference that it's unnerving; we know he can't agree with what he's saying, but his obsequious words belie the hard look in his eyes. Satisfied, Ok leaves with the promise to contact him if he has more jobs for him to do.
We find Jun at a gisaeng house next, back to selling quack medicines as his side job. This time, he's peddling the Joseon version of Viagra, and the gisaengs are nearly ready to buy, but one of the girls thinks twice and asks for a demonstration.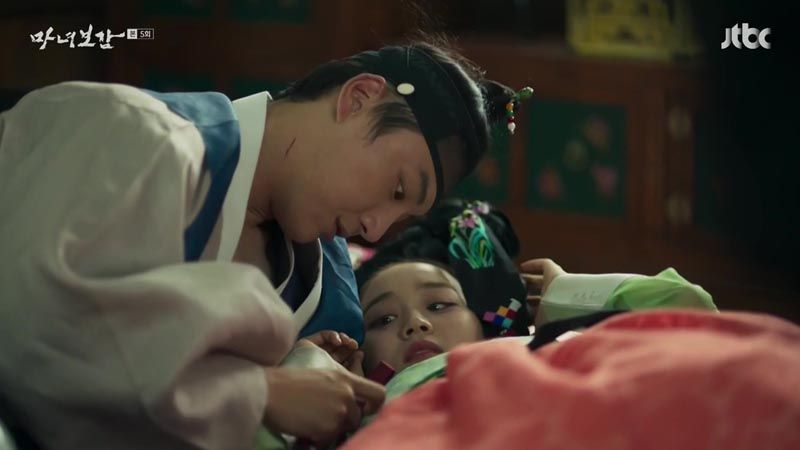 So Jun sits up, eyes her with his best bedroom eyes, and then flips her over. His fingers play with her ribbon as he tells her he's quite capable on his own without the medicine… can she handle that? The other gisaengs lean forward with anticipation but then Jun starts to laugh and rolls off of the girl, muttering that it's no fun.
The mysterious man from the gambling den begins climbing the stairs to Cheongbing Temple. He is indeed Yo-gwang, who appears to be the only Taoist master who survived the fight five years ago. Yo-gwang calls for someone named Seo-ri, only to receive a sickle at his neck, flung at him telepathically by Yeon-hee. Notably, her hair is back to its original color.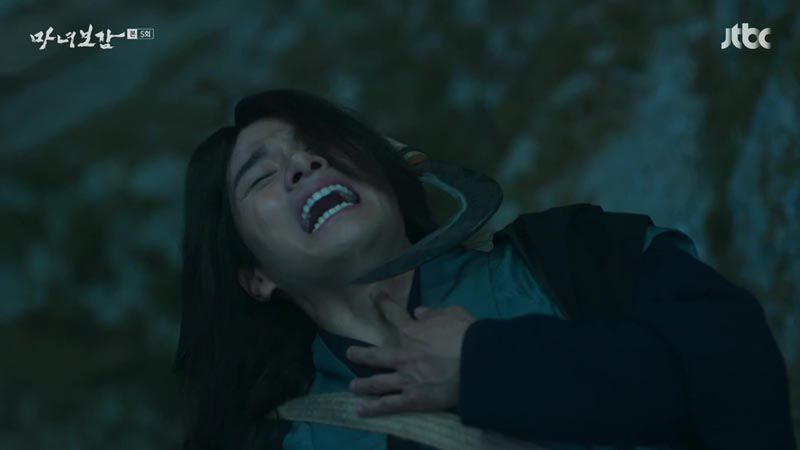 Yo-gwang swears he was out just to buy a candle and the princess relents, just as gambling sticks fall out of his pocket. The sickle flies at his neck again and he swears that he played just one round and it was only because he wanted to hear more about rumor that sounded like it was about her. Y'know, just in case he might learn something that would help her. Yeon-hee just gives him a major helping of side-eye.
Yeon-hee places the candle on an altar and uses the flame to light a different candle. In a voiceover, she narrates how she has lit 100 candles over the last five years. Only eight candles remain now. Praying that the candle won't go out, she reiterates her resolve to not allow anyone else die because of her.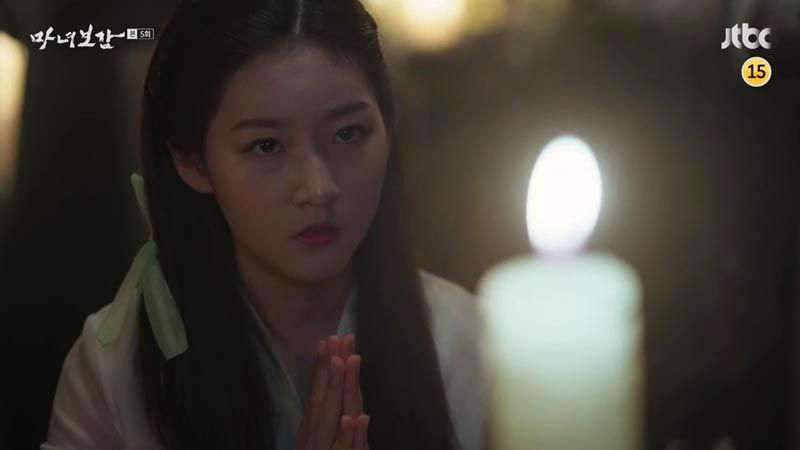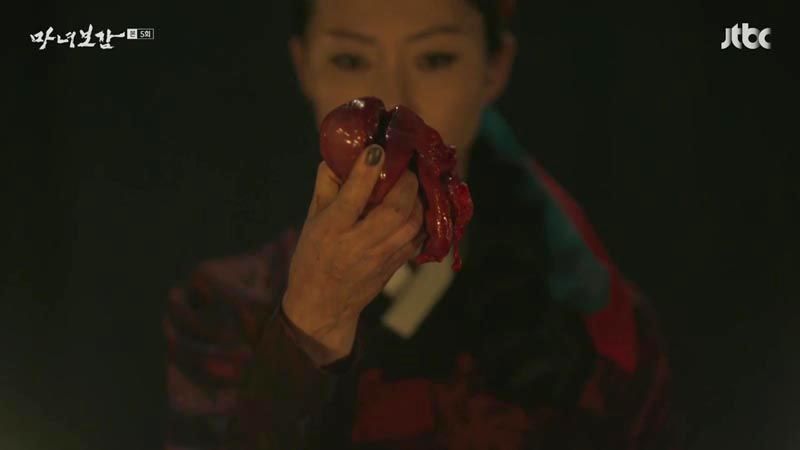 A shaman wearing a wooden mask offers a box to Hong-joo, who pulls out a human heart, which she tosses into a fire. A black cloud arises as she begins a spell, and at the temple, the candle in front of the princess flickers and goes out.
Yeon-hee narrates how over the last six months, she has been unable to light a single one of the candles.
A flashback reveals how she'd survived five years ago: Dripping wet and silver-haired, Yeon-hee sits by the lake as Yo-gwang helps remove the arrow in her shoulder.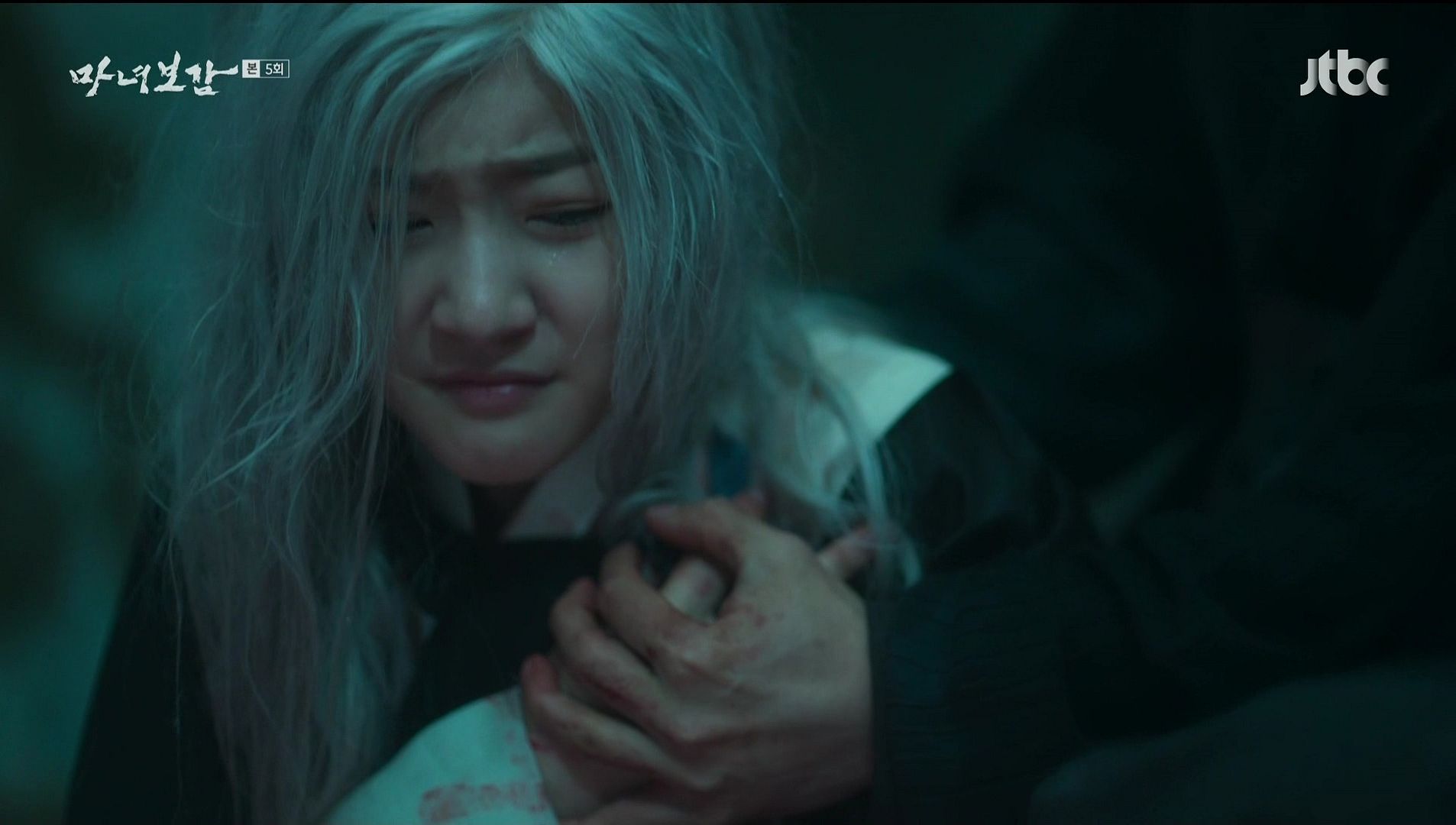 Yeon-hee asks Yo-gwang tearfully if it's true that the people she loves and the people who love her will die. Yo-gwang gently tells her that she can return to the world if she is able to dispel the curse by lighting 108 candles. He gives her a new name, Seo-ri, and tells her to reclaim her old name when she has finally broken the curse. (As her name is now Seo-ri, we'll call her that now.)
Back in the present, Yeon-hee requests that Yo-gwang bring a wish tag to her. The wish must be an earnest one, in order to work.
Townspeople gather under a tree, alarmed at the dead man hanging by his feet with a bloody gash where his heart once was. There are whispers that this must have been an act of the Red Cloak. Notably, he is still clutching a bottle in his hand, one that Yo-gwang seems to recognize.
The scene is grisly but the return of Poong-yeon is welcome sight. He looks up at the dead man, as does his companion, bodyguard-warrior SOL-GAE (Moon Ga-young).
Arriving at a tree lit with candles and giving off ethereal light, Yo-gwang chooses a few wishes from those hung there. As he heads off, someone takes note and starts following—someone wearing a wooden mask, wearing a red cloak.
Yo-gwang seems aware of the fact that someone is following him and his steps quicken. Suddenly, an arrow flies at Red Cloak, shot by Poong-yeon.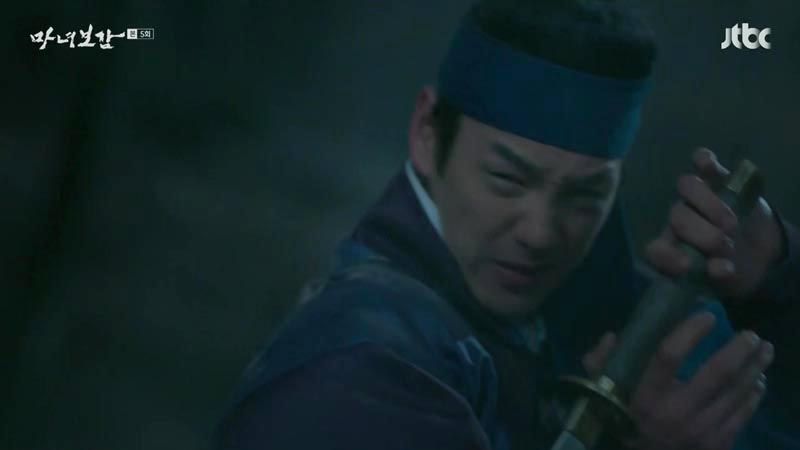 Poong-yeon chases Red Cloak as Yo-gwang makes good use of the opportunity to escape unnoticed. Poong-yeon engages Red Cloak in a swordfight and they appear evenly matched, but just as Poong-yeon draws first blood, his opponent blinds him with a handful a dust. Red Cloak escapes, to Poong-yeon's frustration.
In the intervening years, a new king has ascended, SEONJO (Lee Ji-hoon). Poong-yeon, now an officer in the king's guard, has been tasked by King Seonjo to apprehend Red Cloak, and King Seonjo is furious to hear he has gotten away again. He takes Poong-yeon and his court to task for not catching the murderer yet.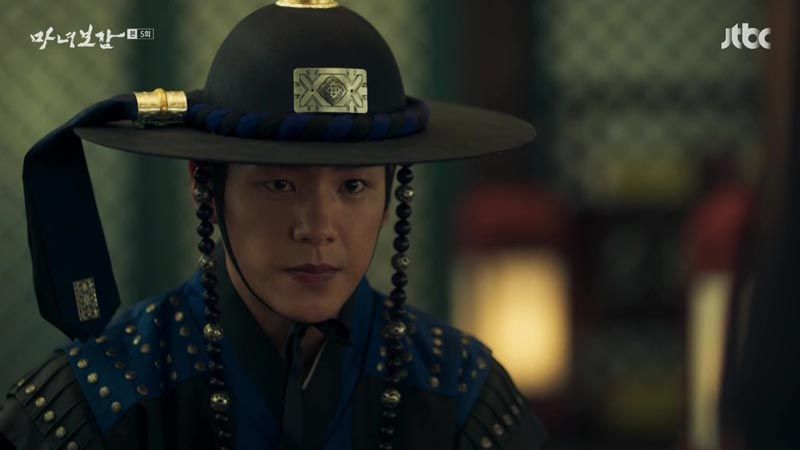 Later, the king calls Poong-yeon for a private talk, and is much kinder now, asking if Poong-yeon is upset that he treated him harshly earlier. Poong-yeon answers no and relays the details of the encounter, noting that Red Cloak had extraordinary fighting skills. King Seonjo tells Poong-yeon that he's the only person he trusts, and entreats him to be careful.
As Poong-yeon rises to leave, the king asks after Poong-yeon's father, saying he would like to reestablish the Taoist temple at court. However, Poong-yeon insists that Hyun-seo is still alive and refuses to take over the temple while his father lives. It seems to be a discussion they have frequently and the king lets him leave without much more argument.
Just after Poong-yeon's exit, the king suffers a sudden spasm. Blood begins to drip from out of his sleeve.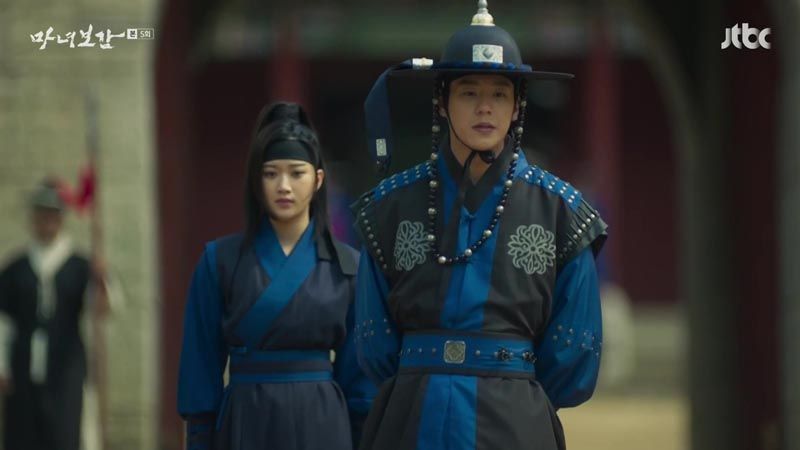 Upon exiting the palace, Sol-gae gives Poong-yeon an update on the assignment he'd given her: the people were not his father or Yeon-hee. Discouraged by the lack of leads, she suggests that they search the bodies from that night instead. Poong-yeon refuses to admit that either his father or his younger sister is dead, and Sol-gae quickly backs down, apologizing.
Poong-yeon gentles his tone and hands her some wrapped dried persimmons, patting her shoulder.
It's a full moon, and a doctor digs spikes out of the king's bloody, torn-up shoulder. King Seonjo bears the pain, but the spikes cover half his body and his skin is absolutely shredded. The nature of the illness is still unknown, and the king demands that the doctor find the cause as quickly as possible—but he must keep it a secret. He instructs the doctor to resume the extractions, but the announcement of queen dowager's arrival interrupts.
Back in his royal robes and hiding his pain, the king meets the queen dowager (formerly the queen), who worries about the rash of murders. They speak in pleasant tones, but there's hint of bad blood (or at least mistrust) here.
When the queen dowager asks after King Seonjo's health, he thanks her for her concern and asks her not to think of him as the dead crown prince. Her smile fades, and he clarifies that he's healthy, and thus she needn't worry. The queen dowager says that his health is a matter of national concern, and he dismisses her with a laugh, telling her not to worry, since he won't ask her to take over his duties for him.
As the queen dowager rises, she spots traces of blood on the floor, but doesn't react outwardly. She merely says that she hopes that what she worries about will not happen, and takes her leave.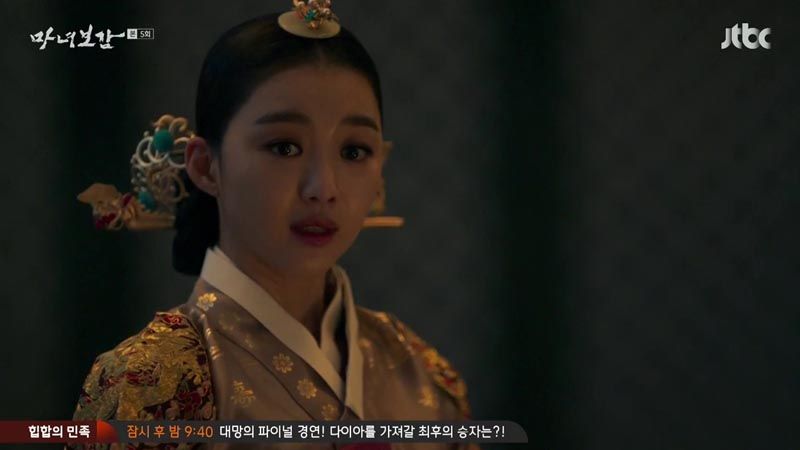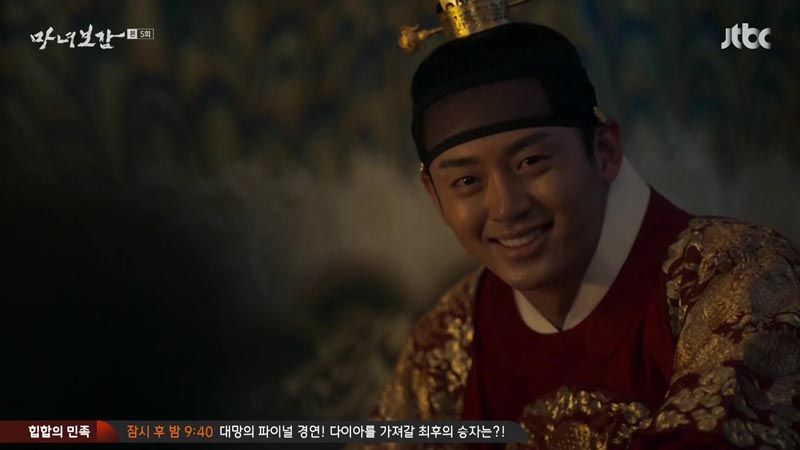 As the queen dowager returns to her quarters, a eunuch reports to her that the royal physician has been called to the king's chambers several times during the night. While the official records don't mention anything out of the ordinary, a maid has noticed that the king's linens have been increasingly stained with blood.
The queen dowager's alarm grows as she wonders if the curse within the palace is not over. She has had made constant efforts to locate Hong-joo, and orders that the efforts be intensified.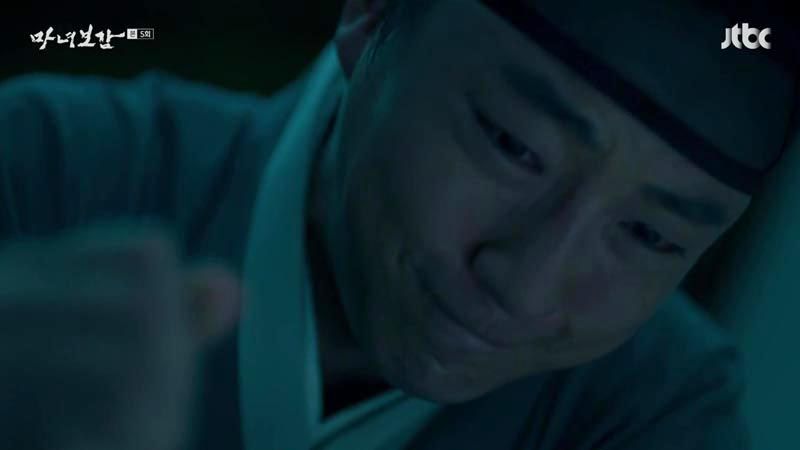 Jun visits his mother's grave in the dark, and as he cleans up the weeds, he recalls the night of his mother's death—and how Ok had been responsible for it.
In a flashback, we see Jun entering Ok's room at night, murderously angry as he takes out a knife and tries to stab Ok with it. Every time, he stops himself, too conflicted to go through with it.
In the present, Jun tells his mother that it's almost over. He promises to ruin "them" and extract the price of the his mother's life from them.
Seo-ri dreams of that night five years ago, of Hong-joo telling her of her curse and her desperate flight to Cheongbing Temple.
She wakes with a start, and tells her father that she has only eight candles remaining. She vows to dispel the curse no matter what and protect the people she loves, and to discover why she was born cursed.
Elsewhere, Hong-joo gazes down on a man's body, lying prone on a slab, with a talisman placed on his chest. It's Hyun-seo.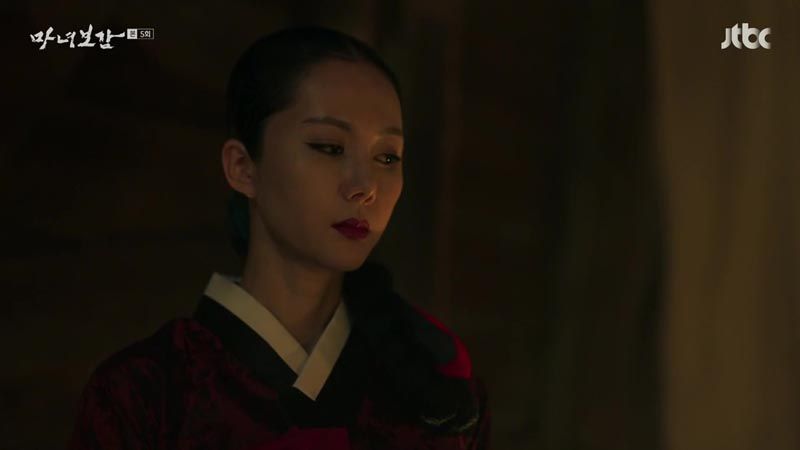 COMMENTS
There's so much to like about this drama and in particular, this episode. First of all, can I say how relieved I am that Yo-gwang is still with us? Let's not forget oraboni either!
Truthfully, Episode 3 and 4 lost me a little, because I get really frustrated when perfectly preventable tragic disasters occur. Episode 5 however, has completely brought me back. I really enjoyed how the episode unfolded, leaving several questions tantalizingly unanswered. For example, who resurrected Yo-gwang and why was he the only Taoist monk saved? How did Yeon-hee escape the frozen lake and why did it freeze over in the first place? Who is Red Cloak? Why is Heo Ok and Heo Jun's father never mentioned? I have so many more questions and I'm looking forward to seeing how this drama will answer them.
We are also still left uncertain about the exact nature of the curse, as it's not entirely apparent why Poong-yeon survived or why Hong-joo isn't more badly affected. Is it because Yeon-hee made it to the temple in time? I appreciate that we as viewers are not the only ones in the dark about the curse's parameters, as the characters themselves are scrambling for answers themselves.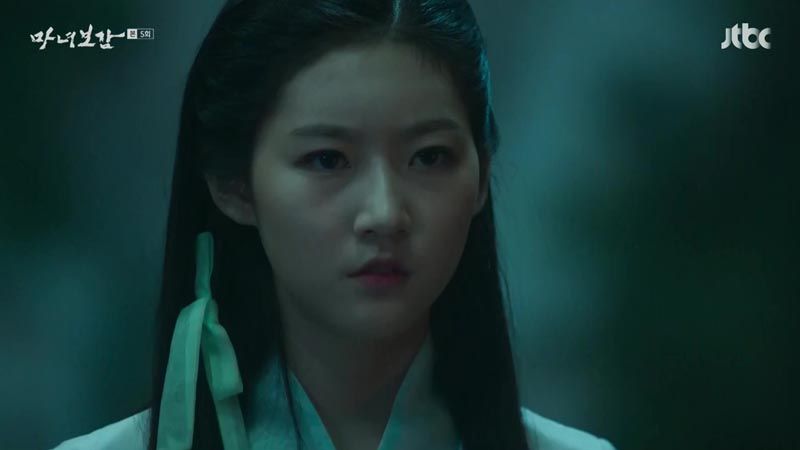 The appearance of Red Cloak intrigues me, as it seems related to the king's unknown illness. It's telling that Red Cloak appears only during a full moon, correlating with the royal physician removing shards of some unknown nature from the king's shoulder. However, it doesn't look like the injury could be the sword wound that Red Cloak had received from Poong-yeon and to be perfectly honest, it made me too queasy to look at it for long enough to really determine what kind of wound it was. However, if the king's illness is related to the curse (as the queen dowager believes), then is the appearance of Red Cloak also related to the curse?
I'm also looking forward to when the drama brings Seo-ri and Heo Jun back together again. Both of them are so alone, bereft of both family and friends. While Seo-ri has Yo-gwang to support her, he is more a guardian figure and much less a companion or peer. The hurt and pain is more evident in Jun, who must deal with his aggressors on a daily basis, but I think her isolation must be just as difficult to bear. The two of them could really use a true confidant by their side.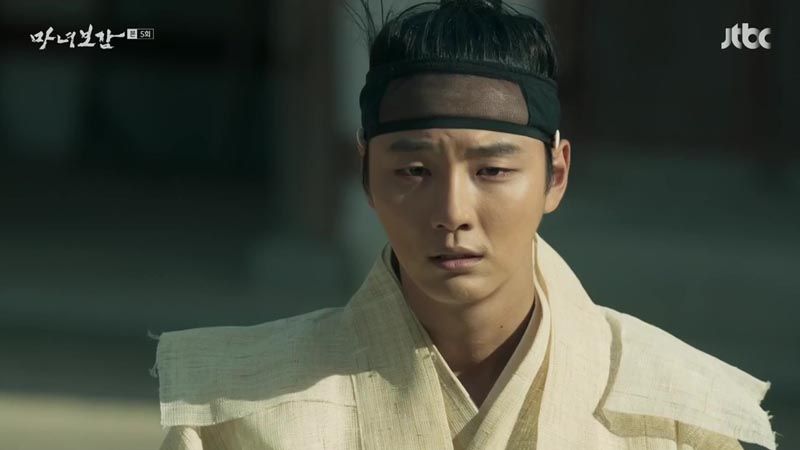 RELATED POSTS
Tags: Episode 5, featured, Kim Sae-ron, Lee Sung-jae, Mirror of the Witch, Yeom Jung-ah, Yoon Shi-yoon