Oh Hae-young Again: Episode 5
Having the other Hae-young around starts to mess with our Hae-young's life in some pretty significant ways. She's finding it difficult to maintain her confidence when the source of her lifelong inferiority complex is right in her face every day, reminding her that she's never measured up. What's worse is that her presence is messing with Do-kyung's head as well, and they both will need to find a way to deal with her.
(Now that the two Hae-youngs are occupying the same space on a regular basis, things could get confusing with their names. I'm sticking with "our Hae-young" and "the other Hae-young" when they're together, and I'll try to keep things as clear as possible!)

EPISODE 5 RECAP: "Crazily heart-wrenching"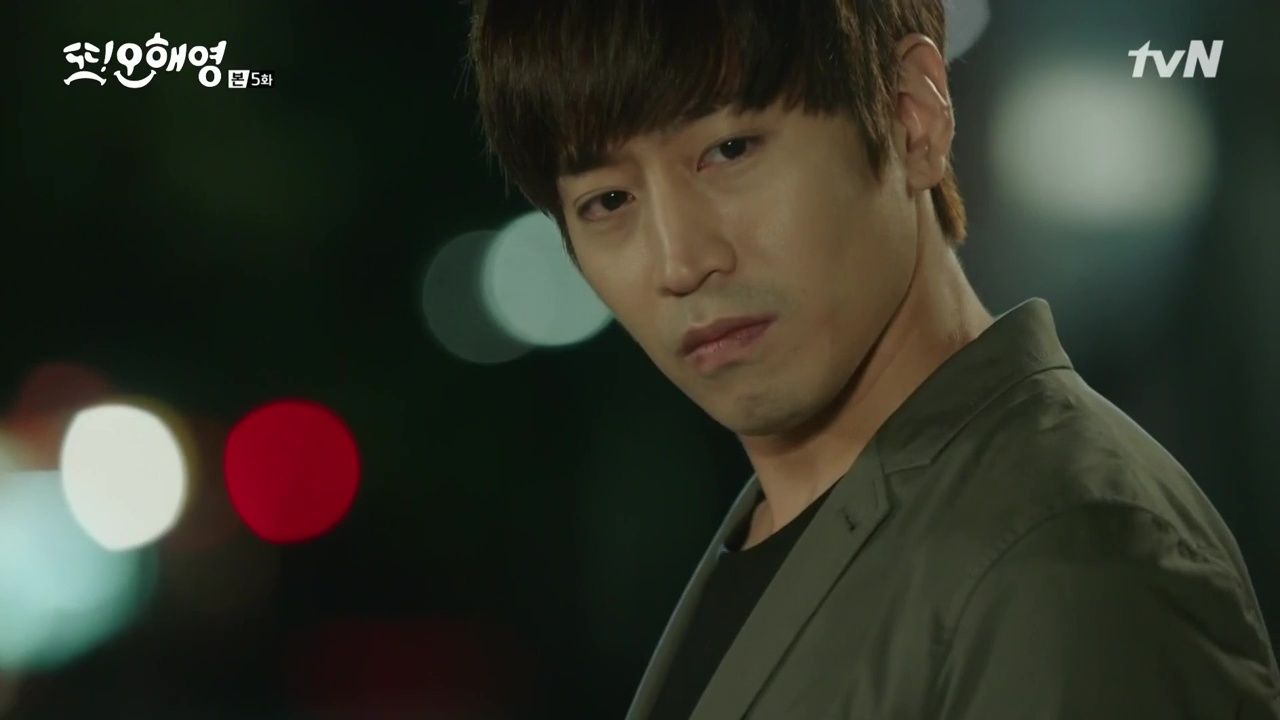 On a dare from Soo-kyung, Hae-young runs towards Do-kyung and leaps, sure he'll catch her. Wondering if he can handle the consequences of catching Hae-young, Do-kyung hesitates… then drops his equipment and grabs her tightly.
They both look a little stunned at the contact, and their hearts pound in unison. Then Hae-young hops down and breaks the spell, and Do-kyung asks if she's crazy. HAHAHA, typical of them to ruin their own romantic moment.
Hae-young struts back to Soo-kyung and Jin-sang, full of herself for having won the bet. Until Soo-kyung informs her that her falsie fell out, and it's currently on the ground at Do-kyung's feet. Poor Hae-young has to slink back and snatch it up, avoiding making eye contact with Do-kyung.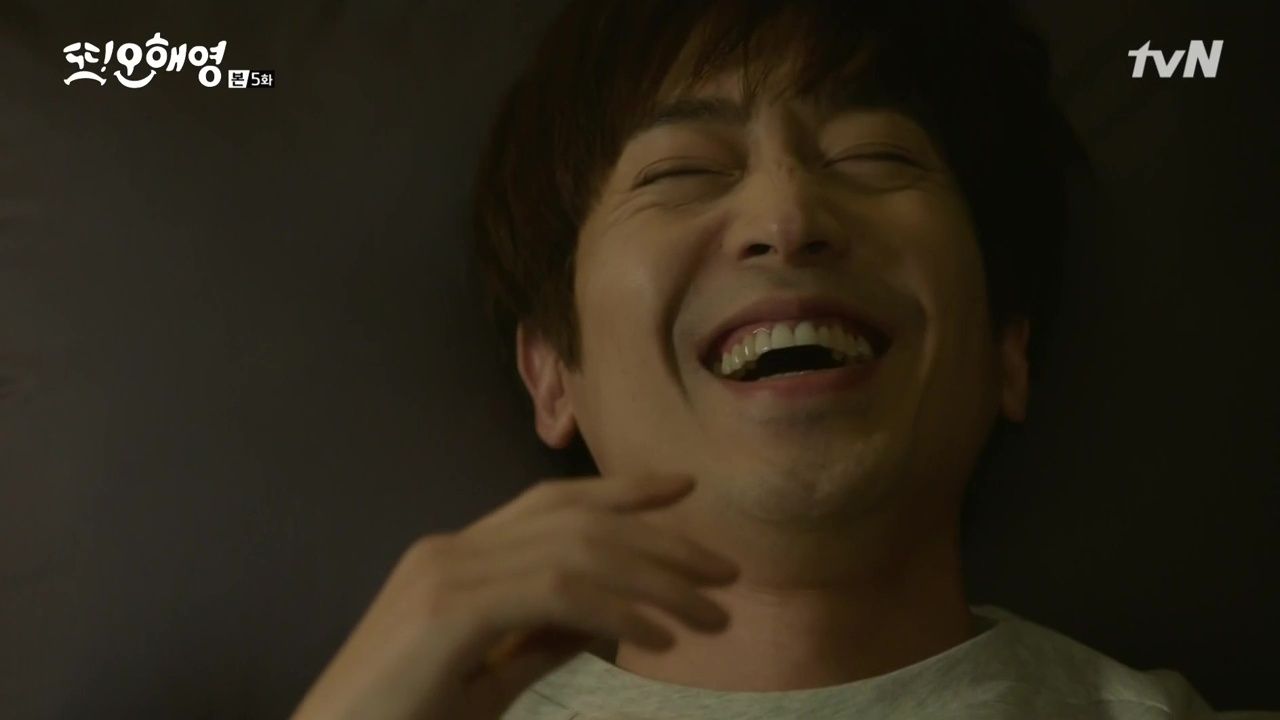 To his credit, Do-kyung holds his poker face and doesn't react to Hae-young's humiliation. It's not until he's lying in bed that night that his mouth starts to twitch, and he giggles, then outright guffaws until he's gasping for air. Hae-young can hear his amusement through their shared wall, and screams at him to stop laughing. She can't help but notice though, that it's the first time she's heard him laugh.
Hae-young runs out of the house the next morning to avoid Do-kyung, but he stops to offer her a ride to the bus station. She grumps that he should buy her dinner in return for making him laugh, which gets him snickering again.
She orders him to stop it, and he looks pained for a few moments before he starts giggling all over again. Hae-young can't help it, his laugh is too adorable, and soon she's laughing right along with him.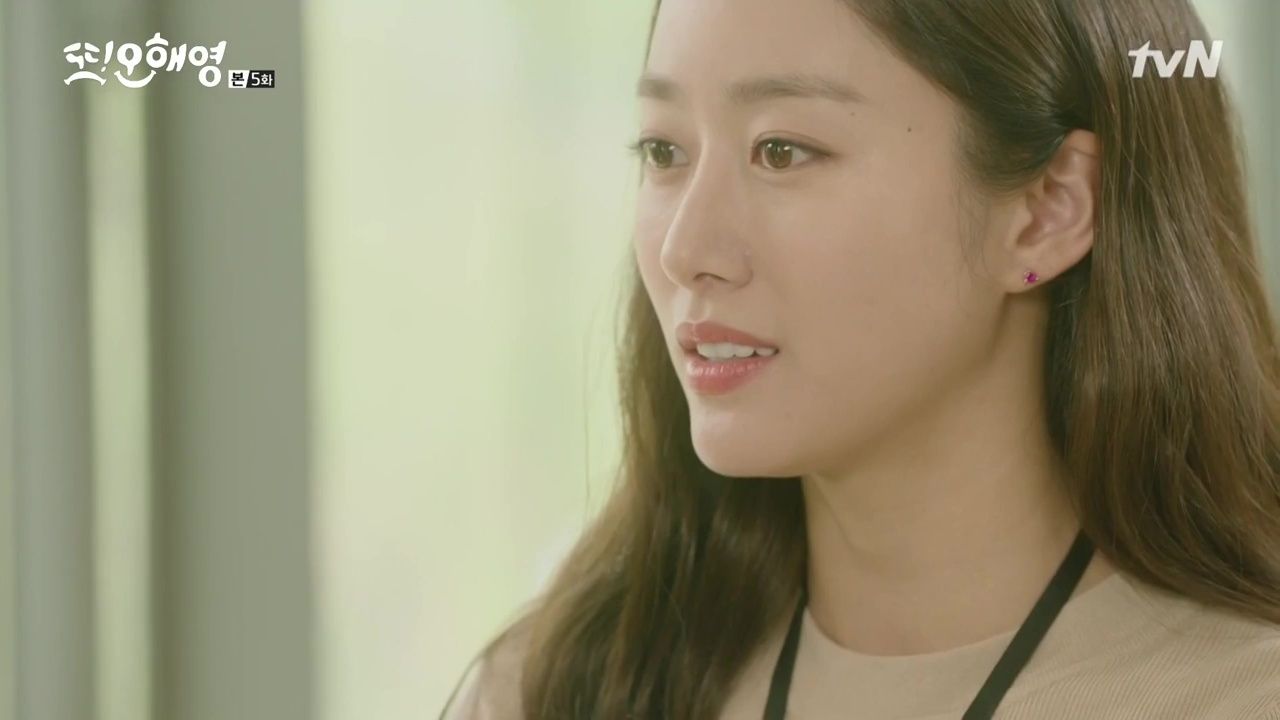 The other Hae-young meets with her team for the first time, and they debate whether they should try to maintain their second-place position in the industry, or push for first place. She says that it's easy to give up and settle, but then you might get a random supportive message. She remembers calling Do-kyung to say she's missed him, and he'd been angry, calling her malicious.
She muses out loud that she'd wondered if she should rekindle things or let them stay ended, but then when she was running her marathon and got tired and began to walk, someone had called out a "fighting!" from a passing car, and it gave her strength to move forward again.
Later she tries calling Do-kyung again, but the call goes straight to voicemail. She calls his work number next.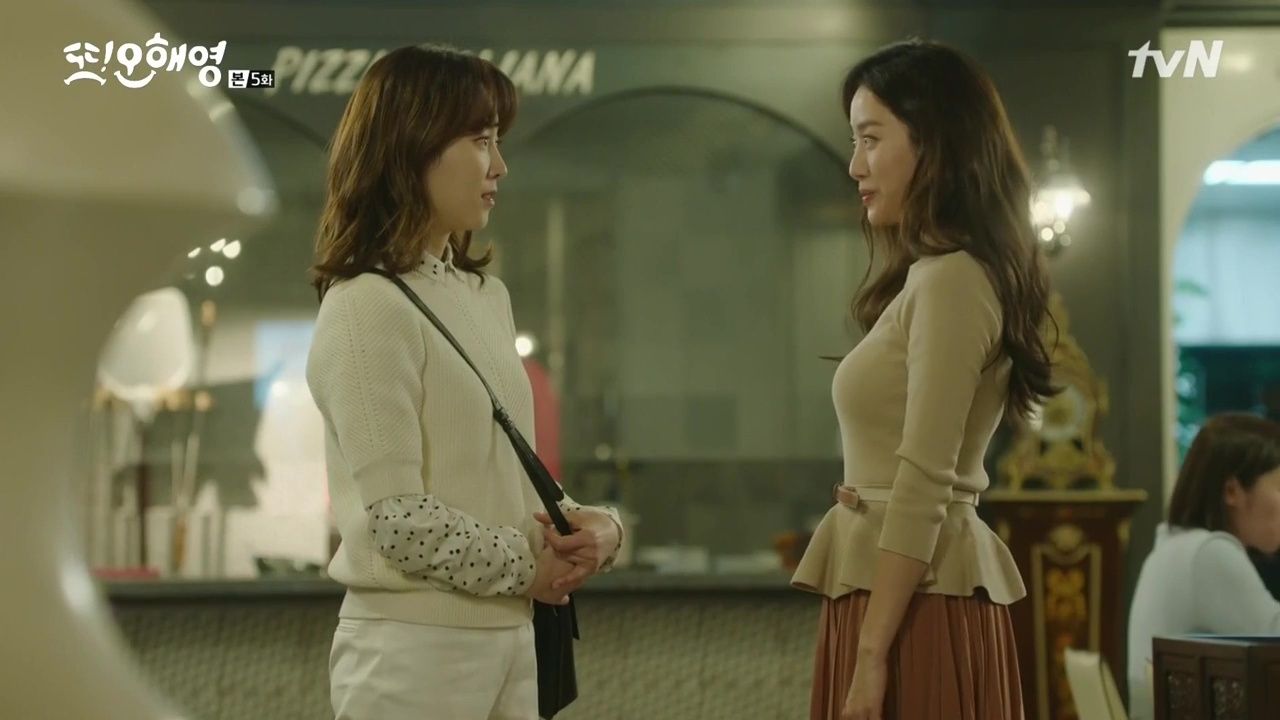 When Do-kyung plugs in his dead phone, a series of texts pop up from our Hae-young all at once, demanding he take her to dinner tonight. There's a message on his desk saying that he's to meet Oh Hae-young at a steakhouse tonight, and he naturally assumes it's his neighbor Hae-young, and smiles.
He texts our Hae-young to confirm the place and push back the time by half an hour, so when she gets off work, she literally runs out the door with a giant happy smile on her face. When she arrives at the restaurant, the other Hae-young is already there, and seems pleased to accidentally run into her.
She's even happy for our Hae-young that she's dating someone, but pouts that her own date seems to be standing her up. Our Hae-young comments on her confidence, though it's not exactly the compliment the other Hae-young takes it to be.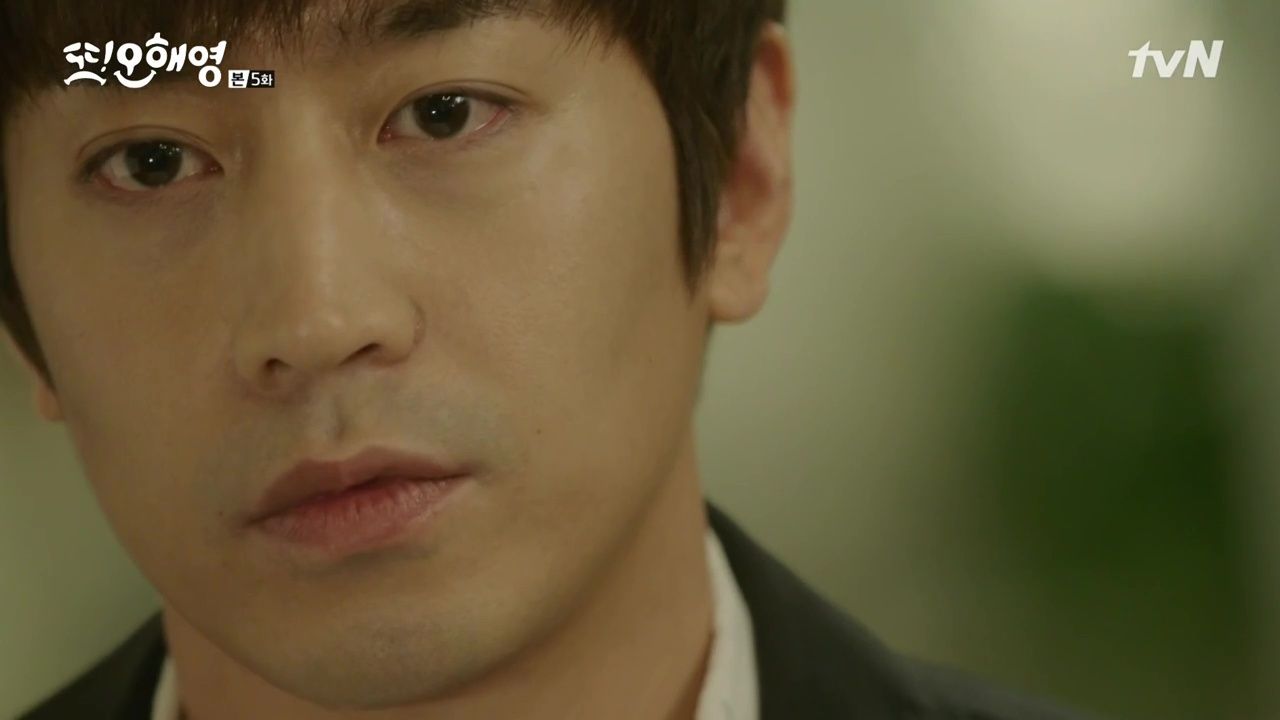 They sit to wait at tables near one another, and both are expectant when Do-kyung arrives. He's looking for his neighbor Hae-young so he walks right past his ex-fiancee, not even seeing her, until she calls out a nervous, "Oppa."
He freezes at the sound of her voice, as if scared to turn around and see her… and when he does, he suddenly realizes the confusion their identical names caused. He turns to our Hae-young and says, "Let's go somewhere else." He walks out, ignoring his ex, but our Hae-young doesn't follow right away.
The other Hae-young asks our Hae-young if Do-kyung is the man she's started seeing, admitting that she invited him here and he must have thought it was his neighbor. She tries to sound breezy about their identical names still causing problems, but the expression in her eyes gives away her hurt.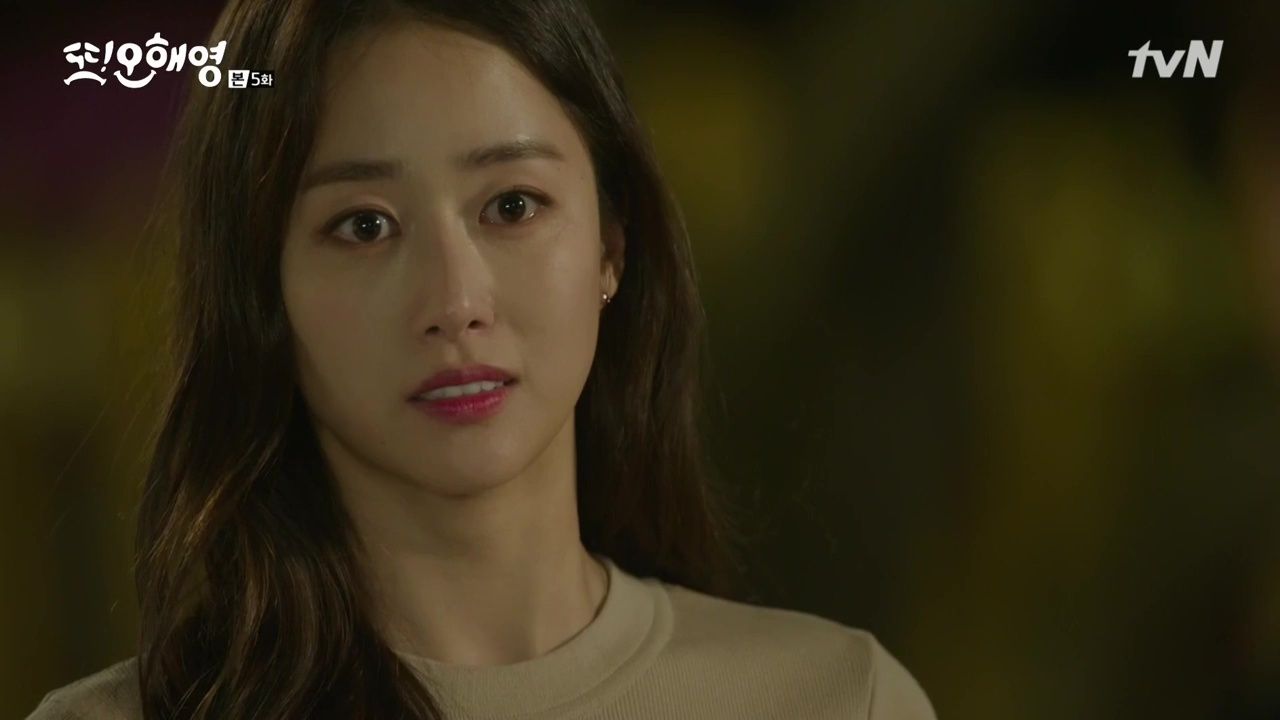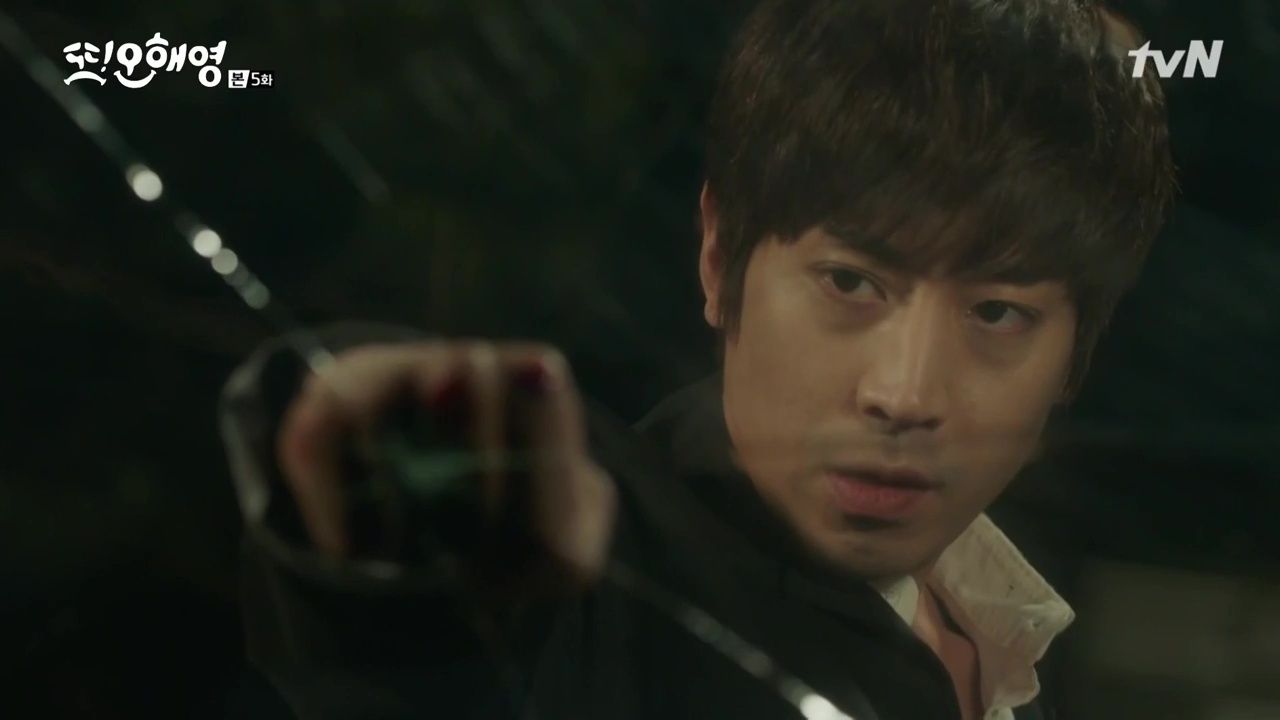 Our Hae-young asks how they know each other, but before she gets an answer, Do-kyung strides back in and wrist-grabs her out of there. He takes her to his car, but the other Hae-young follows them out and begs him to listen to her for just a few minutes.
He yells that she's delusional — he came here to see someone else, not her. He sneers at her to eat her steak alone, but she just responds that she missed him. The words instantly infuriate him, and he punches his car window hard enough to shatter the glass and shred his hand. He gets in and peels out, taking our Hae-young with him.
He doesn't say a word as he drives, even though his torn-up hand must be agony. Hae-young remembers telling him that she wished someone would say it was no big deal to be dumped right before her wedding, and how he'd whispered that it was a very big deal, like a death sentence. She suddenly puts all the clues together, and realizes that the other Oh Hae-young is the woman who left him on their wedding day.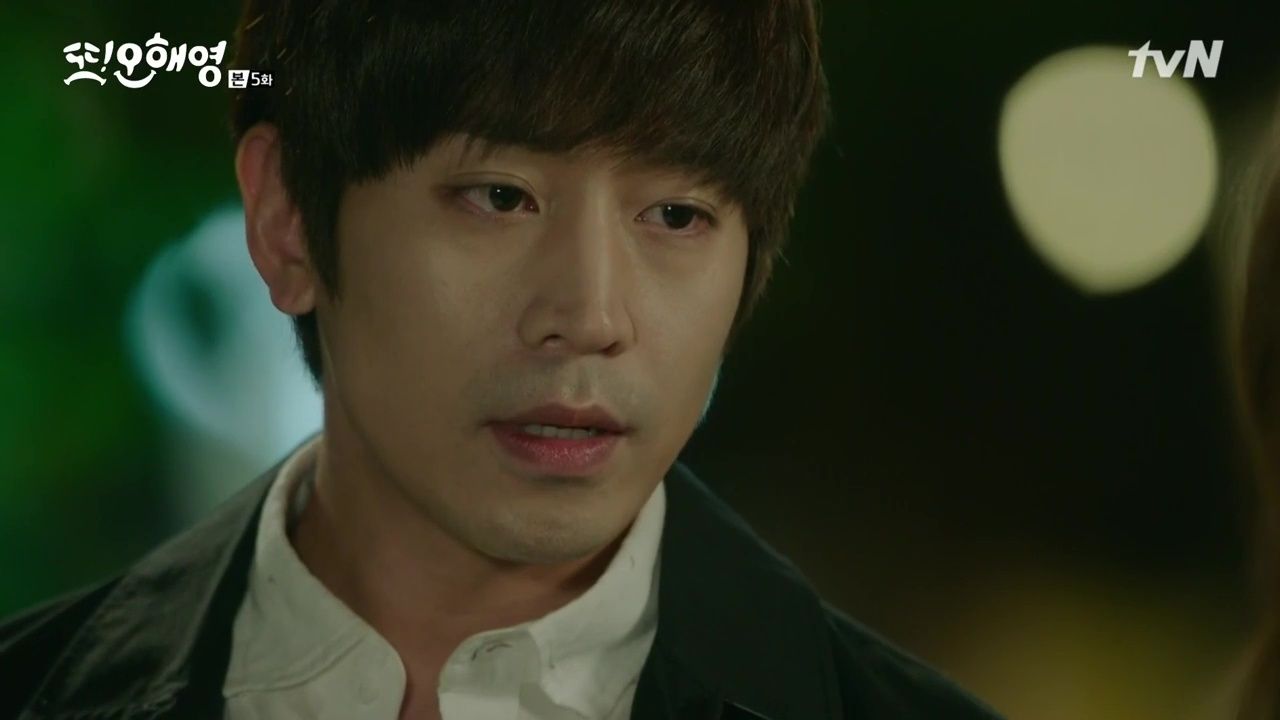 She spends the evening watching Do-kyung pound shot after shot of soju, and she finally asks simply, "So it was her?" She laughs wryly, agrees that this is a super shitty situation, and the two of them drink together.
Once Hae-young is good and drunk, she says that she thought his initial reactions to her were strange, but now it makes sense — she has the same name as the woman he loved so much. She asks why he never said anything when she mentioned the other Hae-young… was it fun watching her ramble like an idiot?
Do-kyung says that makes no sense, but he can't answer her question of why he kept silent. She asks why he held her wrist at the restaurant, angry that she felt like a prop in his real love life, thinking he did it to make the other Hae-young jealous.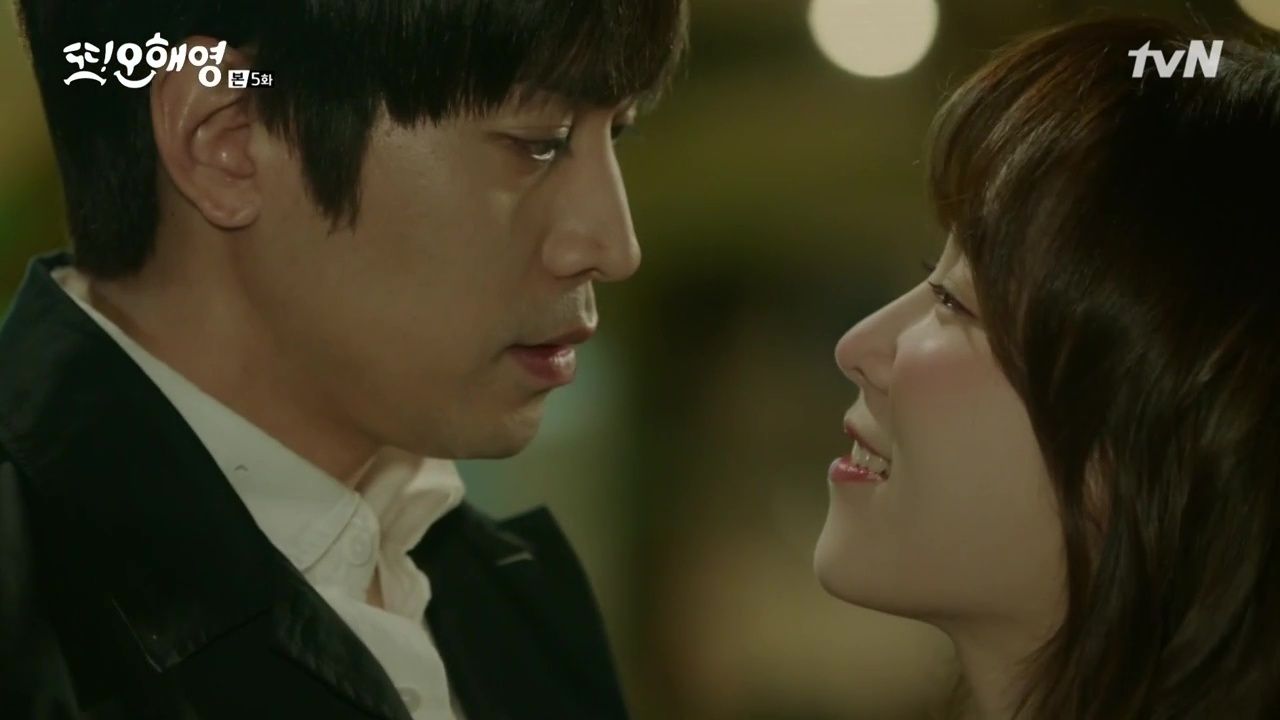 She gets right up in his face and angrily offers to tell her they slept together, and Do-kyung just yells that he's sorry. He can't handle her close proximity and walks away, while Hae-young hollers after him that he'd better not dare ever use her that way again.
Hae-young sits up late that night, listening for Do-kyung to get home, and she finally calls him to ask if he's protesting. He doesn't answer, but she leaves a message: "Come home."
She even goes out to the street to wait, so she's there when a driver brings him home, asleep in his backseat. Hae-young runs up to her place and pushes the cabinet out from in front of their door, opens his door from the inside, and piggybacks him in.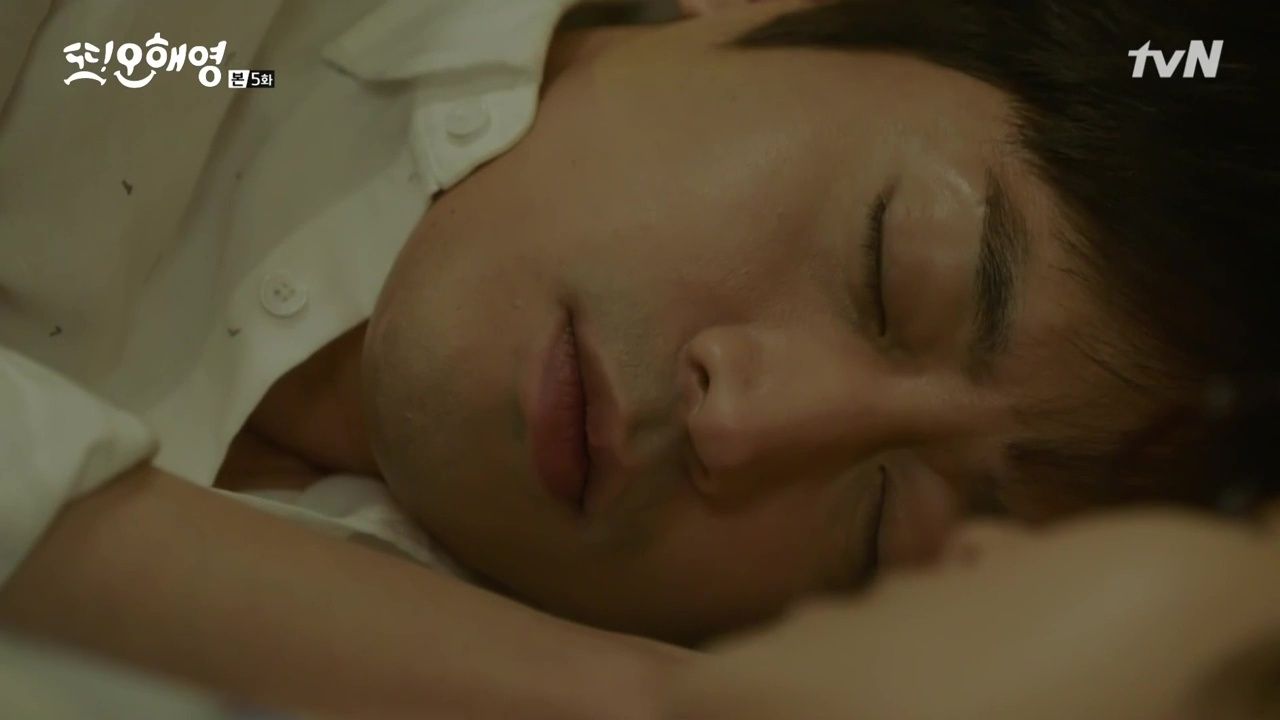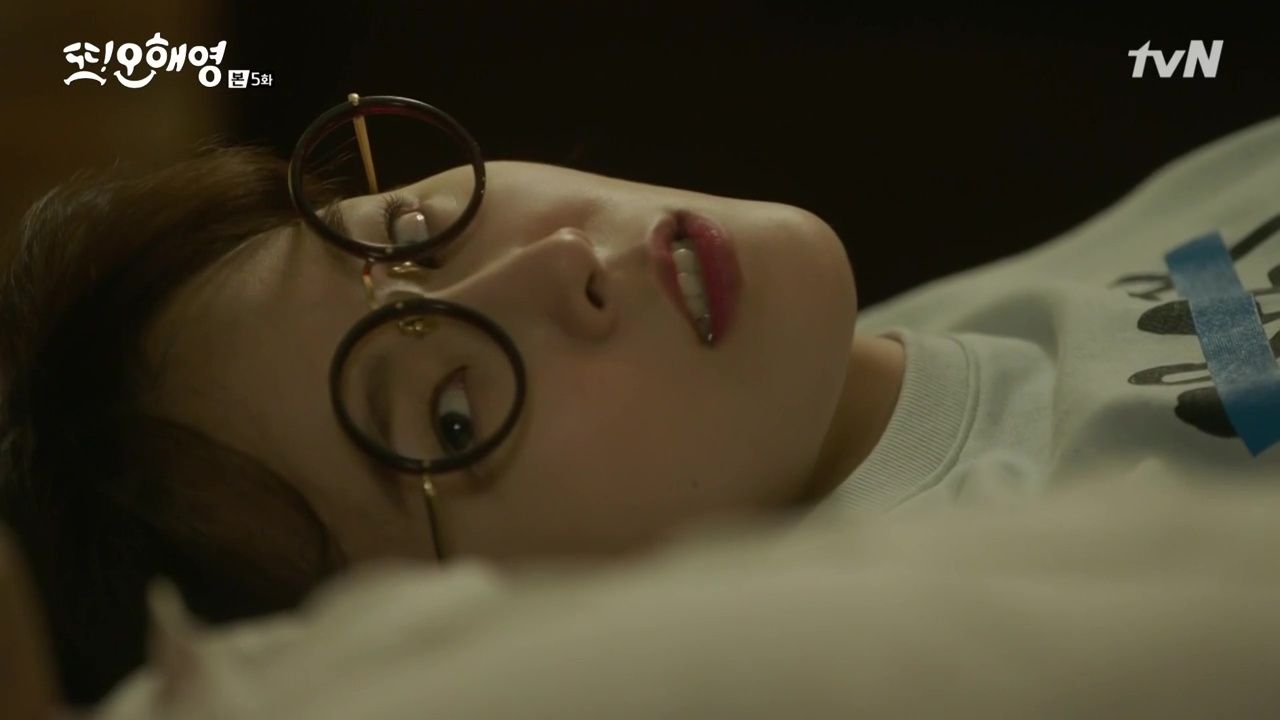 Do-kyung is just barely conscious as Hae-young puts him to bed, even rolling him onto a heating pad (and herself right off the bed, hee). She lies down to rest for just a moment, and Do-kyung throws a leg over her, pinning her down. She wrestles him off again and notices his scraped hand.
She's back in the morning when he finally wakes, though she leaves as soon as she sees he's conscious. He gets ready for work and notices that his hand is bandaged up.
Hae-young brings some hangover soup through the door for both of them, which I notice Do-kyung has left open. She makes herself at home while Do-kyung tries valiantly not to like it, but he finally joins her and obediently eats the soup.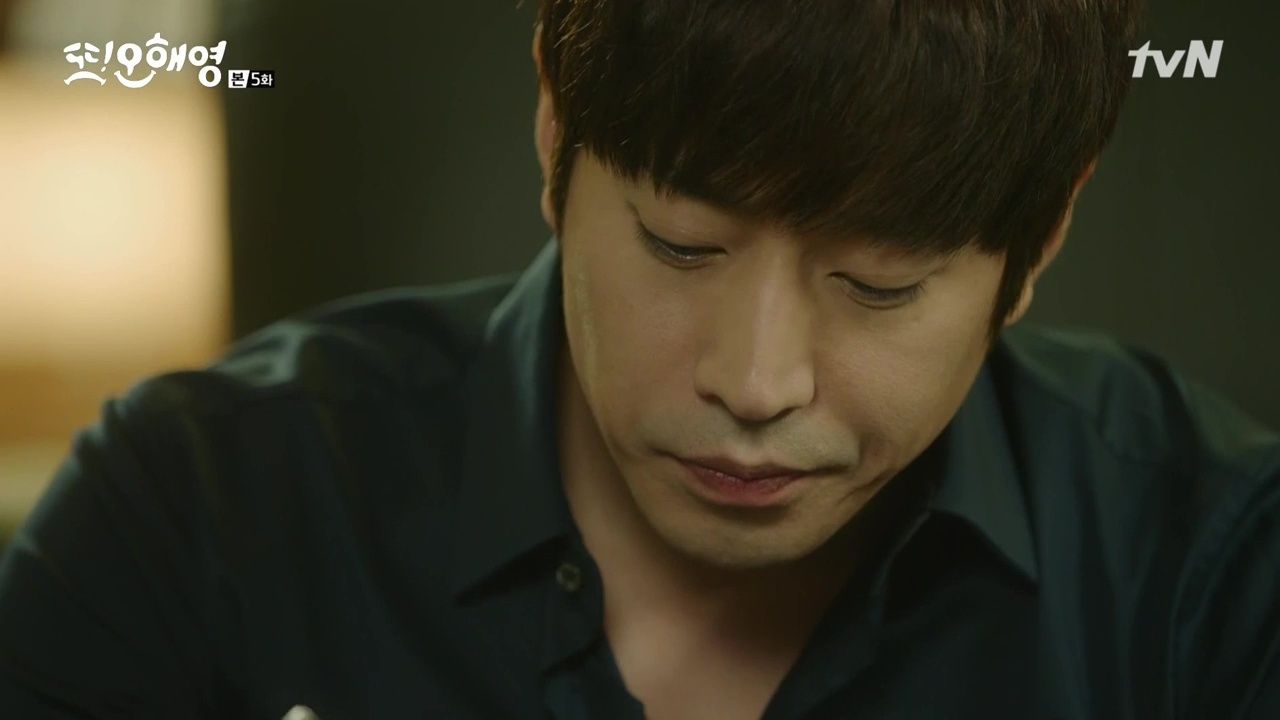 Hae-young says that now that her male coworkers know she went to school with the other Hae-young, they're suddenly asking her out to dinner or for drinks. She complains about being treated as a bridge, and asks sarcastically if Do-kyung enjoyed dating every man's dream girl.
She's on his side though, and fusses at him for showing how upset he was last night — he should have acted like he was fine. Do-kyung tells her to stop and she does, for a whole ten seconds, then she asks if he wants her help pretending to be happy.
They can put on a show, as if he's forgotten the other Hae-young and moved on. She'd already told her they've started dating, so it will be easy to pretend they're madly in love. Hae-young looks positively thrilled to be a threat to the other Hae-young for once, and she tells him that they can start tonight at her work event.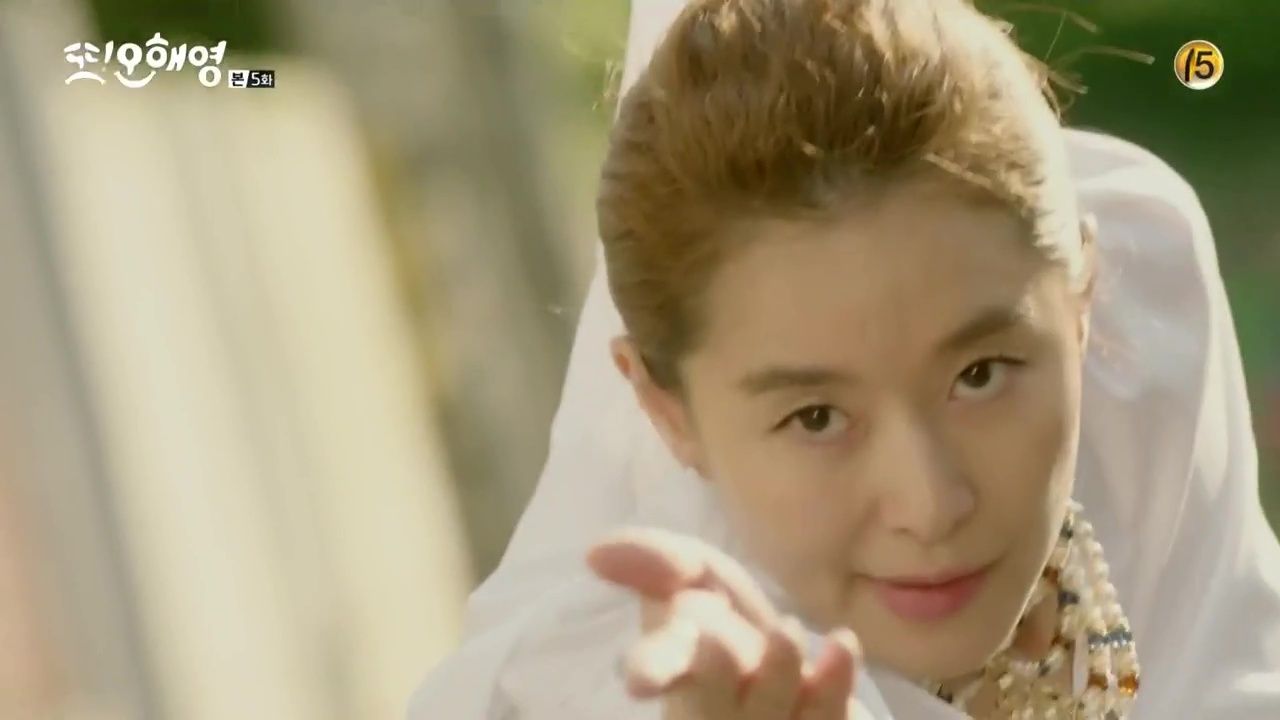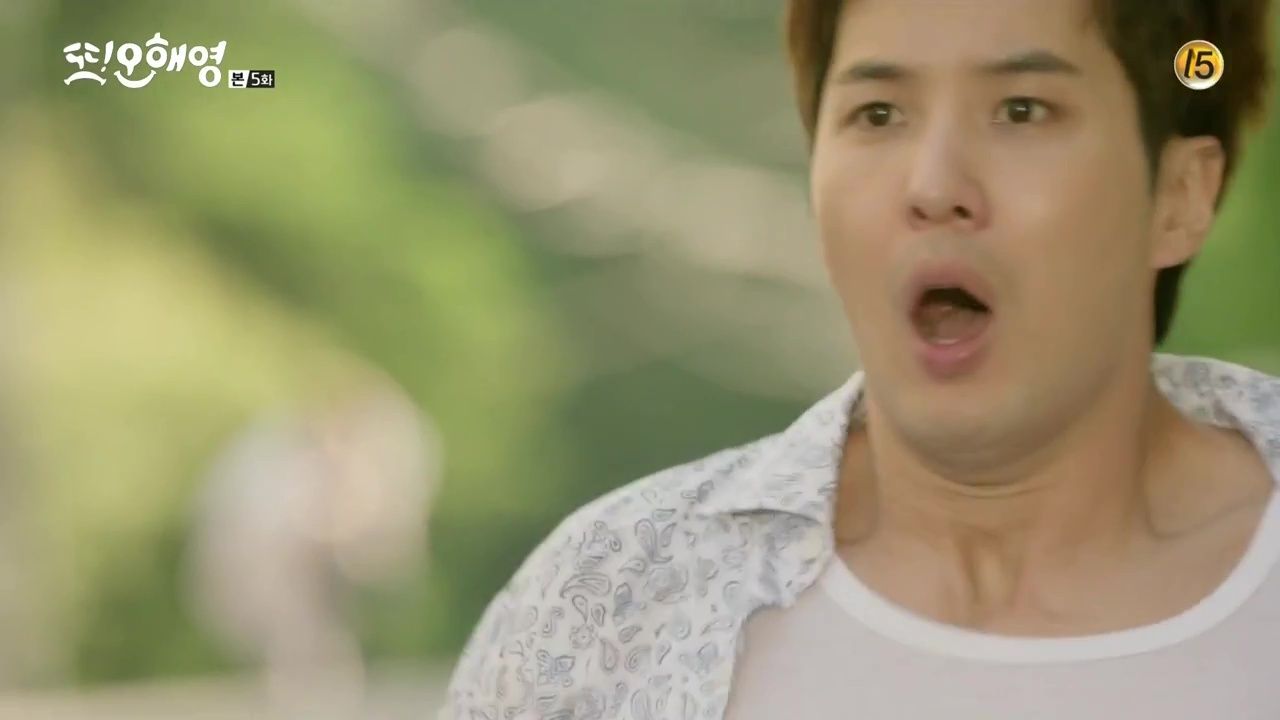 Do-kyung declines the offer, but Hae-young argues that it's win-win… he gets revenge, she gets the upper hand for once. Do-kyung doesn't think the other Hae-young is worth it, thinking he'll just look pathetic, and that the best revenge is cutting her out of his mind and life. Hae-young finally backs down, but leaves the offer open if he ever changes his mind.
Soo-kyung finds a strange half-naked woman in her home, and belatedly realizes that she must have spent the night with Jin-sang. She doesn't contradict the woman when she assumes Soo-kyung is his wife, and takes down a baseball bat and chases them out of the house, past Do-kyung, and into the street. She winds up and throws the bat, and it comes down right between Jin-sang's legs, stopping him in his tracks.
He's finally rescued by Do-kyung, and complains that he's in more danger at Do-kyung's house than his own. Do-kyung points out that Jin-sang is the one who brought a woman home, and Jin-sang is all Oh yeah, right.
Hae-young struts into work like a rock star, making even the men who previously ignored her take notice. Her good mood doesn't last long though – when the other Hae-young calls for them to hold the elevator, our Hae-young quickly pushes the button, but one of the guys holds it open anyway. Damn.
He comments that they don't seem very close considering they went to the same school, and another guy says that it's hard to like someone with your same name, especially when they're more successful than you. Then they literally run over our Hae-young while bidding the other a good day. Daaaamn.
The other Hae-young mentions what happened last night and how Do-kyung can be really mean, admitting that she wronged him badly. Our Hae-young says that she knows what happened, but the other Hae-young says that he doesn't know the whole story of why she left him at the altar. Well, who's fault is that?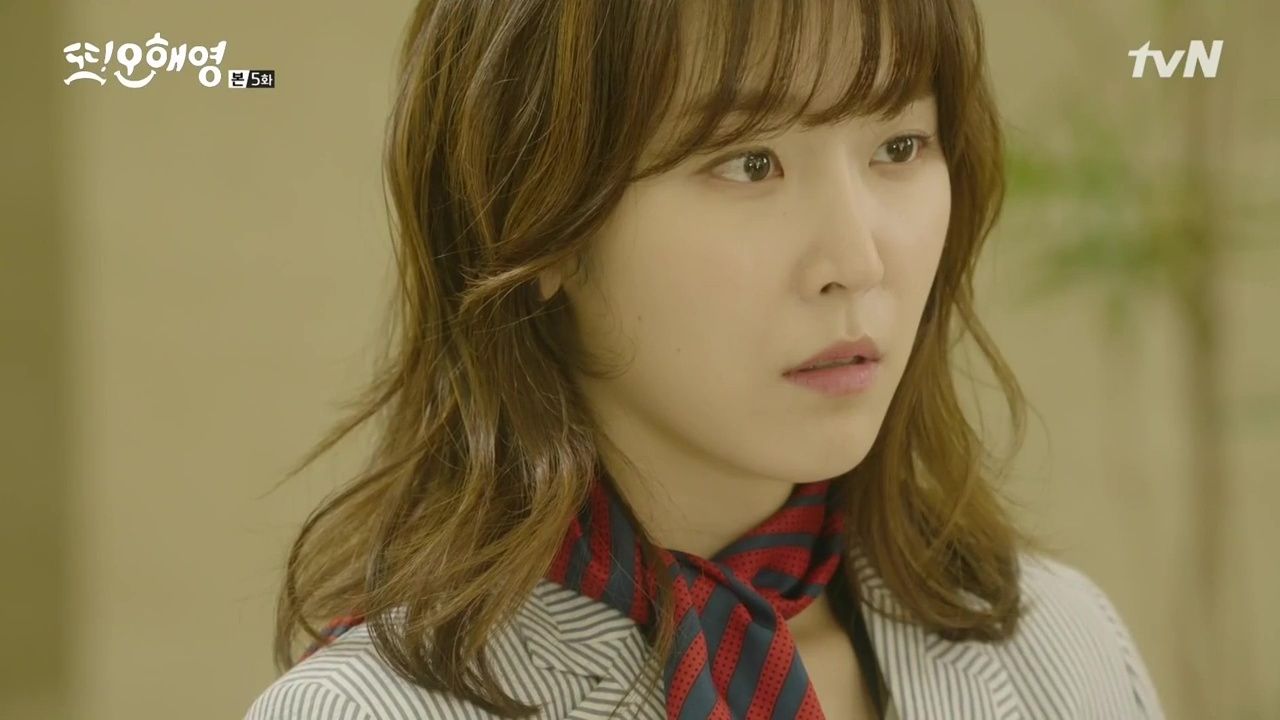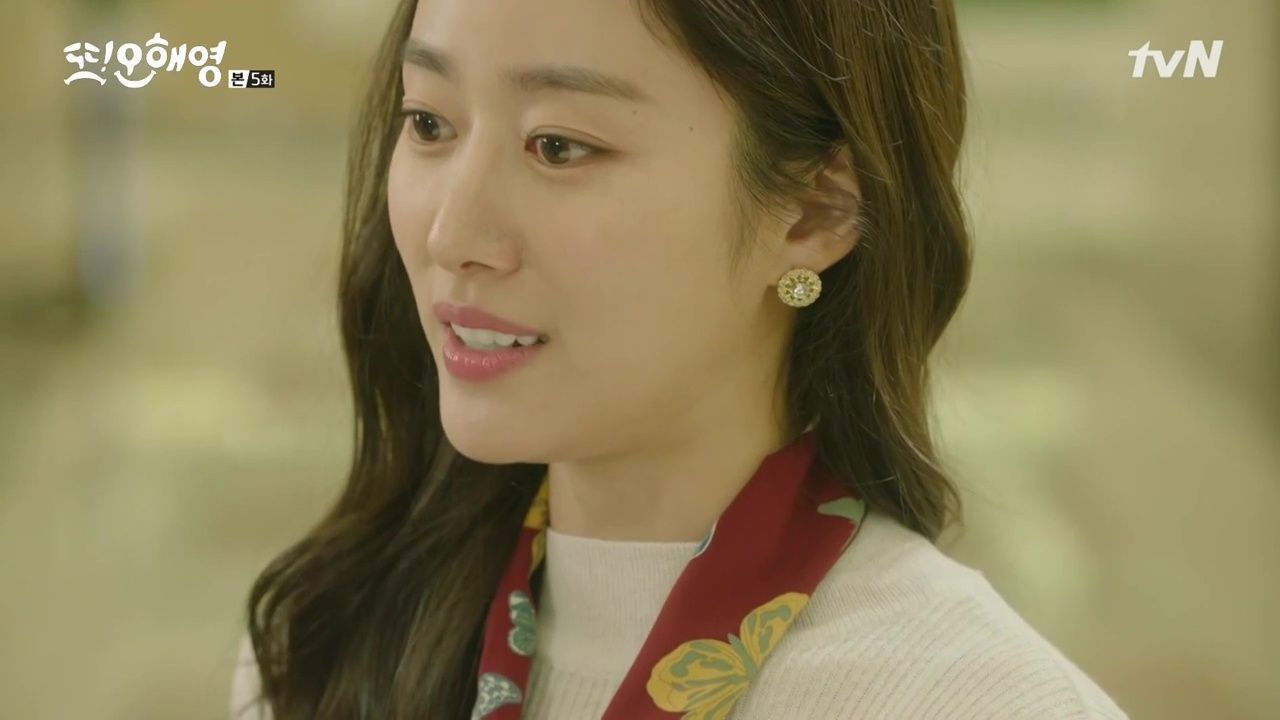 She avoids the question of what really happened, and asks our Hae-young how she met him. When she hears they haven't known each other long she seems relieved, saying that they didn't seem to know each other well, and besides, how could he date another Oh Hae-young?
She adds that she was actually happy when he lost his temper, because it means he still has feelings for her. Our Hae-young looks like she might have something to say about that, but they're interrupted.
Do-kyung's mother intercepts him in the middle of recording a scene to introduce him to a director she's signed to direct her movie. They want to hire Do-kyung to do the sound, but he snarks that he hopes they actually make a good movie this time instead of making "art."
The director jabs right back, so Mom ushers him away. Knowing Mom is broke, Hoon immediately figures out that Do-kyung gave her money again.
The company holds a noraebang party to welcome the other Hae-young to their team, and it's hilarious how eye-rolly Soo-kyung is all through the CEO's speech. She finally interrupts him to speed things along, but he mentions how the two Hae-youngs went to school and admonishes our Hae-young to be properly respectful. Soo-kyung grabs his microphone away, which makes me love her.
The other Hae-young gives a cutesy speech and all the men cheer, while the women snarl. A coworker tells our Hae-young to take of her scarf since the other Hae-young is wearing an identical one, but she refuses, saying that she'd rather be embarrassed than lose.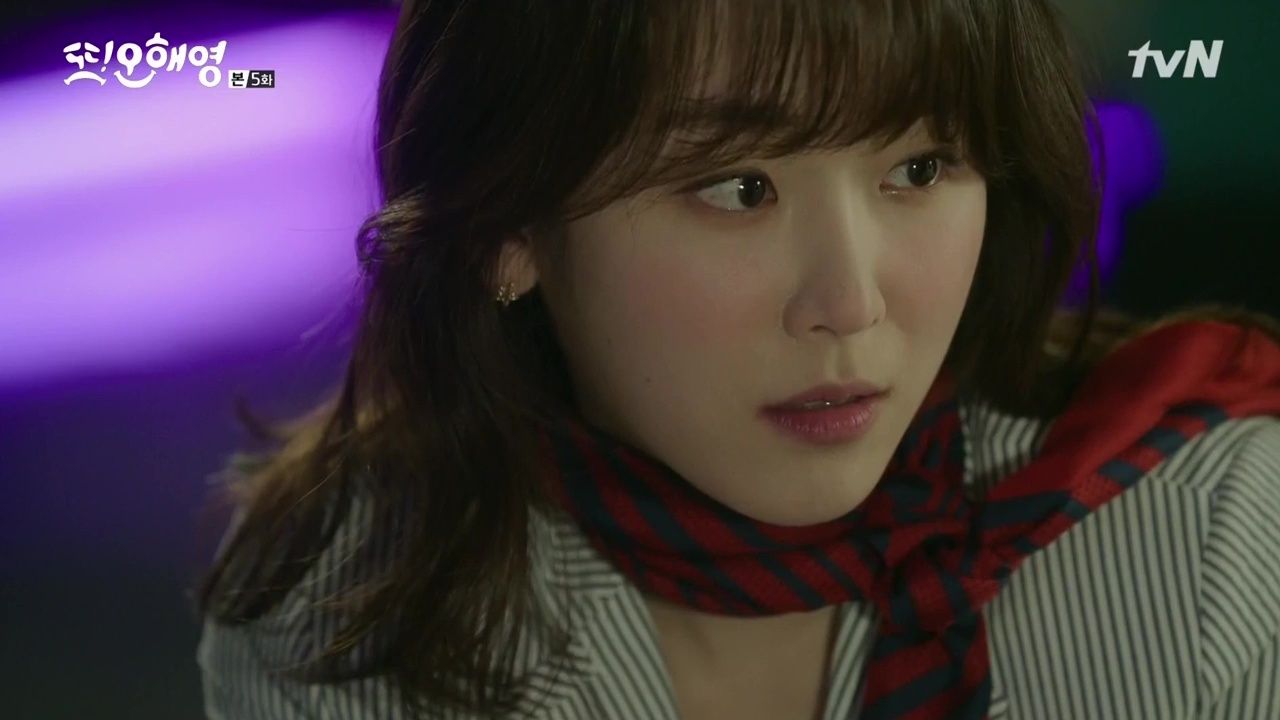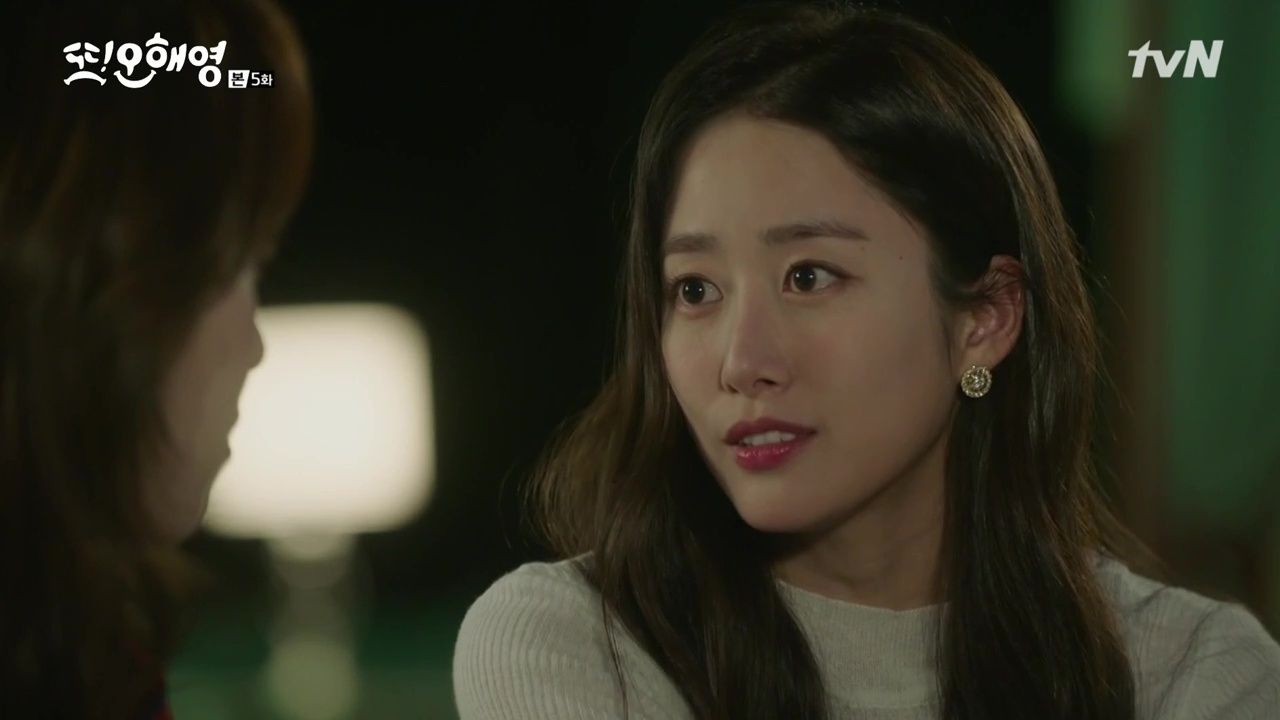 Later, the other Hae-young gets drunk and clingy and starts telling stories on our Hae-young. Her tales sound funny on the surface, but they all highlight how our Hae-young had less money, or how her mother was embarrassing.
The other Hae-young is completely oblivious to our Hae-young's unhappy attitude, and oddly, she asks if our Hae-young is dating anyone, as if she wasn't just told that she's dating Do-kyung yesterday. Hae-young says they are, and the other Hae-young abruptly asks if they've slept together. After a pause, our Hae-young says, "Yes."
The other Hae-young just laughs and says she's a terrible liar. She pinches our Hae-young's cheeks and calls her adorable, until our Hae-young looks ready to slap her.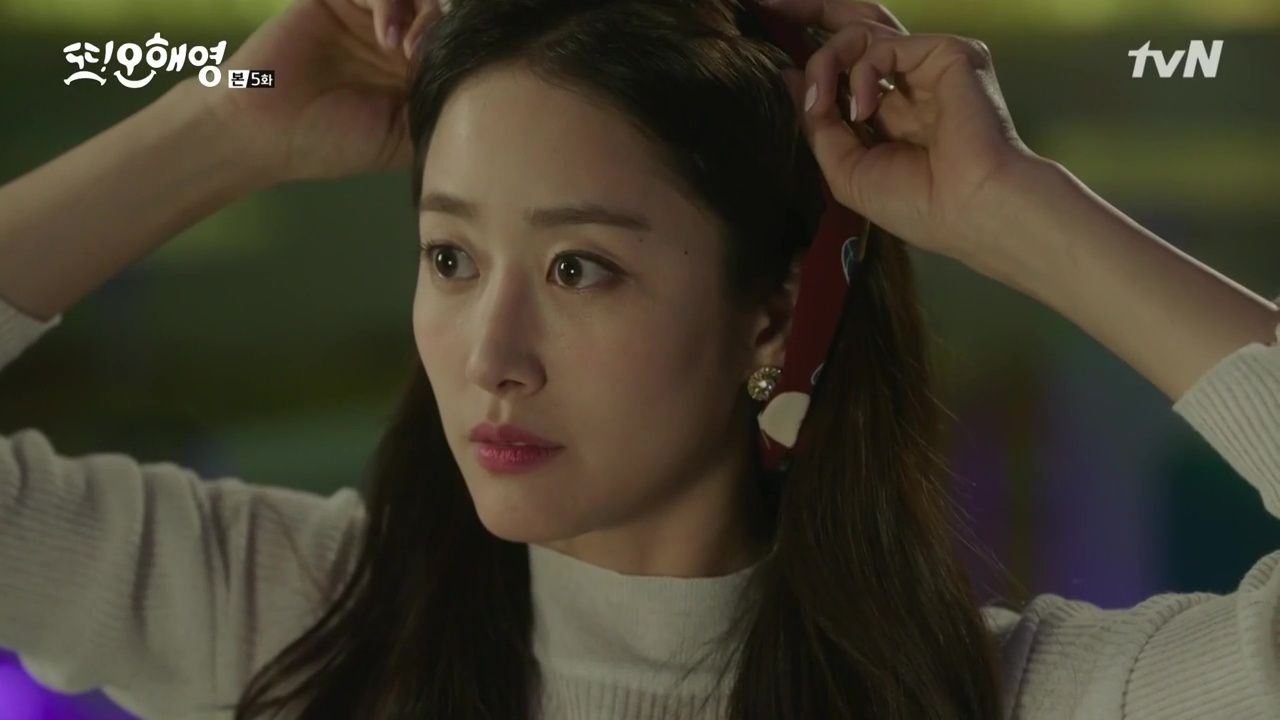 Things get even worse as the evening progresses, and our Hae-young is embarrassed when she basically gets booed off the stage while singing a song. Her work friend Sung-jin is sweetly supportive, but she insists on doing one more song.
The other Hae-young tries to cuddle up to Soo-kyung, who just threatens to smack her. She goes to cheer for our Hae-young while she sings, but a drunk coworker yells at our Hae-young again to take off the scarf so she won't be compared to "pretty Hae-young."
The other Hae-young instead offers to take her own scarf off, but before she does, our Hae-young screams, "Don't take it off! You are you. I am me." The other Hae-young smiles, and puts the scarf back around her neck. But our Hae-young receives a tongue-lashing for yelling at her superior, which hammers home that yet again, she's considered inferior to the other Hae-young.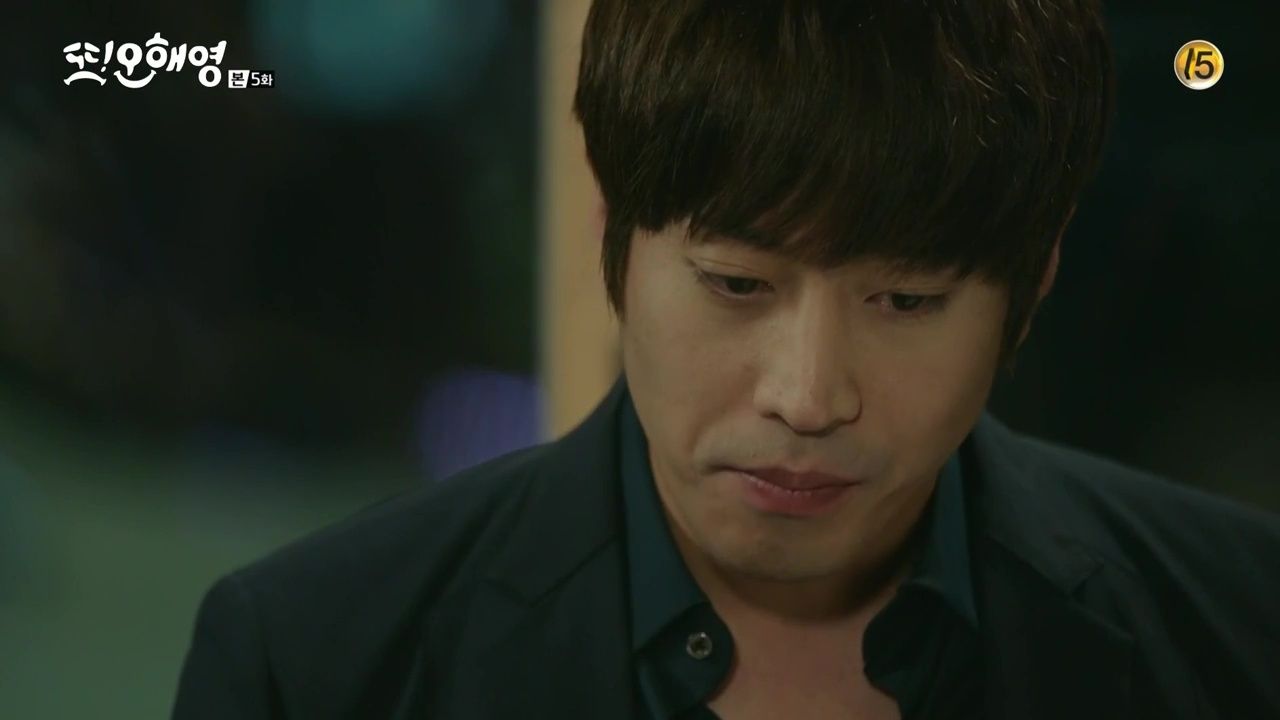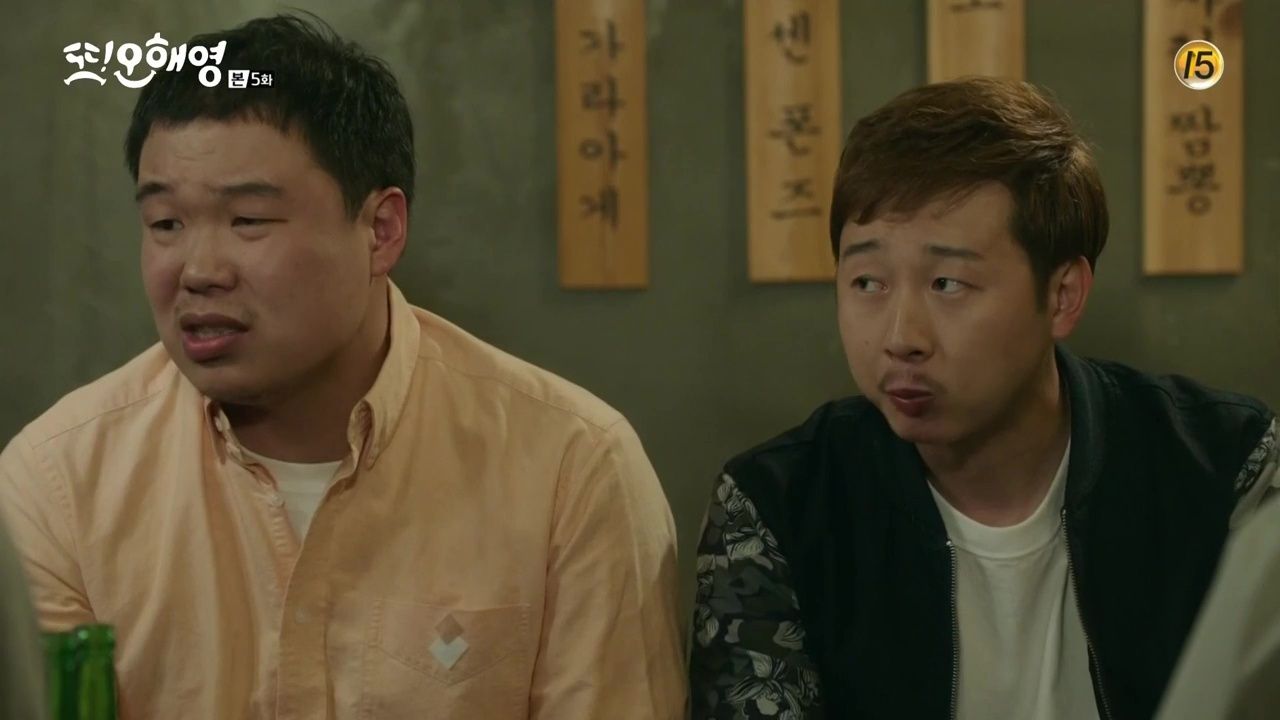 Do-kyung takes his employees out for dinner and says that from now on, they'll take any jobs that come their way, regardless of quality. They all agree, since taking smaller jobs will mean his mother won't know about their income and won't try to take it all. It's sweet how much that upsets them.
Do-kyung's keen hearing picks up something, and he asks the restaurant manager to turn up the ambient music. He records it from the patio, taking in the night sounds from the busy street as well. He just happens to be near the noraebang right as Hae-young's party break up.
Everything goes all sparkly when Hae-young sees Do-kyung next door, and her face almost literally lights up. She makes sure that the other Hae-young is looking, and goes running to him.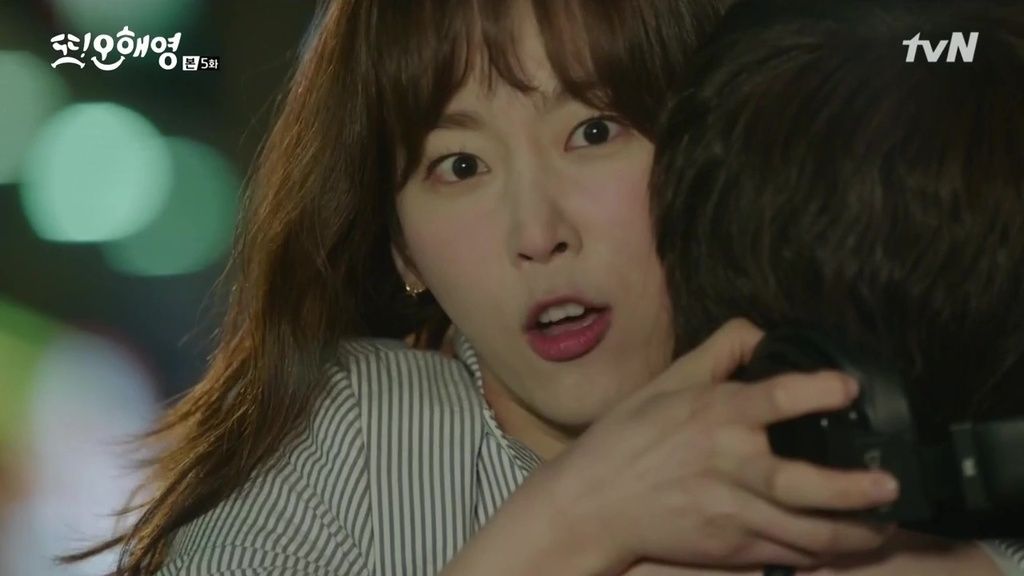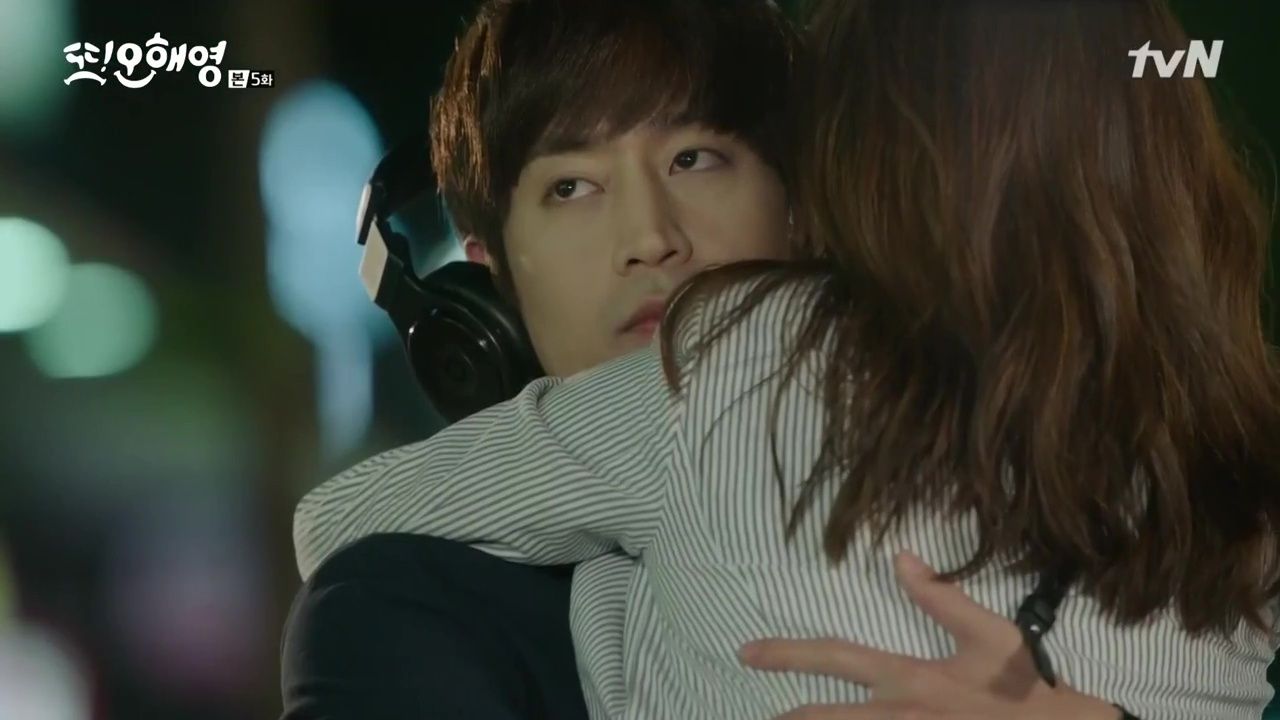 She jumps into his arms again, and he catches her just as he sees his ex Hae-young in the crowd. Our Hae-young whispers for him to swing her around, so he does this hilariously reluctant shuffle-turn. She pleads for one more turn and he complies, while actually curling his lip in disgust. Hae-young jumps down and orders him to put his arm around her, and she leads him to her coworkers.
But he whips her back around before they get near the other Hae-young, and have a wrestling match over whether or not to turn back. Do-kyung wins out of sheer brute strength, but the damage has been done, and the other Hae-young excuses herself with red-rimmed eyes. (And aww, Sung-min looks a little upset, too. Does he have a crush?)
Hae-young celebrates once she and Do-kyung are out of sight, but Do-kyung is angry at being used that way. He tells her that he didn't come here on purpose like she thought, it was just a coincidence, and Hae-young is instantly sorry for misunderstanding.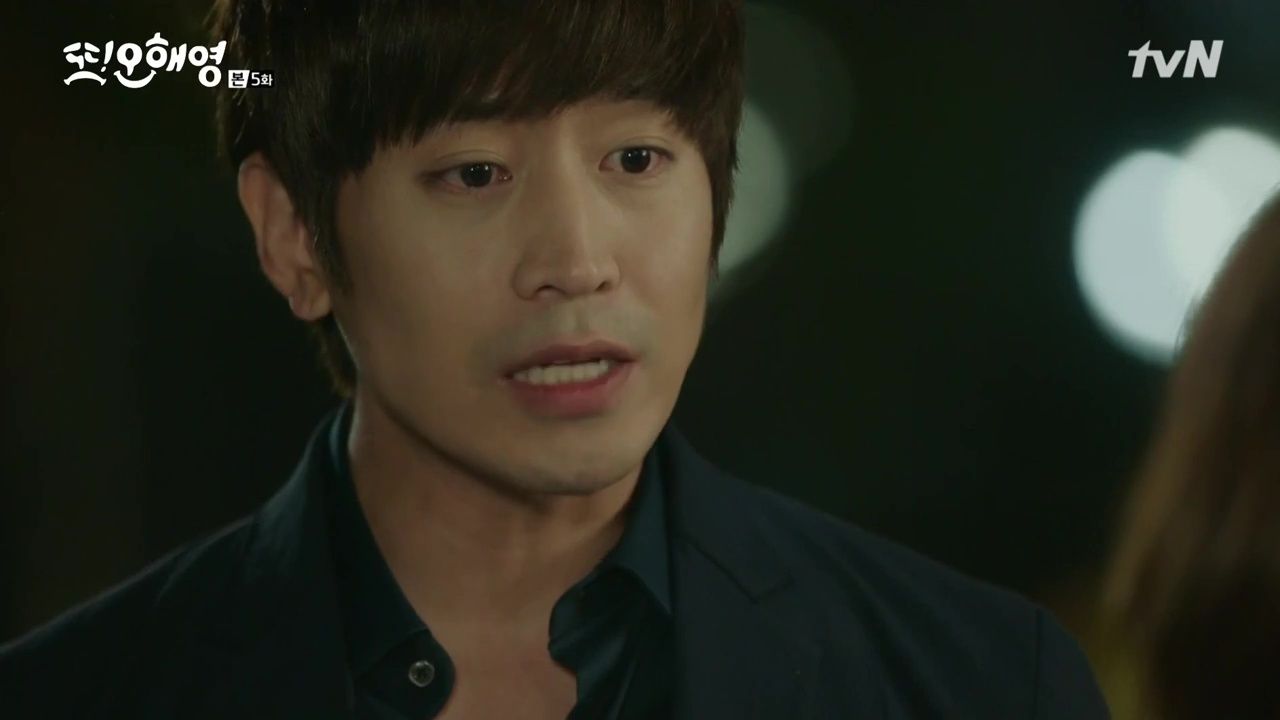 Seeing his reaction, Hae-young tentatively asks if he still has feelings for his ex. She tries to spin this as a good thing, since their actions probably made her jealous. But Do-kyung nixes any further discussion of the other Oh Hae-young, ever.
He stalks back to the restaurant and nearly bites Hoon's head off when he asks who that woman was. But he doesn't get far before he starts to feel bad, and turns around to pick up Hae-young and drive her home. She's genuinely remorseful and tries to apologize, but Do-kyung really doesn't want to talk about it any more. He drops her off at the house and goes back to work.
Hae-young is lost in thought during coffee the next morning with Hee-ran. Hee-ran asks when she started liking him, and Hae-young remembers when he came back into the bar to ask why she was crying, and later that night, he'd told her that no matter what, she should go on living. She recalls how he put his shoes in her entryway, and when he'd told her she was pretty when she eats, and how he caught her when she jumped.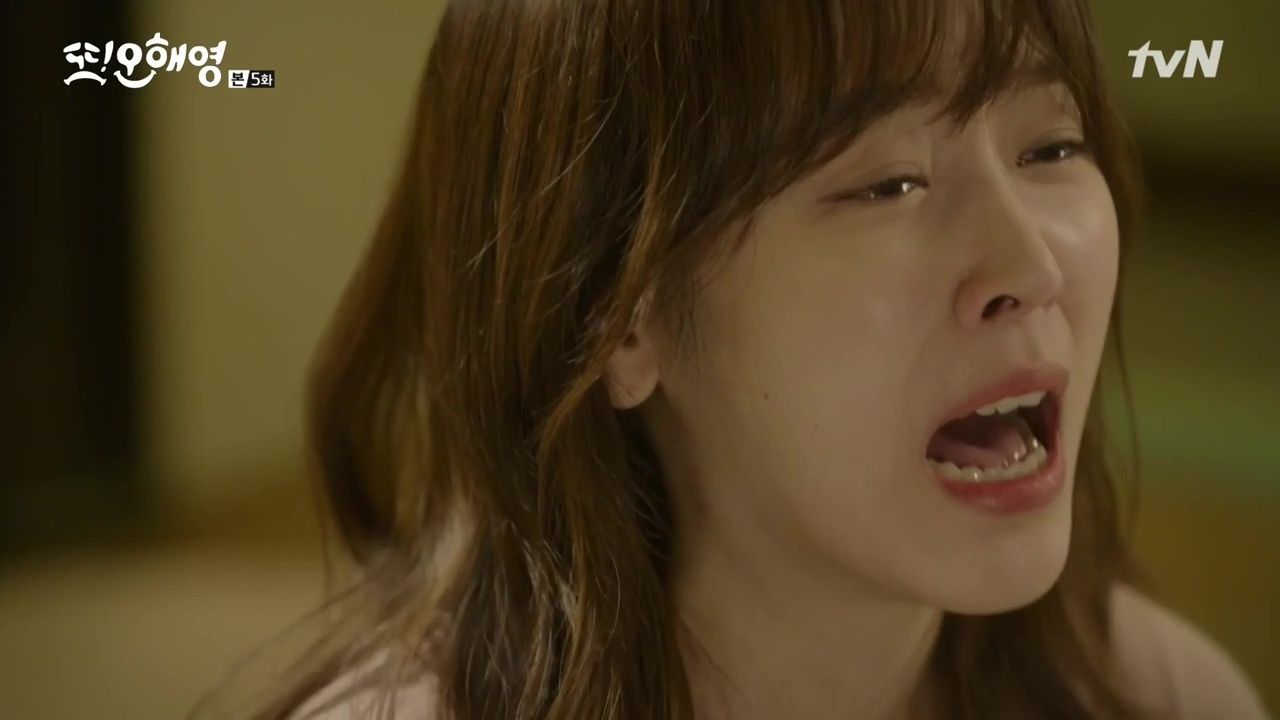 But really, she says that she liked him from the first moment she saw him, when he slammed into her and gave her a bloody nose. She's liked him from the very beginning.
She tells Hee-ran that she always ended up with third-tier guys, but her fiance Tae-jin was the first man she dated who wasn't somehow lacking. She knows that Do-kyung is also top-tier, the tier she thinks she can never get into. She had decided to just go for it and love until she was dumped.
She stands in front of the door between their apartments, glaring at the cabinet that Do-kyung replaced. She attacks it, yelling at it and Do-kyung, asking if he's scared she'll take advantage of him. She sinks to the floor when it doesn't budge, thinking that the one thing about liking the guy next door is that at least now she actually looks forward to coming home.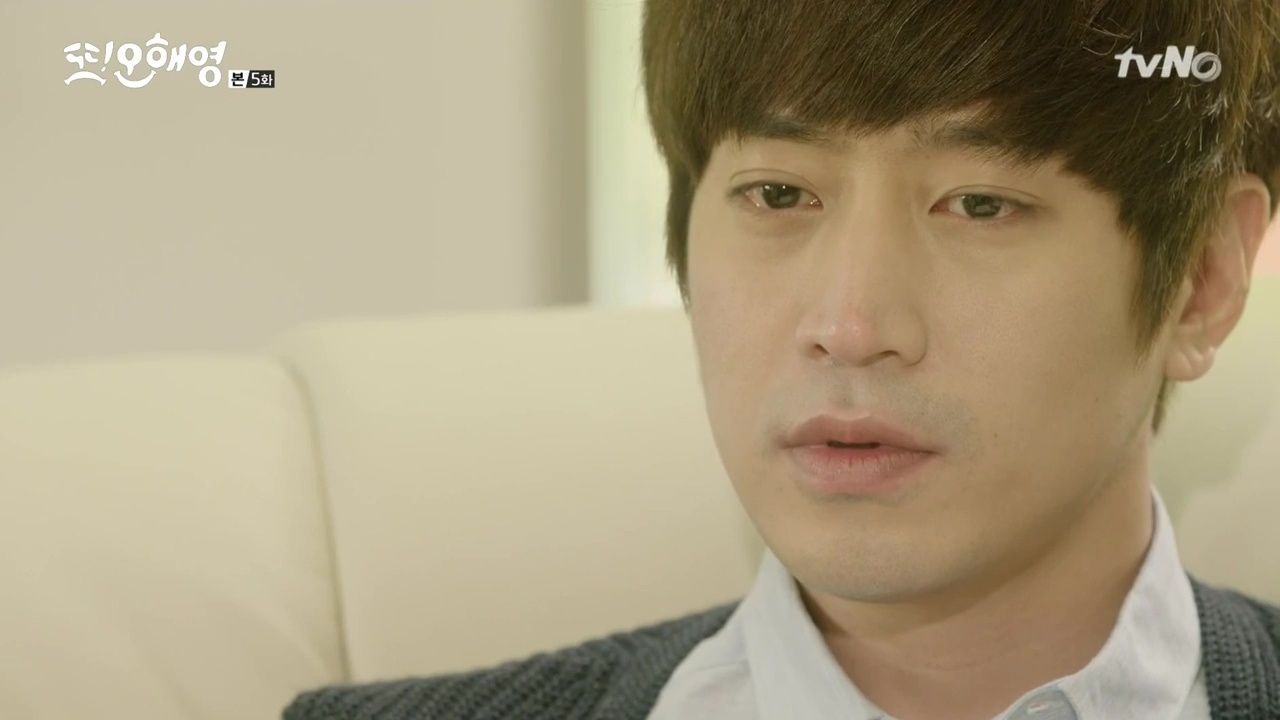 She yells through the door for Do-kyung to come home — she won't ask him to like her back, she's just so lonely. She's not aware that Do-kyung leaves his equipment on constantly, and it's recording every tearful word she says.
Do-kyung's therapist asks if he's ever seen the woman he's going to marry in his visions, and he says he hasn't, he only sees Hae-young (and that doesn't say something to you… ?). The therapist quotes Einstein and suggests that perhaps he's experiencing actual memories out of order, and asks what's the first thing he thinks when he sees Hae-young in a vision.
Do-kyung says that he feels very sad for her, so sad it makes him crazy. He threw a rock that broke her wings, and she flew into his arms not knowing the truth. He wants for her to heal and fly away. He thinks about his vision of running into her on the street, but the vision ends with her turning away from him.
He says again that he wants her to heal and fly, but he's so afraid that while he waits, he'll fall for her. We see that he'd heard her message the night he came home drunk, and it had touched him.
As the other Hae-young is walking home from work, she slows to window-shop, and suddenly curls in on herself. She crumples, keening and gasping for air, and a woman stops to call for help.
While Do-kyung is working on another scene (ha, that's Lee Dong-wook in a scene from Bubblegum) he hears a loud crash in the next room, but none of his employees heard a thing. He goes looking for the source of the noise but finds nothing, and then he hears it again, this time accompanied by a new vision.
He sees a pane of glass being smashed as something is thrown through it, and on the other side of the glass is Hae-young, looking furious.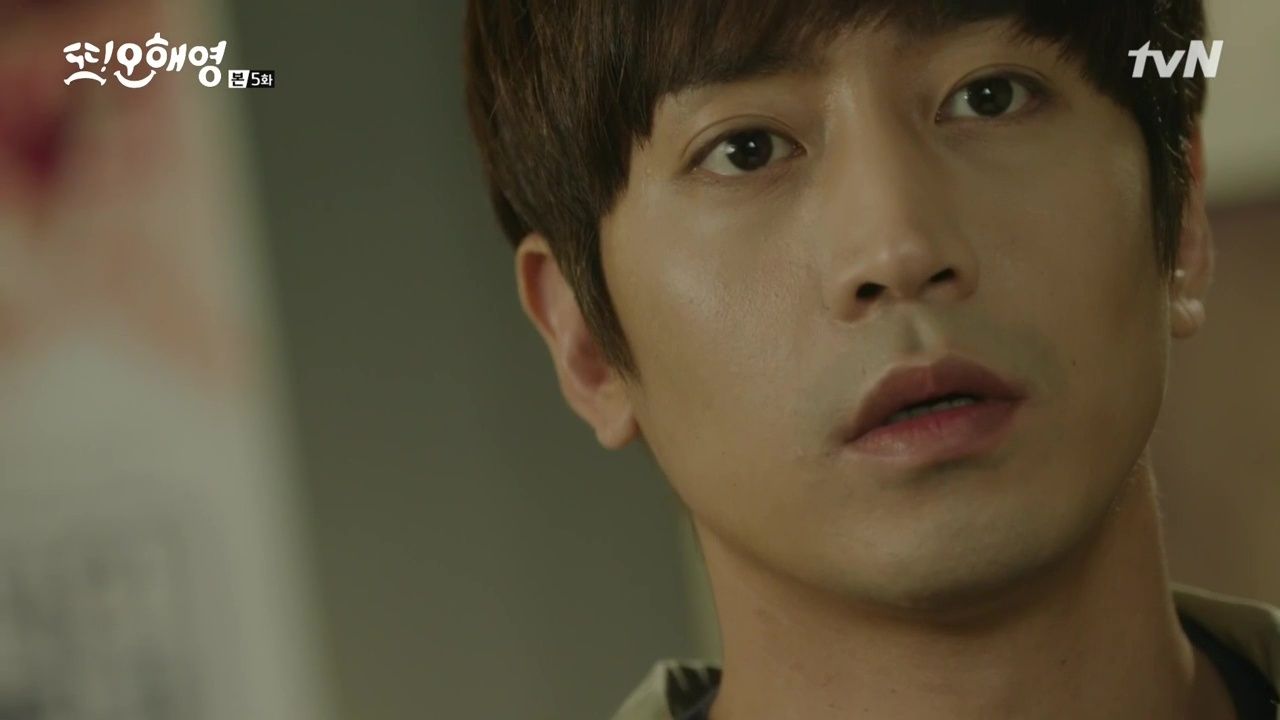 COMMENTS
Of course the other Hae-young is sick, because this is a drama and isn't that usually why people leave their fiance on their wedding day? Heaven forbid they actually tell the person they intended to make their partner in life that they're sick, and ask for support. Much better to just disappear, scarring everyone emotionally, then show up a year or so later and expect everything to pick up right where you left off. I actually hope I'm reading the situation wrong, because this drama has so far avoiding the more annoying tropes, and I'd prefer it to stay that way.
I almost forgot that Do-kyung did something that harmed Hae-young, by having his friend withdraw his investment in her fiance's company. No wonder he feels so reluctant to get closer to her — he probably thinks that once she finds out, she'll never forgive him anyway. She's dangerous to him, because he can't avoid her and he can't stop himself from caring about her, no matter how hard he tries. I think he's beginning to realize that it's already too late, though I expect him to try to fight it a while longer before giving in. I do like that he's evaluating his feelings for our Hae-young independent of the fact that his ex has reappeared, which tells me more than any words how much he cares about her already.
Speaking of which, can we talk about the chemistry between Do-kyung and our Hae-young? Whew. When she got close to him and yelled, but he kept looking at her lips like he could hardly focus with her so close, my own stomach did a flip. But it's not just physical chemistry — they have incredible emotional chemistry too, seeming to mesh together like they've known each other their whole lives. Hae-young feels comfortable enough to say exactly what she's thinking to Do-kyung even though he gives her few clues that she's welcome… she seems to just understand that she is, by the way he leaves the door open for her, or just his calm, open energy. Even when they have a fight, the next morning they make up without even needing to talk it out. Hae-young said her piece, Do-kyung didn't argue (which is the same as agreeing that she's right, for him), and it's done.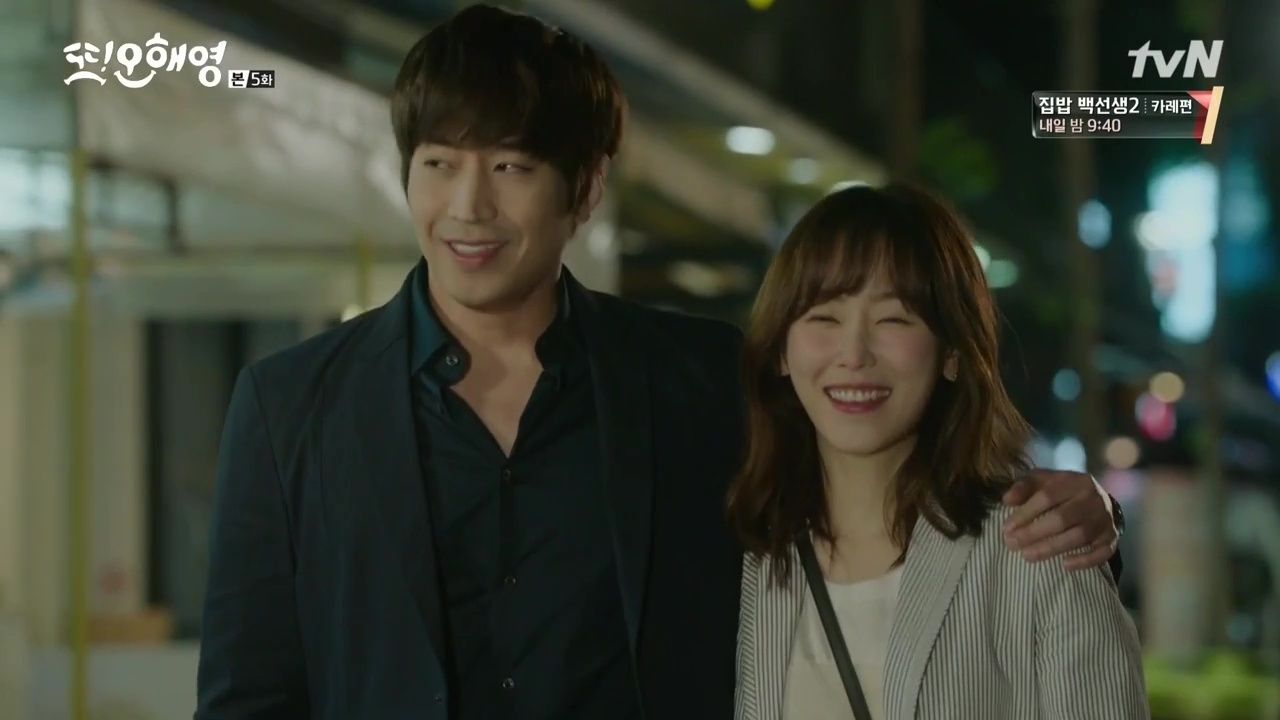 On the other hand, it's hard to watch our Hae-young wilting in the presence of her old rival, when we know that she has every right to own her awesomeness and leave the other Hae-young eating her dust. I don't mean by pretending to date Do-kyung, because that's deceptive and cruel and unworthy of them both. I just mean that Hae-young has gone to a lot of trouble to convince herself that she's smart and beautiful and capable (which she is! She just took a while to realize it herself) and I hate seeing her lose all that confidence the moment the other Hae-young enters the room. I don't even think the other is prettier than our Hae-young, but for argument's sake let's say she is… even then, it's much better to have an amazing personality and to love yourself, than to be physically attractive. The other Hae-young is accomplished as well, but I wonder how much of her success was handed to her because she's pretty? Seeing how people treat her, it's easy to guess that even though she is intelligent and a nice person, at least a percentage of her professional success is because of her looks and her aegyo.
So I'm glad that last week, we got to see our Hae-young saying that even after what she's gone through, and the hits her confidence has taken over always coming in second, she still doesn't wish she were any different. She's learned to like herself the way she is, and she takes pains to be the best Hae-young she can be. As she struggles to navigate her life with the other Hae-young in it now, I just want her to remember that, and her little rebellions like refusing to take off her scarf give me hope that she can do just that. Do-kyung already sees it; even if he's not quite ready to open his heart and love her, he's well on his way. Finding a partner isn't the end-all-be-all of life, but loving someone and being loved can be a pretty magical part of life. Our Hae-young is more than deserving of love, if she only can let herself stop feeling like second place.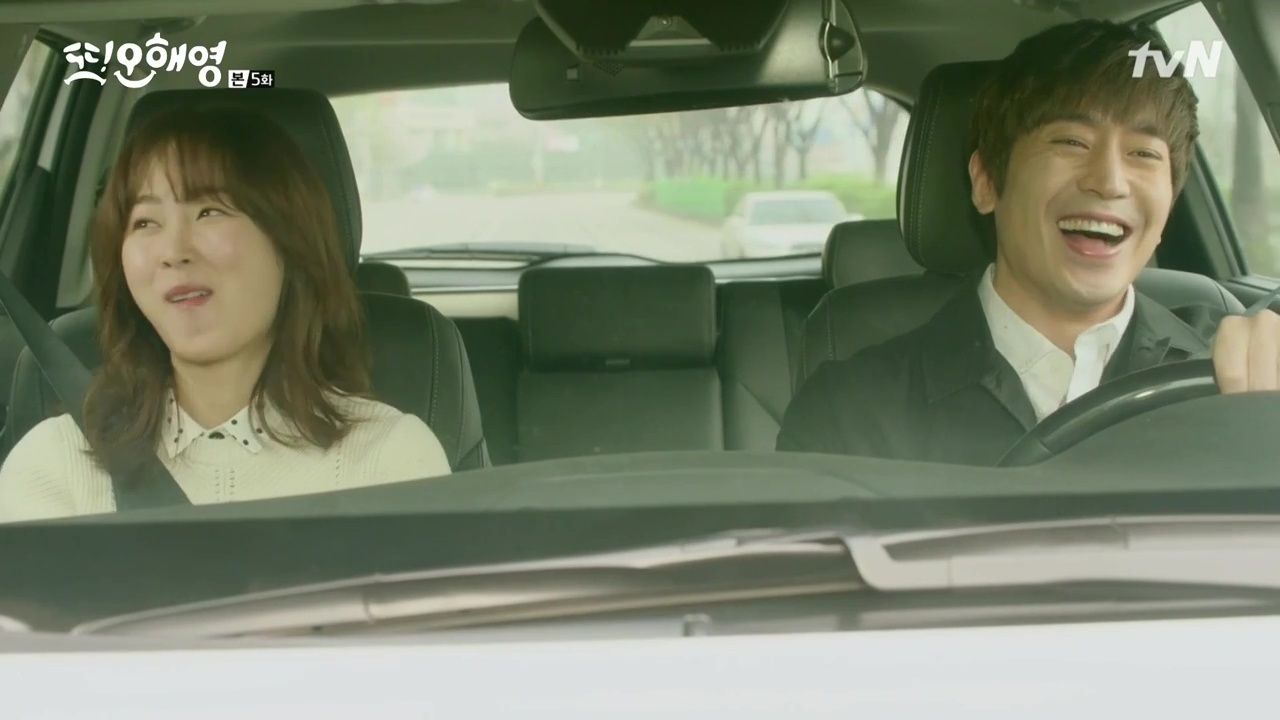 RELATED POSTS
Tags: Episode 5, Eric, featured, Jeon Hye-bin, Oh Hae-young Again, Seo Hyun-jin