Oh Hae-young Again: Episode 6
We finally learn a bit about the past, and a little insight into why things ended up the way they did for Do-kyung. Things are not always as they seem, not that it excuses lack of communication and abandonment, but it may offer a reasoning that softens the blow. But truth always brings the possibility of change, which isn't always a good thing, especially when a tentative peace has just been established.

EPISODE 6: "Half love, half pity"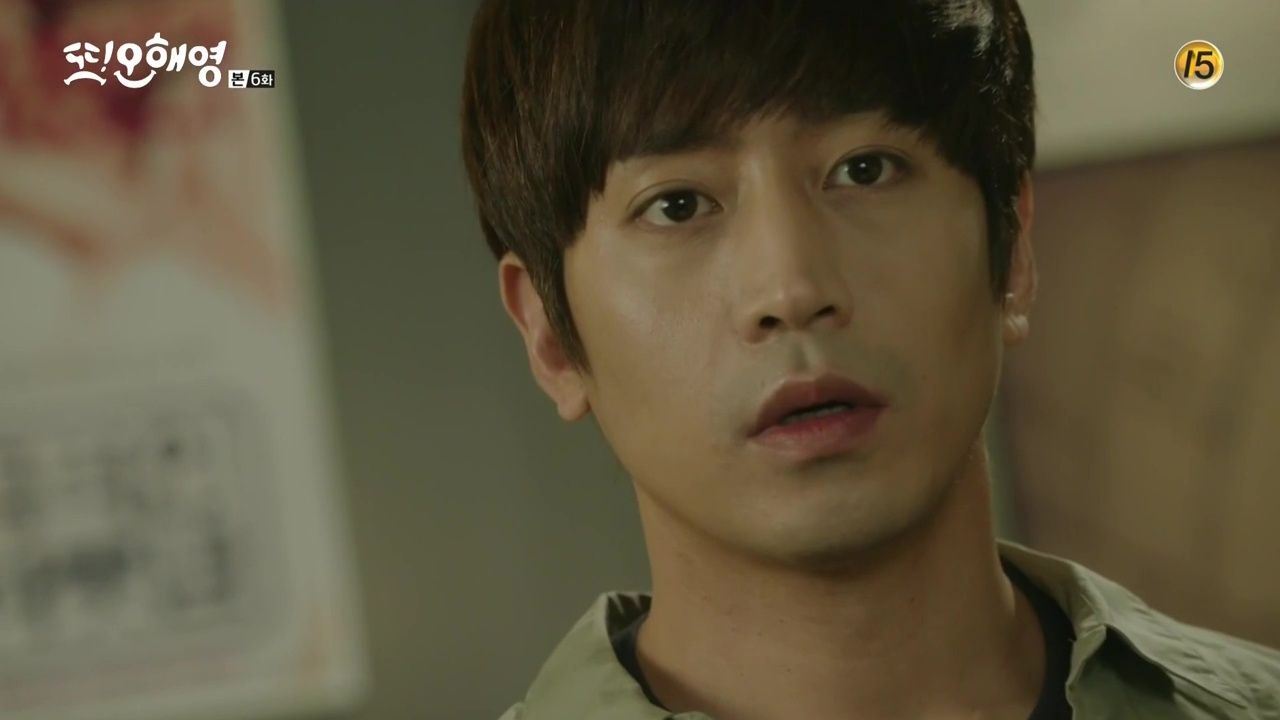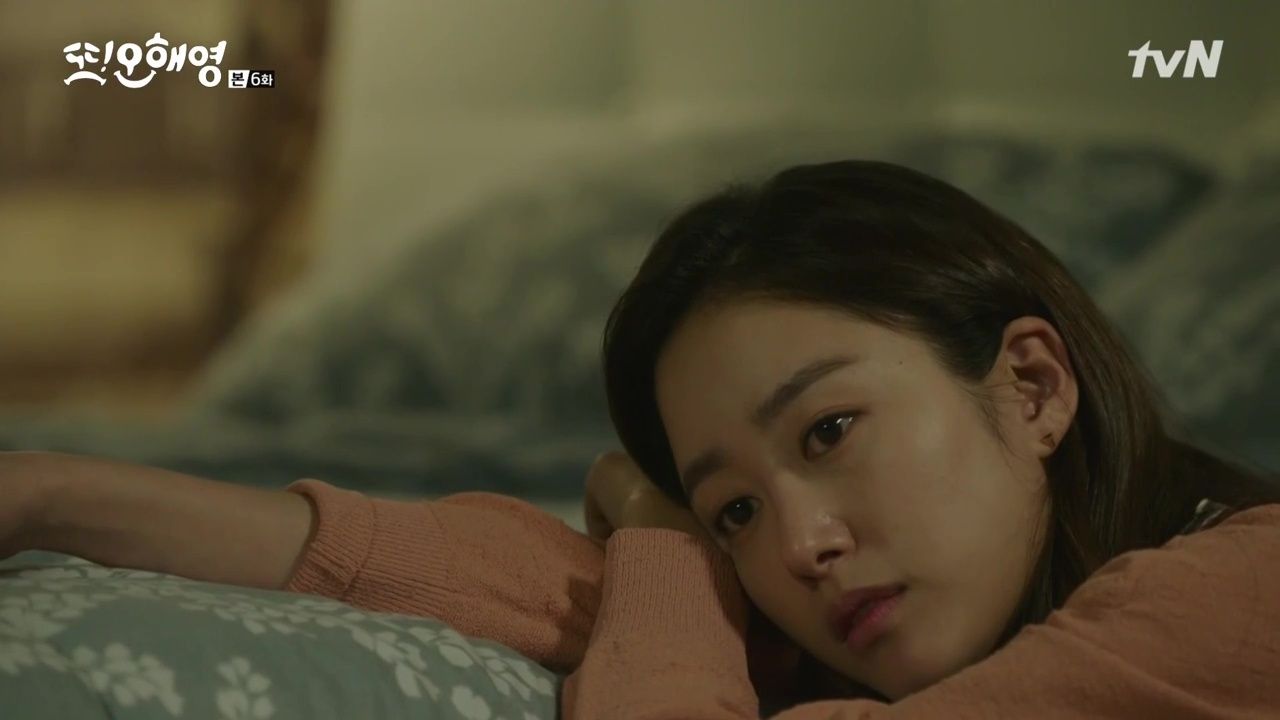 Do-kyung goes looking for the source of the crashing sound he hears, while our Hae-young cries for him to come home, and the other Hae-young gasps for air in the streets. He sees a vision — an object flying through a window, and our Hae-young on the other side, fury in her eyes.
As it turns out, the other Hae-young was hyperventilating, triggered by an old typewriter she saw in a shop that reminded her of one that Do-kyung used to work on. When she thinks of him a deep bitterness rises, something she could never tell anyone. She thinks that she wants to tell him why she left like she did, but he doesn't seem interested in hearing it.
Hae-young's mom gets angry when she hears that Dad agreed to set Hae-young up on a blind date — they don't need to get rid of her that much. She yells that Hae-young doesn't need a man and can live alone perfectly fine. Go Mom!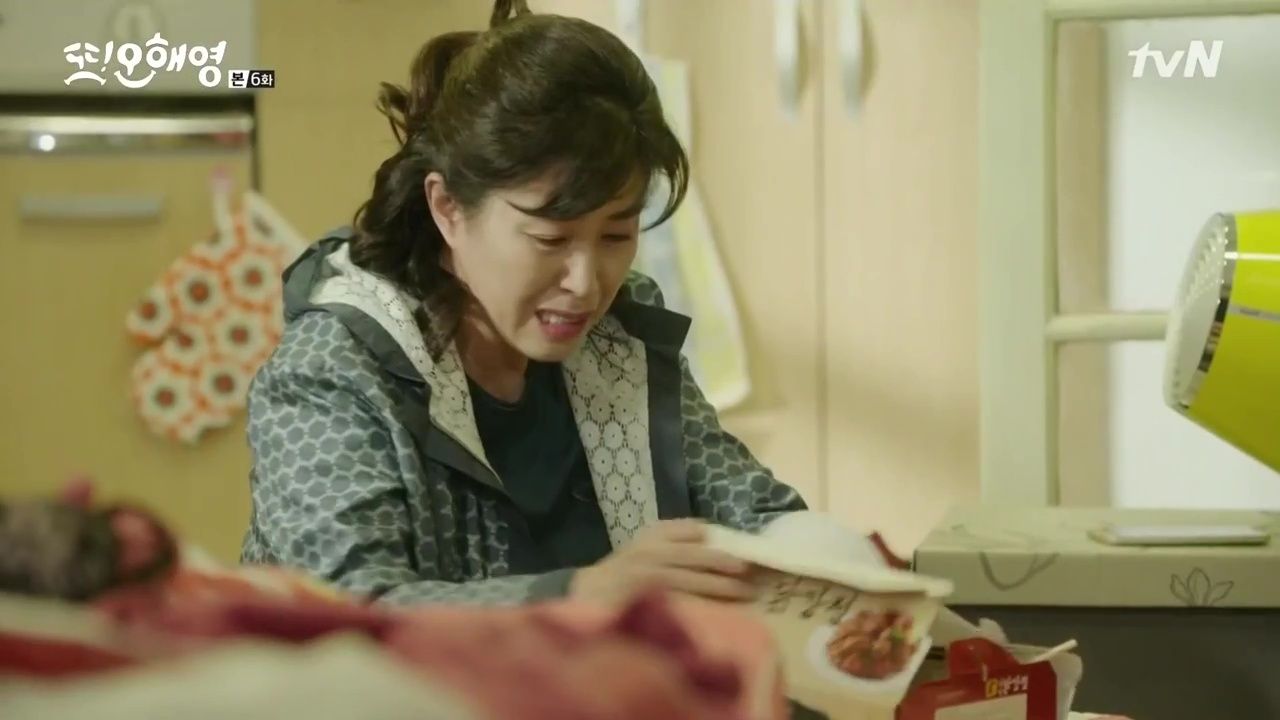 Dad uncharacteristically insists that she needs to get married, because when he thinks what his life would have been like without Mom… and he gets choked up. Awww, Dad. Mom heads out to Hae-young's place, but she narrowly misses her daughter on the bus.
She calls Hae-young to yell at her for her messy apartment (as she cleans it up — once a mom, always a mom), then she sits down among the debris to snuffle that her daughter and husband are both pitiful.
Do-kyung can hear singing when he arrives home, and he recalls his premonition of Hae-young angrily throwing something through a pane of glass. He lets himself into Hae-young's place and sees someone lying on her bed in a face mask, listening to music.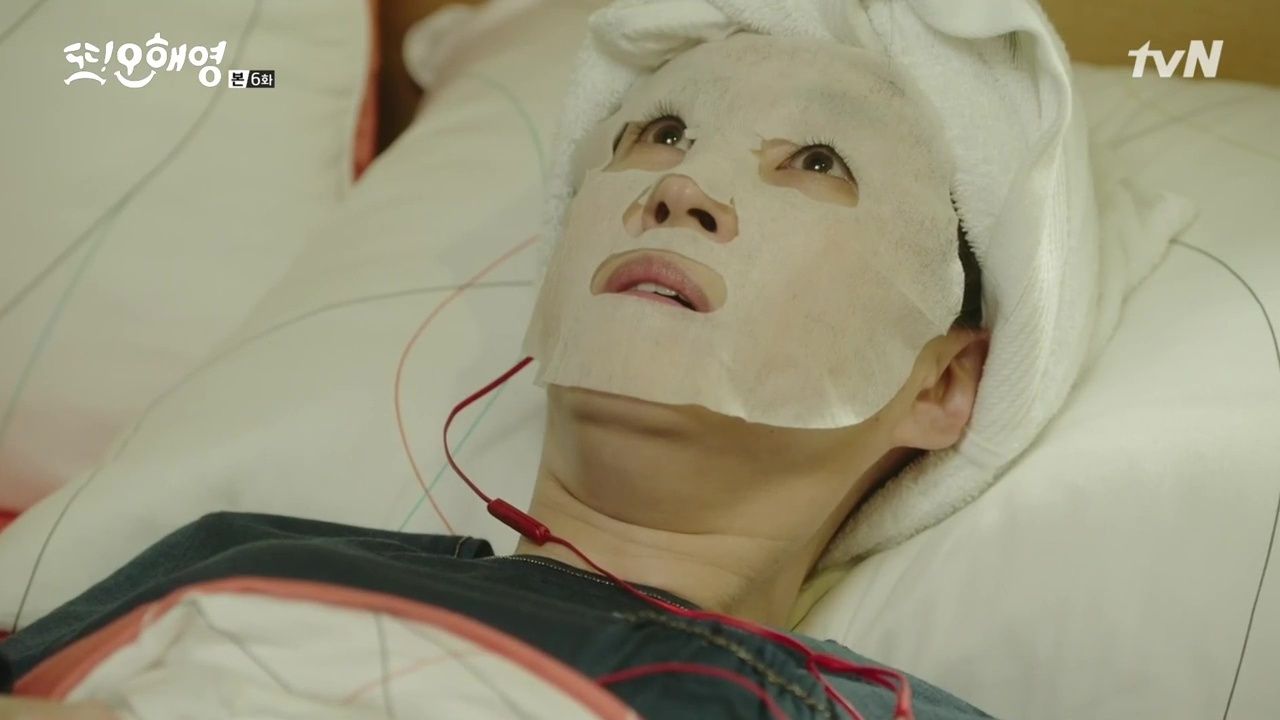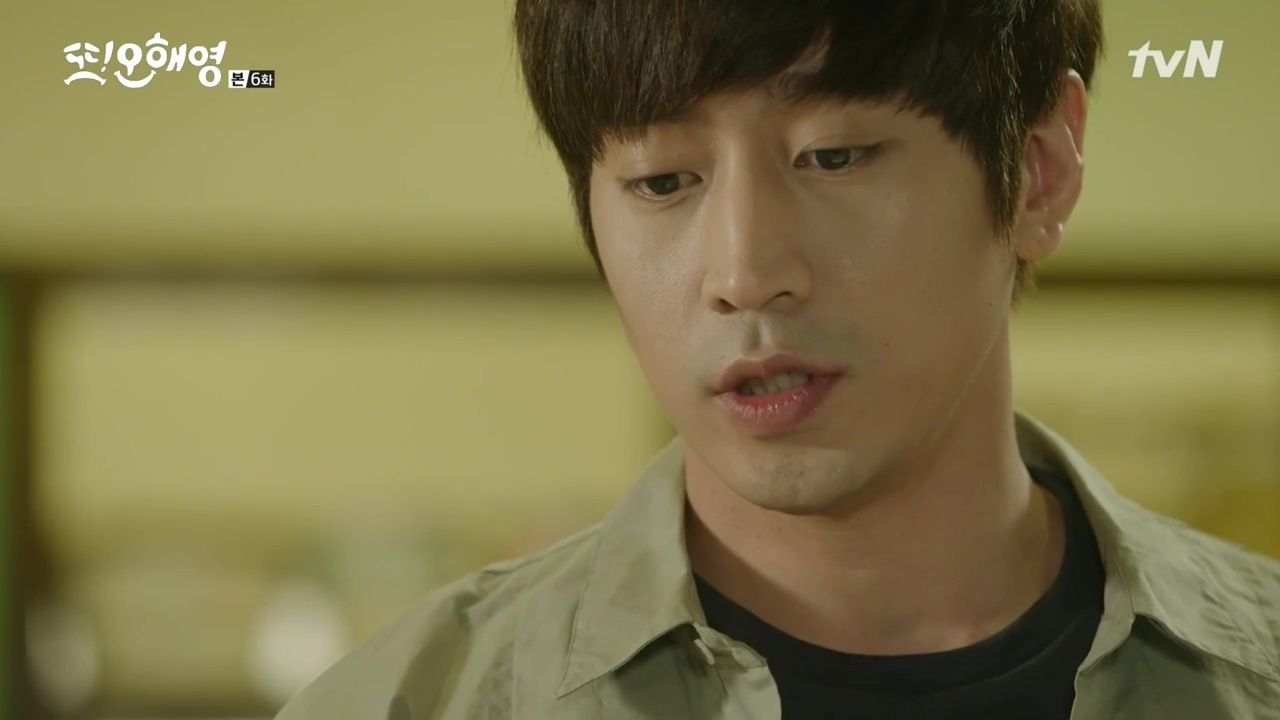 Assuming it's Hae-young, he pulls out her earbuds and grouchily asks why she's not at work, telling her to knock off the humming so he can rest. Startled, Mom just nods, and after he goes back to his side of the door, she wonders what the heck her daughter's been up to.
She finds the landlord's assistant who tells her the whole story, how Hae-young and Do-kyung fought over who should move out, but eventually decided to live in peace. But they were supposed to construct an actual wall, and Mom's eyebrows shoot up, knowing that they haven't.
At least Do-kyung is handsome and has good specs, being the CEO of his own company. Mom goes home in a bit of a daze, and tells her husband, "Kicking Hae-young out was the best thing we ever did for her." HA.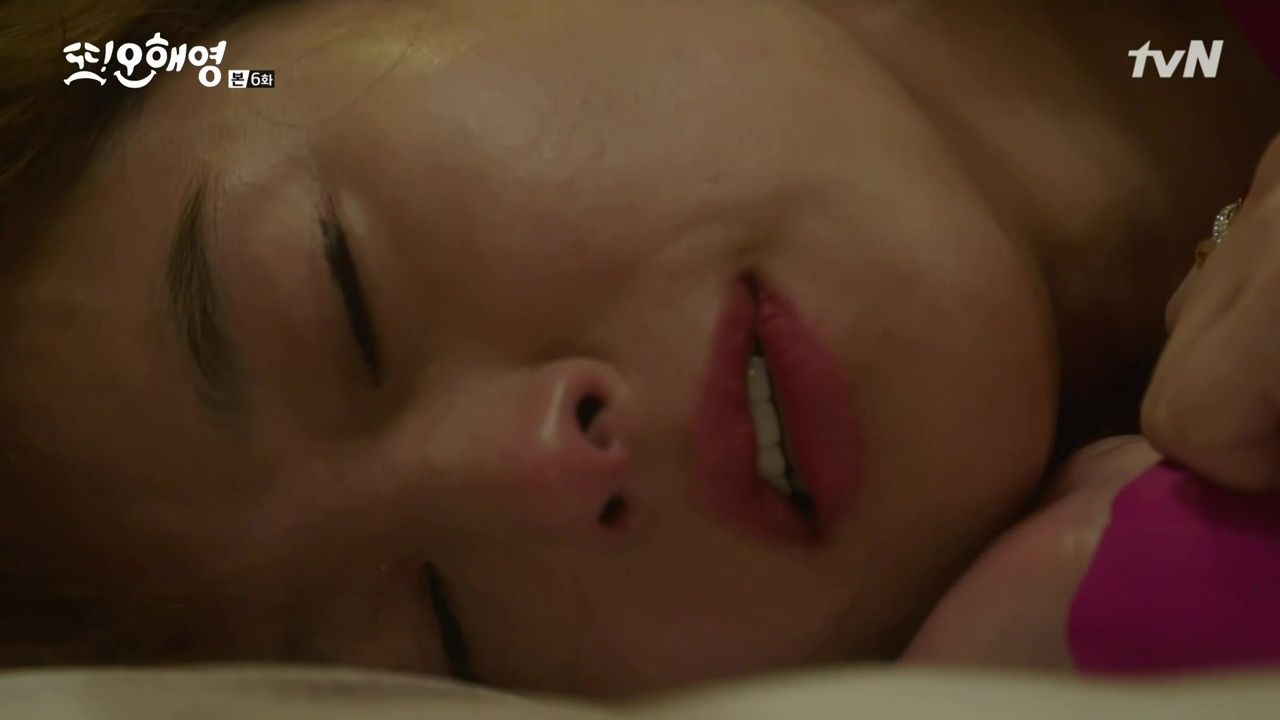 Jin-sang wants all the juicy details when he hears that the Oh Hae-youngs met each other, especially curious to hear why Do-kyung's ex left on their wedding day. Do-kyung says he didn't ask, claiming that he's not even curious. Jin-sang declares all Oh Hae-youngs to be nuts, and wonders what our Hae-young will do when she finds out what he and Do-kyung did to her fiance.
When Soo-kyung skips home drunk yet again, Jin-sang declares her perfect circus material, heh. She randomly asks if he thinks the aliens are coming soon, and he says they are, just to get rid of her.
We get a little insight into why Soo-kyung drinks to oblivion every night — apparently she got dumped, and she's been going to the restaurant where they used to go every evening, hoping he'll show up again. She messes up her hair in case she sees him again, so that he won't recognize her when she does.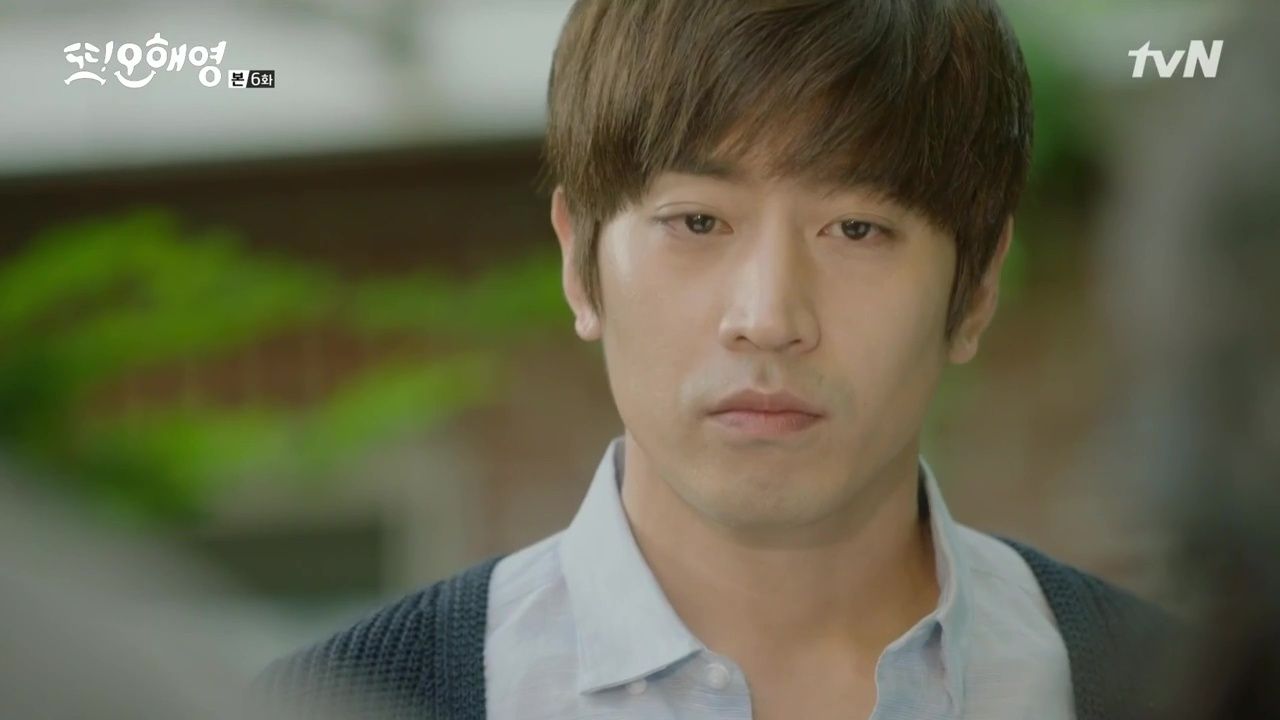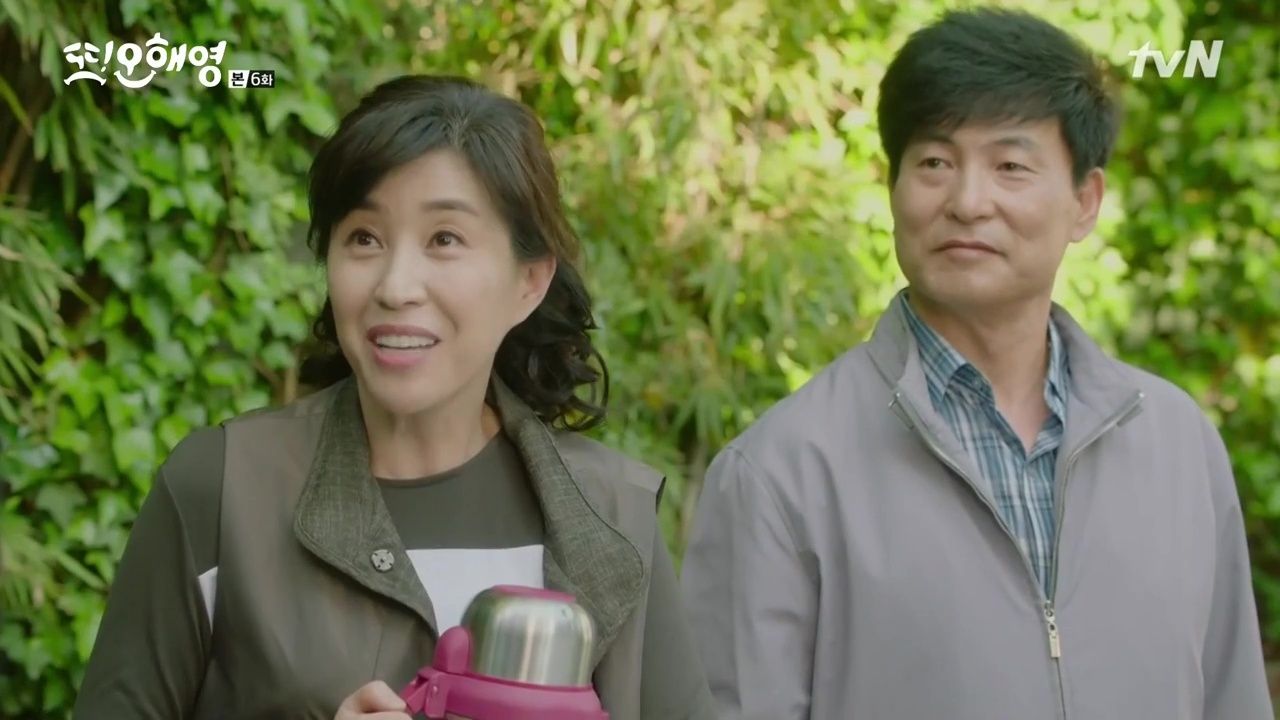 She imagines herself in the midst of an alien invasion with her love, happy that the world will be destroyed and she doesn't have to hurt anymore. They'll both just die, and it will be over. It's a frivolous image, but in reality, Soo-kyung cries her heart out.
Mom takes Dad to visit Hae-young, though it's really an excuse to get a closer gander at Do-kyung. They pretend to be just arriving when he comes outside, and Mom makes a point to mention that it's Hae-young's birthday, and the poor pitiful thing hasn't got a man to celebrate with. Dad just stands there openly inspecting Do-kyung, until Mom finally drags him away. Once they get inside, Dad can't stop giving the secret door the hairy eyeball, hee.
Hee-ran feels bad that she's got plans and can't celebrate Hae-young's birthday with her, but Hae-young says she's too old to make a fuss anyway. She forbids Hee-ran to tell Do-kyung that it's her birthday, and says she's going to end her crush anyway, now that she knows he nearly married the other Hae-young.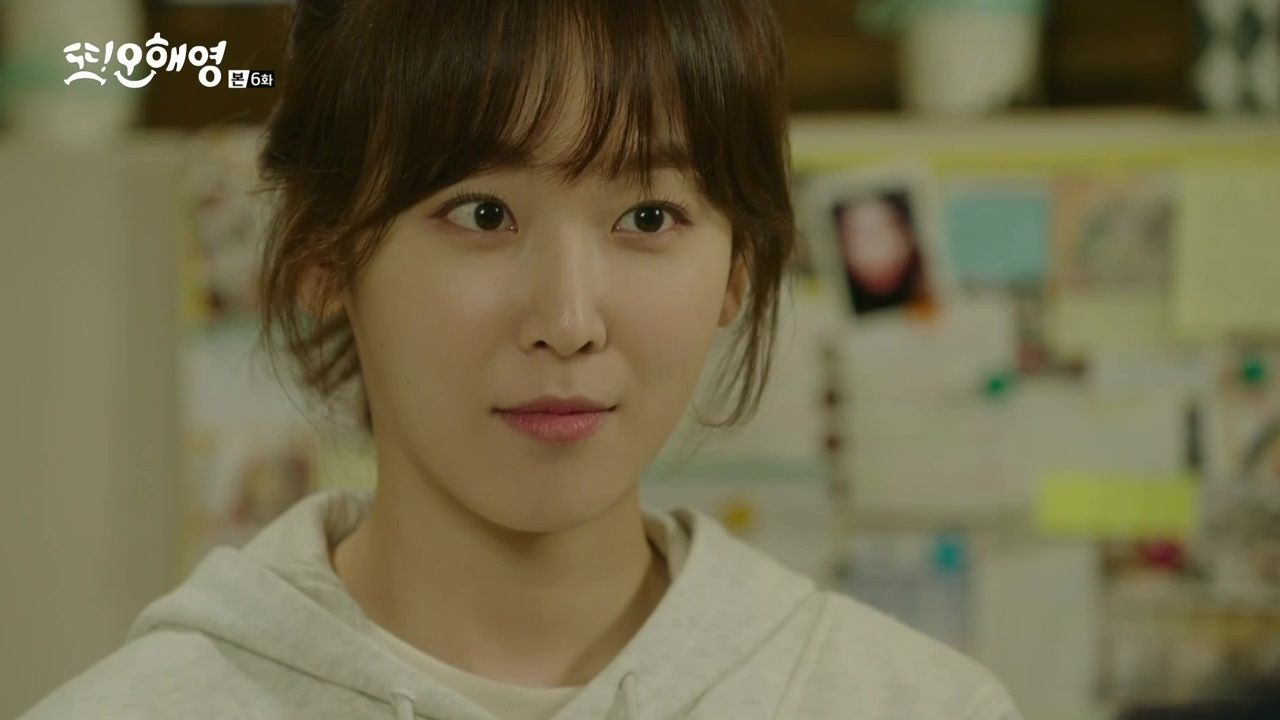 Do-kyung is fighting the urge to call Hae-young, and she plans to spend her birthday evening alone. But a knock on her door proves to be Do-kyung armed with drinks and snacks, which is so cute I can't even stand it.
Despite her earlier decision to stop liking him, Hae-young runs around cleaning up and setting out the snacks he brought, and when he lets himself through the secret door she sees him in romantic slow-motion, heh. She teases him for bringing snack cakes instead of a real birthday cake, and he shyly pulls a tiny little music box out of his pocket. How are you so adorable, sir?
He plays it off like it's no biggie, just something he had lying around, but he's not very convincing considering that it has a fluffy teddy bear wearing bunny ears on it. Hae-young calls him out for being afraid she'll attach some meaning to it, and says that she knows exactly what this gift means. She winds up the music box and they both listen to it tinkle out "Rock-a-Bye Baby."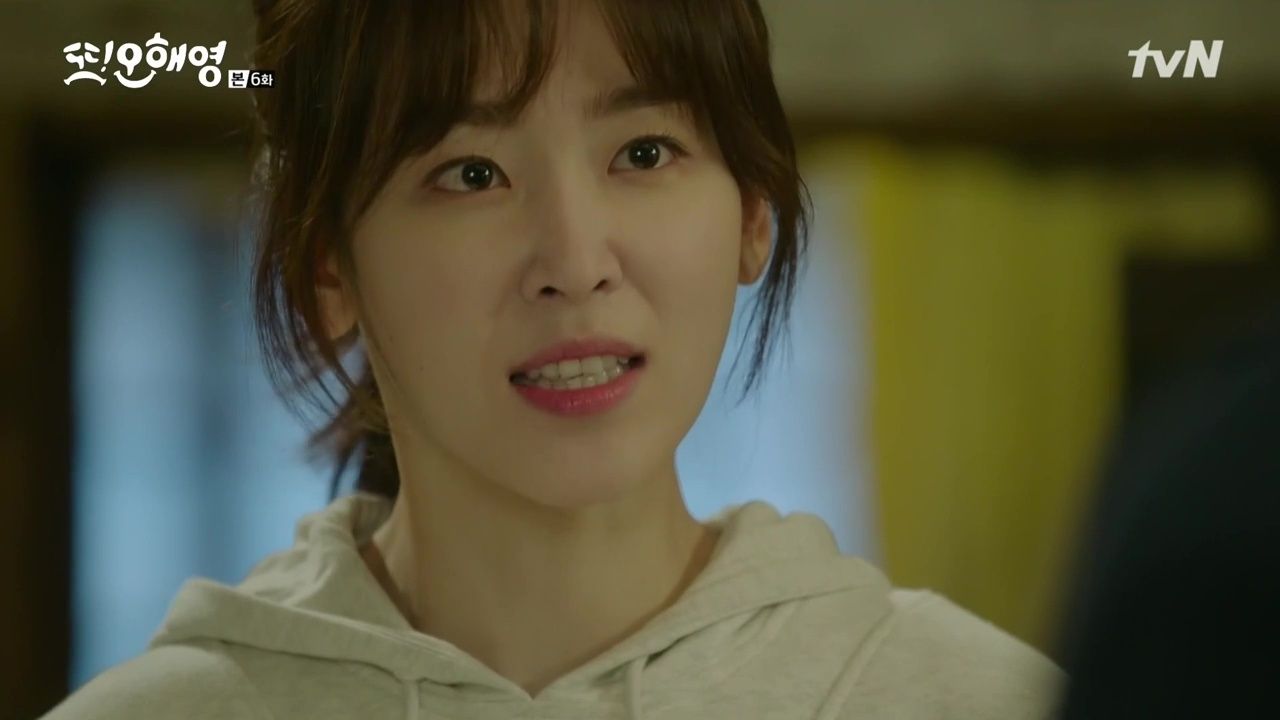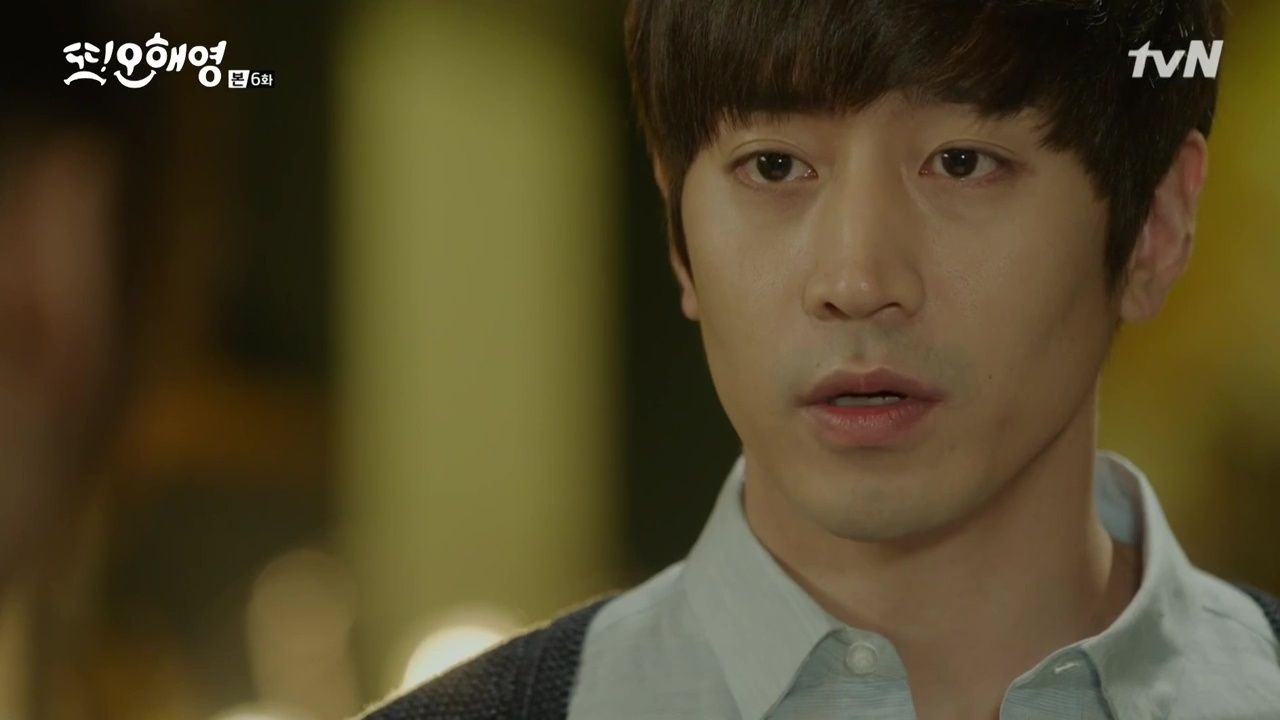 Hae-young gets a call and goes a little stiff, telling whoever is on the other line that she's alone. Do-kyung goes back to his own place to answer a call from Hoon and reset his recording equipment, then steps outside to toss his car keys to Hoon to borrow. When he heads back inside, his recorder is playing Hae-young's tearful pleading from the other night.
He hears Hae-young saying that she likes him, and how she'd cried that she was bored and lonely. He doesn't see Hae-young in her apartment also listening to her own voice, until she barges through the door to stop the recorder.
Do-kyung defends that he's not secretly recording her, it's just habit from his career. He says that usually he deletes the recordings without even listening — in fact this is the first one he's listened to since she moved in. Hae-young calms a bit and says she was just drunk, and that she throws herself at men all the time when she drinks.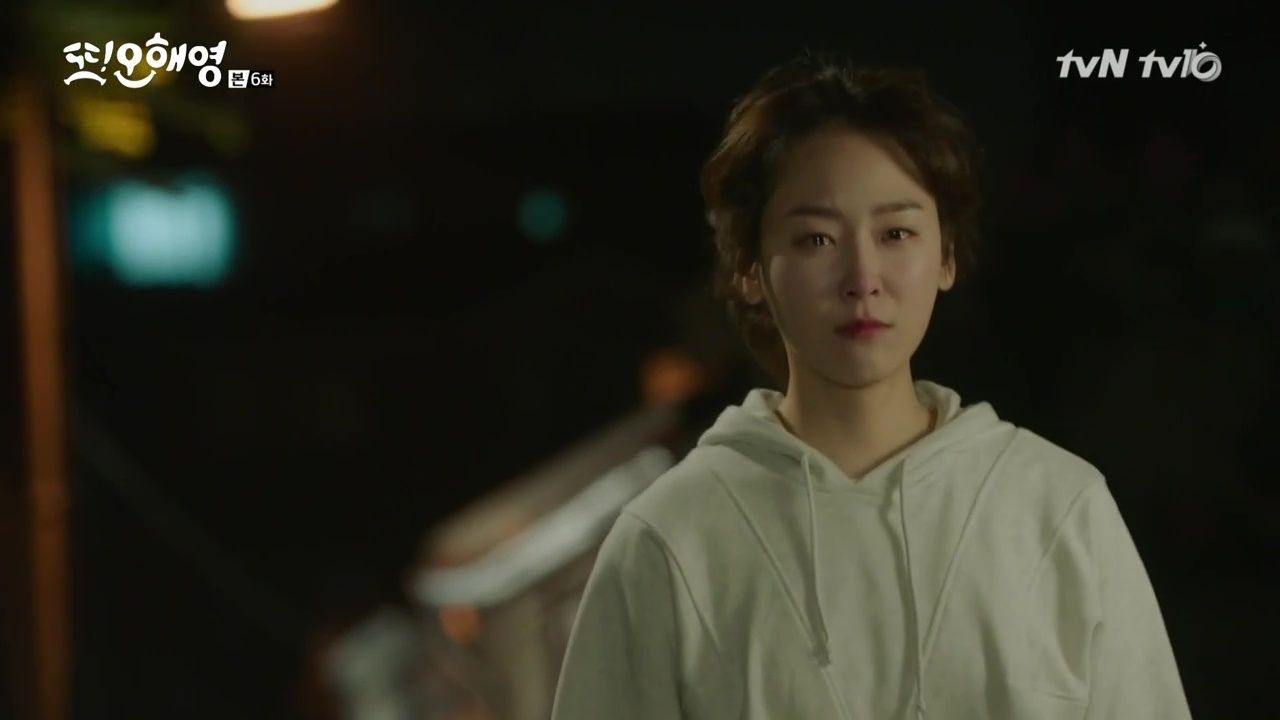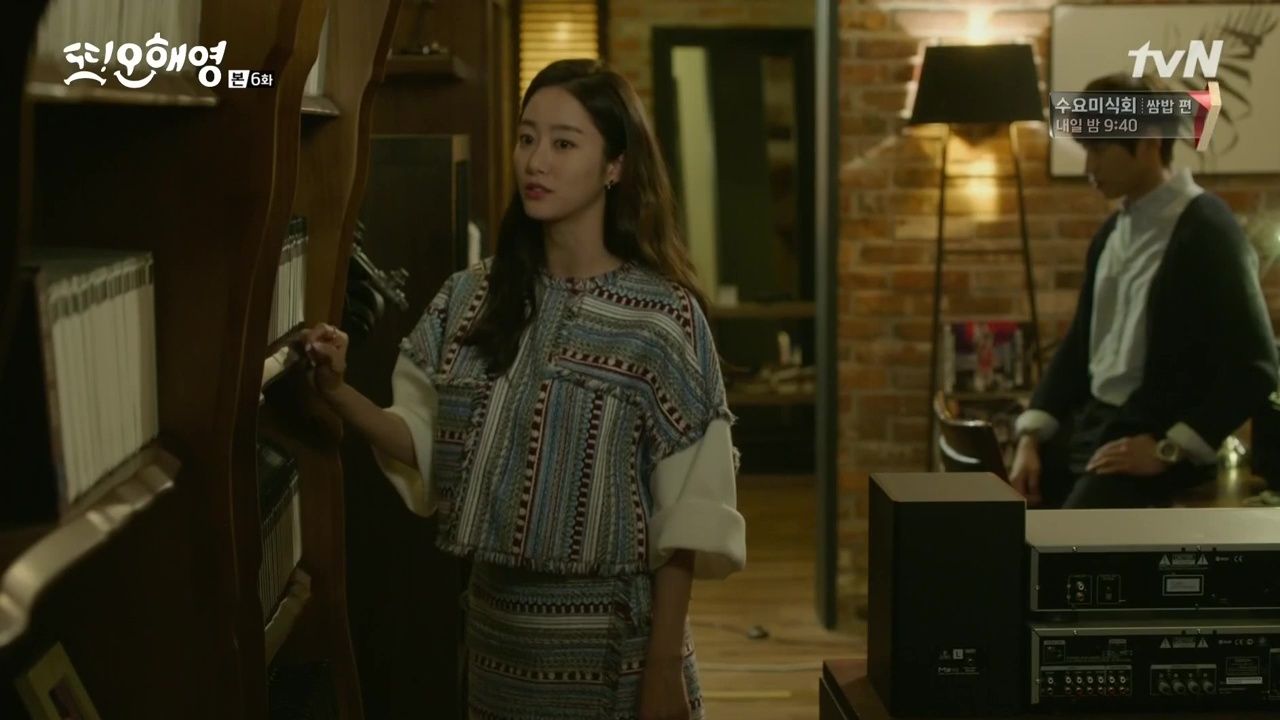 Do-kyung fires back for her to stop drinking and throwing herself at just any man, not even him. It's foolish and only hurts her. Hae-young asks why he's angry, claiming that she does it with tons of men, he's not special.
His doorbell rings, and they see that it's the other Hae-young at Do-kyung's door. Hae-young shoots Do-kyung this betrayed look, and goes back to her place. Too upset to stay where she knows the other Hae-young is, she goes out for an angry walk.
Do-kyung doesn't feel like chatting with the other Hae-young, and just tells her to say why she's here then leave. She says flirtatiously that she'd have to stay all night, then.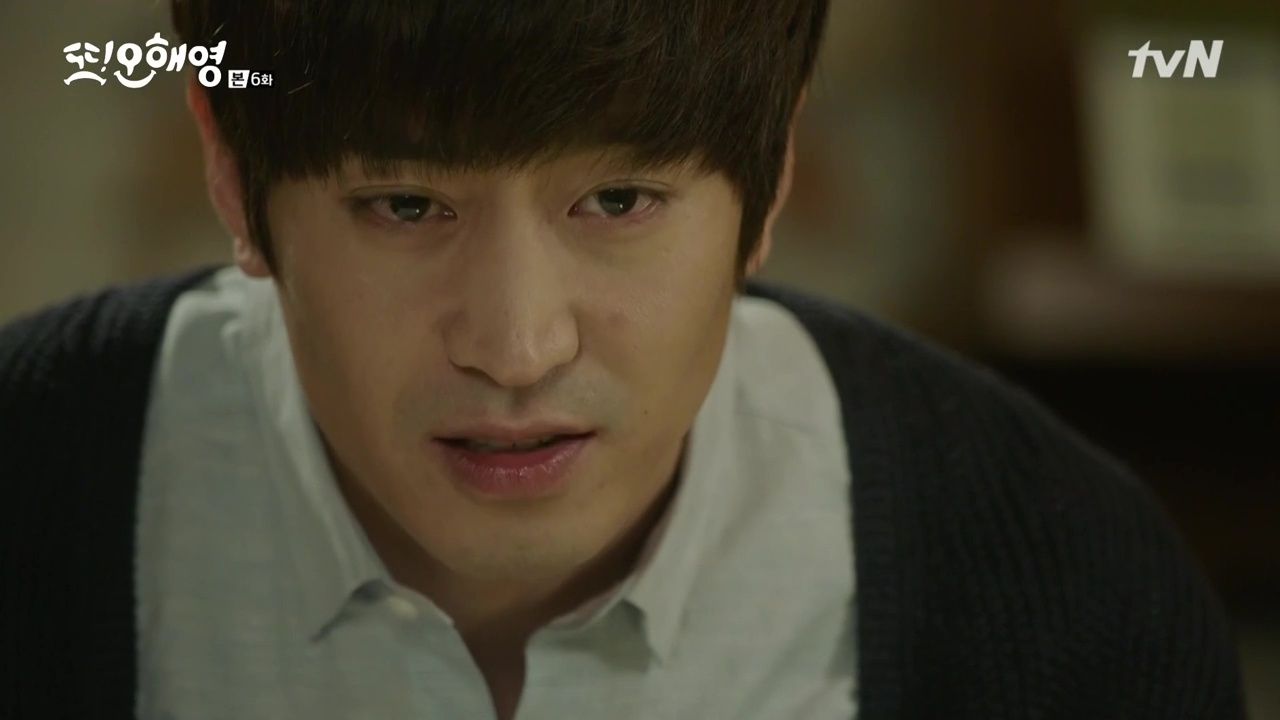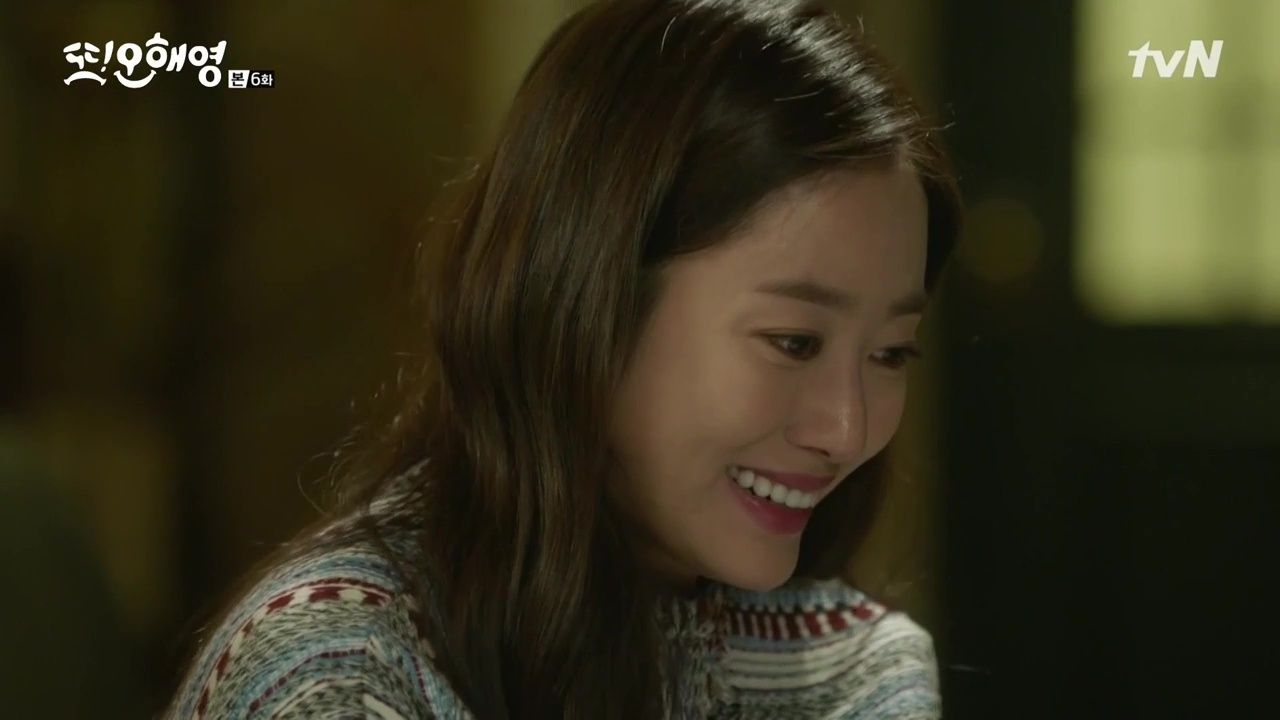 He remembers a time when he'd driven her home and she'd been distracted, but claimed to just be tired. It had been the night before their wedding and the last time he'd seen her, and he's never figured out why she just disappeared. He tells her now that there's only one resaon he can think of that would warrant his forgiveness, and asks if she had an incurable disease and was trying to push him away.
Hae-young says that's not what happened, that she wasn't sick, and Do-kyung's eyes go hard as he says, "You should have died." He's furious that she's back and acting like nothing happened, and his disgust is written all over his face. Hae-young smiles as she cries, which makes him even angrier, but she says that it's always been her habit because he didn't like women who cry.
He accuses her of blaming others yet again, and tells her never to come back here. But she wants to know why he's attracted to our Hae-young — was it because of their names? It's too big a coincidence for her to just accept it, but Do-kyung is offended that she'd think he was so hung up on her that he'd date someone just for sharing her name.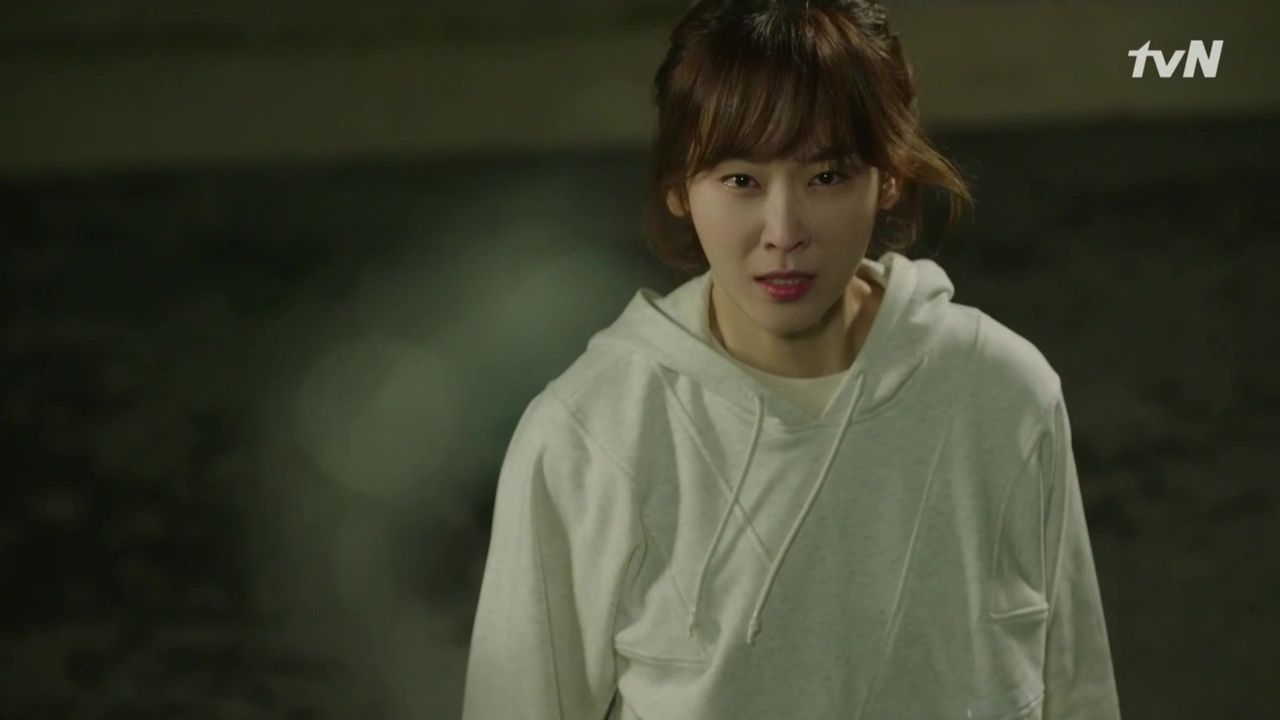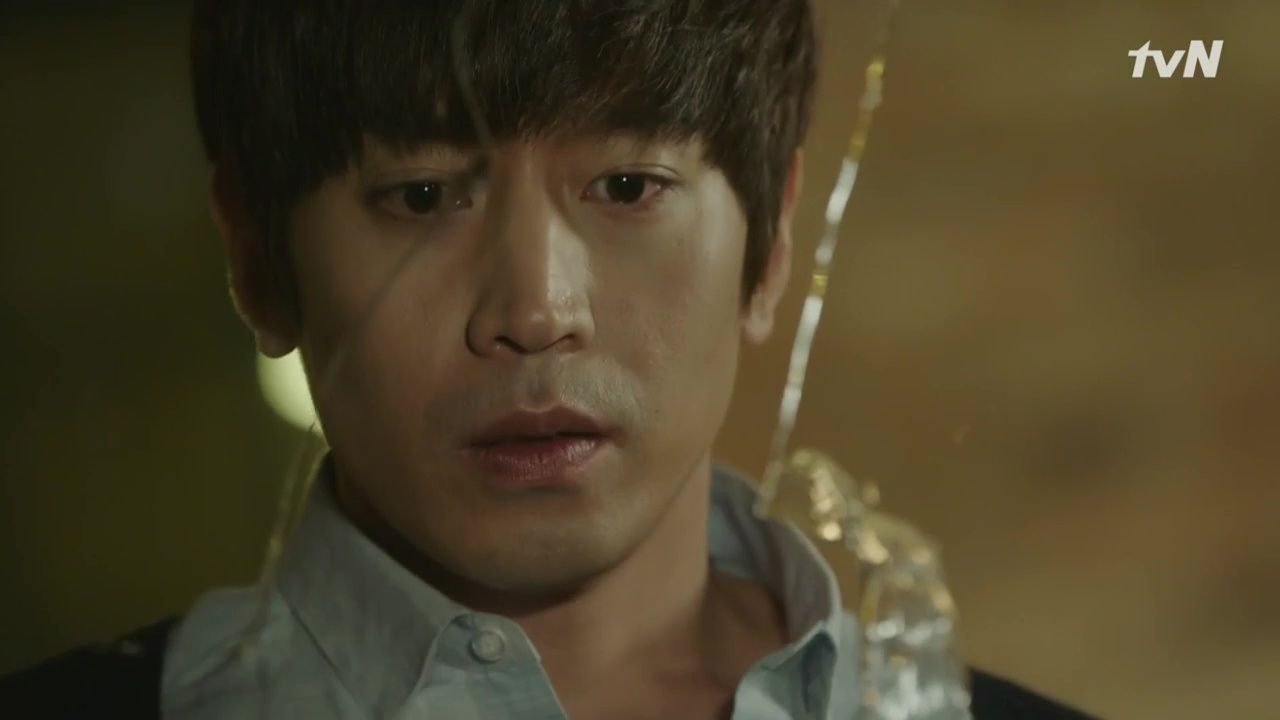 Just as their argument starts to escalate, a rock comes flying through Do-kyung's window, smashing the glass. He looks out to see our Hae-young in the courtyard, hissing in anger with tears in her eyes. It's his premonition come to life, and he watches as she whirls and leaves again.
Hae-young pedals her bike all the way to Hee-ran's place, accidentally interrupting what looks like a very hot-and-heavy date. Hee-ran sends her date away and Hae-young tells her the whole story, even admitting breaking Do-kyung's window.
Hee-ran thinks Hae-young should have stayed at Do-kyung's and staked her territory (so to speak), but Hae-young reminds her how she always wilts around the other Hae-young. Hee-ran gripes at her to grow up already — they aren't in school anymore, and what's there to be afraid of? Besides, as far as Do-kyung is concerned, our Hae-young is winning right now.
Hae-young cries out, "He found out that I like him!" and tells Hee-ran how he recorded her accidental confession. She's so embarrassed at how she rambled on thinking nobody would hear her.
She stays to spend the night at Hee-ran's, who says that Hae-young has been acting out of character lately. It's not like her to cancel her wedding, or to fall for another guy so quickly. She says she's seemed like a different person, and she's curious what it is about Do-kyung that's making her like this.
Hae-young says that she's just revealed her inner self to him — the one thing she couldn't tell anyone else. Somehow she tells her deepest secrets to him, and once she started, she couldn't stop.
Hee-ran says that means he's her person to rely on, which sometimes happens between men and women. You meet a person and you just instantly know you can tell them things you can't tell your closest friends. Hae-young smiles at that, and it calms her enough that she can finally rest.
A little while later she gets a text from Do-kyung: "Come home and sleep. I won't say anything." Awww, he's worried about her. Hae-young turns over to go back to sleep… then jumps up and rushes out. Go, girl, go!
She grins a mile wide the whole way home, and Do-kyung is waiting on his balcony when she enters the courtyard. Cue super-awkward moment, hee. Finally he goes inside without saying anything like he promised, and Hae-young wilts, simultaneously relieved and disappointed. Also embarrassed… "I came home too fast!"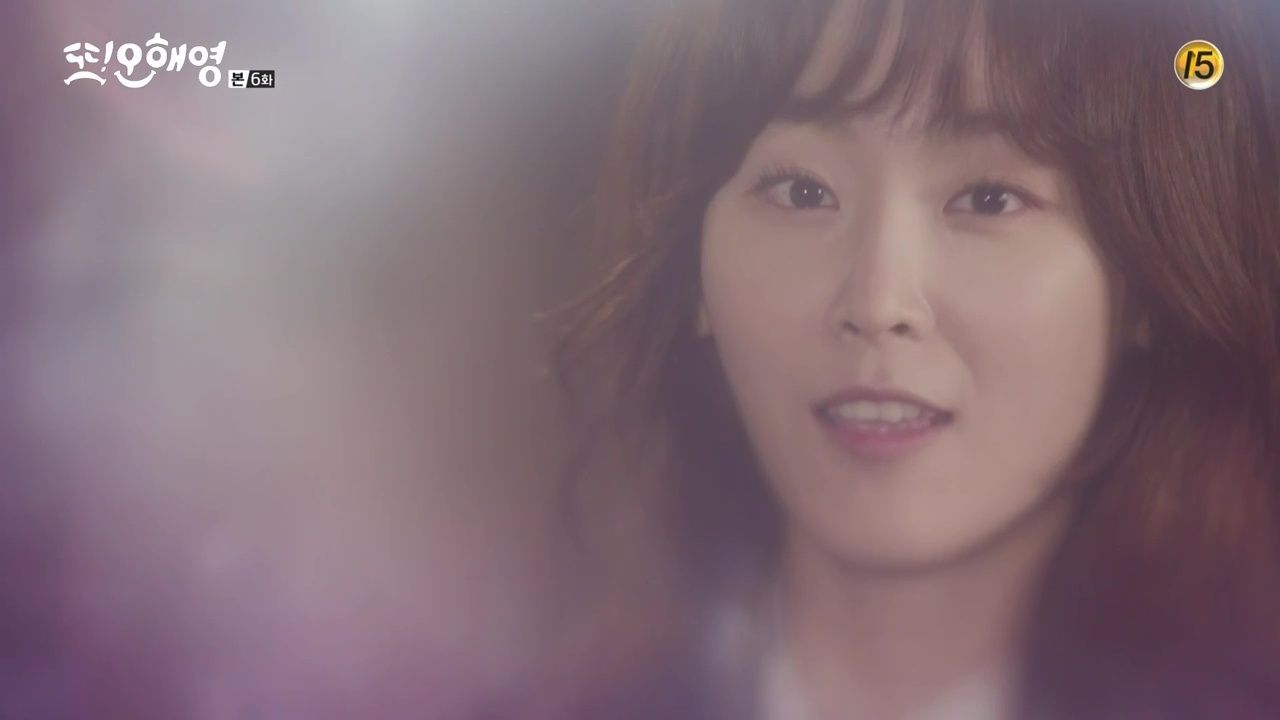 She makes a lot of noise coming inside, but Do-kyung just says through the door, "Go to bed." She gathers enough courage to ask why the other Hae-young came and if she'll be back, and Do-kyung answers that no, she won't. Hae-young asks him again to disregard what he heard on the recording, and not to feel pressured.
Do-kyung quietly agrees, promises not to record her again, and tells her to go to bed. She does, barking her shin in the dark, but she still can't rest. She bolts upright to add that she'll pay for his broken window, even though Do-kyung says it's not necessary.
Do-kyung does as he promised and turns off his recording equipment, even going do far as to dismantle it. He has another vision of Hae-young, smiling among a fall of cherry blossoms, saying softly, "Your hands are warm."
The other Hae-young works out her frustrated energy on a climbing wall, replaying our Hae-young saying that unless she's planning to get married, she's just playing with Do-kyung. Seeing Do-kyung and Hae-young together is eating her up inside, as well as the hatred in Do-kyung's eyes when she tried to talk to him. She loses her focus and falls off the wall, hanging in midair.
Do-kyung's mom has lunch with her fiance Chairman Jang and his grown daughter, who clearly doesn't like her. She points out that she'll inherit everything when her dad dies, and she's well aware that Do-kyung's mom is there to try to get some of that money. She's openly hostile, calling Do-kyung's mom old and tacky, and finally leaves the table in disgust.
She runs into the other Hae-young on her way out, and it seems the two know each other, though the daughter doesn't seem overly pleased to see Hae-young. Ah, apparently at one point Hae-young's mother was married to Chairman Jang, though the daughter allows that she was the only wife that wasn't after his money.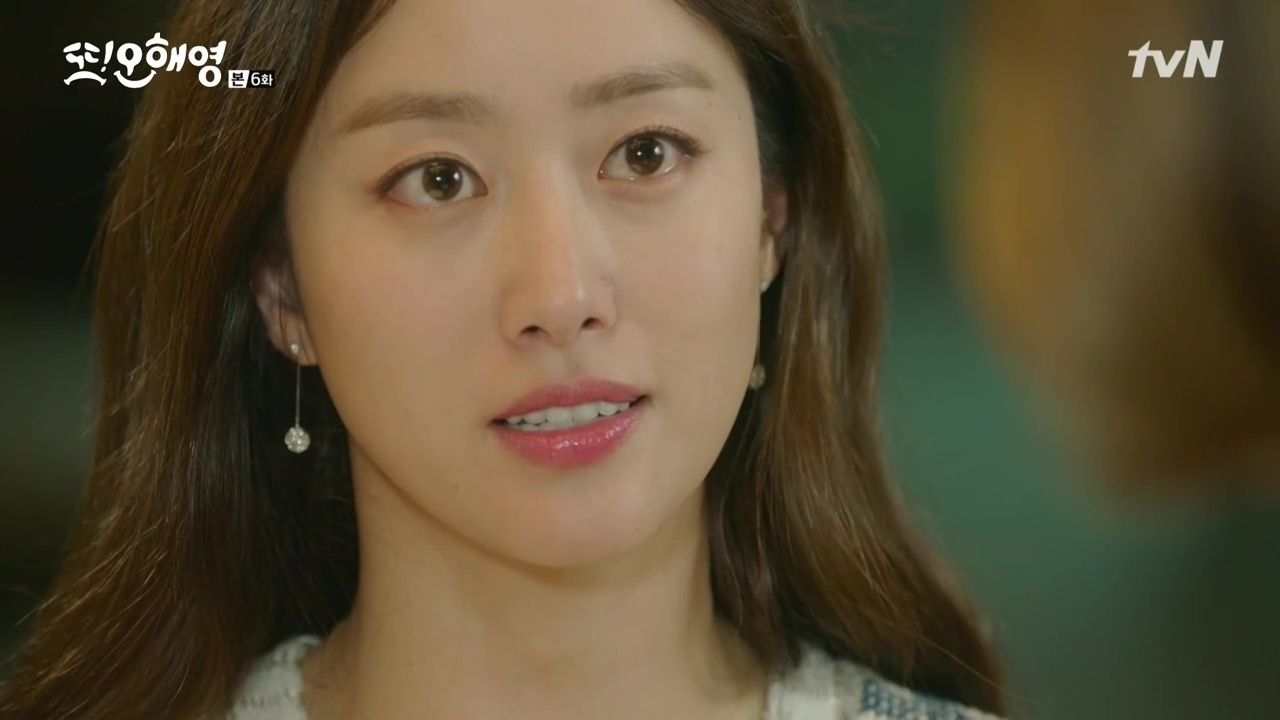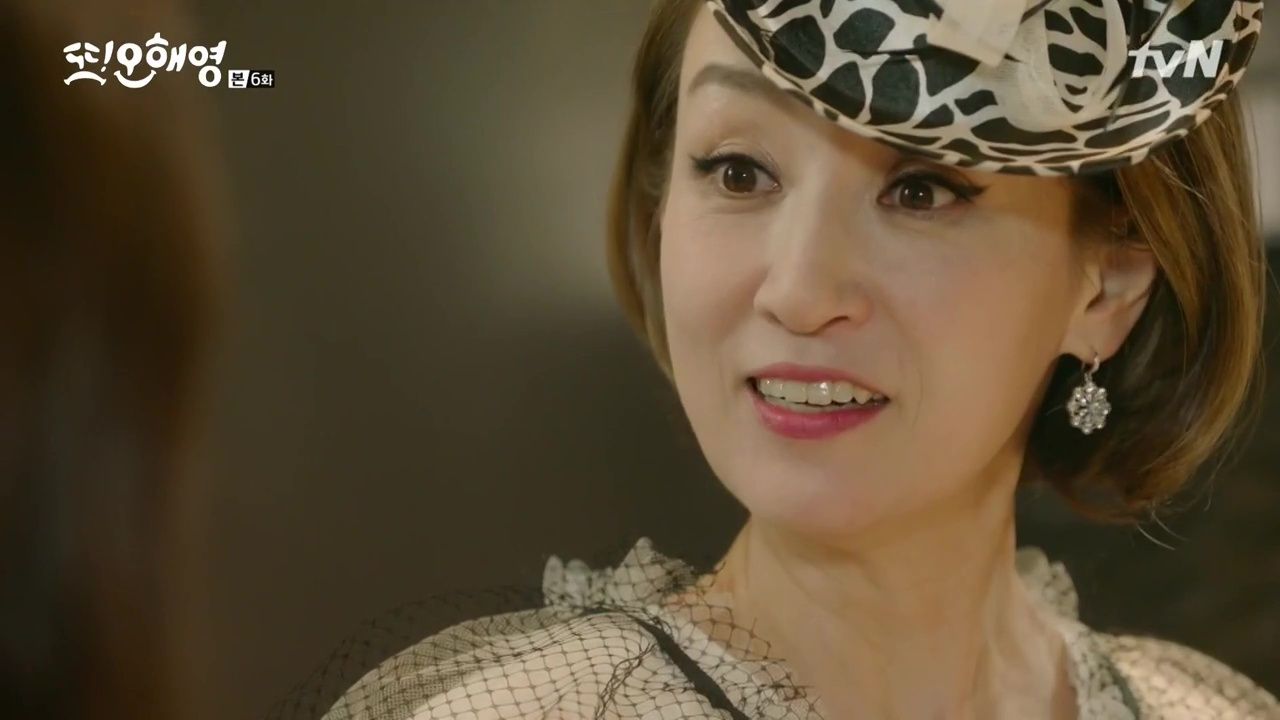 Hae-young goes in to say hello to the chairman, and things get really awkward she and Do-kyung's mom recognize one another. Chairman Jang is completely oblivious to the frost in the air.
Hae-young approaches Mom in the lobby, and Mom is looking very nervous. Hae-young is colder than we've seen her, and reminds Mom that she once told her she'll take after her mother and switch men often. She seems to find unhappy amusement to catch Mom with one of her mother's exes.
She asks if being the fifth wife wouldn't be humiliating, and Mom finally whirls around and spits out, "So what?!" She asks if Hae-young plans to try and ruin her wedding, and Hae-young says she does: "I want to ruin it just like mine." Do-kyung's mother screams back that Hae-young ruined her own wedding, and leaves as quickly as she can.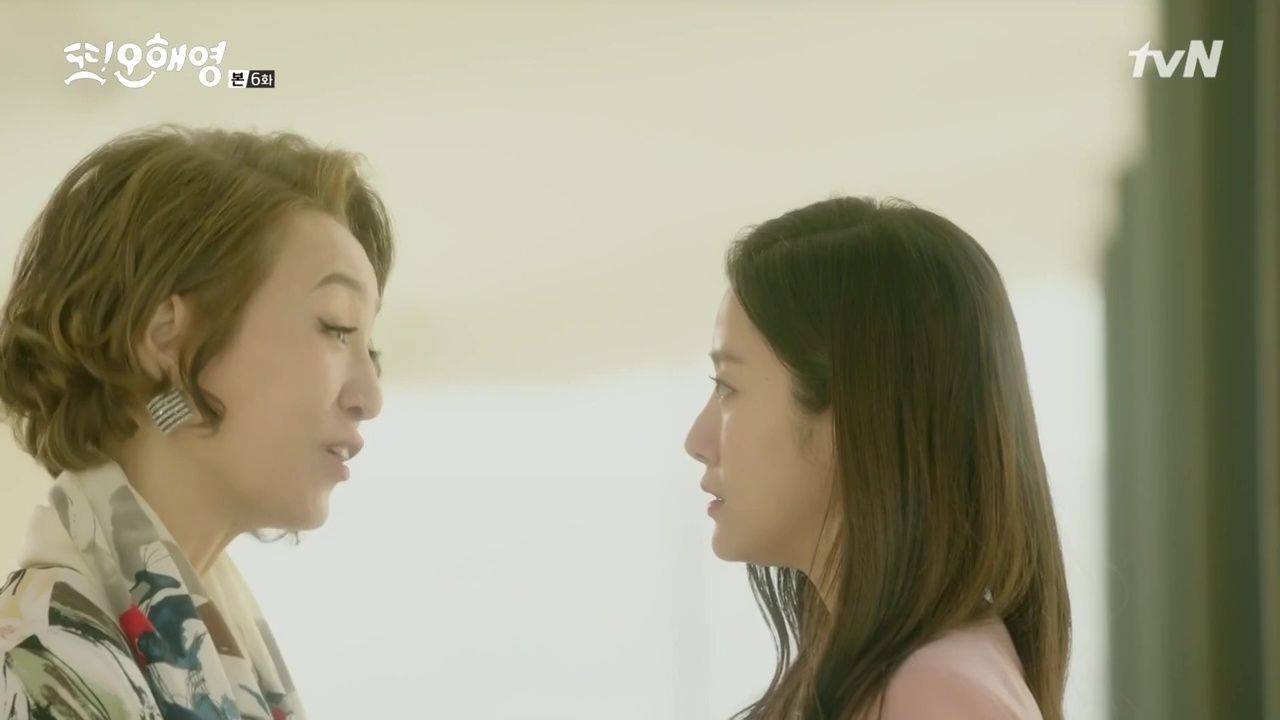 In flashback, before Do-kyung and Hae-young's wedding, Mom had tried to call Hae-young several times, and when she ignored the calls, she found her at work and whacked her upside the head with her purse. I mean hard too, ouch. She'd followed Hae-young around the office loudly insulting her and her parentage, while Hae-young tried her best to ignore her.
She'd taunted Hae-young that her parents were divorced and had both been married several times, and now Hae-young's dig about being Chairman Jang's fifth wife makes a lot more sense. Mom was beyond vicious, and had even followed Hae-young home to bully her there as well.
She'd taken great pleasure in telling Hae-young that she wouldn't be at the wedding only one day prior, and when Hae-young calmly accepted it, she'd jeered that she sent Hae-young a recording that she should listen to before marrying Do-kyung.
Back in the present the two Hae-youngs meet in their building's lobby again, and the other Hae-young asks our Hae-young to please not ignore her. She invites her out for a drink after work, and says that she'll just drink alone when our Hae-young declines.
The other Hae-young spends the evening looking at old photos of her and Do-kyung, and she's kept an old cell phone that's chock-full of pictures of the two of them. She even still has the recording that Do-kyung's mother sent to her, and she listens to it again now.
Do-kyung's mother is trying to call Do-kyung, and she rushes to his house. Soo-kyung stops her outside the gate (by literally materializing from out of the shrubbery, ha), and Mom runs in fear.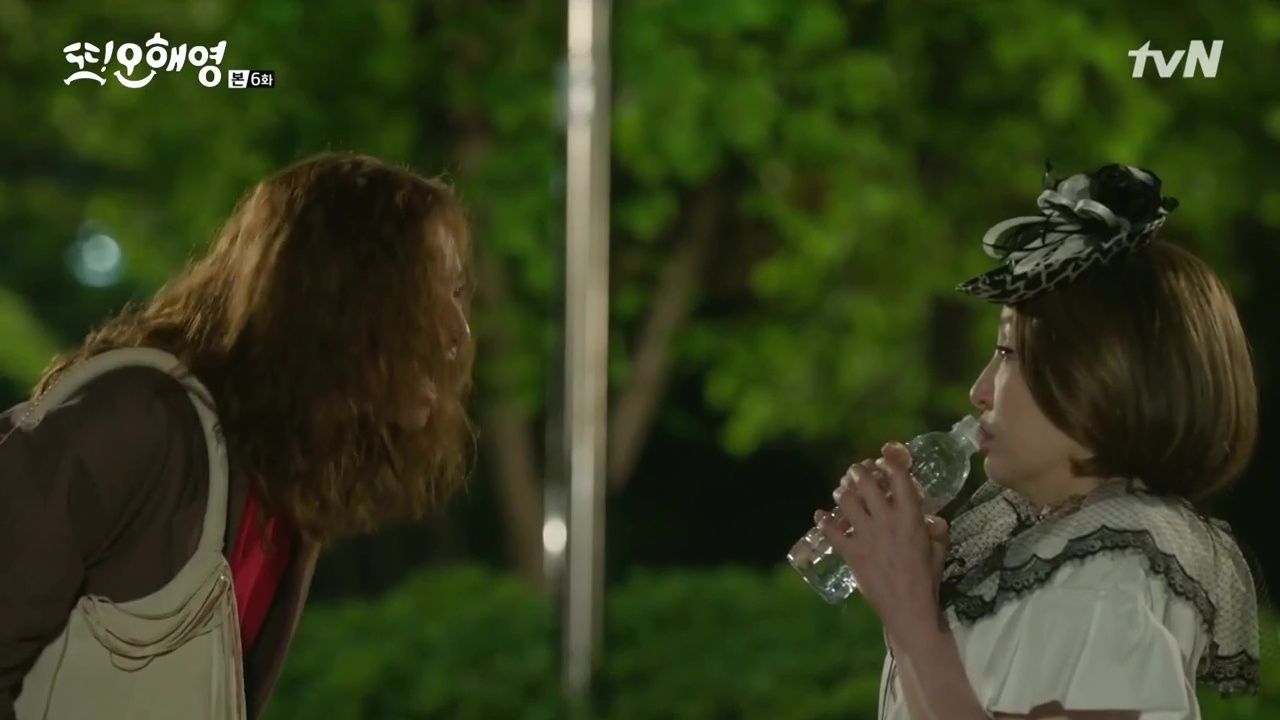 Soo-kyung chases her down and tells her never to come back to this house, but Mom stammers that she's not here for Do-kyung's money, she's here to warn them that his ex-fiancee is back. She's distraught that Hae-young's mother was married to Chairman Jang, and that news makes Soo-kyung listen.
Of course it's all about Mom, and she whines that now she may not be able to marry the chairman if Hae-young decides to pitch a fit. And no marriage means no money, which is the real problem. Soo-kyung sneers that she knew Mom had something to do with Do-kyung and Hae-young's marriage not happening.
Mom defends her indefensible position, claiming that Hae-young came from a bad family, mostly citing that her parents were each married several times. Soo-kyung points out that Mom's marriage to Chairman Jang would be her third, but naturally that's different.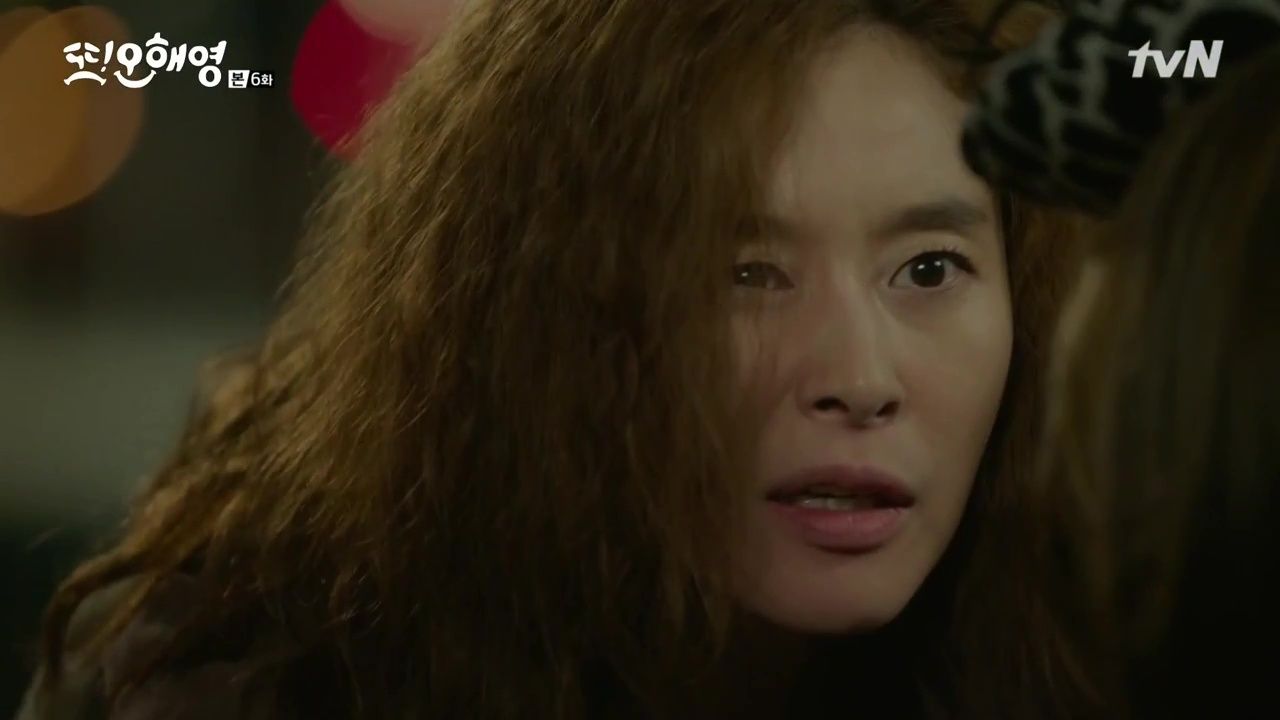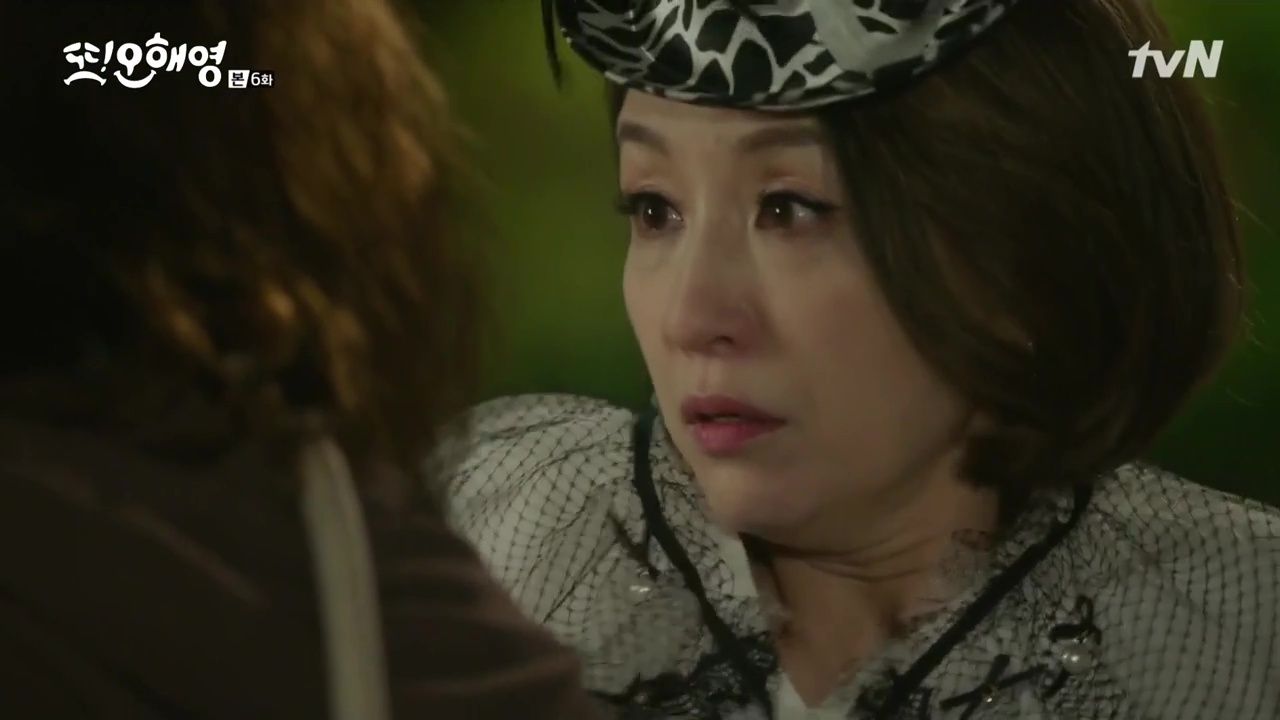 Soo-kyung loses it and screams that that's not the real reason she stopped the wedding, and everyone knows it. She just didn't want Do-kyung, her cash cow, taken away from her, and Hae-young was too smart to let him keep giving her money after they married.
Soo-kyung says that even animals are better mothers, and Mom's just lucky that Hae-young left without saying anything to Do-kyung. She loved him so much she didn't want to come between him and his mother, even knowing what a harpy she is. Soo-kyung wants to know what Mom did to make such a sweet woman do that, but Mom just runs. Yeah, you better run.
Do-kyung has the boys take all their equipment to an overlook to record some sounds, and when they stop to take a break he finds a USB in his bag. He plugs it into this laptop to listen — it's a recording of Hae-young telling him not to record her anymore, and he stops to listen.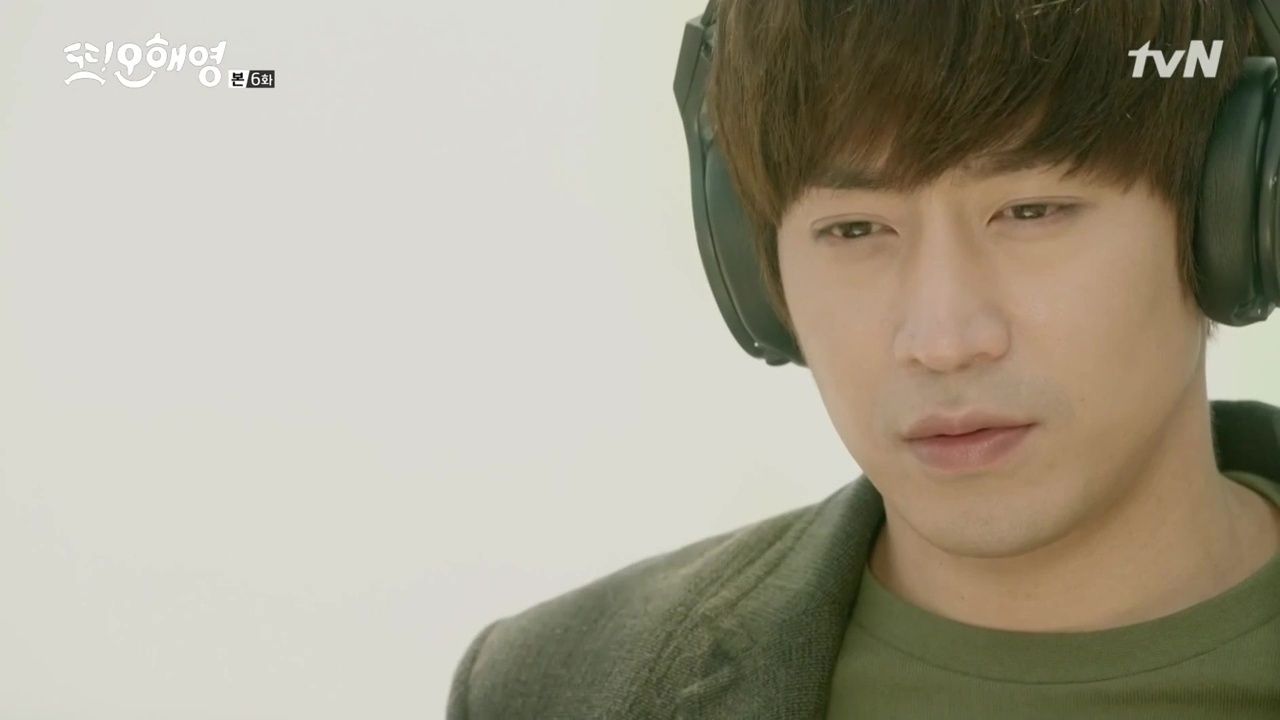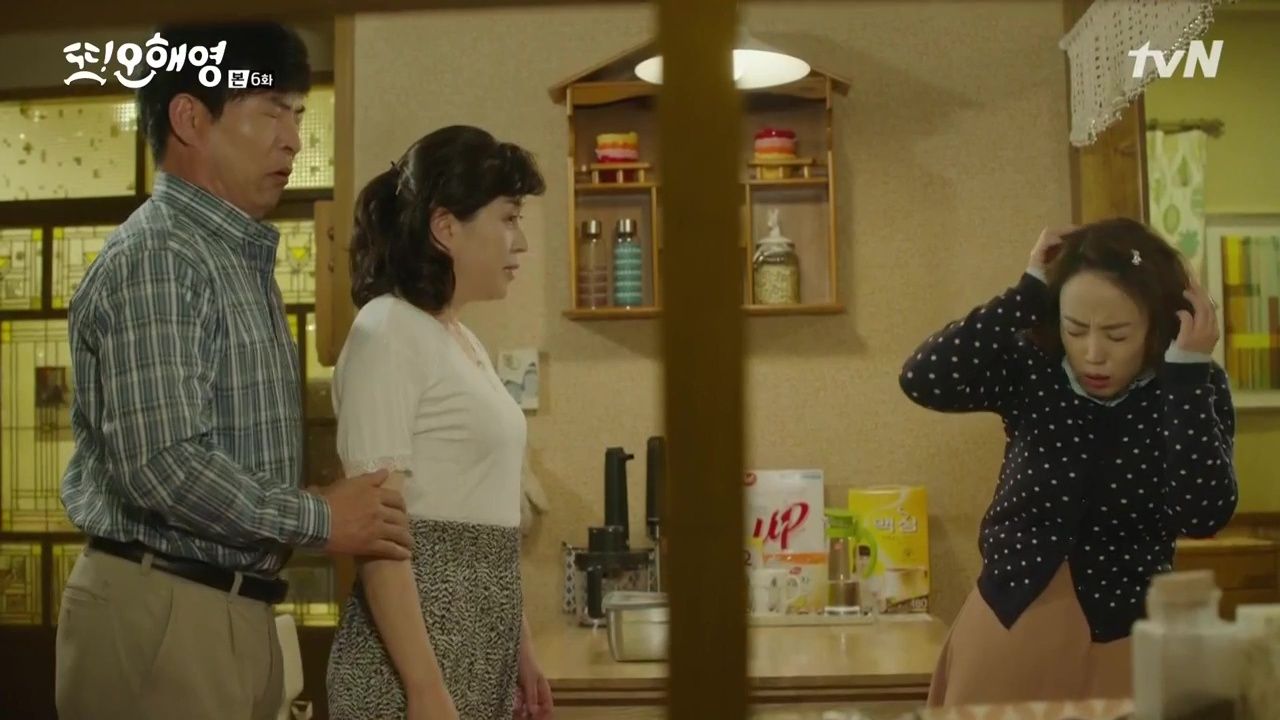 He listens to other recordings his equipment picked up — Hae-young talking to the television, eating loud snacks, even farting. He hears her complaining about the door between their apartments, and praying as she lies in bed at night. One of her prayers even involves Do-kyung, a "guy with nice eyes" (truer words were never spoken), and she asks for help bringing him back to himself.
Hae-young's mom is offended when Hae-young's aunt implies that she shouldn't come to her cousin's wedding, and mentions that everyone is wondering about her broken engagement. She's obviously fishing for gossip, but she crosses a line when she suggests that maybe it wasn't Hae-young who called things off.
Mom starts taking her apron and sweater off — oh it is ON. Dad desperately tries to calm Mom, even attempting to physically hold her back, but Mom just gives Auntie this frightening, calm smile.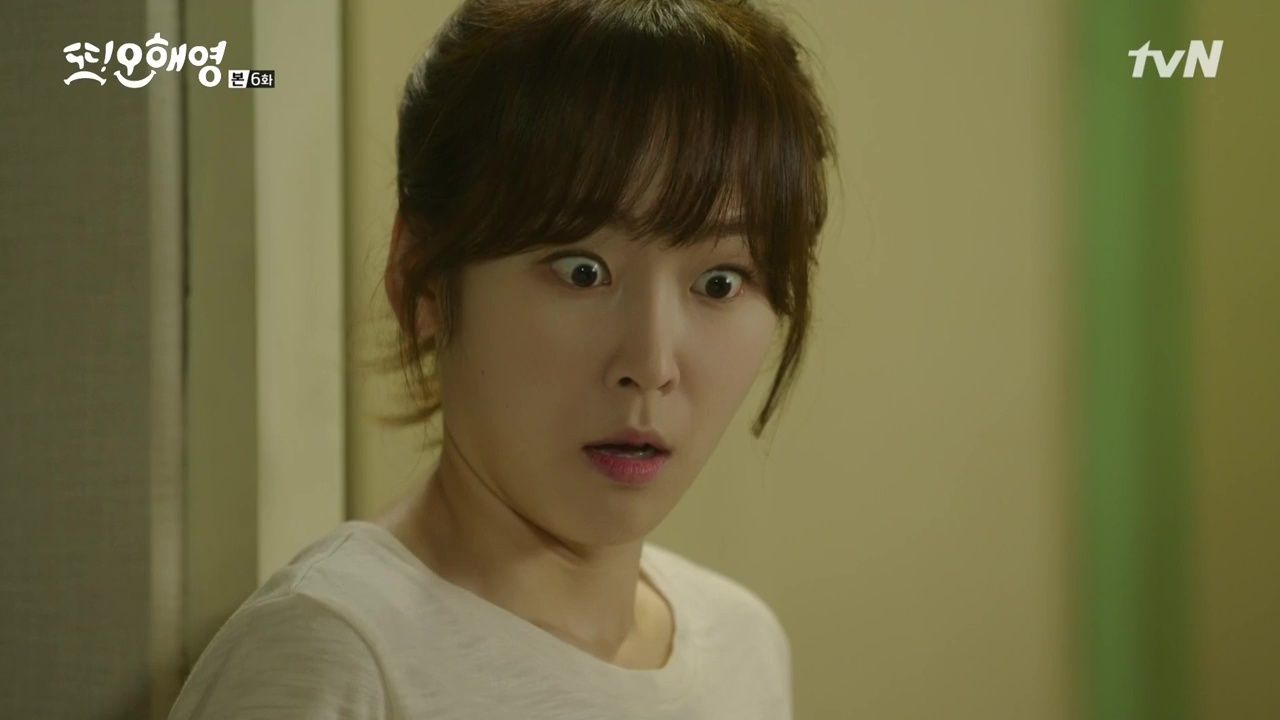 She tells Auntie that Hae-young might be bringing a man to the wedding, and that he's quite stunning – he will probably even make her future son-in-law look pathetic. Dad even chimes in that he's the CEO of his own company, so cute.
That night Do-kyung listens while Hae-young accepts her delivery pizza and calls out for her "honey," like she always does. He heads through the door and grabs the pizza like he belongs there, and Hae-young's face is priceless.
She quickly hides her laundry and explains that she only does that so they won't know she lives alone, asking him not to misunderstand. Do-kyung says he'll move the cabinet from in front of the door… you know, so she can escape if a weirdo does push his way in.
He goes back to his side and this time brings her a lamp, so she won't keep whacking her shins in the dark. It's only because she's noisy, and it's an old lamp anyway. Riiight. He goes back to his side again, and declines when Hae-young asks if he wants any pizza.
She lies in bed that night smiling at her lamp, knowing instinctively the real reason he gave it to her — because he cares.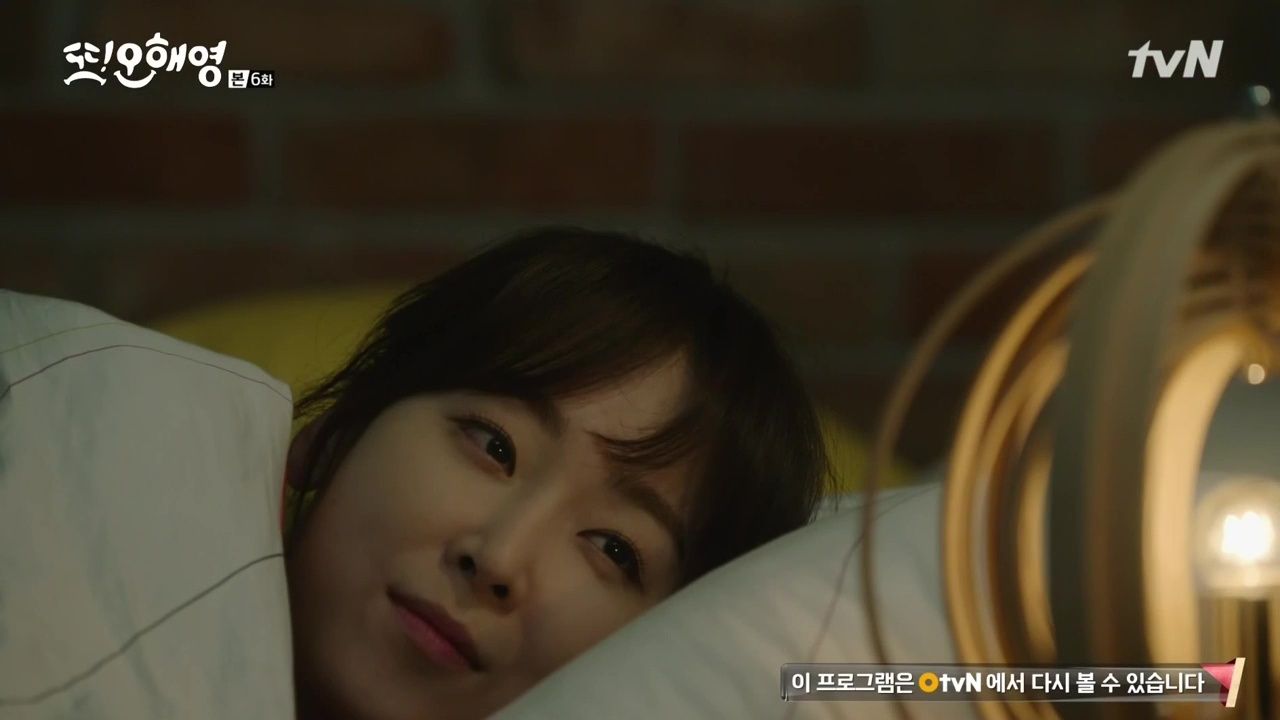 COMMENTS
It's so lovely that Do-kyung isn't fighting his feeling for Hae-young (much), or pretending they don't exist, and even goes out of his way to take care of her. His motivations are a bit difficult to decipher but I do think that most of his hesitation is because of how he wronged her, and not because his ex-fiancee suddenly reappeared. In fact, I think it's amazing that her showing up isn't shaking him as much as I expected. As many dramas as I've seen, I'm conditioned to expect characters to act certain ways when certain things happen, and I love that this show doesn't have its characters behaving in any way other than what's natural to them. In any other drama I would expect Do-kyung to think he's obligated to go back to his ex, but here he really wants nothing to do with her. I think, if she just quietly went away, he would be fine with that.
I really appreciate how all of our character act and react like normal people, and not like stock drama characters. One of my favorite traits about our Hae-young is how she easily calls out awkward moments, like when she could tell Do-kyung was scared she'd see his birthday gift as something special. She knows it is and doesn't let him get away with pretending it's not, and she's done that sort of thing consistently since they met, like when she yelled at him for wrist-grabbing her, or teased him for being scared they might sleep together when he tried to have her kicked out. It's in line with her personality to lay the truth right out there, and it serves a double purpose of not allowing Do-kyung to hide behind his taciturn personality or reluctance to show that he cares. I get the feeling, even though he's the one who always gets found out, that Do-kyung actually likes that about Hae-young and it's a big reason he's falling for her. She knows what he's thinking and isn't afraid to hang a lantern on it, even if it's uncomfortable, so he's forced to face the way he feels.
What Do-kyung's mother did, stopping his wedding so she could continue to take money from him, is nothing short of sick. I'm literally nauseated just thinking about a mother who would do that to her child. As many terrible mother-in-laws I've seen in dramaland, Do-kyung's mother has to be one of the worst, because at least all of those chaebol mothers genuinely think they're doing what's best for their child. Do-kyung's mom not only used her son, but she tormented the woman he loved so horrifically that she left him on their wedding day without a word. There's nothing in that that could be justified as "for his own good," not even in a twisted way. It's sick and evil, and I was truly shocked when I realized what she did and why. I already thought she was a terrible mother and an opportunistic gold-digger, but I never expected this.
It's no wonder the other Hae-young fled the wedding to avoid becoming her daughter-in-law. Aside from her basic personality (which still doesn't impress me, the way she treats our Hae-young) and the brief worry about a fatal illness, I've always felt that Hae-young probably had a good reason for leaving, and escaping someone who is literally stalking and viciously attacking you, mentally and physically, is a pretty valid reason. I can even understand why she didn't stop to talk to Do-kyung first, for fear that he'd talk her out of it. What I can't excuse is a year of no contact, no explanation, not even attempting to reach Do-kyung to tell him why she left. Unless there's something on that recording to explain otherwise, there's no excuse for treating a person so hurtfully.
That's not to say that I don't feel a lot of compassion for the other Hae-young, now that we've seen what Do-kyung's mother put her through. She truthfully held up very well for as long as she could, and whatever was on that recording, it must have been pretty bad to tip her over the edge. Do-kyung's mother hinted that it was proof that he didn't love her, so I'm really curious to hear what he said and how Mom twisted it to sound bad enough to make Hae-young disappear for over a year. I think there's a lot more to this story, and the truth may sway Do-kyung for a bit, but I trust that his feelings for our Hae-young are growing strong enough that the other Hae-young won't pose a true threat to their relationship.
RELATED POSTS
Tags: Episode 6, Eric, featured, Jeon Hye-bin, Oh Hae-young Again, Seo Hyun-jin