Oh Hae-young Again: Episode 7
There's more to a relationship than simply attraction — there has to be mutual respect and understanding as well, and those things are a lot harder to come by. And one person can't shoulder all the burden… both have to be all-in, or it will never work out. Unless both people in the relationship are willing to be open and honest, all the chemistry in the world won't help them be happy together.

EPISODE 7: "I wish I was the only woman in the world"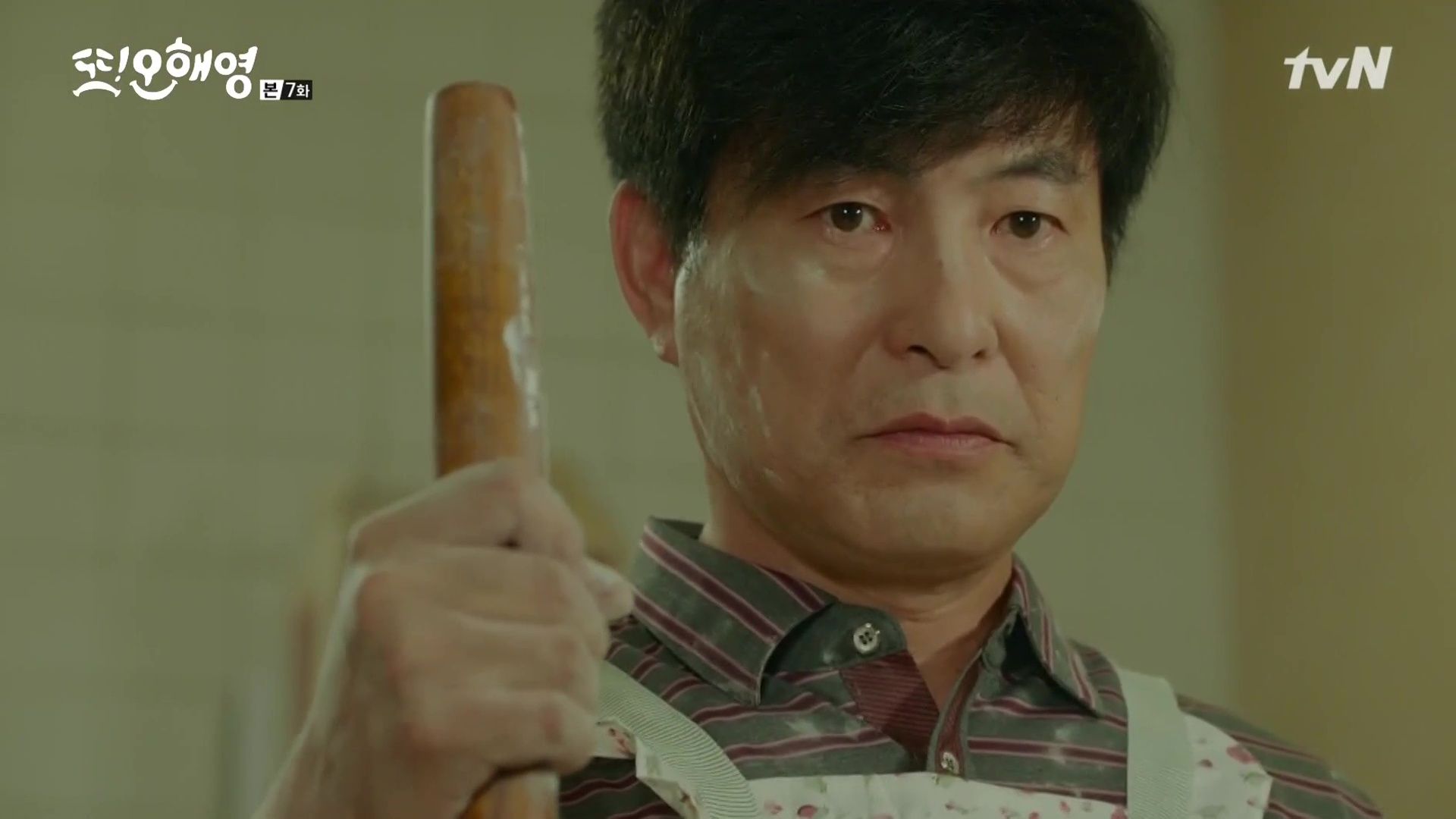 Hae-young lies in bed contentedly watching the lamp from Do-kyung clicking on and off, until he calls through the walls that it's noisy. On his side, Do-kyung suddenly has another premonition of Hae-young, soft-eyed and smiling, and saying that his hand is warm.
Way too early the next morning, Hae-young creaks out of bed and tiptoes out to do some grocery shopping. She takes it to her parents' house and starts frantically making a packed lunch, and Mom immediately knows it's for that handsome neighbor. She rushes to help, and even Dad pitches in like a pro chef. They send her home again, wondering if sending out two wedding announcements in one year is tacky.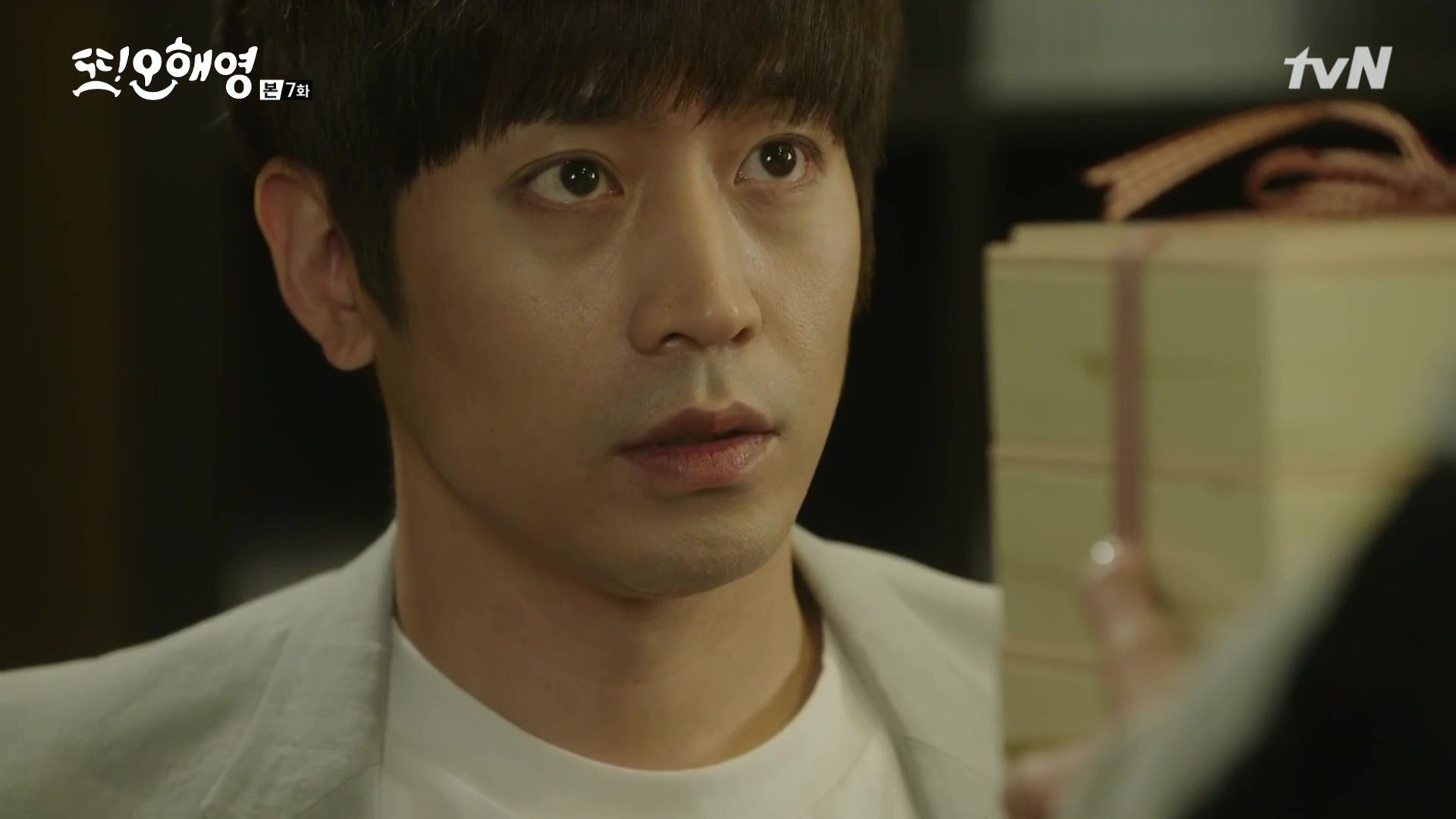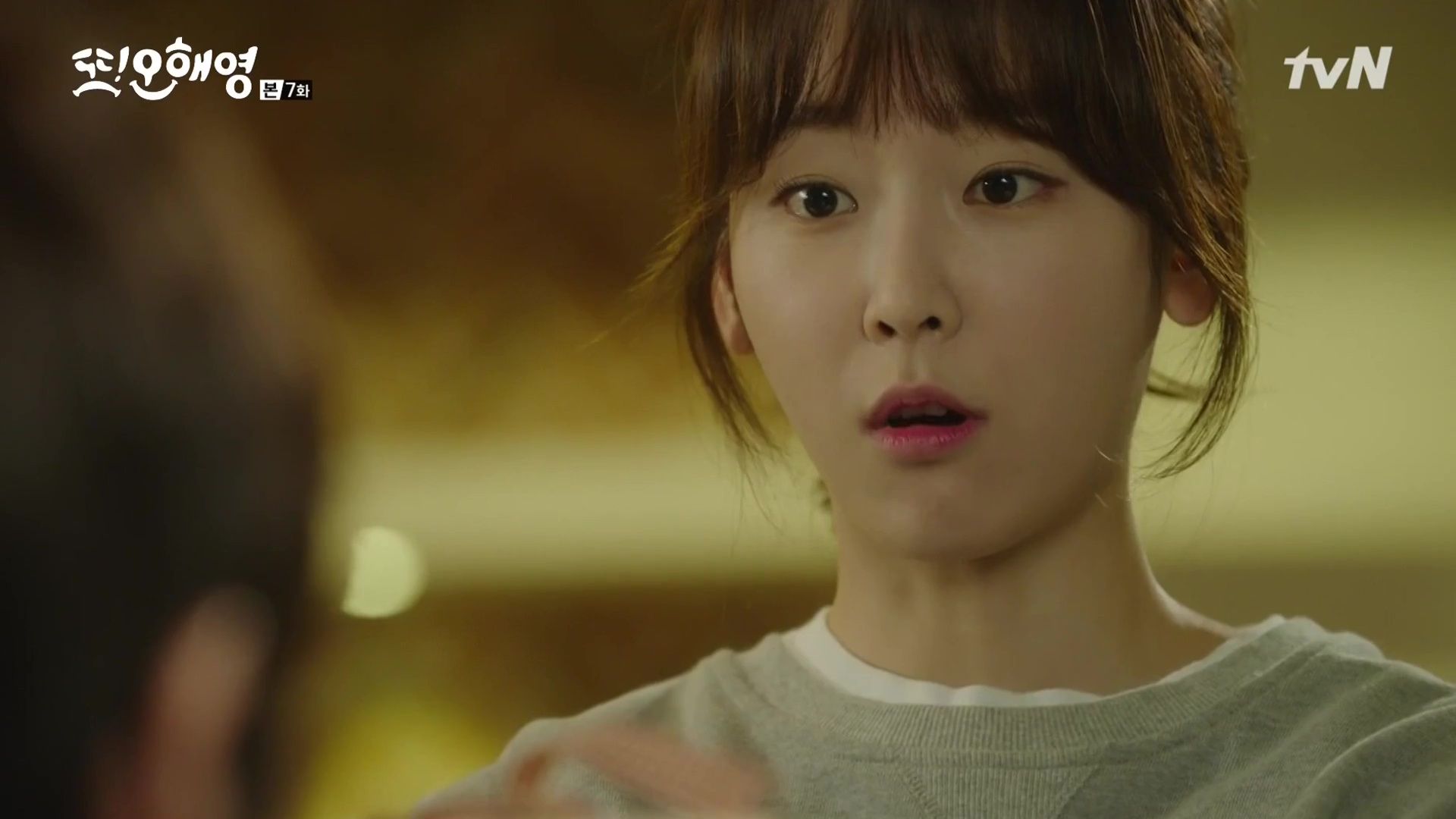 Hae-young presents the lunch box to Do-kyung, calling it thanks for the lamp and an apology for breaking his window. She's adorable about it, and after she leaves, Do-kyung pokes at the lunch box like it might bite him.
He leaves for work without the box, then has this hilariously awkward minute on his steps where he waffles over whether to go back for it, but nah… then rushes up to grab it. Awww, so cute.
Hae-young falls asleep at work, exhausted from her busy morning, and she nearly topples out of her chair just as Soo-kyung is walking past. She doesn't see her boss behind her and asks Sung-jin to wake her up again when she arrives. She lays her head back down, and Sung-jin immediately gooses her awake.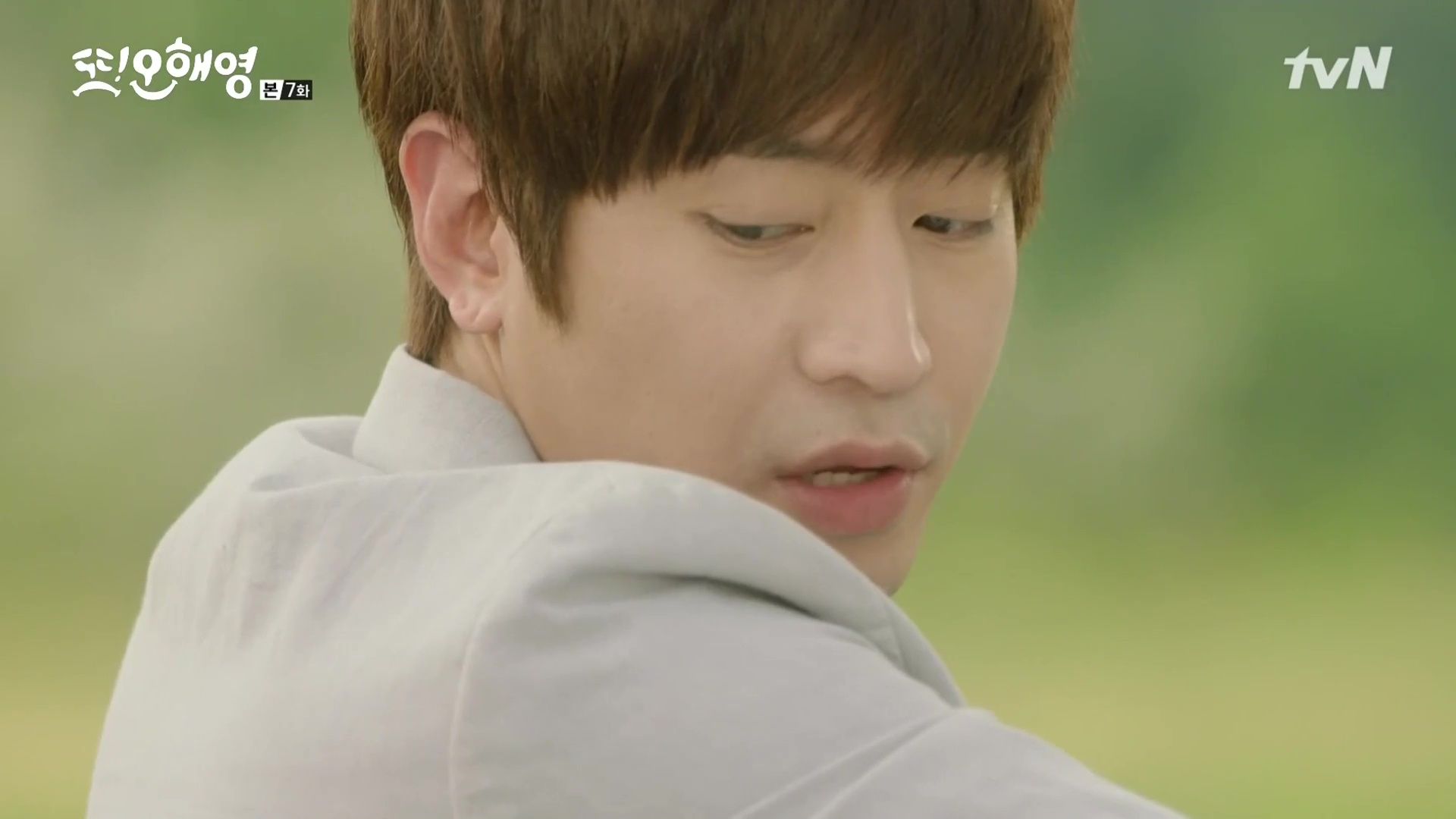 She lays down again so Soo-kyung knocks on her desk and whispers that she's here, giving Hae-young a little neck-rub, ha. Once she's truly awake (thanks to the help of some PPL coffee), Hae-young's coworkers notice that she's in a particularly good mood today.
Do-kyung and the guys are in the field recording some sound when it comes up lunchtime, and he hems and haws about going to a restaurant to eat. When Hoon presses him he finally shouts, "I have a packed lunch in the car!!" Smooth, buddy, smooooth. He shoves Hae-young's lunch box at them and stomps off, embarrassed, pretending not to be the slightest bit interested in what's inside.
Impressed by the food, the guys correctly guess that it must have been made by the woman they saw him twirling outside the restaurant that time. Do-kyung says it's not like that and refuses to eat, and Hoon quips that there's two things Do-kyung won't do — wear a party hat on his birthday, and eat a packed lunch made by his girlfriend.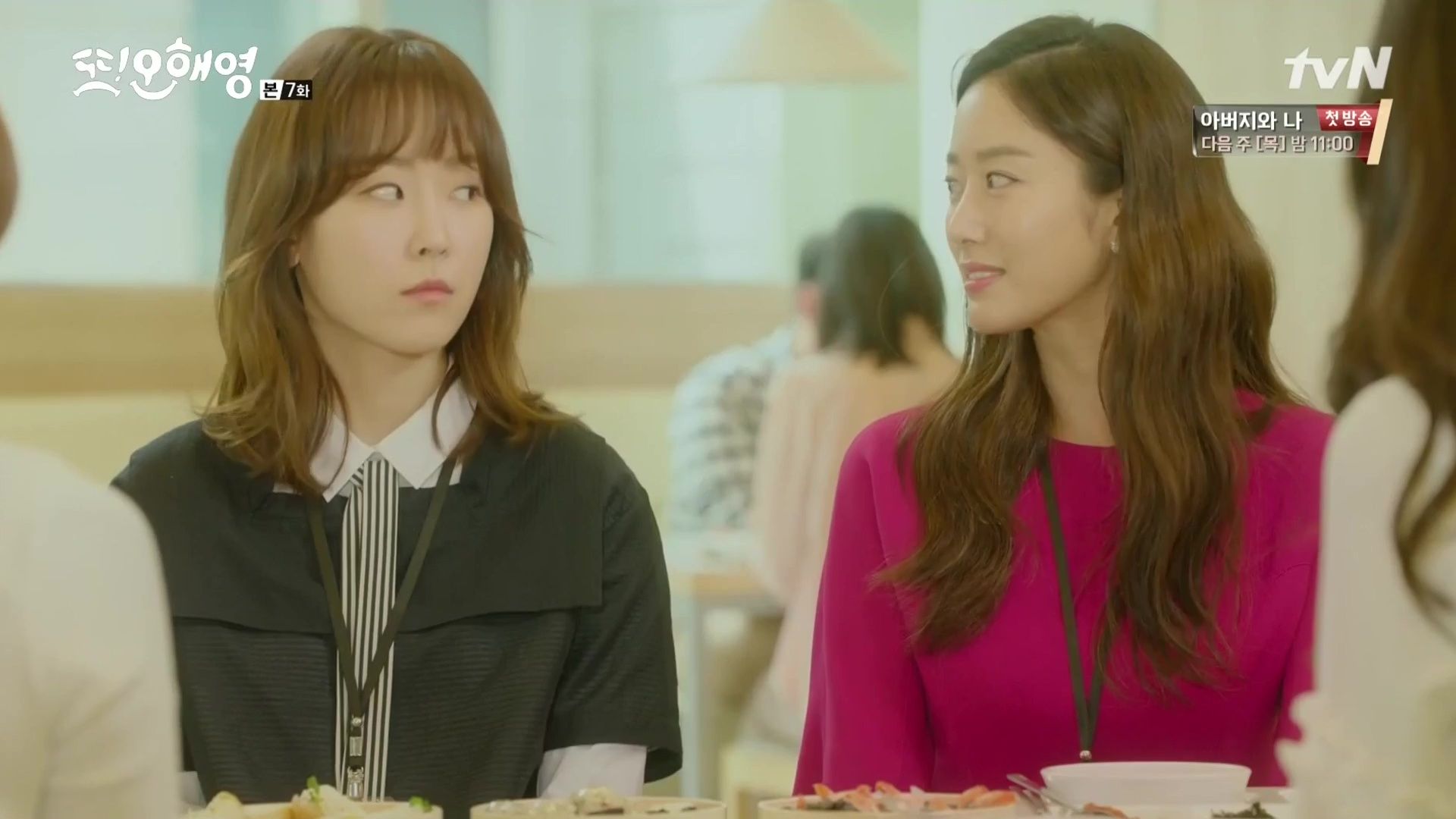 He points out that Hae-young will ask if Do-kyung liked the food, so he'd better at least taste it. He does, which only makes the guys tease him more, but apparently the food is delicious because soon Do-kyung is tucking in with gusto.
Hae-young made enough to take to work to share with her friends, and Sung-jin astutely guesses that she did this for a guy. He even guesses who the guy is, and gets all hurt about it. He definitely has a crush.
The other Hae-young joins them, and they all talk about our Hae-young making food for a guy. The other Hae-young knows it must be Do-kyung, though she covers well and just says that Hae-young's box lunches have been famous since grade school.
But when she gets home that night, she digs into her box of memories and pulls out that cell phone again, the one with the message that Do-kyung's mother sent her before the wedding. She plugs it into her laptop, looking determined.
Do-kyung is still playing it cool when he and Hoon arrive home, but Hoon makes him take the lunch box back to Hae-young to tell her it was good. He doesn't look thrilled about it, but then he sees Hae-young right across the street looking shy. (And ooohh, the way his eyes go soft when he sees her makes my tummy all melty.)
As they walk home (slowly, I notice), Do-kyung manages a curt "Thanks, it was good," but Hae-young knows that that's high praise coming from him. They find themselves under a magical fall of cherry blossoms, and it's so beautiful that Hae-young tears up.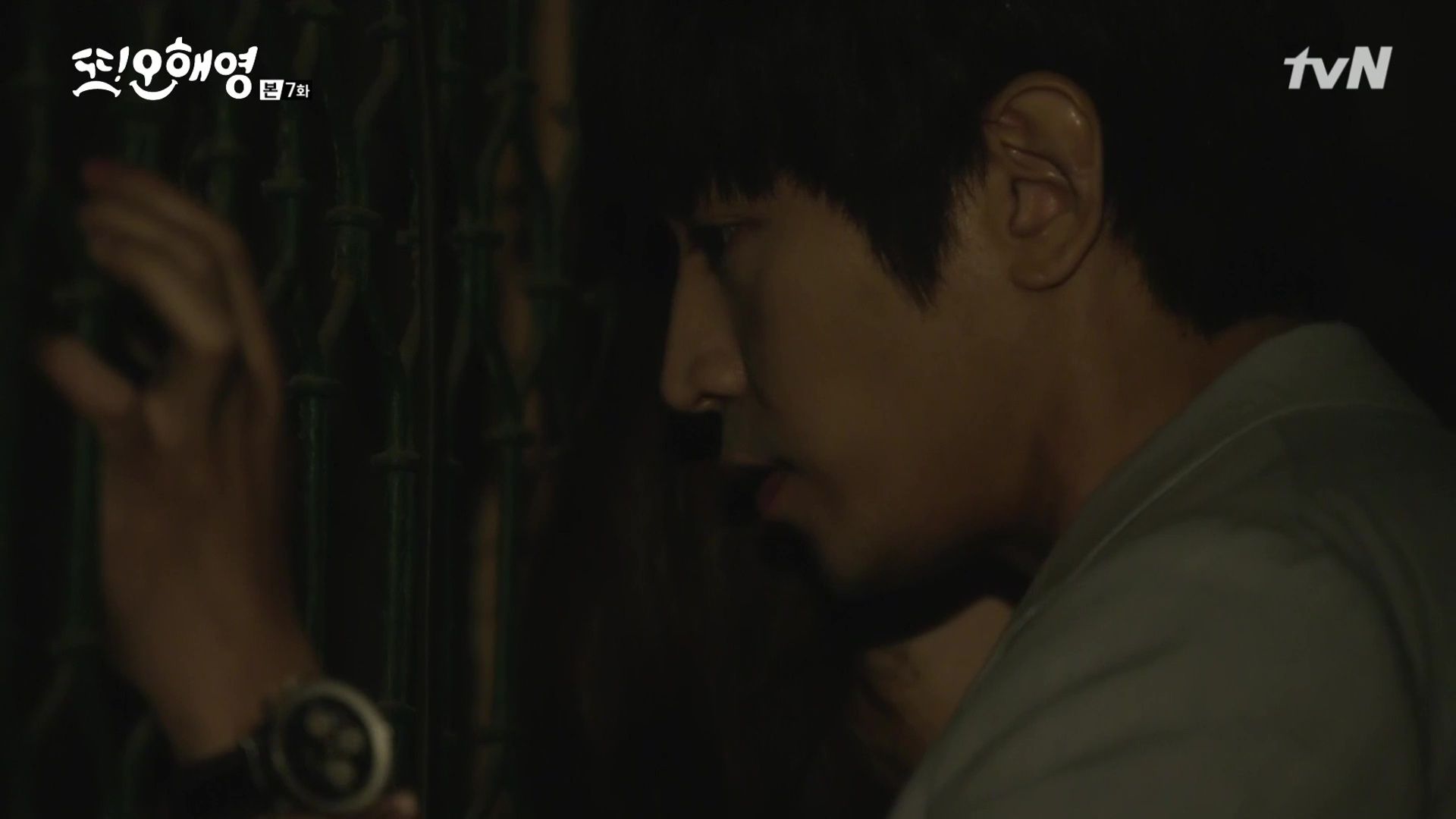 The moment is nearly ruined by drunk Soo-kyung stumbling towards them, so Do-kyung grabs Hae-young's hand and they run to hide in a dim alley. Hae-young notices that Do-kyung is holding her hand while they hide, though he seems oblivious.
Just when they seem to have avoided being caught, a scooter comes by and lights up their faces in its headlight. Do-kyung swings around in front of Hae-young, their faces and bodies very close together, and he stays there for a minute even after Soo-kyung moves on.
"It's warm… your hand," says Hae-young, and Do-kyung sees another vision come to life. Hae-young asks why they had to hide from his sister, but before he answers, another hidden figure breaks away from the wall and lumbers up behind them. HAHA, it's Jin-sang.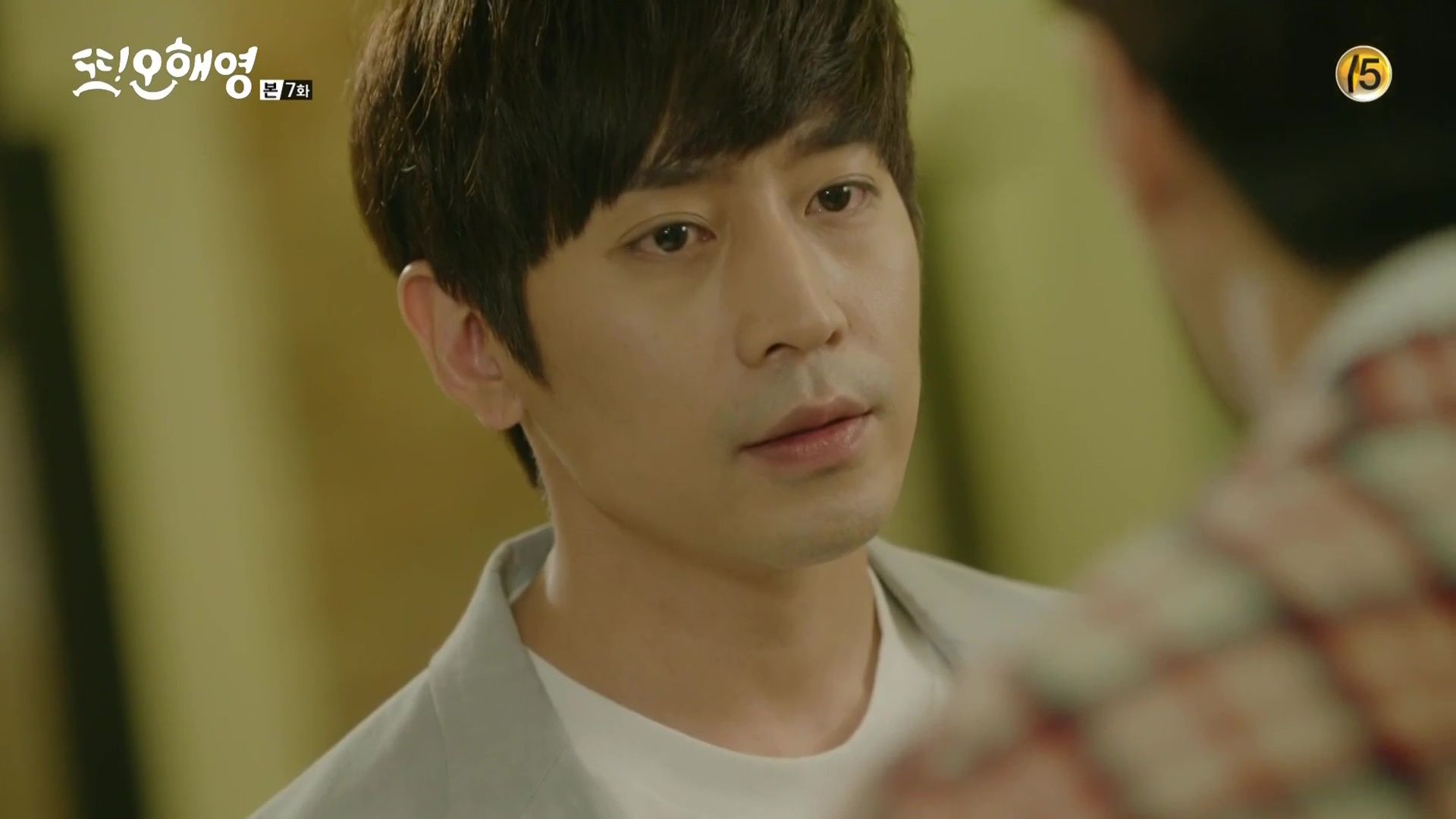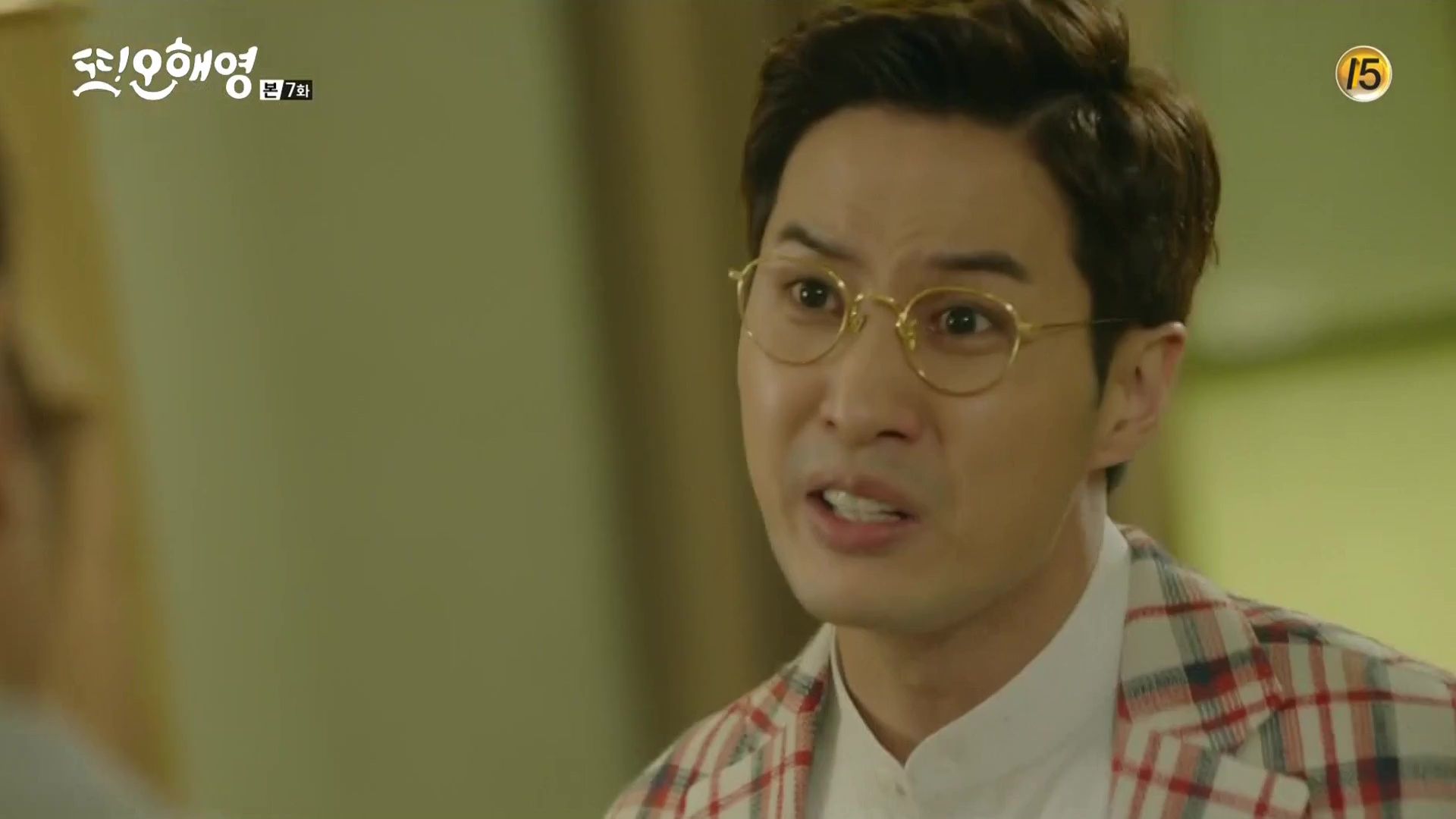 He's caught sight of the lunch box and when Do-kyung gets home, he walks right into a lecture about the stupidity of getting involved with that woman, of all people. Do-kyung swears nothing's happened, that they were just hiding from Soo-kyung, but Jin-sang has a good point — if there's nothing going on, why hide?
Jin-sang doesn't buy it, he knows Do-kyung too well and he can tell there's something going on. He calls him crazy, and reminds him about Tae-jin sitting in jail ready to kill him when he comes out, and that's before he finds out Do-kyung has been dating his ex-fiancee.
Do-kyung stays calm until Jin-sang insults Hae-young for dating so soon after her wedding was called off, and that's more than Do-kyung can take. He screams for Jin-sang to stop, but when Jin-sang asks if he likes Hae-young, Do-kyung's silence is all the answer he needs.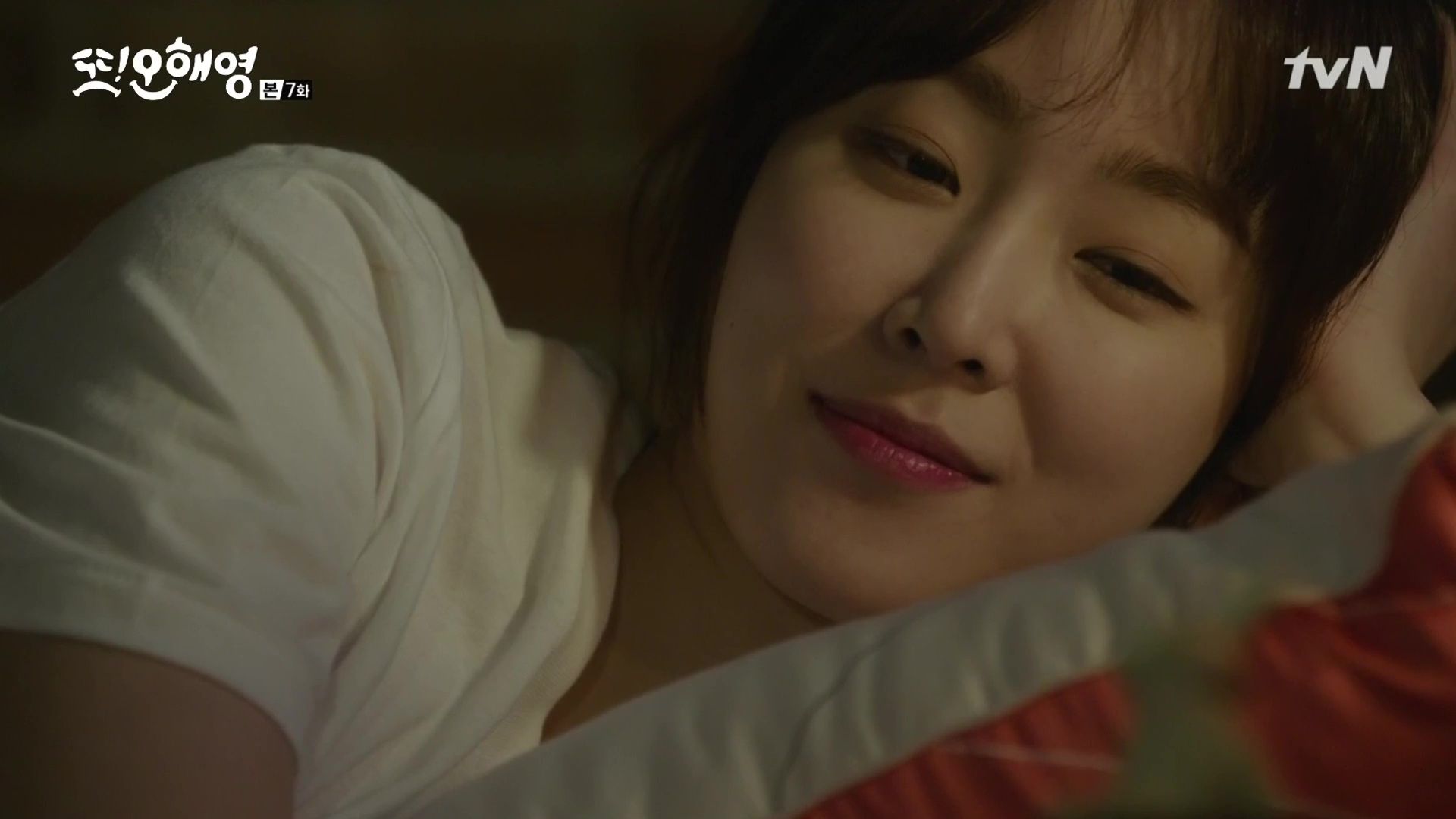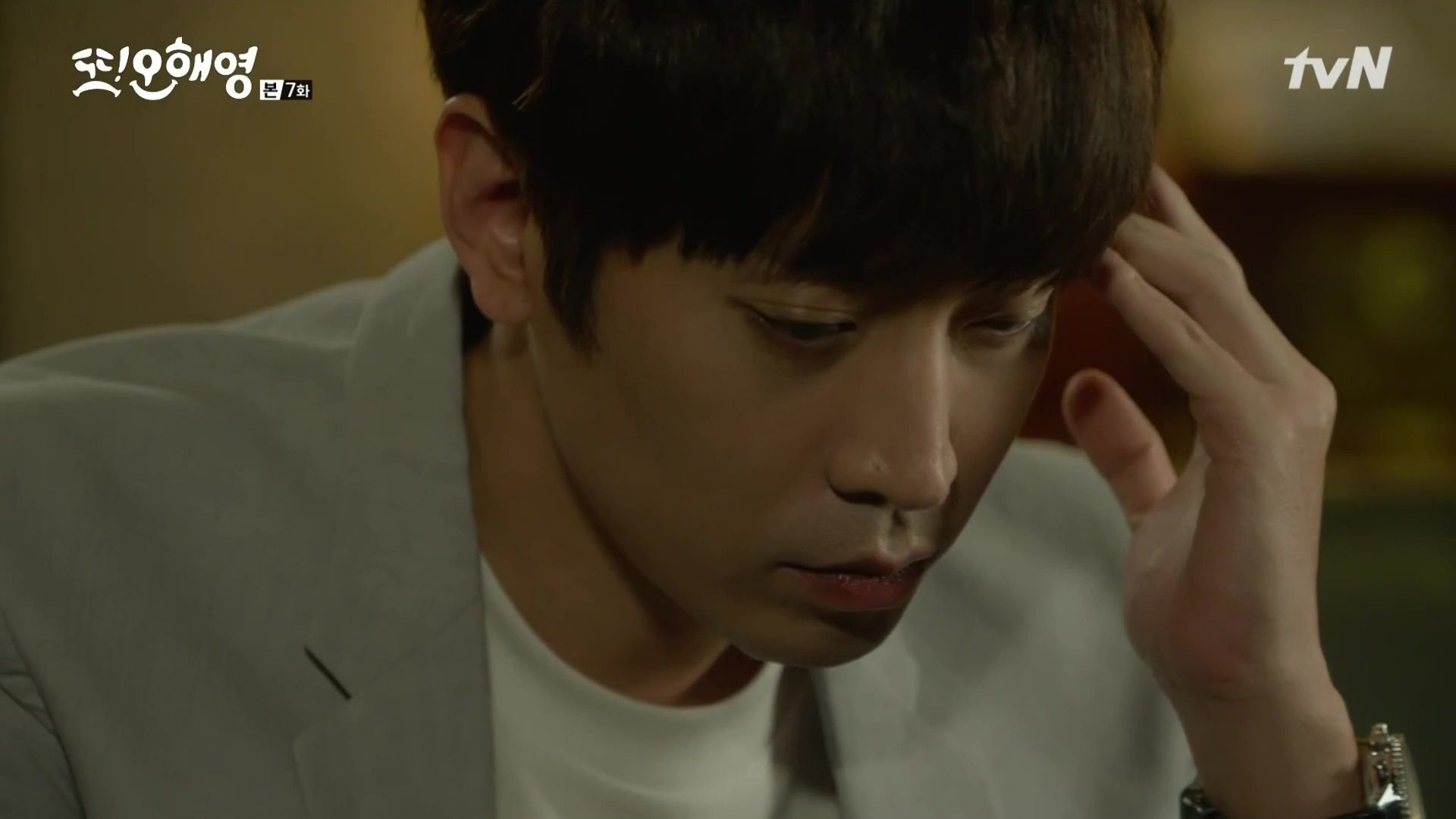 That night, Hae-young sits watching her lamp and music box, innocent of Do-kyung's internal struggle. She calls out a "good night" when she hears Do-kyung come in, while he stares at her door and wonders what to do.
Hae-young is practically giddy the next day as she tells Hee-ran all about Do-kyung, and Hee-ran wonders out loud how he could seem so innocent when he dated the other Oh Hae-young. Our Hae-young shuts down that line of conversation quick.
Do-kyung finds an email from the other Hae-young and debates whether to open it, but curiosity wins out. It's a copy of the recording that his mother sent to Hae-young on the eve of their wedding, and we finally hear what caused her to disappear without a word.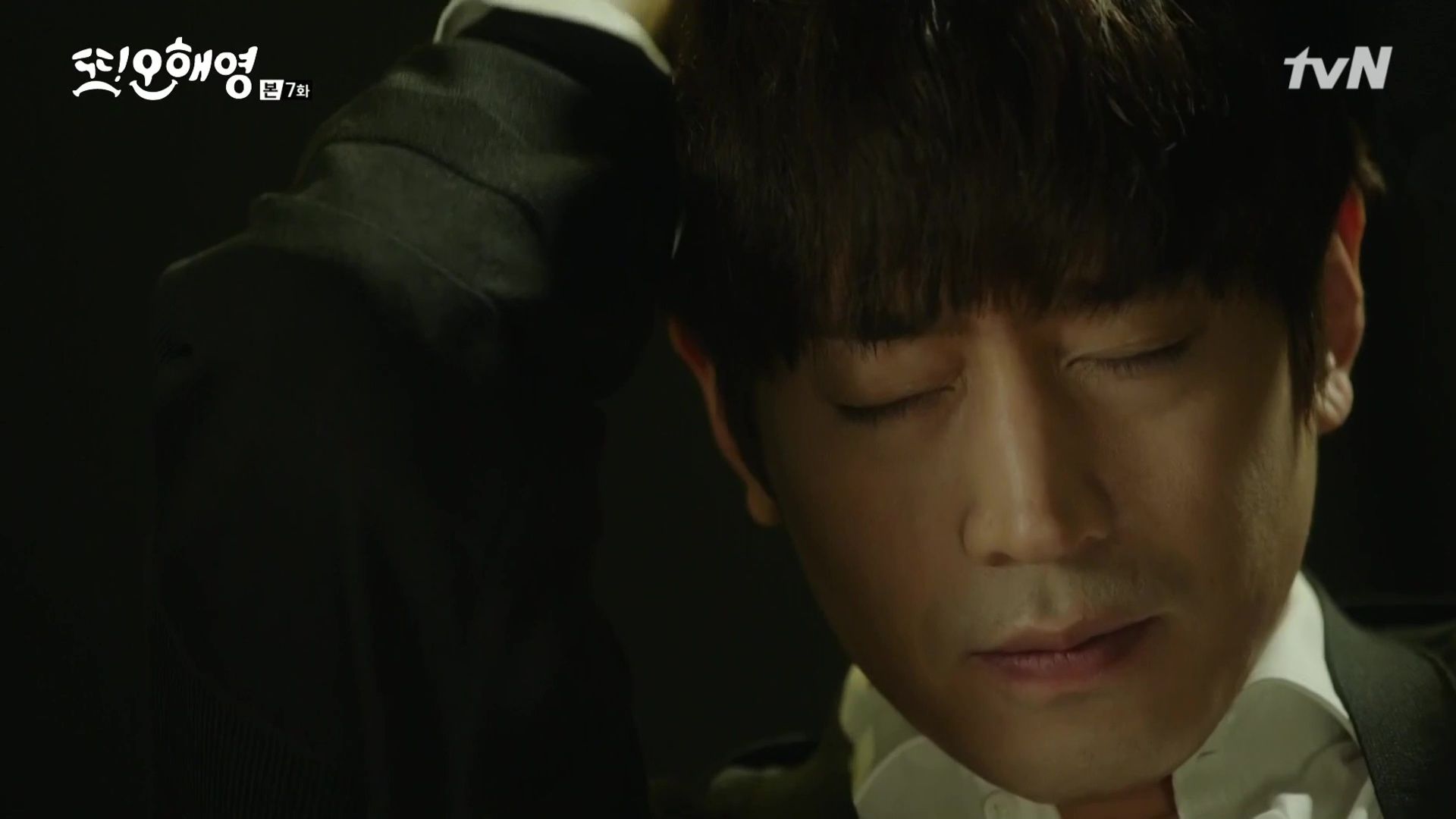 It's Do-kyung's voice, sounding angry, yelling, "How would I know what love is? I was never loved!" He'd been arguing with his mother, who'd said that at least one of them should know what love is before getting married. Hae-young doesn't know, because her parents basically abandoned her to her grandmother.
Do-kyung had responded, "I can't dump her, because I feel bad for her. How could I dump someone whose parents abandoned her?" He'd gone on to say that she's extremely kind to other people so she won't be abandoned, and compared her to a playful puppy.
His mother had says that wasn't love but pity, and he'd screamed, "I don't care if it's pity!" Oh nooo, that's terrible, and we see that Hae-young had been devastated when she heard it. Now Do-kyung collapses in pain and regret, to know that this is why Hae-young never showed up for their wedding.
In the email, Hae-young says that triggered her first panic attack, to feel that her greatest weakness had been exposed to the one person she wanted to hide it from. She'd pretended to have had a happy childhood and loving parents, and desperately smiled her way through life. But he'd seen right through her.
She goes on to say that after she left, she would get angry every night from the humiliation, but in the mornings she always cried from missing him. She's spent the last year thinking of the person she loves most as her most humiliating memory. But now, she says, she can't do it anymore.
Our Hae-young practically skips home from work, stopping to buy vegetables from a sweet old granny and smiling to see Do-kyung's name on a movie poster. A man randomly stops and asks her to eat with him (hi there, Yeon Woo-jin! And HAHA at the familiar music).
Hae-young assumes he's some sort of religious nut and declines, but the guy seems to be sincerely interested, if a little… intense. He says she's just his type and offers her his business card if she wants to check up on him, which says his name is Gong Ki-tae, PFFT.
Hae-young finds herself agreeing to eat with him out of sheer shock, honored when he says this is his first time approaching a woman this way. She asks what he likes about her and he starts talking about vibes and connections, and Hae-young agrees with him though she's clearly thinking about someone else.
She admits that she really only came because it was so awesome being asked out right on the street, but she's already got a man at home. Ki-tae says he didn't hear anything about a boyfriend, and wait… what? He looks suddenly nervous, and Hae-young asks if it was really a coincidence that he asked her to eat.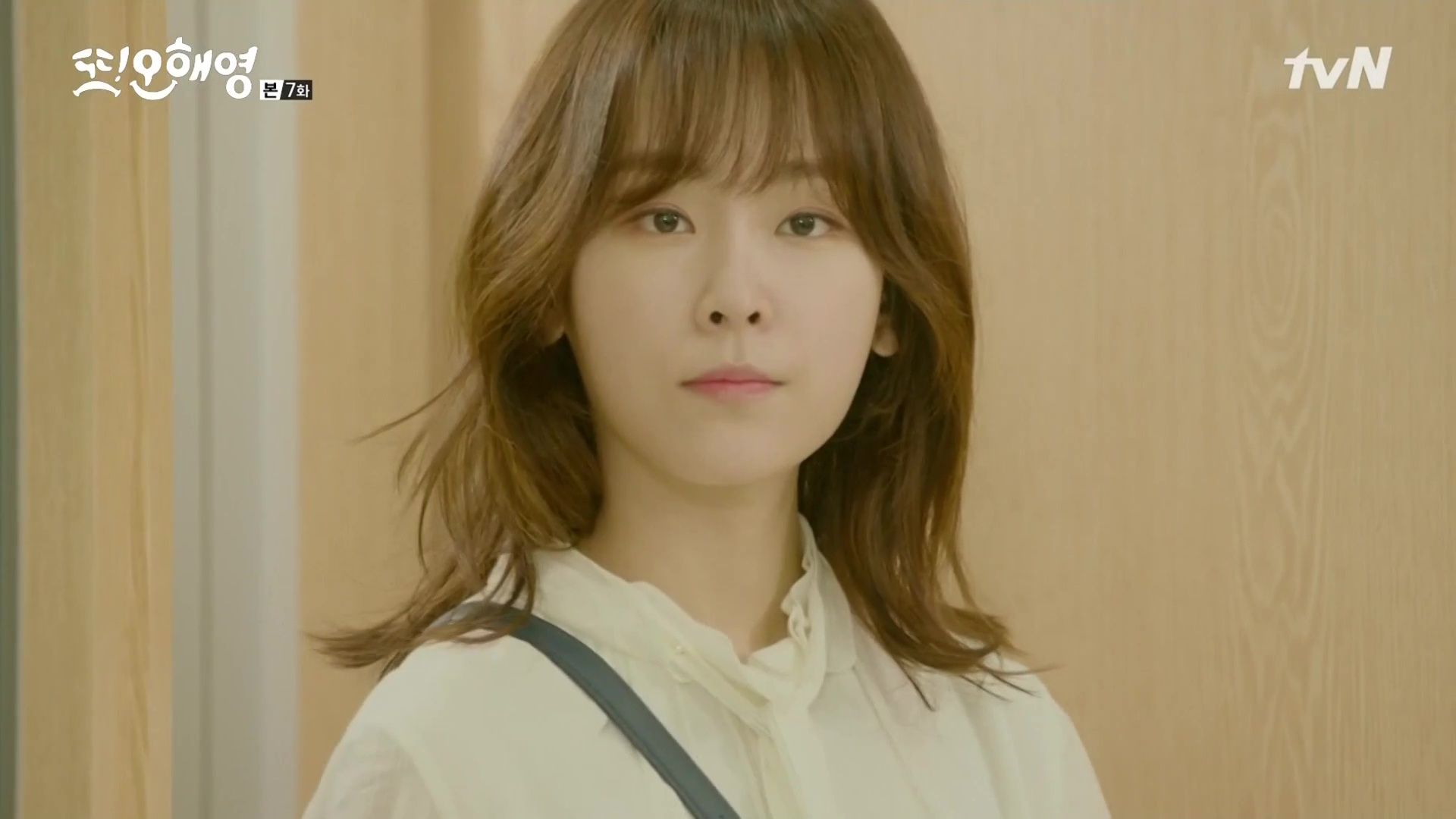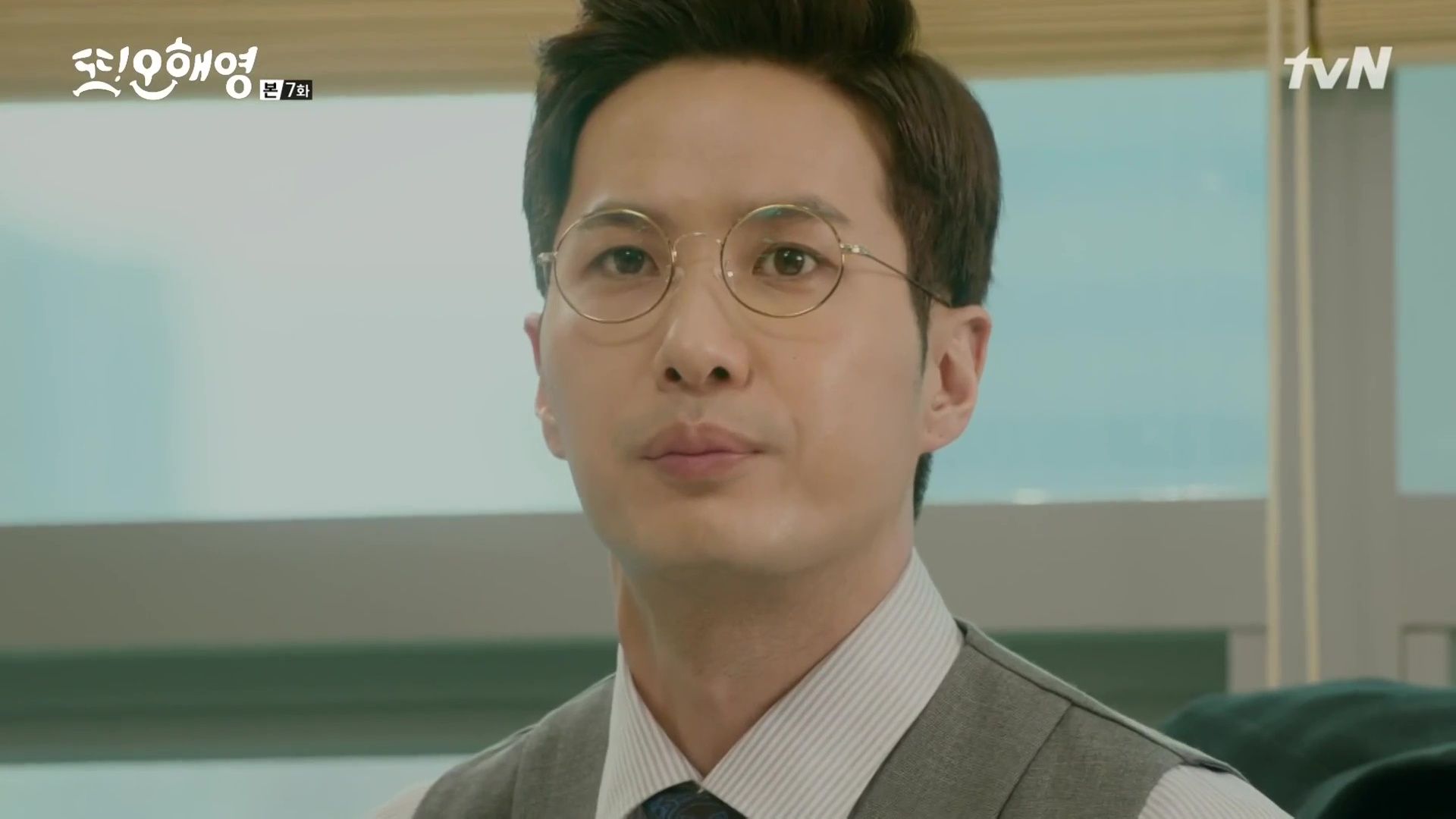 Oh wait, he's a lawyer! Jin-sang set this up, didn't he, that rat. Hae-young marches Ki-tae into Jin-sang's office and demands some answers, specifically whether Do-kyung was in on this little scheme.
Jin-sang admits that he acted alone, but he fibs that it was out of concern for his old friend. When he claims that he just wanted Hae-young to date someone more attractive than Do-kyung (what??), she stops him right there — if that's so, why make the guy pretend to meet her in the street?
For whatever reason, she knows that he was just trying to get her away from Do-kyung, but Jin-sang sticks to his story that he was just trying to fix her up. Hae-young grows angry, accusing Jin-sang of looking down on her, and Jin-sang finally admits that he thinks she and Do-kyung are ill-suited.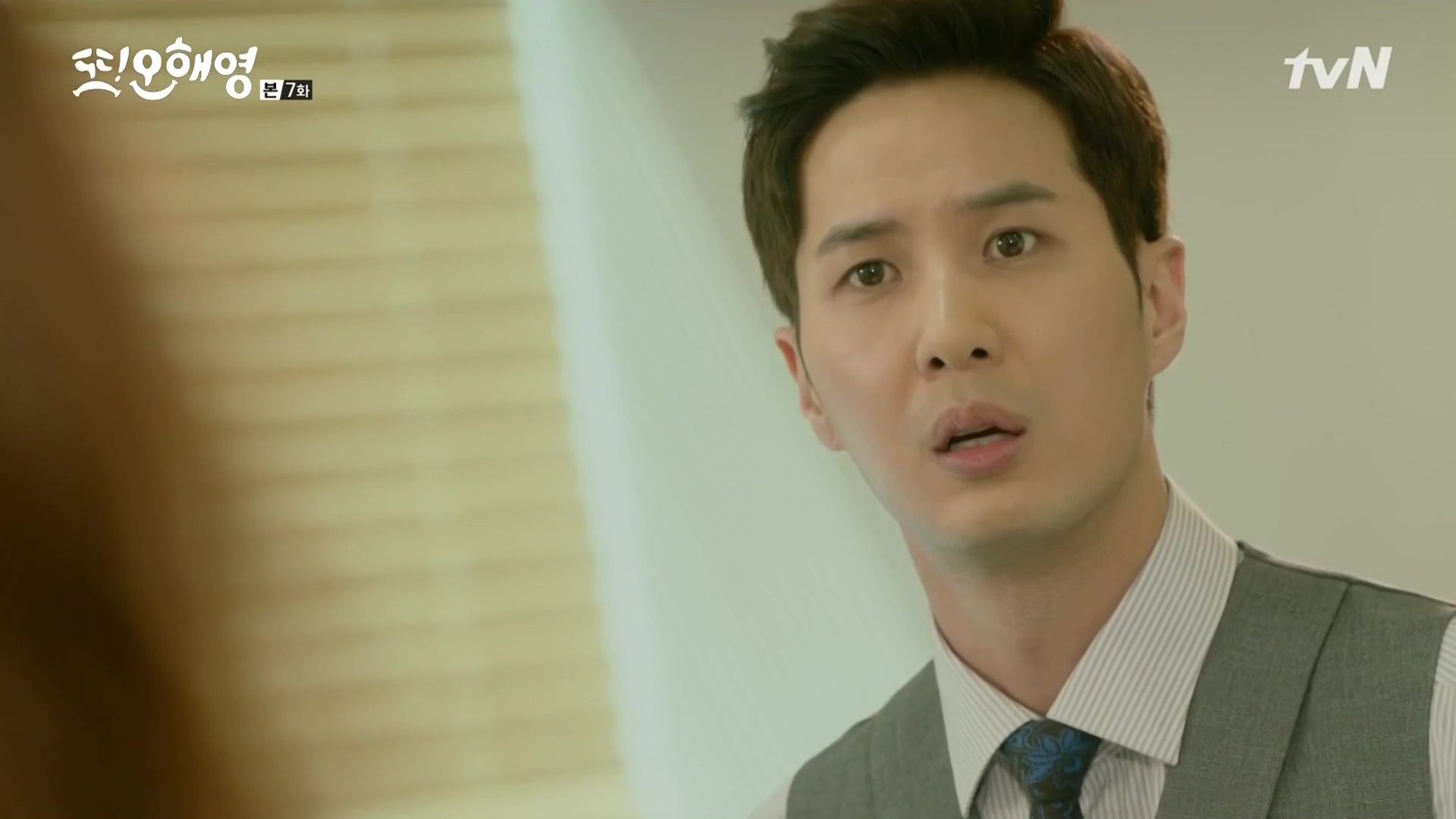 Hae-young pushes until Jin-sang yells that she has the same name as his ex-fiance, implying that that's the only reason Do-kyung is drawn to her. That hits Hae-young right where it hurts. Now that his true love is back, Jin-sang claims, it will be over with our Hae-young.
Hae-young screams, just wordlessly SCREAMS in Jin-sang's face, just to make him shut up. It works, and she storms out of his office, leaving him to voice his own frustrated scream.
Do-kyung asks Soo-kyung for the other Hae-young's phone number, but just as she sends it to him, he gets a call from our Hae-young. Her voice is soft, and all she says is, "Don't go see Oh Hae-young." She steps out of their entryway in front of his car, and asks him not to start seeing her again.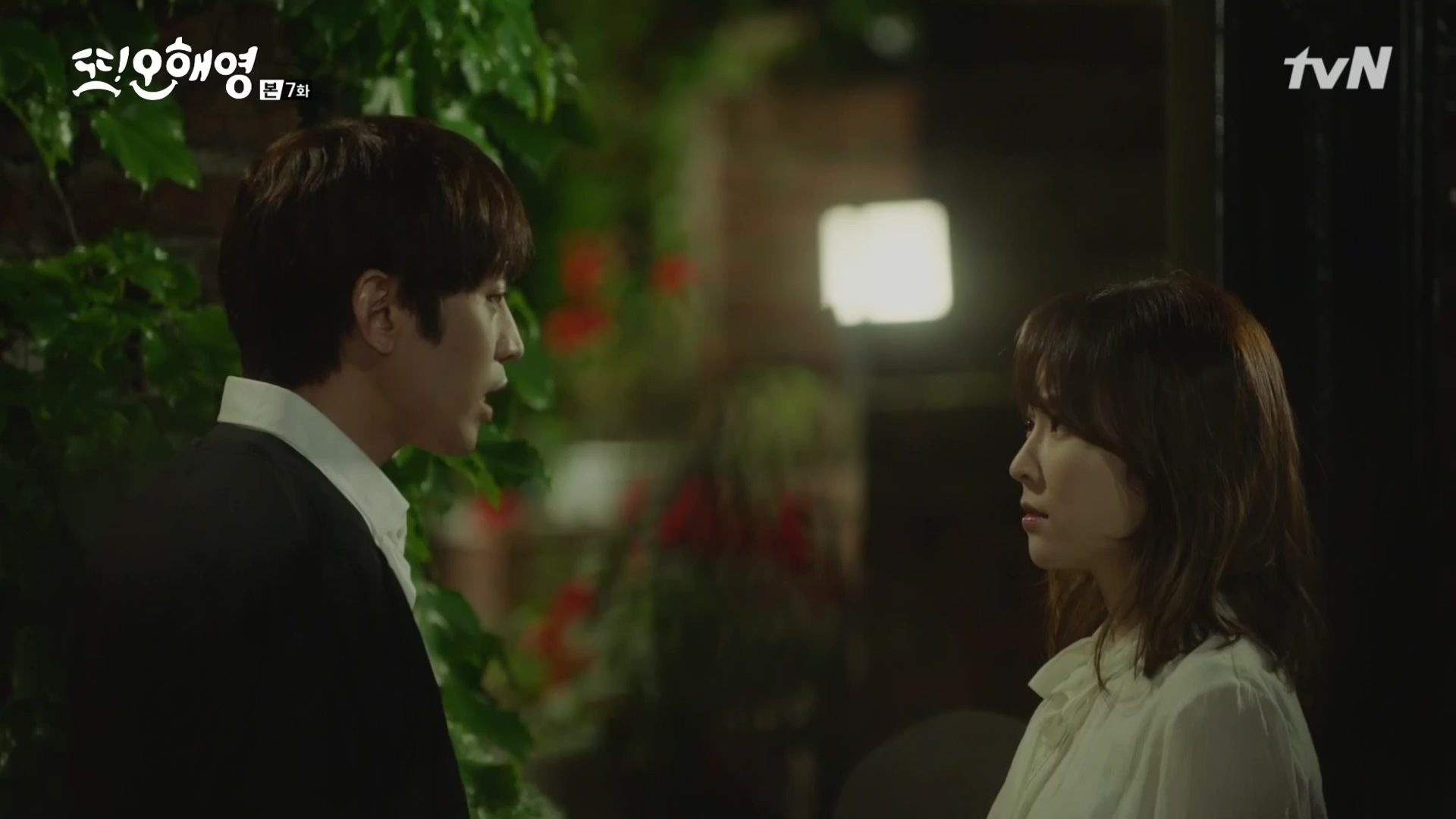 Do-kyung asks why she cares, and Hae-young says it's because she hates her, and she might end up hating him. He asks if everyone should hate someone just because she does, and she says that she would hate anyone he hates. Do-kyung asks why she would do that, and Hae-young is bluntly honest: "Because I like you."
Do-kyung gets out of the car, and reminds her angrily that he told her not to be so forward with men, and that he's not so fickle as to go from one Oh Hae-young to another. Our Hae-young asks if he'd date her if she had a different name, but he says no man would date a woman whose life was so tangled up with his ex's. He would always be reminded of the other woman.
She asks why he was so nice to her then, and Do-kyung says he felt bad for her. Ooof. But Hae-young accepts his explanation, and figures that at least he felt something. But Do-kyung wants to be perfectly clear, and yells, "I'm saying I don't like you!"
Hae-young calls him a fool, as if pitying him for not being able to feel normal feelings, and Do-kyung has another premonition of her saying, "You will cry because of me someday. I want you to cry." And immediately, she says those exact words.
She heads inside and Do-kyung starts to follow her, but he's hit by another vision, this time seeing all of his past visions at the same time. It takes his breath away and he doubles over, gasping for air.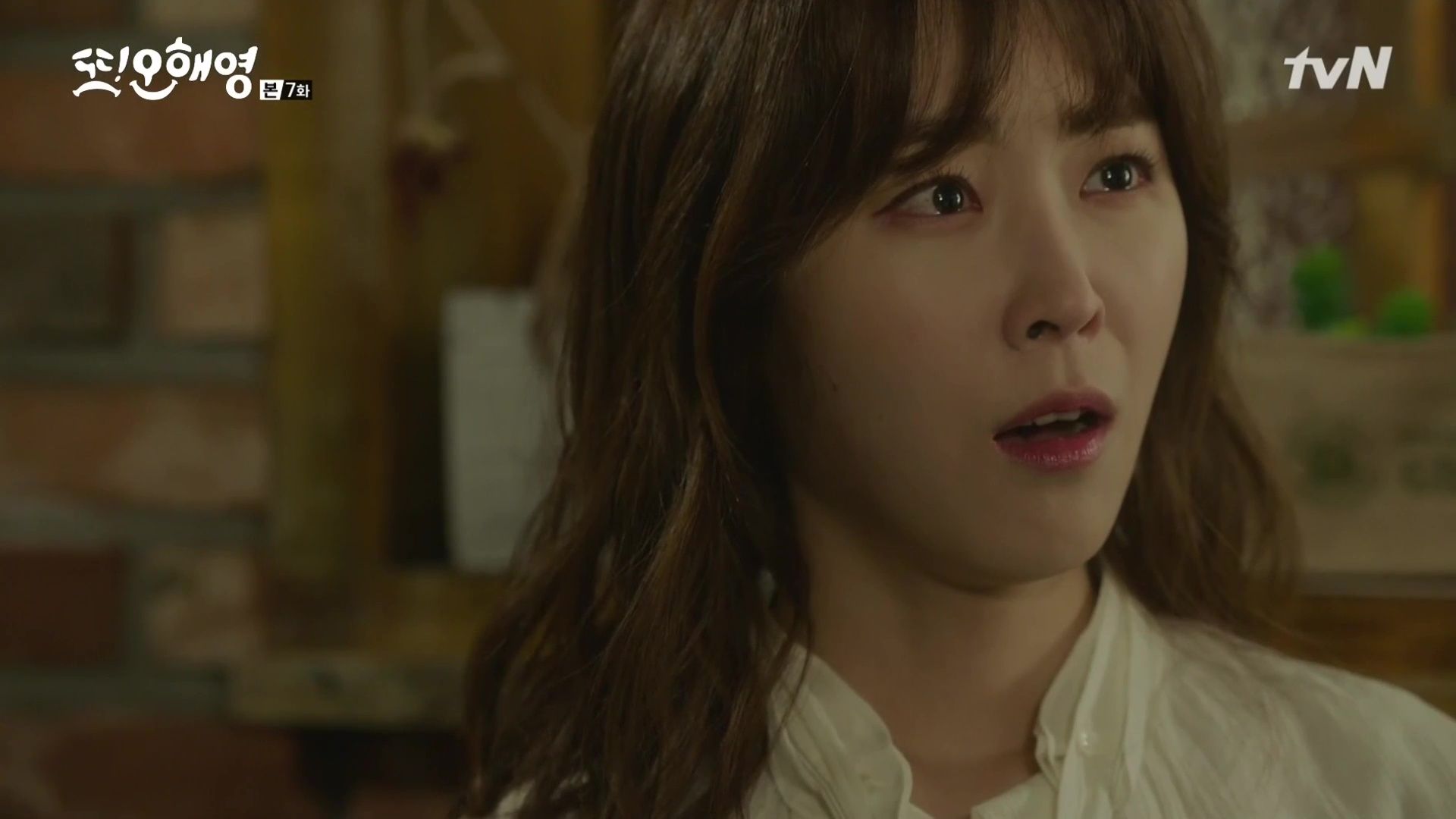 As soon as he collects himself he storms up the stairs after Hae-young and demands to know: "Who are you? Why do you keep showing up? Why?!" he insists that she move out or he will, and Hae-young calls him childish and slams the door in his face. Good for her.
Do-kyung goes down to his siblings' place to stew in his fury, while Hae-young meditates to regain some calm. She assures herself that there's no shame in loving someone, but she can't quite convince herself, and cries from embarrassment.
Her parents show up (dressed to the nines in hopes of running into Do-kyung) and scare Hae-young half to death when they just let themselves in and start cooking up pork belly. They all freeze when they hear Do-kyung slam into his place, and he can hear the sound of the cooking pork belly. He stomps over to barge through the door and finds himself right in the middle of family dinner, pointing an accusing finger at Dad, whoops.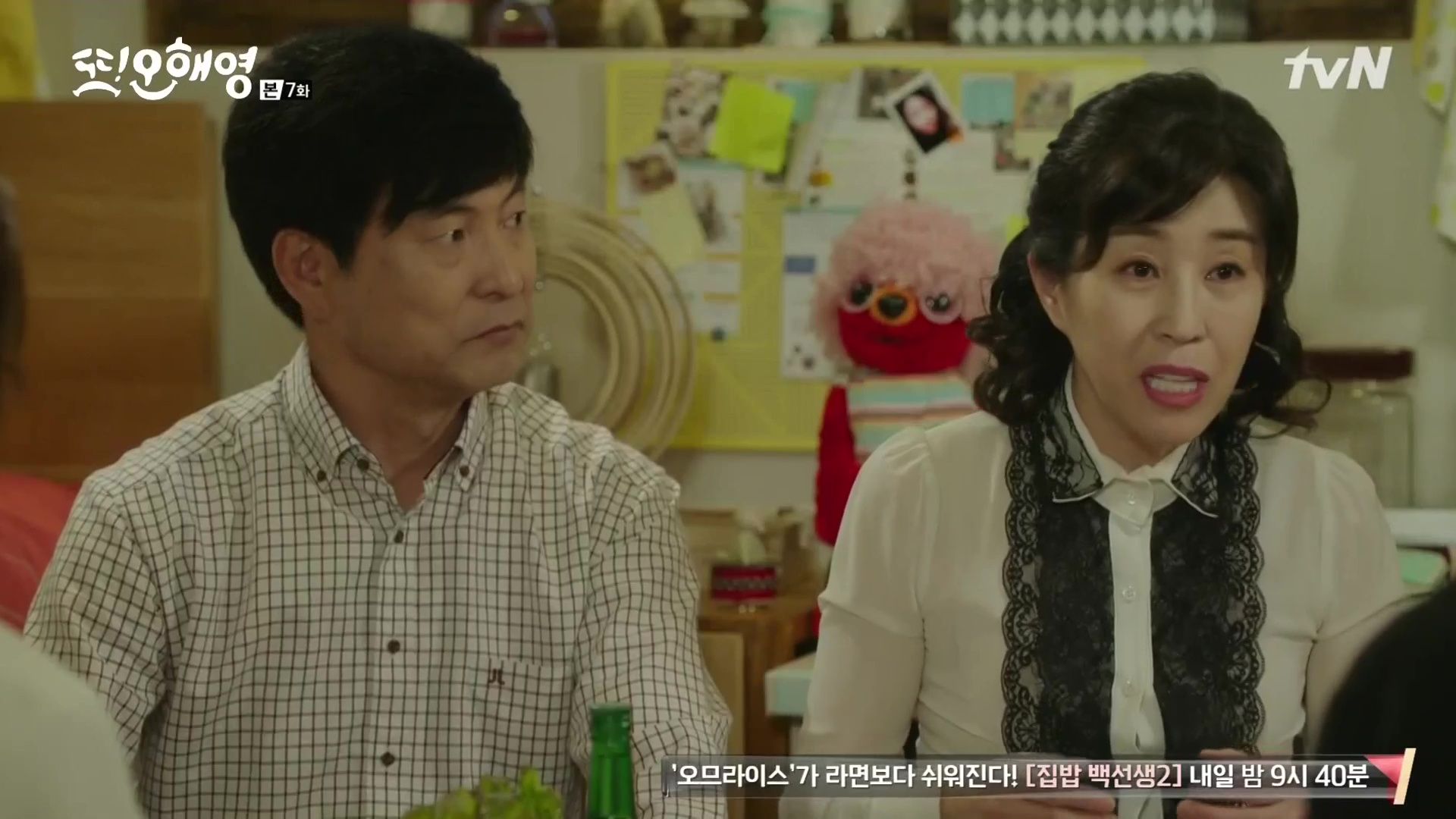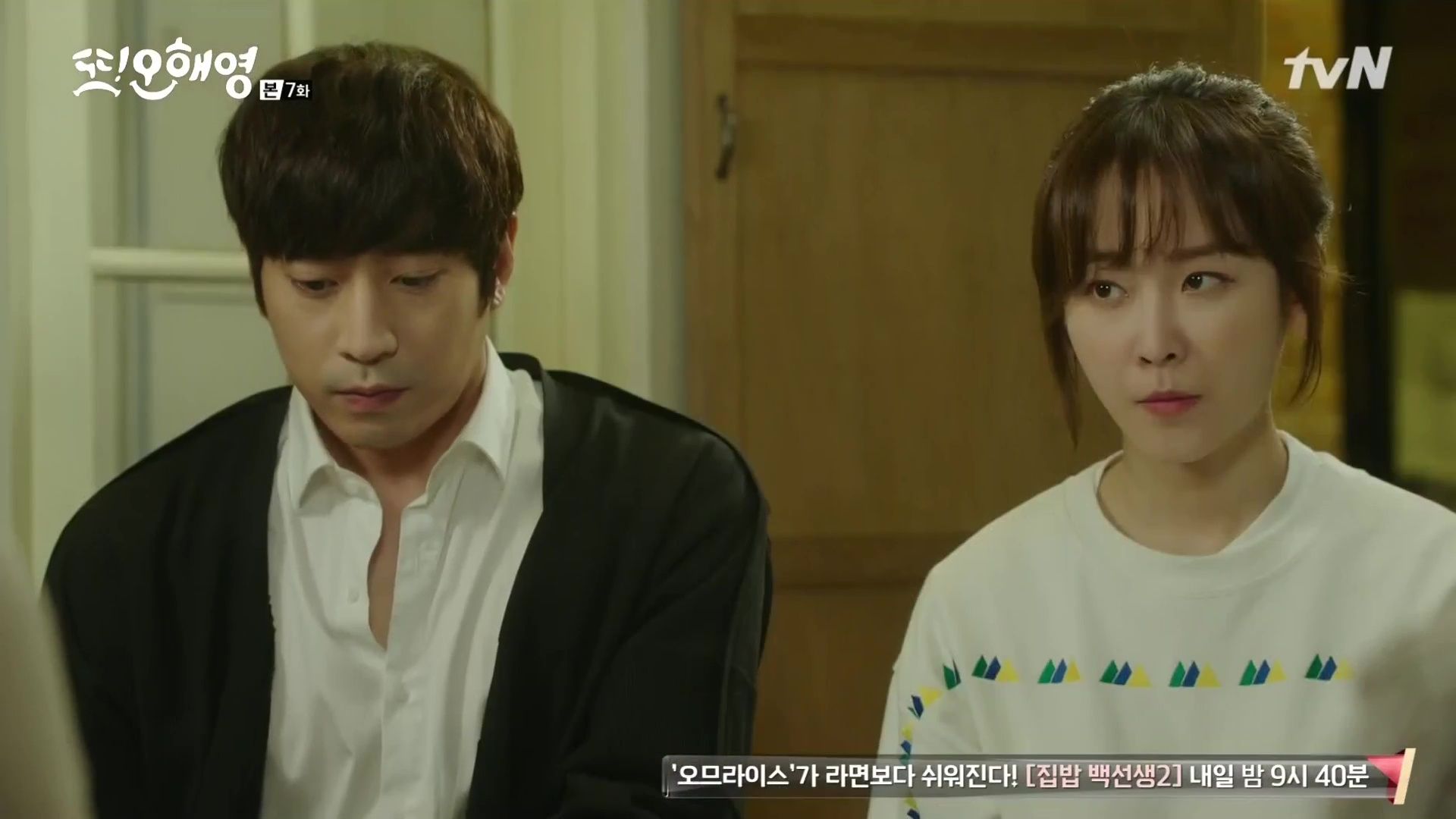 Mom and Dad don't take no for an answer and insist he join them, literally dragging him through the door, and for a moment Dad and Hae-young are actually playing tug-o-war with him. Mom finally yells and Do-kyung sits, while Hae-young snarls at her parents.
Mom spends the meal fawning over Do-kyung, but when she pretends their family isn't poor, Hae-young bursts out that they most definitely are. Dad presses Do-kyung to have a drink, and he's forced to accept even though he doesn't want it.
Hae-young explodes and yells that he doesn't like her, and after a long, long uncomfortable silence, Mom asks if Hae-young likes him, though. She can tell by her daughter's face that she does, and Mom reaches across the table to smack her upside the head, yelling at her for liking a man who doesn't like her back.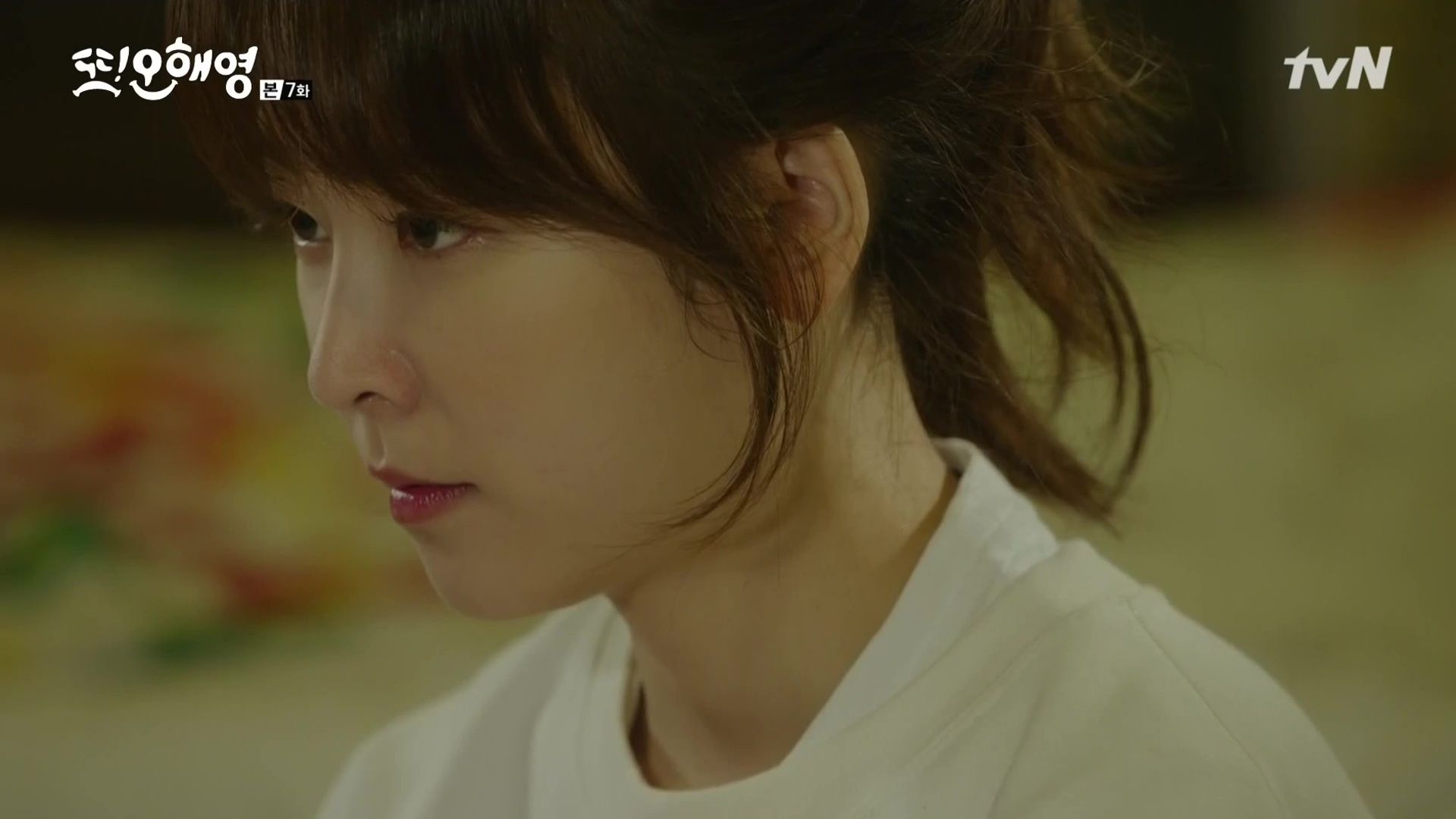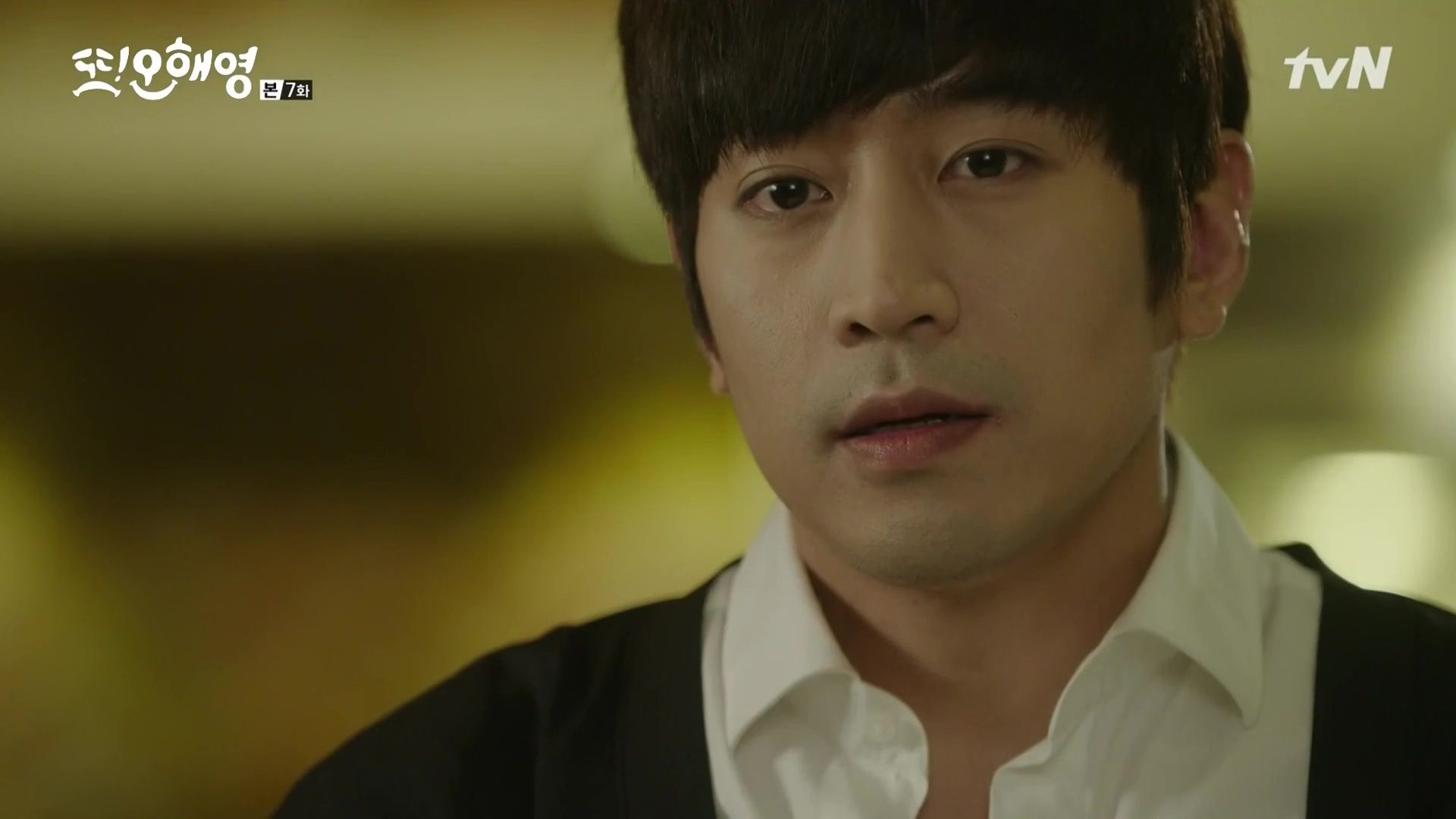 Then she turns on Do-kyung and demands to know why he doesn't like Hae-young, so angry that Dad has to drag her out. Such a Mama Bear, I love her. On the bus ride home she's so upset that she rips several buttons off her shirt, then forbids Dad to pick them up.
Do-kyung is back on his side of the door, but he paces and frets, and finally snaps through the wall that guessing wrong about someone must run in Hae-young's family. Now that was just mean. She doesn't respond but storms out and gets on her bike, but she doesn't get far before she's nearly run over by a car.
It's Jin-sang, and Hae-young orders him not to mention their argument to Do-kyung. He agrees, relieved to let the whole thing go.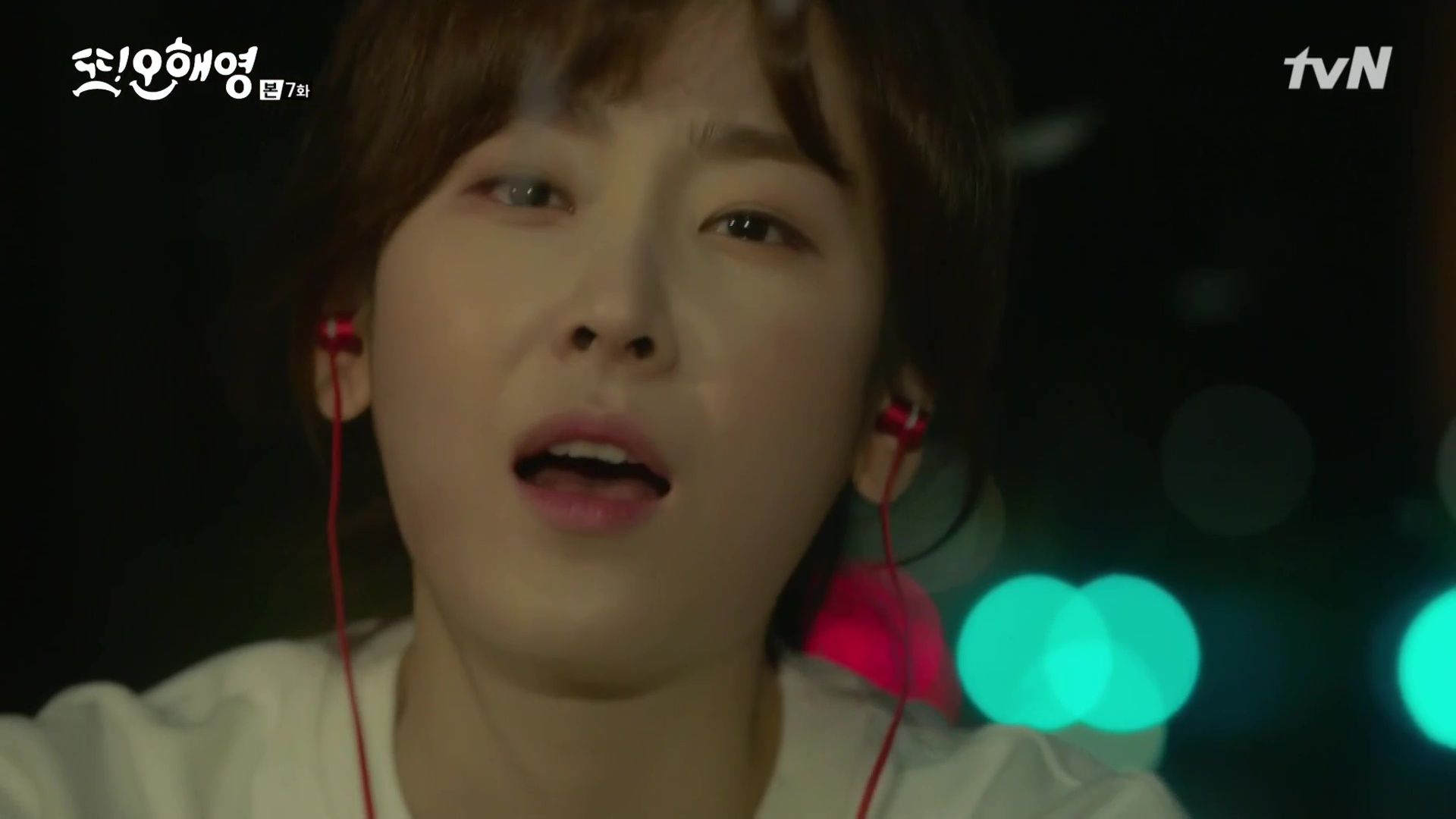 Hae-young rides for hours, singing along to her music, and thinks to herself that she wants every other woman in the world to die. That way she could be the only woman in the world.
Do-kyung waits on his balcony for Hae-young to come home, worried about her despite what he said to her earlier. But he sees another vision of Hae-young, seeming drunk and saying that she ran into her ex-fiance. The reminder of what he did to Tae-jin is not a pleasant one.
In the morning, Soo-kyung is squeamish about Jin-sang walking around in his undies, though he swears it's his pajamas. She flips her top over her head, baring her bra, and chases him around the house ordering him to "look at it!" HAHA, these two are hilarious.
Do-kyung asks Jin-sang to check if Tae-jin has been released from prison, while Hoon is more worried about food and wants Hae-young to pack them another lunch. Soo-kyung overhears and asks Do-kyung who he's dating, guessing that it's Oh Hae-young, though nobody will give her a clear answer.
There's a mix-up at work when a package for the other Hae-young is delivered to our Hae-young, which doesn't make our Hae-young feel any friendlier towards her nemesis. The other Hae-young sees that her email to Do-kyung was read, but she's disappointed to have received no response.
Do-kyung's mother grabs one of his employees to ask how her son's been lately, confused when she hears he's been in a good mood. But she overhears another employee say his bad mood is back, but the guy is smart enough not to give her any details.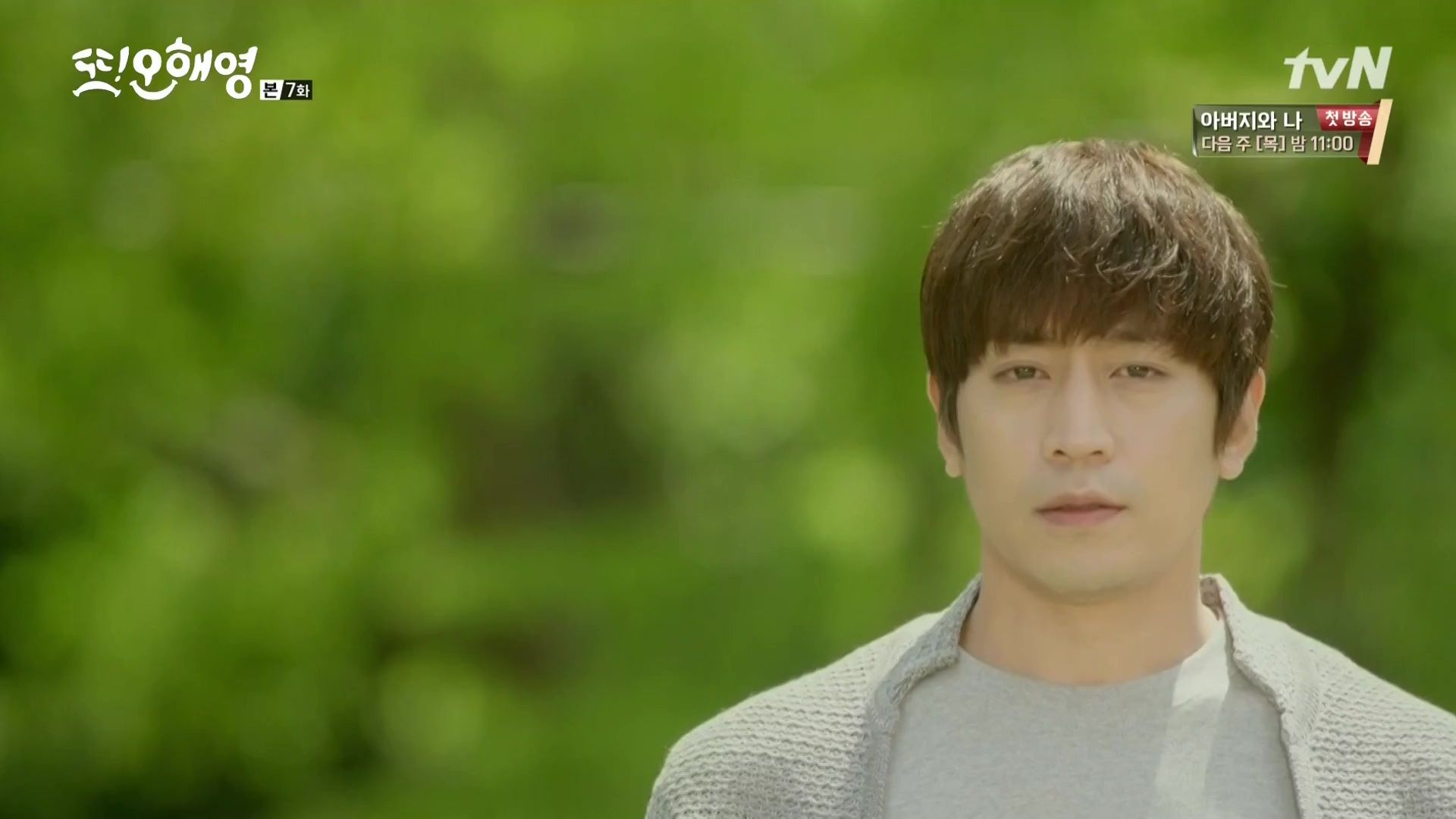 Do-kyung is truly in a black mood, yelling at Hoon for using wave sounds from the wrong coast. He apparently took An-na on a romantic getaway to the West Coast when he was supposed to be recording on the East Coast. Wow, his hearing is really incredible.
The other Hae-young texts Do-kyung to ask why he hasn't called her yet, and he remembers having the fight with his mother that she heard recorded. Yeah, it still sounds pretty bad. He agrees to meet with Hae-young, and she smiles like nothing ever happened between them.
Meanwhile, our Hae-young replays the humiliating evening last night, beyond upset and frustrated. A car pulls up beside her and the driver gets out – it's Tae-jin, who has indeed gotten out of jail. Hae-young is shocked to see him but stands as he approaches her, his heart in his eyes.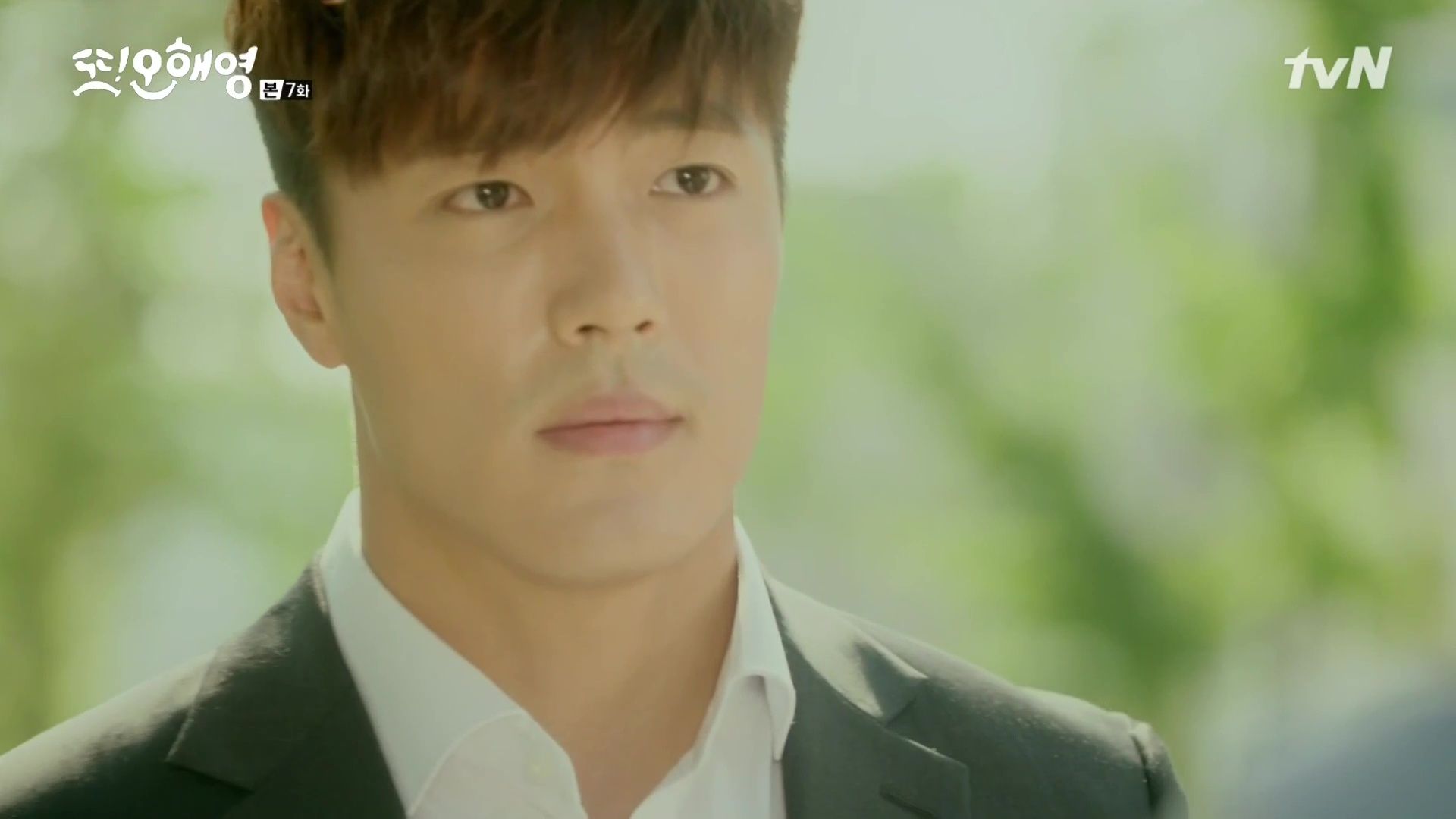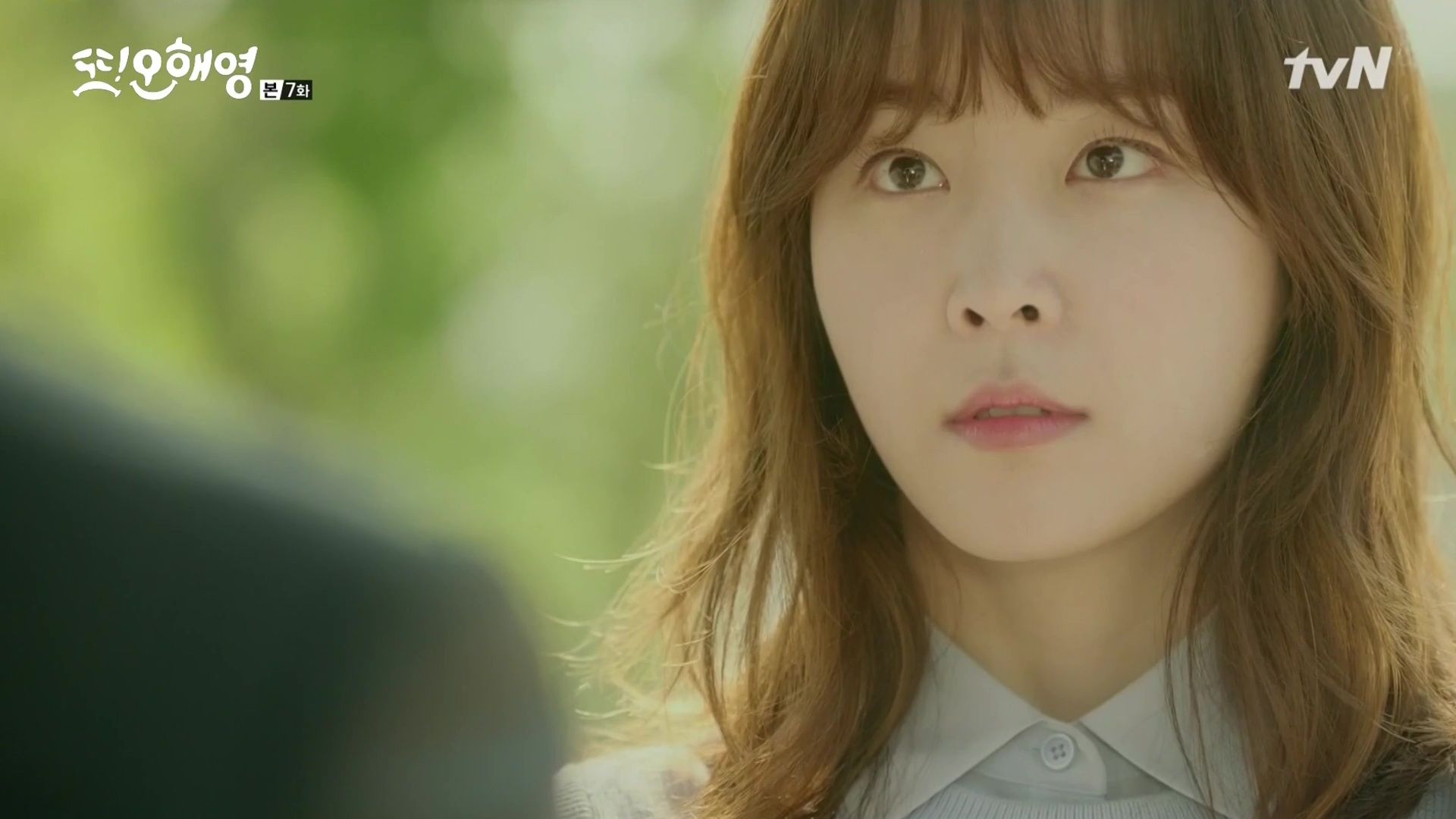 COMMENTS
I'm concerned for our Hae-young, because while it's been obvious for some time that she likes Do-kyung, this episode showed that right now, it may not be a very healthy emotion for her to be having. It's easy to forget that she's very recently out of a serious relationship, so serious that she was getting married, and she fell for the very next guy who was nice to her. Whether or not they're meant to be together, the way things are right now isn't good — Hae-young is so fixated that she's actually wishing death on every woman in the world, while Do-kyung has a lot of repair to do with what he did to Tae-jin, and with his own past regarding the other Hae-young.
But at this point in the story, I'm about ready to tell both Hae-youngs to kick Do-kyung to the curb. He's pretty much being an ass in every possible way, and it's so frustrating. I get that he's got reasons for not wanting to get involved with our Hae-young, but he didn't have to be so cruel when she told him she liked him. She's a mature and intelligent woman, she doesn't need to be hurt in order to understand… if he just said he didn't like her that way, she would have accepted it. But he had to be mean about it, when there was no real reason to be, and I think he's just still twisted up about his own bad breakup and taking it out on our Hae-young. And as for the other Hae-young, I don't blame her one bit for being horrified at hearing him say he pitied her. That's a terrible thing to say about the woman you're about to marry and are supposed to love. I think that both Do-kyung and our Hae-young need to back up, handle their past relationships and get closure, then find each other and start over in a healthy way this time.
That said, I commend the show yet again for subverting yet another trope, of the fiance who leaves without a word and just expects to be welcomed with open arms when they finally decide to return. It seems like they always have a terrible reason for it, and for once, instead of finding the excuses flimsy and frustrating, I agree that the other Hae-young had every reason to no-show her wedding and disappear. Now that we know her personality and how fragile she is, her instinct to escape makes total sense. What she heard him say that he felt pity for her and not love, it must have injured her to the core and I don't blame her for just running. It still would have been nice if she'd left a note or a message, but for someone as sensitive as she is, I completely understand why she would just want to get as far away as she could, as fast as she could.
The other Hae-young is such a great second lead, in that she's not bad, or evil, and she has no nefarious intent or ulterior motive. She's just a girl who's lived a really lonely life, whose heart was shattered when she learned that the man she loved didn't love her. What she wants more than anything is to be liked, but she's so busy making sure she's likeable, she has no idea who she really is. She's created this persona that she acts out constantly, pretending that nothing is wrong, but this time it's caused more problems than it's solved. By pretending to have the perfect life, she shut out her innermost secrets and fears from Do-kyung, so there was never a chance for him to love her — he's never known who she really is.
Which is another reason why I think our Hae-young is so amazing — she's been speaking her ugly inner truth from the beginning, telling Do-kyung all of her hurtful secrets and letting him in to the core of who she is. No wonder he's fallen for her, because she's been giving him her true self from the very beginning. The problem is that he won't admit it, or give her the same of himself. Which brings me back to what I said before — the way things now between Do-kyung and our Hae-young is very unhealthy. It's time to take a break, handle their individual issues, then try again if it's what they both want.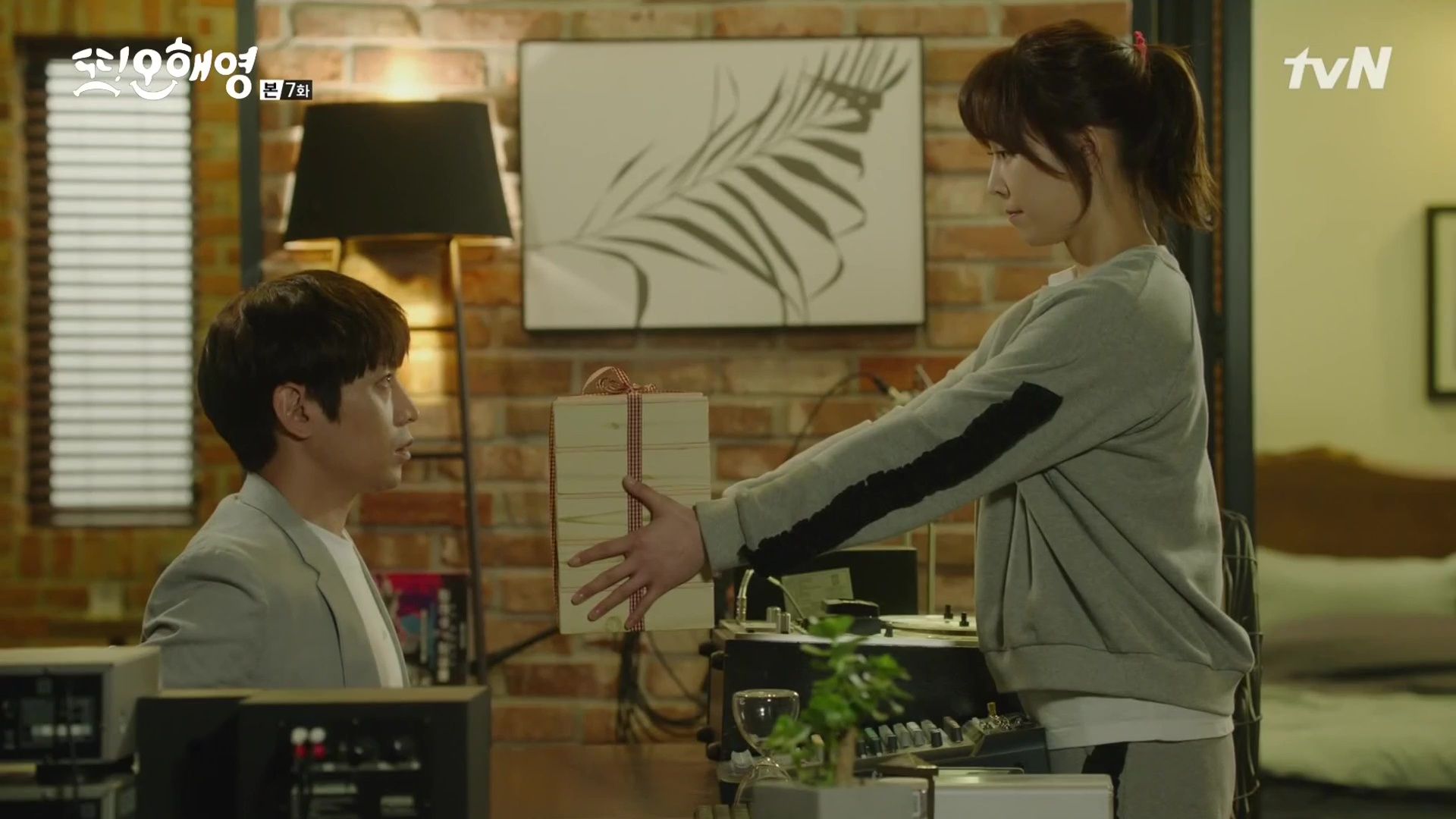 RELATED POSTS
Tags: Episode 7, Eric, featured, Jeon Hye-bin, Oh Hae-young Again, Seo Hyun-jin