Oh Hae-young Again: Episode 8
Love, guilt, confusion, abandonment, all topped of with a huge helping of possibly supernatural visions — it's enough to drive anyone over the edge. Do-kyung seems to be in imminent danger of losing his mind with everything he's having to deal with. In fact, I'm starting to become concerned for the mental well-being of more than one of our main players, and it's may keep getting worse before it gets better.

EPISODE 8: "I'm not crying because of him, but because of you"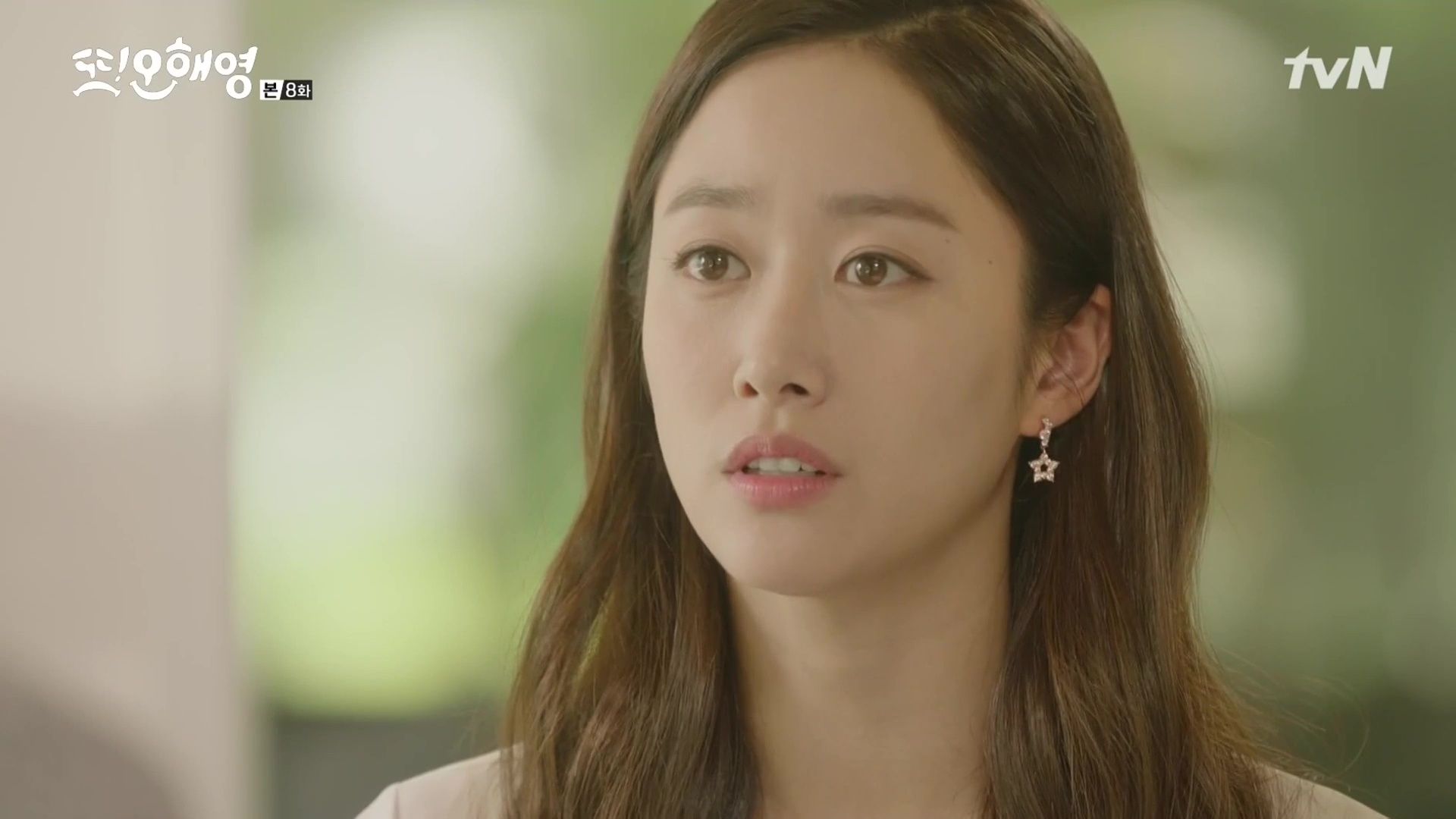 Do-kyung and the other Hae-young talk about how they left things, and Do-kyung explains that when he said he pitied her it didn't mean he didn't love her. He pities everyone he loves, even his brother and sister. But Hae-young wants to be loved without being pitied.
As it turns out, Hae-young isn't here to try and rekindle their relationship. She just doesn't want them to remember each other with anger and bitterness anymore, so she suggests they change their last impressions of each other before they go their separate ways. Her idea is for them to play ping-pong ten times — by the last time they won't feel badly towards each other anymore, and can move on.
Do-kyung is hesitant, but Hae-young swears she's not doing this to get him back — in fact, she's ready to try dating again. She just wants to resolve her feelings towards him first.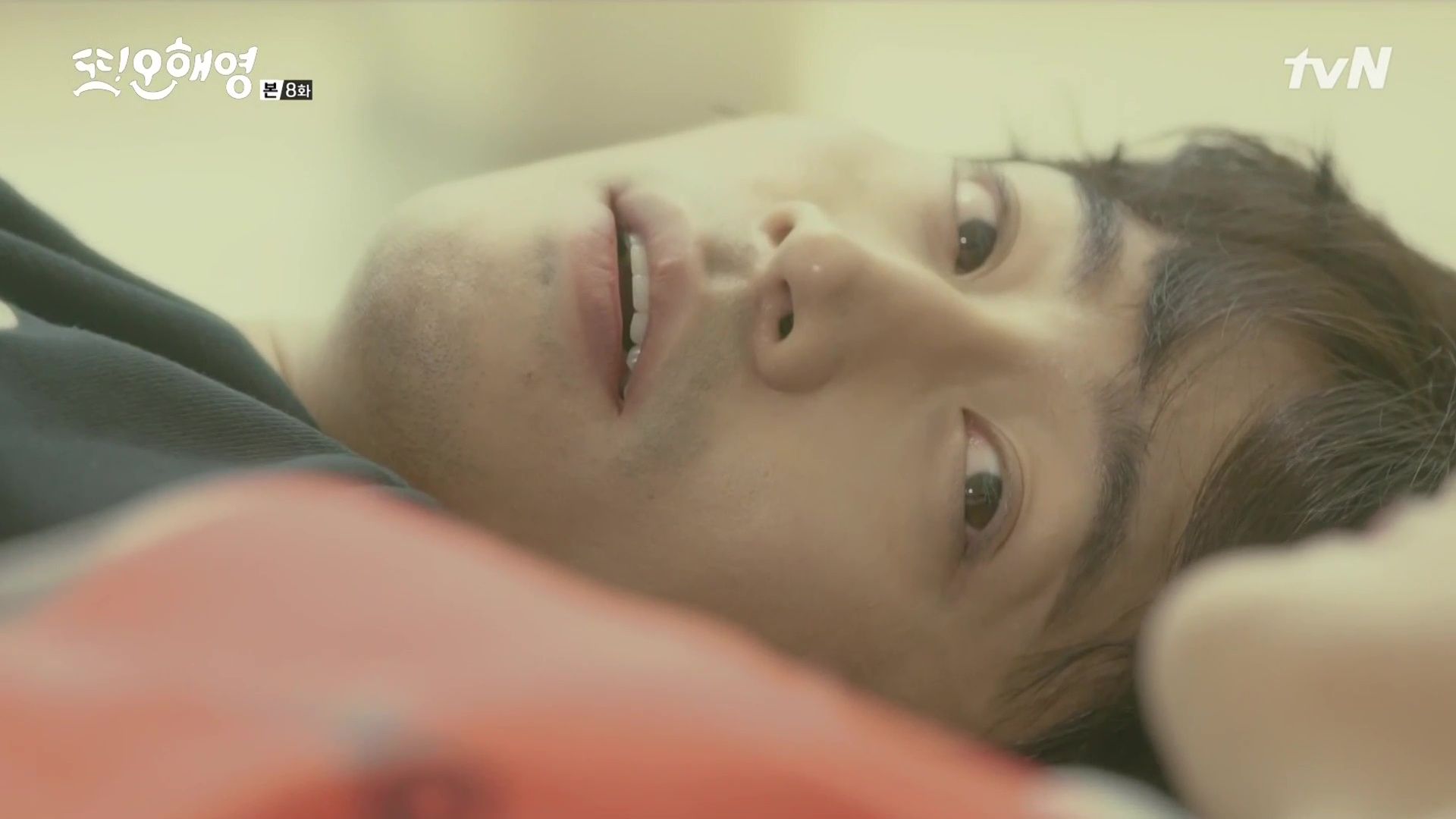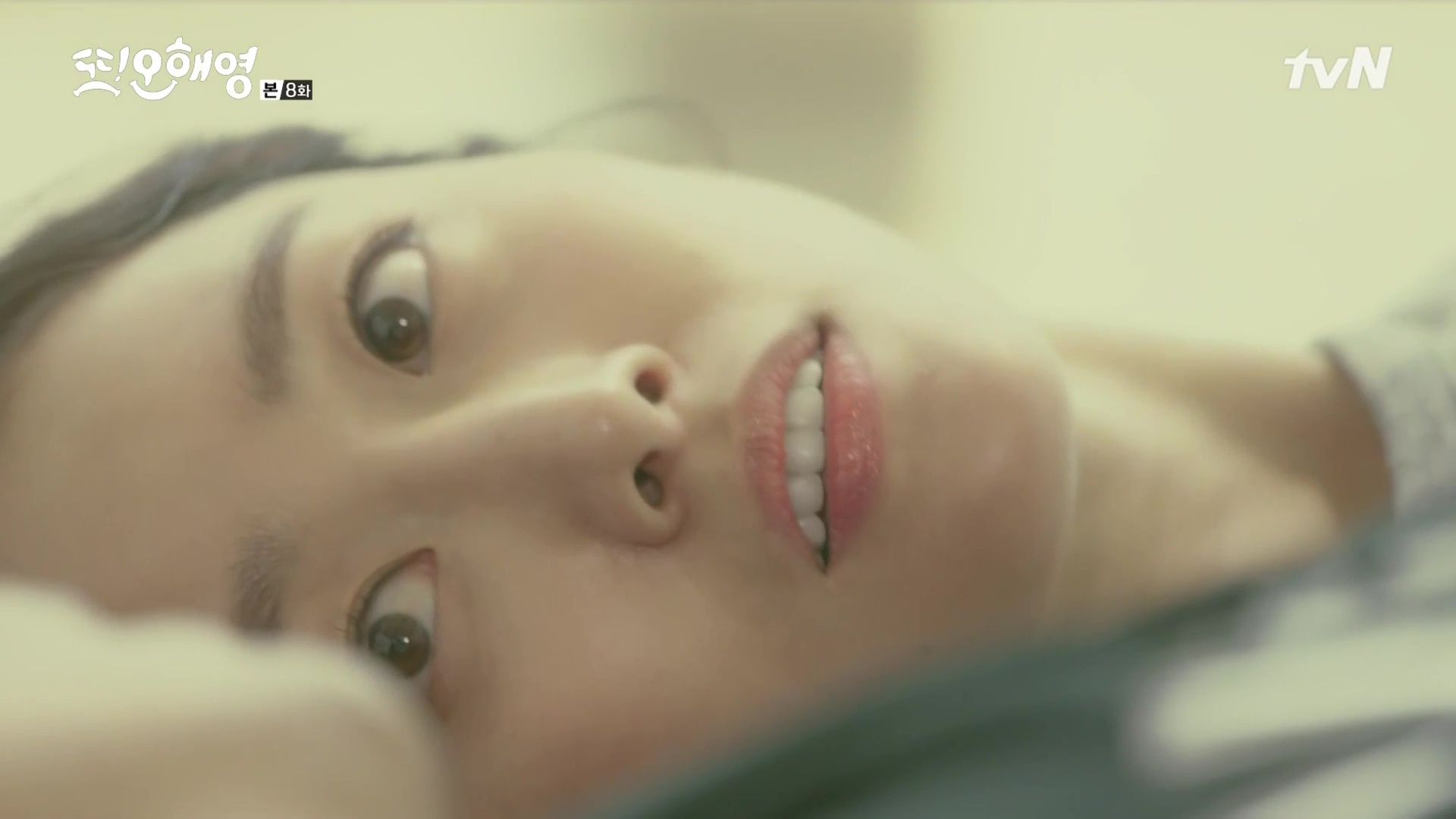 In flashback we see that they have a history with ping-pong, that they used to play all the time. Hae-young had been pretty much unbeatable, and Do-kyung had had to take lessons just to be able to beat her once. When he finally did, as his prize, he'd asked her to marry him.
We don't see whether Do-kyung agrees to the ten games, but on his way home, Jin-sang calls to tell him that Tae-jin has been let out of jail. Of course Do-kyung already knows, since our Hae-young told him in a vision that she saw Tae-jin. He has another vision, of her crossing a busy street, seeming disoriented.
At work, both Hae-young's present ideas for potential signature dishes for their company, but Soo-kyung thinks our Hae-young's suggestion is too simple. She tells our Hae-young to come back with something more trendy, or she's fired. Geez, she's a loon at work, too.
She even tells Sung-jin to keep his entire team out of creating menu ideas, but he argues that our Hae-young was instrumental in the company's success at opening Korean-style restaurants. He blames her lack of promotion on her admirable ability never to brag about her work, and actually blames himself for not pushing her forward more.
The other Hae-young tries again to invite our Hae-young out for drinks, and when our Hae-young asks why, she says that she met with Do-kyung today. She tells her that they plan to see each other for a while, asking if that's okay, but our Hae-young just says, "It's not okay."
Soo-kyung exits the building behind them, talking to someone on the phone who wants to know what our Hae-young is wearing. It's Do-kyung — interesting.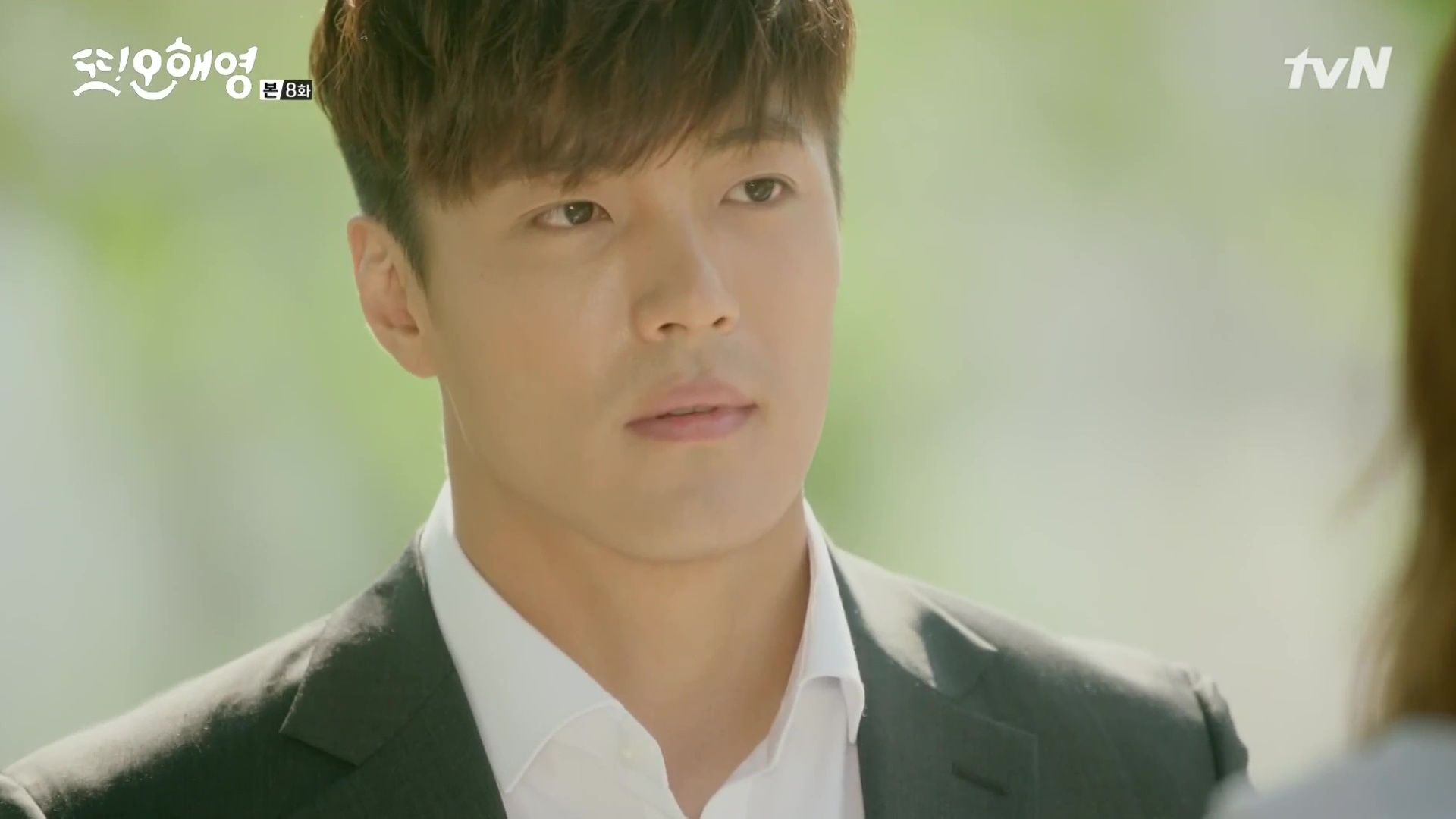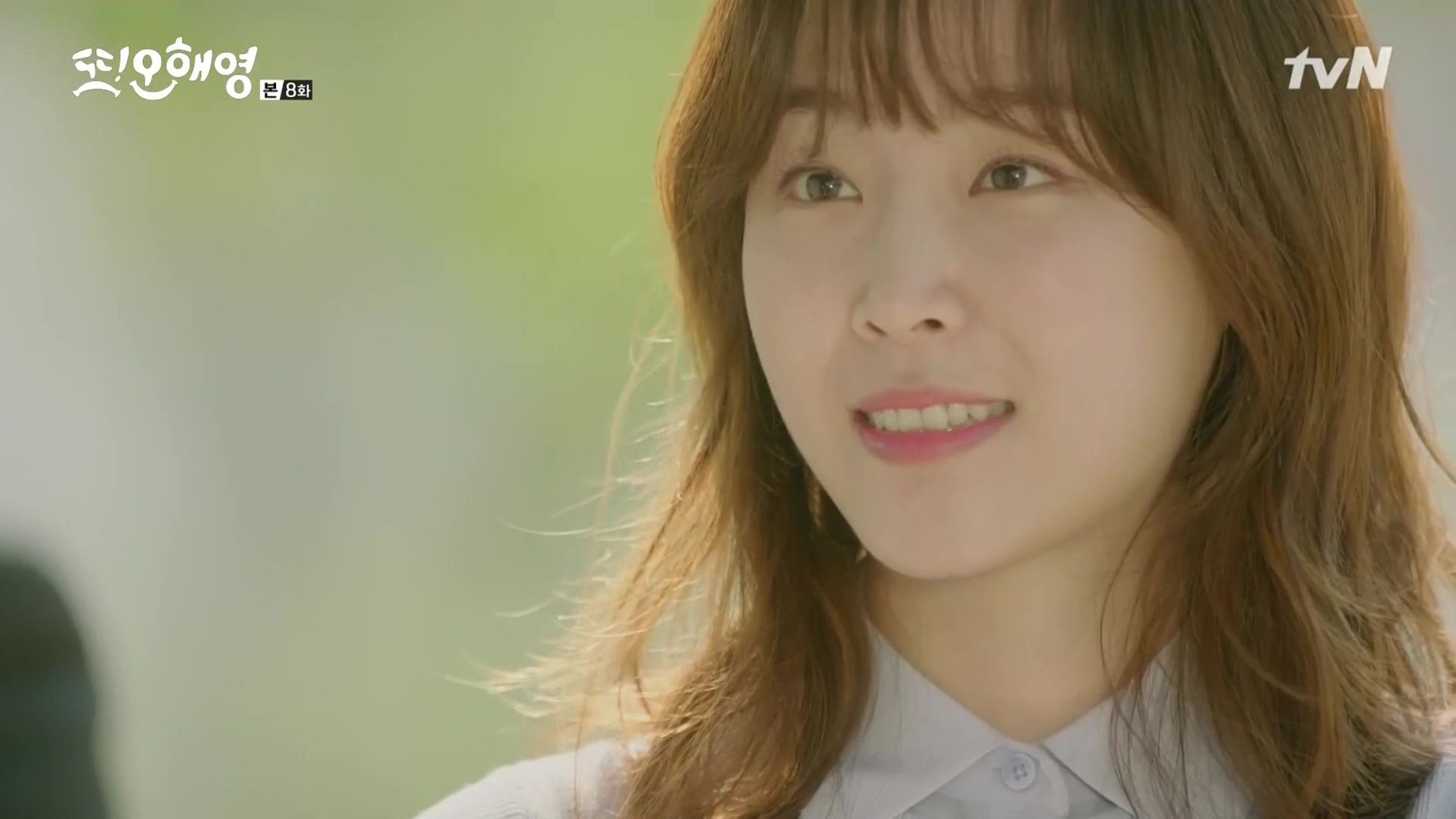 That's when our Hae-young finds herself at the bus stop, facing her ex-fiance Tae-jin again out of the blue. They exchange awkward hellos, and Hae-young reflexively says they should go out to dinner sometime before realizing how strange that would be. But Tae-jin jumps on the idea, and says he'll call her later.
But when he gets back in the car, there's a pretty woman peeking out of the passenger window, smiling at Hae-young. That's too much of a one-two punch in one day for Hae-young, and she drinks away her heartbreak.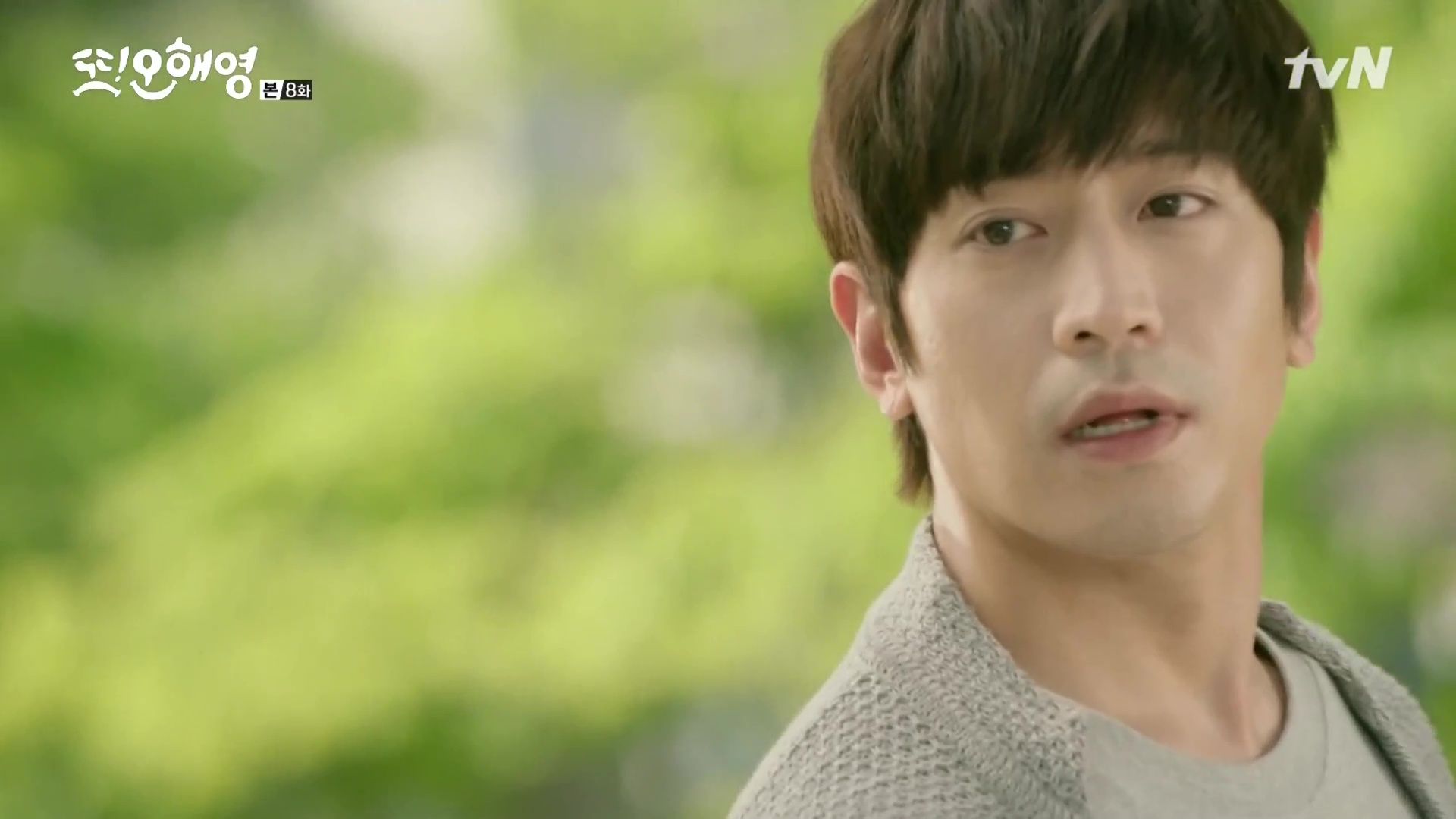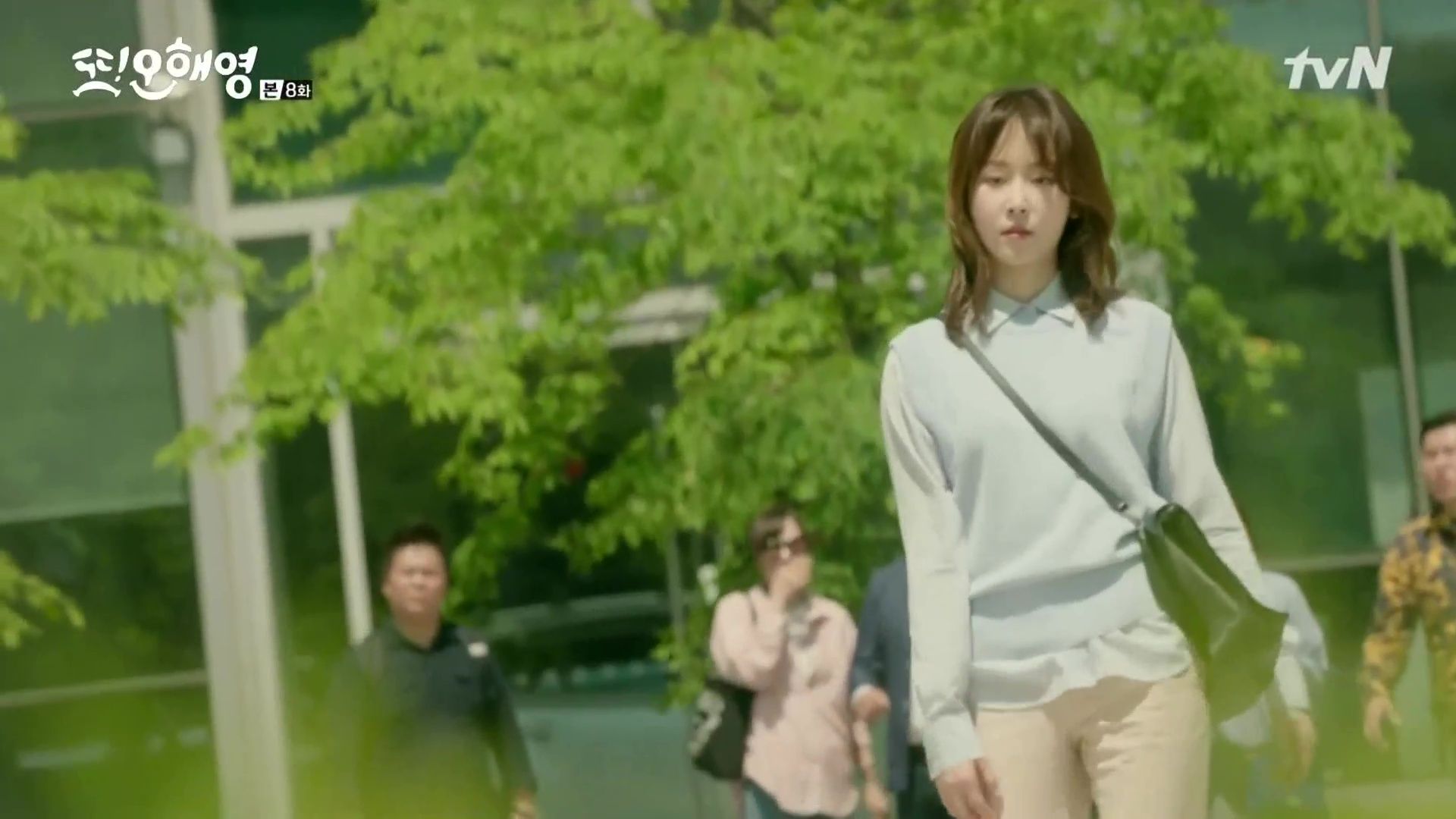 As it turns out, Do-kyung was confirming what Hae-young is wearing because of his concerning vision wherein she's staggering across a busy street, seeming very disoriented. She's wearing the same shirt today as in his vision, and when he has the vision again, he uses a brief glimpse of a building to figure out where she'll be.
Hae-young is there already, very drunk and wobbly, and about to cross the street. Two guys horse around and she thinks it's time to cross, so she walks right out into heavy traffic. Do-kyung hears the horns honking, but not until Hae-young is in the middle of the street.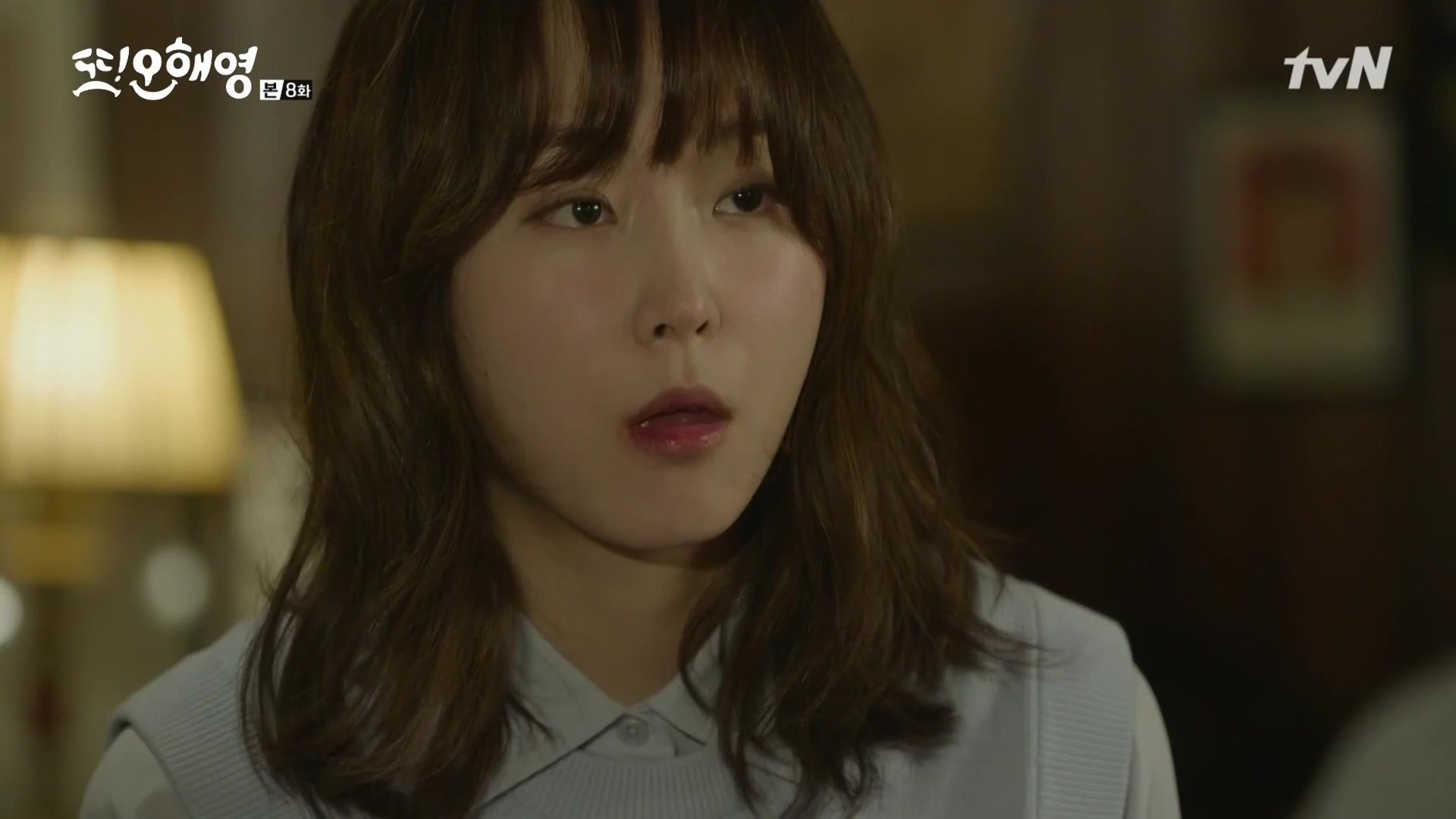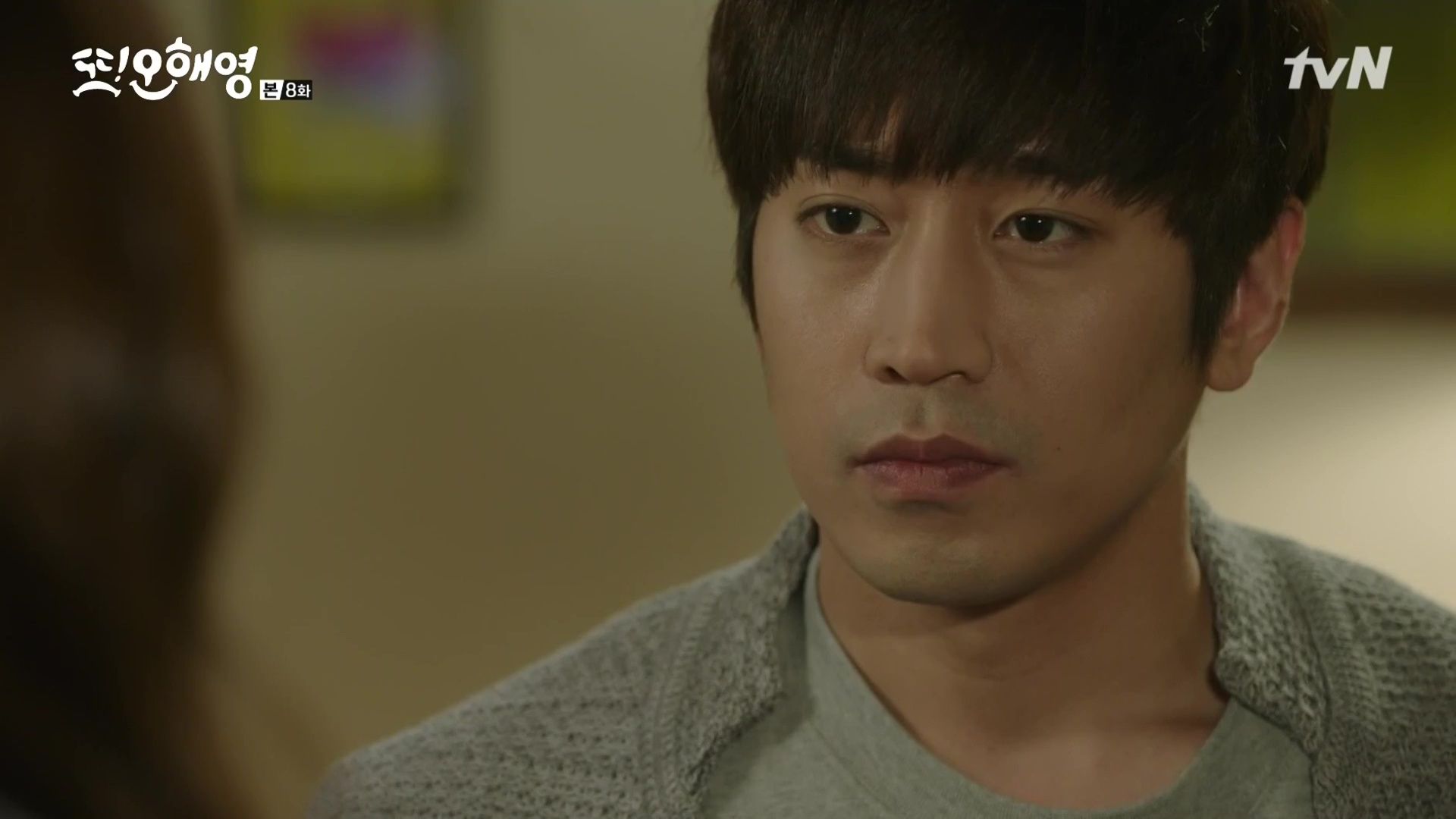 It's too dangerous to go after her so he calls out to her from the curb, and though she hears him, she's too inebriated to respond. Cars be damned, Do-kyung follows after her, but they both make it to the other side safely before he catches up. He stops to ask her where she's going, but she can only look around, confused, and say she was going to eat.
Do-kyung takes Hae-young and feeds her, where she eats as if in a trance. He stops her before she makes herself sick, and she slurs that he's acting very strange. He said he doesn't like her, so why is he here?
Do-kyung says it's because she seems to be having a hard time, but when she asks in what way, he gives himself away with his silence. Hae-young asks how he knows she saw her ex-fiance, so he pretends that he just guessed when he saw her condition while crossing the street.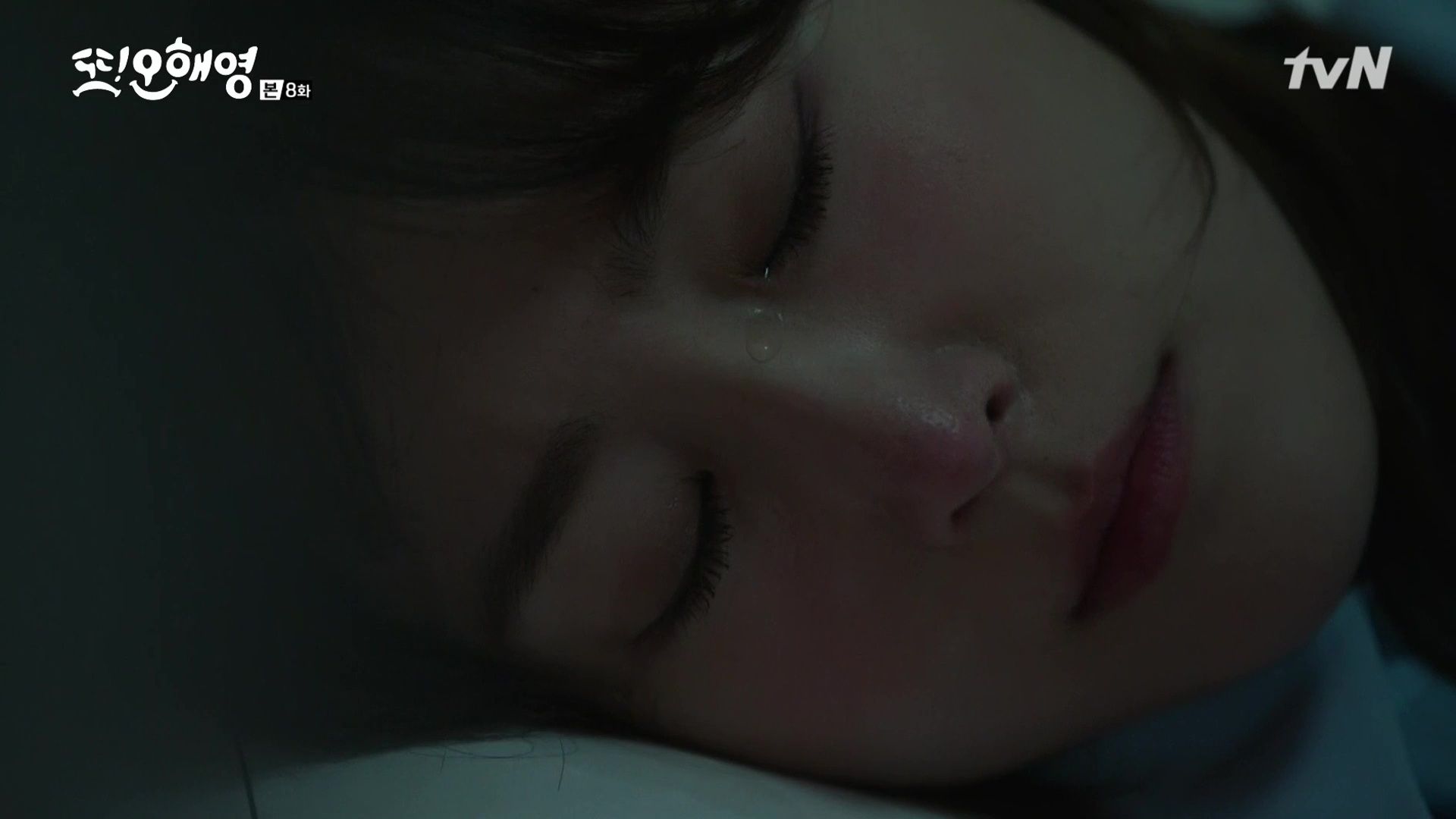 She moans that she saw her Tae-jin on a day when she didn't even wash her hair, awww, and tells Do-kyung that the guy who couldn't stand to watch her eat asked her out to dinner.
Of course Hae-young is sick as a dog later, and Do-kyung can hear her heaving through their shared wall. Bless her heart, she can barely drag herself to bed, and Do-kyung goes out to get her some medicine. He practically throws it at her and orders her to take it, but she ignores the medicine and cries herself to sleep.
Soo-kyung is also drinking herself into oblivion at her usual restaurant, but she looks up fast when the waitress asks why she didn't come last night — the man she used to come here with was here. Apparently he'd told the waitress he's moving abroad, and that he wanted to come one last time.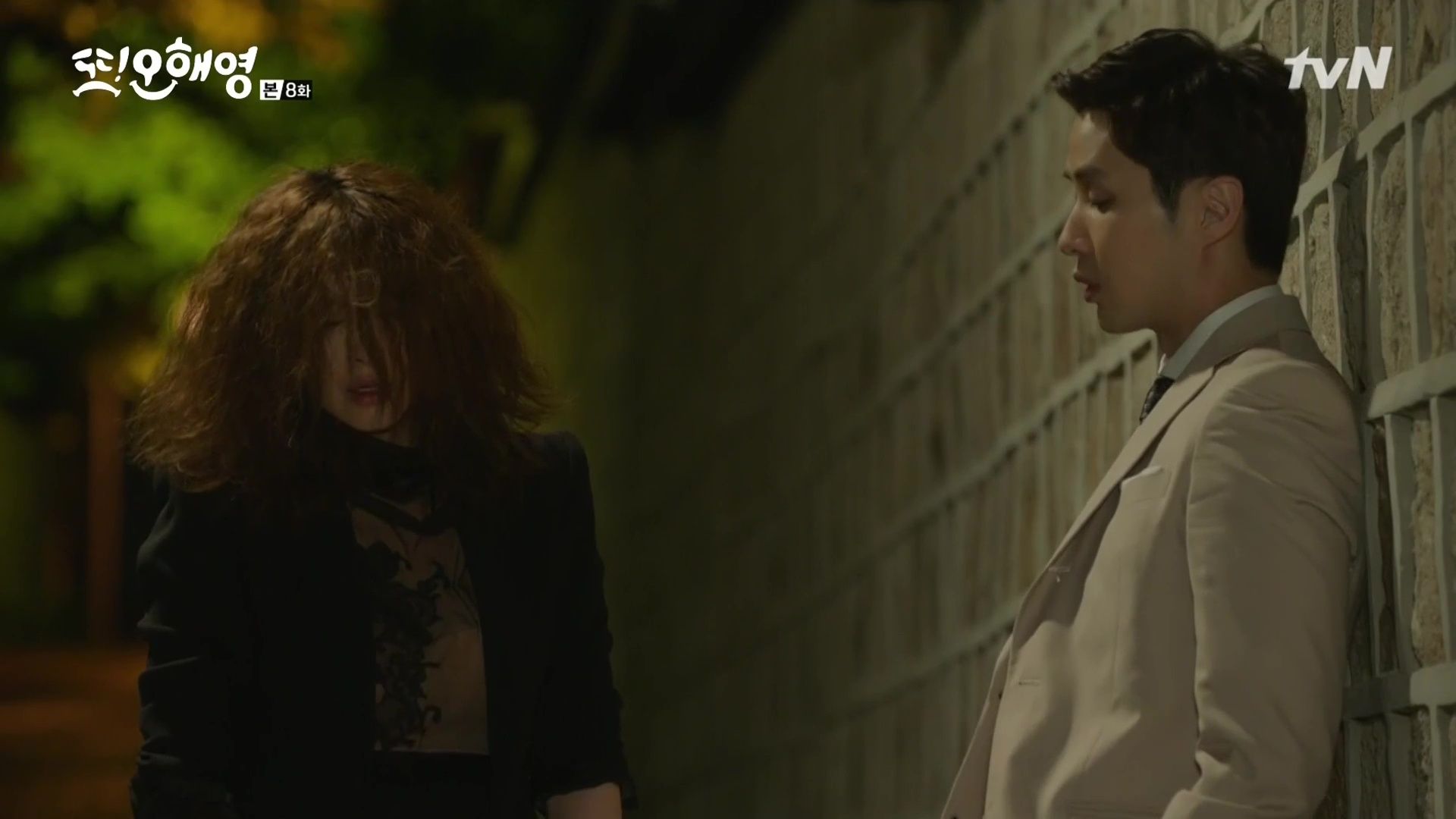 Soo-kyung goes out to the street to scream and cry, and Jin-sang sees her as she's driving past on his way home. He fusses at her to stop drinking every night, but she's actually upset because she didn't drink last night as usual.
Jin-sang grows concerned when he sees that Soo-kyung is crying, but she's speaking in French again. This time he answers her in French, and tells her to just go see him if she misses him that much.
The fact that he speaks fluent French snaps Soo-kyung out of her caterwauling, but he says he didn't tell her all this time because it seemed like she didn't want to be understood. He knows the whole story: She met the guy while studying in Paris, and they dated after returning to Korea. But the guy has a fatal flaw — he's married.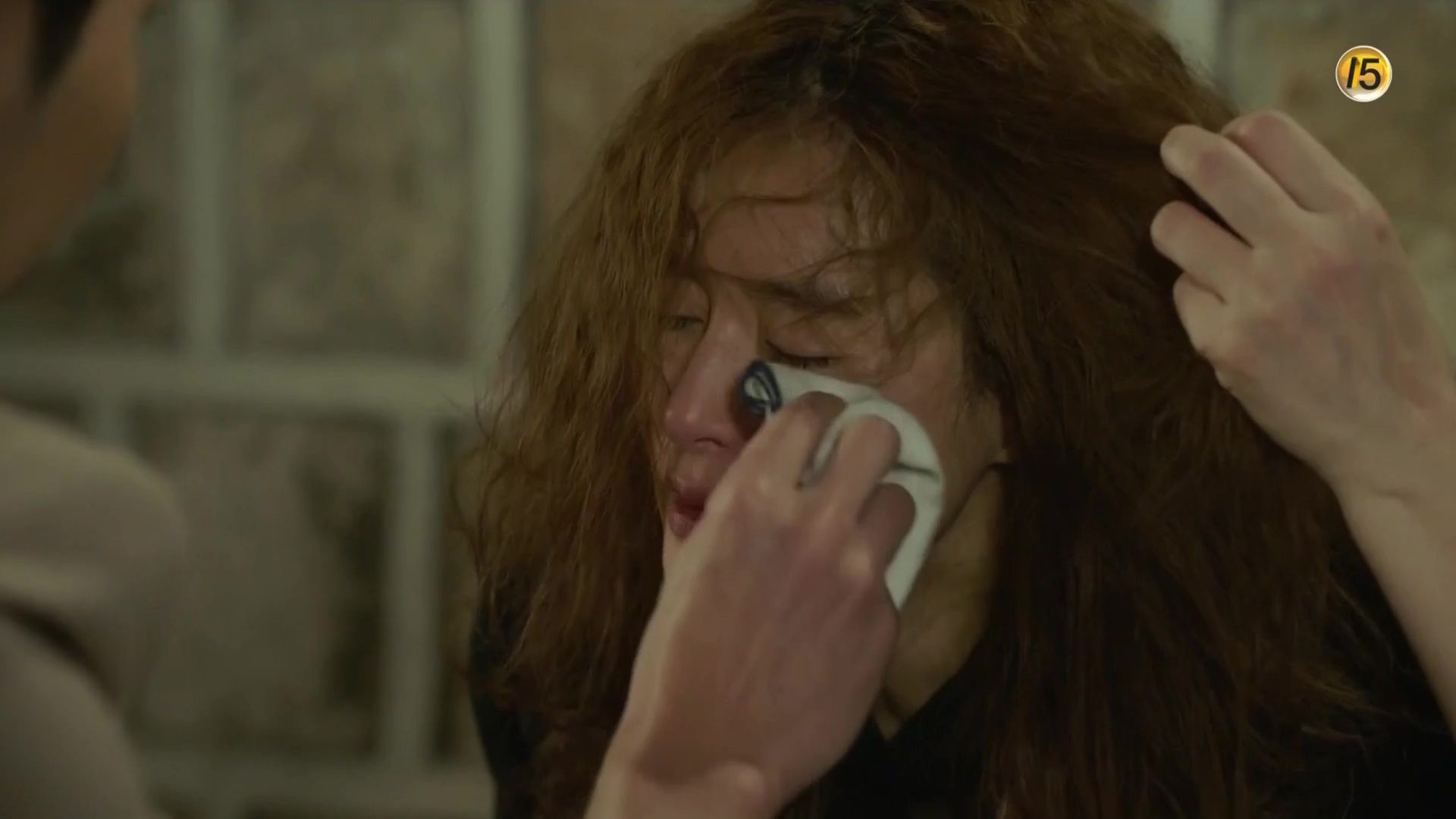 That literally sends Soo-kyung into a screaming fit, and Jin-sang catches her and says it's not her fault for falling in love. He tells her again to just go see the man before he leaves, as he sweetly dries her tears.
An-na talks Hoon into going to the wrong coast again to record the waves, urging him not to cave to his brother's demands (yeah, but he's also his boss…). Hoon knows this is a bad idea, but he gives in to her, and the two play in the water.
When they sit to eat, An-na mentions that she's been to this beach with a lot of guys, so Hoon asks how many guys she's dated. It's a big number but she justifies that she didn't date any of them for long, that none of them lasted to their one-hundred-day anniversary. Probably because she asked for something really huge each time, like couple tattoos or to walk across the country together.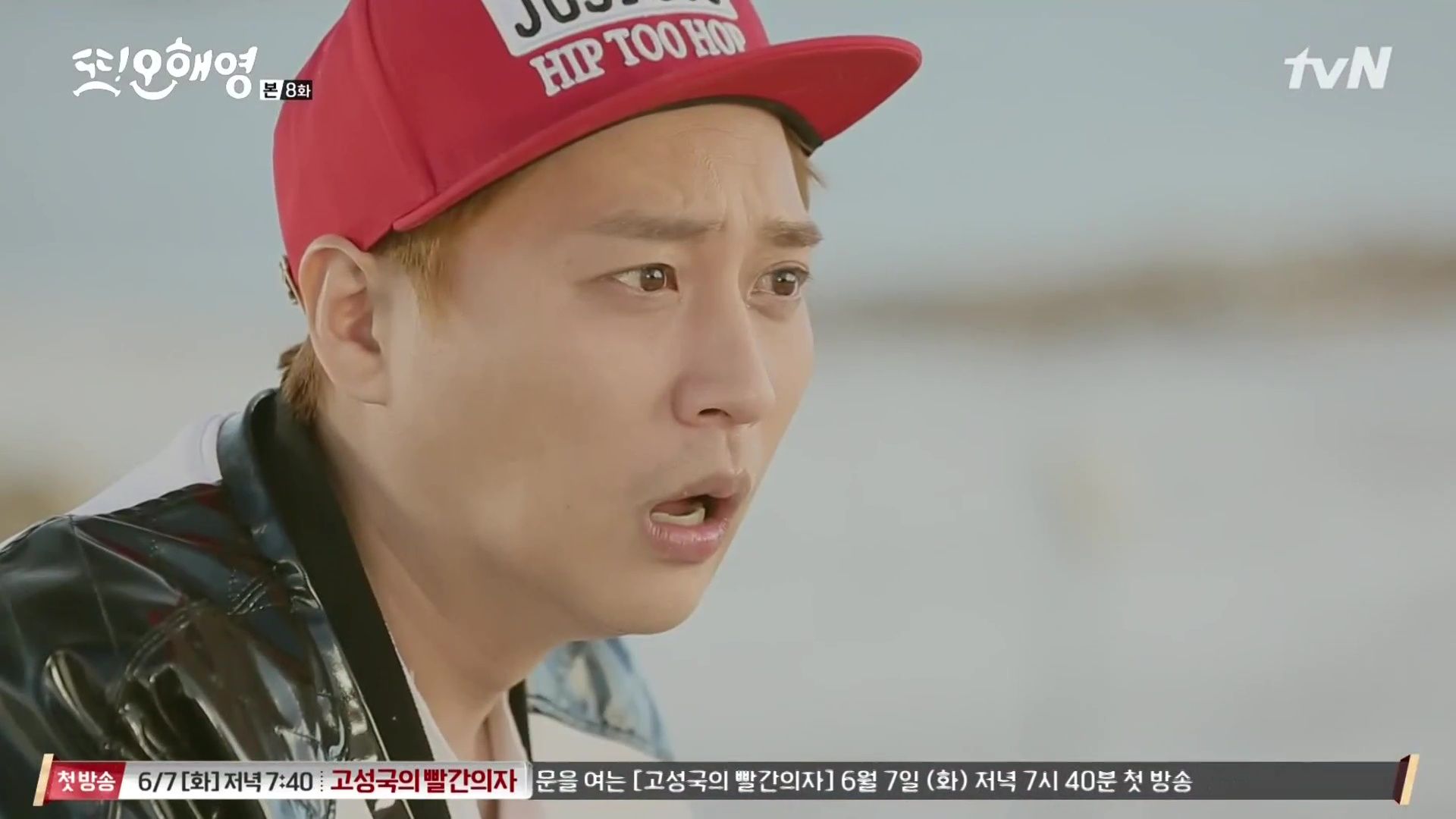 She admits the requests were tests, but all the guys failed. Hoon starts to worry what she'll ask for when their hundred days is up, and does an actual spit-take when An-na says, "Live together." If he says no, she'll break up with him.
Hoon says she should just ask him to marry her, since living together is out of the question, but An-na doesn't want to get married. She tells him sweetly that he still has time to think about it, or they could always just break up now.
Hae-young's mom rushes out when she gets a call from Tae-jin's mother, who thinks her son has been traveling abroad. She doesn't know the true story either other than that supposedly Hae-young broke things off, though she says she still thinks highly of her. She asks if Hae-young might change her mind and rethink marrying Tae-jin.
Mom takes this information home, and she tells Dad that she doesn't think Hae-young and Tae-jin should get married. Dad says they should let their daughter decide, but Mom thinks it's better to let things lie. But she summons Hae-young to the house and tells her to just go talk to Tae-jin.
Hae-young bursts into tears, and finally tells the truth, that Tae-jin was the one who dumped her. Mom is stunned, and Dad balls up his fists like he'd love to go pound that jerk into the pavement for making his baby cry. Later, Mom starts to sob herself when she thinks how angry she was at Hae-young for canceling the wedding, and Dad breaks down soon after.
Outside her parents' house Do-kyung steels himself and tries to call Hae-young, but chickens out. He sees Tae-jin drive up and look around, but he's also too nervous to go in and ends up leaving. Do-kyung follows him, remembering Hae-young's pain over being dumped the day before her wedding.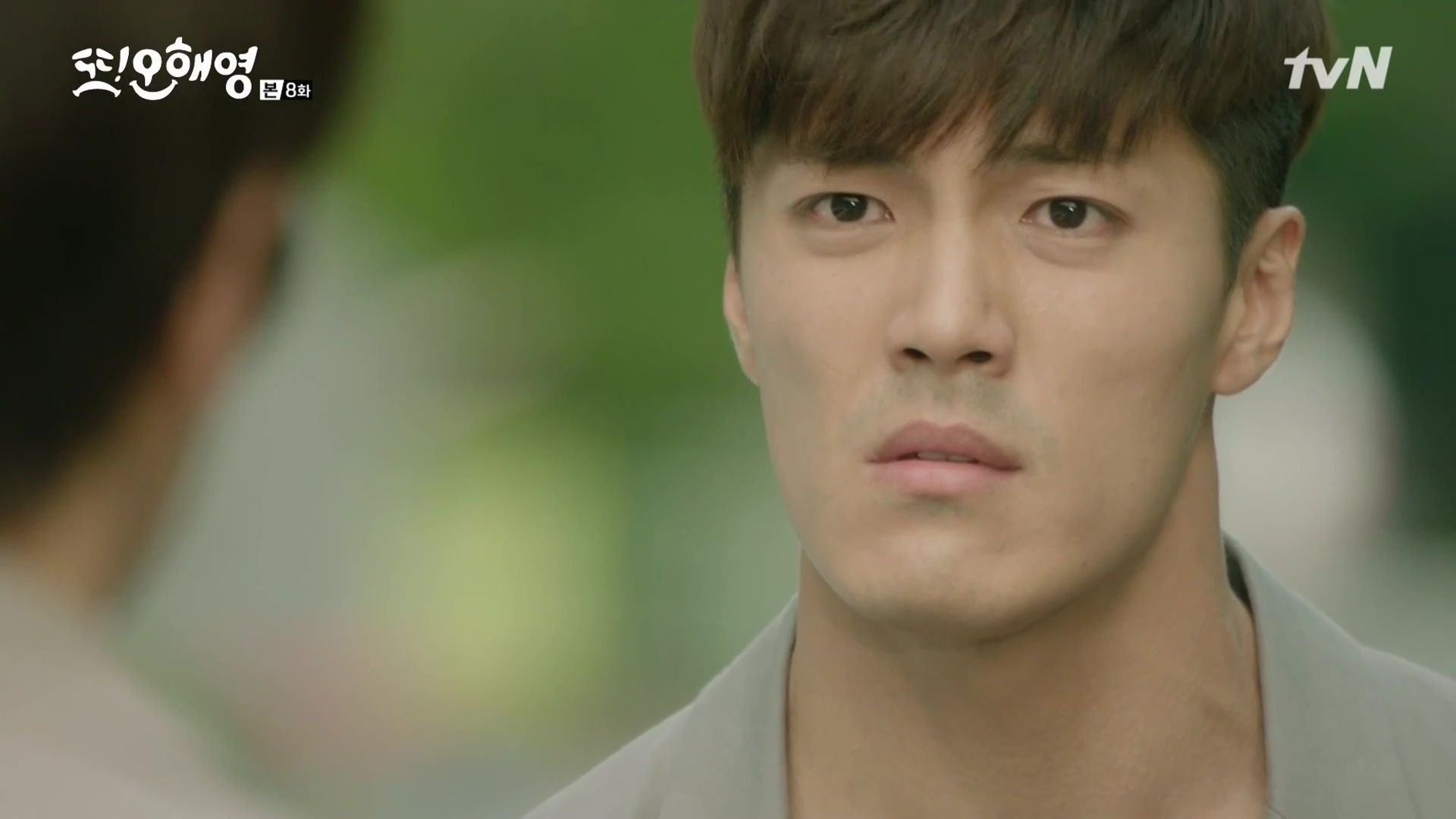 He works himself into such a fury that when Tae-jin stops for a turn, Do-kyung revs the engine and rams into the back of Tae-jin's car. He pretends to have fallen asleep at the wheel, though his voice holds no remorse, and Tae-jin instantly recognizes him as the guy who smirked at him right before his life fell apart.
He asks if this is how Do-kyung celebrates his release from prison, and asks what Do-kyung's problem is with him. He knows Do-kyung has something against him, but no matter how hard he's thought about it, he can't figure out why.
Do-kyung admits that ruining Tae-jin's business was a mistake back then — but he meant to crash his car. He invites Tae-jin to sue him and starts to walk away, but Tae-jin pulls him back and gives him a strong right hook.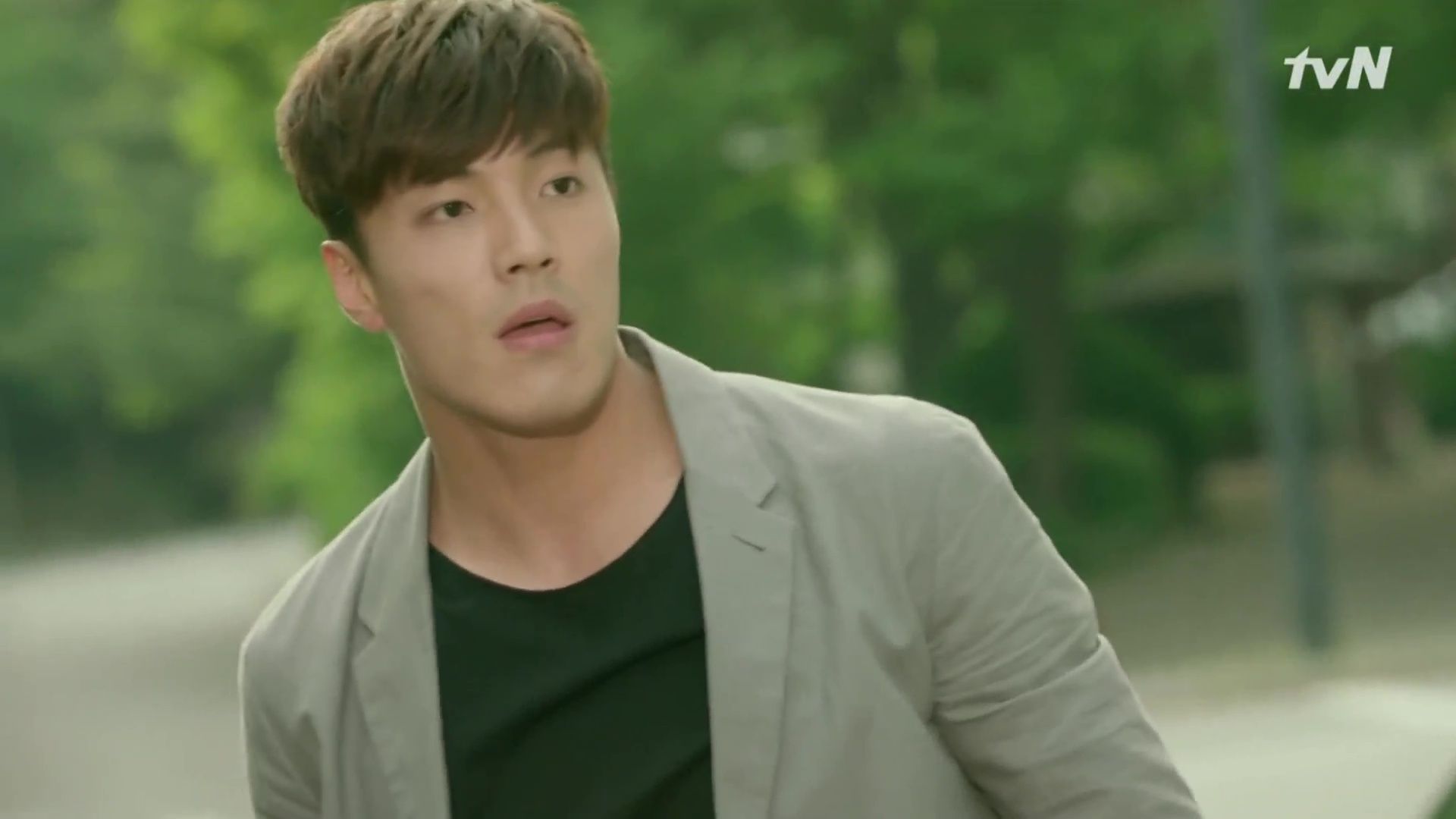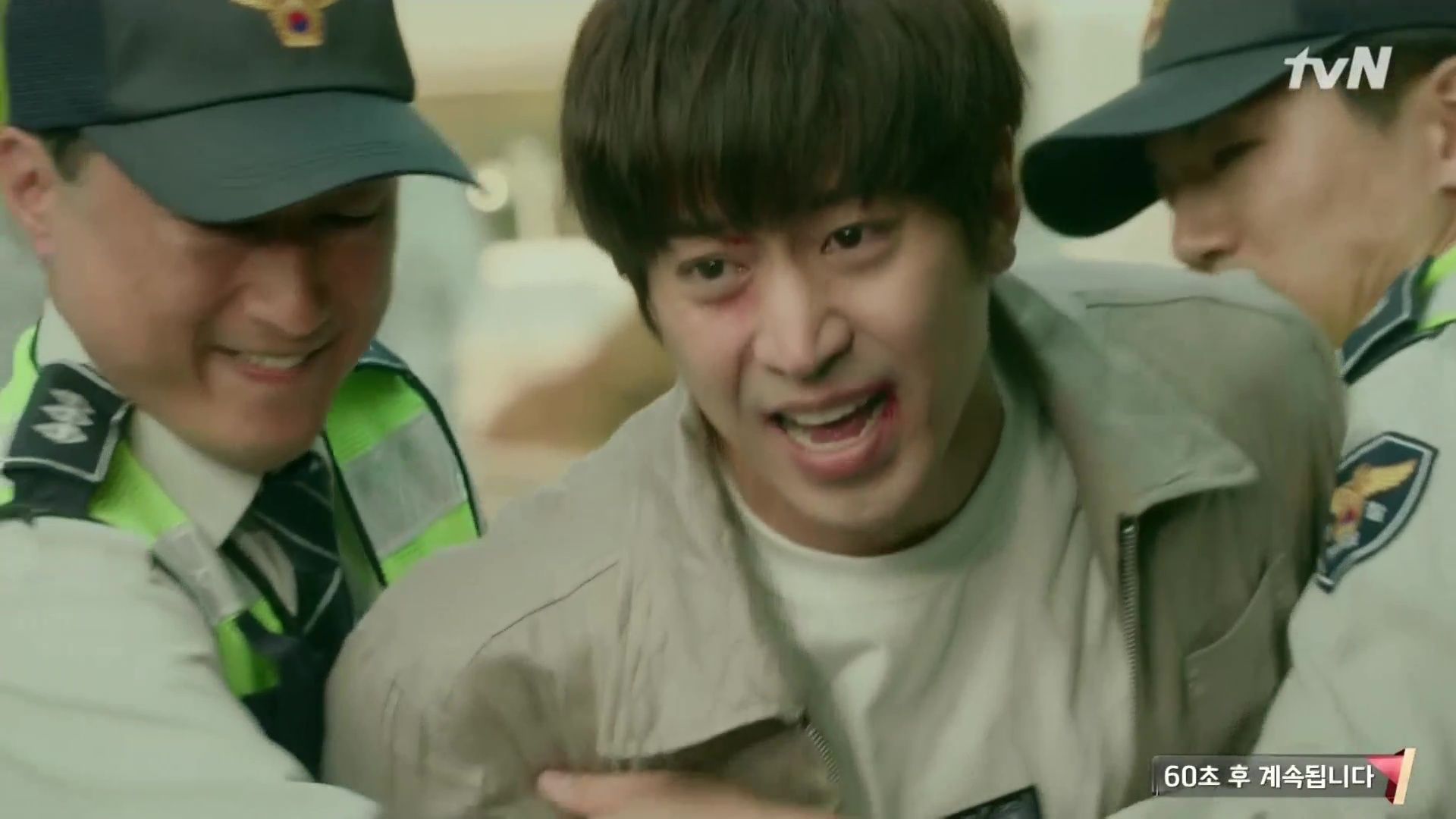 He screams that he still wants to know why, even if it was a mistake, but Do-kyung just thanks him for throwing the first punch. He says that Tae-jin can punch him a hundred times, as long as he gets one punch in return.
Tae-jin is confused but he takes Do-kyung up on his offer, and starts throwing fists. Do-kyung goes down and Tae-jin kicks him savagely, even picking Do-kyung up so he can knock him down again, but Do-kyung just asks for three more.
Tae-jin calls him a crazy bastard and turns his back, so Do-kyung goes in for his punch, but the police have been called by now. They hold Do-kyung back while he struggles like a wild animal, screaming, "Even if you went bankrupt, how could you say such a thing? How?!"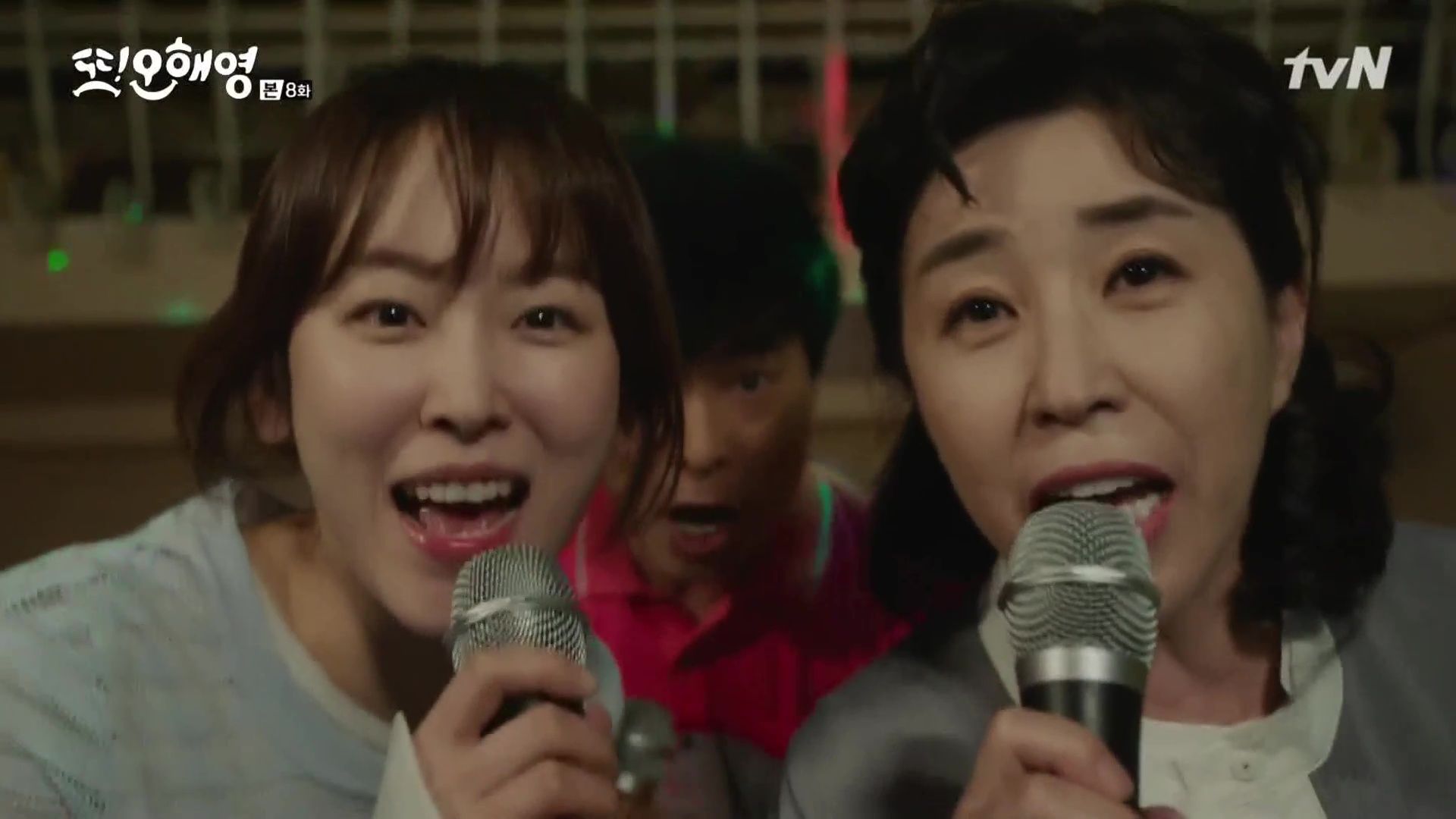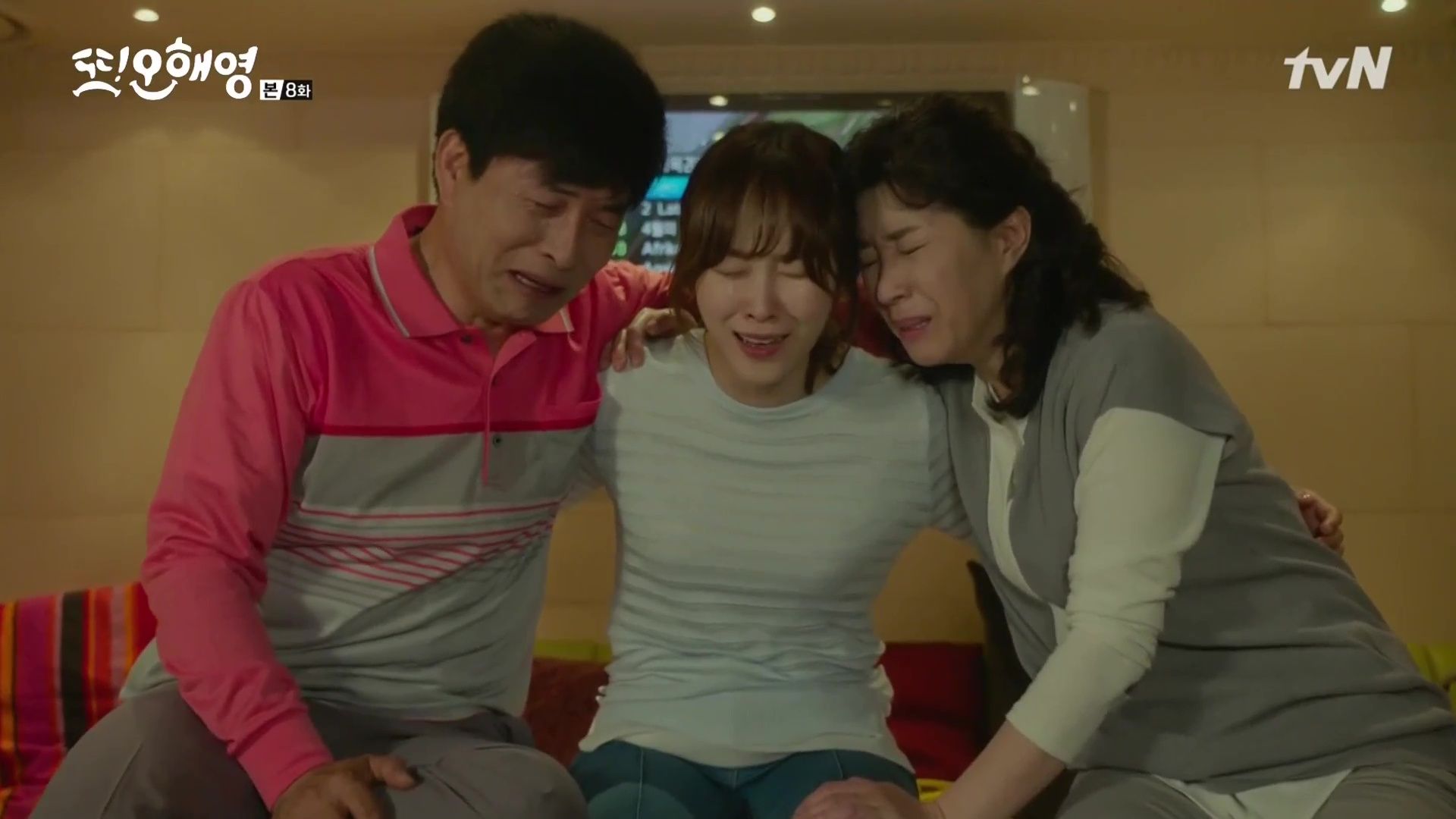 That night Hae-young's mother drags her out of bed, and they all three go to a noraebang. HAHA, I love this family. But later they're all teary again, and Mom apologizes for how she yelled at Hae-young, thinking she was at fault for the canceled wedding. She cries, asking why Hae-young kept the truth a secret.
And then, it's party time again! Soon enough they're all crying together, then back to singing, and the whole evening goes back and forth like that. I think this may be my favorite family of all time. Mom and Dad are both hoarse by the time they head home, and they stop to rest by the river.
Mom and Dad go to get some beers, leaving Hae-young a lone for a bit, which is when she gets a call from Do-kyung. He's home after a much-needed therapy session and is worried that she's still out, and she says belligerently that she wants him to worry about her. Amazingly, Do-kyung admits that he's worried, and tells her to come home.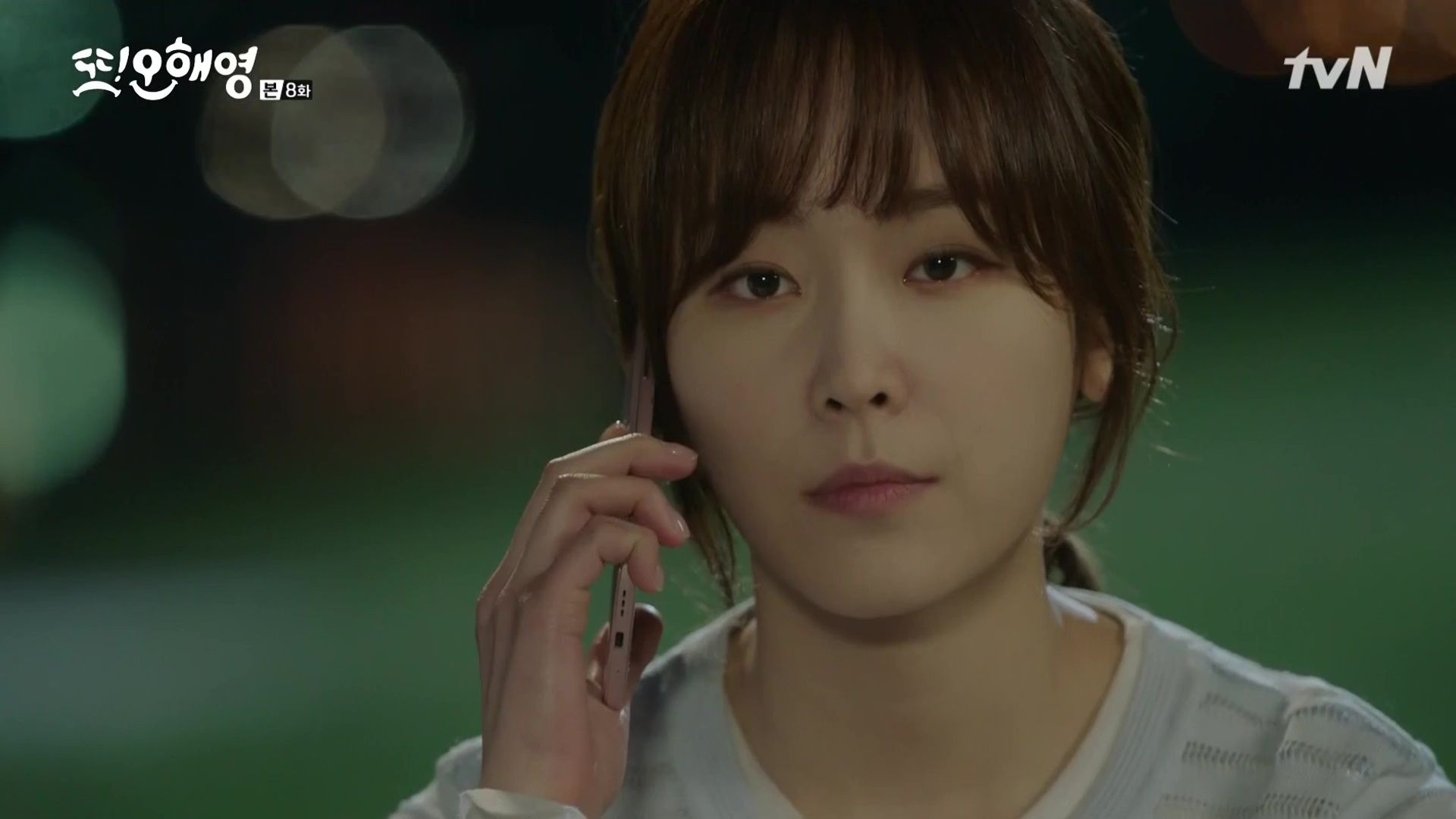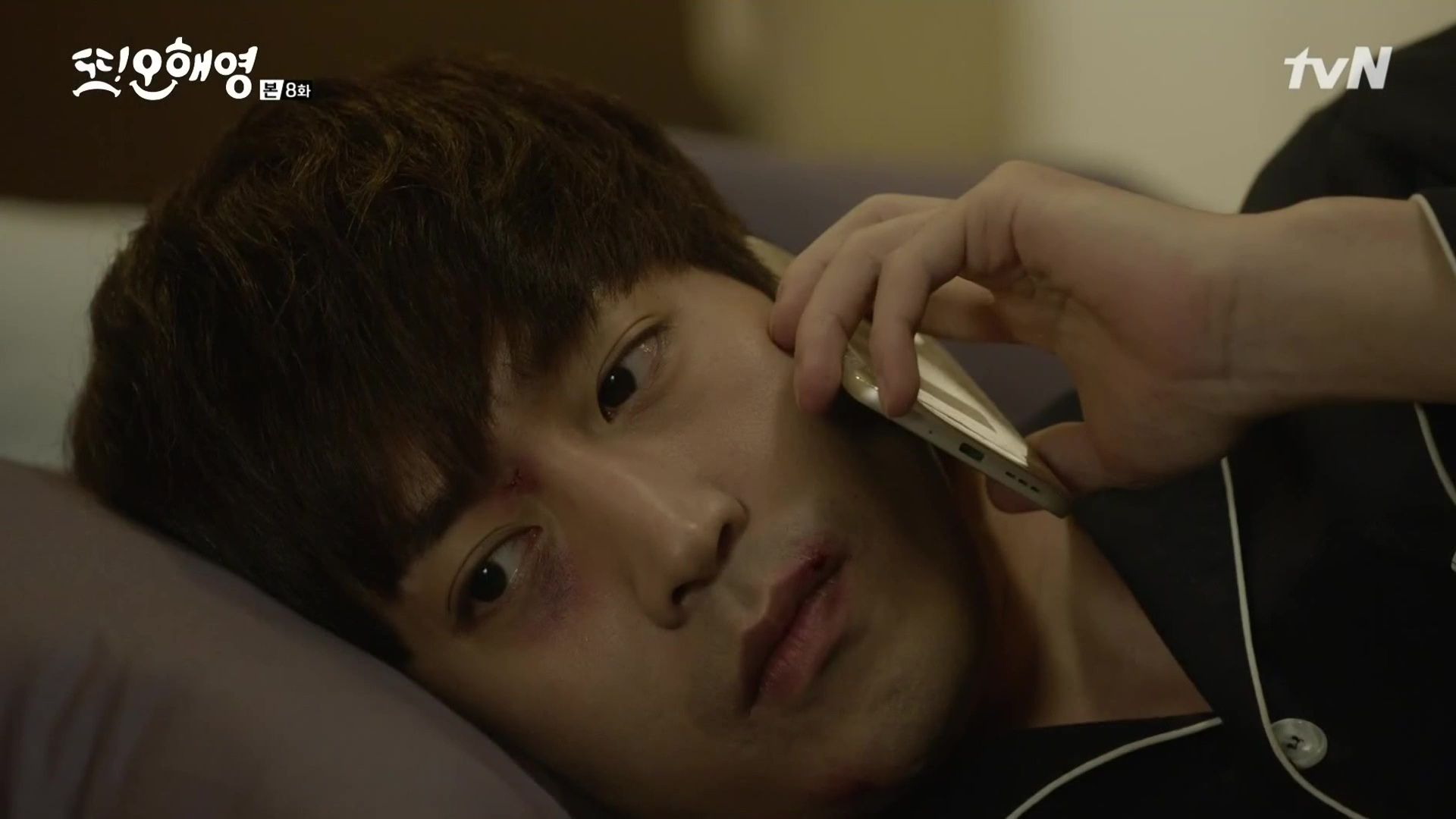 Feeling contrary, Hae-young refuses unless he says he misses her, but he can't do it. She hangs up on him, and wishes to herself that everyone who doesn't love her would just die.
Do-kyung lies in bed and suddenly hears the horrible sound of a car crash, and clutches his head in agony. He jumps out of bed and runs outside in his pajamas, and calls Hae-young again.
He asks where she is, and when she hesitates to tell him (correctly pointing out that he sure does seem to like her), he uses his incredible hearing to listen to the background noise through the phone. He grabs a taxi and calls Hae-young again, but when she doesn't answer, he texts her that he's on his way and not to move.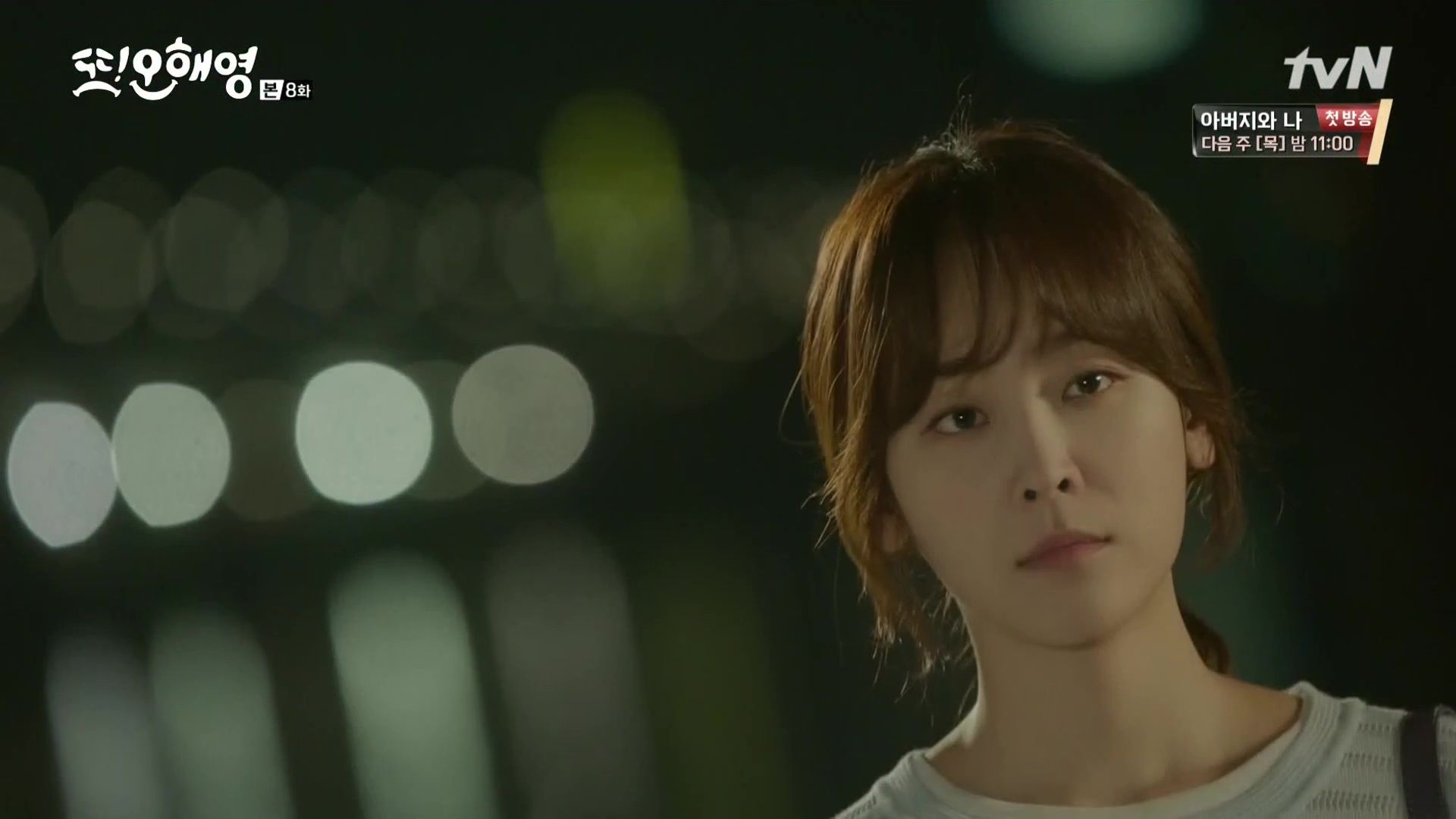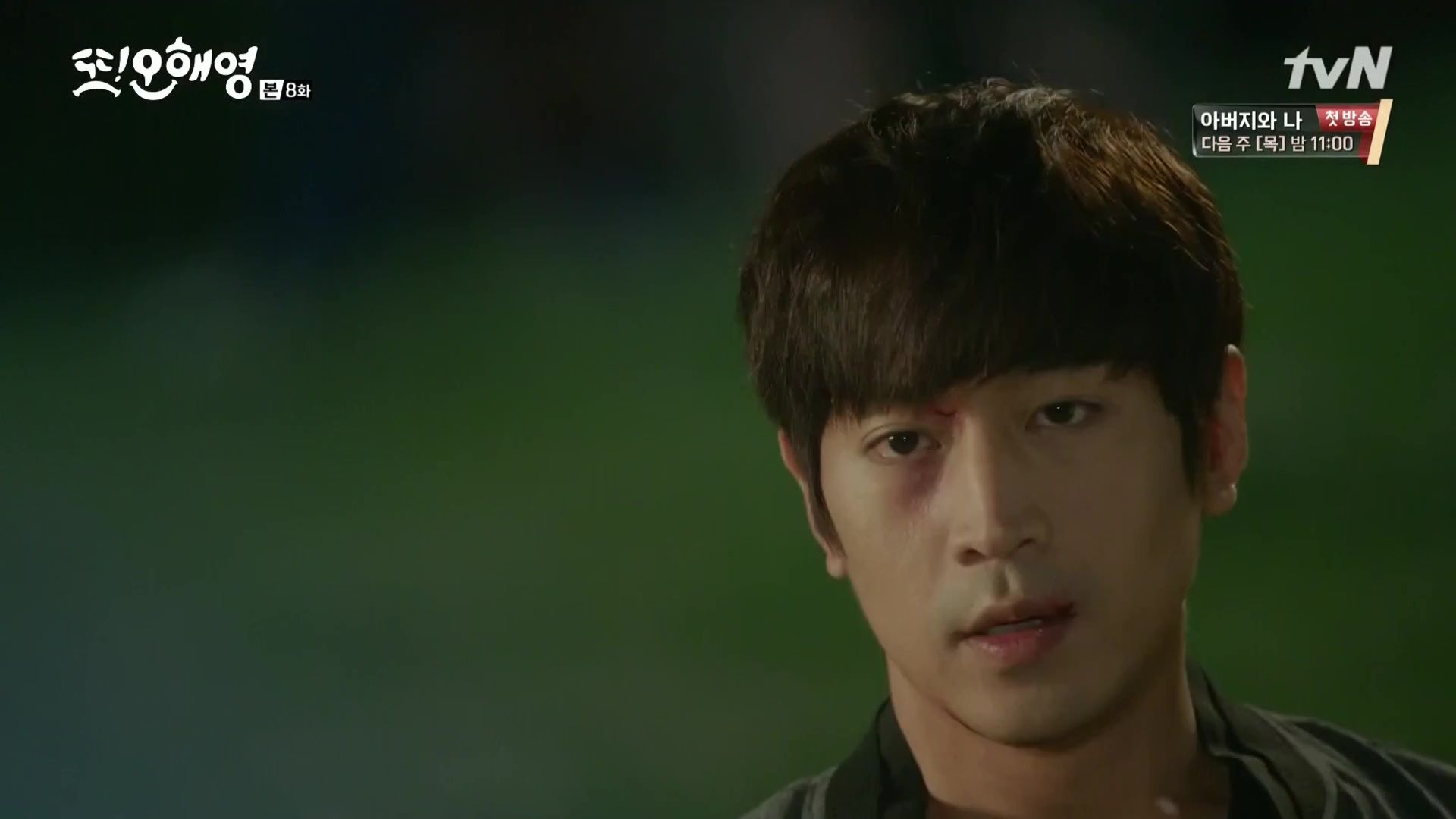 But she's in no mood to be obedient, and when her parents get back they all start walking towards home again. But she has a change of heart and tells them to go on ahead, and she'll come home in a bit.
The look of relief on Do-kyung's face when he finds Hae-young safe is amazing, but she just glares at him while a group of bikers cross the sidewalk between them. Once they pass he just says, "Let's go," and Hae-young follows, though she keeps a safe distance. She seems to know she has some sort of upper hand here, as she keeps catching him glancing at her as they walk.
Once on the subway she finally asks who he fought with, but he doesn't say. He walks her home to her parents' house, and she tells him that she told her parents the truth about her broken engagement. They'd be upset if they knew she was still hung up on Do-kyung.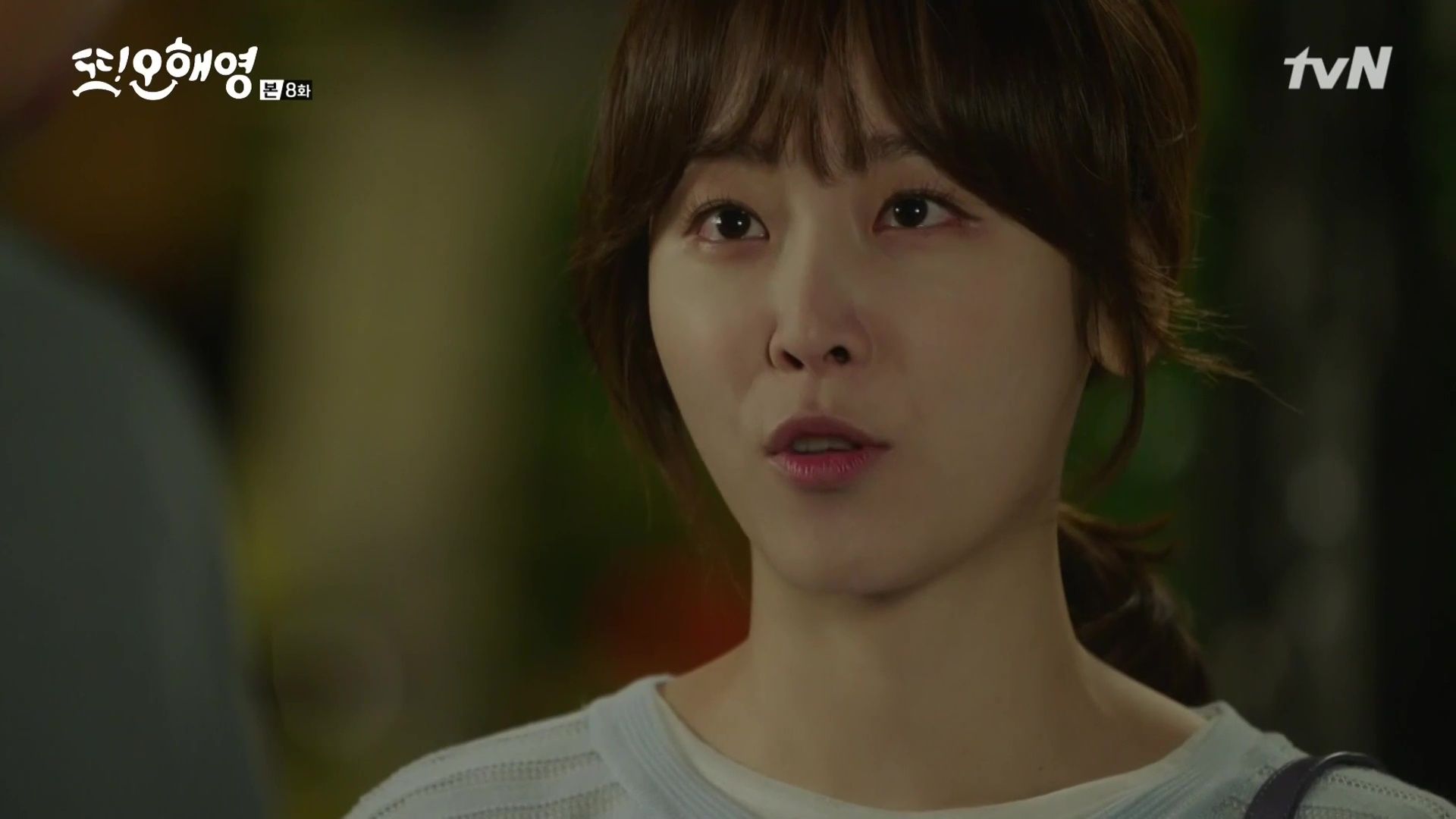 But she can't help the way she feels when he calls her or says, "Let's go." She feels foolish, so she doesn't want to do this anymore. She declares this the end of it, asking if he has anything to say. The big idiot just tells her to watch out for cars, and leaves.
But as much as he'd like to forget all this, Do-kyung is woken in the middle of the night by that same sound of a car crashing. Whatever is happening, by the look on his face it looks painful and extremely frightening.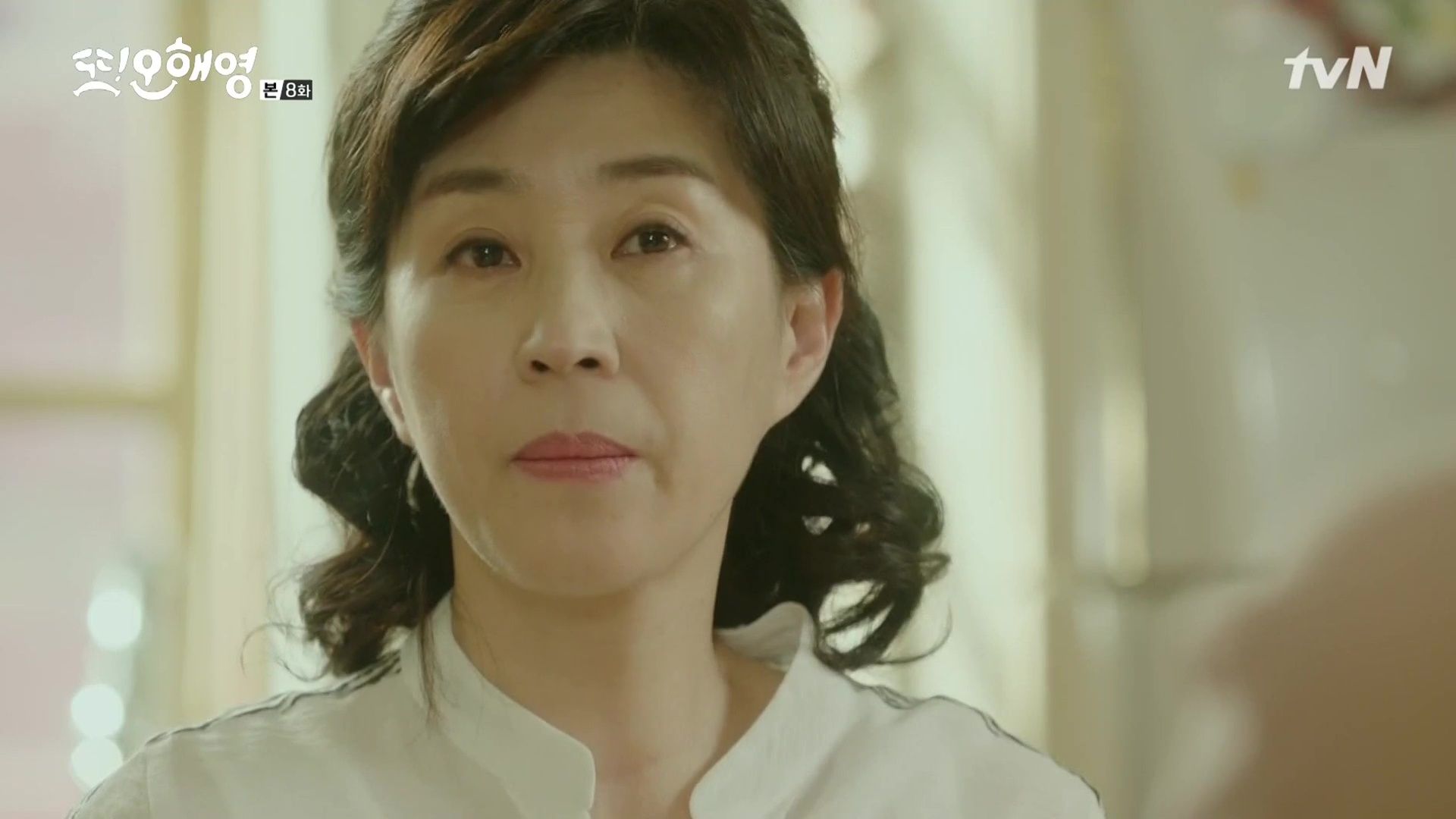 At breakfast, Hae-young's mom worried out loud that there are things her daughter can't tell her about, but at least she won't end up with a guy who gets bored easily and isn't loyal. She'd always worried Hae-young would end up that way, and is relieved that she won't.
Dad speaks up, and asks Hae-young to move back home. They can get her stuff while she's at work, and she'll just come home here like nothing ever happened. Hae-young refuses and Mom flares, thinking she's clinging to Do-kyung, but Hae-young just says she'll do it herself soon.
Do-kyung is waiting when Dr. Park gets to work that morning, needing to talk about this newest premonition. He can hear the crash and feel the pain of the impact, like his entire body is breaking apart. The doctor thinks it's strange that this time, he doesn't see Hae-young, when all of his visions have centered on her, but Do-kyung thinks that this one is about himself.
He hesitates to get in his car after his session, and another premonition hits him. This one is more like the others, with Hae-young furious and fighting with him like a wildcat, while he tries to calm her down. Do-kyung sees himself pin her against a wall and, even though they're both still angry, he kisses her.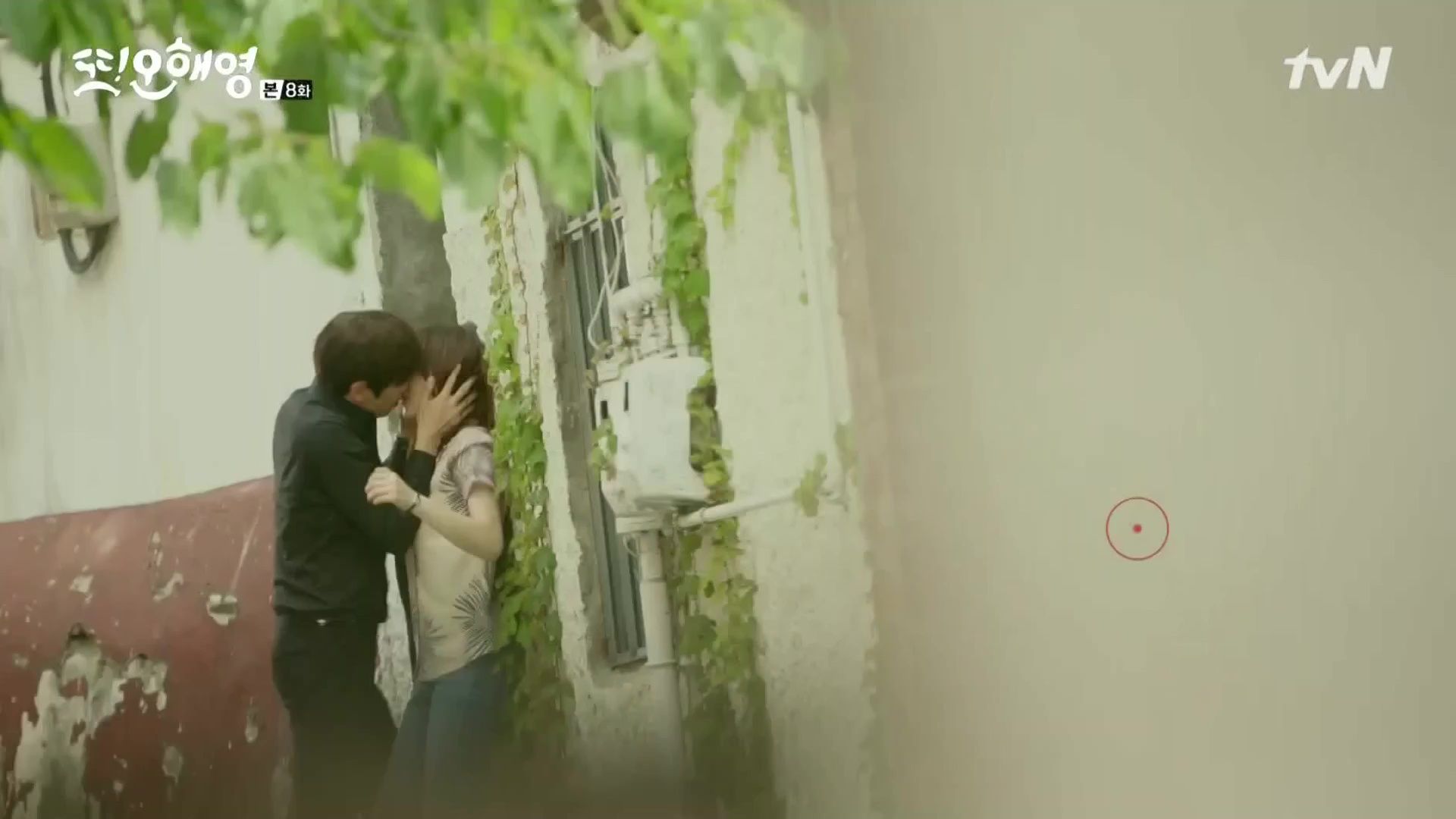 COMMENTS
Well, the stakes are certainly rising, and that last vision was a doozy. Whatever is happening there, it's obviously serious, because Hae-young looked angrier than we've ever seen her and Do-kyung really made that kiss matter. I can't wait to see what that's all about, though I can't say the same for his car-crash vision.
I think Hae-young's parents have made it to my "favorite drama parents of all time" list with this episode. They're so caring and they love their girl so much, even if they sometimes don't show it to her face. They way they all went to the noraebang and just got it all out, singing and screaming, then crying, then singing it out again, was just the best thing ever. I adore Mom especially, the way she will yell at Hae-young when she does something Mom doesn't agree with, but defends her baby girl to the death if anyone else dares to criticize her. When Mom broke down in full-body grief over how she treated Hae-young when she thought she canceled the wedding, that was the first time watching this show that I've truly cried along with a character — her emotions were just so raw and real. And Dad… he may be the silent type, but his love for Hae-young is every bit as fierce as Mom's. With just that one expression I believed that if Tae-jin had been in front of him in that moment, he would have beaten him to a pulp for hurting his daughter. It's no wonder Hae-young is drawn to Do-kyung, because he's so like her father… quiet, says few words, but feels things very deeply and constantly.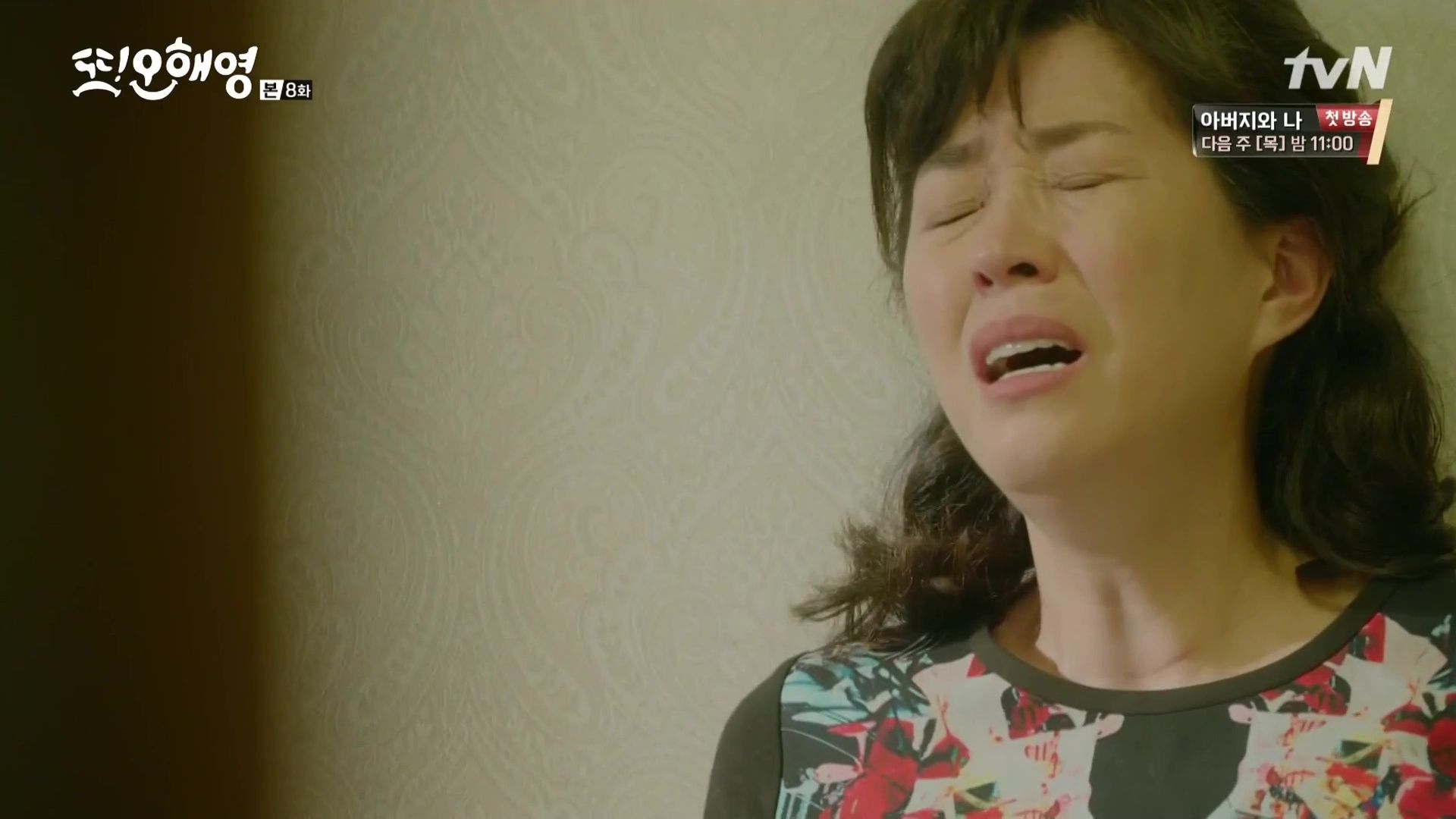 But Do-kyung needs help — I mean I think he seriously needs help, possibly even more than his current therapist can provide. I'm glad that he does seek professional counseling for his issues, so that's a good start, but I'm still concerned that he seems to be getting worse and not better. His visions are coming on faster, and they're starting to overlap each other, a new one arriving before the last one has actually happened. Obviously his mother did a number on his ability to connect with feelings like love (because no, pitying people you love as a matter of course is not normal), and I worry that his quick shutdown when Hae-young asked about his father masks something even more devastating in his past.
He claims not to like Hae-young, but just the thought of Tae-jin hurting her makes him snap like a wild beast, and he can't help himself from seeking her out when he knows she needs someone nearby. I think Do-kyung does love her, but he just can't connect with that feeling. But his way of loving is deeply disturbing, and I'm starting to believe somewhat dangerous, and I go back to what I said in my last recap — both Hae-young and Do-kyung need to do some real work on themselves before either of them is emotionally healthy enough to be in any relationship right now. And that's before we even take into account the fact that Do-kyung is having prophetic visions — I'm extremely concerned for his mental health. I think he's breaking down right in front of our eyes.
For example, am I the only one that thought, when he was screaming at Tae-jin, "How could you say such a thing?" that he was really screaming at himself? He's not being rational towards Tae-jin — nothing Tae-jin has done warranted being attacked that way. But I can see Do-kyung turning that fury in on himself, because he just said something extremely hurtful to Hae-young when he said he didn't like her, then ridiculed her family. I think he's angry with himself, and projecting that onto Tae-jin because he's an easy target. It's simple for Do-kyung to go after Tae-jin for hurting Hae-young (and I do think that the way he ended things was unnecessarily hurtful), but the truth is, Tae-jin didn't hurt her any more than Do-kyung is doing right now. At least Tae-jin kept it short and didn't drag it out, but Do-kyung can't do that. He knows he doesn't have the right to be with Hae-young unless he's willing to be completely honest about his part in her broken engagement, but he can't let go of her, either. It's not fair to Hae-young, and she knows it (even if she doesn't understand exactly why he's stringing her along), and I think that deep down, Do-kyung knows it too… and it's tearing him apart.
RELATED POSTS
Tags: Episode 8, Eric, featured, Jeon Hye-bin, Oh Hae-young Again, Seo Hyun-jin