Oh Hae-young Again: Episode 9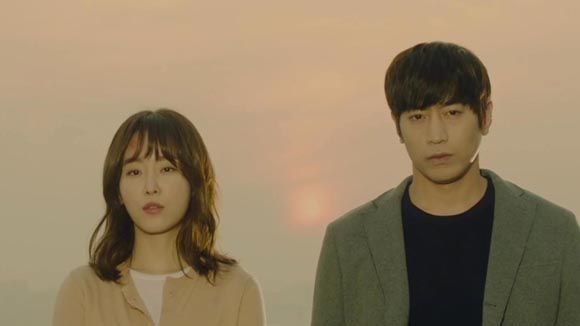 Loving another person means more than just caring for them — at times it can mean letting them go for their own happiness. But is it right to make such a decision on someone else's behalf, without their knowledge or consent, and is it really for their own good if it causes even more heartache?

EPISODE 9: "The wind blew in his heart"
Do-kyung experiences yet another vision, of himself grappling with a furious Hae-young. She's screaming and attacking him, and he has to physically pin her against a wall to make her stop. Being so close, and with tensions running high, he succumbs to temptation and kisses her.
Still stinging from Do-kyung's rejection, Hae-young goes to work overcompensating, greeting everyone in a voice that's too shrill and too perky. She even holds the elevator for the other Hae-young and greets her cheerfully — and honestly, it's kind of terrifying.
Everyone in the office get the results from their physicals and report their metabolic ages, and Hae-young gapes to see that hers is forty-one. But when she hears that a game later will give an advantage to the person with the highest age, her competitive spirit kicks in and she gets excited.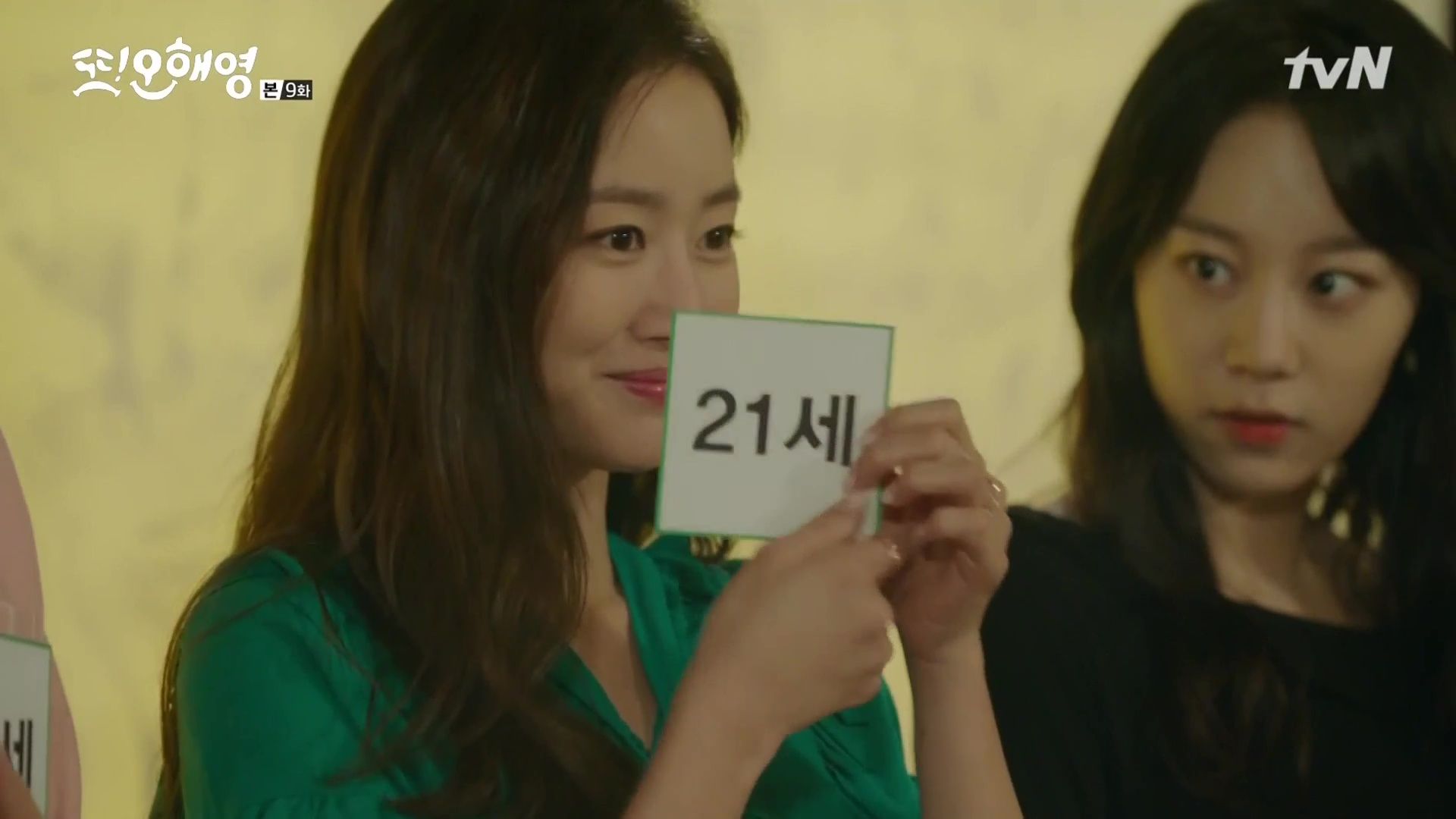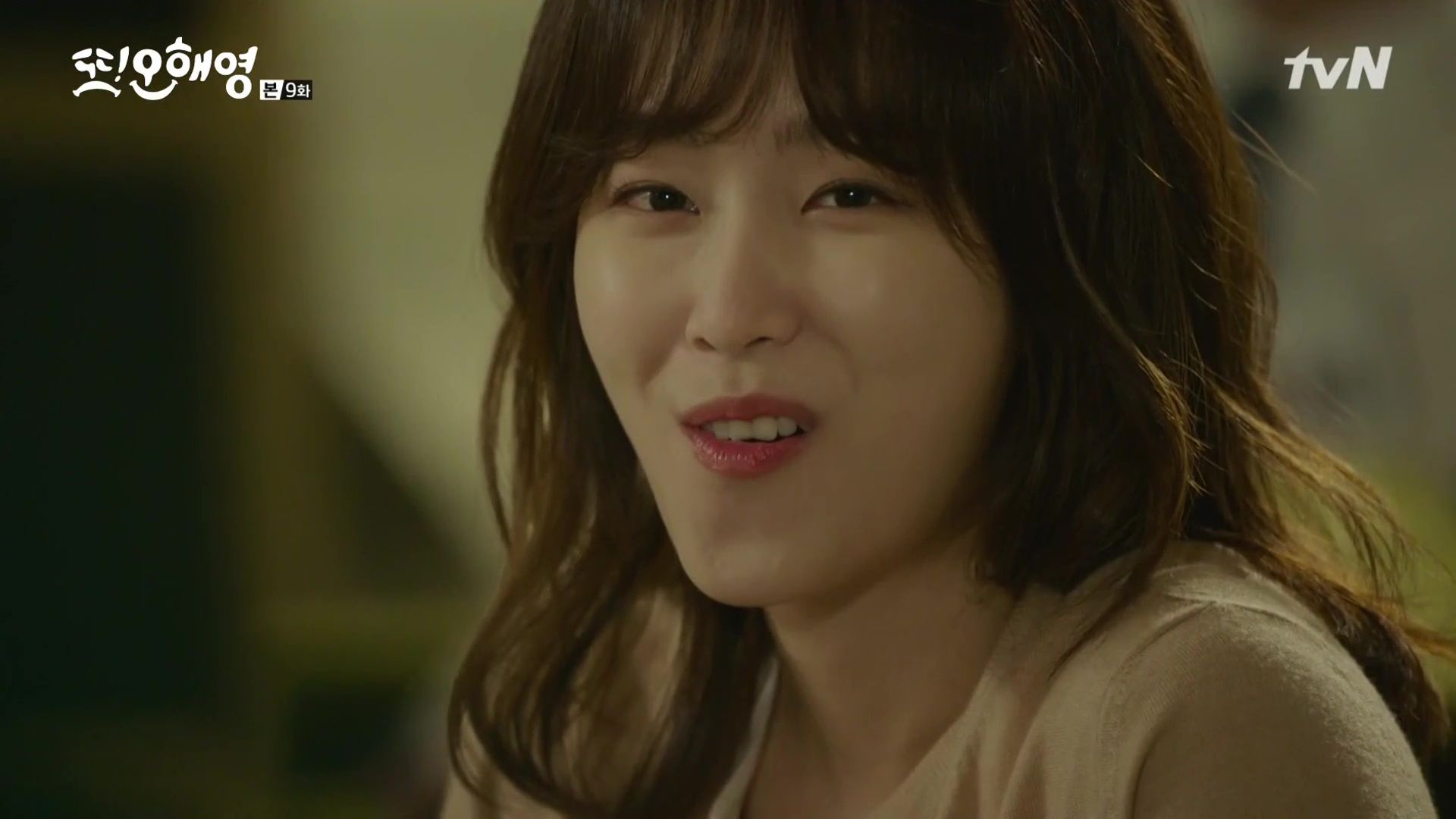 Mom is busy threatening Tae-jin's mother on the phone, ready to get naked and go beat the crap out of her son (why she strips when she's angry I don't know, but it's hilarious). She refuses his mother's suggestion that they try to get Tae-jin and Hae-young back together, and Dad looks ready to back her up if needed.
There's some sort of office party later, where everyone's metabolic ages are announced. Hae-young is sure she'll win, but she loses out by one measly year to Soo-kyung. And to add insult to injury, the other Hae-young's metabolic age is only twenty-one.
As the "youngest" she's asked to sing, and all the men cheer while our Hae-young and Soo-kyung both pout. Our Hae-young gets a little too drunk and hollers for her to shush right in the middle of her song, which makes the boss angry, and he forbids our Hae-young to talk anymore without his permission. Not that she obeys.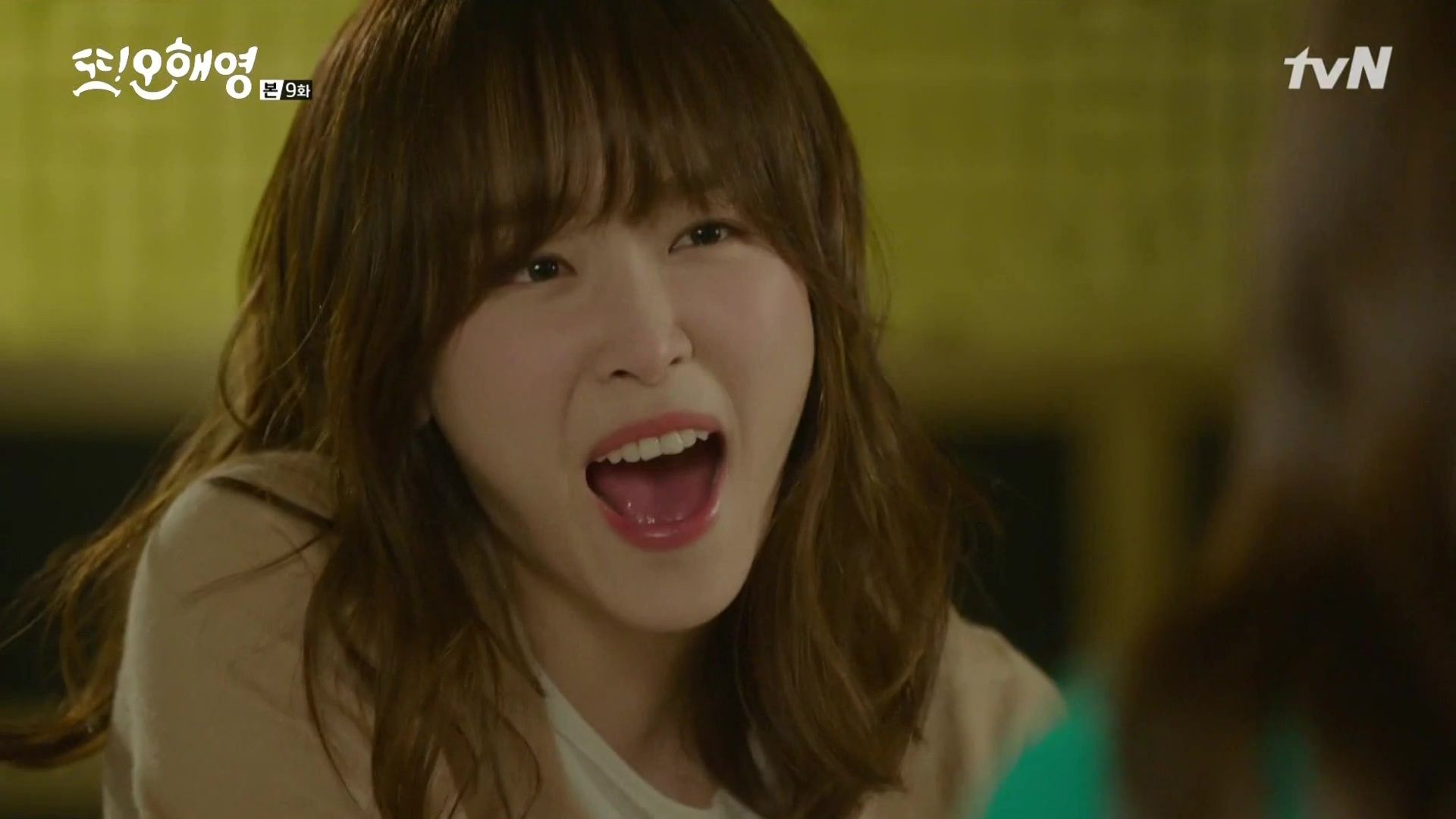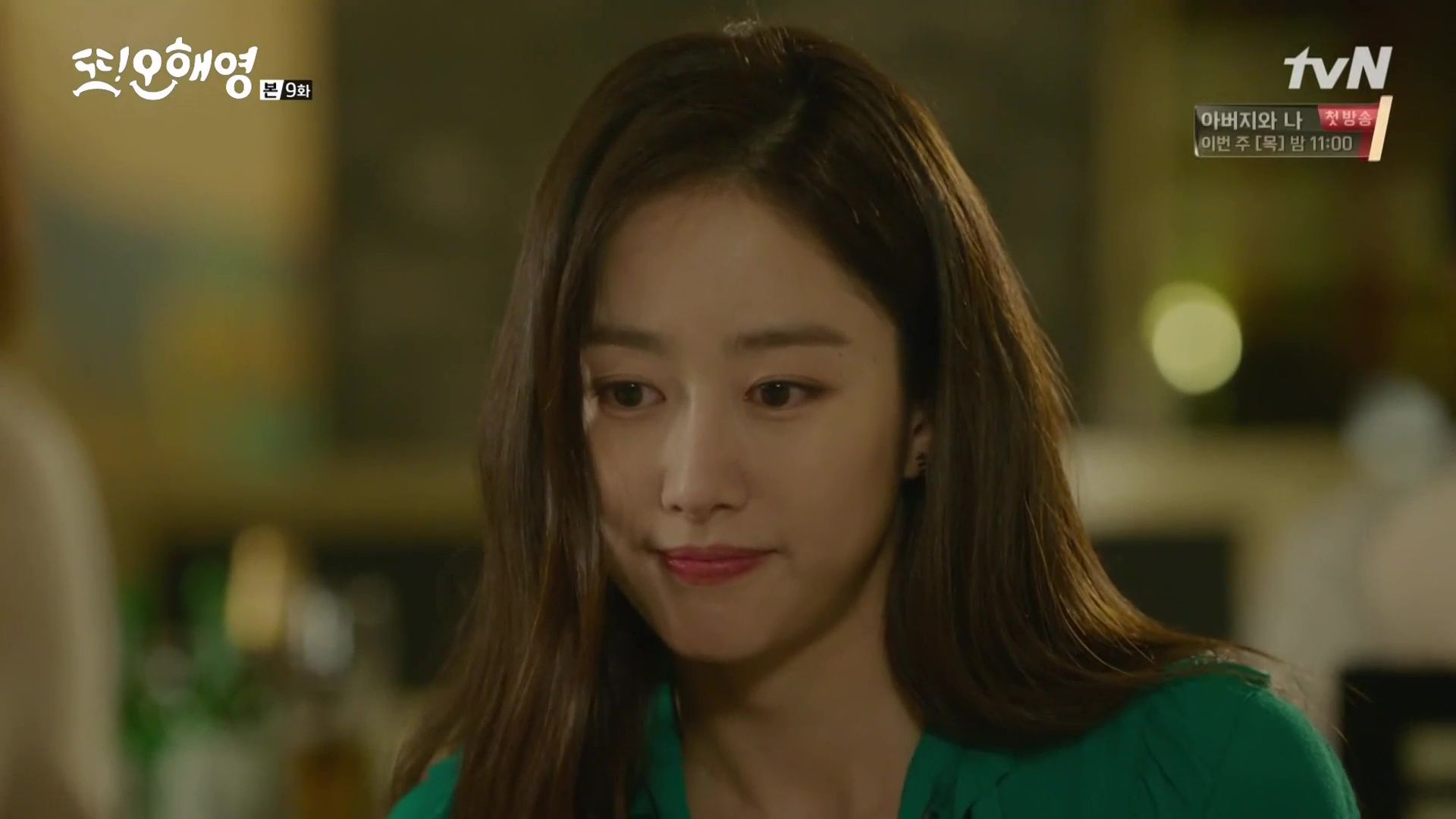 Sung-jin's metabolic age is forty-three, and when Soo-kyung catches him giggling at her age, she invites him in a honey-sweet voice to talk banmal with her. Don't fall for it, it's a trap!
Our Hae-young just sits glaring at the other Hae-young (who's calling her "unni," which makes me want to slap her), and she orders her to change her name. "I'm going to be the only Oh Hae-young in this world!" She decides that the other Hae-young's new name can be Bit-na (Sparkle), and assures her nastily that she's not just saying this because they're playing a game — she means it.
Hae-young grows genuinely angry, drawing the attention of her coworkers. She mutters that the other Hae-young is sly, wondering why she came back after dumping Do-kyung like she did. Voice rising, she says that Hae-young should have stayed hidden after doing what she did.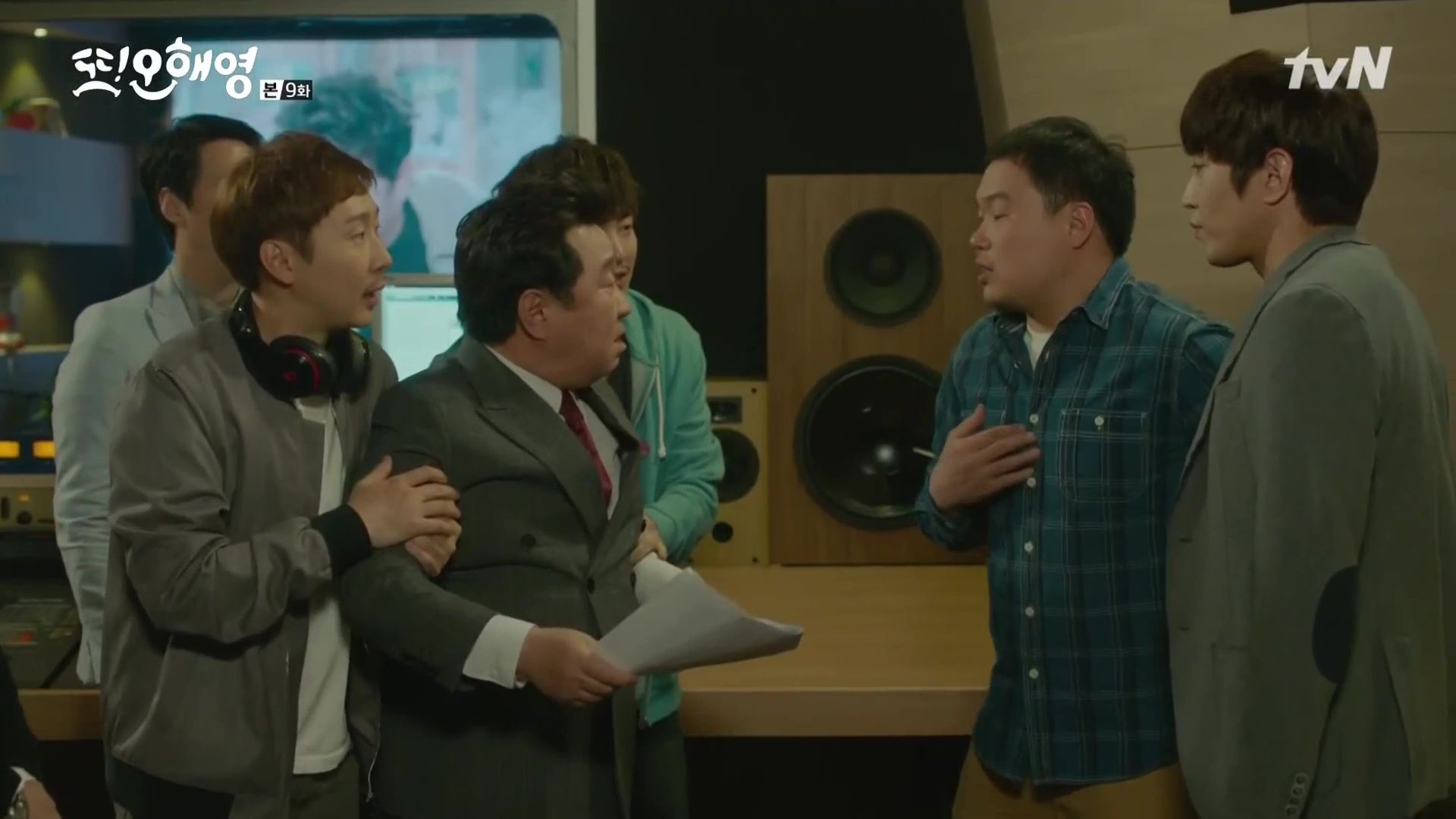 She's screaming by the time she gets to, "Why did you do it??" The other Hae-young turns it around on her and quietly asks why our Hae-young canceled her wedding the day prior. Oh crap, our Hae-young forgot about that in her anger and drunkenness, that she's accusing the other Hae-young of doing what everyone else thinks she also did.
Do-kyung's excessive perfectionism angers a veteran actor when he insists on re=recording a scene's vocals, and the actor confronts him. Do-kyung stands his ground, insisting the actor's pronunciation isn't good enough, and his employee has to drag him out before fists start swinging.
He takes a call from the other Hae-young, who's canceling their ping-pong date for today. She chirps that she has the youngest metabolic age out of the whole office, unaware that our Hae-young is in a stall listening in. Then she goes on to tell our Hae-young's age of forty-one, and now I really want to slap her.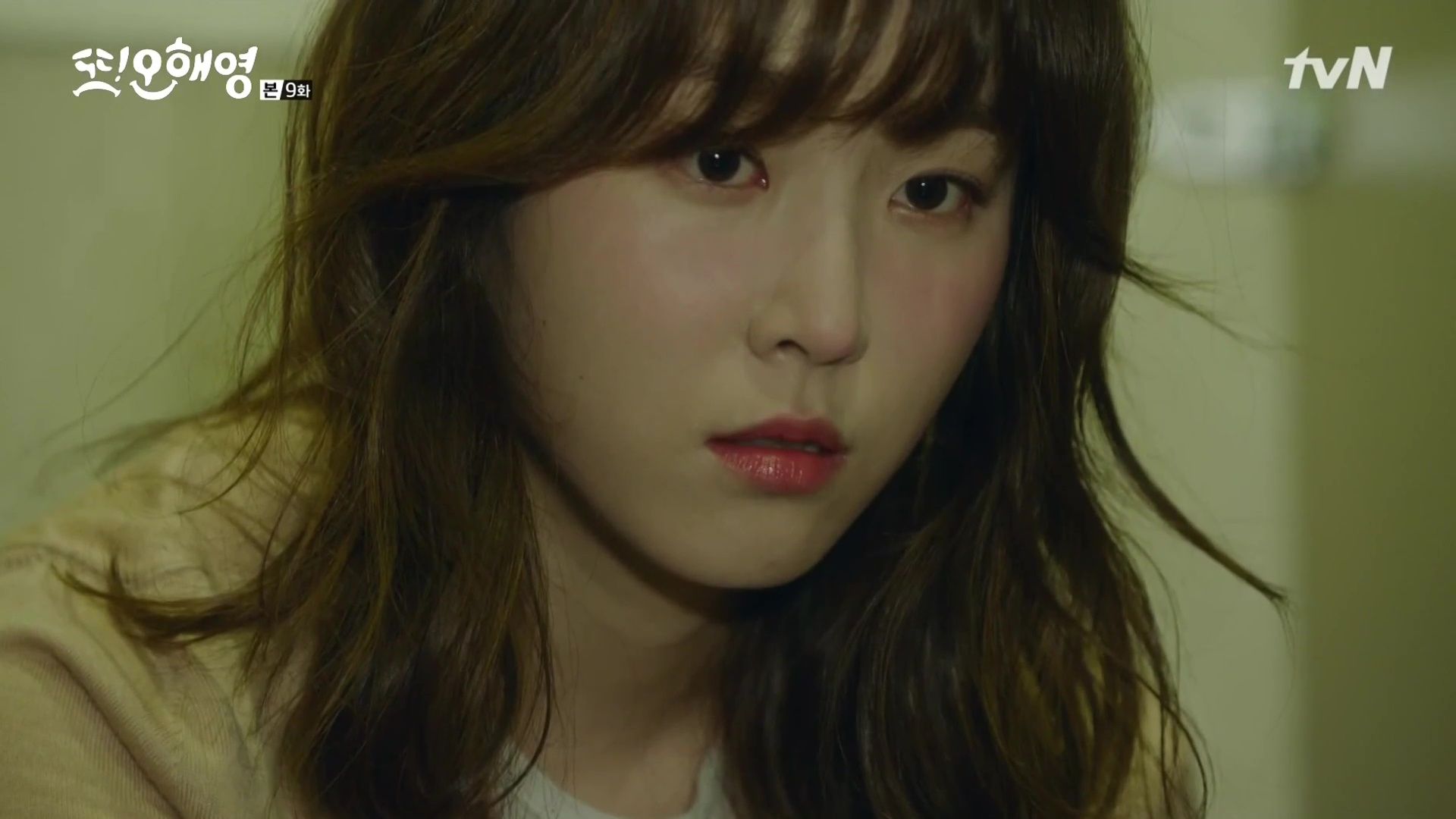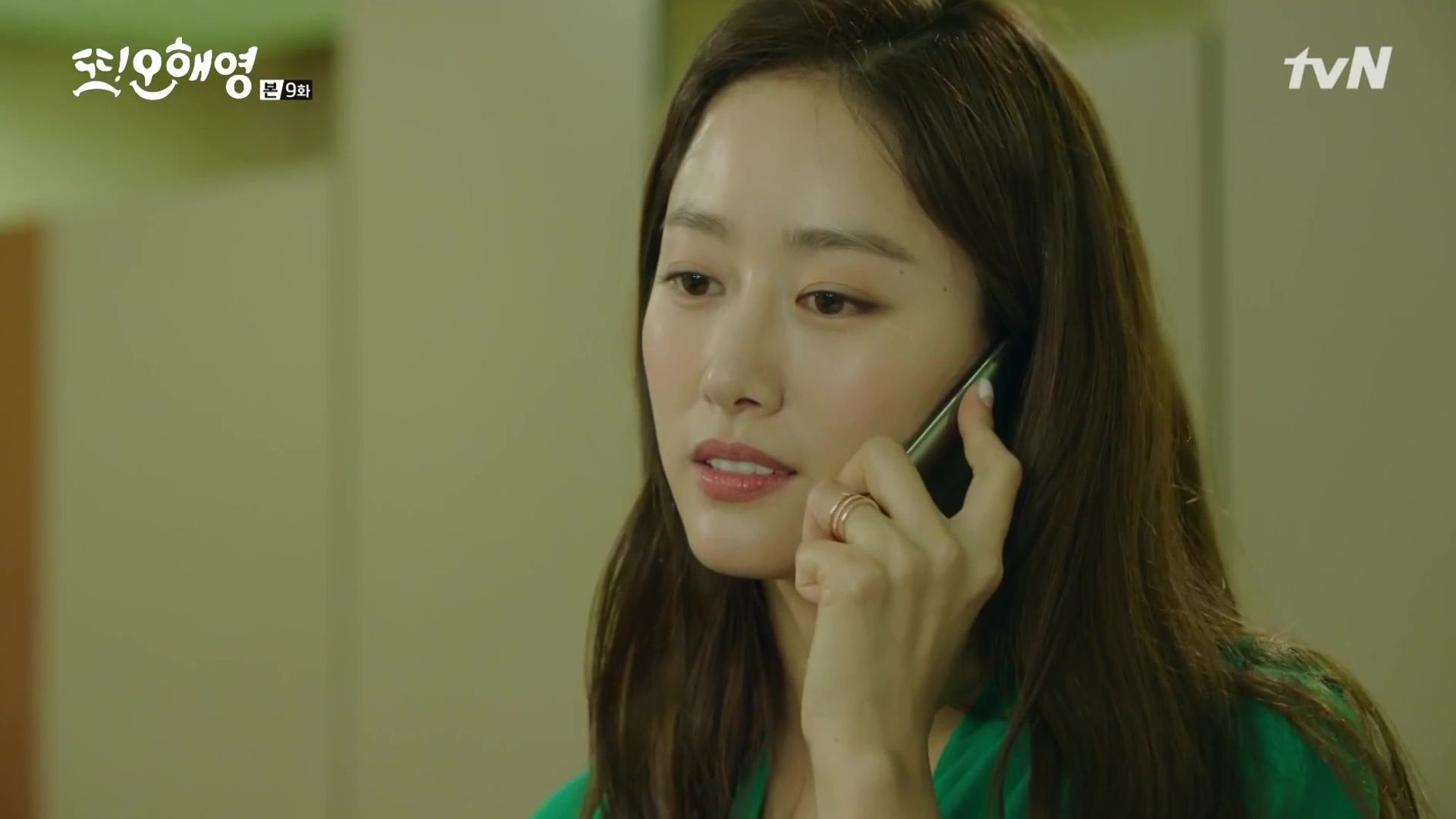 She tells Do-kyung about our Hae-young ordering her to change her name like it's an amusing anecdote and not something our Hae-young feels strongly about, and luckily Do-kyung ends the call there. Our Hae-young sits in the stall horrified, having heard her rival revealing her innermost insecurities to the man who just rejected her.
We see in flashback that our Hae-young had been bullied in school for having the same name as a popular girl, including vicious beatings. Nobody had cared when she'd gotten hurt falling down the stairs, because she was the "wrong" Hae-young.
Now she storms out of the bathroom stall absolutely furious, and screams right into the middle of the party. She calls the other Hae-young out, ready to beat her to a pulp, shrieking that she'll let go of all her grudges if she can squash her, just once.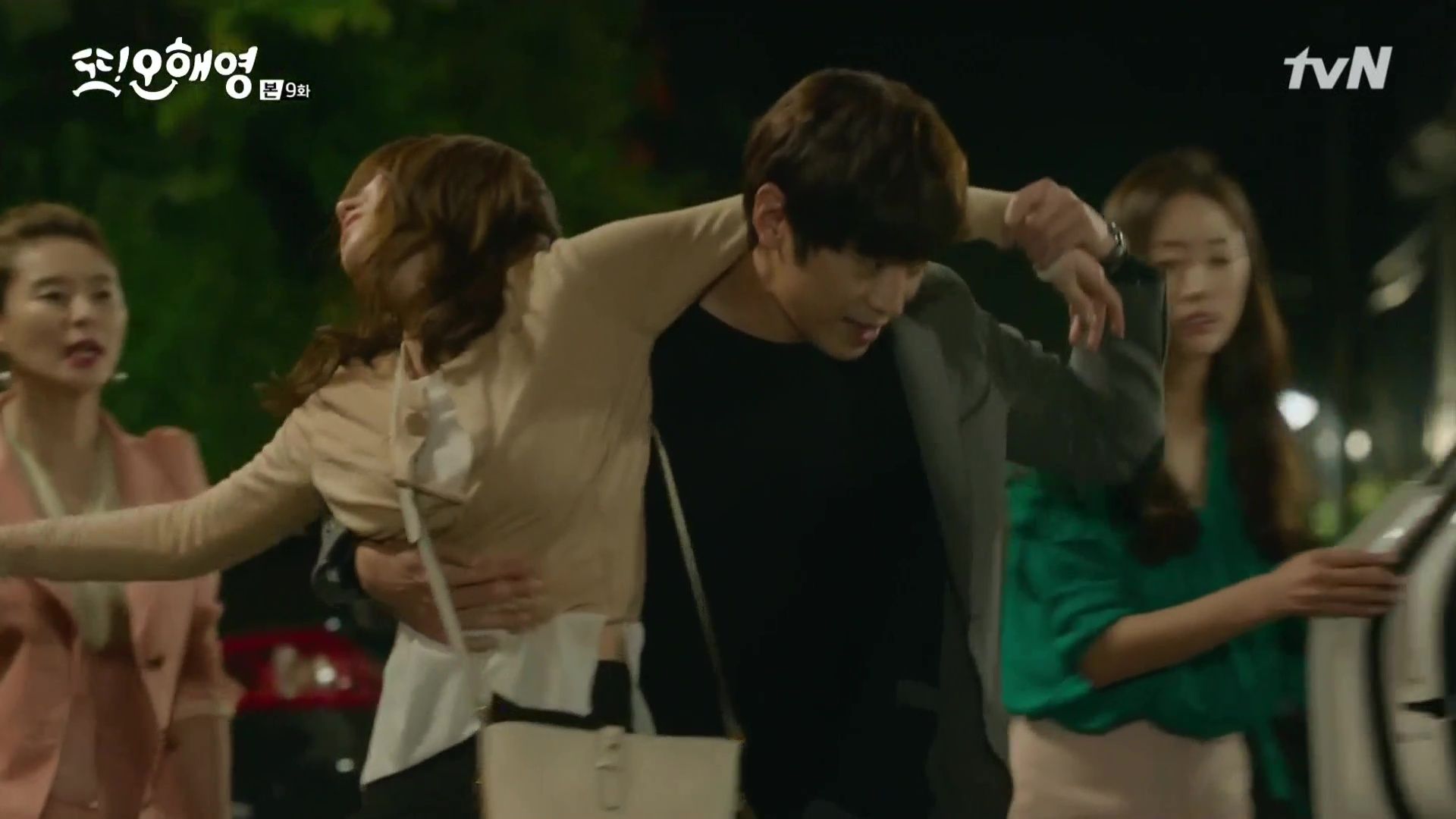 She actually charges at the other Hae-young and clutches at her, but Soo-kyung jumps up onto the table and knocks heads with our Hae-young. Our Hae-young passes out cold, so Soo-kyung and the other Hae-young take her to Soo-kyung's house, since Do-kyung knows where she lives
Do-kyung comes to take her home, though she's yelling that she's supposed to go to her parent's house. She bites Do-kyung's hand and takes off, only to immediately crash into a wall, hee. Do-kyung has to practically hogtie her to get her into his car, but he finally manages it.
The other Hae-young tries to cozy up to Soo-kyung, calling her "unni," and getting corrected to "Director Park" right away. Jin-sang sees them out the window and calls Joon over to see the other Hae-young, then stomps outside determined to kill her right here and now. It doesn't last long, and he's struck dumb by the pretty and her trilling "Oppa!"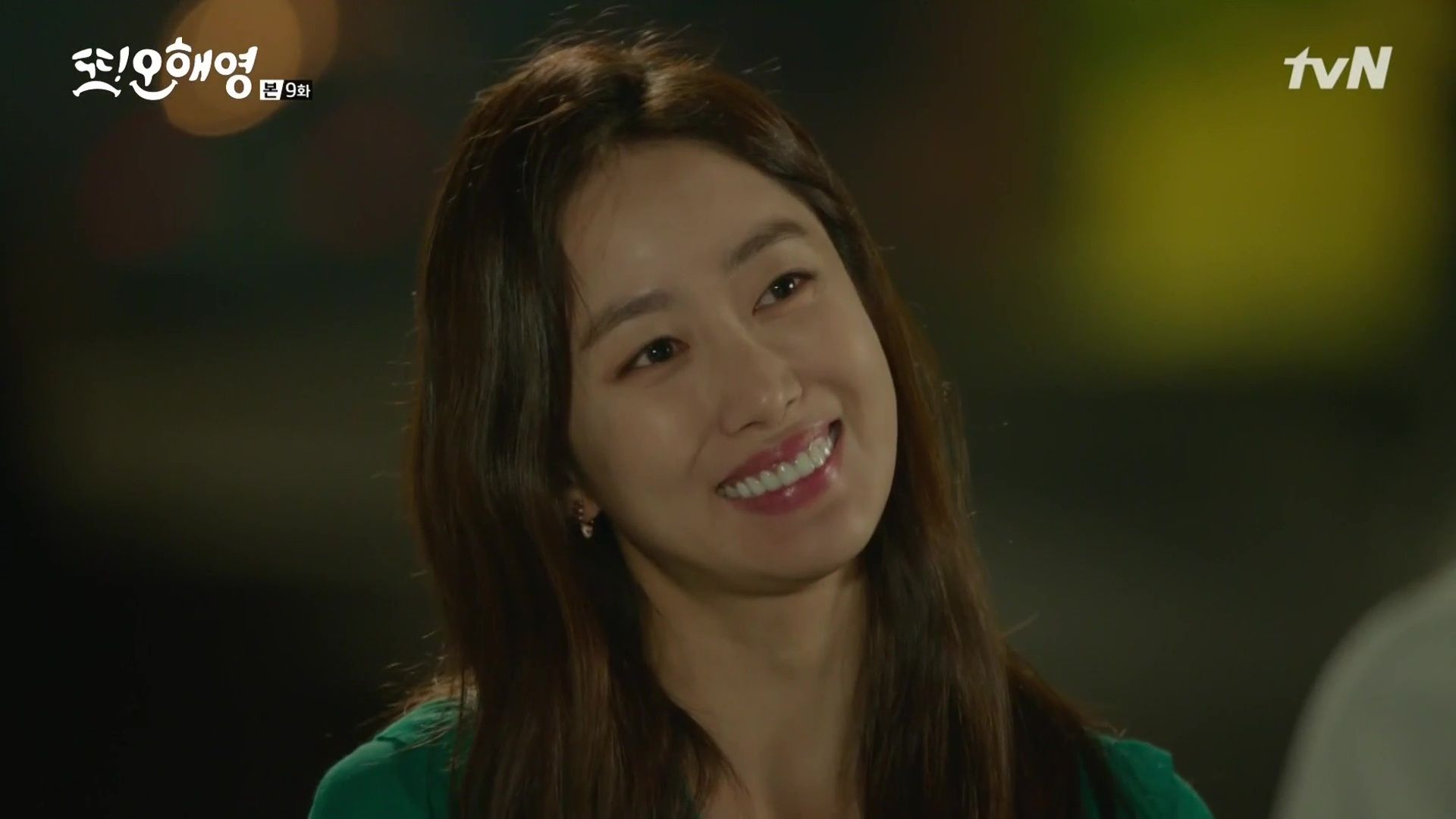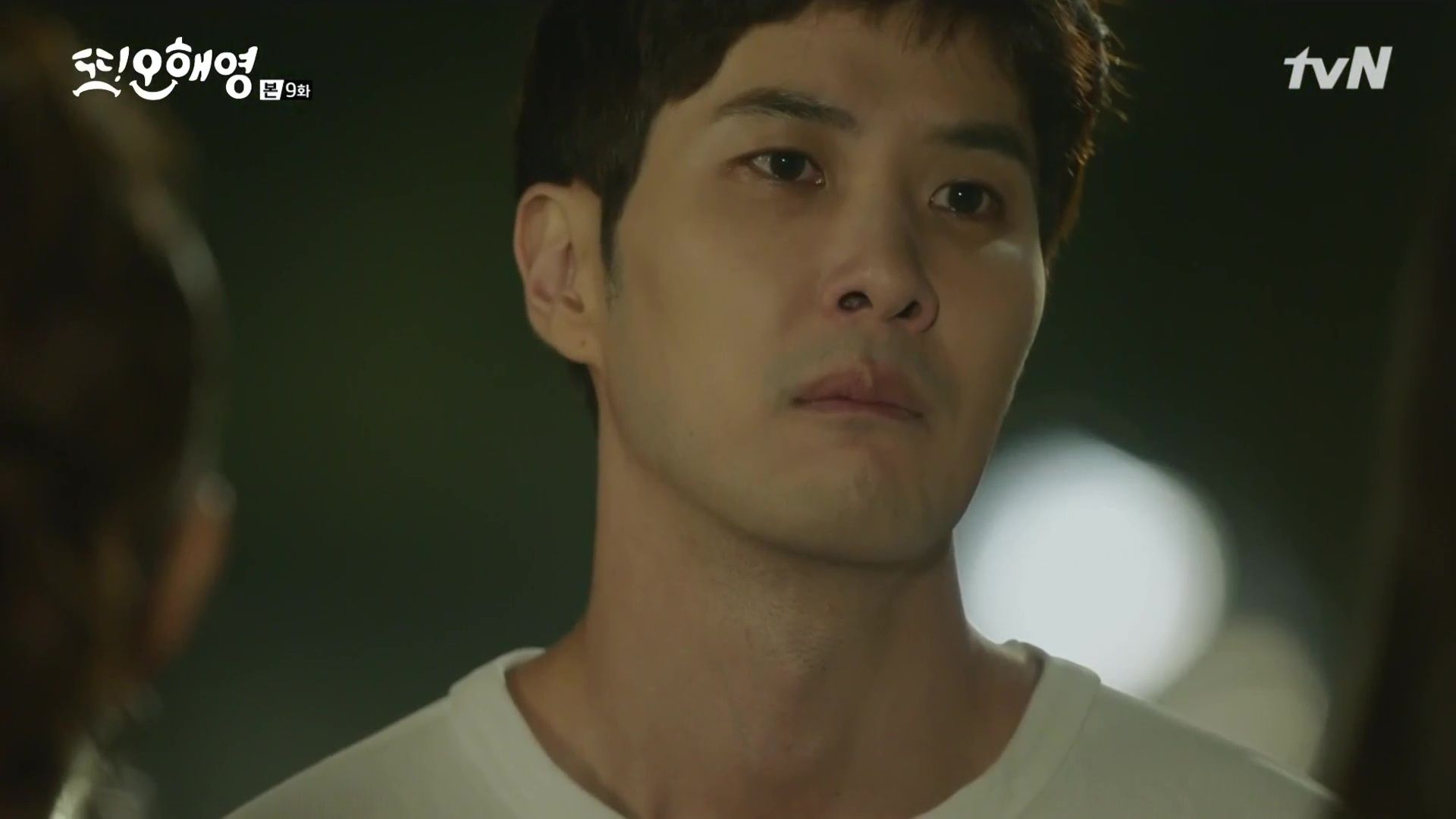 Next up is Hoon, who also falls victim to the other Hae-young's charms even though his actual girlfriend is right there. Not that that matters, as An-na even goes a little starry-eyed by Hae-young's looks.
Soo-kyung orders the whole sorry lot of them back inside, but they're still there when Do-kyung drives back up with Hae-young still in the back seat. Haha, he just heaves a sigh and drives away again. When Jin-sang realizes that Do-kyung is trying to get Hae-young back to her place, he ushers everyone inside.
Do-kyung stops for some medicine for Hae-young's scraped knee, but she's still passed out. His hand shakes when he reaches to apply the ointment for her, nervous to touch her bare skin, and he ends up chickening out. He covers her bare legs with his jacket and looks at her face for a moment, and remembers his vision of her face right before he kissed her — she'd had a split lip.
He answers a call from the other Hae-young, who's waiting at his house for him to come home. When he says he's at the office she offers to come there, so he goes back to his house, without our Hae-young. Where is she?
The other Hae-young tells Do-kyung what happened at the party, and she says that it seems like Soo-kyung is protecting our Hae-young. Do-kyung just says he needs to get back to the studio, so the other Hae-young gives him his ping-pong paddle and asks when he's going to meet with her.
Do-kyung doesn't think this is a good idea, and explains that he understands why she left him, so that's enough. He doesn't feel the need to leave things on good terms, but Hae-young presses the issue, so Do-kyung just leaves without saying more.
Our Hae-young wakes up in a fancy hotel room, just barely remembering being led here. She waits until she hears someone enter the room, ready to fight anyone who wants to hurt her, but it's just Do-kyung with more medicine. When she sees him, she screams, "I almost jumped out the window!!" HA.
Do-kyung is in no mood, and he explains that he only brought her here to avoid his family, not to sleep with her like she thinks. Hee, she's disappointed, and cutely asks if they can do it just once. He looks tempted for one moment, then tosses the medicine at her and leaves the room.
He storms right back to tell Hae-young that she'd only be embarrassed if they slept together here, and yells at her to get her life straight. She was so drunk she didn't even remember who brought her here.
Instead of going home, the two drive to the river and watch the sunrise. Hae-young breaks the news that she's moving back home, feeling weird about living next door to the guy who rejected her. She reminds Do-kyung that he said he'd pay the security deposit, and he just says it will take a little time.
Jin-sang asks Soo-kyung over breakfast (in French, ha) if she's gone to see her ex yet. They have a whole argument in French, in front of Hoon while he just looks like a confused puppy, until finally Soo-kyung slams off into her bedroom.
Despite her objections, Soo-kyung does screw up her courage to call her ex later. They meet on an overpass, and HAHA, this is the guy she's been pining over so hard? They walk without saying a word, and go to their favorite restaurant.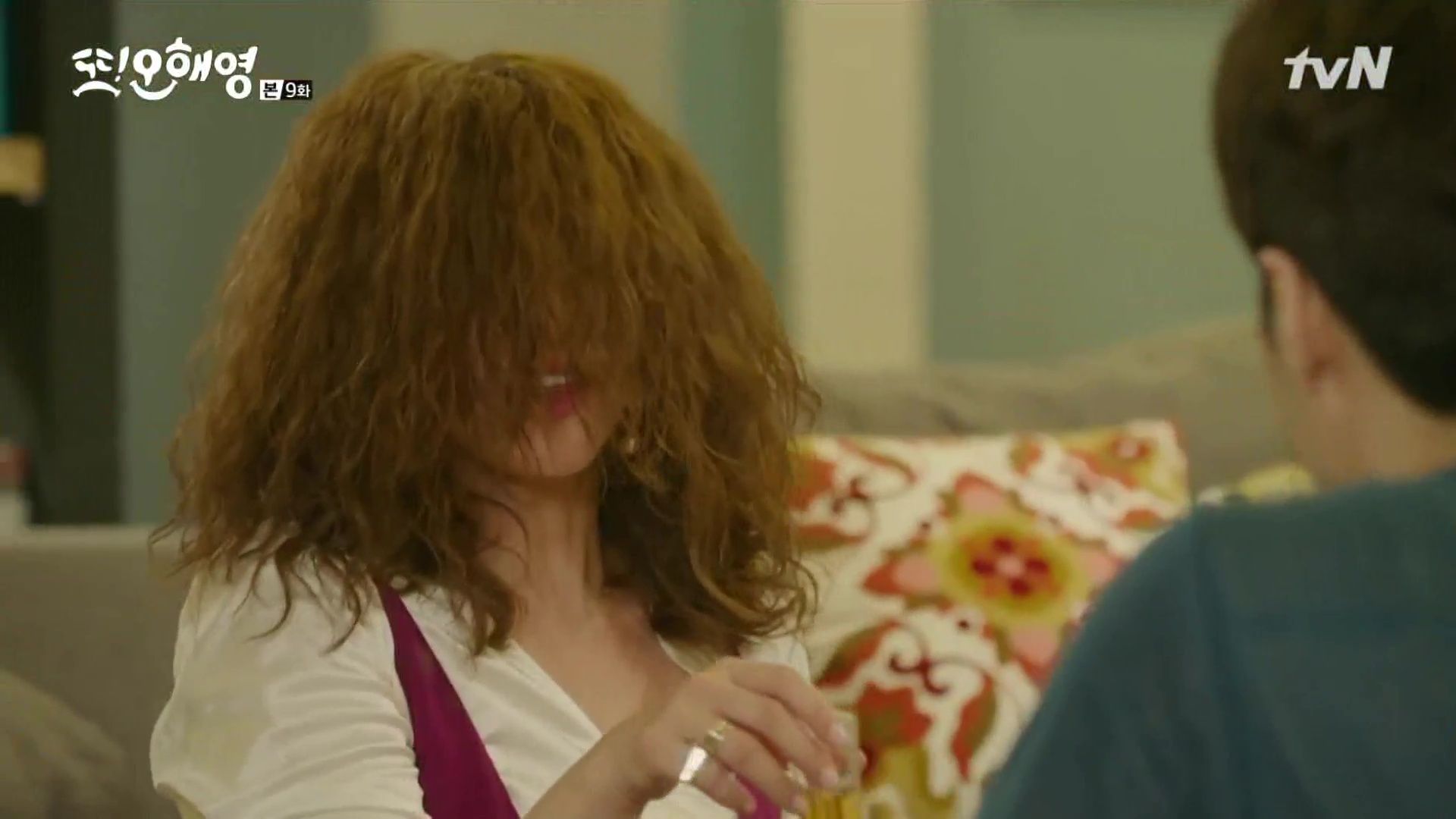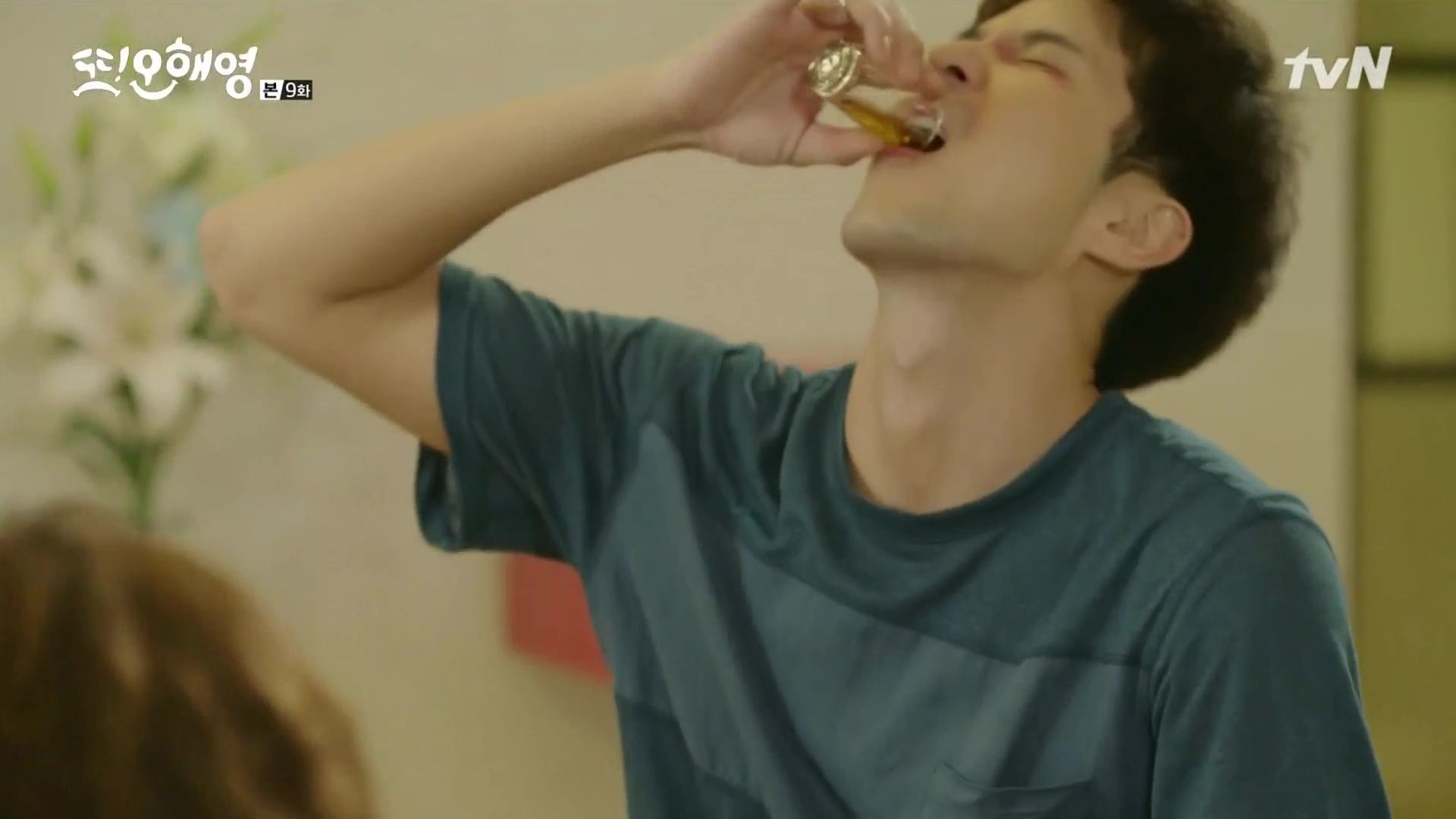 Jin-sang is having a difficult time finding a place to spend the night with his married honey, and he reluctantly agrees to take her to his place. But her husband is there waiting for them with an ax, and soon Jin-sang finds himself stripped to his skivvies at his mother's front door.
When she answers, he screams at her to shut the door, mostly so she can't see the sign that's been tied to him saying "I've messed around with a married woman. How have you raised your son?" HAHA.
He goes back to Do-kyung's place to get drunk and dance with his reflection in the mirror. Soo-kyung comes home as drunk and disheveled as always, and says that the ex has moved on with his life. Jin-sang invites her to join him, and they decide to drink until at they pass out. This sounds like a Very Bad Idea.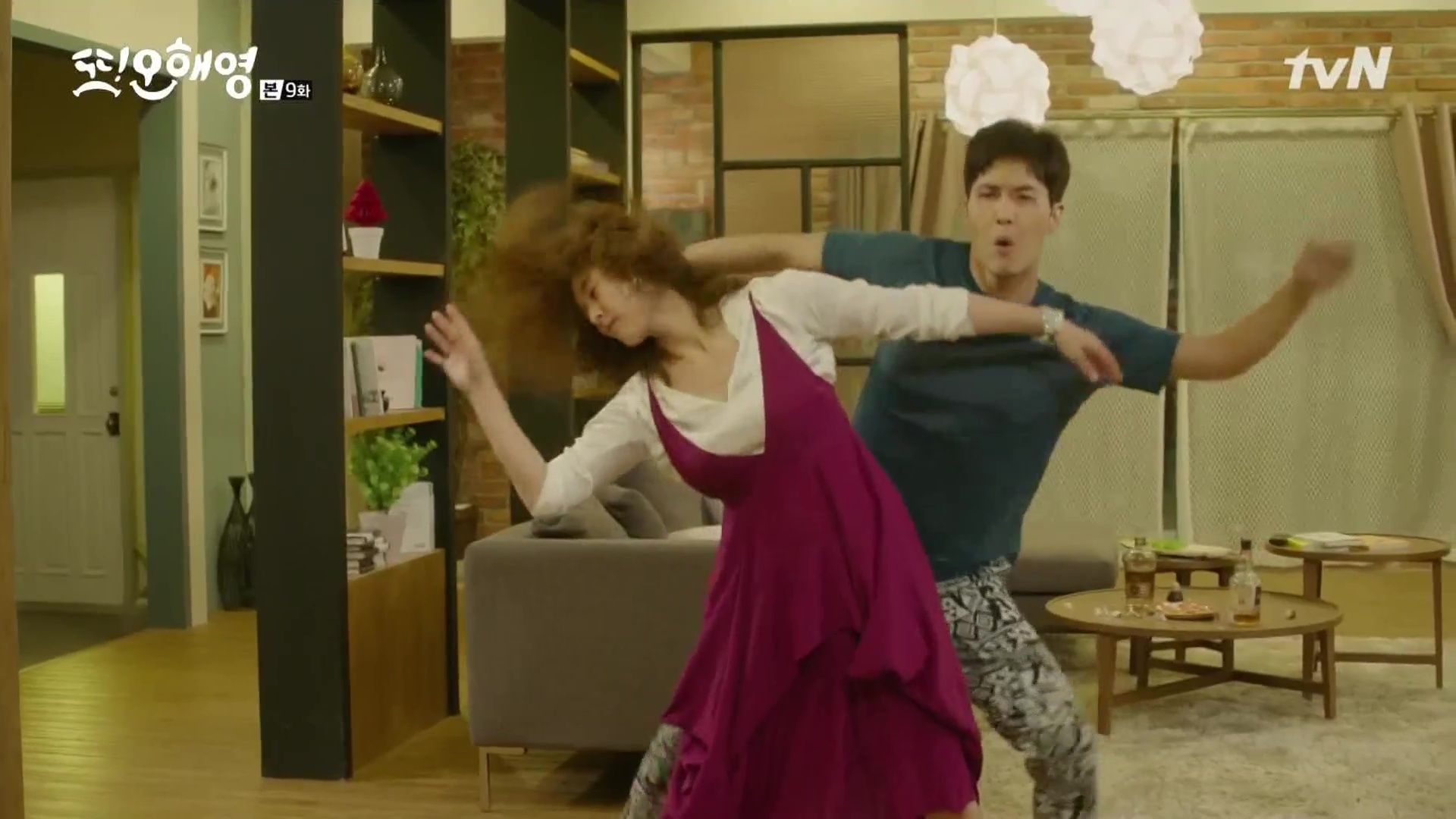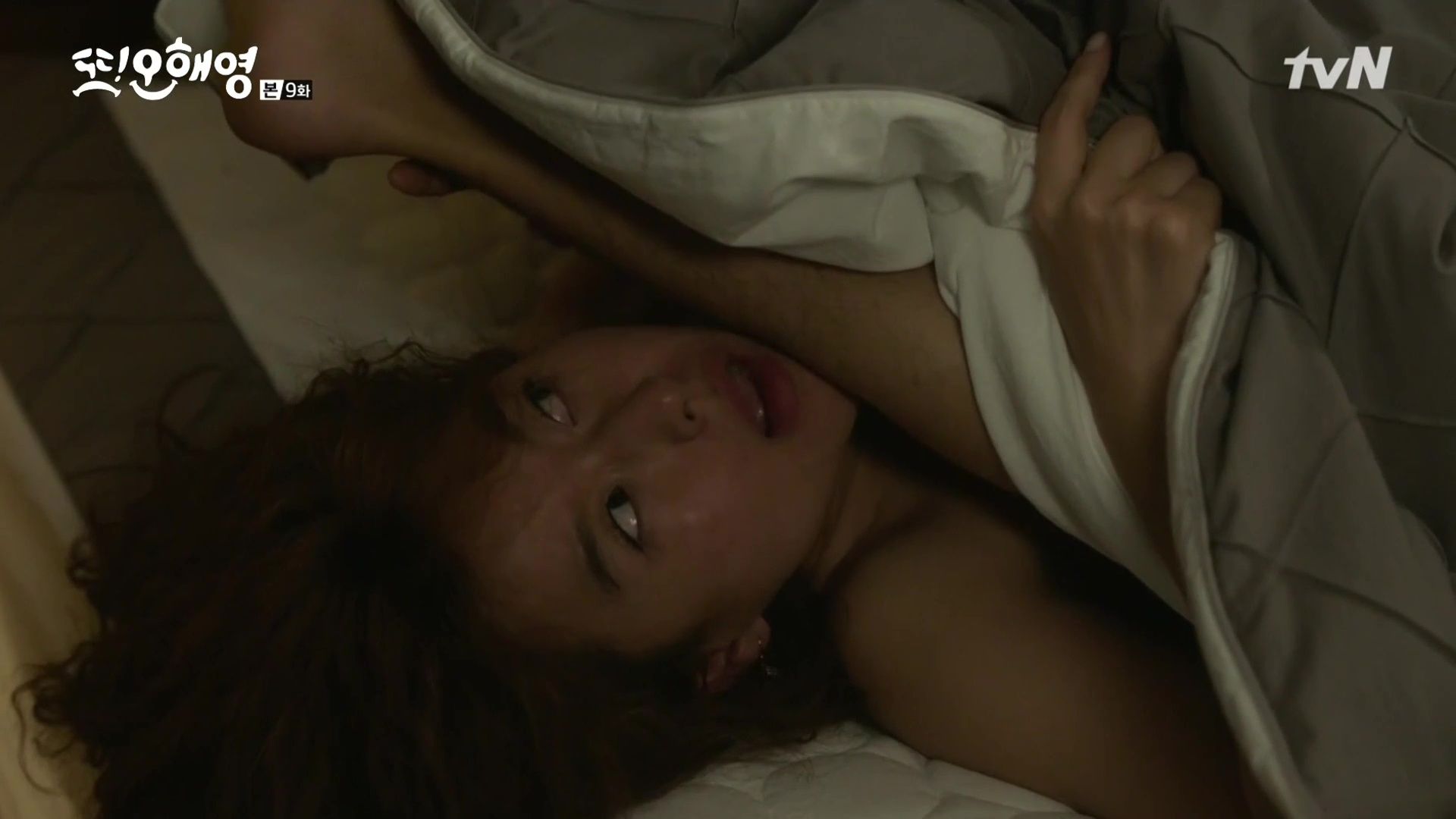 Definitely bad, but highly amusing. They drink, and dance, and invent weird circus-like tricks, then drink some more. Okay, it's just looking painful at this point. And so, inevitably, they end up in a naked tangle of arms and legs in bed together.
Soo-kyung wakes first and does the Crawl of Shame back to her own room. Jin-sang doesn't seem to remember anything, and wonders why she's acting weird when she scuttles past him on her way to work. The horror of it all finally hits Soo-kyung at work, and she kicks everyone out of her elevator so she can scream in peace.
Tae-jin's mother vents to him about Hae-young's mother blasting her, while Tae-jin tries to hold his temper and fails. He's furious that his mother went to Hae-young's mom without talking to him first, and he orders her not to do anything else, just stay quiet until she goes back to the States.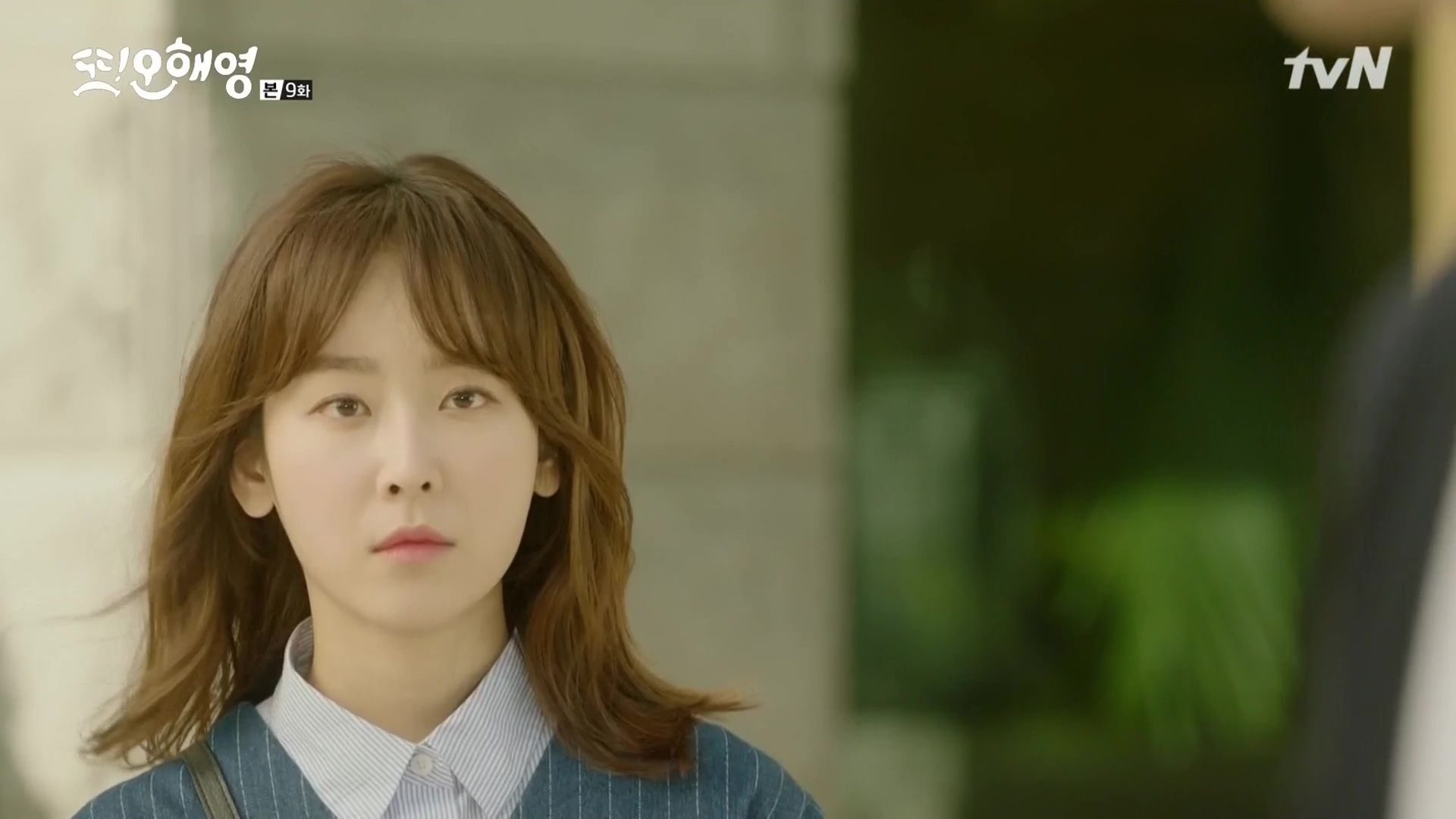 He goes back to his place and nearly calls Hae-young, but can't bring himself to do it. He remembers a waiter telling him that the best way to break up with a woman was to tell her she smells bad. He'd refused to do that, so the waiter had suggested he say that he can't stand the way she eats.
Tae-jin had gone with it, and now he regrets ever saying it. He does send Hae-young a text asking why she told her parents the truth of their breakup, which she doesn't answer. She thinks to herself that it was because she wanted to cry, just once.
Tae-jin is waiting when Hae-young gets off work, and he offers to take her to eat. Hae-young smiles wryly, wondering how she could possibly eat in front of him, and says that she doesn't want to see him again after this.
He gets scared seeing her walk away, and blurts out, "I was in jail! I was arrested the day after we broke up." The truth is that he could have gotten arrested during their wedding, and it would have destroyed her family, so he broke up with her to avoid that. He knew she would have waited if she knew the truth, so he had to make sure she really would accept the breakup.
Tae-jin's mouth quivers and his voice is weak as he says he's sorry, and Hae-young breaks down. She flings off his comforting hand and walks away, shaking with sobs. She wails all the way to her parents' house, and screams out the whole story to her shocked parents. "He did it because he wanted me to be happyyyyy!!"
She has a good cathartic cry while Mom hugs her, saying that she already knows her daughter is wonderful and precious. Dad asks why Tae-jin was arrested but Mom just barks at him Who cares?? Mom and daughter cry together, both relieved that she wasn't truly rejected.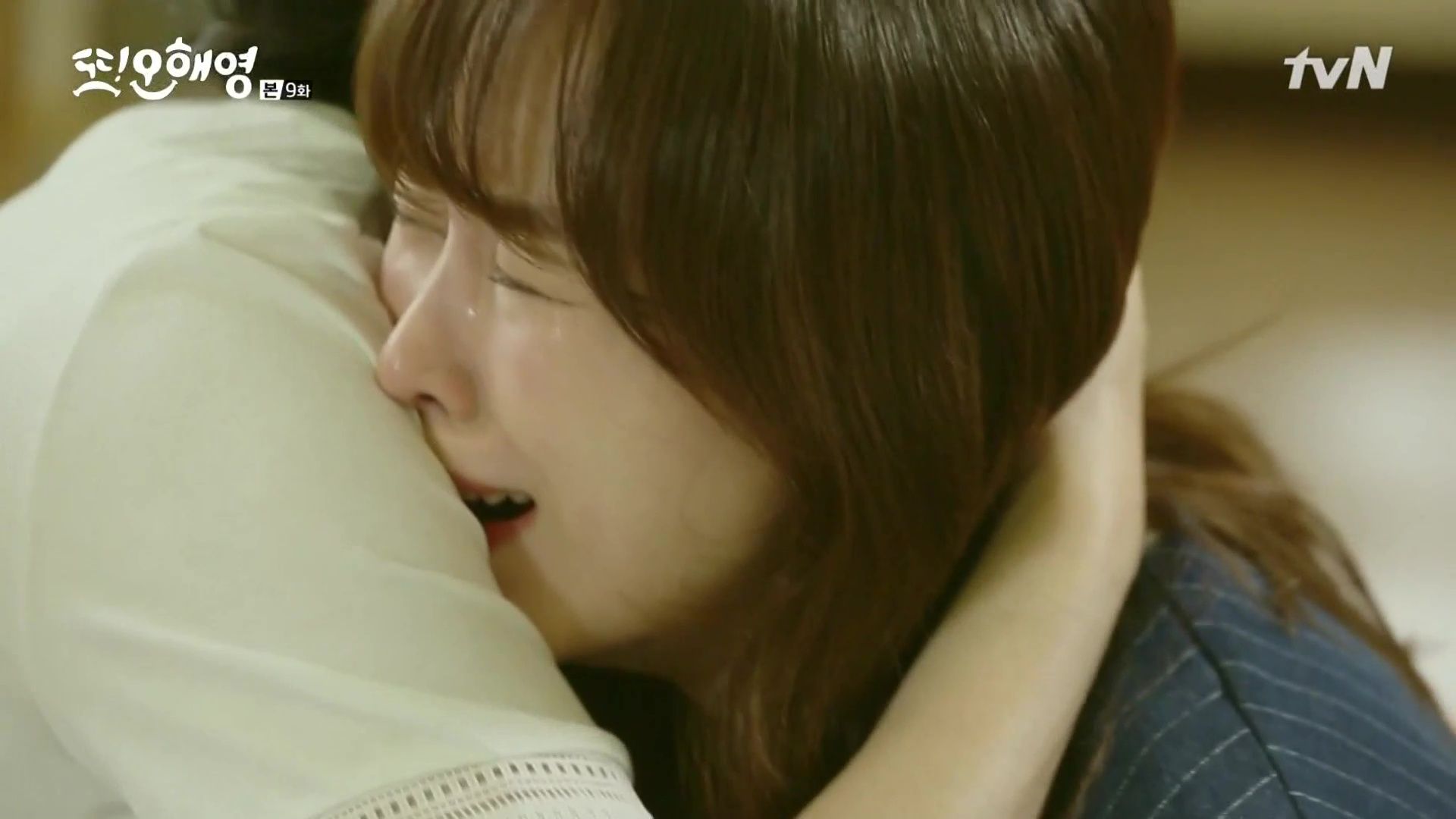 Do-kyung spends the evening haunting the street outside his place, hoping Hae-young will come home. He even hangs out in her apartment, and almost texts her to ask if she's coming home tonight.
He ends up listening to the recordings of her talking to herself on the night their situations were switched, and she'd waited up for him to come home. His mouth quirks up just a little when he finds a recording of her calling him "honey" for the benefit of a deliveryman, betraying how much he likes the sound of it. He stays up all night, listening to Hae-young's voice.
Hae-young stays at her parents' all night, and in the morning Tae-jin calls her to say he's coming over. Mom says absolutely not — whatever his reasons, dumping her the day before their wedding wasn't right.
Do-kyung finally shows up for ping-pong with the other Hae-young, but she doesn't win as easily as she used to. She thinks he's gotten better, but Do-kyung says he hasn't played since they broke up. He refuses her offer of a meal, and says that he won't be coming here again.
He tells her that he's really okay, and could even smile and greet her happily if they met on the street, just like she says she wants. He thanks her for making the first overture, but any more than this would be strange.
On the drive home he finally calls our Hae-young, and says, "Let's go home." he pulls up to her parents' house and says he has something to tell her, and he almost smiles when she comes running… but his smile fades when Tae-jin follows her out.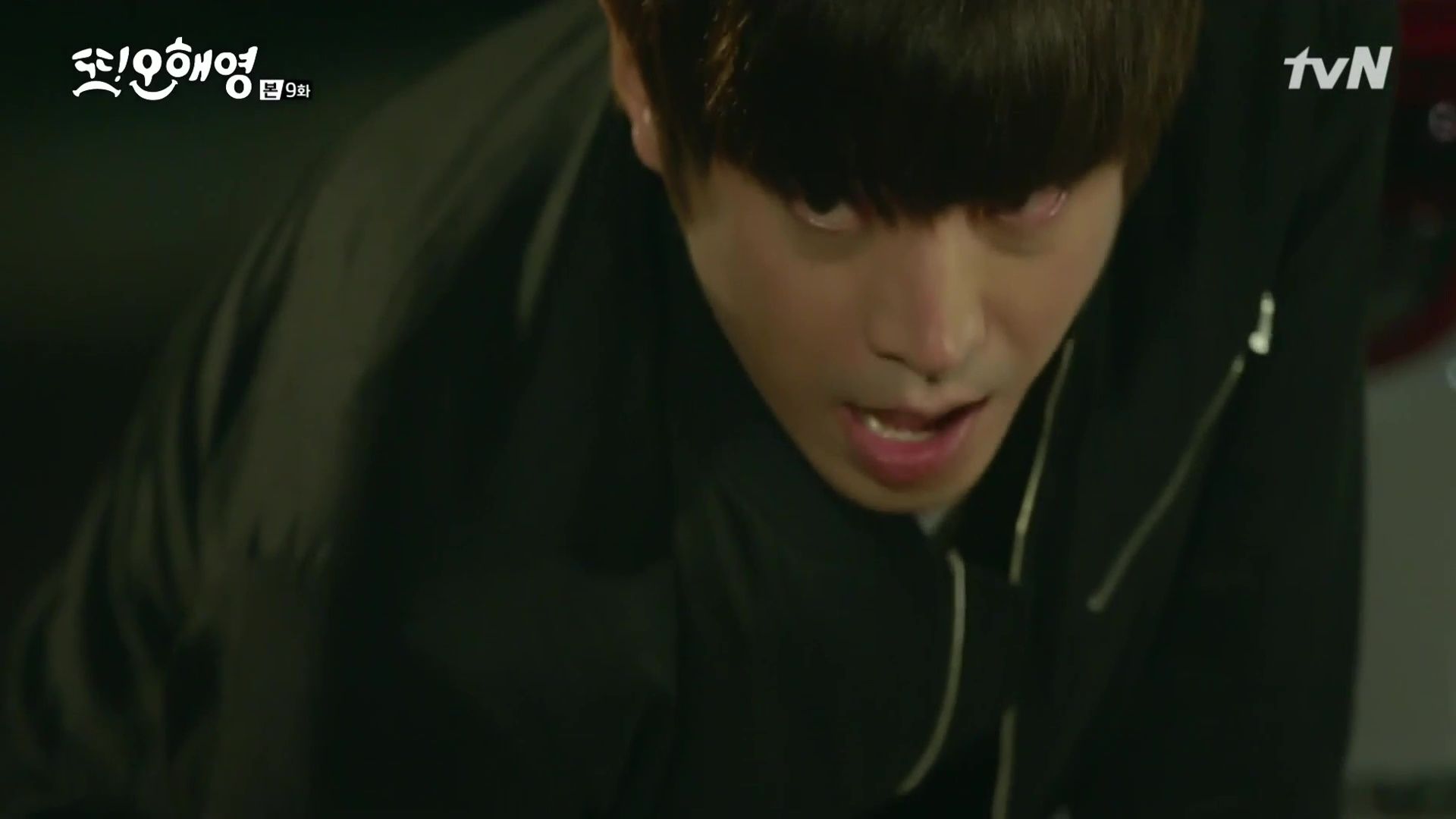 Tae-jin gets in his car to leave, and instead of talking to Hae-young, Do-kyung leaves. This time it's his turn to be rear-ended, but when he gets out of his car, there's nobody behind him and his car isn't damaged. But he's hurt, and he bends over double, clutching his abdomen in pain.
A sound of screeching car tires, a loud crash, and Do-kyung finds himself lying in the street covered in blood. He wakes up later at home in his own bed, and goes straight to his therapist. Dr. Park has a sudden realization — he thinks he knows why Do-kyung is having these visions.
We don't hear what he tells Do-kyung, who runs into Hae-young on his walk home. She says she's going to start moving her things out today, but Do-kyung won't even speak to her. She asks what he wanted to tell her last night, but all he says is that he's got the deposit money ready.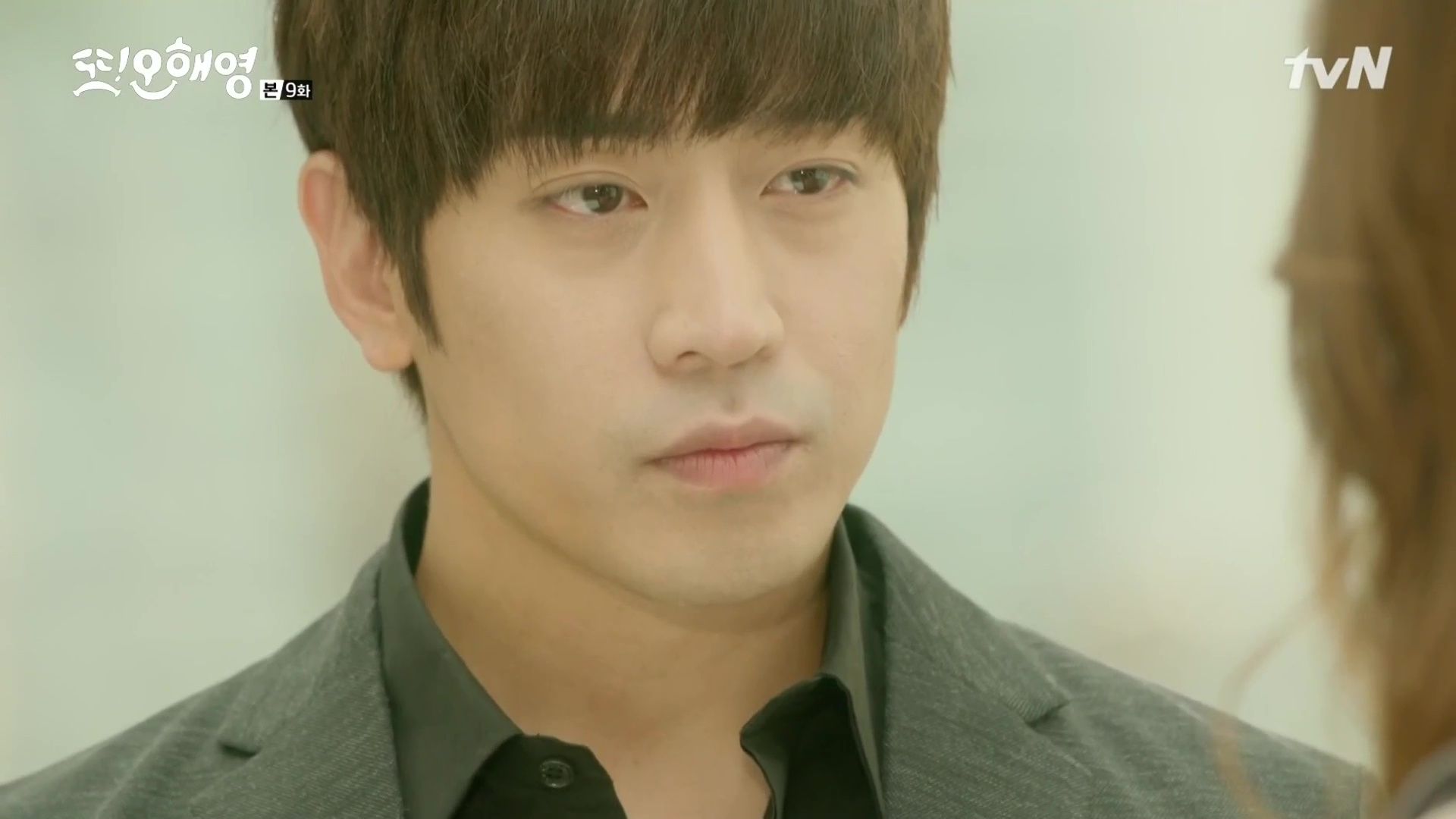 When she asks if he's mad, Do-kyung just asks in turn if Hae-young is dating Tae-jin again. She confirms that she is, which makes Do-kyung angry, to see her run back to the man who dumped her. She spits back that he forgave the other Hae-young after she broke his heart, but he says that at least Hae-young had a good reason besides her own pride.
Hae-young knows that Tae-jin values his pride over her, but right now, she just needs a man, any man. Even if he's one who rejected her, she needs him to keep her from throwing herself at Do-kyung.
Do-kyung walks away, and Hae-young screams after him that he's a coward. She chases him and starts thwacking him with her purse, re-enacting his vision to the detail. Do-kyung tries to stop her and she pushes back at him, fighting wildly, until he has to grab her and lift her off the ground to make her stop.
She bites his hand and when he lets go, she goes after him again. He yells and she stops, but when he turns away, she hits him again. He pins her against a wall in an attempt to calm her down, and in the scuffle she splits her lip — another vision. Do-kyung finally gets her to stop struggling, and they stare at each other, panting.
It's a charged moment on all levels, and Do-kyung finally lets himself give in to temptation, and he kisses Hae-young passionately. She's right there with him, kissing him back just as desperately, and his hands are everywhere as he drops his face into her neck.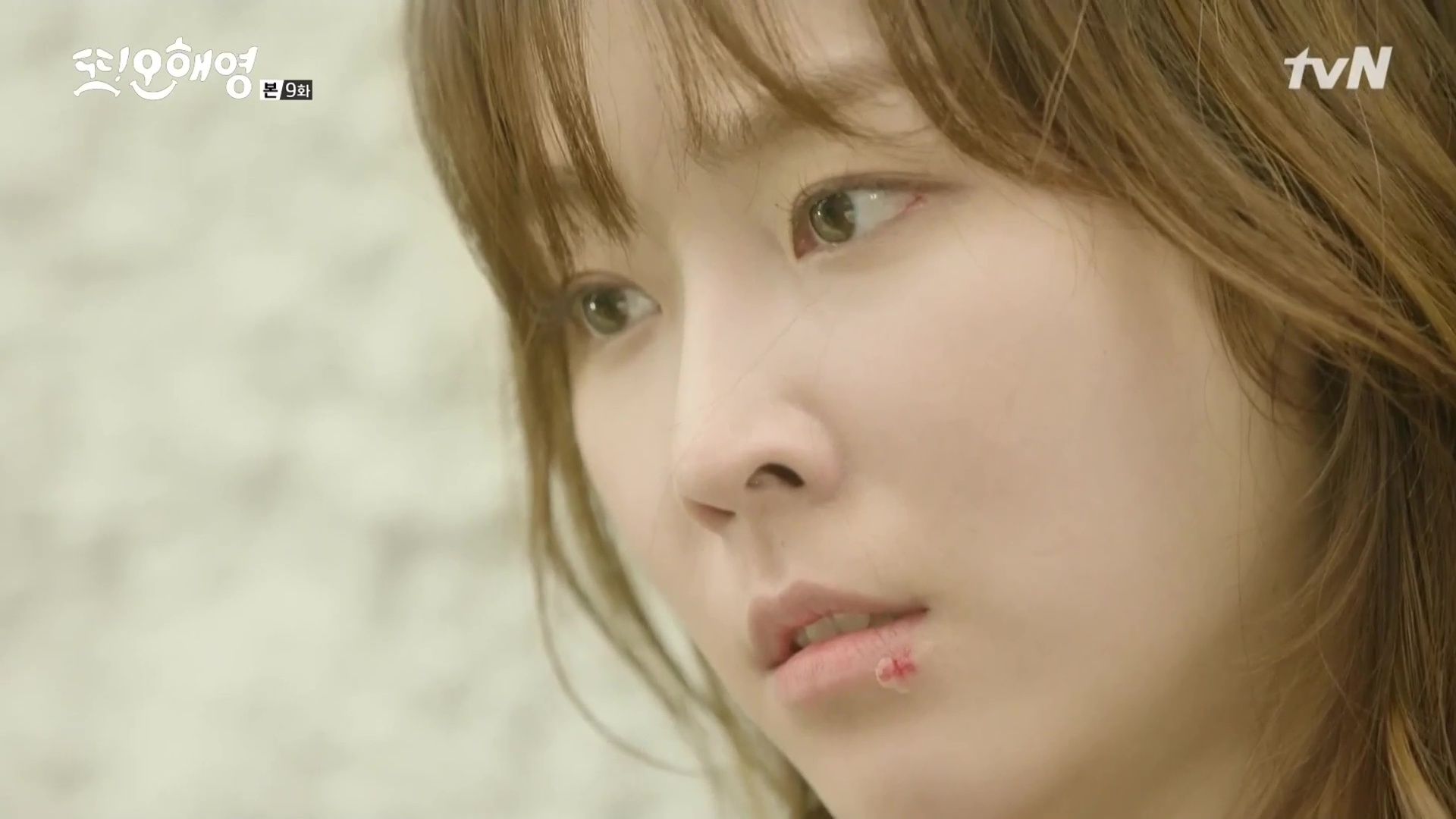 But Do-kyung suddenly remembers where he is and that he has no right to do this, and he backs away, leaving Hae-young confused. Wordlessly, he picks up his jacket and leaves her standing there.
We back up to his conversation with Dr. Park, and now we see the tears in Do-kyung's eyes as the doctor looks at him. Whatever he sees in the doctor's expression scares him to death.
COMMENTS
Wow. Even knowing what was coming, that kiss was powerful. It's been building up for a long time now, and it was so intimate that it was hard to watch, like we were actually seeing a private moment between two people that we weren't meant to see. I'm glad for Hae-young's sake that she now has confirmation that Do-kyung does feel something for her, but I actually think he did the right thing in walking away. There are still too many secrets between them, and too much to be resolved before they can even think about being together.
Until now, I've been willing to give the other Hae-young the benefit of the doubt that she's really a nice person who just doesn't know how to relate to people other than by going overboard to please them. I figured her family life stunted her emotional growth, and she's just innocently unaware of when she hurts someone, because she has good intentions. That's what I was thinking. But now I'm starting to see that her little "innocent" comments aren't so innocent, and I think she has a hidden agenda. I do think she was terribly hurt by Do-kyung's mother's words and by that recording, but that's about all I'm giving her credit for at this point.
I did believe the other Hae-young when she said she just wanted to end things on good terms with Do-kyung, but when she started telling him private things about our Hae-young, I no longer believe that. Now I think that her doe-eyed facade is just an act, to give herself plausible deniability if anyone accuses her of playing dirty, she can just pretend she hadno idea her comments were hurtful. I think she knows exactly what she's doing, and I think she's angling to get Do-kyung back. She angled for more date-like plans the very first time Do-kyung showed up to play ping-pong – there's no way this girl doesn't have an ulterior motive.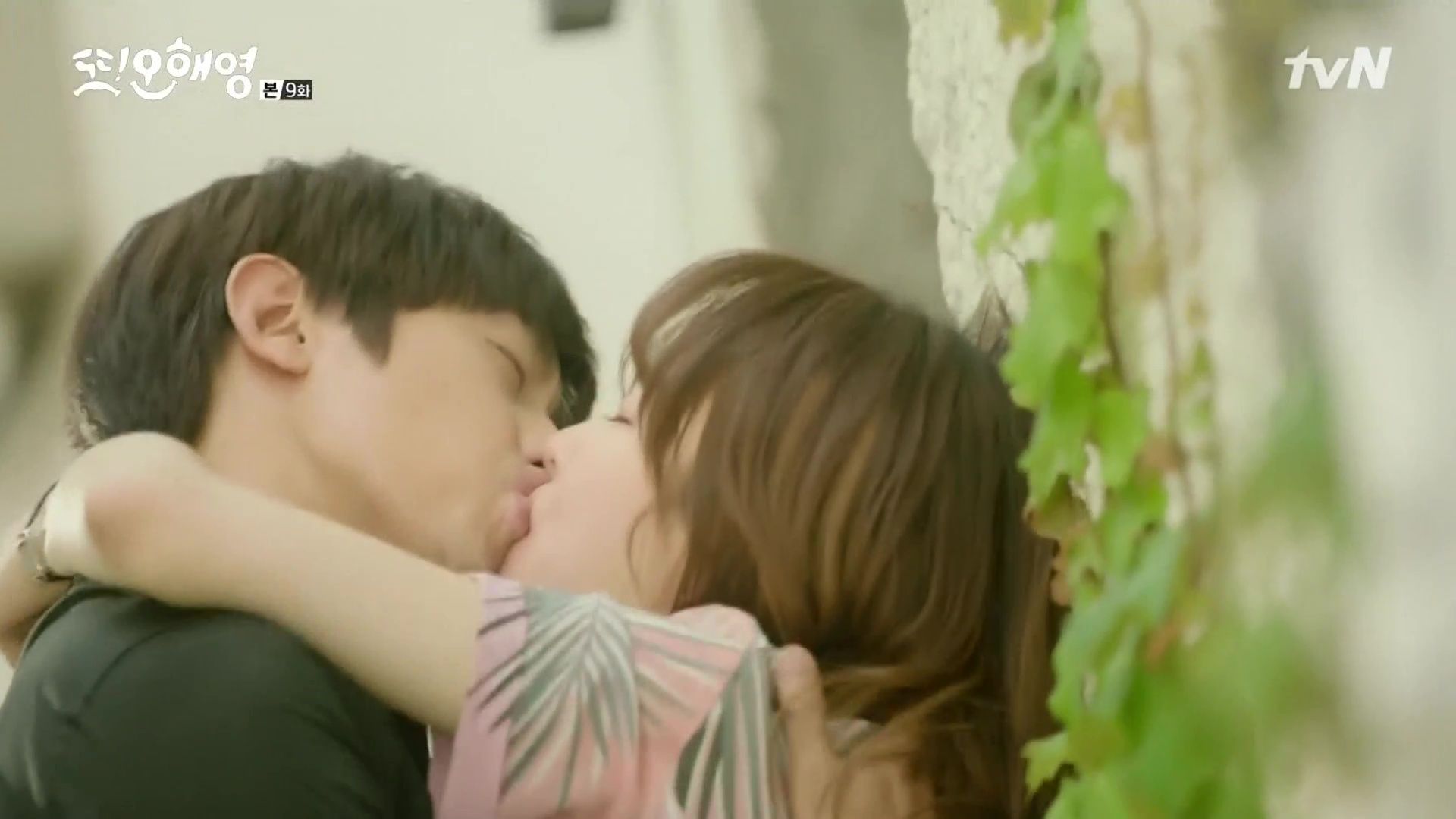 I'm actually glad to see our Hae-young reaching her low point, especially when it comes to the other Hae-young. She's got a lot of unresolved anger and anxiety left over from their school years, which she's been squashing down for all this time. Her bravado masks a deep inferiority complex, and having the object (if not the aggressor) of so many years of mistreatment just for sharing the same name as someone more pretty and more popular suddenly pop up in her life and seemingly take away the man she likes is just too much. In a way, it's good that our Hae-young finally snap ped, because now she can start to heal and rebuild her own self-worth.
To that end, I'm ready for Tae-jin to re-enter the story in a significant way, so that Hae-young can deal with her issues and move on. Do-kyung has been able to do that (though his "issue" can't seem to leave him alone now) and I want Hae-young to get that same opportunity. I don't think her crush on Do-kyung as it stands now is healthy, because she's still got nagging issues surrounding Tae-jin's rejection, so in a way it's good that Do-kyung rejected her. Like I said before, they both need to step back, deal with their problems, and wrap up their past entanglements before either of them is ready to enter into a new relationship. Maybe once all that's done, they can be together, but not as their lives are now.
I do think Do-kyung is further along in this process than Hae-young, though he's still got to deal with his visions, and figure out why he's having them exclusively about Hae-young. I'm scared of whatever Dr. Park thinks is wrong, because something about the visions, and the escalating side-effects Do-kyung is experiencing, are getting dangerous. He's having physical as well as mental symptoms, and the fact that he seemed to pass out in the street and wake up at home in bed are downright scary. Whatever is wrong, please just don't let it be something terminal… Do-kyung and Hae-young have been through enough, they deserve some happiness!
RELATED POSTS
Tags: Episode 9, Eric, featured, Jeon Hye-bin, Oh Hae-young Again, Seo Hyun-jin