Olympic gold medalist Jang Mi-ran inspires sports drama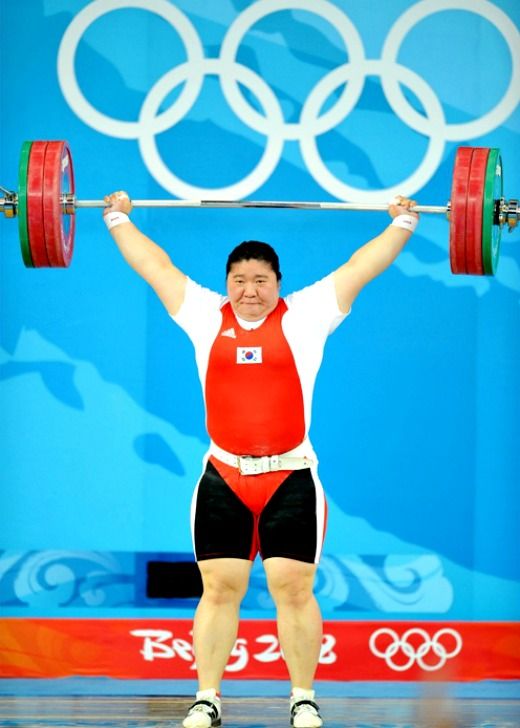 I still have hopes that someone, somewhere, somehow will revive the sports drama. It can be done! It just needs an inspirational story and an underdog we'll root for! The good news is that this one might have the right ingredients, which I'm excited about because it sounds really heartwarming. There's a new sports drama in the works based on the life of Olympic gold medalist weightlifter Jang Mi-ran, who left a lasting impression on me when she guested on 1 Night 2 Days and was just a sweet, down-to-earth regular girl who had the cutest crush on Sung Shi-kyung ever.
The new drama series is called Weightlifting Fairy Kim Bok-ju, and is inspired by Jang Mi-ran, who won a silver medal in her first Olympic games at the age of 21, and then went on to win a gold medal grand slam at the World Championships, the Asian Games, and the Beijing Olympics. She has since retired and runs a foundation for young athletes in minor sports. Jang was consulted on the story from its inception, and the drama will include events from her life.
It'll be an uplifting coming-of-age story about a 20-year-old weightlifter heroine's first love. She's only ever lifted barbells her entire life, but when she encounters a love that hits her like a hurricane, she'll feel embarrassed by the calluses on her hands for the first time. Aw. The campus drama will be about college students all working towards their dreams as athletes, and it's described as a story about their growth and "an awkward first love." I love that so much — I mean, is there any other kind?
Also, it fits with the image of Jang Mi-ran, who's shy and soft-spoken and adorably girly around her crush (granted it was a star-crush on Sung Shi-kyung, but it was that cute). There was a weightlifting movie in 2009 called Lifting King Kong that had a similar premise, though the drama will go a little wider to include other sports like swimming and gymnastics; so it sounds a little like Taereung National Village or even Dr. Champ, which focused on Olympic hopefuls. I like the sound of this one better though, because I would love to see a female-centric sports drama with a heroine modeled after Jang Mi-ran.
Weightlifting Fairy Kim Bok-ju is reportedly being considered at the major networks for a Wednesday-Thursday timeslot in late 2016, though no broadcaster is attached yet.
Via IS Plus
RELATED POSTS