Team Dramabeans: What we're watching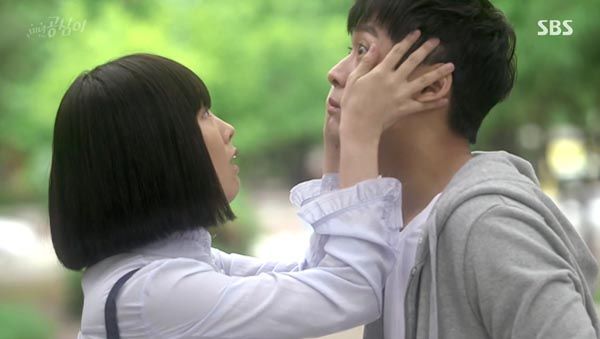 We had the suggestion put to us about creating a feature that allows us recappers to talk more regularly about the shows we aren't personally recapping. It seemed like a good idea to give everyone the chance to weigh in on other shows without creating multiple reviews of the same thing, or waiting till the end of the year to talk about them in the year-end round-up (which gets unwieldy enough as it is).
So we're trying this new feature out, which we're calling (aptly!) What We're Watching, where we'll weigh in on a weekly basis about what we're following and share some thoughts on them. Not everybody will join us for every single week, but we'll be sure to have at least some recappers in each edition. We hope you enjoy!
Currently recapping: Lucky Romance

Oh Hae-young Again: My favorite show of the moment, and the first one in a long while where I'm sad when episodes end because I want more. Haven't had my heart tugged so consistently by a character in a while, or loved a heroine like I love Hae-young. Eric is fine and all (and I do mean fine), but Seo Hyun-jin is the everything.
Beautiful Gong Shim: I intended to watch this eventually when I had free time, but started it up at midnight one night and had to force myself not to marathon four episodes at once. Delightful and cute in a small-town, small-stakes, big-heart sort of way. Namgoong Min has found his next level, but I'm more surprised by Minah, who's made the character all her own—independent, grumpy, and resilient.
Mirror of the Witch: Now here's a fantasy sageuk that feels like a fantasy sageuk. Beautiful, eerie, and tightly crafted. I'm even starting to get over the whole age-gap issue between Yoon Shi-yoon (amazing) and Kim Sae-ron (perfect). I know! It's like magic.
Neighborhood Lawyer Jo Deul-ho: The show has always been upbeat and feel-good (sometimes so feel-good that it's to its own detriment). A little simplistic with the legal cases, but a competent, crowd-pleasing fight-for-the-little-guy drama. That said, nobody thought we needed more episodes of this, right? Let's all thank Park Shin-yang for fighting the good fight and refusing to cave to the extension monster.
Monster: It's not the show I wanted… but sometimes you need a show to clean your room to, okay? I'm a few weeks behind and it can be pretty silly, but it makes me laugh. Sometimes even intentionally.
Currently recapping: Lucky Romance
Dear My Friends: This is almost too realistic that it's painful, but I really love Go Hyun-jung in this. She feels like me, and I almost hate how much her crazy relationship with Mom feels vaguely familiar. (Don't tell my mother!)
Mirror of the Witch: Yoon Shi-yoon is amazing, and he almost even makes the romance work! I love the mythical universe, and the stellar CG and beautiful directing certainly don't hurt. It's always a treat to discover a show that can make a fantastical world full of sorcery and curses believable.
Entertainer: I don't know why I'm still watching this.
Vampire Detective: I forgot I was still watching this. Does the vampire know he's a vampire yet?
Currently recapping: Jackpot

Mirror of the Witch: I haven't seen a show this well-produced in a while. And I'm not talking Descended From the Sun levels of grandiosity, but rather Mirror's intricacy and attention to detail. Everything we see is there to serve the story, and the world feels pretty real for a fantasy, helped in no small part by some really amazing set construction. Super impressed so far.
Neighborhood Lawyer Jo Deul-ho: An easy show to watch, filled with characters you can easily root for and against. It's a small drama with a big heart, and while it may not be one aspiring to greatness, it's just so darn uplifting that you can't help but like it anyway. Human dramas aren't normally my thing, but there's just something about watching a makeshift family work together to solve problems that gets me every time.
Currently recapping: Beautiful Gong Shim

Oh Hae-young Again: Definitely my favorite show at the moment. I love Hae-young, her family, her bike, her honesty, and basically everything. Seo Hyun-jin may think we love Hae-young because she's pitiful, but she is so much more. Oh, and petty Eric is a nice bonus.
Lucky Romance: It's a fun watch and I love our leads, though it's still a little difficult to forget them in their past roles. I may not stay up-to-date with it, but I'll come back if I need a lighter rom-com that's sure to be full of Hwang Jung-eum's tiger-hunting antics.
Dear My Friends: The older cast really shines with their lovable and despicable ways, and I enjoy watching them through the eyes of Go Hyun-jung. She loves them by hating them, never afraid to reciprocate their blunt expressions of fondness. It's morbid and comical as it deals with the often heartbreaking realities of aging.
Mirror of the Witch: It's creepy and dark done the right way. Sometimes, it's too dark (literally), but it's still so captivating. Kim Sae-ron and Yoon Shi-yoon are perfect for their tragic characters and look beautiful on camera. Bless this director and production team.
Currently recapping: Oh Hae-young Again, Entertainer
Beautiful Gong Shim: This show is so cute it makes my teeth hurt. I love the quirky characters and their strange little friendships. Gong Shim is a perfect little firecracker, while Dan-tae with his man-capris makes me laugh every time he's on screen. It's a show that won't tackle any big issues, but it doesn't need to, because it's perfect just as it is.
Dear My Friends: I'm a little behind already, but not because it's not a wonderful show — it's because I'm so scared it's going to break my heart. These ladies with their lovely friendships (and even their battles) were so endearing right off the bat, they're already making me laugh and cry right along with them.
Mirror of the Witch: I do love a good fantasy sageuk, and Mirror hits all the right notes for me. Earnest hero, damsel in distress, and a witch with the ability to summon something so terrifying I hold my breath whenever it shows up to menace someone. The magic is unique and creative, which makes the story unpredictable and frightening in that good-shivery sort of way.
Jackpot: I'm SO behind, and yet I'm still determined to finish this show. I'm pretty sure it's 90% due to the brother-princes' pretty pretty faces.
Currently recapping: Dear My Friends

Monster: The show continuously seems confused about what it wants to be, but that's almost become part of its charm. I never know when it's going to suddenly veer from spy slapstick comedy to revenge thriller to family melodrama. But my expectations are low — as long as it keeps being reasonably entertaining whilst feeding my Park Ki-woong addiction, I'm happy.
Vampire Detective: Wait, so this show has a vampire? Does he know that? OCN may be disappointing me on the supernatural front, but I know I can always rely on them to give me interesting and stylishly produced crime procedurals. The chemistry between the main trio that keep me coming back each week, though.

Jackpot: Currently at episode 12, finally let go of hope for a super-badass epic. I actually do enjoy it and it's (a hair) above mediocre, but I wanted it to, you know… break my heart, make it soar. And for the love of all that is warm and fuzzy, stop withholding the bromance.
Oh Hae-young Again: Eric deserved his beating and Hae-young has the best parents ever. BEST. This show is lighting the dark crevices of my heart that Cheese in the Trap despoiled. The so-real-it-hurts-but-don't-it-hurt-so-good parts.
Master—God of Noodle: Still loving it, but it's lately had a way of pitching you into the middle of things with-out any explanation. I finally had everything straight last week — so of course it drops a whole new tangle of intrigue this week. Which is, well, intriguing, but is it getting too convoluted?
Lucky Romance: I've only caught the first episode, and am unreasonably excited to see sensory overload get an outing that really feels authentic. But I found it endlessly droll that recovery was sought via broody shower. Fellow aspies take note!
Entertainer: I picked this up again at episode 5 after falling behind, but it was so boring I nearly cried. How do you even mess this up, with (mostly) winsome characters and a (mostly) solid cast? Somebody tell me it gets better.
Tags: 1 show to rule them all, Beautiful Gong Shim, Dear My Friends, Entertainer, Jackpot, Lucky Romance, Master–God of Noodle, Mirror of the Witch, Monster, Neighborhood Lawyer Jo Deul-ho, Oh Hae-young Again, Vampire Detective, What We're Watching