Vampire Detective: Episode 10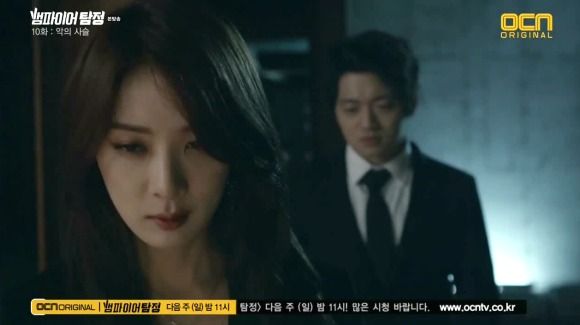 More truths come tumbling out this hour as we connect the dots in the past with the mission that started it all. It's really the past that tells us most about the present in Vampire Dectective as Tae-woo takes center stage in this episode. His story is but one narrative stone of an intricately-built pyramid ruled by one beautiful, yet dangerous vampire.

EPISODE 10: "The Chain of Evil"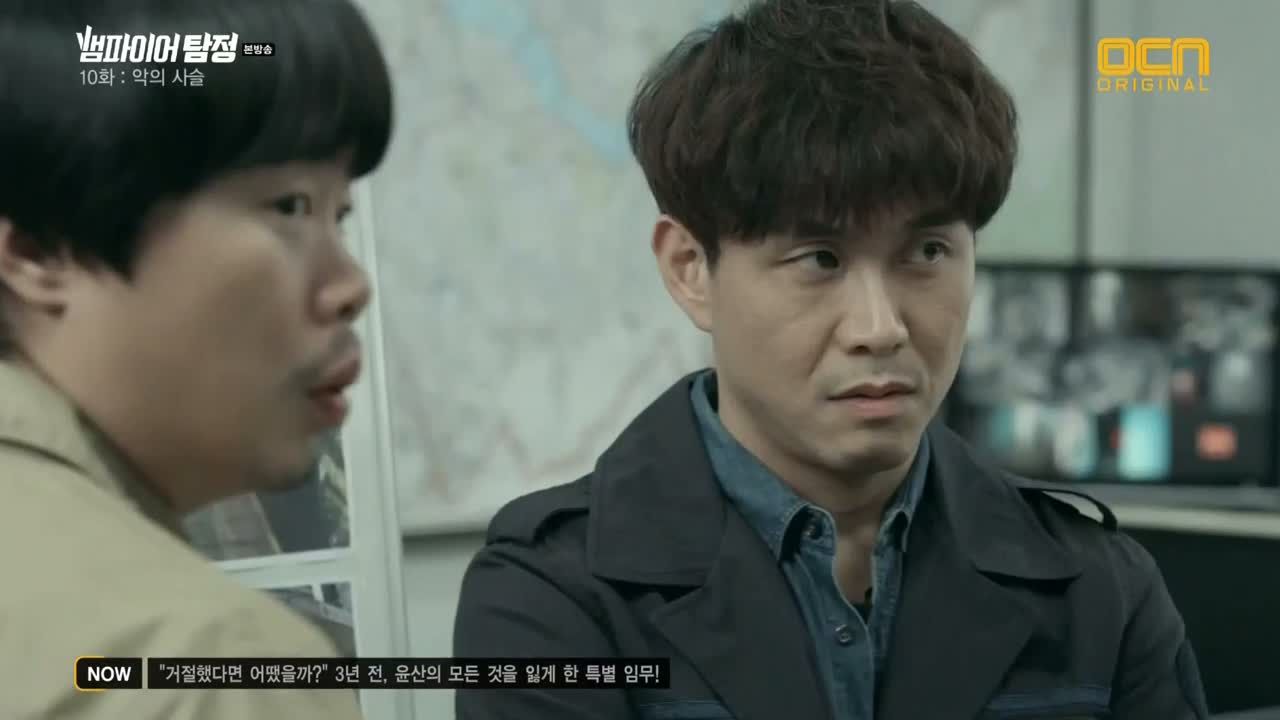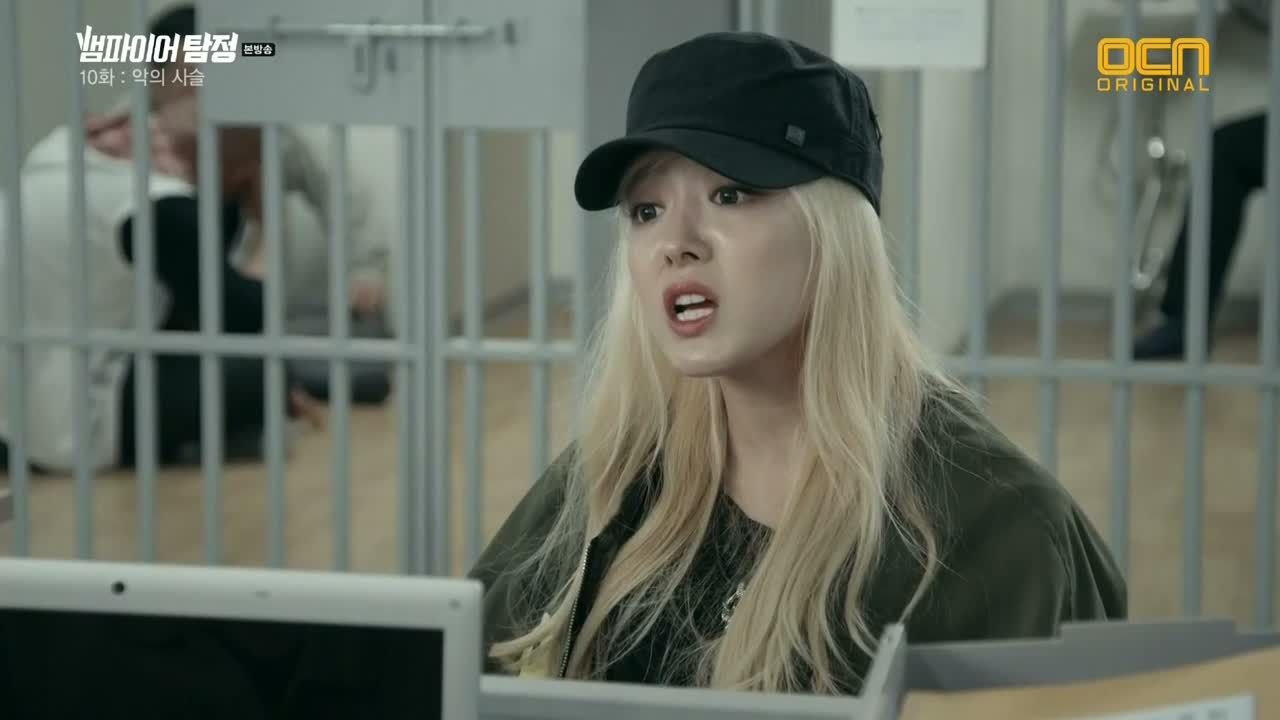 We open in the past—five years ago to be exact—back when Gu-hyung was still a cop. Gyeo-wool had been dragged into the precinct, refuting the accusations of being a pickpocket. Unfortunately for her, Detective Park had keenly picked up on the gaps in her ever-evolving story.
To make matters worse, Gu-hyung had recognized the photo ID, which prompted him to ask: "How do you have a dead man's wallet?" What, what.
Gu-hyung is referring to the wallet owner's true identity, JO MYUNG-GEUN, who is reported dead on the wanted list. He tells Detective Park that they can re-open the case now that they have proof that Jo could be alive.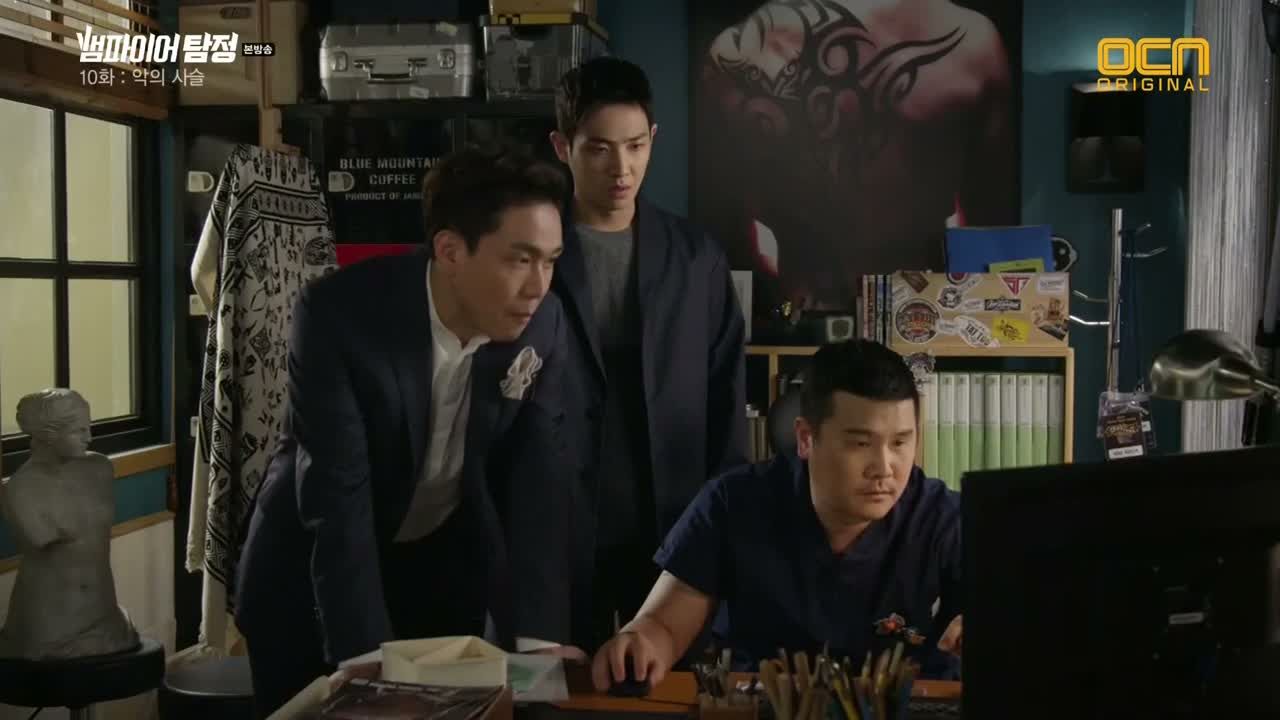 Over in the present, San tracks down the phone booth Yoo-jin used to call him. He reviews the CCTV footage from the previous night, and gets choked up when he sees Yoo-jin captured on camera.
Gu-hyung packs a lunch for Se-ra to enjoy again, though Dr. Hwang hilariously has a few words of critique. San drops in with the footage for the doc to inspect, and Gu-hyung's expression darkens upon seeing Yoo-jin's face onscreen.
Once they're home, Gu-hyung still can't believe how Yoo-jin could still be alive. San says he plans on asking her that very question, though he also wonders what could've been if they all hadn't taken on that secret operation five years ago.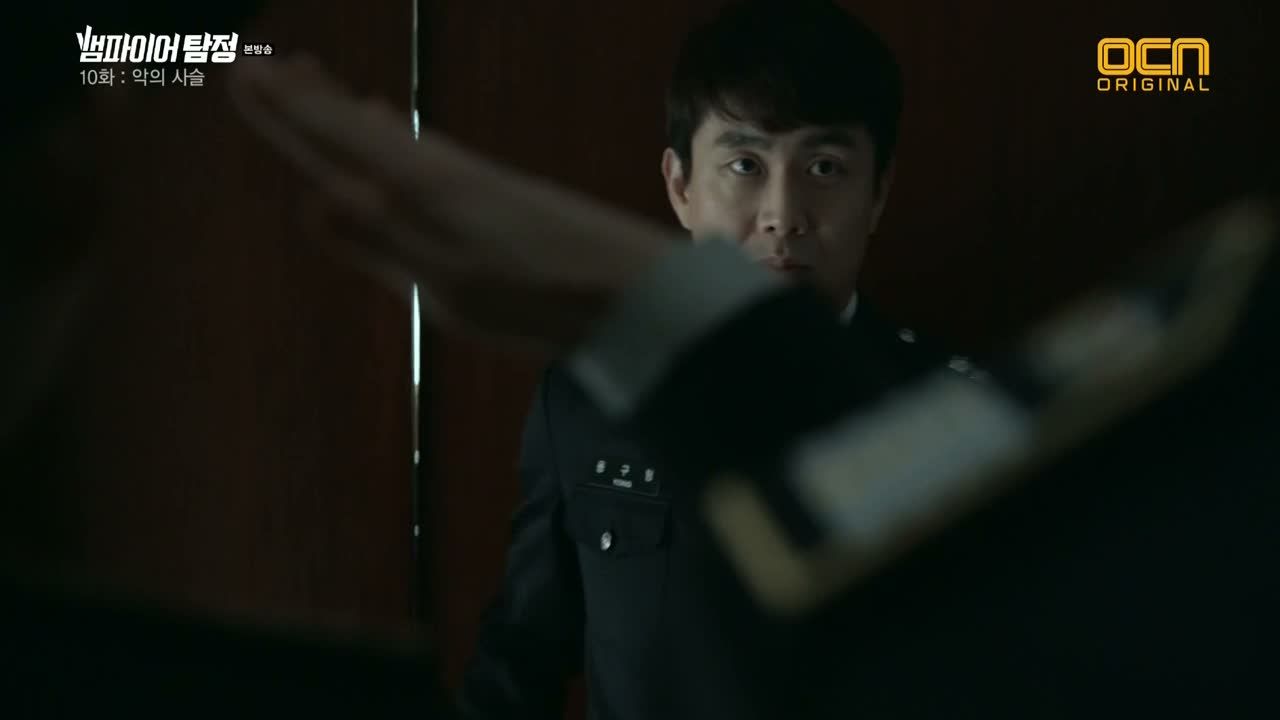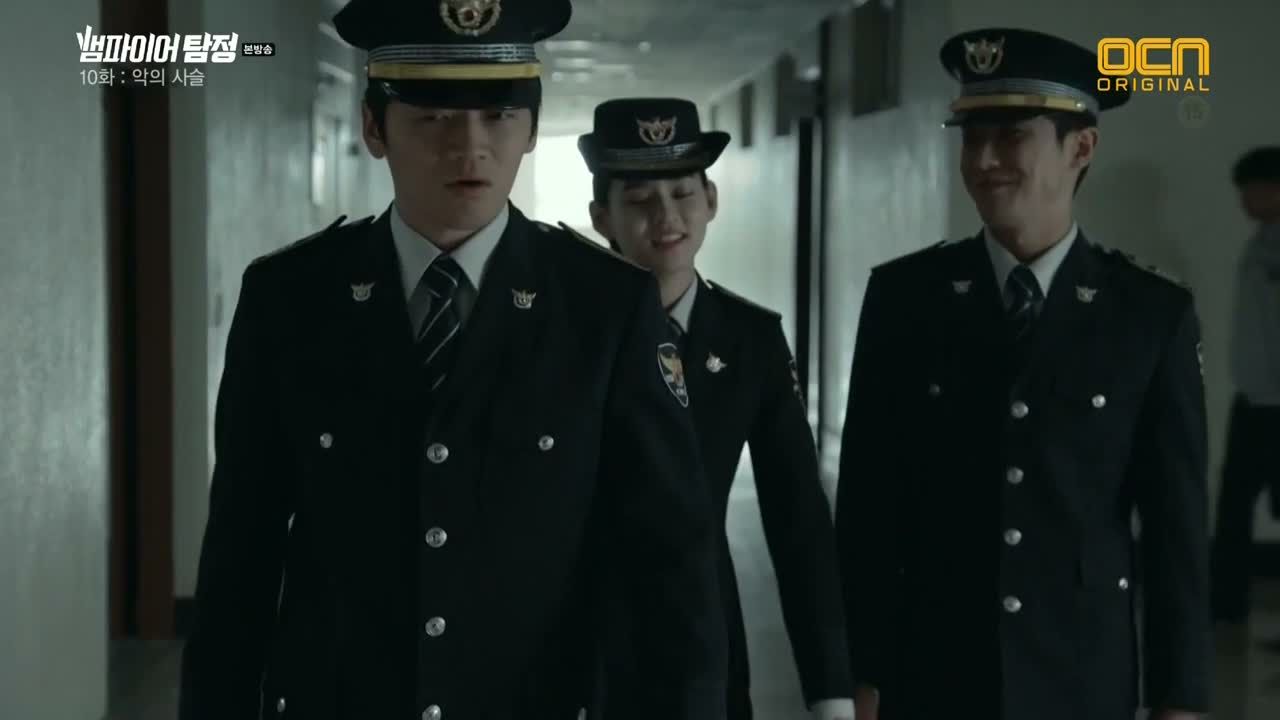 Ah, it had been Gu-hyung who had met the dean shortly before our police cadets, including San, had received their assignment. Tae-woo warns San against letting his overconfidence get the better of him, only for San to offhandedly remark: "You don't know what it's like [being confident] anyway."
Although Tae-woo bristles at the slight, he lets the matter drop… at least to San's face. Then it's off to their safe house aka the building that would later serve as the P.I. team's headquarters.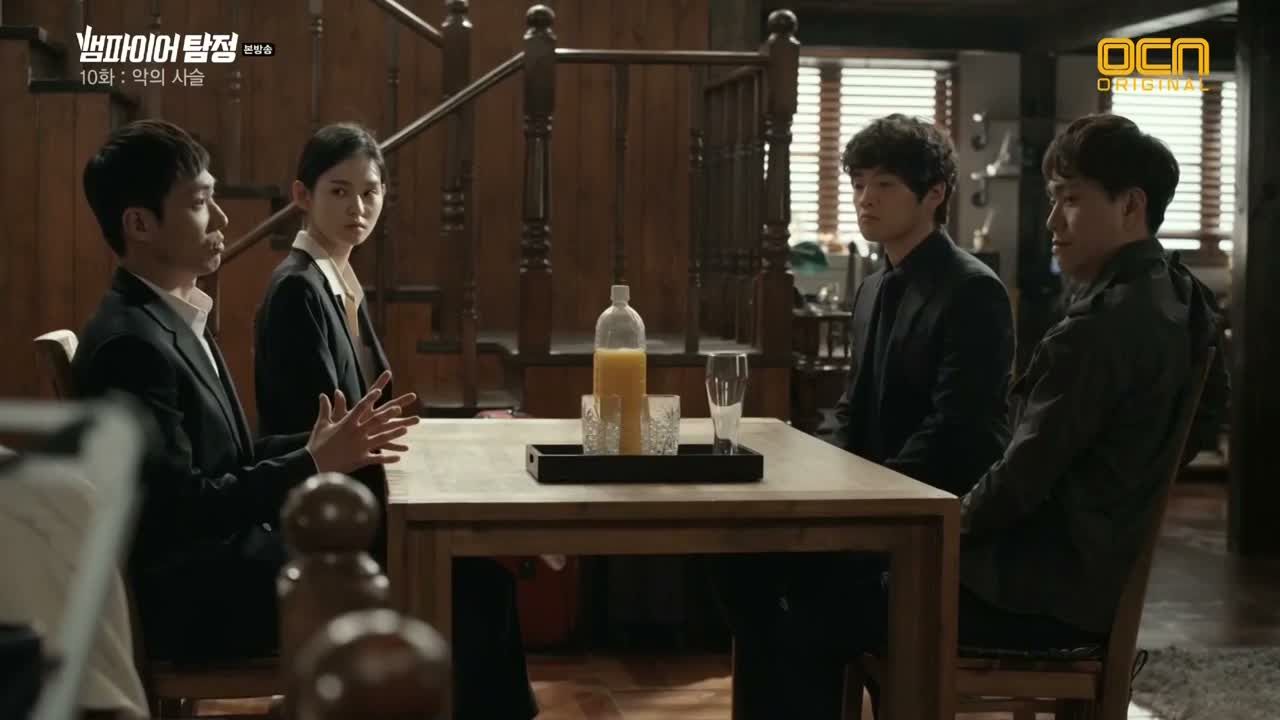 Whereas Tae-woo believes this to be Gu-hyung's home, San quietly remarks that it seems like someone else's home. When asked why, San displays his keen observational skills, pointing out how Gu-hyung couldn't find his way around the kitchen, and the clothes here are a few sizes too big for his frame.
He acknowledges that Gu-hyung could've had trouble because he rarely hosts guests and likes wearing bigger clothes, but here's the kicker: there are photos of another man (why hello again, Ryu Seung-ryong) all throughout the house.
Gu-hyung is pleased to find that San lives up to his reputation, then walks them through the details of their assignment: Jo Myung-geun, a CEO whose company had orchestrated an elaborate money pyramid scheme. The man is reportedly dead, but they recently found evidence that he could still be alive.
It's possible that Jo is using a fake identity and running the company under its new name, Challenger, but what they do know is that every cop who has tried to infiltrate the company thus far has gone missing. That's why Gu-hyung went to find recruits in the police academy, since the cadets aren't part of the police database.
Since the pyramid scheme's target demographic are college students, which makes them perfect candidates. He recognizes that their lack of fieldwork experience is to their disadvantage, so they'll be trained here.
Their assignment is to catch Jo Myung-geun and discover the underlying truth in Challenger's business. He hands each of them a waiver to sign, giving them one last chance to walk away from this dangerous mission. Tae-woo anxiously looks at the others, and San accepts. The others follow suit, albeit with some reluctance.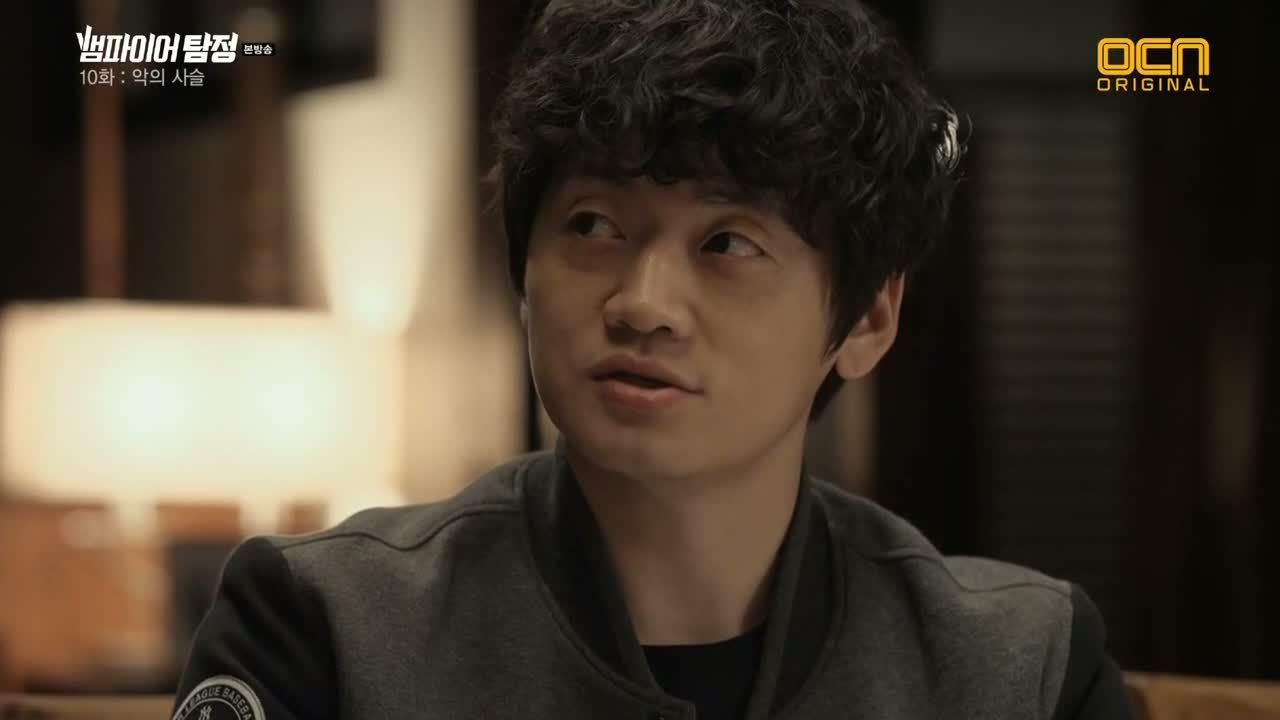 Gu-hyung instructs the cadets on how a pyramid scheme works, which is structured to look like multi-level marketing. But when they have trouble understanding its real-life applicability, he calls in some help.
Next thing we know, Detective Park arrives with fried chicken, and Gu-hyung uses both man and food to reenact the mechanics of the con: he might give the detective an unattractive offer which the latter would refuse, but then use a few psychological tactics to keep the target around, like playing upon the "investments" he had made—in this case, the money spent to buy the food.
He rips up the box to demonstrate this, and not only does Detective Park eat the chicken, he's willing to share with other people, essentially pulling them into the scheme as well. This is how this scam works, Gu-hyung explains, where one person is brought on through deception and told to spent money that would ultimately end up in the hands of the scammers.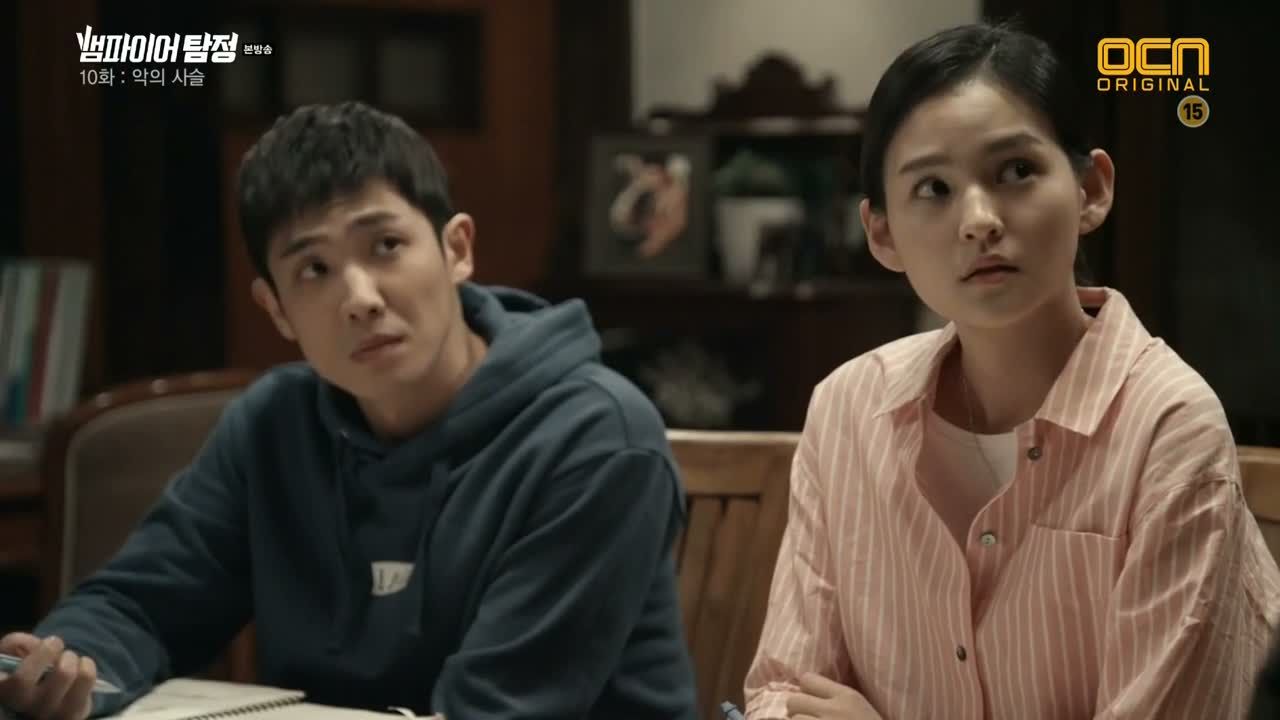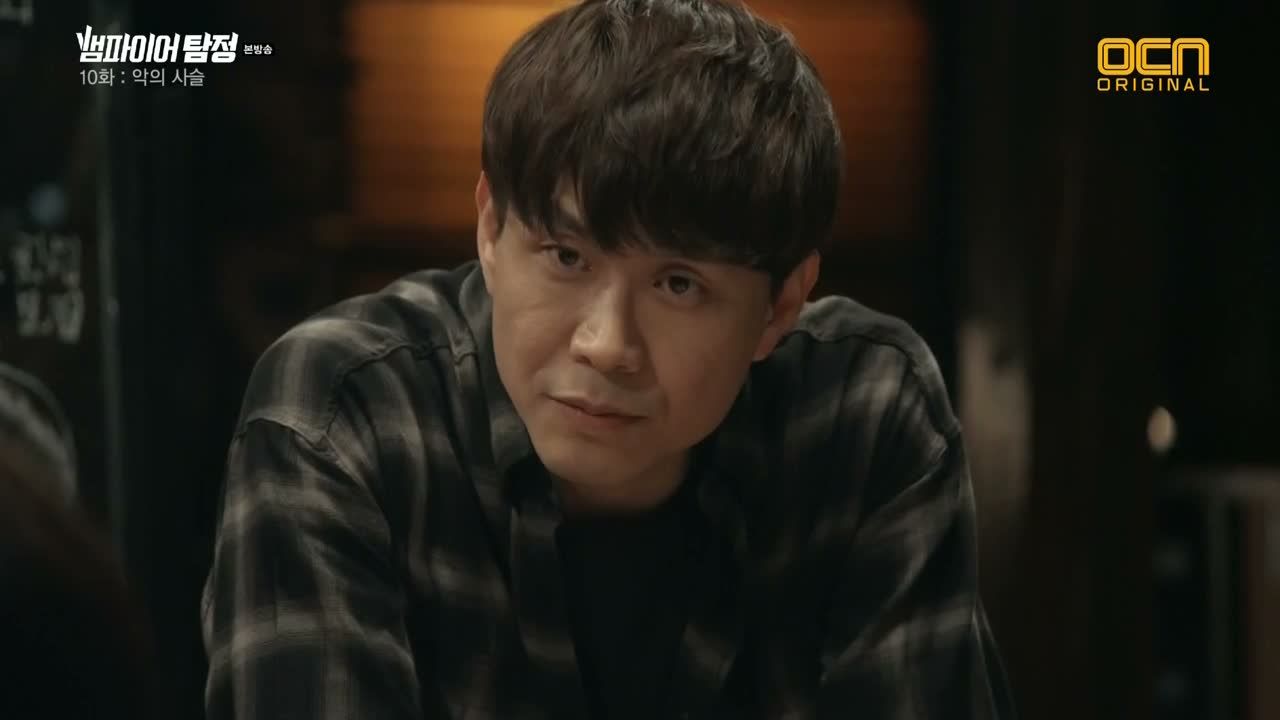 For this assignment, one of them will enter the company first, then bring on the others. Their semi-anonymity will make this operation somewhat safer than the previous ones, though Tae-woo notes how that means they just have more time before their covers are blown.
Gu-hyung understands that risk, asking if Tae-woo's nervous. He says that's not the case, and when San volunteers himself to go in first, Tae-woo responds that he'll go instead.
The argument quickly gets personal, which is when Gu-hyung interrupts by saying that Tae-woo and Yoo-jin will go in first because he can't let emotions between the actual couple — San and Yoo-jin — endanger their mission.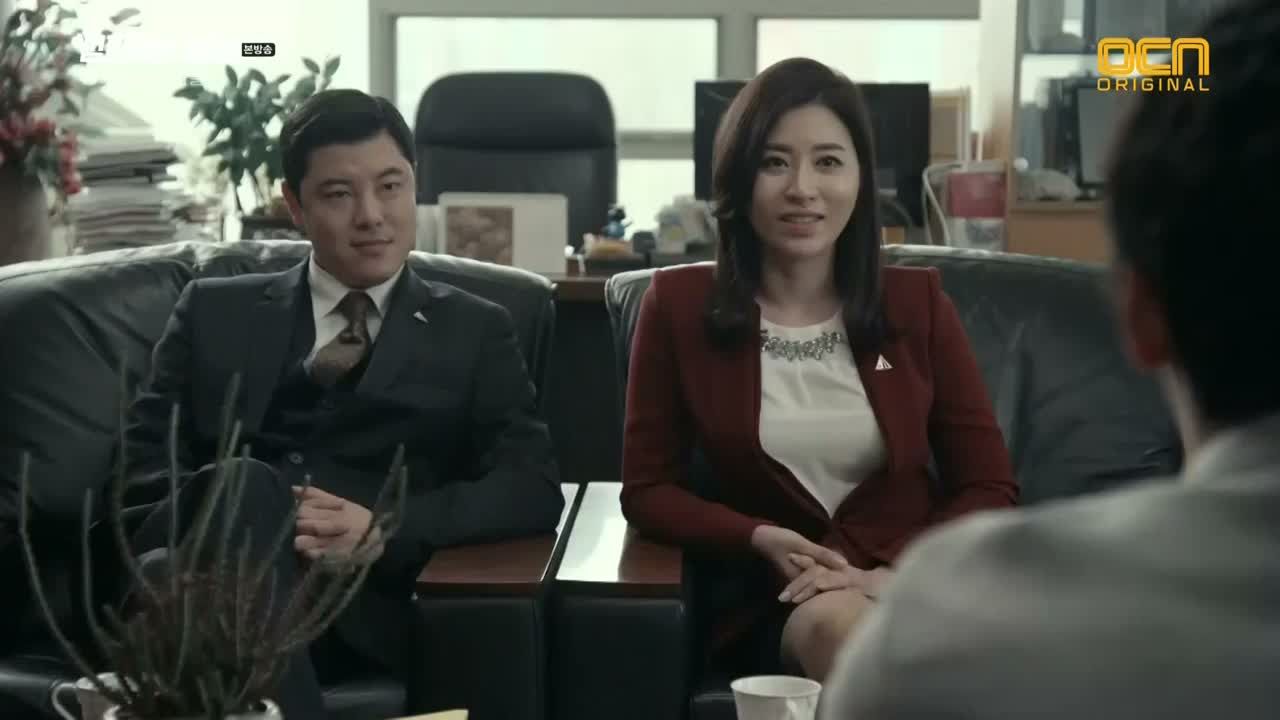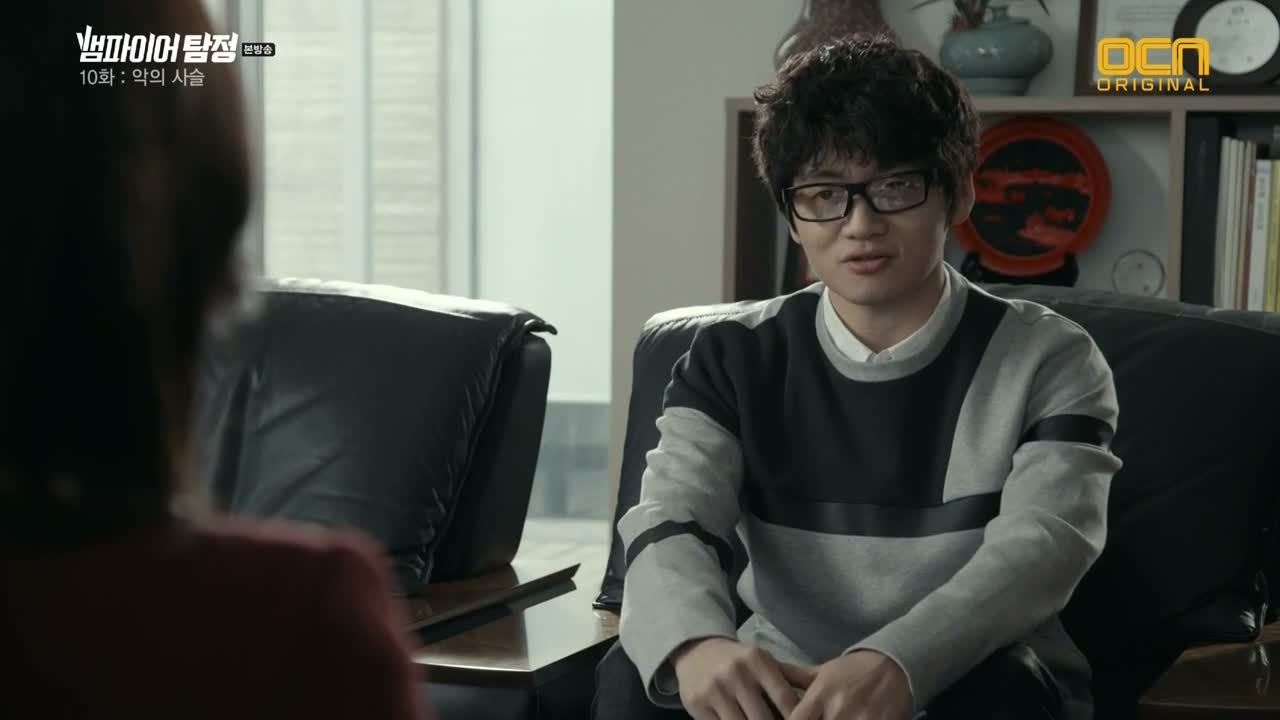 Tae-woo finds his in through an employee at Challenger and is introduced to the other recruiters. Hm, we should probably take note that part of the company logo is identical to Yo-na's nightclub.
After the training, Tae-woo comes off strong to the executives, asking to start off at a higher level than the others. He makes an enticing offer, claiming to have saved up some money. He brings that money in cold cash, so the Challenger execs happily bring him onboard.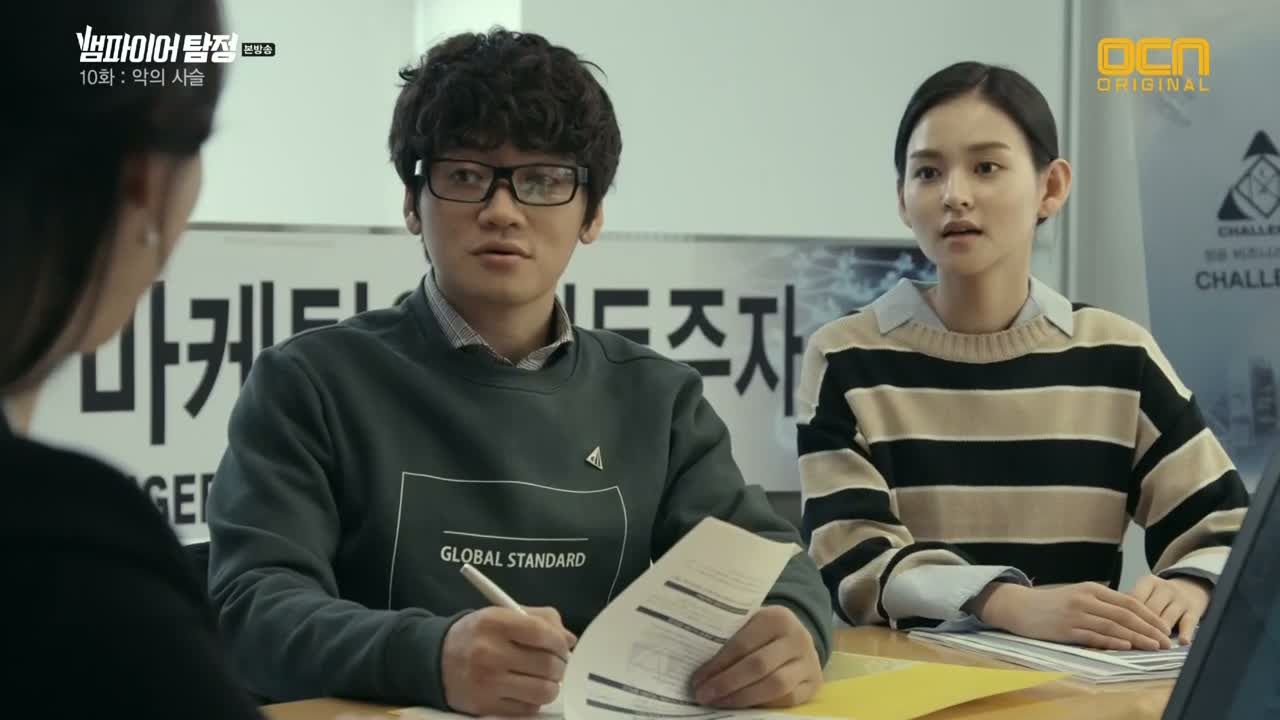 Then it's time to bring Yoo-jin in, and Tae-woo identifies Yoo-jin as his girlfriend in the recruitment paperwork. They get into some hot water when their stories of how they met don't match, but Tae-woo smooths the situation over, holding Yoo-jin's hand for good measure.
When they regroup, Tae-woo plays dumb when San argues that he could've said Yoo-jin was just a friend. Gu-hyung disagrees, saying that they can use this fake relationship to their advantage. And in order to make it convincing, Tae-woo and Yoo-jin will need some time to get to know one another.
Gu-hyung tries to read San for a reaction; his eyes are fixed on San when he asks: "What do you think?" San remains professional about the situation, though Tae-woo confronts him a little later about how he truly feels.
"Are you okay with it or just pretending to be?" Tae-woo asks. When San says it's just a job, Tae-woo wonders where this nonchalance is coming from. Pointing out that he's playing a larger role in this mission, he asks if San has ever been jealous of him.
It irritates him when San says there's no need to be jealous between friends, then San asks him to protect Yoo-jin when they're in the field.
With that, we're briefly pulled back to the present, where San gets a call from Doctor Hwang who has figured out the taxi's license plate number. The cab driver says he got the chills when that young lady was in his cab, and tells San to take care of himself.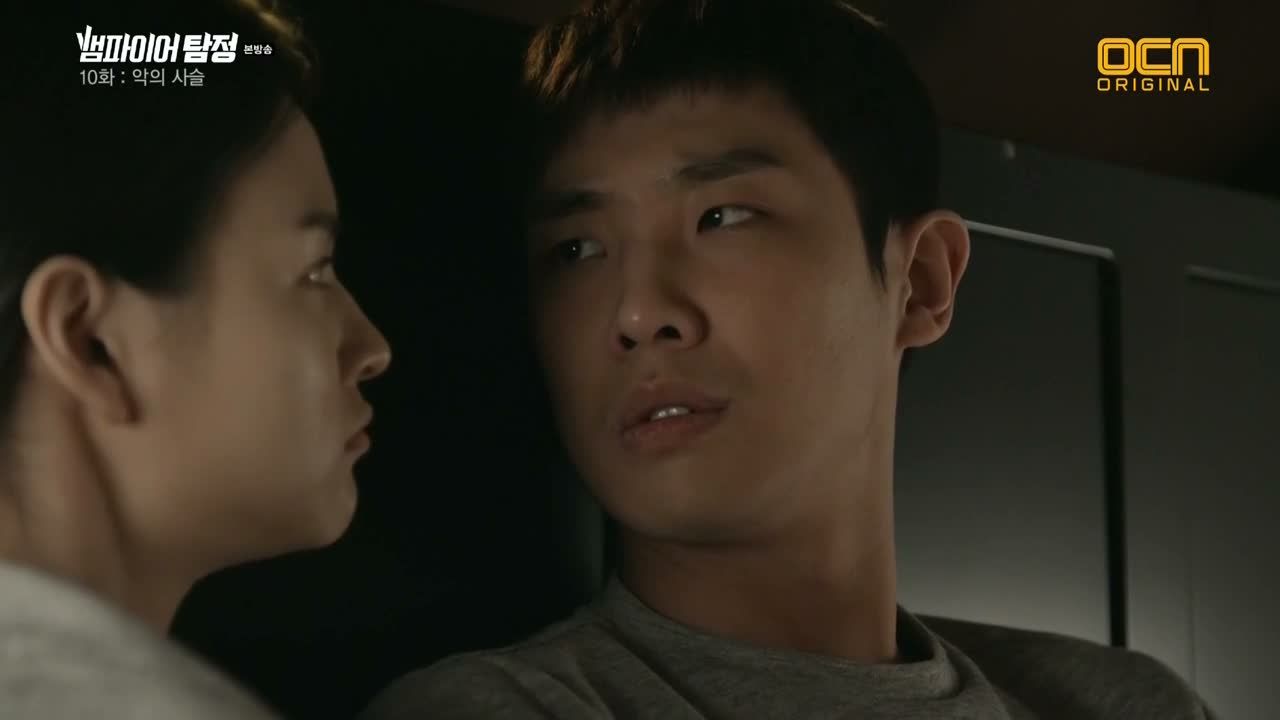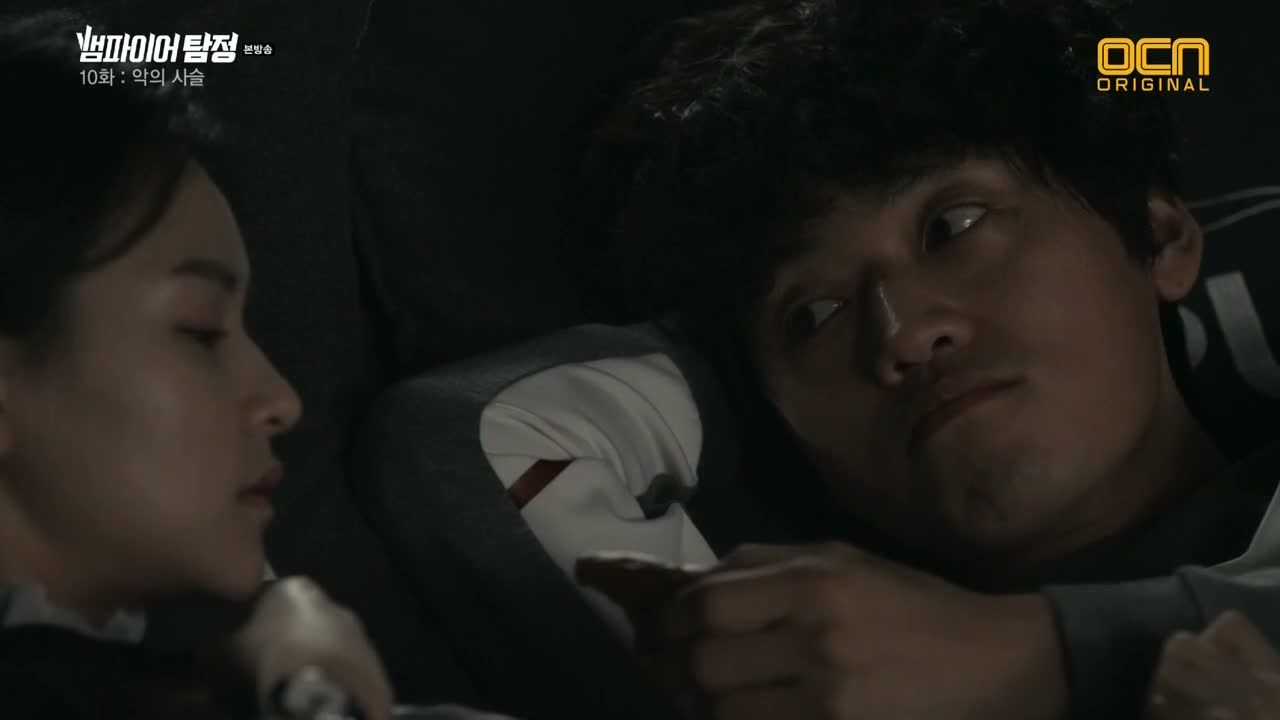 Then we blast back to the past, as San climbs into bed with Yoo-jin. He assures her that Tae-woo will look out for her, and before she can get a word in, he says that's why he bought her that sun pendant—as a symbol that they'll always protect and trust one another.
As part of their mission, Tae-woo and Yoo-jin go out on a date. She's uncomfortable when the movie theater is filled with beds versus seats, but lays down when Tae-woo insists. When he attempts to feed her a snack, she accepts with some hesitance.
Back at the safe house, Gu-hyung knows that the idea of Tae-woo and Yoo-jin going on a date bothers San, even if he tries denying it.
Tae-woo and Yoo-jin take a stroll afterwards, and Tae-woo grows uncomfortable at the mention of San's name. When she mentions that he and San often butt heads, Tae-woo explains that that's because they're so similar in personality and preferences, particularly their eye for women.
He laughs it off moments later, then asks if there's anything she wants to know about him. San waits up at home and hugs Yoo-jin when she returns.
Both Tae-woo and Yoo-jin gain recognition as the days pass, and the camera curiously zooms in on Tae-woo's pin given to him by Challenger.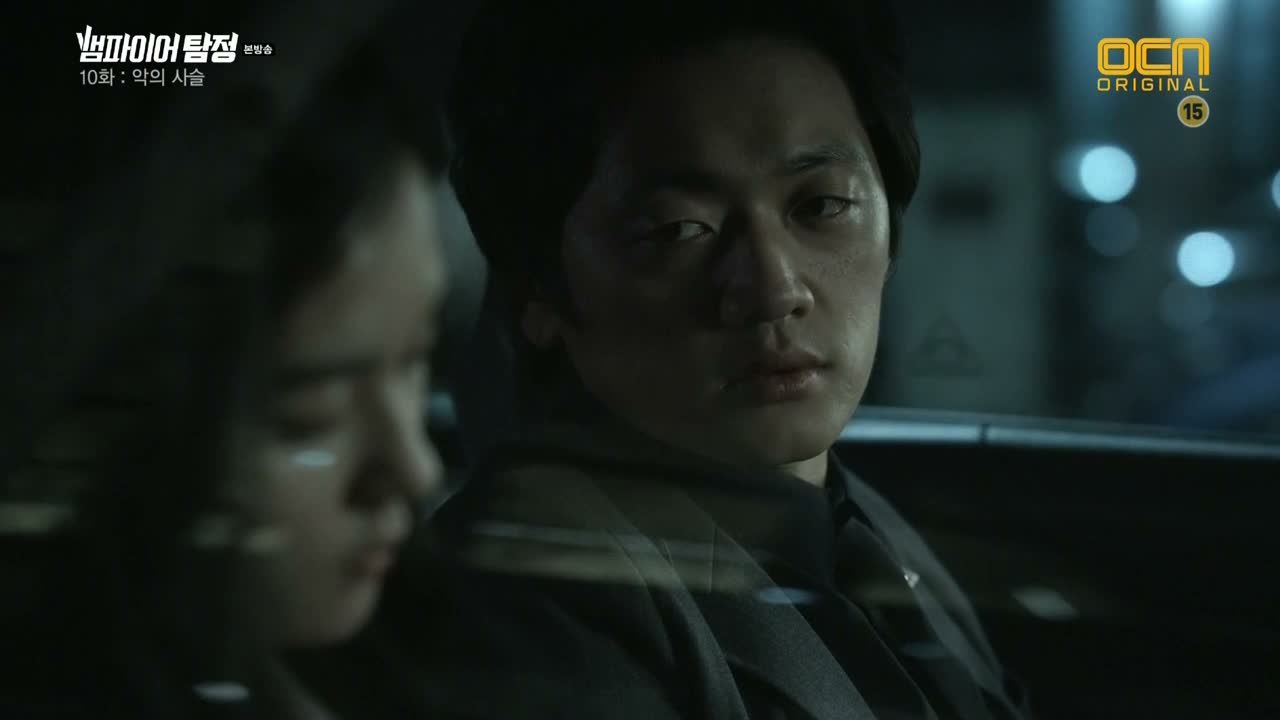 They go out for a Challenger team dinner, and Tae-woo takes a drunk Yoo-jin to the car so she can sleep it off. San and Gu-hyung are at the safe house, watching through the camera in Tae-woo's glasses… and then the feed drops out.
Tae-woo has taken off his glasses, wondering why he pales in comparison to San in her eyes. He gets an earful from Gu-hyung when he finally arrives at the safe house, and San scoops Yoo-jin up.
Some time later, he sits in silence, thinking about how close San and Yoo-jin are. His thoughts are interrupted when Gu-hyung buzzes in because they can't get a location on Yoo-jin.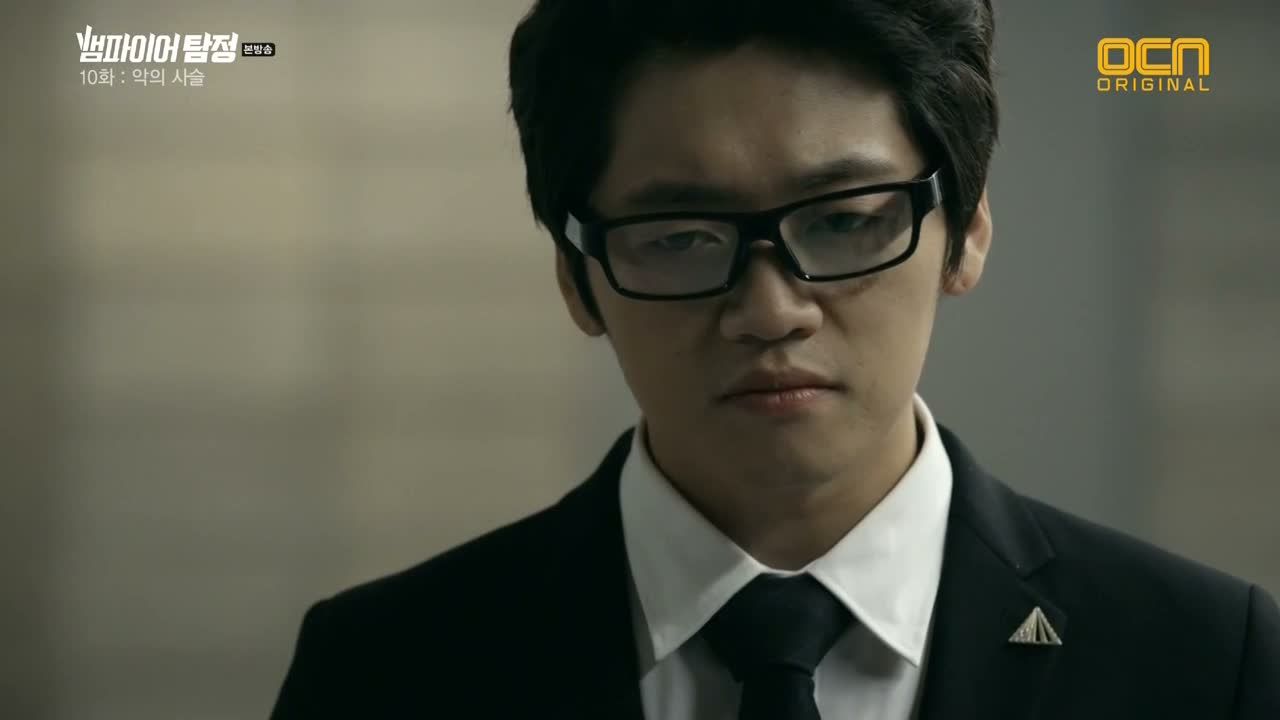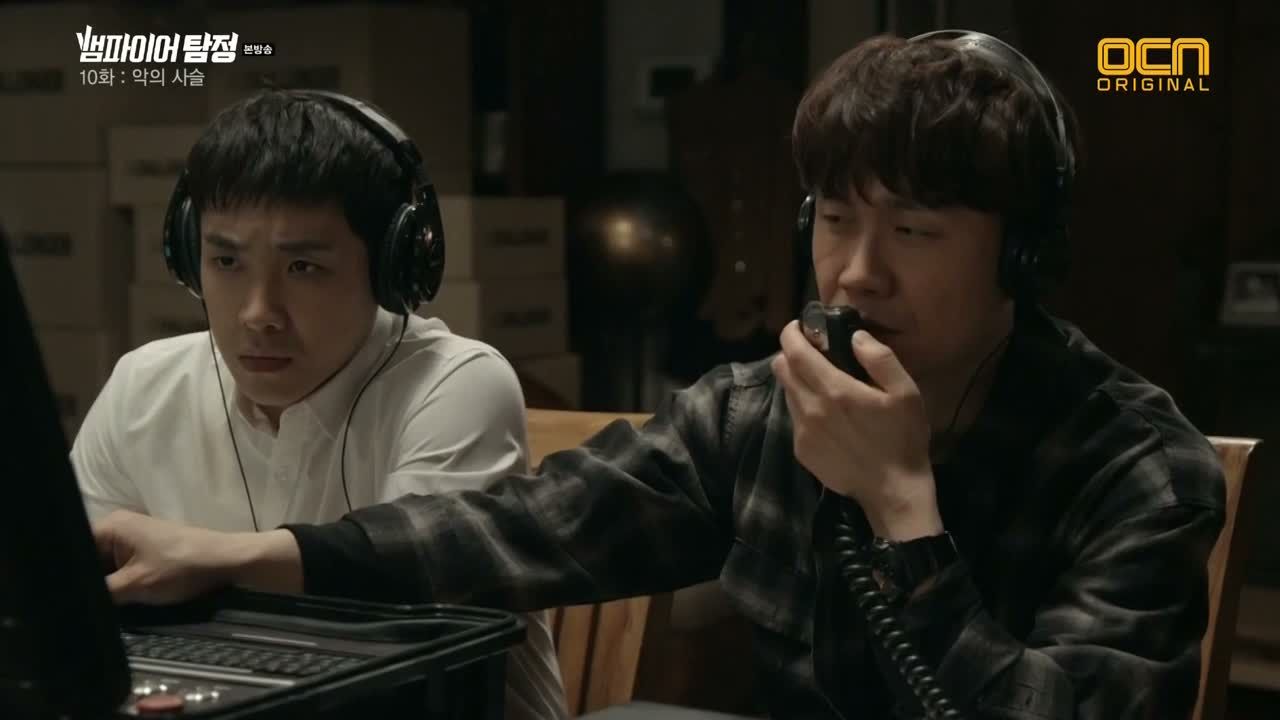 He says Yoo-jin is with the female executive, but then he turns the corner to see that exec walking alone. Neither Gu-hyung or San understand what's going on, and when San tells him not to act rashly, Tae-woo says he won't take orders from San.
He takes off the glasses, disconnecting the video feed again. He follows the female executive into a stockroom… which houses pints of blood and the "wine" consumed by the vampires. He's suddenly knocked out, but we don't know by whom.
The stockroom is dark when he finally comes to, and Yo-na breaks the camera glasses in two. He tries excusing himself but is frozen in place when he sees a dead body nearby.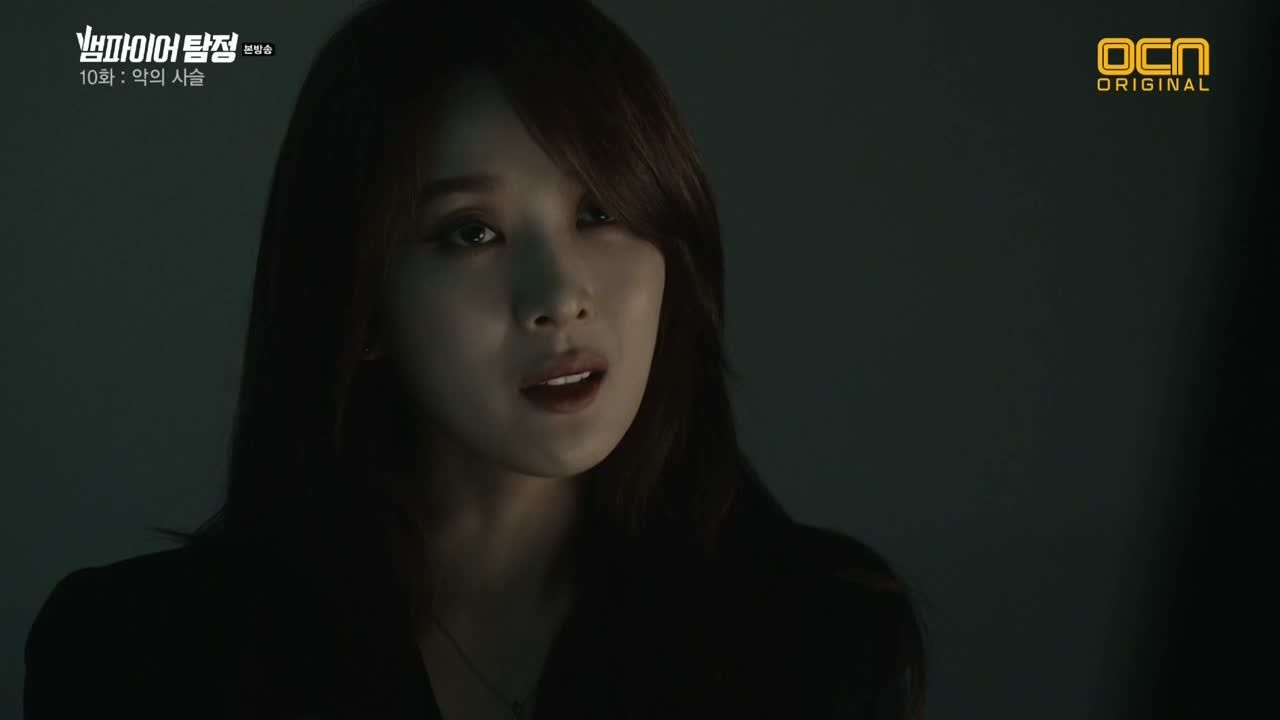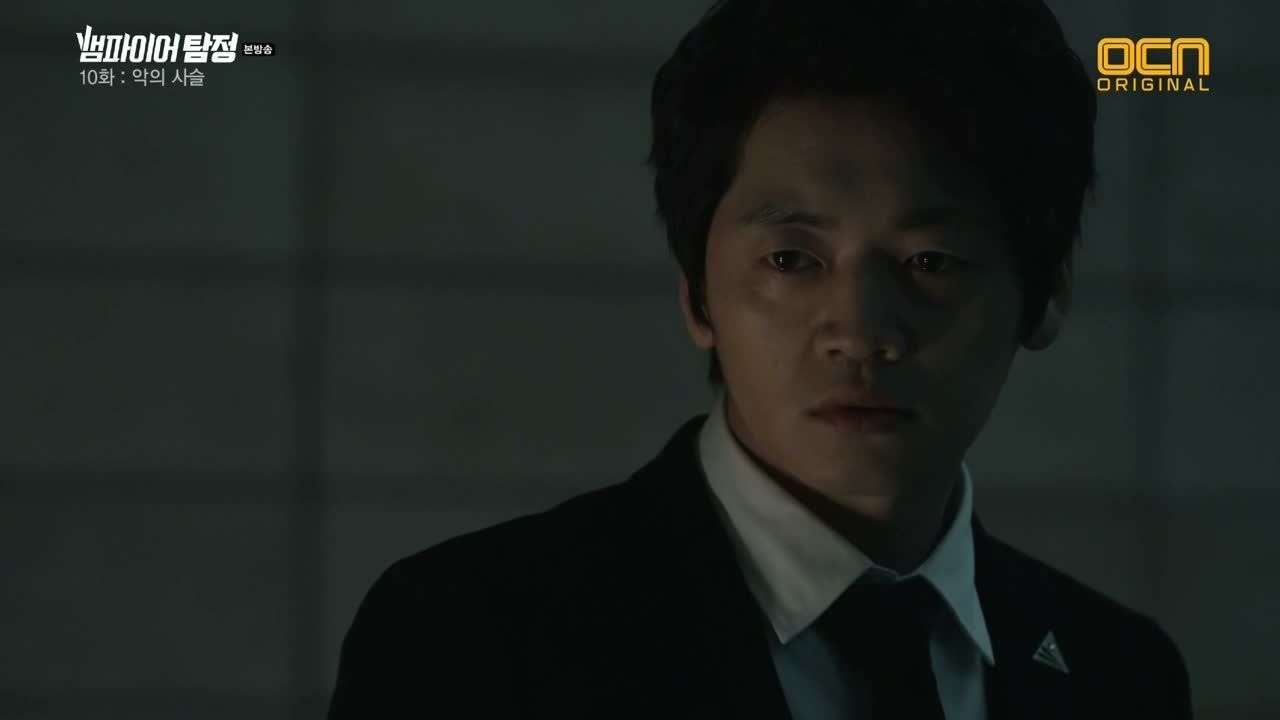 Yo-na hints that she has Yoo-jin, though her fate depends on Tae-woo's choices. Her demand is simple: bring her Jo Myung-geun. She chuckles when he suggest that Jo is dead since they both know the truth. He has two hours to complete this task, or Yoo-jin will die.
He says Yo-na should go find Jo herself if she already knows where he is, but that would just take the fun out of the game. Tick-tock, little mouse.
So Tae-woo heads down to a fishing spot, where he pulls the curtain aside that sets off bright lamps to shine in his eyes. Ah, did Jo install UV lamps to dissuade the vamps?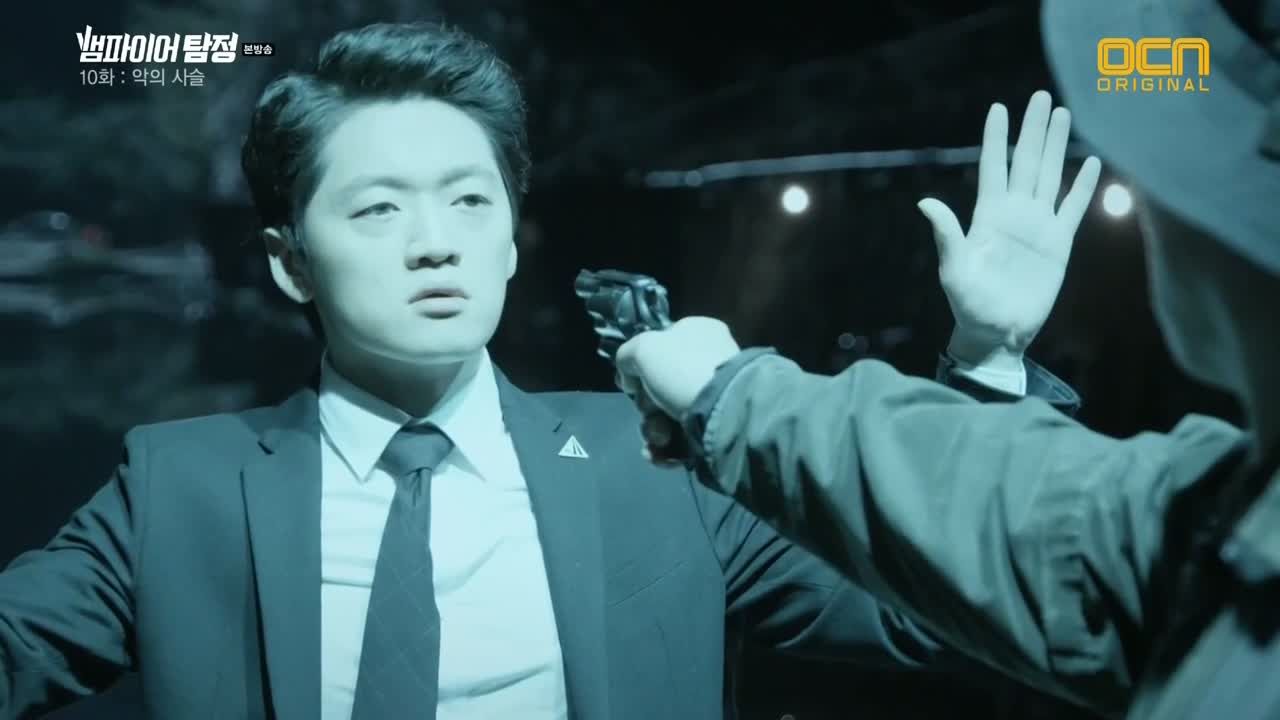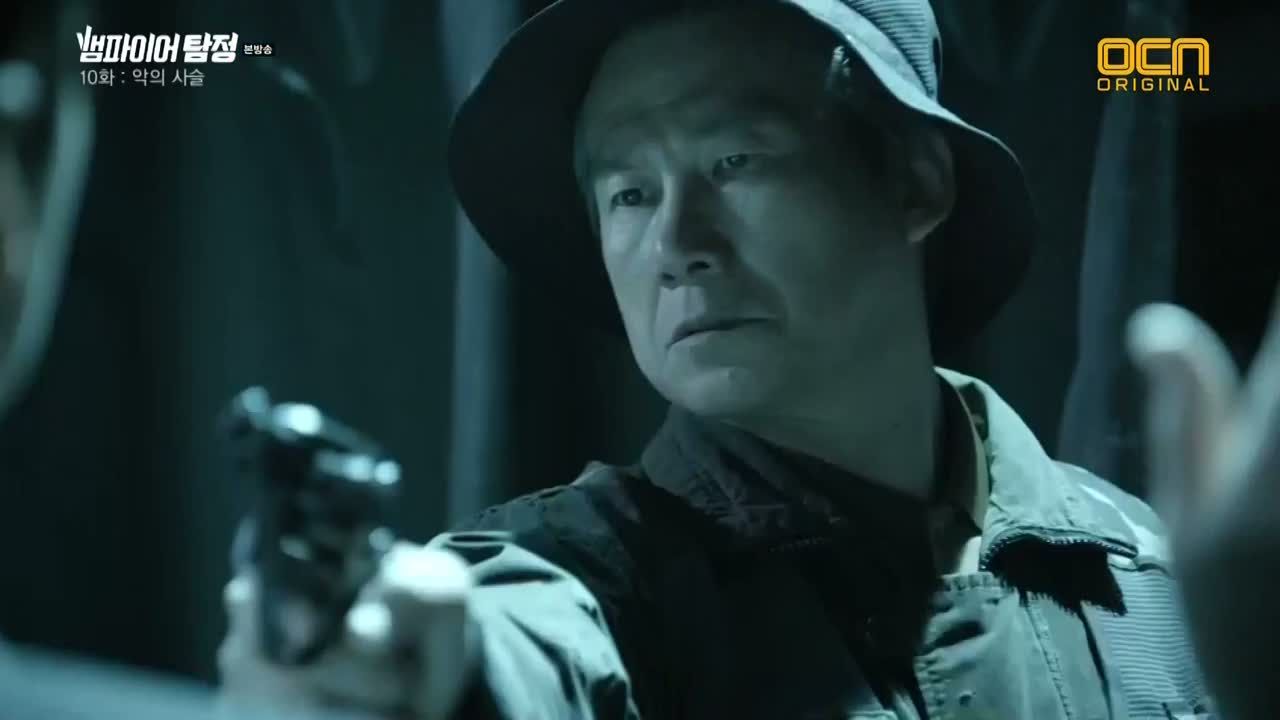 But Tae-woo barely gets a foot inside before he's met face to face with a revolver. Jo Myung-geun demands to know who he is, and pauses when Tae-woo identifies himself as a cop. Tae-woo uses that moment of distraction to gain possession of the gun, turning the barrel on the man.
They stop to chat, as Jo Myung-geun identifies the Challenger pin on Tae-woo's lapel. Jo recognizes that Tae-woo is human, asking if "she" promised to turn him into a vampire if he brought him in.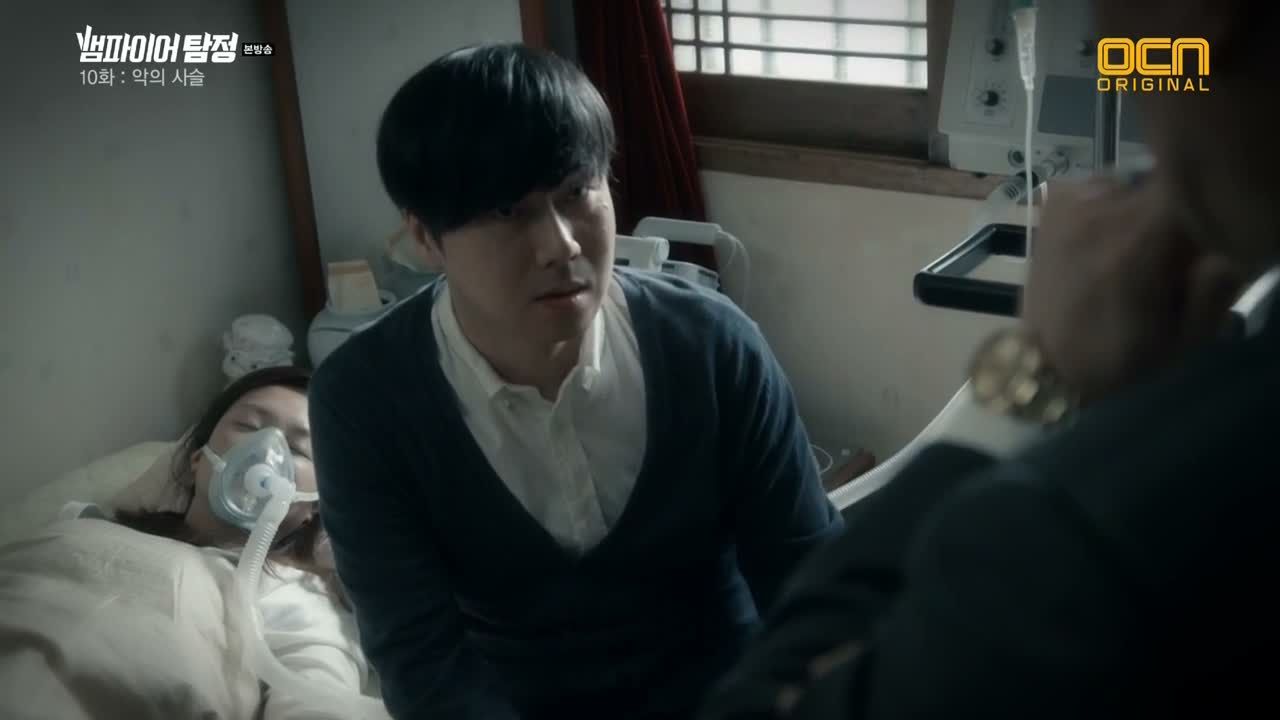 None of this makes any sense to Tae-woo, and Jo explains that Challenger isn't a multi-level company—they deal with something else: "Human lives."
Challenger targets families of terminally-ill patients, pretending to offer life-saving nutrients. In reality, the injections turned those patients into vampires. Then, the company would make the family members sign an agreement where they would be supplied with blood if they themselves are donors.
Once that contract was signed, the company would provide the families with new identities, on the condition that everything remain a secret. If anyone blabbed, that would mean death.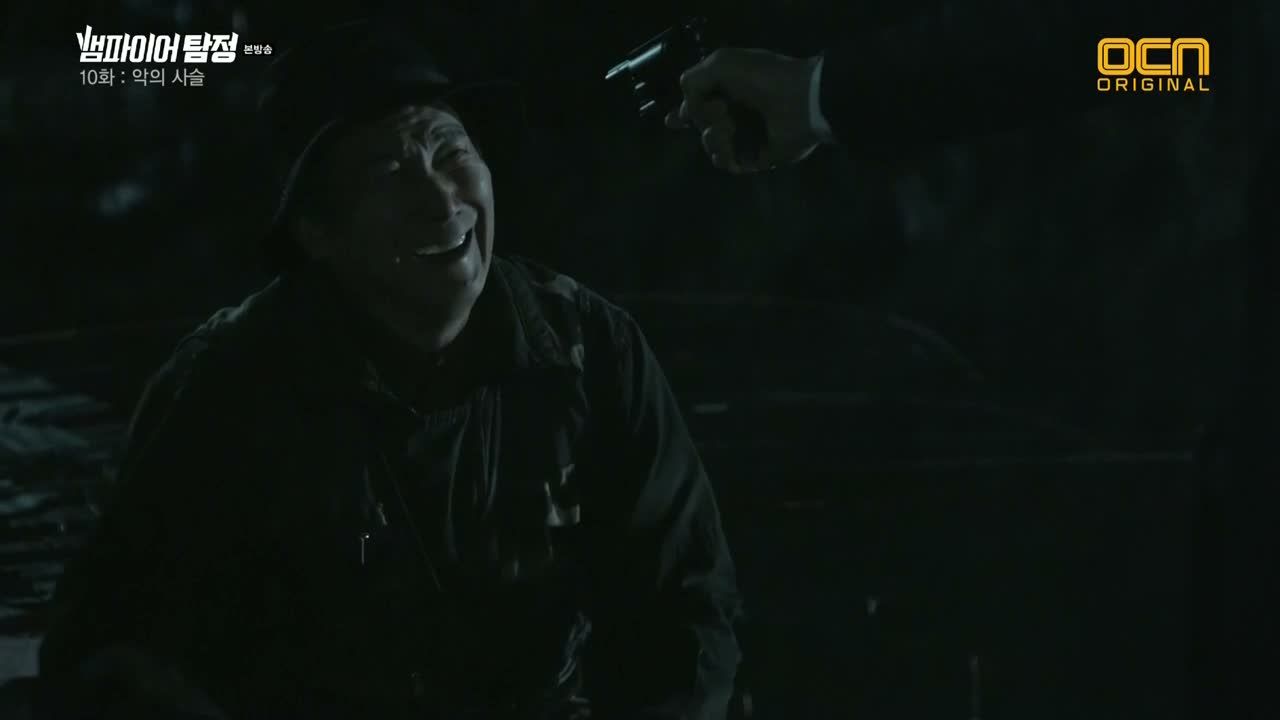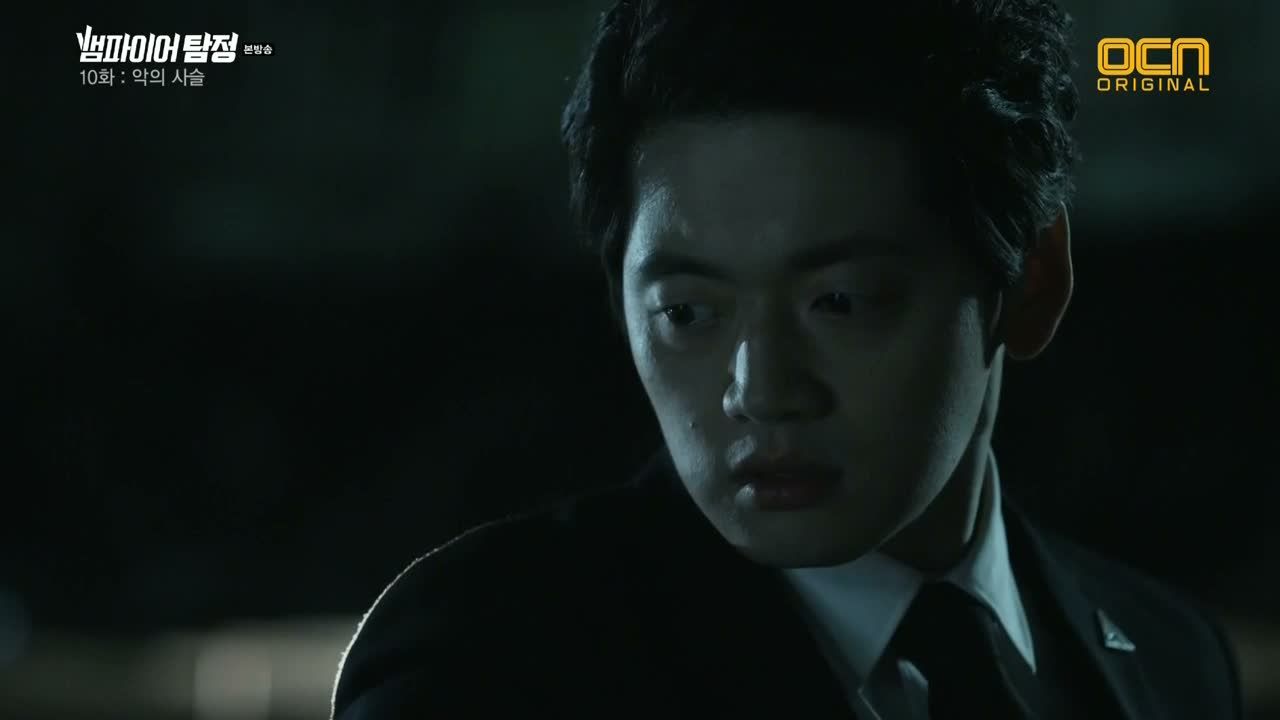 Jo had a reason for getting involved as a helper—he had to save his own daughter. When Tae-woo asks what happened to the other cops, Jo supposes that they're all dead. Enraged, he points the gun at Jo's head.
Jo asks if Tae-woo has met Yo-na, then bursts out laughing. He says Yo-na will kill Tae-woo and everyone around him, then grabs the gun to his throat and then his head, pleading for Tae-woo to put him out of his misery.
Tae-woo tries to pull the gun away, and then there's a thud. It's Tae-woo, who marches up to Yo-na, and shoots the gun at her. The bullet grazes her cheek, and the cut disappears seconds later.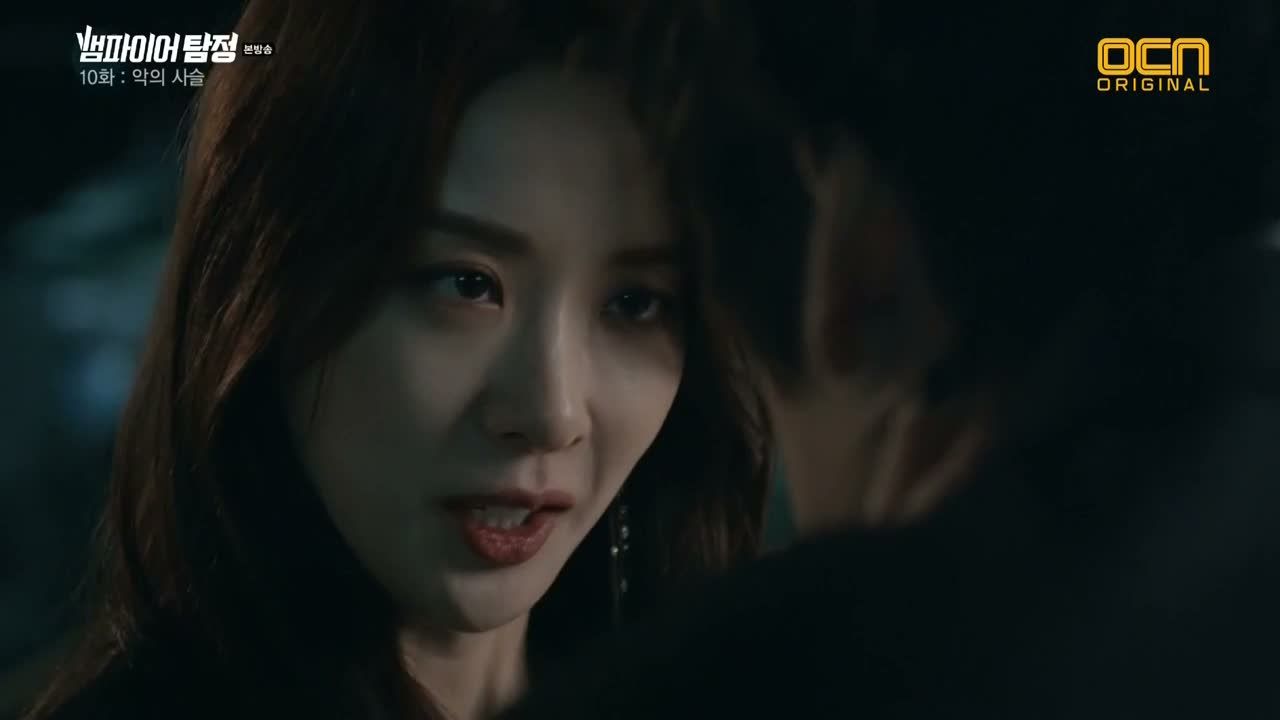 "So it was true what Jo Myung-geun said," Tae-woo concludes. Yo-na grabs his throat, threatening to suck every last drop of blood out of him. Choking, Tae-woo says that Yo-na won't kill him because "you won't ever see Jo Myung-geun again."
In his strangled voice, Tae-woo says he hid Jo somewhere Yo-na won't ever be able to find him. That grabs her attention, and she lets go of him.
Tae-woo collects his breath before saying, "Bite me." Uh, he means that in a literal sense. "Bite me and make me like you."
She asks if he knows what he's asking for right now, and Tae-woo utters through building sobs: "I need the strength you have. In order to get what I want, I have… I have to have it."
Yo-na agrees, adding that he seemed different than the others when they first met. She saw that strong desire in him, though she warns him that satisfying that craving could lead him into dangerous territory.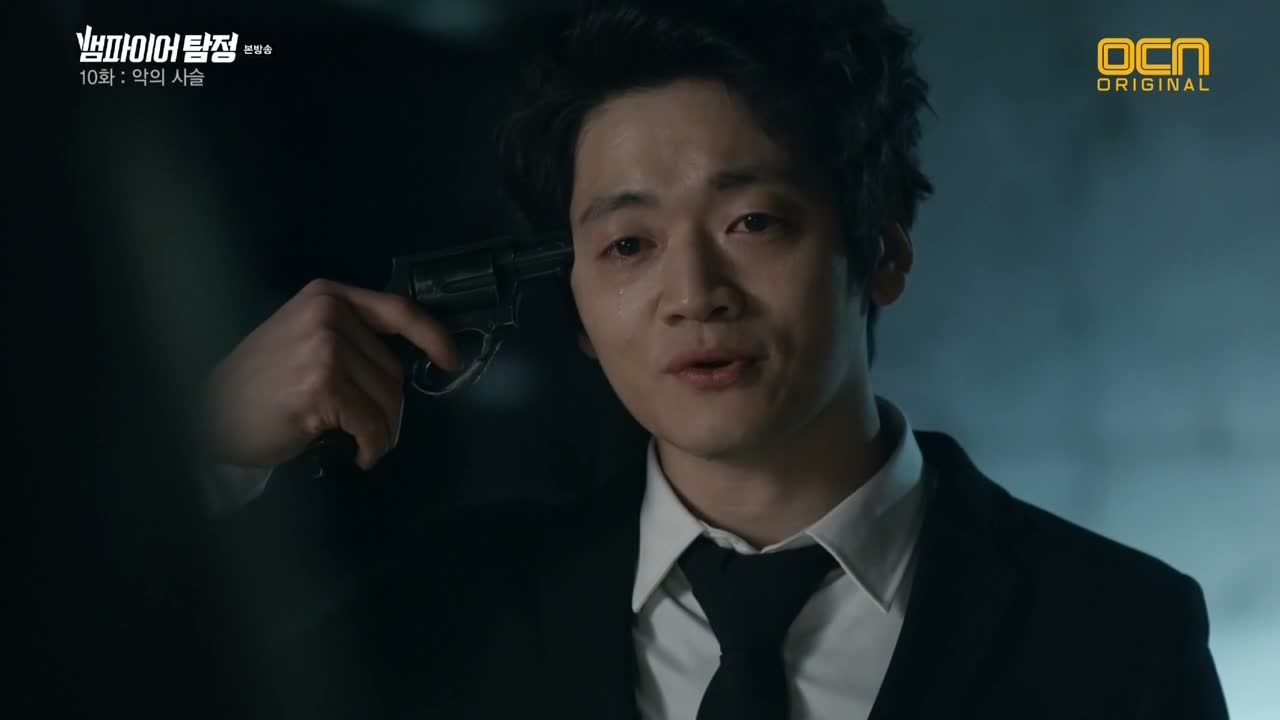 "Let's put an end to it all here then," Tae-woo breathes. Yo-na turns to see him lift the revolver to his temple, as Tae-woo says through tears that his death is a lose-lose situation.
She doesn't see it that way, but Tae-woo counters that they both know he's the key to finding Jo. She questions his bravado and patiently waits for him to pull the trigger…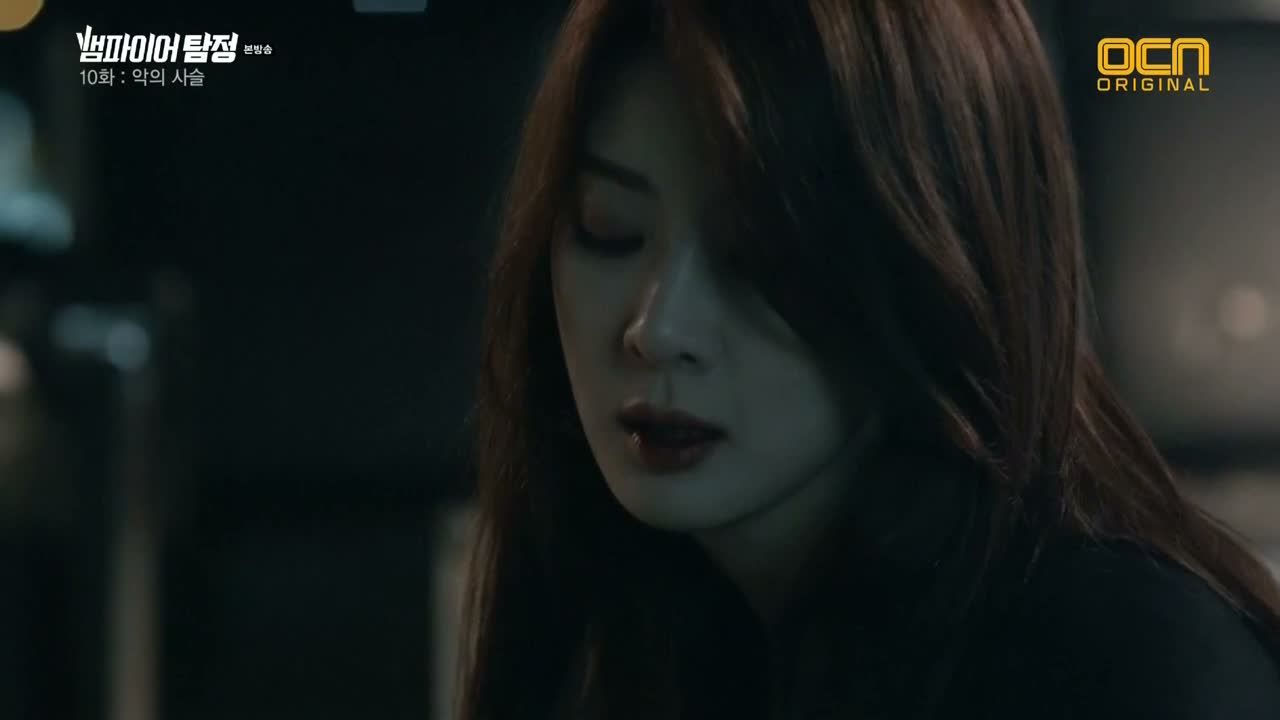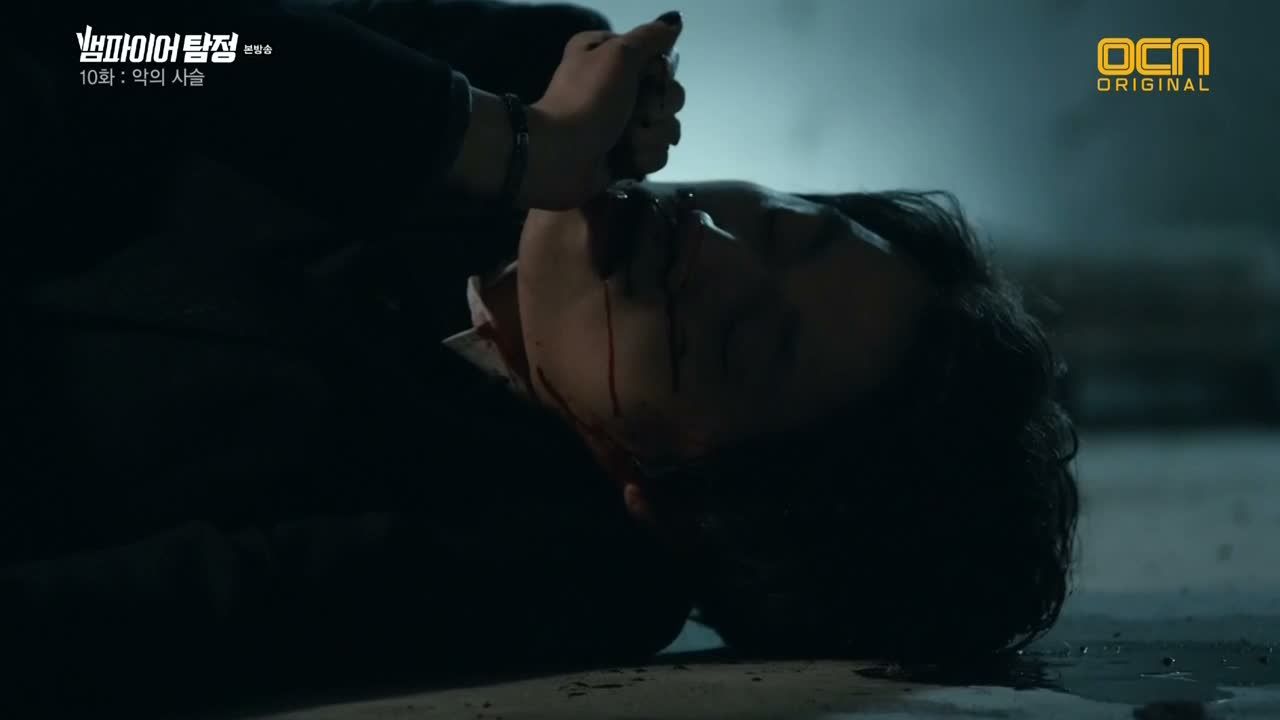 … and then he does. Tae-woo falls to the ground, and Yo-na looks annoyed more than anything else. She circles around his body, repeating his name.
She bends down and uses a nail to cut into her palm, feeding the blood into his mouth. Tae-woo's eyes open and gleam red and his fangs appear. He gasps and hollers in pain as his memories with Yoo-jin flash before him.
Yoo-jin says resolutely: "There's no turning back now."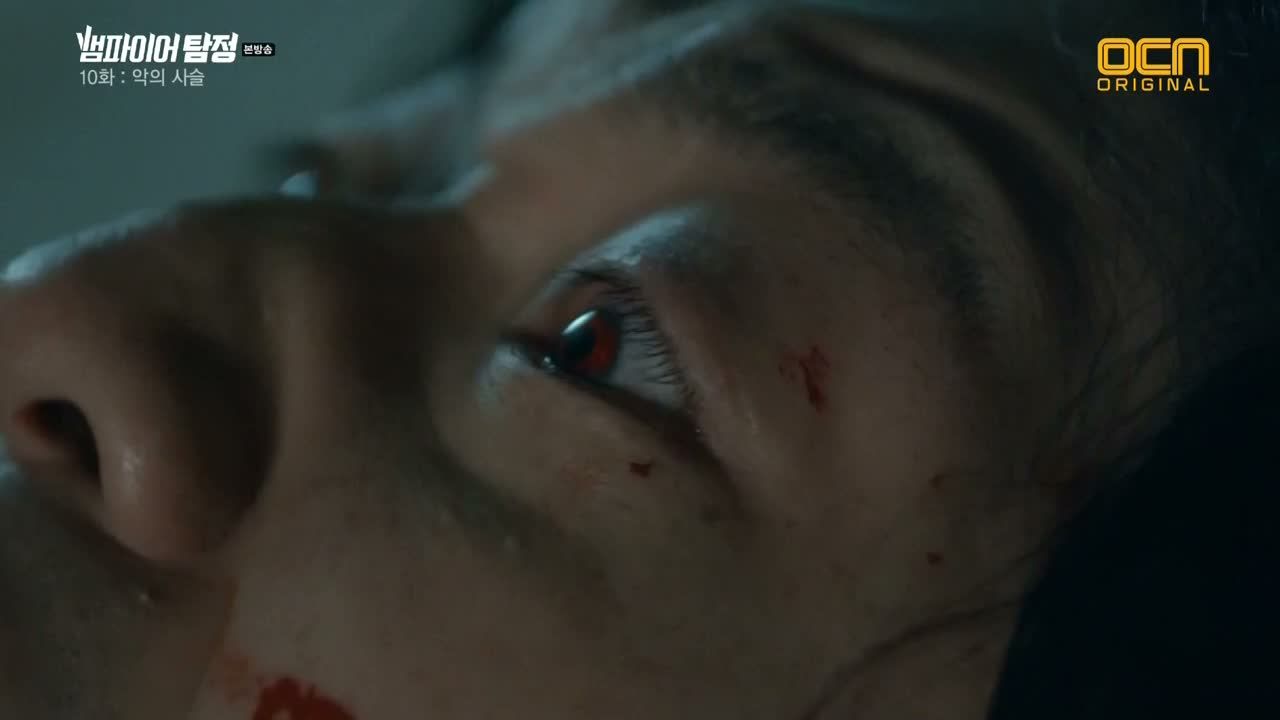 COMMENTS
Ask and ye shall receive, indeed. Given the morsels of information we've gotten week after week, I honestly hadn't expected to learn so much about the past in one episode. I was most surprised to learn so much about Tae-woo and how his story in the past ripples into the cases our private eye team has tackled in the present.
We can see just how vast of an empire Young-kwang built for Yo-na, from a wine distribution company to a nightclub, and now even a corporation. Much like the episode title, those links make a strong chain of evil, one that isn't easily broken. A multi-industry empire like that puts a lot of power in Yo-na's hands, which makes Tae-woo's group look like a schoolyard gang.
So when it comes to the ongoing war between Tae-woo and Yo-na, I'm still trying to wrap my head around why it's still going on five years later. His motivation in the past was to save Yoo-jin—time teaches us that he was successful—and I can only presume that his current motivation in the present is to take Yo-na's empire for himself. And for a guy who views himself as second fiddle to Yoo-jin's eyes, ruling a vampire kingdom would be awfully enticing.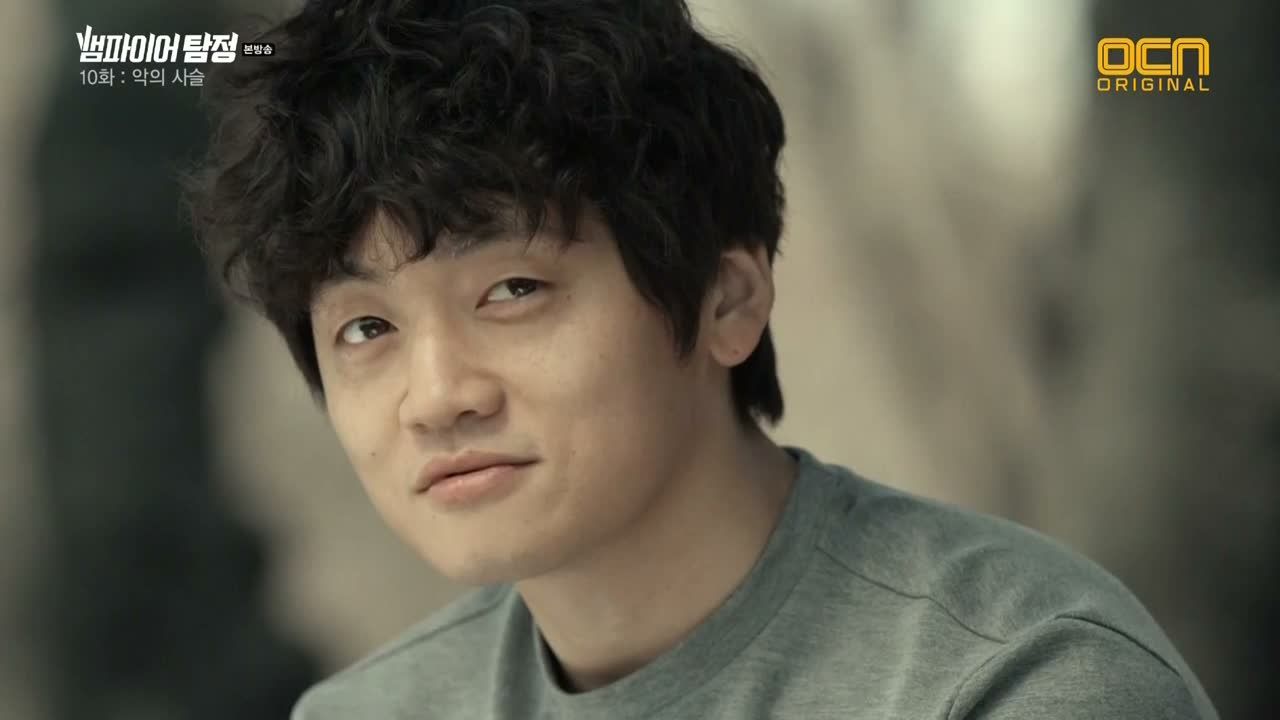 Not only does looking at the past through Tae-woo's eyes inform us about the present, it also teaches us more about San. Even back in their cadet days, they shared a frenemy relationship. I can see why Tae-woo would be so frustrated with someone like San when it seems like so many things—especially confidence and assurance—comes so easily to him. Even the slightest offhand remarks could rub people like Tae-woo the wrong way, and that sense of inferiority compounded by the fact that San has got the girl is bound to cut deep. But I don't think fangs will get you the girl, buddy.
Of course, what Tae-woo doesn't see is that San's nonchalance is a front. Thankfully Gu-hyung sees right past it, knowing how and when to press those buttons. Now that we know San and Gu-hyung go way back, I wish we could see more heartfelt conversations between them instead of assuming that they happen off-screen. Which only reminds me of how much it pains me to see how San's observation and deduction skills in the present is a fraction of what they used to be in the past. And he didn't have to rely on superhuman visions then!
Seeing what we could've had only reinforces the narrative crutch that is San's vampire abilities (and this entire he-turns-into-a-vampire-maybe-wait-really arc). While we're at it, Gu-hyung and San really should've noticed the similarities in the logos between Challenger and the nightclub Yo-na owns. And you don't even need vampy visions to see that.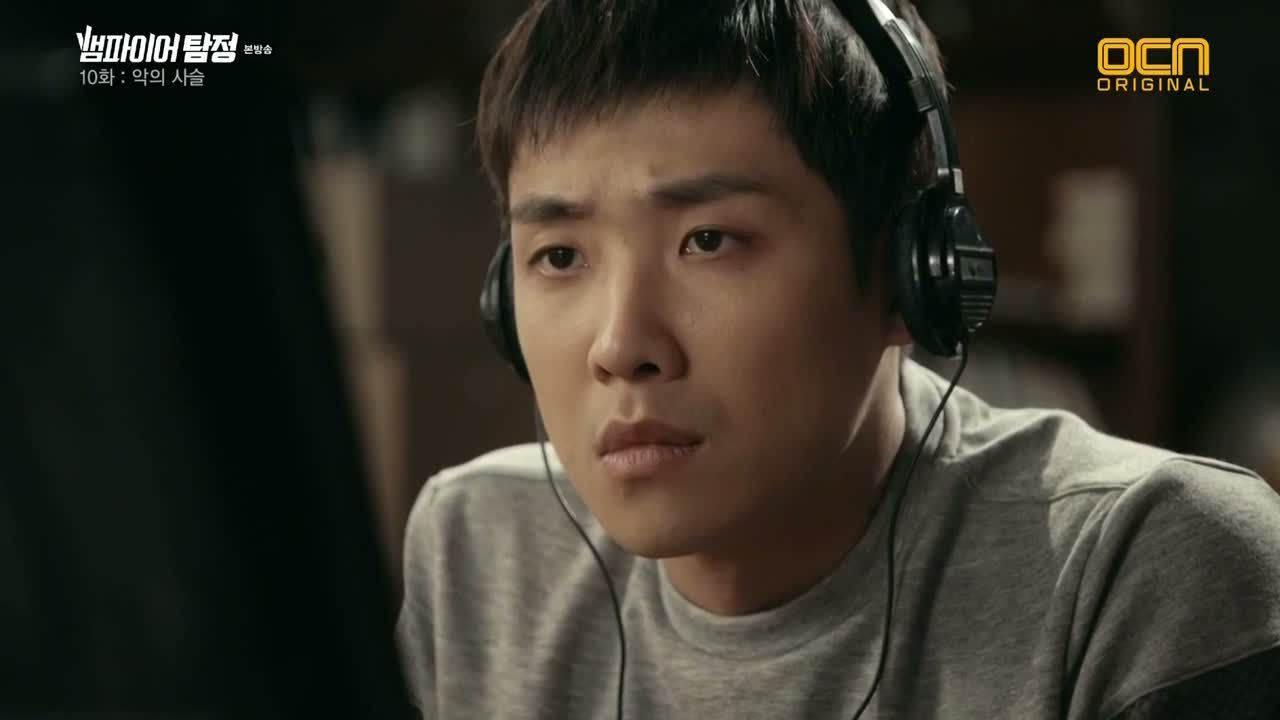 RELATED POSTS
Tags: Episode 10, featured, Lee Joon, Lee Se-young, Oh Jung-se, Vampire Detective