Vampire Detective: Episode 8
As the web of mystery ever so slowly wraps around San, the clients keep rolling in for the private eye agency. Today's client is none other than our tattooed doc, making this case a personal one for the crime-solving pseudo family. His request will take us beyond the tattoo needle and the surgical mask and behind the closed doors of a messy family history. Dealing with deep-seated grudges and emotional pains is never an easy task, but it's a necessary first step if we want any of our characters to find closure one day.
SONG OF THE DAY
History – "Lost" [ Download ]
Audio clip: Adobe Flash Player (version 9 or above) is required to play this audio clip. Download the latest version here. You also need to have JavaScript enabled in your browser.

EPISODE 8: "The Soul's Judge"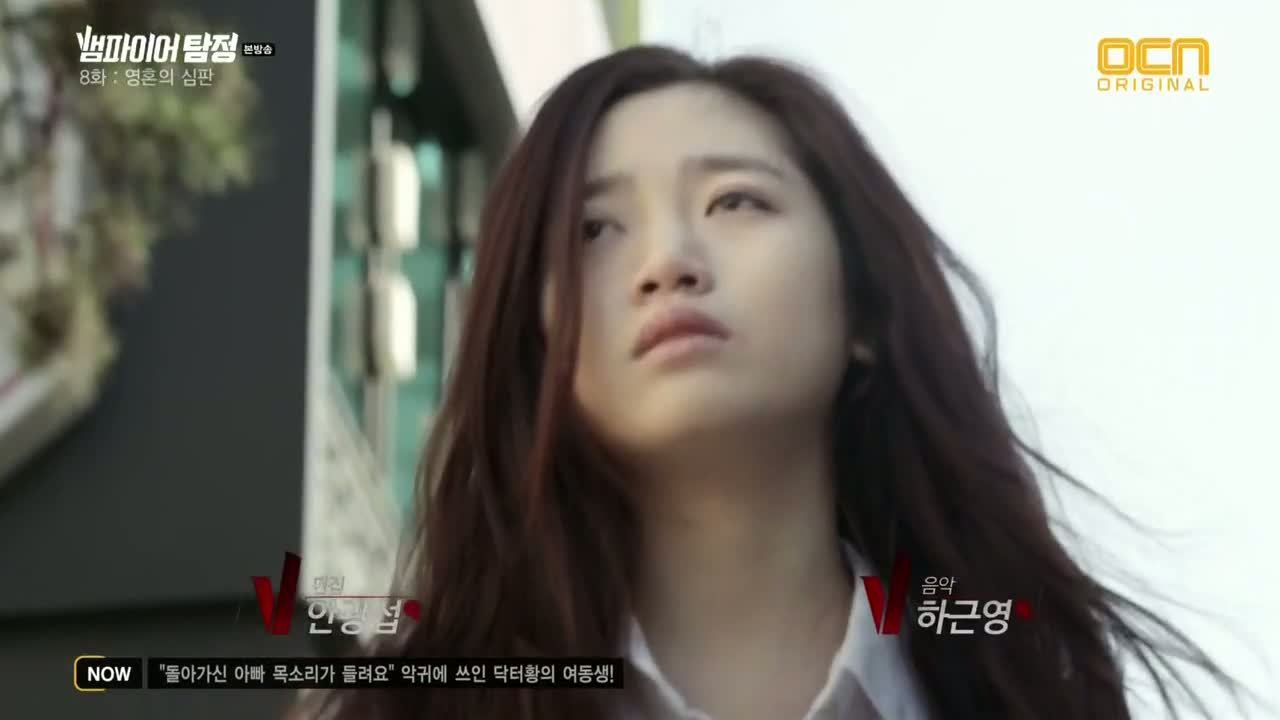 Now that San knows that Tae-woo is still alive, looking at their old group photo from police university is too painful for him. Gyeo-wool doesn't like how San still hasn't shared about why he was off-the-grid the other night, and tells him that they'll stick together next time because they're a team.
While Tae-woo is looking to get information out of Young-kwang, there's a young woman trudging down the street with bloodied bare feet. She thinks to herself, "Dad, I hear your voice," and her voiceover is intercut with Doctor Hwang drawing a haunting skull.
A knock alerts him to Gu-hyung's arrival with a packed lunch in hand, though the latter was hoping Se-ra was around. Doctor Hwang can see past Gu-hyung's noble facade, and when Gu-hyung appears jealous when she texts the doctor, he tells him that Se-ra only makes the first move with guys she's interested in. Ooh, burn.
Doctor Hwang is called into the hospital just then because he knows the young woman who was wandering around the street barefoot. This is his younger sister, HWANG JAE-YEON, who doesn't remember why she was acting so strangely, though she admits it's been happening more often lately.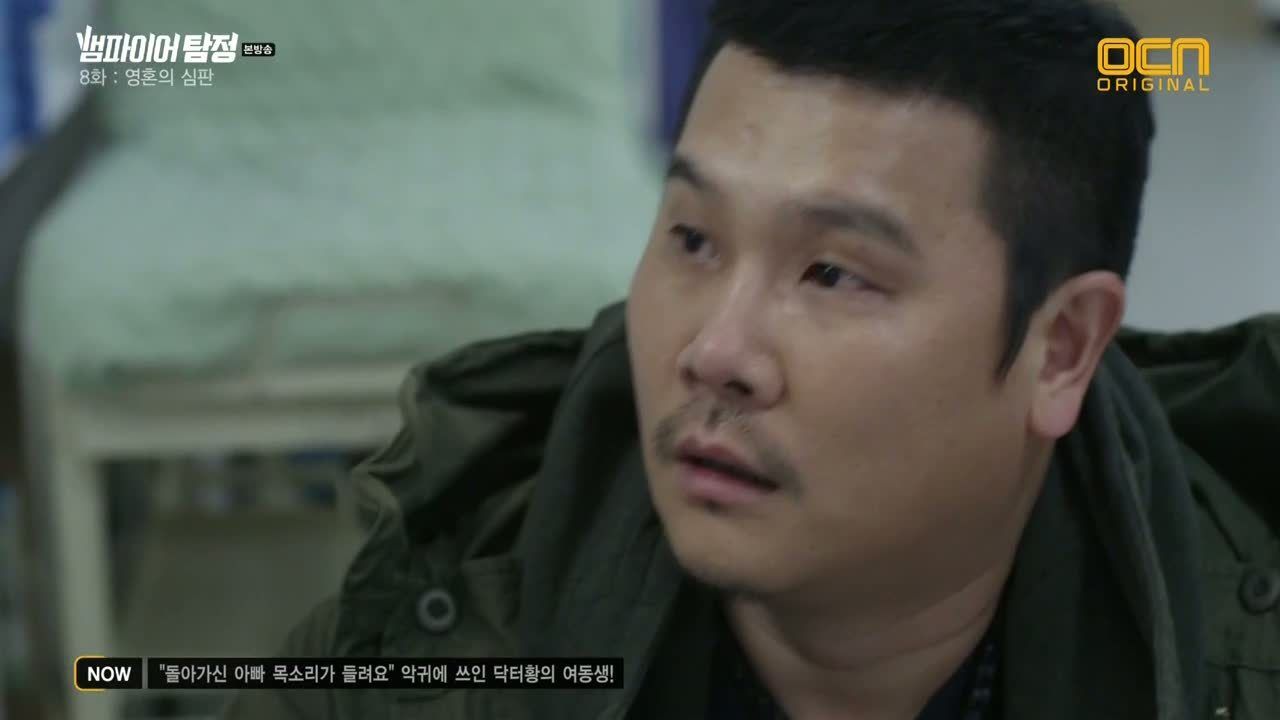 She doesn't want to go home, and nods when Doctor Hwang asks if it's because of their mother. He agrees to take her with him then, which is when Gu-hyung advises that they take her somewhere safer.
That safehouse is the private eye team's headquarters, where Doctor Hwang softly urges his sister to tell him what happened at home. He's slightly surprised to hear that their mother is getting re-married, but then Jae-yeon's attention is pulled somewhere else.
She looks frightened and she gasps, "I can hear Dad's voice." She pleads with her brother to save her and Doctor Hwang pulls her into his arms. Our private eye trio, who has witnessed her breakdown, answers the door, and an irate woman barges in.
This is Doctor Hwang and Jae-yeon's mother, who screams at her daughter to come home. She's convinced her daughter needs to continue seeing a monk for her hallucinations, which only angers Doctor Hwang to bark back that Jae-yeon needs medical help.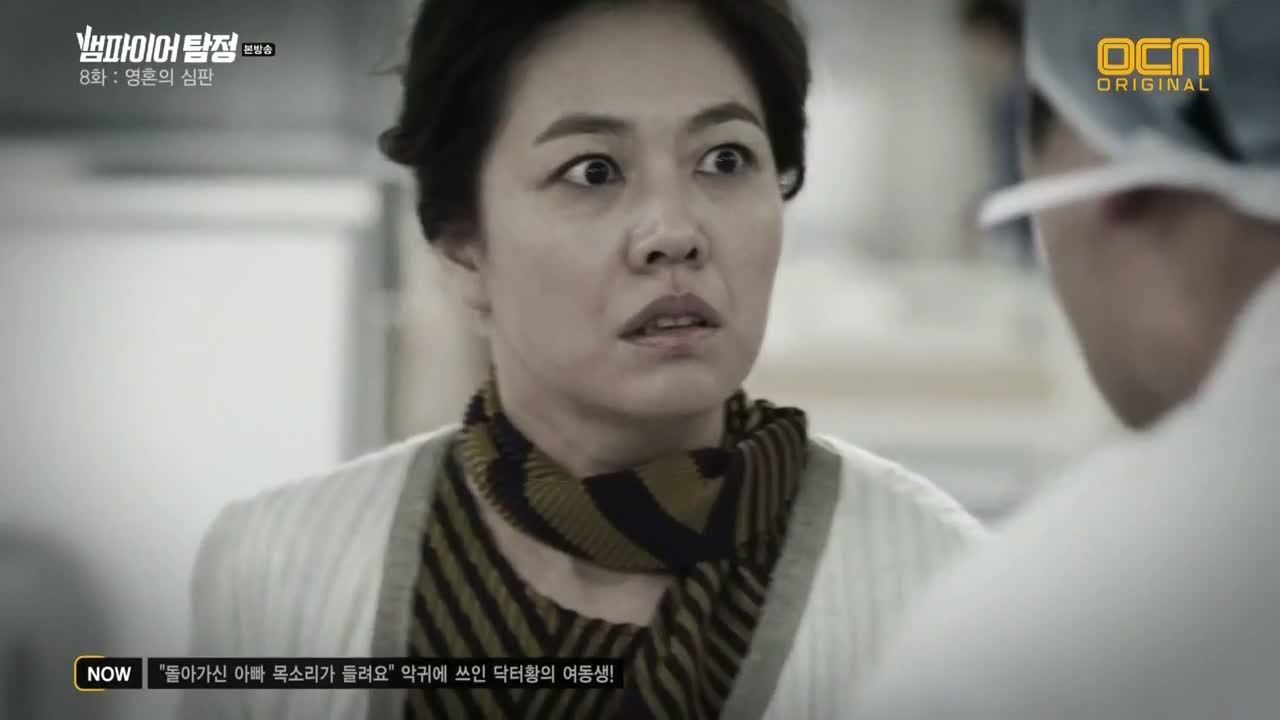 His mother scoffs and asks if he plans to kill his sister now just like he killed his father all those years ago. A flashback takes us back to when Doctor Hwang was a physician and wheeled his own father in following a ritual.
His mother protested when Doctor Hwang called for an emergency surgery, and he begged her to accept the reality that his father was a terminal patient. She turned the blame on him, arguing that they should've stuck to spiritual treatment versus surgery in the first place.
That's when his father started crashing, and well we can guess what happened afterwards.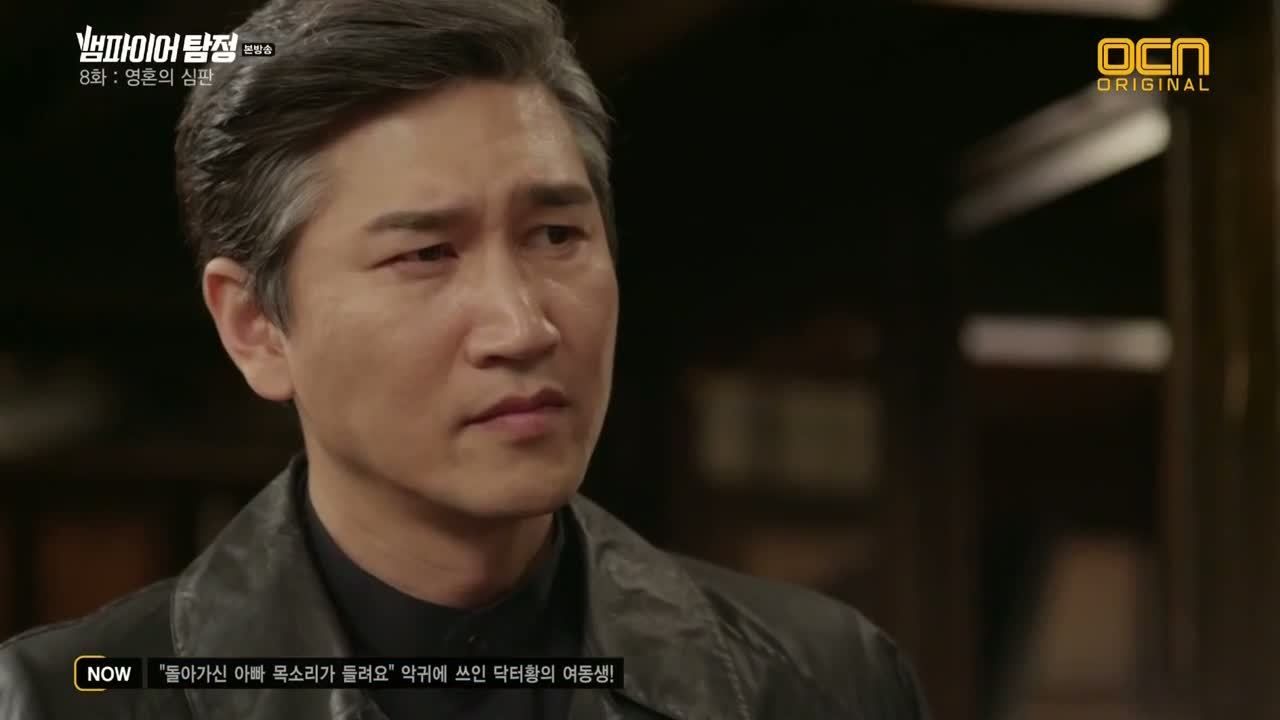 Hearing those words still sting Doctor Hwang's heart, but he puts his foot down when it comes to his sister. He also recognizes the man who has accompanied his mother as the monk, SEOL YONG-CHUL, who "treated" his ailing father, and can't believe that his mother is still hanging onto his every word.
It appears Seol possesses some shaman-like abilities, knowing that Gu-hyung isn't the owner of the house and San used to wear a uniform. He offers that they need to get to work quickly. Just then, Jae-yeon rises but not as herself—she's possessed by the spirit of her father who curses the medium and his wife for gambling with his daughter's life.
Turning to Seol, she hollers, "Wasn't it enough that you killed me and drove a stake into my children's hearts?!" But then Jae-yeon collapses, and Seol calmly says the evil spirit of her father has taken her over—what she needs now is an exorcism.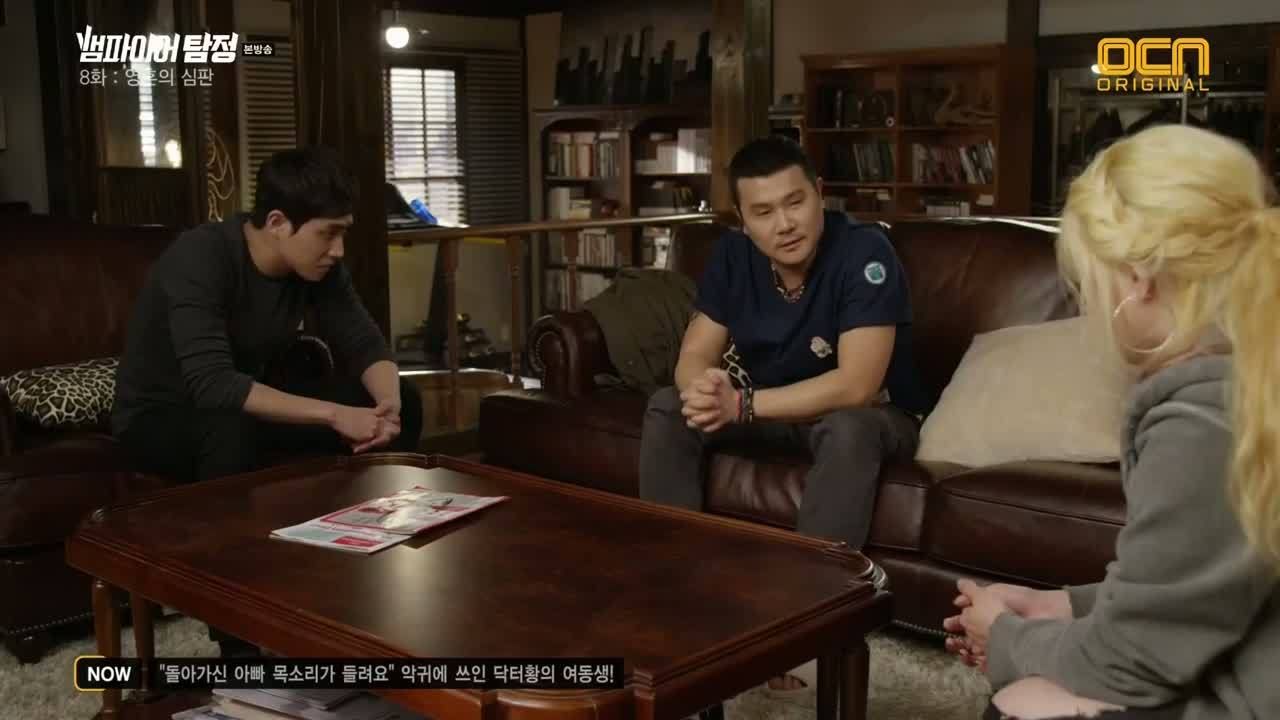 A bit later, Doctor Hwang shares how his mother listened to everything the medium said soon after they met. So when his father was diagnosed with cancer, she refused surgery because she believed that cutting into him would kill him. It still scares him that his mother could've been right.
Still, that doesn't deter him from protecting his sister. He asks the team to find out if it's true that his sister is possessed by an evil spirit, and San takes on the case, even though they don't quite know where to start.
They jump to action when they hear Jae-yeon downing bottles of water. Frightened, Doctor Hwang wrestles the water out of her hands and holds her tight.
Gu-hyung knows someone they can call: KANG DONG-IL, a former street thug who later received a divine gift after being brought back to life by a defibrillator. Dong-il is happy to help and chants over Jae-yeon. He asks with whom he is speaking, and bends down to better hear her mumblings… only for her to bite his ear.
Doctor Hwang rushes over and his father's spirit speaking through Jae-yeon calls out to him by his name, Jae-gook. His father's spirit apologizes that his death wasn't his son's fault, saddened by how he gave up on his dream. With that, Jae-yeon slips into unconsciousness.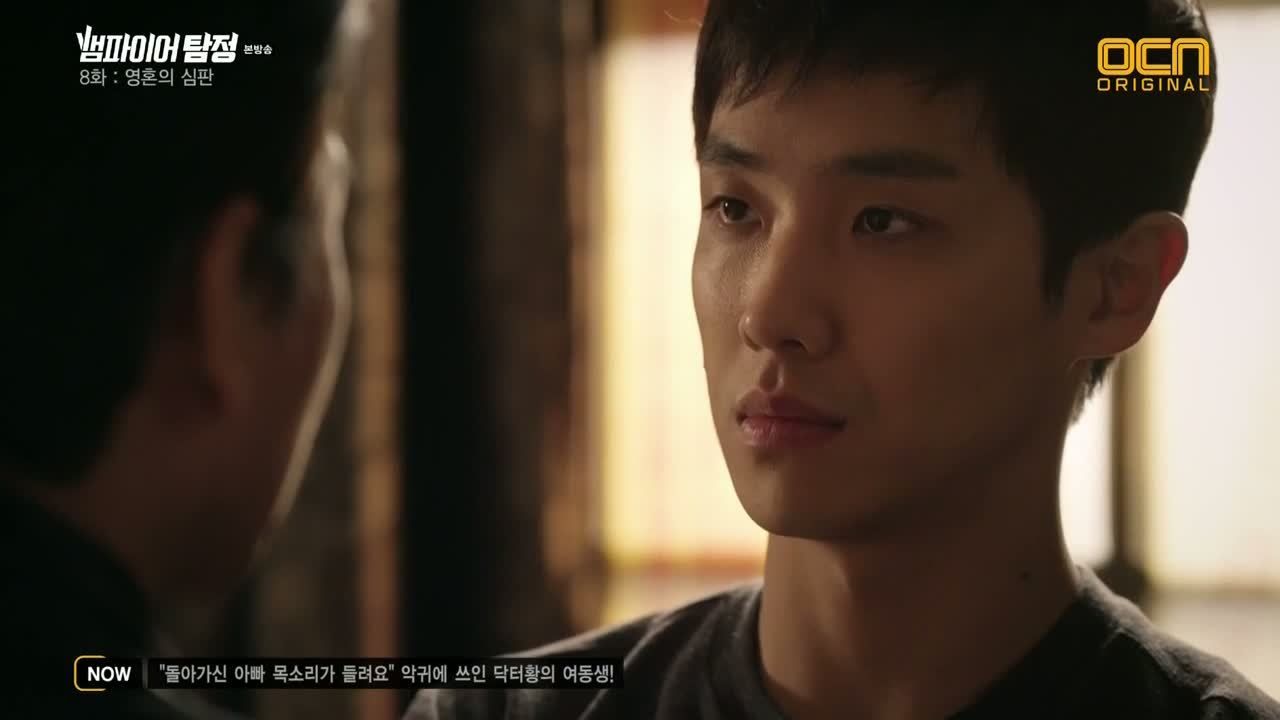 Gu-hyung is frustrated over how little information Dong-il collected, and then the medium Seol returns with his supplies. He pastes various talismans in San's room, and tells San how old-fashioned methods are less sought after in the modern age when it comes to the supernatural.
San remarks that an expert like him would charge a pretty penny, which Seol has no objections to. San's facial features tell him that San will lead a rough life, but our hero isn't interested in a talisman, and Seol takes a crunchy bite of raw rice.
Downstairs, Doctor Hwang and his mother bicker over her unwavering faith in the medium. She has fighting words as well, pointing out that he left soon after his father died. Why is he trying to act like a loyal brother now?
And when Doctor Hwang still refuses the exorcism, his mother grabs a sharp objects and holds it to her neck, threatening to hurt herself. So he brings his sister upstairs but refuses to leave the room. Seol allows it, but warns him that he cannot take responsibility for any repercussions.
Doctor Hwang finds that rich, then bends down to warn him that he'll be dead if something happens to Jae-yeon.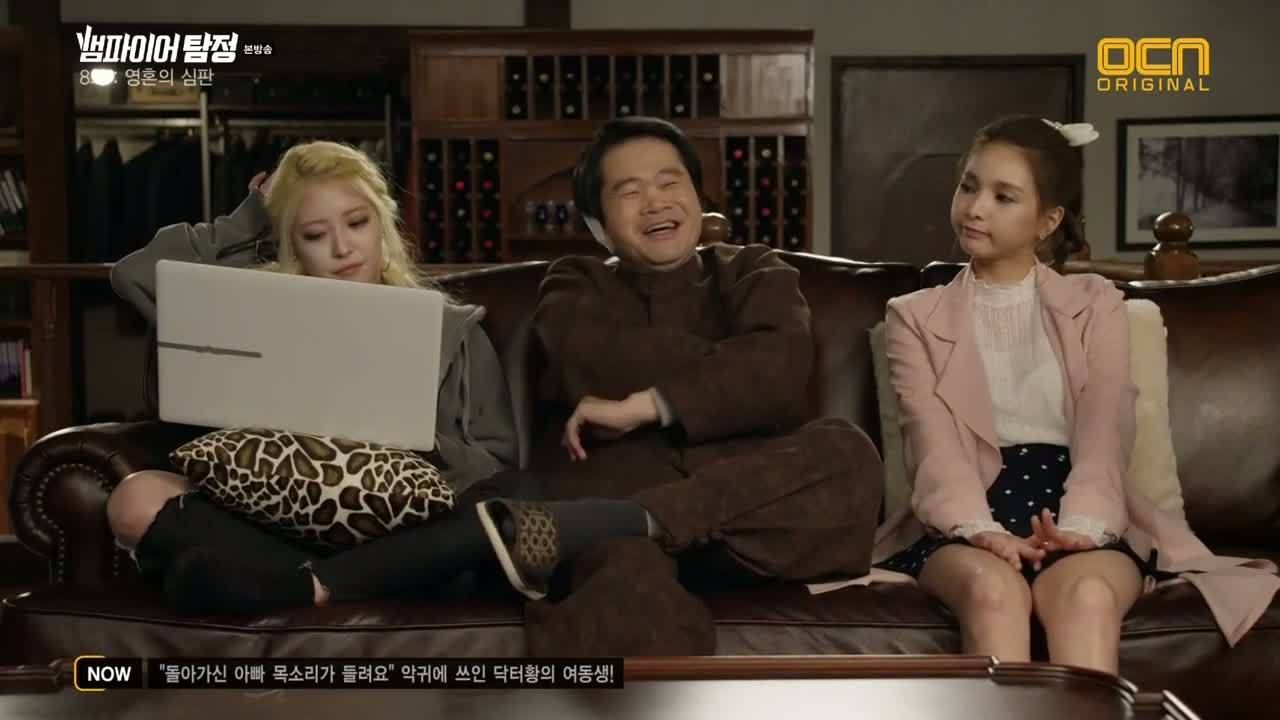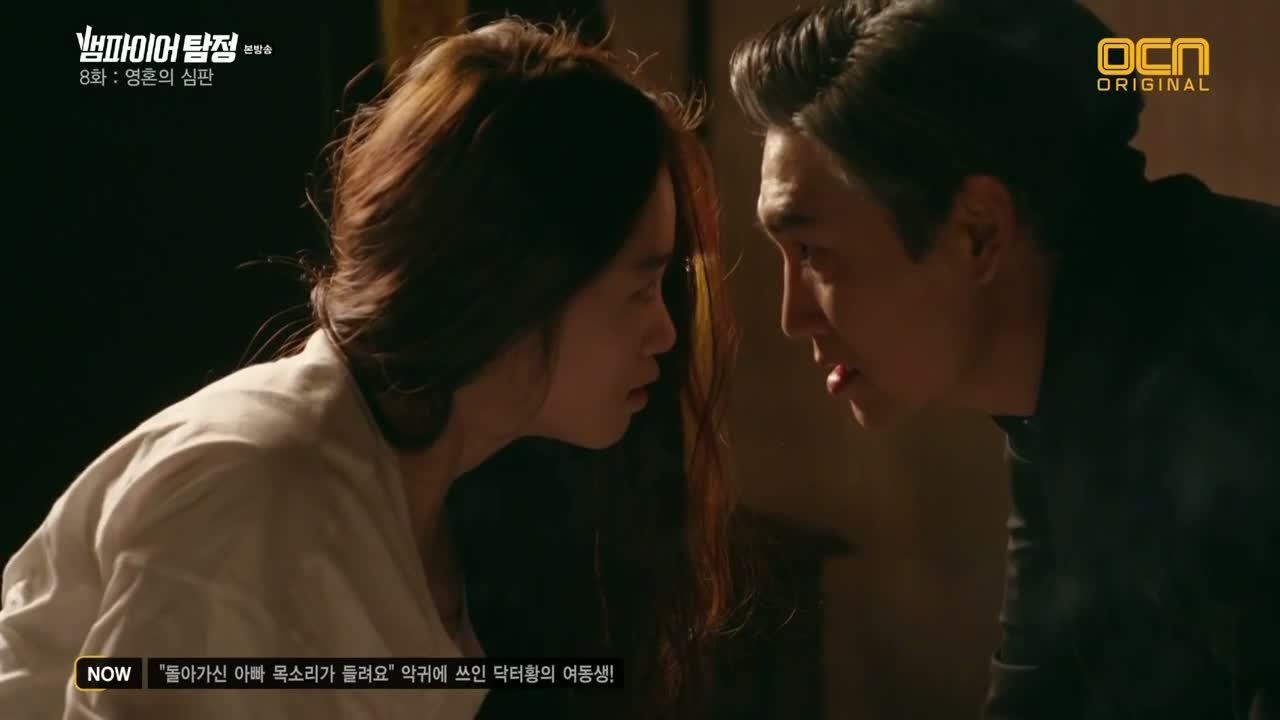 Gyeo-wool hasn't found anything on Seol yet, and Gu-hyung is still spooked about he knew about the house and San. Dong-il explains it's easy enough with keen observation skills: There are pictures of the owner sprawled over the place, and practically all private investigators were ex-cops.
The exorcism begins upstairs, where Jae-yeon's eyes fly open and she strangles the medium in her possessed state. She screams "Die!" over and over again, and everyone can hear her struggling against the clanging downstairs.
Jae-yeon is tied to the bed, as her father's spirit growls at Seol, who uses a whip against her body. Enraged, Doctor Hwang flies toward him and works at untying his sister.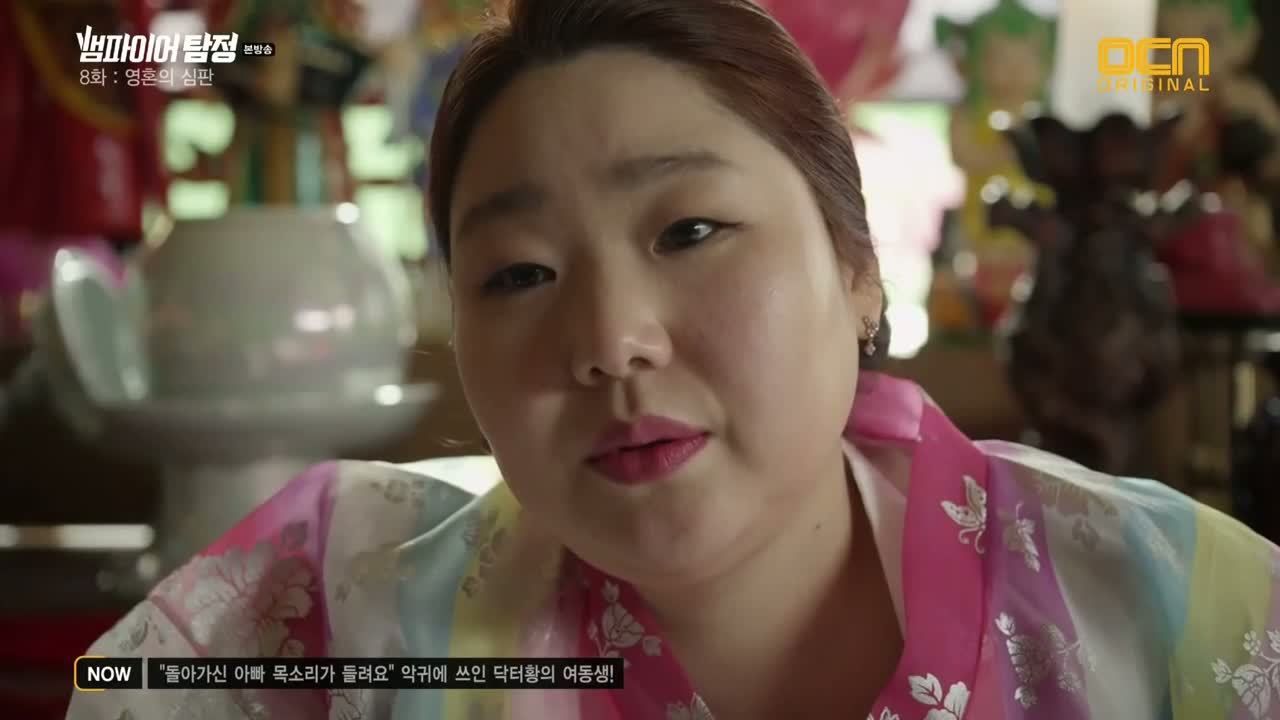 Meanwhile, our private eye team heads out with Dong-il to find additional help. San's vampiric sight is triggered upon seeing a drop of blood on the tire. He sees the car crash into a young man on a dark night and keeps that information in the back of his head for now.
Their first stop is to one of Dong-il's shaman friends, who claims to see a woman in Gu-hyung's life. When the shaman looks at Gyeo-wool, he pushes her aside and San sets her right back up. She goes down the line, making observations about how San has changed jobs and Gyeo-wool suffers from unfinished business regarding a man.
Her sidekick tsks at the private investigators, adding that he knew because Dong-il told him. He reveals that they make generalized statements depending on their clients' ages, but this insight doesn't get the team much further. So they decide to divide and conquer, and San senses that he's being followed.
Looking into Seol Yong-chul's clientele takes San and Gyeo-wool to a hospital, where a mother says Seol had claimed to save her dying son. Seol had argued that they needed to cleanse his spirit, warning something terrible would happen. But his son had refused and gotten into an accident a few days later… the same accident San had envisioned earlier.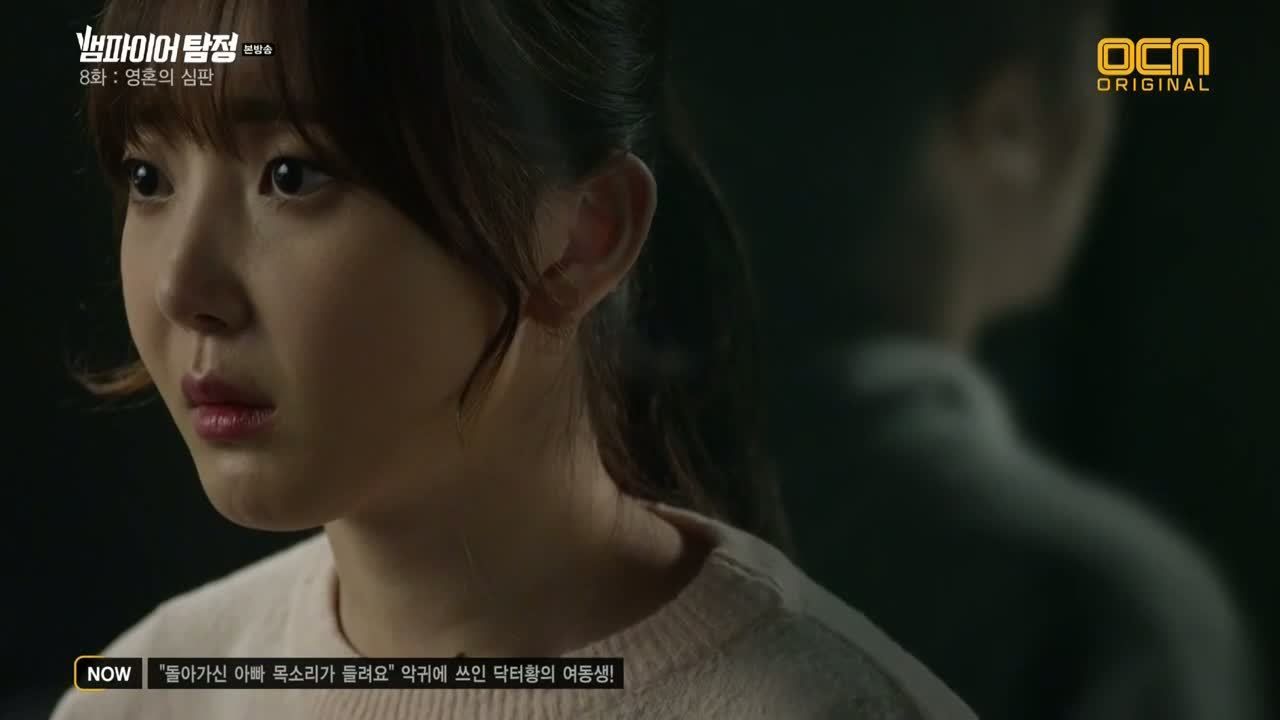 Gu-hyung sits down with Jae-yeon's friend in college, a fellow theatre major, who shares how Jae-yeon had been acting strangely. Even a few days ago, Jae-yeon had claimed to hear her father's voice telling her that Seol had murdered him.
Jae-yeon had told her that she felt bad for her mother for trusting a snake like Seol. Not only was the medium against the idea of Jae-yeon's father being hospitalized, he had claimed the children shouldn't pursue their dreams in medicine or in the theatre lest something terrible happen to the family.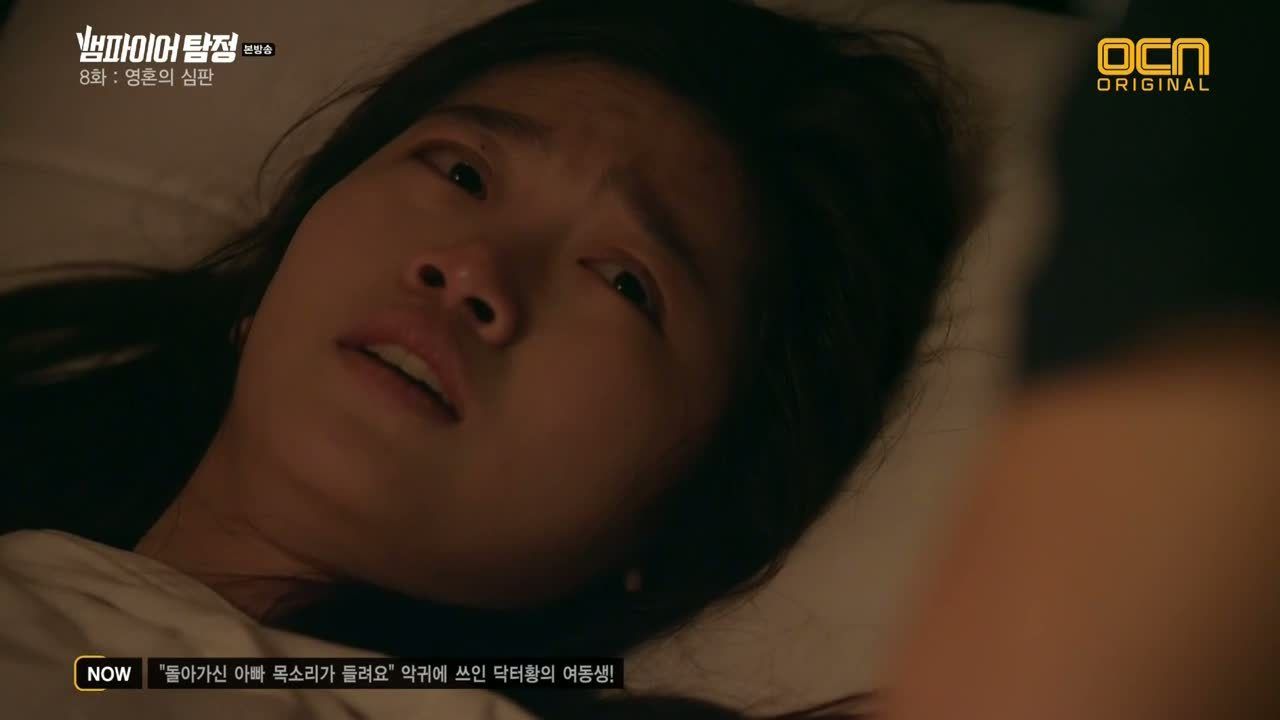 As they leave the hospital room, San casually points out the man who's been following them. San and Gyeo-wool follow the man when he runs for it, and then ambushes him as soon as he exits the hospital. San takes him down in one punch, which is when the man claims that he's a fellow P.I.
Back at the house, Seol finally silences the spirit in Jae-yeon. Her mother and brother rush to her side, and she opens her eyes as herself. She wonders why her brother would carry the burden of their father's death when it wasn't his fault.
Those words take us back to the past to Doctor Hwang attempting to revive his father, to no avail. Once he flatlined, his hysterical mother blamed him, and Doctor Hwang freezed with grief and guilt. "You weren't the one who killed Dad," Jae-yeon cries in the present…
… and then turns to Seol, screaming, "YOU were the one who killed me!" Looks like Dad is still around. Jae-yeon laughs maniacally, and Seol leaves the room.
Gu-hyung meets with Detective Park, who stuffs his face with dumplings before handing over Doctor Hwang's father's medical records. He finds it strange that the hospital so readily admitted that a mistake was made on their part, even more so that Doctor Hwang was his father's physician.
He gets protective about the tattooed doc when Detective Park wonders if he's a quack. D'aww. Seol Yong-chul sits frustrated in the car, then vows to take Jae-yeon down just like her father and pours a clear liquid into his black bag of raw rice.
Se-ra brings up some food for Jae-yeon and speaks highly of Doctor Hwang. He's no different than family to her, and she knows he would do anything to protect the people he loves. Jae-yeon says that's why she feels so bad, then her eyes roll back and she's possessed once more.
Doctor Hwang's mother can't help but launch into an "I told you so" lecture, blaming him for Jae-yeon's situation too. Good lord, lady. But Doctor Hwang softly notes that it was his mother who wished for him to become a doctor.
When she says that was before meeting Seol, he wonders how long she'll keep using the medium as an excuse. But his mother refuses to hear it and storms upstairs. And then Seol Yong-chul walks in with his lackeys to proceed with the exorcism.
Our private eye trio sits with the private detective Chu Kwang-woo, who avoids the question about Seol by pointing out how pretty Gyeo-wool is. She responds by kicking the glass in his hands, and San uses the blood on his face to envision him being paid by Seol to keep an eye on them.
That suggests Seol sought out his services for his other clients, and Gyeo-wool breaks open the safe. She pauses when she peers inside, but Gu-hyung swipes the client files. They learn that Doctor Hwang's father had left everything to Jae-yeon, and then Gu-hyung kicks Gyeo-wool to return the money she's swiped from the safe.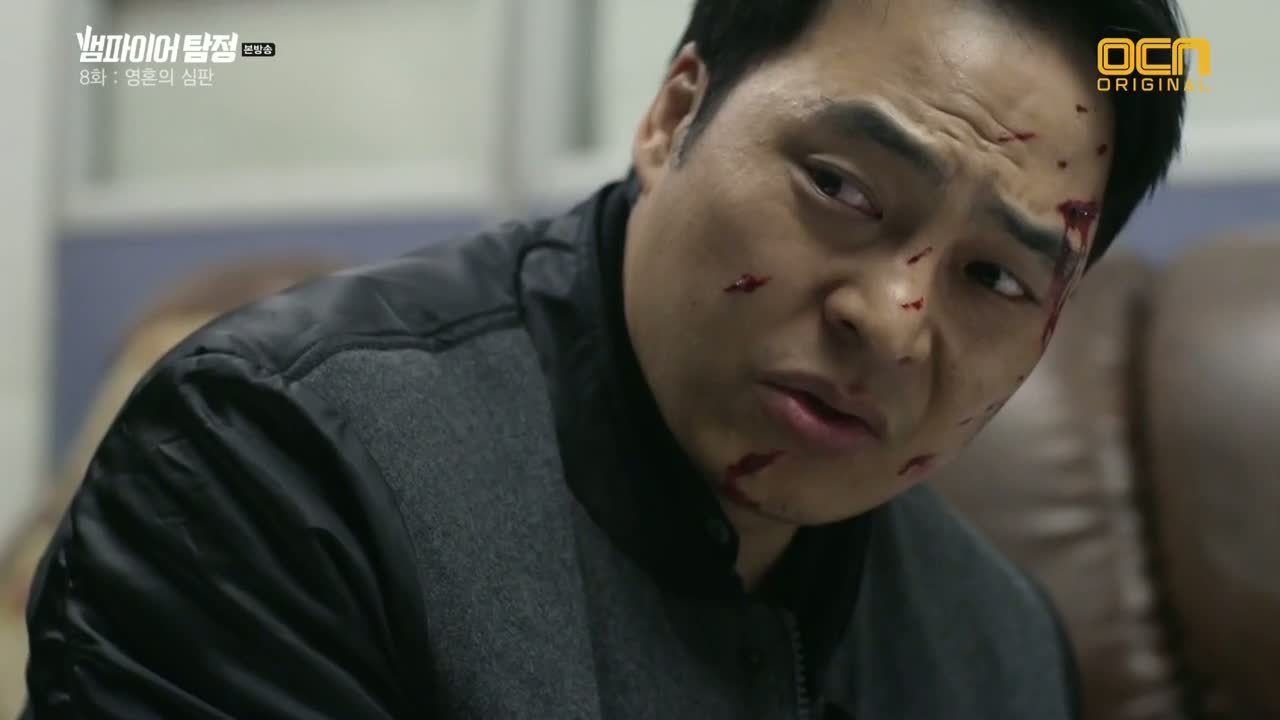 Meanwhile, San and Gyeo-wool note how Seol marrying the mother won't get him any closer to the family's money if Jae-yeon is still alive. Gu-hyung is happy as a clam to get a text from Se-ra, though he doesn't understand what these broken characters mean.
That's when the bloodied Chu Kwang-woo says it's a cry for help, adding that Jae-yeon is probably dead by now. Back at the house, Doctor Hwang is getting beat up while Jae-yeon lets out horrified screams upstairs.
Jae-yeon goes limp, but Seol refuses to let her mother touch her, claiming it's still dangerous. He takes his bag, saying that this is the final stage and wearing a sinister expression.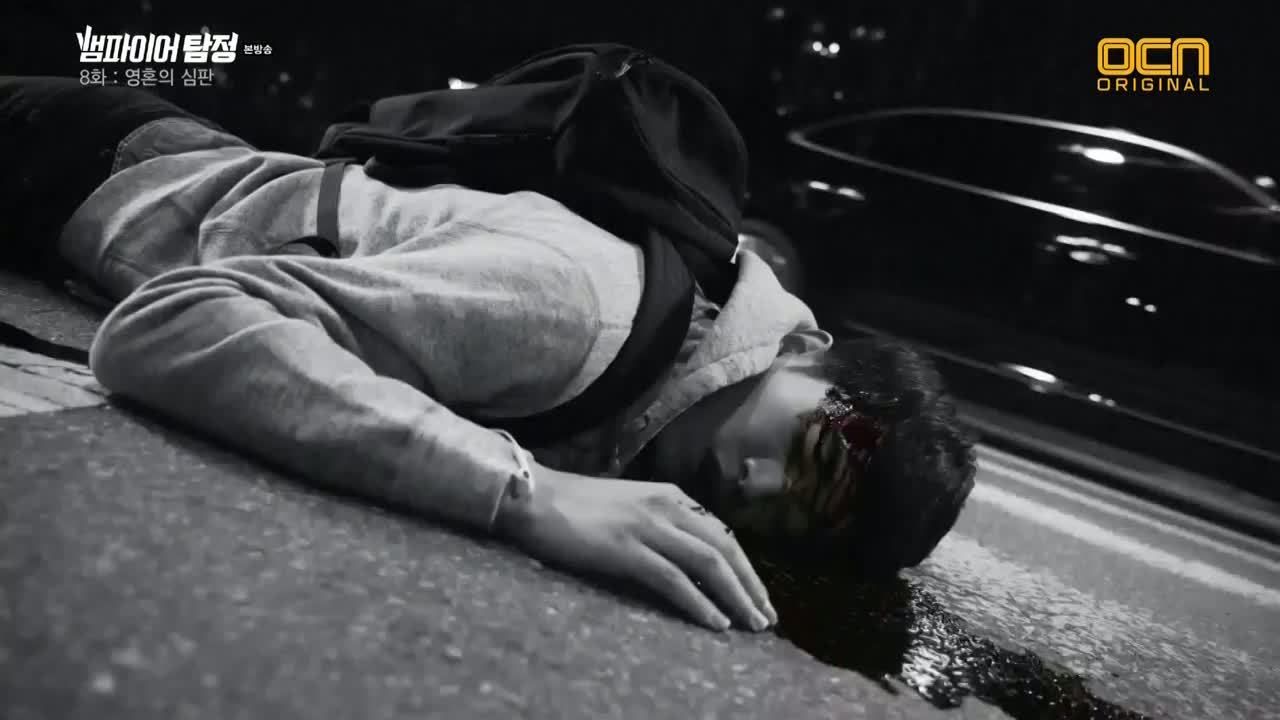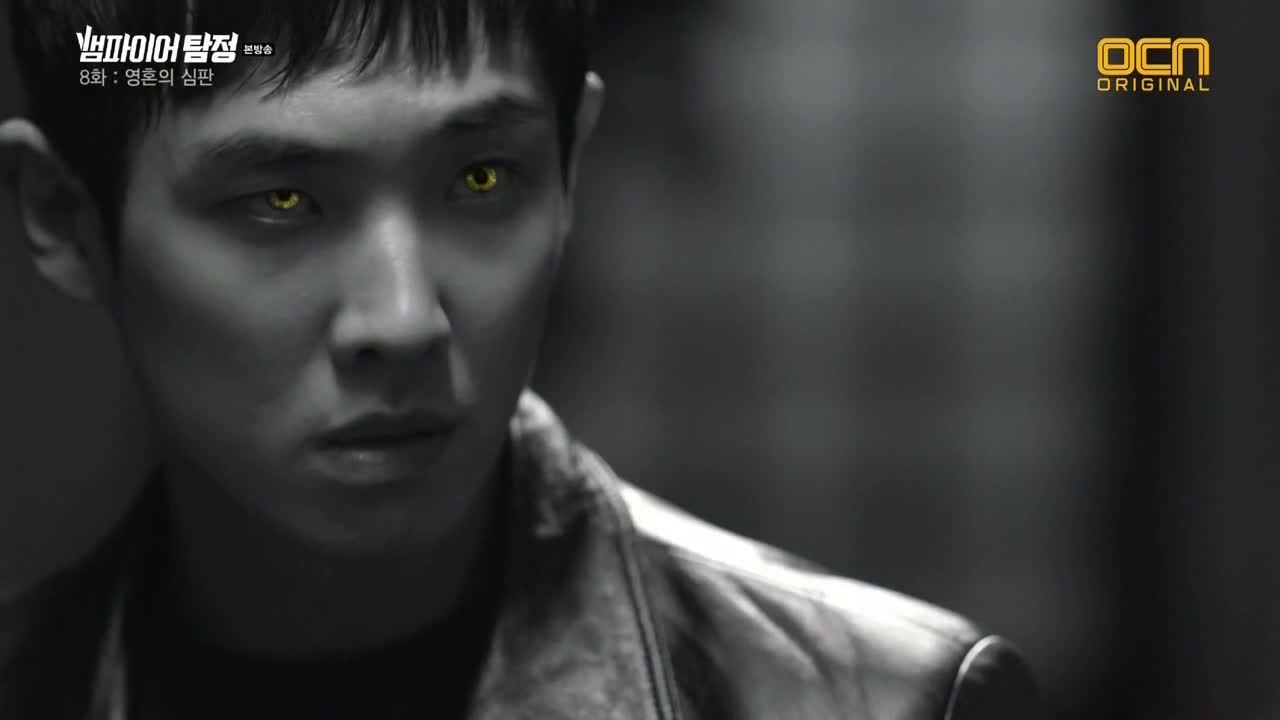 Our team rushes back to the house with Dong-il in tow, where the suits engage them in a fight. That's no problem for San who takes down the men with a few punches and kicks until Seol's right-hand man remains.
His bloody lip is enough for San to confirm that he was the driver responsible for the young man's hit-and-run (and the right-hand man doesn't even notice that his eyes turn gold!). He throws the man into the railing while Gu-hyung holds his own and fumes at the ensuing damage to the house.
Upstairs, Seol Yong-chul hovers over Jae-yeon, telling her to give up the act. He says she was partly responsible for her father's death because she did nothing. As it happens, her mother was holding her back while she screamed at Seol, who forced open her father's mouth and stuffed it with raw rice from his bag.
He forcefully opens her mouth, but San stops him before he can choke her with the rice. Doctor Hwang punches the quack, and San tells Seol to give up the act. That's when Dong-il hits his cue to remark on how Seol constantly chews on rice because the souls of those he murdered are hungry.
He lists off the names from Seol's clientele, adding how Seol will soon hear their cries from the beyond. The truth is always bound to reveal itself, Dong-il continues, and his victims will continue to haunt him.
Dong-il's expression changes and now speaks as Doctor Hwang's father: "How dare you go after my inheritance after what you did to me? To think that my daughter would need to go so far to pull off this performance?" He turns to Jae-yeon with tears in his eyes.
Jae-yeon apologizes, which only makes Seol scoff. "Do you know why she's crying? Because you killed your father!" But Jae-yeon cries that she had meant for things to go differently. Now that earlier flashback is a bit longer: Jae-yeon was horrified by how Seol physically abused her father and noticed him eating rice from his bag.
So she spiked the bag with pesticide, hoping that Seol would eat it. But Seol had seen her do it, so he fed that rice to their father instead. Doctor Hwang strangles Seol and tosses him to the ground.
Gu-hyung and Gyeo-wool show him evidence of his dealings with the private detective Chu Kwang-woo while Jae-yeon cries. She'd seen Seol kiss their mother beside their father's bedside. She resented her mother and hated the man she depended on, but had no idea that her intentions to kill Seol would backfire on their father.
A wind blows into the room, causing the candles to burn higher before going out. Then Jae-yeon finally hears her father's voice, and now both she and Doctor Hwang can imagine their father before them.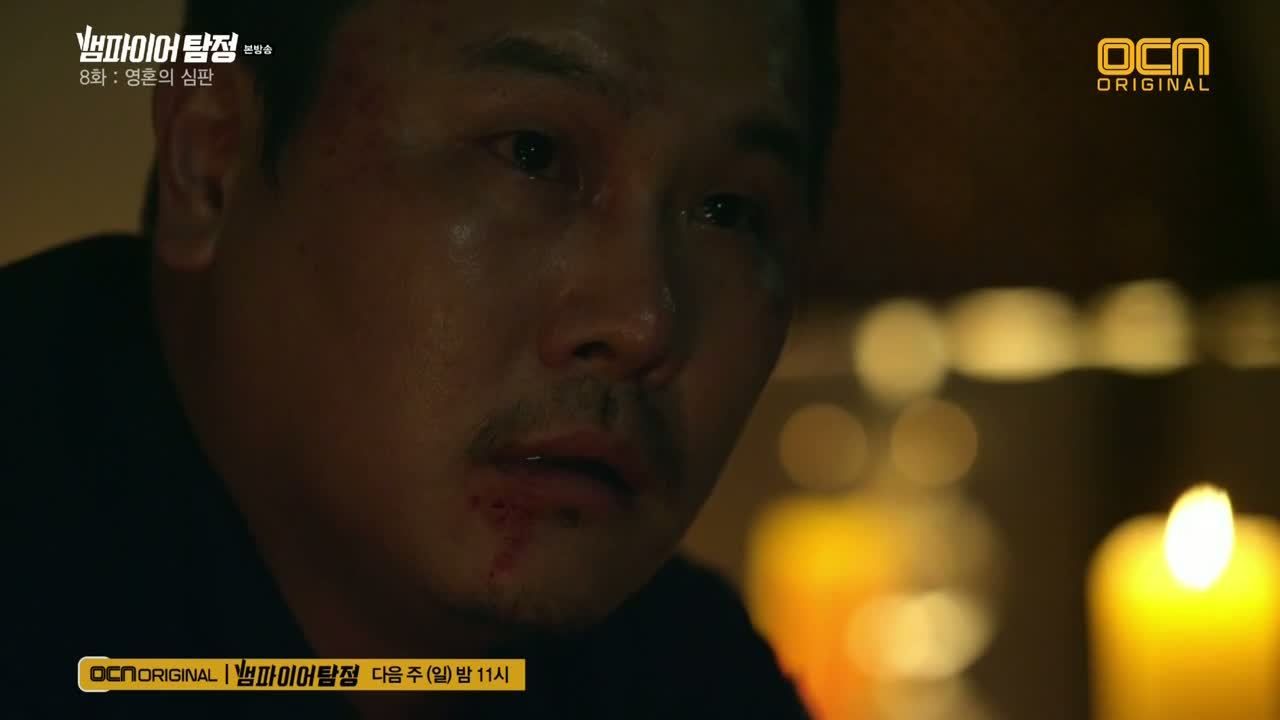 Their father says he was bound to die because his tumor was too large to operate on. He turns to his son, apologetic to be the cause of his emotional pain. Although everyone can hear these words, the vessel used to deliver them is still Dong-il.
Doctor Hwang's mother still thinks it's an act, which is when Dong-il turns to her and pleads her to let their children go. He speaks the words only she could know: "I want to lay down in the sky."
As the entire family breaks down in tears, San walks up to Dong-il and whispers that he can stop now. Dong-il's eyes roll back before looking at San and saying: "You're not of this world. You died and came back."
He says San will meet "that woman" soon, then Dong-il starts to shake. San and Gu-hyung catch him when he faints, then slaps him awake. Gu-hyung: "He was actually possessed."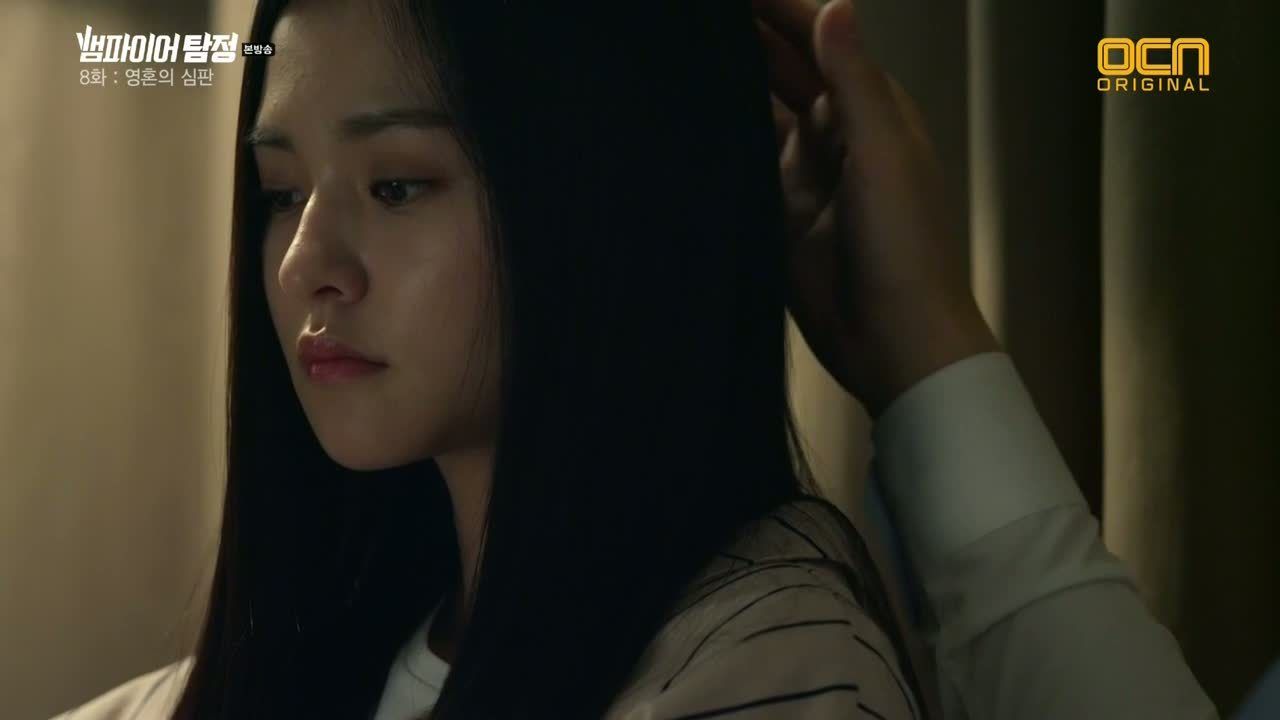 Elsewhere, Tae-woo sits down next to Yoo-jin and tells her that Joo Young-kwang isn't talking. They both know that Yo-na won't stop, but Tae-woo isn't worried because they're both ring leaders of their respective gangs.
He strokes her hair, but Yoo-jin takes his hand away. She thinks they've gone far enough, but Tae-woo says all the dirty work he's done to get to this position was all for her.
She doesn't buy that excuse, at which point Tae-woo reveals: "Yoon San is alive."
COMMENTS
If there's one thing that Vampire Detective has taught me thus far is that there's a routine pacing in its episodes each week. So as much as I would love to know a bit more about this final conversation between Tae-woo and Yoo-jin, the show's history dictates that we'll be placed somewhere else next week without much of a grasp of how much time has passed between the previous episode and the present. For instance, even though I knew that Gu-hyung and Gyeo-wool would be okay, I had hoped there would be a small resolution after last week's heart-stopping, down to the wire conclusion. Instead we jumped to an unknown time later (was it hours? Days? Weeks?) where everyone was fine, leaving the viewers to assume that Yo-na called off her vampires just in time. Or at least, that's what I hoped happened in that off-screen conversation.
So in that same manner, it would be very easy to forget that our hero San has a personal mystery to solve without the weekly check-ins at the beginning and end of each episode. Ever since we learned that Tae-woo still exists in this world, it's not much of a surprise to reveal that Yoo-jin does too. So the questions that follow are why they survived the bombed car five years ago and how… which may be questions we won't revisit until the penultimate episode, at the rate this overarching story is going. My head is full of questions, like when was Tae-woo turned, why he's going up against Yo-na, why he needs Joo Young-kwang, and if all the vampires are after the same thing.
My fear is that by placing too much focus on the crime procedural aspect, the show will be strapped for time to fully explore this underground ongoing war between two vampire gangs. Come to think of it, I wish the story was more about that because that sort of premise is rich with potential conflict to reap. But like much of the vampiric element and our hybrid hemovore in San, we know little and are shown even less.
It's a true pity that the fantasy aspect is so muted in this series, since there was an opportunity for Vampire Detective to set up its own rules and regulations and offer a different angle to the vampire lore. But as more time passes with even less of the vampire threads to tug on, it's much easier to remain in the microcosm that is the private agency and try to find golden nuggets in the story elements we are shown.
Which brings us to Doctor Hwang, whose tragic story I hadn't expected we would explore either. Much like this show's style, the clues were sprinkled in with a "blink-and-you'll-miss it" insertion. It is helpful for us to learn why Doctor Hwang stopped practicing medicine, and his family's story from his ailing father to his hysterical mother to his guilt-ridden sister is dreadful. Yet at this point in the game, the narrative needs to keep moving forward, working towards the greater mystery, 'cause like some other undead creatures, we don't have all eternity to wait.
RELATED POSTS
Tags: Episode 8, featured, Lee Joon, Lee Se-young, Oh Jung-se, Vampire Detective