Vampire Detective: Episode 9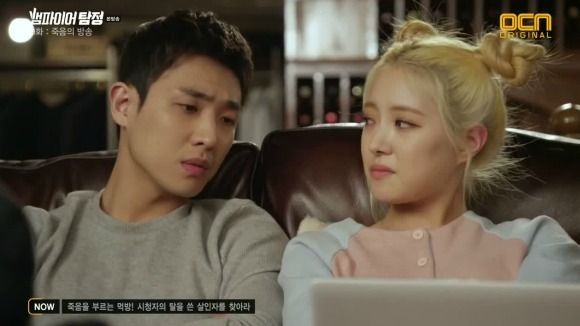 So many things are laid out on the table today, though some greater questions regarding the overarching mystery remain unanswered. Since the ongoing underground war has little to no impact on our private investigative crew's daily lives, that frees up their time to take on new cases every week. Internet fame and anonymity will clash in today's case, where an unknown user is held responsible for the death of an internet star. It'll be up to our team to find out who it is before another life is claimed.

EPISODE 9: "Deadly Broadcast"
At home, Yo-na takes the ripped photo of Young-kwang and burns it. Meanwhile, a man is brought before Tae-woo, blubbering that he was simply following orders because his boss, Young-kwang, had promised to turn him into a vampire.
But that answer isn't a particularly useful one to Tae-woo, and the man is dragged away. Yoo-jin walks in moments later, asking if Tae-woo has given up on living as a human. "I've never thought of living as a human since that day," Tae-woo replies. "Do you want to go back to [that life]?"
She says she would, if given the chance, to which Tae-woo asks, "Why? Because of Yoon San?" He tells her to give up the act, asking if shooting San five years ago was part of the performance.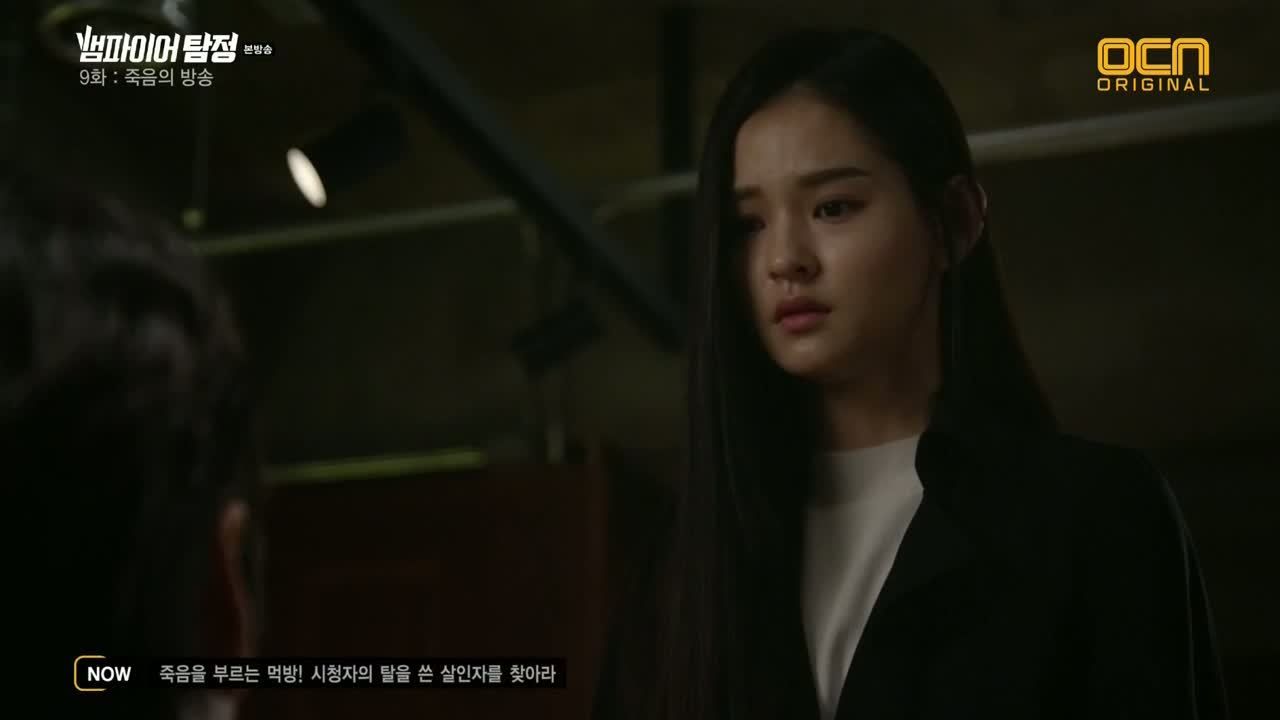 All that matters little now since San will die anyway, and Tae-woo says it's too late asking for mercy on San's behalf. He knows Yoo-jin has been looking out for him, and he plans on seeing this battle to the end. He warns her not to get involved anymore unless she wants to see San dead. Guess he didn't get the memo that his ex-buddy's a hybrid vamp now.
Back at HQ, San and Gu-hyung repair the railing that was broken from fighting off the gangsters. They adorably bicker over the details of said fight, and Gu-hyung flips his lid when Gyeo-wool messes up the meticulously placed alignment. Lol, these three.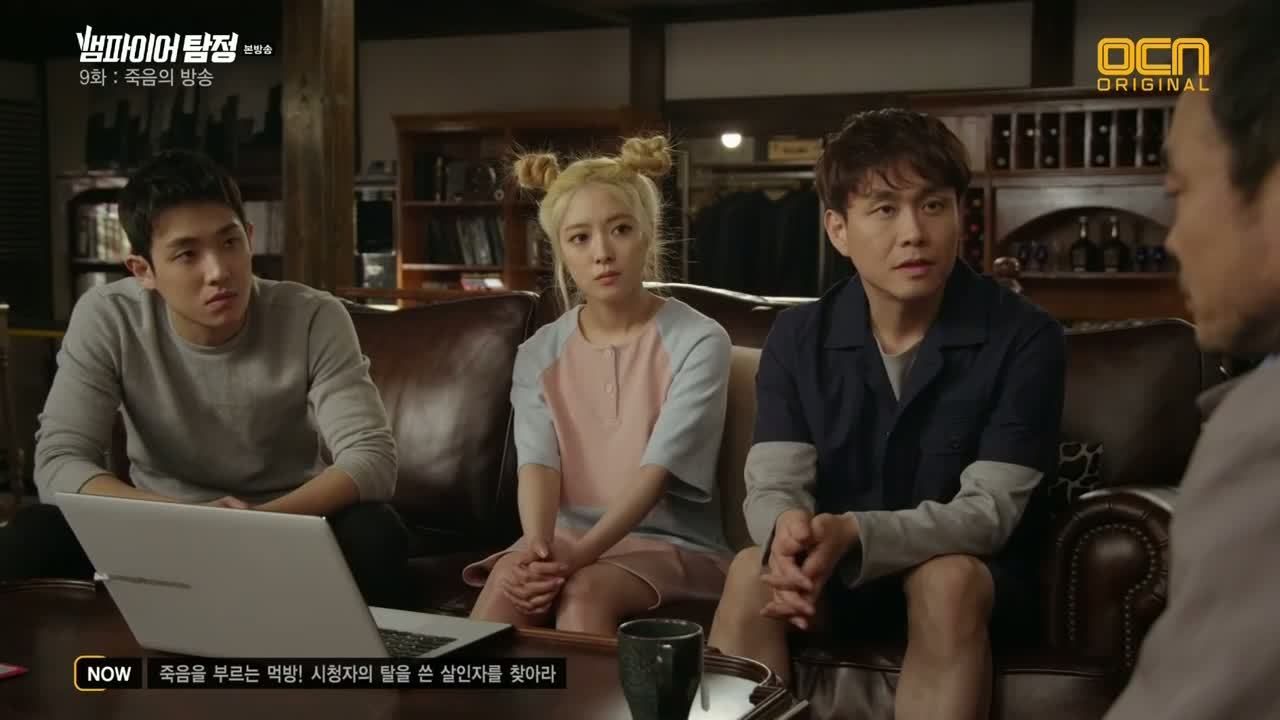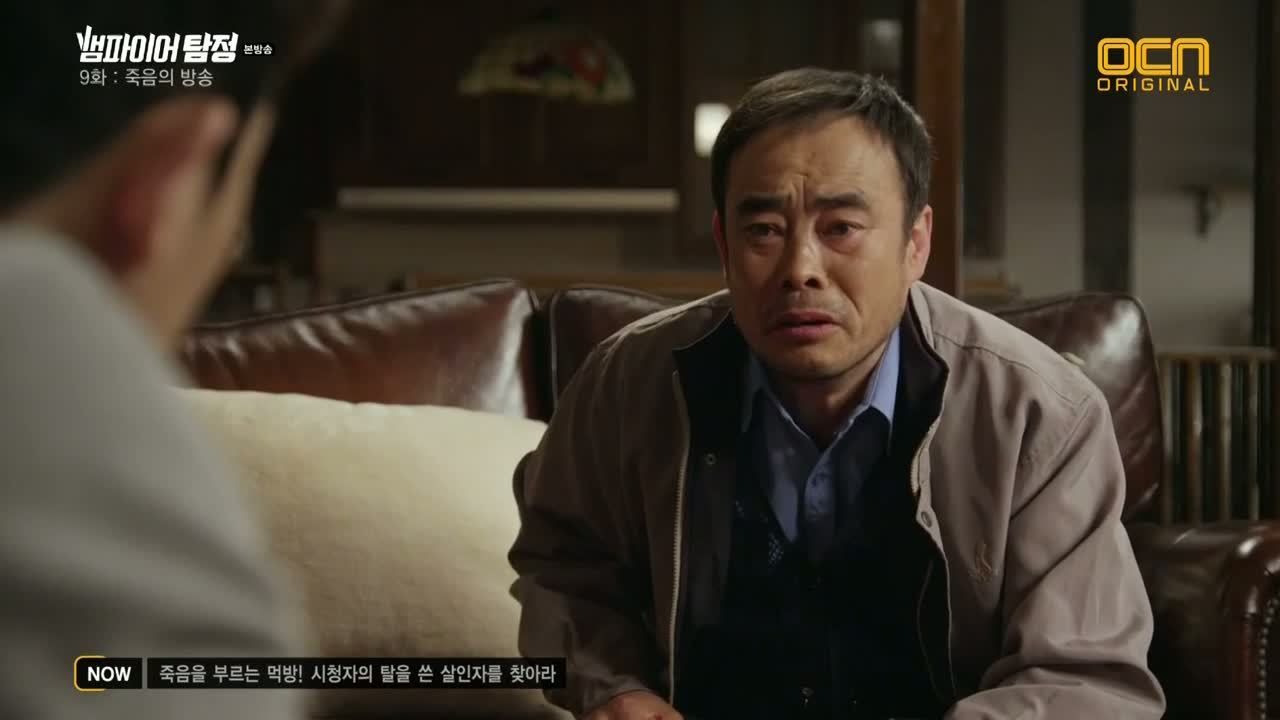 They're interrupted by a potential client—an older gentlemen who's looking to catch his son's murderer. He's hard-pressed to call it murder since he doesn't have much proof; all he knows is that his son was famous on the internet as a mukbang host. (A mukbang is a live video stream where people consume large quantities of food while interacting with their internet audience.
Gyeo-wool has heard the story and brings up an article regarding his son BJ (broadcast jockey) Wookie, aka KIM WOOK, who recently died during a livestream. She plays the expository fairy about mukbangs where one can earn a pretty penny during these broadcasts through digital currency.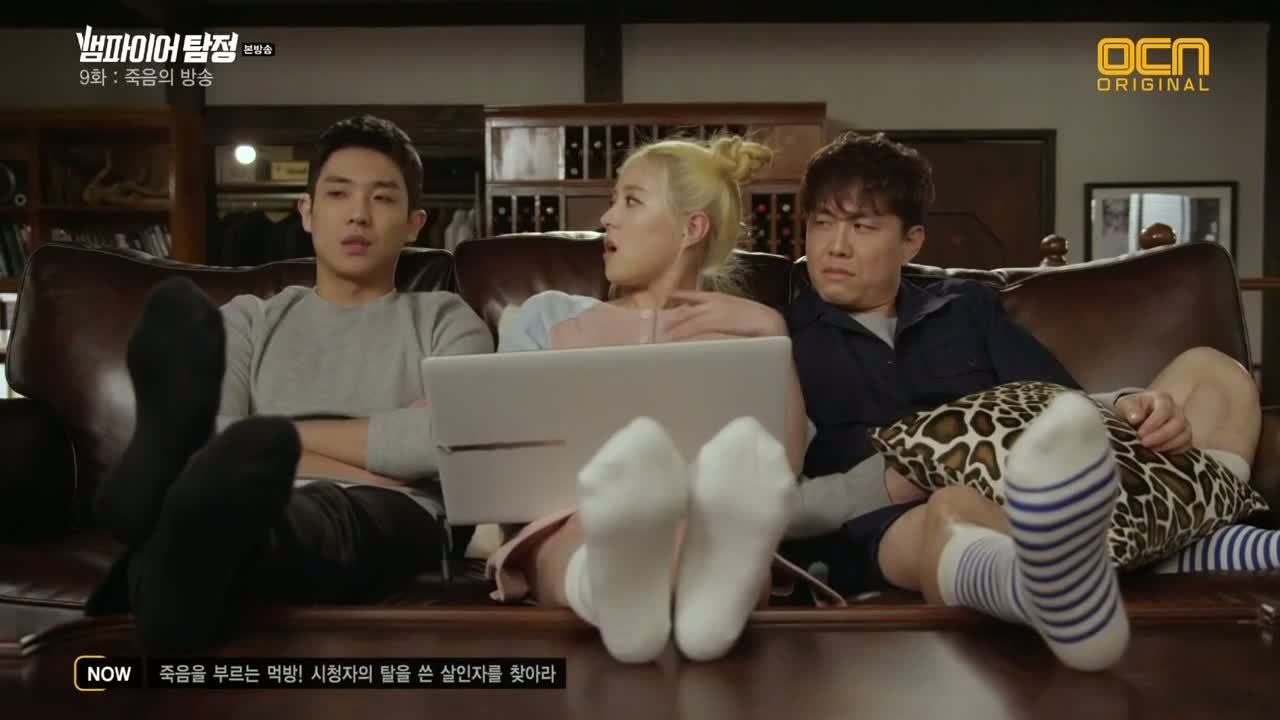 His father had no idea how successful his son was, having believed that the money Wook earned was from trading stocks online. He believes that his son died because of a particular challenge from a viewer who promised to give Wook 300,000 "star candies" (the units of digital currency in this website) if Wook ate everything within three minutes.
The total of those microtransactions? 30 million won or about 30,000 USD. He pleads with the team to find that viewer, filled with regret over how little time he spent with his son.
So our private eye trio watches one of Wook's broadcasts in both awe and disgust as Wook eats three pizza pies in 30 minutes. Then it occurs to Gyeo-wool that she's never seen San eat anything. Finally, someone said it.
Gyeo-wool: "Did you eat?" San: "I did." Gyeo-wool: "When?" She thinks she's onto something when San doesn't answer, and that's when Gu-hyung says San eats like a pig. She doesn't really believe it at first, but gets upset that he's eating a ton of food without her.
They find out that Se-ra has her own channel too, and Gu-hyung is jealous at the attention she gets. Se-ra had met Wook once at a BJ gathering, and she shares how the viewer who gives the most star candies is known among the creators as "the Chairman".
Unfortunately for them, no one knows anything about the Chairman apart from the username DOK77. She thinks their best chance to find out about the Chairman is to participate in the memorial broadcast for Wook tomorrow, where the winner will get a truckload of star candies.
Se-ra won't be attending due to one of her many hobbies, so Gu-hyung plays one of Se-ra's broadcasts on repeat in the car, which drives Gyeo-wool and San crazy. Gyeo-wool wonders what the Chairman is getting at by trolling the top broadcast jockeys like Wook, and this entire memorial broadcast setup sounds ominous to her.
Wook's father is already present when they arrive at the house. There's a taxi parked out front, and they're greeted by IM KANG-SEOK PD from the streaming video website. We're then introduced to the top names in the internet community: ShinSun78, who hosts an online talk show, Judizzang, a fitness show host, Cookyoung123, a cooking show host, and high-pitched beauty show host, Smilegirl88, whom Im PD appears to favor.
When the final broadcast jockey arrives, his face is a familiar one: it's Detective Park, who's known online as Foodfighter00.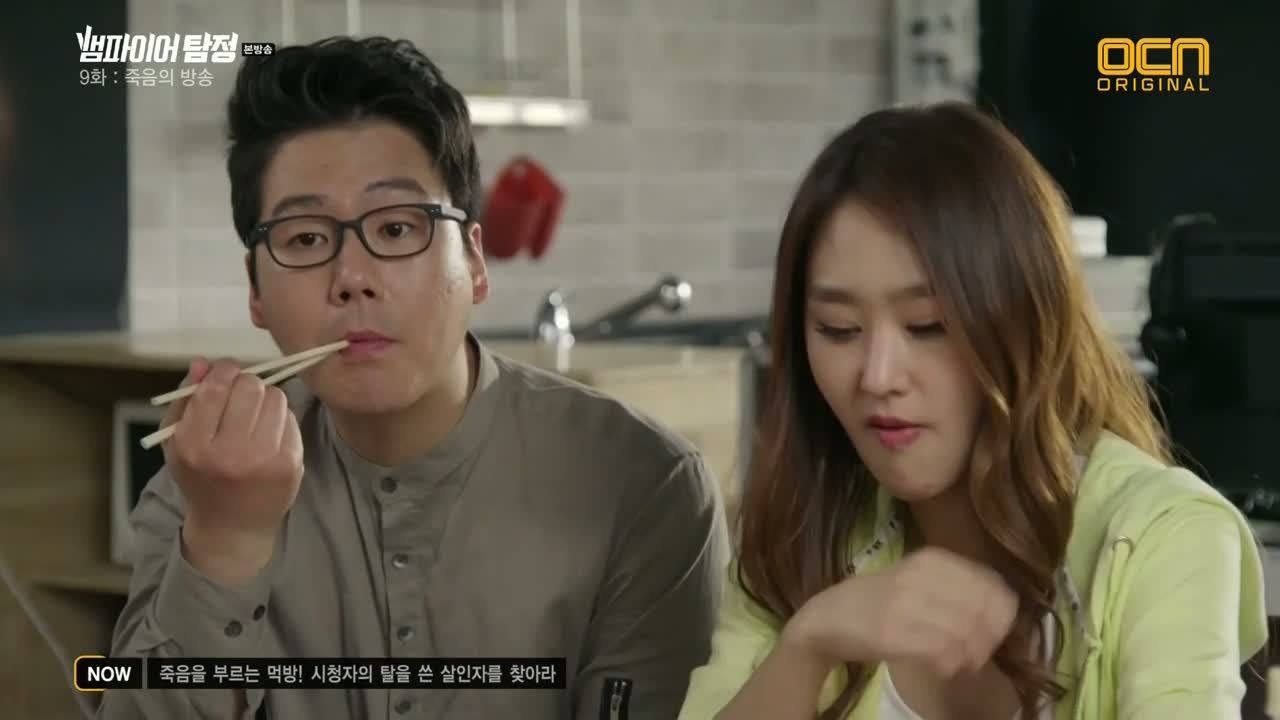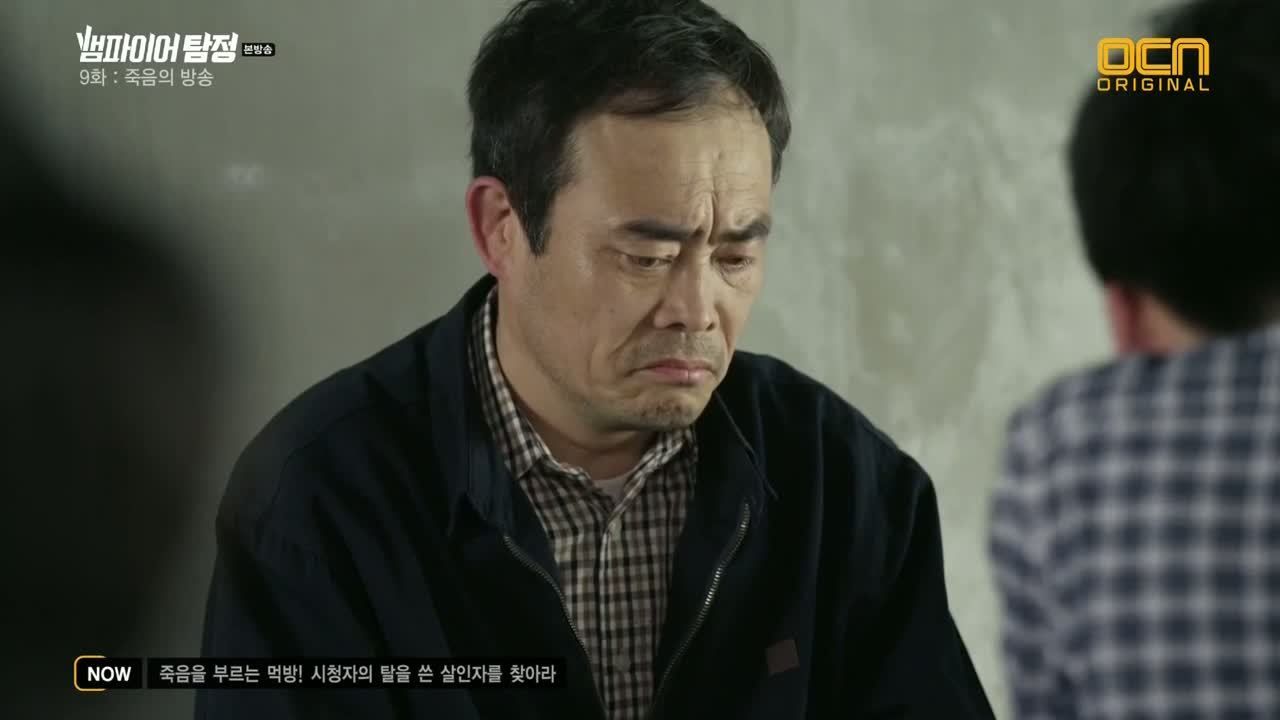 Gu-hyung gives Detective Park a hard time about being an internet star and his uneven haircut. This coming from the man with the new perm. San explains that more than anything, it seems Wook's father is looking for a sincere apology from the Chairman.
All the creators set up for their respective broadcasts while Im PD explains the technical details to San. The mood is semi-awkward at lunch while Detective Park stuffs his face happily.
The BJs are skeptical that the private eye team will be able to find out who the Chairman is today, and Cookyoung makes a social faux pas when asking if the Chairman has done anything wrong. At that moment, Wook's father walks out of the room in silence.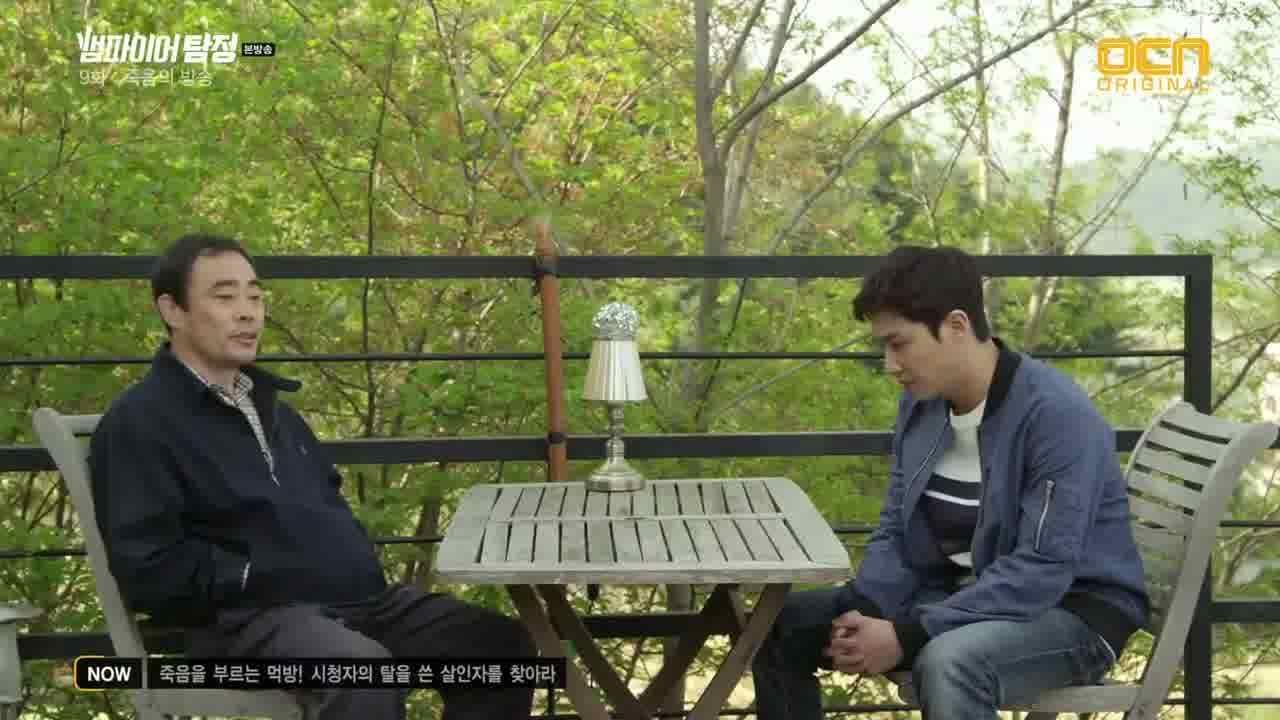 San sits down with him outside, reassuring Wook's father that the other BJs here are Wook's friends. But the man doesn't share in that naive assumption—he knows the others are here to earn money.
Wook was an outcast at school, and his father didn't spent that much time with him since he was busy working. He does, however, acknowledge that it's possible the internet was Wook's only friend.
There's some ongoing beef between Judizzang and Smilegirl88, where the former is well-aware that the cutesy Smilegirl88 has been badmouthing her. Smilegirl isn't afraid of pointing out that Judizzang has been dipping in product placement in her broadcasts.
And if that weren't bad enough, she's heard rumors that Judizzang is seeing the Chairman in real-life—isn't that embarrassing?
While ShinSun78 greets his special guests, San chats with Im PD to dig up more details about the Chairman. He notes that a generous financier like the Chairman would also be helpful for the streaming site, a question that makes Im PD uncomfortable.
However, while Im PD admits that having many financial backers would be advantageous to the site, this broadcast is still a dedication to Wook.
Inside the house, Gyeo-wool gets wrangled to be a part of Smilegirl88's broadcast, much to her displeasure. Wook's father looks on as the creators make their final preparations, hoping to catch a glimpse of the Chairman.
Ha, Gu-hyung is a part of Detective Park's broadcast while San keeps a sharp eye out on each of the show's comment sections. Gyeo-wool is pulled into getting a makeover while Shinsun78 rakes in the star candies.
Noticing that Wook's father is getting antsy, San promises him that he'll get an apology out of the Chairman. As the broadcast continues, the Chairman pops up on Smilegirl88's broadcast. Gyeo-wool immediately starts tracing the IP address and whispers to Smilegirl88 to buy them some time.
Reading that the Chairman is watching Smilegirl88, Judizzang ups the ante with a sexy dance. Gyeo-wool heads back to the control room to report that the Chairman has logged out of the chatroom.
But the guys focus on her dolled up face, which San finds as pretty and Gu-hyun says makes her "look like a girl." She storms out, and both guys agree they prefer the fiery side of Gyeo-wool best. Heh.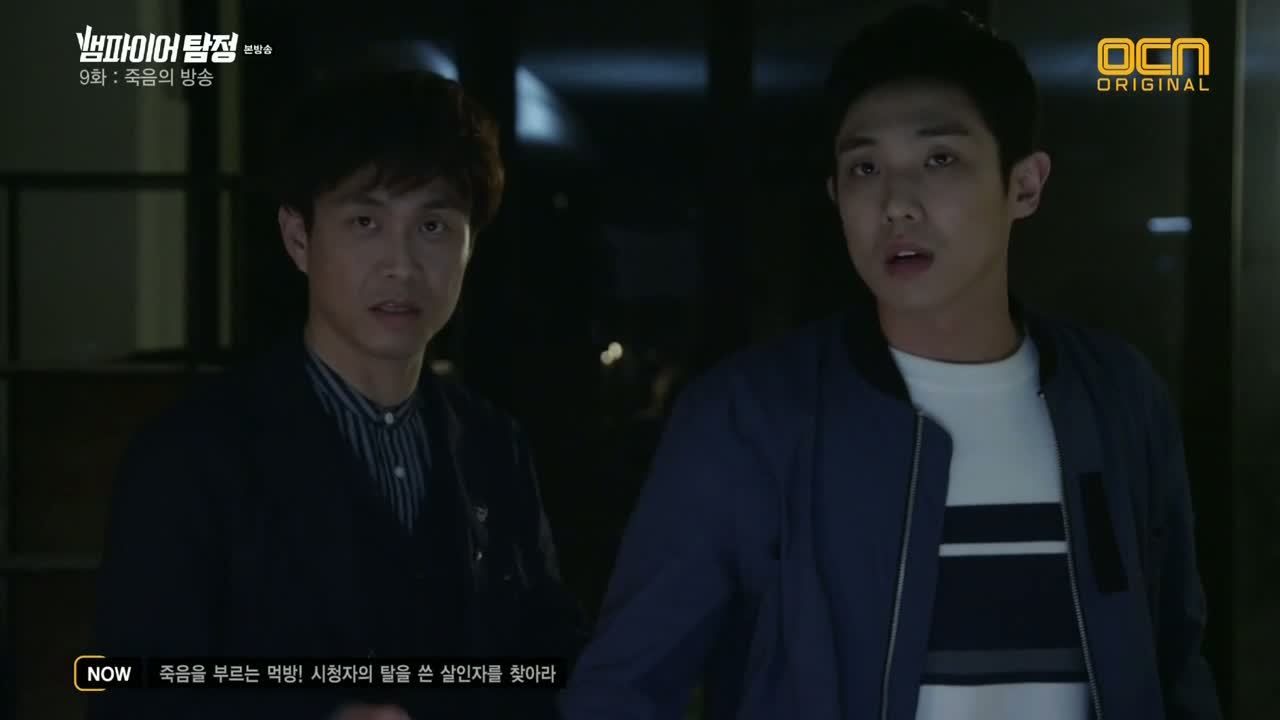 Night falls, but the broadcasts keep going. The Chairman pops up in Judizzang's chatroom and Gyeo-wool starts tracing the IP address again. But then the chairman shows up in Shinsun78's room and drops off several thousand star candies before exiting the chatroom.
The Chairman must know that he's being traced because he hops from one broadcast to another. So San intervenes by inviting the Chairman into a private chatroom, using Gu-hyung's username. Uh can someone tell them that "detective99" is a dead giveaway?
San starts off the conversation, then dictates as he'd told by Gu-hyung. He doesn't feel uncomfortable with trolling someone online, but Gu-hyung pushes him to type as he's told. They need to keep the conversation going long enough for Gyeo-wool to work her magic, then San takes over again.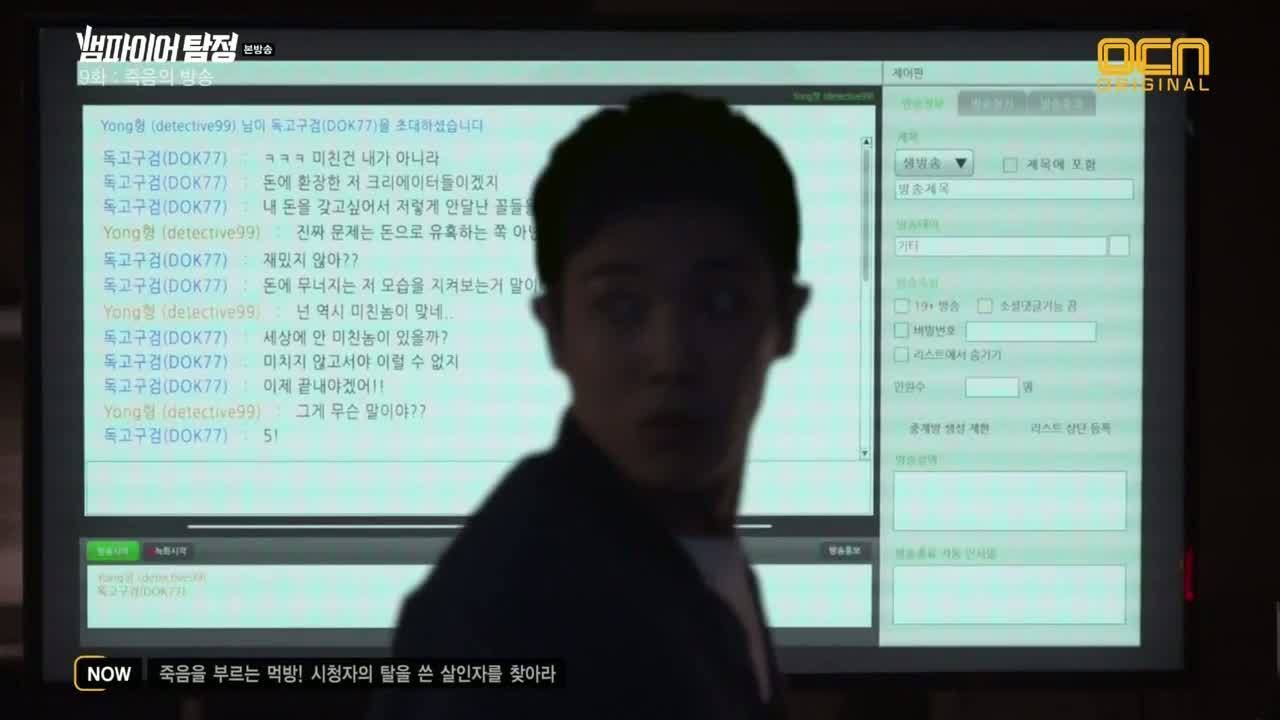 He asks if the Chairman takes pleasure in toying with people, to which the Chairman is taken aback, amused. With a chuckle, the Chairman says it's the BJs who have lost their minds over money, telling San to look at what the monkeys will do for some money.
The Chairman says it's time to put an end to this, and Gyeo-wool locks in on the user's location… which is this very house. And now the countdown begins. 5… 4… 3… 2… 1…
… and the power goes out. There's a scream, and they run into Judizzang's room. She has a cut on her arm, and the blood activates San's vampi-vision. Detective Park notes that it looks like a kitchen knife, which suggests Cookyoung123, but San says no villain would be stupid enough to use his own supplies.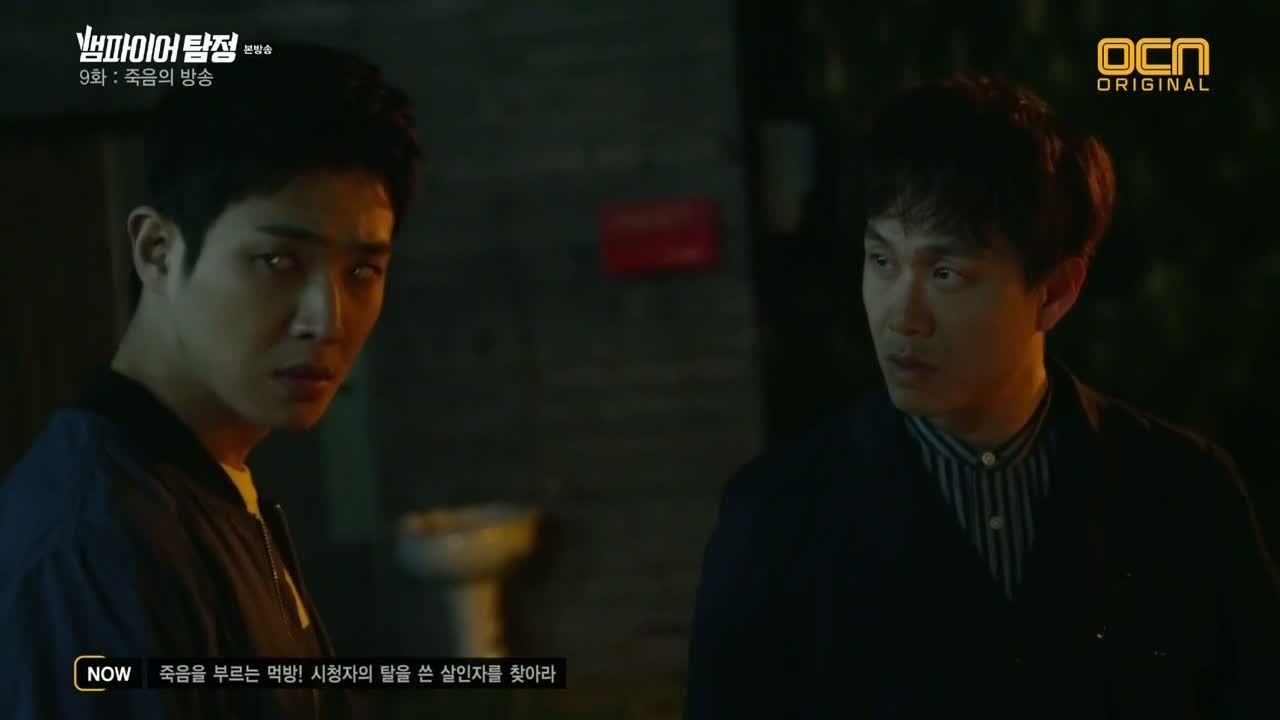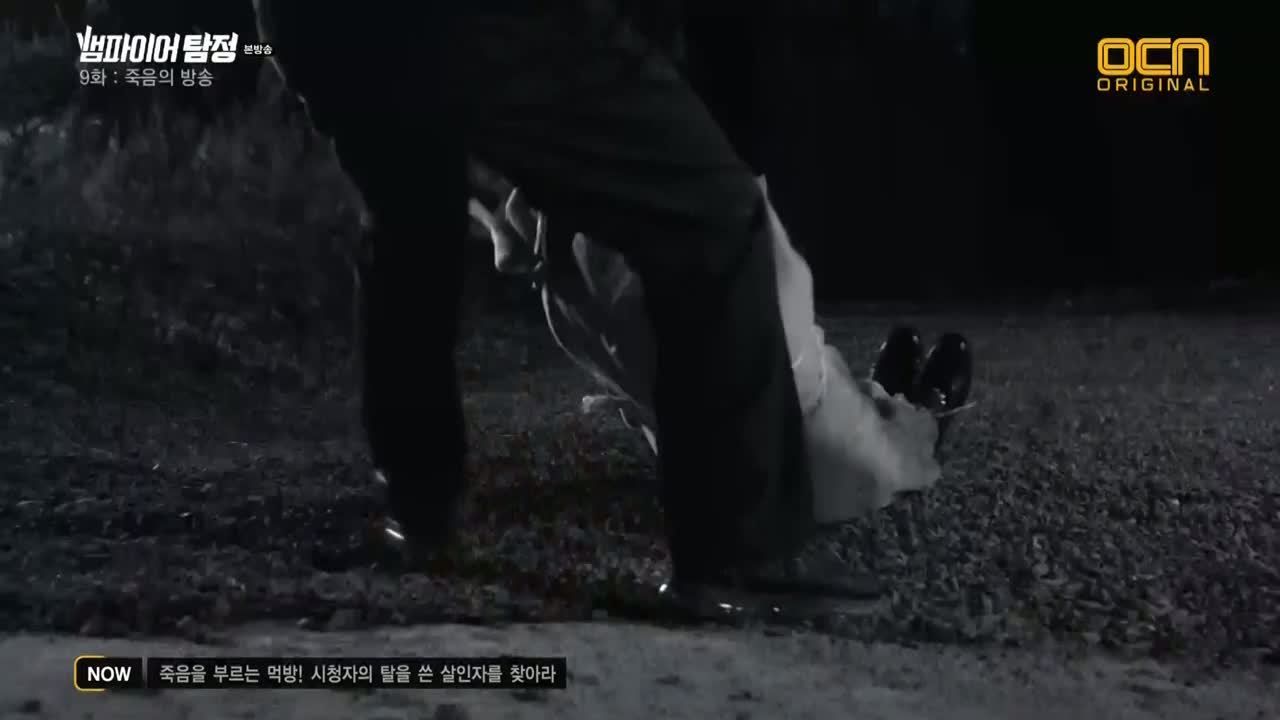 Judizzang points San and the others to the door outside, where there's another spot of blood. San envisions a pair of bound feet, a body being dragged away into a nearby building. Gu-hyung definitely sees that San's eyes are still yellow, so he distracts Detective Park.
Im PD gathers everyone else together again, but Gyeo-wool notices that someone else is missing—Wook's father. She calls Gu-hyung to let him know, and then San opens the door.
What awaits them is a harrowing sight: a body wrapped up in flames, and Wook's father bound and gagged in a chair. Wook's father lets out horrified screams, identifying the flames as the Chairman.
San wears a dark expression when he rejoins the group. He sits down with Wook's father, demanding to know the truth. But San puts on the bag that supposedly covered Wook's father's face, then reveals that he can't see anything through the fabric.
San asks how Wook's father knew it was the Chairman, to which the man says he heard his voice. Of a user he's supposedly never met before? Curious.
With that San reveals that he could see that the victim would be covered with blood, but Wook's father is clean. San: "Whose blood was that? Did you kill [the Chairman]?"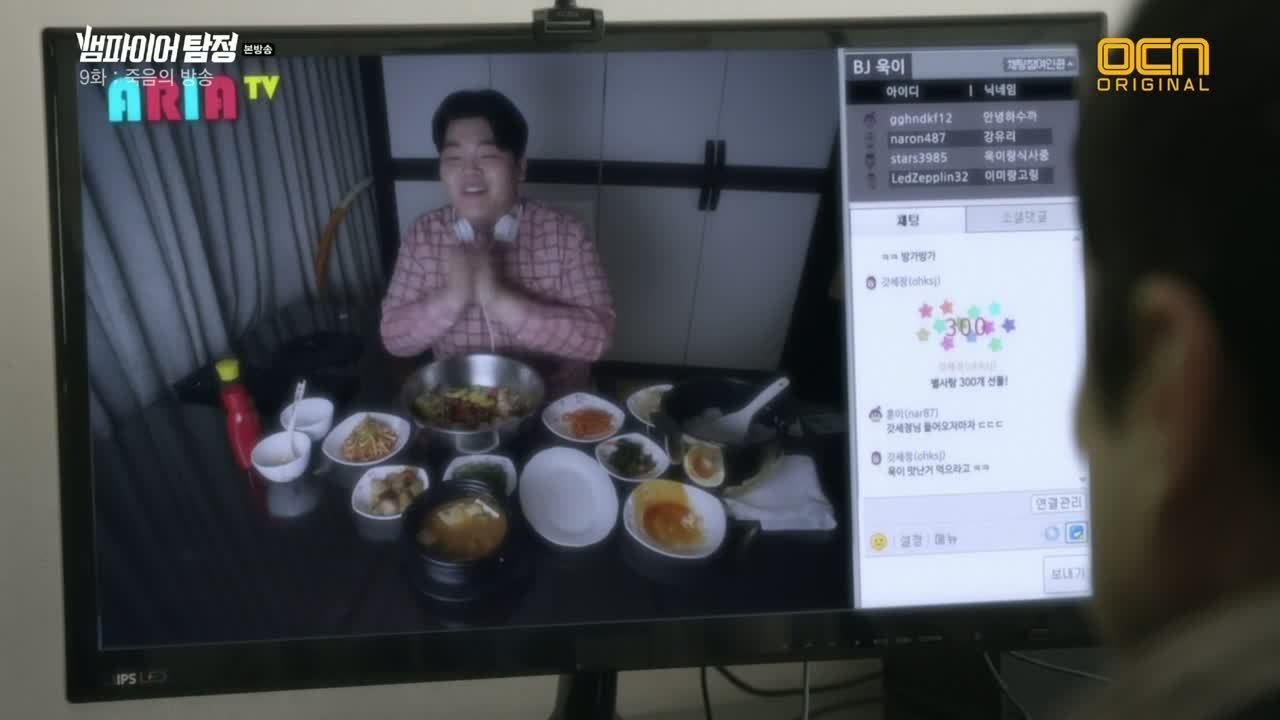 Wook's father rises in his seat in protest, but San says he noticed the taxi parked outside. He must've stowed the Chairman's body in the trunk and dragged it into the storage building. San asks again why Wook's father killed the Chairman, and the man breaks down in tears.
Soon after Wook died, his father returned to an empty home, imagining how he'd scolded his son for being cooped up in his room. Rewatching one of Wook's broadcasts had taught him that these livestreams had helped Wook cope with his loneliness.
Somehow, he had tracked down the Chairman after a night of drinking and waited for him in his taxi. All he wanted was a sincere apology at first, but the Chairman had refused, placing the blame on him instead for being an absent father.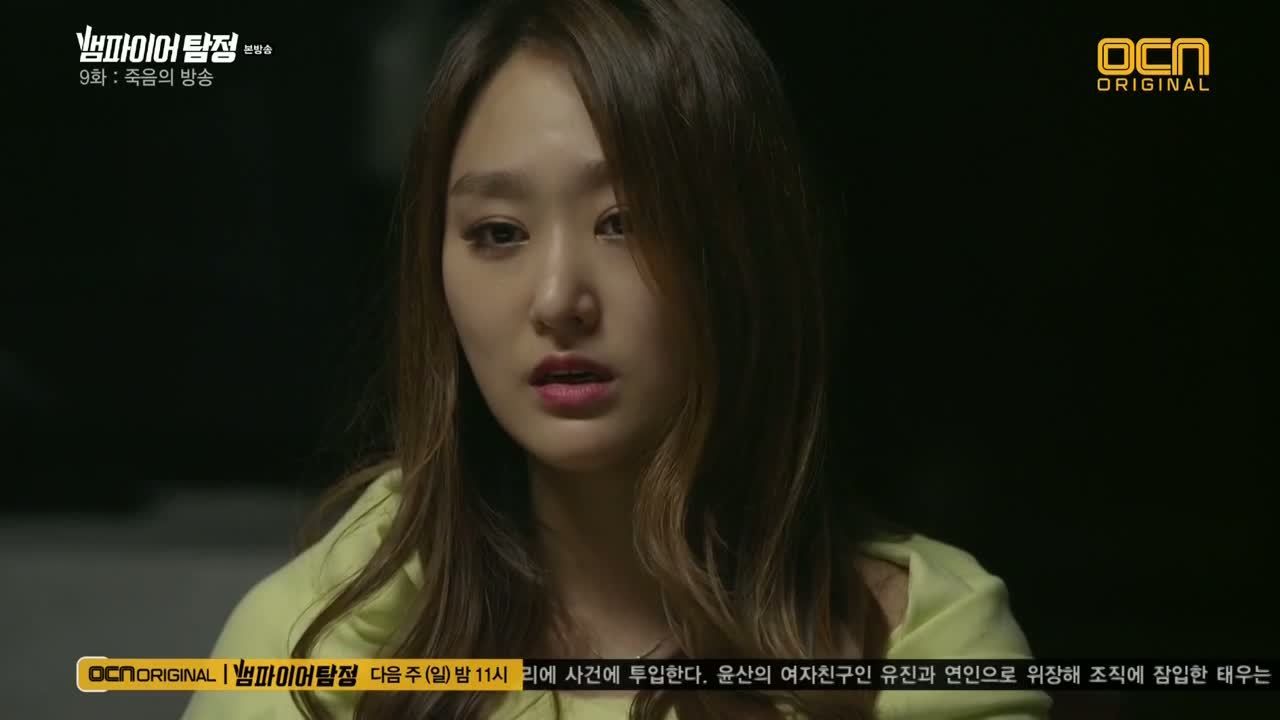 Those words pushed Wook's father over the edge, and he stabbed the man with a screwdriver in his glove compartment. It was too late when Wook's father came back to his senses, and Wook's father is still sobbing when Detective Park cuffs him.
But it's not over yet—San wonders how Wook's father was able to find the Chairman so easily. Someone had to have tipped off Wook's father, and San looks to Judizzang.
San explains how the angle of her cut suggests it was self-inflicted—which he probably saw in his vision as we do in flashback now. She confesses that the rumors were true; she met up with the Chairman.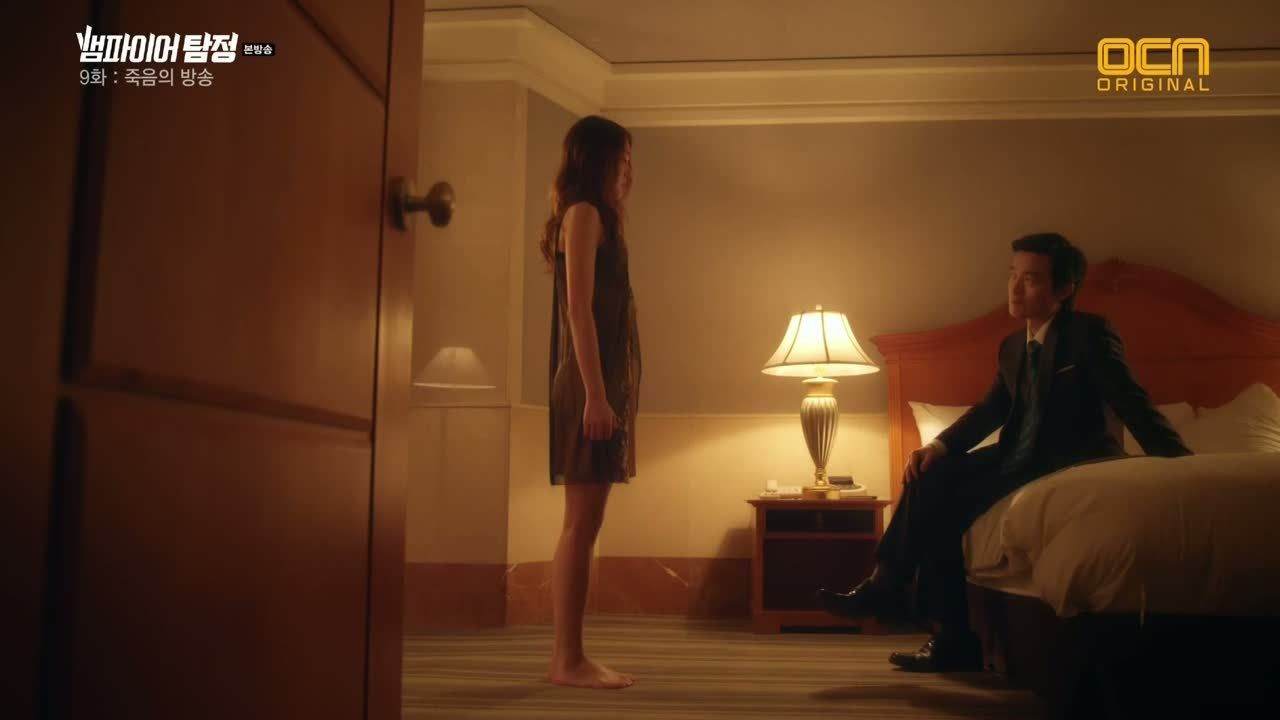 The Chairman had lusted after her, which left Judizzang feeling disgusted. Determined to take revenge against the man, she'd told Wook's father who the Chairman really was. Detective Park takes Wook's father away and asks Judizzang to come with them.
San gets an unknown call, but there's only silence on the other end when he picks up. It's Yoo-jin in a phone booth, and she listens to his voice for a few seconds before warning him: "Yoon San. Be careful."
He's shaken, and she hangs up. San tries calling back again, but there's no answer.

COMMENTS
If I had a dollar for every time Vampire Detective used a phone call as a cliffhanger, I could buy myself a bottle or two of the "wine" on this show. But then again, it's not every day you hear from your supposedly dead girlfriend.
Despite more conversations giving us a glimpse into Yoo-jin and Tae-woo, my questions about them remain the same. It seems Tae-woo has been a vamp for a long time now, perhaps from their university days, and his choice of words suggests that he doesn't regret living as an undead creature. Whether Yoo-jin is a vamp herself remains to be seen, but it would make sense in order to explain how she survived the car crash. It's still a mystery why she's been intervening in little ways when it comes to Yo-na, and just how both she and San fits into this overall mystery.
It's also hard to gauge how much Tae-woo knows about San's newish vampiric status. I wouldn't be surprised if he thought San was still human because by all accounts, San seems like a normal human. That is, apart from the non-eating, as Gyeo-wool so astutely pointed out in this episode.
Which brings me to Gu-hyung, who definitely knows of San's vampire abilities. It still frustrates me that these important conversations regarding our hero happened off-screen, though I did still appreciate how Gu-hyung subtly picked up that his buddy was still in vamp-o-vision. I think it's safe to say that San is past the window of time for any negative side effects to his hybrid status to appear, although we still have enough episodes ahead of us for that to be used as a viable plot point.
This week's case casts a gloomy light on a booming internet trend of livestream, where thousands of users will tune in live to watch someone entertain them. And while the basic concept is entertainment, this episode also presents the flipside to the feature, to the sad and often dark reality for the hosts and viewers. For people like Wook, a livestream was the only opportunity not to feel alone, and for others, a chance to earn a decent living through digital currency or just internet exposure. But then we also see the range of users in viewers, from fans to perverted old men like the Chairman who don't have an ounce of sympathy for the people on camera. Which goes to say that the internet is a double-edged sword, where different uses brings with it different endings. Here's to hoping for more people like Gyeo-wool, who can keep hacking the system for good to fight evil.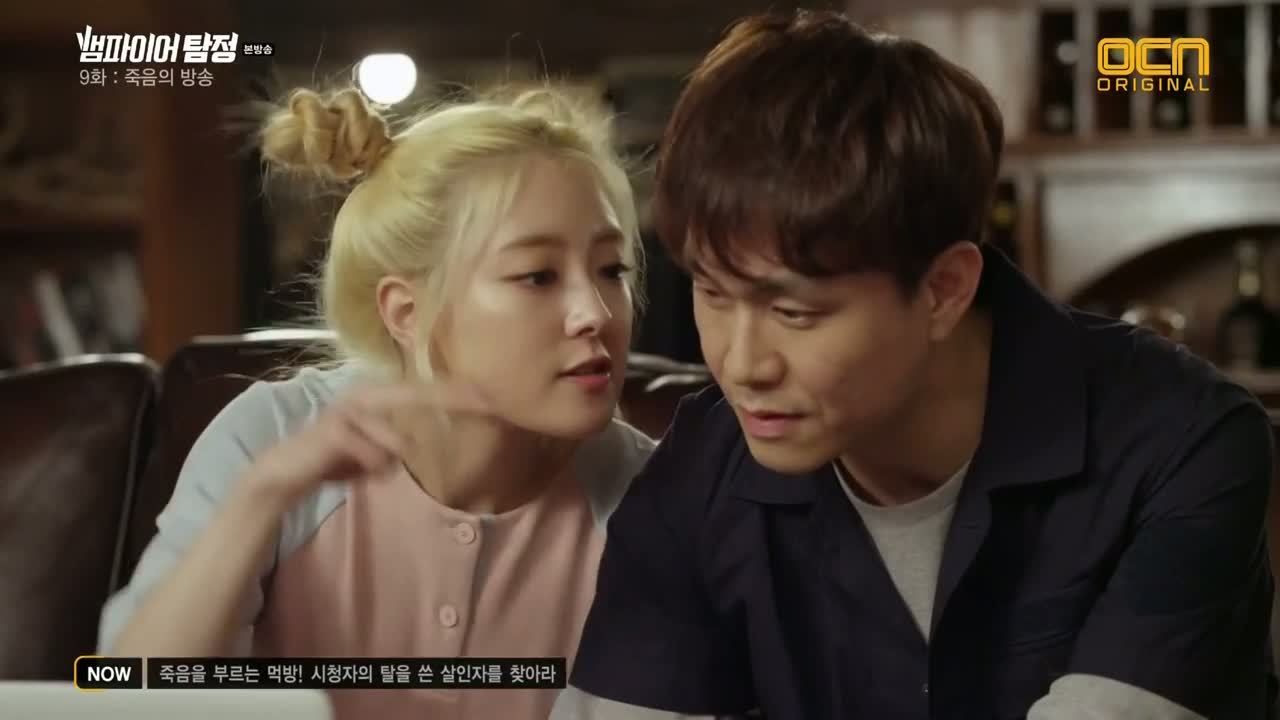 RELATED POSTS
Tags: Episode 9, featured, Lee Joon, Lee Se-young, Oh Jung-se, Vampire Detective