Youths Over Flowers bros Jung Woo, Kang Haneul consider movie reunion
I'm always a sucker for real-life bromance carrying over into fiction. Some of the cutest Youths Over Flowers in Iceland bromance moments came from Jung Woo (Himalayas) and Kang Haneul (Like for Likes), who had become friends after co-starring in the folk band movie C'est Si Bon together. They just had a really cute doting hyung/adoring dongsaeng relationship that seemed genuine, so I'm excited for the prospect of them reuniting for another movie.
They're both considering a film called Retrial, a human drama based on a real-life murder case that brought to light some shamefully corrupt practices in the prosecutor's office and a local police department. In 2000, a taxi driver was stabbed multiple times at an intersection in the town of Iksan in Jeollabuk-do, and a young man who came forward as a witness was arrested as the prime suspect. At the time, he insisted that someone else had committed the crime, but police officers beat and tortured him until he gave a false confession. In the end he was sentenced to ten years imprisonment, and he was 15 years old at the time.
In 2003, the police investigated a tip that the real killer was still at large, and eventually arrested a man who confessed to the stabbing (which began as a robbery, when he got into the taxi intending to rob the driver), and an accomplice who had helped him escape the scene of the crime. The cops brought this to the prosecutor's office, who refused to bring charges against the men for lack of evidence. Because it would be embarrassing to admit that they'd sentenced the WRONG MAN to ten years in prison?! Is your blood boiling yet?
The witness who was falsely imprisoned served his entire term and was released in 2010. The case was finally approved for a retrial in 2015, when there were only two months left on the statute of limitations for the crime. But a change in the law — removing the statute of limitations on murder cases — came into effect just weeks before this case would've been forced to close. Notably, the new law applies to murders that take place on August 8, 2000 or later, and the taxi driver was killed on August 10, 2000.
Kang Haneul is up to play the wrongfully imprisoned murder suspect, and Jung Woo has been offered the role of the lawyer who defends him in the retrial. Ugh, they're going to make me cry, I'm sure of it. Directing is Kim Tae-yoon, of the heartwarming family movie Another Family.
Retrial plans to begin shoots in July. And just because: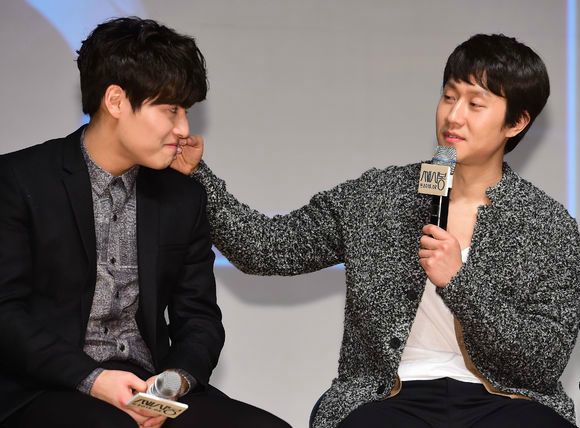 Via My Daily, Oh My News
RELATED POSTS
Tags: Jung Woo, Kang Haneul