52nd Baeksang Arts Awards: TV Section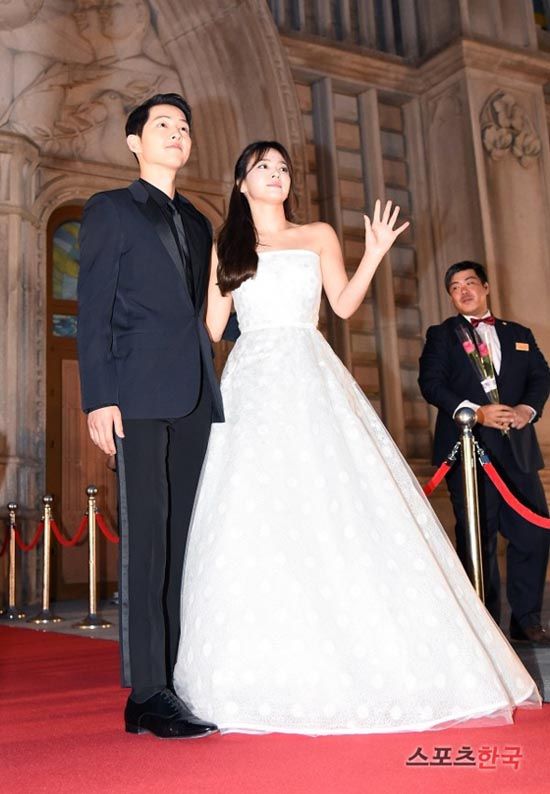 The 52nd Baeksang Arts Awards ceremony was held on June 3, 2016 to award the biggest projects of the past year in film and television. We're trying something new this year and breaking up the awards post into two sections, because these things just get insanely long, and we don't want anyone getting scrolling-induced injuries. And because the Baeksangs already split their awards into film and TV, that's how the two posts are divided. Here's the other half: 52nd Baeksang Arts Awards: Film Section.
The Baeksangs are among the most prestigious awards in film and television, and one of the rare ceremonies that actually looks at the entire drama landscape (including cable stations) when selecting its winners, which gives the trophies an industry cache that an end-of-year KBS/MBC/SBS award can't. Whether or not I agree with the winners from year to year, it's the set of drama awards that actually tries to award the best of the best, and that makes it the highlight of the awards season, even if it is the lone ceremony held in the spring/summer.
This year the Daesang (Grand Prize) went to a project rather than an actor or director — KBS's mega-hit Descended From the Sun walked away the big winner of the night, with its stars each taking home popularity awards and Global Star awards. I get why Descended was awarded, since that show was such a global phenomenon, though it kind of takes the steam out of tvN's Signal winning Best Drama… which kind of makes it second-best drama, which is just not true.
But hey, Signal's writer Kim Eun-hee won for best screenplay, and Kim Hye-soo took home the top actress award for her performance, so it got plenty of recognition. Yoo Ah-in won the top actor award over fellow nominees Jo Jin-woong, Song Joong-ki, Namgoong Min, and Joo-won, which was a bit of a surprise (I actually expected him to win in the film section instead); and Ryu Joon-yeol and Kim Go-eun each took home New Actor awards (yay!). I also clapped to see that King of Masked Singers won as best variety program, because I am inexplicably addicted to that show. Okay, on to the winners and the red carpet!

WINNERS LIST: TV SECTION
Daesang: Descended From the Sun
Best Drama: Signal
Variety Program: King of Masked Singers
Educational Program: Examination
Directing: Shin Won-ho (Answer Me 1988)
Top Excellence, Actor: Yoo Ah-in (Six Flying Dragons)
Top Excellence, Actress: Kim Hye-soo (Signal)
New Actor: Ryu Joon-yeol (Answer Me 1988)
New Actress: Kim Go-eun (Cheese in the Trap)
Variety, Male Performer: Kim Gu-ra
Variety, Female Performer: Kim Sook
Scriptwriting: Kim Eun-hee (Signal)
Popularity Award, Actor: Song Joong-ki (Descended From the Sun)
Popularity Award, Actress: Song Hye-gyo (Descended From the Sun)
InStyle Award: Park Bo-gum, Bae Suzy
iQiyi Global Star Award: Song Joong-ki, Song Hye-gyo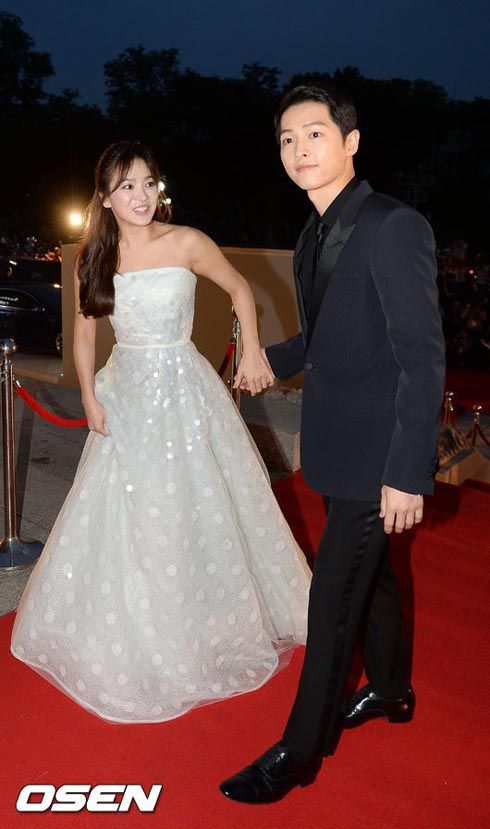 The night's big winners, Descended From the Sun's Song Joong-ki and Song Hye-gyo, who look about as perfect as can be in all-black and all-white. They look like they're arriving for their wedding, and the effect is flawless. Like we expected anything less, right?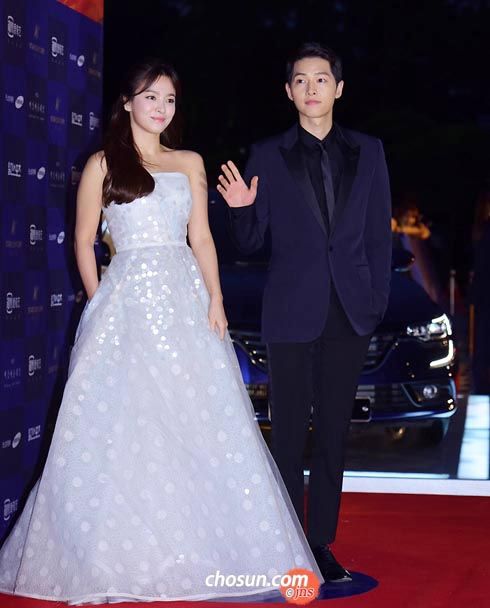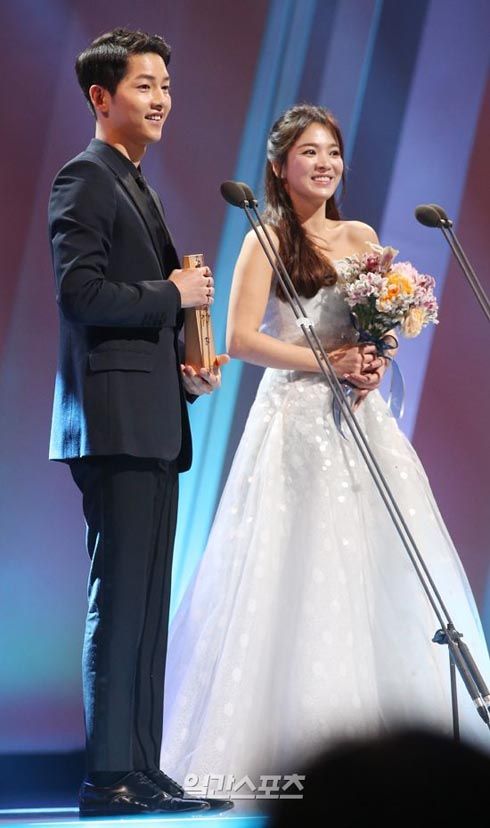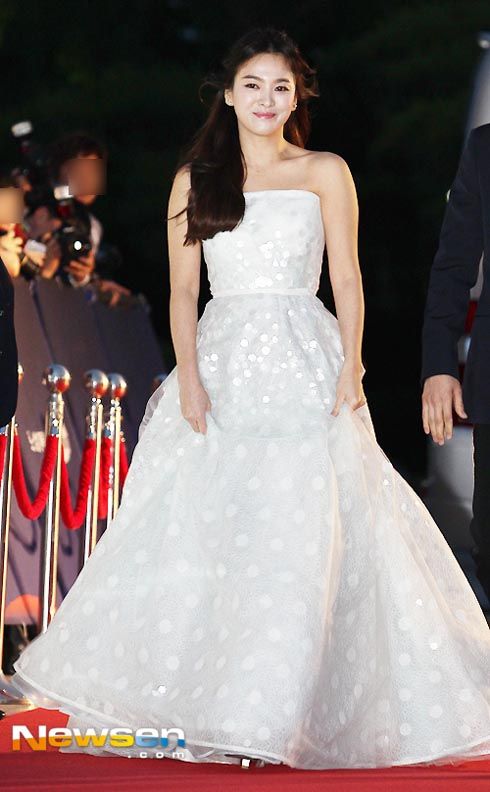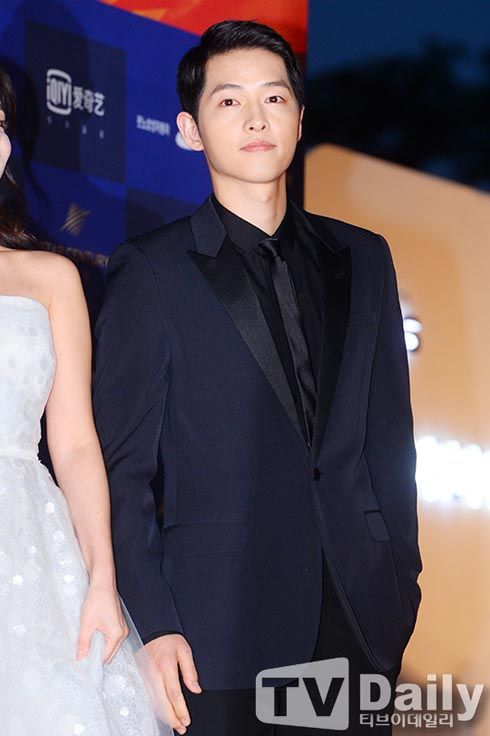 Yoo Ah-in bested his buddy Song Joong-ki for the Top Excellence award for his performance SBS's epic sageuk Six Flying Dragons, and looks fantastic. Sometimes I question Yoo Ah-in's fashion taste, but in a tux on the red carpet, he is always stunning. Between the Baeksangs and the Blue Dragons, Yoo Ah-in basically dominated film and TV this past year. Going off to army with one trophy for The Throne/Sado and another for Six Flying Dragons is pretty much like winning the lotto. Twice.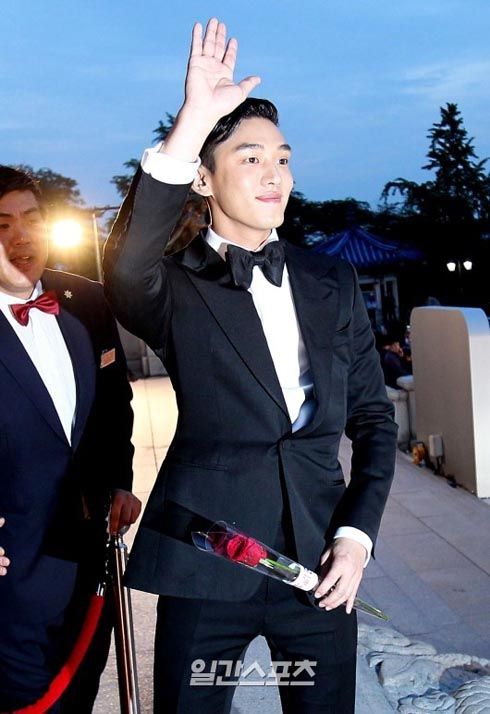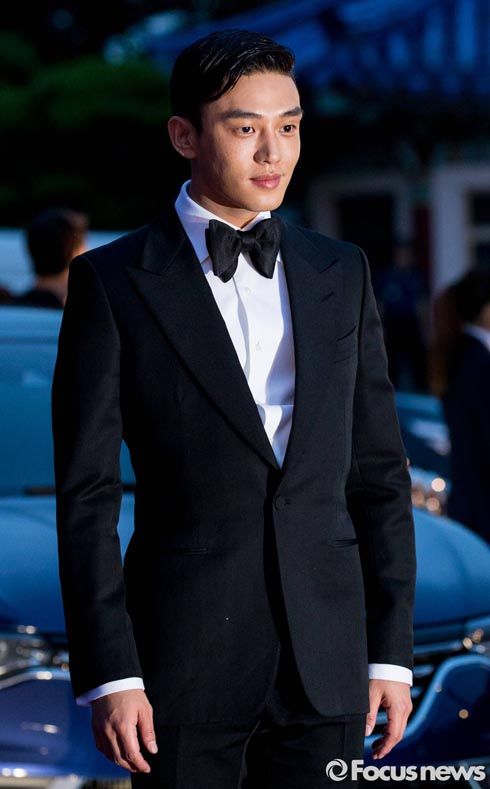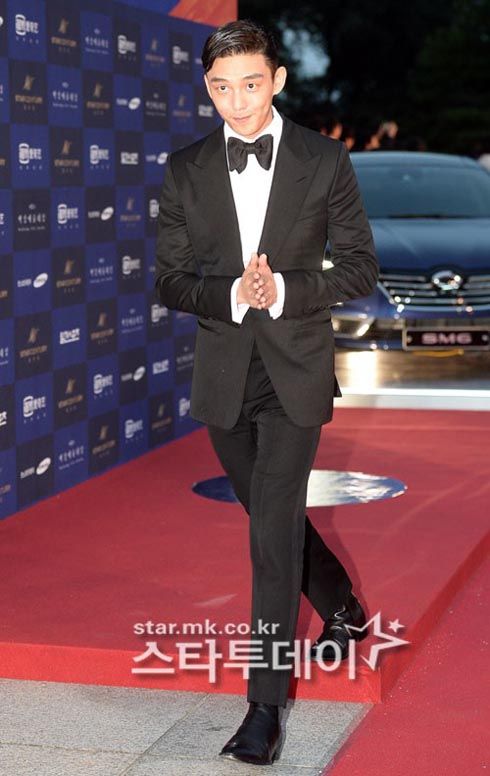 Six Flying Dragons co-star Byun Yo-han, who still insists on having that hair. I miss his scruffy warrior look, but I love him all the same. He was nominated in the New Actor category, even though he's not really new.
I'm frankly a little heartbroken that Jo Jin-woong didn't win Best Actor for Signal, because he was just so good. He was nominated in the film section as well, for his supporting role in Assassination, but didn't take home any trophies. There's always next year, and he'll probably have another fifteen projects to choose from by then.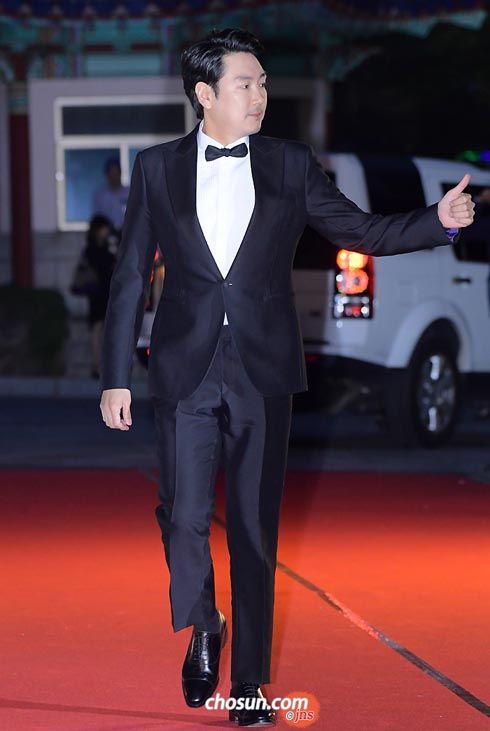 Kim Hye-soo went with a black mermaid gown and cape-jacket to pick up her Top Excellence award for her performance in Signal. I think I prefer her usual sexy va-va-voom dresses to this look, but I'm just happy she won in the category, because she was aces.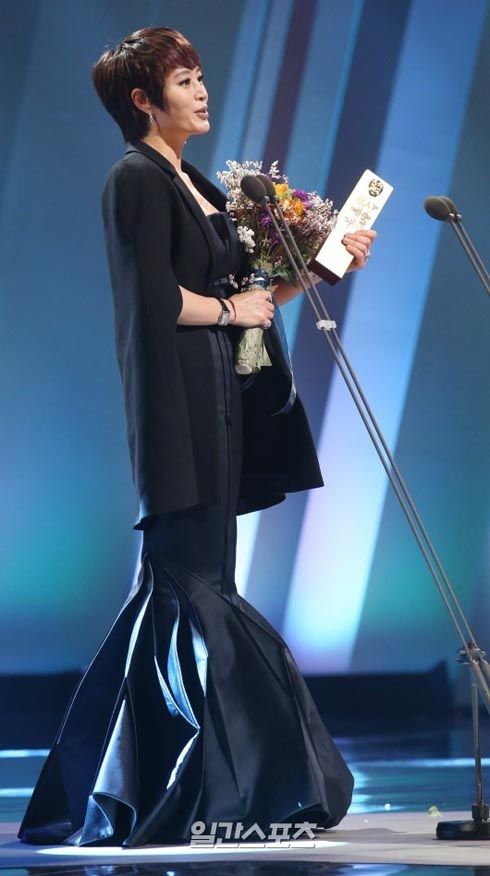 WHYYYYYYY, Kim Go-eun, whyyyyyy. You are so young and beautiful. Why are you wearing this frumpy dress, and with those shoes? It makes me sad because I adore her and I'm so happy for her win, but that dress needs to go.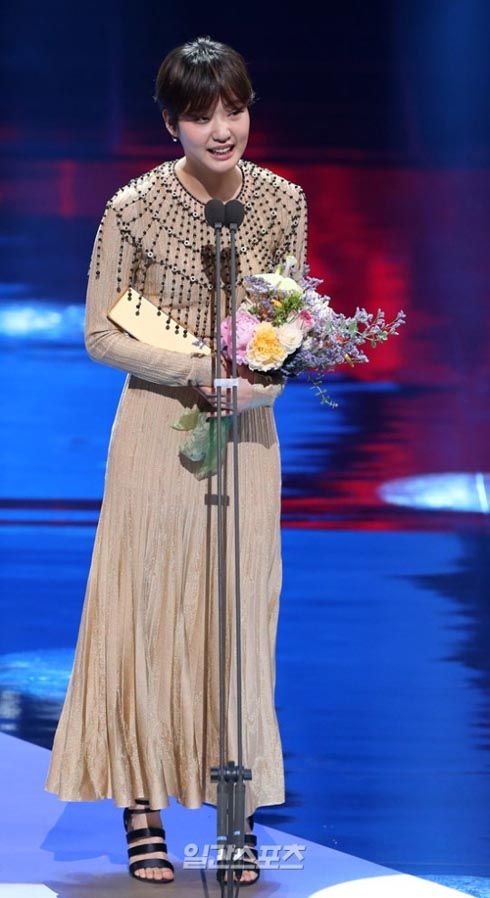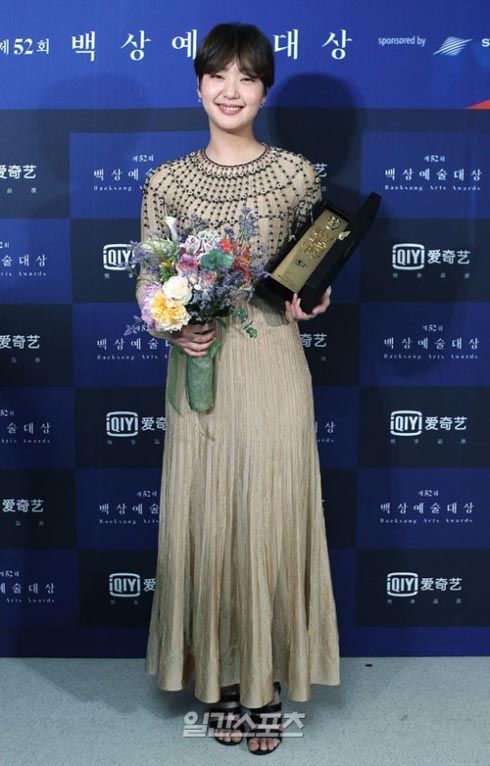 It's so cute to see Kim Go-eun's Cheese in the Trap co-star Lee Sung-kyung cheering for her win, especially when their characters were so antagonistic towards each other in the drama, and Lee Sung-kyung was a fellow nominee in the New Actress category for Queen's Flower. Lee looks stunning on the red carpet in a sheer white gown (with stars!) and a simple headband. Her makeup is perfect, and the overall effect is somehow sexy and sweet, all at once.
Joo-won was nominated for Yong-pal, and looks poised on the red carpet in a classic tux. Like he always does, every time. I think I prefer his hair coiffed up though, because those are the times I look at his photos and go, "Woooooooooow."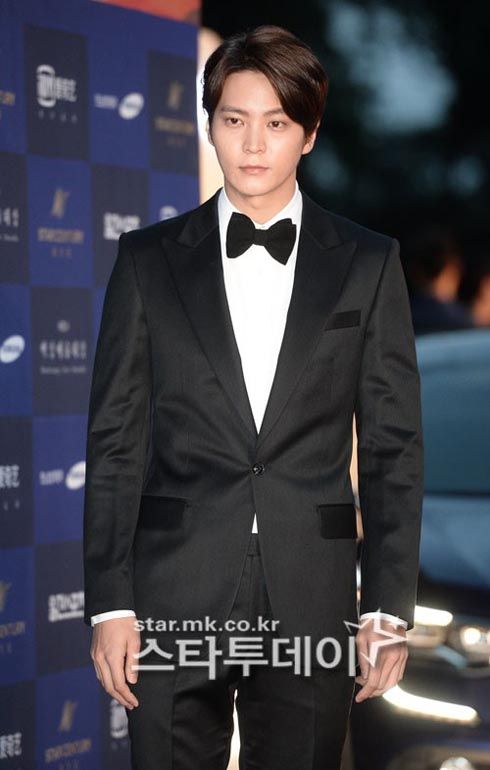 Hyeri was nominated in the New Actress category for Answer Me 1988, and looks pretty in a sleek ponytail and white gown. I don't love the dress — it's nice, and it fits perfectly, but there's nothing special about it. I want to see her in red, or yellow, or pink, to suit her sunny personality.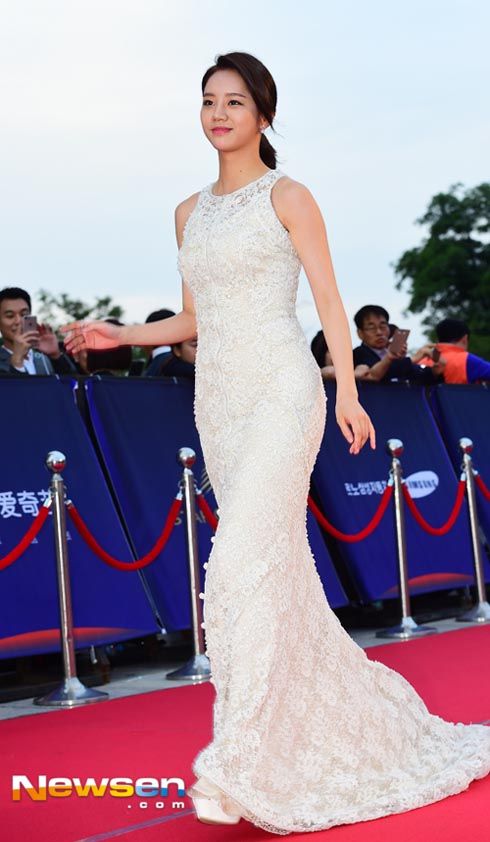 Park Bo-gum looks like he's adopting Lee Jung-jae's style of fancy red carpet jackets, which is certainly fine by me. He was also nominated in the New Actor category, though his was actually for the movie Chinatown. It just seemed weird not to include his photos with the rest of the Answer Me gang though, since they're kind of a set.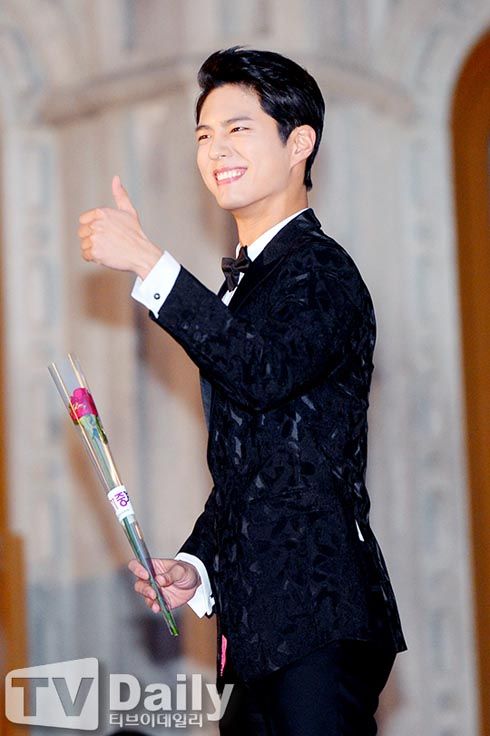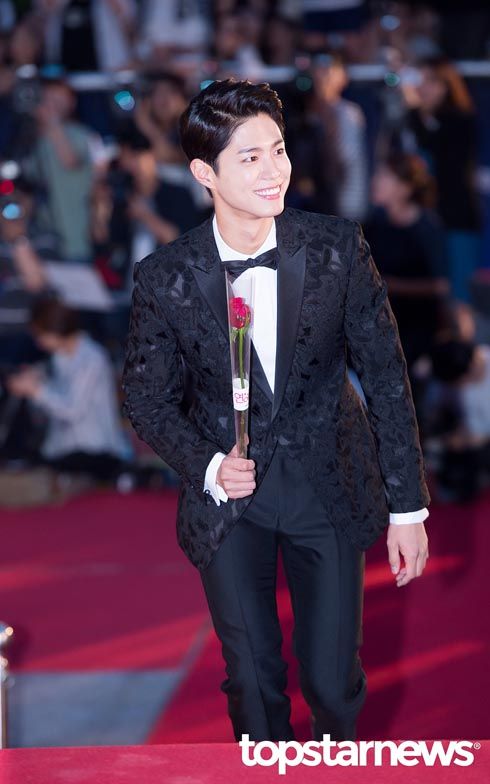 Ryu Joon-yeol took home the New Actor trophy for Answer Me 1988, and looks adorably awkward in his photos. The moment his name was announced is my favorite shot though, with his co-stars all cheering and hugging around him, and Mom Ra Mi-ran standing by proudly like she's about to cry. Love.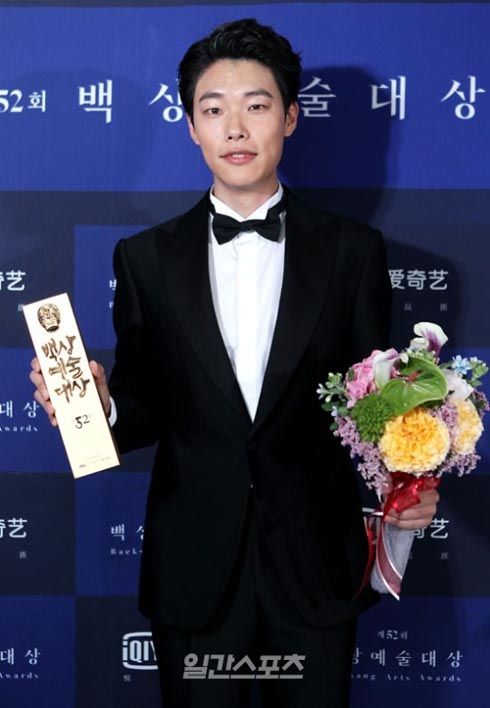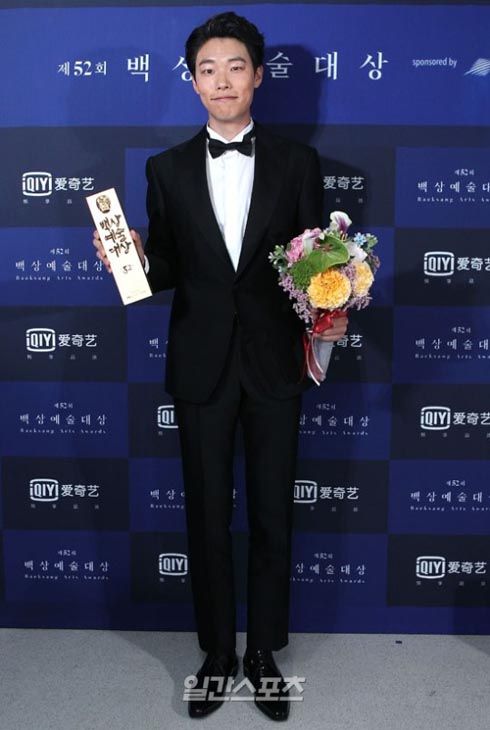 Go Kyung-pyo, what is that on your head? Did you lose all your hair in a freak accident and paint some on with a spray can just before the ceremony? He was also nominated in the New Actor category for Chinatown alongside Park Bo-gum.
Lee Dong-hwi (nominated for New Actor, Answer Me 1988) is his usual eccentric self. He's wearing a cummerbund, but the effect is actually like he managed to turn a tux into high-waisted ajumma pants. It seems like the kind of thing he'd do on purpose though.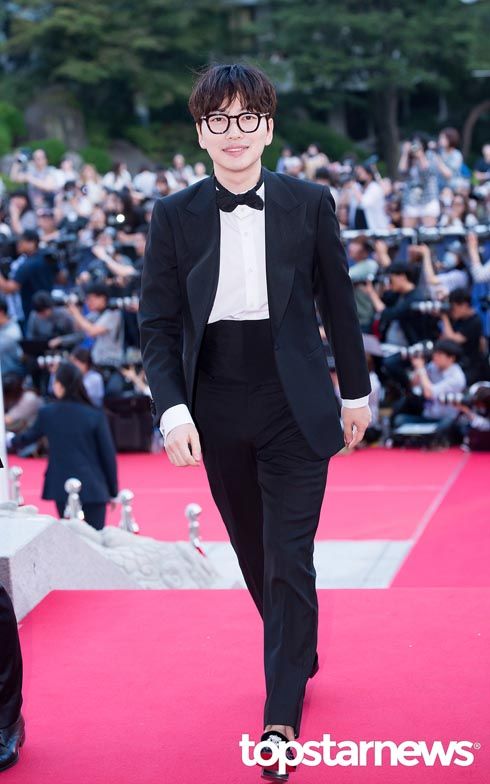 Aw, Ahn Jae-hong looks so dapper! I love this. He had to wear the frumpiest outfits of all the kids in Answer Me 1988, but he cleans up so nicely. The navy tux is my favorite of the night.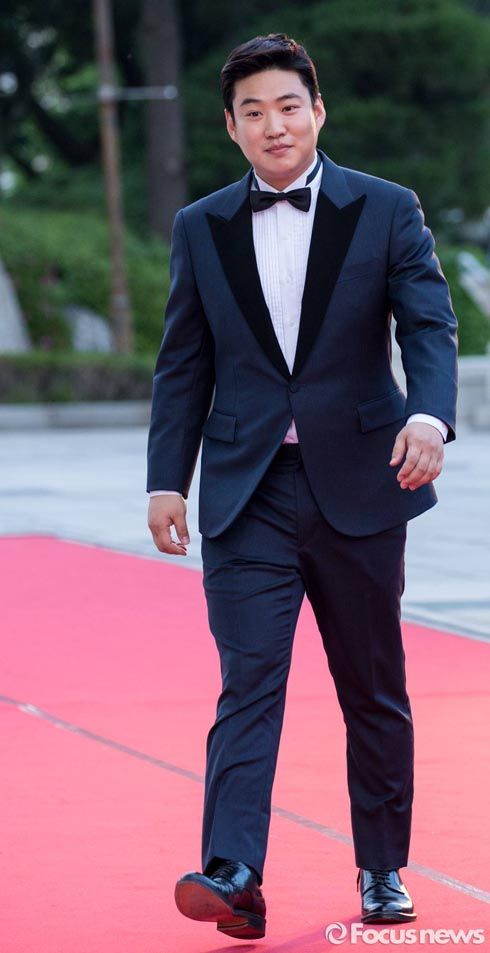 Lee Jong-seok, who'll be back with fantasy drama W—Two Worlds later this year, came to present an award alongside Chinese actor Wu Xiubo (Finding Mr. Right 2).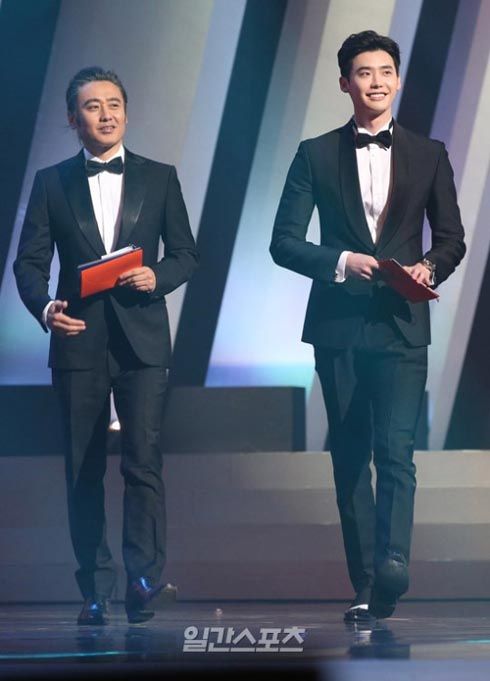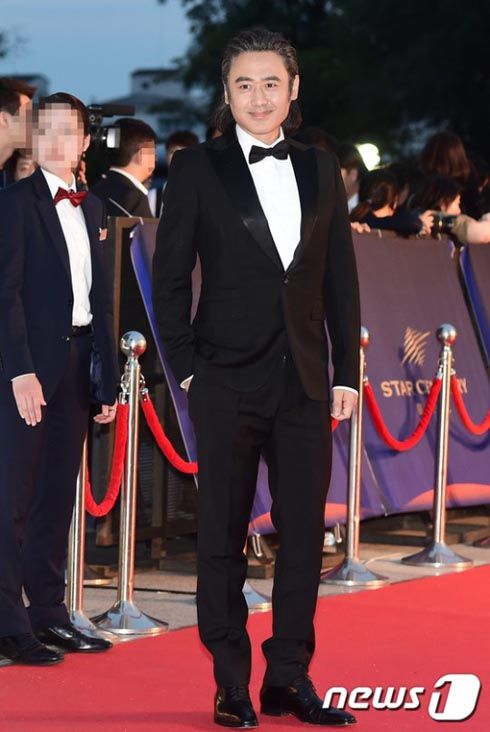 Kim Hyun-joo was nominated for Best Actress for her SBS melodrama I Have a Lover. The sleek, sexy black dress is a great look for her; I love the blingy detailing and the cut.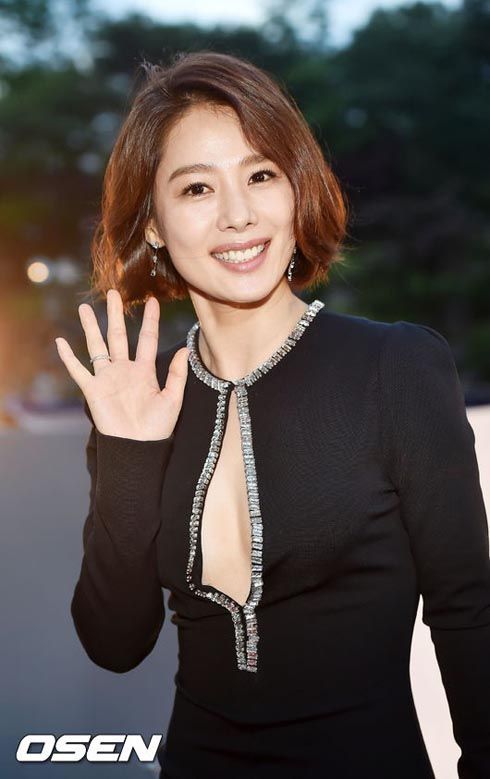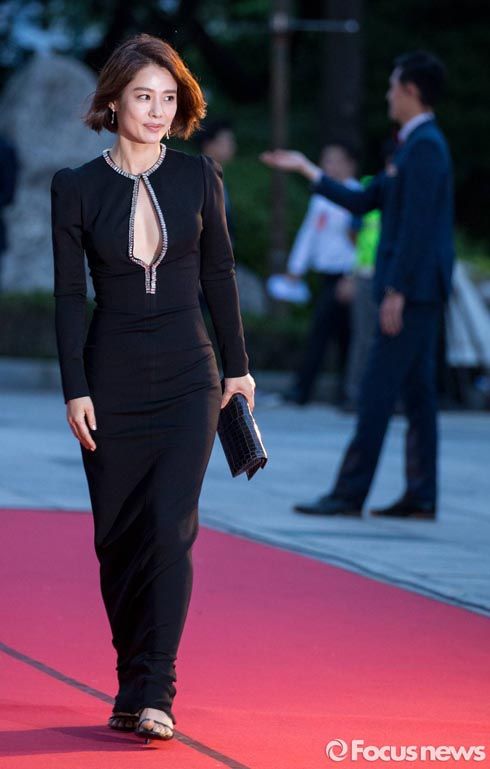 Kim Min-seok (Descended From the Sun) looks like an excited kid at a candy store. It's probably his first red carpet, and it's so cute to see him giddy and nervous.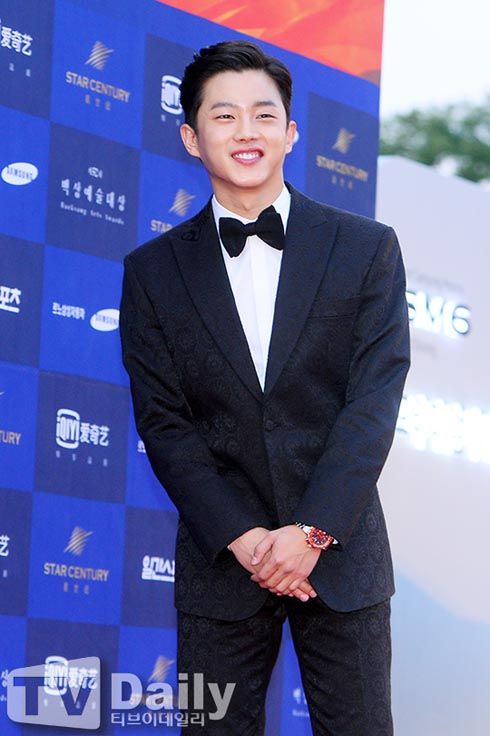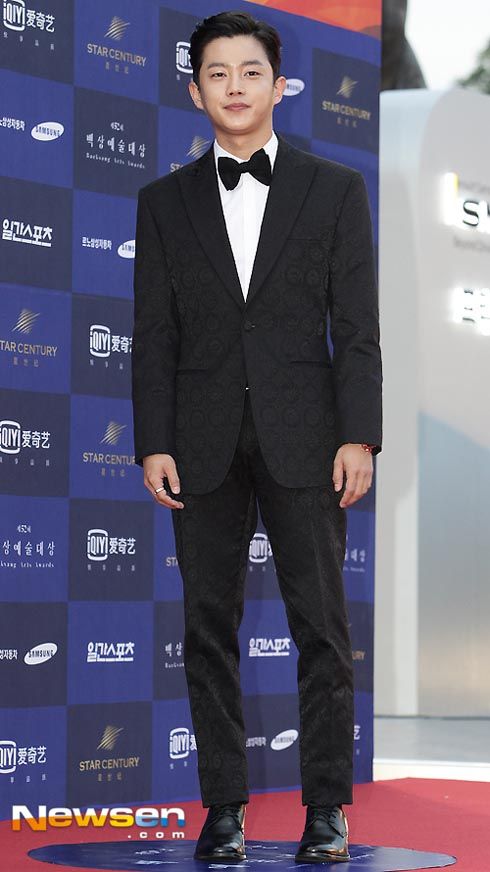 Gong Hyun-joo (Falling for Innocence) looks nice, though underdressed for the event. It seems like an outfit you'd wear to a friend's wedding in the daytime. She presented an award with Lee Ki-woo (Memory). I just want to comb his hair out of his face.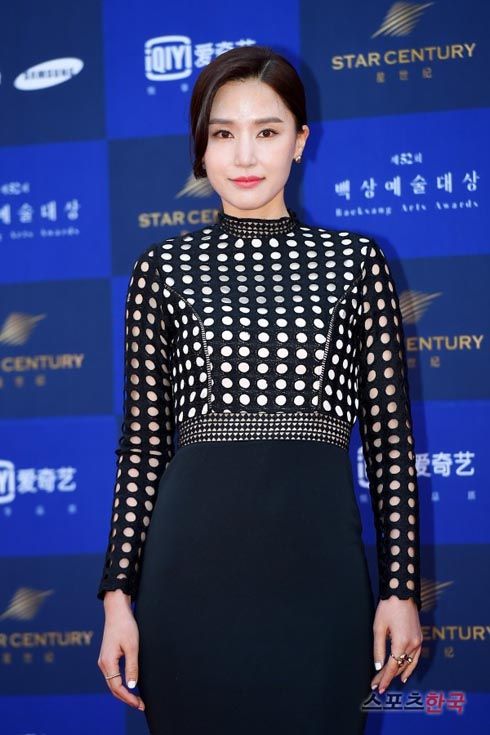 Comedienne Hong Yoon-hwa looks adorable, though the outfit looks more like it's for a tween. Cutesy seems to be her concept all the time though.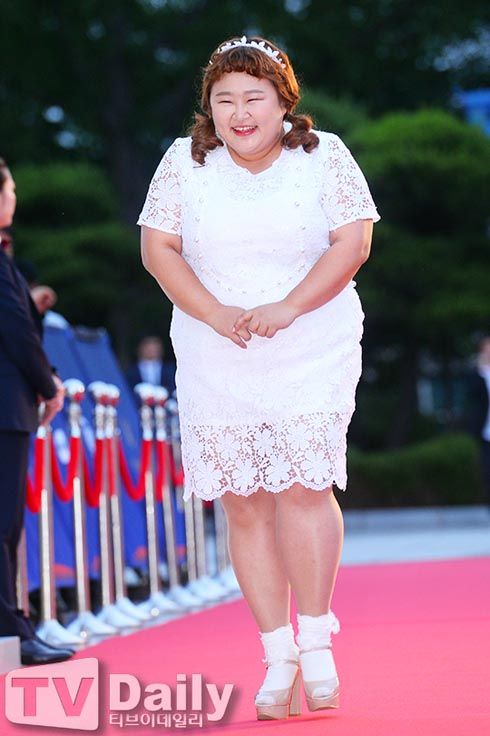 Fellow gagwoman Jang Do-yeon mugs for the cameras. Repeatedly. Somebody likes attention.
Variety mainstay and nominee for Male Variety Performer Jung Jun-ha, looking awkward on the red carpet:
Kim Sook, who won the Female Variety Performer award, with Male Variety Performer nominee Yoon Jung-soo. Thumbs up for both of their outfits. She looks especially good in the sleek black dress.
Gagman Kim Young-chul, who was also nominated, making that face he always makes:
Another comedienne and nominee, Oh Na-mi, whose dress looks pretty in motion but sags in weird places when standing still.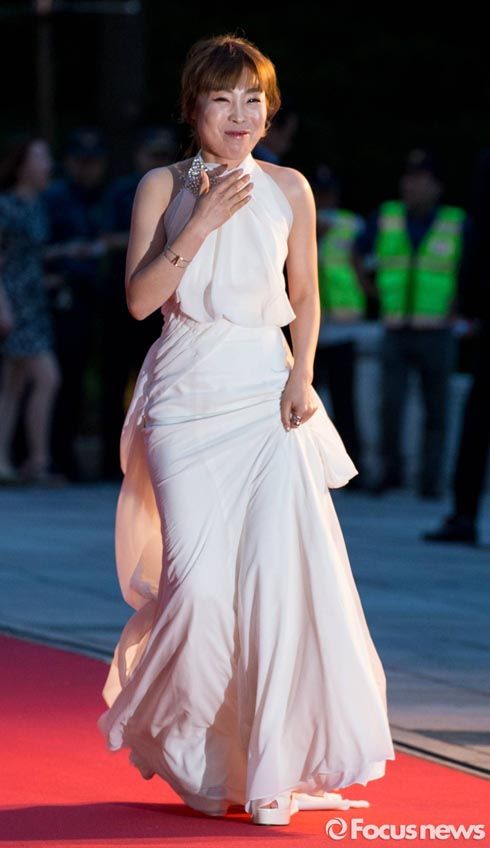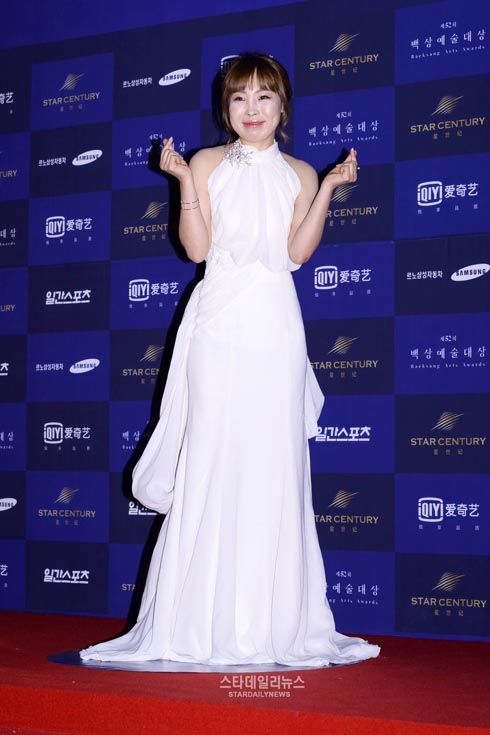 Fellow variety nominee Park Na-rae opts for a vampy look, which I don't think works in her favor. It's all wrong, and I really wish that lipstick color had stayed in the 90s.
Kwak Shi-yang (Mirror of the Witch) looks underdressed, but at least he's got a winning smile and a great strut.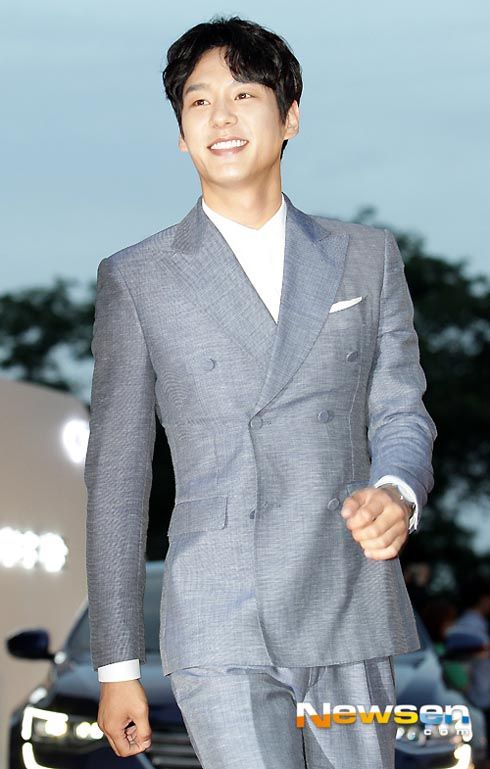 Park Ha-sun (Temptation) always chooses a similar pastel/white innocent look for the red carpet. So it's not particularly exciting, but this one happens to look absolutely gorgeous on her.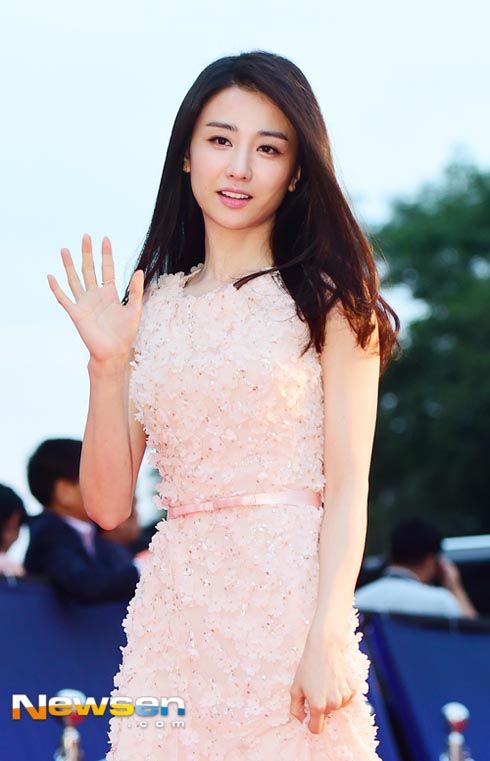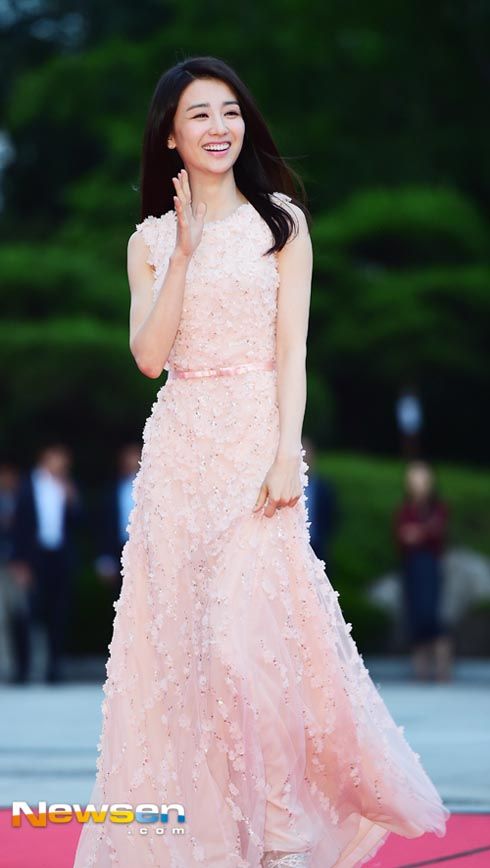 She presented an award with Yoon Park (Come Back, Ajusshi).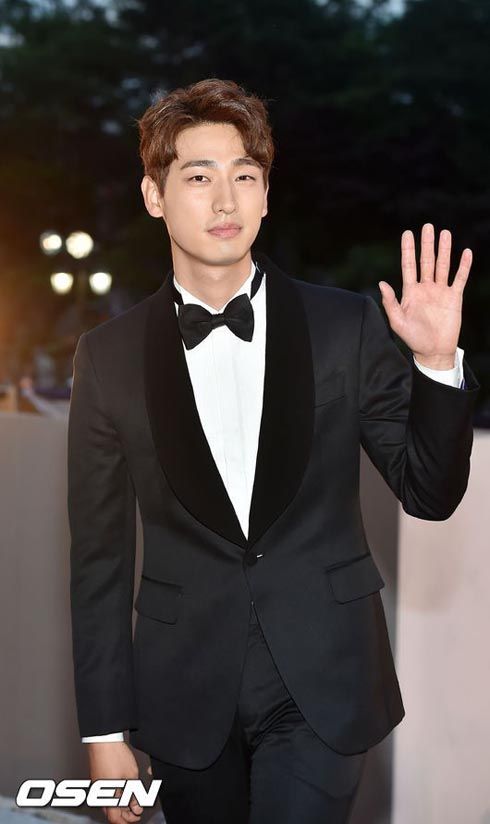 And last but not least, Yook Sung-jae, who was nominated in the New Actor category for Who Are You—School 2015. I'm sad that he keeps turning down dramas. But it must be because he's searching for the perfect role, right? You can be picky when you're older! Come back soon, Yook Sung-jae!
Via Joongang
RELATED POSTS
Tags: Ahn Jae-hong, awards, Byun Yo-han, Go Kyung-pyo, Hyeri, Jo Jin-woong, Joo-won, Jung Jun-ha, Kim Go-eun, Kim Hye-soo, Kim Hyun-joo, Kim Min-seok, Kwak Shi-yang, Lee Dong-hwi, Lee Jong-seok, Lee Ki-woo, Lee Sung-kyung, Park Bo-gum, Park Ha-sun, Ryu Joon-yeol, Song Hye-gyo, Song Joong-ki, Yoo Ah-in, Yook Sung-jae