Beans of Wisdom from under the sea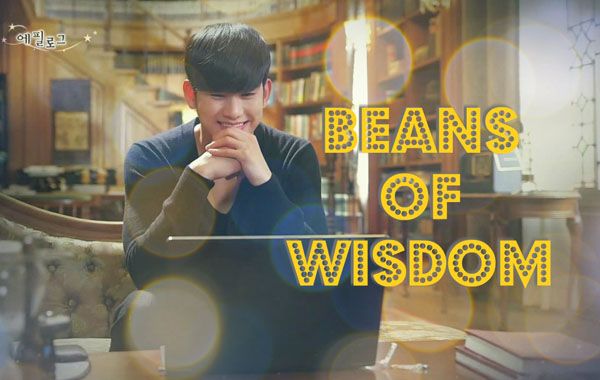 This week in Beans of Wisdom…
It may just be a preference thing, but I'd rather not have more tragic Little Mermaids in dramaland. So in comment #1 of "Jeon Ji-hyun, Lee Min-ho team up in new SBS drama Legend of the Blue Sea," I hoped for a fresh twist to the story:
Nooooooooooooooooooo. Not the sad Little Mermaid, please.
*remembers Surplus Princess* *visits Drama Cemetery and lays another flower on its grave*
(But wouldn't it be awesome if Lee Min-ho is the mermaid this time around?)
Wise beanie YY responded with a beautiful piece that captures the hypothetical scenario:
This is the theme song of the drama. Lee Min-ho will sing it, poised on a rock, to the tune of "Part of Your World".

Look at this chest, isn't it neat?
Wouldn't you think my abs collection's complete?
Wouldn't you think I'm the guy
The guy who has everything?
Look at this bod, treasures untold
How many wonders can one abdomen hold?
Looking up and down me, you'd think
Sure, he's got everything
I've got six-packs and abzmos a-plenty
I've showered so much till my veiny biceps glow
You wanna see my manboobs?
I've got twenty
But who cares? No big deal. I want more
there's even a part two:
Hi guys, continue singing…

I wanna be where the beanies are
I wanna see, wanna see 'em typin'
Clatterin' around on those
Whaddya call 'em? Oh, keys
Flexin' your abs, you don't get too far
Tan's required to get 'em all chocolatey
Oilin' along down the
What's that word again? Ribs
Up where they bulge
Up where they grunt
Up where they bask all day in the sun
Wondrously free, wish they could be
Part of your world
YY's friend jomo chimed in with her own familiar composition in comment #1.3.18.21:
You know, it has been a while, but I can play:

Theeeere you see them
Glowing there across the way
They don't got a lot to say
But there's something about them…
And you so know why
Cause you're dying to try
You wanna kiss the abs
Yes, you want them
Glistening the way they do
Sure as hell they want you to
There is no need to ask them
It don't take a word
Not a single word
Go on and kiss the abs.
I wonder what jomo and YY do when they're hanging out. Write sonnets about kdramas, probably. Then wait to bless us with their witticisms in the comments. DramaOmma spoke for all of us when she replied:
OMG. That was the best thing I've scene on the Internet in my whole life. You win for eternity!
When the beanut gallery turns into a war zone, it's difficult for those who just want to talk about the plot or sing Disney songs about abzmos to have a "healthy discussion". Wise beanie Gidget suggested a way to manage things in comment #2.1.1.1.3:
Couldn't the commentpalooza be managed by – at the end of the recap where the comment section normally starts – putting links to a:

Recap discussion
Where: It's all about the drama.

Shipper/bias hangout
Where: It's about loving what you love.

UFC Anti hangout
Where: Its great to be e a troll but not cool to be a troglodyte.
Commenters enter at their own risk and spectators bring their own popcorn.
Heads must've used up all her Good Drama Luck on Six Flying Dragons this year, because if the comments in "Jackpot: Episode 19" are any indication, the story is getting more fun (for us, not for Heads). Just look at #1 by Lord Cobol:
Seems the plot has more holes than Dam-seo and Prince Yeonryung. But it's still watchable.
mIRIAd says in #4.3 that the Norons and Sorons have finally achieved unity:
I think the ministers belong all to only one faction – Morons. In fact this is the only party existing in Jackpot's universe. Otherwise Yi In Jwa's getting away with everything cannot be explained.
In "Mirror of the Witch: Episode 5" comment #35, chi seems to be mixing up shows:
The moment the crown prince woke up and said he was hungry, I was thinking Everyone save themselves, he's a zombie. He's going to eat his mother any minute now.
Good instincts, chi. Can I join your group in the apocalypse?
When Viki's Dramaworld ended, so did its drama-within-a-drama, Taste of Love, and not in a sane way. In comment #5 of "Dramaworld: Episodes 7-10 (Final)", earthna's first thought is for the poor fictional fans who watched the fictional show:
I can't help but think about the actual viewers of Taste of Love back in the real world. I bet they're like WTF, screw this writer.
Manin imagines a setup that sounds familiar…
Haha somewhere there is a blogg for those viewers to complain about the writer and PD doing unlogical things and ruining a good drama.
Manin's theory in comment #6 gave her a headache. It gave me a headache, too. So of course I have to share it with everyone:
In the end, the biggest twist of Dramaworld would be that Claire is in fact from a drama of her own. (or her own drama within the drama if you will).

I mean look at her own cliches:
-girl bored with repetitive life ends up sucked into a device to save "the drama".
-ends up trying to help, screwing everything up
-unites with the characters to fight the "evil intruder" to set the story right.
-ends up back in the real world, just to re-meet the hero.

I'm sure I saw more than one movie following this plot progression. Besides, was it ever established how the portals between different dramaworlds actually worked? Or how Joon could then end up in the real world?
(I think my brain hurts from overthinking this….)
"Vampire Detective: Episode 10" was so good, it inspired Mk to write like a food critic in comment #3:
Do you ever sit in front of a meal that looks and smells amazing but when you eat it it's bland and the ingredients don't complement each other and suddenly you take one bite that's absolutely incredible and you just get mad because how dare this wasteful, poorly contocted dish have something so good in it, and you just want to throw the plate at the chef?

This episode was that bite.
I don't know how other beanies are still coherent by the end of "Oh Hae-young Again: Episode 9," but Tai must have amazing powers of concentration. In comment #5.1.1, she teaches us to be more forgiving of lesser kisses in kdramas by looking at other factors that affect such scenes:
now now i wouldnt go so far as to blame the actors for all the garbage kisses we get in kdramas. it can be the PDs fault too alot of the time, either in terms of direction or how they chose to film the scene. plus lbr cultural factors can play into it too and sexism. also let's not forget the Heirs thing where a male actor thinks its ok to "steal" a kiss from a female actor. (and i wish i could say thats the only time i ever heard that happening). which would ofc lead to awk or weird looking kisses.

DB should have a 10 best kdrama kisses lit sometime. there have been in other good ones, but none of them compared to this one for me cuz it was the most natural looking (plus no wacky camera angles or loud BG music) and the excellent build up to it. uwu
Meanwhile, in comment #14.5, soapbox makes a case for Other Hae-young and why some women resort to veiled barbs.
Aw I still like Pretty Oh Haeyoung. Pretty Oh Haeyoung reminds me of my mom lol. Her voice is like honey, but she sneaks in little digs disguised as compliments. It used to piss me off, but as I got older I started to understand my mom more. Women are taught to always be polite and never raise their voice, this was her way of voicing what she really thought without being confrontational or 'causing a scene', it's whatever. I like straight-forward women like Our Oh Haeyoung more, but I also understand women who can't be.
Blueribbon also gives us a sad look into Other Hae-young's life (#42:
While I don't completely hate the other Hae Young, yet, I have to agree that she can be very inappropriate at times with her comments, whether she does it on purpose or on accident. The thing is that I kind of feel bad for her too. Sure she gets a lot of attention, specially from men, but not all that attention has good intentions, because let's be realistic all they want is to take her to bed and I am sure she is aware of it. I am sure she loved Do-kyung, he was probably the first man that didn't see her as a piece of meat, that took the time to actually know her and to hear that recording where he said that he pitied her, understandably destroyed her.

I have a feeling that she actually is jealous of our Hae-young, actually the Jealousy between the two is mutual, it can be noticed by the way she talked about our Hae-Young's parents. The other Hae-Yong didn't exactly grow in a very stable home.

We see the things from our Hae-Young's point of view and she isn't exactly a reliable narrator, we only see what she went through in school and now because of her name and she always blames the other Hae-Young when it isn't entirely her fault. She sees her as the villain so we also see her as that. But who knows maybe things will change in the upcoming episodes.
In comment #15.2.1, Ane paints the story from Tae-jin's point of view.
Taking him out of jail does not make things right. Tae-jin has now a criminal record, a bad reputation, and living in shame because of something that he did not commit. Not to mention loosing the women he loves. In an alternate drama, Tae-jin could easily be the hero of a revenge story, and Do-Kyung would be the evil. No matter how Do-Kyung is angry at himself more than anyone, he should not show his aggression just like that. He has no right to even look at Tae-jin in the eye. His attitude looks shameless to me.
I vote we call that drama Goodbye, Mr. Black Again.
Based on their fight, Zah worries about Do-kyung's well-being in comment #30.1.1:
Also I would like to add, that the fight before the kiss was in character. Our female lead screams in people's faces and throws stones at windows when she gets angry. Do Kyung's anger issues have already been widely discussed.

Though I can't imagine what she will do when she figures out Do Kyung's hand in her cancelled wedding. Hope he's wearing a helmet when she confronts him.
Oshi:
Momma has first dibs.
PakalanaPikake:
Forget a helmet. He'll need a suit of armor for starters… and whatever gear vulcanologists wear. It ain't going to be pretty when Mount St. Hae Young blows…
In "Oh Hae-young Again: Episode 10," Callie teaches us to fear cherry blossoms in comment #20.1…
I was wondering why the cherry blossom petals have been so prevalent throughout the show, other than looking really pretty on screen. They definitely have some heavy symbolism that goes along with the themes of the drama.

The cherry blossom represents the fragility and the beauty of life. It's a reminder that life is almost overwhelmingly beautiful but that it is also tragically short. When the cherry blossom trees bloom for a short time each year in brilliant force, they serve as a visual reminder of how precious and how precarious life is.

The cherry blossom is fundamentally a symbol of love and joy. It is believed that the cherry blossom promotes love and spiritual awareness. But the blooming period of cherry blossoms are short, leading to an instantaneous flourish and sudden death. Besides its associated with mortality, they can also represent the graceful and readily acceptance of destiny and karma.

Sounds like our Do Kyung right? Note the petals falling on his bloody figure in his vision as well.
Wag_a_Muffin applies Ha Woo-jin's advice: Never. Trust. Anyone. in "Beautiful Gong Shim: Episode 5" comment #9.4.1:
So we will find out that for Jun Soo's first birthday, he, (as a one year old) schemed to have his half brother kidnapped? Wow, wouldn't THAT be a twist.
and YY agrees:
Thanks to you, Wag, I have now narrowed down my list of suspects to the cunning baby Jun Soo. Just knew there was something shifty about that baby face…
In "Young and in love and Uncontrollably Fond of each other" comment #13, Peach pinpoints what's familiar about the official poster.
Haha. That poster looks straight out of a new Nicholas Sparks movie. Not sure if that's exactly a draw for the drama tho, IMO.
Quick, find the kdrama poster in less than 5 secs!
yaya wants to give girlfriday an award in comment #40 of "52nd Baeksang Arts Awards: TV Section":
Girlfriday deserves an award too! Her comments are on point and hilarious.
She probably means this gem of a description by girlfriday:
Go Kyung-pyo, what is that on your head? Did you lose all your hair in a freak accident and paint some on with a spray can just before the ceremony?
I say give her a Daesang for that.

P.S. If anyone is curious, you can read the Dramabeans Commenting Policy here.

RELATED POSTS
Tags: Beans of Wisdom