Beautiful Gong Shim: Episode 12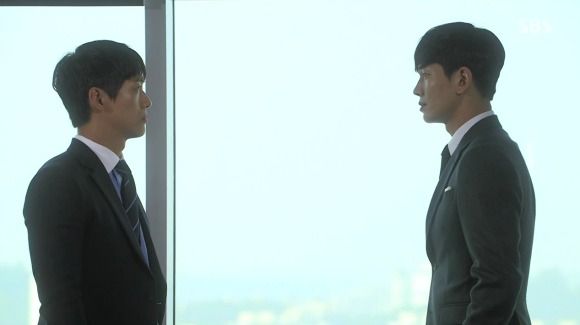 This week is all about trust, whether it's trusting our friends to tell us the truth, trusting our crushes to feel the same way we do, or just trusting our family because we love them. It can be a dangerous thing, believing in someone, because there might be secrets we might not wish to uncover. But it's time to grow up and face the music, and the characters we love will all be better for it.

EPISODE 12 RECAP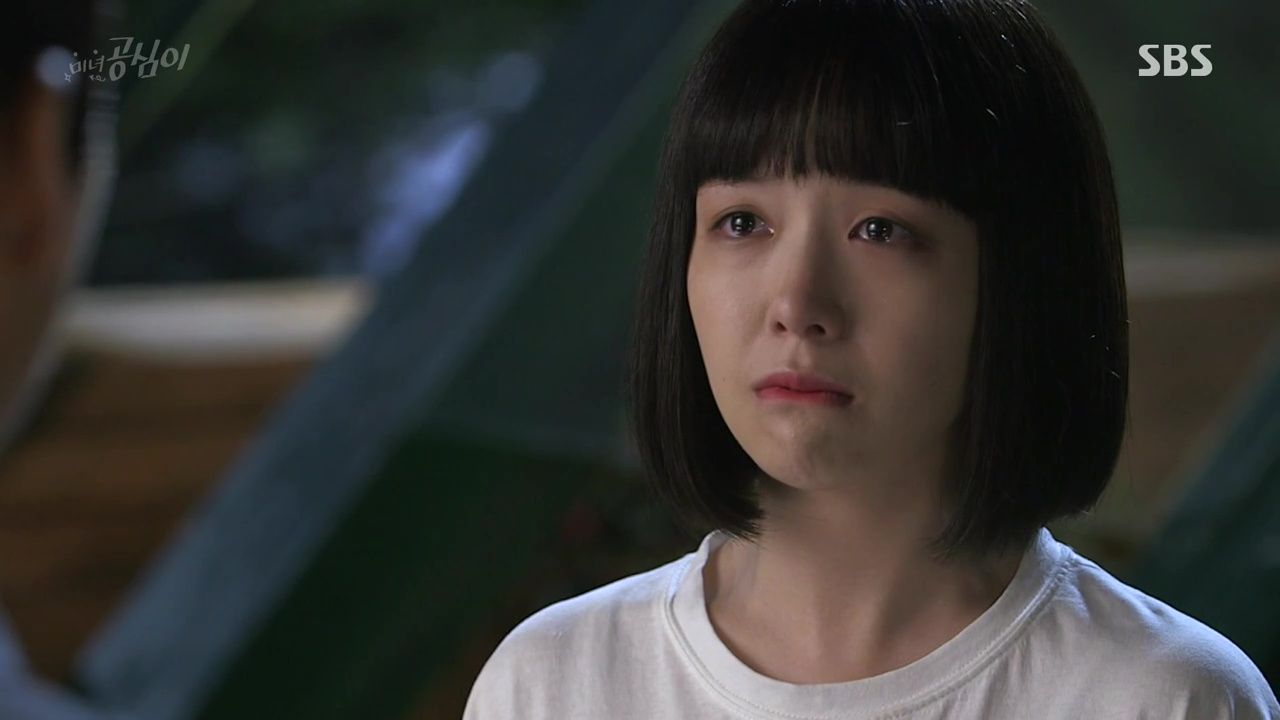 We rewind to the rooftop where Gong Shim makes her heartfelt confession to Dan-tae, only to hear him apologize and carefully reply that he can't accept her feelings. Jun-su, who's been standing behind them unnoticed this whole time, quietly leaves as Gong Shim's eyes fill with tears.
Realizing she's just been soundly rejected, Gong Shim quietly walks around Dan-tae and stumbles down to her room where she curls up under her covers. Dan-tae is left alone, fighting back his own emotions.
After Gong Shim's exit, Jun-su returns to the roof to confront Dan-tae, but our normally cheerful lawyer is looking decidedly shaken. Dan-tae, not knowing that Jun-su overheard everything, begs off on that promised beer, saying he's not feeling very well. Jun-su takes in his distressed appearance and agrees to meet another time.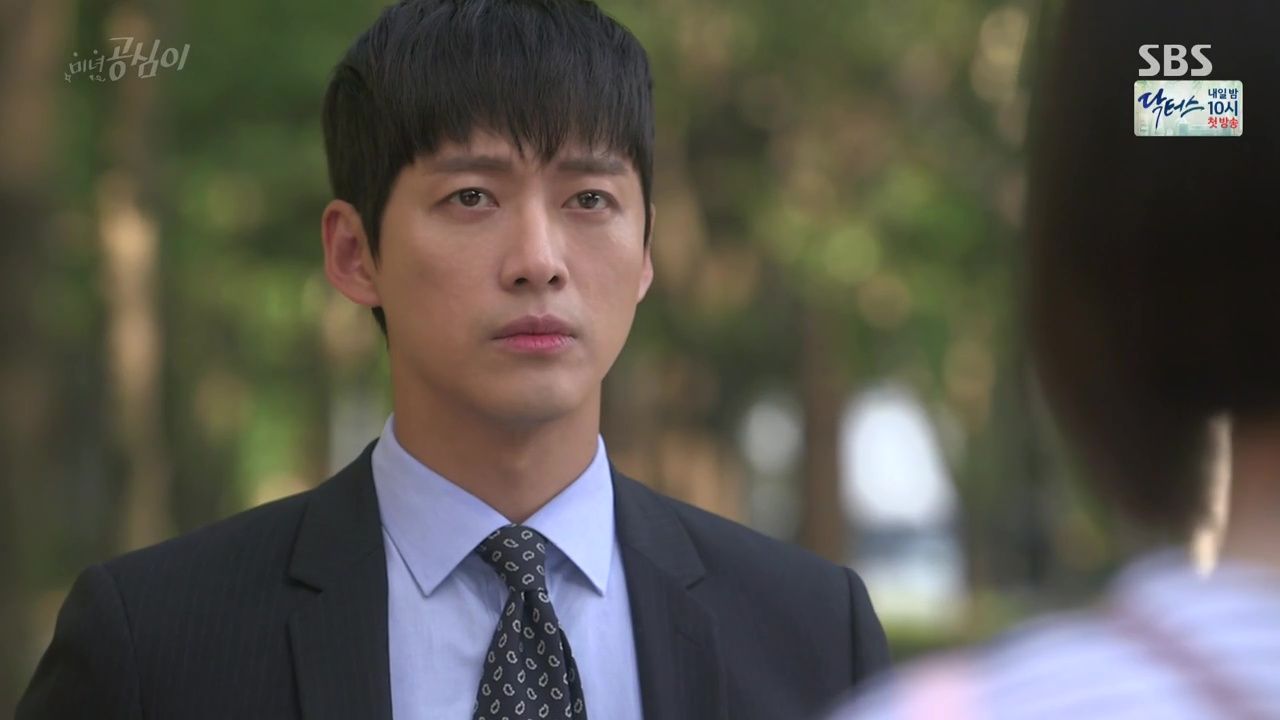 The next morning dawns to find both Gong Shim and Dan-tae sitting on their respective floors, having not slept a wink the whole night. Finally, Gong Shim heaves a big sigh and gets herself up to head over to the market.
After completing her shopping, Gong Shim walks back home, arms full of groceries, only to come face-to-face with Dan-tae as he heads off to work. The two stare at each other for a few moments before Dan-tae reaches forward to help her with one of the bags. Without saying a word, Gong Shim avoids his helping hand and brushes past him.
At work, Dan-tae tries to call Gong Shim but she doesn't pick up. He's jolted out of his dark mood by the office cleaning staff who invite him to come out to sing karaoke after work. Unfortunately Dan-tae has other plans, but gives them all a quick serenade as a preview for next time.
Jun-su comes around the corner to see Dan-tae singing and dancing with a big smile on his face — not exactly the broken-hearted man from last night. He confronts Dan-tae, who picks up on his disapproval but misunderstands, thinking Jun-su doesn't approve of his fooling around in the workplace. Jun-su just brushes by him but is stopped when Dan-tae calls after him to ask if he's found his stolen bag yet.
Losing his patience, Jun-su snaps at Dan-tae, asking if he wants to know about the bag, or the lost badge. He says that Dan-tae seems very curious about that badge so there must be something that he isn't telling.
Gong Shim makes a mound of food at home and ignores the continued phone calls from Dan-tae the "pervert lawyer." With a newfound determination, she starts emptying out Gong Mi's clothes from her room, returning them to her sister's room. Dad hovers around her, fretting that Gong Mi won't like this and will throw a fit. Gong Shim just answers fine, let her. Woo! Go get 'em, girl!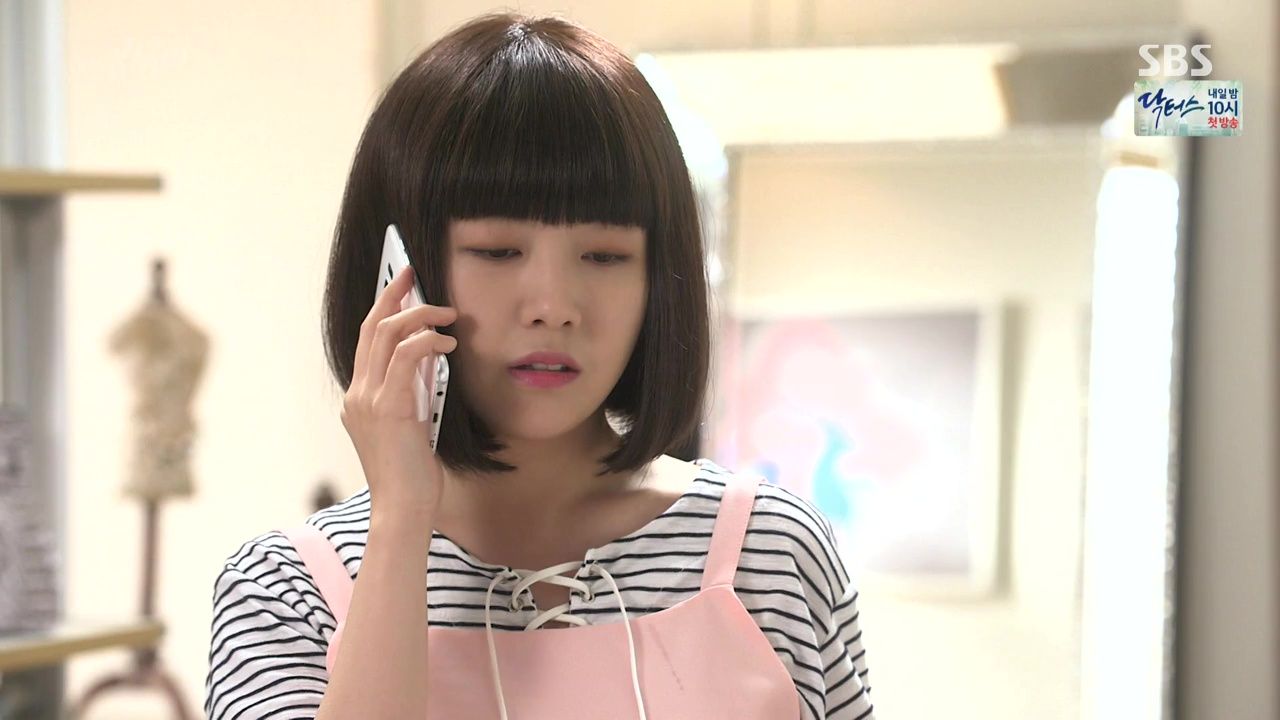 Gong Shim cuts off her father's needling by saying that she has a bed coming to her room tomorrow and asks her dad to put it together, since he had put together Gong Mi's bed.
After moving most her sister's stuff out, Gong Shim grabs a beer and looks around her emptied room. Just as she finishes draining her drink she gets a text notification that her school's reunion is tonight. She muses that they'd probably have beer there.
Jun-su calls Gong Shim to surreptitiously check on her, asking if she's doing okay. Gong Shim puts on a strong front and the two make plans to have dinner the next night.
Gong Shim attends the reunion and spends the whole time chugging beer while her schoolmates wonder what's wrong with her. The revelry is disrupted by the boyfriend of one of the classmates who shows up with a giant bouquet and proposes to her in front of everyone. Gong Shim stares forlornly at the flowers as everyone cheers for the newly engaged to do a love-shot together.
Just as the couple leans in to drink, Gong Shim pops up behind them and clinks her glass with their interlocking mugs, congratulates them, then proceeds to down her entire mug of beer in one shot.
Dan-tae walks home that night and comes across a young boy searching for something in the dark playground. Dan-tae offers to help look and the boy reveals he's looking for someone: a Noona with a funny wig. He was playing hide-and-seek, but this Noona is really good at hiding.
Putting two and two together, Dan-tae sends the boy home and starts looking for Gong Shim himself, finding her crouched behind some bushes, rip-roaringly drunk. She looks up when he calls her, identifying him as "Mr. Ahn Dan-tae who rejected me."
They relocate to a bench and the heavily tipsy Gong Shim takes out a list she wrote denoting all of Dan-tae's flaws. Dan-tae smiles slightly as she starts listing off all his negative traits: he's dirty, broke, and cheesy. She even does an adorable imitation of his wink to illustrate his extreme cheesiness.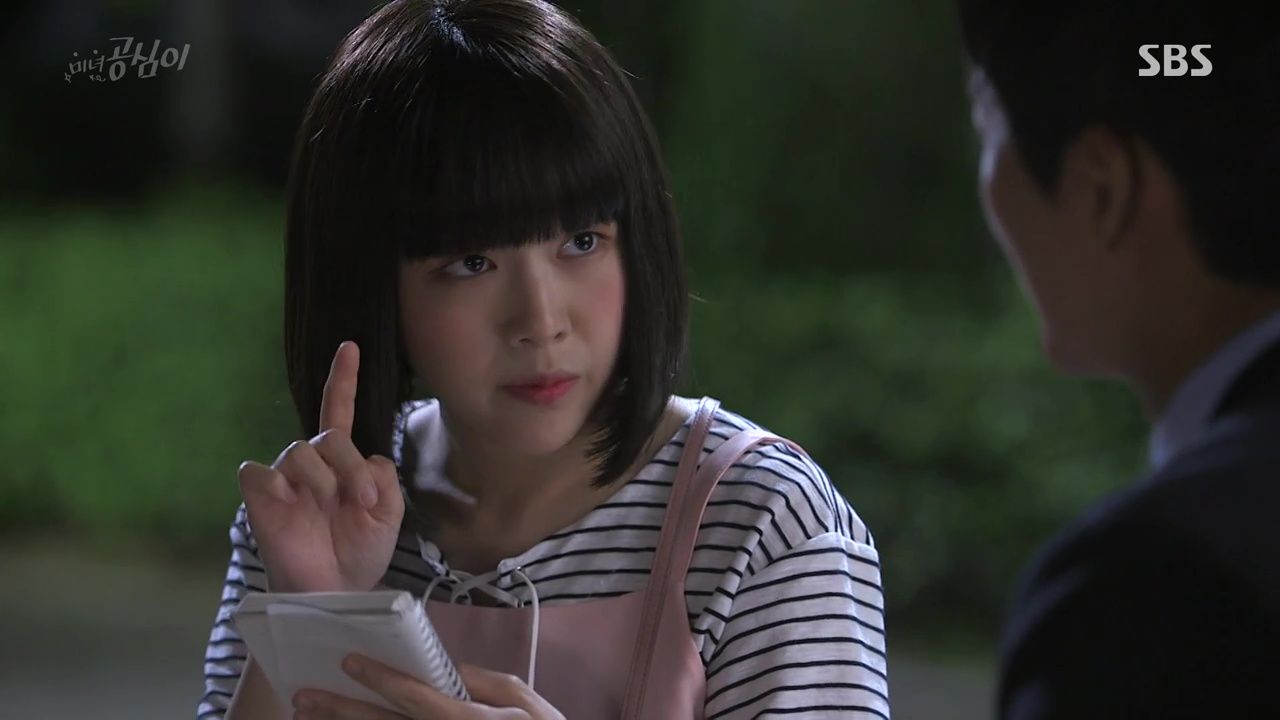 Dan-tae tries to get her to head home, but Gong Shim stops him, asking straight out why he doesn't like her. She starts listing her own negative traits; that she's unemployed with a bald spot and no brains. Gong Shim apologizes for being ugly and even offers to give him the rent discount he'd originally asked for. Ooof.
Dan-tae looks like his heart is breaking as she keeps asking about all the reasons he doesn't like her. He finally gets her to stand up and tries to bring her home, but she stops him yet again, nearly begging for the reason why he rejected her.
Dan-tae starts to say something, but she flinches away, covering her ears and saying not to tell her. Then she changes her mind and asks again. She waffles a few times between asking and shaking her head until Dan-tae starts to answer her question.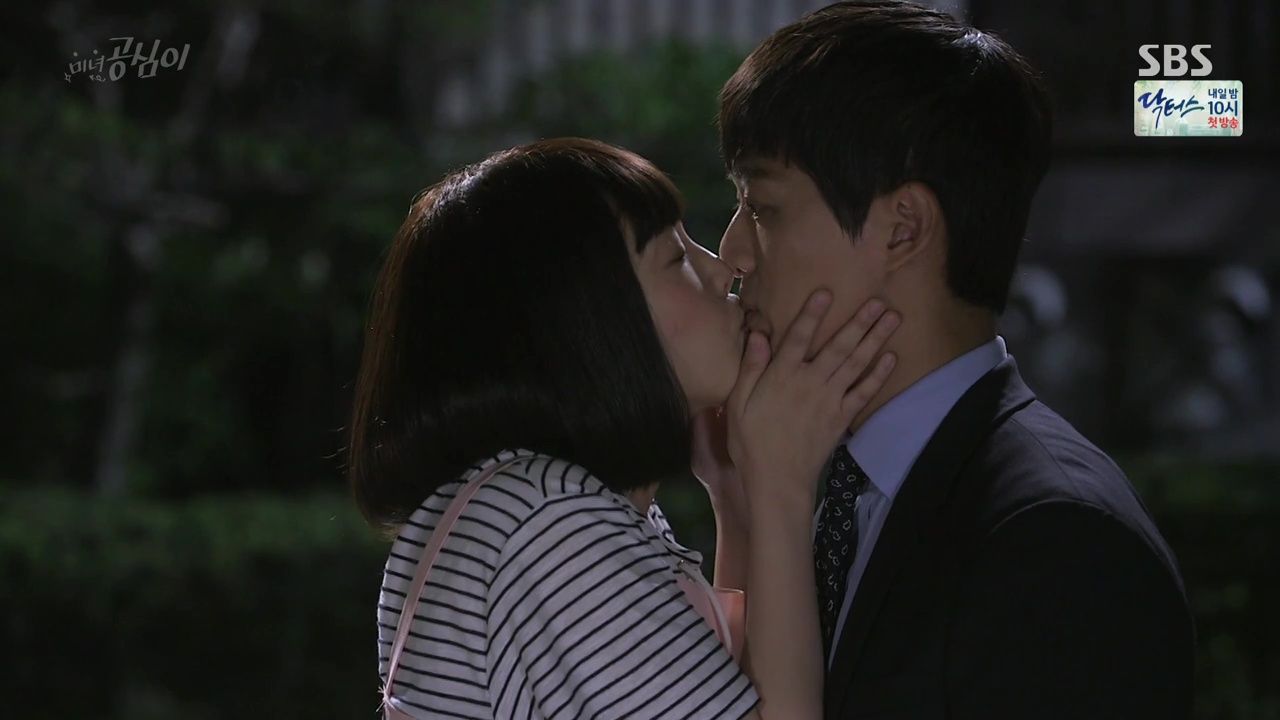 Before he can say two words, Gong Shim reaches up and plants a light kiss on Dan-tae. They both stare at each other for a moment before she stutters out to never tell her the reason for his rejection, then runs away, leaving him stunned.
The next day, Dan-tae and Gong Mi run into each other in front of the elevators and she gives a sullen shake of her head to remind him to act like he doesn't know her. When the elevator arrives Gong Mi looks positively terrified to see that Jun-su is inside.
The two of them join Jun-su in the elevator and he takes the opportunity to introduce the two of them since — as far as he knows — they don't know each other. After a tense stare, Dan-tae plays along and "introduces" himself.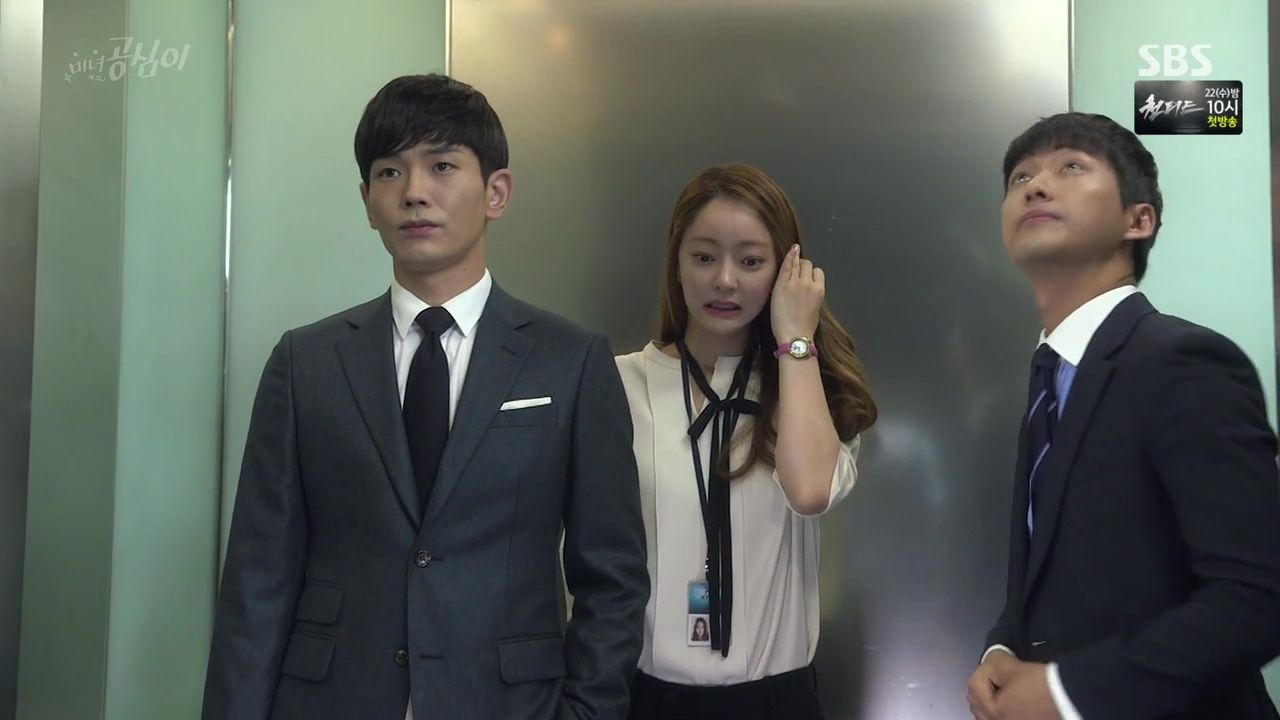 After a strained ride, Dan-tae exits first and Gong Mi breathes a sigh of relief. Both Jun-su and Gong Mi remain on the elevator and a large delivery is wheeled in, forcing the two close together in the corner.
Jun-su breaks the tension and tells Gong Mi that his mother and grandmother (President Seok's biological mother, not the chairwoman) keep talking about her after she saved his mom from that con artist. When Gong Mi admits that she enjoys spending time with the women he invites her to stop by their house anytime.
President Seok and Uncle are on their way to a board meeting when President Seok receives a spam text labeled, "Piping hot video at Yangpyeong Arboretum." Uncle gets uneasy since that's where he assaulted Dan-tae's father. He tells President Seok that he should delete the video right away.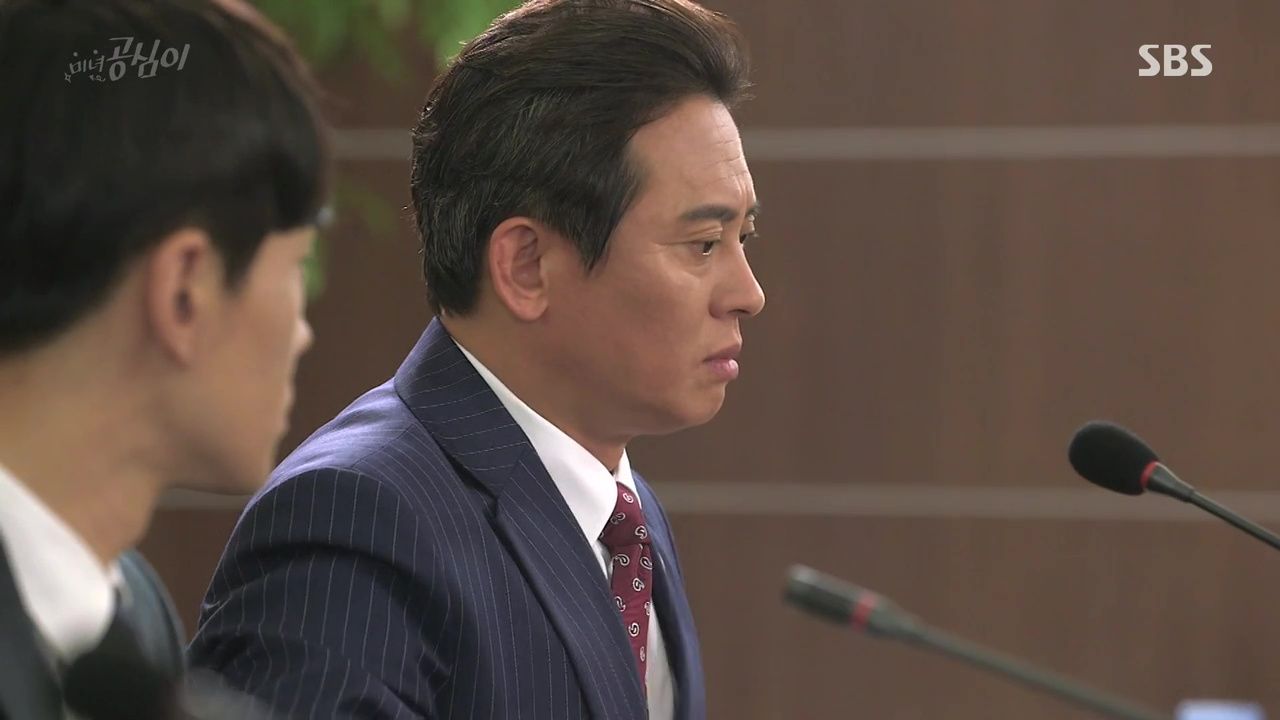 Heading into the meeting, they find that all the board members have received the same spam. Apparently one of the directors was curious and watched the video, reporting to the others that there's nothing raunchy on it.
At that moment, Uncle finally receives the spam message as well. The others muse that someone must have gotten hold of all their contact info while Uncle tucks his phone out of sight. Jun-su, sitting right next to him, clocks his discomfort. Is that a glimmer of suspicion in those puppy eyes?
Elsewhere, Dan-tae receives a call from his friend (the same one who delivered the "lost" badge) to confirm that he sent the spam messages. Dan-tae opens his own message, clicks on the link and watches a video showing Dan-tae's father sitting at the bench in the gardens where he'd been attacked.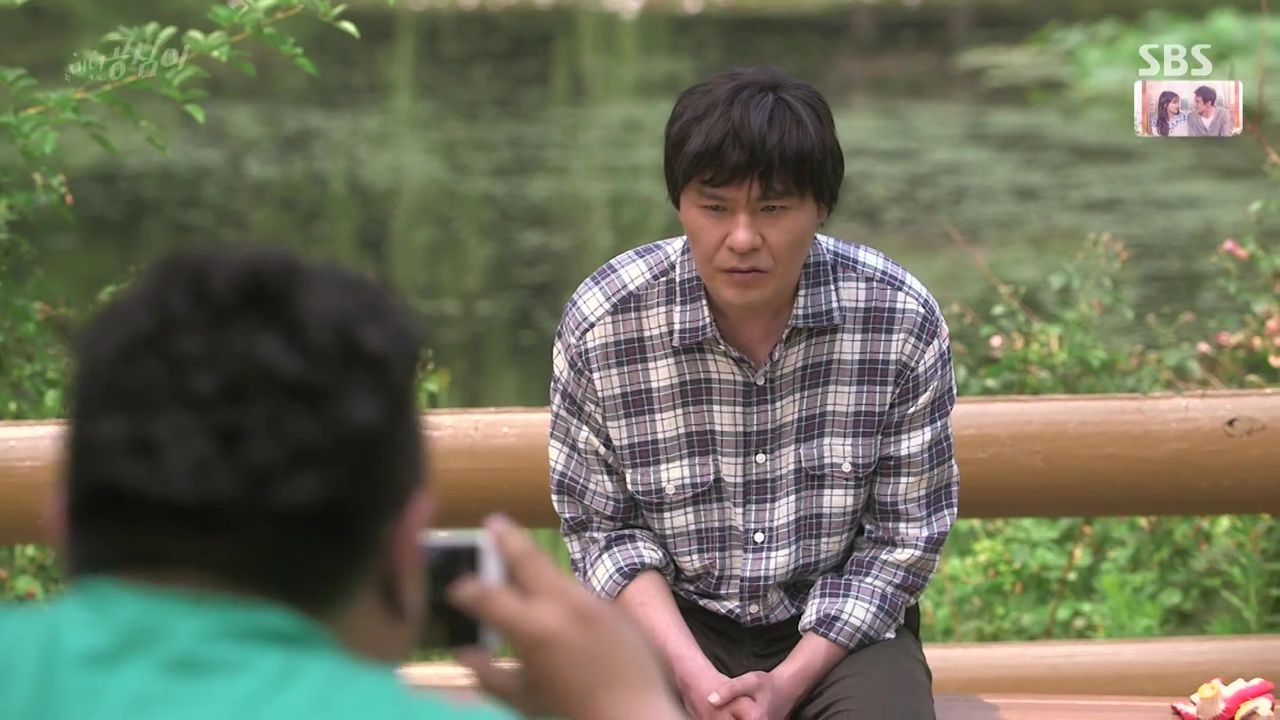 There's another message below that reads "Yangpyeong Arboretum Video. Original Copy, Direct Deal. Price: 3 million won. Tomorrow at 5pm at the arboretum." Dan-tae thinks that whoever the real culprit it, they won't be able to help but show up, and then he'll know who attacked his father.
We flashback to see how Dan-tae was able to make the video: he'd borrowed his father's clothes and his friend brought his uncle (who looks a lot like Dan-tae's dad) to the park. They'd reassured the uncle that they would blur out his face, then proceeded to take a video of him sitting on the bench, wearing Dan-tae's father's clothes. Afterwards, Dan-tae composed the spam message himself and his friend sent it out.
Back in the present, Uncle and Jun-su's mom both stare at the video in horror, thinking that someone must have videotaped the whole assault. Uncle believes that same person picked up his badge and is now blackmailing him for the money.
Jun-su's mom asks if it could be Dan-tae doing this since it's his father that was hurt, but Uncle believes that Dan-tae's father never told his son about Jun-pyo. Jun-su's mother says she's still uncomfortable with Dan-tae being a secretary in the company. Uncle promises that he'll take care of Dan-tae after dealing with this blackmailer. He instructs his sister to get the cash ready so he can deliver it by the 5pm deadline.
Dan-tae and Jun-su run into each other by the elevators and the atmosphere is tense to say the least. Dan-tae suggests they talk privately and the two relocate to an empty boardroom. They both admit they haven't been truthful with one another and agree to ask and answer some honest questions to try and clear the air.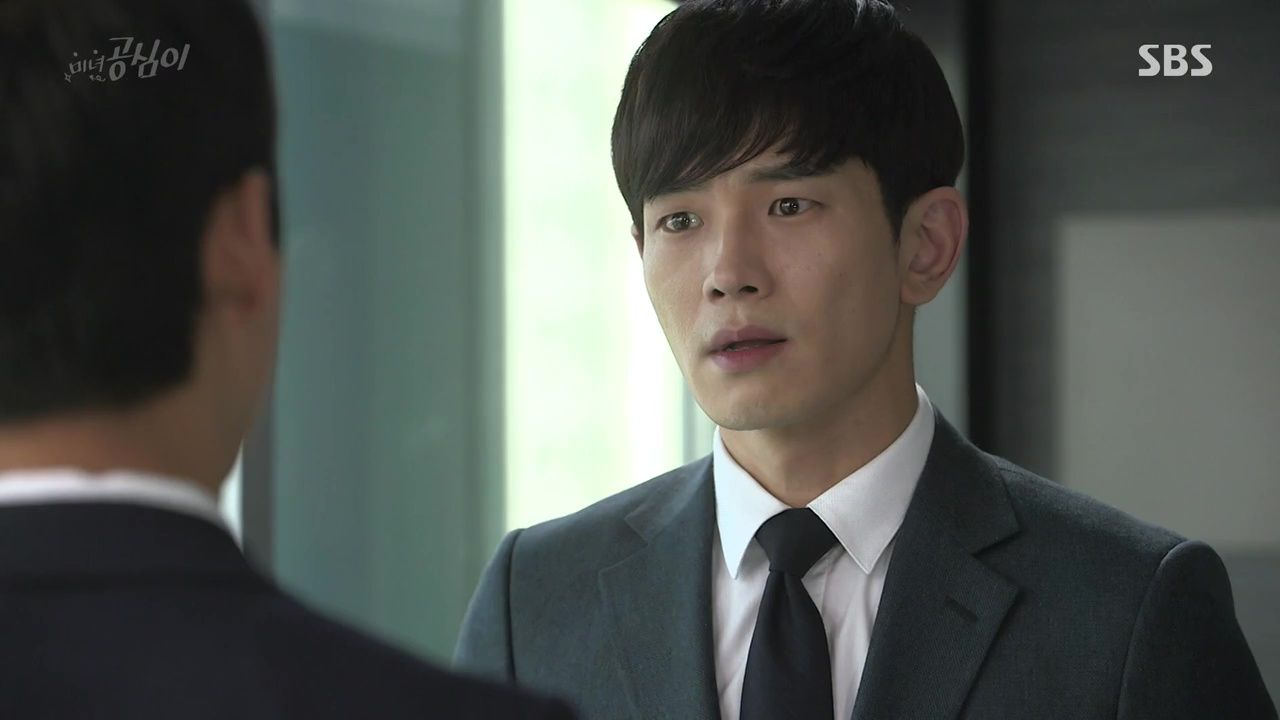 Dan-tae goes first and asks if it's true that Jun-su went to a seminar on the day his bag (and badge) was stolen. Jun-su admits that he was lying about the seminar, but insists that his bag really was stolen. Jun-su then asks for the real reason that Dan-tae is trying to find the badge since he knows there's something more. Dan-tae comes clean that he's been looking for Jun-pyo and he believes that whoever stole the badge is the one who kidnapped the boy.
While Jun-su reels at this revelation, Dan-tae poses one more question: If Jun-su didn't go to the seminar, then where was he that day? Jun-su confesses to meeting with investors to try and start a business of his own. He brings up Gong Shim, saying that she met with him that day to help him prepare.
The mention of Gong Shim brings back the frosty atmosphere between the boys, especially when Jun-su says that he likes Gong Shim and wants her to be happy. After a silence, the boys muse that even though their questions were answered, they're still not quite comfortable with each other yet.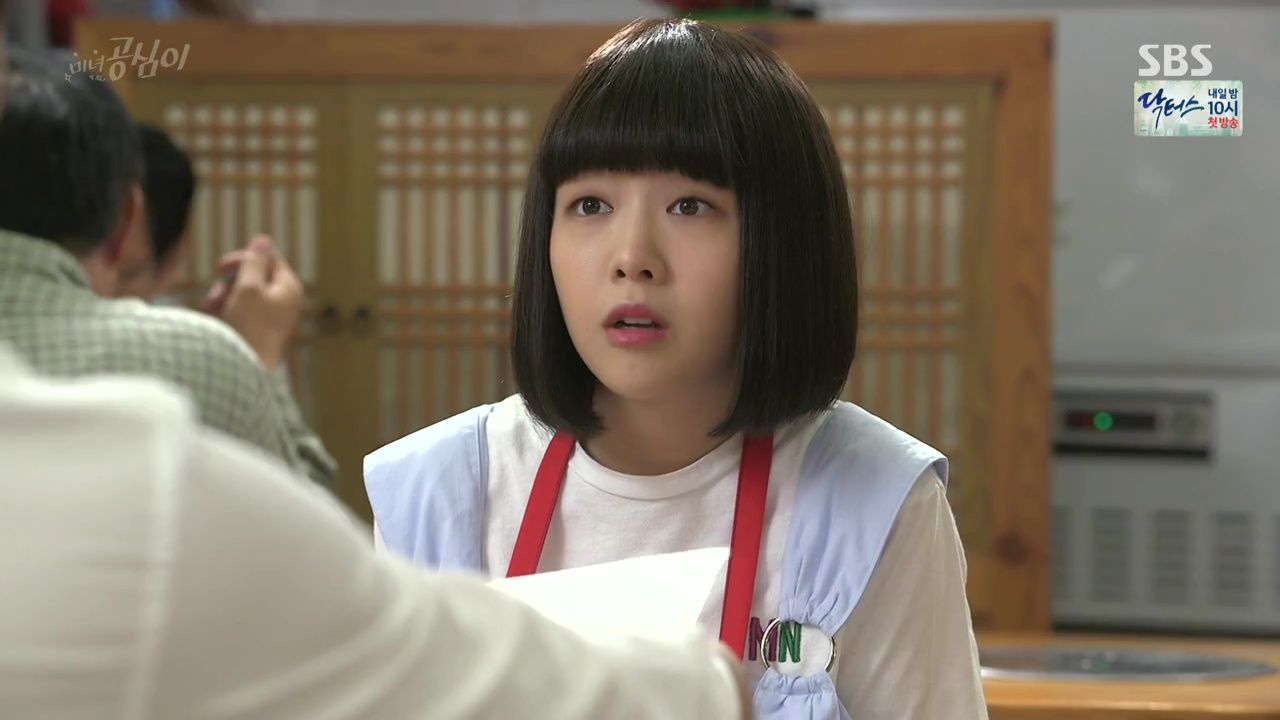 Jun-su meets Gong Shim for their dinner. They eat at the restaurant where she won the octopus drawing competition. The restaurant owner comes over to congratulate Gong Shim on her drawing being such a huge hit with the customers — he even has some people asking for her contact info.
Jun-su asks what they're talking about and the owner spills the beans about the competition that Gong Shim won, showing him the placemats with her octopus caricature. Jun-su is thrilled to hear this and requests a fresh placemat, which he then asks Gong Shim to sign. She is flustered at first, but Jun-su turns on the puppy eyes and seriously, who can say no to that face?
Gong Shim take some leftovers home for her folks and Mom nags at Dad to put Gong Shim's bed together. After Gong Shim heads to her room to clear space for her new bed, her parents muse that with this much extra food they should invite Rooftop (aka Dan-tae) down to join them.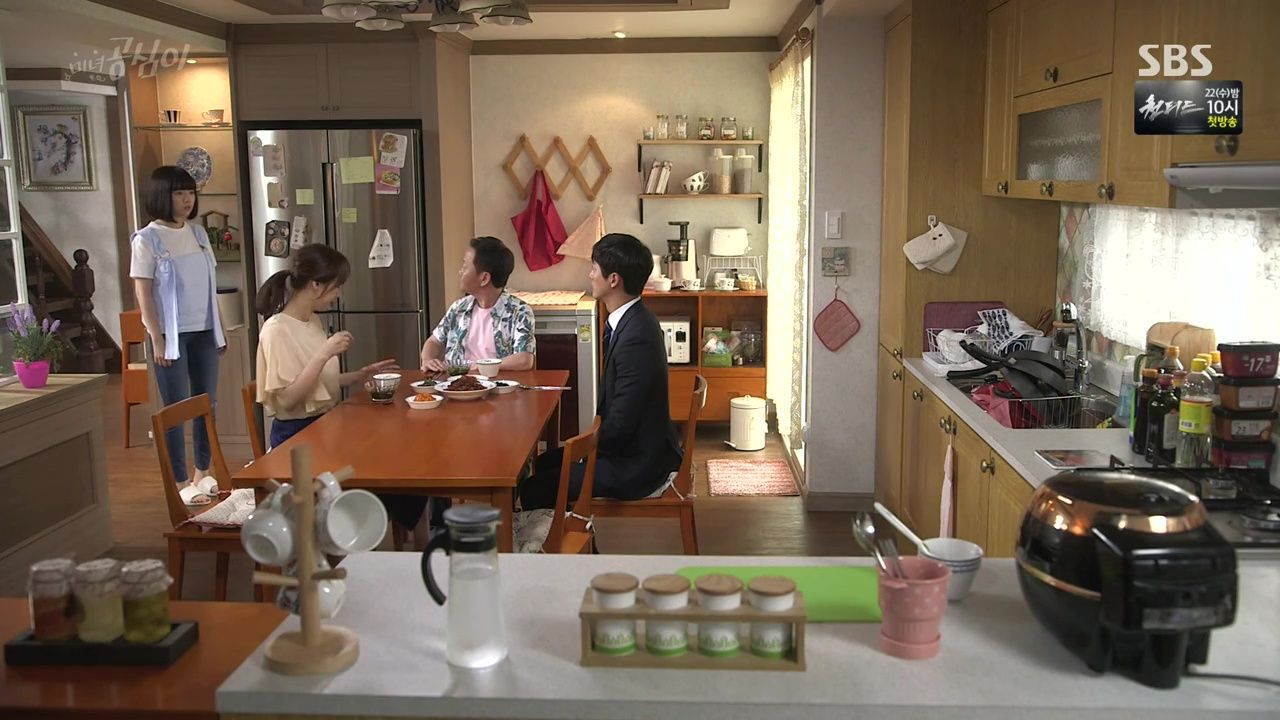 Dad heads out to find Dan-tae and runs into him just as he's heading upstairs. Dan-tae tries to refuse the offer, but Dad grabs his arm and pretty much pushes him into the house.
Gong Shim comes back out from her room to find Dan-tae sitting at the dinner table. Seeing him gives her a flashback to the night before when she kissed him. Mom tells her to join them at the table and both parents are completely oblivious to the awkward atmosphere as she sits down.
Mom does some subtle bragging to Dan-tae about Gong Shim winning the drawing contest, lamenting that they should have sent her to art school when she'd asked. Dad even gets teary eyed about it and asks through his sniffles if Dan-tae knows how to assemble a bed.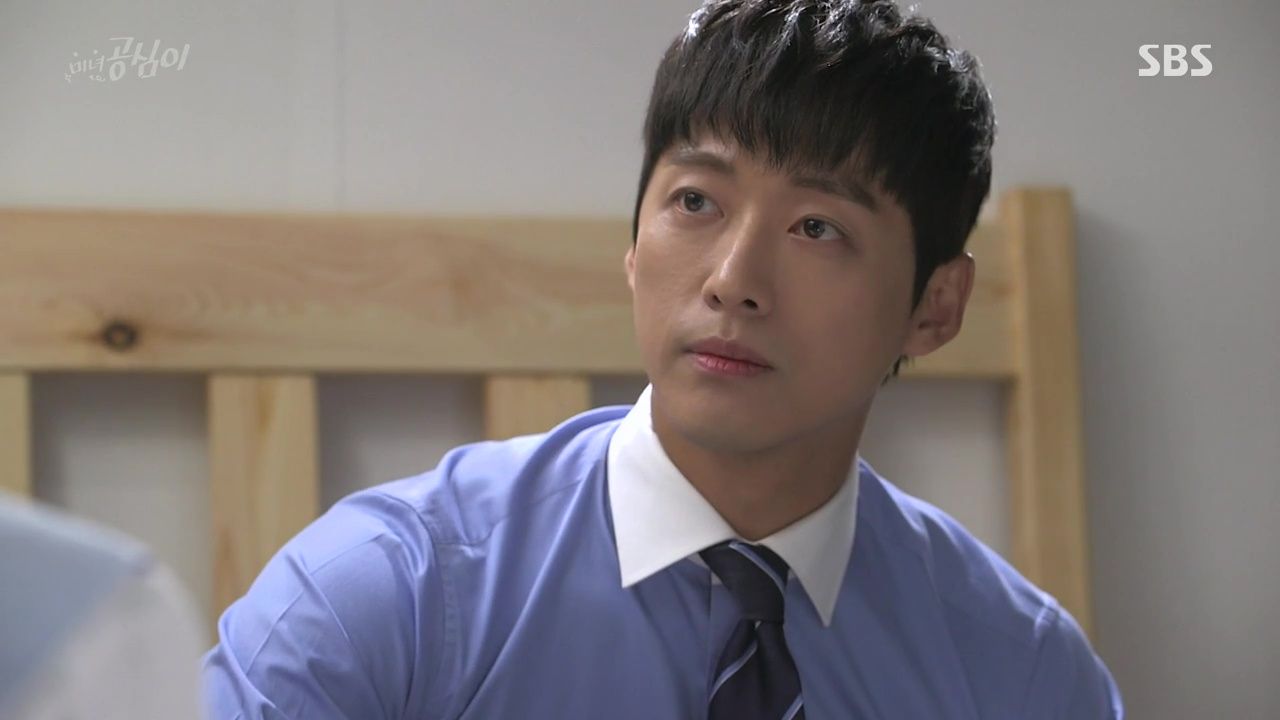 And so Gong Shim finds herself alone with Dan-tae in her room as he tries to put her bed together. After staring at him for a few moments, she hesitantly asks Dan-tae to treat last night's kiss as an accident. He agrees, but then catches her staring at him again.
Gong Shim takes a breath and calmly states that no, it wasn't an accident. She did it because she wanted to. Dan-tae slowly looks up at her as she continues,
Gong Shim: "From now on, no matter how you act, I'm not going to care. Whether you accept my feelings or not, I'm telling you I'm not going to care. If I want to make you food, I will. If I want to draw your face, I will. And if I want to talk to you, I'm going to talk. That's what I'm going to do, so don't care about me and keep going your way. I'll go my own way. Even if you don't give me the signal, I'm still going straight to you."
She then tells him he's assembling the bed wrong and grabs the hand drill from him. Now it's Dan-tae's turn to stare at Gong Shim as she works.
Over at the mansion, Jun-su's mother asks him out to dinner and a movie date. Jun-su, ever the doting son, agrees. Nearby, Jun-su's biological grandmother (not the chairwoman) watches jealously and tries to finagle her own mother-son date with President Seok, but he just tells her to play a game on her cell phone instead.
After work, Jun-su heads to his car, but President Seok calls to ask him for some documents. Jun-su heads on up to help his father find them, but just as he gets out of the elevator his father calls him back to let him know he found them. Jun-su returns to the car, but the whole incident reminds him of when Uncle did exactly the same thing on the day that his badge went missing.
Jun-su starts putting the pieces together: his missing badge, Uncle's misleading phone call, Dan-tae's warning that Jun-pyo's kidnapper is the one who stole the badge. He heads back into the office, wondering if it's possible that his Uncle could be the culprit.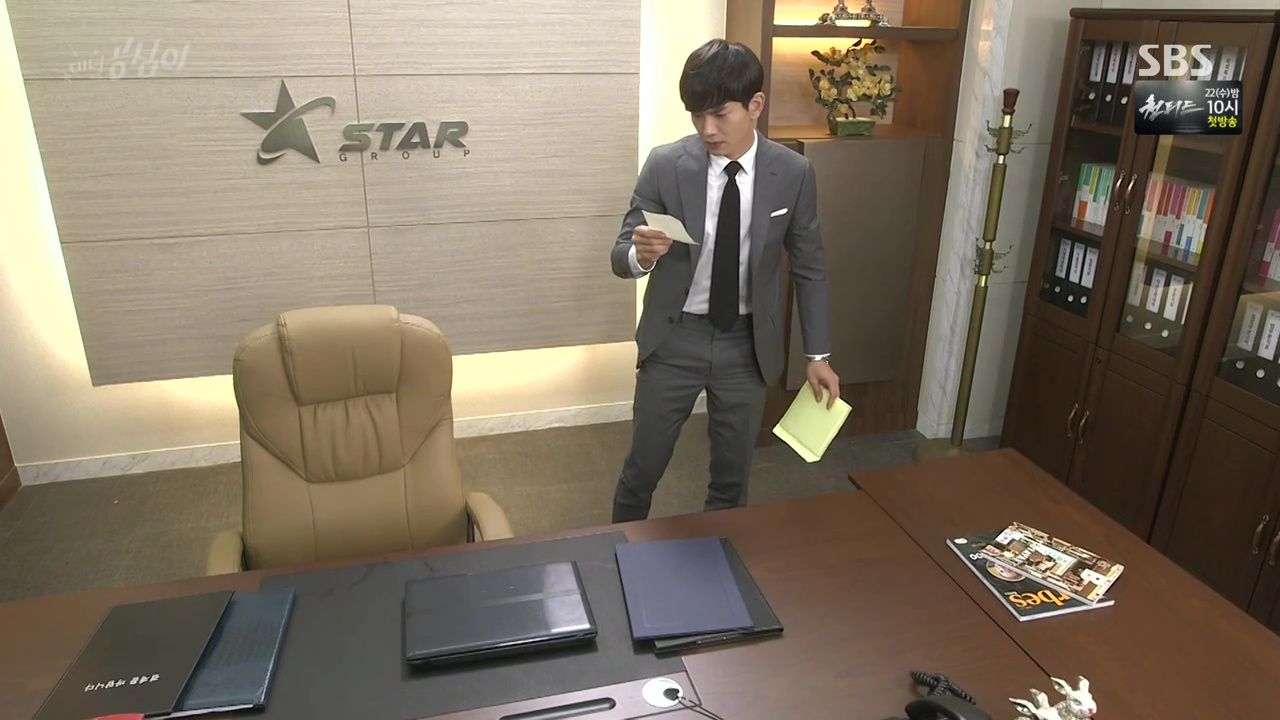 Jun-su goes straight to President Seok's office and roots around in his father's desk to find the badge and note that it had been "found" in the Yeongpyeong Arboretum. Returning to his own office, Jun-su pulls out the spam message he also received and compares it to pictures of the Arboretum, finding a match for the bench in the video.
Having figured out the location of the video, Jun-su deduces that whoever sent the message is trying to get money from the culprit. He wonders, if he goes to the Arboretum at 5pm, will he be able to see who kidnapped Jun-pyo?
Remembering how Uncle had acted so nervous from the spam message, Jun-su heads over to his office just as his uncle is leaving. Friendly as ever, Jun-su asks if he wants to have coffee together, but Uncle says he has important plans this afternoon. As Uncle walks away, the smile falls from Jun-su's face.
Soon Dan-tae, Uncle, and Jun-su are all in their separate cars heading to the Arboretum. Dan-tae has to stop for gas so Jun-su arrives at the garden a few minutes before him. Jun-su finds his way to the meeting place and peers around the bushes to see…his mother.
Shocked, Jun-su ducks back behind the greenery, tears in his eyes as he repeats that this can't be possible. Meanwhile, Dan-tae arrives and makes his way to the same spot.
Jun-su stumbles away from his mother and starts walking back up path. In his dazed state he doesn't see a large twig on the ground until he steps on it, causing a loud snap. Dan-tae swivels towards the noise and Jun-su freezes as the two men lock eyes.

COMMENTS
Yeesh, I wouldn't want Namgoong Min looking at me like that either.
I gotta say, I'm starting to miss the carefree Dan-tae that we all fell in love with. Admittedly, finding out you've lived a lie your whole life and then losing your father to a coma is a heavy burden for anyone to bear with a smile. Still, the show has taken a decided turn away from the happy rom/com and swerved into melodrama territory which, to be honest, isn't as interesting. I still really want Dan-tae to uncover the mystery of his own kidnapping, but the darker he gets, the less invested I feel in his character. Namgoong's amazing portrayal of the goofy-yet-clever Dan-tae was what made this show so unique. It feels kind of like ever since he learned his new identity, he's started turning into a vengeful Seok Jun-pyo and losing the cheerful Ahn Dan-tae.
That being said, I LOVE that we're finally getting to see a little bit of darkness in Jun-su. Up until now, he's been the sweet (if somewhat naïve) chaebol pretty boy with the puppy dog eyes. It was a great hook for the character since he seemed to be the first truly decent 3rd generation chaebol in Dramaland, ever, but I'm so much more invested in him now that were seeing some layers emerge. Don't get me wrong, I'll never say no to his pouty face, but this complexity is far more interesting than just swooning at my computer. Anyone else get a little chill when Uncle walked away and Jun-su's happy smile melted to reveal a rather cunning look?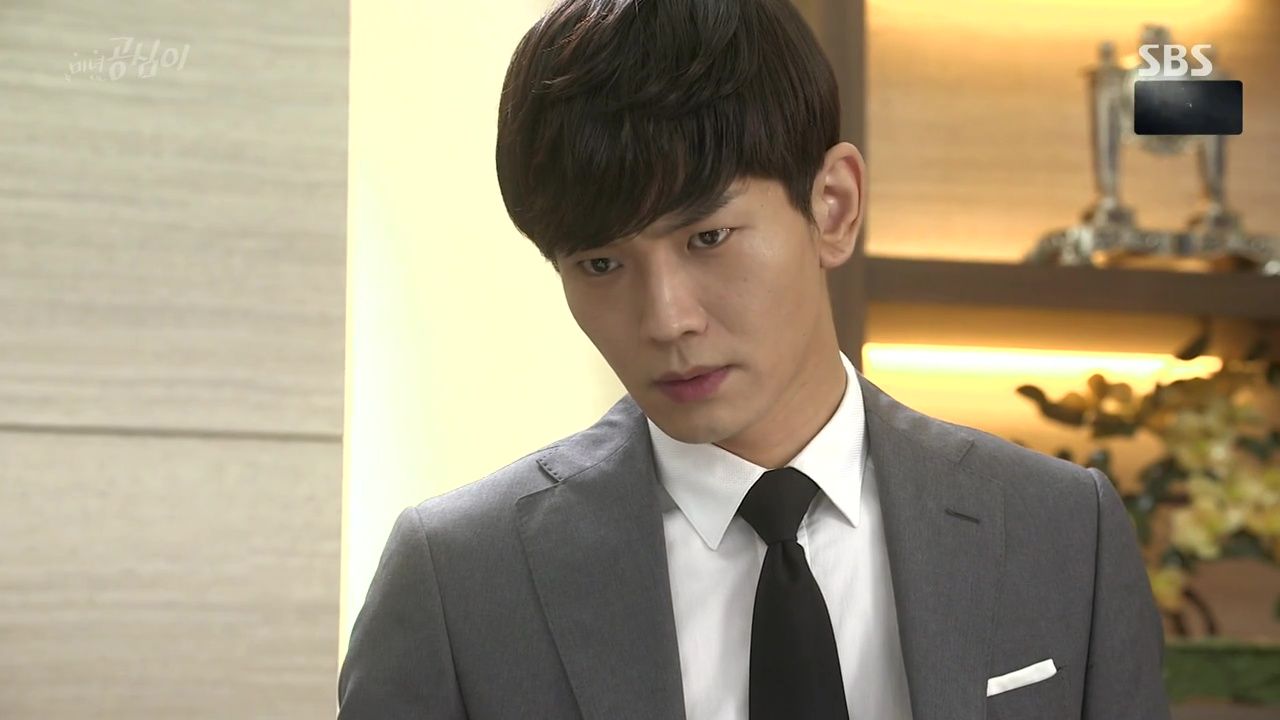 The best part about his transformation is that Jun-su's undergoing this change all on his own; putting the clues together, investigating on his own, following his hunches even if he was scared of what he'd find. I really enjoyed seeing him step up and not only admit that his Uncle might be shady, but then he actively worked to confirm or deny the possibility. He's taking a frank look at his family and not shying away from what he might find.
Gong Shim also grew up a bit this week. I was so happy when she took that heartbreak, moped for a night, processed it, then moved on. It seemed like the push she needed to finally become her own person, taking the first steps to get out from her sister's shadow and her parents' disregard. I actually cheered her on when she removed Gong Mi's clothes from her room. She was completely right: it wasn't a room that was fit for a person to live in.
I admit, I wasn't a fan of her determination to continue pursuing Dan-tae, but after I thought about it, it wasn't so much her deciding to pine after someone who rejected her, but rather a decision to simply follow her own heart. She's going to feel the way she wants to feel and act on her own desires for once, rather than shrinking back because someone tells her to leave. It's a good thing she's finding that determination now because, given the revenge path that Dan-tae is starting to tread, he's gonna need help to find his way home again. If anyone can bring back the Dan-tae we love, it's this girl.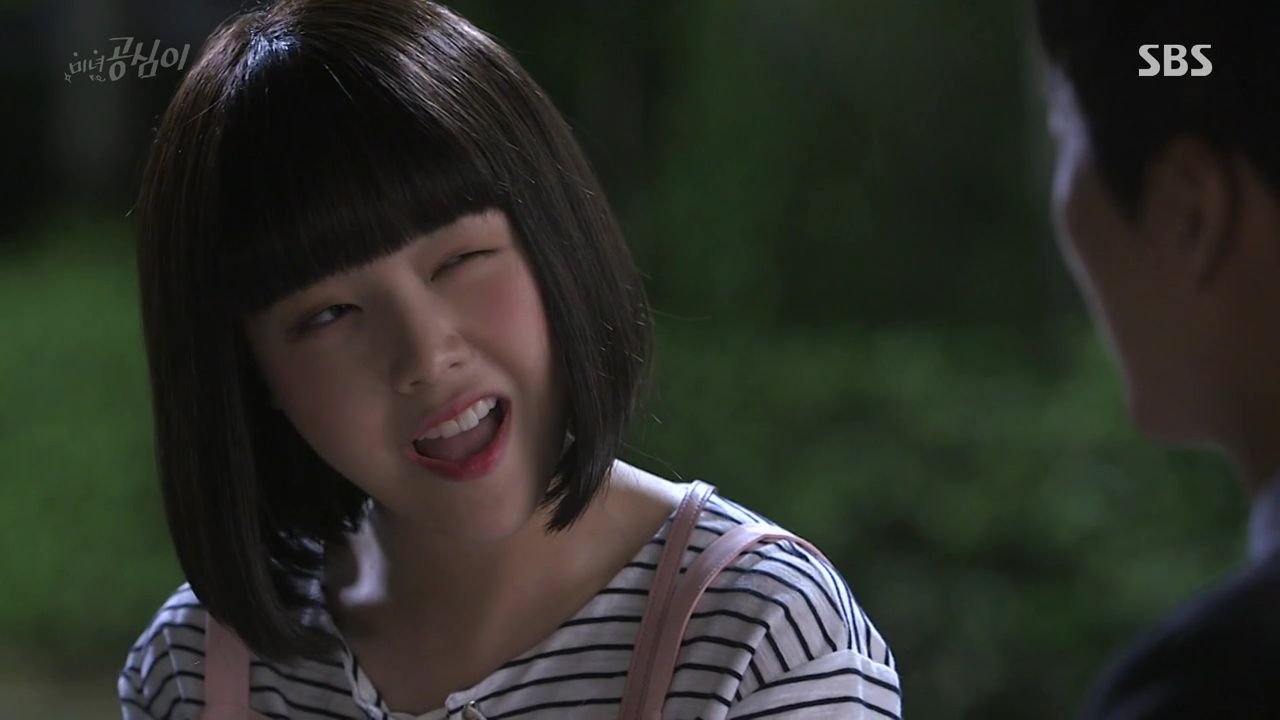 RELATED POSTS
Tags: Beautiful Gong Shim, Episode 12, featured, Minah, Namgoong Min, Ohn Joo-wan