Beautiful Gong Shim: Episode 13
The truth is a painful pill to swallow, but it's a necessary one that elicits relief for some, and torment for others. Everything is not quite out in the open just yet, with only a few trusted or astute individuals aware of all the facts. A secret that's been buried for so long need not unravel too soon because there's power in keeping it under wraps until the opportune moment presents itself. Complete honesty may be ideal in relationships, but in a situation wherein lives are at stake, it's safer to keep a tight lip, and let on that you know less than you actually do.

EPISODE 13 RECAP
Butterfly Tattoo Uncle, Dan-tae, and Jun-su drive to the arboretum, within minutes of each other. However, a minor accident involving Uncle and a group of cyclists renders him unable to make it to his destination so he calls his sister to conduct the transaction without him.
Jun-su's mom anxiously waits at the predetermined spot at the arboretum, cash-filled duffel bag in hand. Jun-su arrives, and the words of Dan-tae echo through his head: "The person who shows up is the one who kidnapped Jun-pyo."
He peers through the shrubbery and is stunned to find his mother waiting at the exact spot for the money exchange. The thought of his mother as Jun-pyo's kidnapper shakes him to the core.
Jun-su's mom waits with nervous anticipation to hand off the money, but instead, a gardener enters the scene and hands her a note. The anonymous note instructs her to escape immediately since the appointment has been canceled. She follows the note and leaves.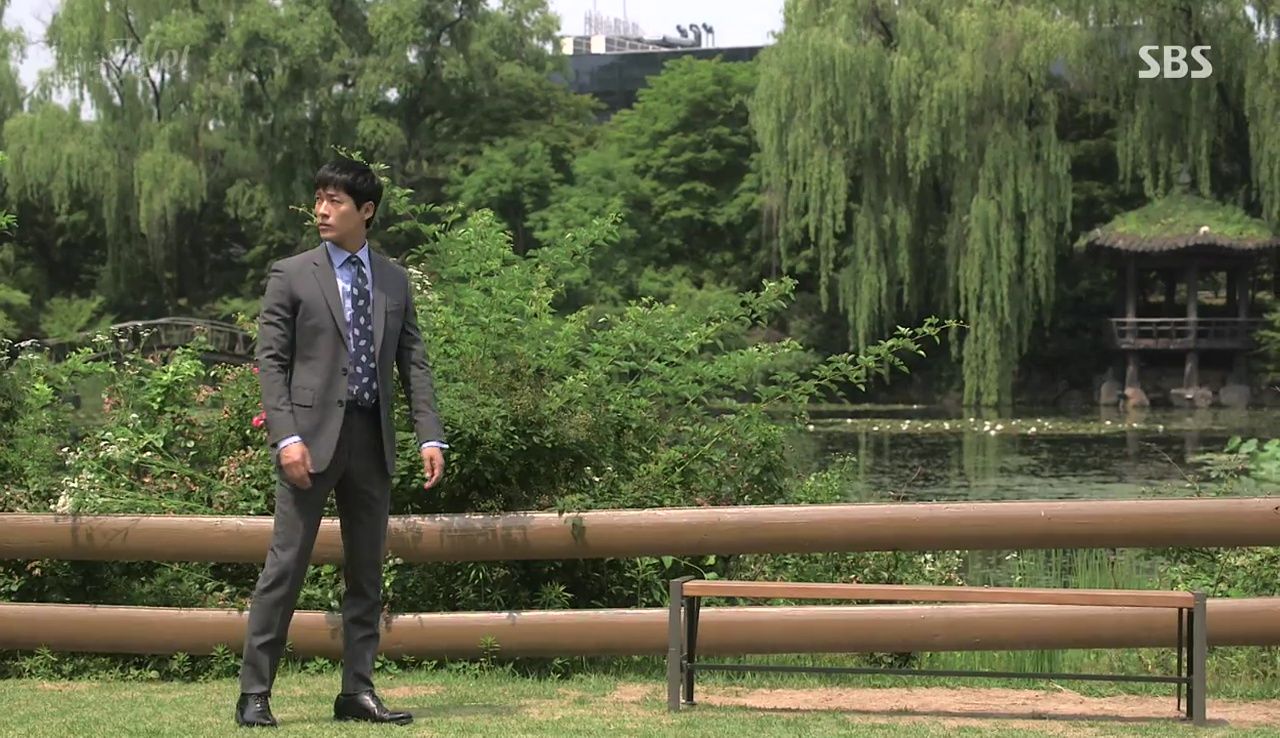 Jun-su asks the gardener if he passed on the note and is relieved to hear that he did. Dan-tae is at the arboretum, keeping his eye out for the culprit to arrive, but the scheduled meeting time has already passed and no one has shown up. He wonders if he should continue waiting.
Jun-su is making his way out of the arboretum when he spots Dan-tae. He steps on a branch, and the sudden noise causes Dan-tae to look in his direction, but Jun-su hides himself just in time.
That evening, Jun-su drowns his sorrows in alcohol and gives Gong Shim a call, but he apologizes for his drunkenness and hangs up soon after. Concerned, Gong Shim calls him back to find out where he is and helps him into a cab. But he insists she should get in also so she doesn't have to head home by herself, and she reluctantly does to appease him.
Jun-su sits on a bench in Gong Shim's neighborhood, drowsy and still inebriated. Gong Shim returns with bottled water, but he falls asleep on her shoulder. She's pinned to the bench and unable to budge so she calls Dan-tae for help.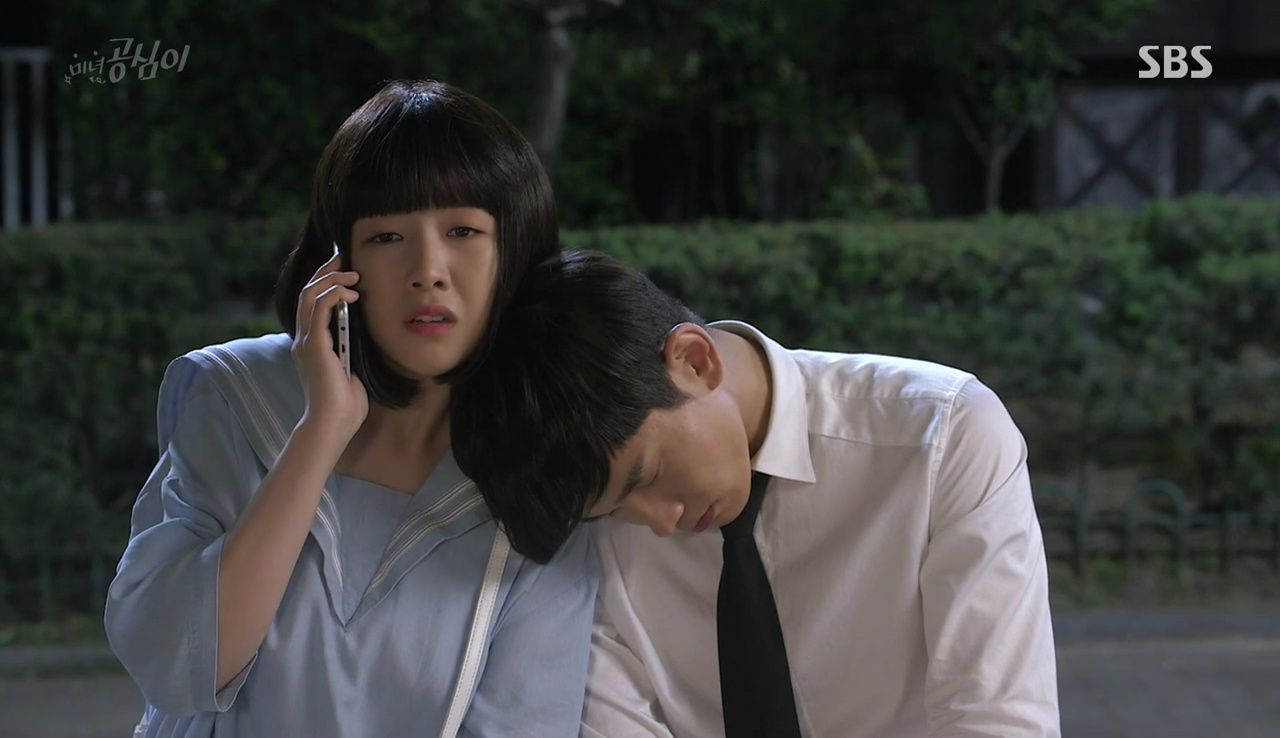 Dan-tae arrives and carries Jun-su to the rooftop. The next morning, Jun-su wakes up, still groggy from the alcohol. His eyes land on a calendar on the wall, with a specific date circled and the words, "Father, Hyuan Memorial Park" written below it. He then spots Dan-tae's name plate, which clues him in that he spent the night in Dan-tae's abode.
Outside, Dan-tae enjoys a popsicle, and Gong Shim brings up a tray of hangover smoothies for Jun-su. Jun-su meets them outside and apologizes for his behavior. He thanks Gong Shim for her help and leaves without staying for a meal, claiming he has somewhere to be.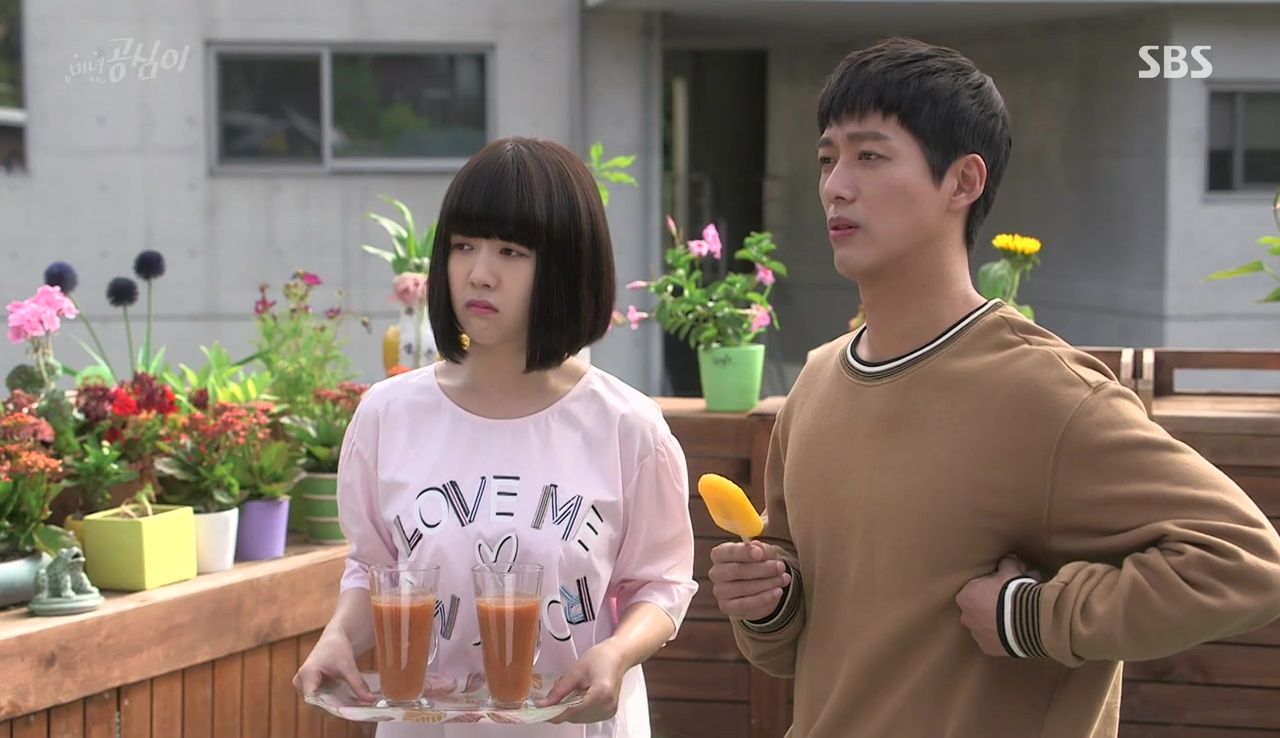 It's the anniversary of her son/Jun-pyo's father's death, and Grandma leaves to visit his grave. President Seok, his wife, and his mother just came back from paying their respects, and lament the fact that Grandma chooses to go alone every year.
Jun-su gets home, and his mother reminds him that today's the anniversary of his uncle's death. On a hunch, he asks if the memorial vault is called "Hyuan," and his father affirms that it's Hyuan Memorial Park.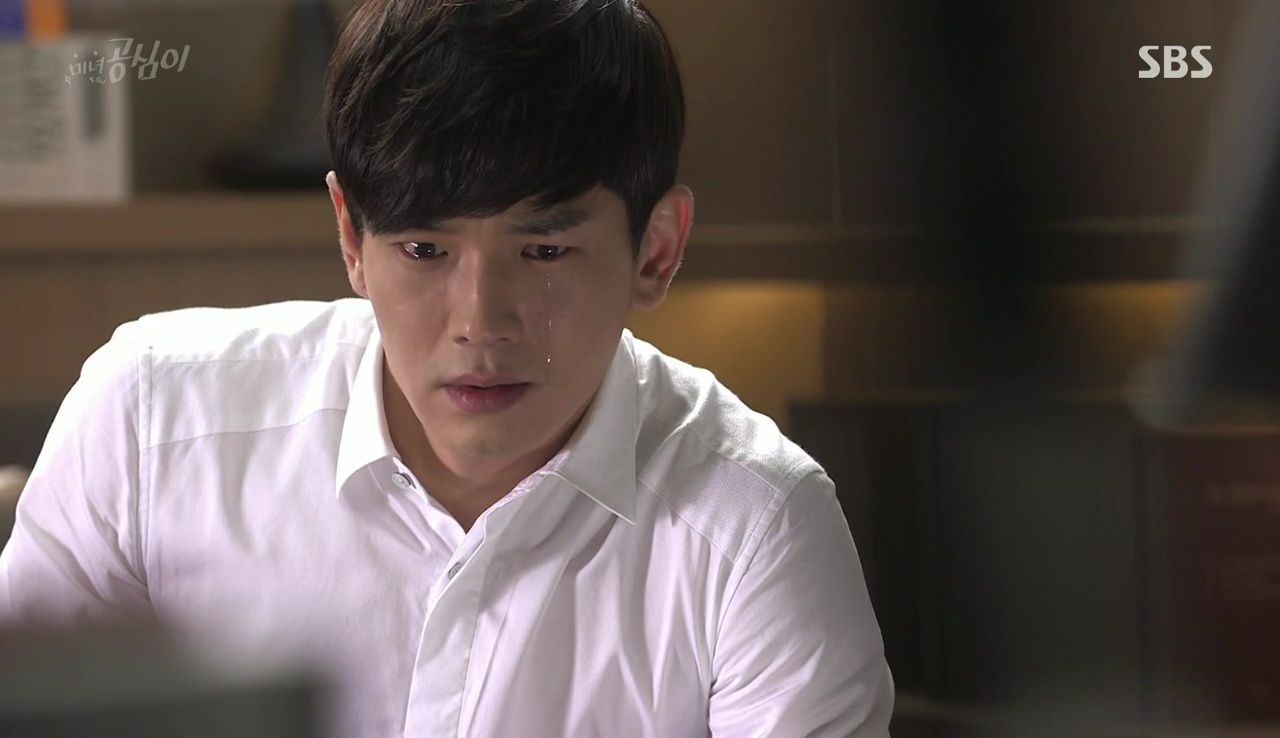 Jun-su freezes as the dots connect. He thinks of the circled date on Dan-tae's calendar, the words "Hyuan Memorial Park" written below it, the rare egg allergy that the two friends share… and it leads him to believe that Dan-tae may be Jun-pyo. This realization brings him to tears, making him unsure of how to process the overwhelming flood of emotions.
Dan-tae stands before his parents' urn with a solemn expression. Jun-su arrives, and right as he's about to turn the corner to see Dan-tae standing there, his grandmother calls to him from behind and nearly collapses.
Jun-su quickly guides her to the car, and Dan-tae watches the two leave. Jun-su returns to the building to the room containing his uncle's urn, but by now Dan-tae is nowhere to be seen.
Moments later, Dan-tae descends a series of steps inside a restaurant and enters a private room. Jun-su's grandmother is there, and upon seeing Dan-tae, she happily exclaims, "Jun-pyo!" What?
Dan-tae/Jun-pyo takes a seat, and Grandmother expresses relief that Jun-su didn't catch him in front of the vaults. He agrees and thanks her for her quick thinking earlier, feigning a fainting spell just in the nick of time.
She worries that Jun-su has caught on to their secret, but Dan-tae replies that it was probably mere coincidence that he and Jun-su were there at the same time. She wonders how long they must meet in secret, and Dan-tae reminds her to refrain from calling him Jun-pyo until she's able to reveal that he's her grandson.
Grandmother has been so content ever since Dan-tae told her he was Jun-pyo. We flashback to fifteen days prior when Dan-tae gently breaks the news to her that he's located her missing grandson. He presents her with DNA results and explains that there is a match. She repeatedly asks where Jun-pyo is, and Dan-tae answers with trepidation: "I think I am Jun-pyo."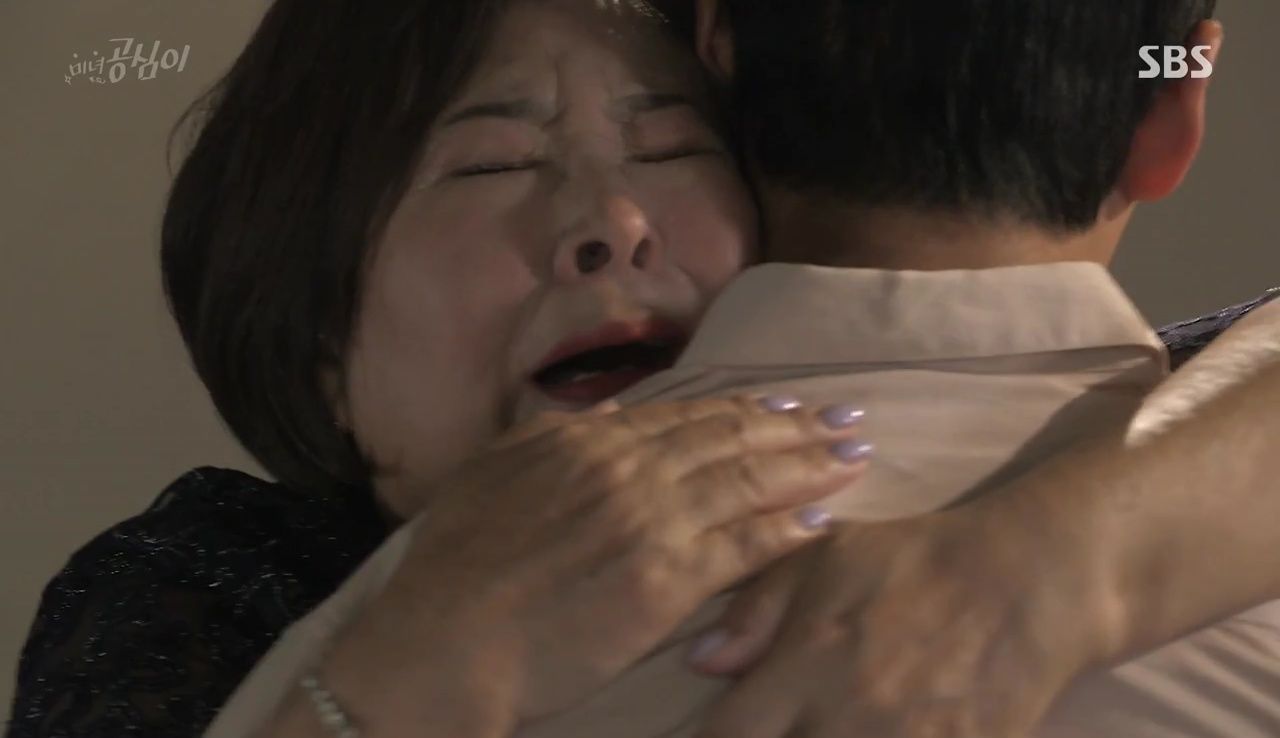 It's an emotional moment, with both Grandmother and Dan-tae in tears, embracing each other for the first time as grandparent and grandson. She urges him to never disappear again, and he reassures her that he won't.
Twelve days prior, they have another meeting in the same room. Dan-tae explains that his identity as Jun-pyo must be kept a secret until he finds his kidnapper, who is a Star Group employee. He needs unrestricted access to the company in order to go about his investigation, and Grandmother agrees to transfer her current secretary away to leave the post vacant for Dan-tae.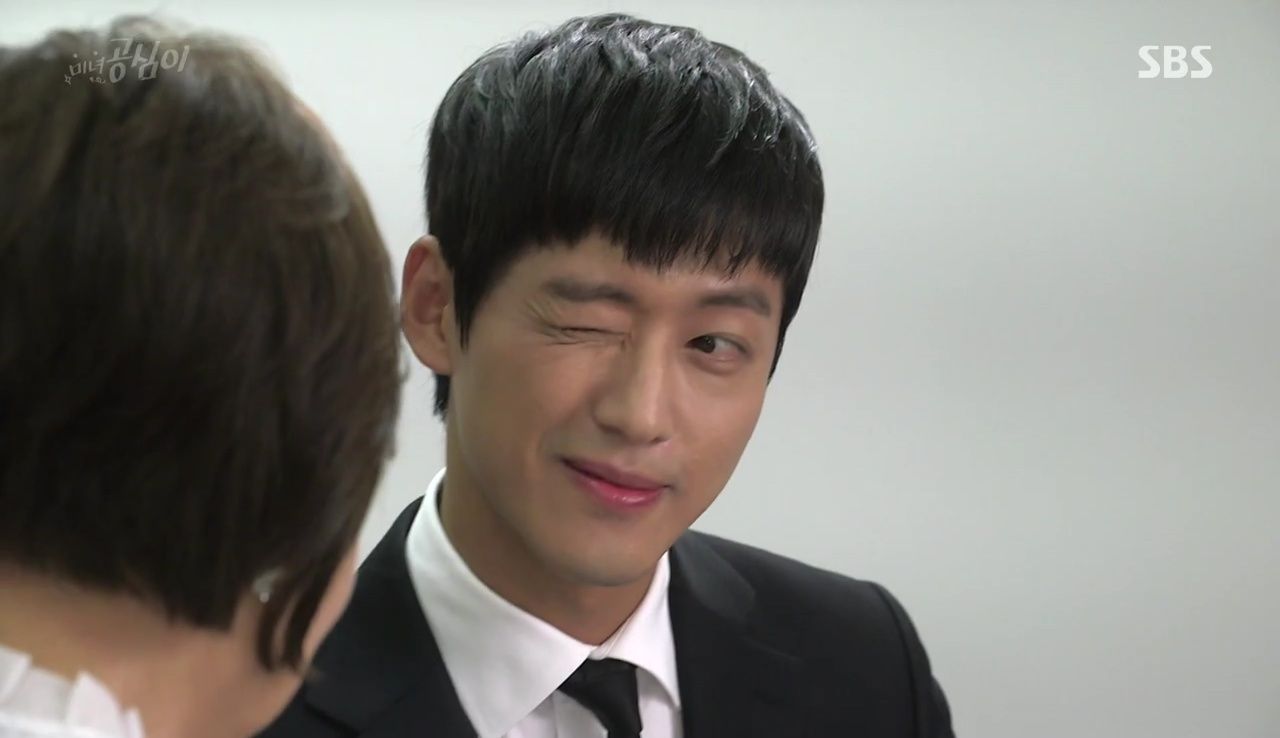 Turns out when President Seok and Uncle expressed incredulity at Dan-tae's new role as secretary ten days ago, Grandmother was in on the ploy from the very beginning, defending her decision to hire him with conviction and exchanging knowing winks with Dan-tae. Cuuute.
We return to the present, and Grandmother can't help but shed some tears. Thinking back on the moment Dan-tae revealed himself as Jun-pyo always makes her emotional. She doesn't care that he failed to nab the culprit at the arboretum; she's happy in knowing Jun-pyo has been found, but fears Dan-tae will be in danger if he continues his search for the culprit.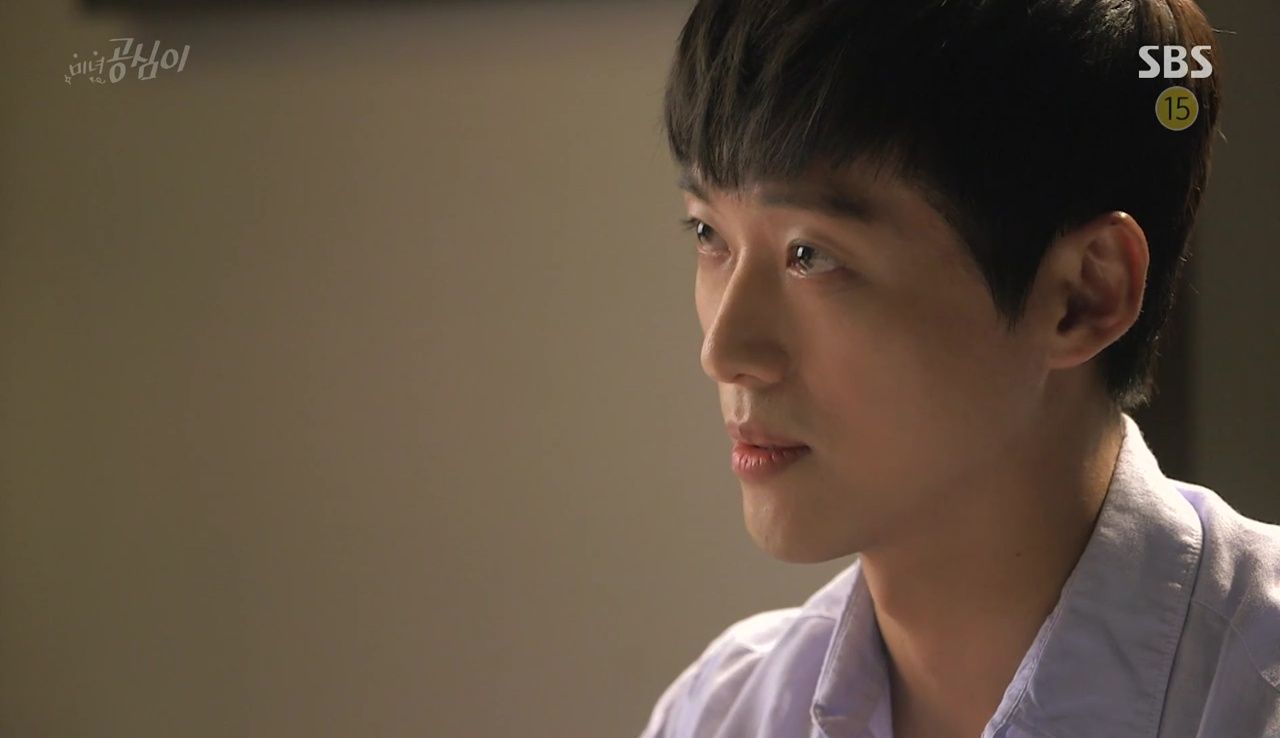 Dan-tae regrets that she's not able to spend time with him openly, but asks her to wait a bit longer. He must find out who kidnapped him and caused his mother to die in a tragic car accident, and Grandmother understands his sentiment.
She asks if he has any good news to share, and Dan-tae admits that there's a lady he likes. Grandmother's eager to hear more, and he goes on.
Dan-tae: "I really like that woman, but because I couldn't tell her I like her, I feel so distressed and sorry. Lately, I'm not sure if I'm Jun-pyo or Dan-tae… I don't want to throw her into my confusing mess… I want to talk to her without hiding anything, but since I can't even reveal the truth about myself, how can I accept her heart?"
Grandmother takes his hands and sympathizes with his distress.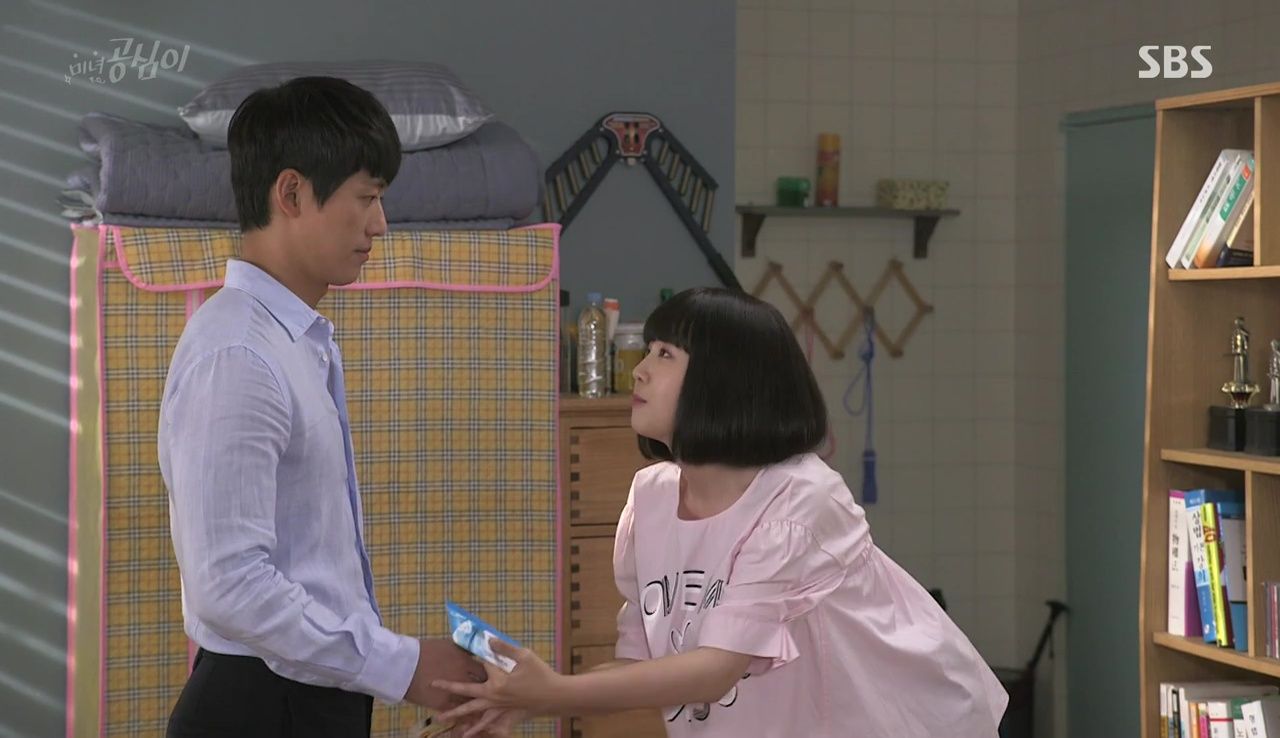 That day, Gong Shim gives Dan-tae one of two movie tickets she won from her octopus drawing contest, which expire today. She gives him the option to go or not, and insists that there's no pressure. Dan-tae says he probably won't be able to make it, and while disappointed that he didn't fall for her attempt at a movie date, she's far from devastated and suggests that he simply discard the ticket and resume whatever he was doing.
A bit later, Dan-tae thinks back to Gong Shim's declaration that no matter how he feels about her, she's going to continue pursuing him. He waffles on the movie outing, seeing that there's still time to make it, wanting to let his guard down just once to do as he wants. So when he hears Gong Shim's footsteps outside, he goes out to see her.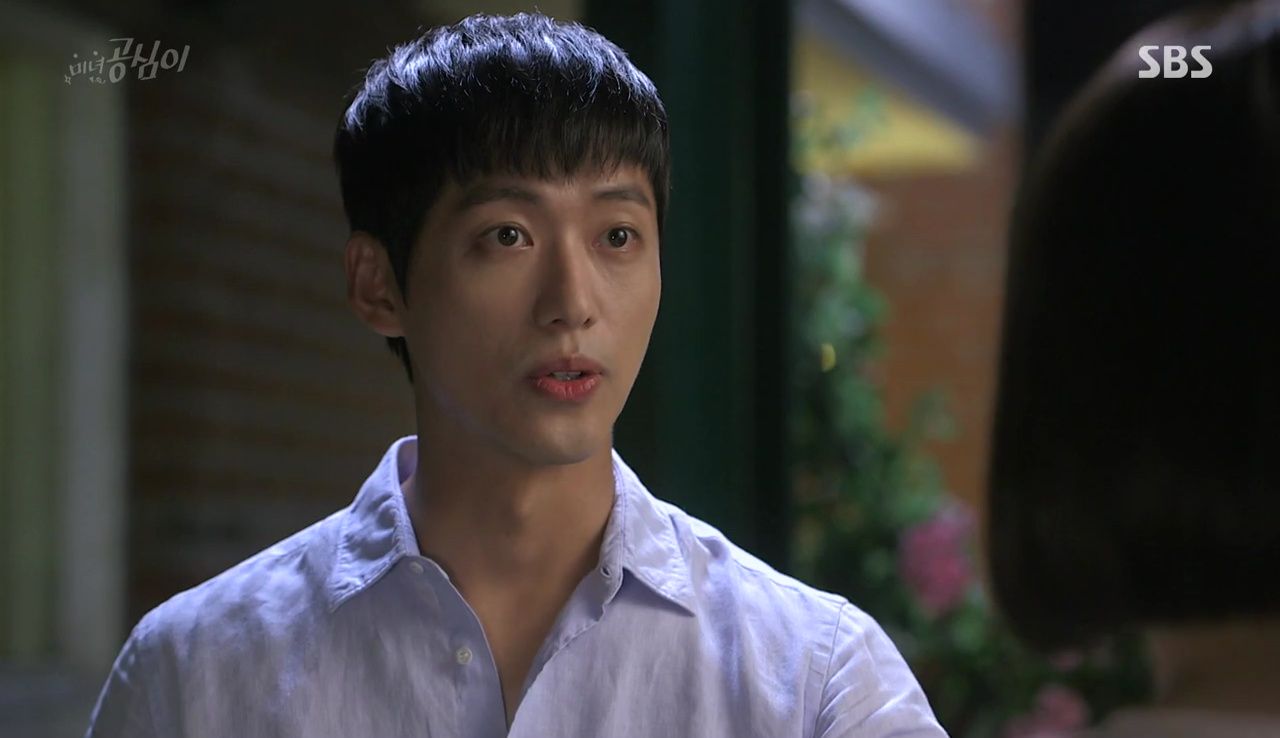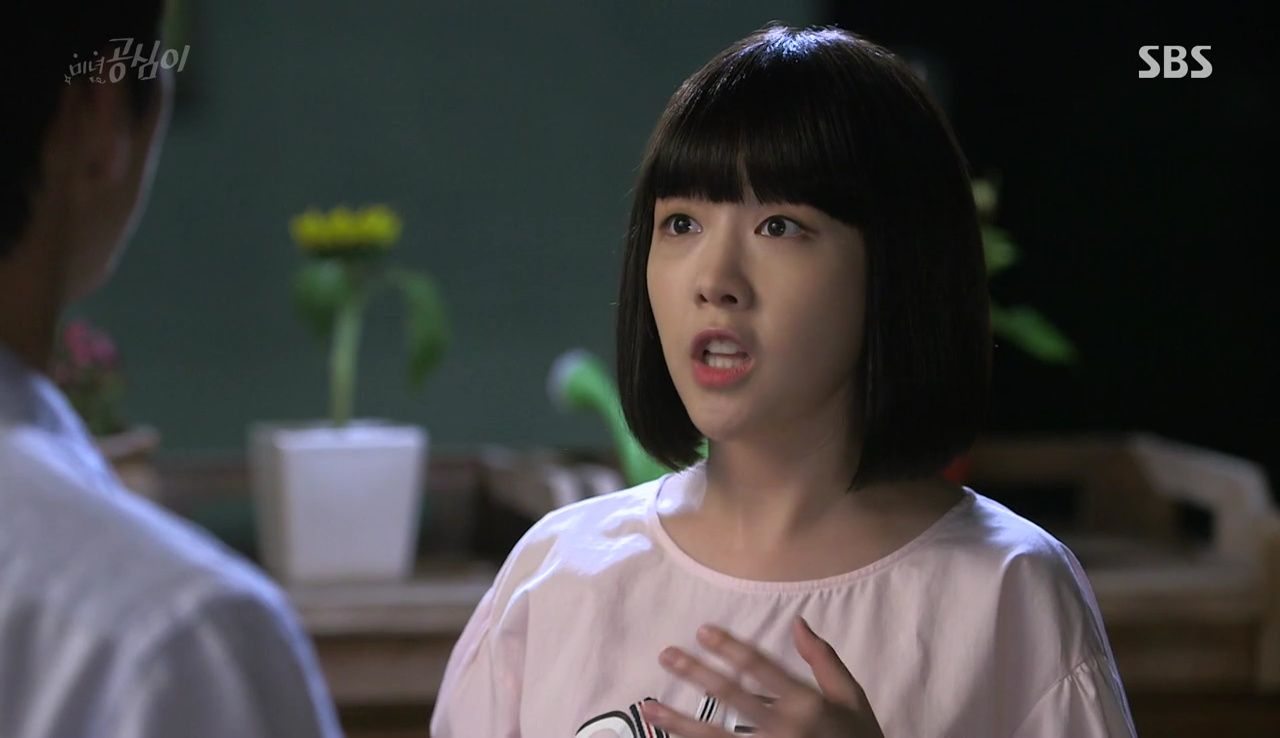 He tries to explain that he can now catch the movie, but Gong Shim cuts him off, assuming he's going to turn her down, and says it's okay. He tries again to squeeze in a word, but she insists that she's not bothered at all and says that today was merely a minor setback, then heads back downstairs. Dan-tae laments that he was the setback in this scenario.
The next morning, Gong Shim waits for Dan-tae outside the convenience store and asks what he's doing, ready to follow him right to the hair salon when he says he's due for a trim. He deflects, saying he's going to a barber's shop that only deals with men's hair… and then Gong Shim shows up anyway, having brought her father for a treatment.
Gong Shim describes Dan-tae's hair needs to the stylist, but in doing so, she manages to criticize his appearance, heh. Dan-tae appears offended, but he smiles as he instructs the stylist to work with what Gong Shim said.
Gong Shim's father informs Dan-tae that Gong Shim will be going on her first business trip to draw a mural for a sashimi restaurant, and she's very excited. Unfortunately, he and his wife won't be able to join her and he worries about her traveling alone. Dan-tae volunteers to accompany her, which surprises Gong Shim's father since he figured Dan-tae was too busy to help, as Gong Shim mentioned. But he's happy to take Dan-tae up on the offer, which would ease his worry about sending her off on her own.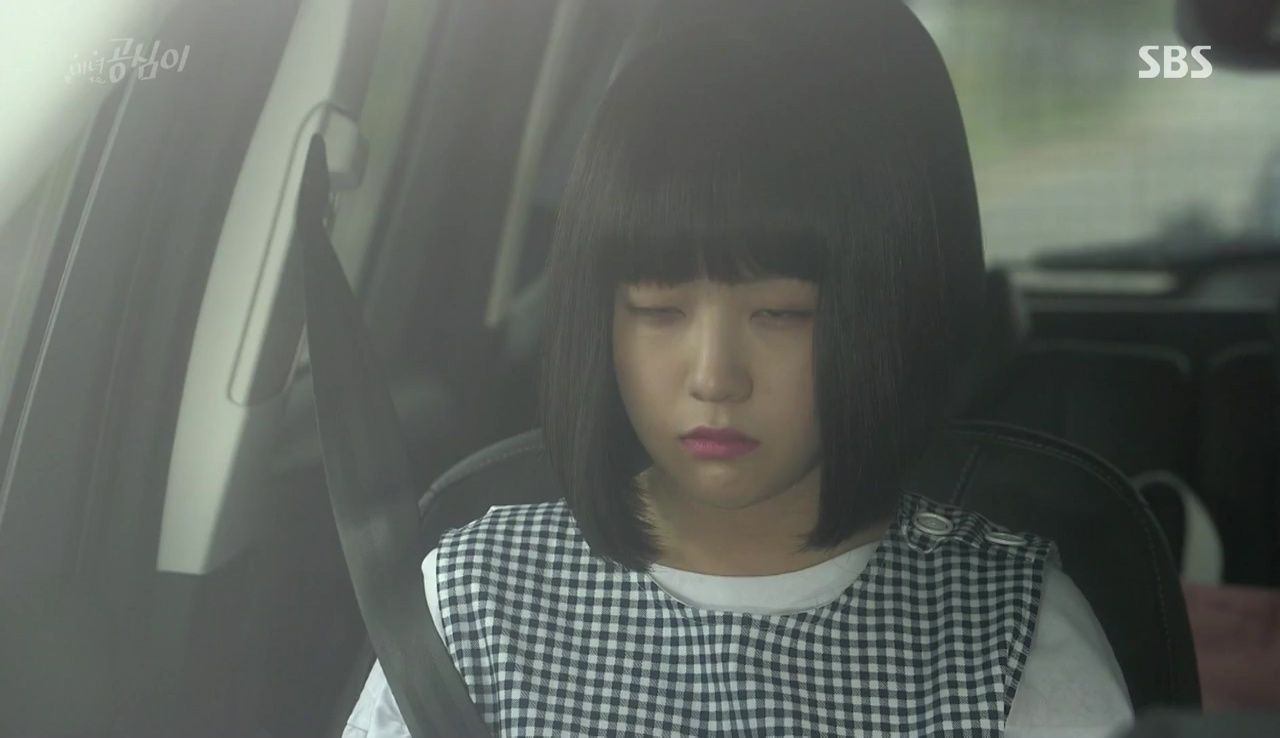 The next day, Dan-tae waits for Gong Shim outside the convenience store and surprises her by knowing about her business trip and renting out a car just to drive her. She's relieved she won't be traveling solo, and despite attempts to not fall asleep in the car while he's driving, she fails adorably, much to Dan-tae's amusement.
Her head lolls comically from side to side, and he tries to keep her head from rolling by holding it carefully in his hand. But then he loses his grip and her head gets knocked against the window, ha. They stop at a rest area, and Dan-tae happily assists an elderly couple by lifting their heavy belongings into their car. The couple are grateful for his help, and mention their two single daughters as potential mates for him. Gong Shim overhears this and swoops in.
She calls him "honey" (hubby) with a big dose of aegyo and drags him away to the car. She insists her interference came about because she sensed his discomfort, not to make a move on him, and the two continue on their way to the sashimi joint.
Back in the city, the memories of Jun-su asking Gong Mi to dinner and nudging her away from harm in the elevator bring a smile to Gong Mi's face. But she reprimands her mother for beating up Jun-su's mother and potentially ruining her chances with Jun-su. Her mother says she'll beg for forgiveness if she has to, but is dismayed to have visualized such a demeaning act when the two haven't even gone out yet.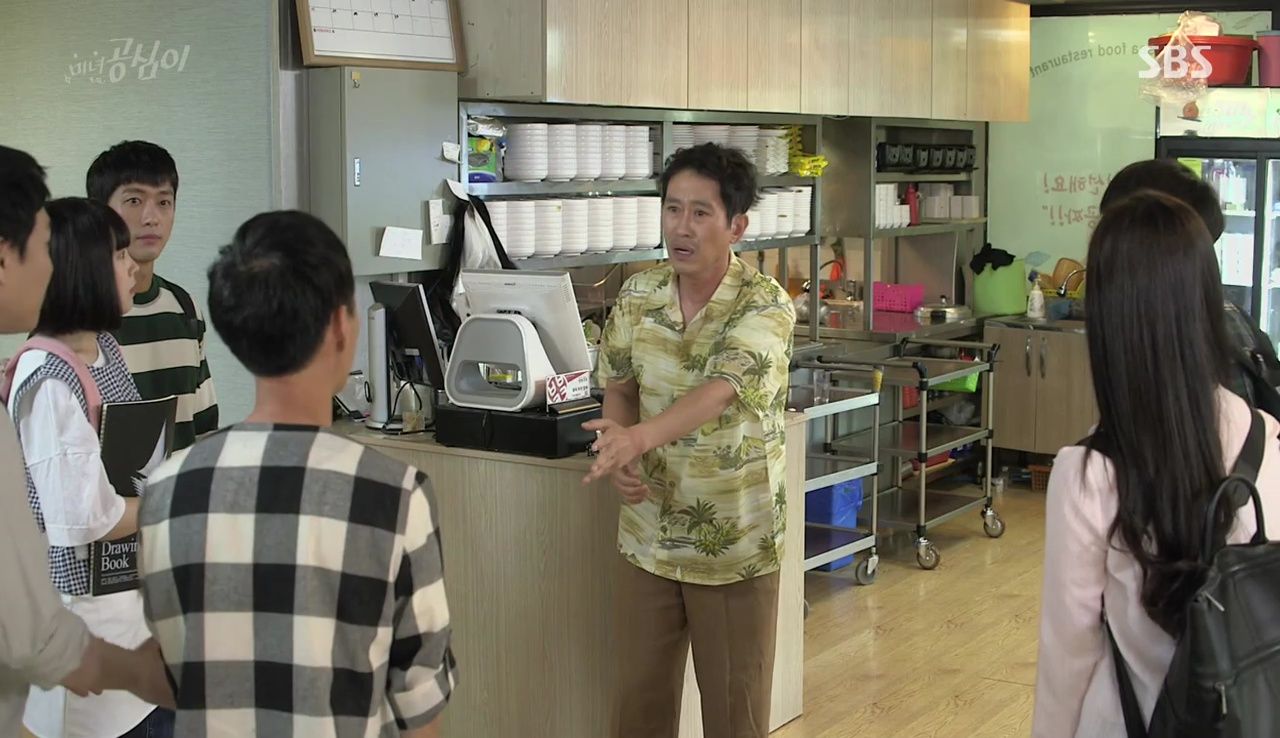 Gong Shim and Dan-tae arrive at the restaurant to begin work, but so have a bunch of other artists — the restaurant owner had put out so many calls for help that multiple people answered, and now they all want the job. The other artists argue their cases to the frustrated sashimi joint owner — "I came all the way from Busan!" "I came even though I broke my leg!" — who flip-flops on which sob story deserves the mural.
It looks like Gong Shim's about to lose out on this opportunity, but Dan-tae has an idea. He tearfully calls her "honey" and apologizes for being such a poor and inept husband, haha. The quivering lip and the visible anguish touch the restaurant owner's heart, and the mural goes to Gong Shim.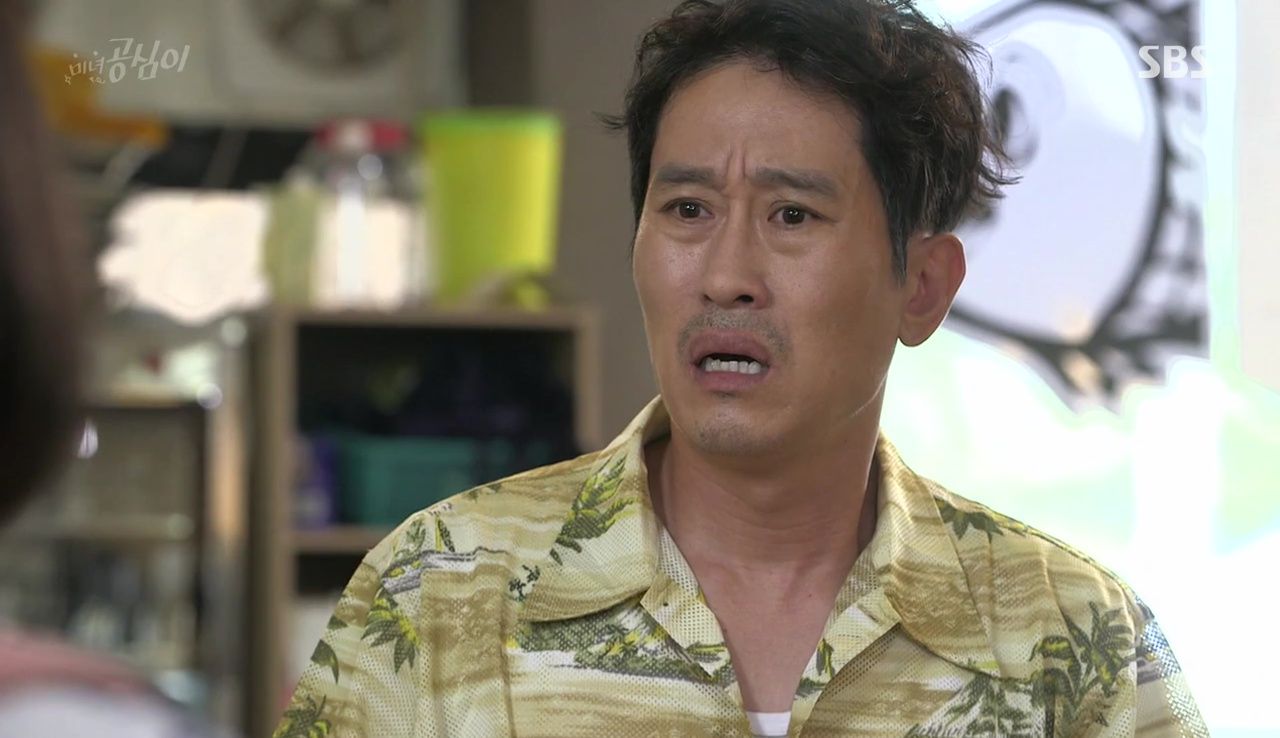 In private, Dan-tae explains to Gong Shim that the act was to make sure she didn't lose her chance, and Gong Shim understands; she's grateful for his help. She gets started on the mural, sketching out the design with a pencil first. Dan-tae watches with joy, unable to take his eyes off her.
When Gong Shim's ready to paint, the restaurant owner says there's an alumni reunion taking place tonight so she'll have to wait until they leave. So while they wait, Dan-tae and Gong Shim enjoy their sashimi feast, only to have the restaurant owner let them know that the reunion dinner is lasting longer than expected.
He brings Dan-tae and Gong Shim to the reunion dinner so they can join in on the festivities. They're introduced as newlyweds, and the crowd eggs them on to get up and sing. Dan-tae performs a ditty while Gong Shim provides animated dance moves. They're a cheesy duo, but the crowd is loving their enthusiasm.
After they finish performing, everyone wonders why they don't have a child yet. Dan-tae and Gong Shim squirm in awkwardness as they're encouraged to "make a kid" tonight since the dinner will be loud and ongoing.
Dan-tae and Gong Shim wait in their room, hoping they could finish the mural and head back, but the restaurant owner says the dinner has yet to end and brings them blankets so they can spend the night and start painting tomorrow morning. Unfortunately, there's no other room, which means Dan-tae and Gong Shim will have to share.
She doesn't feel comfortable with this idea, but Dan-tae only makes her feel worse when he encourages her to "take it [the wig] off," "lie down," and "wash up" because his consideration comes across as dirty, heh. Dan-tae returns to the room after getting some fresh air and finds Gong Shim fast asleep, sitting up against the wall.
He carefully spreads out the sheets for her and sets her down so she can sleep comfortably. While she sleeps, Dan-tae expresses guilt and gratitude for her attraction to him, and asks her not to go anywhere and wait for him a bit longer.
Gong Shim's up bright and early the next morning, filling in the mural with colorful paint. Dan-tae helps outline her designs, and soon enough, the underwater seascape mural is completed. The restaurant owner and his wife are pleased with the final product.
Dan-tae takes a photo of Gong Shim/his "wife" in front of the mural. Then, the restaurant owner says the husband should be in the photo as well. Dan-tae stands awkwardly next to Gong Shim, and the restaurant owner encourages him to embrace her. Right as the shutter goes off, Dan-tae surprises Gong Shim by putting his arm around her shoulder and holding her close.

COMMENTS
Cuuuute. Dan-tae may be wary of accepting Gong Shim's feelings due to an identity crisis, but this episode has shown that his affection for her is very much present and has not waned in the slightest. He definitely likes her and cares for her as a woman, and all he needs is time to resolve his kidnapping mystery and come to terms with who he is. In a way, he's going through something similar to Gong Shim. Gong Shim needed to learn to love herself in order to love someone else, and now Dan-tae needs to embrace his fractured identity, in order for him to love Gong Shim with an open and honest heart. I'd say that's quite fair and reasonable thinking on his part. He's serious about his relationship with Gong Shim, which is why he's not plunging headfirst into romance just yet.
I'm glad there's at least one other person who's aware of Dan-tae being Jun-pyo because holding a huge secret is burdensome. I was pleasantly surprised to learn that Dan-tae's appointment as the Chairwoman's secretary was all part of the plan, and that the Chairwoman knew as early as she did. As much as she'd like to spend time with Jun-pyo publicly, she understands the gravity of the situation and respects Dan-tae's desire to find out the person responsible for his kidnapping and the death of his mother. Closure would ease the pain, and allowing him to seek it makes a lot of sense, despite the looming threat of danger. I'm not worried that she'll inadvertently spill the beans because we've seen her feign illness, and she's a smart woman who can pretend just as well as Dan-tae can. I guess showmanship runs in the family.
It's pretty clear that Jun-su has inadvertently found out about Dan-tae being long lost Jun-pyo, and it'll be interesting to see what he does with this news now that he knows his mother and Butterfly Tattoo Uncle may have been complicit in Jun-pyo's kidnapping. He'll need to tread carefully so as not to endanger Dan-tae, and I hope he's wise enough to not turn a blind eye to his family's transgressions. Blood may be thicker than water, but Jun-su's no dummy, and from what we've seen so far, his morals are straight. However, he did get his mom out of the arboretum before Dan-tae arrived, although that may have been driven by fear and/or filial instinct.
I was worried the show would proceed in full force without some cuteness, eccentricity, and humor, so I was relieved to see Dan-tae and Gong Shim share some laughs and perform a wacky song and dance number. I love that Gong Shim continues to pursue Dan-tae without feeling downtrodden when her attempts to connect with him fail. She's persistent, but not pushy. She's quick to recover, and has yet to sulk in misery, because what's the point? He may decline her invitations, but that won't change the way she feels about him. She's been calm, cool, and assured throughout the whole thing, and it's refreshing to see her act this way. I like to think that Gong Shim's assuredness stems from her inner strength as well as the belief that the feelings are mutual, although it may not always seem like it from Dan-tae's end.
Now that Dan-tae knows he's Jun-pyo, and it's finally been confirmed, I'm looking forward to seeing Dan-tae's next steps in solving the mystery and opening up to Gong Shim. The arboretum plan may have failed, but it's really only the beginning. He's got a powerful ally — Grandmother! — and all he has to do now is continue working cautiously and methodically, like he's always done, in andante.

RELATED POSTS
Tags: Beautiful Gong Shim, Episode 12, featured, Minah, Namgoong Min, Ohn Joo-wan