Beautiful Mind: Episode 2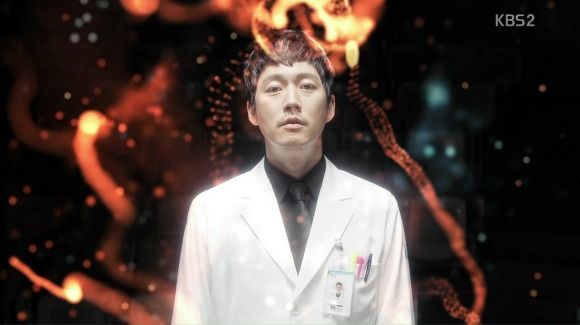 Beautiful Mind continues to fascinate with its complex characters and hidden agendas, even from those you least expect. Right when you've settled into one opinion about a character, a relationship, or even an ideology, the ground shifts and suddenly you find yourself asking larger questions about what it means to be a compassionate doctor, a righteous enforcer of the law, a good father, and most of all, a decent human being.

EPISODE 2 RECAP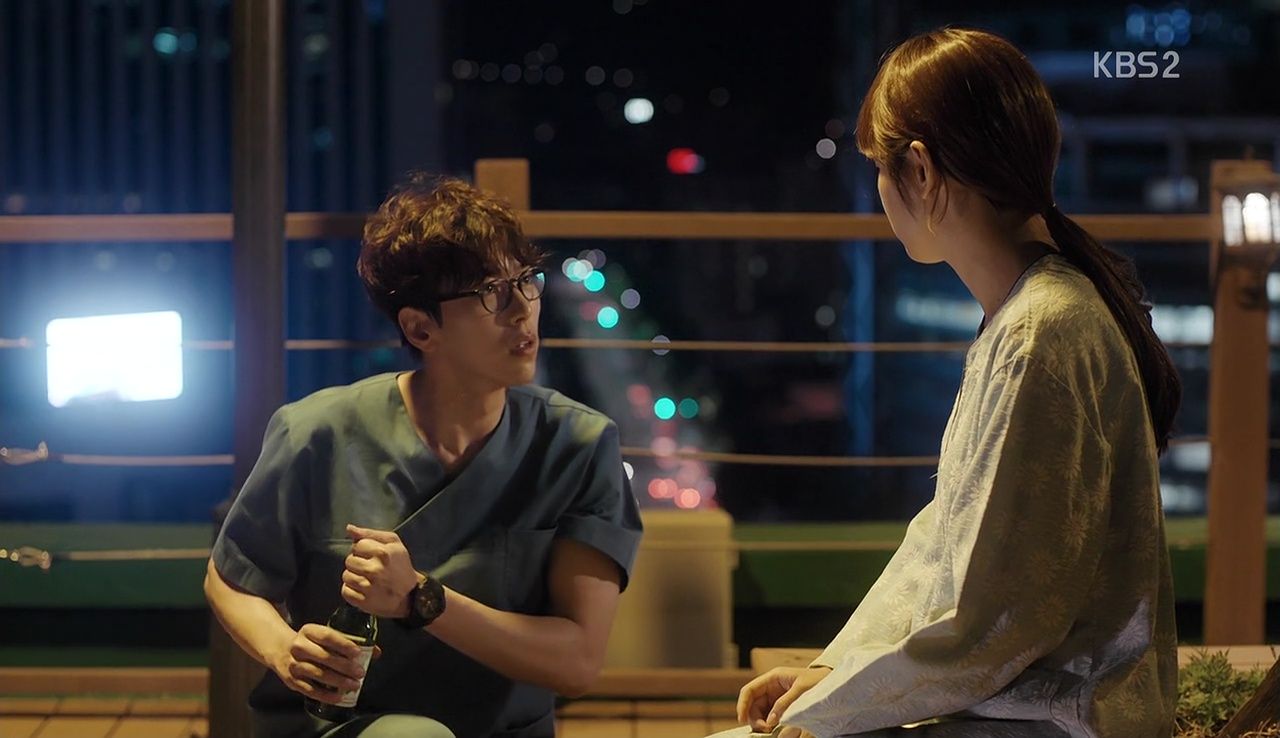 Before continuing with last week's cliffhanger, we jump back a little bit into the past where we find Suk-joo frantically running through the hospital in search of a long-haired Jin-sung. He discovers her on the rooftop with a soju bottle in hand. He wrestles it from her, shouting that her surgery is tomorrow and thus she should not be consuming anything.
She shoots back that she has no intention of undergoing the procedure because she refuses to financially burden her family.
He responds by uncapping the soju and downing its contents in one long gulp before she can ruin her chances and asks her tenderly if she could put her trust in his hands one more time. This of course is the bottle cap we recognize from the previous episode.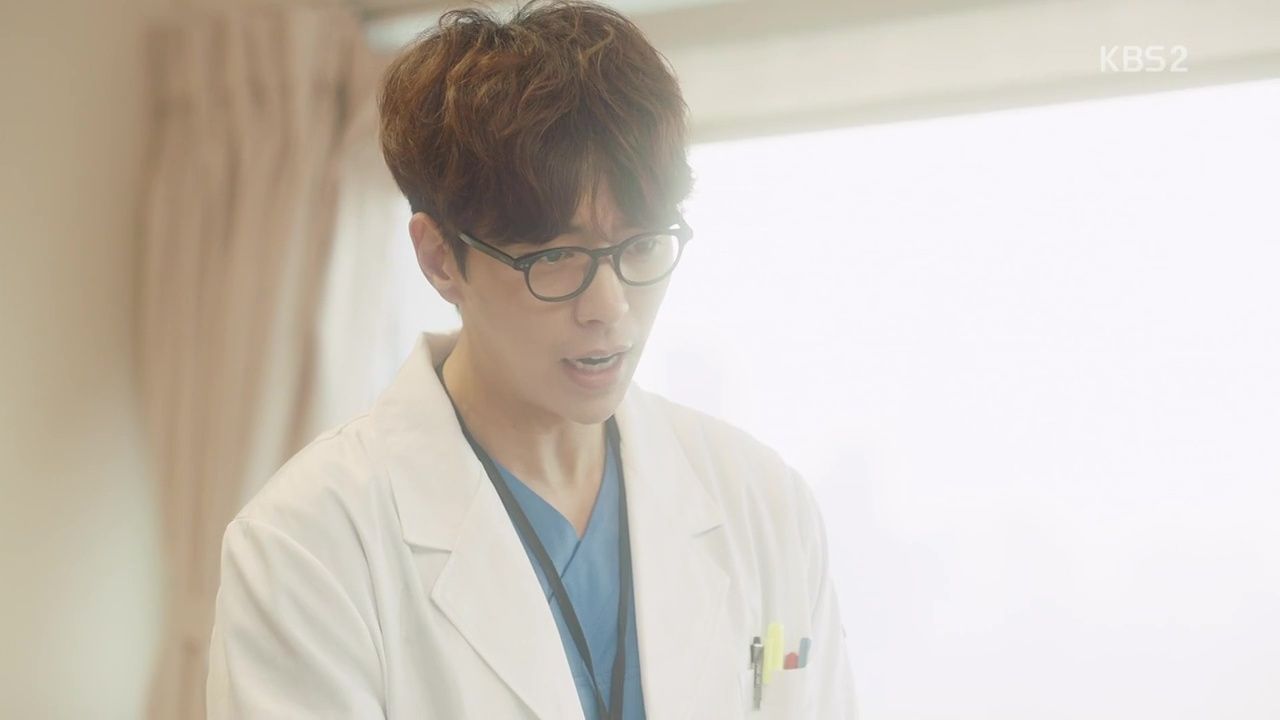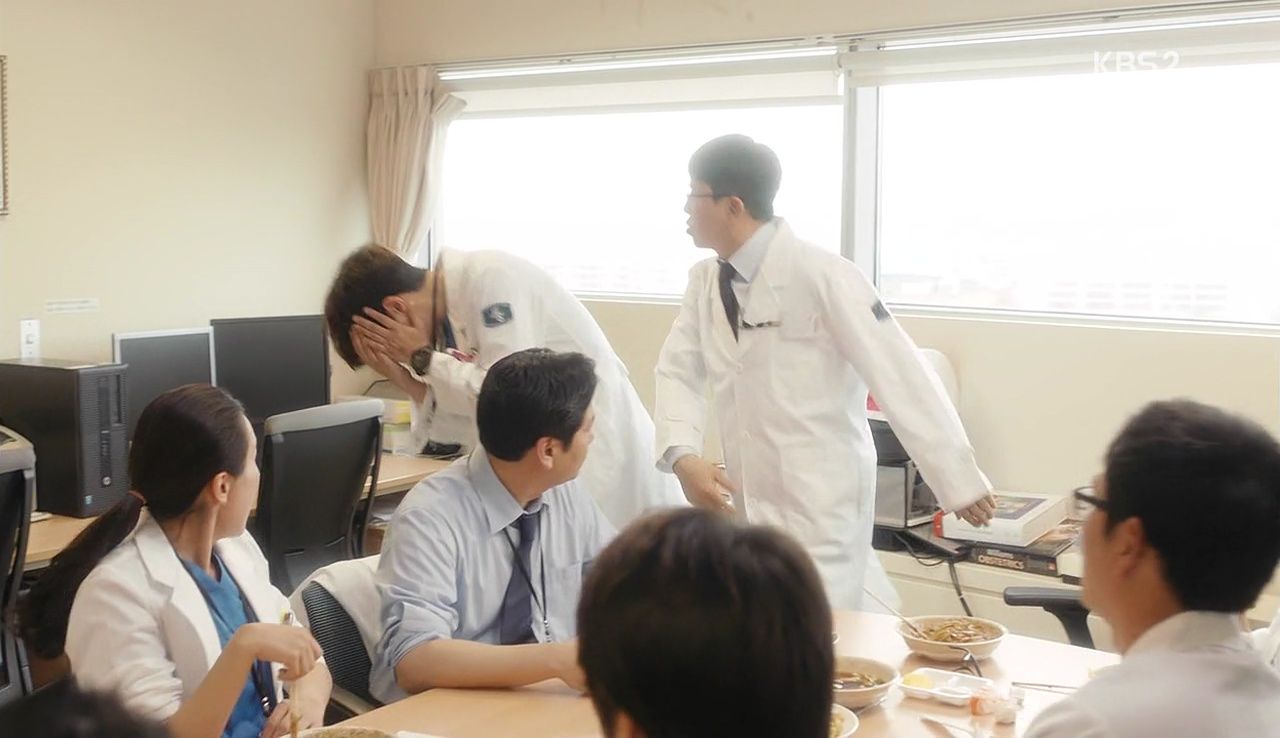 It seems Jin-sung's reticence isn't the only barrier to her surgery; it's lunchtime and a first-year resident Suk-joo desperately pleads with his superior to redo Jin-sung's surgery. Evidently, Jin-sung was born with a heart valve deformity, and although she underwent an operation once before, the procedure failed, and now she is waiting for an artificial valve implant.
Suk-joo implores the senior surgeon to right his wrong and help lend his assistance for the second time since his performance in the previous one was clearly malpractice. Suk-joo insists that his senior will be forgiven if he helps do the right thing since surgeons are human too, and we all make mistakes.
Suk-joo receives a violent wallop to the head for his audacity and the senior threatens to fire him, but Suk-joo is not deterred and vows never to live merely as a monster wielding a scalpel.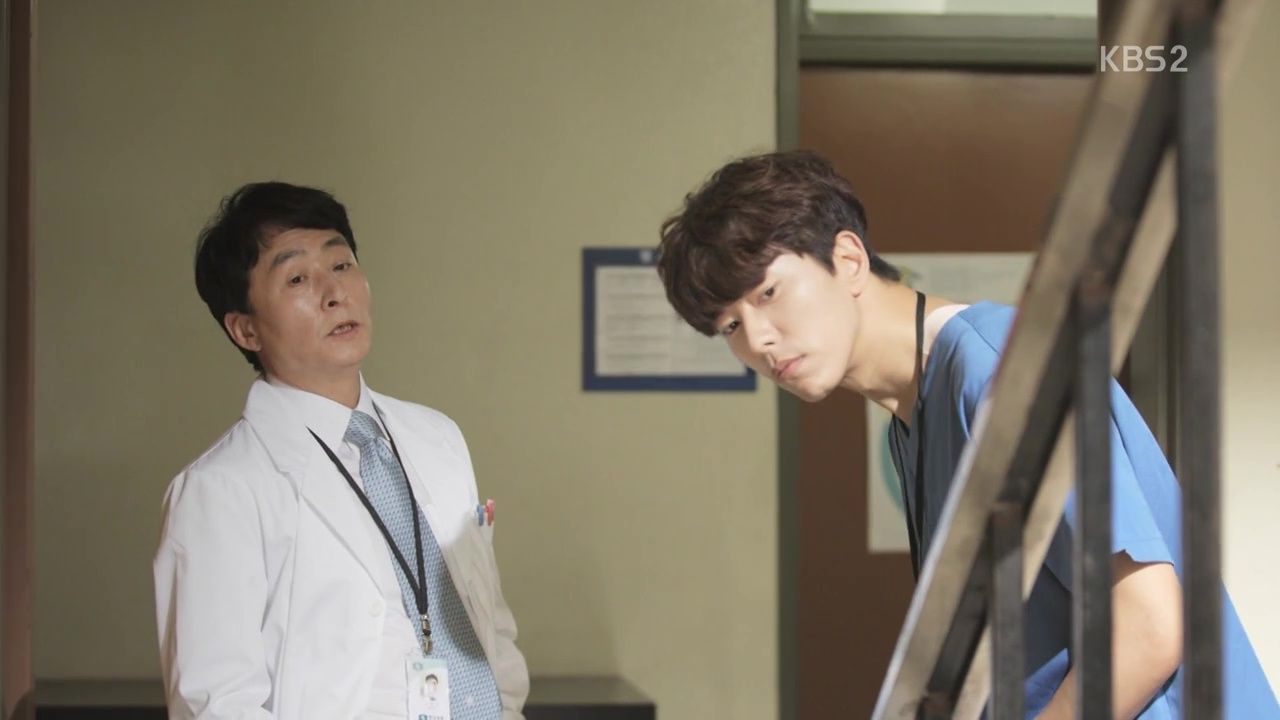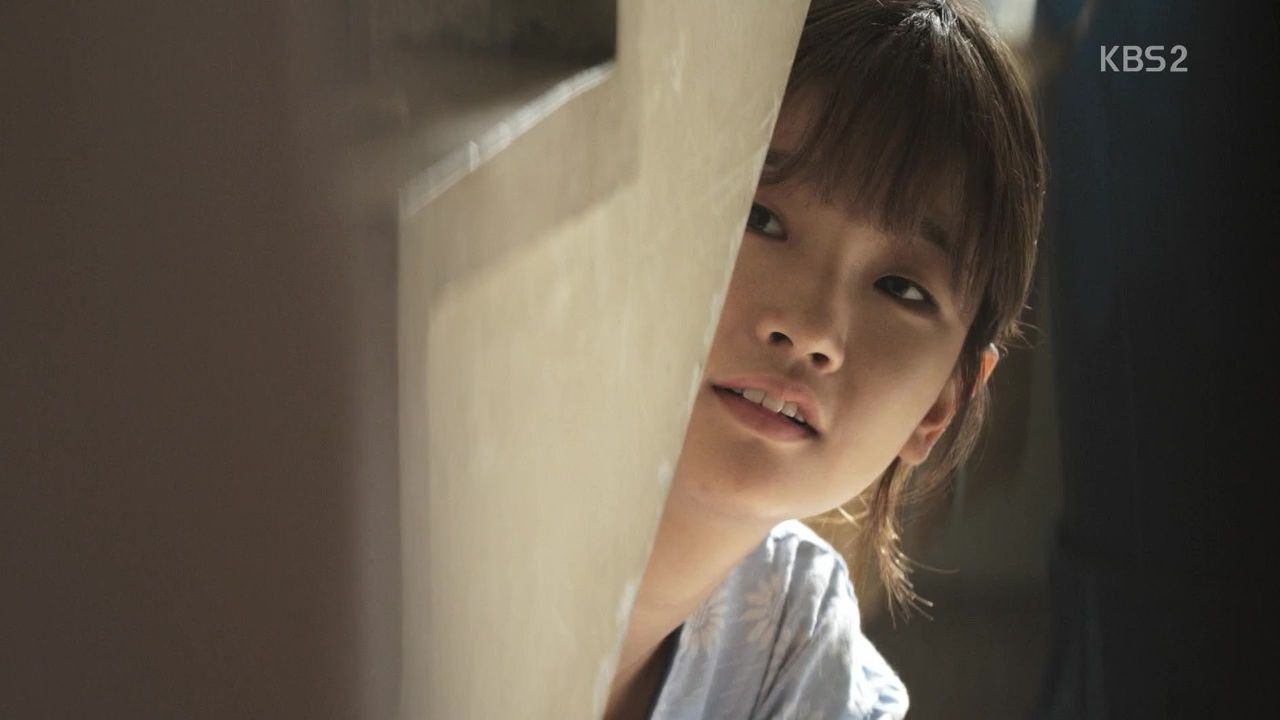 Chief Director Shin follows the young surgeon out into the hall where Jin-sung listens from her hiding place under the staircase. Chief Director Shin implores Suk-joo to apologize to his superior and beg for forgiveness. With a glint in his eyes, he explains that if Suk-joo doesn't apologize, he cannot ask his colleague to allow Suk-joo to assist him with the surgery. He smiles and says he will figure out a way to get the hospital to cover the payment for the procedure.
As the men leave, Chief Director Shin knowingly tells the hiding Jin-sung to go back to her room since it is almost time for their rounds. A short time later, Jin-sung has the surgery with presumably great success.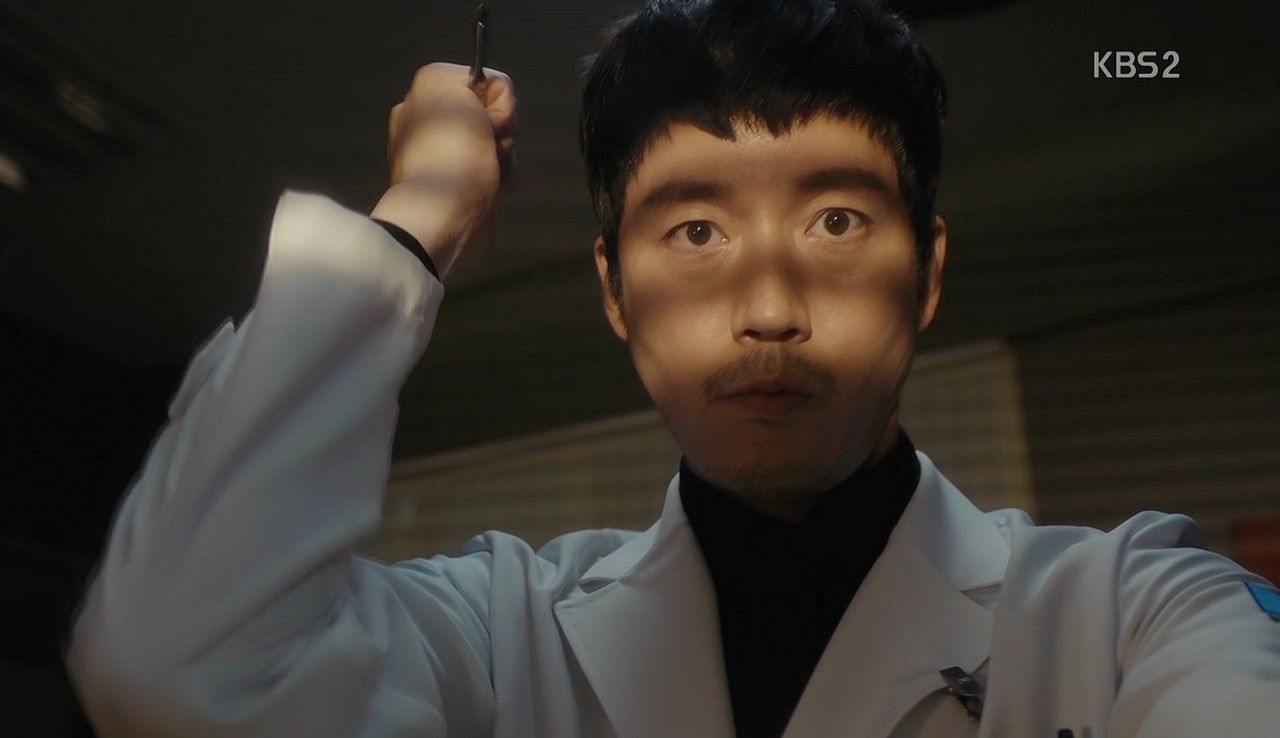 Then, we return to the present where Jin-sung awakens with a start in a hospital bed and immediately begins piecing together the events of the previous night. Perhaps predictably, Young-oh's scalpel attack served an emergency medical purpose, which ultimately saved Jin-sung from cardiac arrest. In fragmented flashes of memory, we see Suk-joo swoop in and extract some fluid from Jin-sung's heart using a large syringe.
Basically, Jin-sung has a condition called cardiac tamponade whereby excess fluid builds up and places potentially fatal pressure on the heart, preventing it from expanding fully and resulting in insufficient blood circulation throughout the body. What Young-oh did was puncture precisely between the myocardium and pericardium of Jin-sung's heart, then used a syringe to aspirate the excessive fluid and alleviate the building pressure.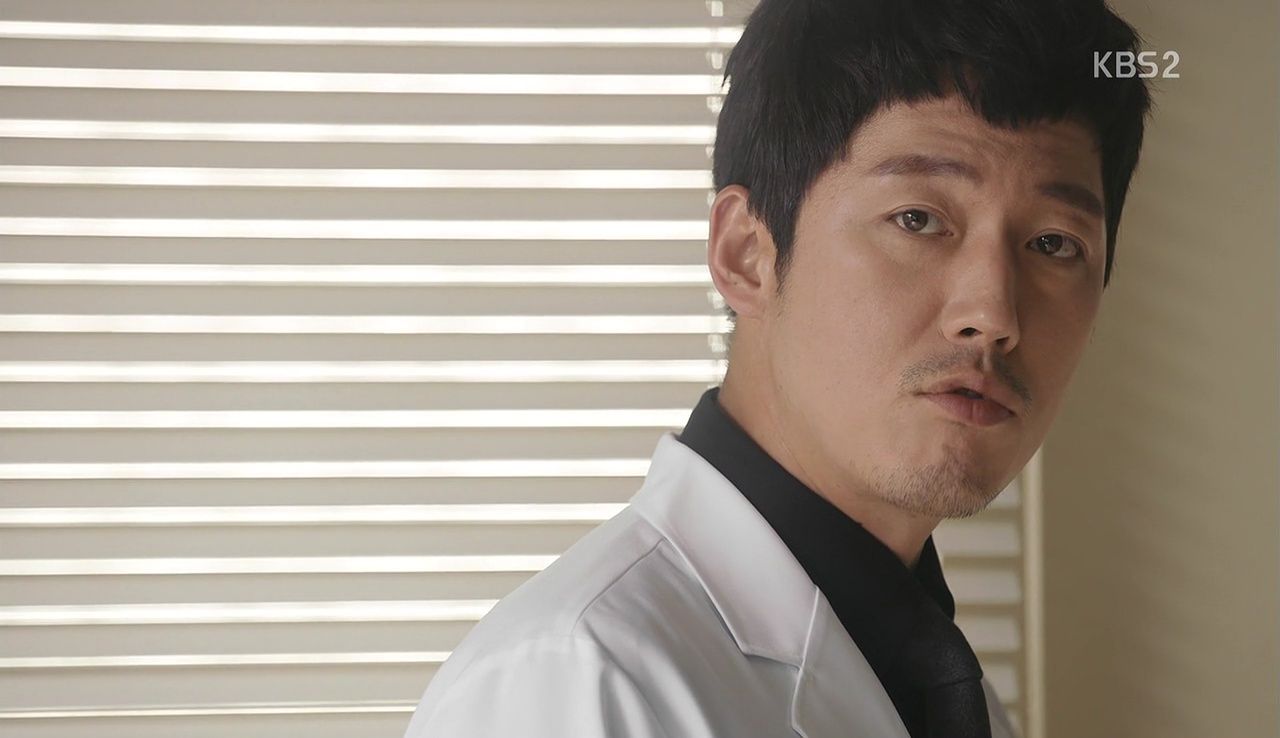 When one of the younger doctors commends Young-oh for the precision of his cut, and the overall coolness factor, Suk-joo quickly points out how risky the procedure was. What Young-oh did was brilliant, but exceptionally arrogant, and ultimately dangerous.
Despite his misgivings, Young-oh did save his patient, so Suk-joo pays him a visit to express his gratitude. Young-oh, disinterested in his thanks, pragmatically responds that if the police officer who suspected him of killing the motorcyclist were to suddenly wind up dead in his office, he may as well tattoo the word "criminal" on his forehead. Therefore, saving her was only logical and perhaps more importantly, a matter of self-interest.
Suk-joo attempts to correct any residual misunderstandings by explaining that the CCTV footage of surgery was deleted and Jin-sung was keen on seeing it, so Young-oh gladly hands it over right before cryptically advising that he should tell Jin-sung to take better care of herself.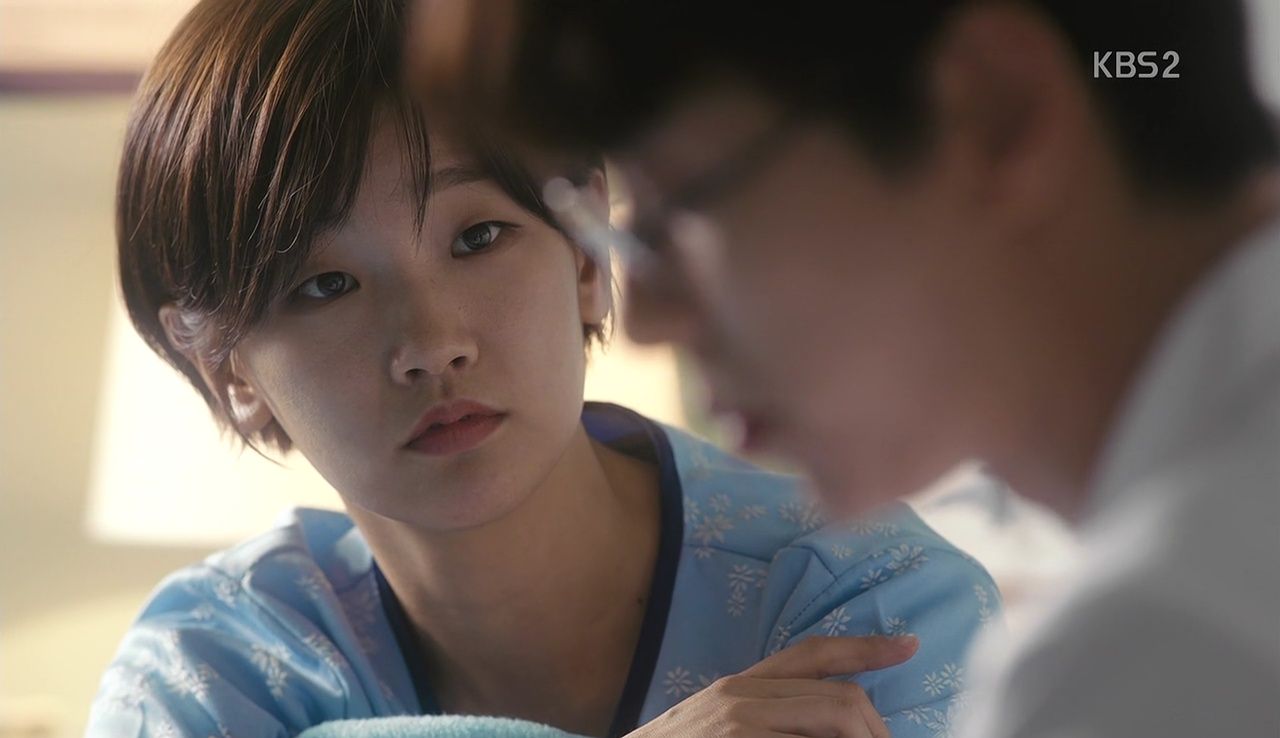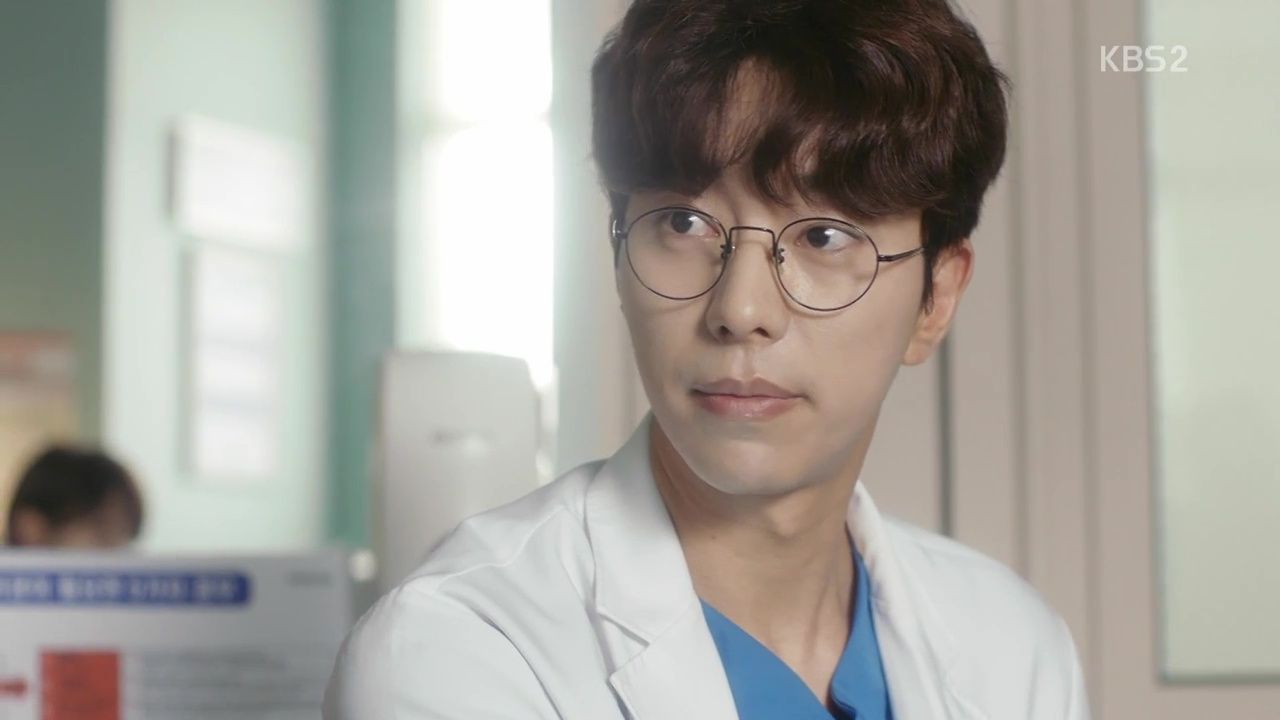 At her follow-up appointment with Suk-joo, Jin-sung squirms, pleads, and bribes Suk-joo to let some other doctor do her dressing—she isn't a kid anymore after all. Oblivious to her feelings, Suk-joo says she's stuck with him.
When she goes on to thank him for saving her last night, he says she should thank Young-oh instead.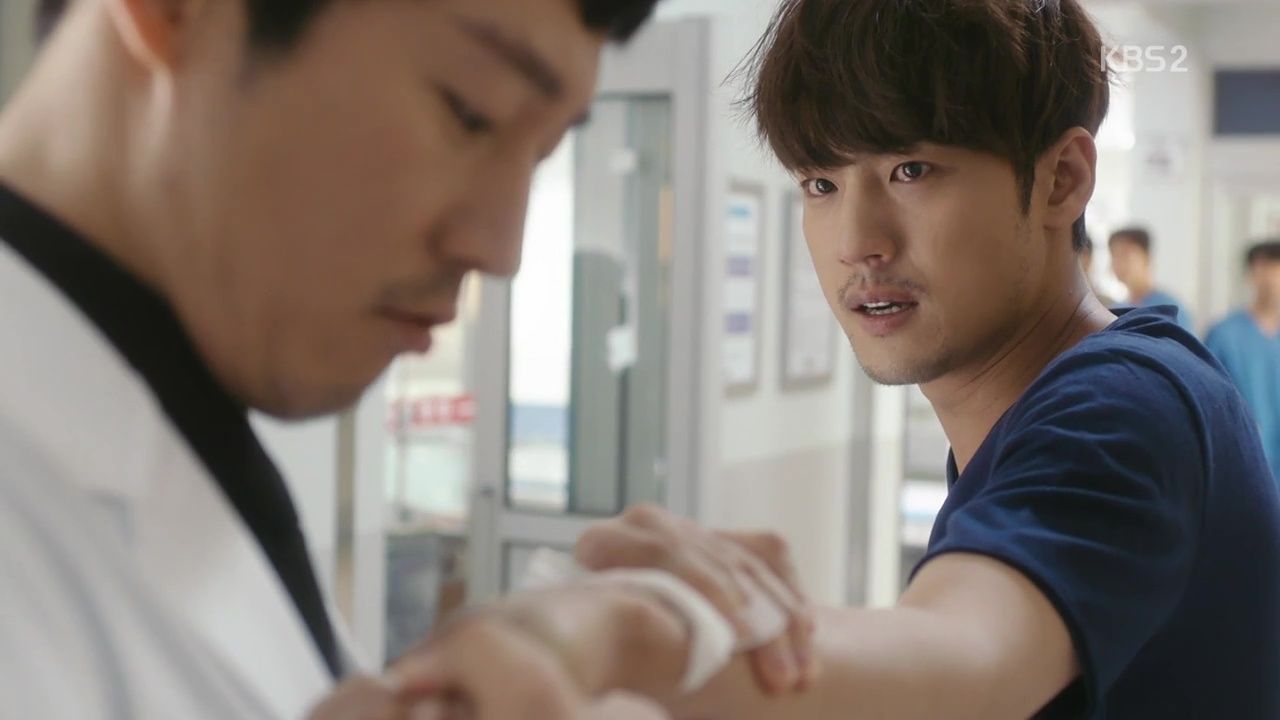 Meanwhile, in another part of the hospital, Young-oh contends with a suicidal patient (cameo by Seo Joon-young) rapidly becoming homicidal. Armed with a scalpel, the belligerent patient threatens to kill anyone that comes close, so naturally Young-oh approaches in his usual impassive way. Young-oh swiftly disarms the assailant then proceeds to instruct him on the most effective way to kill himself the next time he tries. Young-oh points out that the feeble cut the patient previously made to his own wrist was hardly fatal, illustrating just how nonexistent his desire to truly die must be.
He encourages the patient to settle down and stop making such a fuss with such weak intentions. Humiliated, the patient launches into another attack directed at Young-oh, but Jin-sung dives to save him just in time.
As they dust themselves off, Jin-sung announces they're now even in terms of life-saving acts. Young-oh doesn't think so and leads her away to the stairwell to talk privately. As she follows him, Jin-sung notes how steady Young-oh's heart rate was despite the hoopla.
Continuing from the conversation of the previous night, Jin-sung asks why the video of the motorcyclist's surgery was on his computer. He notes that it is probably in Suk-joo's room as well. She doesn't back down and tells him how she saw him in the mortuary the night the bodies were allegedly switched before the coroner's examination. Unflustered by her suspicion, he asks if she believes him to be a murderer who deleted damning evidence of his crime, shouldn't she be afraid right now?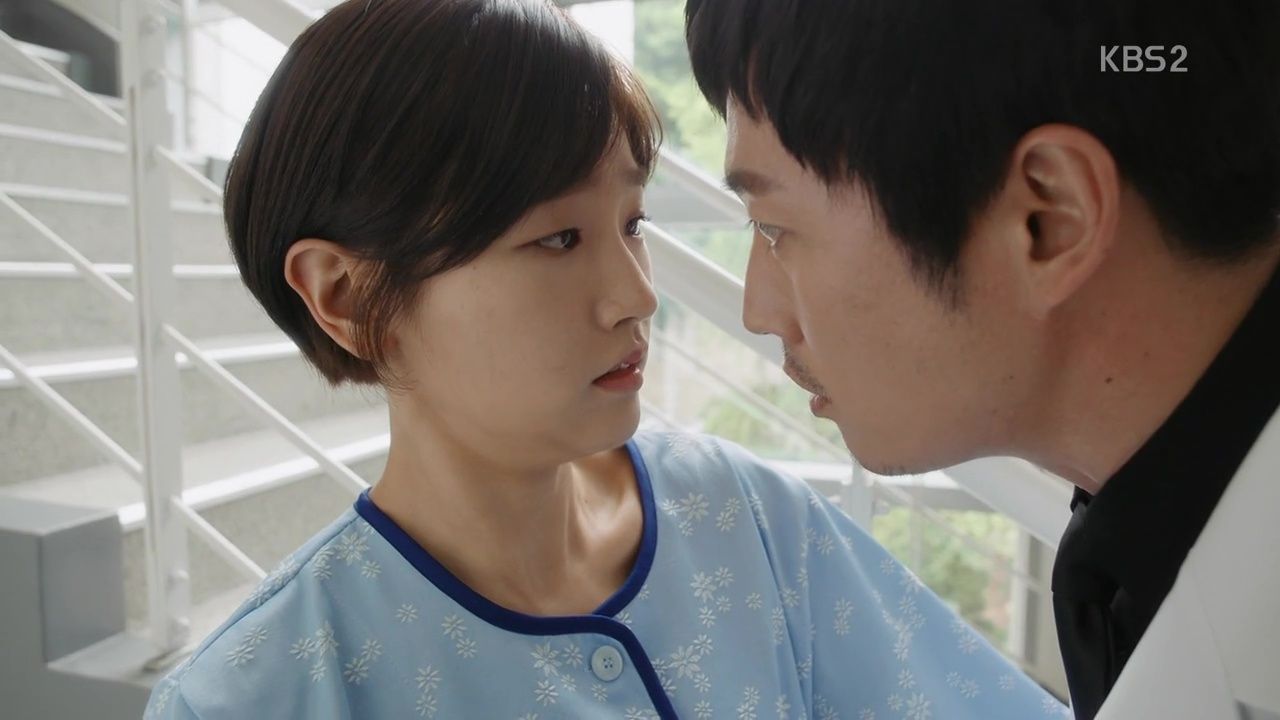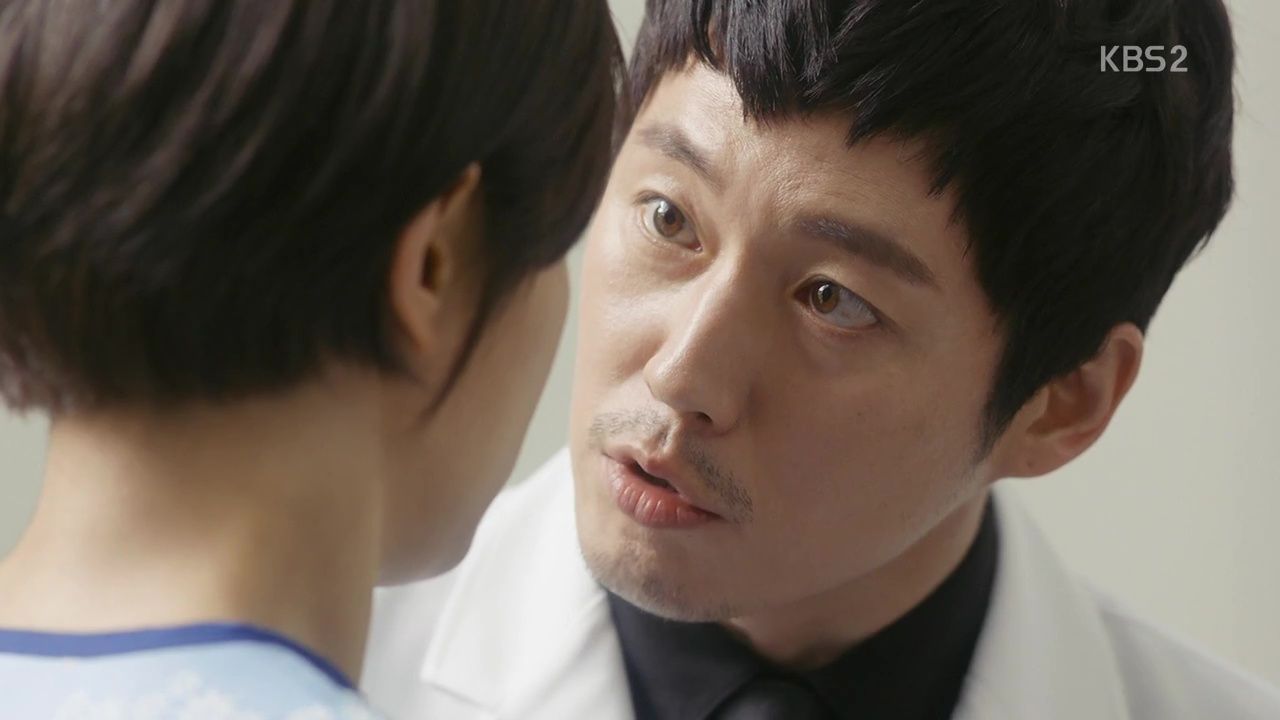 She realizes immediately the reason he saved her before. She matches his cold delivery with her own and says:
Jin-sung: "Doctors save people and the police catch bad people. Just watch, I'm definitely going let everyone know what you did. Then no one will be on your side, not the doctors, or the hospital. You are all here for the patients, that's what I believe."
Unperturbed by her avowal, he argues that belief means nothing, it's only an abstraction. Pushing her against the edge of the stairwell he then pulls her back just as she stumbles backwards 'saving' her for a second time and affirms that he too believes hospitals serve patients.
Back at the police station, Jin-sung tries to persuade Sergeant Park to let her proceed with the motorcyclist murder case. He explains that without any evidence they can't conduct an investigation. All they have is Jin-sung's suspicions that the bodies were switched, which isn't enough to start with. Heck, even the coroner okayed the autopsy. She begs for the chance to try, even for just one day, she can't let this be dust swept under the rug without doing anything.
Moved by her insistence, Sergeant Park sends her on paid vacation to carry out her investigation strictly off the books. However, she encounters her first obstacle quickly and without a warrant the hospital refuses to release any information.
Instead, she seeks out Chief Director Shin and voices her suspicions about Young-oh. Chief Director Shin adamantly defends his colleague and cites the upcoming live surgery of Assemblyman Kim as a reason to leave Young-oh alone. Frankly, the hospital can't afford the scandal of a murder investigation. His hands are tied.
Min-jae and Suk-joo attend a lecture held by Young-oh about said live surgery and exchange pleasantries, but their relationship is unclear. Young-oh moves to begin his lecture, but is interrupted by Jin-sung who projects the video of him inspecting the motorcyclist's deceased body in the mortuary to the entire audience composed of the hospital's doctors.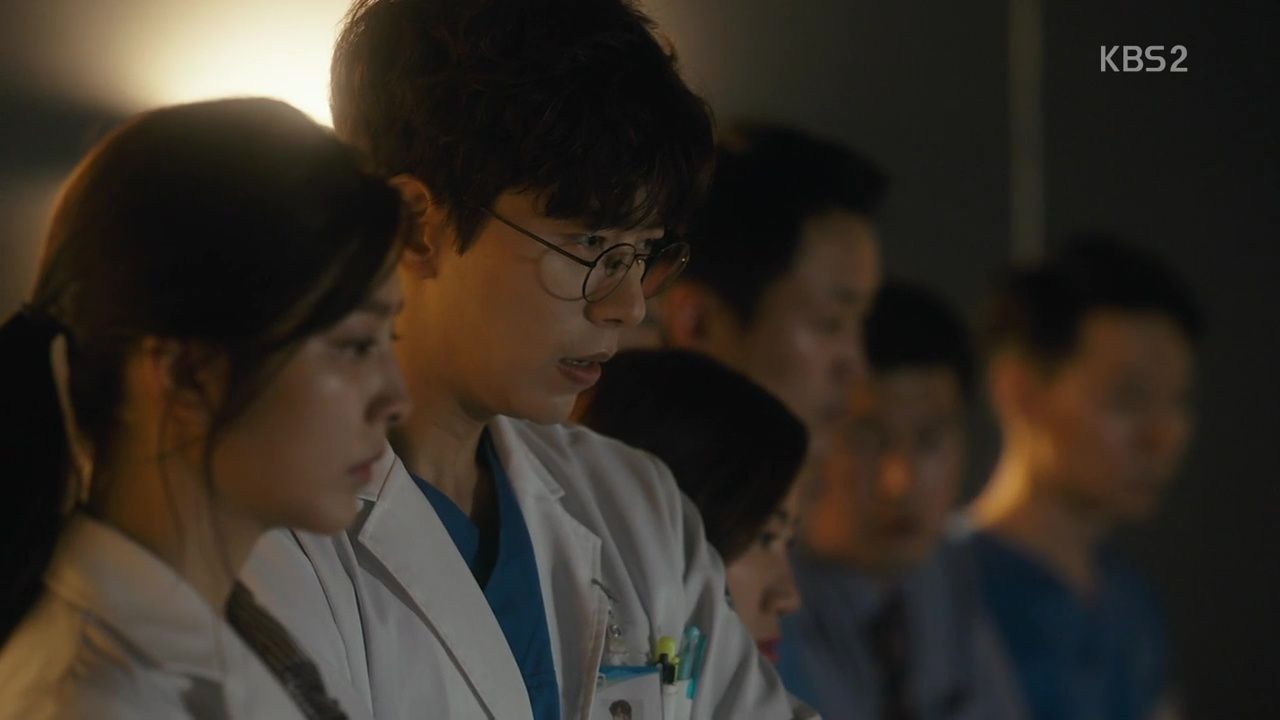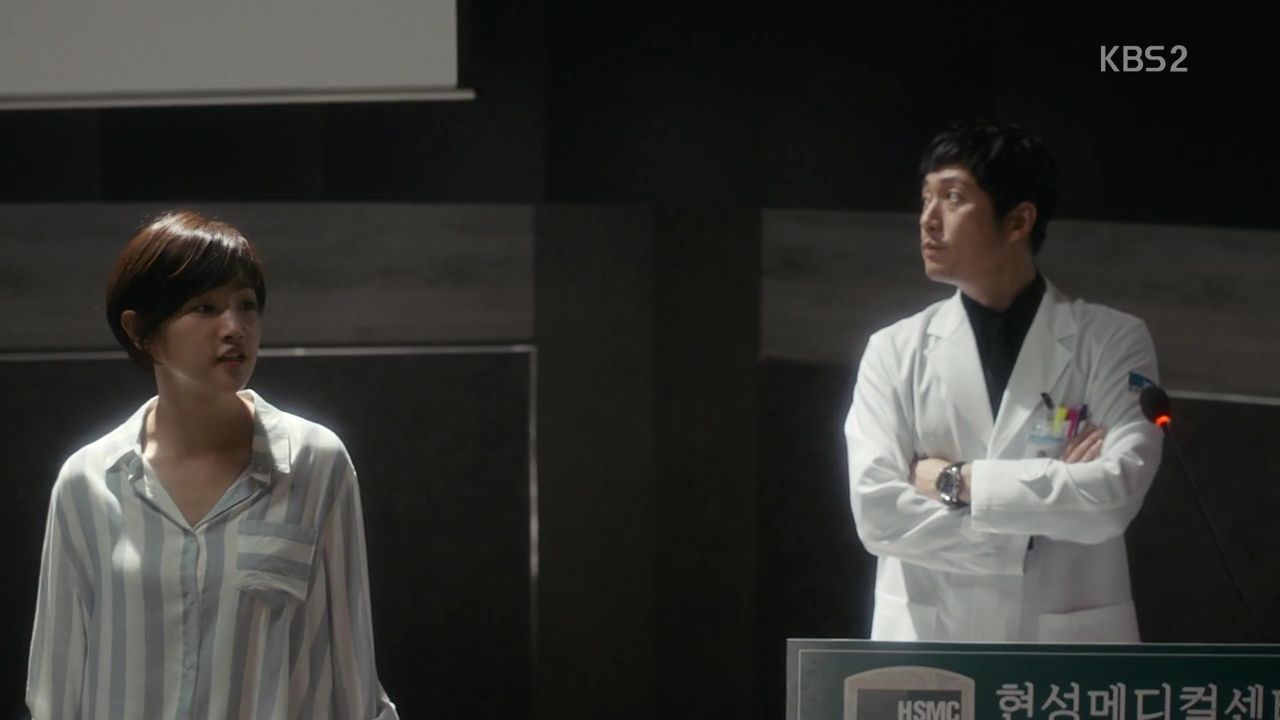 Jin-sung boldly decries his involvement in the murder, forcing his father to remove him as the attending physician for the live surgery and appoint another neurosurgeon, Dr. So Ji-young, as his replacement. Young-oh asks for a chance to explain himself, but his father coldly tells him to do so before the ethics department.
Suk-joo and Chief Director Shin meet up for drinks after the kerfuffle and it's clear the years have formed a strong bond between them. He tells Suk-joo his dream is for all surgeons to disappear and for people to be healed without needing surgery. Adorably, he brags about how cool and grown up their little Jin-sung looked today.
Satisfied that the motorcyclist will get the investigation he deserves, Jin-sung calls to let Sergeant Park know she'll be in for work tomorrow.
Elsewhere, Dr. Lee confronts his son about what was going on in the CCTV footage, however, Young-oh only wants to talk about how important the live surgery is to him. His father reaches over and places his hand on his shoulder, which seems to shake something in Young-oh, and he comes out of his tantrum. Dr. Lee advises his son to pay attention to other people's emotions and to stop only focusing on his wants and desires. He commands Young-oh to read his face now and tell him what he is feeling.
After breaking down the various facial gestures then piecing them back together, Young-oh concludes that his father is furious with him, and goes on to note that he is still under his father's control, his eyes shining.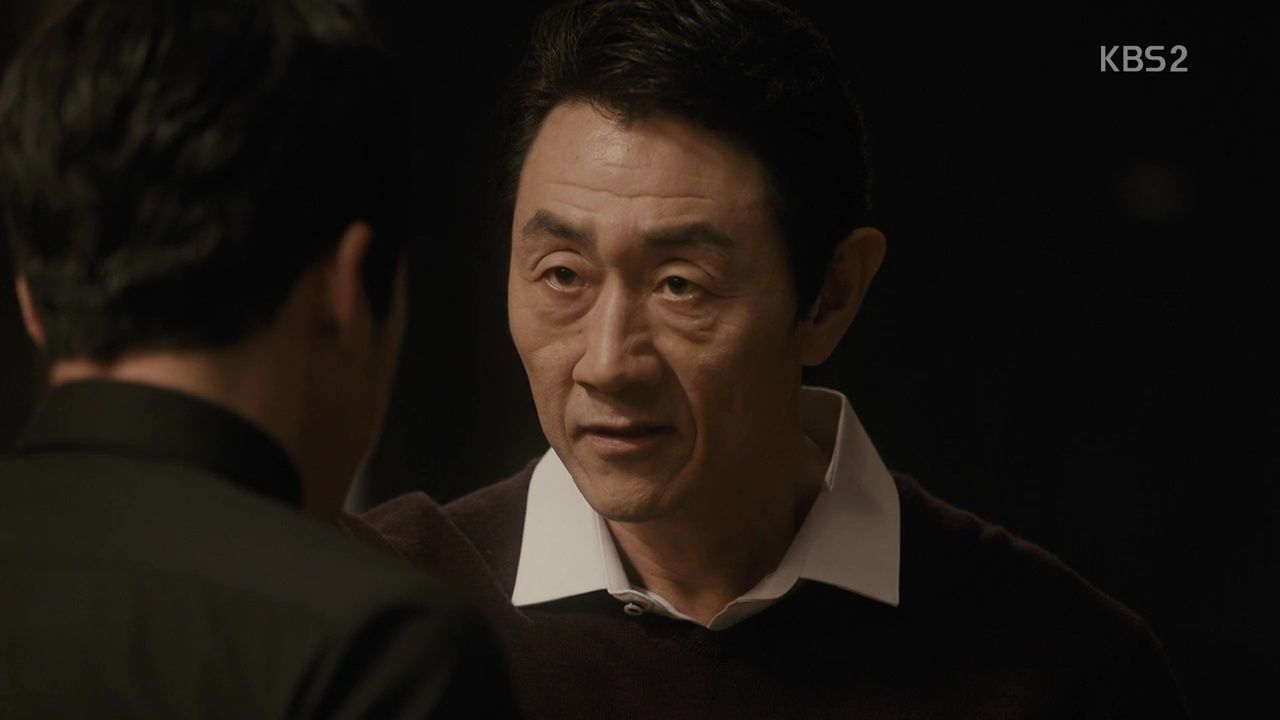 His father warns Young-oh not to forget all the time they've spent together and that he can start all over again if it's for Young-oh's sake. He then asks Young-oh again why he was down at the morgue. Young-oh confesses that he was trying to confirm what happened to cause the table death.
Young-oh continues that the two patients, the one that died naturally, and the one that died on the table… something occurs to him as he hesitates to answer, and he eventually says they have no difference. Dr. Lee seems pleased with his answer and advises him to say it just like that to the ethics council. When asked by Young-oh if Dr. Lee trusts him, he confirms it, then swiftly shifts the conversation to tell Young-oh to add a shot of quetiapine, which controls impulses, to his treatment.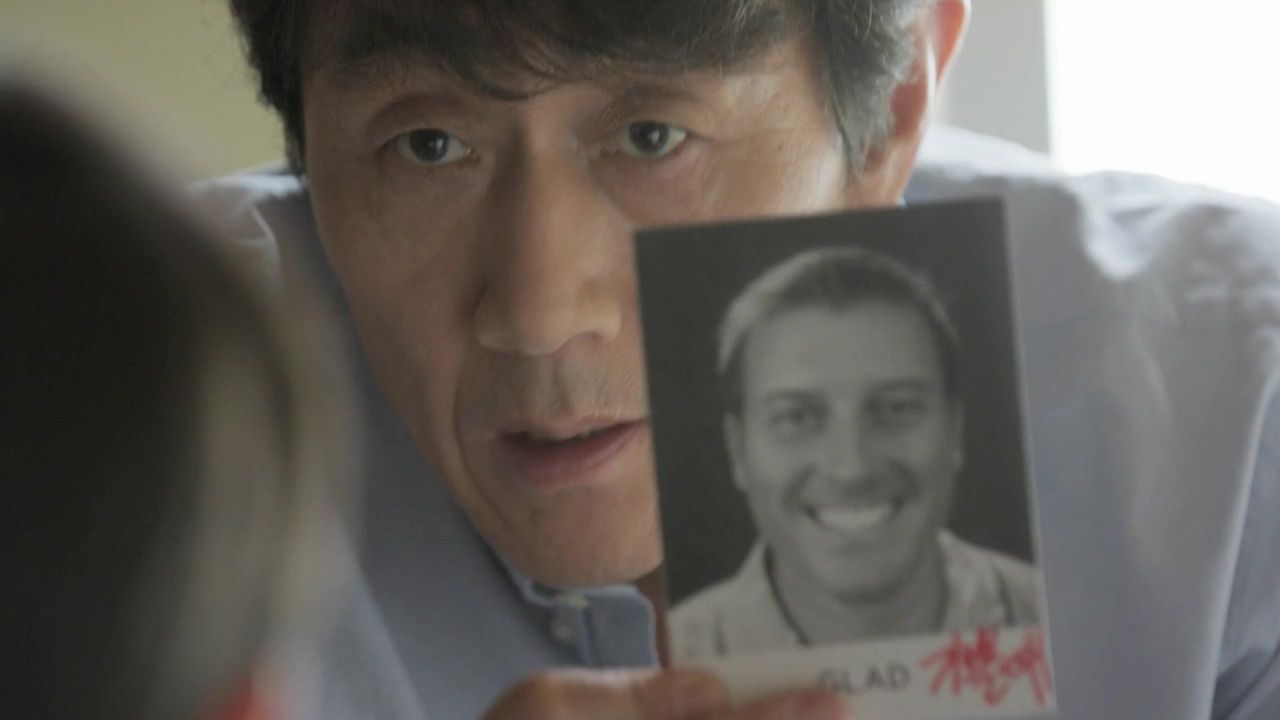 We flashback to learn the nature of Young-oh's condition: he was diagnosed with antisocial personality disorder, which is characterized by a person's inability to read or empathize with emotions in others.
Dr. Lee had begun a long process of painstakingly teaching Young-oh the various emotions and facial/visual cues for him to memorize, using charts and drawings Young-oh still uses in the present day. Young-oh recalls his father's face when he asked if he trusts him, and realizes his father was lying in order to conceal his fear.
The day of the live surgery finally arrives and tensions run high as the entire country watches to see one man and modern medicine straddle the line of life and death. Before a crowd of reporters, Assemblyman Kim wears the face of a confident politician with unwavering belief in modern science, but alone in the operating room he lets his anxieties show.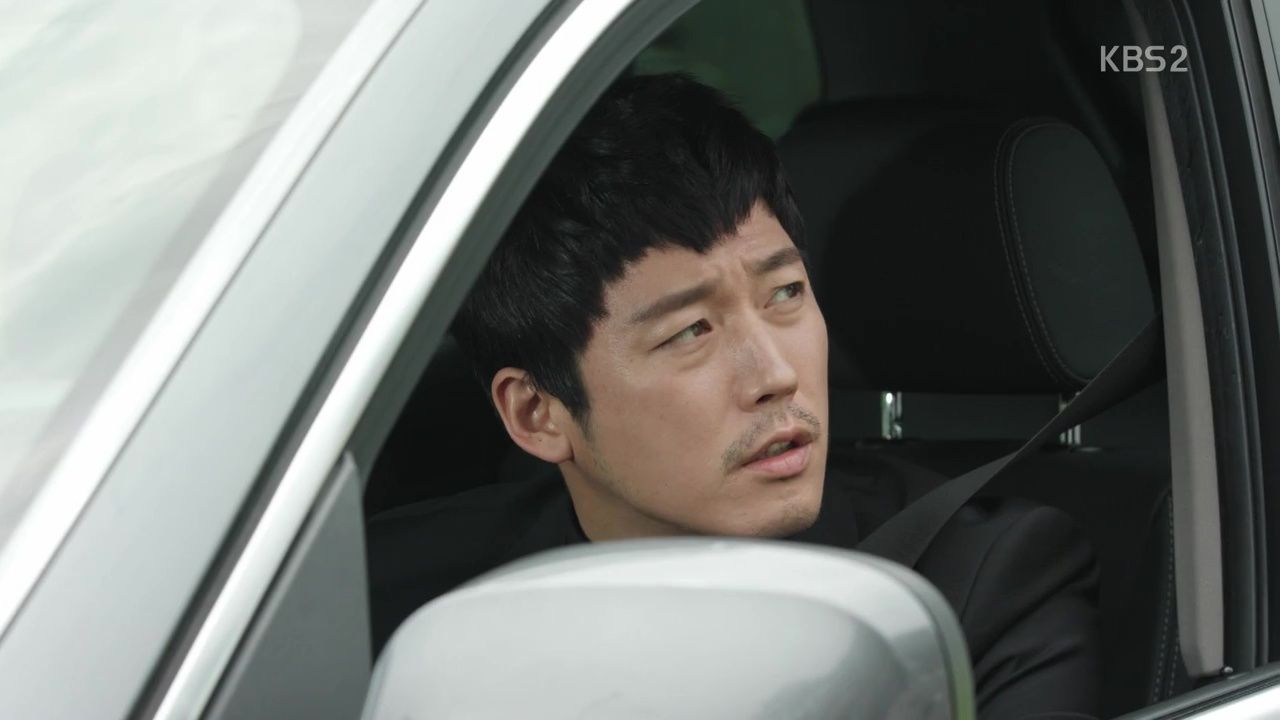 Suk-joo runs into Young-oh outside the ethics department. Having already pled his case, Young-oh asks Suk-joo if he told Jin-sung to take care of herself. When Suk-joo hesitates, he replies, "Oh no, guess I better do it myself." Suk-joo rushes to call someone, but who do you call when the police are in trouble?
In the meantime, Jin-sung escorts a group of elementary schoolers across the street, unaware of a suspicious car speeding toward her. This time it's Young-oh who saves her as he cuts off the murderous car's path, leaving her unaware of what almost happened. He rolls down his window and tells her blankly that he's here to turn himself in.
Young-oh brings Jin-sung to the hospital and advises her to watch very closely whatever happens from here on out.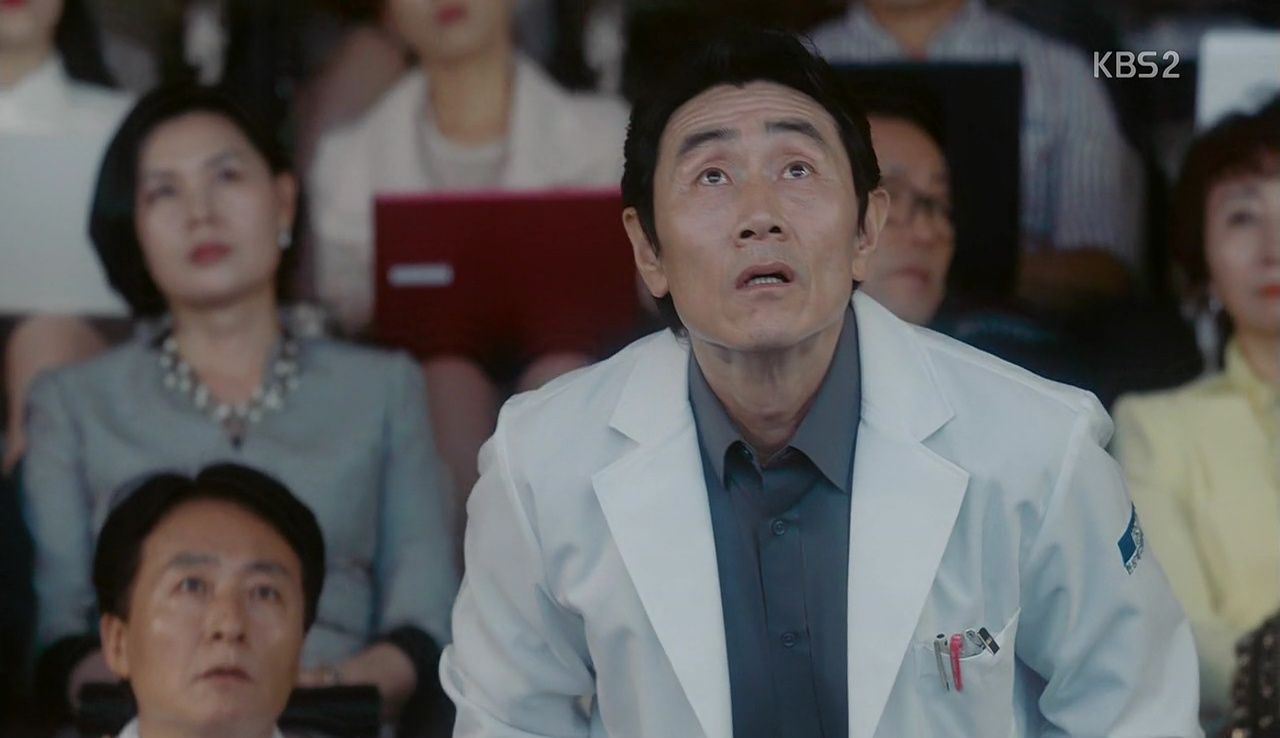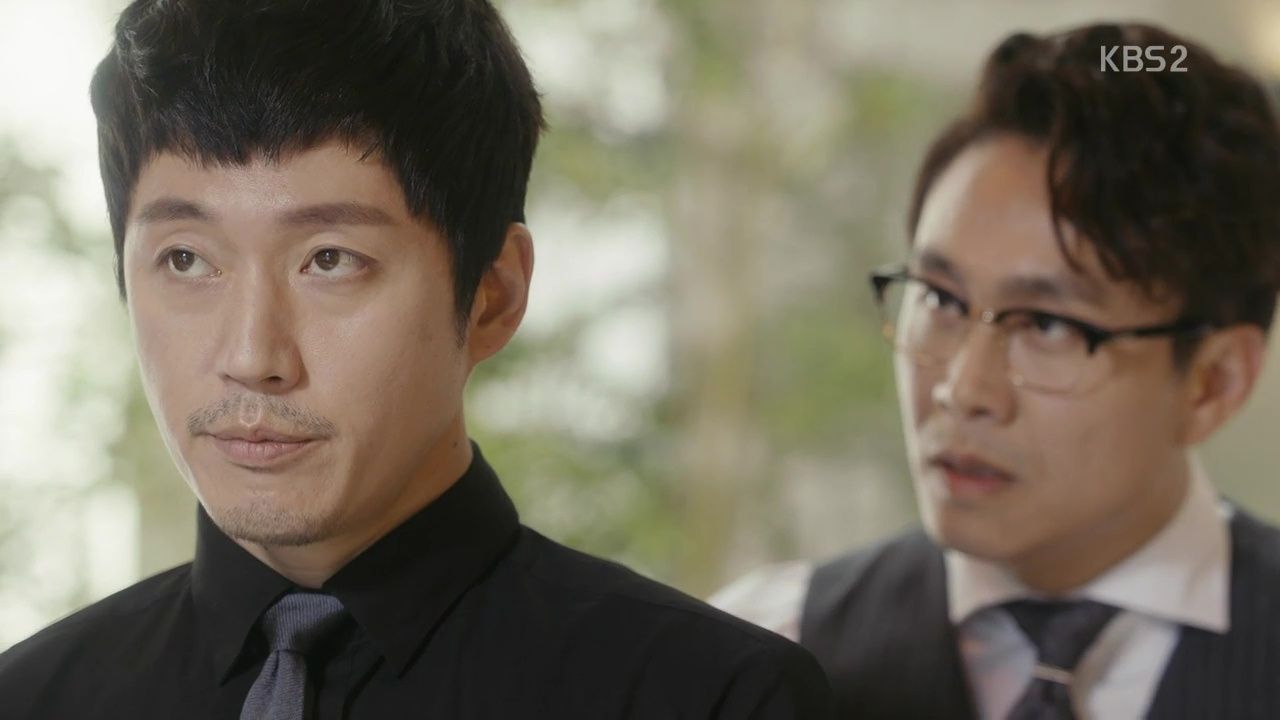 In the operating room, things go south quickly, the replacement surgeon loses his cool and no one looks like they will be able to contain the situation. Director Kang, thinking fast, cuts the live feed to the surgery, as Dr. Lee and Chief Director Shin rush out to prevent the worst.
Dr. Lee takes over the now private operation but hesitates to do anything, clearly crippled by the pressure or by some other psychological inhibition we don't yet understand.
In Director Kang's office, Young-oh begins brokering a deal which would give him full authority over the hospital's neurological center in exchange for successfully completing the now derailing surgery. After agreeing to his conditions, Young-oh says he just needs one more thing in order to execute the procedure: Suk-joo.
The Young-oh/Suk-joo alliance is reformed, and they suit up again for action, this time, hopefully, the results will be better.
Everyone watches with bated breath as Young-oh performs the impossible and saves the presidential candidate from near certain death. He explains that the reason he was able to identify the issue so quickly is because both Assemblyman Kim and the motorcyclist suffered from the same infectious fungus which eventually killed the latter.
Young-oh further explains that since he failed to save the motorcyclist he decided to rewatch the footage and investigate the mysterious fungus. He consulted the microbiologist Suk-joo questioned previously, who told him it is a fungus that occurs commonly in drug users, immunosuppresant users, and endocarditis sufferers, which both the motorcyclist and Assemblyman Kim each qualify as at least one of. The microbiologist requested that Young-oh keep this information a confidential since she would like to use it in her research.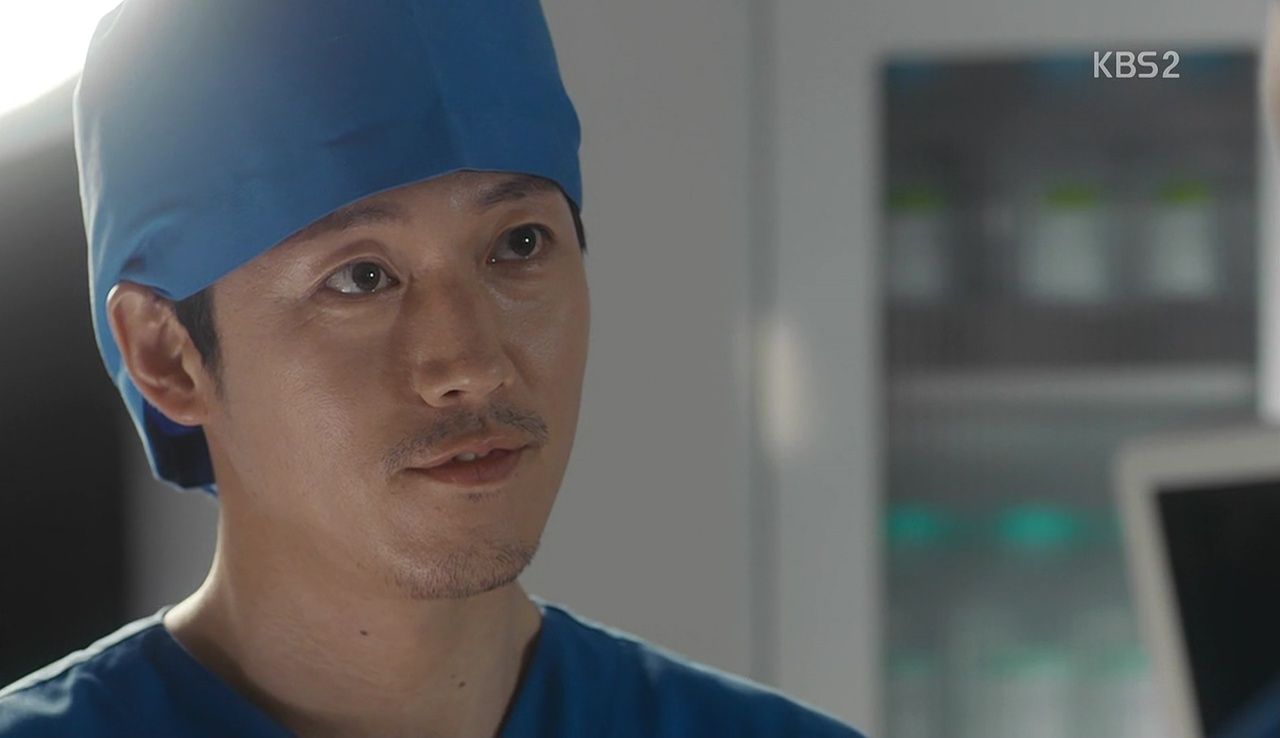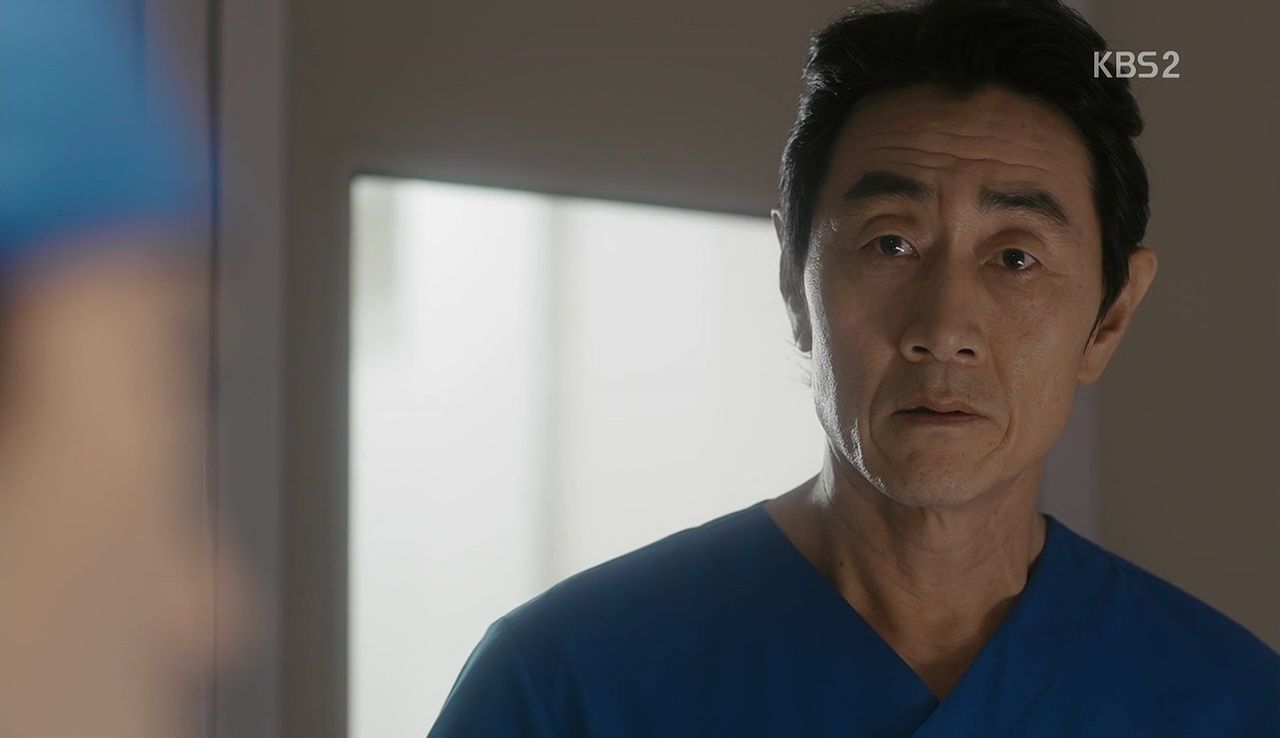 After the surgery, Dr. Lee confronts his son asking why he chose to come to his hospital. Even though Dr. Lee told him not to become a doctor, he promised he would become a better person and help people. Instead, as soon as he arrived, he made a deal bartering with someone's life to advance his ambitions. Young-oh replies that he's come to realize that his hollow heart is the best asset he has as a doctor, and that the only reason he was able to save Assemblyman Kim was because he was not distracted by silly emotions. He sardonically apologizes for not keeping his promise of becoming a good doctor. Instead, he claims that he's already a better doctor than the rest.
At the post-surgery press conference Chief Director Shin and Dr. So Ji-young stand shamefaced before the media horde trying to explain their nearly fatal operating room meltdown. Director Kang arrives in time to cover up their mistakes, and refuses to apologize because after all, every surgery has risks.
In the locker room, Suk-joo timidly approaches Young-oh once more to ask about his visit to the morgue and inquire if he noticed anything strange about the motorcyclist's body. Before he can finish his thought Young-oh pointedly asks if he's talking about the fact that the body had no heart.
He chuckles, knowing Suk-joo went down to the morgue that evening as well. He pulls Jin-sung into the room and says plainly that he didn't take the heart, but, he knows who did: Suk-joo.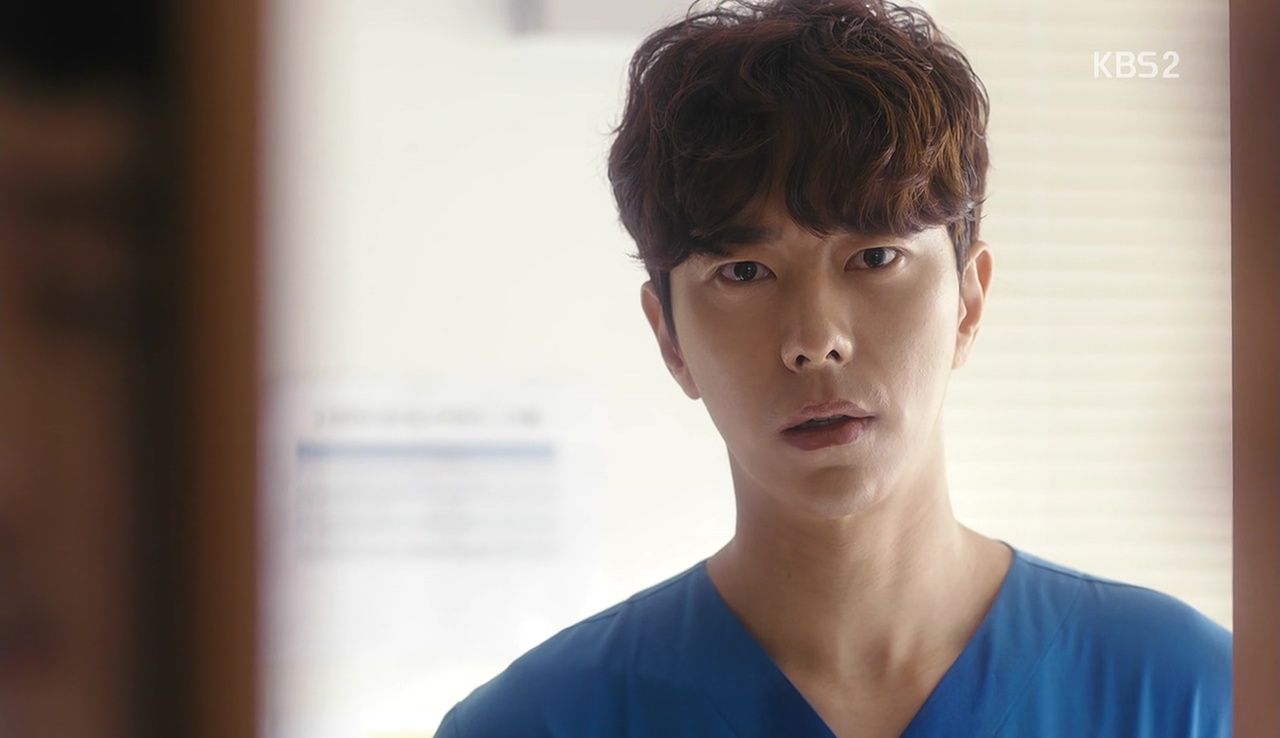 COMMENTS
For someone who doesn't understand basic empathy Young-oh certainly has a keen sense of drama. He waits for exactly the right moment to reveal the fungus, then again to voice his suspicions about Suk-joo. As he says, instead of being bewildered by the emotions he doesn't understand empathically, he's learned to intellectualize the various nuances of human behavior and exploit them. In fact, he seems to take some pleasure in playing around with people.
I thought he was simply unable to understand people's emotions, like a much weaker version of face-blindness, and lacked empathy like a sociopath. But sometimes the way he describes it, particularly during his showdown with his father after the surgery, he'll claim not to feel any emotions, which I take to be completely different. In fact, that doesn't seem to be true, what I think is more likely is that he feels very subdued versions of the entire emotional range. For example, when he was displaying his anger with his father about taking away the live surgery from him, he still was able to communicate his anger and therefore, feel his anger. However, what I think is more accurate is that he does not experience rage. He has versions of all emotions, like fear when his father touched his shoulder, but they never seem to manifest in such an extreme way as to compromise his reasoning. Perhaps he is actually emotionally stunted and certain emotions affect him more acutely as it might a child, but in order to protect himself, he projects a false mastery (or ignorance) of emotions as a defense mechanism. Whether I'm wrong or right, I do expect the drama to further define what his disorder means for him.
I find it very interesting that the current building blocks of Young-oh's often cryptic behavior are leaning heavily toward conventionally villainous territory, but what that does is hinder the believability of a potential romance. At this point I would prefer to see them continue this cat-and-mouse dynamic between Young-oh and Jin-sung and keep those elements strictly unromantic. That would explain this casting to me much more. Not that the two actors aren't doing a fantastic job in their portrayals; in fact their scenes together are some of my favorites, but is it hard for me to imagine her asking Sergeant Park which hairstyle is cuter on her way to meeting with Young-oh. That said, I've seen people fall in love when presented with much less; who am I to reject a loveline?
On another note, I really would like to understand Jin-sung's internal logic. For someone that cites laws left and right as a way to force people to adhere to her definition of right and wrong, her investigative technique is sometimes off the rails. Her persistent belief in her own interpretation of justice is honestly a little terrifying and relentless. Within the confines of the drama, I'm sure she'll remain on the side of justice, as the end will always justify her means, but without realizing it she's playing into the problematic power paradox that plagues modern-day police forces (say that ten times). In the hands of someone even slightly less moral and upright, the methods she employs could be far more nefarious. I mean, she broke into Young-oh's office to see the CCTV footage, expected her police badge to give her unlimited access to hospital files without a warrant, harassed Chief Director Shin to help her take down Young-oh without any evidence, and she left those kids to cross the street on their own. Did they get across safely? That road was rather perilous!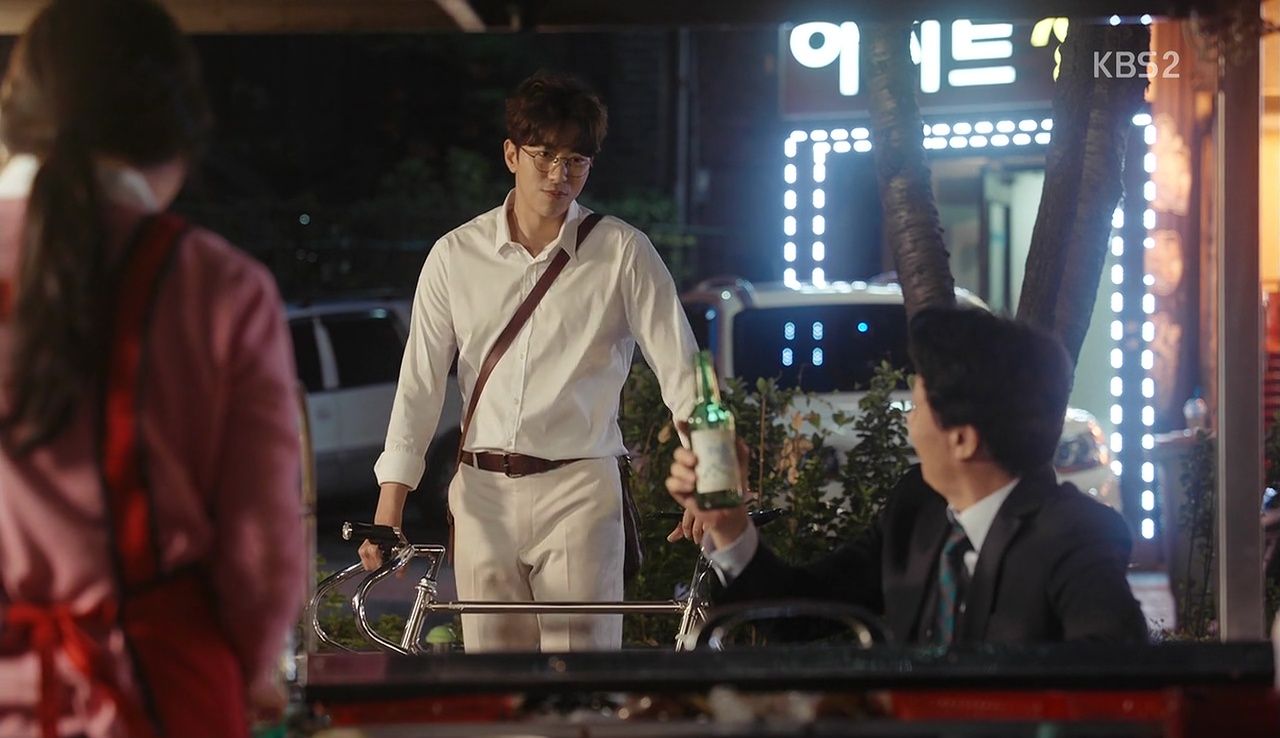 All kidding aside, I do actually enjoy that Jin-sung's belief in the pursuit of justice cannot be swayed even if the man she is accusing is the same one who saved her life even before she knew why he did it. Nevertheless, I wonder if dogged belief and being a hot-head are the best combination when your opponent has neither of those to hinder him. The juxtaposition between the two characters makes for some exhilarating clashes, but I wonder how fair the match-up is when solving mysteries is involved. In this round, Jin-sung bet against Young-oh and she lost.
On the production side, this episode was paced well, with the mystery of Young-oh's motives drawing us through the hour. Since he has essentially achieved his goal of escaping his father's oppression I would be a little disappointed if we lose the opacity of his character that I find so intriguing, so quickly. The direction is doing a good job of staying out of the way, meaning it doesn't often draw attention to itself, and when it does, it picks its moment carefully. This makes those moments more memorable and ultimately successful in my mind, particularly for a drama of this type. Really stylized dramas rely on those techniques, but mystery thrillers are all about the writing, acting, and pacing.
The relationship between Suk-joo and Chief Director Shin is adorably parental. It's clear they each also deeply care for Jin-sung. I'm scared for this relationship now that Suk-joo is suspected of taking the heart (please don't break mine). I need the fuzzies to continue since there are so little elsewhere! Their relationships contrast sharply with the show's (so far) only actual blood relation: Young-oh and his father. Presumably this relationship showcases the Dr. Frankenstein aspect, where Dr. Lee is slowly watching his grip loosen over Young-oh as he becomes something very inhuman.
Speaking of Dr. Lee, so far he is one of the most interesting characters to me. Certainly Young-oh is interesting, but only really in a clinical and anti-hero type of way. Perhaps, because his son can be described as less than human, Dr. Lee on the other hand is so thoroughly human. He essentially gave Young-oh the tools with which to defeat him. While Young-oh was incessantly learning how to decode the human social paradigm, Dr. Lee learned very little about Young-oh. His focus was on how to suppress the traits that withheld normalcy from his son, but Young-oh was able to master what he viewed as human weakness and gain autonomy over his own life. I think Dr. Lee has a great deal of love for his son, but it is often eclipsed by his fear of Young-oh's callous intelligence and insufficient humanity. That fear drives him to do what so many scared parents do, which is to ostracize himself from the one he loves most.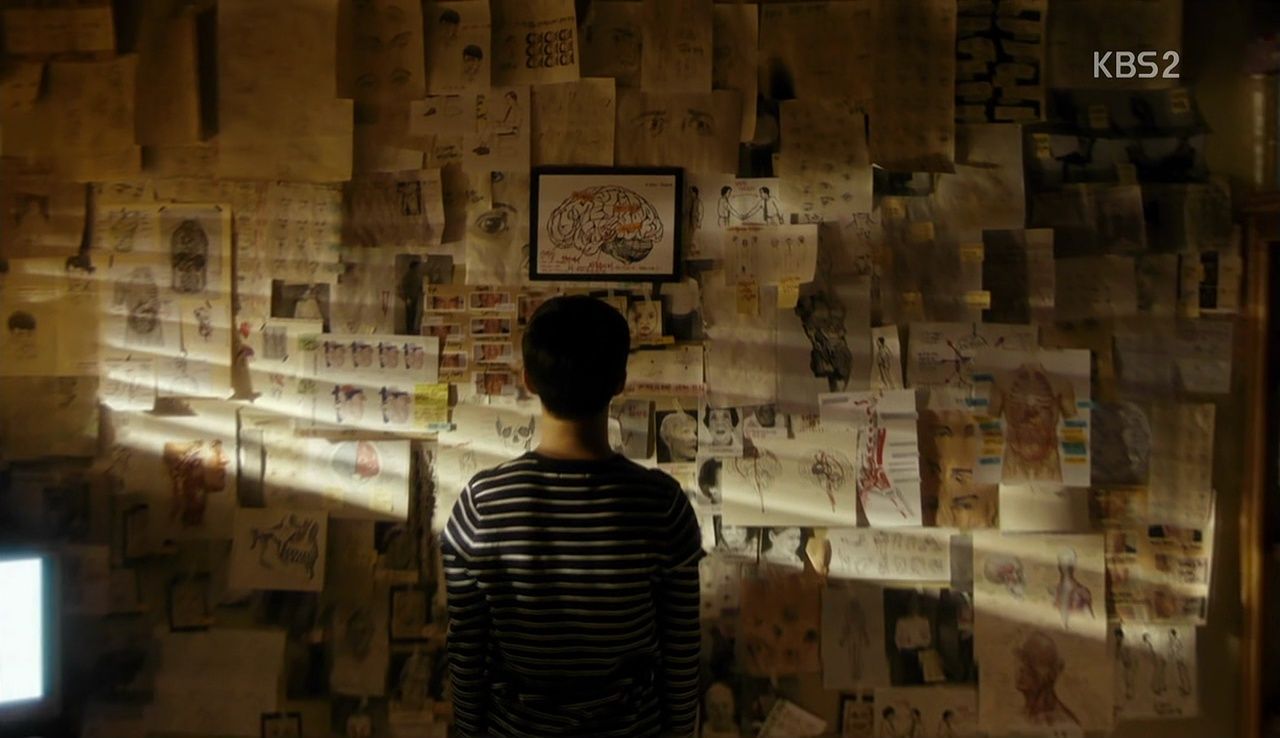 RELATED POSTS
Tags: Beautiful Mind, Episode 2, featured, Jang Hyuk, Park Se-young, Park So-dam, Yoon Hyun-min