Dear My Friends: Episode 12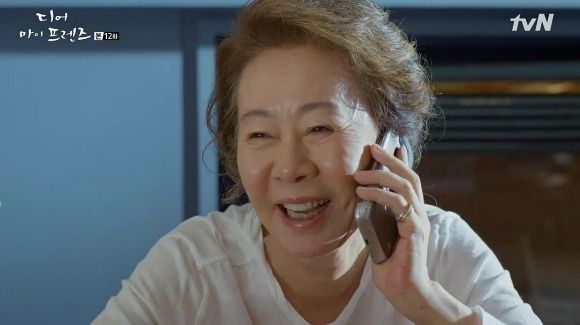 Love is in the air as the aunties reveal that age is just a number and the heart is young forever. Or so it should be. Most of the episode deals with Suk-gyun's dawning realization that perhaps he's not been the most caring and empathetic husband and father, and Choong-nam gets a few glorious moments as she reveals that beneath her prickly exterior is a kind and generous soul.
EPISODE 12: "A hundred sins I've knowingly committed and thousands of sins I've unknowingly committed."
Suk-gyun wakes up from his foggy train track nightmare, calling for Jung-ah to rub his back. But he's actually in Seung-jae's bed, having spent the night after his drinking binge. It's cute how Seung-jae wakes up, bewildered, and then gingerly rubs Suk-gyun's back. They're such the perfect "odd couple."
Jung-ah diligently cleans her daughter's house like she normally does, but both her daughters are there to figure out when she'll be returning to their father. Soo-young tries to convince her mother that she should go back in another month or so, but the youngest daughter supports her mother. It helps that she's not the one her father keeps bugging to clean his house and cook his meals.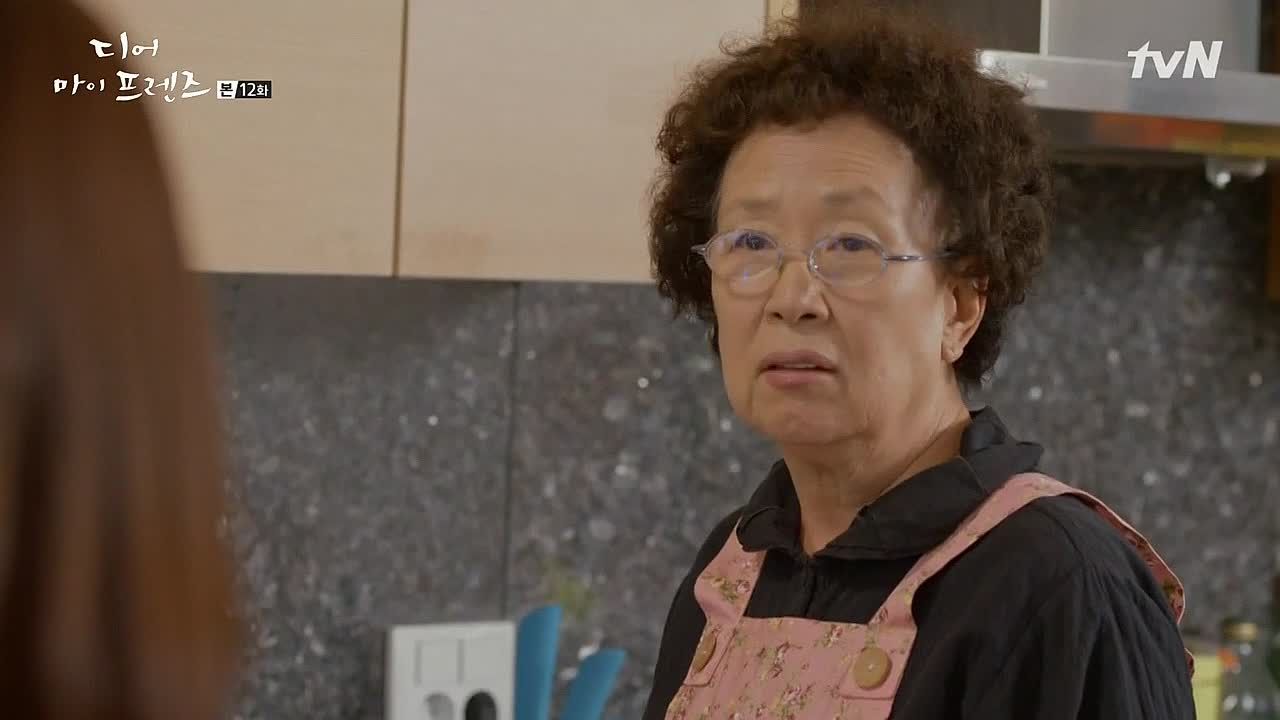 Jung-ah yells at them for being so inconsiderate about their father, who worked hard all his life so that he wouldn't be financially dependent on anyone. When Soo-young tries to give her more money as a way to bribe her to return to Suk-gyun sooner, Jung-ah only accepts her usual wage.
She then uses it to splurge on delicious snacks to share with Hee-ja. Except Hee-ja admits that she doesn't eat much these days, thanks to her stomach constantly hurting. She invites Jung-ah to spend the night, and she happily accepts. Now that she's on her own, she can spend her time how she pleases.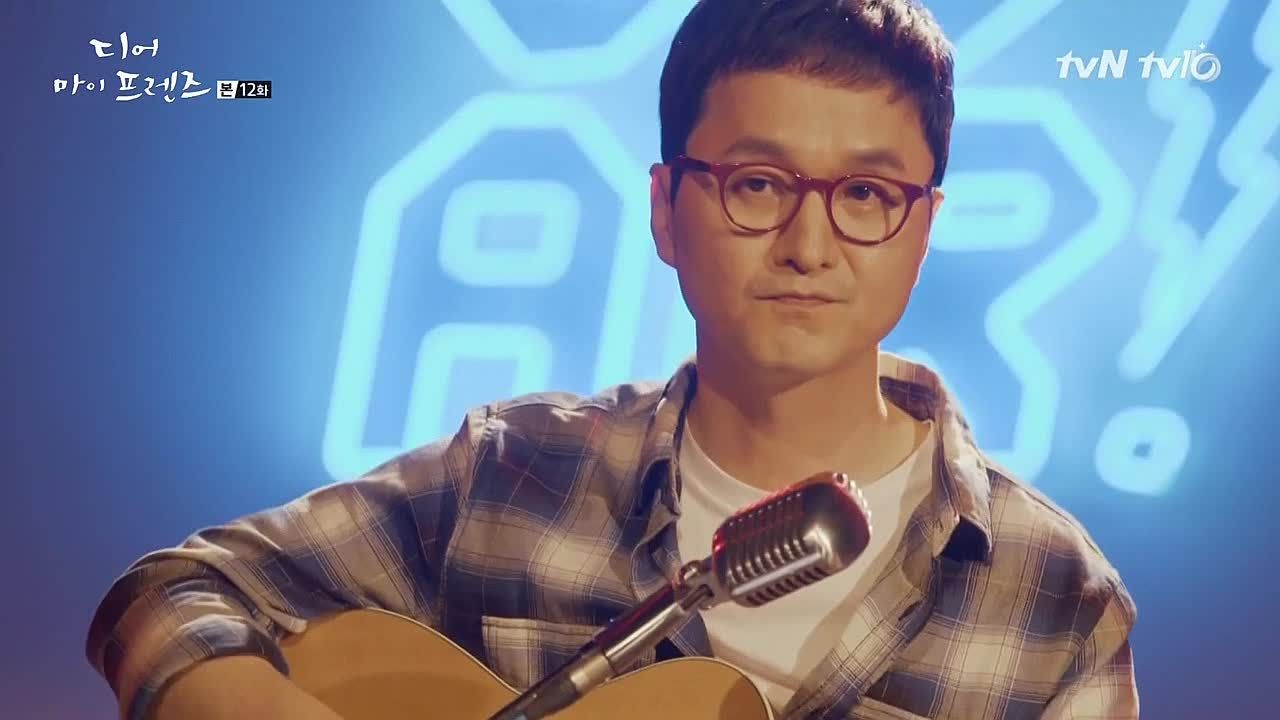 Nan-hee invites the aunties to watch her handsome musician play at a cafe. They tease her about how happy she is to watch him perform, even though she denies she's dating him. Speaking of dating, Young-won asks Hee-ja how it's going with Seung-jae. Hee-ja tells her that they're not dating, they just see each other. Apparently dating, to Hee-ja's mind, means physical contact — which she reassures Nan-hee, as the younger one, can certainly do since her skin must still be soft and smooth. Pffft.
Seung-jae explains all the different ways he expressed his affection and appreciation to his wife as a primer for Suk-gyun on how to be a good husband. Suk-gyun is astonished by the thought that women like it when their husbands check-in with them, and, with Seung-jae's encouragement, decides to give it a try.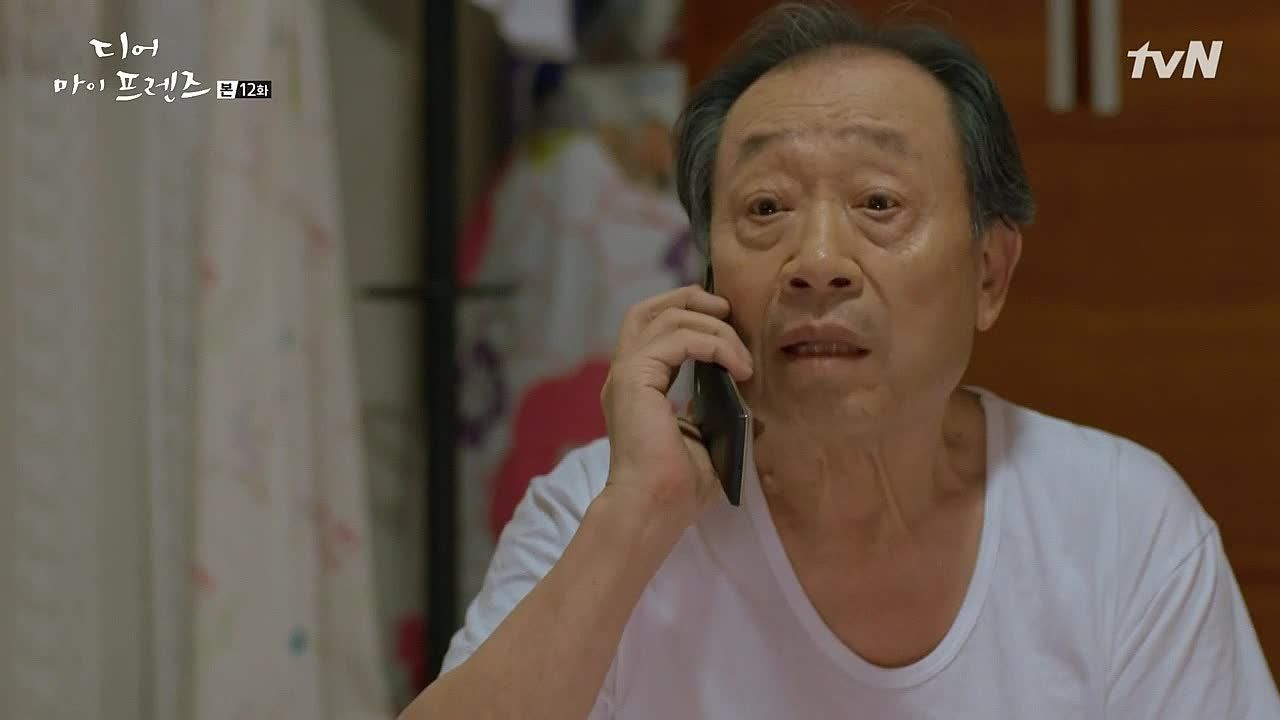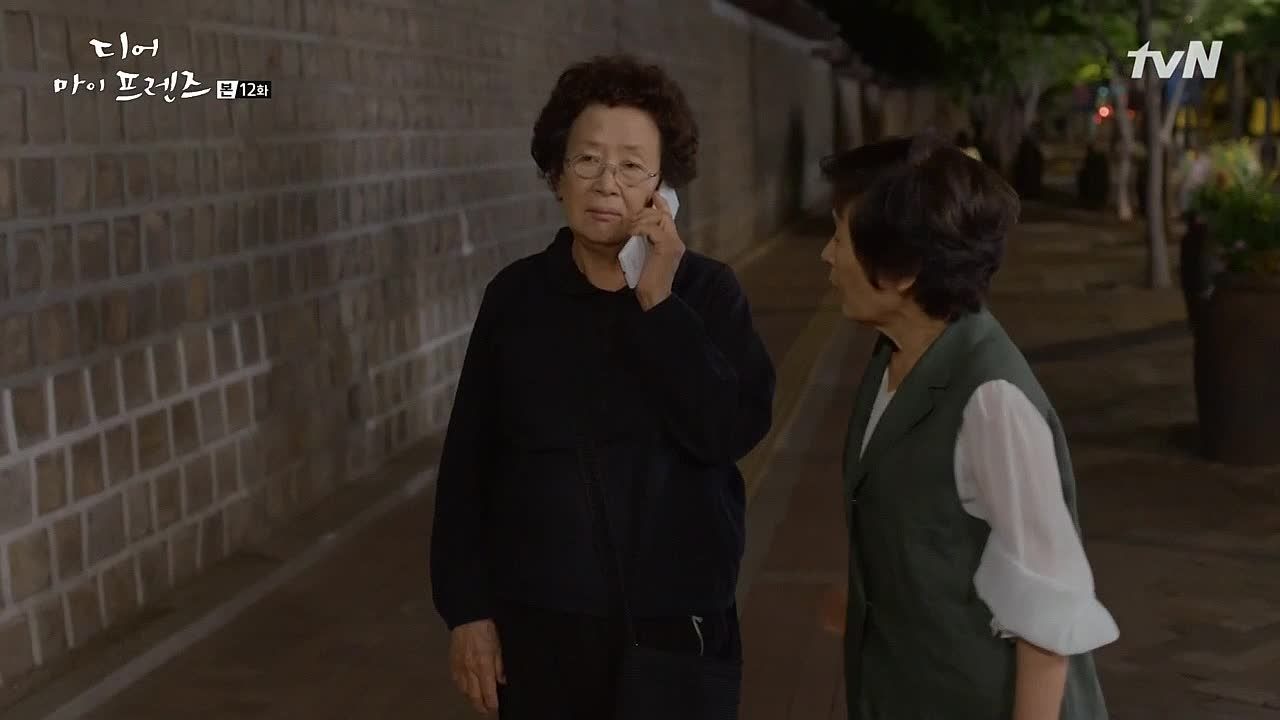 He calls Jung-ah as she's walking back from the cafe with Hee-ja, telling her to sleep well. She's just like "okay" and then hangs up, much to his surprise. He immediately calls back, telling her that he wished her a "good night." Jung-ah says she knows and then hangs up again.
Suk-gyun calls her again, pointing out that if he wished her a "good night," then she should do the same for him — after all, he went out of his way to call her! But she says that she didn't ask him to call, and then not only hangs up, but turns off her phone.
Hee-ja asks her what she wants from Suk-gyun, but Jung-ah admits she doesn't know. It's not that she doesn't want to cook and clean for him. She's just tired and angry, and doesn't really know why.
When she stumbles and lightly twists her ankle, Hee-ja worriedly attends to her, explaining that as they grow older, their bodies seem to become more childlike and fragile. Jung-ah muses that if she were out walking with Suk-gyun, he wouldn't worry over her and insist on rest. Instead, he'd gruffly tell her to get a grip, asking what's wrong with her.
She wishes she could curse the man she lived with for all those years, and at Hee-ja's encouragement, she calls him a jerk, and then laughs because that's the best insult she can do. Hee-ja dreamily says that it would be nice if Jung-ah and Suk-gyun could be friends like she and Jung-ah are, but Jung-ah points out that it's hard finding a friend who isn't burdensome.
Young-won's received another bouquet of flowers from her first husband, and the attached note asks if they can meet this week before he flies back to America. Looking at herself in the review mirror, she slowly removes her wig.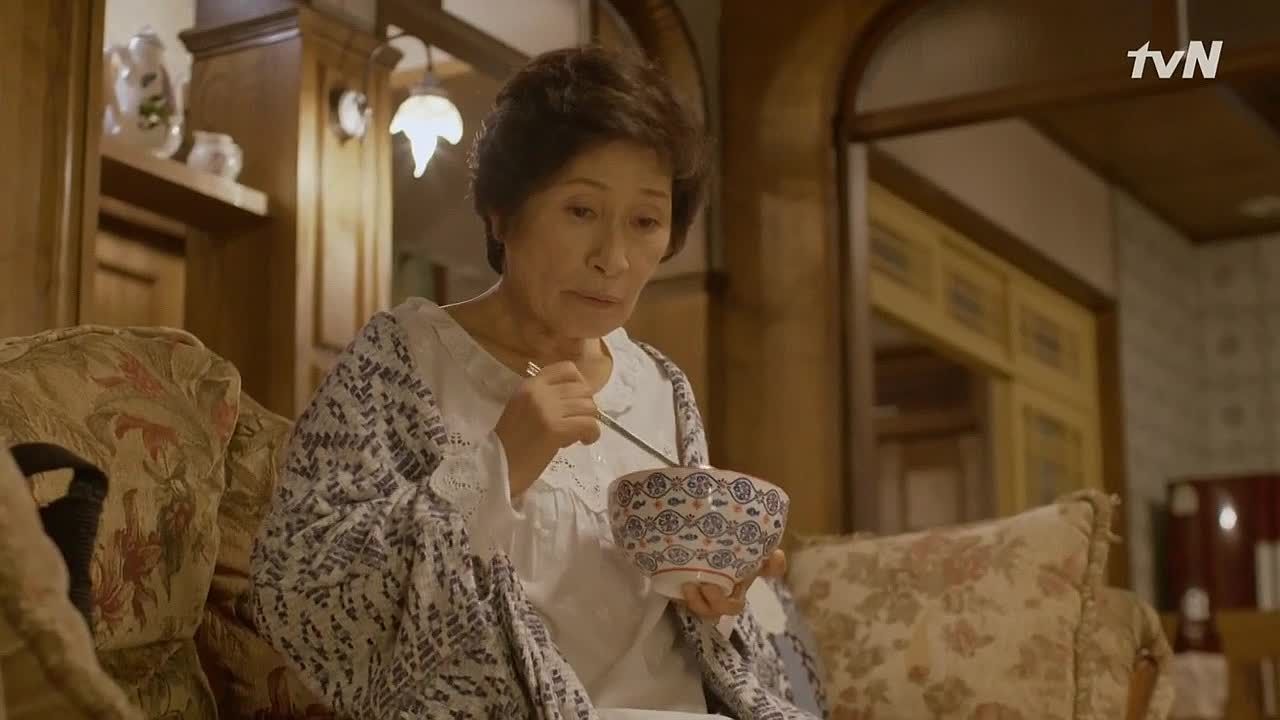 Hee-ja returns from her nightly amble and makes herself a late-night meal. As she sits down to eat, she's surprised to see Jung-ah fast asleep in her living room. She wonders why her friend is there, but the half-asleep Jung-ah just grumbles that Hee-ja should go to sleep, too. Bewildered, Hee-ja wonders if Jung-ah fought with Suk-gyun. Oh no — is Hee-ja's dementia getting worse?
Granny's busy working in the fields when Nan-hee finds her. Worried about her sudden bout of vomiting, she tells her mother that the should go to a hospital in Seoul to get examined, but Granny grumbles that if she dies, it'll be a happy occasion — they should celebrate her freedom.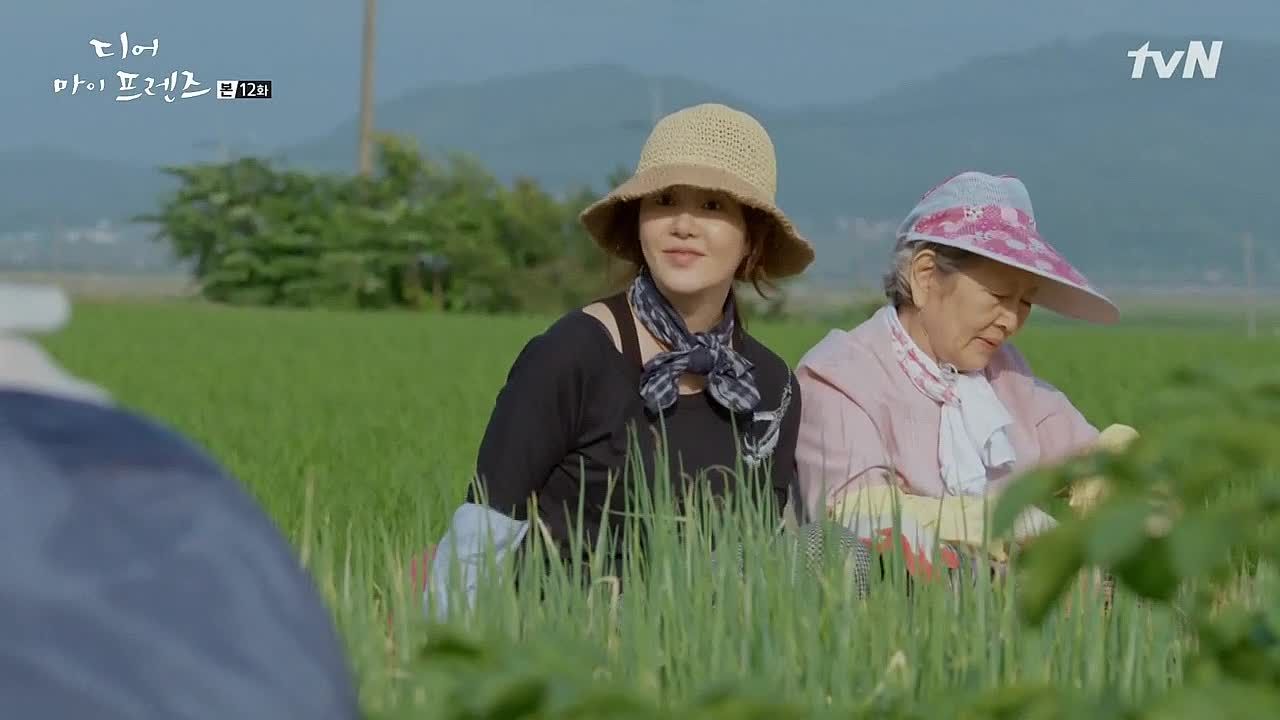 Wan plays along, telling her that they'll have the best skate fish and invite the whole neighborhood. Nan-hee isn't laughing, though, annoyed that no one else seems concerned about Granny's health. She insists that she's not doing this for Granny's sake, but for her own — who else will become responsible for Grandpa and Il-bong when Granny dies?
Nan-hee storms off, telling them that lunch is ready, and Wan attempts to be the peacemaker as she convinces Granny to go get herself checked out on Nan-hee's next day off. Then she turns attention to her uncle, teasingly asking if he and Jacqueline have kissed yet, which brings back everyone's smiles after the Nan-hee thundercloud took them away.
Choong-nam helps Young-won prepare for her "date" with her first husband by helping to stuff her bra with fancy gel inserts. It would be adorably amusing if it didn't remind me that she has cancer and probably has had a mastectomy. But it's still sweet how Choong-nam encourages her, in her own way of course, by telling Young-won that if he's still married she should tell him to get a divorce.
With nervous anticipation, Young-won drives off, and Choong-nam mutters that Young-won's first husband was an idiot to divorce such a pretty woman like her. The art professors run up just then, begging to borrow the artworks she has since someone wants to put on an exhibition in America.
She flatly refuses, and when they continue to plead with her, she tells them that she genuinely liked them when they were young starving artists who would come to her cafe to talk about art, crying that they couldn't support themselves but still refusing to give up their craft.
Even though she knew nothing about art at the time, it really impressed her how important it must be if someone was willing to give up everything else to pursue it. But now they are just greedy bullies who only care about fame and fortune. They're the true fools who sold themselves and their art without realizing their true value.
As she walks away, she tells them she'll make sure the exhibition happens. Professor Park calls out that if she were ten years younger, he'd marry her. She just waves him off, saying it's more like thirty years younger. But at least it looks like her words had meaning for him.
Young-won's first husband waits for her at the cafe, and even though she hesitates a moment when she sees him through the window, he smiles and waves when he sees her. As they sit across from each other, she tells him he looks the same, and he says that she hasn't changed a bit in the thirty years they've seen each other last.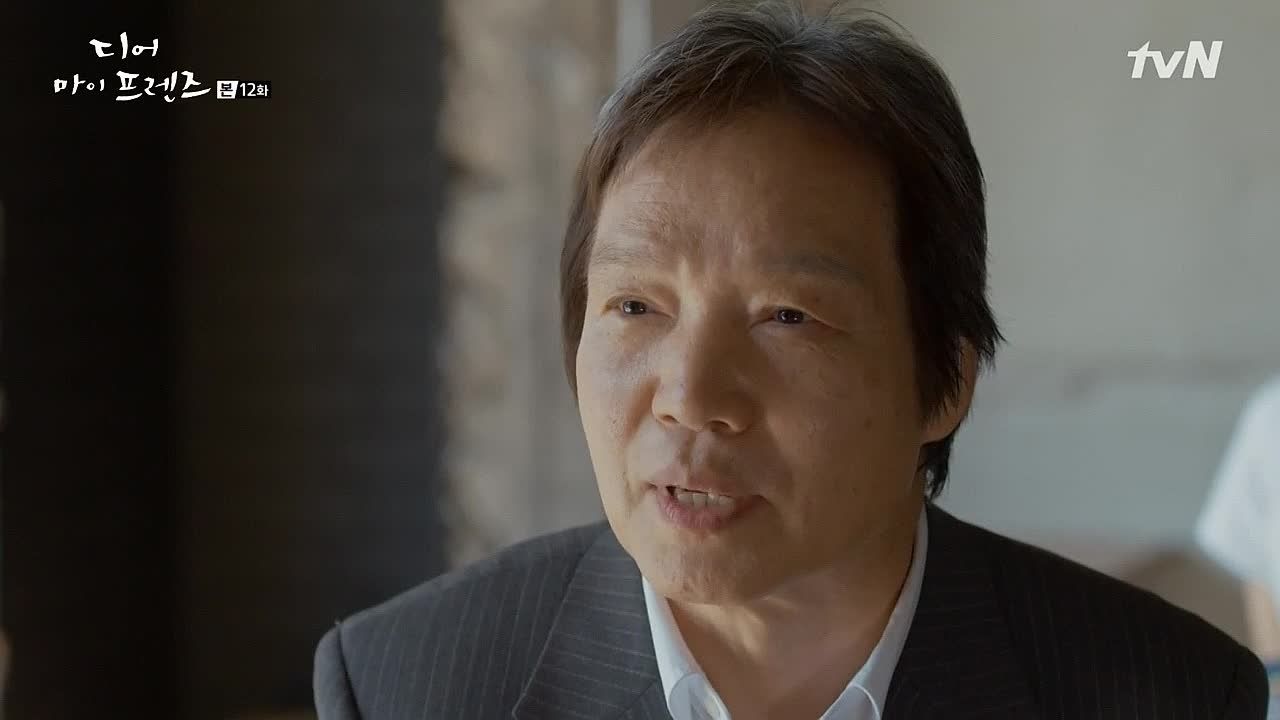 But her weak smile reveals that she knows better, and as she studies him taking sips of his tea, she gallantly struggles to hide her tears. It's more awkward silence than polite chit-chat, but he patiently waits while Young-won subtly attempt to compose herself. When he asks her to join him for dinner, she politely declines. She wishes him well as she takes her leave, and he discretely wipes away his own tears as he watches her drive away.
At Wan's, Young-won collapses on the sofa, sobbing her heart out. Wan muses in a voice-over that the long-anticipated meeting was over just like that. Seeing him again, Young-won didn't feel the need to ask why he left her or admit she missed him.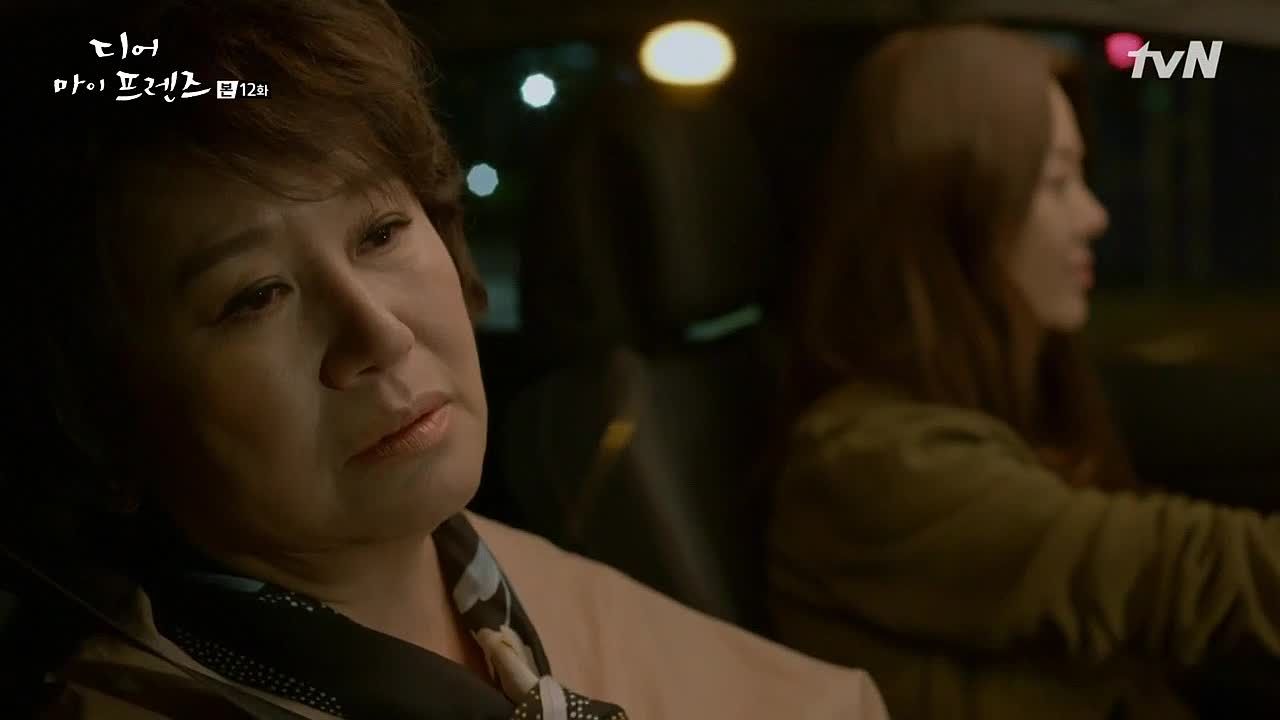 On the drive to Choong-nam's, Young-won tells Wan that up until now, she always believed that people's bodies aged but their hearts remained young. But now, she realizes, that hearts do age. When he asked her to dinner, her only thought was "What's the point? What difference will it make?"
But Wan tells us that later Young-won will confess that she wishes she did accept his invitation for dinner or a drink, adding yet another regret to her not-so-glamorous life.
All the aunties are gathered at Choong-nam's for a test run at living together, and even though she can tell that Young-won didn't have a good experience meeting up with her first love, Choong-nam wisely takes Young-won's pleasant lies at face value. But she is determined to organize their potential living situation and, despite the aunties' protests, shuts off the television so they can talk about chore lists and how much each one will pay for their housing.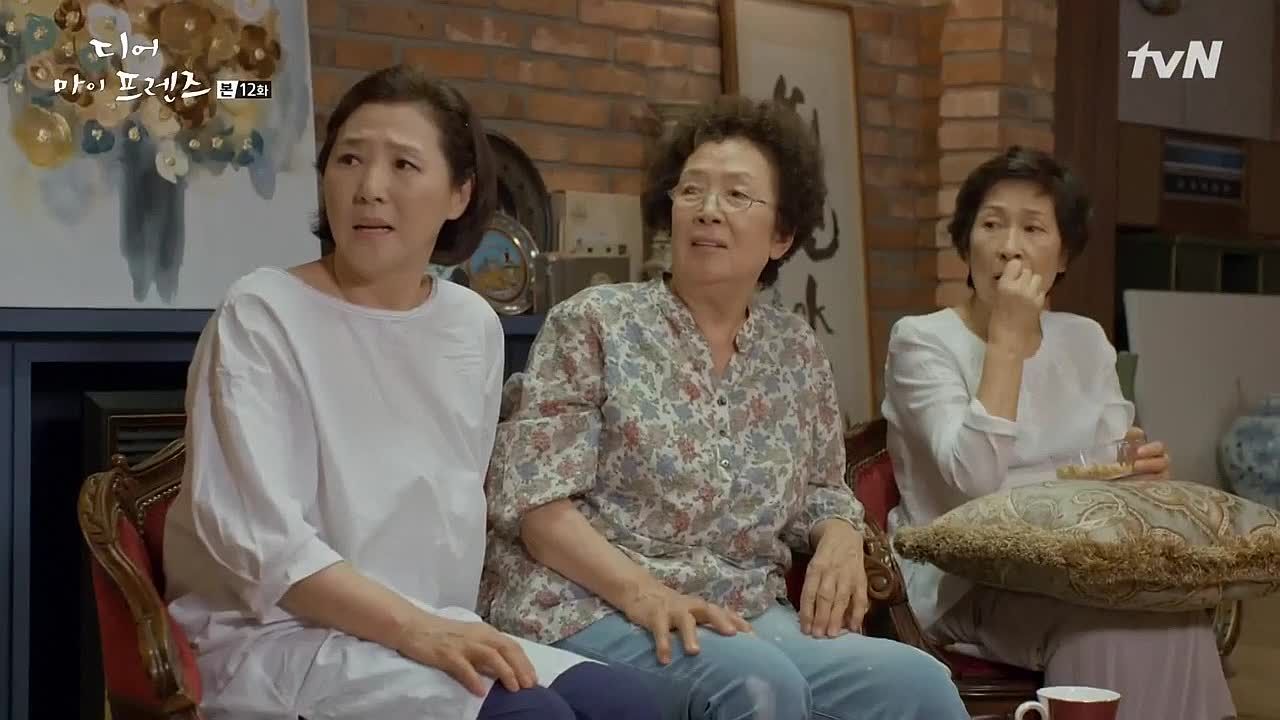 Amused, Wan listens as she records the aunties bickering while Choong-nam acts like a drill instructor, rattling of her detailed lists that she made earlier. Choong-nam may declare that there will be no hierarchy in this shared living environment, but it's clear that she's the boss as she orders them to get ready for bed.
It's adorable how she has to keep an eye on everyone, from the distracted Hee-ja who doesn't realize that she's holding her missing toothpaste in her hand to making sure everyone takes their nightly medication.
They've all settled into their beds, filling up the space in the living room, when Hee-ja, unable to sleep, turns on the TV. But one of the aunties grumbles at her to turn it off. Later, Choong-nam wakes up to find Hee-ja opening all the doors one by one, looking vaguely confused by the unfamiliar environment.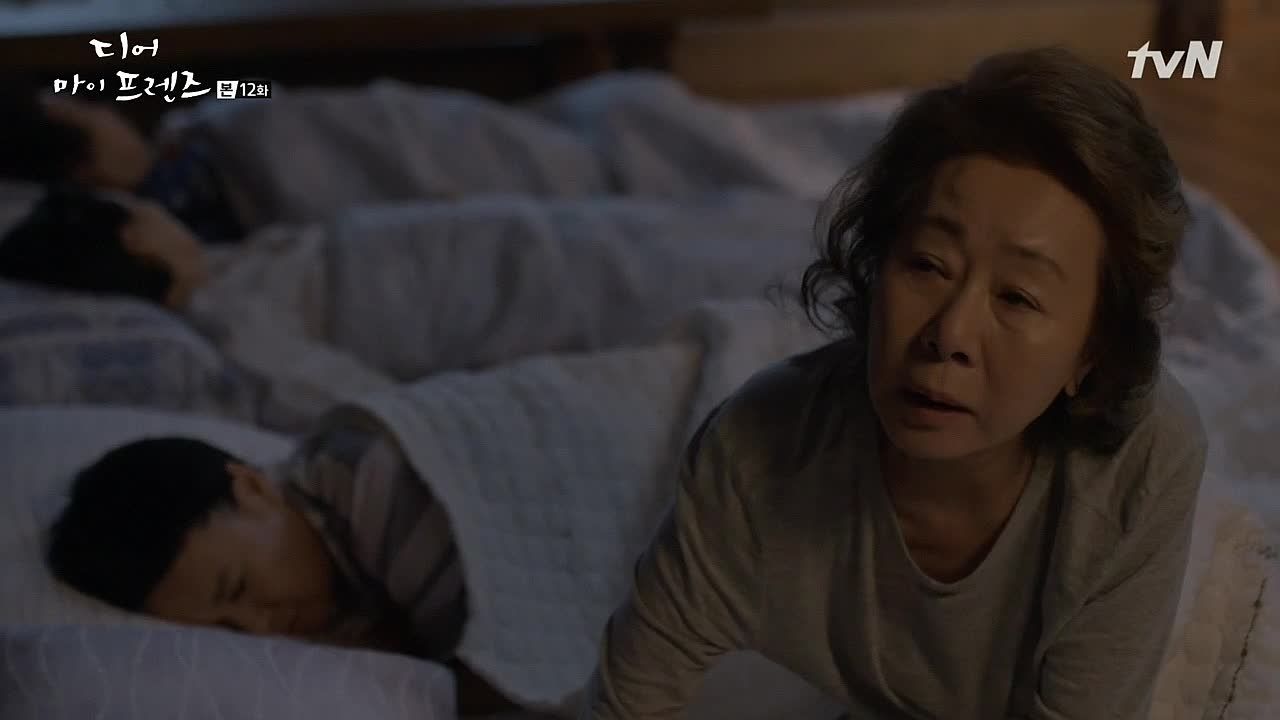 She wonders why everyone is sleeping at Choong-nam's, and then says that she's hungry. Then she has to use the restroom, and Choong-nam patiently helps guide her to the right doorway and then sleepily crouches outside, waiting.
A tired Wan tells Choong-nam that living together might not be the best idea, especially since Choong-nam is like a selfless Mother Theresa with the aunties. No one is getting much sleep due to Jung-ah's snores, though, and the weary aunties and Wan giggle to each other as they try to settle back in for the night.
In the morning, Wan leads them in stretching while Young-won insists on making breakfast so Jung-ah can rest. Choong-nam and her nephews repeatedly run out to the cars with all the small items the aunties left behind.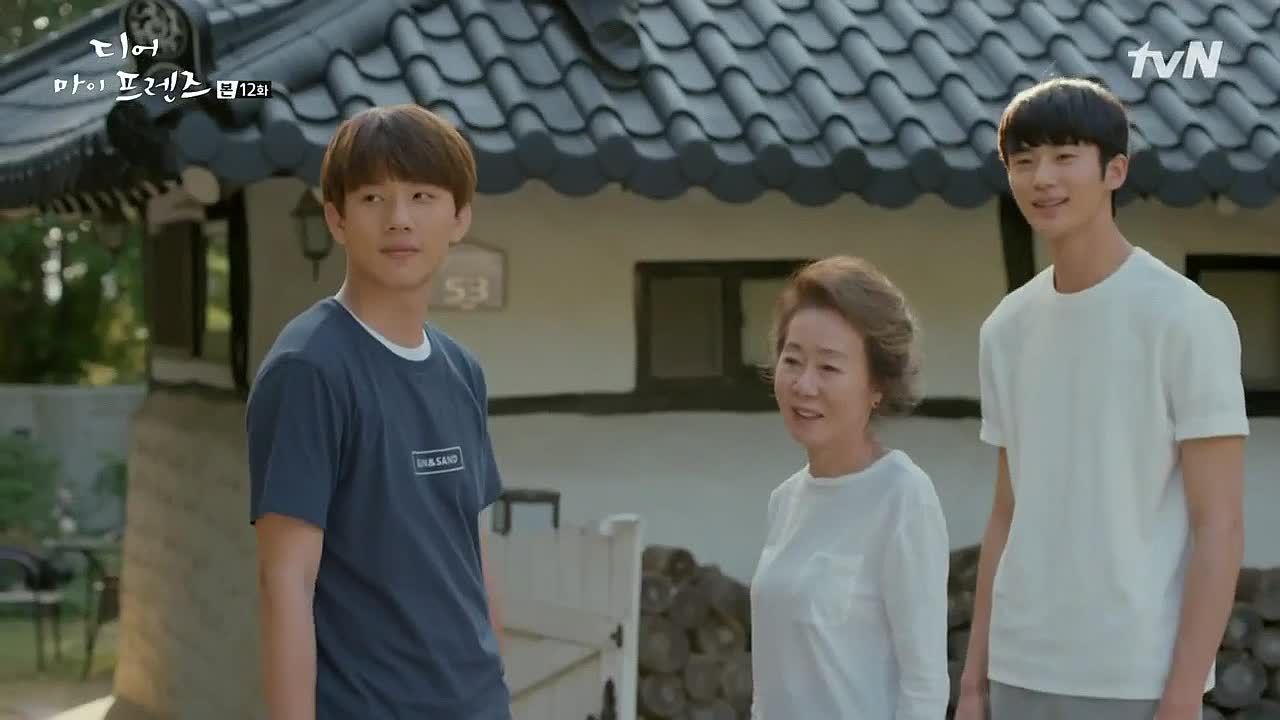 As Choong-nam tidies up, Wan tells us that Choong-nam wanted to live with the other aunties in order to try and connect and get along with other people, even if they're sometimes difficult. Choong-nam tells her that, next to taking care of her extended family, it was the best thing she ever did, and Wan agreed and, for the first time ever, gave her a big hug.
The baby-faced priest at Hee-ja's church meets with Seung-jae, showing him CCTV footage of Hee-ja going to the church in the middle of the night to pray. It's worrisome that she's in her slippers and night dress, and the priest asks him to keep an eye on her.
Suk-gyun is at work, disappointed that no one is answering his calls, and then grudgingly goes to help one of the residents. She asks him to carry up a new chair she just purchased because her hands are full with her teeny-tiny dog. Suk-gyun isn't strong enough, and offers to carry the dog and let her carry her chair, but she recoils at the thought of him touching her "precious baby."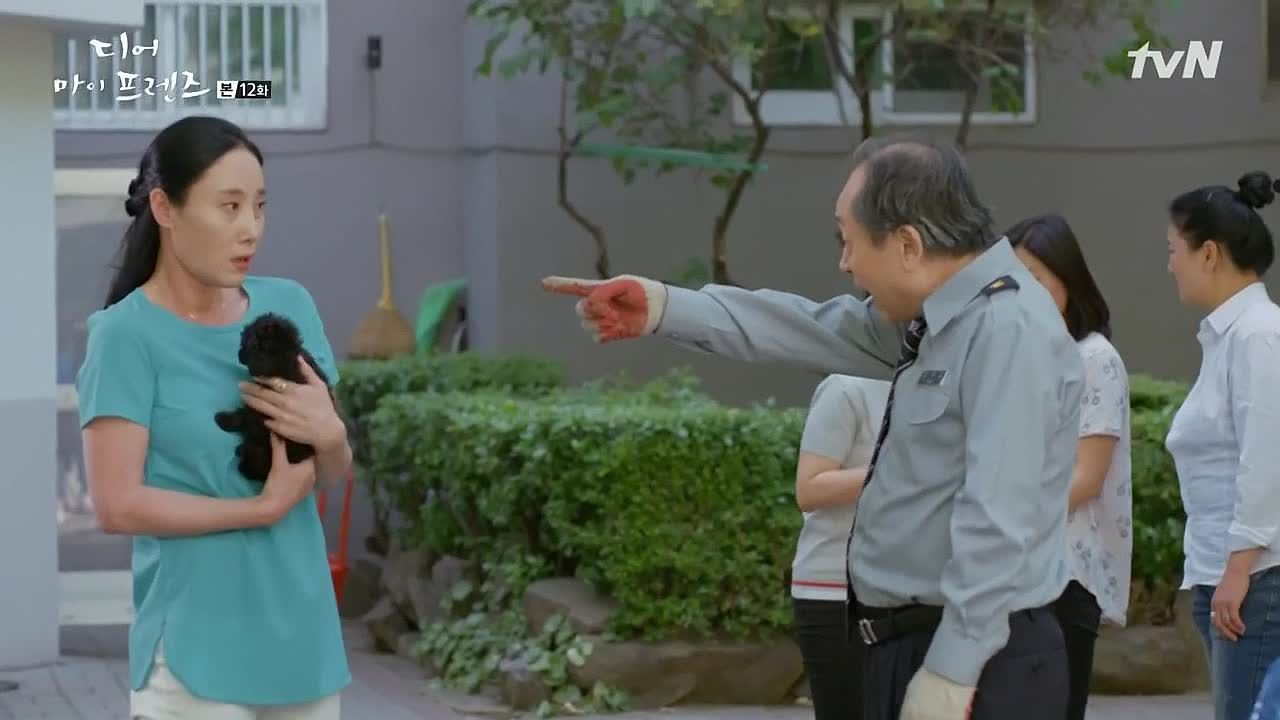 He loses it, yelling at her that it's just a dog, and when she threatens to have him fired, he tells her he'd rather quit first. He reminds her that he's her elder, and besides, he only does what she tells him to because it's part of his job, not because he's beneath her.
Later, he gets on the bus to go home, where he yells back at the driver for yelling at him for taking so long to pay and sit down. No seats are free, though, and he gruffly orders a student to move so he, the elder, can sit. The entire bus is judging him though, glaring at him as they mutter under their breaths, and when he sees the student who just disembarked, he notes that she only has one arm.
That reminds him of a day when he was a child, playing around in the stream, and he pushed one of his nervous friends into the water, only for his friend to get a stick lodged in his eye.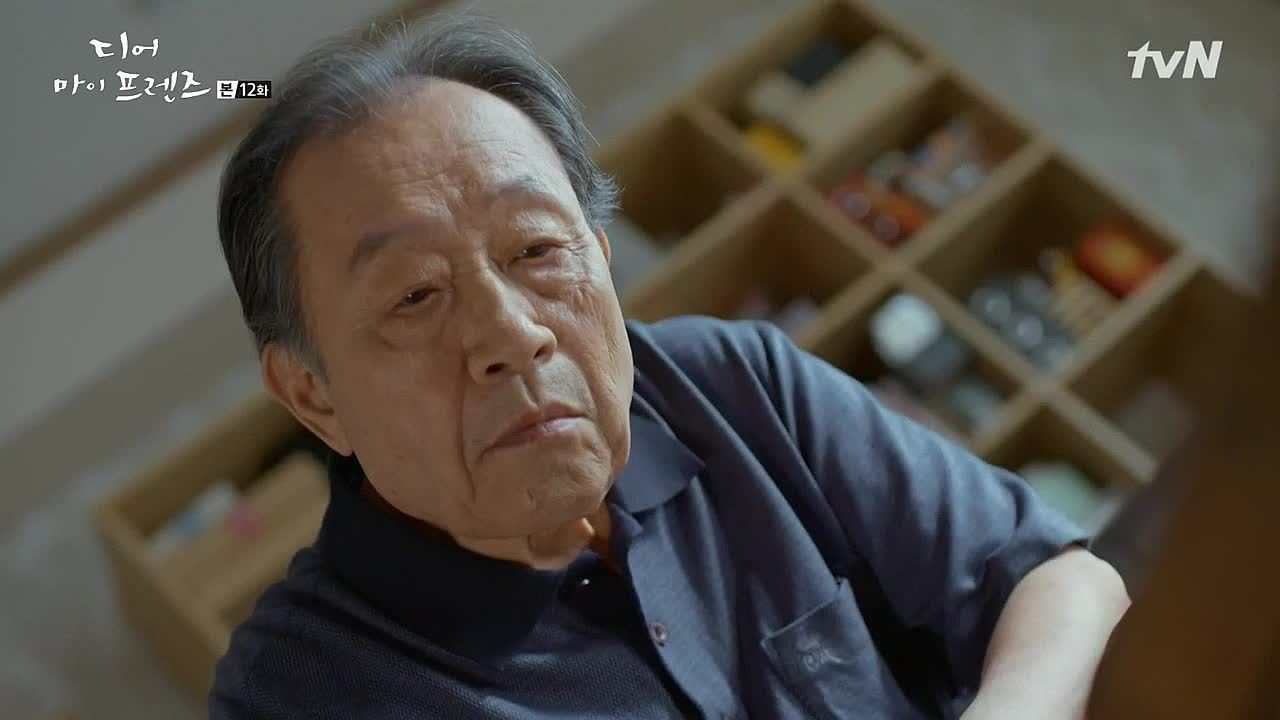 When Suk-gyun gets home, he finds a note and kimchi left behind by his daughter. She cleaned up for him but couldn't stay, and even though she's mean to him sometimes, that's now how she truly feels. Aw. He pulls out a photo album and looks through the pictures of his younger days with Jung-ah. He calls her up, telling her that they should go traveling, but she says she's too busy cleaning and to leave her alone, then turns off her phone when he tries calling again.
As he drives along, he grumbles that he didn't do anything wrong and doesn't need her. He's then cut-off by another car which makes him stop and step out, yelling after the car as it drives away. It mostly seems an excuse to vent about the frustration of being forgotten and tossed aside as an old man once his usefulness has run out.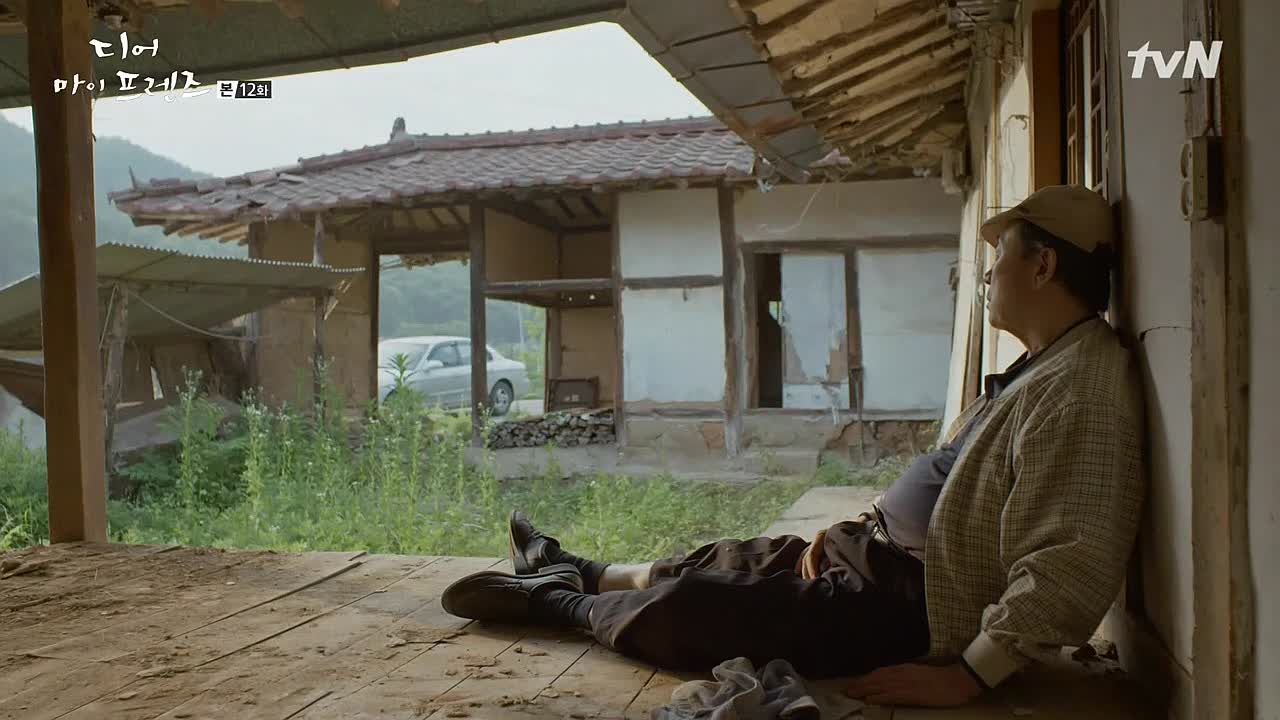 He arrives at a dilapidated and run-down old home, remembering when he and Jung-ah stayed there for their honeymoon. Newlywed Suk-gyun apologized that he couldn't take her somewhere better, promising to take her on a trip around the world later — in ten years, perhaps. But young Jung-ah says they should care for their parents first, so they should put off their trip for at least another thirty years. Aw, so he was the one who first wanted to give her the trip. He naps on the dirty old porch as night falls.
Hee-ja cooks dinner for Seung-jae while he remembers the priest's request to keep an eye on her. He reads her list about not putting up a fuss if she goes into a nursing home and who to contact if she gets dementia. He asks if they should move into together, and she amusedly declines — even if she would like having someone else around, her kids would throw a fit.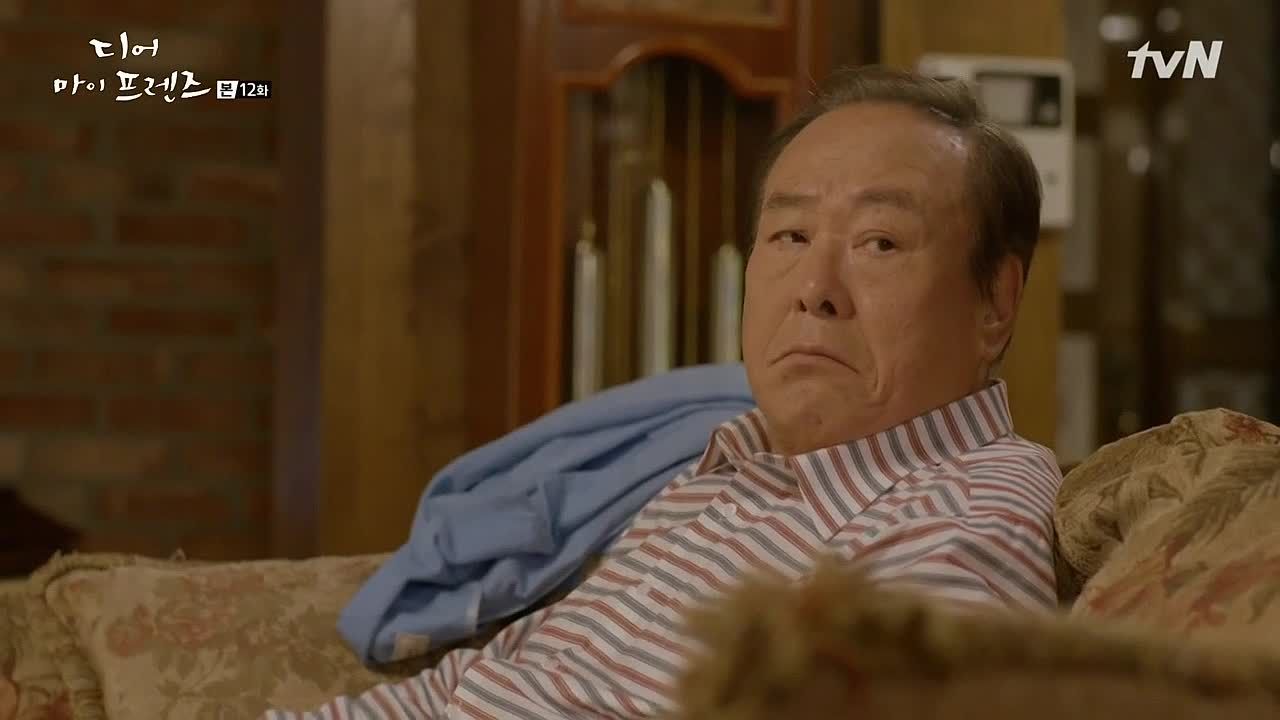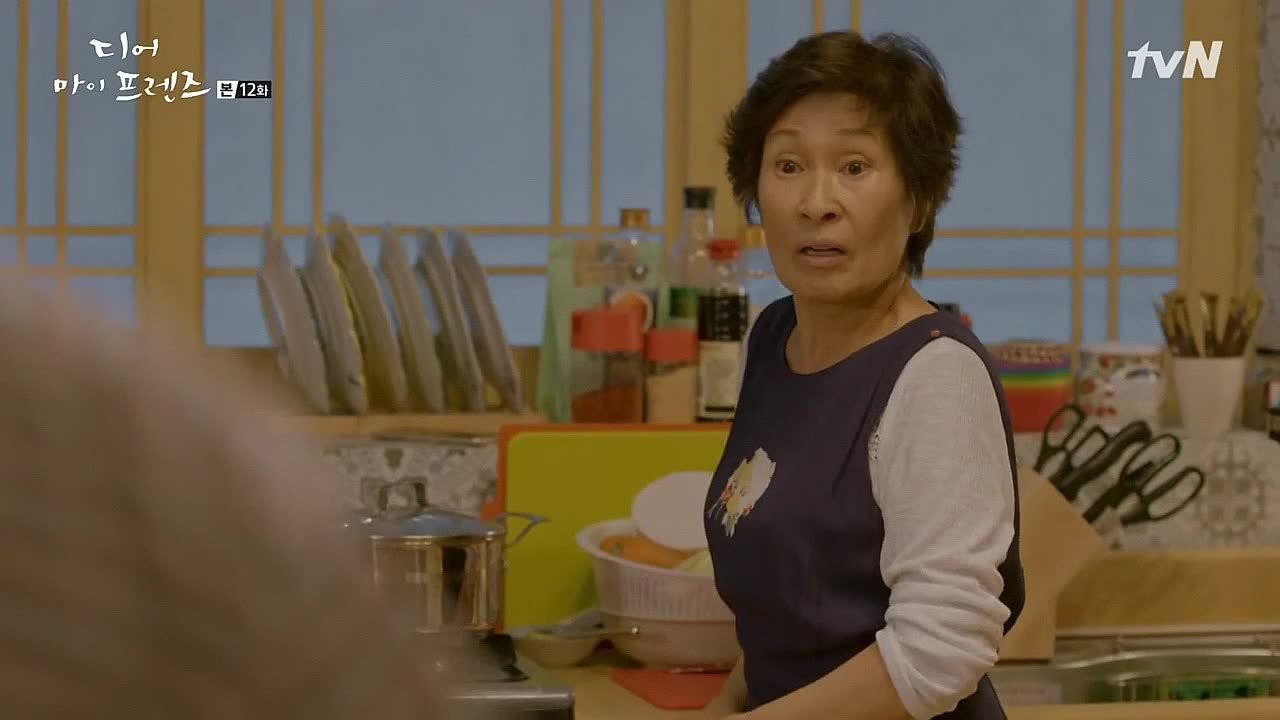 He then asks if he could read the manual for her CCTV, explaining that he just likes reading manuals but he's really just trying to hook it up to his phone so he can watch the feed himself. As he works on that, Min-ho calls and happily sings to her, breaking into laughter when his wife shows him ultrasound pictures of their baby.
Suk-gyun remembers when Soon-young came to him in tears about being sexually assaulted, and when Jung-ah asked him to carry the groceries home so she could go to the hospital. He refused, saying he had to work, and then she collapsed as she miscarried with what would have been their only son. He recalls watching his mother beat Jung-ah up over ridiculous reasons, like accidentally misplacing a favorite shirt, yet he didn't intervene.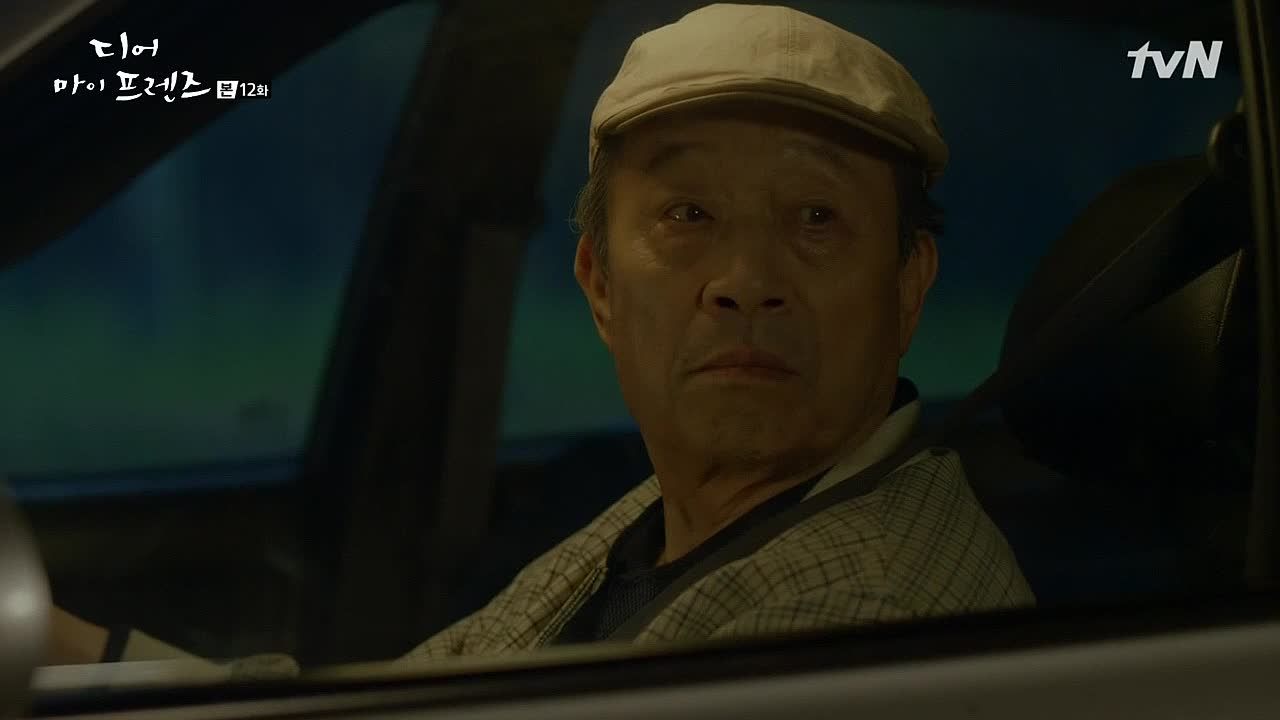 He drives off into the night, remembering all the times he laid the blame of everything wrong at Jung-ah's feet and all the small and big ways he mistreated her. Stopping in the middle of the train tracks, he recalls a happier time when he and Jung-ah were young and in love, laughing as they walk along the tracks.
Then he looks down the other way, and the shadowy figure in the mist, the one that haunts his dreams, finally becomes clear — it's him. He looks back down the track, seeing the young Jung-ah sadly walk towards him, stop, smile as a tear rolls down her cheek, and then turn around and walk away.
The heavy weight of the memories seems to have stirred something up, because the next day he calls Wan to request an interview. She understandably is unwilling, but Nan-hee says that she should at least spare an hour for the old man.
As she gathers her things, she grumbles that its's just going to be a waste of time and that she's had her fill of being nice to old people who have no sense of decency since they believe they're just going to die soon. Besides, Suk-gyun will just complain or brag about his life, so the interview will be pointless.
After Wan leaves, Nan-hee hears a sound from Wan's computer. It's Yun-ha, and Nan-hee happily greets him, letting him know that Wan isn't around. She tells him that he should continue to exercise his legs — and date other women. Yun-ha tries not to react, but it's clear that he's bothered by something.
Over an hour into their interview and Wan listens intently as Suk-gyun quietly talks about the day when Jung-ah had her miscarriage and the way he ordered her to get up and take care of the house after she returned from the hospital.
Studying the old photos, he comments that they used to be together, but now he's alone. He knows that everyone else thinks he's mean and arrogant, and even though he knows he was in the wrong, he was too focused on trying to make a living for his family. He's committed a lot of sins in his life, but the biggest sin is being ignorant of those sins.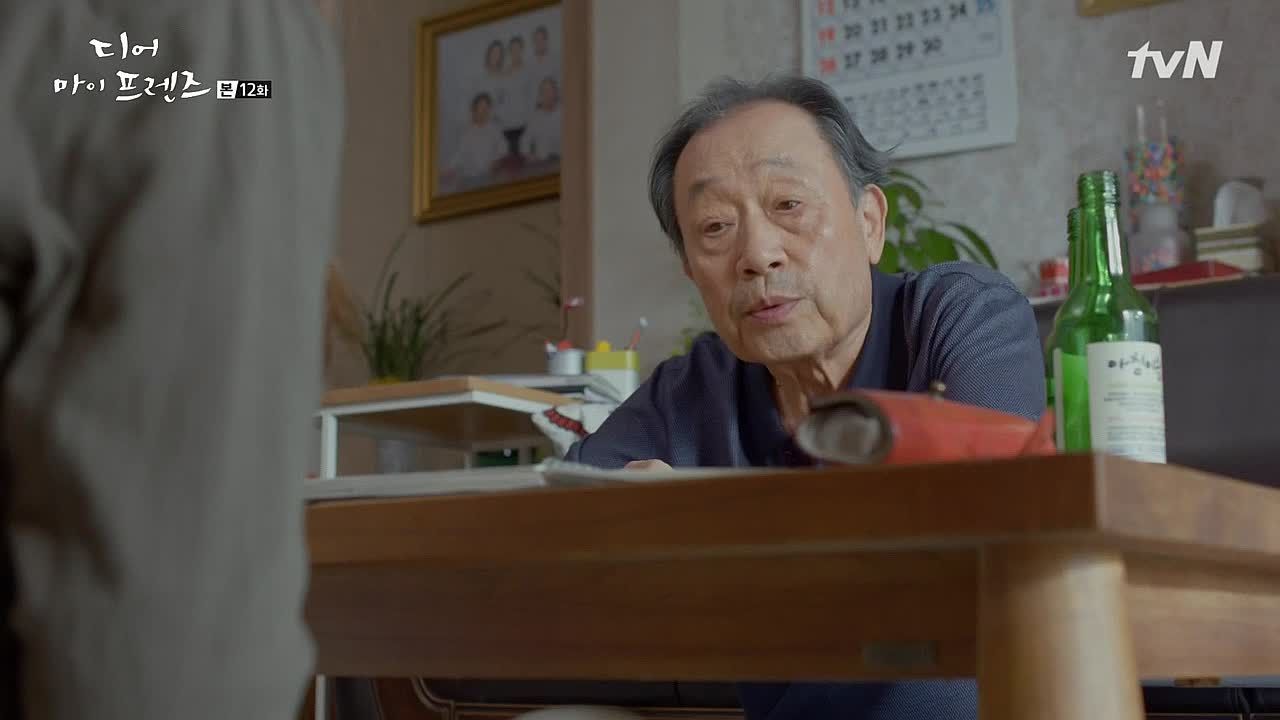 As he finishes off his second bottle of soju, he tells Wan that he's going to let Jung-ah go, and if Wan decides to use his story in her book, may it be a warning for other people like him. Wan gently encourages him to talk to Jung-ah just like he has right now, but Suk-gyun is determined to make sure Jung-ah is free.
Wan sincerely offers to make him lunch, but he just tells her to leave. He sits alone in his bedroom, lost in thought, while Wan tells us in a voice-over that someone once said we do more bad than good in our lives, which is why we have more to gain than lose. Instead of having regrets, we should just be thankful to be alive.
Nan-hee and Granny wait for the doctor to give them their test results, and he looks at Granny as he refers to Nan-hee's results. He's mildly surprised when Nan-hee corrects him, telling him that she's Nan-hee. A glimpse of the test results reveals some alarmingly high numbers, indicating severe liver damage.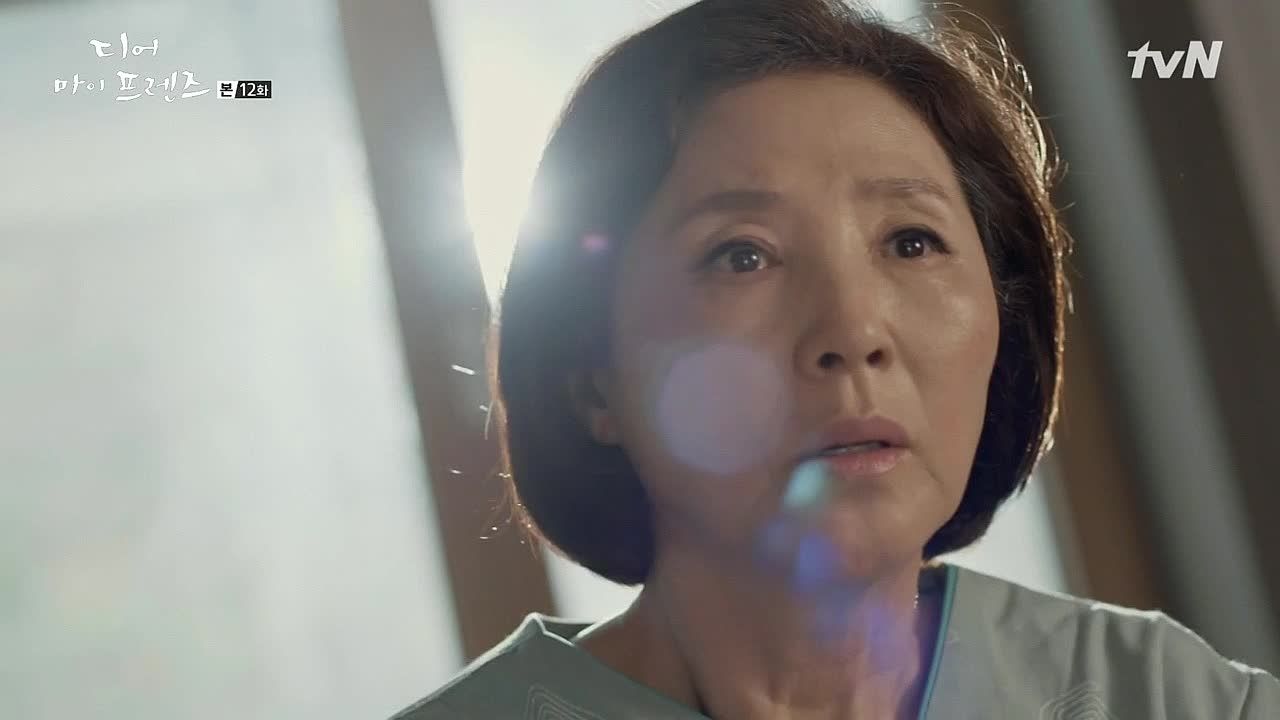 COMMENTS
Oh no. Nonononono. While I thought it might be too idealistic to assume that all the aunties (and Granny) would make it until the end of the drama, I don't think I ever thought of Nan-hee as the one who might not be there at the end, and I refuse to think about it even now. I shall instead convince myself that it's totally within reason for everyone to live happily after.
Suk-gyun has never been a favorite, but just like Wan, I feel like I can look at him with new eyes. Yes, he's gruff and rough and could be more actively considerate to others, but to see him look so defeated in realizing all the mistakes he's made, and how he's managed to push Jung-ah — who he clearly loves — away from him managed to make me feel for him and wish that he could find happiness, despite all the frustrations he's given everyone.
He may have learned his lesson too late, but at least he learned it. I don't know that I necessarily want him and Jung-ah to get back together, but I'd at least like to see him appreciate who she is and everything she's endured throughout her life because of him. The image of her sadly saying goodbye and turning her back on him was so beautifully poignant, not the least because he can still see her as the young woman she was when they first were married.
Watching the aunties giggle together like the girls they once were was delightful. Even though I've grown accustomed to thinking of these women as more than just the "old aunties," sometimes I still need reminding that, no matter what Young-won might say, even though one's body grows old, the heart and spirit will remain forever young.
These women have been so delightful to get to know each week, and there are always so many little details that continue to round out each character, making them more whole and broken, all at the same time. I loved seeing Chong-nam's peace in accepting that the older people are the ones she truly needs to connect with, whether she likes it or not — and that she's good at connecting with them, too. I find it amazing that she continues to press home the point that she is uneducated, but to my mind, she is definitely not ignorant. She is able to see truths that are often buried and has a great common sense that cannot be taught. I wish she'd take more credit for the ability to create a thriving business from scratch and turn a profit in just about anything.
One of my favorite things about this show (and there are many favorite things, to be sure) is that you can't judge anyone based on those brief few minutes of first impression. There are layers and stories buried deep within, so many that I wonder if we'll have a chance to explore them all. These aunties' and uncles' childhoods hold a tantalizing mystery that I long to unlock just so I can satisfy my curiosity about all these brief glimpses of what life was like when they were younger. But that's not the point, is it? Those brief glances are, perhaps, all one really remembers as one reaches their sixties, seventies, and beyond. What's more important is simply knowing that those moments have built up to create the person we see before us right now.
RELATED POSTS
Tags: Dear My Friends, featured, Go Du-shim, Go Hyun-jung, Kim Hye-ja, Na Mun-hee, Shin Gu, Yoon Yeo-jung