Dear My Friends: Episode 14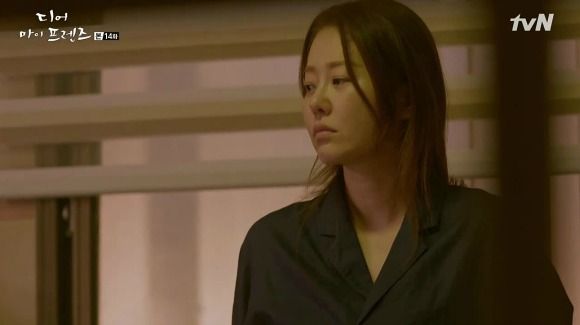 Better grab an extra box of tissues, because this episode is a doozy. I'm not even sure if I can explain why without becoming an emotional wreck. Just know that Wan has to figure out how to handle news of her mother, and everyone else desperately searches for Hee-ja. On the bright side, Suk-gyun turns out to be the voice of reason, which gives me hope that miracles can indeed happen.
EPISODE 14: "Like a mother to the end; like a fighter to the end – Part 2"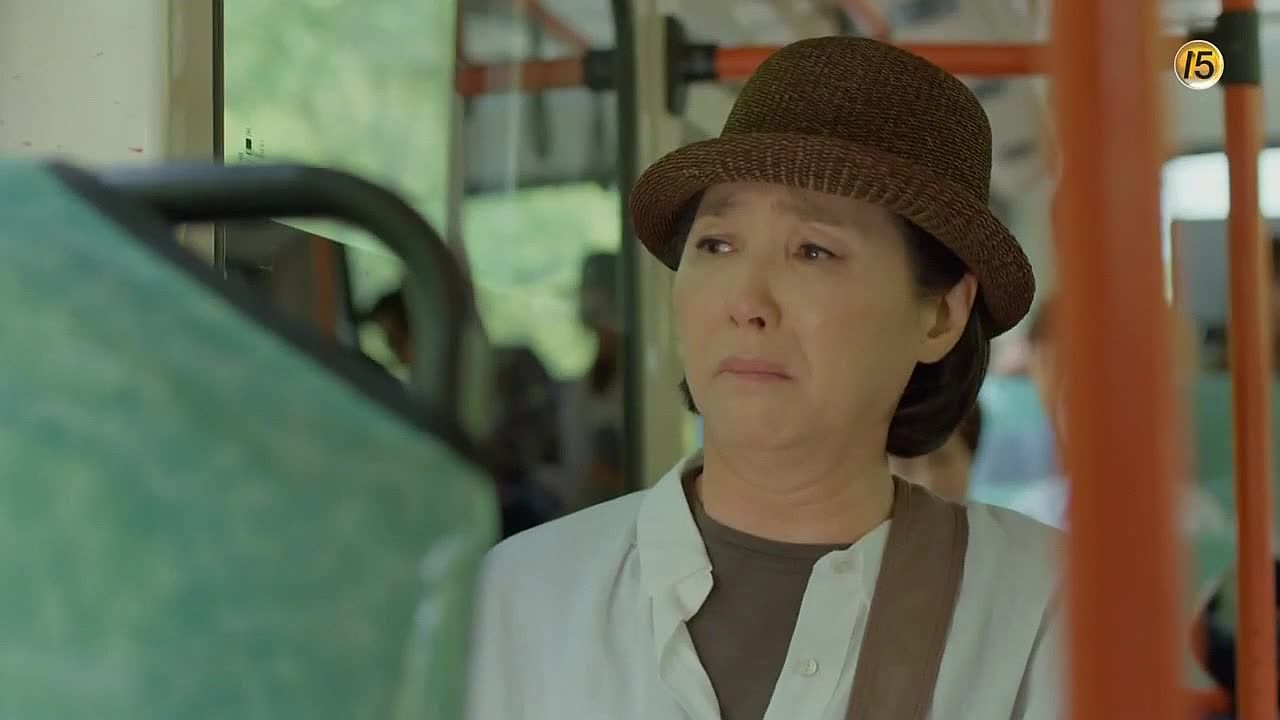 Nan-hee ignores her phone as she rides the bus and struggles to accept the fact that she has cancer. Jung-ah tries calling Hee-ja, but she doesn't answer her phone, either. Jung-ah is so distraught that she's once again wearing two different shoes, and Choong-nam attempts to relieve her stress with her two favorite vices — smoking and cursing.
Min-ho cries as he watches the footage of his mother leaving her house every night. He feels guilty because he stopped checking up on her, assuming she was fine, and because he was more focused on his pregnant wife. Choong-nam won't let him wallow in his pity party as she orders him to change so they can set out to find Hee-ja.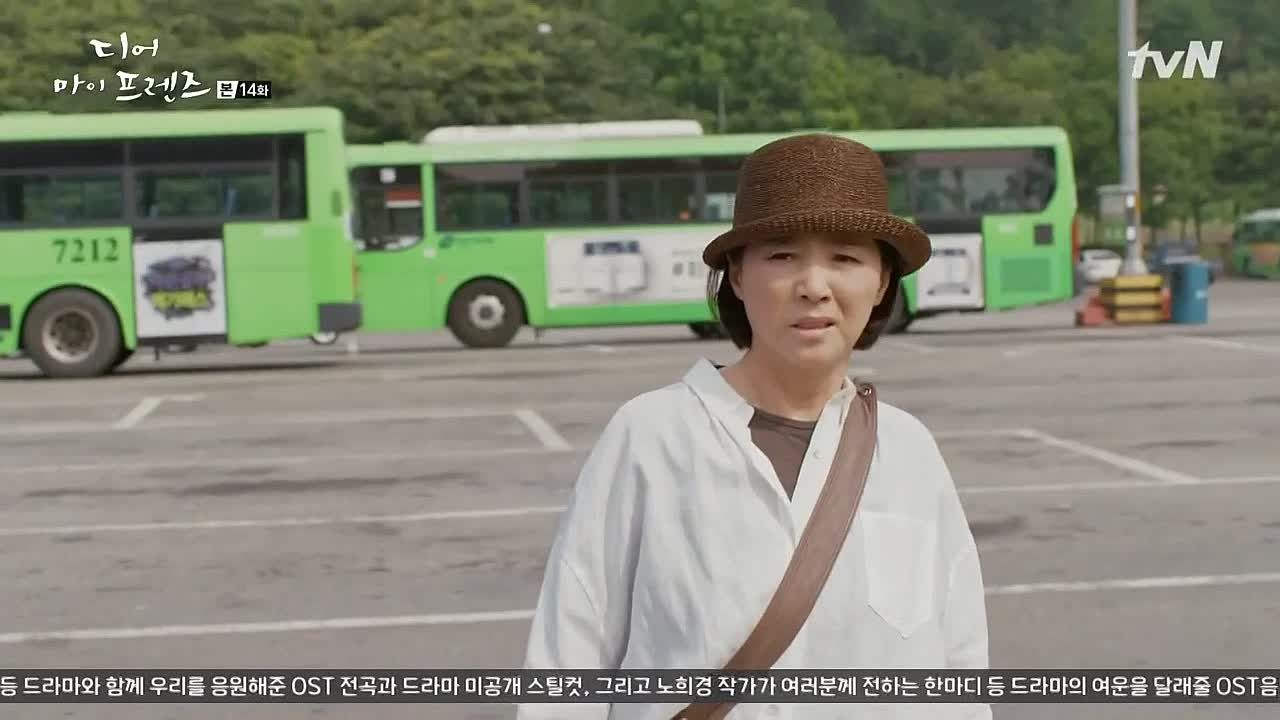 The bus reaches the end of the line, and Nan-hee's surprised to find herself now alone at the bus depot.
Young-won is getting ready to go on her date, annoyed that Nan-hee still won't answer her phone. Ha, she chides her manager for saying one of her costars has no talent, pointing out the young actresses' youth and beauty are good enough, and if she had talent, too, then there would be no more roles left for an old woman like her.
She happily tells her ex-husband and first love that she's on her way to meet him — after waiting years, another twenty minutes is nothing. She gets a call from Nan-hee's doctor just then, and her face falls. She reels in shock as he informs her that Nan-hee has cancer.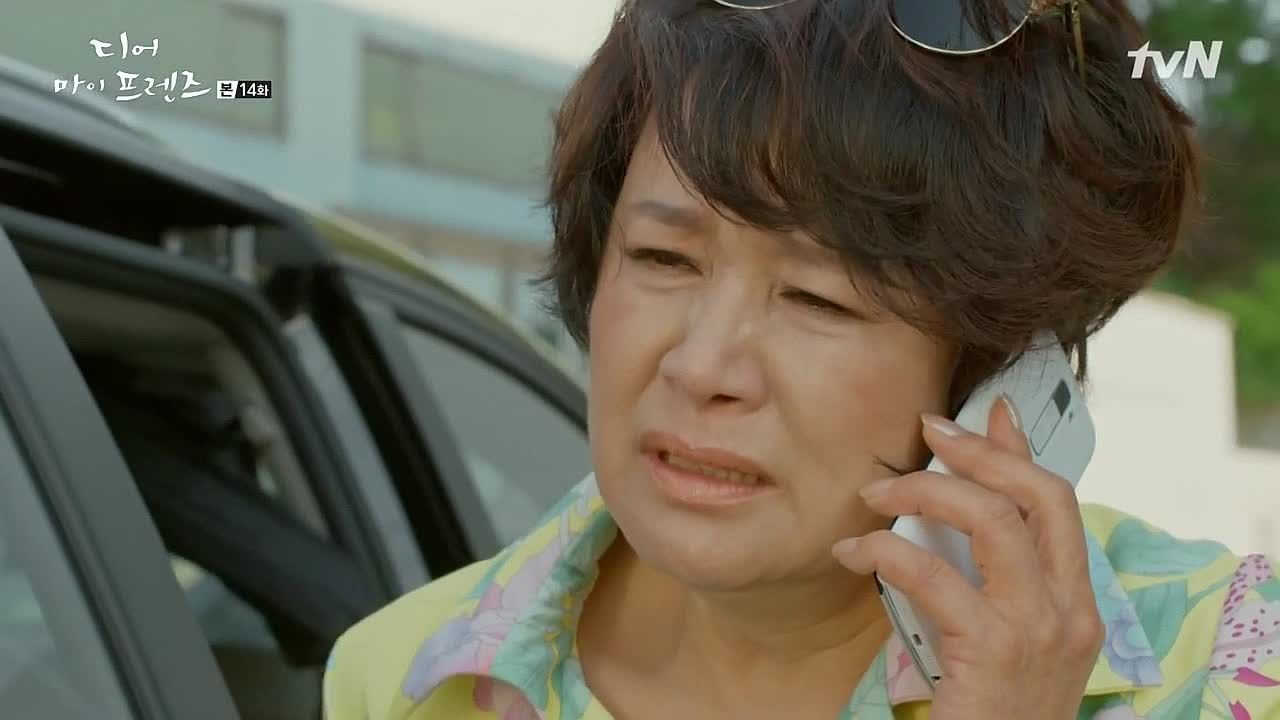 Choosing friendship over romance, she tearfully calls her ex-husband. Smiling through her sadness, she tells him that she can't make it to their date, and that at least they'll have their memories of when they were younger. She wishes him all the best as he returns to his wife, and holds herself together long enough to tell him goodbye before collapsing in her grief.
Her ex-husband knows that this was their last chance, and he sadly wonders if he should have told her that he got divorced. He asks his assistant to, after he dies, let Young-won know how much he loved her. Aw.
Suk-gyun scrambles to find his car keys and practically barrels over his daughter delivering a meal as he rushes out the door. He's on his way to help everyone find Hee-ja, but he points out to Seung-jae that it's not like he knows what routes Hee-ja normally takes. Besides, are they sure she has dementia? She's always acted a little strange to him. Seung-jae just hangs up, and Suk-gyun keeps an eye out for anyone who resembles Hee-ja.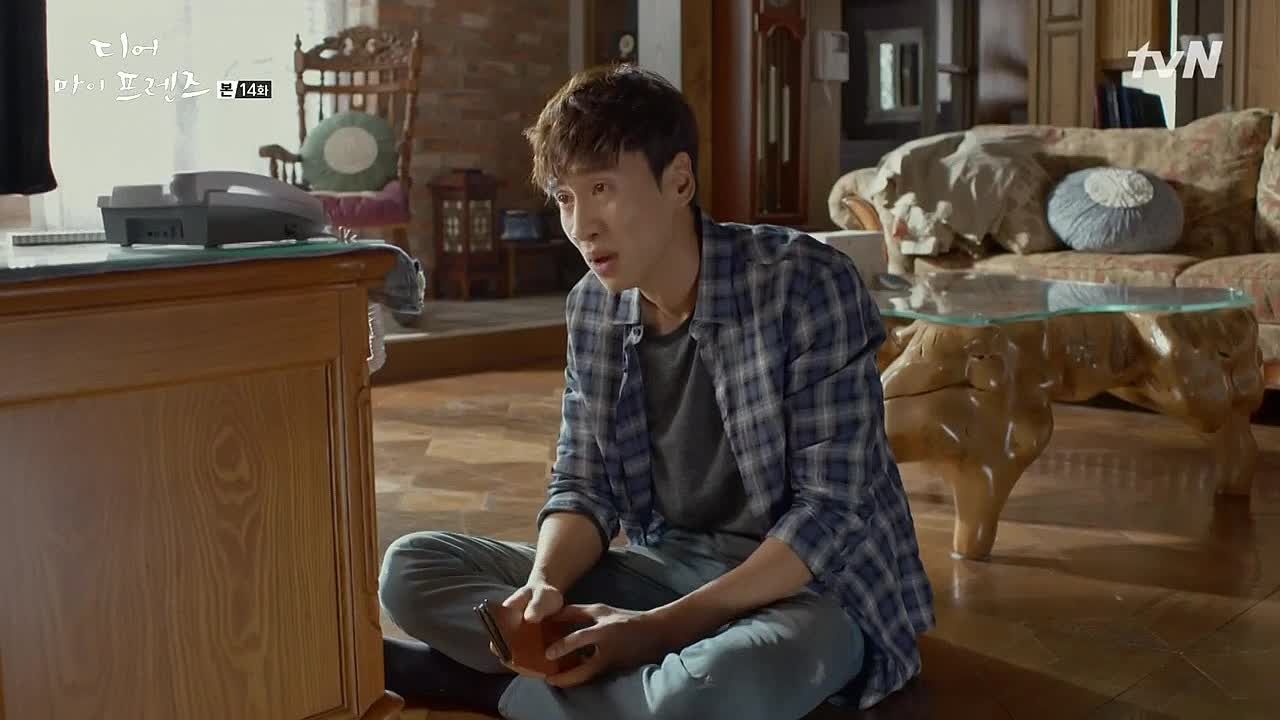 Helpless, Min-ho sits in his mother's home, testing and retesting the phone to make sure it's working. Seung-jae is making calls to everyone he knows to help track her down, and Choong-nam worries that Wan, Nan-hee, and Young-won aren't answering their phones.
Seung-jae can't just sit around and wait any longer, so he heads out to try and find her. Restless, Min-ho goes out, too, using Jung-ah's suggestion that she might be at the market (even though Choong-nam point out that Hee-ja always has her food delivered, but at least it gives him something to do).
Jung-ah and Choong-nam find Hee-ja's list that she would repeat to herself about what to do if she has dementia, and then they start cleaning up the chaos in her kitchen cabinets. It's just so hard to wait and do nothing.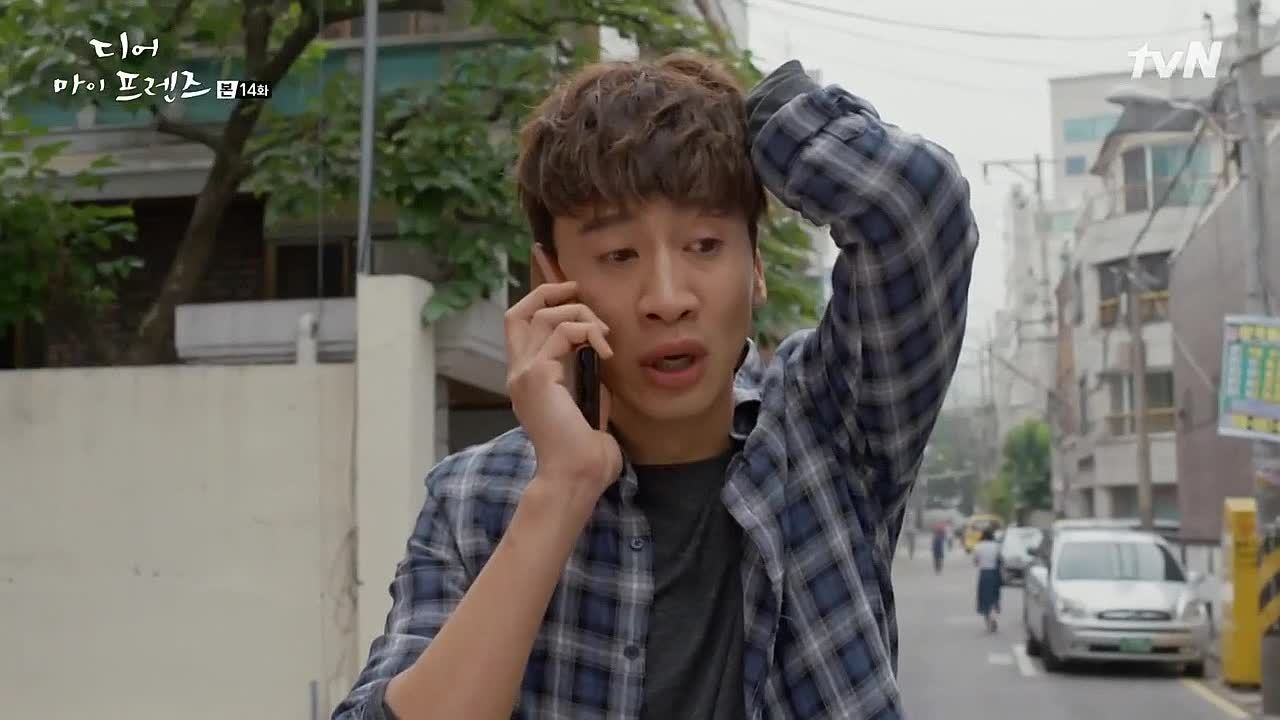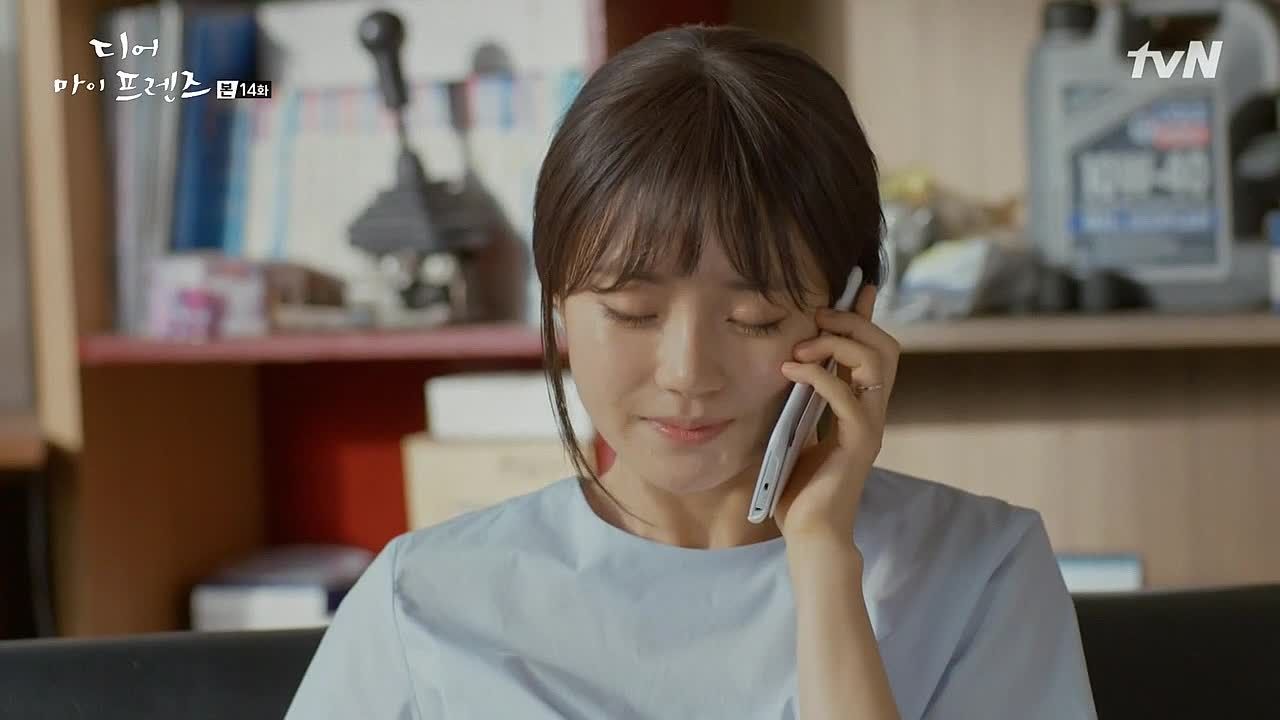 Min-ho runs through the neighborhood, continuously wiping at his tears as he searches for his mother. Aw, when his wife calls, he reassures her that he's fine and that Hee-ja's friend and "boyfriend" are doing all they can to find her. He's so concerned for her (and the baby's) health and safety that he tries to hide his own fears, even though he can't stop his tears.
Young-won finds Nan-hee at a fancy bar, drinking away her sorrows. She tipsily and facetiously tells Young-won that she shouldn't have met with her again since her cancer was contagious. Young-won joins her at the bar and informs her that she spoke to Nan-hee's doctor and he's moving up her surgery to next week instead of making her wait three weeks.
Then she takes the bottle away from Nan-hee and pours her own glass. Nan-hee protests, reminding her she has cancer. Look who's talking. Nan-hee muses over the fact that she has maybe four months left to live if she doesn't get the surgery, but then only a twenty-percent chance of improving after the surgery. Not very encouraging, is it?
The women sit outside the bar and rest a moment to sober up. Nan-hee asks if Young-won is scared of dying, but Young-won sighs that she's just struggling to stay alive. She asks if Nan-hee wants to tell Wan about the cancer herself or have Young-won tell her, and Nan-hee says it doesn't matter.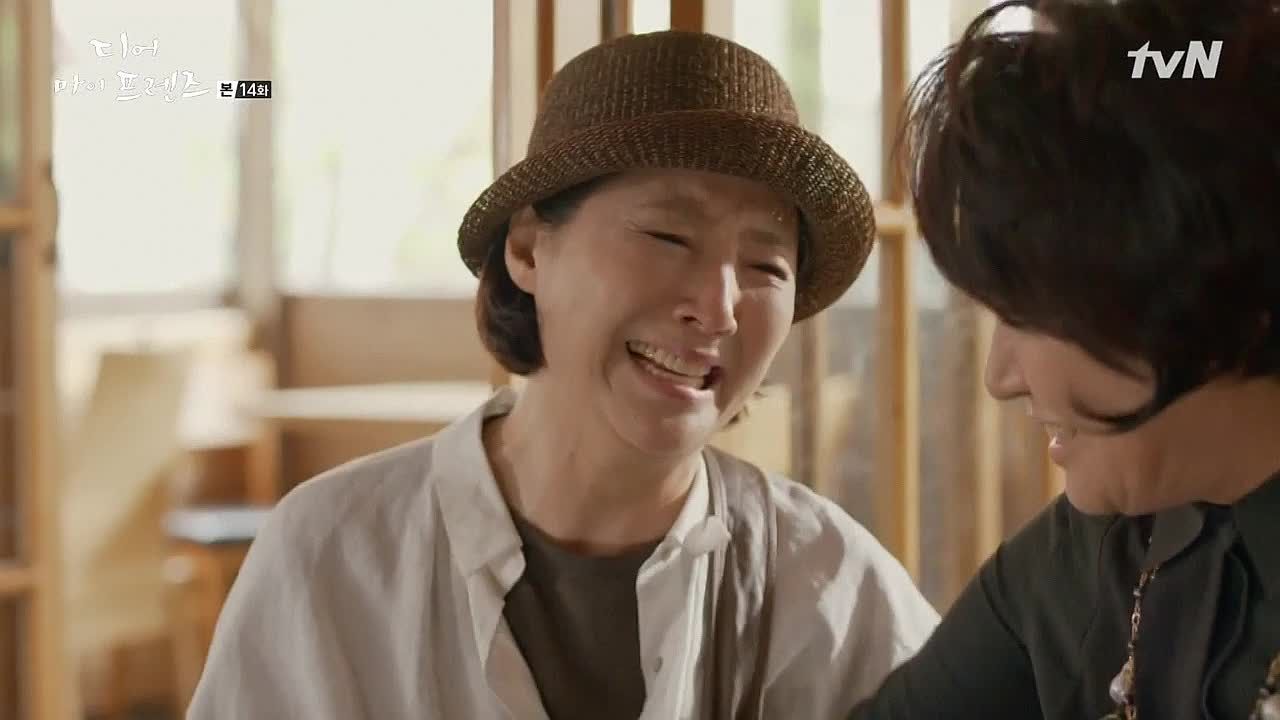 Looking back on her life, Nan-hee wonders at what waste it all was. She was a devoted wife, mother, and daughter, and look where it got her. Young-won says that they should have slept with more men when they had the chance, and the aunties laugh over the idea of men lining up to date them now.
On the drive home, Nan-hee asks how Young-won felt when she was first diagnosed with cancer. Young-won: "Like shit." The second and third diagnoses weren't any easier to handle, either. Ha, Nan-hee curses her out as she tells Young-won to stop swearing, and they laugh-cry as Yong-won's manager takes them to Nan-hee's home.
The Hee-ja search committee has stopped at the bridge and Choong-nam stares down at the river, wondering if she's committed suicide, but Suk-gyun matter-of-factly says that she wouldn't have jumped. Hee-ja would still have enough sense, since dementia doesn't progress that quickly.
He reminds Choong-nam that both of their mothers suffered from dementia in their later years, but now there are better treatments so there's hope for Hee-ja. Choong-nam and I are both astonished at how reassuring he's being, and she tests him on his knowledge of the "Good Husband's 10 Commandments." He easily quotes her the first one (to not take out his anger from work on his family at home), and Choong-nam is mildly impressed as she tells him to treat Jung-ah well, since who knows how long they have left to live.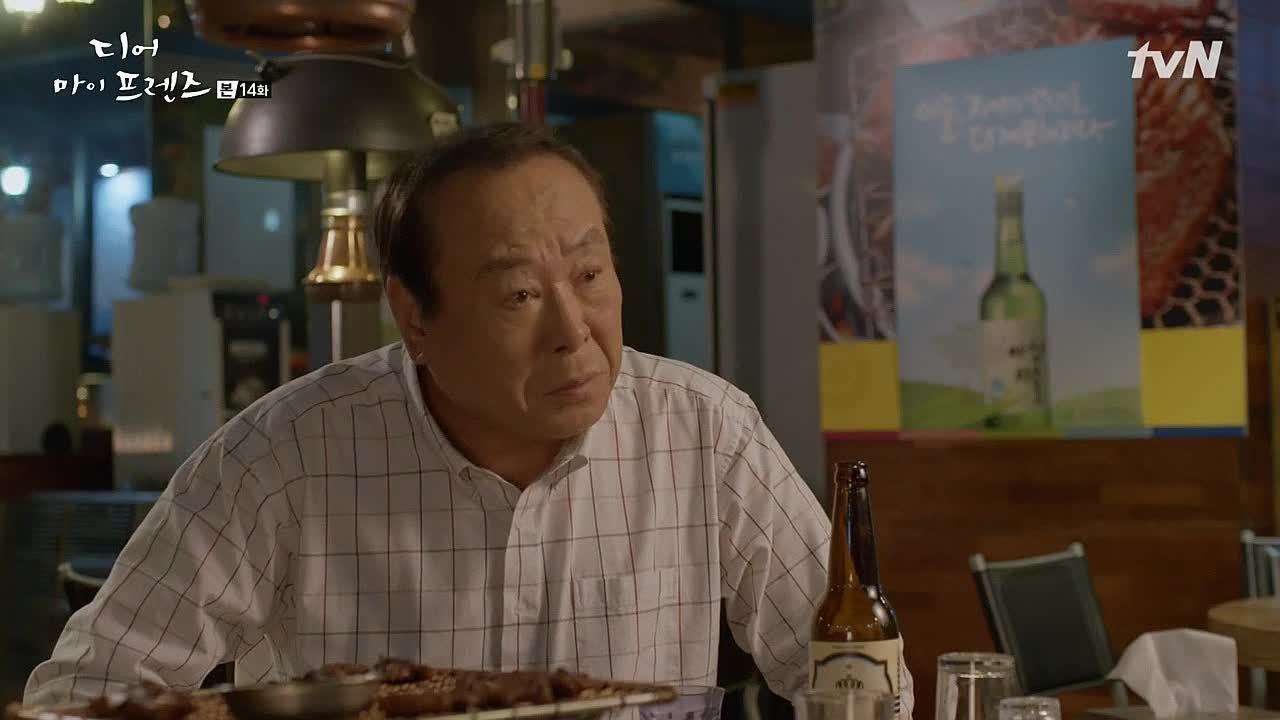 Seung-jae treats Min-ho to dinner, who eats more out of politeness, being distracted by worry for his missing mother. But Seung-jae reassures him that she will be all right — if something bad had happened, someone would have called by now. He encourages Min-ho to eat in order to keep up his strength.
He asks if Min-ho is bothered the fact that he likes Hee-ja, and reassures him that even though his feelings can't be helped, they're really just friends. Then he gets a phone call that one of his police contacts have found record of Hee-ja's movements, and the men hurry to the police station. By looking through CCTV footage, one of the policemen has traced Hee-ja's path to the Han River bridge. As they watch the footage, Seung-jae wonders what she's carrying on her back.
Wan is taking a break on her novel to chat with Yun-ha, and the couple are adorable as ever. Yun-ha has something new to show her, and reveals a walker where he hoists himself up by his arms. He still can't actually stand, but the point is he's at least trying — specifically, he's trying to overcome his fear and the impossible for her.
Overcome with emotion, Wan says that she's proud of him and shows off her calendar where she's marked the day they can be together again. Yun-ha says that he's waiting for her. With renewed determination, Wan gets back to writing.
But Young-won arrives at her place just then, and Wan runs to happily greet her. Young-won just holds her tight as she cries.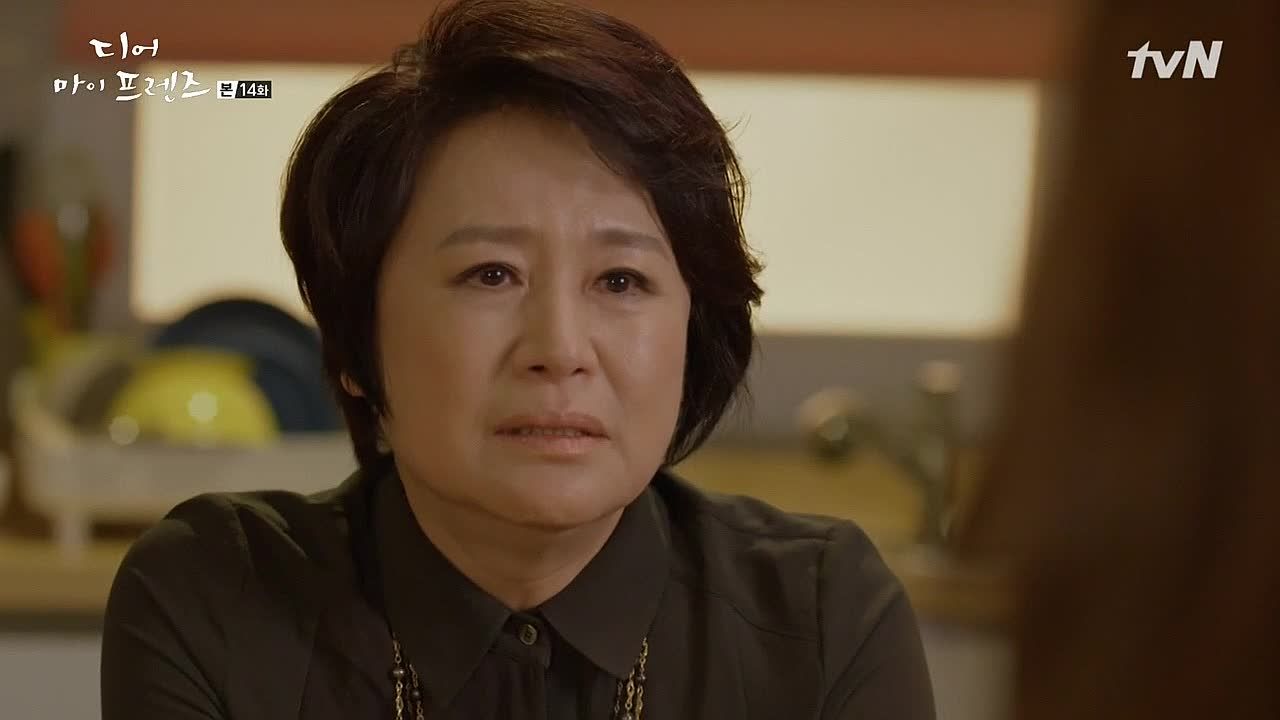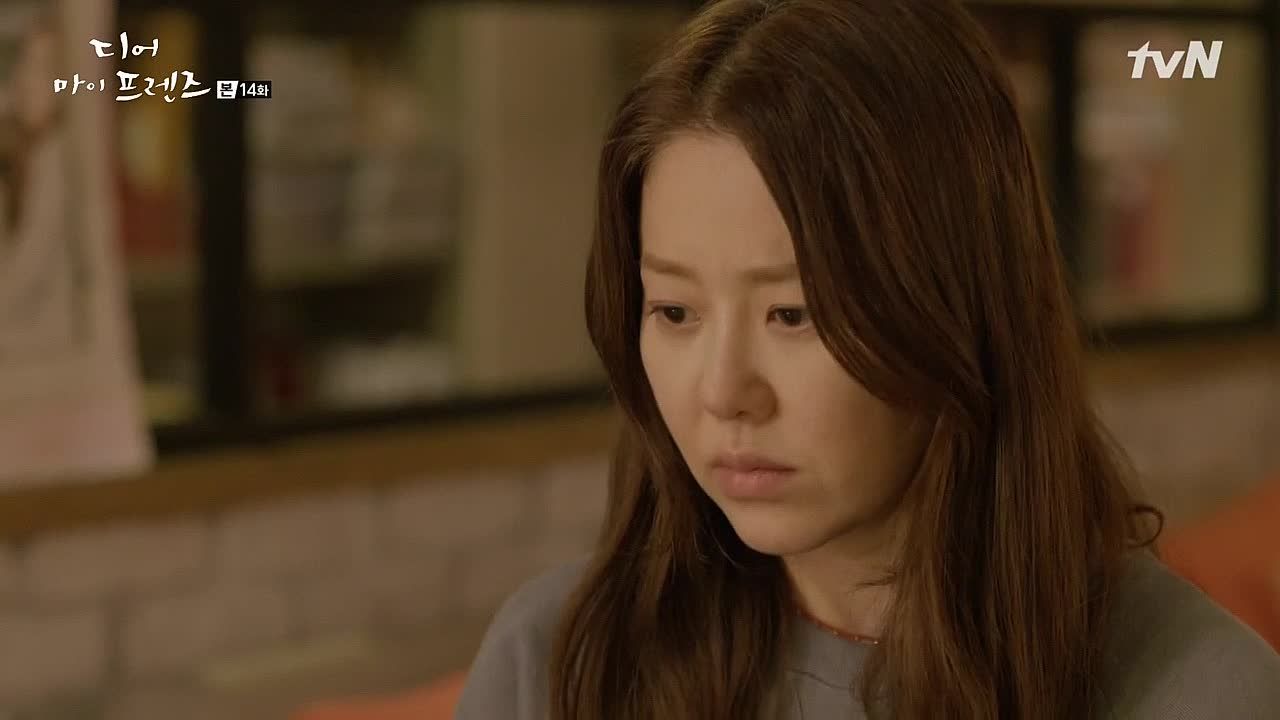 Wan struggles to accept the news about her mother's cancer. Her face is unreadable as she asks if she can meet with the doctor right now. Young-won takes her to the hospital, and the doctor explains that he still believes that surgery is the best choice even if there's only a twenty-percent chance of survival, since that means there's still some hope.
As Wan leaves the hospital, Choong-nam calls her to fill her in about Hee-ja. Wan says she can't tell her mother about Hee-ja right now because Nan-hee has cancer. Stunned, Choong-nam reels from that truth bomb, no doubt wondering why the aunties' lives are suddenly imploding.
At home, Nan-hee is busy making delivery arrangements for her restaurant when Wan arrives and takes the phone from her. She calls one of Nan-hee's employees to tell them to look after the restaurant since Nan-hee is going to have surgery soon, but Nan-hee snatches the phone out of her hand, proving that she's still in charge.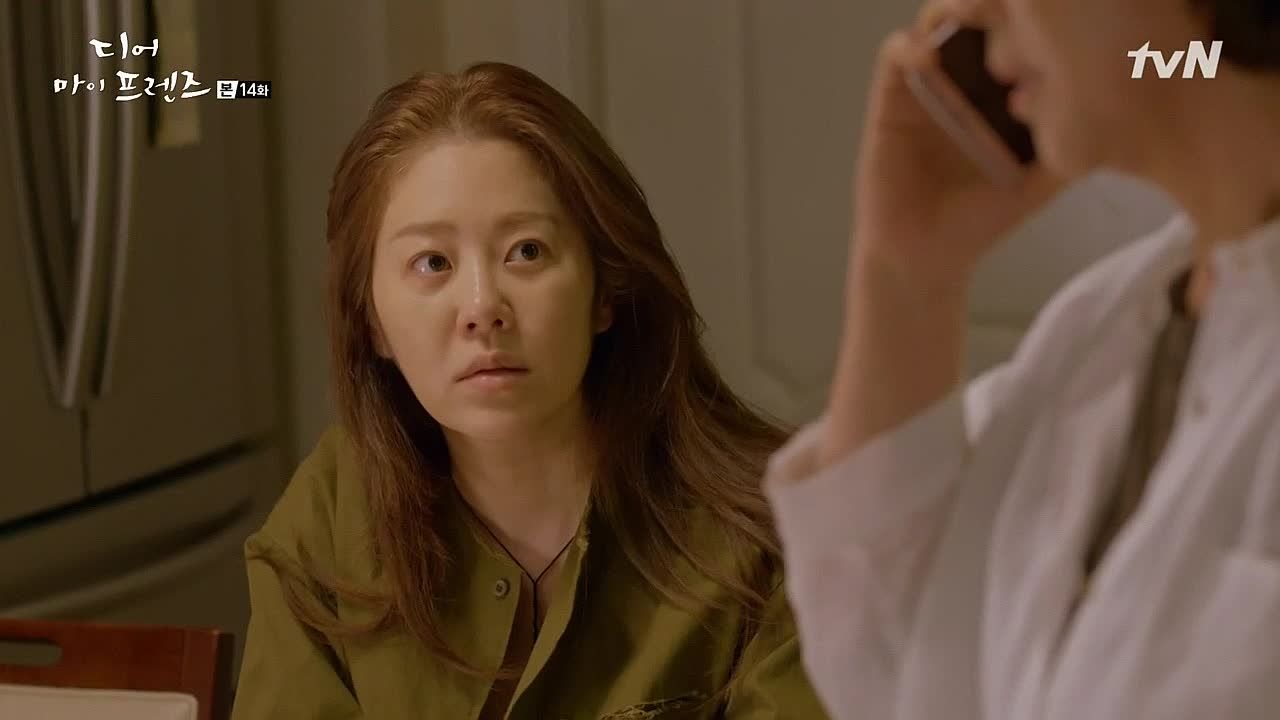 After the tenth phone call in a row, Wan gently tells her mother that perhaps it's time to take a break for the night. It's one in the morning, anyway — no one is going to be answering the phone. As Nan-hee gets ready for bed, she grumbles that Wan is too slow to get her pajamas — kids these days aren't as filial as they used to be.
Nan-hee stays up late organizing her financial accounts so that Wan can take control of them, "just in case." Wan just wants to know why Nan-hee didn't tell her when she first found out about the cancer a week ago. But Nan-hee wants to know if Wan is only acting nice because she has cancer — what happened to the days when Wan would yell right back at her?
She shouts that she's alone and has always been alone. She's the one who is burdened with parents, a brother, and a daughter who all rely on her. But she has no one to rely on, and can only worry about how her family will survive without her.
Wan's voice breaks, asking why she's a burden. She's lived her life just fine — she's an adult, not some useless baggage. Her grandparents and uncle have survived because that's their fate, not because of anything Nan-hee has done. Does it really make her feel better to make her daughter feel like a useless, miserable lump?
Nan-hee begins to weep as she says that she's trying hard not to act like that. Trembling with emotion, Wan tells her mother she should go through the surgery and chemotherapy. But Nan-hee cries that she's scared — she wanted to live so much.
Wan bites her cheek and grips the kitchen counter to try to hold herself together while Nan-hee's gut-wrenching sobs echo through the house. In a voice-over, Wan says that night her mother — her strong source of refuge — had fallen. Her mother, who was as powerful as the sea, could no longer endure.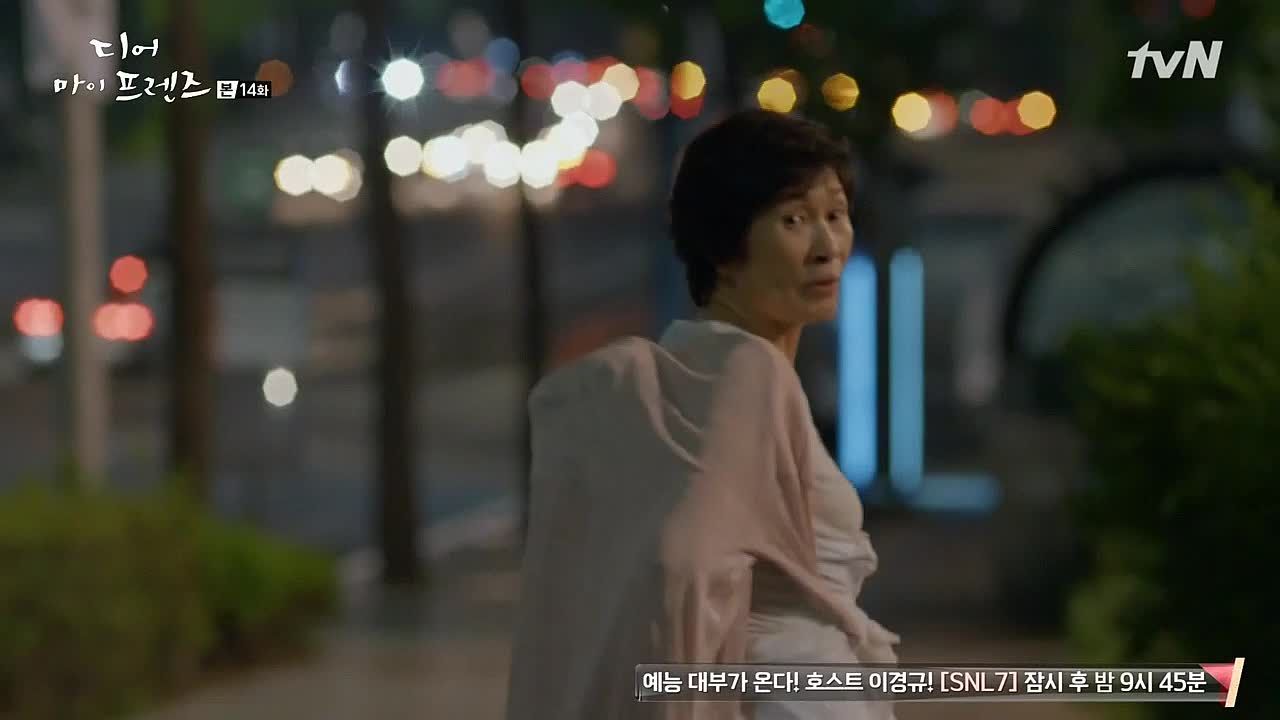 Meanwhile, Hee-ja continues to march along.
Young-won is at Granny's, and even though Young-won has only told her that Nan-hee will be getting surgery, Granny knows it must be more serious than Young-won is letting on.
Choong-nam's made breakfast for Hee-ja's search party, who've made Hee-ja's home their base camp while they wait to hear more news about her. Seung-jae thinks about where Hee-ja might be walking to, remembering how she said her saddest moment was when her firstborn child died while she was carrying him to the hospital.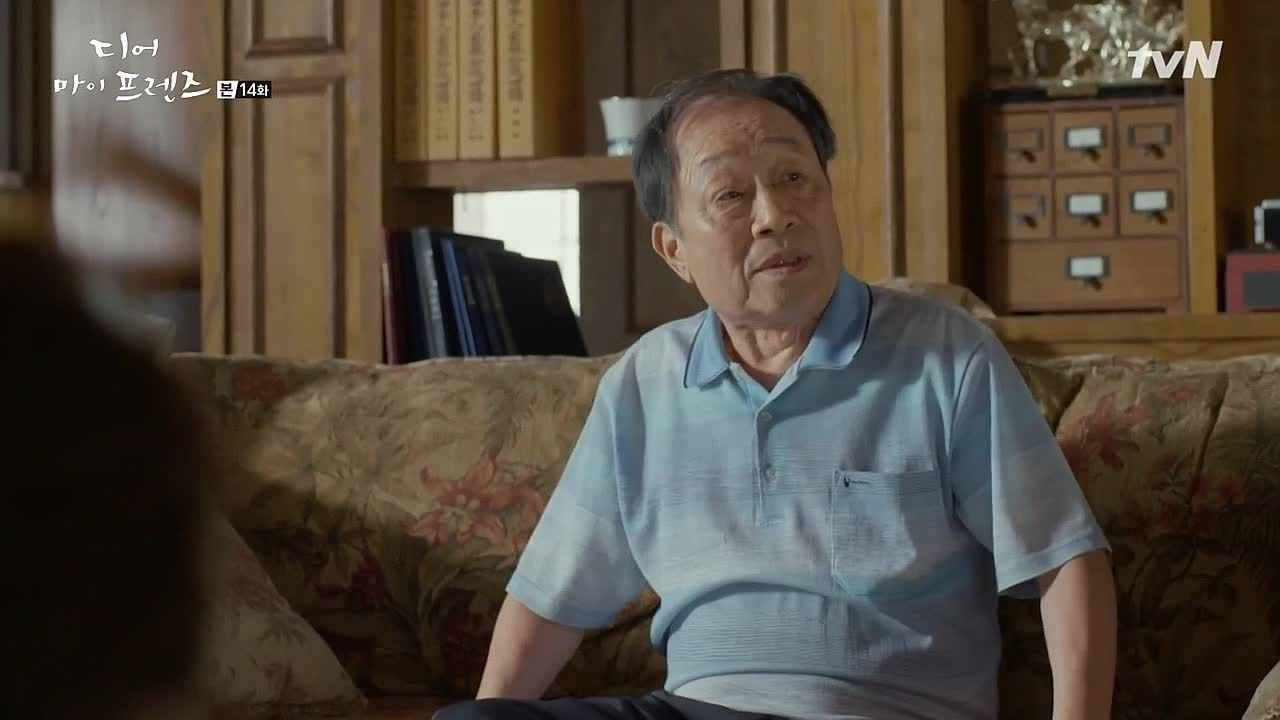 He begins to piece together her story about her husband's home town and the road she walked alone. He asks where Hee-ja's husband's home town was, and it's actually Suk-gyun with his impressive memory who reveals the exact address. That gives Seung-jae an idea and they set out, making sure to find the long road lined with trees.
Meanwhile, Wan and Nan-hee have breakfast together, and Nan-hee confesses that she still has her appetite. Which means it can't be cancer because doesn't feel like cancer. Right?
Wan suggests going on a trip, and Nan-hee agrees. She's not exactly in the mood to deal with her customers right now. But Nan-hee is also concerned, because Wan hasn't cried once about her mother having cancer, like most children would. Wan just smiles, agreeing that she appears heartless.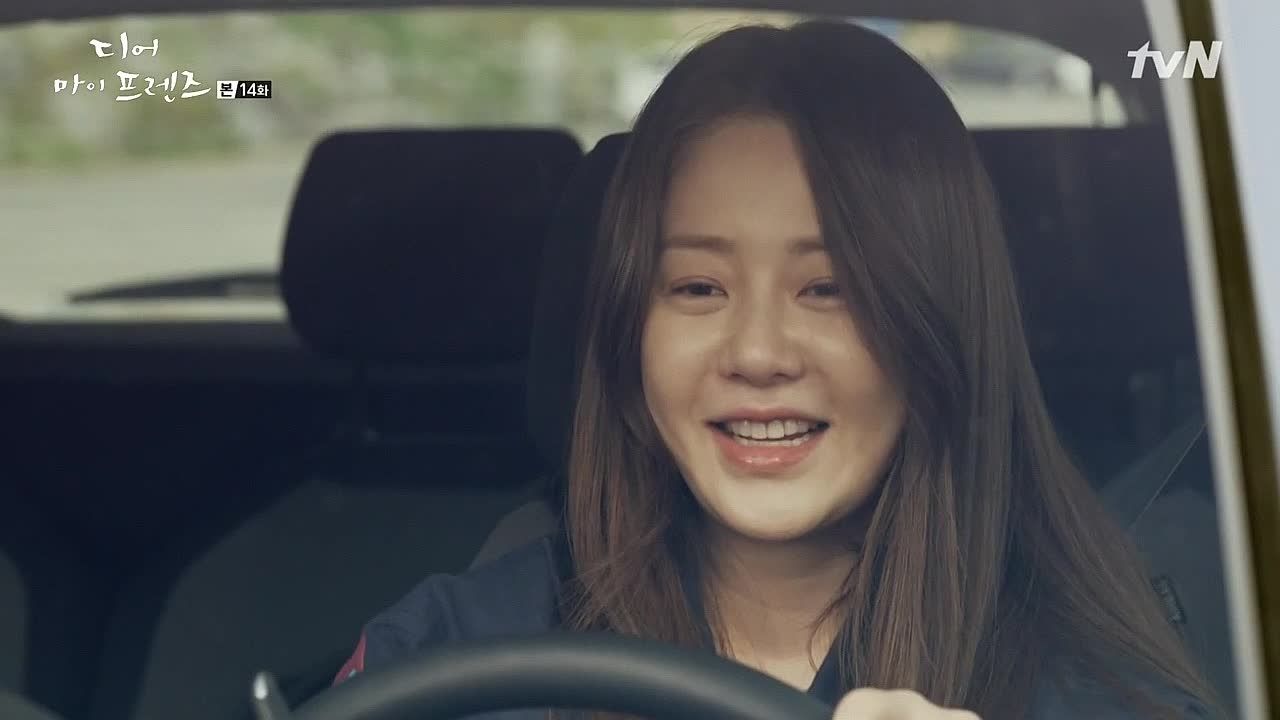 The mother-daughter duo drive along during their road trip adventure, and they admit to wondering what the other is thinking. Nan-hee wryly points out that they're actually on the same page for once. Wan says she can just treat her like a friend, and then suddenly asks about her mother's boyfriend and if they've slept together.
She's horrified that Wan would even bring up such a thing, and as she changes the subject, Wan just mutters that she knows that she would talk about it with the other aunties.
Jung-ah and Suk-gyun think they've found the pathway Hee-ja might have taken back then, and Jung-ah wishes that she had gone to visit her back when Hee-ja used to live here. Just as Choong-nam and Seung-jae turn down the road, they find Hee-ja before them. They've essentially blocked her in as they all hurry from their cars to tell her how relieved they are to have found her.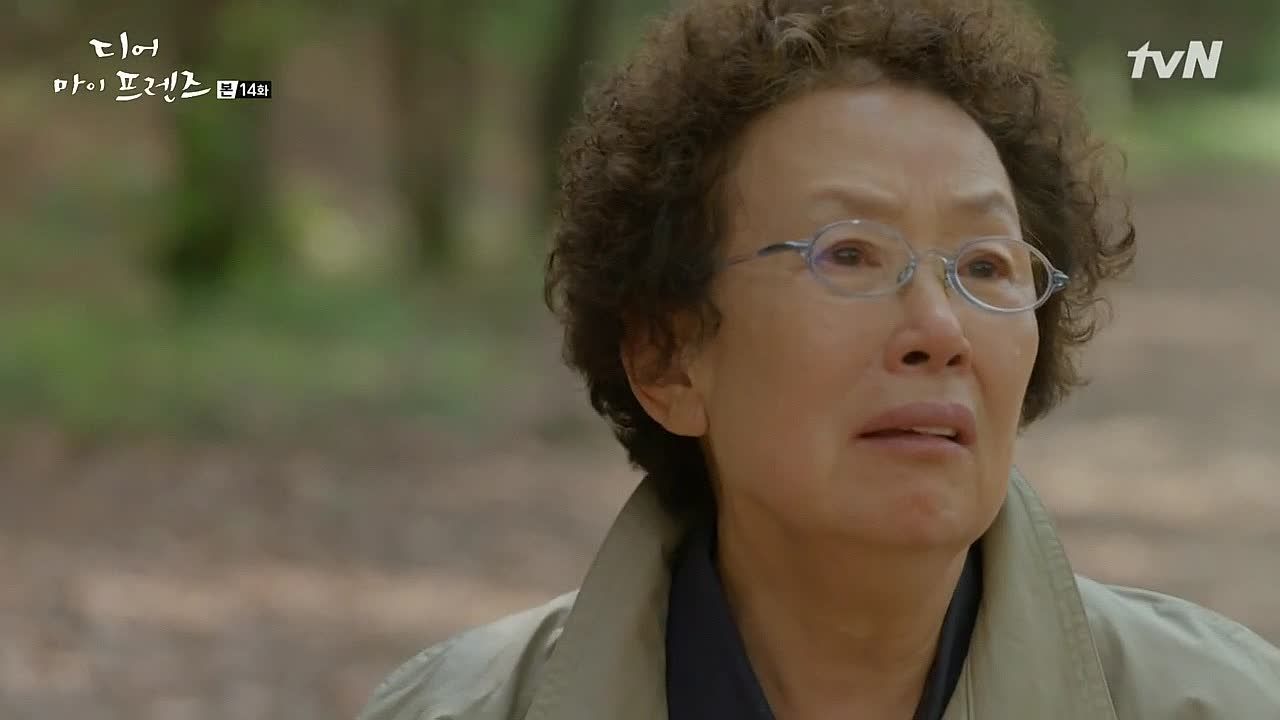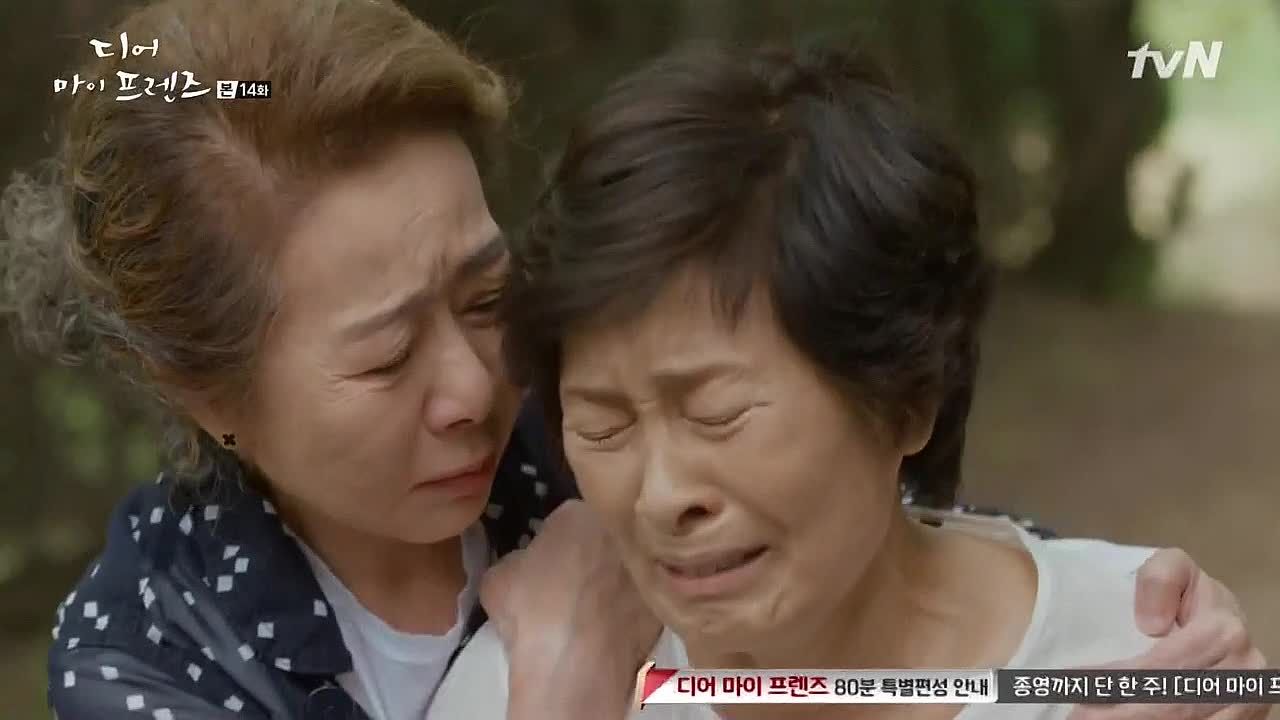 But Hee-ja just angrily shake them off, yelling that Jung-ah is an evil bitch for leaving her behind. She grabs her by the hair, yelling that she hates her, until finally Choong-nam is able to step in and pry her away from Jung-ah.
Hee-ja's face is pure rage as she yells that she called Jung-ah to help her with her son's sickness, but she just told her that she had her own difficult life to deal with. Her voice cracking, Hee-ja cries out that Jung-ah is never there when she needs her.
Her anguished cries ring out as she screams that she could never tell Jung-ah how she was truly doing. Echoing Jung-ah's earlier cries to Suk-gyun, Hee-ja screams for Jung-ah to bring her son back. Jung-ah watches in stunned silence, tears filling her eyes. She gently holds her wailing friend in her arms as Hee-ja weeps for her lost son.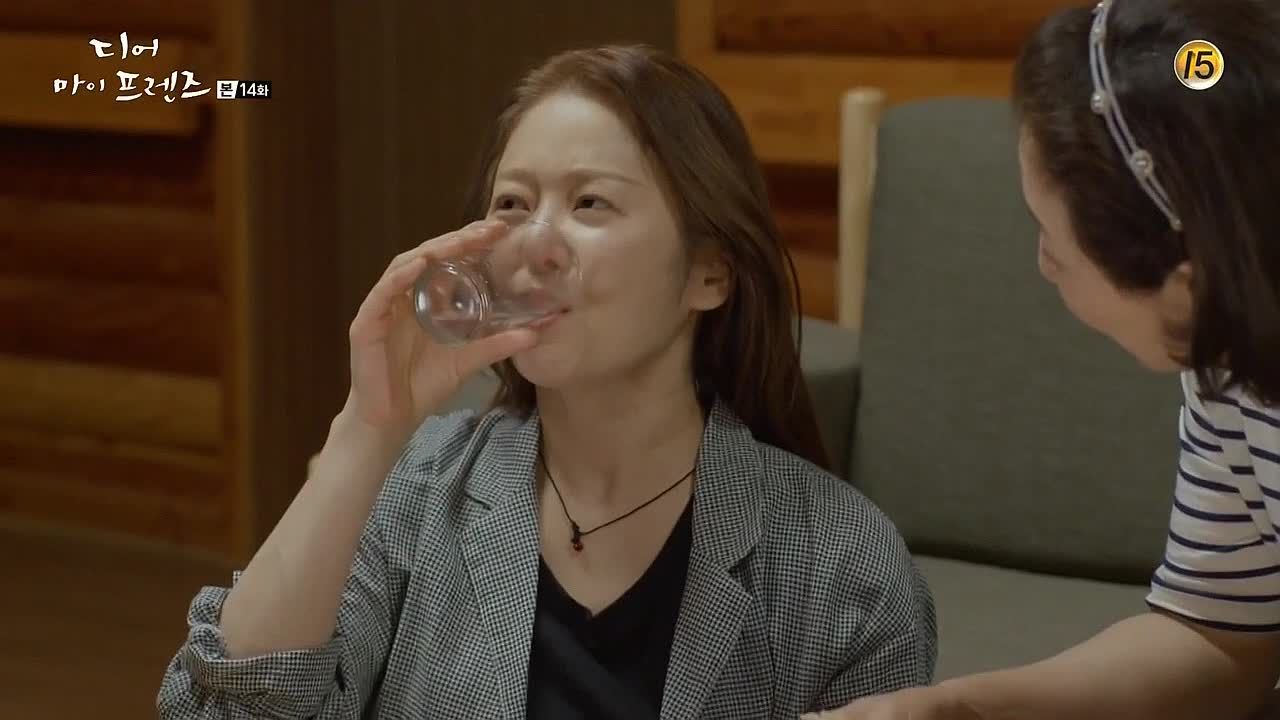 Wan and Nan-hee arrive at their destination, and Nan-hee wonders how they're going to kill time at their country cabin. When she reveals her stash of Soju, Wan protests. But it's not for Nan-hee — it's for Wan, or, at least, for the person who can drink while Nan-hee can't. Wan teases her mother for living vicariously through her, but she gamely gulps down the soju anyway as they sing endless karaoke songs.
Search party over, everyone arrives back at Hee-ja's house. Choong-nam hurries after Hee-ja who wordlessly enters her home by digging out her spare key from its hiding spot. Choong-nam is relieved that the old Hee-ja is back, but Hee-ja just slams the door in her face. Choong-nam isn't bothered — she knows her friend is just embarrassed by her previous actions.
Min-ho's been waiting for her to return, but she didn't even glance at him when she entered the house. As he snuggles next to his mother, wondering if he should move in with her, she angrily reminds him that he's married and he should focus on his wife.
She tells him that the doctor said her delusional disorder wouldn't get worse if she just takes her medication. She promises to do better in taking her medication and going to the doctor — she'll be fine living on her own. But she hides her face in the pillow as she quietly cries, and Min-ho has to wipe away his own tears as he holds her close.
Once she's asleep, Min-ho watches her, his silent tears falling freely. He tenderly and gently kisses her cheek, and then her hand, and then her feet.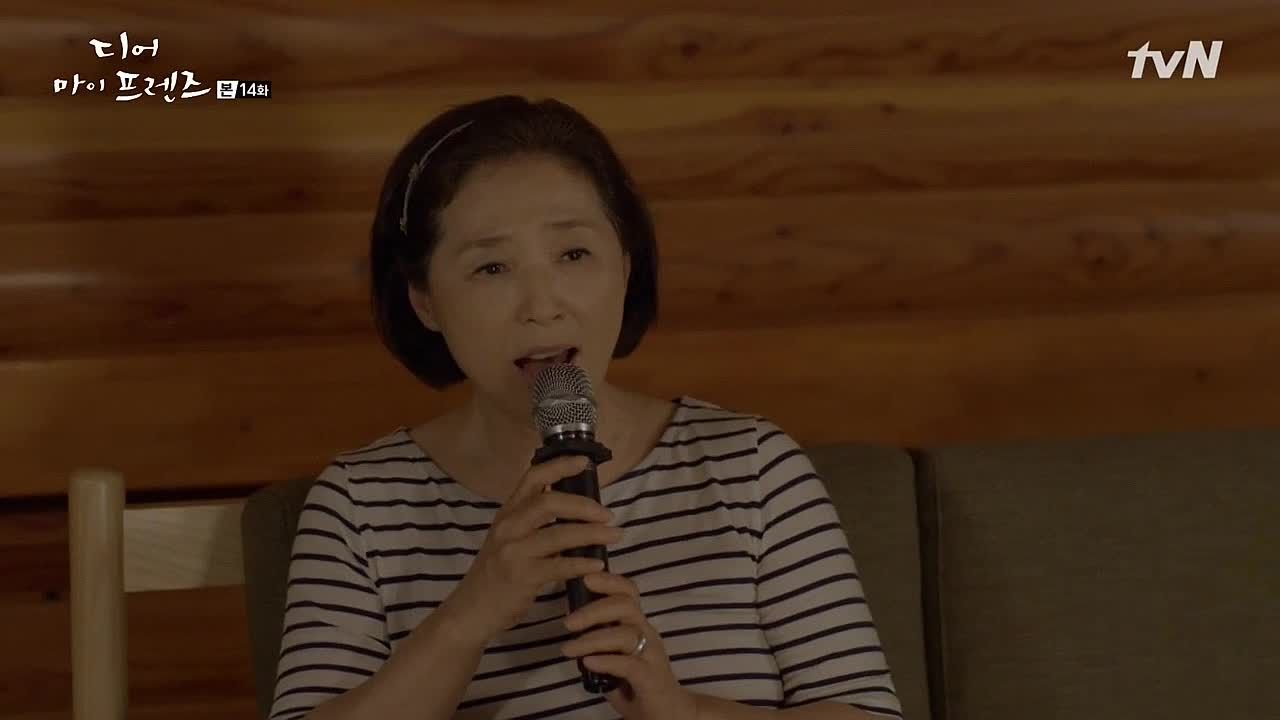 Wan doesn't make the best surrogate drinker, getting totally trashed over just one bottle of soju. She heads to the bathroom to pee and sober up — by slapping herself on the face, hard. She pops her head out of the bathroom to cheerfully request Nan-hee sing her another song, and then goes back in to slash water on her face — and continue to slap herself sober. Or, perhaps, slap herself senseless.
As she stares in the mirror, Wan realizes that ever since she heard about her mother's cancer, she realized how truly selfish she is. Instead of worrying about her mother, she could only think about how what it would mean for her — and especially her relationship with Yun-ha. She remembers his ultimatum that if she doesn't come back, he won't forgive her.
So she, as Nan-hee's daughter — and, actually, any child in the world — has no right to shed a tear because they are all shamefully selfish.
COMMENTS
Oh, my heart. All of these amazing actresses and actors have been proving why they've been in the business for all these years, but this episode has made it clear just what incredible talent is on display. These scenes could have been on the side of the overly melodramatic, but the rawness of the emotion, even when it was an emotion everyone was trying to hide, came through so vividly that it felt more real than was comfortable to acknowledge.
Kim Hye-ja especially, during her final outburst, evoked such a visceral reaction that I felt as sad and helpless as the other aunties and uncles appeared to be. Dementia is such a cruel disease, and it's painful to think that it may end up locking Hee-ja into her most painful of painful memories. But I hope, at least, that her confession about how difficult her life has been — especially with no one to share it with — somehow frees her. All that deep-seated rage that she must have pushed aside because she's the sweet "odd duck" had to find a refuge somewhere. While I don't relish the guilt Jung-ah will surely feel, it certainly was high-time for Hee-js to reveal that her life hasn't been as easy as everyone assumes.
I've mentioned previously how impressed I've been with Lee Kwang-soo and his departure from his usual comedic relief fodder, but it definitely deserves to be noted once more. I'm not sure I'll be able to look at his goofy schtick quite the same way, knowing now what a dramatic powerhouse he truly is. Here's hoping that he'll be able to find more roles that allow him to portray such deep emotion (and end up making me cry alongside him).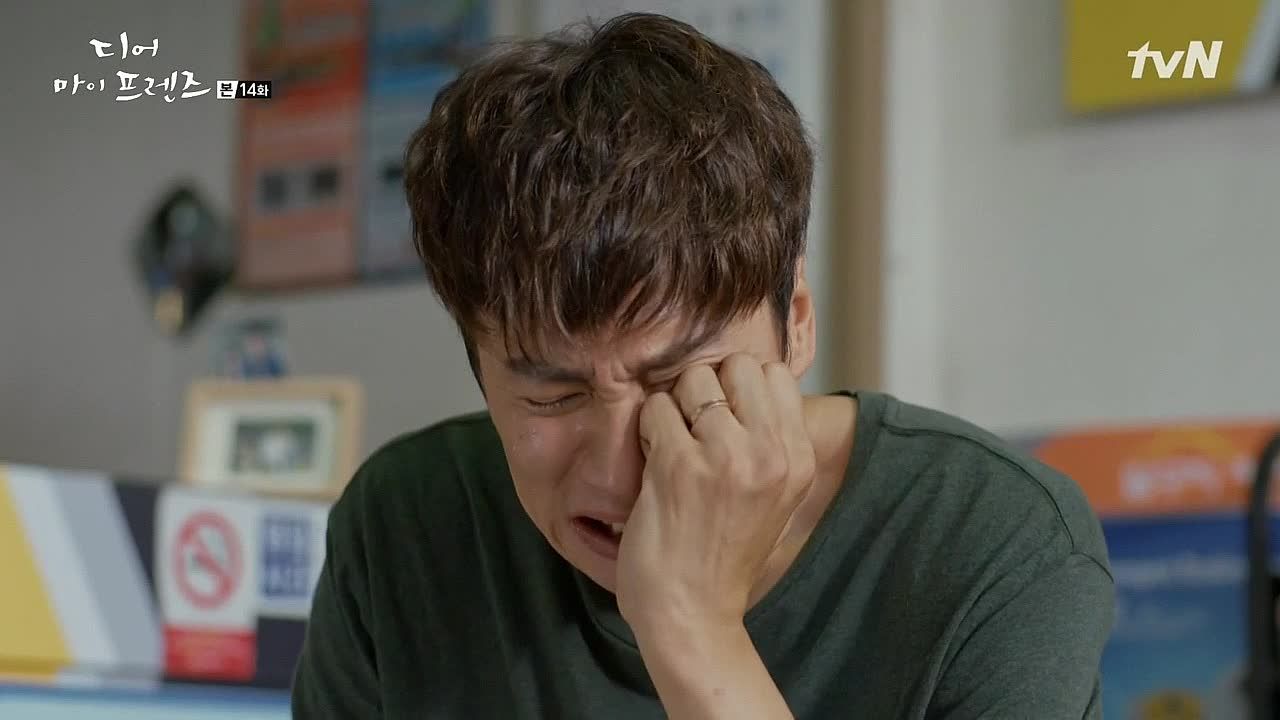 And then there's Nan-hee. Stubborn Nan-hee and her equally stubborn daughter who are more alike than either would care to admit. I know I should feel for Nan-hee, and I do — but I also feel for Wan, who is now stuck between the two people she loves the most. Does it make me one of those ungrateful children if I hope that she somehow chooses Yun-ha? Is there a way she can choose both?
Nan-hee may be a difficult mother due to her controlling ways and pinning all her hopes and dreams on her daughter, but I still don't wish her to die alone, struggling with cancer. Yet I also don't want to see Wan slipping back to being at her mother's beck-and-call as she sacrifices her own hopes and dreams. Nan-hee, whether she likes it or not, must now begin to realize how short life can be, and you would think that she would want to make sure that her daughter chose to spend her life with love and happiness. I can only hope that she has this kind of wake-up call, but then again, it must be terrifying to have cancer with a slim chance of living longer than a few months, and so I can't blame her if she tries to cling to Wan until the very end.
Maybe that fortune teller is better than we think, and maybe the doctor's optimism in even the smallest chance at survival will turn out to be fruitful. Maybe we can relax and remember that this is a drama that's hurtling close to the finish line, and as trite as everyone getting a "happily-ever-after" might be, it's a triteness that I would welcome with open arms. But maybe I'll still end up biting my nails, fearing for what will happen in the end to these aunties whom I've grown to love as though they were my own.
RELATED POSTS
Tags: Dear My Friends, featured, Go Du-shim, Go Hyun-jung, Kim Hye-ja, Na Mun-hee, Shin Gu, Yoon Yeo-jung