Dear My Friends: Episode 5
Appearances are deceiving. You think you can know a person based on their outer appearance and demeanor, by what they say and how they act, but you can't fully understand their motivations or inner turmoil that reveal who they truly are at their core. Just as Wan is discovering that there is so much more to her aunties than she first imagined, so, too, are we the viewers realizing that these characters may be more sympathetic than originally presumed.

EPISODE 5: "Don't be lonely, you have me by your side."
Down at the police station, Hee-ja and Jung-ah solemnly confess to their hit-and-run, and are told to sit in custody while the cops look into it. Aw, Hee-ja sweetly asks they can be assigned to the same cell when they're sent to jail. While they wait, they seem out of place surrounded by the standard drunk-and-disorderly and delinquent hooligans also in custody.
The same high-ranking officer that Young-won convinced to let Hee-ja go after her suicide attempt shows the aunties CCTV footage of the accident site. Another car was responsible for hitting and killing the old man. As for the aunties, their only crime was hitting a deer who had wandered into the road.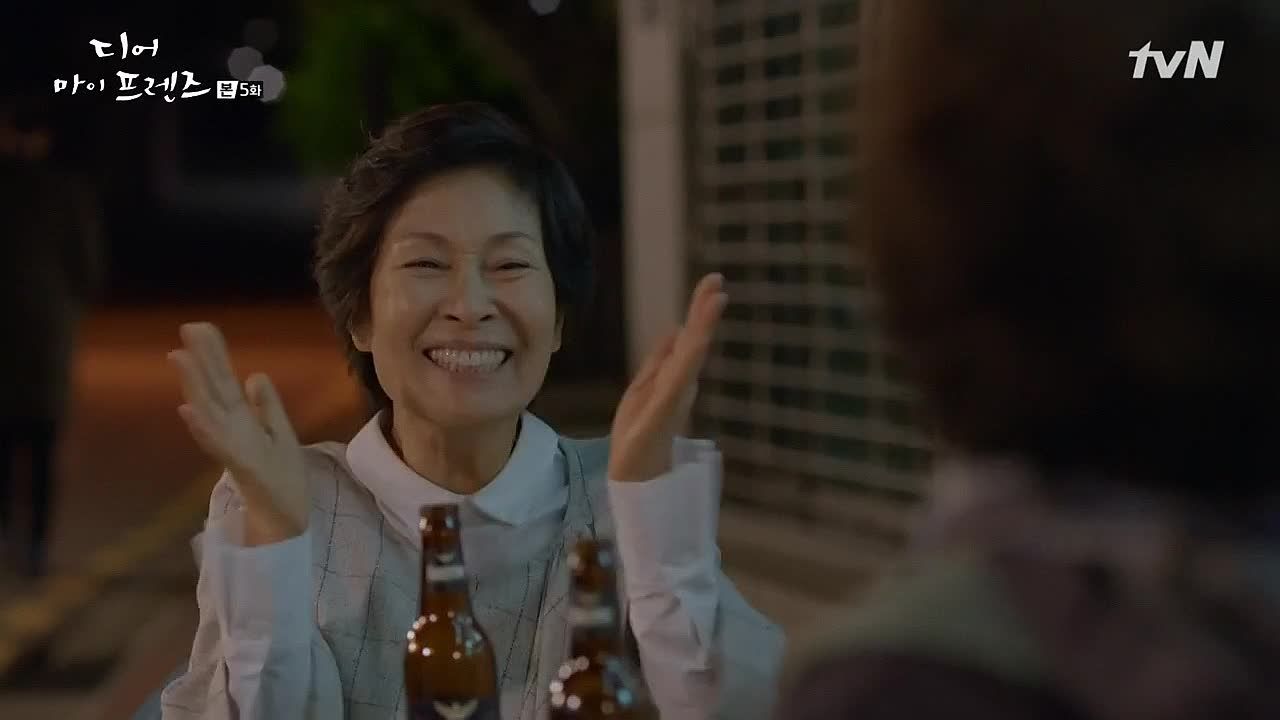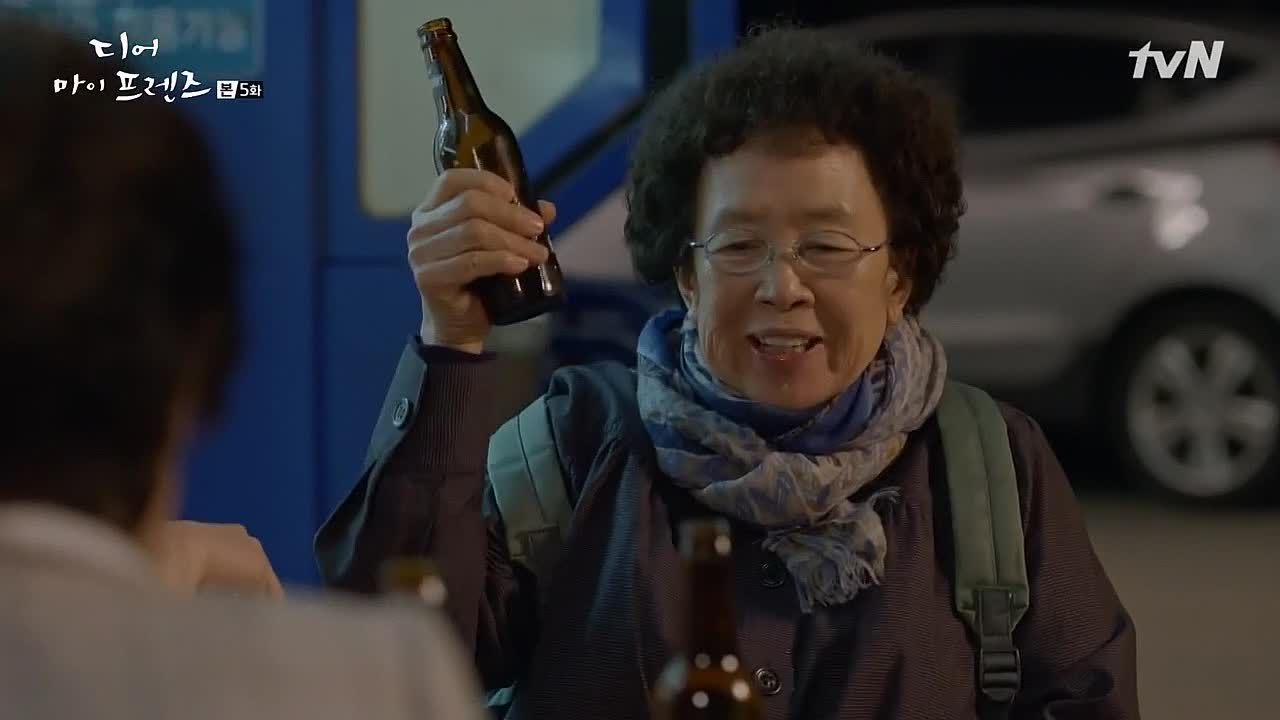 Wan arrives just then, and outside a convenience store they celebrate the aunties' freedom with the traditional tofu — and some beers. Seeing them happy and laughing again is such a relief.
As humorous as it is to think of the stress the aunties went through thanks to the deer, the aunties still take their accident seriously. Hee-ja prays that the deer had lived a long life and that it was it's time to go, and any baby deer will be able to have a good life.
Jung-ah can't forgive herself for running away from the scene of the accident and pretending to be innocent. She used to consider herself a good person, but now she has her doubts. She accepts Seok-gyun's punishment — the childish holding her hands above her head as penance — due to him being annoyed about her disrespectful behavior the past couple days.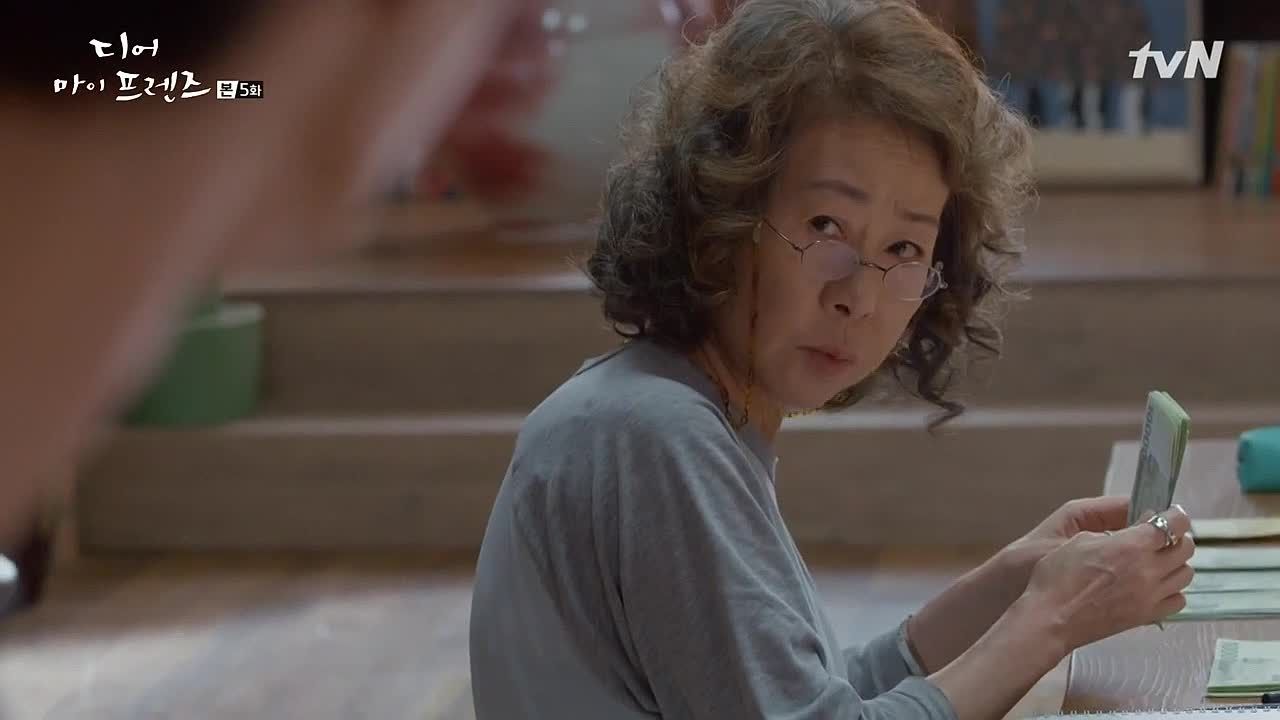 Choong-nam methodically counts out cash to put in various envelopes for her family and their expenses. Her nephews grumble about her being so willing to give money to her family whenever they ask, even if it puts her in debt. Even though she admits that it bothers her, too, she still carefully doles out the money.
She's on her way to have drinks with her professor friend and the other artists, but because she doesn't have her glasses, she can't read the text message giving her the directions. She's focused on figuring out the complicated directions told over the phone when she collides into a young couple. They're irritated that she just walked into them, but she yells after them that they need to respect an elder and watch where they're going.
Then she runs into an old man carefully wheeling a cart full of recycling. Even though she's slightly more respectful for him, she chides him for taking up the road, even as she helps him tie down his cardboard boxes.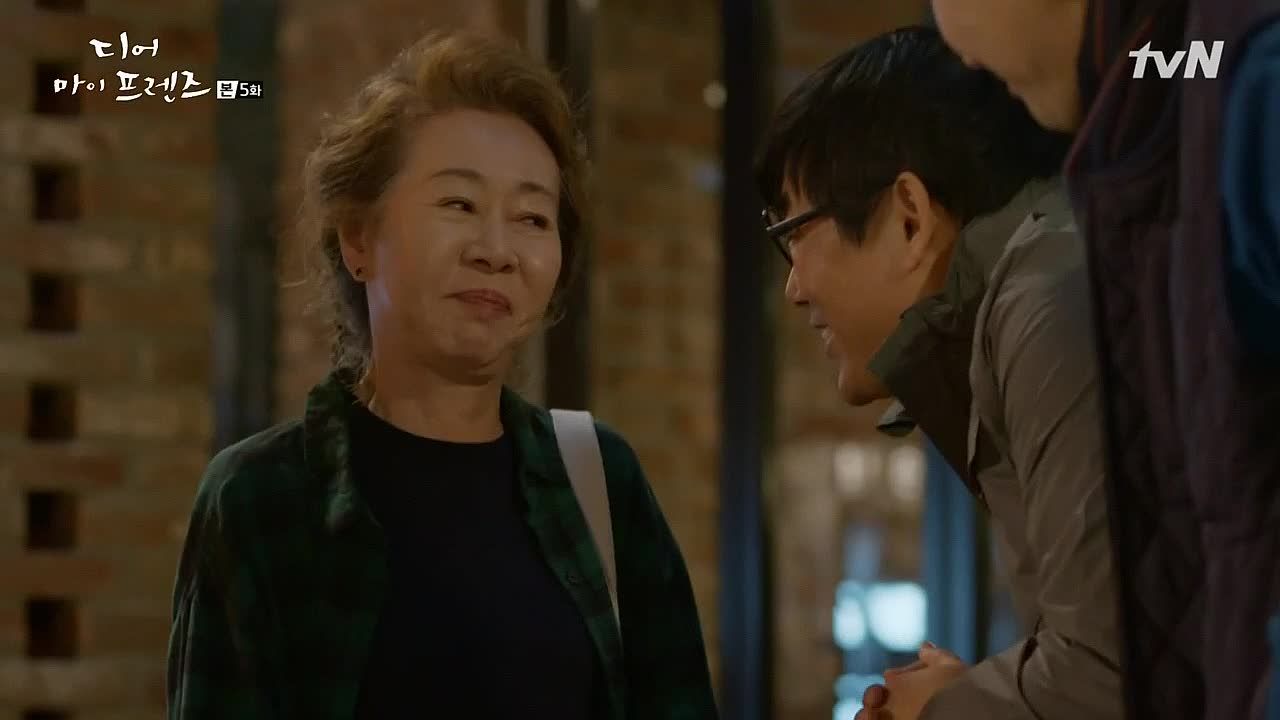 By the time she reaches the restaurant, the professor and friends are leaving. He's already pretty drunk, and he cheerfully thanks her for all her patronage. He's ready to continue the party with some karaoke, and the men tell her to go inside to enjoy a drink while they find a taxi.
She sits down at their cluttered table where clearly some fun alcohol times were had. The waitress hands her the bill, explaining that the men left before paying. Choong-nam waves it off, since the guys will be back soon to get her, but then she gets a text message.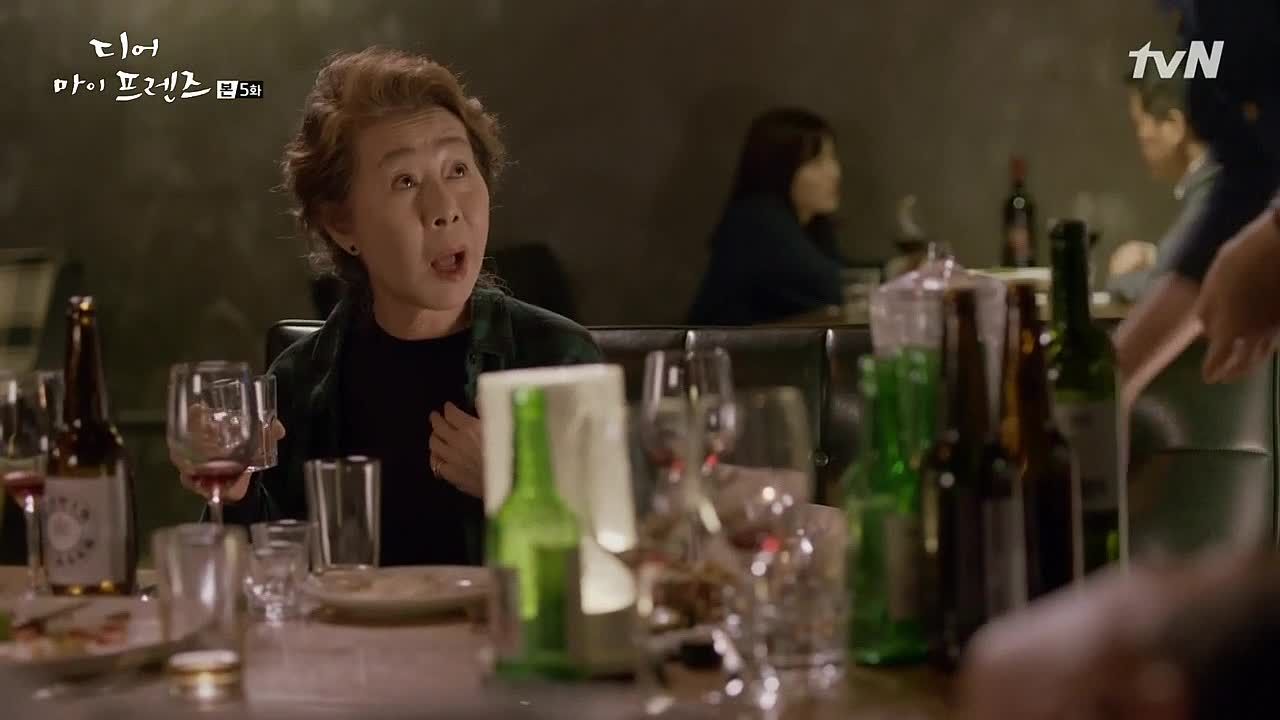 Handing it over to the waitress since she forgot her glasses, her face falls when she hears that the professor is apologizing for canceling the rest of their get-together. Resigned to her fate, she asks how much the bill is, gasping when she finds out that it's over $600.
She arrives home to find her nephews have decided to spend the night out despite knowing she hates being alone at night. Carefully bolting the half-dozen locks on the door, she even calling the security company to make sure the keep a good watch on her house.
As she settles in for the evening, prepping a late-night snack and opening up her book to study for the GED, Wan tells us that auntie Choong-nam's life is full of contradictions. She looks down on old people, even though she is one herself. She prefers the company of young people, but is afraid of dying alone in an empty house.
But once you understand a little more about her life, it gives you a different perspective. She grew up in the countryside, the youngest of twelve children, and supported herself by working at a textile mill when she was thirteen, then going to school at night. She moved on to become a bus driver, traveling all over the country. She worked for ten years with her family in the market, and after carefully saving up, was able to invest in real estate which netted her a small fortune.
She did her best to use that money to support her large family, but it was impossible to keep all of them from poverty. Most of her family passed away through various causes, leaving behind their children for her to raise in their stead. Many of the spouses and children that were left behind became severely ill, enough to permanently take up residence in a costly hospital ward.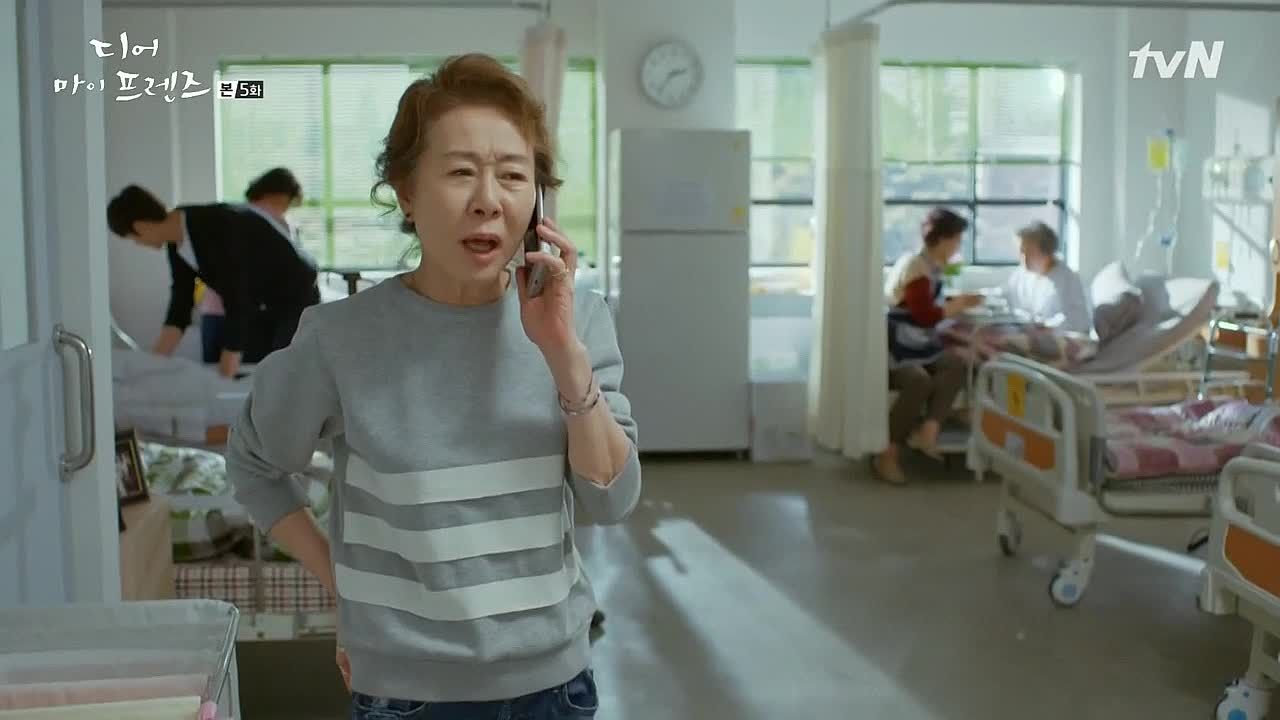 Choong-nam, along with her two nephews, regularly visit to tend to them. Thanks to her family, Choong-nam had to organize forty funerals, but had no chance to ever plan her own wedding. She assumes her family is poor because they are ignorant — hence her disdain for the elderly and love of intellectuals.
On the flip-side, Wan's beloved auntie Young-won has lived an apparently glamorous life since she was young. Scouted by an agency when she was a college freshman, she's never lacked for work or boyfriends. Her femme fatale roles made her rich and famous. But is that reality? Or just yet another assumption of what her life must be?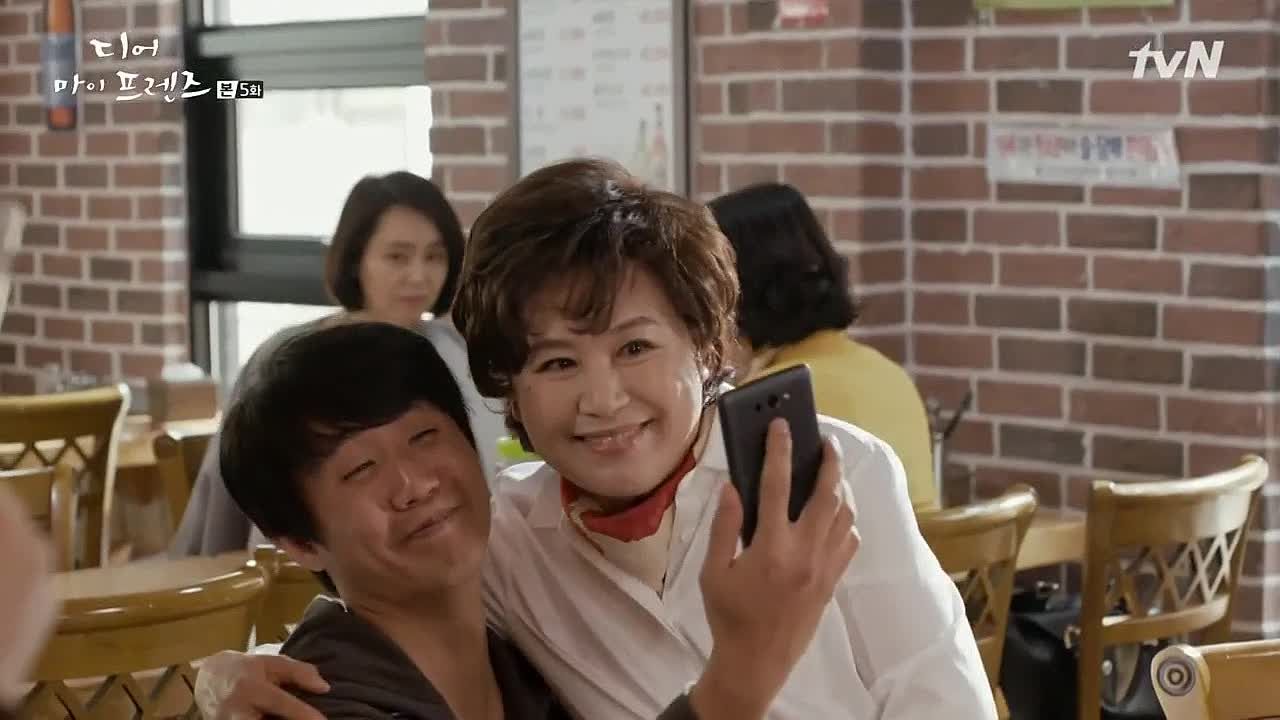 During a lunch break while filming, Young-won cheerfully signs autographs and takes pictures with fans. At another table, two women gossip about Young-won's many marriages and dating scandals. Finally Young-won turns around and pleasantly tells them that she's only been married twice and the scandals are just rumors — she lives alone. Hopefully that will put them in their place.
Time to begin filming, and she has to do take after take of getting drenched with water. She takes a moment to rest in the van, where her manager tells her they should stop for the day. But she's a trooper and heads back out, where her next scene is playing the mean mother-in-law fighting with the daughter-in-law. Despite how she may be feeling, whenever the camera is rolling, she forces a smile and plays her role. Wan: "I love my auntie."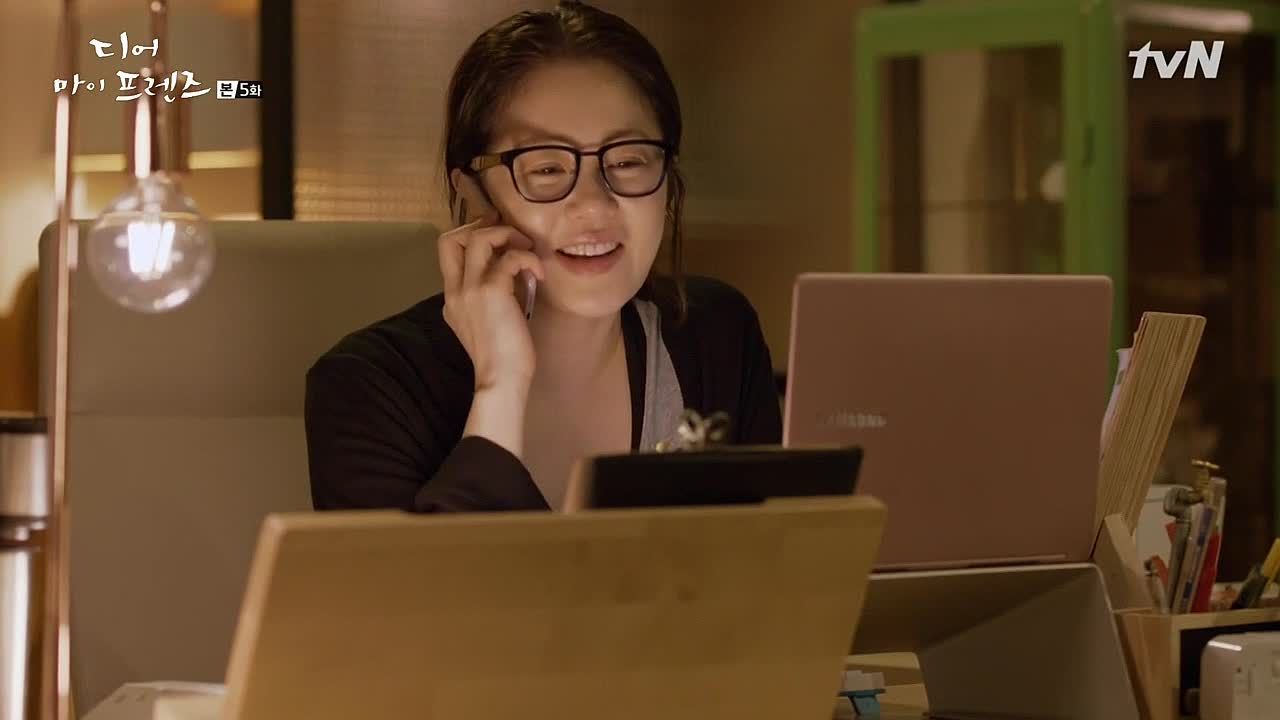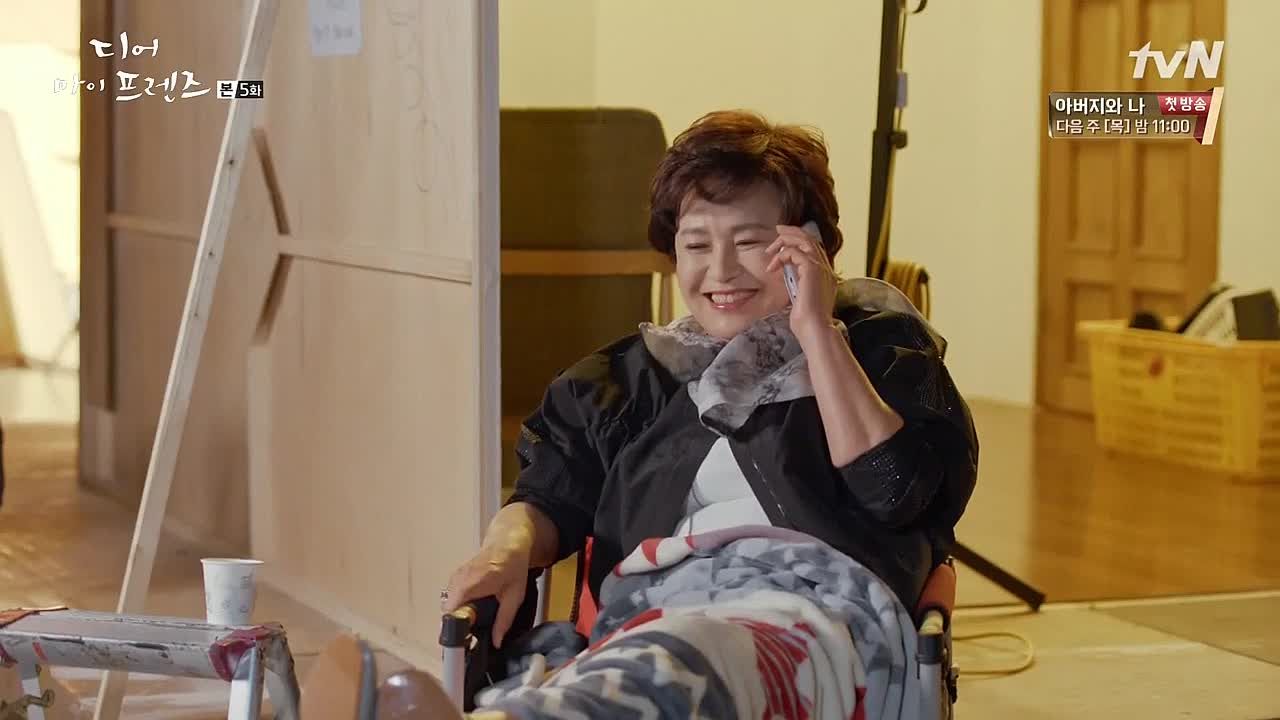 During a film break, Wan chats with Young-wan over the phone, getting her caught up on Hee-ja and Jung-ah's adventures. Just as she's about to hang up, Wan hesitantly tells her auntie that she misses Yun-ha. She tries calling him, but he won't pick up. Just like the aunties who are more than what they seem, Wan wonders how other people see her.
Yun-ha sees that Wan's calling, but ignores it. He's at a music shop, and the CD he wants is just out of his reach, thanks to his wheelchair. The salesgirl helps him get it, and just as they're striking up a conversation, Yun-ha's sister arrives — he makes sure to tell the pretty salesgirl that she's just his sister.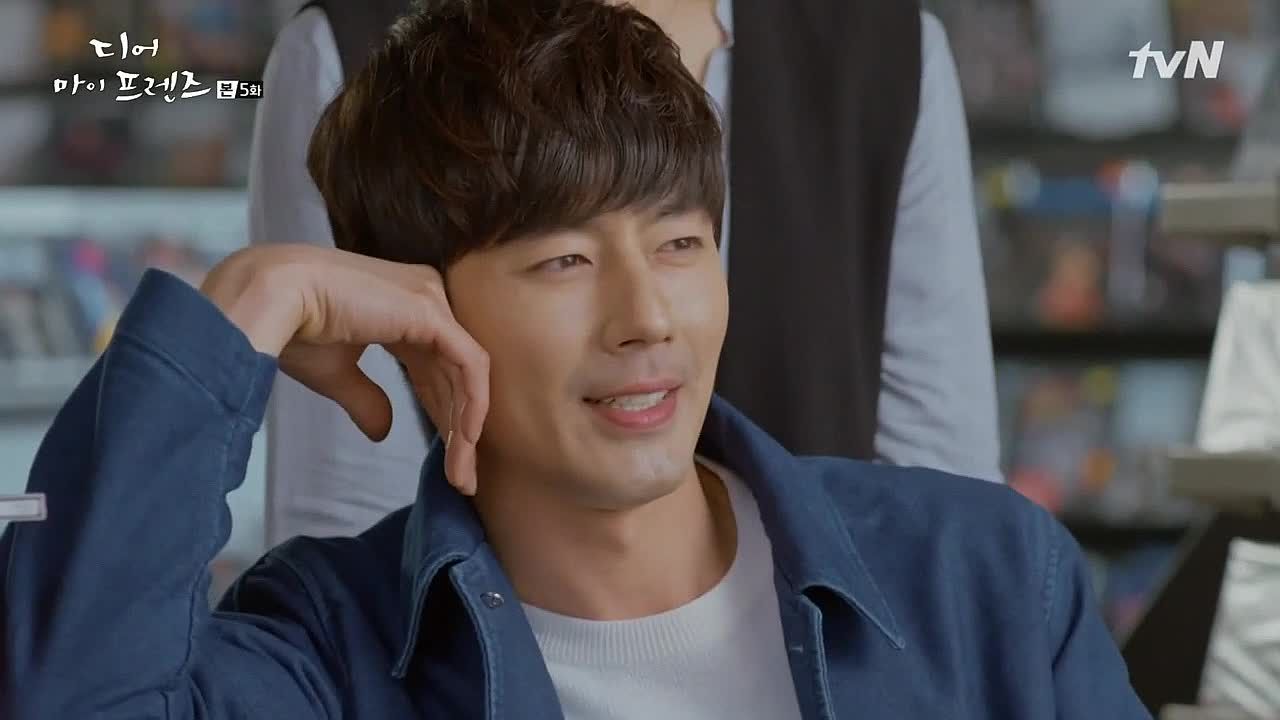 In voice-over, Wan tells us that she loved him first and did her best to win his heart, and they promised to stay together no matter what. But after the accident, she heartlessly dumped him without hesitation. Even if it's all technically true, Wan says that she'll feel lonely if that's how someone summarizes her.
Down at Granny's farm, Nan-hee is helping to plant crops while her handicapped brother attempts some push-ups. Granny yells at him to figure out how he's going to manage when she's gone — he can't freeload off his sister forever. Granny's also determined to take her husband with her when she dies, but she tells Nan-hee that they should be buried on opposite mountains. Pfft. Nan-hee points out that no one would guess looking at them now how much her father made Granny's life a living hell — they seem like a happy, devoted couple.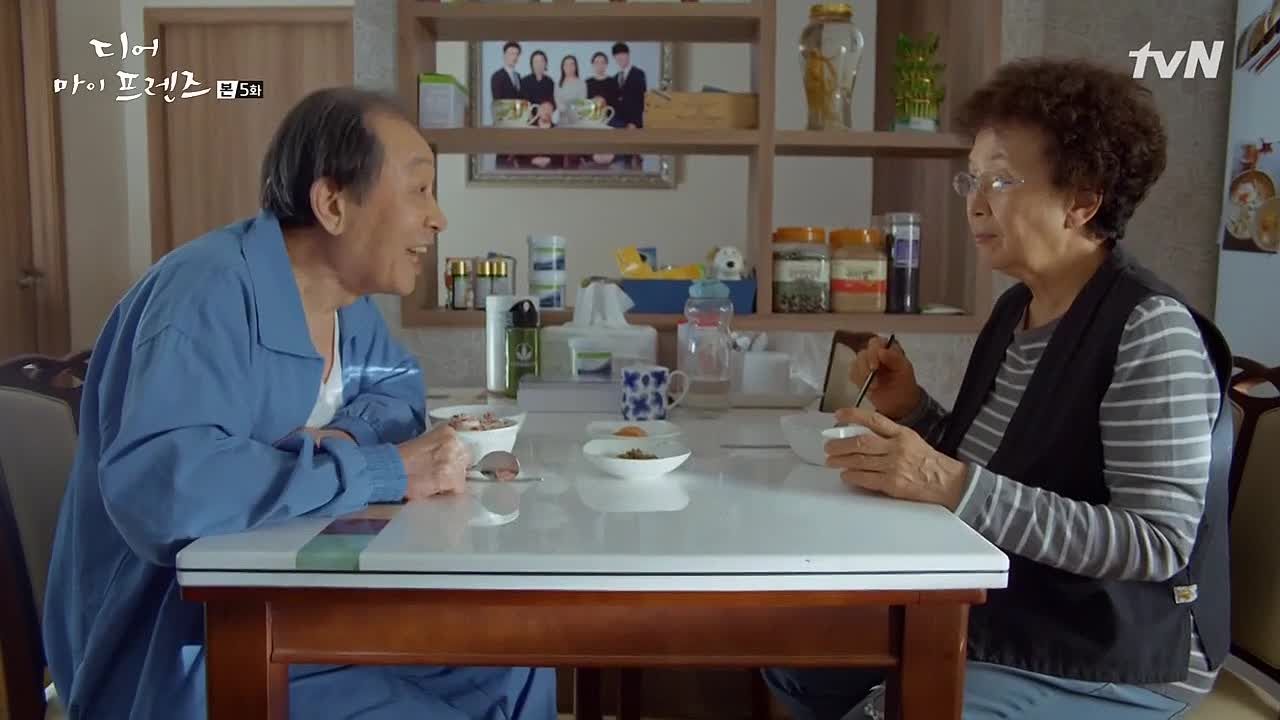 Seung-jae's invited everyone to join him for a "welcome home" party, and as Suk-gyun tells Jung-ah about it, he can't help but still be curious about whether or not Hee-ja and Seung-jae slept together when they were younger. She just dismisses him, telling him to eat his breakfast and hurry to work so he won't get fired. But Suk-gyun just laughs, telling her one of the other guards was fired instead of him.
This means that their trip is once again cancelled, and she pouts as Suk-gyun continues to ask her about Hee-ja and Seung-jae. He compromises by telling her to eat with her spoon if they did sleep together, or use her chopsticks if they didn't. She hesitates a second, then picks up her spoon, much to Suk-gyun's giggly satisfaction.
At church, Hee-ja asks Seung-jae what he knows about what happened that night, and he looks very serious as he tells her that he knows she hit… a deer. She asks him if it's still his habit to tease women, but he's just pleased that she's admitted she does remember him. Maybe, but the Seung-jae she knows died in her heart over fifty years ago.
He wonders if it's because he didn't meet her at the church fifty years ago before she moved away, like he'd promised. He explains that he was going to show up, but his mother had a stroke, so he sent a friend to let her know he'd been delayed. But that friend was the one who ended up becoming her husband, having decided to woo Hee-ja instead of passing along Seung-jae's message.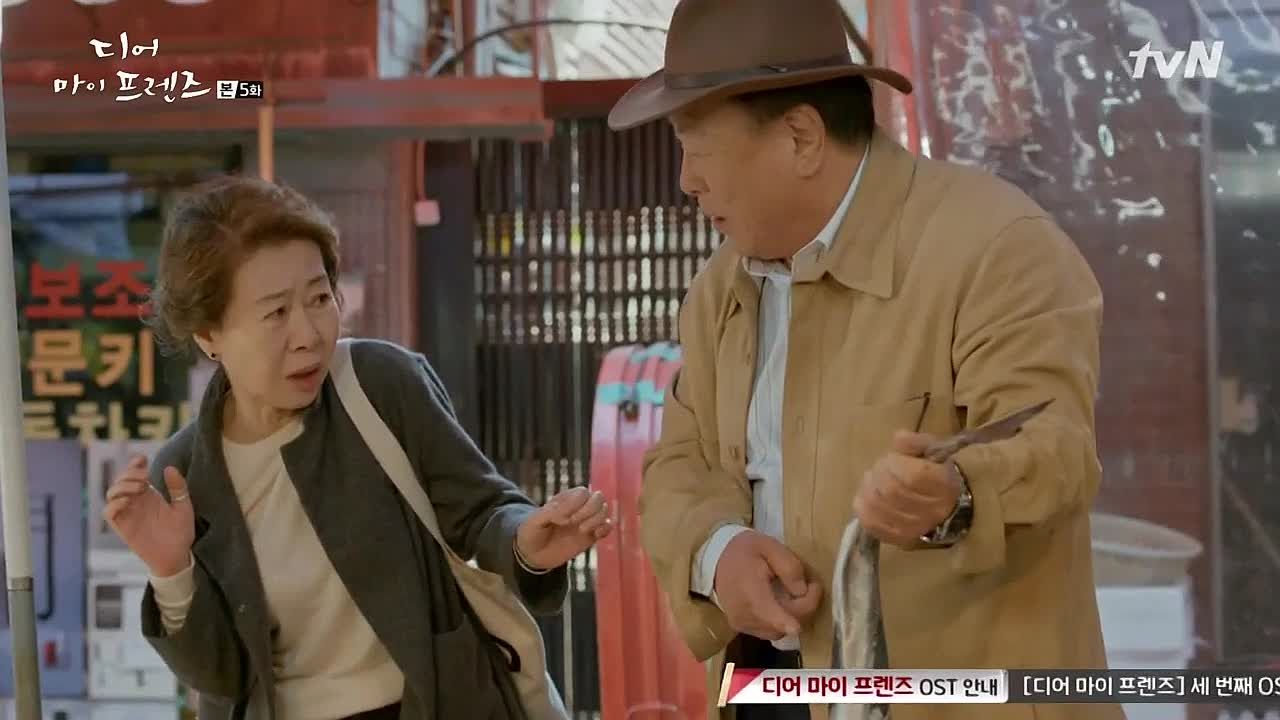 Later, Seung-jae and Choong-nam are on what he playfully calls their "date" — it's really just the two of them shopping for ingredients for his party. Choong-nam's flattered by his attention, but she's no dummy, asking if it's just because she's single that he thinks she's a pushover. No, it's because he's comfortable with her. Aw, they're pretty cute as they walk through the market together.
As he preps for the party, Choong-nam looks around, taking special note of all the photos of his late wife. He wonders why she's never been married, teasingly asking if it's because she could never forget him, her first love. She stoutly denies it, but from the way she acts around him, he totally was.
He drives her home in his convertible, and it's adorable how happy she is. It makes him feel young again to drive such a car, admitting that no matter how old his body gets, he still feels young at heart. Wan tells us that in that moment, Choong-nam could feel her heart flutter, making her realize that despite how her life has been so far, her heart hadn't completely given up on the hope for love.
Nan-hee visits Young-won at her home, and it feels like a grudging visit on her end, since she's full of attitude as she waits for Young-won to pour their tea. She's here on a mission, though — why is Young-won two-timing on her with Sook-hee?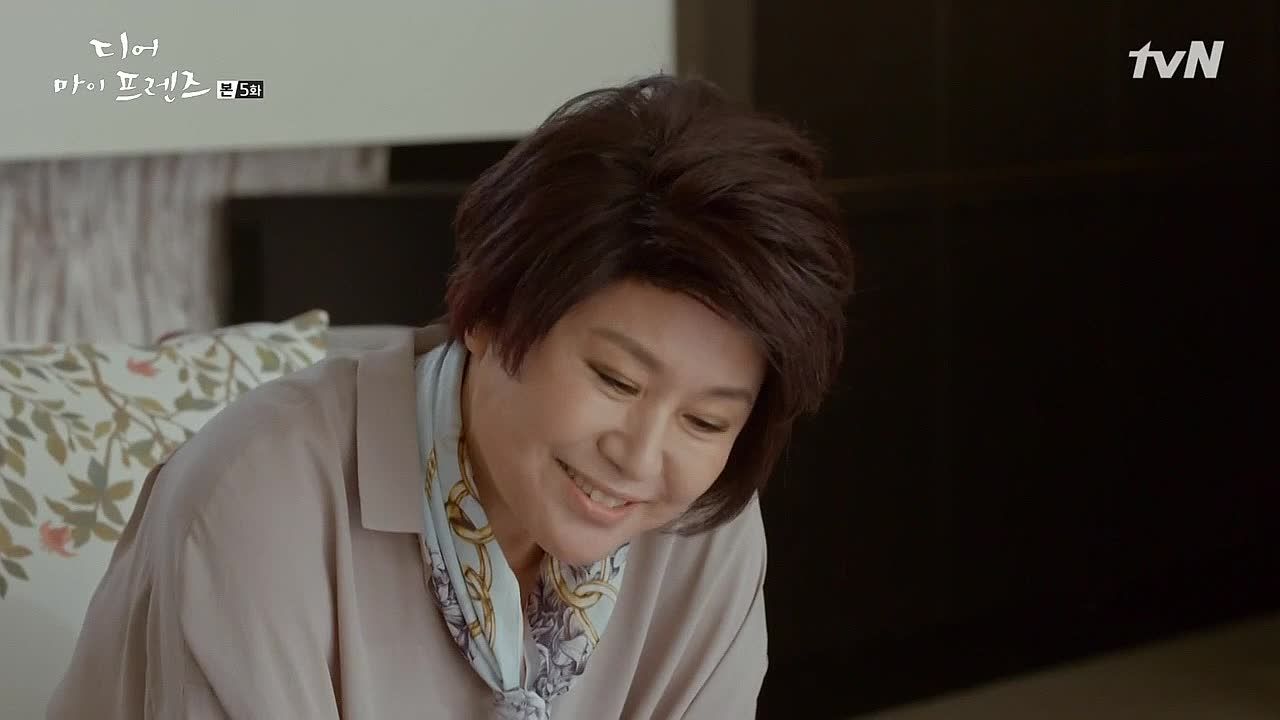 It's because Sook-hee has terminal cancer. Young-won admits that she hadn't seen Sook-hee in years, but Sook-hee was the one who called her, wanting to see her old friend one last time before she died. Stubborn Nan-hee refuses to accept that as an excuse, angrily pointing out that Young-won is her best friend, and she'd promised never to see Sook-hee again.
Silently, Young-won takes off her scarf, revealing the scar on her throat. It's from when she had thyroid cancer. She found out about her cancer as soon as she moved overseas, and Sook-hee flew out to join her. Nan-hee tries to maintain her tough persona as she stutters out a "so what?" but Young-won calmly reveals more scars, explaining the cancer spread.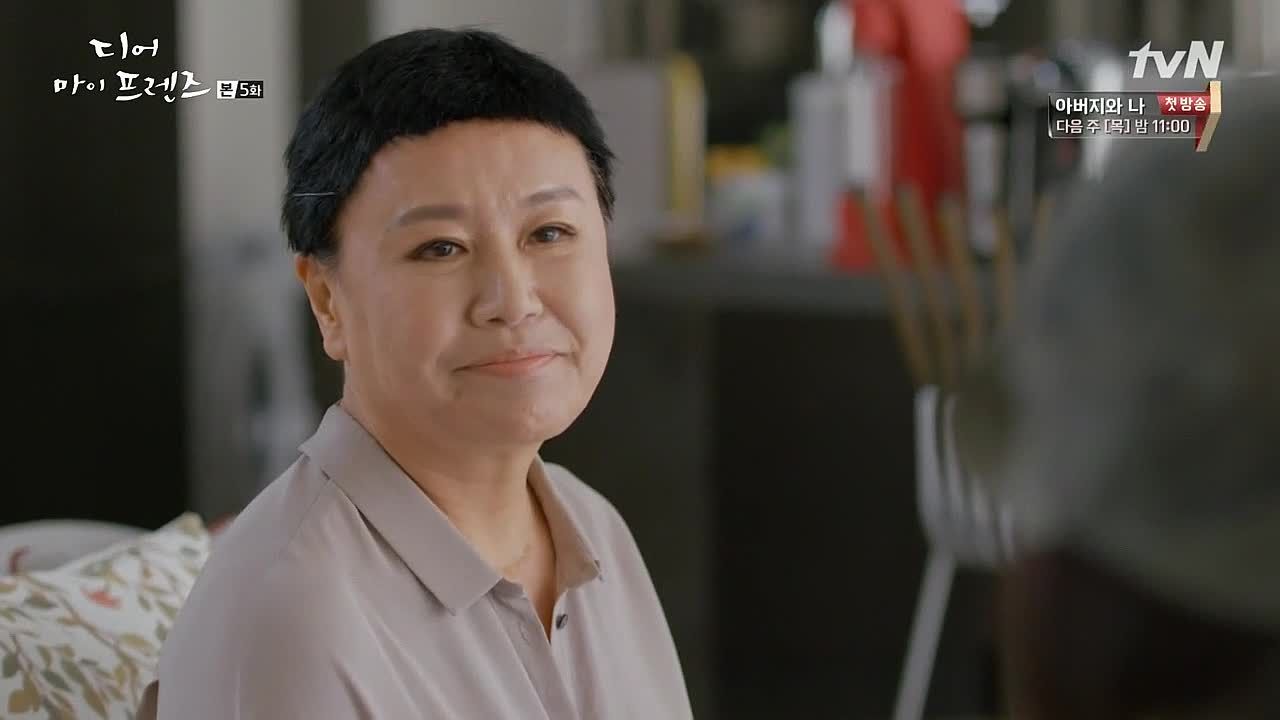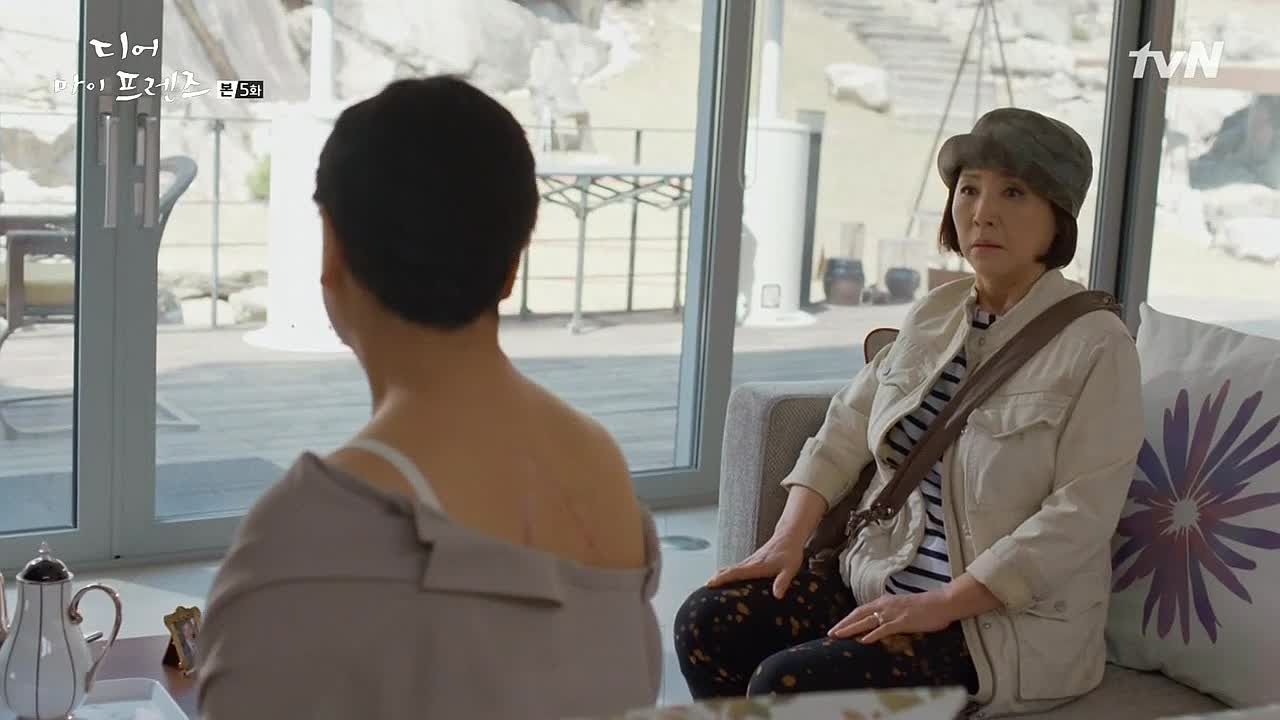 She removes her wig, showing off her short hair. There's one more month of chemo treatment to go. Sook-hee was the only one who was there to take care of her. Wan and Granny know about her cancer, but she told them not to say anything to Nan-hee, accurately guessing that it would be difficult for her to reconcile pity for her friend with her anger about Sook-hee.
Nan-hee's speechless, until she finally bursts out in anger that Young-won's being punished for living with a married man. It's just an irrational response as she tries to hide her tears for her friend, and Young-won wearily accepts her friend's anger, explaining that there were valid reasons that she had to see Sook-hee.
As she works late at the office, Wan tells her mother that she won't be going to Seung-jae's party. No more reunions for her, remember? She tries calling Yun-ha, but he doesn't answer. Dong-jin delivers a cup of coffee and a reassuring pat on the back as she tries calling Yun-ha again and again.
Nan-hee slowly walks home, her eyes still filled with tears as she reels from Young-won's reveal. She wonders why Young-won didn't tell her about the cancer, especially when she was that sick.
The next day at Seung-jae's party, Young-won's in full happy-go-lucky form, cheerfully greeting everyone and teasing Choong-nam that she looks like a newly-wed helping host the party. Hee-ja only agreed to go to Seung-jae's party after finding out that Gi-ja will be there, too, and it's only so she can defend her husband's choice to sleep in the closet. It was his way of paying penance for having had an affair.
They're all relieved that they can be friends again, but Hee-ja's now determined to find out who was the one that blabbed her husband died in the closet. Choong-nam's hiccups make her the first suspect (and don't think Hee-ja hasn't noticed how much she's also been acting like the woman of the house), but it turns out Suk-gyun was the blabbermouth. Hee-ja's also determined to set the story straight about the rumor she and Seung-jae slept together.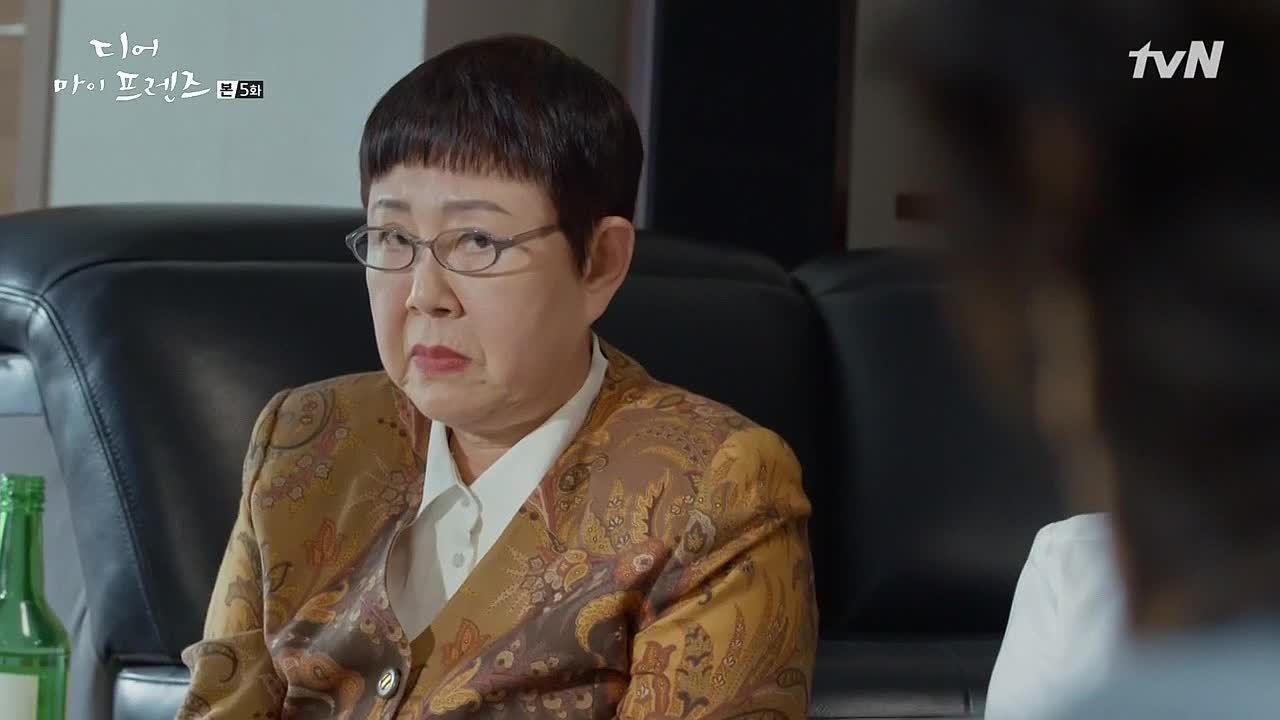 Everyone is willing to take the party to Gi-ja's colatec as a way to appease the new rift growing between her and Hee-ja, but Hee-ja stubbornly refuses, still annoyed that Gi-ja would spread rumors.
As they ride over to the club, Young-won is delighted at how chummy Choong-nam and Seung-jae look. She teases Choong-nam about getting married but Choong-nam stubbornly insists that after all the work she's done in her life to become independent, so won't be beholden to anyone again. Even so, when she gets a text from Seung-jae telling her how much fun he had at the party and that he hopes to see her again soon, she can't hide her little smile of delight.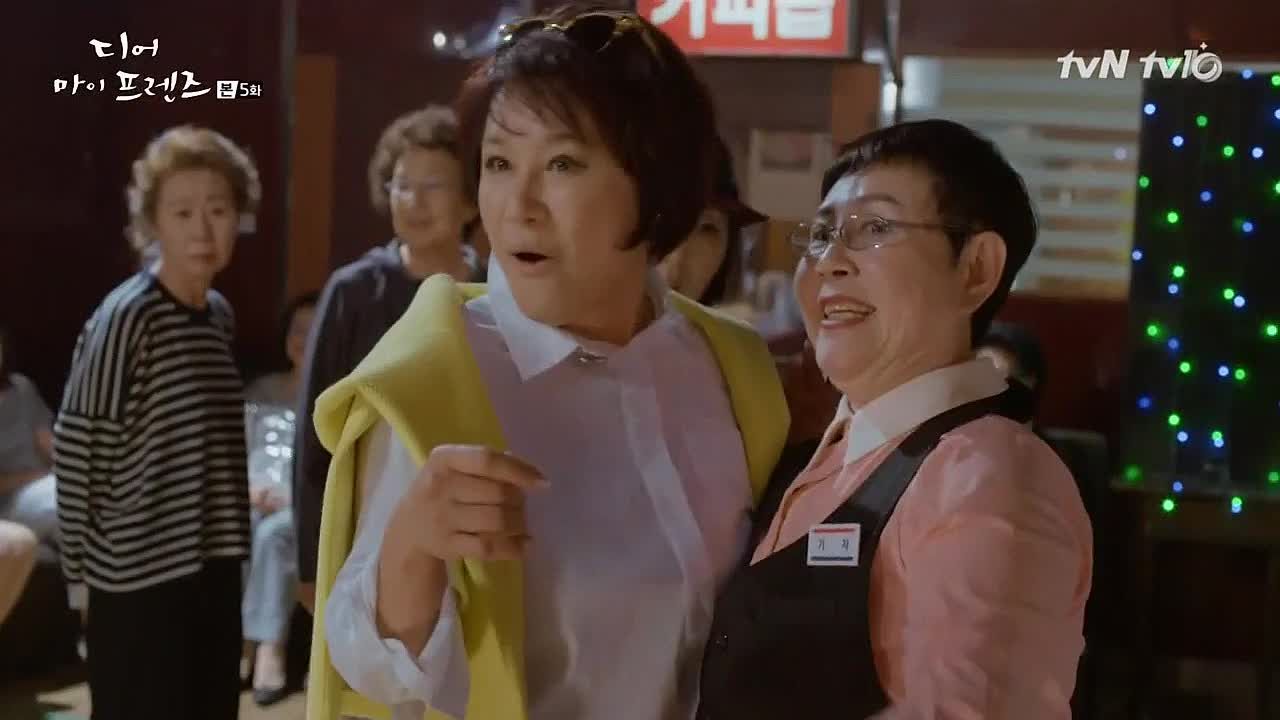 Gi-ja's busy organizing dance partners when the aunties (minus Hee-ja) arrive. Choong-nam and Granny look less-than-thrilled to be there, but the other women are willing to enjoy the music and dancing.
Just then Nan-hee gets a message and goes outside to beg Hee-ja to join them — after all, she decided to come all this way. Besides, it would help Gi-ja out. Just because they are widows who don't have to worry about money, doesn't mean that their friends don't have to work hard to make a living.
Gi-ja steps outside, wondering if Hee-ja is there to fight her. Pffft. Instead, Hee-ja tries to quietly hand over an envelope of cash.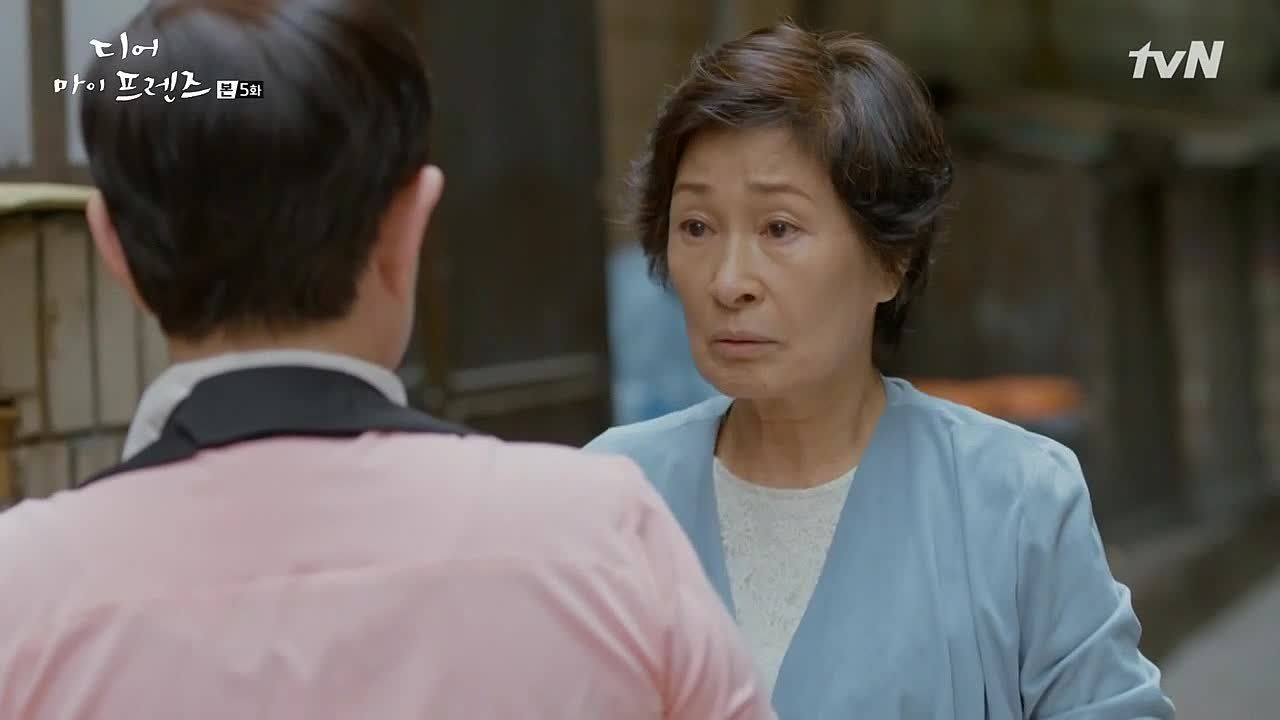 It's a gift of friendship, and even though Gi-ja initially tries to refuse it, she's touched by Hee-ja's generosity. Aw, these old ladies and their child-like pride. Even though she keeps insisting a colatec will be too noisy and busy for her, Hee-ja decides to give it a chance. She stands in the doorway, watching her friends laugh and dance to the music.
Wan's busy working when she sees an email come in from Yun-ha. It's a video of him riding along with his date — the pretty salesgirl. He reveals that they're driving to a place he hasn't been to in three years. Wan looks shocked when she realizes where he is.
Flashback to that day three years ago, when Yun-ha tells Wan to meet him, adding that urban legend has it that if someone proposes at 6pm in front of the cathedral, they will stay together forever. He joyfully shouts, "Let's get married!" as he runs through the streets.
Laughing, Wan starts running too. The two love-birds breathlessly hurry to meet at the cathedral before the bells chime six o'clock. Just as Wan arrives at the square in front of the church, she sees Yun-ha run up from the opposite side — and get slammed by a truck.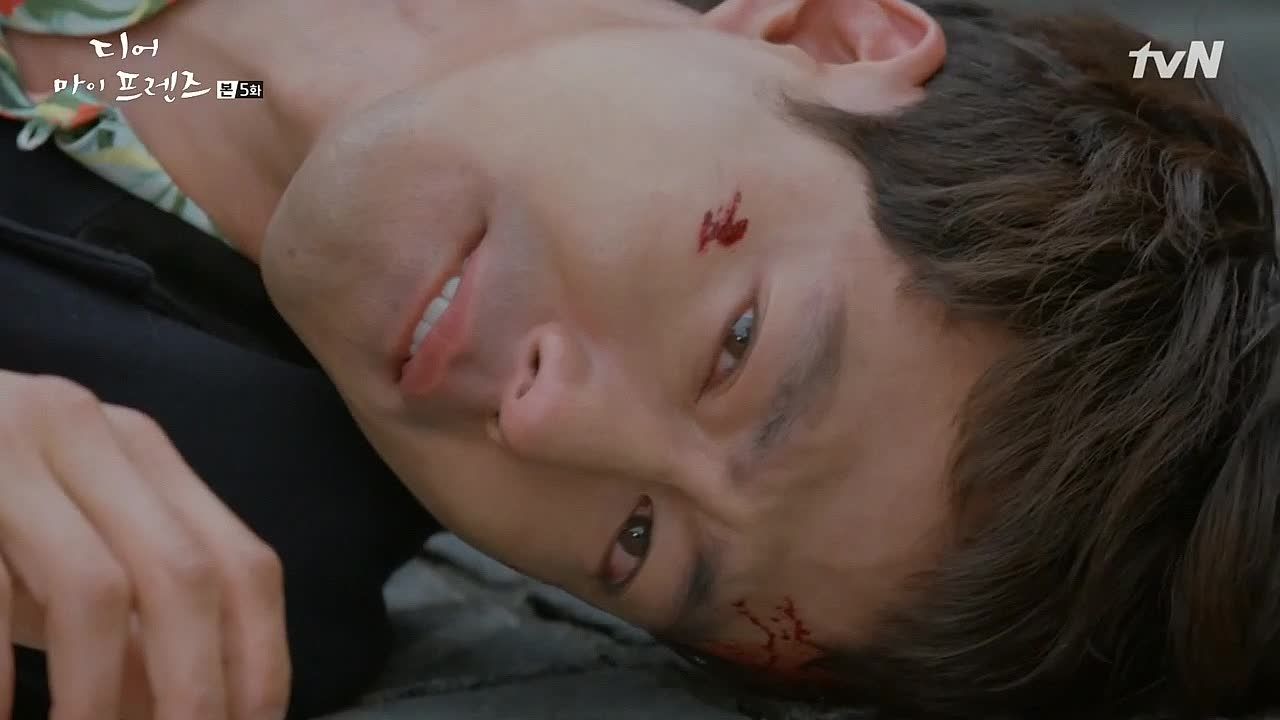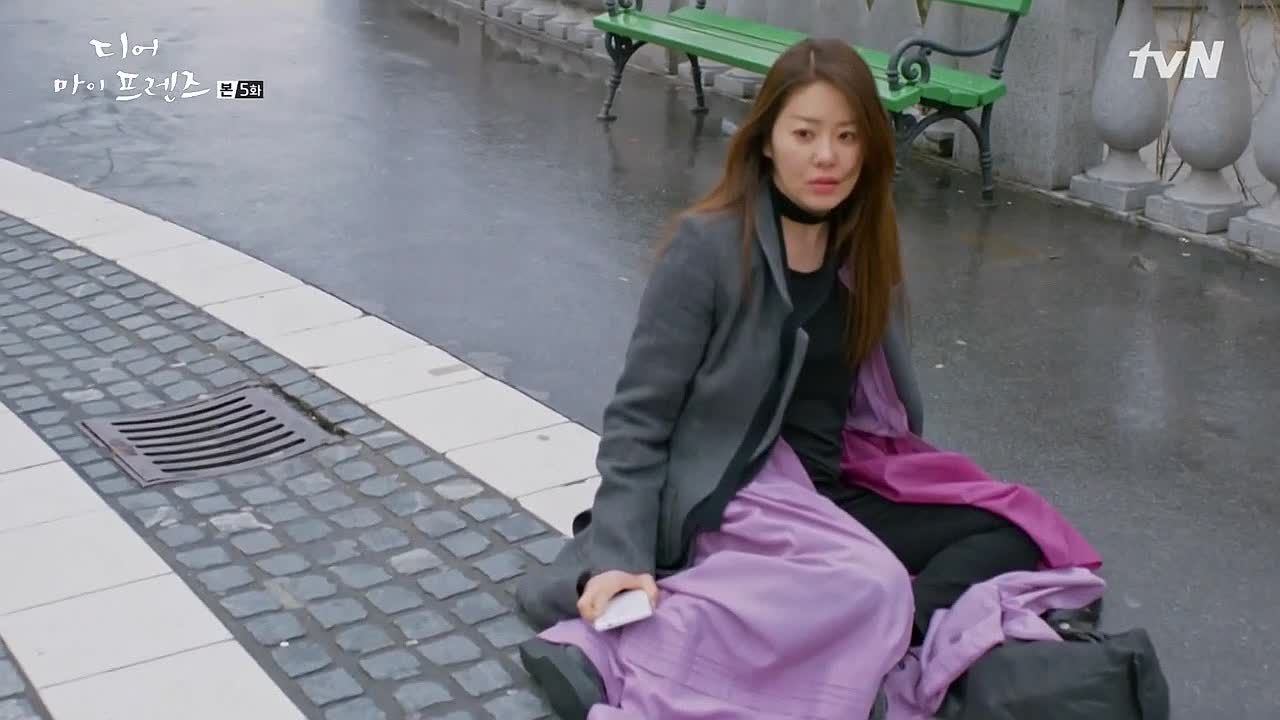 The sudden shock causes her to crumple to the ground, and she watches, stunned, while people gather around Yun-ha, his legs bent in an impossible angle as he's trapped under the wheel of the truck. The cathedral bells strike six.
In the present day, Yun-ha tells Wan in his video message that even though it was difficult for him, he wanted to come back to the cathedral at six o'clock to pray for their everlasting friendship. He adds that he'll always love her — as a friend.
She gulps down her beer, then goes to the fridge to get another as she cries. Meanwhile, back in his studio, Yun-ha draws a couple kissing in the cathedral square, smiling as he looks at the pictures of him and Wan together.
Nan-hee's busy doing her accounts at the restaurant late at night when her mysterious musician arrives, asking if the restaurant's still open.
Sitting down with a glass of wine, Choong-nam calls Seung-jae, asking him why he can't join her for a drink. She reminds him that he said that they should get together soon, but he tells her that was a group text. She hangs up on him, embarrassed at how she's acting. He calls Hee-ja to wish her a good-night, though, which bewilders her. That's definitely not a group call — just sayin'.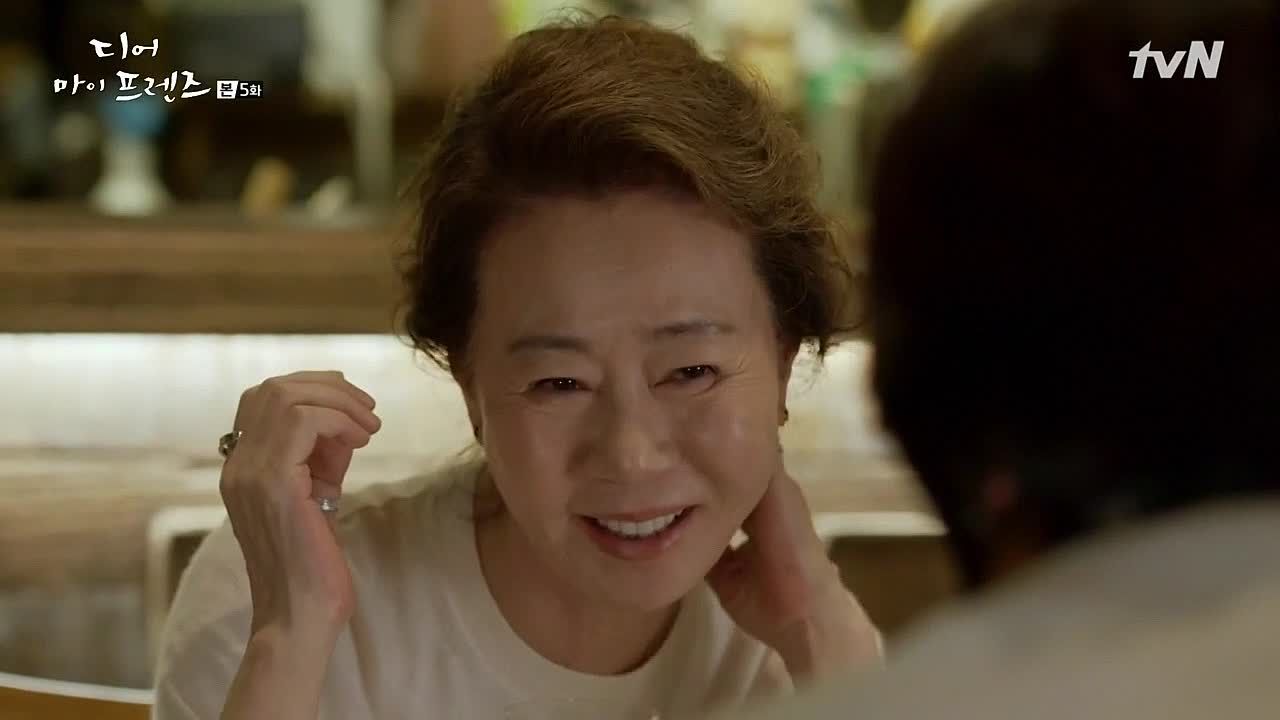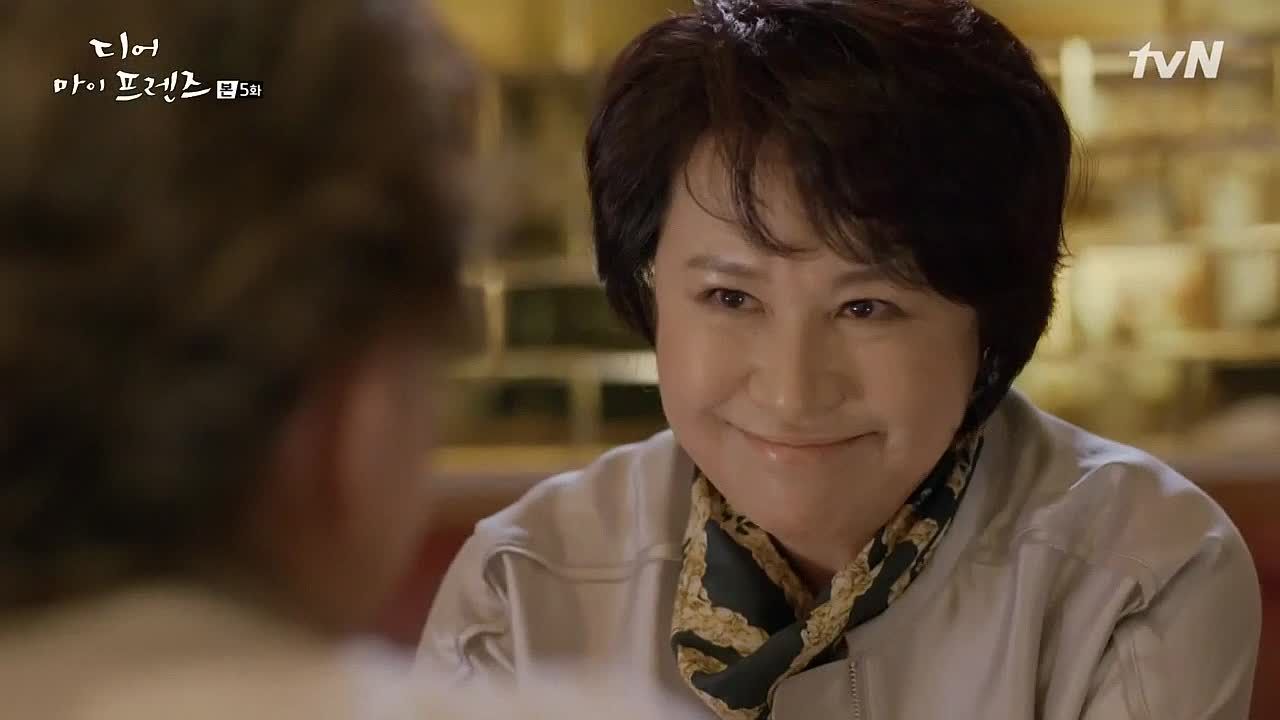 Choong-nam tried to get everyone to come out for a drink, but they were all busy or gave excuses, except for Young-won. Aw, their friendship is sweet. She tells Young-won about the mishap with the professor who made her pay for their drinks. Young-won wonders why she still hangs out with them, and Choong-nam says she doesn't like old people — they all end up dying.
She tells Young-won to stop spending time with Wan, for Wan's sake, since she'll just end up watching all the aunties die. Choong-nam steps outside to get some fresh air despite the downpour, waiting for Young-won to join her, and is surprised to see Dong-jin rush past her.
He's there for Wan, who's crouched in a corner, soaked from the rain and her tears. Still weeping, she begs him to help her get rid of the memories she has of Yun-ha. While the aunties secretly watch, Dong-jin gently kisses her.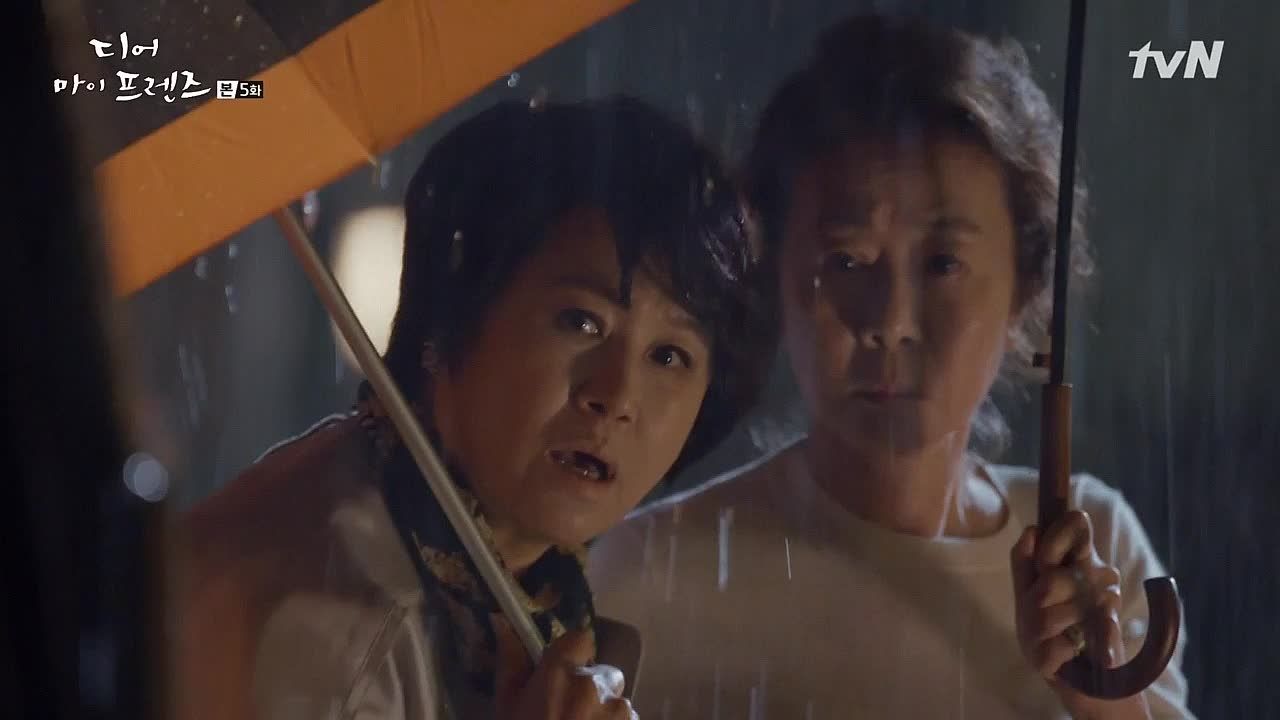 COMMENTS
Ooooh, Dong-jin, what are you doing? Aren't you still married? Why would you confuse us like this and give Choong-nam even more gossip fodder? Then again, I suppose I should listen to the Wan's advice and not blithely judge someone from the brief tidbits I know about them until I get their full story… buuuuuut I'm still totally judging him, especially knowing how much Nan-hee will lose her mind once she finds out.
While Wan's romance with Yun-ha has been lovely and tragic (apparently the truck of doom knows no geographical limitation, and even though I was expecting something to happen, it was still shocking enough to make me gasp out loud), I actually found his video message to be more hopeful and less of a brush-off than it originally appeared. At first glance, I perceived the video to say, "hey, look at me — I've moved on. I can spend time with another woman and go to the place of our accident, the place where I was going to propose to you, and be at peace about it." But the more I think about it, the more I realize that he is giving Wan a gift — his friendship. She was the one who ran away, who broke things off, and yet he's telling her he harbors no ill will. He won't foolishly hold on to the hope that somehow Wan will return to him. Instead, he'll move on with his life, hoping — as a caring friend — that Wan will, too.
Besides, is there a husband in this drama who hasn't cheated on his wife? Just wait — it will be Suk-gyun, and I'll finally have to start grudgingly liking him. I just feel so terrible for the aunties who have had to deal with the shame and sorrow of their cheating husbands — and abusive ones, too. Not just Soon-young's (despite her finally making a move to get away from him, I have a feeling that story isn't over yet), but Nan-hee's and Granny's, too.
Considering all this, I feel like I ought to be more suspicious about Seung-jae and his playboy ways, but doggone it I'm apparently weak for his charms. I'm also prepared for heartbreak since I'm not sure how a love-triangle will play out in this drama, but I can't help loving him with Choong-nam. Despite her firm avowal of independence, her goofy little smiles when she's with him are so true to life to anyone who's ever had a crush, no matter if you're in your twenties or your seventies. For someone who's worked so hard to provide for others all her life, is it so wrong to want her to have someone who will be just as considerate towards her as she has been towards others?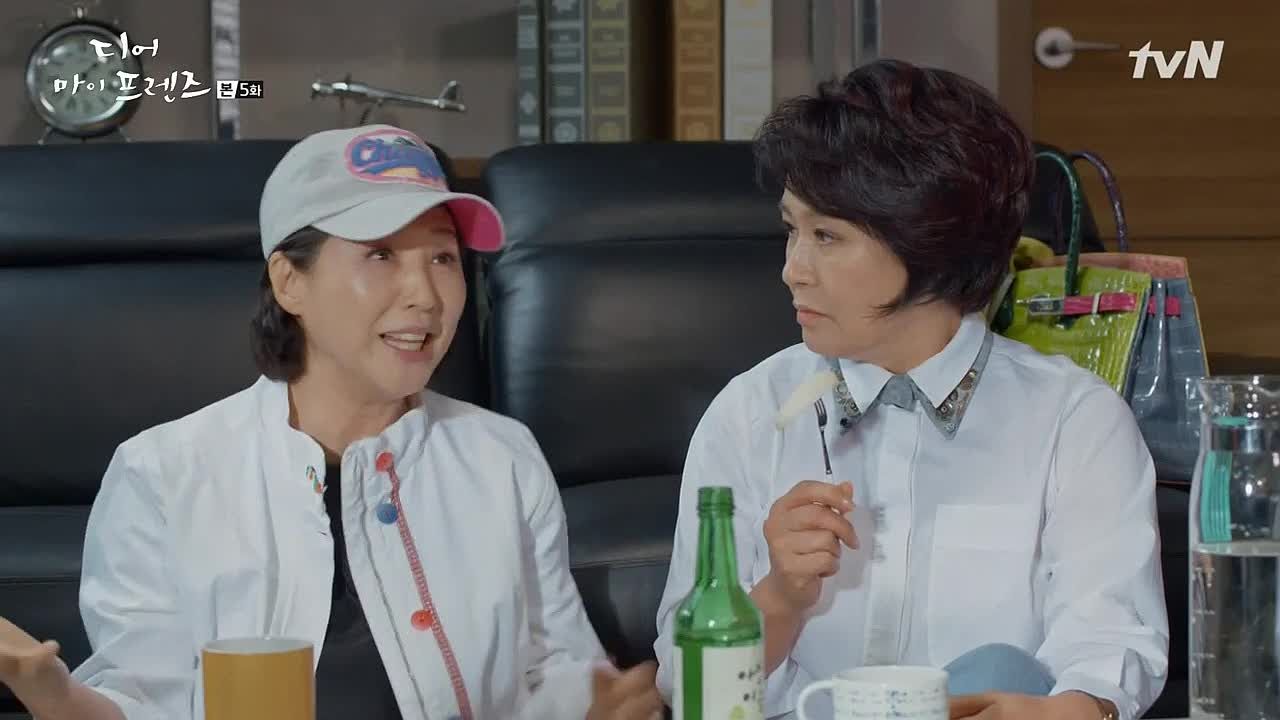 Then again, that's what friendships are for, isn't it? Beyond a doubt, my favorite thing about this drama are the long-lasting, deep friendships between the women. Husbands may come and go and children move away, but friendships are forever. I love the exploration of how important it is for women to maintain their close relationships and keep a family-like community no matter if they have their own family to attend to. Even if they sometimes put up walls or lie in order to protect each other, their friendships are always at the core of their connections.
I'm laughing to myself right now, because of course friendship is the most important thing — after all, it's in the very title itself. "Dear my friends" is how to start a love-letter to all the close relationships that only grow stronger through the passages of time and trials of adversity.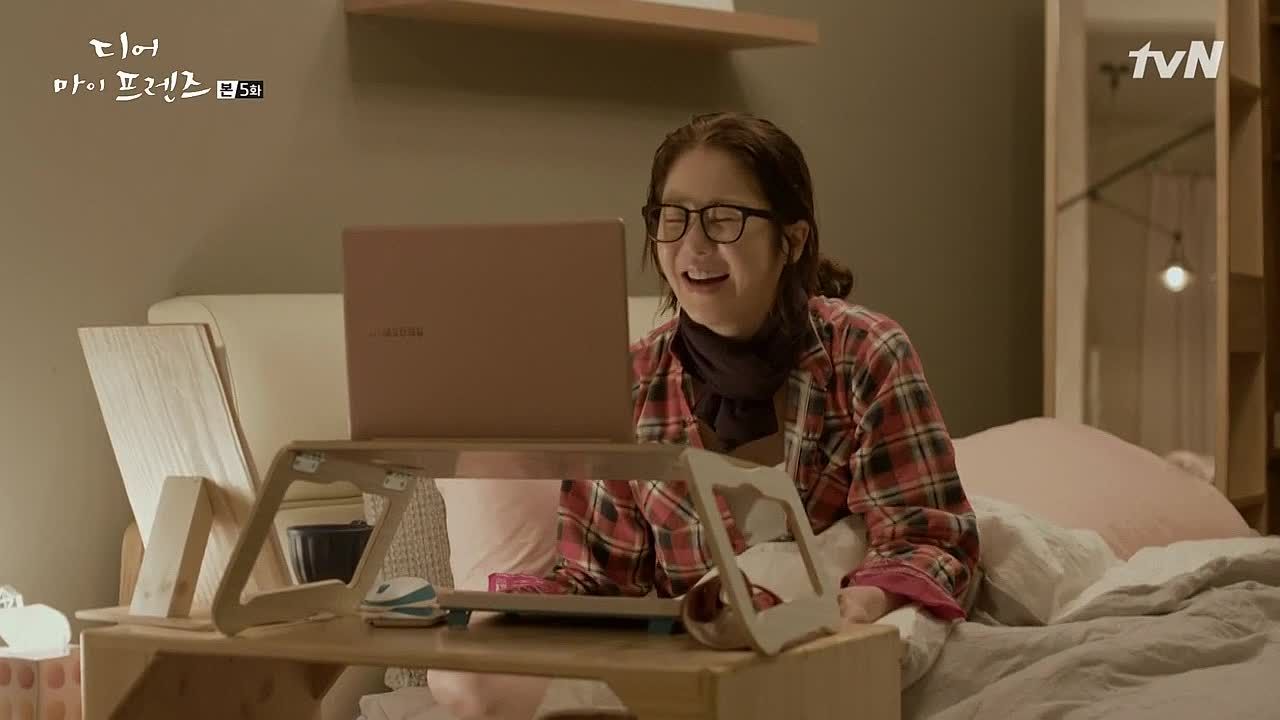 RELATED POSTS
Tags: Dear My Friends, featured, Go Du-shim, Go Hyun-jung, Kim Hye-ja, Na Mun-hee, Shin Gu, Yoon Yeo-jung