Dear My Friends: Episode 9
Smiles, so many smiles! If this drama was nothing but cute old people acting like giddy teenagers, I don't think I'd complain. Of course, there is still that one issue that needs to be addressed between Nan-hee and Wan, as Wan needs to know the truth about that night from her childhood. Even so, this episode feels like a breath of fresh spring air after the heavy drama of the last couple of weeks.
EPISODE 9: "Isn't life so beautiful?"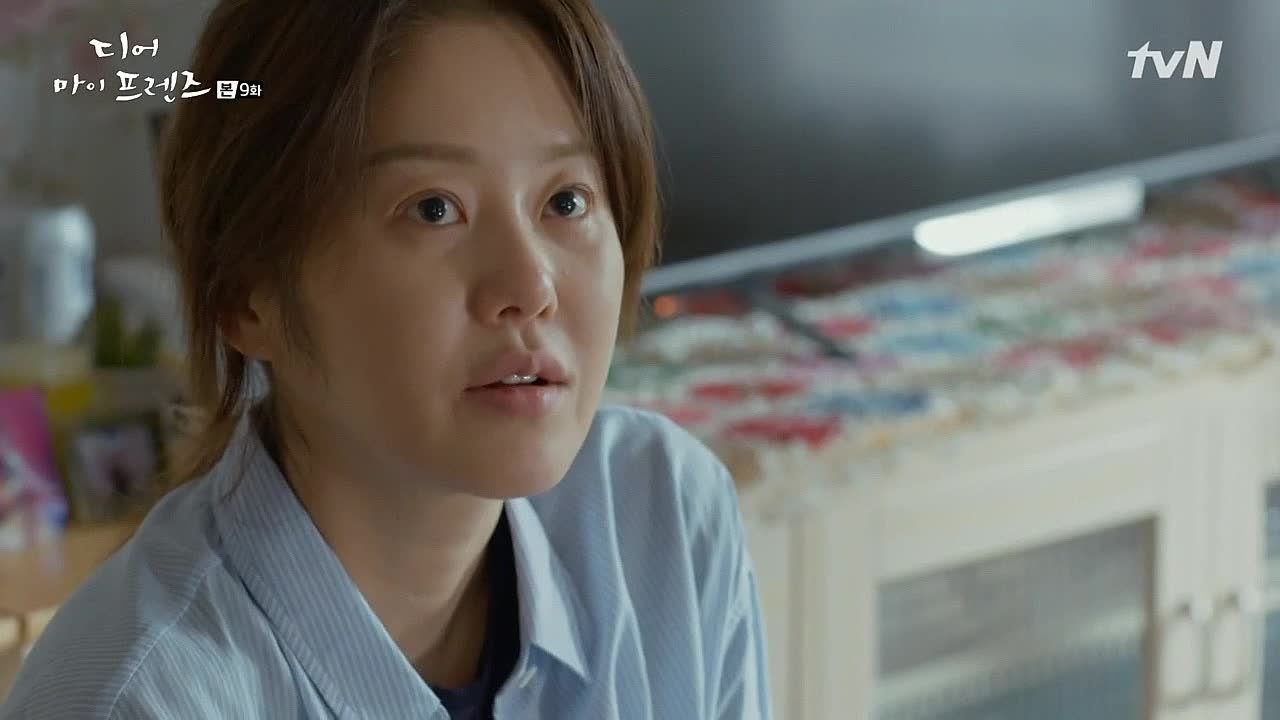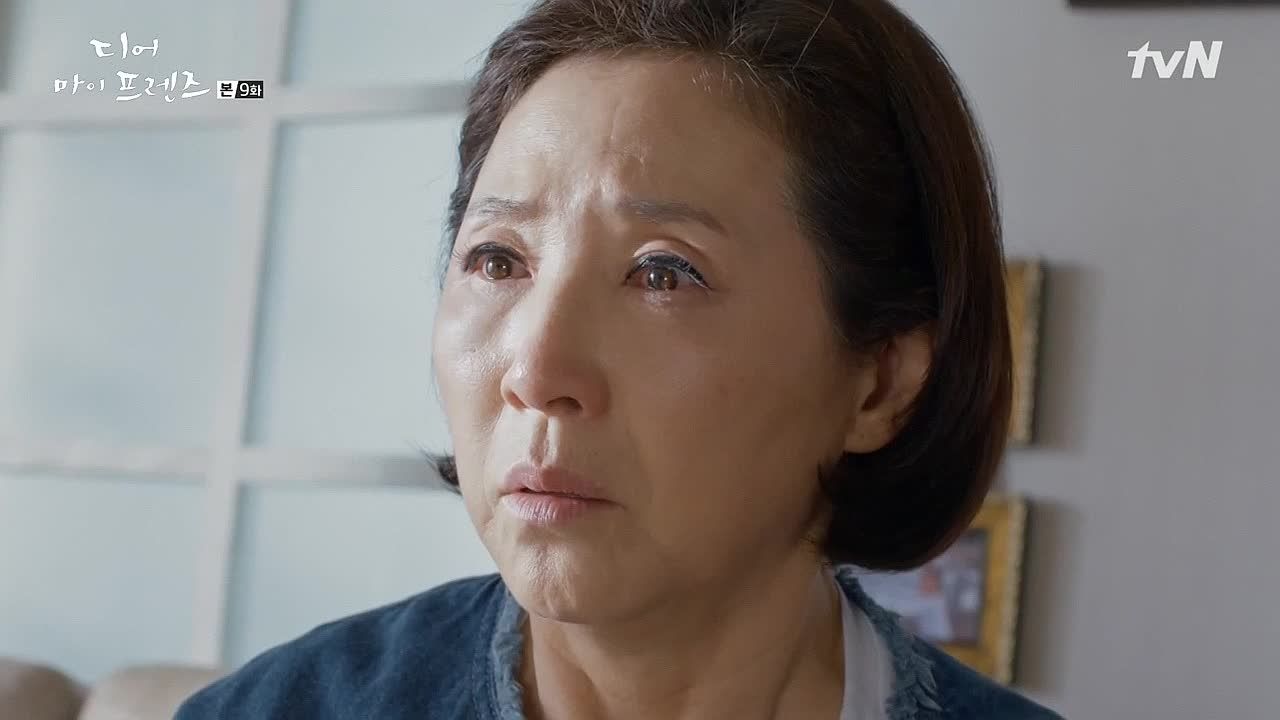 Wan asks her mother why she tried to kill her that night when she was six years old, and Nan-hee freezes, stuttering that Wan's acting crazy. Besides, what about Dong-jin? Nan-hee insists that Wan's explanation of "it was a mistake" is no excuse — clearly she's not the obedient child that she says she is. She storms out of her apartment, leaving Wan behind.
Nan-hee tries to focus on her work, but as she cooks, she mutters complaints about Wan the whole time. She's so distracted that she splashes hot oil on her neck, and decides that it's time to go home, much to the relief of her concerned staff.
Jung-ah is in the midst of an apartment hunt, and Hee-ja's got her sad puppy eyes as she whines about the long trek up a steep hill. As the realtor shows Jung-ah a potential place, Hee-ja seriously says that it looks haunted. It definitely is a fixer-upper, and Hee-ja sighs that it will be impossible to visit Jung-ah since this place is so far away.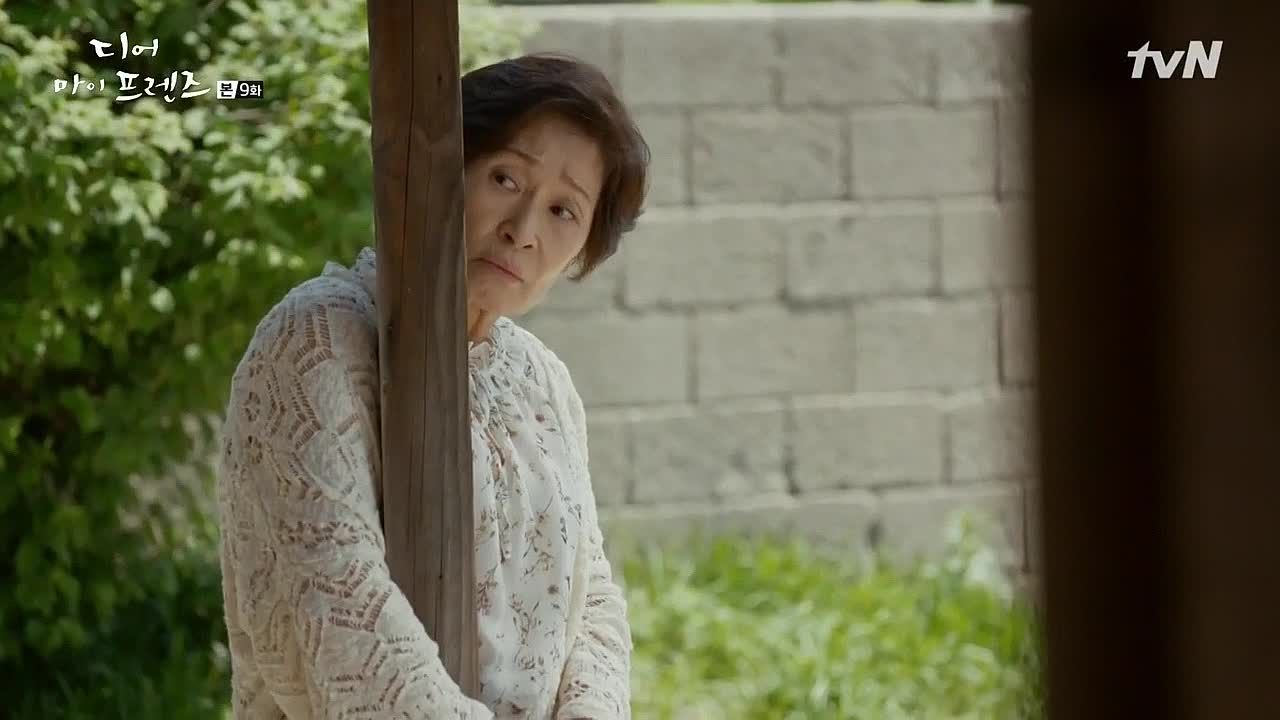 Jung-ah wonders why she bothered to bring her friend along because Hee-ja shoots down any potential home, and finally the realtor leaves in a huff, declaring he has no more places to show them. As the ladies contemplate a basement apartment, Suk-gyun calls to demand pollack soup for dinner (and then gets stuck carrying a literal load of bricks for one of the residents at his work).
Hee-ja finds it strange that Jung-ah will make him soup even though she wants to get a divorce. She thinks that Jung-ah shouldn't leave until she's discussed it with Suk-gyun first and made him signed the divorce papers. But Jung-ah says it's best to let him be surprised. He'll just kick up more of a fuss if she tries to talk to him about it first.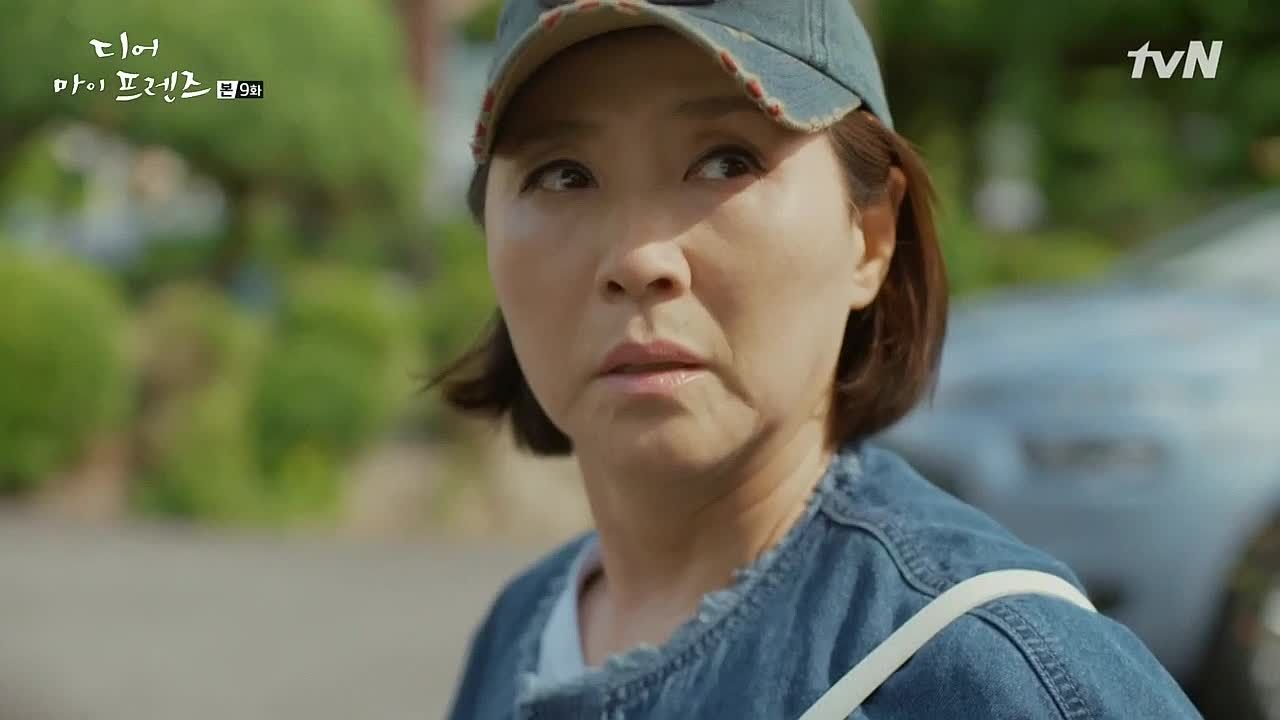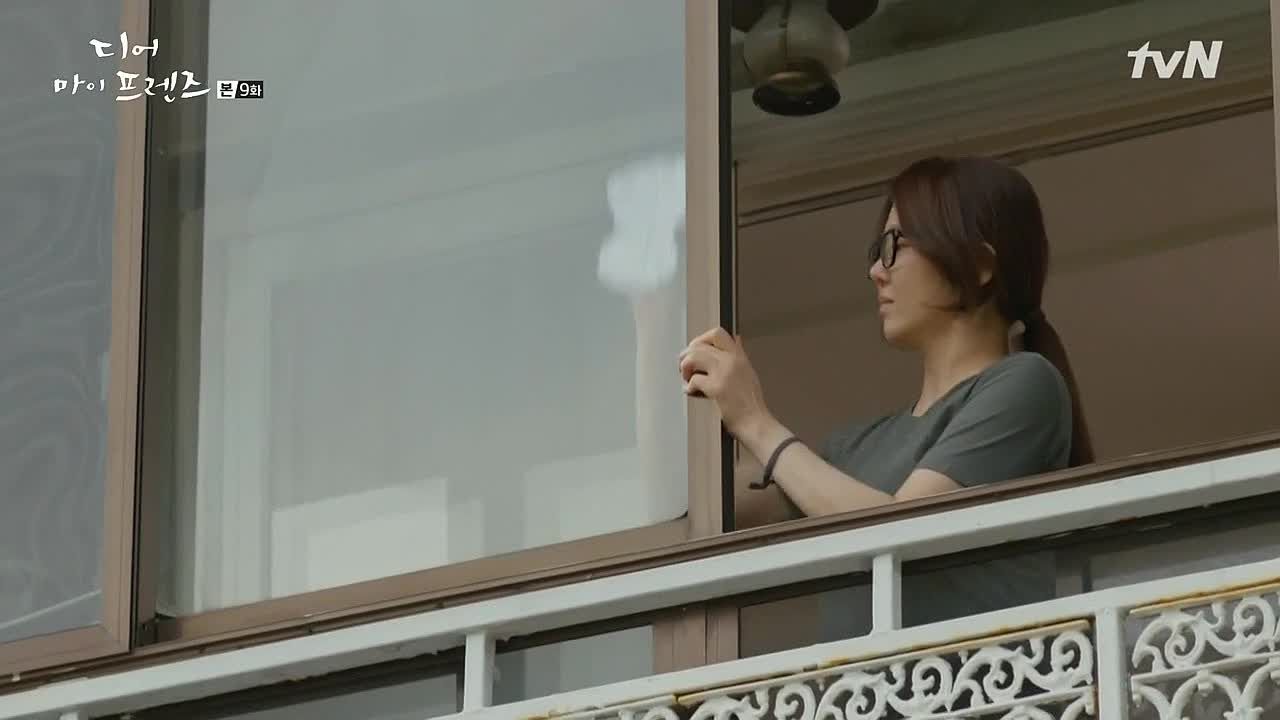 Nan-hee arrives home with her groceries, but stops when she sees Wan cleaning the windows of the apartment. She's not ready to face the question of why she tried to poison Wan back then, and gets back into her car. She tries calling Choong-nam, but she's too busy with her art professors, studying their recent works as they praise each other, trying to convince her to buy their art.
Her next attempt is Young-won, but she has to decline Nan-hee's request to go get a drink because she's in the middle of filming. Nan-hee sighs, wishing that Wan would stop cleaning her house and instead go home. She idly wonders what happened with Yun-ha: "He was perfect."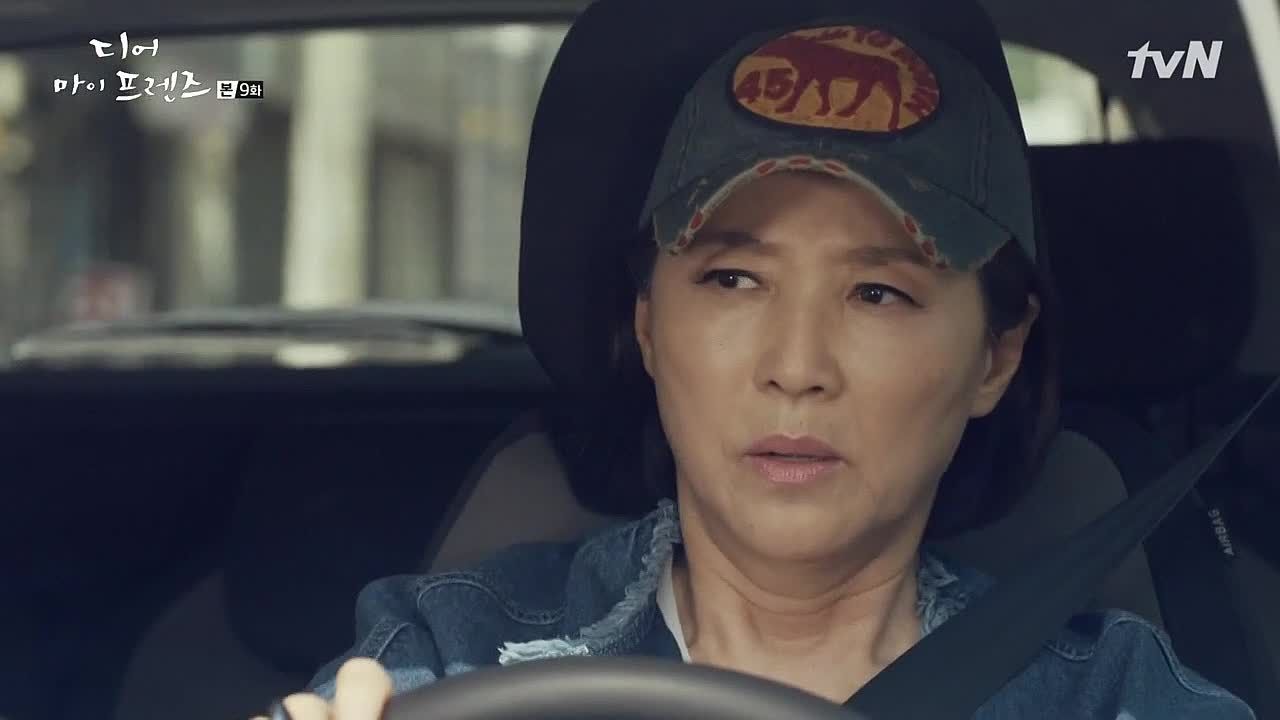 As Wan tirelessly cleans her mother's house, she calls her mother to find out where she is. Nan-hee ignores the fact that Wan is expressly waiting for her and says she's busy visiting Granny. That could be true, except Granny is patiently waiting for Young-won at her filming location.
Jung-ah, worried that Hee-ja didn't meet her with the pollack, arrives at her friend's home. She finds Seung-jae there, ringing the doorbell. He explains that Hee-ja won't let him, so Jung-ah grabs the hidden key and lets the both of them inside. Hee-ja's busy stringing rosary beads, and is surprised when her friend appears with Seung-jae tagging just behind.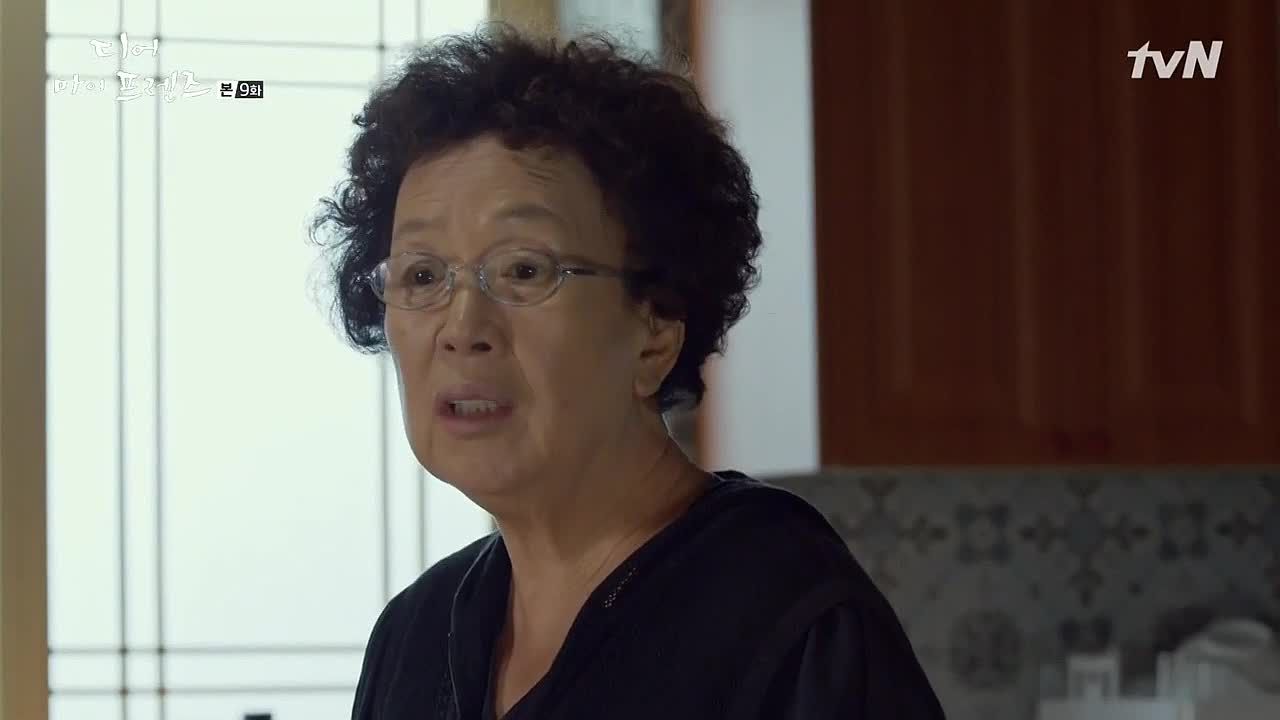 Jung-ah reminds her that she was going to wait at the intersection to give her the pollack, but Hee-ja explains how she got distracted by a cute lost puppy, completely forgetting why she purchased the fish. Jung-ah tells her it's scary to have someone disappear and then not answer their phone.
She then wants to know why Hee-ja won't let Seung-jae in, and Hee-ja whispers that it's because of Choong-nam. That's enough for Jung-ah, who leaves with her fish. Hee-ja tells Seung-jae to go home, but he's there to give her new supplies for the rosary beads and take the finished ones back to the church.
He carefully adjusts the security cameras so they're not facing the kitchen, explaining that he's not there because he wants to be, but because the priest sent him to collect the rosaries. Yeah, sure that's the only reason.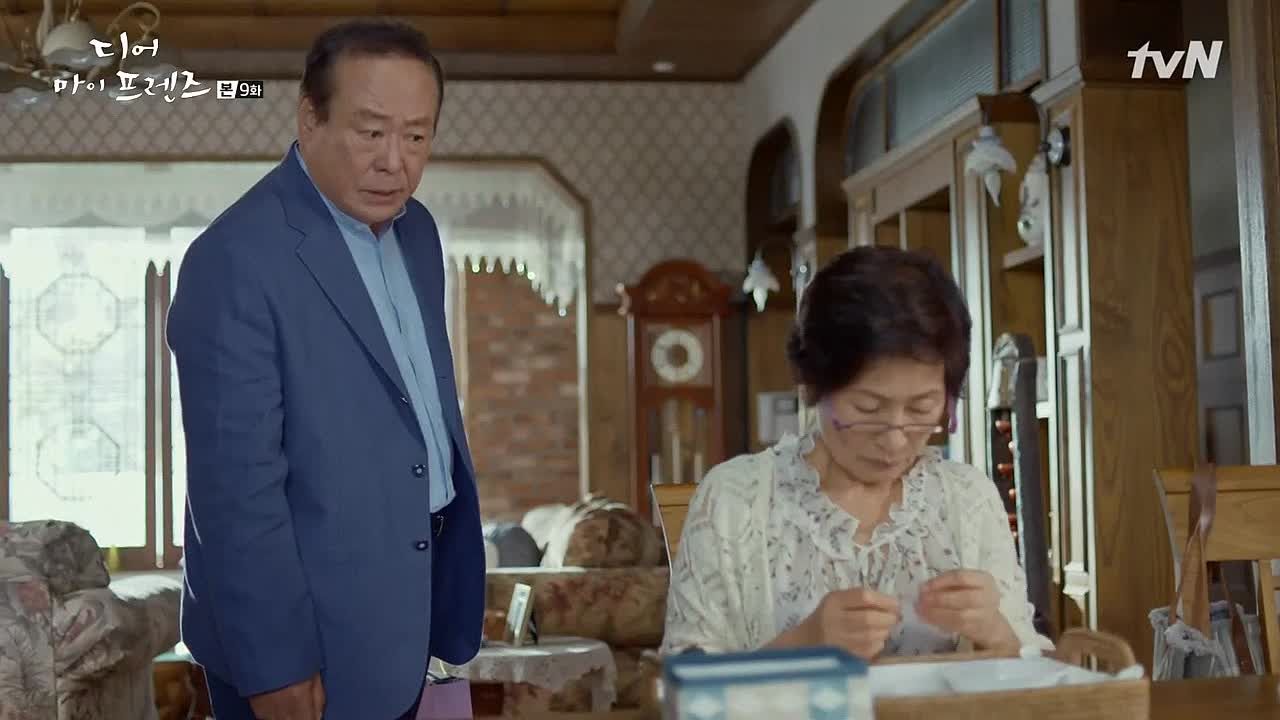 As he leaves, he asks if she likes not smiling and only saying the bare minimum to him. He explains that he just wanted to take her out on a date — as friends. Just a simple drive, enjoying the fresh air. Hee-ja says they can go if Jung-ah is the driver. Pffft. After he leaves, Hee-ja suddenly wonders if she gave Jung-ah the fish. Oh, no; is her delusional order getting worse?
During his lunch break, Min-ho tries to watch his mother on the security feed, only to be annoyed when he rewinds to find out Seung-jae was the one who moved the camera. His wife reassures him that it's a good thing that she has friends to spend the day with instead of causing him to worry about his mother always being alone.
Nan-hee makes lunch for her father and brother, but Il-bong refuses to eat and instead heads out on his crutches. She follows after him, catching up with him where he's stopped to pee on a bush. Well, at least there's one part of him that functions as intended.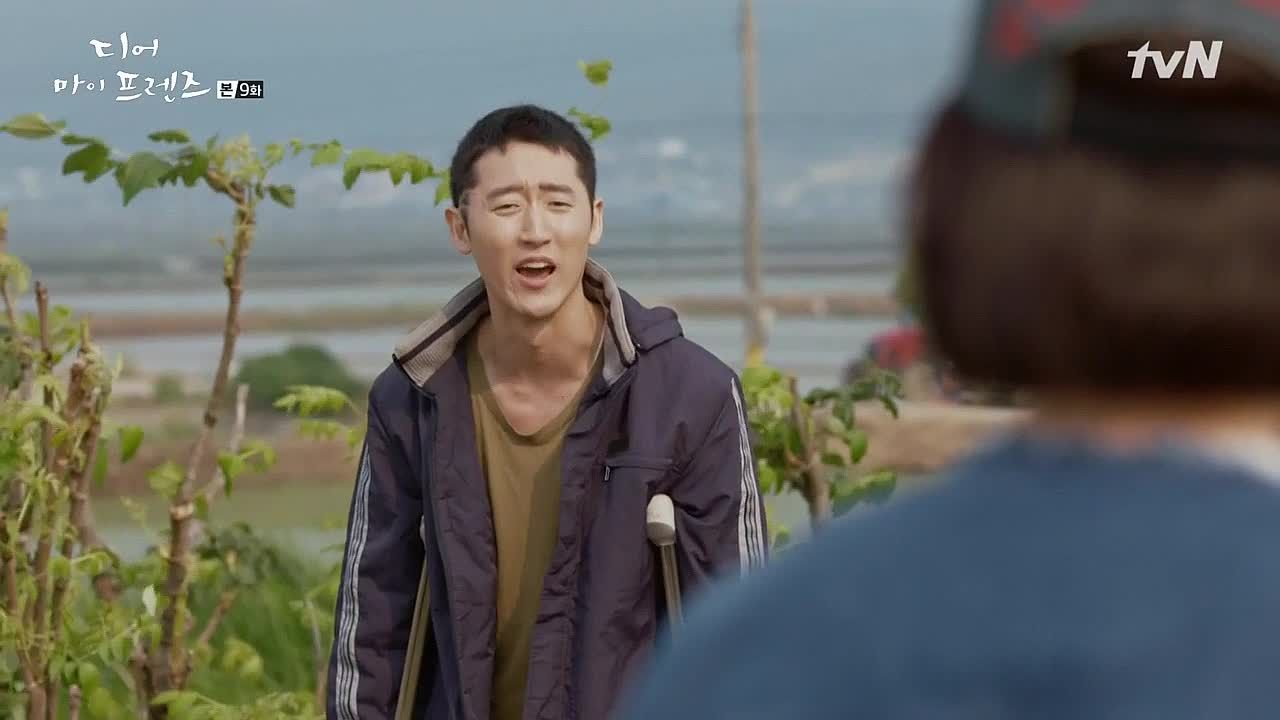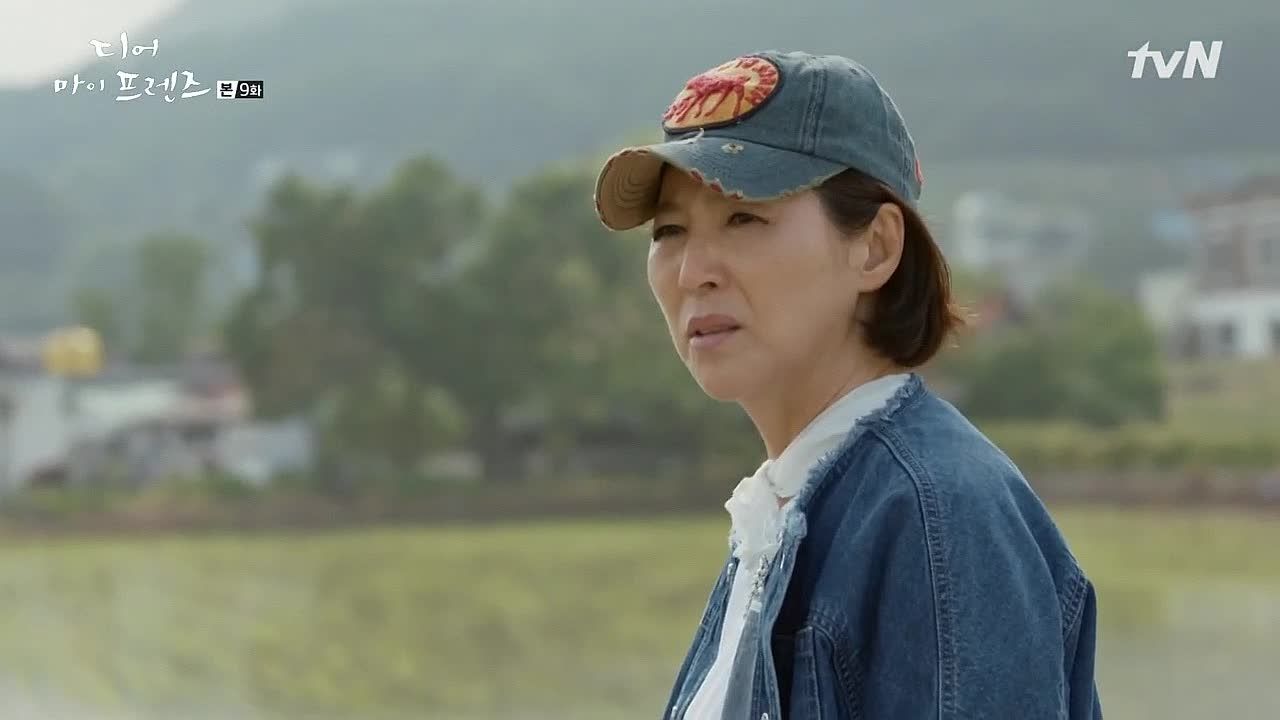 He snidely asks if Nan-hee is concerned about his love life, and she reminds that it was only a few years ago that he was able to begin to walk after spending seven years bed-ridden. She's just worried that his girlfriend, Jacqueline, is only using him to pay off her debts and then will abandon him.
But he insists that Jacqueline likes him as much as he likes her. Even though he's handicapped, he's still capable of doing everything needed to take care of the farm. Besides, can't a disabled man fall in love? He then crutches off, and as Nan-hee watches him go, she recalls Wan's quiet confession that she dumped Yun-ha because he's disabled, and Nan-hee told her to never marry a disabled man.
She then looks around the field, realizing it's the same spot from that night many years ago. She pictures the younger version of herself and Wan sitting down by the field, and pain fills her eyes.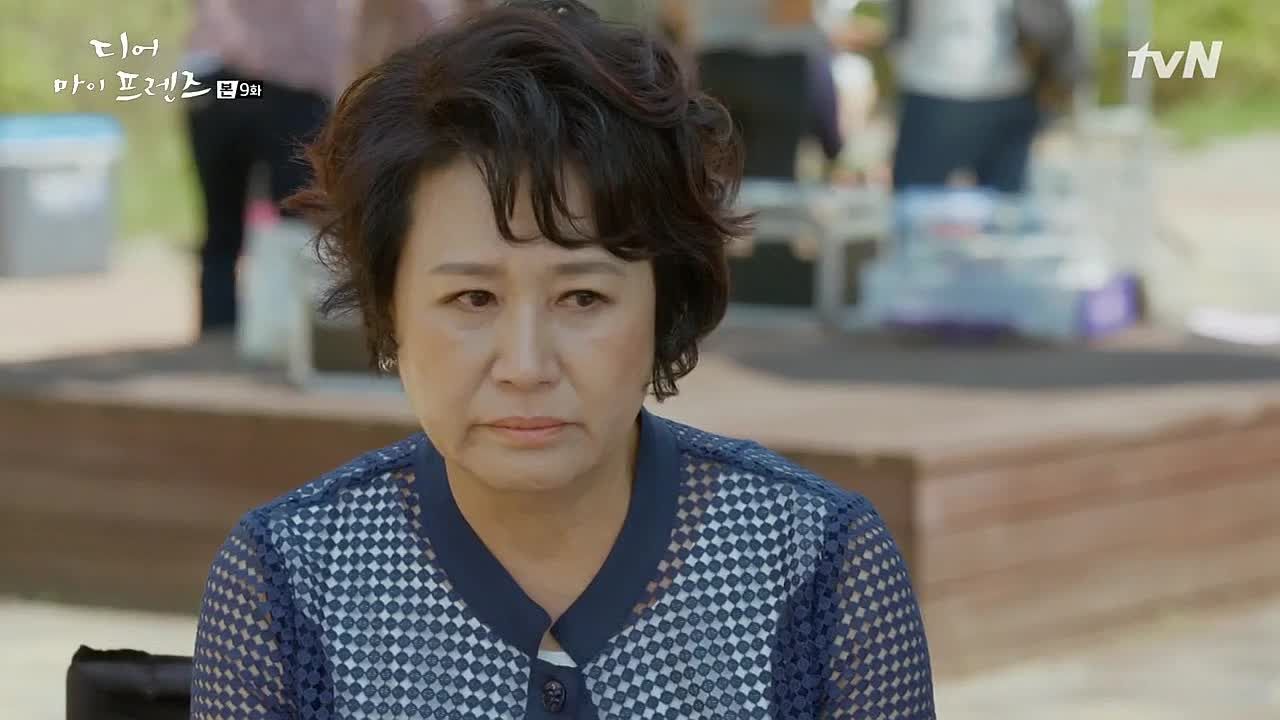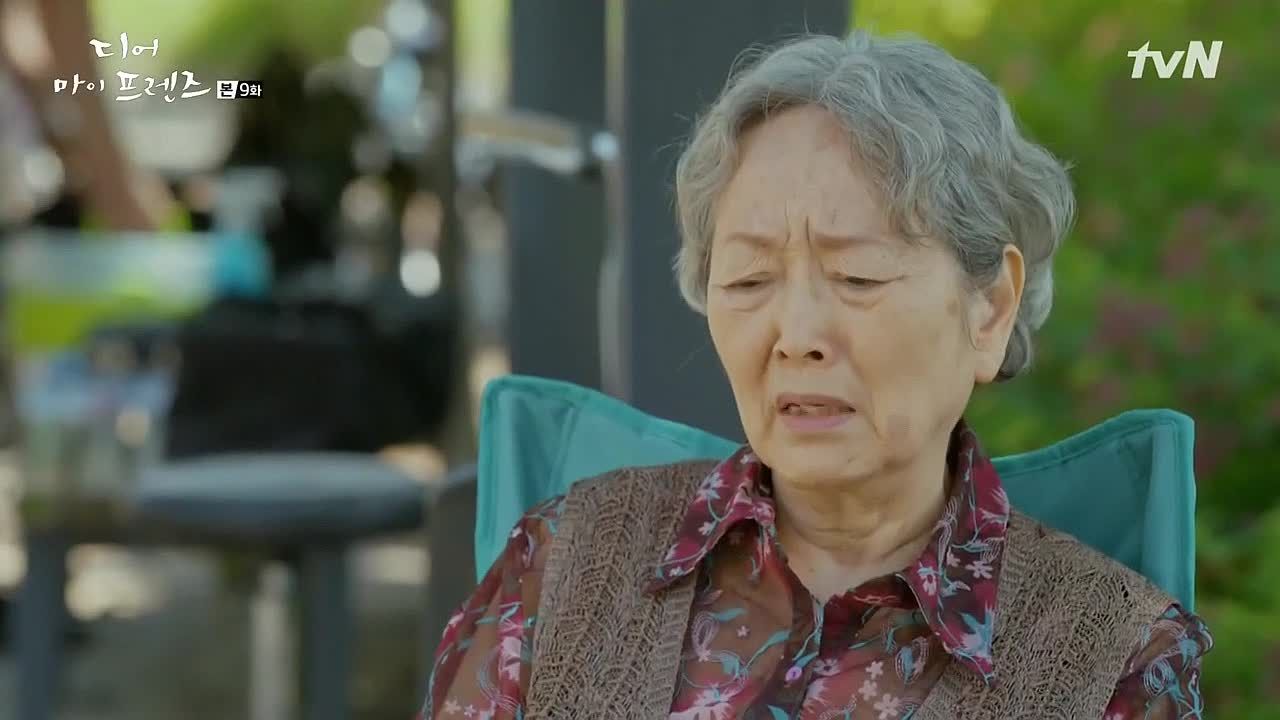 Young-won is more worried about the effort Granny went through to see her at the filming location than the 20,000,000 won she asks to borrow. When she asks why Nan-hee won't give her the money, Granny explains that Nan-hee's already spent 100,000,000 won on Il-bong's medical expenses.
Granny sighs, wondering why she can't die already — they're not Nan-hee's family, they're just ghosts that steal her money. She's spent her life worrying about money, and even if Il-bong marries, Nan-hee will likely be helping out financially for her nieces and nephews.
Suk-gyun happily slurps down his pollack stew, surprised at how attentive Jung-ah is being tonight. She cryptically tells him it's because they don't have much time left, which he takes to mean that it's because they're getting older, so they might as well be nice to each other while they still have a few years left to live.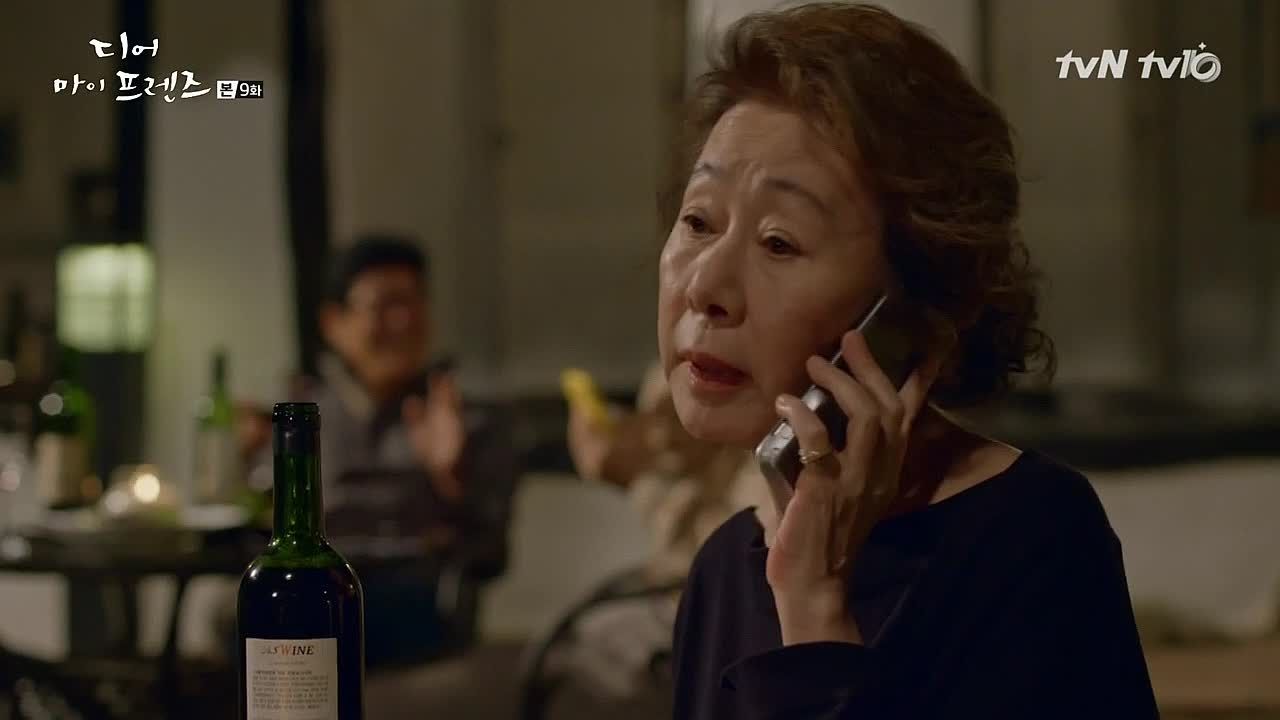 She excuses herself to take a phone call from Choong-nam. Jung-ah's a bit snarky when she points out that Choong-nam's spending the evening with her artsy-artsy professors when Hee-ja is all alone. She tells Choong-nam that she should give up Seung-jae because not only does Hee-ja and Seung-jae like each other, Hee-ja doesn't have anyone else in her life to be with.
Choong-nam stubbornly refuses, retorting that if Jung-ah thinks she should just meet with Seung-jae in the next life, then he can meet with Hee-ja in the next life, too. Besides, Jung-ah should be more focused on her divorce right now.
Professor Park continues to schmooze Choong-nam as he escorts her to Hee-ja's house. She laughs when he calls her a "friend," saying that a true friend is someone for whom she can give up her lover. Then he wonders how it's possible that she's visiting her "unni" — if it's an friend who's older than she is, then she must be oooooold. *cue death glare from Choong-nam*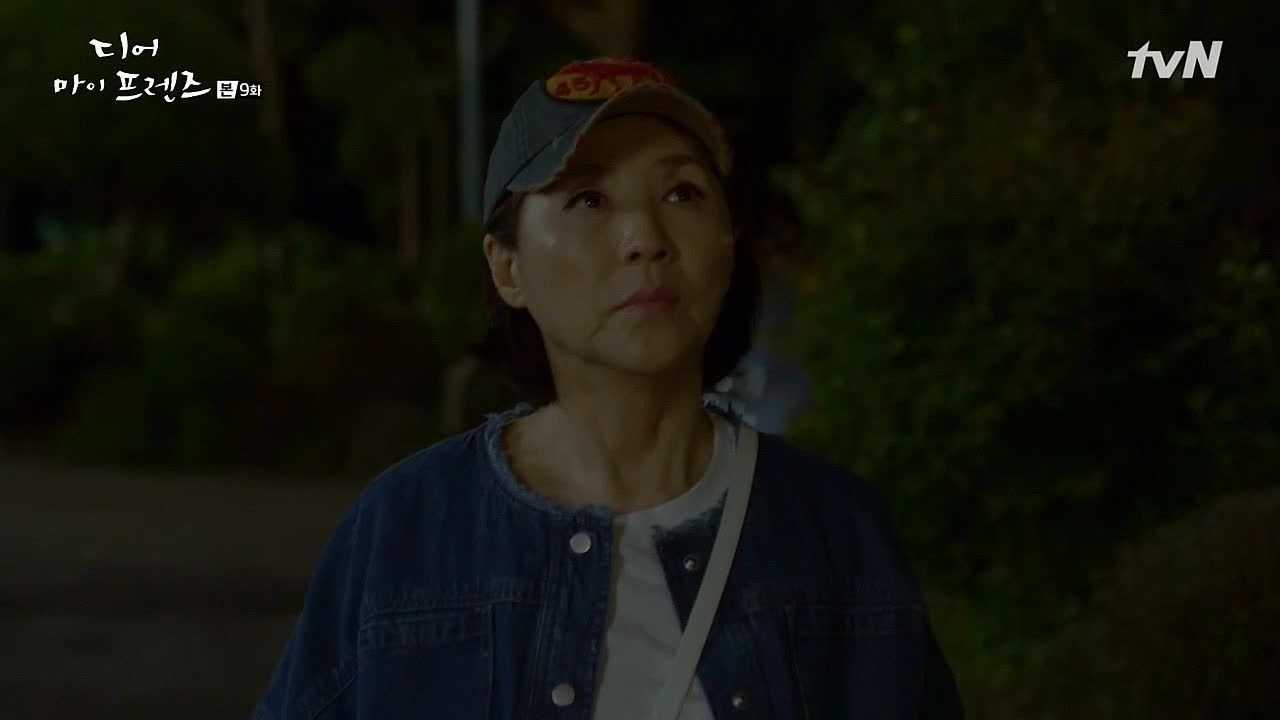 From the window, Wan silently watches her mother arrive home. It's like a reversed "mother waiting for her delinquent daughter to return after curfew." Nan-hee focuses on the surprising fact that Wan cleaned the apartment, considering how messy her own place usually is, but Wan reminds her she used to help out all the time when she was younger. Back then, She was desperate to keep her mother happy in those days, scared she'd leave her — or attempt to drug her again.
Mood soured, Nan-hee orders her to leave, but Wan's determined to continue the conversation. She tells her mother to not get involved in her life again. Irritated, Nan-hee asks what she'll do if she does get involved — is it really that important she told Dong-jin to stop seeing her daughter? Is it her fault that Wan was with him in the first place?
In her calm, low voice, Wan says that yes, it was. Why else would she break up with Yun-ha after she was already living him? Because her mother doesn't want her to date disabled men.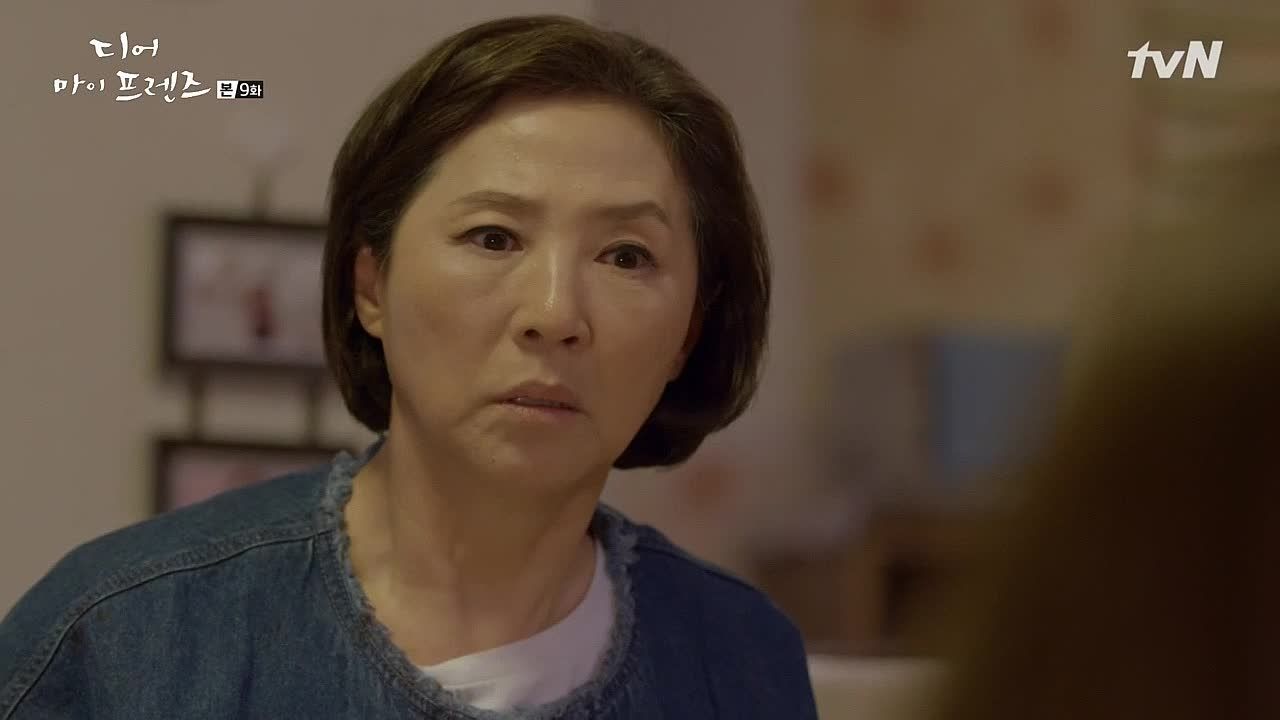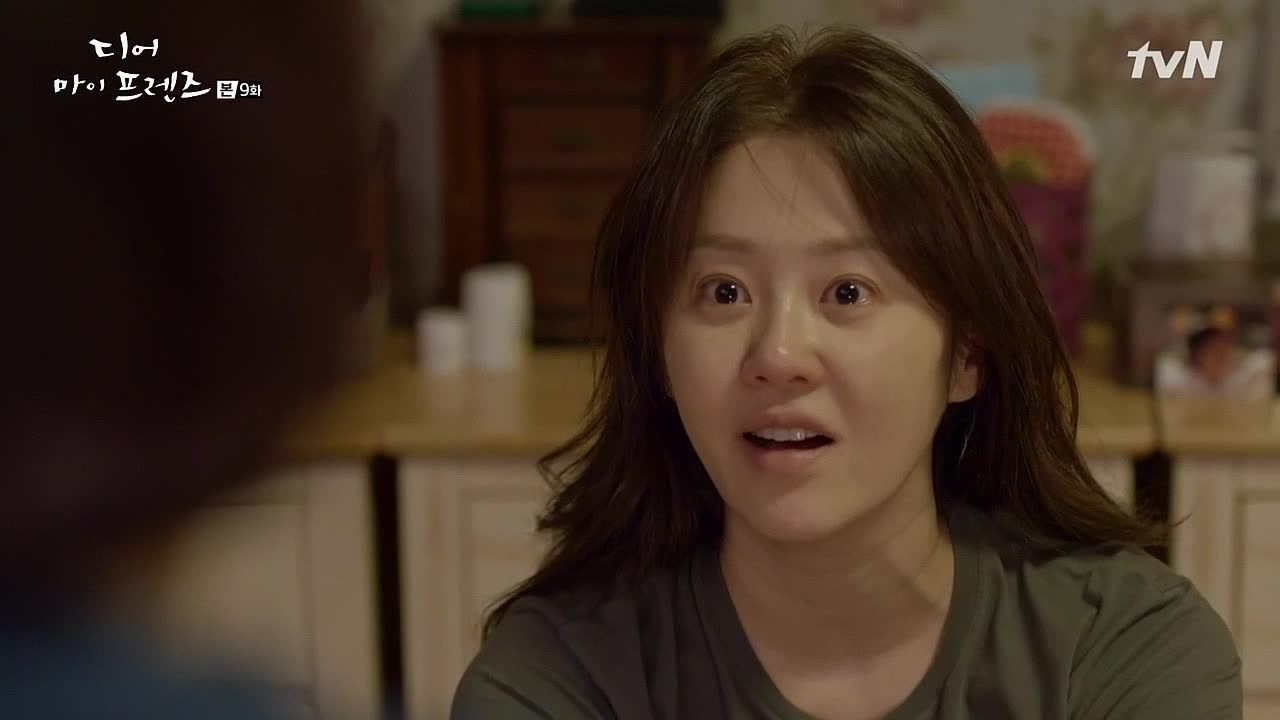 She breezes past Nan-hee's shocked "Living with him?" to tell her that she fully belongs to her mother, so she can't do anything Nan-hee won't permit her to do. She knew it that night in Granny's fields, when her mother poisoned her, that she was her mother's — that she would do anything her mother asked, no matter what, even if it meant drinking poison.
Wan's voice grows in intensity as she tells her mother that it's her fault Wan left Yun-ha. She loved him more than anything else, but she abandoned him because she felt compelled to follow her mother's wishes. Except, after she left him, she felt a frisson of rebellion, telling herself: "Live your life however you want, you cruel bitch — forget about your conscience."
She yells at her mother to apologize. Slamming down a glass vase, she demands to know why she belongs to her mother. Why did she try to poison her? Each cry of "why" is punctuated with her fists pounding into the broken glass.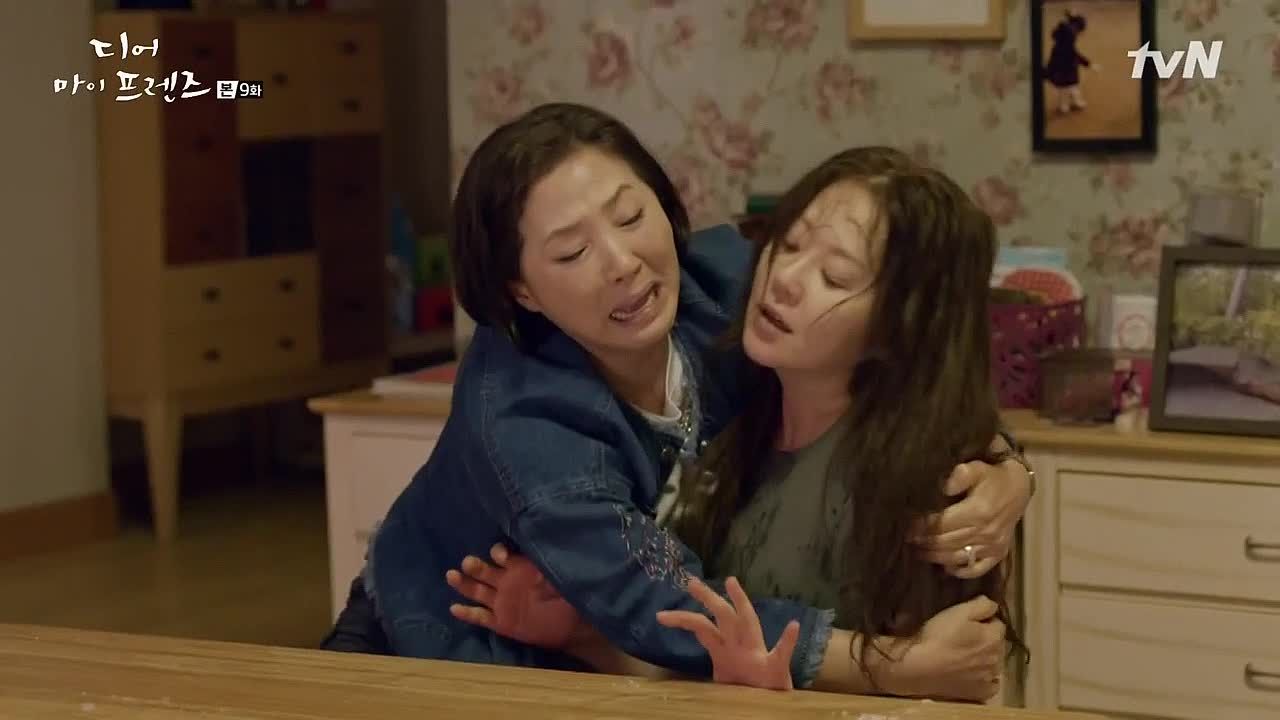 Nan-hee tries to restrain Wan as she continues to slam herself into the glass. Crying, Nan-hee struggles to hold her, explaining that she wanted to die and couldn't bear to leave Wan behind. As Wan continues to scream that she hates her, and Nan-hee, weeping, tells her it's okay to hate her, a flashback reveals what happened that night.
After Nan-hee caught her husband cheating on her, she went with Wan to Granny's, only to find Granny being ruthlessly beaten by her husband. Going to the field, Nan-hee gave six-year-old Wan the poisoned drink, only to slap it out of her hand at the last second. Wan's father arrived just then, and Wan ran up to greet him.
As the two women struggle with each other in Nan-hee's living room, in a voice-over, Wan tells herself that she's a coward — why would she bring up a 30-year-old story, only to then act so crazy? She realizes that she blames her mother because she couldn't forgive herself for abandoning Yun-ha, and her mother was the easiest target. As for Yun-ha, she misses him, very much.
Hee-ja is adorably proud of her noodle-making skills as she serves Choong-nam a late dinner. Choong-nam tells her that she should save some for her children, but Hee-ja says that she tries not to interfere in her children's lives, knowing they're happier that way.
Choong-nam calls Seung-jae, telling him to bring his car and take Hee-ja for a drive. He's half awake and surprised by her call, but she doesn't elaborate as she hangs up. But he sends her a text, thanking her. Aw. Unsurprisingly, Hee-ja refuses, declaring she's too old for dating. But Choong-nam points out they could die at any time, so they should to take any chance they can until then.
Hee-ja asks if Choong-nam still likes Seung-jae, but Choong-nam insists that she fell out of love with him the moment he confessed he still liked Hee-ja. Tonight, she's here to help Hee-ja prepare for her trip with Seung-jae.
Aw, it's super cute how they're like two girls at slumber party as Choong-nam goes through what Hee-ja plans to take on her trip. There's a large bag of medication and supplements, a collection of snacks in case of low blood sugar, and even a bag of adult diapers. She takes out the diapers, telling Hee-ja she can just order Seung-jae to stop whenever she needs to go. Aw, Hee-ja frets about all the stuff she has to take on just a short trip.
As they settle into bed, Choong-nam asks if Hee-ja sleeps in the living room all the time. Hee-ja admits that she's scared to sleep in the bedroom. Choong-nam confessess that she's scared to sleep alone. Then they adorably compliment each other on their pretty looks for their ages.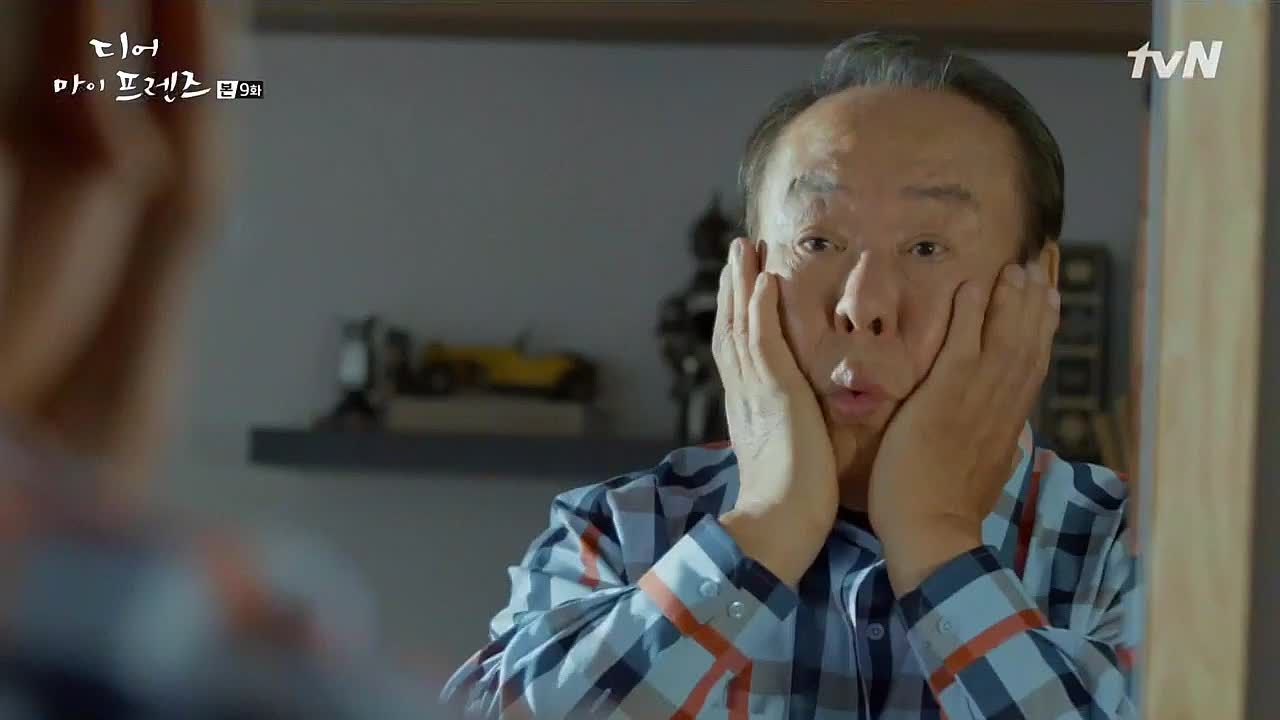 In the morning, Seung-jae does his own trip preparation, taking his fancy supplements and then dancing and singing his way as he takes a shower and gets dressed. Choong-nam helps Hee-ja look her best, giving tips about makeup and accessories. As Hee-ja gazes in the mirror, she admits that it will be nice to actually have plans for the day.
The couple drives along a country road, enjoying the beautiful weather, but Hee-ja repeatedly asks him to put up the top on the convertible. He finally agrees once she tells him it's because his hair darkening powder is flying into her face. Bwahaha! Only then does Hee-ja begin to smile and enjoy their drive, laughing at Seung-jae talking to the GPS and singing along to the radio. So. Cute.
Nan-hee prepares breakfast, but Wan leaves early, telling her she has work to do.
Suk-gyun spends the day on the phone with his family, bragging about how he's going to have an elaborate memorial ceremony for their mother, so they all need to attend. Meanwhile, Jung-ah cleans and sews, grumbling about Suk-gyun's generosity for his family when he won't spare a few pennies to let his wife have a simple snack.
Choong-nam calls her just then, letting her know that Hee-ja's with Seung-jae, and the only favor she requests in return is that Jung-ah doesn't die before she does.
The GPS informs Seung-jae that they've arrived at their destination, but it's a river in the middle of an empty field. Seung-jae sighs that the Ms. Park (his name for the GPS voice) has led him astray, but the frantic look in Hee-ja's eyes can only mean one thing — she has to go to the bathroom. Right now.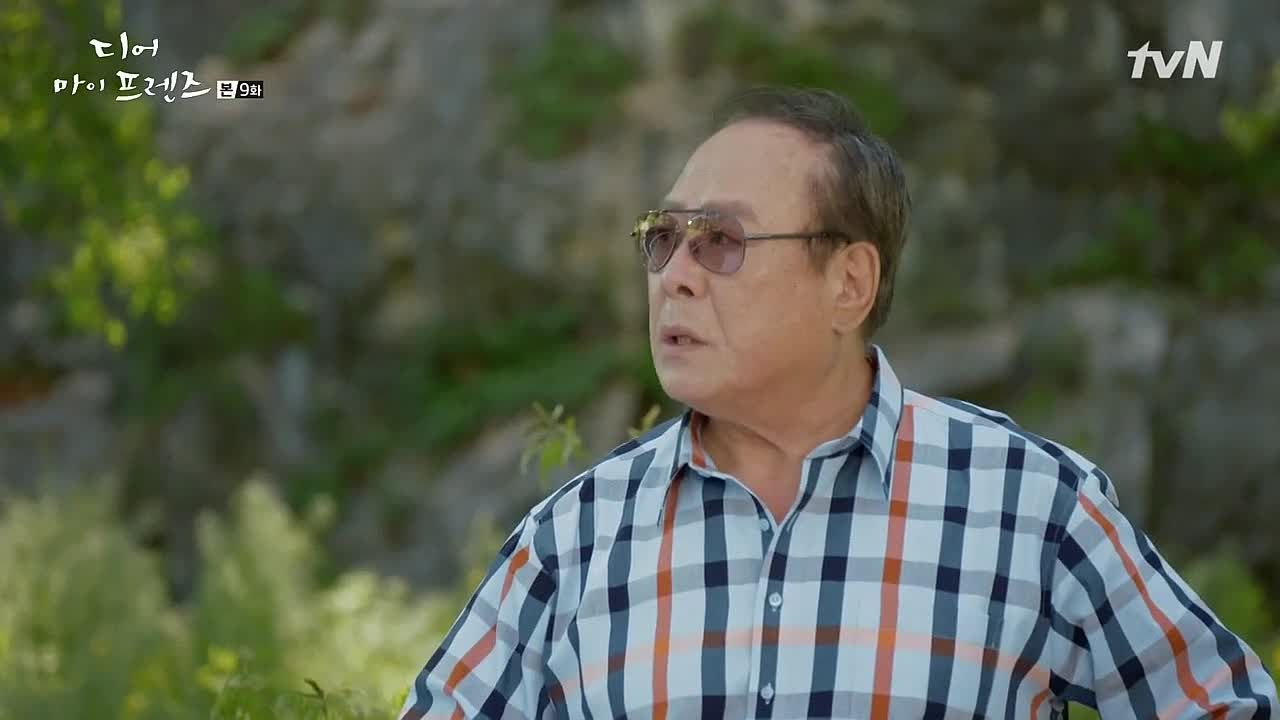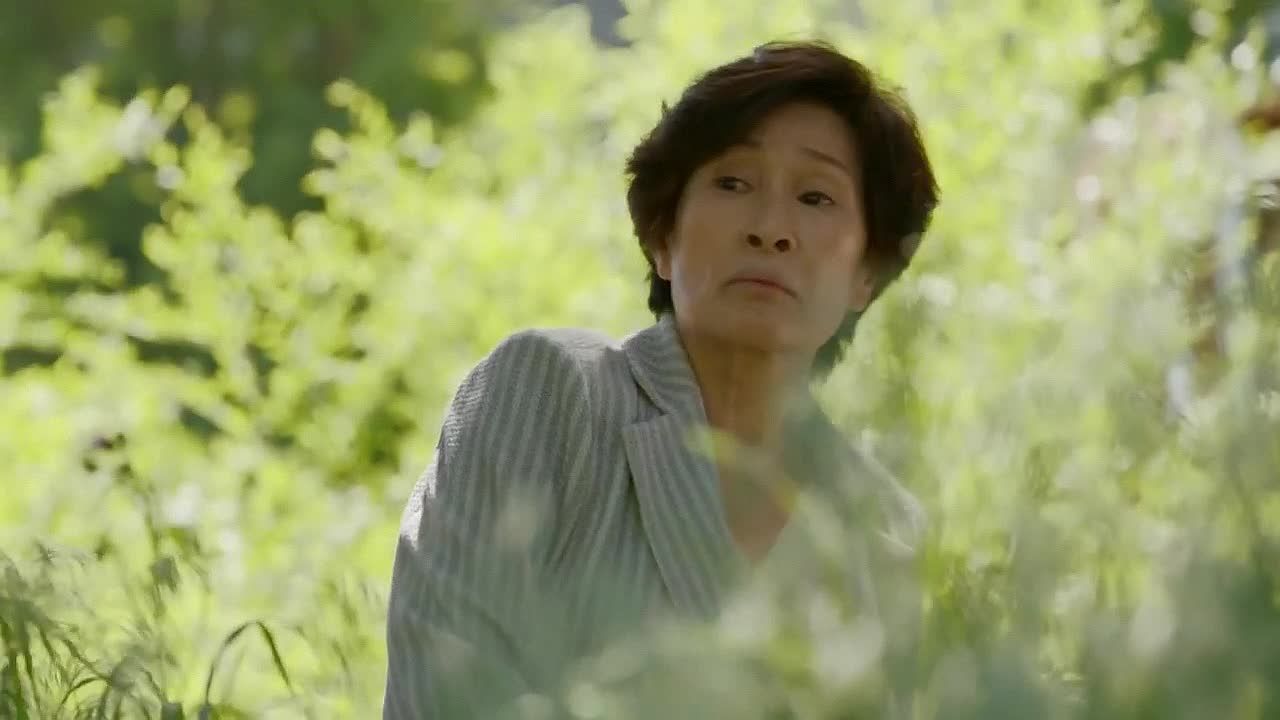 Seung-jae points out a tree for her, telling her to do her business while he figure out where they are. As she squats, Hee-ja grumbles to herself that she should have never left the house.
Seung-jae figures out where they are, delighted that they're not lost — it's just more overgrown than he remembers. He points out the bridge of rocks where he and Hee-ja first kissed. Hee-ja is unimpressed, wondering when they'll go back home, but she gamely takes off her shoes to carefully make her away across the rock bridge.
Seung-jae keeps chattering at her as she gingerly steps from one rock to the next. He tells her that he's still strong enough to carry her on his back if she wants. He's worried about her falling (as am I!), but it turns out that he's the one who slips and splashes into the river. That's what you get for trying to dance on the rocks.
He's unhurt, thank goodness, but Hee-ja just solemnly tells him that she can't help him and continues on. After they make it to the other side, Seung-jae's determined to take selfies. He's so excited while Hee-ja looks so uncomfortable, but she finally seems to get into the spirit of the "date" and starts to enjoy herself.
They finally reach the old house they used to meet at when they were younger, and sweet naive Hee-ja assumes that they'll be leaving after dinner. Seung-jae says it would be too difficult — he already drove five hours to get here, so he'll be too tired to drive all the way back.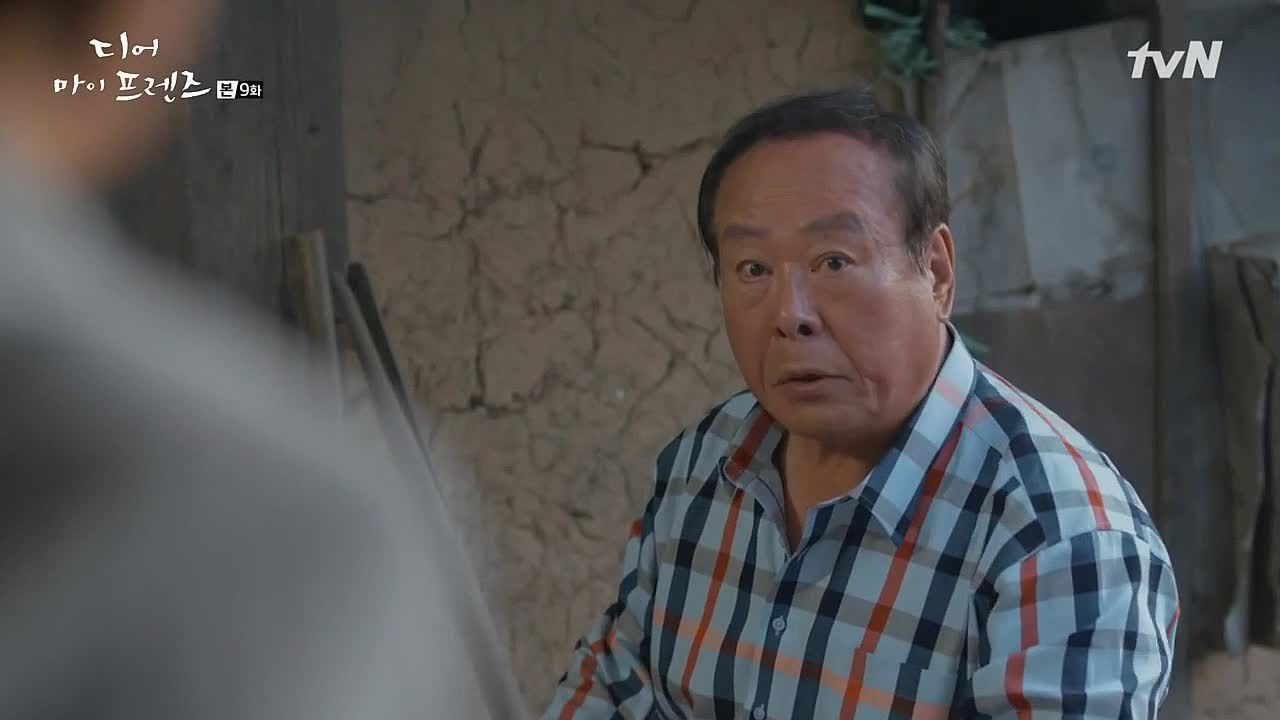 Hee-ja says they can call for a driver, but Seung-jae says that won't be possible. So she calls Young-won, explaining the situation to her and asking her to come pick her up. Young-won agrees with Seung-jae, though, telling Hee-ja to stay the night.
Young-won has her own old romance to consider, though, as she sees her ex-husband sitting in a coffee shop. Aw, it's clear from the look on her face that she still really loves him.
Seung-jae's got a fire going, thanks to his effort in chopping wood. As he sets about heating the floors of the old house, he says that he only has enough wood to warm one room, and besides, there's only one set of bedding since the person who set up the house thought they were an old married couple and he didn't want to embarrass Hee-ja by telling the truth. Ooooh, you sly devil!
It suddenly starts to rain, which does nothing to improve Hee-ja's dark mood. Seung-jae continues his merry song, fully embracing the romance of the weather, while Hee-ja sits inside, staring at the clock. She refuses to go to the only room that's warm, but finally steps out to sit next to him. As they watch the rain together, he takes off his jacket and slips it around her shoulders. Aw, he's finally rewarded by her smile.
Wan is in the middle of a video chat with Yun-ha, and she wants to know why he never said anything about the fact she didn't come back after leaving to attend to her sick mother — which conveniently coincided with the time Yun-ha was in the hospital after the accident.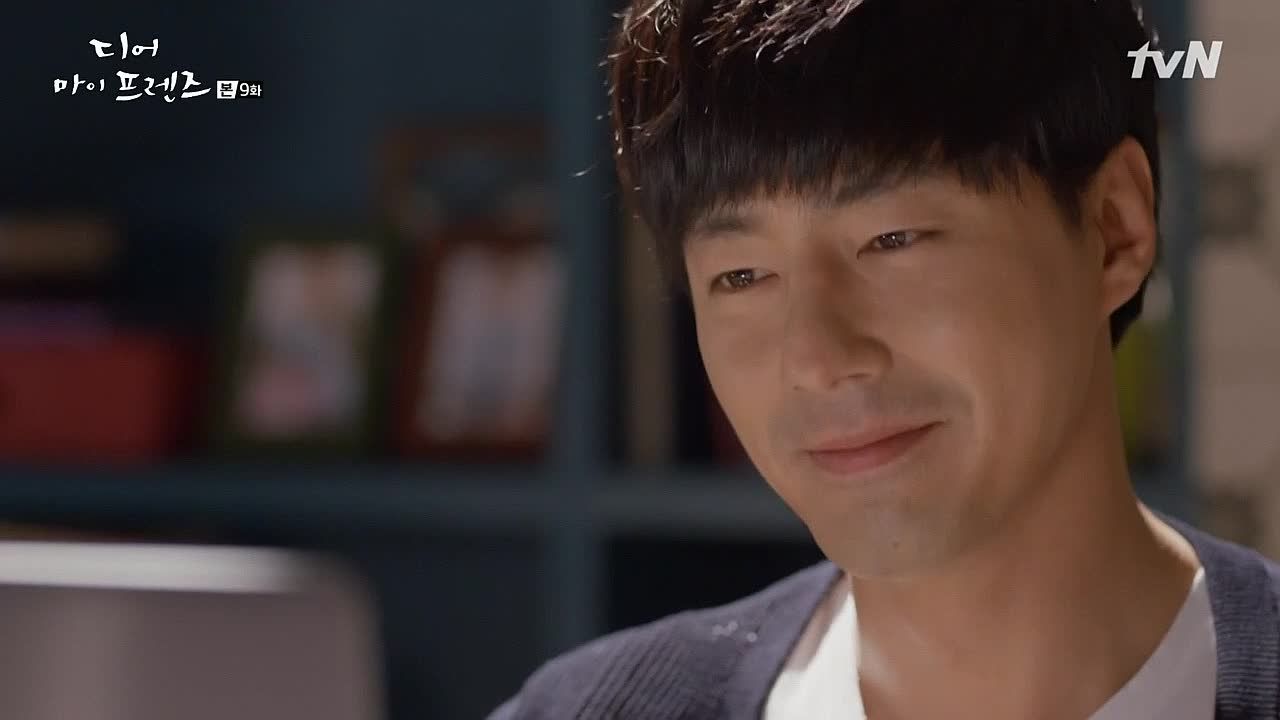 He admits that he knew all about it. Wan tries to hide her tears as she tells him that she abandoned him. But today she actually has the courage to apologize, and she repeats over and over: "I'm sorry." Yun-ha smiles and says she doesn't need to be, then he shuts off their video feed. Her computer screen now dark, Wan sobs, confessing that she misses him.
Nan-hee arrives at Wan's apartment building and begins to go up the stairs, stops, and puts Wan's phone in her mailbox instead. As she starts to walk away, she thinks better of it and retrieves the phone, determined to hand it to her in person.
Without a word, Wan lets her mother into the apartment, ignoring her after she retrieves her phone. Nan-hee notes that Wan's apartment is actually clean (and seems to notice anew all the photos of Wan and Yun-ha), then sets about putting away the food she brought. Wan tells her that a cup of tea would be nice, and Nan-hee practically lights up with joy at this invitation, curt as it may be.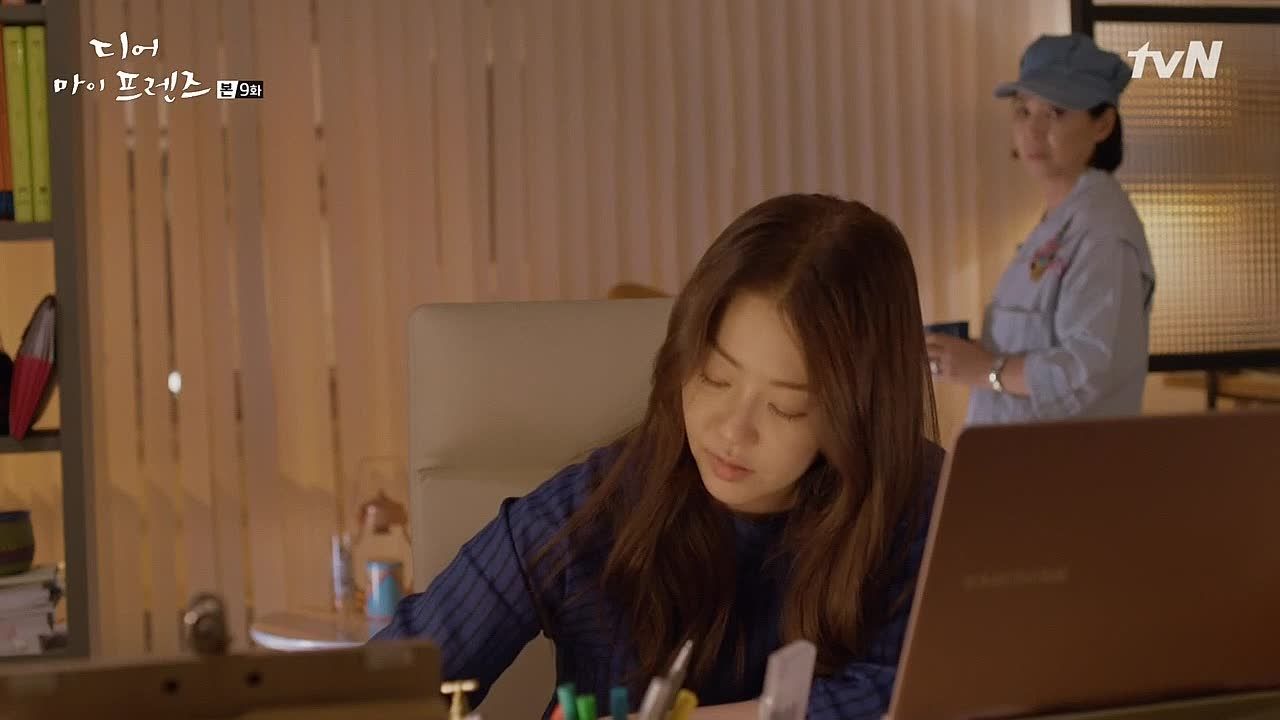 She sips her tea while Wan continues to work, admitting that she's glad the whole thing with Dong-jin was a misunderstanding. Wan tells her that she should just say she's sorry. Nan-hee carefully brings up Yun-ha, but Wan cuts her off, telling her it's not her fault — Wan was just scared, considering what had happened to her mother and grandmother.
She's also sorry that she didn't tell her mother that they were living together, but Nan-hee says it's at least nice to know that her daughter wasn't an old virgin. Wordlessly, Wan puts a bandage over the cut on her mother's arm, the cut she received last night from the broken shards of glass.
When Wan tells her to leave, Nan-hee does so, but she pops back in to briefly say that Jung-ah is getting a divorce. Even though Wan doesn't say anything in return, she can't help but smile. Aw, mother and daughter are both smiling and communicating again.
As Wan studies all the photos of her and Yun-ha, she finds the couple's ring he gave her years ago. Sliding it on her finger, she's reminded of all their happy times together. She muses that if she misses him so much, she should just go and see him.
Suddenly determined, she rearranges her work schedule and heads out. Anxiously sitting in the back of the taxi on the way to the airport, she can barely hide her excitement.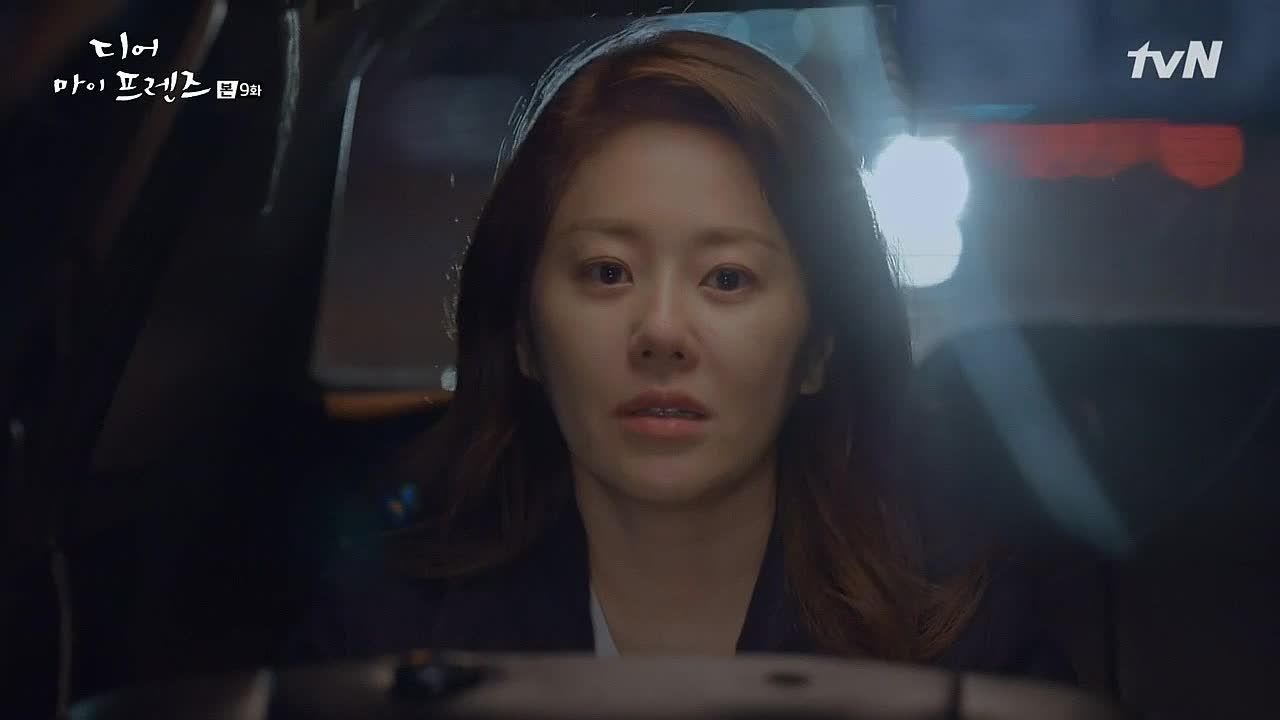 COMMENTS
I can't remember when an episode of this show ended with me filled with such hope. I feel like I ought to pinch myself, but then if this a dream, I don't want to wake up.
While this show has been consistently excellent, the episodes seemed to grow heavier and heavier with emotional turmoil that I would end up drained by the end of it. But in a good way, of course. If things kept on that pace, I just assumed I would be a soggy lump of tears once this show finally wrapped up. Not that I necessarily won't be a soggy lump of tears anymore, but at least I know some of those tears will be of joy.
Obviously the whole "poisoning your daughter" thing had to be addressed, and even if it only highlights how dysfunctional their relationship is, I really respect that Wan and Nan-hee were able to somehow talk through it. In their own way, of course, and there is undoubtedly still a lot they ought to discuss and work through, but at least it's out in the open. At least for a moment, their hearts were raw and real with each other, even if it wasn't very pretty. (It was also a sneaky way for them to be able to excuse the bandages on Go Hyun-jung's wrists from her non-filming-related burns instead of just using clever angles to try and hide them.)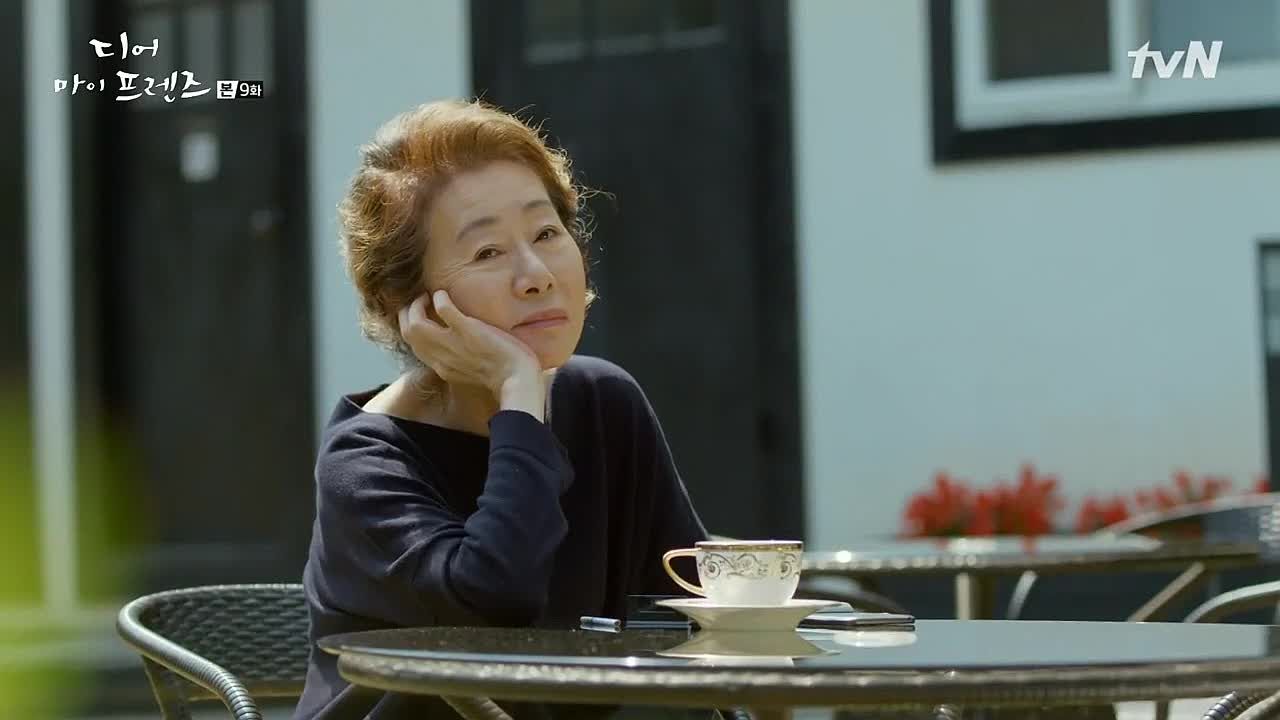 I'm mostly pleased that the aunties get to be cute and happy again. I don't know how long it will last, so just like them, I'll take each moment as it comes. I really respect Choong-nam for stepping up and deciding to do the right thing, even if it might not have been easy for her. I doubt she's gotten over her crush on Seung-jae that quickly, and even though she has her nephews, her invalid family, and those awful art professors, she's clearly still lonely. Yet she values friendship more than anything else, and so she'll set aside her desires and smile as she helps the man she loves woo the woman he loves. I love that.
I love Hee-ja, too, but I'm having a hard time getting a read on her. It's clear she likes being with someone, but she seems so determined not to show that she likes Seung-jae it makes me wonder how she really feels. Is there still something lingering from way back when, but because she felt abandoned, she won't allow herself to acknowledge it? Maybe — I don't know.
But what I do know is that this episode has convinced me that love is real and miracles can happen and everyone will live happily ever-after — or at least will have the opportunity to rekindle romance before it's too late. It just depends on whether or not one is brave enough to do so.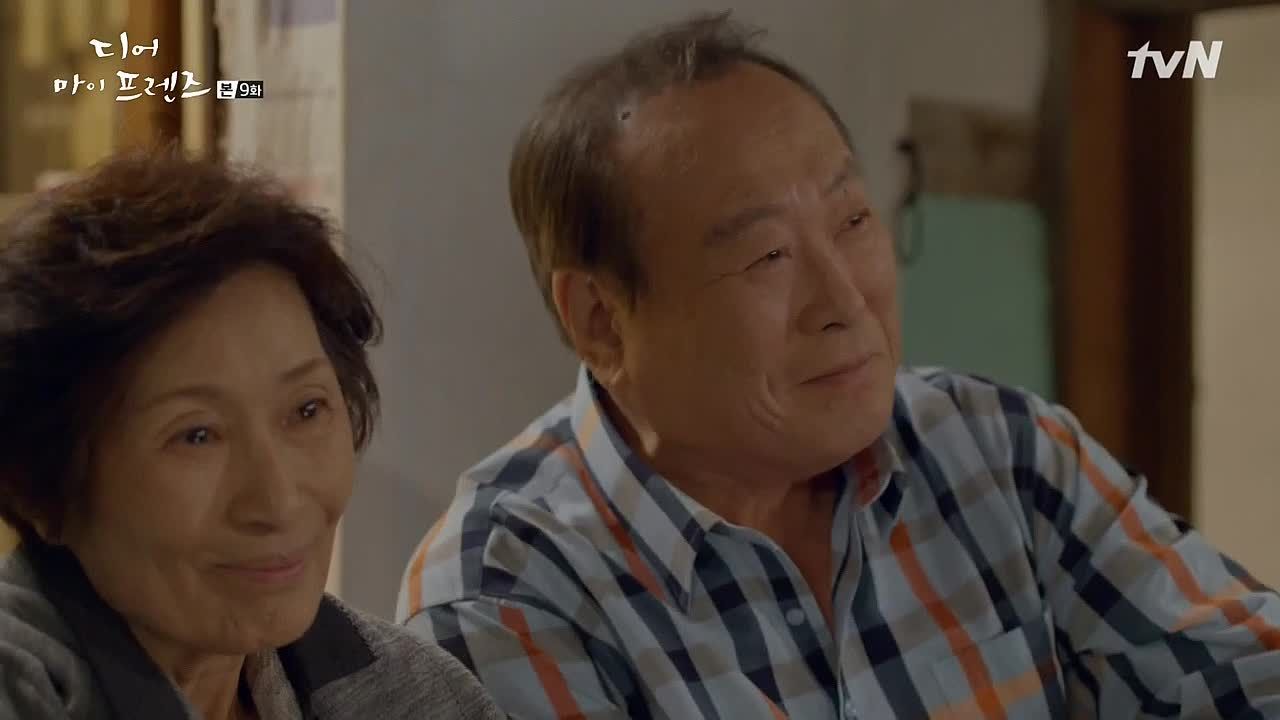 RELATED POSTS
Tags: Dear My Friends, featured, Go Du-shim, Go Hyun-jung, Kim Hye-ja, Na Mun-hee, Shin Gu, Yoon Yeo-jung