Doctors: Episode 1
Doctors may not be about doctors quite yet, but I can see a promising story to be told through the journey of becoming one, particularly with our hot-headed heroine. We start out with the backstory of our characters' involvement in each other's lives, looking back at the nature of their first impressions. Youth is a turbulent time for our heroine, and she's about to test the limits of her teacher, who's also no easy match for her. He's ready to instill purpose and meaning into his students' lives, even while he's searching for purpose himself.

EPISODE 1 RECAP
An ambulance speeds through the night to the emergency trauma center of the hospital. There, a woman ties her hair up in the locker room and narrates, "If you're destined to meet a person, you will eventually. The person I'm destined to meet is here."
The ER is packed with patients and full of action, and our narrator, YOO HYE-JUNG (Park Shin-hye) tells us that death may be a surprising thing elsewhere, but not here. The person she's destined to meet is not surprised by death.
A gang causes a scene in the ER, and just as one of the gangsters lifts his fist to punch a trembling doctor, Hye-jung grabs his arm and effectively throws him aside. She clarifies that this is a place for patients, so the irrelevant gang members should step outside for their hyung-nim to get treated.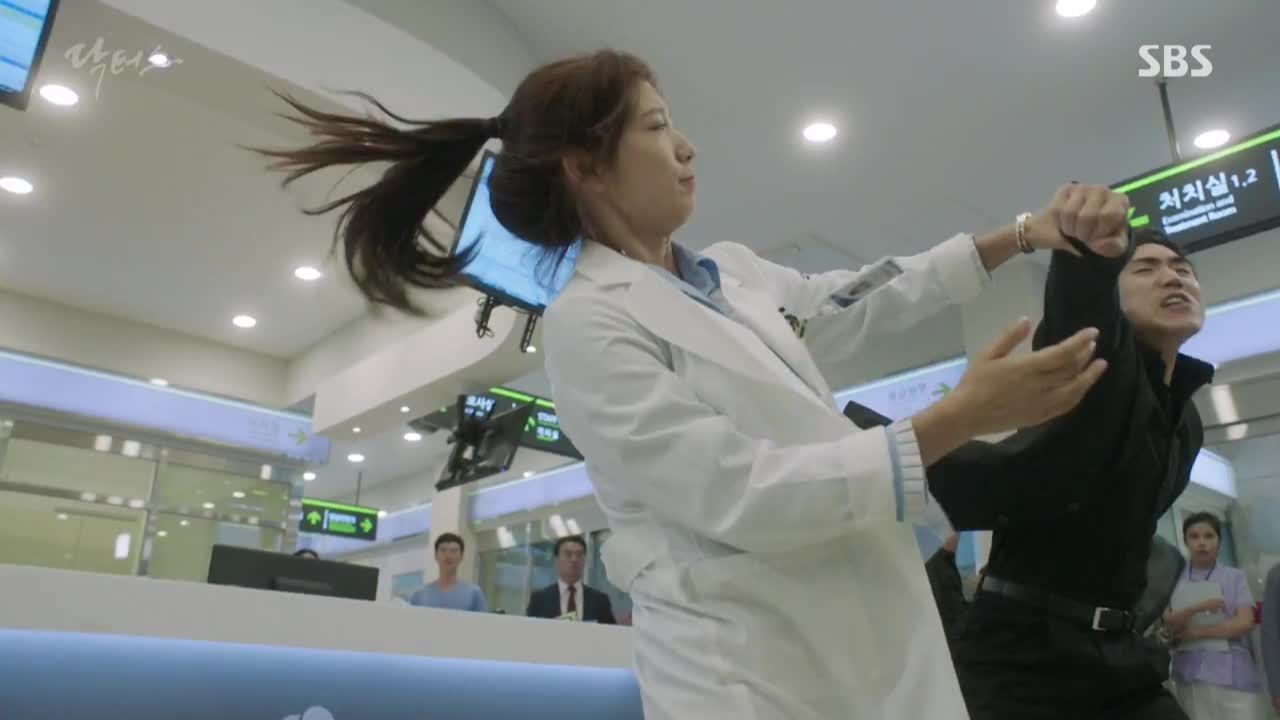 The injured hyung-nim (cameo by Lee Ki-woo) contends that he won't accept treatment from a woman, but Hye-jung argues that he's just a patient in her eyes and once again orders the gang members to go outside. They refuse and try to escort her outside, so she handles things the harder way — with force.
She flips and throws down the gangsters, single-handedly wiping out the whole gang — at one point tackling three guys at once — with her badass fighting skills. She apologizes for hurting them (and their egos, though she's surely not sorry about that) and promises to treat their injuries. Then suddenly, the hyung-nim faints on the bench, and Hye-jung becomes more demanding. Are they going to let him die? The gang gives her approval to treat him, along with a threat if anything goes wrong, and she gets started.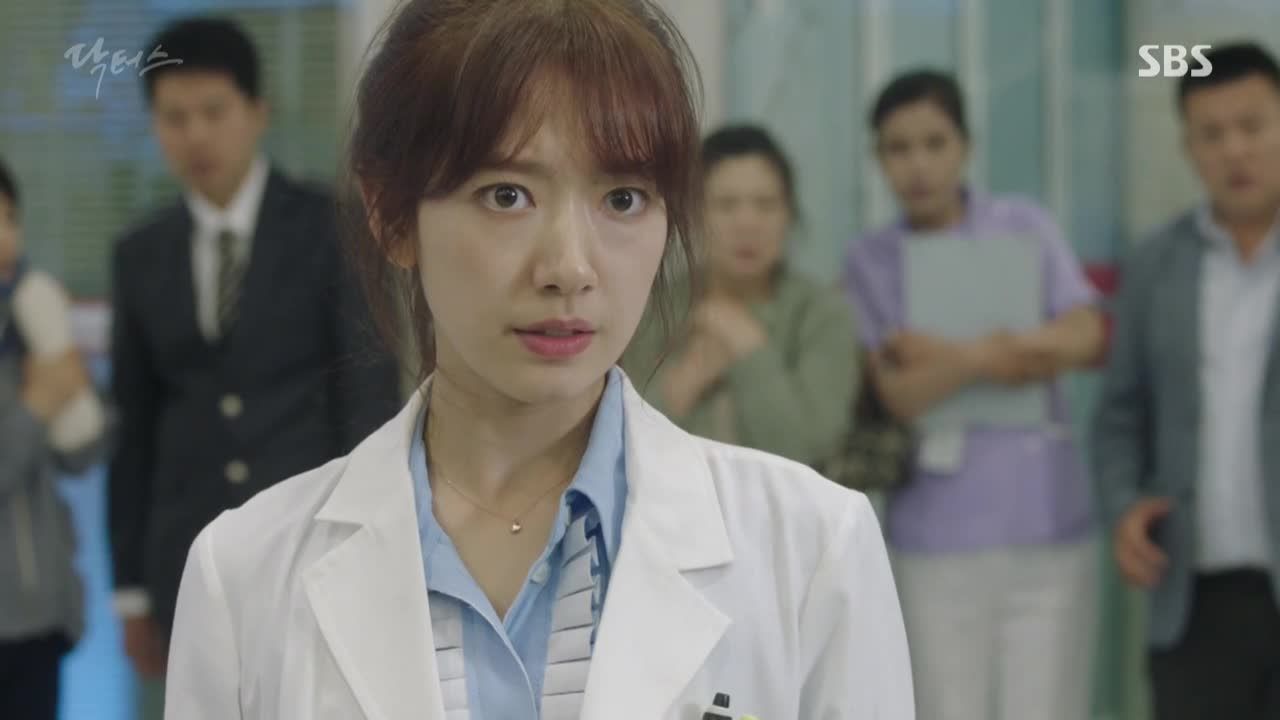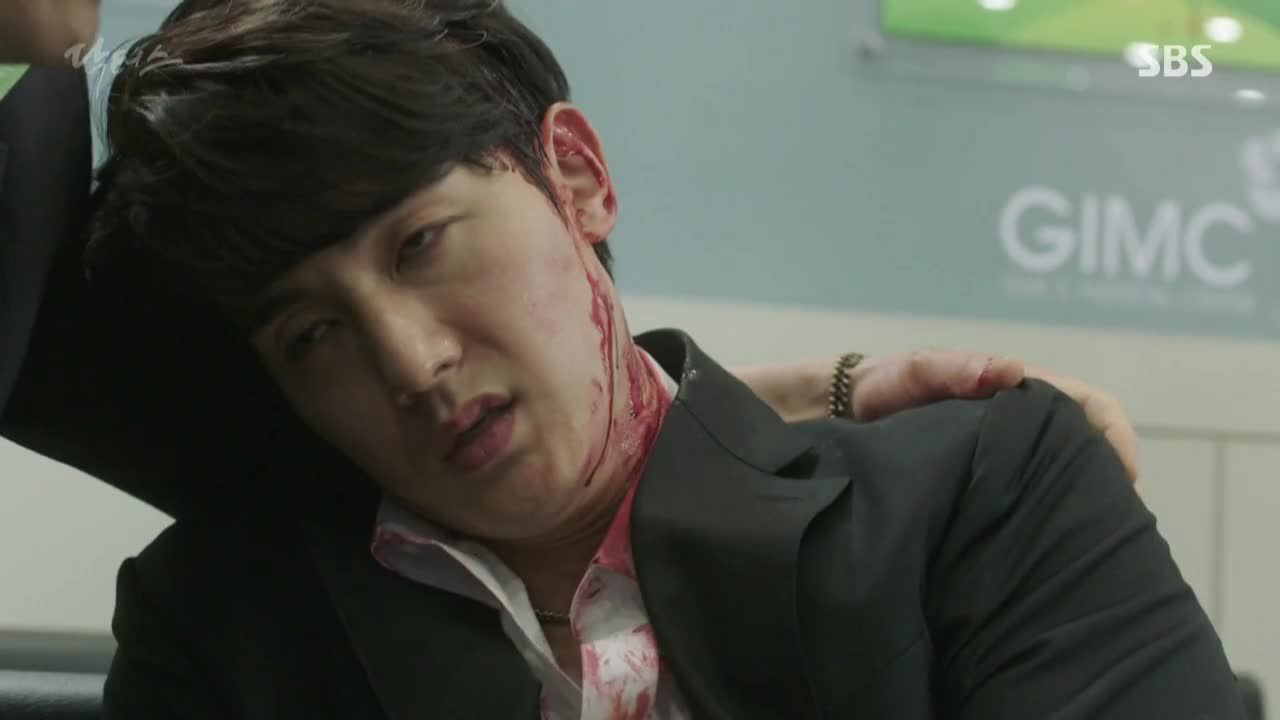 Thirteen years ago. Hye-jung sits in her school office, blasting music through her earphones. The teacher smacks her for not doing as told and says that she's getting off easy. For the sake of her father, who pleaded for her to stay in school, they're transferring instead of expelling her.
Hye-jung collects her things and kicks the chair as she walks out, but her teacher stops her, demanding a proper salutation. Rolling her eyes, she wishes her teacher a healthy life until she paints her wall with poop. That calls for another beating, but Hye-jung grabs her teacher's arm and reminds her that she's not her student anymore. Her teacher predicts that Hye-jung will end up in jail, and Hye-jung warns the teacher to watch her back at night. "You're the devil," her teacher responds.
Hye-jung's dad waits for her at school and warns her that he won't be able to support her forever. Hye-jung scoffs that Dad makes it seem like he's a good father, coming to school to beg and all.
In the car, Dad asks how Hye-jung is going to live, and she says that she's going to live carelessly. He hits her multiple times, but Hye-jung doesn't lose her disdainful attitude. She looks at Dad and tells him to kill her instead, just like he did to Mom. He looks at her, a little frightened, and asks why she doesn't cry. She looks back fiercely and says, "Because my heart is already dead."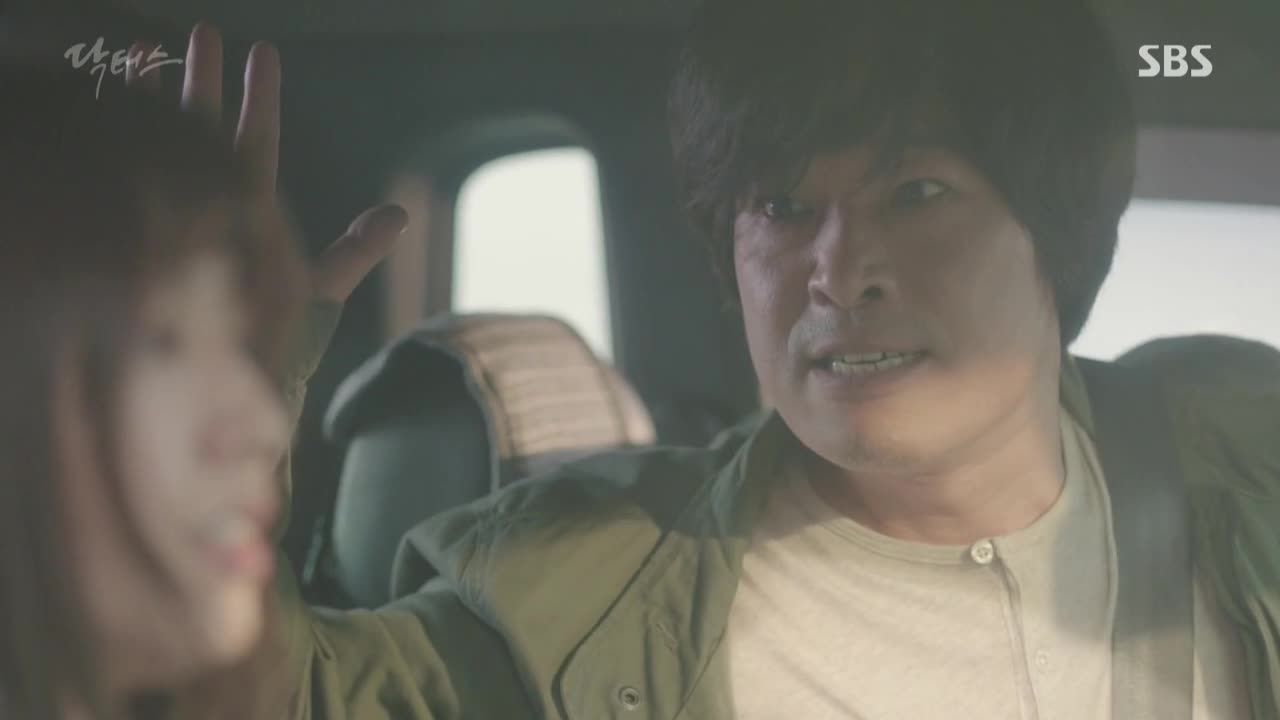 Dad drives Hye-jung to her grandma's place in the country and dumps her things out of the truck. He tells her that their relationship is over now, though Hye-jung insists that it was already done when he brought that woman home. That woman is her stepmom, and clearly Hye-jung doesn't approve. Dad dumps an envelope of money on the ground before he drives off and officially cuts off ties.
After he leaves, Hye-jung breaks down in tears, admitting that she's been waiting for the day that Dad would abandon her. Today's that day, and she cries as she calls out for her mom.
Grandma (Kim Young-ae) sees her crying but knows to ignore it. She curses at her son for not properly greeting his mother and carries Hye-jung's bags inside the restaurant. As Hye-jung eats, Grandma tells her that she has to behave to stay in school, but Hye-jung bluffs that she's used to being kicked out and abandoned. Grandma shuts her up by saying that she won't ever abandon Hye-jung and advises her to hide some parts of herself so others don't step all over her.
Hye-jung disagrees and says that it's better for her to reveal all and be confident in herself so that she's not affected when others step on her. Grandma nods in agreement, to which Hye-jung mutters at how she's the first adult to admit that Hye-jung is correct. Grandma wonders who Hye-jung has met all these years for her to say such a thing, and she wishes that Hye-jung would meet a good teacher. Hye-jung shakes her head, doubting that a good teacher exists.
As a teacher bikes into the school in the morning, he calls out JIN SEO-WOO (Lee Sung-kyung) and jokingly threatens to take away points if she doesn't run after him. After parking his bike, he orders Seo-woo to drop off a model at the science room, and she asks why he always picks on her. She knows why, and they answer at the same time: "Just because."
Seo-woo's friend (also the principal's daughter), Chun Soon-hee, carries her backpack through the hallway, and they wonder why Hong "Just Because" always picks on her. He must know that her father is the hospital director, since her mom always visits the school. Soon-hee offers to accompany her to the science room, but Seo-woo insists that she can go alone.
Teacher HONG JI-HONG (Kim Rae-won) settles down the classroom chaos and begins by gently scolding the rowdy girls for their informal dress and another student for her make-up. He reminds them of their upcoming midterm (grooaaan) and advises them to really think about what they want to do with their lives instead of mindlessly hitting the books.
Hye-jung sleeps in with her cute lil' puppy until Grandma wakes her up to go to school. Grandma is set on going to school with her to complete the transfer process, but Hye-jung insists that she can do it alone — after all, it's not her first time transferring. She asks Grandma for money to buy her uniform and heads off.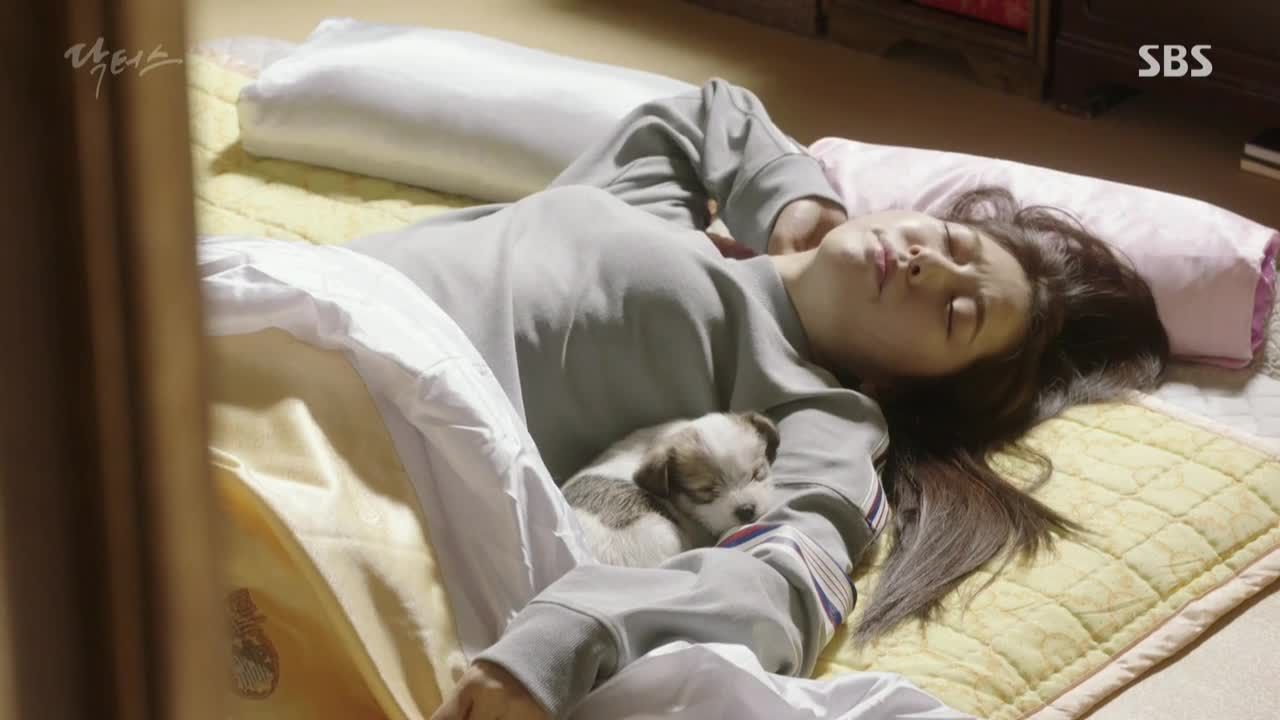 After school, Seo-woo gets picked up by her mother, who criticizes Seo-woo's homeroom teacher, Ji-hong, for leaving school early without forcing the students to stay for late night studying. Seo-woo notes that he has plenty of hobbies, like going to the music store, and Mom finds it suspicious that Seo-woo would know that about Ji-hong. Does she have a crush on him? Seo-woo denies it as she flips through her notes.
Continuing her criticisms, Mom says that Ji-hong's spot at Seoul University's medical school should have gone to Seo-woo's father and nags Seo-woo to fulfill her father's dreams of going to Seoul University. Seo-woo responds with frustration, saying that it's no easy task.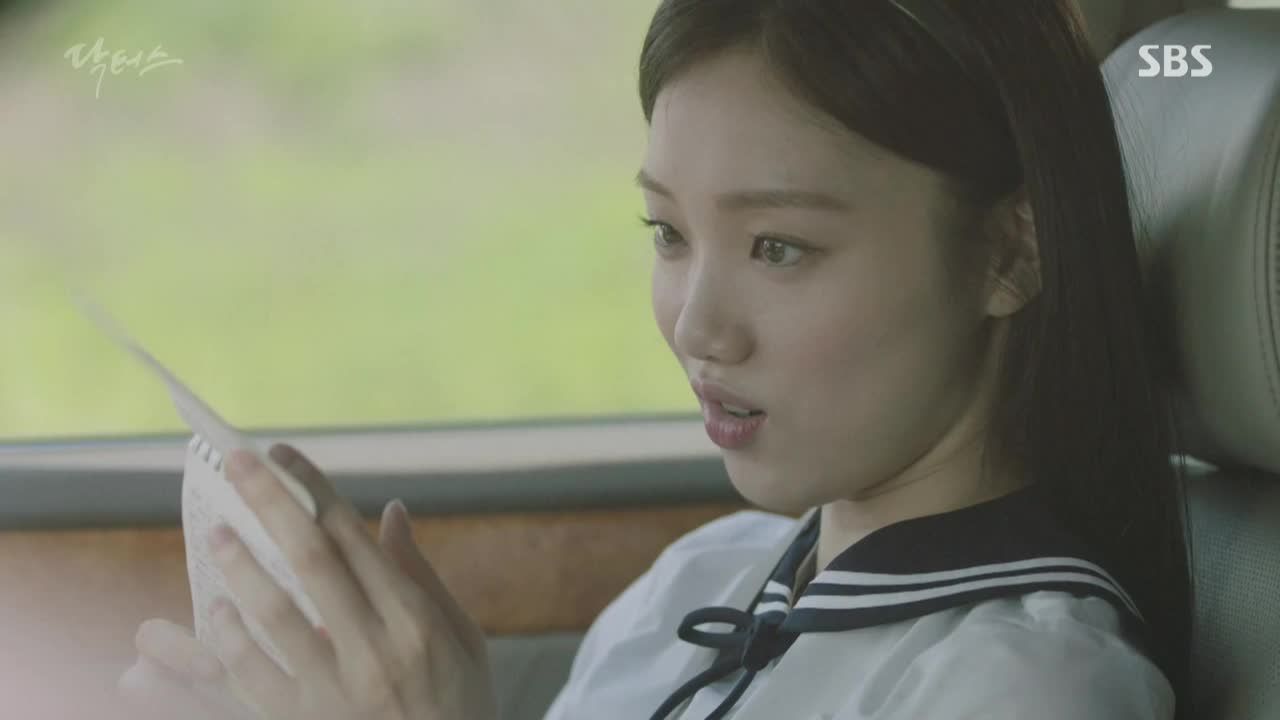 At the music store, Hye-jung browses the selection as does Ji-hong in the aisle behind her. As he asks an employee about a CD, Hye-jung slips a CD under her jacket and walks toward the exit. The owner of the store stops her and empties her bag, suspecting that she stole something. He reaches for her jacket, but Hye-jung flinches and yells at the man for falsely accusing her.
Ji-hong steps in and convinces the owner to trust her word. He claims to know students very well and helps her get off the hook. Hye-jung maintains her haughty attitude and claims that she's not a student before walking out.
In the bathroom, Hye-jung unzips her jacket and puts the hidden CD into her bag. As she walks past Ji-hong outside, he asks if she's happy with the outcome. He claims to have only helped her out because she's a student, and even though she argues that she isn't, he can see right through her act. He only gave her that chance because of her clumsy act, and Hye-jung asks why he's bothering her now. He answers, "Just because."
Hye-jung asks if he has some sort of Lolita complex and says that the phrase "just because" is used between lovers to explain irrational behavior. Ji-hong acknowledges her clever mind but argues right back, explaining that he doesn't throw pearls to pigs. He uses the phrase "just because" to flaunt his intelligence to those who won't understand him anyway. Hye-jung nods at the explanation and continues on her way.
But Ji-hong won't let her go this time. She asks for proof of theft, so he tries to wrestle her bag out of her grip. Unwilling to get caught, Hye-jung kicks him in the shoulder, and he ends up on the ground, shocked. But he reciprocates the shock when he gets up and suggests that they should date, since he's never had a woman treat him so roughly. Hye-jung calls him crazy and asks if he wants a criminal record, since she's a high-schooler. Aha, he just got her to admit to being a student.
Next, Ji-hong asks her to admit to stealing the CD, which is now on the ground. Hye-jung comes clean and agrees to go back to the store to apologize. But she's quick on her feet and tells Ji-hong to get lost before running to catch the bus.
Grandma prepares the table with side dishes and muses about how blood is thicker than water. Then, she pounds her chest and says that she hasn't been able to go to the doctor yet. She looks around for Ji-hong, waiting for him to arrive.
A car pulls up next to Ji-hong, and the woman in the car jokingly asks for directions. She's Ji-hong's good friend and colleague, JO IN-JOO (Yoo Da-in), who's now in her second year residency. They have a fun rapport, but she's here with a more serious matter. The hospital director, Ji-hong's father, has a vestibular schwannoma surgery today. His father didn't tell him about the procedure, but he's ready to head to Seoul right away.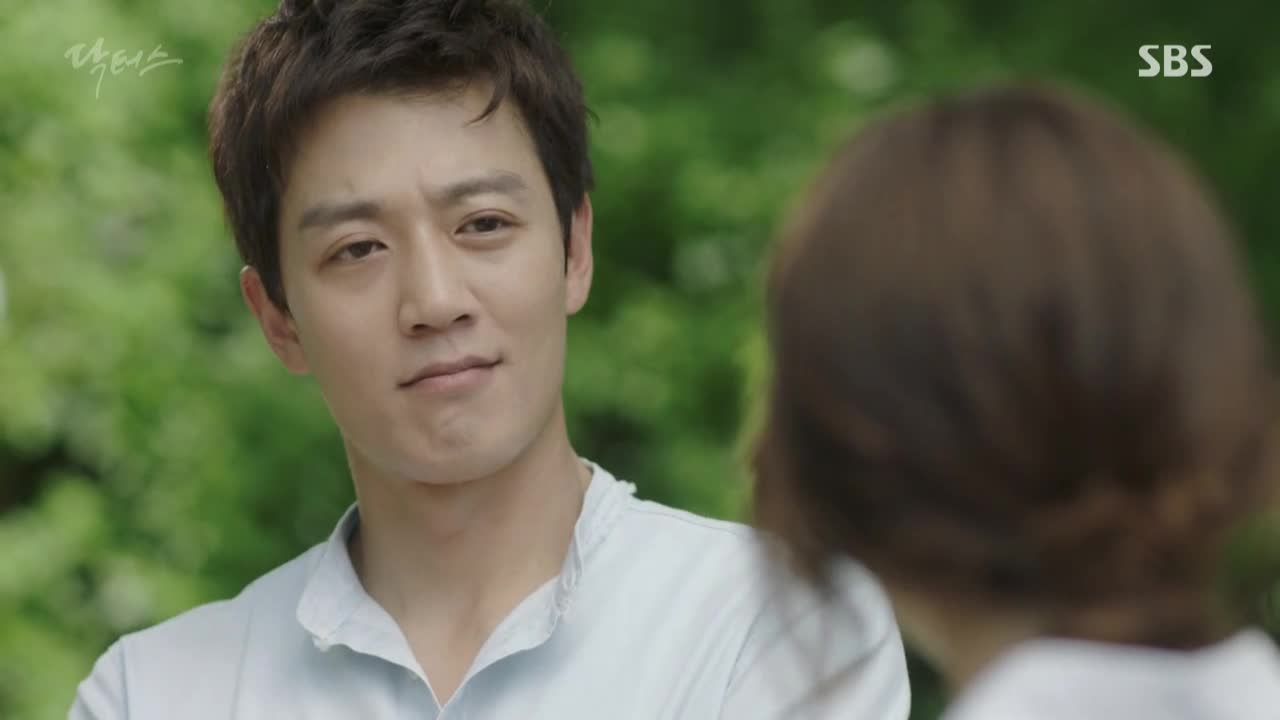 As he tries to stuff his bike into the trunk, In-joo assures him that they have time to eat and tell Grandma that they're going to Seoul. Ji-hong tells her to stop dropping by Grandma's place because Grandma misunderstands their relationship. In-joo tells him that there's nothing to misunderstand and casually proposes to him again. After six years in medical school and eight months as interns together, she argues, they've basically already dated so they should just get married. Ji-hong laughs off her offer and rides away on his bike.
Hye-jung ignores a call while shopping and notices a crowd of girls from the school pass by. Soon-hee is among them, and she's bullied by the other girls in the bathroom. They only invited her to go to the club because they wanted to steal her money. Just as they find her wallet, Hye-jung walks into the bathroom in her new all-black outfit.
She continues to stand in the bathroom even when the bullies tell her to get out, so they pounce on her. Luckily, she's no stranger to fights and easily defeats them. After kicking and slapping them in place, she takes the wallet and tells them to get lost. Soon-hee looks at her savior with eyes full of adoration.
Hye-jung walks out with the wallet and takes out half the money as the cost of saving the girl from the bathroom. Surprisingly, Soon-hee offers her all the money and calls her unni out of respect. Hye-jung knows better than to accept all the money and can tell that the girl is trying to latch onto her. She tries to shake the girl off, but she's inadvertently got a new follower.
Ji-hong arrives at the hospital late due to traffic, and he stops right in front and remembers the proud moment shared with his father when he entered the hospital as an intern. In that moment, his father also told Ji-hong that he liked him ever since they first met. Ji-hong tries to walk away, but In-joo drags him into the building. She knew this would happen.
The surgery goes well, and the co-director of the hospital, Director Jin, meets with son JIN MYUNG-HOON (Eom Hyo-seob), also Seo-woo's dad. Director Jin assures him of a promotion, though he's still bitter that his son didn't get into Seoul University. Even though they argue about when Myung-hoon will be moved out of the small-town hospital, Director Jin reminds him that they'll inherit the hospital eventually. Director Hong only has an adopted son, and their relationship can easily be severed because they aren't related by blood.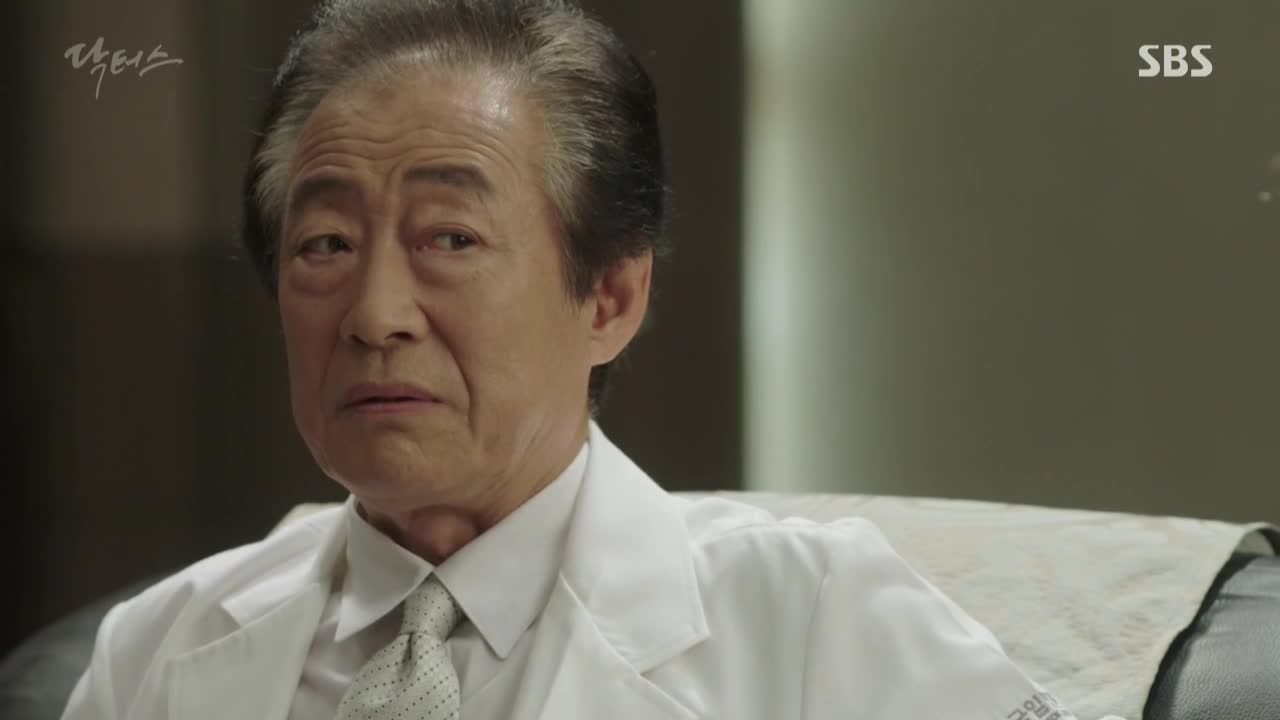 Ji-hong enters his father's hospital room and nags him for undergoing a major surgery without telling him. His father didn't want to worry him, but Ji-hong says that he's obviously worried because he's his son. Ji-hong warns his father not to hide things from him again, and his father agrees to do so.
At the club, school bully Mi-ra dances and asks for Soo-chul, but his friend says that he's onto another girl. That other girl happens to be Hye-jung, and she tells SOO-CHUL (Ji-soo) that she doesn't play with high-schoolers. He knows she's lying and attempts to lean in for a kiss, but Hye-jung head-butts him and asks if she looks like a pawn.
She tries to pull him into a rear wrist lock, but he grabs her from behind and responds, "I don't go easy on girls, except on my girl." Hye-jung throws a punch at him, and he catches it, rather impressed. He offers to get punched if she agrees to be his girl, and she walks away in response.
On the dance floor, Hye-jung sees familiar faces — bully Mi-ra from the bathroom as well as the bullies from her former school. They bump into each other, and just as they approach each other to fight, one of the girls recognizes Hye-jung. They've got a bone to pick with her and offer a last fight as a farewell gesture.
Hye-jung kicks the old bully and taunts her to fight, if they think they can beat her. Mi-ra offers to join, but her posse tries to hold her back since they got beaten earlier. That doesn't stop Mi-ra, and now Hye-jung is facing all her enemies, old and new.
Hye-jung dives into the fight, and though she suffers some blows, she's able to fend for herself. It causes some real havoc in the club, as the girls start to get involved in other fights. Soon enough, the police arrive on the scene, and Hye-jung watches the chaos being forced to a halt. Then, someone grabs her hand to escort her away. It's Soo-chul, and he takes her away with a wink.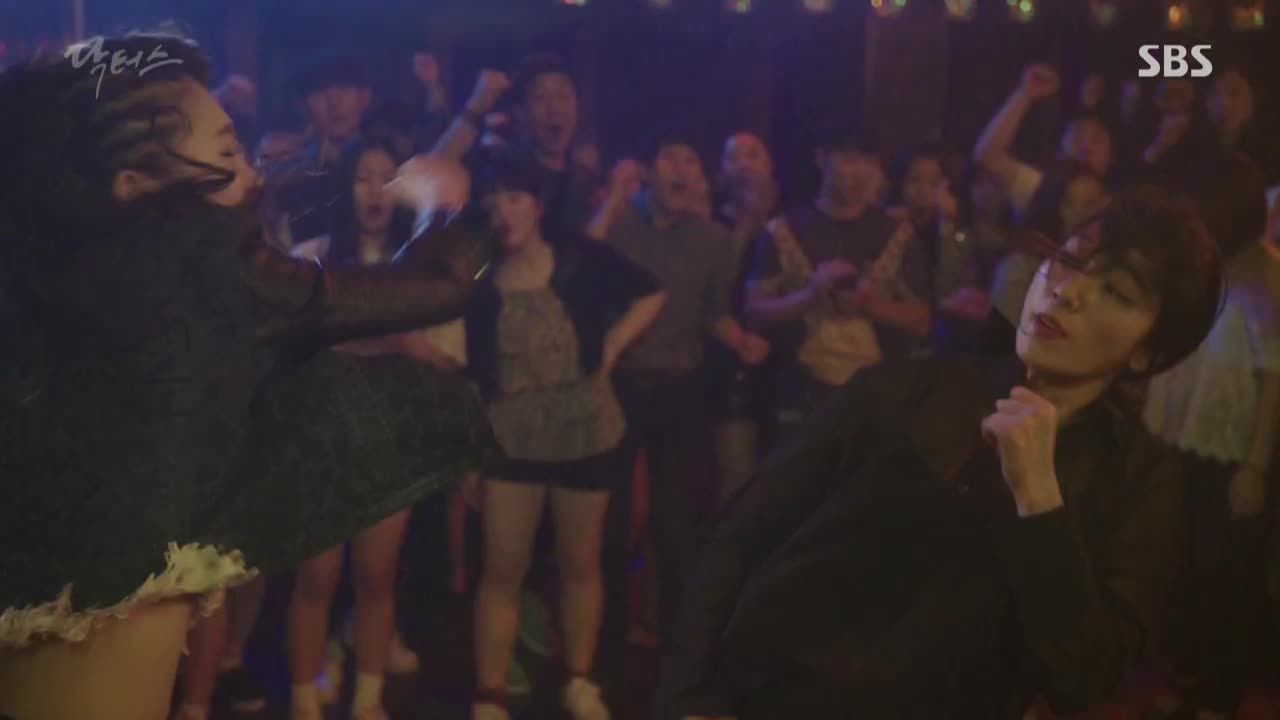 Ji-hong meets with his sunbae KIM TAE-HO (Jang Hyun-sung) during his surgery break to thank him for taking care of his father. Tae-ho advises Ji-hong to return to the hospital and take responsibility, as he'll surely inherit his father's hospital, but Ji-hong claims that he enjoys his teaching job.
Tae-ho warns him about Director Jin and his son lurking around the hospital often, but Ji-hong isn't against the power reshuffling at the hospital. He speaks like a true teacher, saying that those without power should experience power to understand it. Tae-ho shakes his head at his complicated reality, and their conversation is cut short by a phone call from the police station.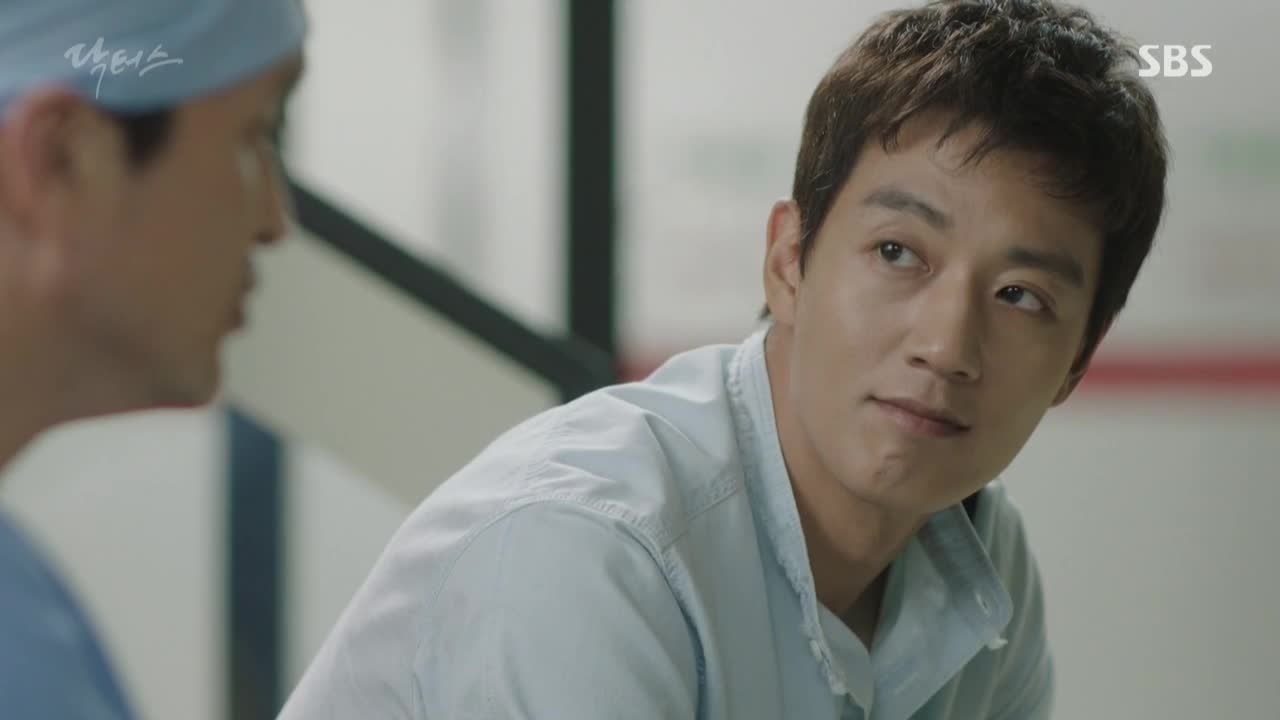 Hye-jung gets on the back of Soo-chul's motorcycle, and they ride off with the police chasing after them. Ji-hong arrives at the police station and claims his two bully students, who cringe at the sight of their homeroom teacher.
Ji-hong takes his students out to eat and scolds them for getting involved in violence. He knows it's no use telling them to stop fighting, so he tells them not to get caught. If they don't get caught, it's a personal issue. But if they get caught, it becomes a social issue, and they don't have an adult to be liable for them. Ji-hong pays for the meal and leaves Mi-ra with a slip of paper with information she requested: her mother's contact information.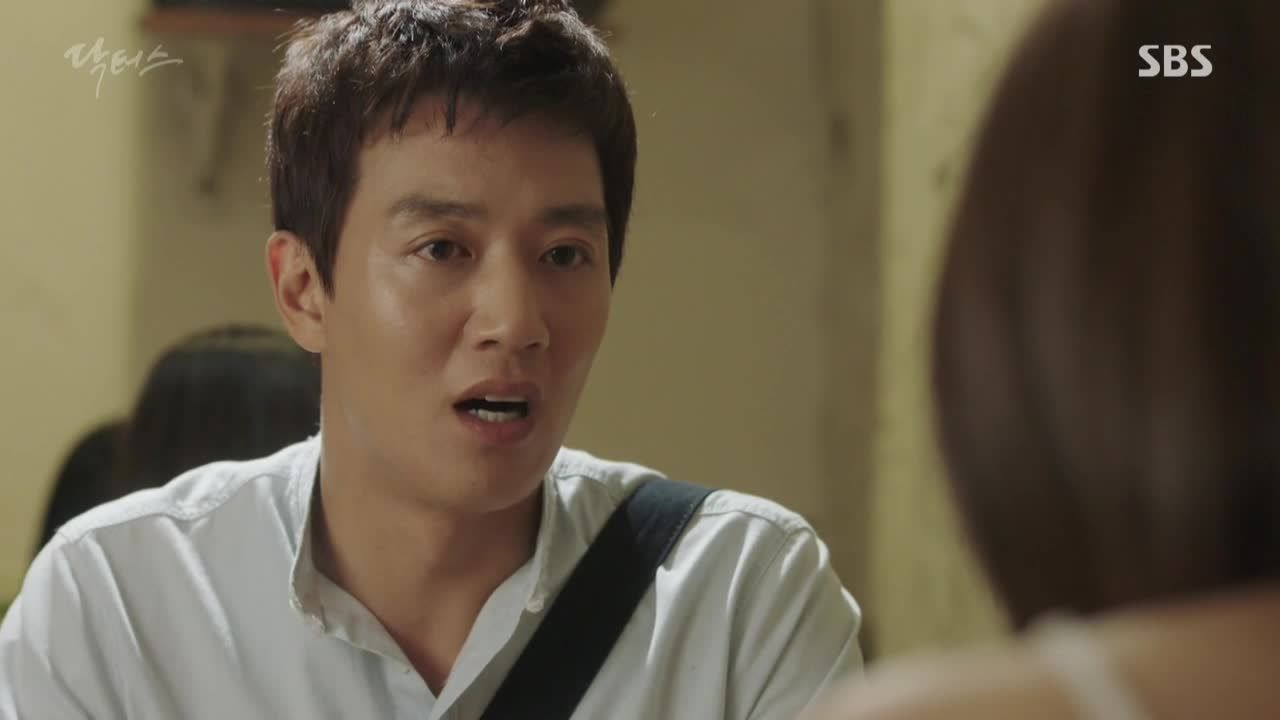 Ji-hong arrives at Grandma's place and asks why she's pacing outside. Grandma excitedly reminds him that she's living with her granddaughter now, and that's who she's waiting for. Speaking of the devil, a motorcycle rolls up and Hye-jung jumps off.
Grandma looks startled by Hye-jung's appearance and company, and Soo-chul salutes before zooming off. Ji-hong looks at her, arms crossed, and she does a double take. Grandma introduces her to Ji-hong, and Hye-jung gives him a meek side bow.
Ji-hong reveals that they met at the music store and tells Grandma about the theft. Hye-jung denies it and claims that she's meeting Ji-hong for the first time. Grandma takes her side, but Ji-hong argues that a thief can easily lie as well. Still, Grandma defends Hye-jung and scolds Ji-hong for his suspicion. How's he going to get married with all that suspicion?
That awkward change of topic ends the conversation, and Grandma nudges Hye-jung inside. Hye-jung mutters about her bad luck with Ji-hong, who's a teacher and also happens to live with them at Grandma's. Grandma asks if Hye-jung bought her uniform, and she confidently states that she didn't because she's not going to school. Grandma asks if she's not going to school, what is she going to do? Hye-jung says that she'll just sell alcohol and sell her body, like Grandma used to do.
Grandma slaps her and chastises her for saying such things. She's not living with Hye-jung so she can ruin her future. Hye-jung argues that Grandma was forced to take her in, but Grandma refutes that she asked to live with Hye-jung. She pities the life that Hye-jung's mom suffered through because of her son, and Hye-jung becomes defensive. She yells at Grandma to watch her mouth, and Grandma tells her to do the same.
Grandma is trying to take good care of her now in hopes that she can change her life. At sixty, she's trying to change her personality for Hye-jung. But Grandma's tough love personality comes out, and she tells Hye-jung to live however she wants — it's her own life.
Hye-jung storms towards her room, but she's caught by Ji-hong, who warns her about using violence. He really hates it, so as long as she can resist the urge to be violent, they'll get along just fine. Unable to hold in her anger, Hye-jung kicks some nearby buckets and storms into her room.
As Hye-jung sleeps, Grandma takes a long look at her granddaughter and apologizes for hitting her face. She blames her uneducated self — she doesn't know how to channel her anger outside of hitting, yelling, and cursing. She tells Hye-jung to go to school so that she can be a good famous person, instead of a person like Grandma.
Grandma goes back to sleep, and Hye-jung opens her eyes, having heard everything. She tears up and apologizes to Grandma. Then, she hears Grandma snoring and listens close just to make sure she's still breathing. Heh.
Hye-jung recalls good memories from when she was younger and narrates: "I realized then that when good memories and good people coincide, you want to become a better person."
Ji-hong returns from his morning bike ride, and Grandma tells him that Hye-jung will be learning the restaurant business instead of going to school. He gives her a thumbs-up while Hye-jung pouts in her new misery. Grandma uses Hye-jung as her grocery basket, and Hye-jung trails along after her carrying giant bundles of food. After some thought, Hye-jung confirms that Grandma would be happy if she went to school. Since Grandma is putting effort into changing her personality, Hye-jung decides to put that same effort into going to school.
Grandma compliments Hye-jung (getting down the right caring phrase on her third try), and Hye-jung drops all the heavy groceries on the ground. She's going to school. Grandma just laughs with joy.
At school, Hye-jung gets introduced to her new homeroom teacher, and of course, it's Ji-hong. He tries to get out of it, especially since he already has a few problem students in his class, but the principal insists. Ultimately, Ji-hong takes her in.
Ji-hong brings Hye-jung into the class, and she's recognized by the bullies and Soon-hee. As she takes a seat in the back, Ji-hong orders the bullies caught at the club to meet in the science room. They don't let Hye-jung get away with this and accuse her of starting the whole fight, so she also gets sent there with them.
In the science room, Ji-hong tells the students that they'll be writing apology letters for the next week, and Hye-jung rebels. She'd prefer to be hit as punishment over apology letters, and she argues that she shouldn't be punished since this incident happened before she became a student here.
Ji-hong ponders over his options and decides to do it her way. He sends the rest of the students outside and grabs the stick. He knows that Hye-jung is asking him to do what he hates, and he complies, "Let me show you how good I am at what I hate."
As he lifts the stick and swings it down, Hye-jung narrates, "Whether it's good or ill fate, you never know how you'll first meet that person."

COMMENTS
Oh, I'm intrigued. Still weirded out by the student-teacher dynamic and this last scene, but I honestly think that it'll get better. It's interesting how the show mentions the Lolita complex (very briefly, but it does), almost as if it's assuring us that the age gap is not being overlooked and also foreshadowing what's to come. But with the age gap acknowledged and put aside, I really like Hye-jung and Ji-hong as their two headstrong characters. I enjoy watching them together and seeing them butt heads because they stubbornly believe what they believe.
Hye-jung is not super likable quiet yet, but I'm invested in her character because she has so much potential for growth. Though she's full of imperfections and a troubling immoral compass, she's not completely beyond redemption. I love her blasé attitude and stark perspective on reality because she keeps it real, but I also hate it because she only keeps digging for rock bottom. More than her relationship with Ji-hong, I see her relationship with Grandma being a major impetus for change in her life, as we've already seen with her decision to attend school. Hye-jung is overly realistic with her circumstance and tries to shield herself from further harm by wallowing in her inevitable failures, but Grandma is there to prove her wrong. Grandma's at her side to push her to try and overcome her misfortunes, even though it may take her three tries to get the tough out of her tough love. Hye-jung is much more like Grandma than she realizes, and I love that she's the one adult that Hye-jung trusts in her life. I absolutely love Grandma and know she'll be central to both Hye-jung and Ji-hong's lives.
I think this may be my favorite character that Park Shin-hye has done yet, and it might have to do with the novelty of the character. You don't see too many badass female heroines, especially ones who fight like that. It's rare to have such a bold female character, let alone have Park Shin-hye play her. I've never really doubted her ability to act, but she always seemed to choose the same sort of characters that mainly utilized her pretty crying and artificially squeaky voice. She's channeling some other dimensions of her acting into this role, and I certainly approve of her portrayal of the character so far. I like the feistiness, and I hope we get to see more badassery throughout the drama, even if it's not via a physical fight. Although, I wish I could look as cool as her in a fight.
We've got a lot of side character action going on, but I like their small additions to the story. We've got slimeball Ji-soo and honest friend Yoo Da-in, and they're not even the "main" second leads that emerge later on in the doctor phase of this drama. It's definitely bigger than a triangle and more complicated than a hexagon, but I'm not too worried about keeping track of it all. They seem more like catalysts than obstacles to the story — let's just hope it stays that way.
And of course, we can't forget to discuss the forever perfect oppa Kim Rae-won as Ji-hong. He's great for this role, but also, he's great in any role, really. It's just a matter of compatibility with the cast, and it's looking pretty good to me. I think his character arc is secondary to Hye-jung's growth, but I'm interested in understanding his motivations. We're not told what caused his sudden change of heart to become a teacher, but the trauma still lingers. It's a trauma that's impactful enough to hold him back from dutifully taking on the obligations of being his father's son at the hospital. And based on their interactions, it seems like Ji-hong really tries to be a supportive and reliable son.
As pompous as he sounds, I do like Ji-hong in academia and wouldn't mind keeping him there for longer. He's full of moral obligation to teach his students the path to their own success, and that's what you want in a good teacher. He's also got the right attitude and amusing tone of voice when speaking about the relativity and complexities of reality. He sounds infuriatingly professor-like, but I adore it. Of course, I'm sure to be enamored of his doctor side when he gets there, so I guess I just get the best of both worlds. I couldn't really tell you what about Ji-hong (or maybe Kim Rae-won) is so mesmerizing, but I like him. Just because.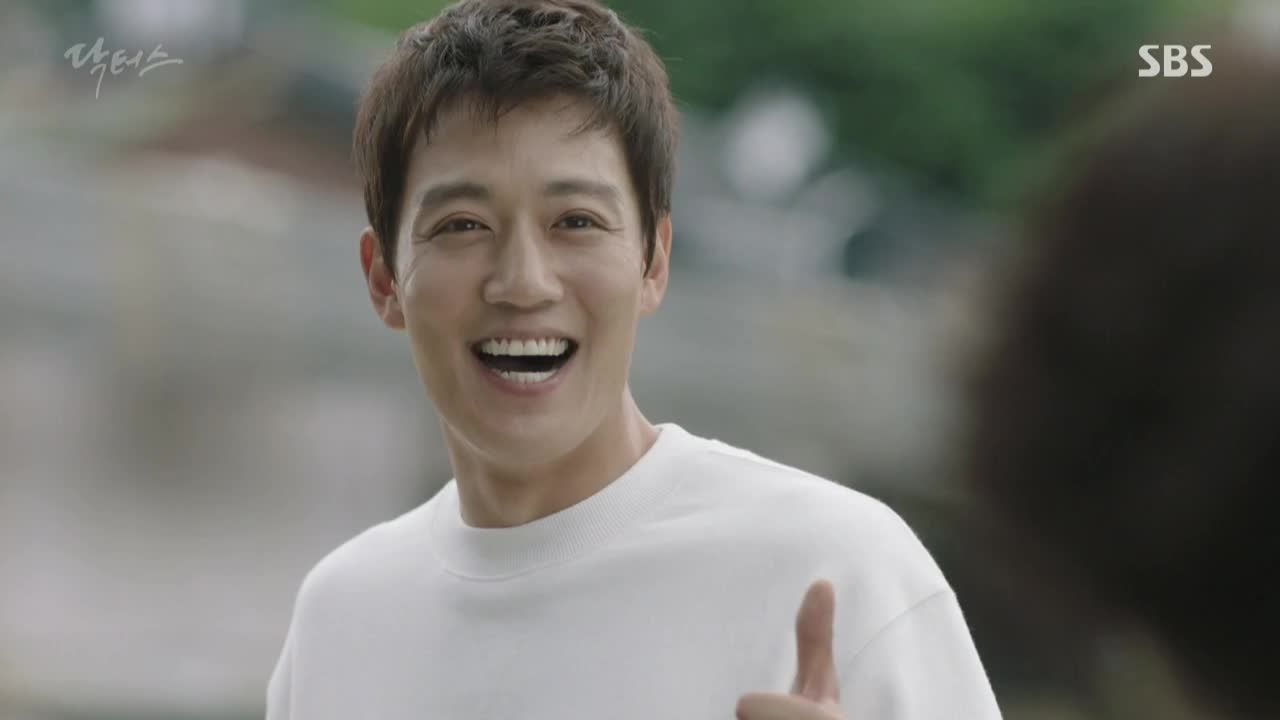 RELATED POSTS
Tags: Doctors, Episode 1, featured, first episodes, Kim Rae-won, Lee Sung-kyung, Park Shin-hye, Yoon Kyun-sang