Doctors: Episode 2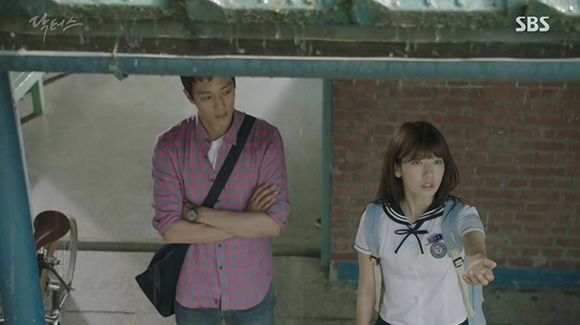 Hye-jung rediscovers a part of herself that she lost a long time ago, and starts to make steps towards living differently. Through her new relationships, she finds courage and motivation to change, and it finally looks like our spunky, lone wolf might find a pack who'll cherish her. However, life needs its downs, but if her badass fighting skills are any indication, our protagonist won't go down without a fight.
Doctors continues to do well in the ratings-game with episode two rising to 14.2%.

EPISODE 2 RECAP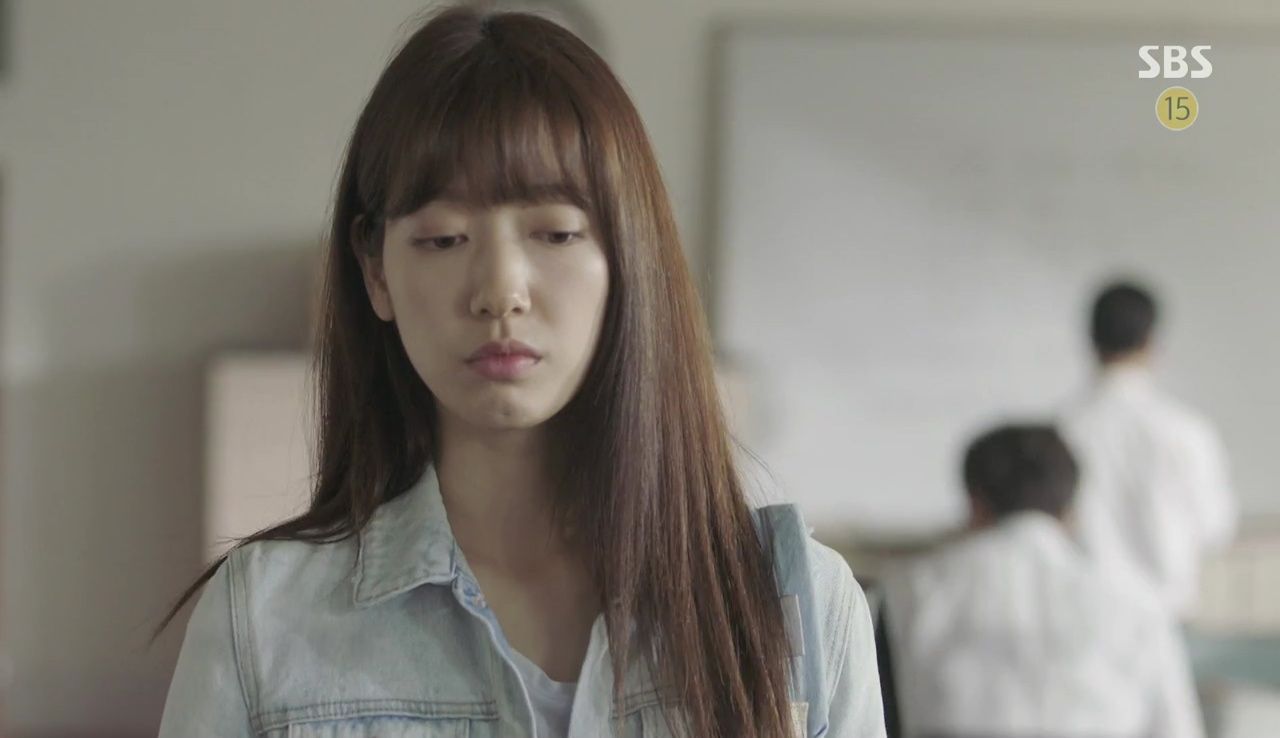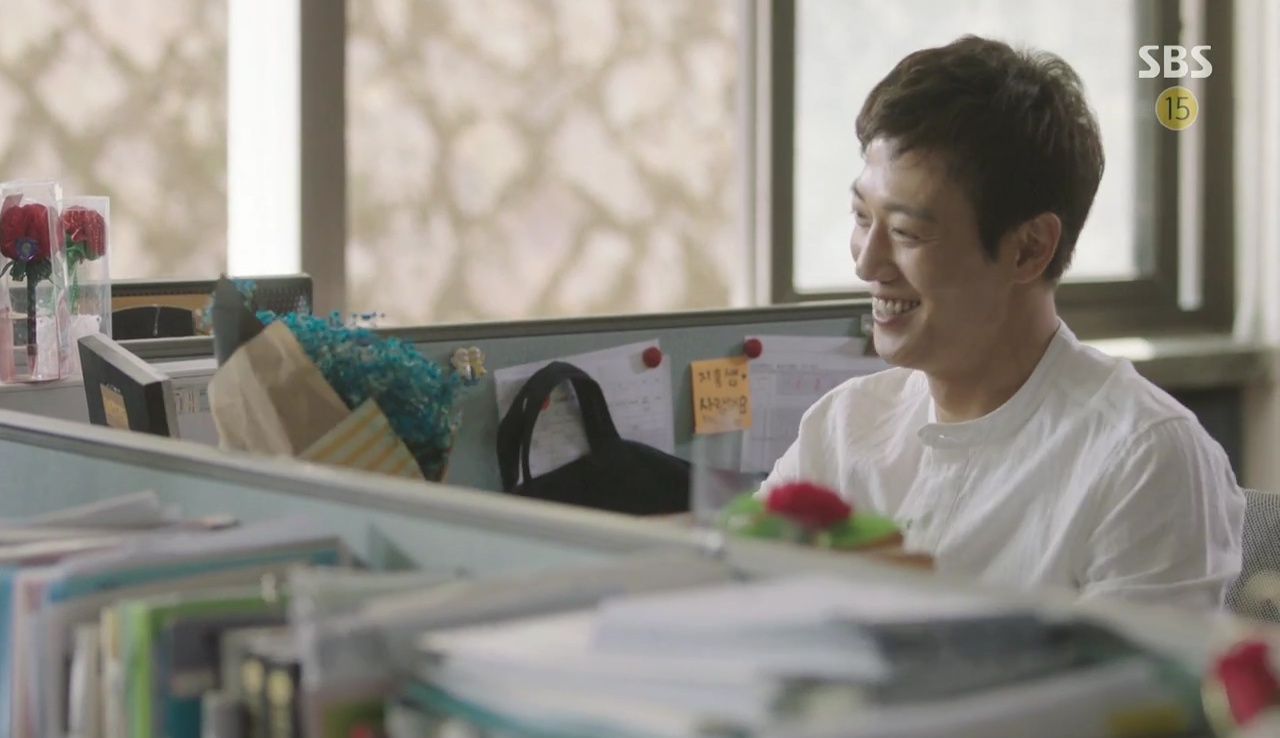 Hye-jung walks down the corridors of her new high school as the principal guides her to the teacher's office while complaining out loud that Hye-jung is a troublemaker. She thinks to herself that living carelessly is the same as abusing yourself, and after a while, that abuse becomes entertaining. Hye-jung spots Ji-hong smiling at a bouquet of flowers, and she narrates that she wished he wasn't her homeroom teacher. But life never gives her what she wants.
We return to the cliffhanger from episode one with Hye-jung prepping herself right as Ji-hong swings a rod down. She thinks to herself that even in this moment as she carelessly lives her life, a deep, remote part of heart keeps asking how long she'll live this way.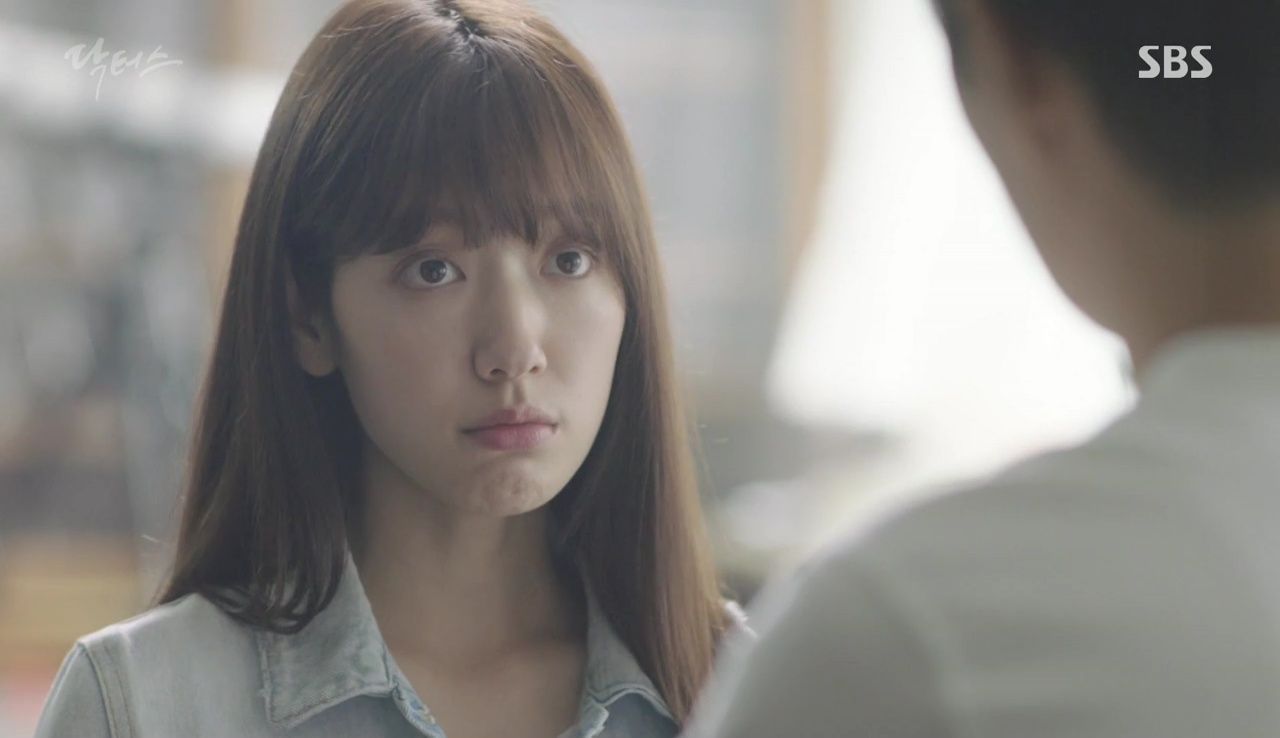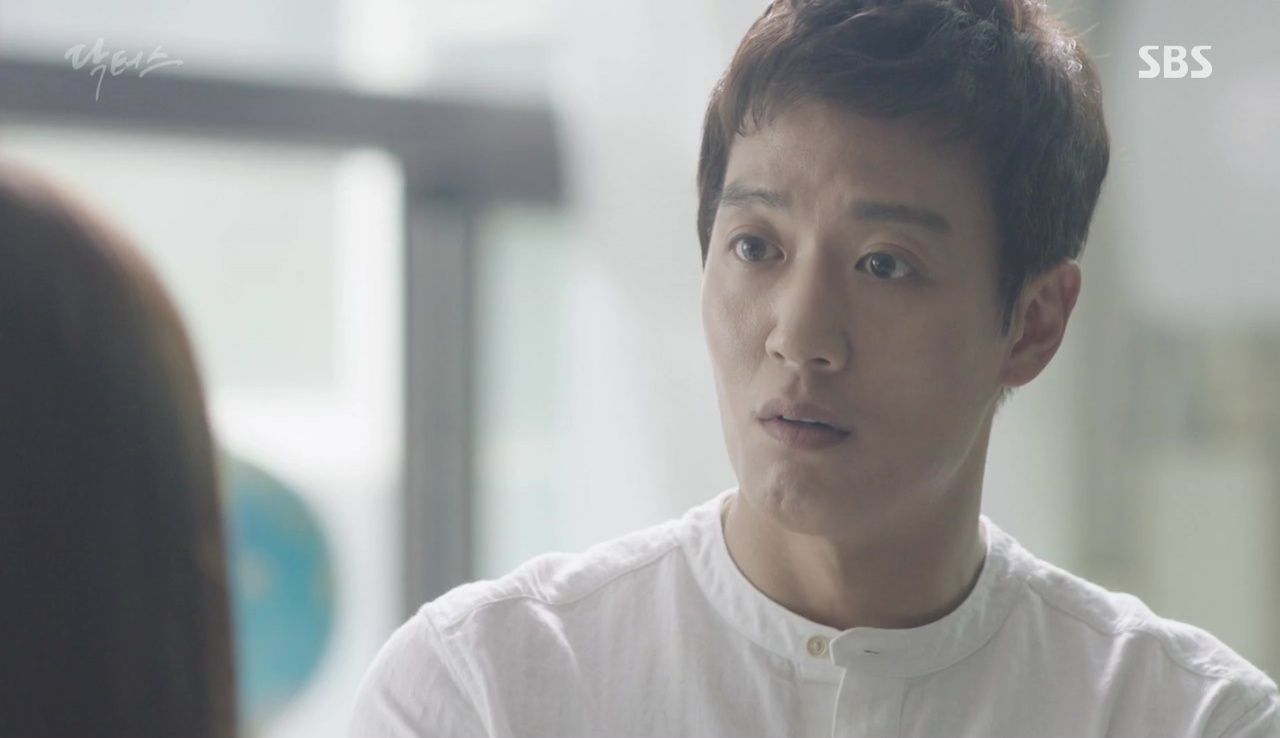 Ji-hong stops right before hitting Hye-jung since there's no point doing something he hates most in the world to a person who doesn't even want it. Hye-jung notes the fact that he chose not to hit her so, technically, she's already completed her punishment.
Ji-hong scoffs at her and asks why she isn't working with "granny" when she clearly has a knack for negotiations. Hye-jung takes issue with the term "granny," but when Ji-hong argues that she has no right to suddenly act like a granddaughter, she tells him that it's a birth-given right since they're family. Her words suddenly trigger a memory for Ji-hong.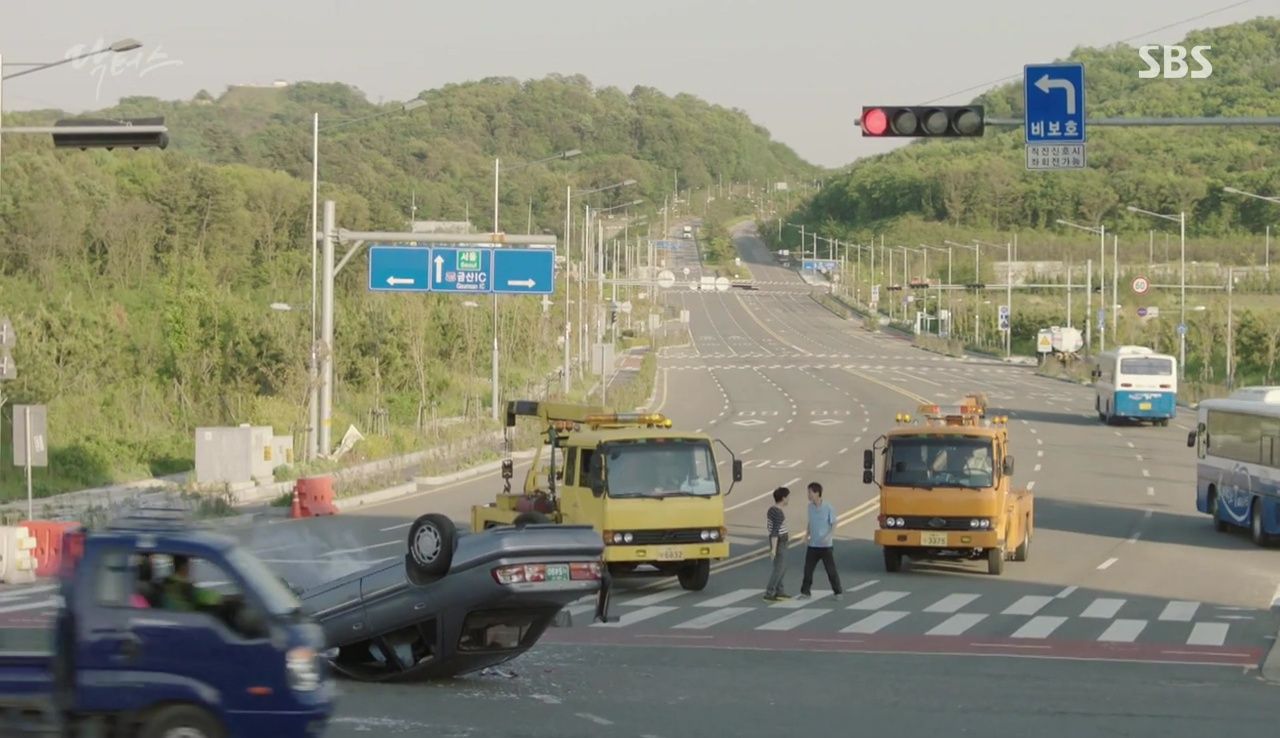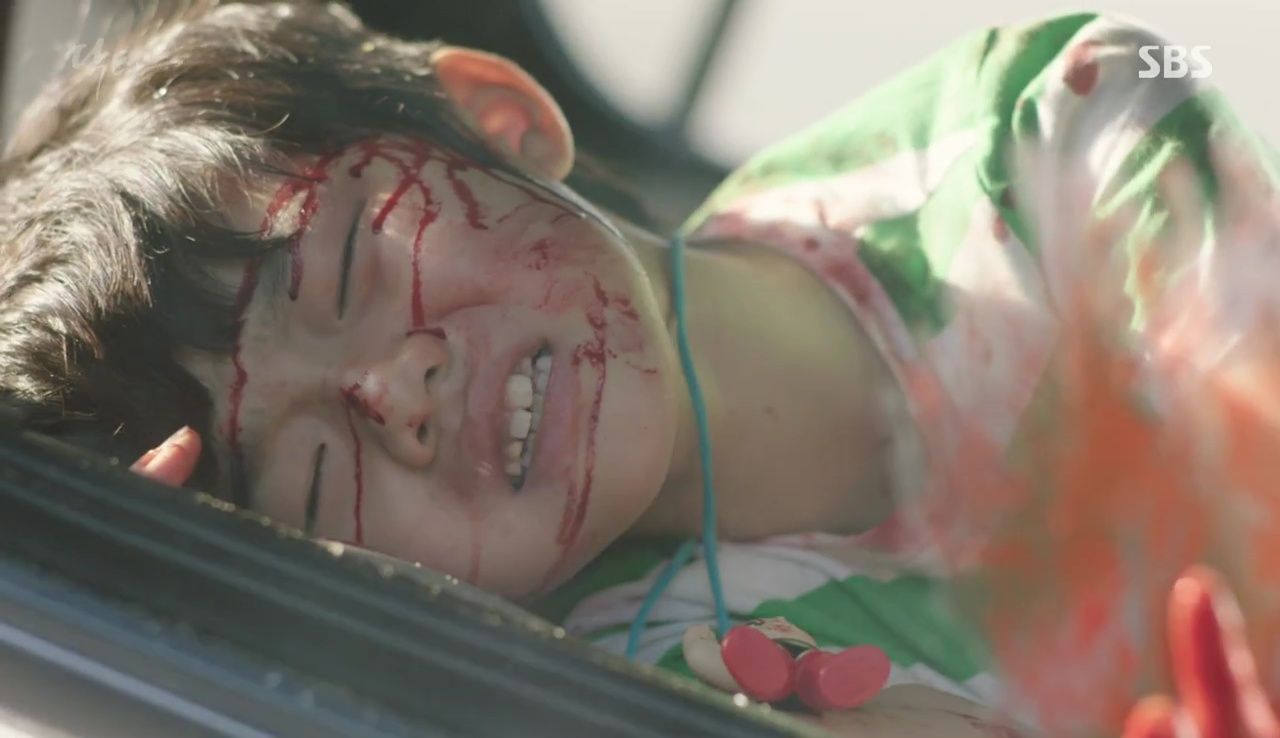 In flashback, little Ji-hong sang in the back of a car with his parents when a truck rammed into their car and flipped it over. Barely conscious, little Ji-hong stared out of the window pleading for help at the two tow truck drivers standing outside. Despite the wreckage and his family dying at that very moment, the men only argued with one another about who should get this job.
Ji-hong: "People are self-centered. More than another's death, their lives come first. That's how I learned about people, and lost my family."
With the punishment over, Hye-jung excuses herself, and Soon-hee rushes up to her. She reintroduces herself as "Yoo-ra," but Hye-jung dryly comments that her nameplate says "Chun Soon-hee."
Undeterred, Soon-hee clings to Hye-jung's arm and talks nonstop about her life. Hye-jung tries to push her away, asking if she's a lesbian. Soon-hee doesn't understand what she means, so Hye-jung spells it out for her: "Do you like girls?"
Soon-hee gasps that she does like girls, but then wonders aloud if there are girls who don't like other girls. Hye-jung is caught off guard by Soon-hee's innocence, and offhandedly calls Soon-hee "sort of cute." Soon-hee positively beams and follows Hye-jung like a duckling.
Grandma is meeting with Myung-hoon (Seo-woo's father), and asks him for stronger medication. He tells her that she needs to have a check-up, but when Grandma asks how much it would cost, he ignores her to answer a call from his father.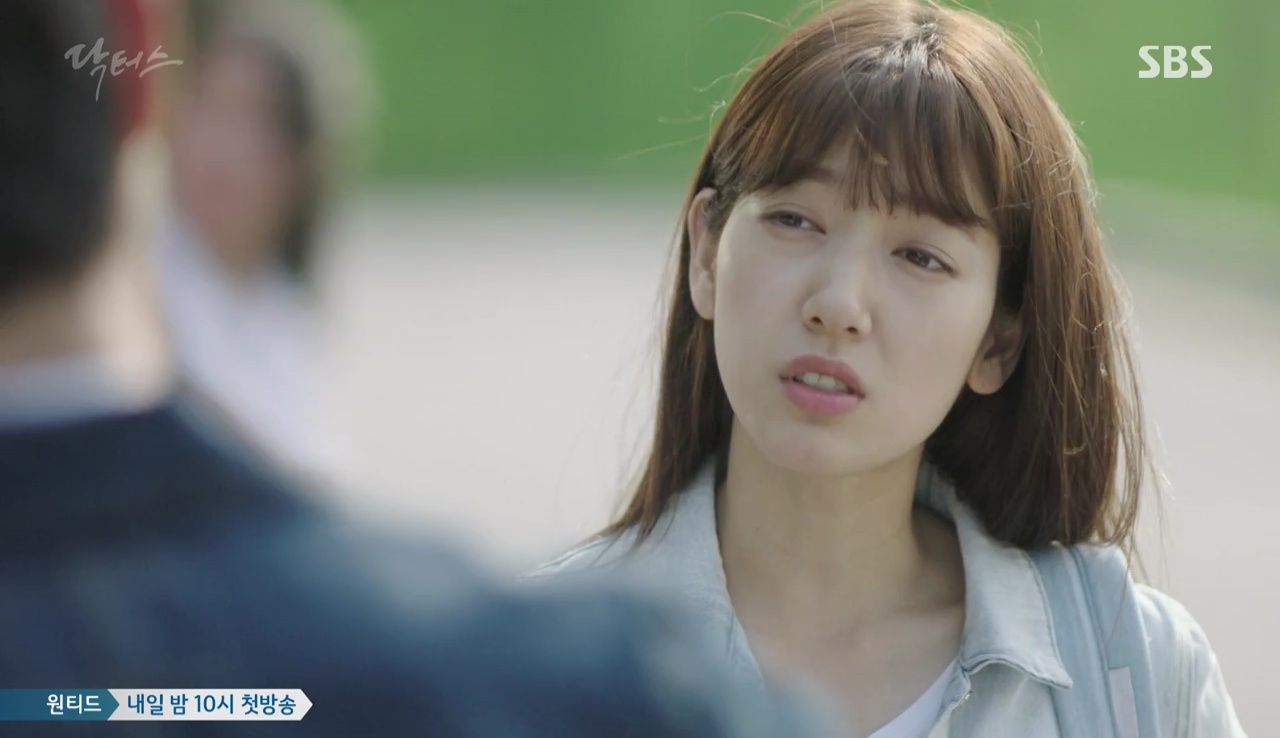 As Hye-jung leaves school at the end of the day, Soo-chul waits by the gate with his motorcycle. Unfortunately for him, Hye-jung isn't charmed and tells Soo-chul to stop being clingy.
Soon-hee ditches Seo-woo to catch up to Hye-jung, and she asks Hye-jung if she's not going to buy a uniform. Hye-jung asks if there's a secondhand store, and Seo-woo happily chirps about a place to get a free uniform.
Ji-hong is lost in thought in his room when Grandma enters and asks if he knows who Hye-jung's homeroom teacher is. He chuckles that it's him, and suddenly, Grandma gets on her knees to give him a bow.
She explains to him that she respects teachers and doctors the most in the world because others judge people's past, but teachers aren't supposed to do that. She asks him to look at Hye-jung's future rather than her past, and Ji-hong tells Grandma that Hye-jung is smart. Grandma immediately starts to brag about her granddaughter, and Ji-hong laughs at how easily her mood changed.
Hye-jung tries on Soon-hee's spare school uniform, and Soon-hee says that she's jealous of Hye-jung's boobs. Hye-jung lets Soon-hee in on a secret (her chest is lopsided), and soon, the two are goofing around and having fun. Looks like our lone wolf may have found her first friend.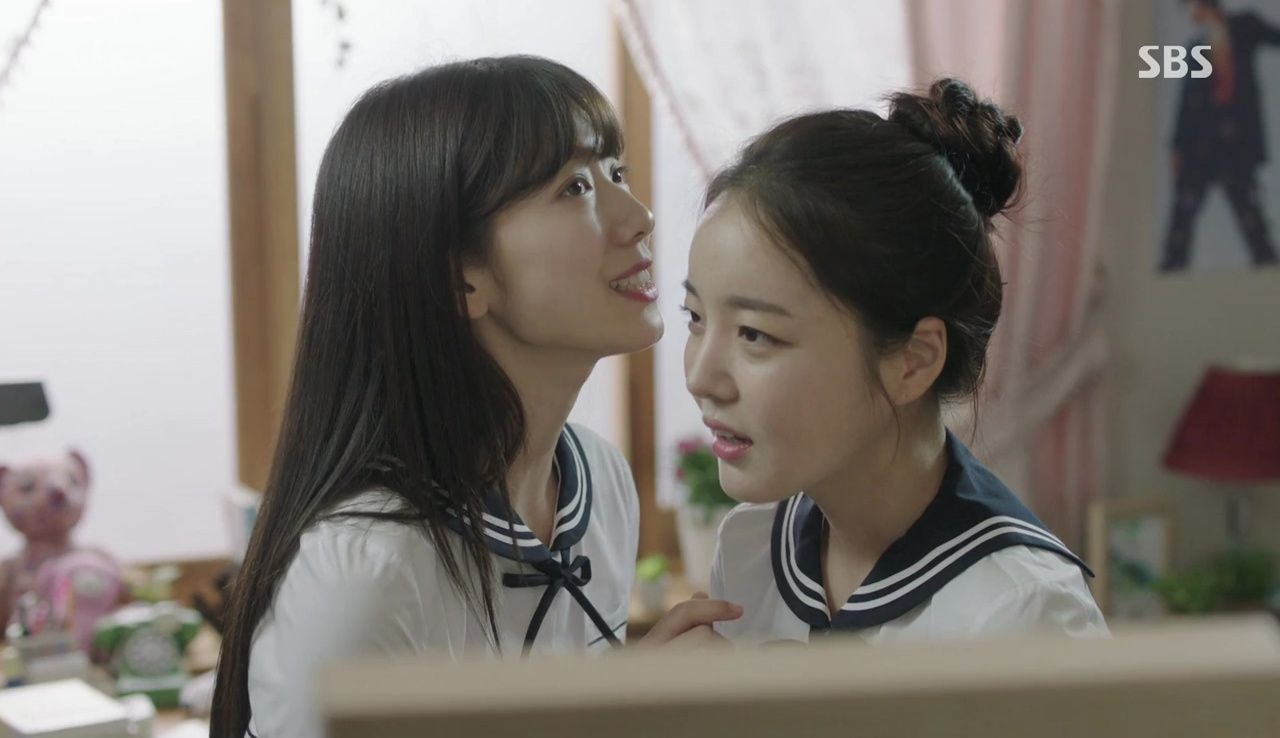 On her way home, Hye-jung bumps into Ji-hong, but she doesn't say a word to him. Up ahead, a little boy runs into his pregnant mother, and suddenly, she faints. Ji-hong takes charge and orders Hye-jung to call an ambulance. However, the situation takes a turn for the worse when the pregnant mother's water breaks.
Director Jin (Seo-woo's grandfather) pays a visit to Director Hong, Ji-hong's adoptive father, in his hospital room. Director Hong tells Director Jin that he's thinking of retiring and going to the US, but their conversation is interrupted when Ji-hong calls for help.
Ji-hong tells his father that he thinks it's a cerebral hemorrhage, but there are no hospitals nearby with both a neurosurgery and OB/GYN department. All of sudden, the pregnant mother starts to vomit, and Ji-hong performs rescue breathing in order to get air back into her lungs. Ji-hong tells his father that the patient needs a tracheotomy if the ambulance doesn't show up soon, but his father is adamantly against it because the risks are too great—if Ji-hong fails, he'll never be able to practice medicine again.
Despite his father's protest, Ji-hong intends to perform the incision and asks Hye-jung if she has a knife. She doesn't, but she gets up right away to find one. Luckily, the ambulance arrives, and Ji-hong performs an intubation. He tells the paramedics to go to father's hospital, and Hye-jung hops onto the ambulance with the son.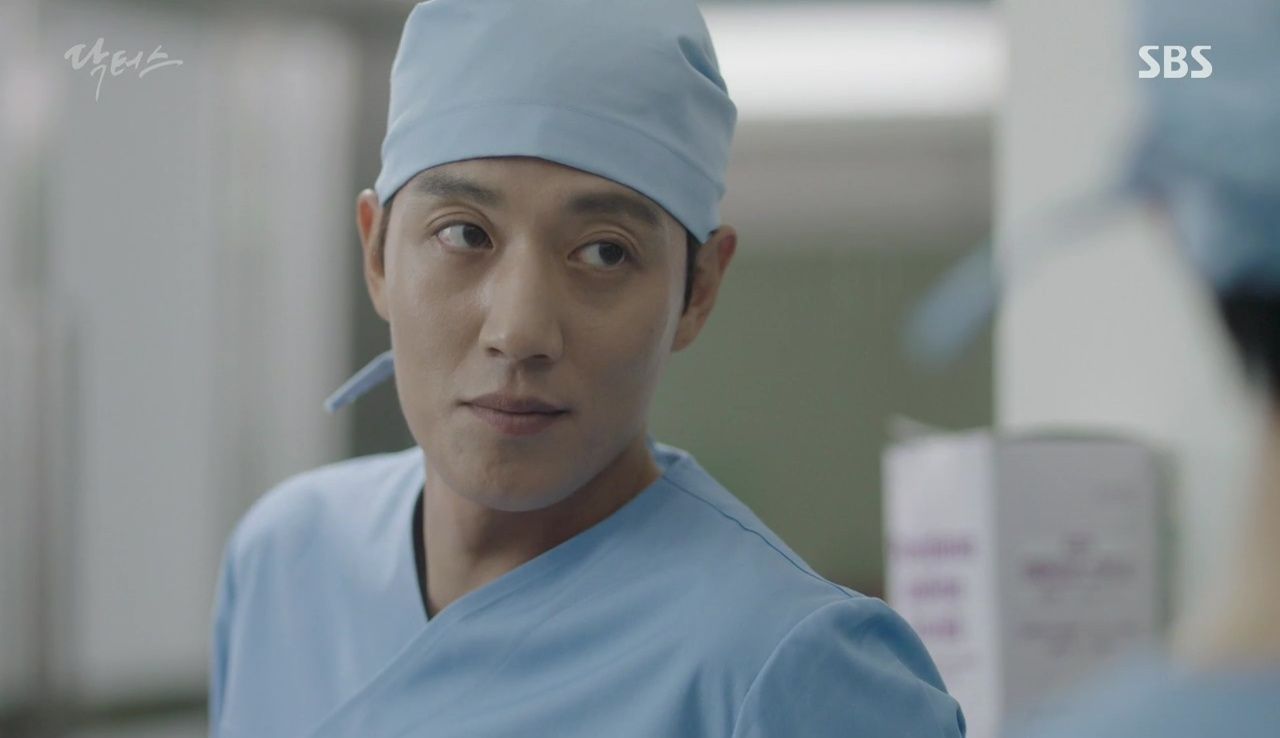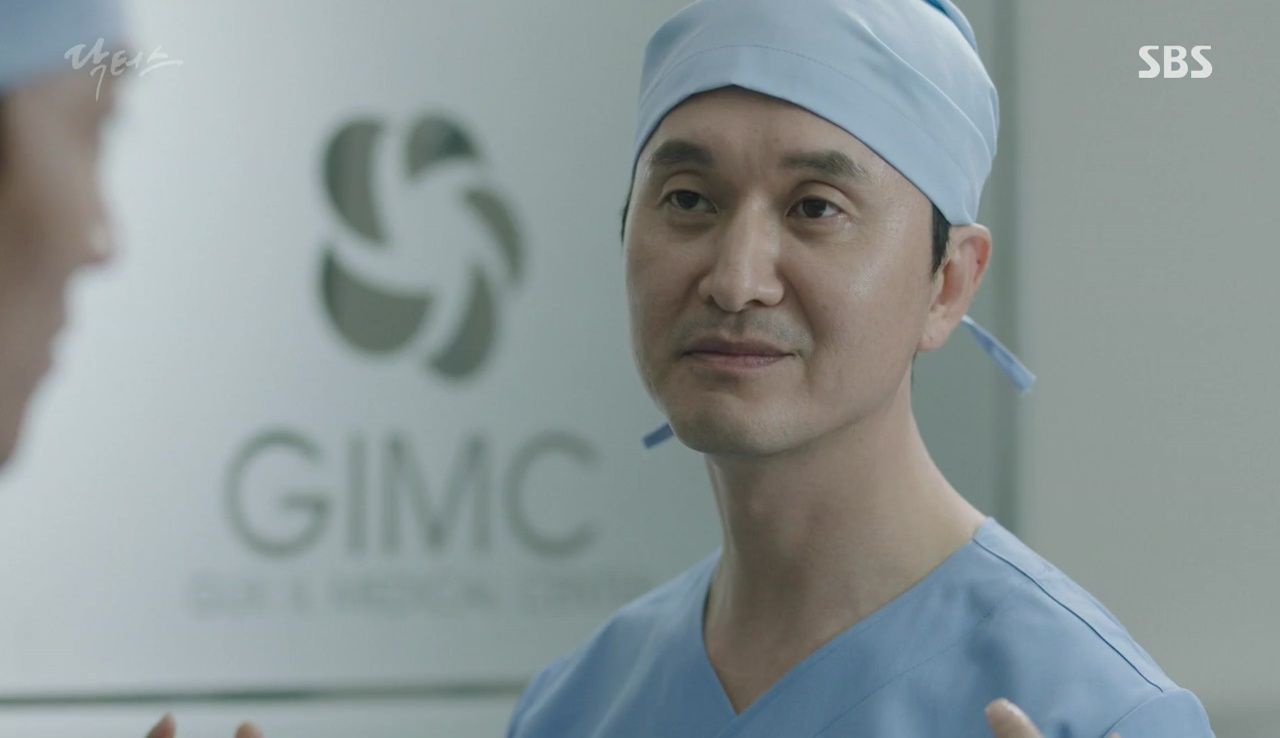 At the hospital, Ji-hong watches as the baby is safely removed, and greets Tae-ho when he arrives for his part of the surgery. Tae-ho says that the woman was lucky that Ji-hong was there, and then makes a pointed statement about how Ji-hong takes responsibility for every patient's death. He playfully tells Ji-hong to pay close attention to what a real neurosurgeon does.
As Ji-hong stands on the sideline, he has a flashback to his intern days. A patient died during surgery, and the surgeon kicked Ji-hong and another doctor for not checking the patient's condition beforehand. The other doctor blamed Ji-hong for neglecting his duties, and Ji-hong simply stood there shell-shocked.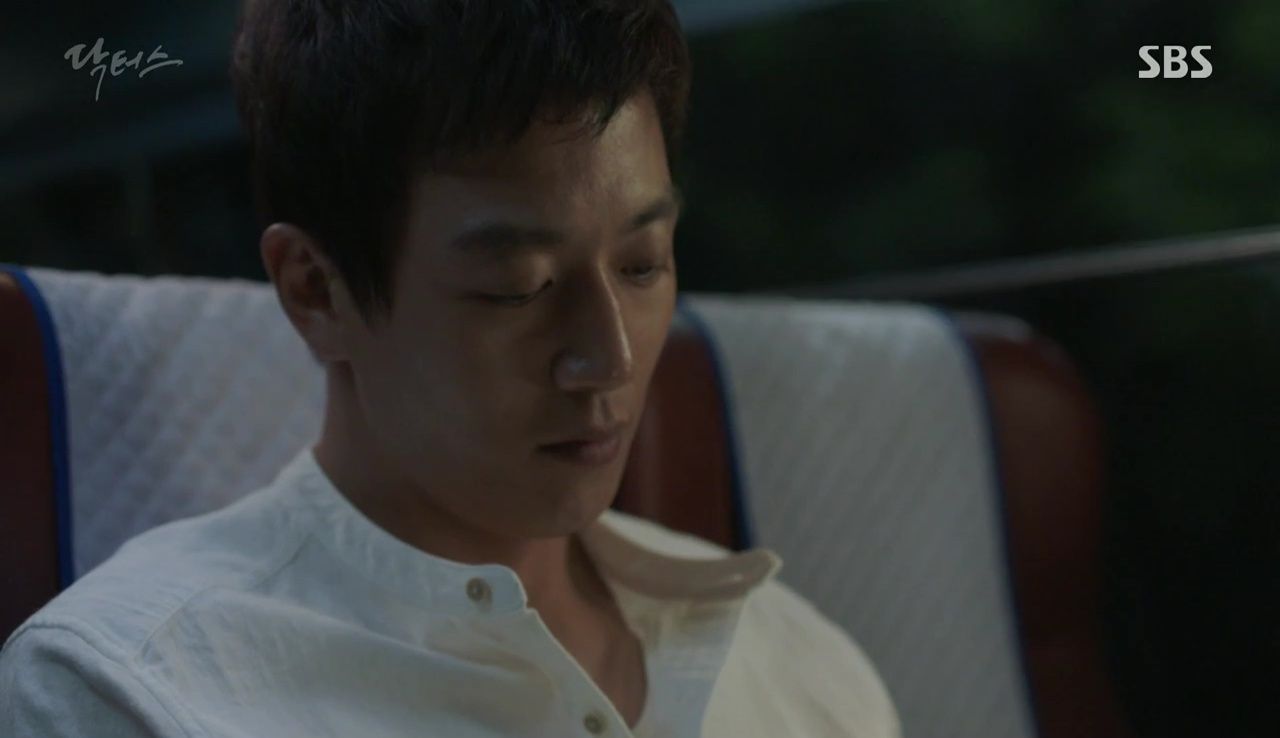 The surgery is over, and Tae-ho tells the pregnant mother's family that everything went well. Hye-jung watches from a distance with a smile, and Ji-hong suggests going home. On the bus, Ji-hong stares at his hands in a dull trance, and Hye-jung stares at him and grins to herself.
Back home, Hye-jung tiptoes to her room and cuddles next to Grandma. In flashback we see that the pregnant mother's husband thanked Hye-jung for helping and asked for her name. He proudly told her that he was going to name his new daughter after her in hopes that she, too, will grow up to become someone who helps others. Meanwhile, the lights are still on in Ji-hong's room as he pores over articles and watches neurosurgery videos.
Hye-jung goes back to the music store she shoplifted from, and hands over an envelope with money to the owner. The owner says he can't accept it because a teacher named Mr. Hong came by with the CD and money.
She rushes home to talk to Ji-hong, but he tells her that his room is messy. Hye-jung's jaw drops when she sees his room, but when she attempts to organize it, Ji-hong yells at her to leave everything alone: It may look like a mess, but there's order to it. She gives him a skeptical look but gingerly places the book back on the floor.
Hye-jung asks why he abandoned being a doctor to become a teacher, and he explains that he never abandoned being a doctor because he sees teaching as another extension. Hye-jung then expresses her desire to turn over a new leaf because she's finally found a purpose: to let Grandma live in luxury. Ji-hong isn't as optimistic and says that failure isn't the mother of success—only success breeds more success. Hye-jung asks how she can succeed then, and Ji-hong suggests studying for starters.
Hye-jung asks Soon-hee about the smartest person in their class, and that person is Seo-woo who shows up at a fast food restaurant to meet with them. Soon-hee asks Seo-woo if she can tutor Hye-jung, but Seo-woo doesn't see why she should help, especially since Hye-jung is acting so guarded.
Right then, Soo-chul and his gang show up, and they join Hye-jung's table. They notice Seo-woo and comment about her reputation and family background. One of the guys drapes his arm around Seo-woo, and even though Seo-woo attempts to push him away, he continues to overstep boundaries.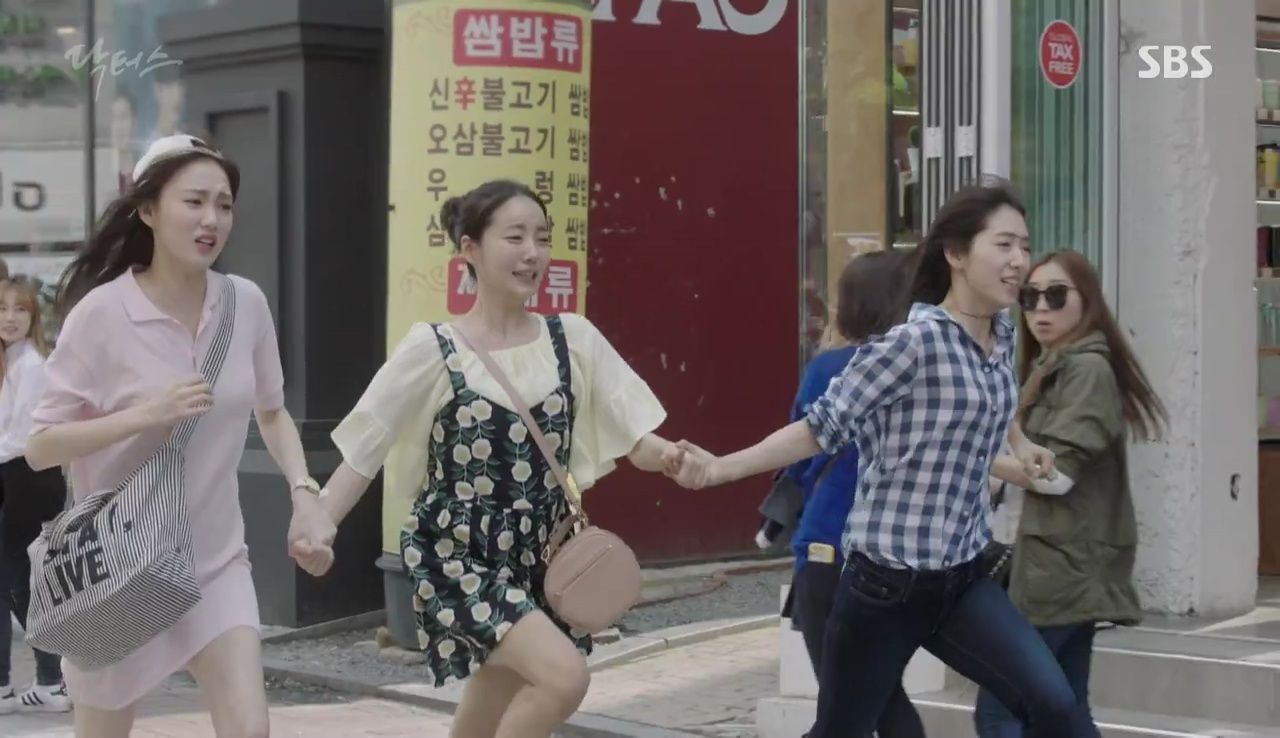 Hye-jung tosses the guy to the floor, and the rest of the gang starts to retaliate. However, Soo-chul tells them to back off because Hye-jung is his, but Hye-jung tells him bluntly that only she owns herself. She grabs Seo-woo and leads her group out of the restaurant.
Once outside, Hye-jung tells the others to run. Holding hands, they run down the street, and look more excited than worried. They run down an alley, and with Soo-chul's help, they manage to lose their pursuers.
They stop to catch their breath, and burst out laughing. Seo-woo agrees to tutor Hye-jung but only after checking something with their homeroom teacher. Hye-jung and Soon-hee hug each other in delight, and the three girls continue to laugh.
Seo-woo finds Ji-hong and tells him that she's agreed to teach Hye-jung for his sake. She confesses her feelings to Ji-hong and asks him to wait two years. Ji-hong doesn't take her confession seriously, and tells Seo-woo that teaching Hye-jung was her own choice. Seo-woo says that she's doing it to show Ji-hong that she's just like the people he likes—a warm-hearted person—but Ji-hong advises Seo-woo to try to become someone she likes.
Myung-hoon tells Grandma that she should have come to the hospital sooner, but the good news is she's old. Grandma asks why being old is good, and he says that the cancer will progress slowly then.
At home, Grandma manages her account books and says aloud that life needs its occasional downs. She checks to see if she has enough money saved for surgery, but hurriedly hides her account books when she hears Hye-jung coming out.
Grandma is at first skeptical that Hye-jung is going out to study, but states that she wouldn't want anything more in the world than to see Hye-jung studying. Hye-jung asks Grandma what she wants her to become, and Grandma says a doctor. Hye-jung thinks that's unrealistic, but Grandma scolds her for not having a dream. Hye-jung agrees to Grandma's wish and says that she'll show her that dream.
Hye-jung and Soon-hee are studying at Seo-woo's house, and Seo-woo's mother brings them snacks. She acts warmly at first until she notices that Soon-hee's textbook is filled with doodles, and she doesn't recognize Hye-jung. She asks to speak with Seo-woo outside for a moment, and begins to question Seo-woo about her friends.
Seo-woo defends them, and her father takes Seo-woo's side because all she needs are kind friends. Seo-woo's mother thinks differently and argues that Seo-woo can't be wasting time like this if she wants to get into a good school. Hye-jung and Soon-hee can hear the entire conversation from Seo-woo's room, and they decide that it's time to leave.
Hye-jung continues to study throughout the night and even at mealtime. Ji-hong asks her how the studying is going, and Hye-jung tells him that her plan is to solely concentrate on math. He hands her banana-flavored milk, but when Hye-jung complains about not having a straw, he takes it back. Hahaha, he's so petty.
Test day arrives, and Hye-jung actually seems to be solving the problems. Once it's over, Hye-jung, Soon-hee, and Seo-woo hang out and de-stress by taking silly photos in a photo booth and belting out songs at karaoke.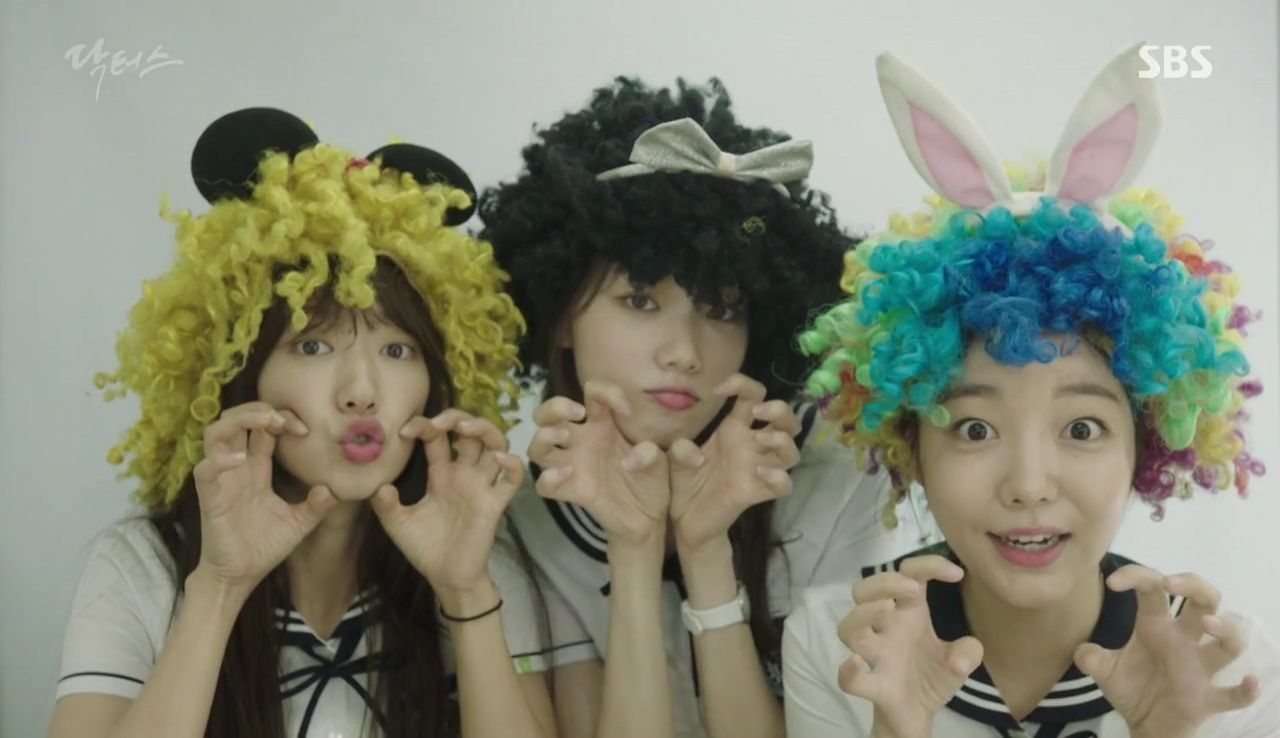 Soon-hee whines to Hye-jung about their test results coming out today, and Seo-woo tells Hye-jung to not give up studying even if her grades are low. Hye-jung adorably salutes Seo-woo as her teacher. In class, Ji-hong says that the top score for the math test came from their class: It's Hye-jung.
Hye-jung starts to tear up while Soon-hee congratulates her with gusto, but Seo-woo sits rigidly in her chair, shocked. Still in a daze, Seo-woo sits outside by herself, and a group of girls approach her saying that she raised a tiger. Seo-woo asks them about their math grades and that quickly shuts the mean girls up.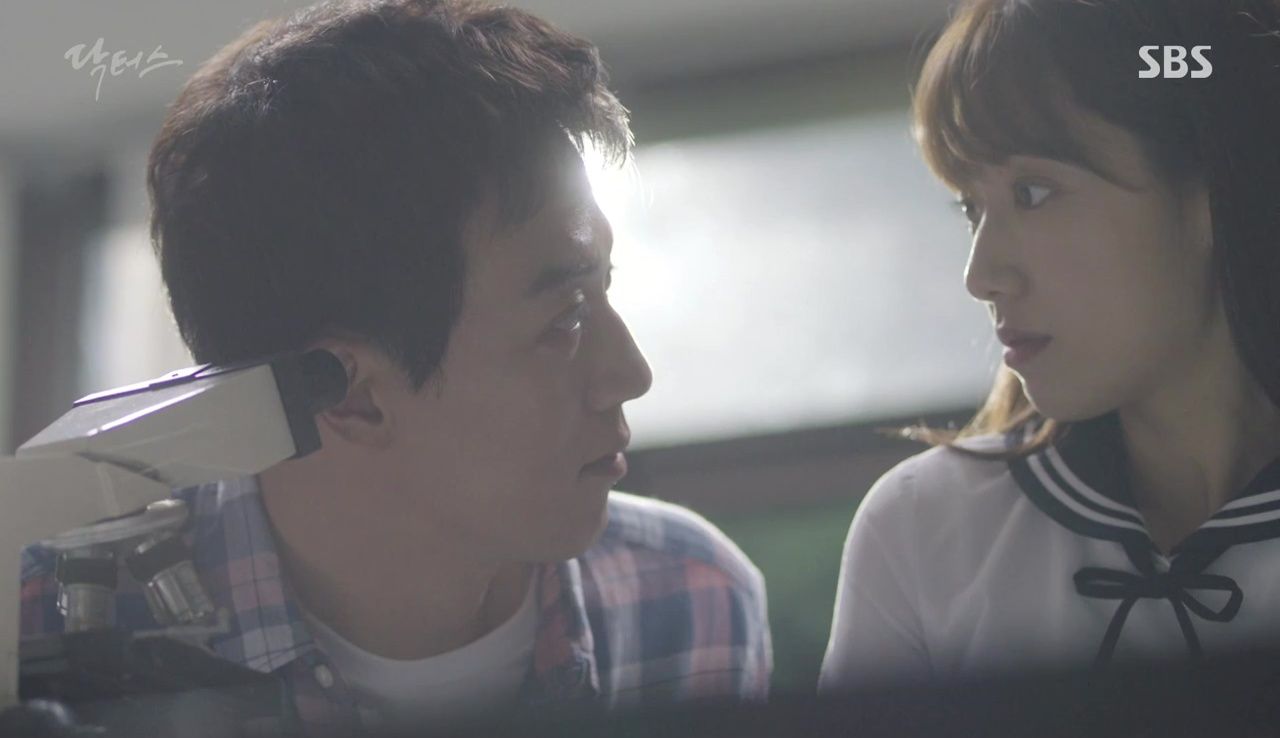 Hye-jung finds Ji-hong in an empty classroom and thanks him. She asks what he's doing, and he tells her that he's preparing a lesson about blood types. He lets Hye-jung see her blood sample under the microscope, and Hye-jung leans in closer to Ji-hong.
He suddenly turns towards her, and the close proximity flusters Hye-jung who tips backward. Ji-hong catches her and props her back up. They playfully laugh together, but through the classroom window, Seo-woo watches with a sour expression.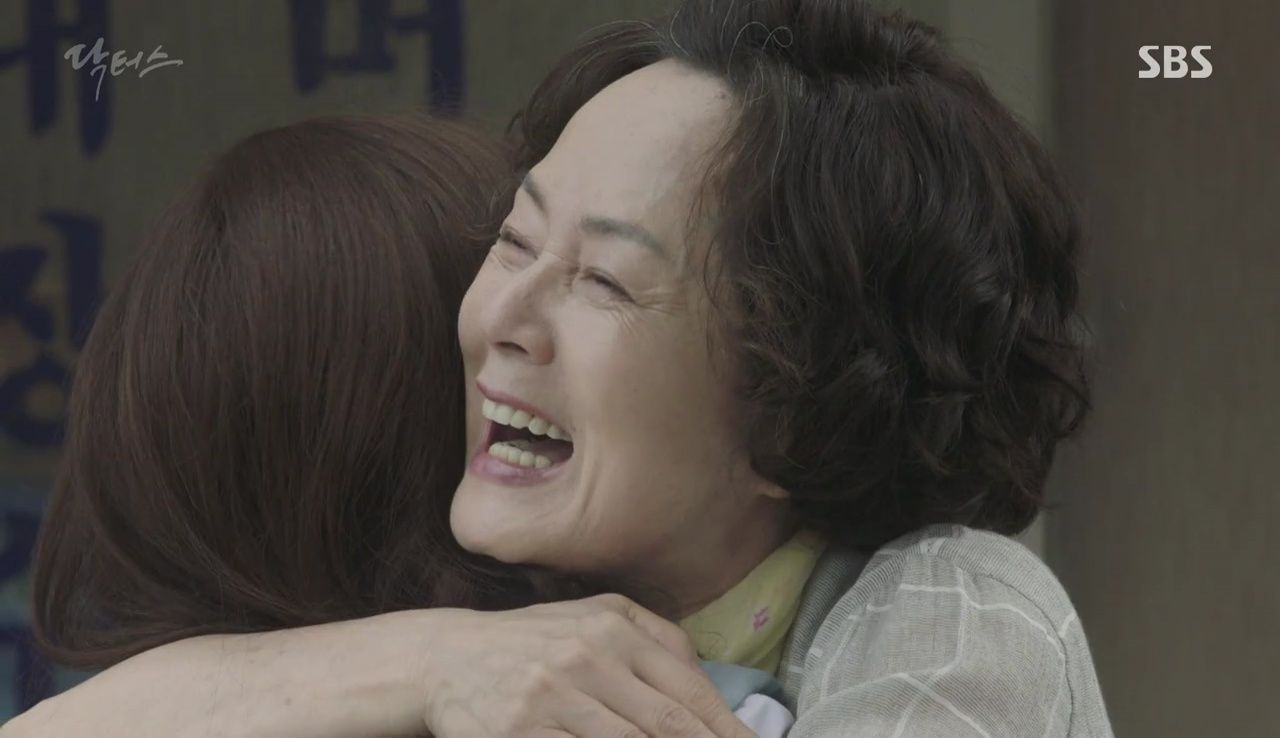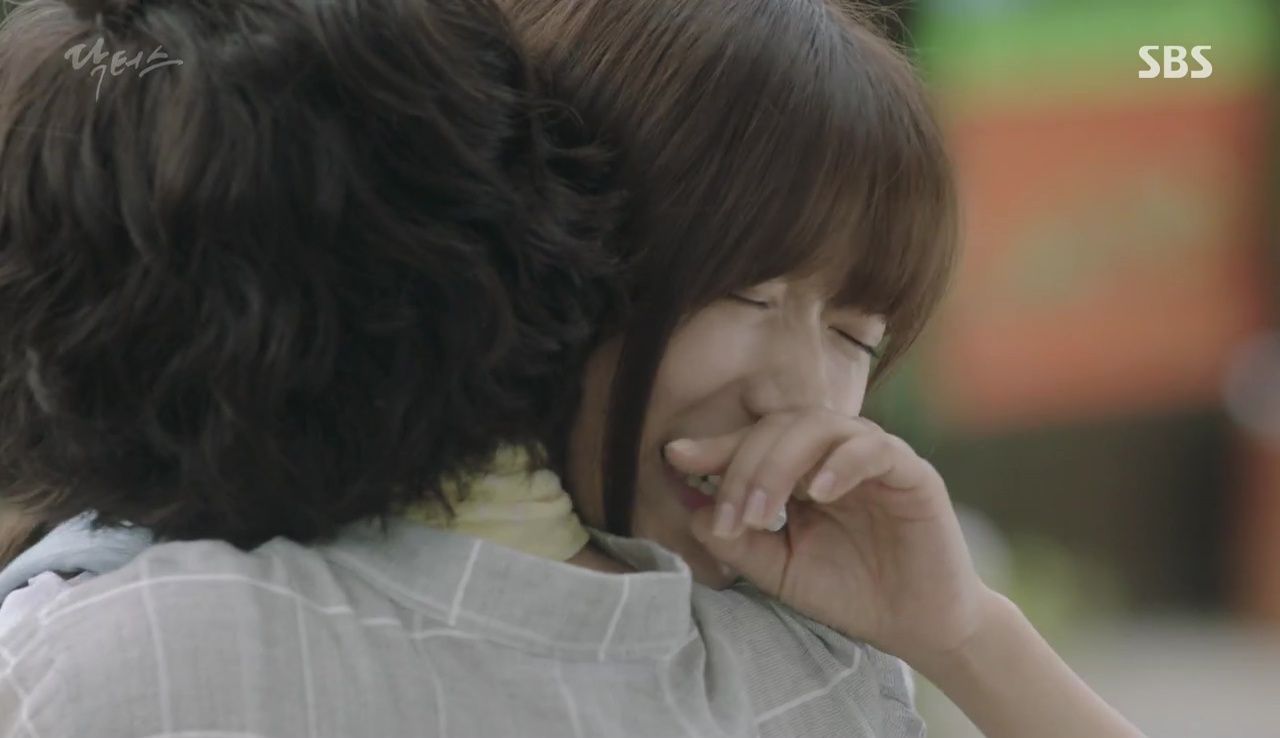 Hye-jung back-hugs Grandma when she gets home and tells her that she got first place in math. Hye-jung starts to cry, and Grandma tells her not to when she's happy. Hye-jung points out that Grandma is cyring, too, and Grandma adorably says that these are happy tears.
Seo-woo gets a call from Hye-jung, and after a moment of hesitation, she answers her phone. She steps outside of her house where Hye-jung is waiting to return her stuff. Hye-jung promises to repay Seo-woo's kindness, but since she's still angry, Seo-woo asks if Hye-jung likes their homeroom teacher or if he likes her. Hye-jung doesn't think their relationship fits in those categories, and Seo-woo leaves in a huff.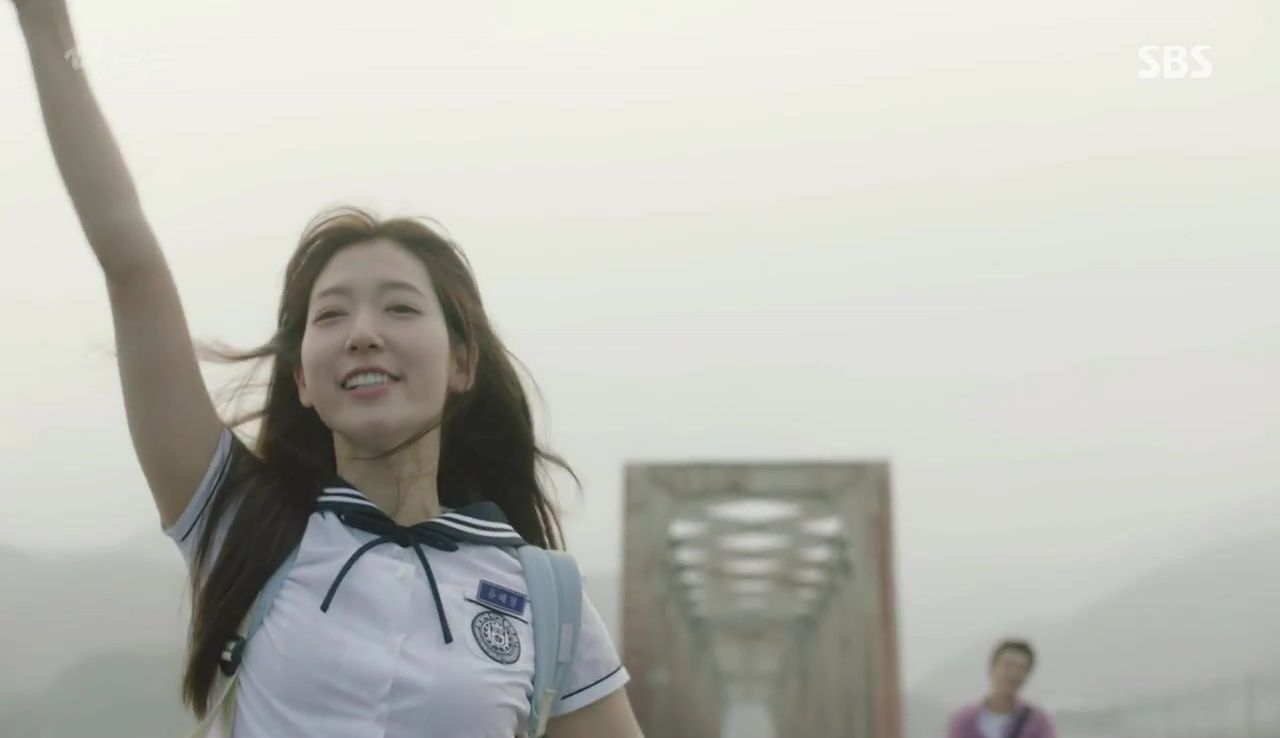 In the morning, Ji-hong asks if Hye-jung can ride and motions towards an extra bike. They bike around and decide to race across a bridge. Ji-hong lets Hye-jung win and watches from behind as she spreads her arms out, completely carefree and enjoying the moment.
They take shelter from a sudden downpour, and Hye-jung uses this moment to give something to Ji-hong: the CD he was trying to buy. Hye-jung tells Ji-hong that she was jealous of him that night, and he matter-of-factly tells her to do it, too, if she's jealous. Hye-jung says that becoming a doctor requires top grades, but she only did well last time out of luck.
Hye-jung recalls being with her mother when she died, and wonders if she might have lived if Hye-jung were a doctor, then, or better yet, if Ji-hong was there. Ji-hong says that doctors can't save everyone, and Hye-jung nods in agreement. The rain stops, and they hurry off to school.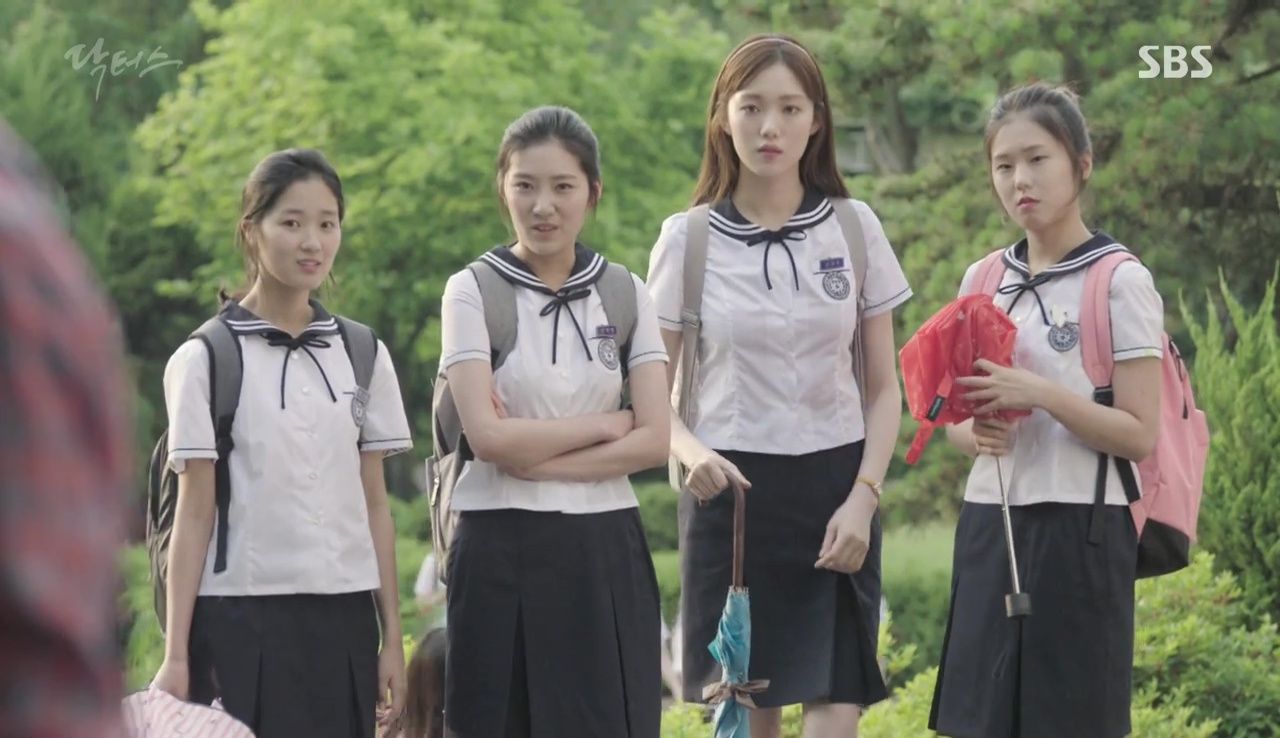 Seo-woo walks with the mean girls from before, and they notice Hye-jung being friendly with Ji-hong. One of the mean girls starts to take pictures of them to put on the school website, but Seo-woo confiscates her phone.
Myung-hoon greets his father in the hospital lobby and hears the good news about his promotion. He grabs his father's hand and promises to not let him down. The two can't contain their excitement and even share a quick hug.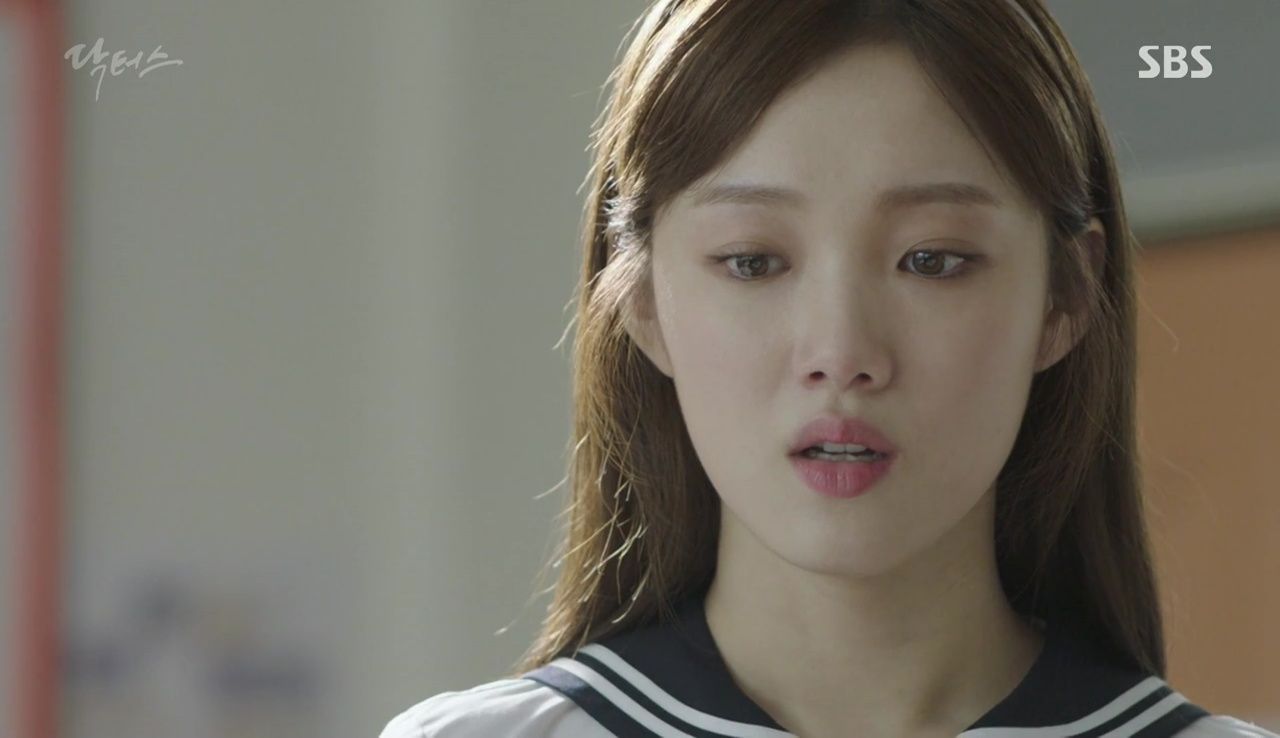 Seo-woo approaches Ji-hong in his empty classroom and asks if the rumors about him and Hye-jung are true. Ji-hong acutely deduces Seo-woo as the one spreading the rumor, and tells her that he understands if she's doing this out of jealousy. However, Seo-woo has everything, and Hye-jung doesn't.
He tells her to go study and get into a good college like her parents' wish, but Seo-woo yells that she has emotions, too. She says that Ji-hong always smiles in front of Hye-jung, and her words must have struck a chord since Ji-hong doesn't have his usual comebacks.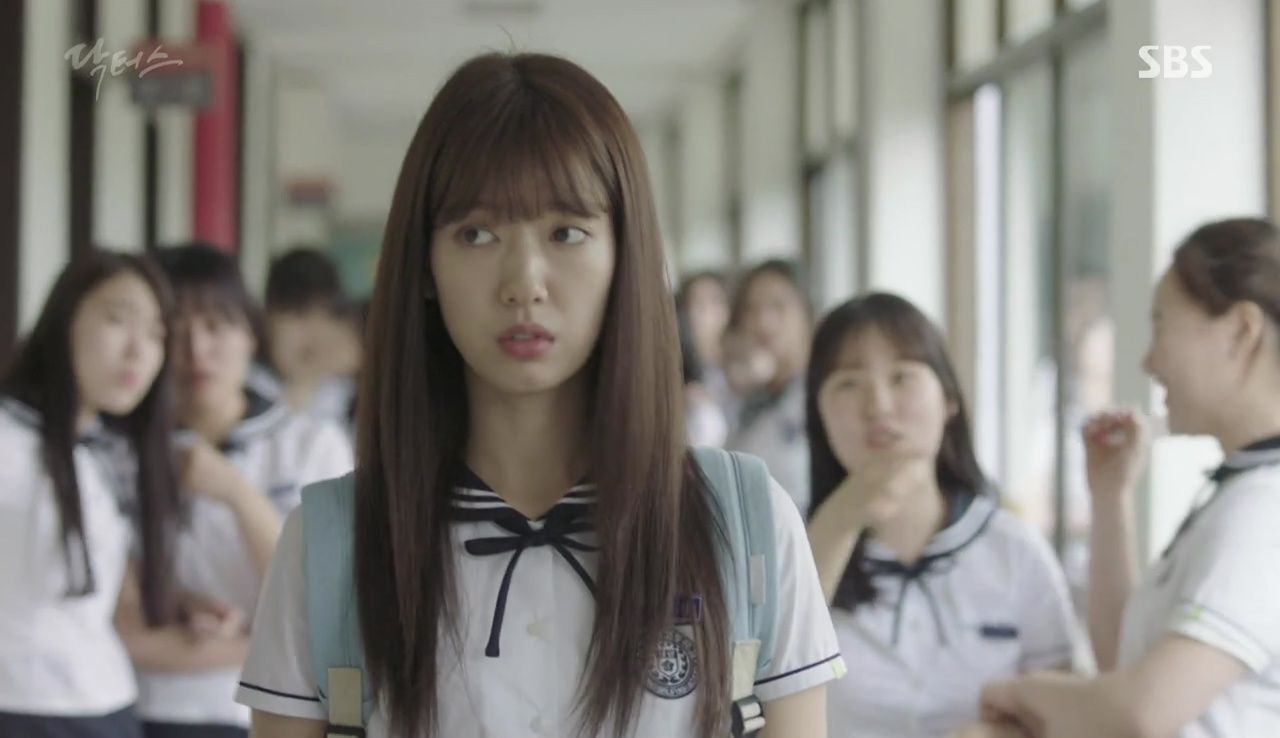 At home, Seo-woo writes a post about a scandalous relationship between Ji-hong and Hye-jung on the school website. The next morning, the whole school (including students and teachers) are gossiping about Hye-jung and Ji-hong.
Hye-jung confronts Seo-woo and asks if she's satisfied. She tells Seo-woo that she has nothing to lose, but Ji-hong is different. Seo-woo says that Hye-jung has something to lose after all—she still has Ji-hong to protect. Later that day, Soon-hee runs over to Hye-jung and tells her Ji-hong could be fired, and to make matters worse, Seo-woo's mother is the chair of the committee.
In the evening, Seo-woo follows Soon-hee to an abandoned building where Hye-jung is waiting to talk. Soon-hee says that she'll make a fire and unknowingly knocks over a small container of gasoline. Hye-jung tries to reason with Seo-woo, and asks her to tell everyone she was wrong. Seo-woo says that she can't stop now, and instead, threatens to write a second post about Hye-jung manipulating her friends to get what she wants.
Soon-hee interrupts and says Seo-woo is the one who doesn't know how to treat her friends. Taken aback, Seo-woo tells Soon-hee that she's always considered her a friend, but Soon-hee says that she was always an accessory to Seo-woo.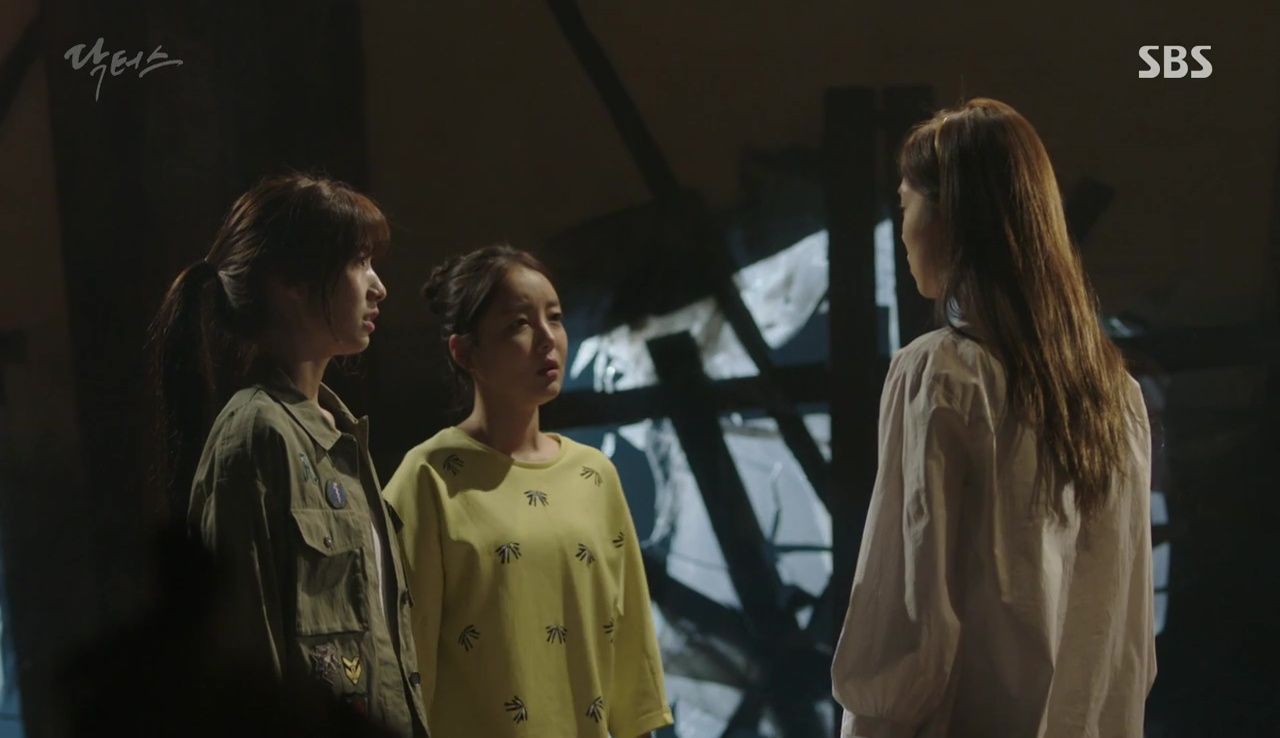 Seo-woo turns to Hye-jung and blames her for ruining everything. She tries to leave, but while trying to hold her back, Hye-jung gets flung to the floor. Hye-jung says that she knows how to be violent, too, and Seo-woo dares her to hit her. They start fighting, and Seo-woo is thrown to the floor, knocking her unconscious.
Just then, the gasoline on the ground catches fire, and soon the whole room is engulfed in flames. Soon-hee tries to wake Seo-woo to no avail, and Hye-jung looks at the flames in a daze. Tears flow down her face as she narrates, "Living differently seemed easy after experience one success, but it advertised that my surrounding environment was still the same."

COMMENTS
I'm pleasantly surprised by how much I like the show and the backstory. I enjoyed the setup of the characters and the attention to detail given to the minor characters. I do feel like the plot is a little slow, but despite saying that, I think the relatively slow pace works well in this case because it helps the audience experience each moment alongside the heroine. I also like the tone and color palette of the show so far, and think the soft hues and abundant use of white adds a tinge of nostalgia along with a feeling of innocence to the characters' backstories.
Hye-jung is an awesome protagonist, and I find her to be a sympathetic character. I particularly liked how her transformation was caused by her sudden realization that she wasn't alone. She's a character with a lot of emotional baggage, and the way she dealt with her pain was through abusing herself and pretending none of it mattered. In episode one, she tells her father that she doesn't cry because her heart died, but when she hears from Ji-hong that the brain controls emotions (not the heart), it triggers something in her. She seems to hold onto this phrase so dearly because, to her, it now explains these emotions she's experiencing when she thought that part of her was dead. With this new meaning to her life, Hye-jung now has people who expect her to succeed, and she doesn't disappoint. She pushes herself to meet the challenge, and Hye-jung's tenacity is another quality that I love about her. What I also really liked about Hye-jung's transformation is that the essence of the character was never changed. Hye-jung doesn't lose her spunk, independence, or (quite frankly) her attitude after deciding to live differently. Her choices have changed, but her personality is the same.
Surprisingly, I found most of the minor characters interesting as well. In the case of Soon-hee, I thought she was going to be obtrusive and annoying. However, I really liked her character and think you have to have a personality like Soon-hee to get close to someone like Hye-jung whose gut-reaction to friendship is to push it away. Thus, it's Soon-hee's bubbly personality and her ability to let insults roll off her that allows them to have this budding relationship. They balance each other nicely, and it was sweet to see Hye-jung laugh and have fun with her peer in a mundane way that didn't involve fighting or breaking rules. That being said, I also wished the show didn't have to drastically alter the friendship forming between the three girls because they seemed so cute with each other. Like Hye-jung, Seo-woo doesn't have friends, and it seems like this was the first time anyone in this trio may have actually had true friends.
Besides Soon-hee, I was surprised that I actually like Myung-hoon, who I was prepared to hate. Even with his first meeting with Grandma, I had a negative impression of him, but the more I see Myung-hoon, the more he reminds me of a man-child. The way he whines to his father or takes his hand in glee, really emphasizes that Myung-hoon isn't some manipulative doctor who's power-hungry, but actually a pathetic man who needs some honest self-reflection. I like him as a character because I find this dichotomy interesting.
I feel like it's impossible to not talk about Seo-woo this episode because she was the catalyst to the all the angst. While I do understand what led her to write the post, it doesn't mean I think she made the right choice. She's being short-sighted and spiteful like when a child breaks his or her own toy in order to not let any other child play with it. It's the logic of "if I can't have you, then no one will," which I find very selfish. Not only has Seo-woo ruined her relationship with Ji-hong, she's also broken off ties with her only friends. Ji-hong's metaphor of Seo-woo was apt; she's being overly-greedy and is forgetting everything she owns because of her envy. In the end, Seo-woo is hurting herself though I doubt she knows it right now. She might be the smartest kid in class, but she's still childish and only thinks of herself. Even when she confessed to Ji-hong, Seo-woo only thought about her feelings and never considered Ji-hong. Springing her emotions onto him and asking him to wait wasn't an act of love, but I don't think Seo-woo is able to distinguish that because she doesn't understand her actions beyond their immediate results. Like her father, she needs some self-reflection and a good dose of maturing.
My favorite thing about this episode, though, was Grandma and her evident love towards Hye-jung. Despite her gruff ways, Grandma showers Hye-jung with love and was her biggest cheerleader when Hye-jung decided to change her life. The way she stared at Hye-jung with hearts coming out of her eyes was adorable, and all the cuddling and hugging between the two of them made me love them more. I was also impressed with how strong Grandma was when she heard about her cancer. While I wish she would tell Hye-jung, I understand why she would keep it a secret from Hye-jung who's trying to change. I'm bracing myself for the tears because dramaland doesn't introduce cancer and not wring tears out of it.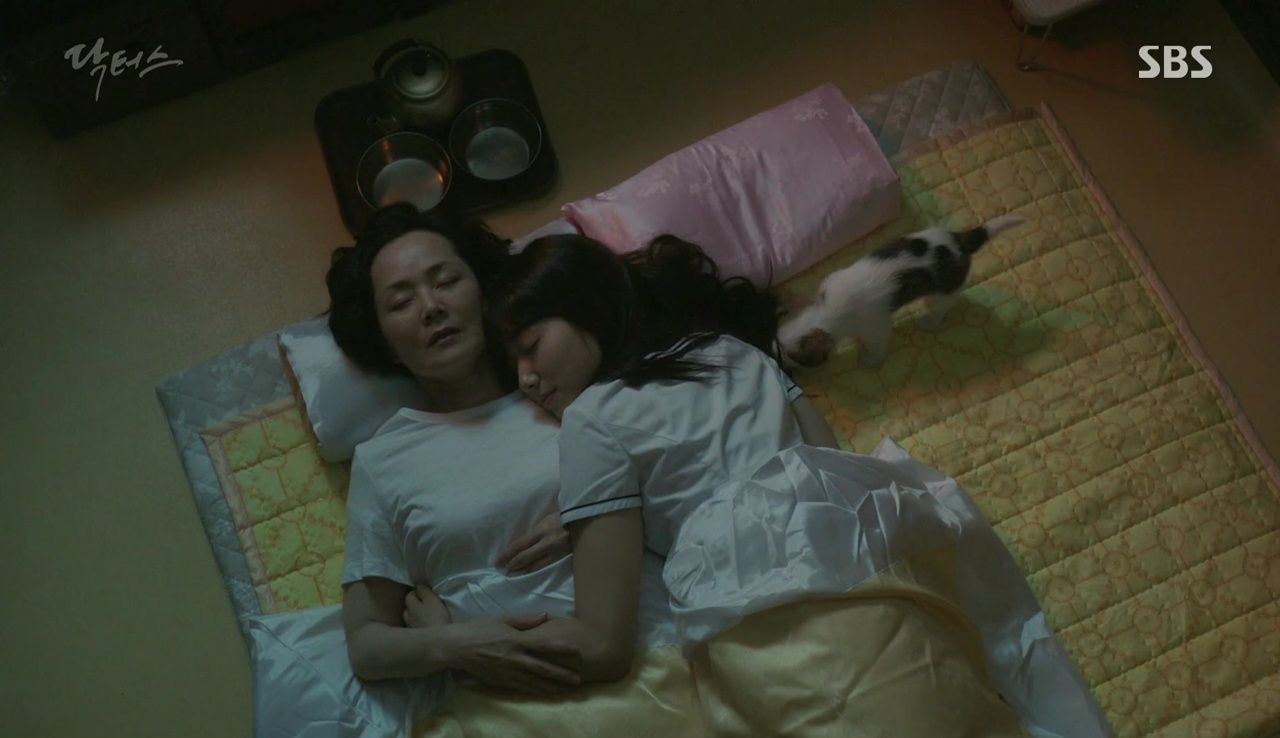 RELATED POSTS
Tags: Doctors, Episode 2, featured, Kim Rae-won, Lee Sung-kyung, Park Shin-hye, Yoon Kyun-sang