Doctors: Episode 3
Get your tissues prepared because this episode is all about sorrow. Hye-jung might have thought she was at rock bottom when she was kicked out of school and abandoned by her father, but back then, she had nothing to lose and nothing to fear. Despite the heartache Hye-jung experiences throughout this episode, I hope she can say at the end that it was better to have love and lost than never to have loved at all.

EPISODE 3 RECAP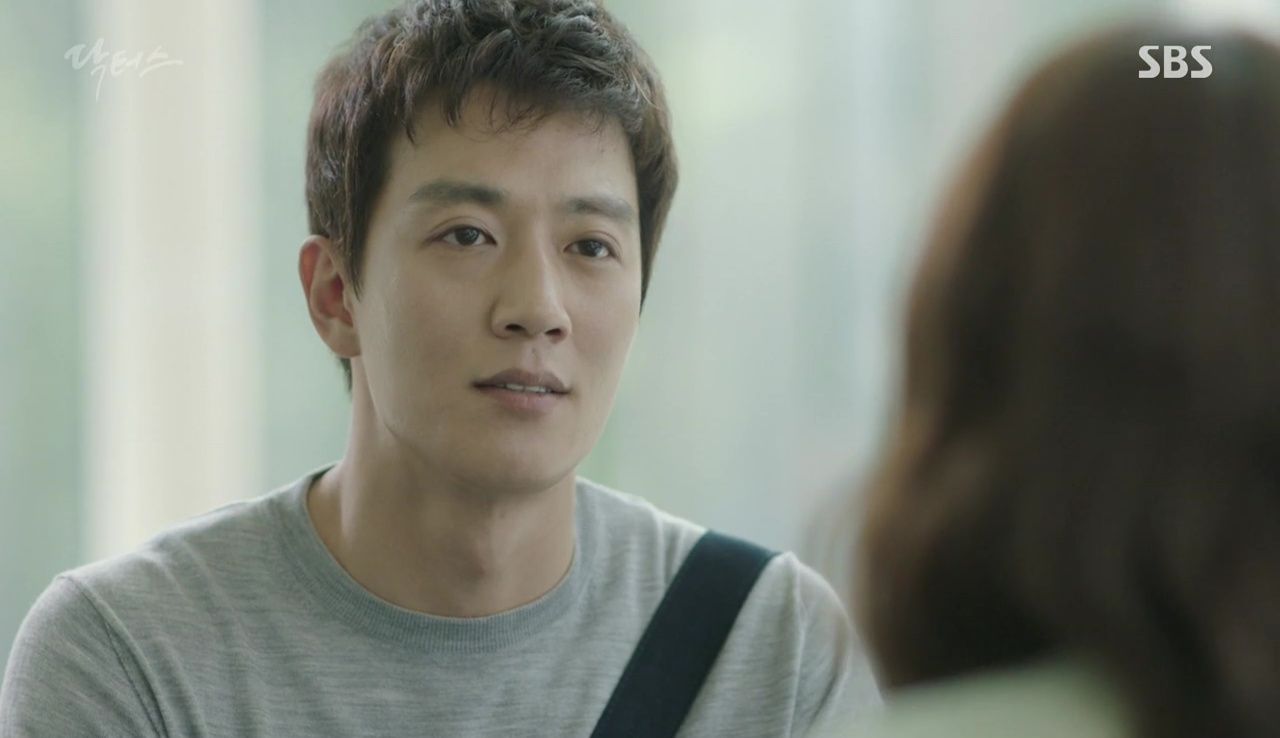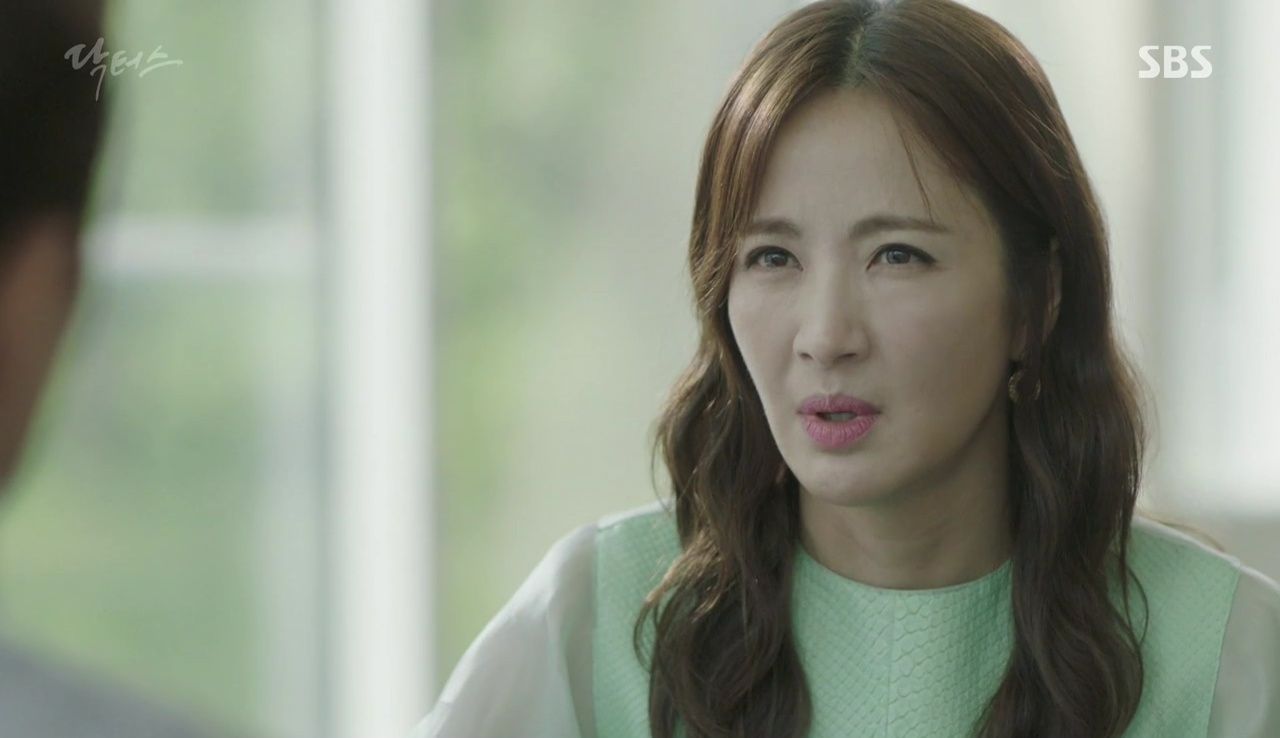 Walking on a boardwalk, Ji-hong narrates that the amygdala makes you feel love and hate, but it also controls flight and fight. Thus, when people fall in love, they become more aggressive.
He meets with Seo-woo's mother, and she makes a snide remark about Ji-hong being caught in a dirty scandal. Ji-hong only wishes to protect his students and is willing to shoulder all the responsibility. However, if Seo-woo's mother continues to demand Hye-jung's expulsion, Ji-hong will sue Seo-woo and the school for defamation.
Ji-hong turns in his resignation to the school principal (Soon-hee's father), and the principal is unhappy to lose a doctor-turned-teacher from his school. (Note: we mislabeled another teacher as the principal in Episodes 1 and 2.)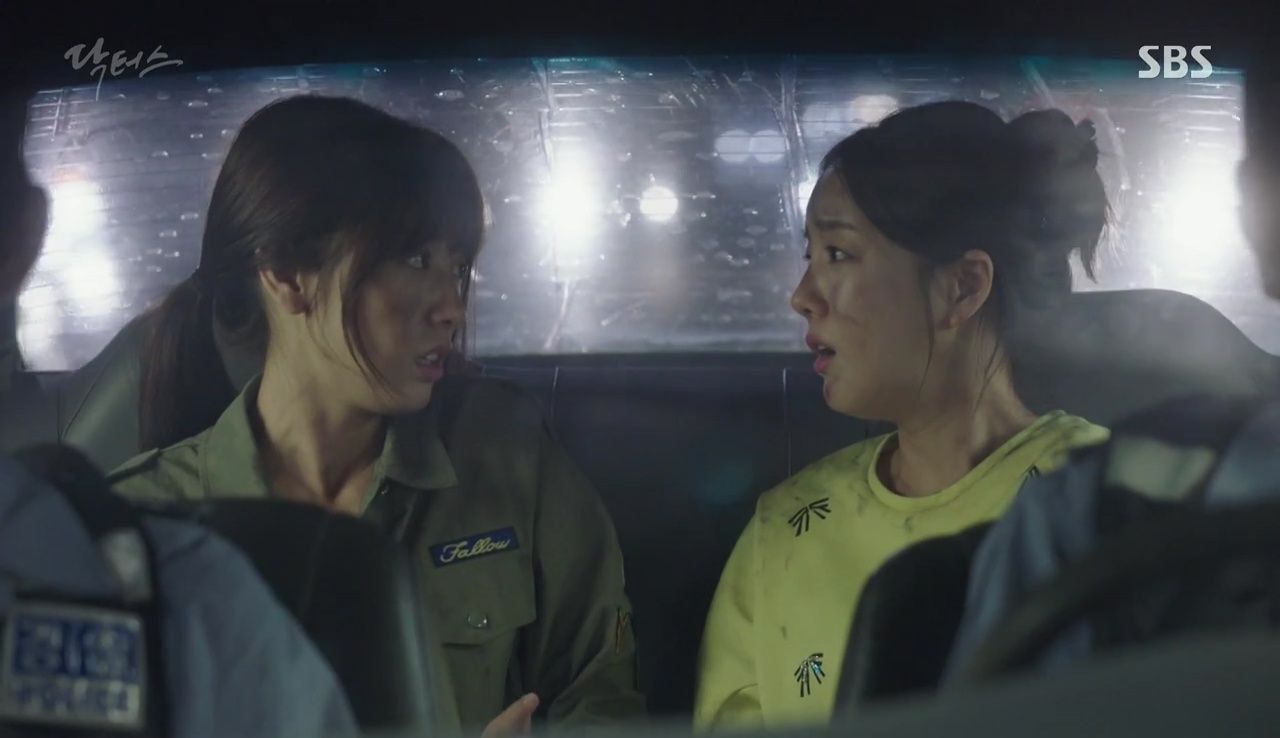 Hye-jung and Soon-hee get into the back of a police car while Seo-woo is whisked away in an ambulance, still unconscious. Soon-hee fusses over Hye-jung's burn wound, but Hye-jung tells Soon-hee to keep their meeting a secret from Ji-hong because she can't have him entangled with her. Hye-jung wants to live as a good person now, and advises Soon-hee to also leave her.
At the police station, only Soon-hee's father is there because Grandma is asleep and can't be reached. The officer allows Soon-hee to be released, and her father drags her out of the station. The officer tells Hye-jung that taking the fall now might seem cool, but the world is a cesspool.
In-joo visits Ji-hong to congratulate him on returning to her world, and Ji-hong offers making her dinner. Before he even gets the dishes out, Soon-hee calls Ji-hong and tells him about the incident.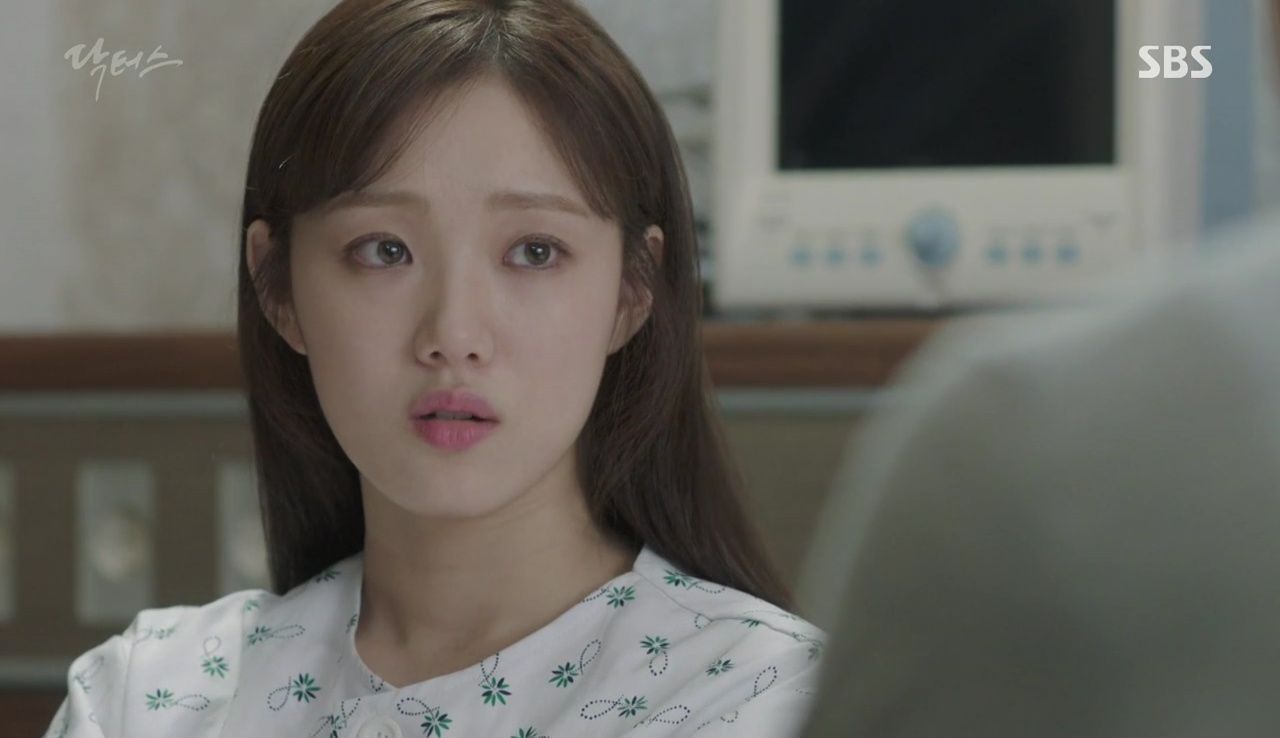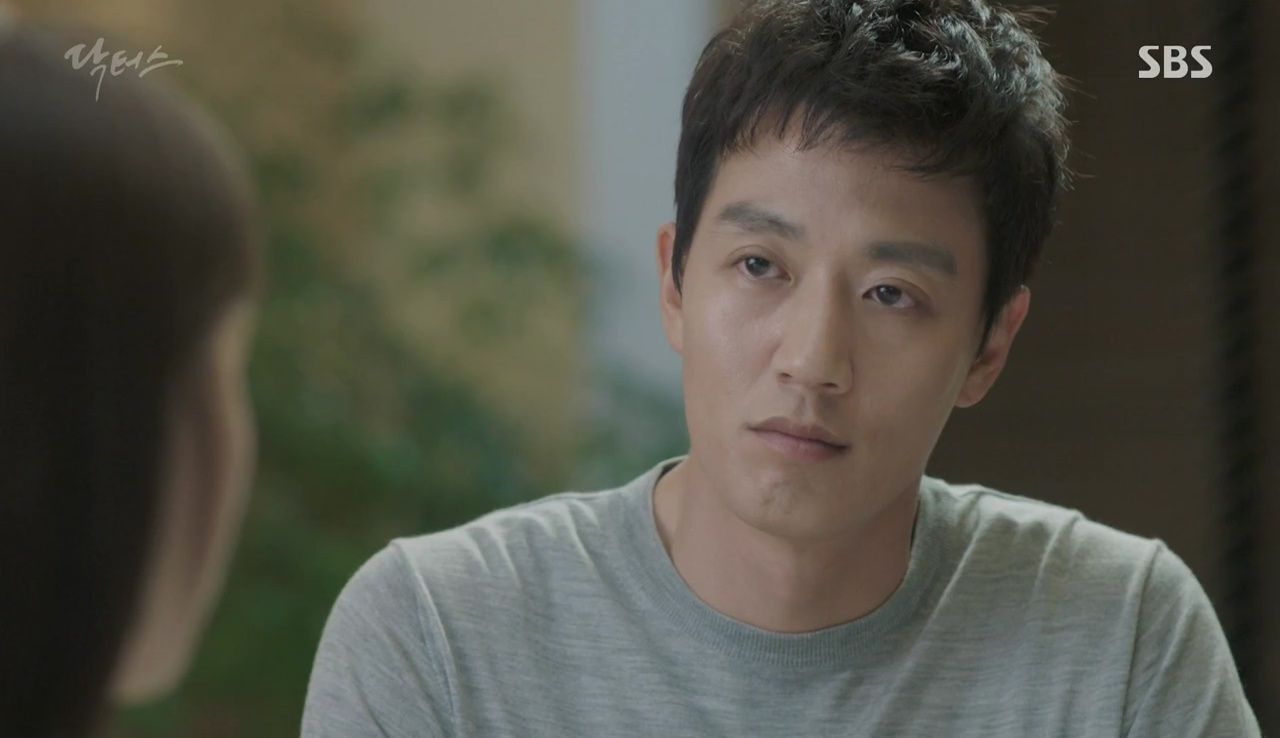 Ji-hong goes to the hospital to meet Seo-woo first, and asks her what happens. She tells him that Hye-jung tried to kill her, and Seo-woo voices her disappointment in Ji-hong. Tears pool in her eyes and she asks why he likes Hye-jung but hates her. Ji-hong tells Seo-woo that's she's beautiful and smart, and leaves.
Ji-hong visits Hye-jung at the police station, and wants to see her arm. Hye-jung ignores him, and he sighs at her stubbornness. He takes her arm forcibly to apply medicine, and tells Hye-jung that people with backgrounds like her are discriminated against in these circumstances.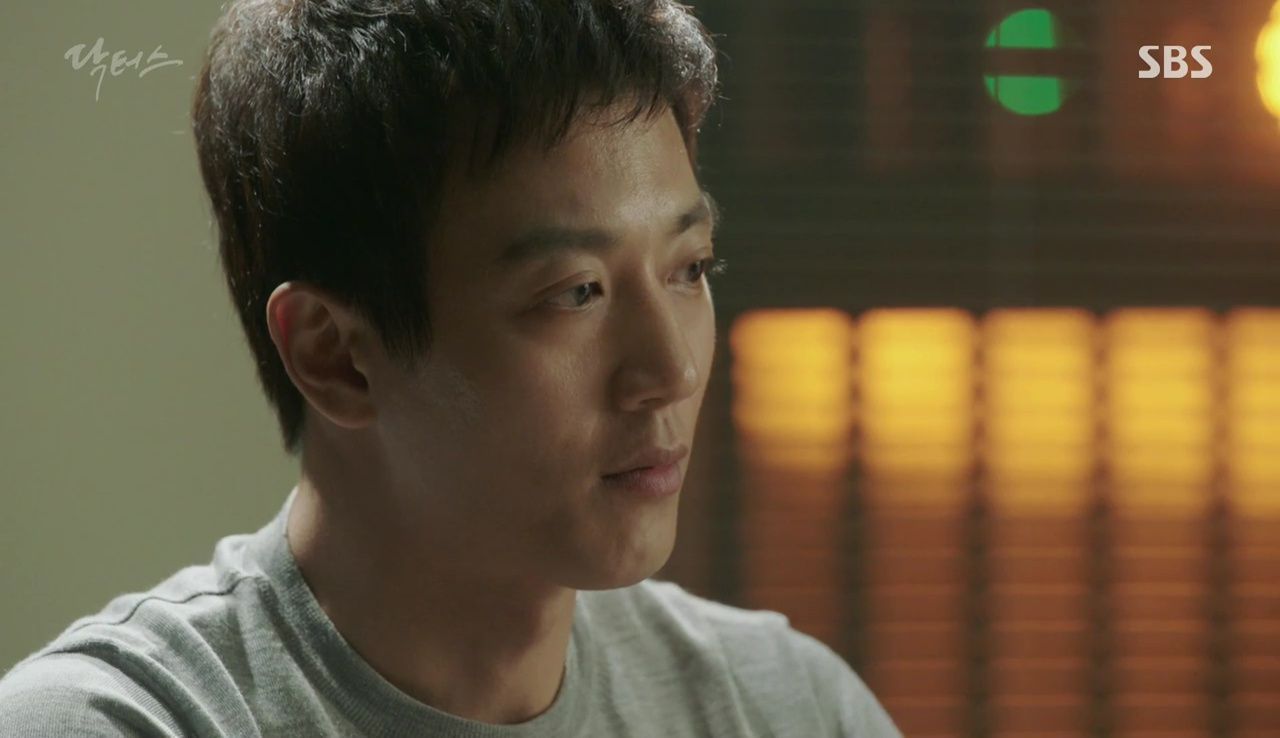 Hye-jung has a flashback where she asked for one of Ji-hong's medical textbooks as a prize for placing first on her math test. She then asked for his signature, and saw two name tags in his drawer. She noticed his different surnames, and Ji-hong casually told her that he was an orphan until junior high. After a pause, Hye-jung said that she now understood how everyone felt once she'd told them that she had no mother.
Back in the present, Ji-hong admits that he was avoiding her since the online post, and asks her if she understands that society will judge her more harshly than him. Hye-jung smiles and wonders aloud why she's more worried for Ji-hong, then. Hye-jung bows to him, thanking him for all his help, and tells him that they shouldn't see each other anymore.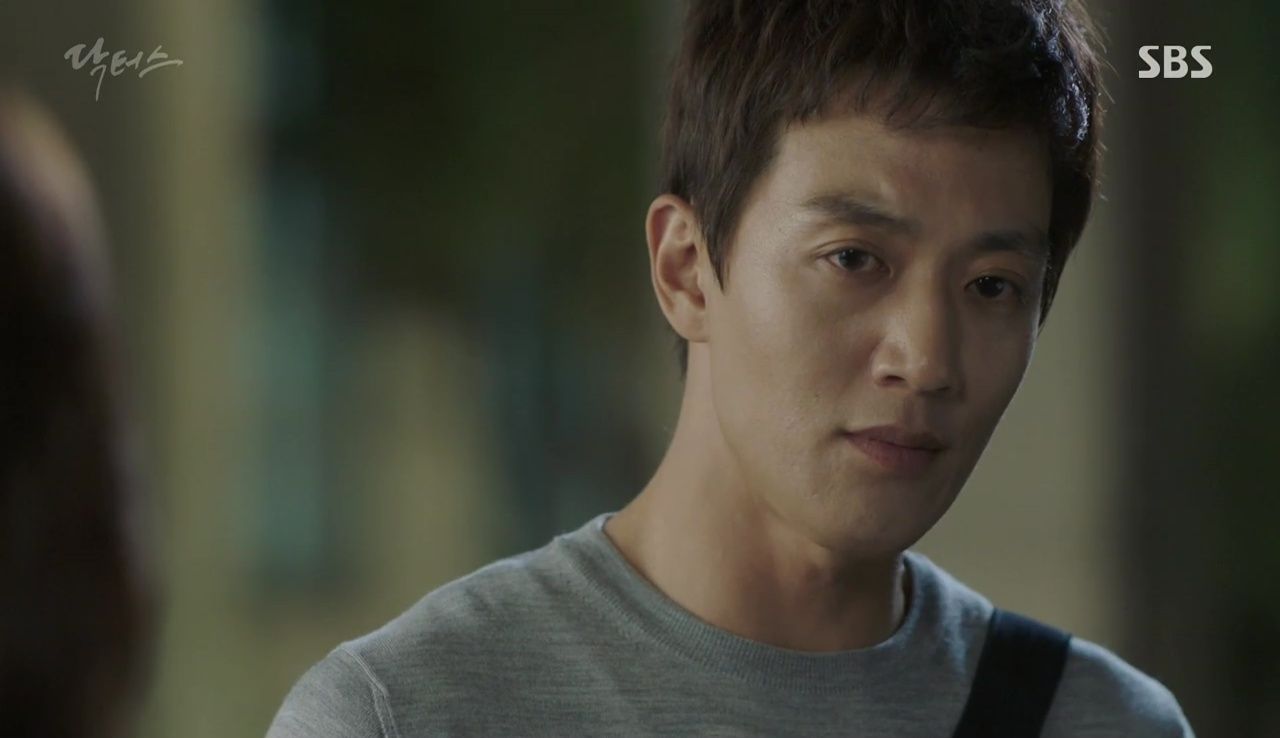 Ji-hong leaves the police station with In-joo, and asks her about a lawyer. In-joo agrees to help Hye-jung, but tells Ji-hong to stop interfering. She doesn't want him getting closer to Hye-jung since she's still a minor, and In-joo warns Ji-hong to watch his actions.
Grandma calls Hye-jung's father, but he refuses to listen to anything concerning his daughter. Thus, Grandma tells him that she has cancer in order to make him come, but he thinks she's lying and hangs up.
She visits Seo-woo at the hospital and is surprised to learn that Myung-hoon is her father. Seo-woo and Myung-hoon are polite to Grandma, but Seo-woo's mother orders the doctors to kick her out, complaining about the lack of security.
Grandma walks down the streets downtrodden as a lawyer tells her in voiceover that the case will be very difficult. She visits Hye-jung at the police station with food, but Hye-jung doesn't eat. She tells Grandma that they should part ways, and Grandma reprimands Hye-jung for saying such things. She says that Hye-jung is the type of person who would abandon Grandma for being embarrassing in the future.
Hye-jung cries that she's giving Grandma a chance to run away from her, but Grandma tells Hye-jung that she's never run away in her entire life. Grandma starts to eat the food herself since Hye-jung won't eat it, so Hye-jung takes the spoon back and eats.
While leaving the police station, a group of officers accidentally knock down Grandma. She waves them away and picks up her things as she remembers Hye-jung happily telling her about placing first in math. Unable to hold it in any longer, Grandma bursts into uncontrollable sobs.
Ji-hong meets his father who tells him that In-joo just left. He asks Ji-hong if he's settled everything with the school, and tells him to apply to Johns Hopkins and get all the paperwork ready before they leave.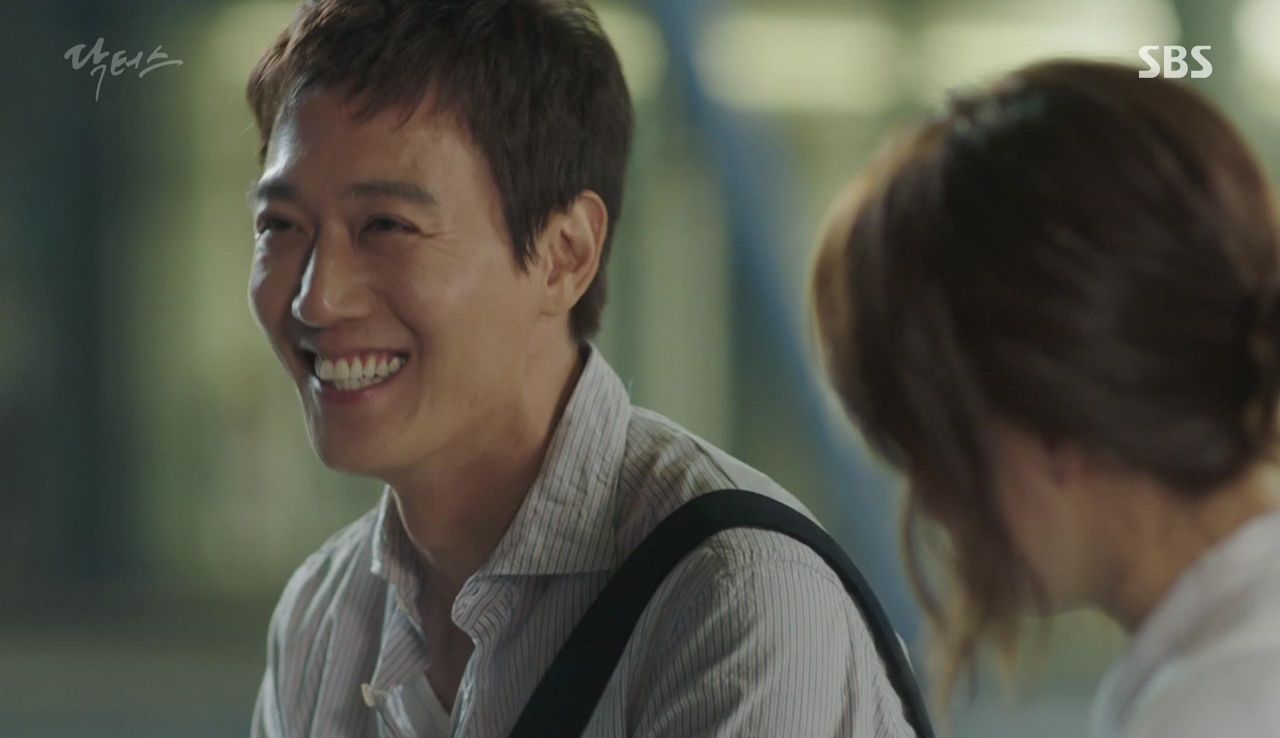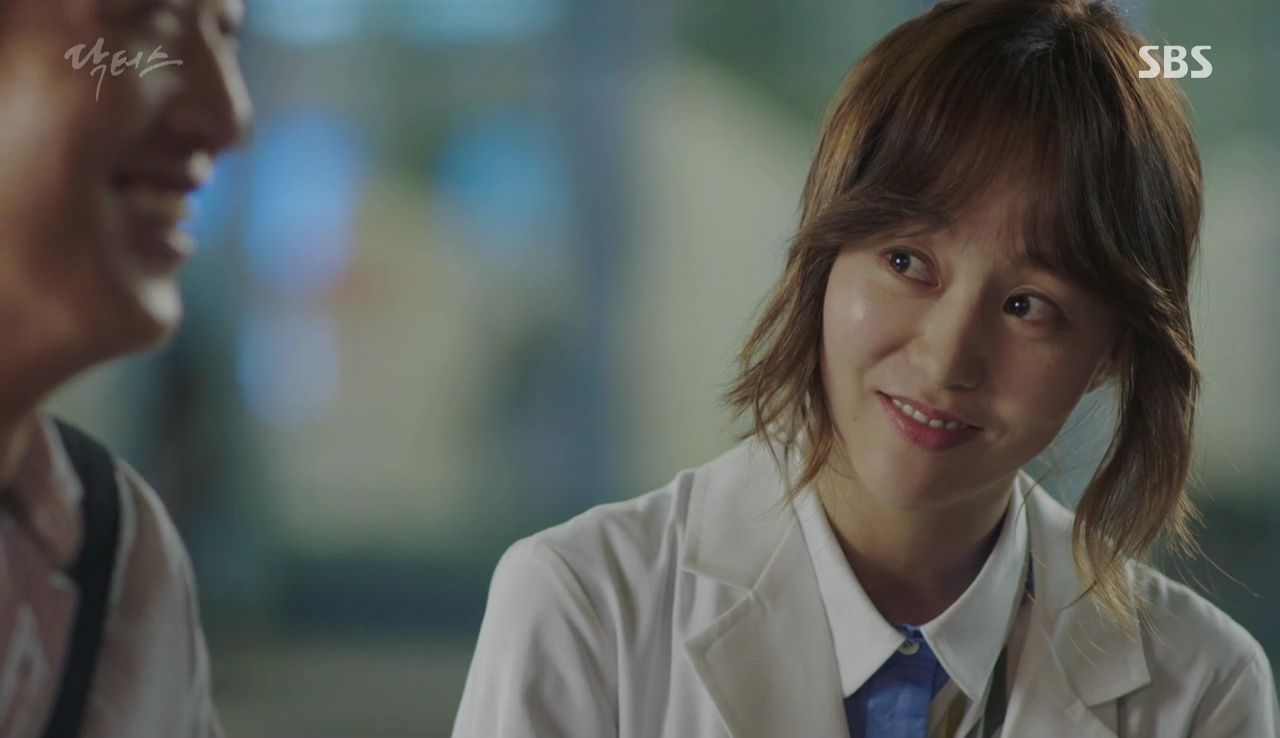 Ji-hong and In-joo meet outside, and In-joo apologizes for being so childish last time. Ji-hong admits that her words helped him, and puts Hye-jung in her care. She asks if he trusts her to do it, and he says that he has to because they're friends. In-joo is amazed at Ji-hong's ability to kill two birds with one stone — making it clear that they're just friends and making sure that Hye-jung is taken care of — and Ji-hong laughs while giving her a knowing nudge.
Back home, Ji-hong asks Grandma how her meeting with the lawyer went, and she lies that the case will go well. Ji-hong informs Grandma about his move, and she says that it must have been hard for him to get entangled in all of this. She thanks Ji-hong and tells him to keep in touch.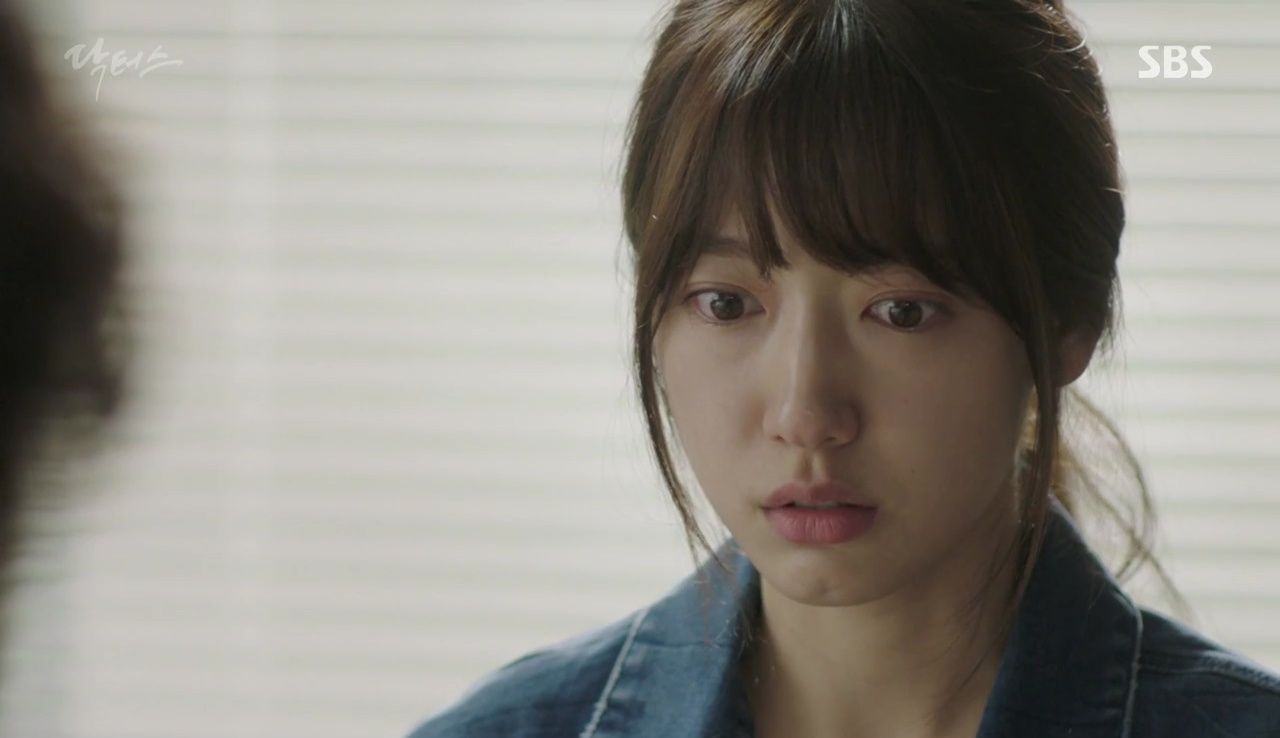 Grandma brings food to Hye-jung again and tells her that she can't visit for a while. Grandma prods Hye-jung to ask her why, and when Hye-jung humors her, Grandma drops a truth bomb: She has stomach cancer. She wasn't going to tell Hye-jung until her surgery because she didn't want to worry her, but since Hye-jung is stuck in jail, she might as well worry.
Grandma tells Hye-jung to watch her fight for her life, and wants Hye-jung to do the same. She will try her best to help Hye-jung, but it'll all be for naught if Hye-jung doesn't fight for herself. She asks Hye-jung again if she really started the fire, but Hye-jung avoids answering the question and tells Grandma to come back completely healed from her surgery. Hye-jung returns to her cell, and though she tries to stifle her sobs, she can't stop crying.
Ji-hong has all his things packed and gives one last forlorn look at Grandma's restaurant before he leaves.
Soon-hee takes a deep breath before marching into the police station, and tells the officer in charge that she started the fire. He reads her Seo-woo's statement which places the blame on Hye-jung, and tells Soon-hee that she'll have to serve at least five years at a detention center if she confesses.
Soon-hee's father runs into the station and tries to get his daughter out of there. However, the officer stops him, and Soon-hee's father slaps his daughter on the back for causing all this trouble. He asks her if Hye-jung is more important than family, and Soon-hee defiantly says that Hye-jung is the only person who genuinely likes her and speaks to her sincerely. Soon-hee's father gives up and calls her a disgrace to the family before storming out of the room.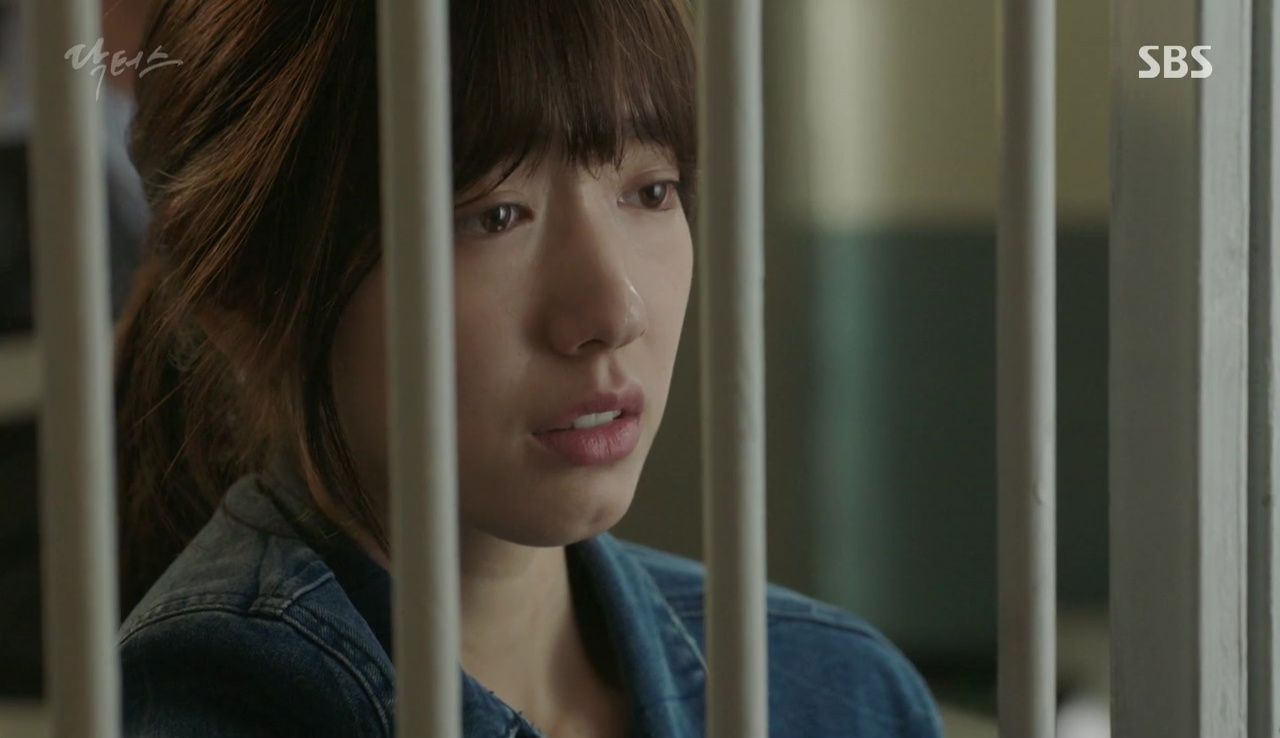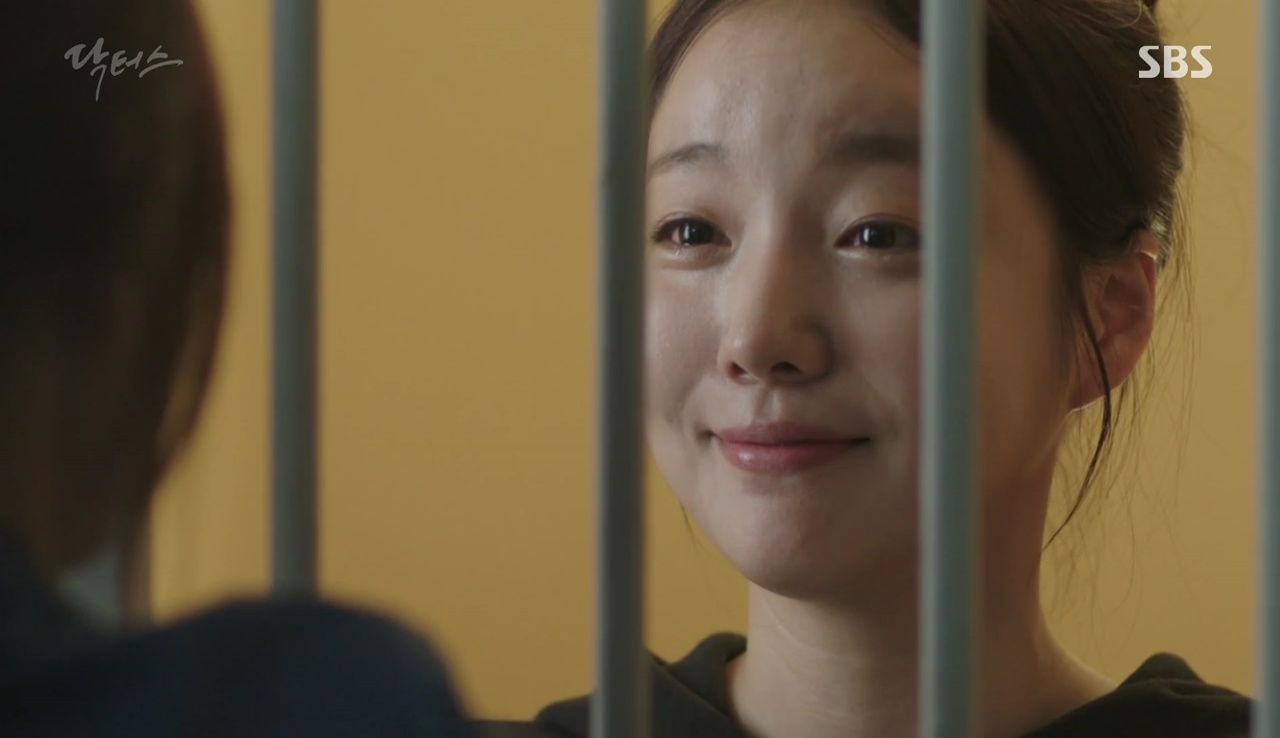 The officer opens the cell door and tells Hye-jung to leave while telling someone who's offscreen to get in. Still confused, she exits and looks up to see Soon-hee walk past her. The door closes, and Hye-jung yells at the officer to release Soon-hee and put her back in. The officer jokingly asks if they're dating, and tells them to settle their love matters between themselves.
Hye-jung tells Soon-hee to take back what she said, but Soon-hee asks Hye-jung to not forget that she didn't abandon her. Soon-hee holds onto Hye-jung's hands through the bars, and Hye-jung stares back at her with tears in her eyes.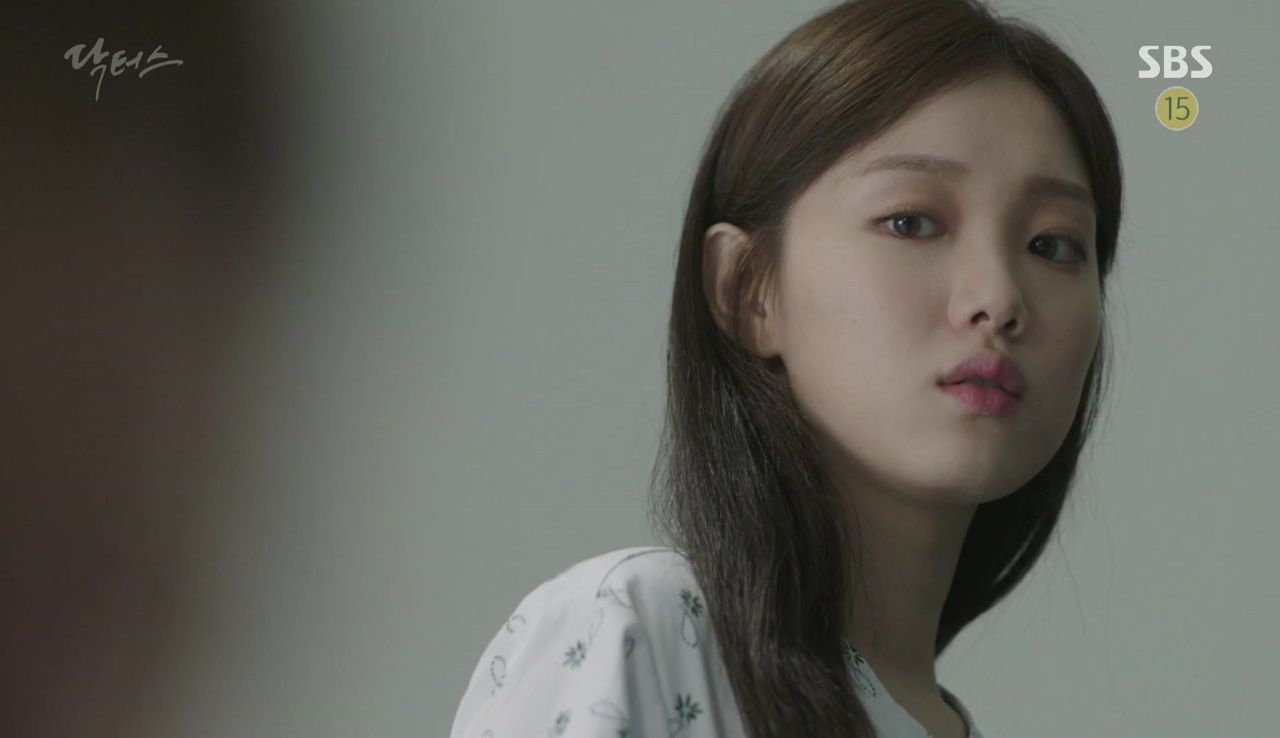 Seo-woo's mother tells Seo-woo that Hye-jung will be expelled, and Seo-woo asks about Ji-hong. Her mother dismisses her question and says that she'll have to transfer schools. Seo-woo excuses herself and gets up to take a walk.
Hye-jung goes to the hospital to visit Seo-woo since the officer told her that if the parties involved agree it was an accident, then Soon-hee will be released with just a fine. They coincidentally meet in a stairwell, and the sight of Hye-jung reminds Seo-woo of the night of the fire.
In flashback, we see that Hye-jung carried Seo-woo on her back, and when a pillar crashed down on them, Hye-jung blocked it with her arm so that it wouldn't fall right on top of Seo-woo. Hye-jung carried Seo-woo again despite her injury, and Seo-woo regained a moment of consciousness and clutched onto Hye-jung tightly.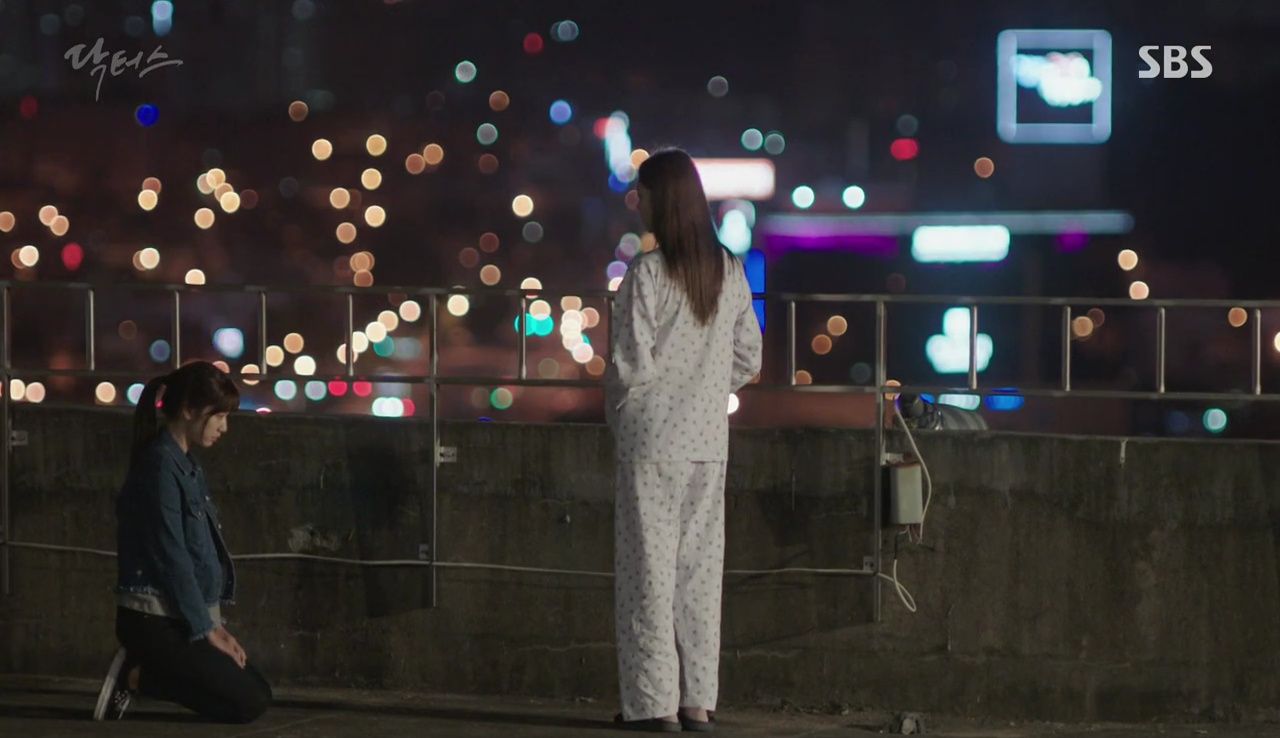 On the rooftop, Hye-jung wonders why Seo-woo is acting like this when they used to be friends, and Seo-woo says that she gets mad just looking at her. Hye-jung says that she'll beg if she has to, and gets on her knees. Seo-woo stares down at her and says that it doesn't work. She walks away as Hye-jung continues to kneel on the floor long after Seo-woo has left.
Hye-jung returns home late at night and moves the puppy out of Grandma's arms to reclaim her spot next to Grandma. As she snuggles with Grandma, the puppy adorably cuddles next to Hye-jung.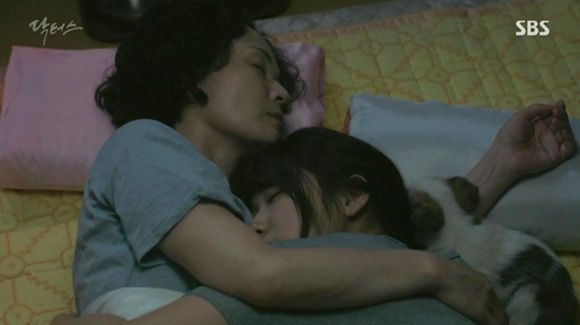 In the morning, Grandma wakes with a start and wonders when and how Hye-jung got home. She gets up to bring some tofu—traditionally eaten when someone's released from prison to symbolize starting over with a clean slate—and feeds Hye-jung. She asks if it's Grandma's surgery day, and Grandma pulls Hye-jung into a hug.
Soon-hee is released from jail with help from her father, and she thanks him profusely. He huffs and tells her to be prepared to leave for Canada. Despite her father's grumpy mood, Soon-hee remains chirpy and follows after him.
It's Ji-hong's last day at school, and he gives his farewell speech to his class minus Hye-jung who's absent. He apologizes for not finishing the term with them, and says that he'll remember them always wherever he may be. Seo-woo leads the class in their final bow, and Ji-hong bows back.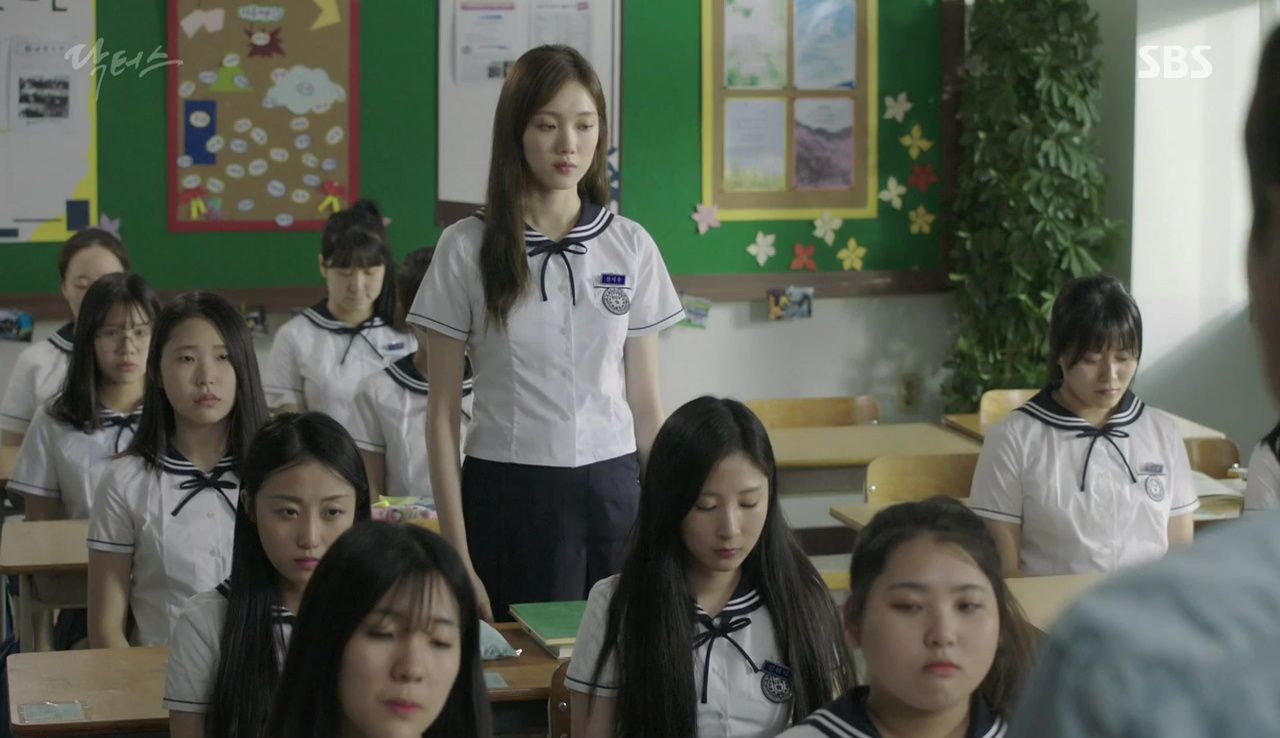 Hye-jung sits by Grandma's hospital bed before the surgery, and the two of them joke and cuddle. When it's time, Grandma reassures Hye-jung that everything will be all right. They wave goodbye, and Hye-jung watches Grandma until she disappears into the operating room.
Myung-hoon is operating on Grandma when a nurse comes in with a phone call from his father. He tells his father that he remembers their meeting, and promises to wrap up his surgery quickly. Not soon after, blood starts to spurt. Myung-hoon shouts out orders to his assistants, but Grandma flatlines.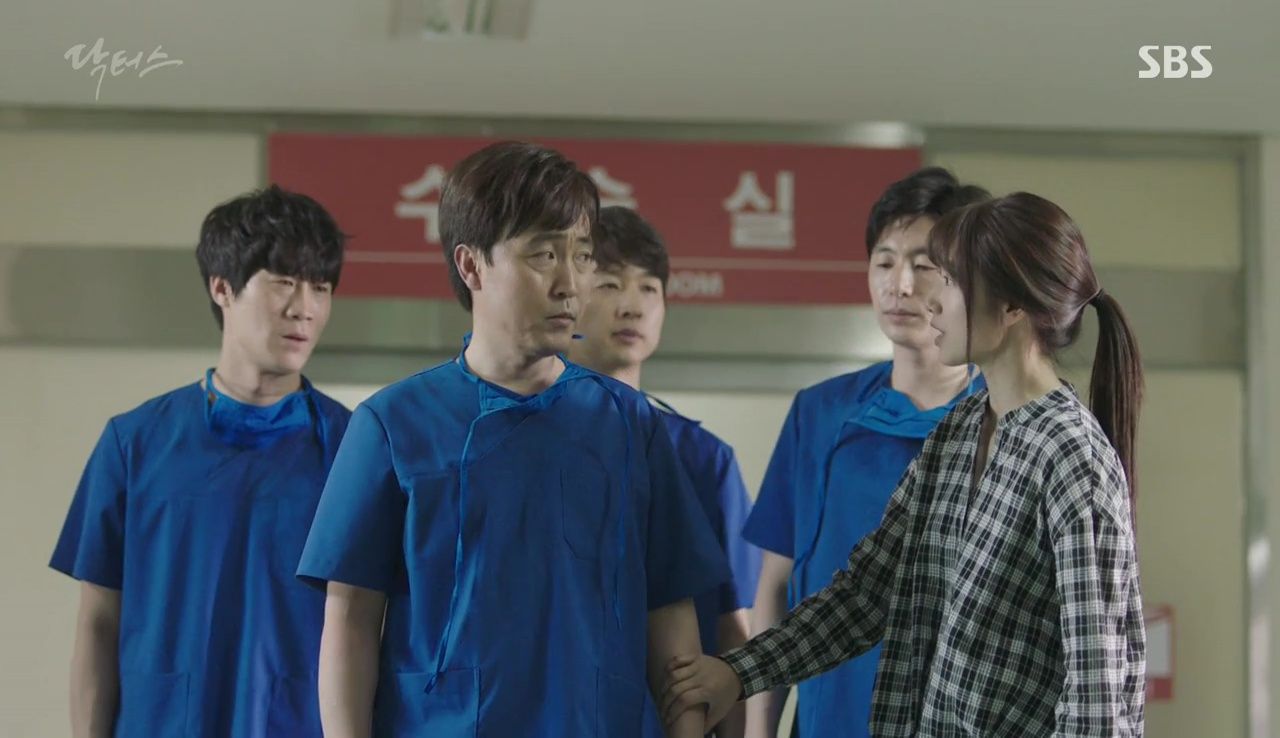 When Myung-hoon exits, Hye-jung confronts him and asks about the surgery. He tells her nonchalantly that they tried their best but the results weren't good. Hye-jung wants clarification, and Myung-hoon tells her to prepare a funeral.
Hye-jung can't believe Grandma would die and wants an explanation. Myung-hoon says that he'll speak to an adult, but Hye-jung yells that she's the closest to Grandma. He refuses to talk to Hye-jung and walks away. She dissolves into sobs and crouches on the floor.
Seo-woo's family is enjoying a fancy dinner, and Director Jin declares that this is now a turning point for their family. They toast happily.
Hye-jung, dressed in all black, stares down at Grandma's funeral portrait, and then reads a letter Grandma wrote before her surgery. She writes to Hye-jung that she may have been abandoned by her parents, but at least she was fortunate to have a grandma like her. She wishes Hye-jung to study and tells her that she changed all her bank accounts to be under Hye-jung's name. Hye-jung clutches the portrait to her chest and weeps.
Her father and stepmother walk in, and her stepmother can't believe Hye-jung is crying since Grandma died because of her. Indignant, Hye-jung demands to know if they accepted money from the hospital, and tells them that the hospital is responsible for Grandma's death. Stepmother doesn't believe a word Hye-jung spews, and even her father looks away.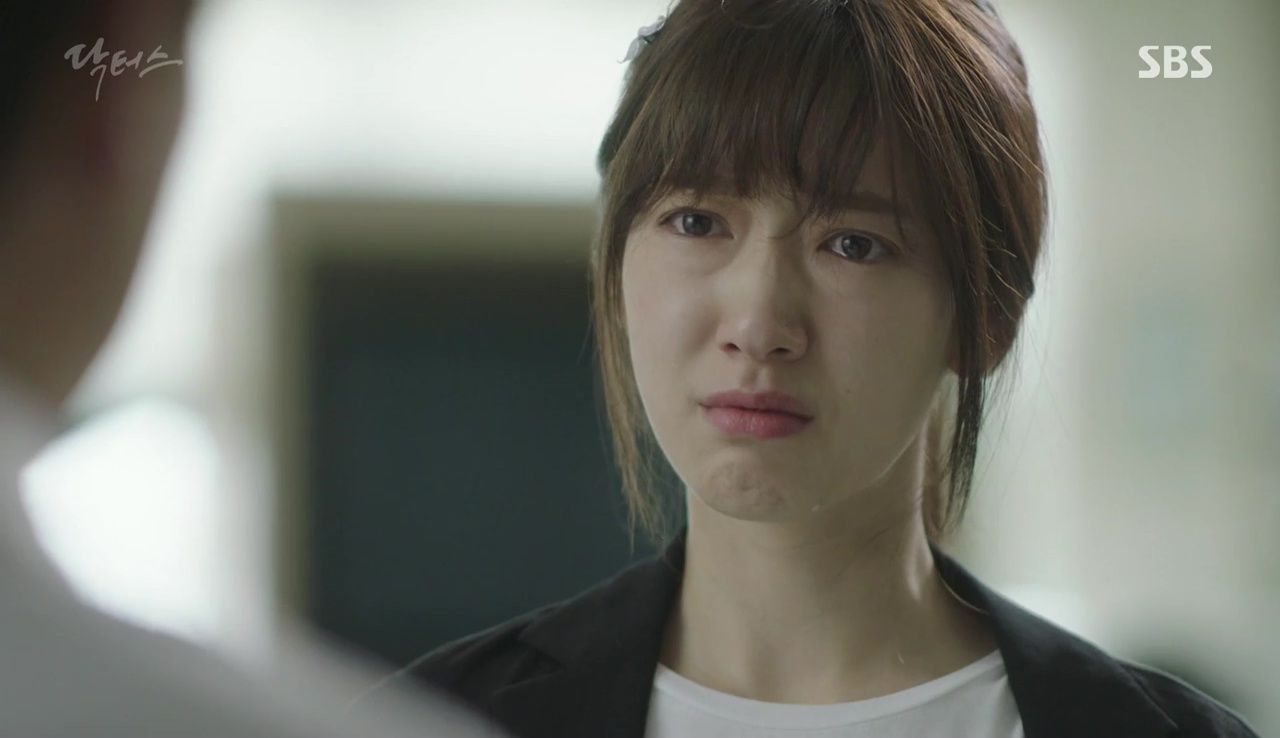 Hye-jung storms into the hospital and confronts Myung-hoon. She accuses him of killing Grandma, but he calmly states that he did his best and her parents have accepted it. Hye-jung asks if trying your best automatically means forgiveness, but Myung-hoon only warns her to never cause another disturbance because of this matter.
Ji-hong rushes to the hospital and enters just as Hye-jung leaves. He tries calling her, but Hye-jung stares at the caller ID and doesn't answer. She has a flashback where In-joo handed her a pamphlet for a boarding school. Hye-jung declined since she was planning to take the high school equivalency exam and stay by Grandma's side. In-joo asked if Hye-jung liked Ji-hong, and told Hye-jung that he lived in a different world from her—in other words, Hye-jung was a hindrance to Ji-hong.
Ji-hong catches up to Hye-jung outside, and reproaches her for making him hear about Grandma from someone else. Hye-jung doesn't see why she should tell him, and asks him coldly why he's intervening. Ji-hong pauses and says that now isn't the right time to talk.
Hye-jung walks away, but Ji-hong calls out to her and asks if it's really okay for him to leave. With her back turned to him, she tells him that she never wants to see him again, though the tears streaming down her face seem to say otherwise. She tells him to return to his world, and she'll return to hers.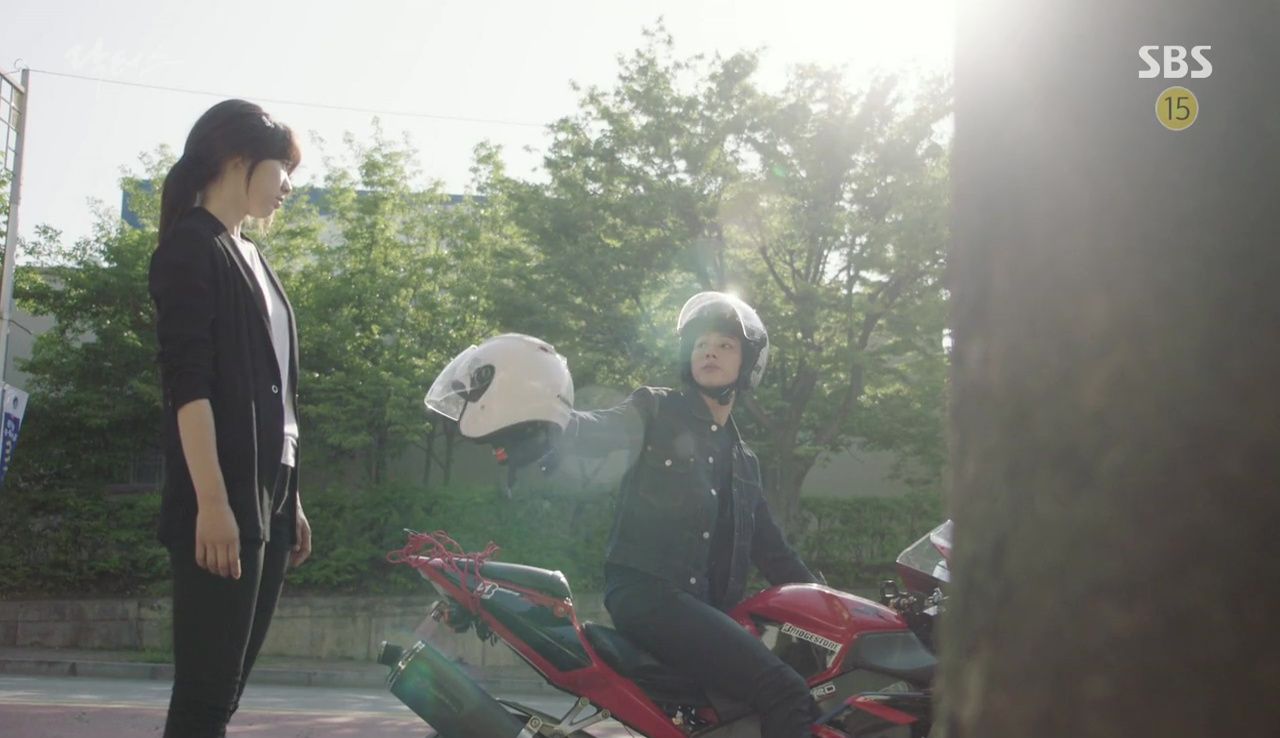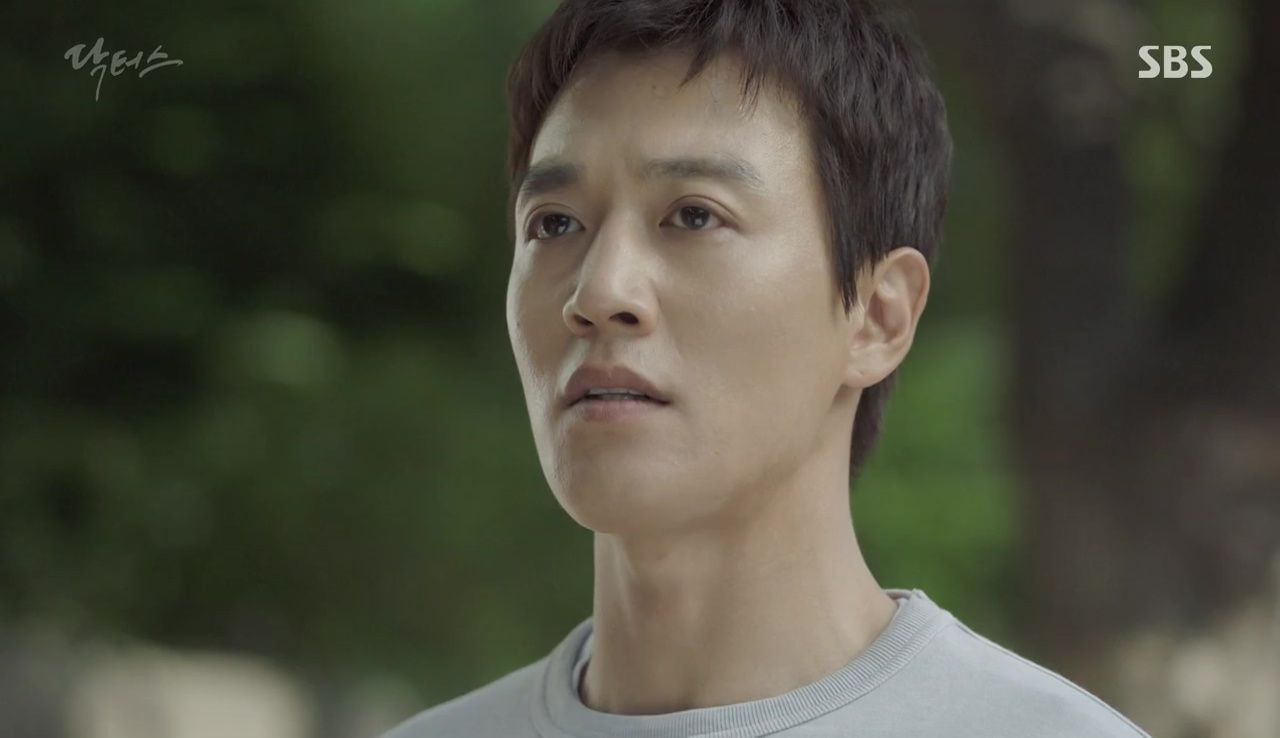 Ji-hong hesitates for a moment, but then starts running after Hye-jung. A motorcycle passes him, and Soo-chul reaches Hye-jung first. He offers her a ride, and Hye-jung leaves seconds before Ji-hong catches up.
As Ji-hong watches Hye-jung disappear, he narrates that not being crazy while in love is abnormal, but he guarded himself against that. As a result, he's paying the price for his actions. Meanwhile, Soo-chul speeds on his motorcycle as Hye-jung looks off towards the horizon.
Thirteen years later. We return to a familiar scene with Hye-jung tying up her hair, and in a busy emergency room, gangsters carry their injured boss inside. All the doctors try to avoid treating the scary patient until fourth-year resident KANG KYUNG-JOON (Kim Kang-hyun) is pushed forward as the doctor in charge. He tells a first-year resident CHOI KANG-SOO (Kim Min-suk) to prepare CT and MRI scans, but the boss scoffs at Kyung-joon's proposal.
When Kyung-joon yells at Kang-soo for accidentally letting a cart go astray, one of the gangsters grabs him and asks if he's ignoring their boss. He orders Kyung-joon to clench his teeth, but Hye-jung intervenes just in time. She chucks the gangster across the room and tells the rest of them to leave.
Seemingly unimpressed (or too injured to have registered what happened), the boss orders his lackeys to escort her outside because he won't be treated by a woman. They try to grab Hye-jung, but she deftly avoids them and manages to single-handedly beat everyone. Just as she flips over the last gangster, the boss faints.
Seo-woo is applying lipstick and practicing her confession in a public bathroom. She tries a straightforward approach and then attempts a cutesy version. She sighs at her reflection and decides that acting pretty won't work. At that moment, the sink crashes to the floor, to Seo-woo's horror.
She walks to a table at a restaurant where her sunbae and crush, JUNG YOON-DO (Yoon Kyun-sang), is sitting and already done with his meal. She complains about him not waiting, and he tells her to act that way in front of her boyfriend.
Yoon-do wants to get up and go back to the hospital, but Seo-woo stops him because she has something to tell him. Before she can confess her feelings, the restaurant owner approaches them and places a broken piece of sink on their table.
Seo-woo takes out a couple of bills to compensate for the sink, but the restaurant owner yells at her to apologize first. Yoon-do tries to slip away, and Seo-woo gapes at him: Doesn't he watch dramas? This is when he's supposed to help the damsel in distress, she points out.
Yoon-do tells her to clean up her own mess, and attempts to leave again. However, the restaurant owner suddenly collapses to the floor, and Yoon-do checks on her at once.
They arrive at the hospital in an ambulance with the restaurant owner, and Kyung-joon tells him that surgery room one is available. He asks about room two, and Kyung-joon explains that the new fellow is already in there with an emergency patient. The news makes Yoon-do furious since he's in charge of all the surgeries tonight.
In room two, Hye-jung is busy operating on the gangster boss, calm and in control. Yoon-do passes by in his surgical gown, and from the looks of it, Hye-jung has just successfully completed her surgery.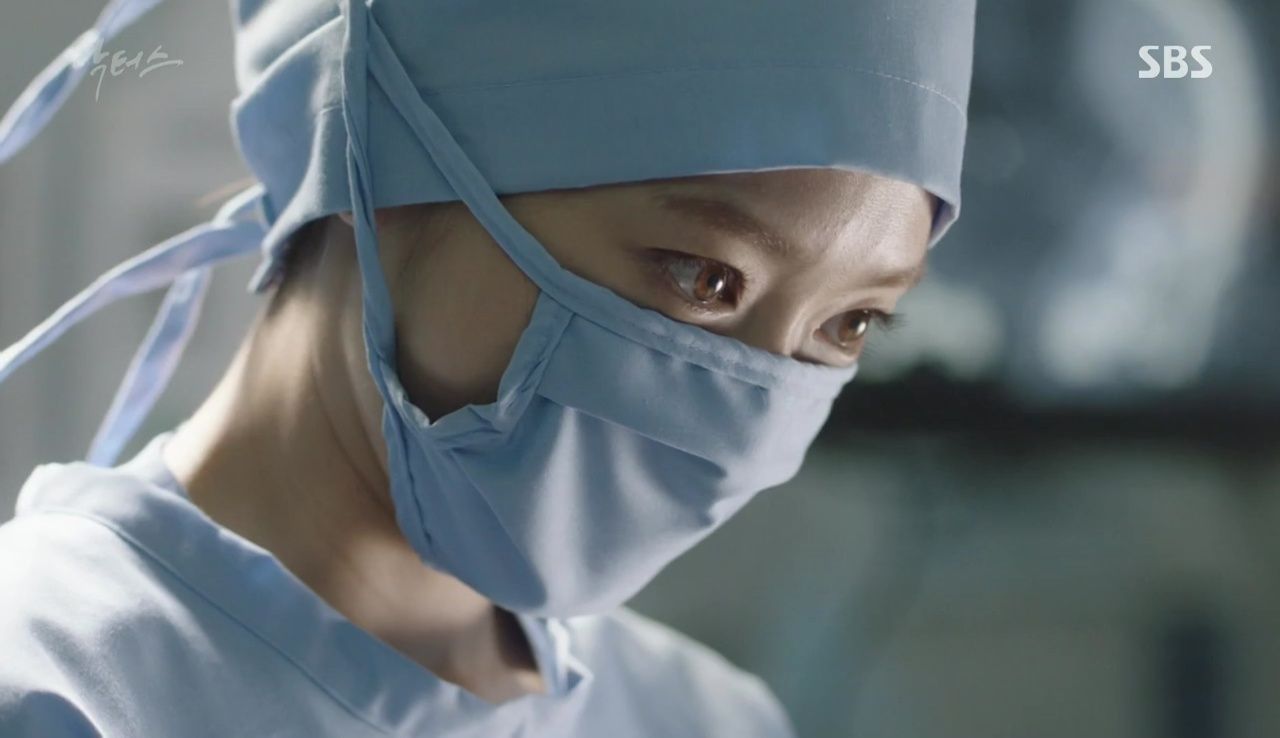 COMMENTS
Even though I was prepared, I was still devastated by how quickly Grandma passed away. I loved her, and Kim Young-ae was, as usual, brilliant. I ached when she wept outside the police station so Hye-jung couldn't see her crying, smiled when she adorably prepared tofu to feed her still sleeping granddaughter, and watched with butterflies in my stomach as she waved goodbye to Hye-jung right before her surgery. I desperately wanted Grandma to survive though I knew she wouldn't, so when Myung-hoon came out of the surgery room without an ounce of remorse, I wanted to slap him. He didn't even apologize or utter his condolences to Hye-jung, and his actions made me think of Tae-ho from Episode 2. There's a reason why Myung-hoon hadn't been promoted for a long time, and it becomes more evident when he's compared to Tae-ho. In Tae-ho's case, his surgery succeeded and afterwards, he warmly told the family and interacted with the son; whereas for Myung-hoon, his surgery failed yet he still acted nonchalant and aloof towards Hye-jung. While I don't think Myung-hoon is a horrible person, he's unsympathetic and doesn't have the skills to excuse his uncommunicative behavior towards the patient's family. This is what makes Myung-hoon a mediocre doctor aside from his lack of skills, and from the little we've seen, Tae-ho appears to be head and shoulders above him.
While I like Park Shin-hye in this role, my only minor issue was that she looked too old to play a high schooler. I find her more believable as a thirty-year-old surgeon than as a teenager, but I only bring this up because when Hye-jung walked away from the hospital completely heartbroken and lost, she looked like a little girl. In that moment, Park Shin-hye was Hye-jung, and I forgot she was acting. Besides that scene, I also applaud Park Shin-hye for all her crying scenes this episode because she portrayed various degrees and forms of sadness through her tears, and her acting highlighted the subtle nuances of the character's emotions.
It was heartbreaking to see Hye-jung cry by herself. First, it was in her cell, then at the hospital, and finally at home. It was a tough episode for her since she saw her only friend go behind bars, witnessed an ex-friend walk away from their relationship, lost the only family member who truly cared for her, and parted ways with her teacher who had inspired her to live differently. However, these events were heartrending because of the brief moments of happiness Hye-jung had before everything was taken away from her. It was sweet how close Hye-jung was with Grandma, and even though she was expelled from school, Hye-jung remained optimistic because Grandma was by her side and gave her support. Thus, when Grandma died, the last twinkle and hope in Hye-jung's eye seemed to disappear. However, maybe it's because of Grandma's last wish and the circumstances surrounding her death, but it seems that Hye-jung continued studying and didn't fall back to her old way of living.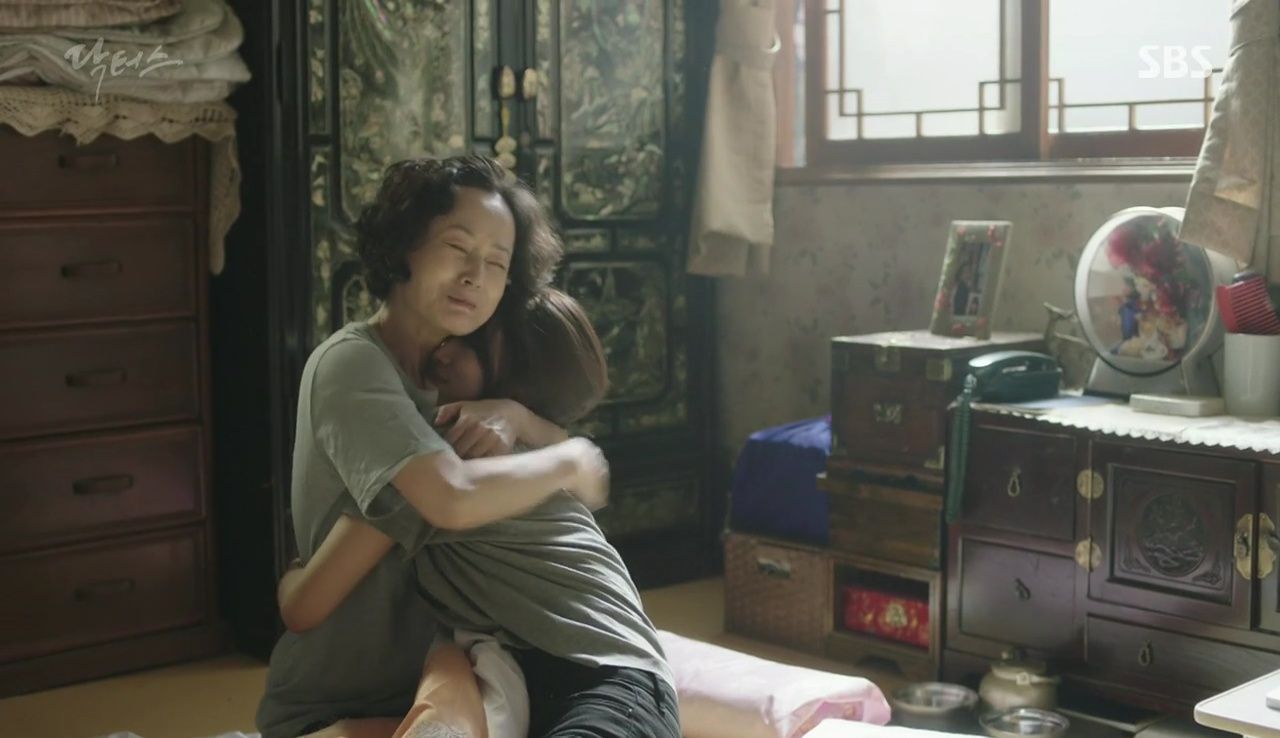 I'm excited to meet adult Hye-jung and the new people who'll inhabit her world. Yoon-do seems stubborn like Hye-jung, and I can't wait for him to butt heads with her. I also enjoyed the little of adult Seo-woo we saw, who seems much happier now than before. I dearly hope that when the two girls meet each other, Seo-woo doesn't revert back to her sullen teenage version. A little competition is healthy, but I don't want Seo-woo to waste her life by always comparing herself to Hye-jung and never appreciating her positive traits. Teenage Seo-woo's greatest weakness was allowing loss to control her, and failing to see the bigger picture. It seemed to me that she blamed Hye-jung for suddenly appearing and taking the things she thought were hers: the best grades, Soon-hee, and Ji-hong. Hopefully, she can overcome her inferiority complex towards Hye-jung because I really want them to be friends again.
I know a majority of the comments (and probably readers) weren't keen on the student-teacher relationship. I, myself, always find these sorts of portrayals troubling because, in real life, a teacher should never be romantically involved with a student no matter the circumstances. Thus, I tried to give the show the benefit of the doubt by assuming Ji-hong never harbored romantic feelings for Hye-jung. All the fuzzy cinematography and ambiance was to depict Hye-jung's one-sided love for her teacher because I can understand her developing a crush on him. But to my dismay, Ji-hong's final narration hinted at deeper feelings, and it made me frown. He should have known better, but I guess you could say he's atoning for his mistake by quitting his job and leaving Hye-jung's side. I'm just glad that we've jumped to the present timeline and am willing to put the student-teacher issue in the past since nothing technically happened between them. Anyways, Kim Rae-won is doing an amazing job, and I probably find Ji-hong less creepy than I normally would because of him.
RELATED POSTS
Tags: Doctors, Episode 3, featured, Kim Rae-won, Lee Sung-kyung, Park Shin-hye, Yoon Kyun-sang