Entertainer: Episode 14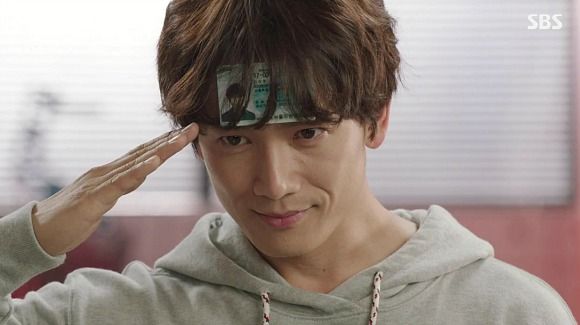 Not a lot happens in this episode to move the plot forward, though we do get quite a few cute scenes with a dash of heartbreak on top to spice it up. The band has the chance to make it big, but is it worth dragging up old pain to make it happen? When the truth finally comes out, will it cause more heartache than the band can handle, or will it be the start of some much-needed healing?
EPISODE 14 RECAP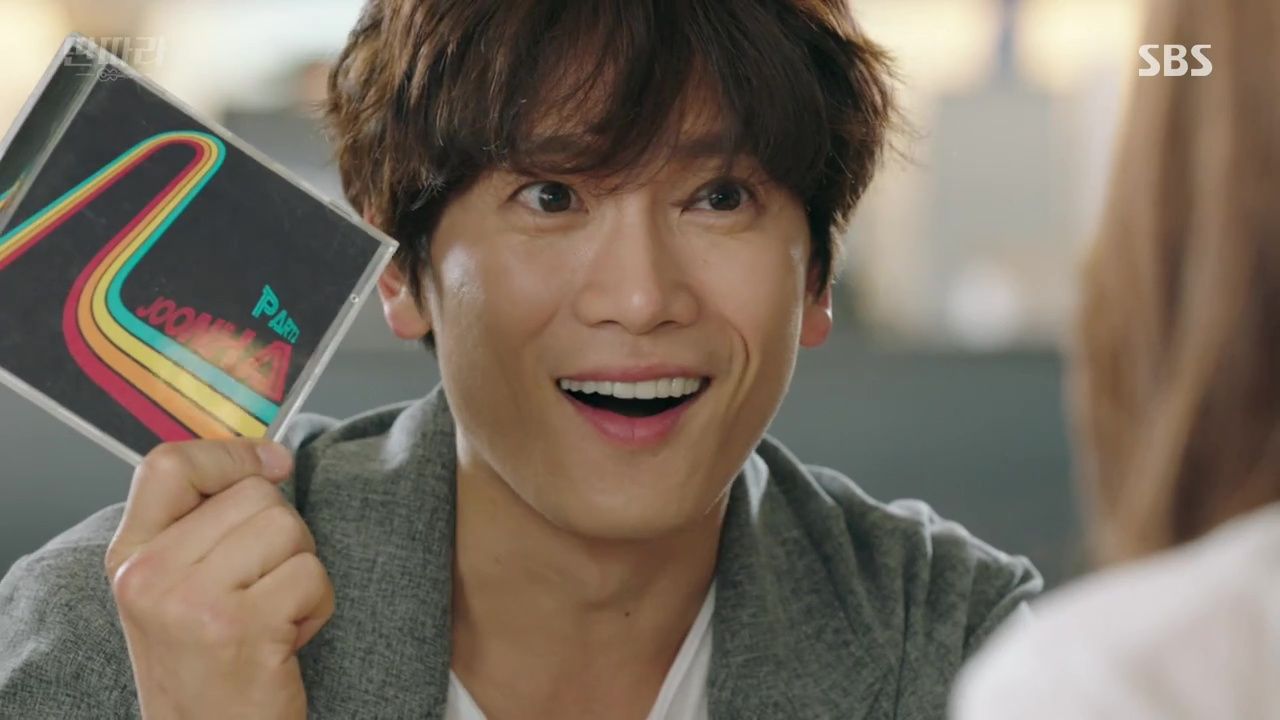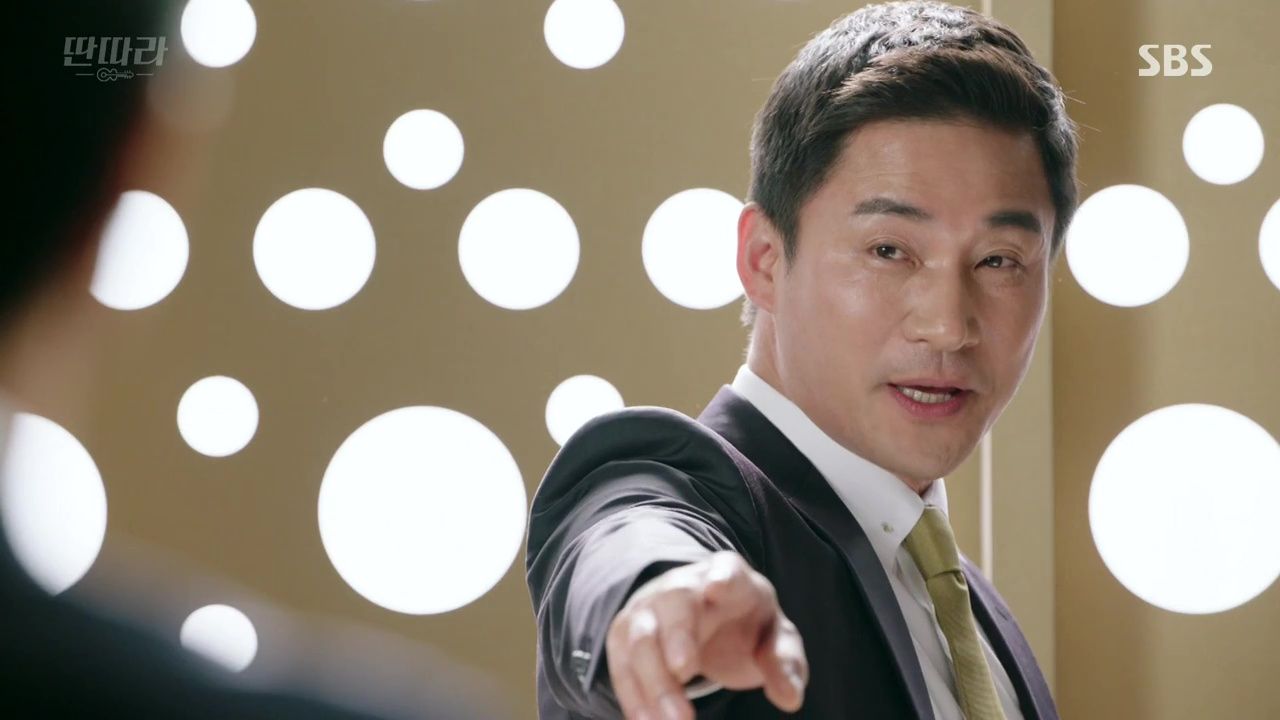 Seok-ho is thrilled when he hears that Ddanddara Band has been invited to perform on the new television show "Legend Again." He's even more excited to learn the song they'll be singing, "Go Ahead, Cry," unaware that it's the song that was stolen from Ha-neul's brother Sung-hyun, which led to his suicide.
CEO Lee hears about it as well, since the show wants the original singer, Choi Jun-ha, to also appear. Unfortunately, after releasing the hit album, the artist went into hiding and hasn't been heard from since.
CEO Lee's eyes narrow when he learns that Ddanddara Band will be performing the song, then he starts to laugh that maniacal laugh again. This guy is absolutely bugnuts. He collects himself, and orders Joo-han brought to him.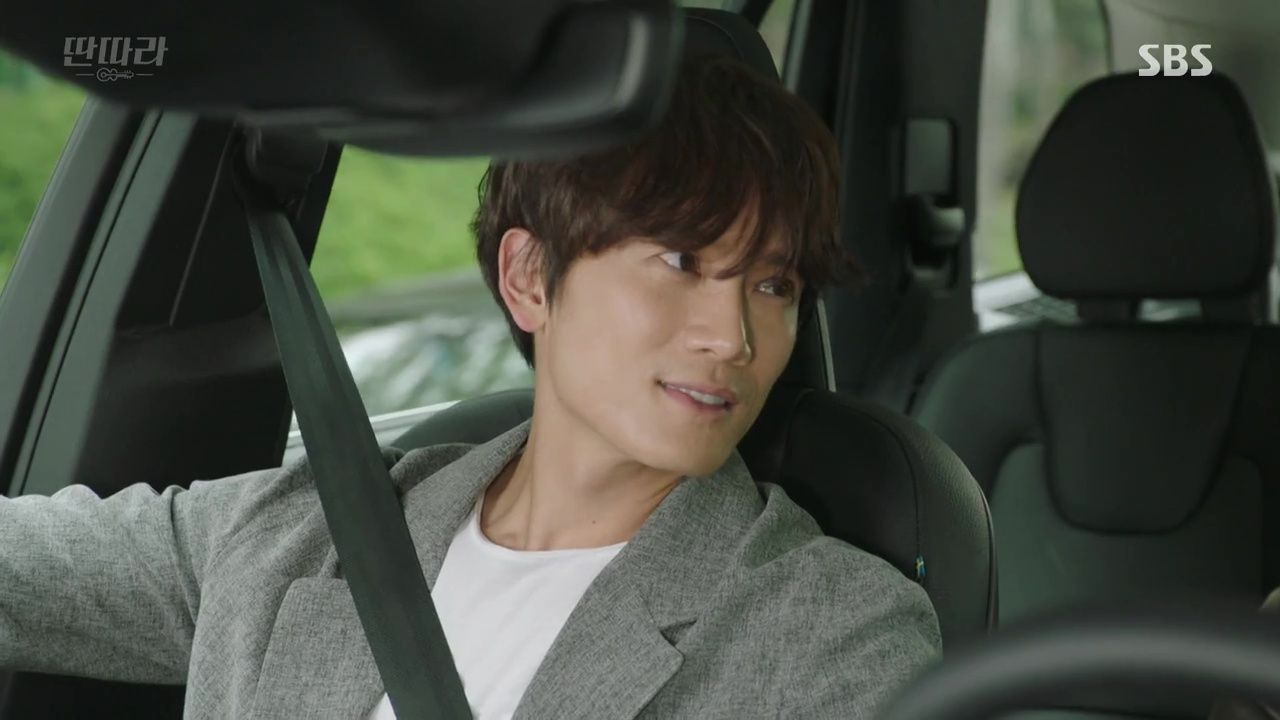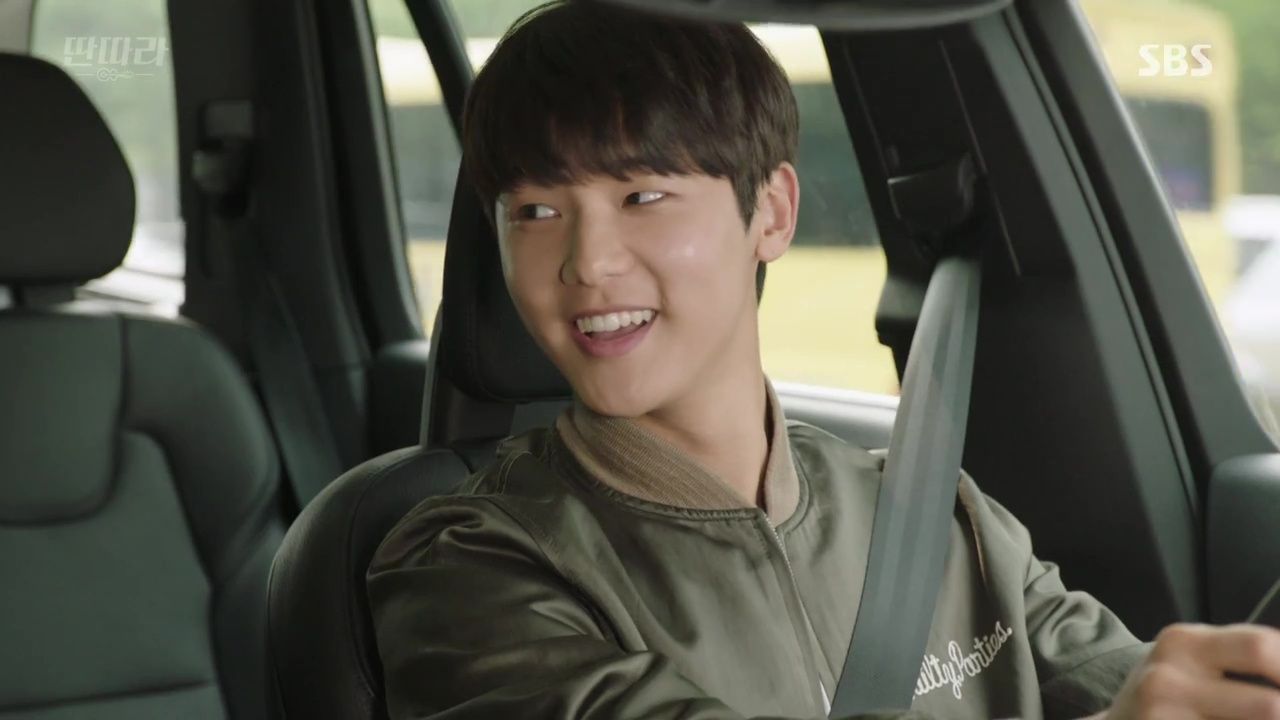 Ha-neul gets his driver's license so Seok-ho takes him out to practice driving. Ha-neul asks to borrow Seok-ho's car sometimes, and his brief teasing drop to banmal ("You said we were brothers!") charms Seok-ho into agreeing. Seok-ho mentions the television show, and Ha-neul is excited, though he's not familiar with the song he'll be singing.
In the middle of lunch, Jae-hoon's mother suddenly bursts into the house looking for the manager, and hands Geu-rin a list of the foods he's allowed to eat. Wow, seriously? She's also brought an air purifier, and asks that Seok-ho stop sending her pictures of Jae-hoon playing drums. Okay, but it's kind of sweet of her though, at least she's trying.
Jae-hoon walks his mother out, but for once he doesn't cringe at her orders and instead talks back in this really cute, disarming tone. She really does want the best for him, and he knows and appreciates it.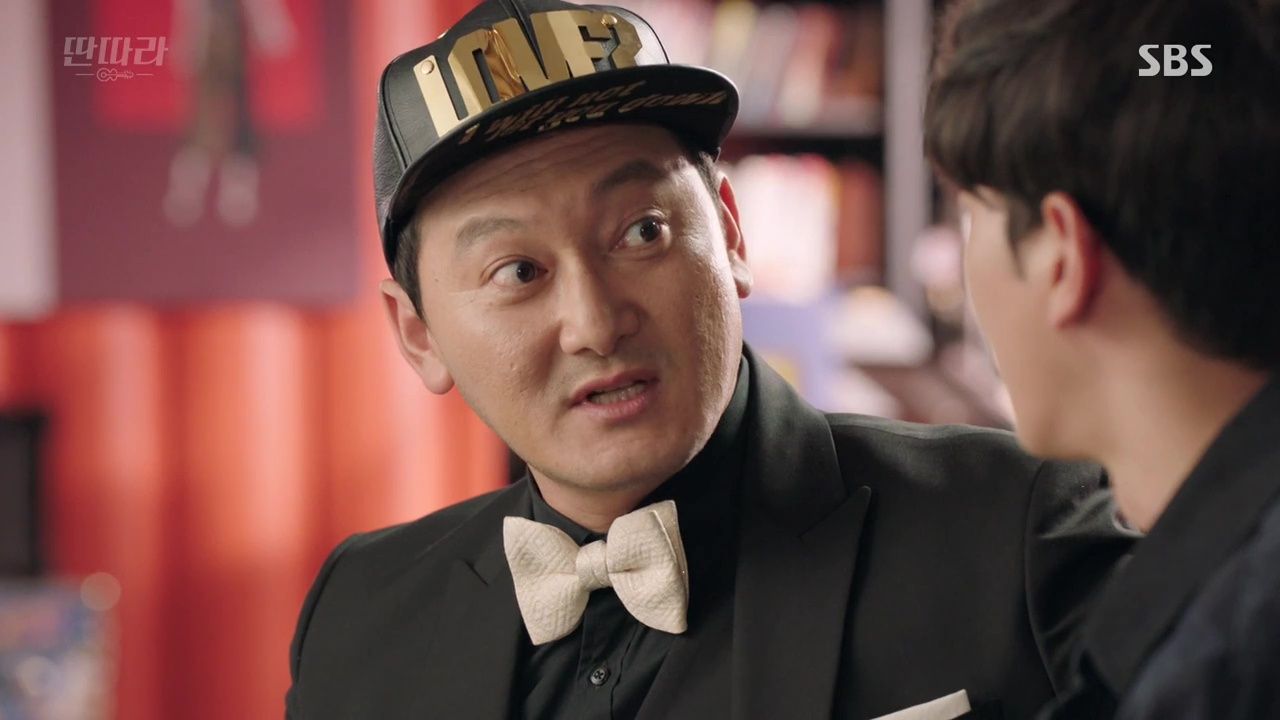 Someone took illicit pictures of that night when Min-joo consoled Yeon-soo and Chan-hee while they cried, and there are news articles now speculating that she's Chan-hee's mother. What shocks Seok-ho the most is learning that she's a chaebol daughter.
Man-shik comes to the Mango office, dressed to kill and looking for Min-joo… if by "dressed to kill" you mean "trying way too hard." It's obvious his crush on Min-joo has increased since learning she's an heiress, and he glares at Yeon-soo and makes sure that she was just comforting him in those pictures. Yeon-soo claims that someone like him could never hope to date someone like Min-joo, and Ha-neul and Geu-rin both jump to his defense.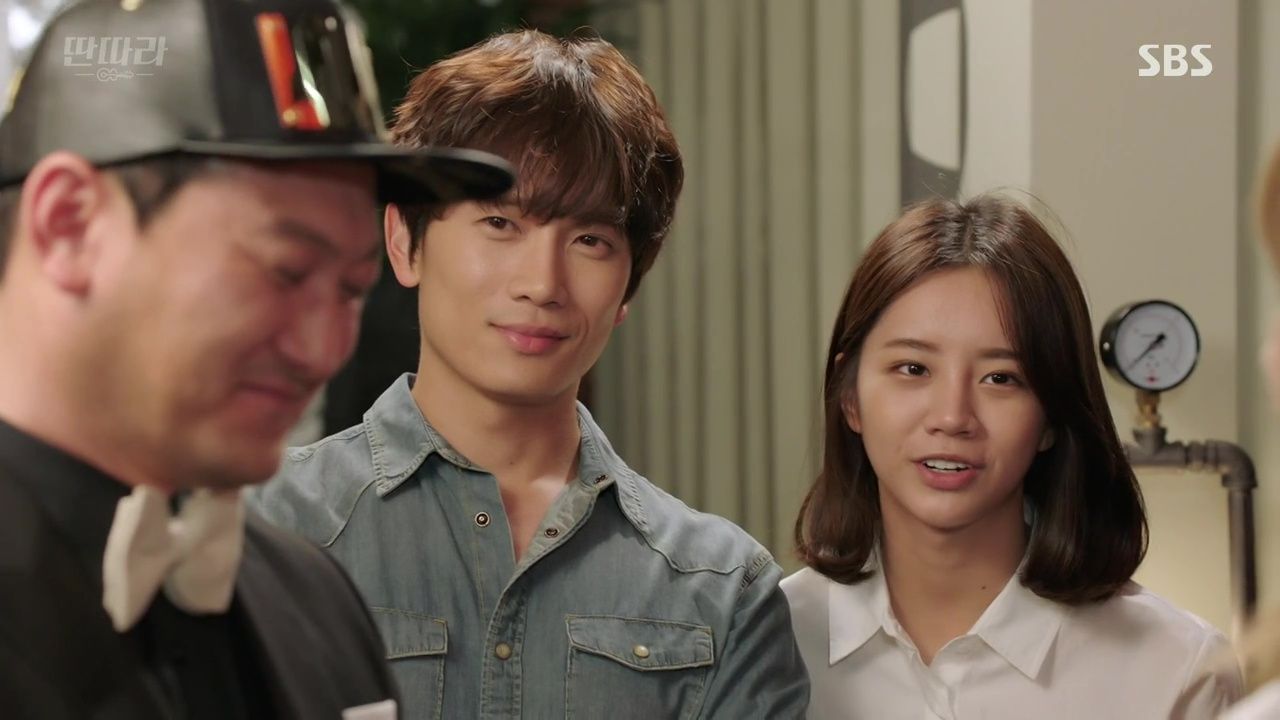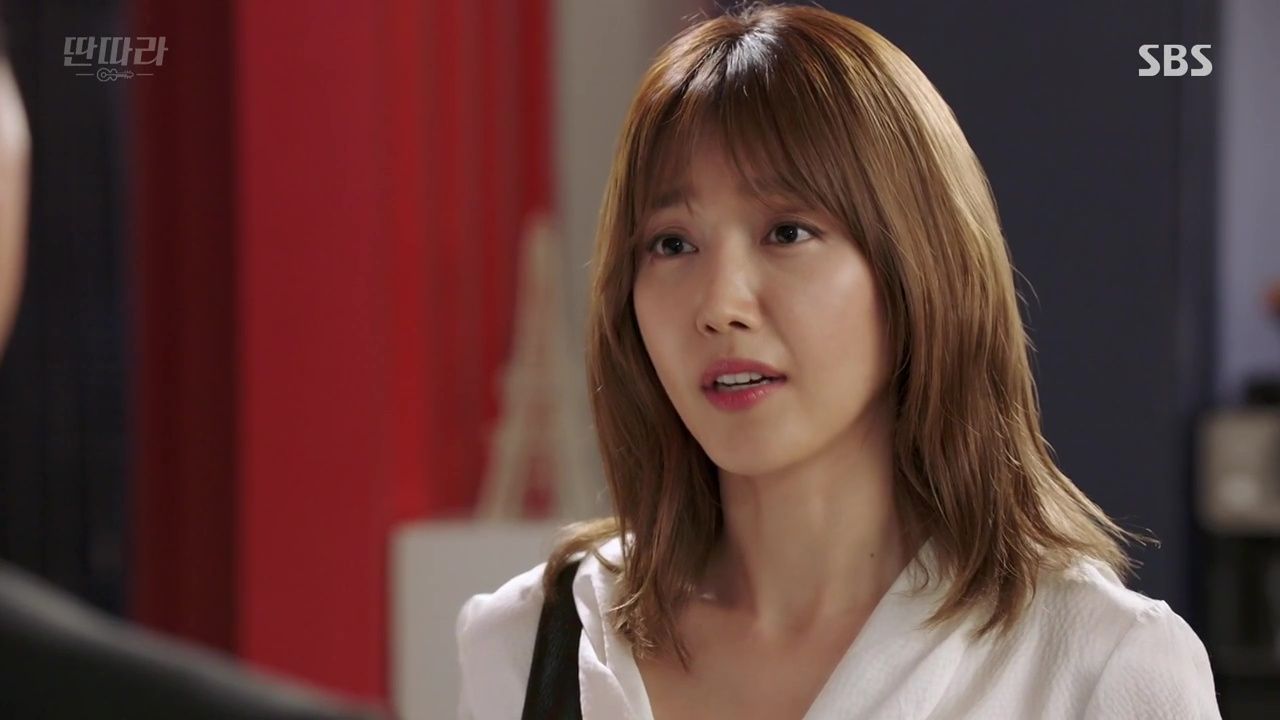 Min-joo's chaebol daddy also sees the articles, and she promises him it's just a misunderstanding. She tells him Yeon-soo's story, and why he was upset that night, and her father seems impressed with Yeon-soo's maturity. Also, he's thrilled that the whole world now knows she's his daughter.
Min-joo tries to sneak into the empty Mango office, but the entire band plus Seok-ho are lying in wait for her, HA. Sweet Yeon-soo apologizes for being the reason her secret is out, and Seok-ho seems genuinely angry that she kept it from him for over a decade.
Min-joo gapes when she sees Man-shik's odd getup (Min-joo: "What's wrong with you?" Geu-rin: "He says he's being classy."), and she says that nothing about her has changed. Seok-ho says that things have changed, and she's buying the food now, though she points out that she already has been, hee.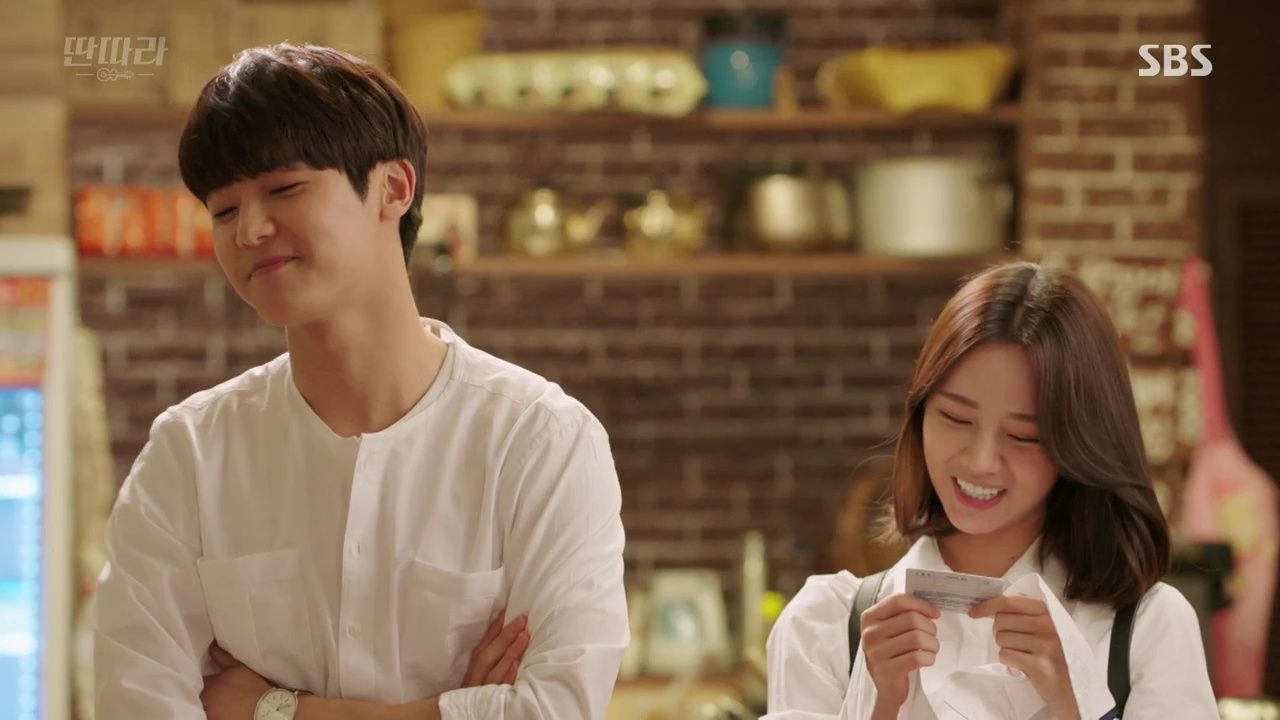 Cut to: the boys eating takeout jjajangmyun. Yeon-soo asks Jae-hoon if his mom will be okay with him eating like this, but he figures that since he's never been allowed to eat it before, he's behind on his lifetime allotment of jjajangmyun and has to catch up. That's some interesting logic.
Ha-neul preens over his new driver's license, grinning especially wide when Geu-rin makes a big deal over it. He overreacts when she pats him on the butt, and Yeon-soo smirks, knowing why that got Ha-neul all worked up.
Seok-ho also gets his license back and wears it stuck to his forehead all day, ha. He's thrilled that he doesn't have to drive with Geu-rin anymore and listen to her nagging, and he solemnly swears he'll never ever drive after drinking again, and always obey traffic laws. Cute.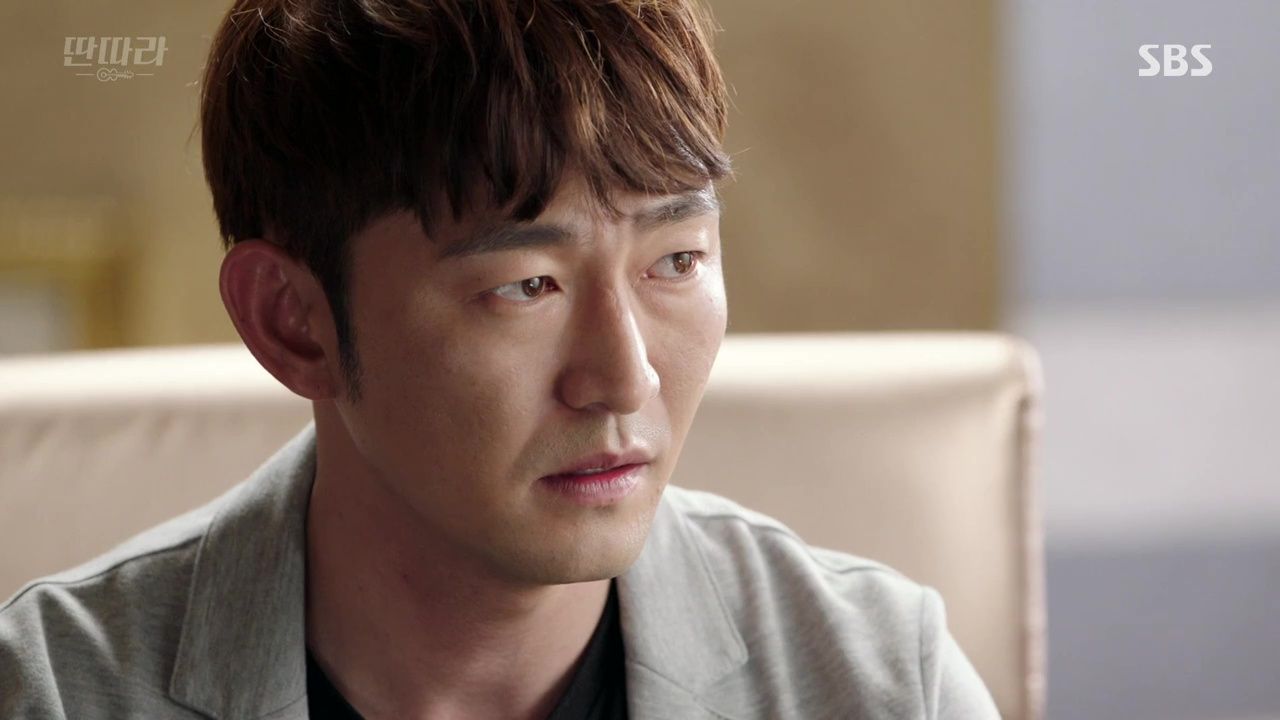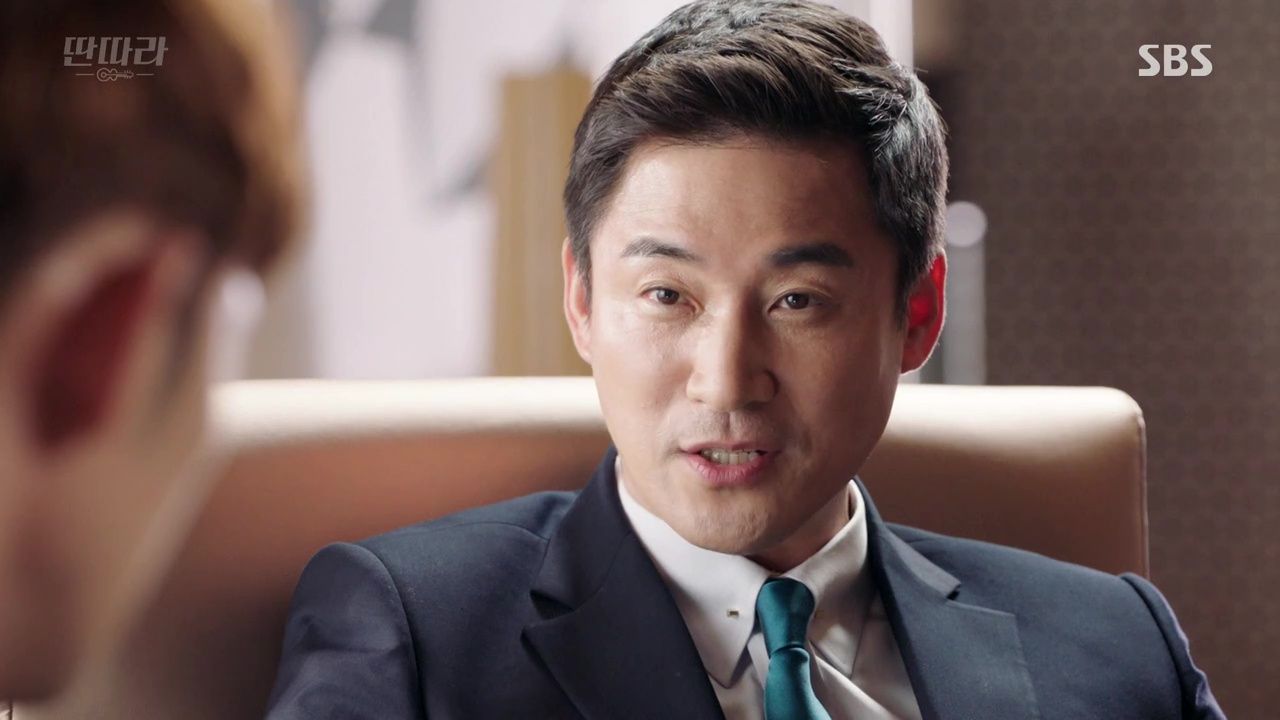 Seok-ho tells the boys the good news, that they're going to be on the program "Legend Again." Yeon-soo knows the song they'll be singing, and Seok-ho orders them to listen to it as often as possible, tasking Kyle with creating a new arrangement.
A wary-looking Joo-han meets with CEO Lee, and turns in his resignation letter. CEO Lee knows he's upset that he didn't help him when he was arrested, and actually has the nerve to call Joo-han selfish, but Joo-han says that he was disappointed in CEO Lee.
Lee claims that he stayed away because of course everyone knows that KTOP orchestrated the incident, so by ignoring him, it generated sympathy. I hate to admit it, but that actually has a sick sort of logic to it. He tells Joo-han to find the missing singer Choi Jun-ha, promising that it's nothing dangerous — he just wants to bring him back and make another album.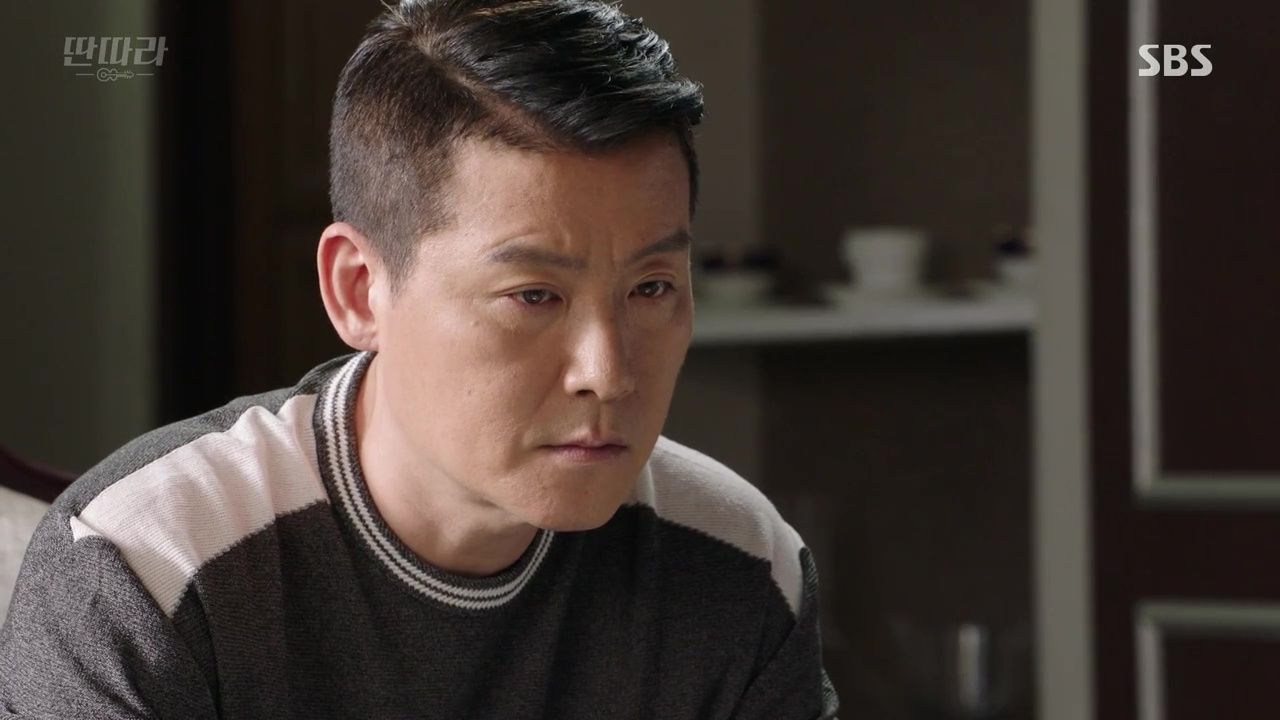 We see the man himself, Choi Jun-ha (cameo by Lee Hyun-woo), checking into a hotel room and reading the articles that mention his song being featured on "Legend Again." He also reads up on Ha-neul's court case, and does some serious thinking.
Seok-ho and Min-joo listen to Choi Jun-ha's version of the song, which is nowhere near as haunting as Sung-hyun's version was, and wonder how they'll arrange it for the show. Seok-ho is still pouting over Min-joo being a chaebol, though she swears the money she used to help Mango was a bank loan, and she expects him to pay it back.
She says that she has a hard time accepting her father's money, because of his shady business practices. If she'd been open about her family, she doesn't think Seok-ho and Man-shik would have been her friends for so long. Seok-ho jokes that he'd have been her friend even longer, and that he's going to ask her father to invest in Mango.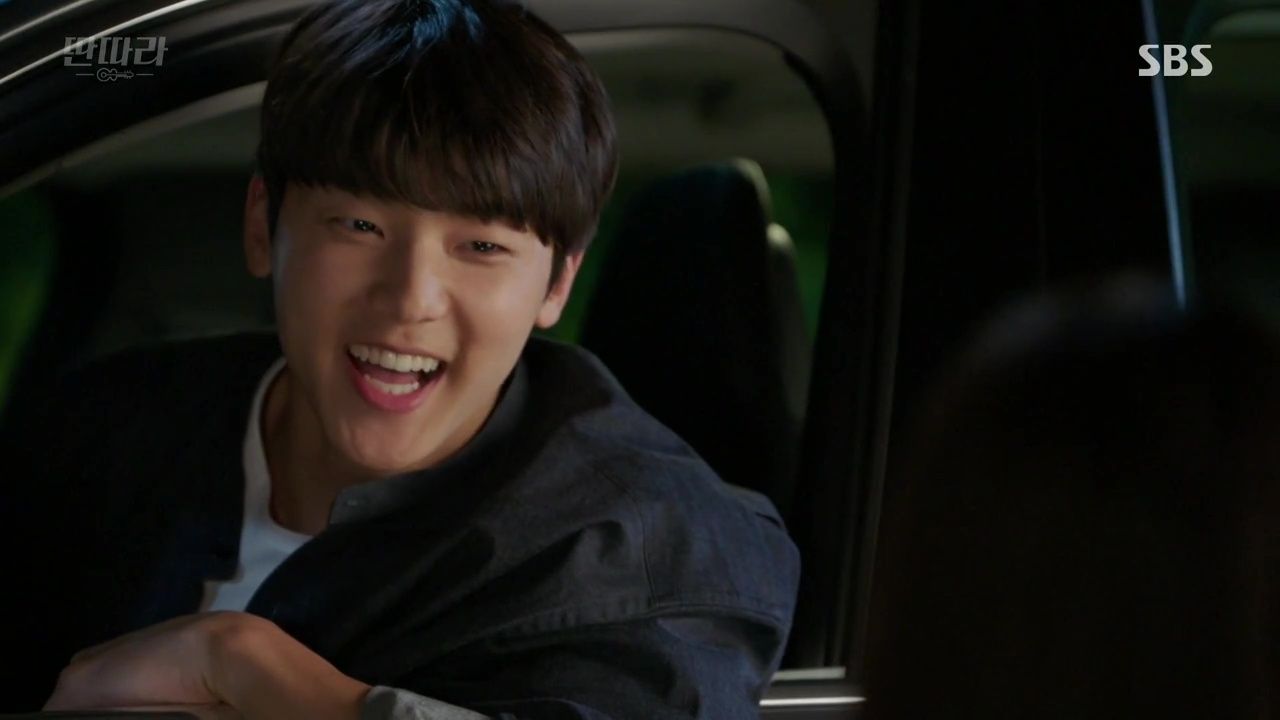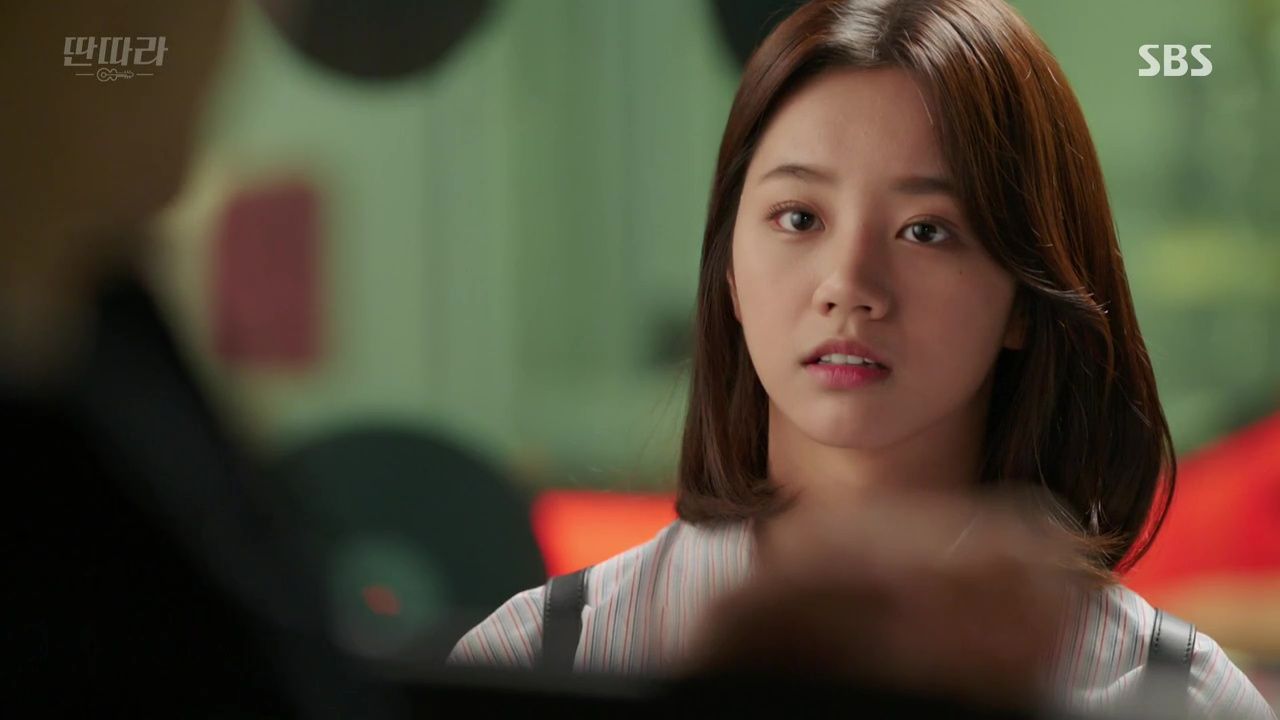 Mr. Byun has also heard about Min-joo, and he literally shoves Seok-ho from his chair and plops down in it to flirt with Min-joo. They all laugh at his over-the-top advances, but Mr. Byun goes pale when he sees Choi Jun-ha's album on the table and learns that Ddanddara Band will be singing the song on television.
Ha-neul borrows Seok-ho's car without permission, and goes shopping for flowers. He remembers Geu-rin saying how much she loves white roses and buys a bunch, and plans to surprise Geu-rin with them when she gets off work that night.
But when Geu-rin sees Seok-ho's car, she remembers his promise to take her to see the flowers, and gets all giddy thinking it's him. Her face falls when she sees that it's Ha-neul, but she quickly recovers, and gets in with him.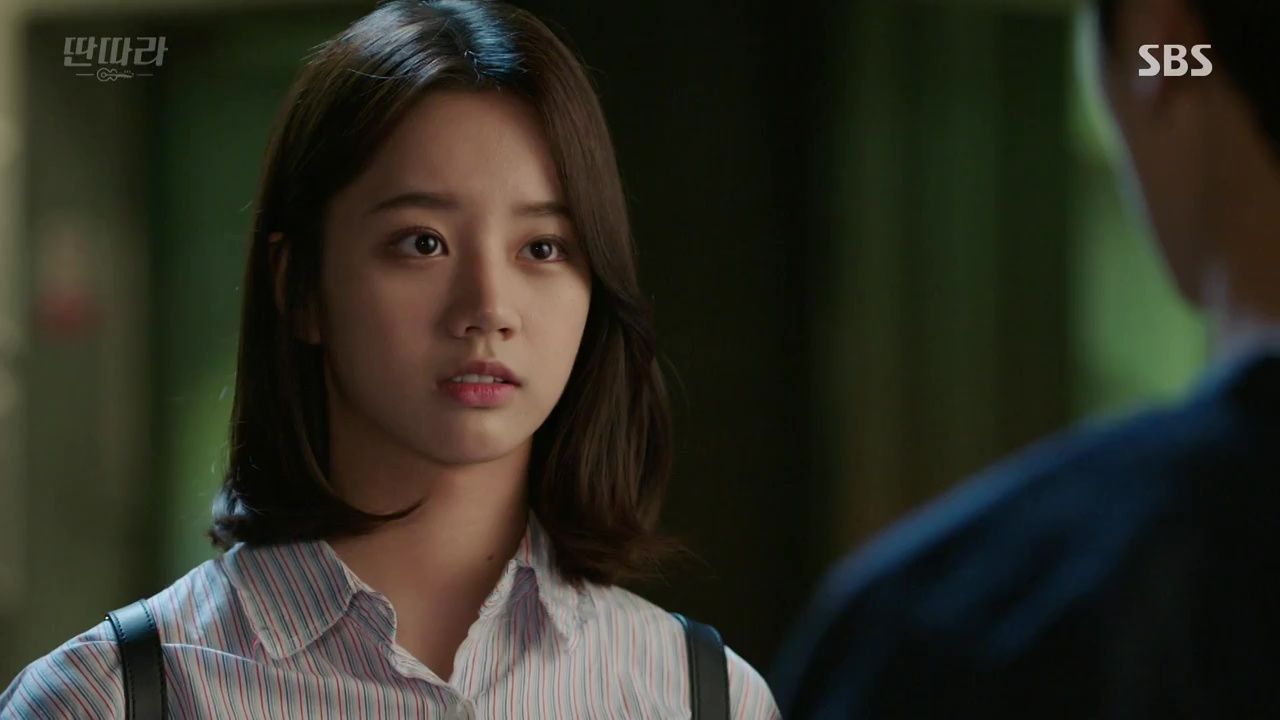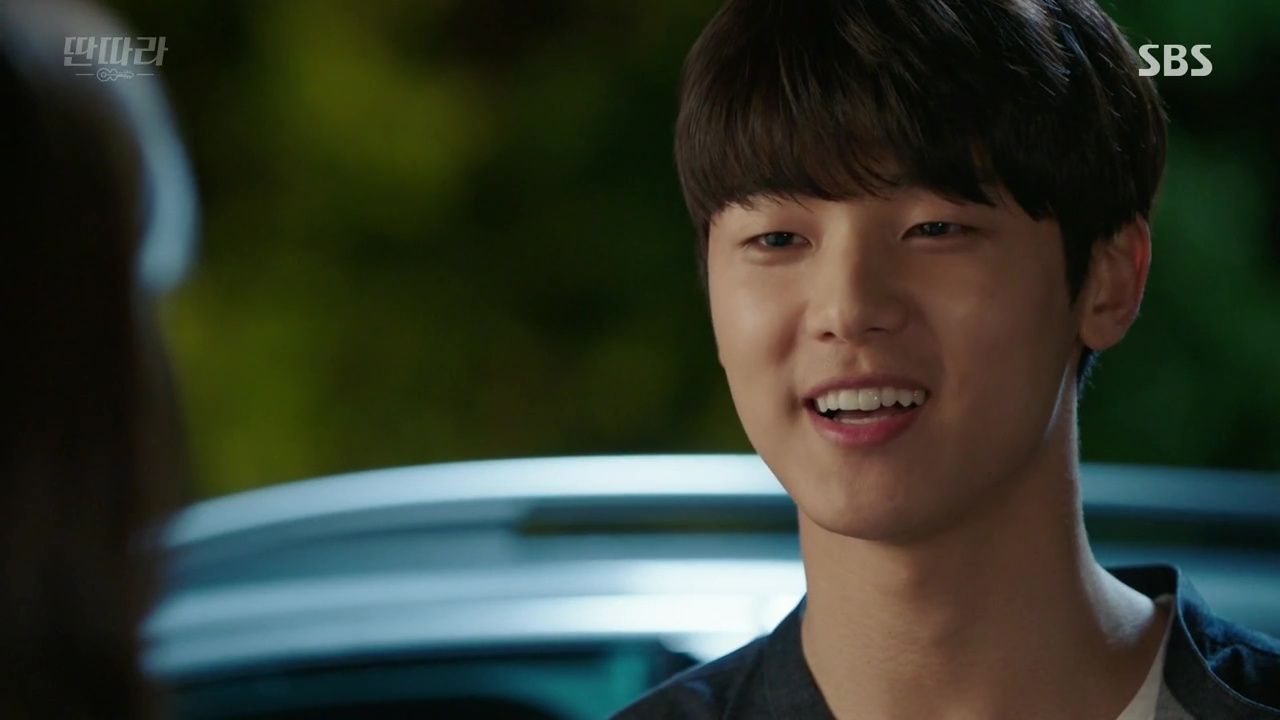 Ha-neul says that he's taking Geu-rin to look at flowers and, unaware of his romantic feelings, she complains that Seok-ho said he would take her but hasn't mentioned it. Ha-neul starts to ask if she likes Seok-ho, but she interrupts him, remembering that she left her phone at work.
Ha-neul takes Geu-rin back to the office for her phone, and says they can look at the flowers some other time. He gives her Seok-ho's car keys, saying that he's got somewhere to go, but he doesn't have an answer when she asks him where. He pastes on a smile and just says it's a secret, but his smile falters once she's gone inside.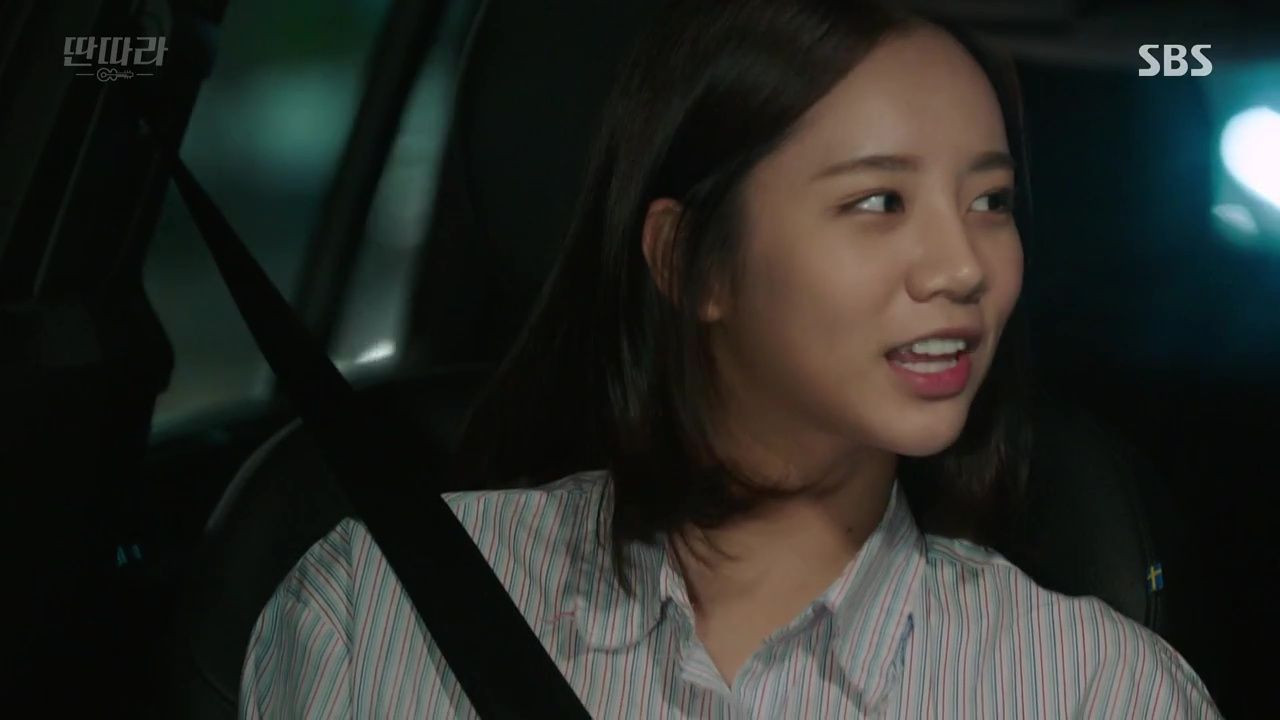 She finds Seok-ho still there, thinking of a way to make the song sound younger and more current. He hears her stomach growl and she tells him she hasn't eaten all day, so he invites her to dinner.
Ha-neul picks up the giant flower arrangement he had made, and we see that he'd also made dinner reservations. He calls Yeon-soo and asks what the other boys are doing.
Geu-rin is in a much better mood in the car this time with Seok-ho, and she asks him to keep his promise to take her to see the flowers. He teases her about it, but he's more than happy to comply with her wishes.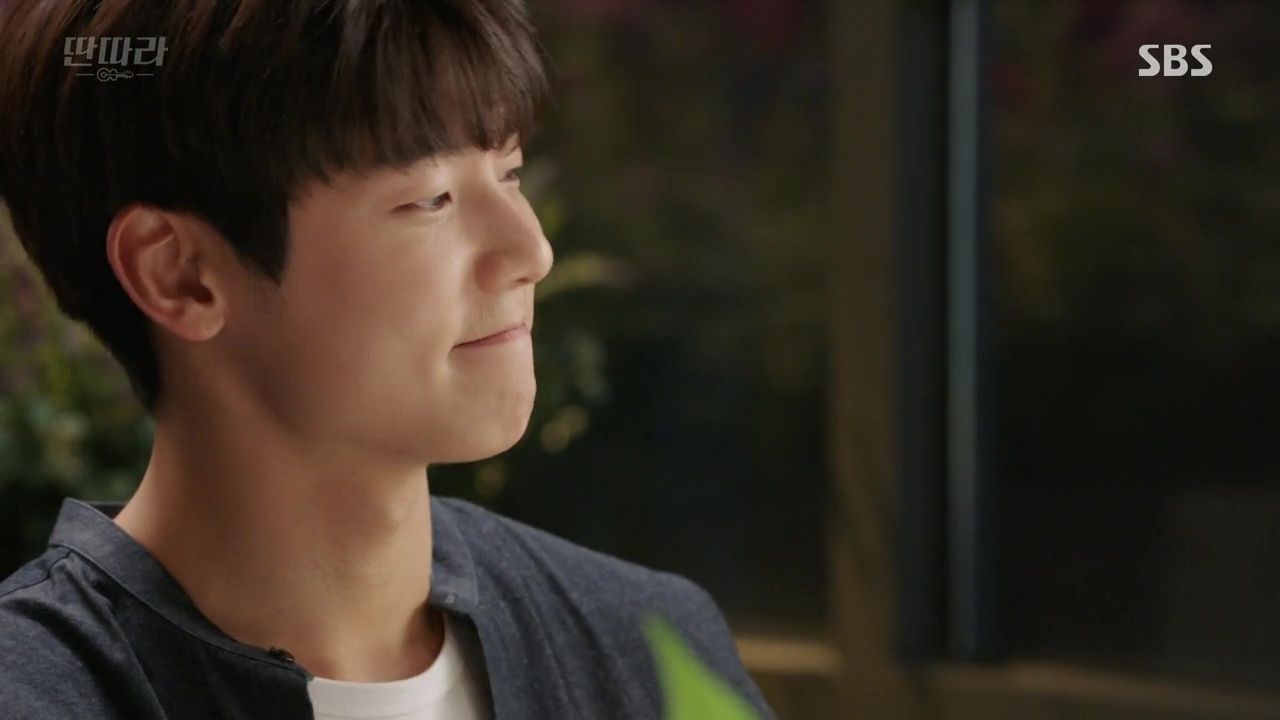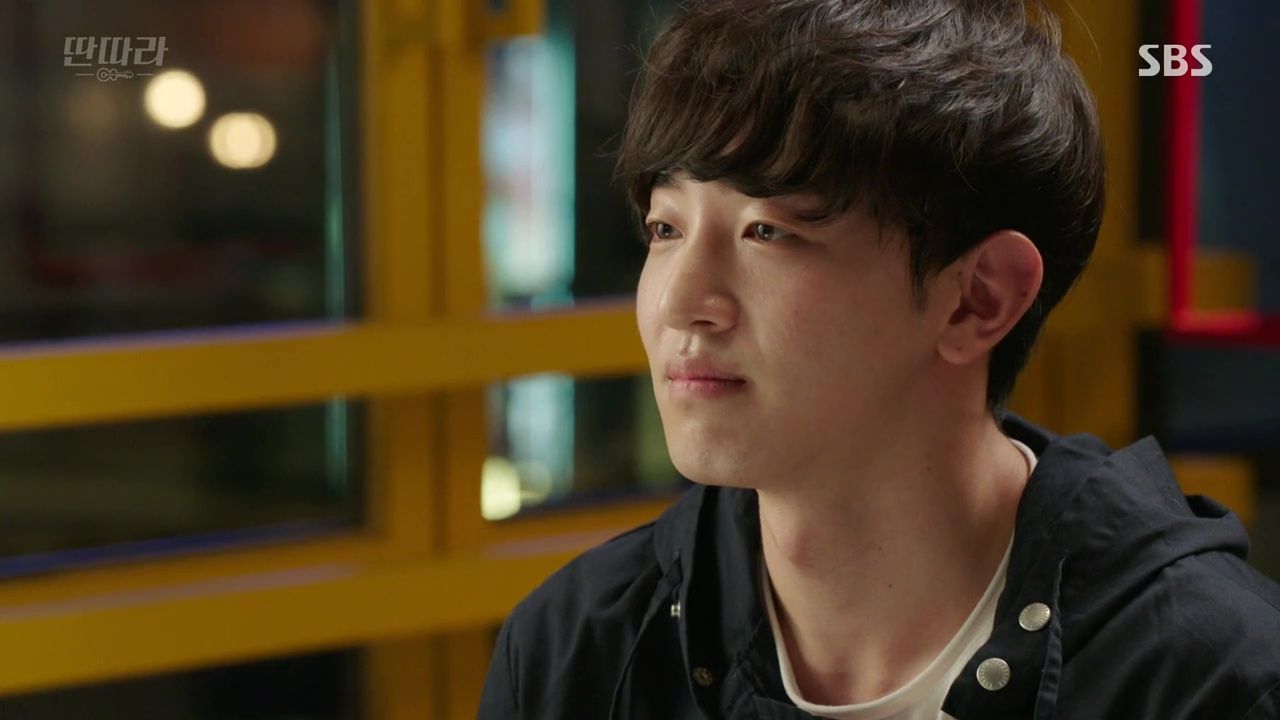 Yeon-soo meets with Ha-neul at the restaurant, knowing that something is wrong and Ha-neul needs to talk. He guesses the reservations and flowers were for Geu-rin, and poor Ha-neul fights his disappointed tears.
At dinner with Seok-ho, Geu-rin stuffs herself silly, and he chides her for starving all day then overeating at night. They discuss possible concepts for the band's television appearance, and they both agree that he song hits some sort of chord for them. Seok-ho wants a simple concept, to allow the song itself to shine.
When Geu-rin stops to take notes, Seok-ho orders her to eat, and she shoots him a cute little wink. It gets to him, and he tells her, "Don't… stop doing that." Hee.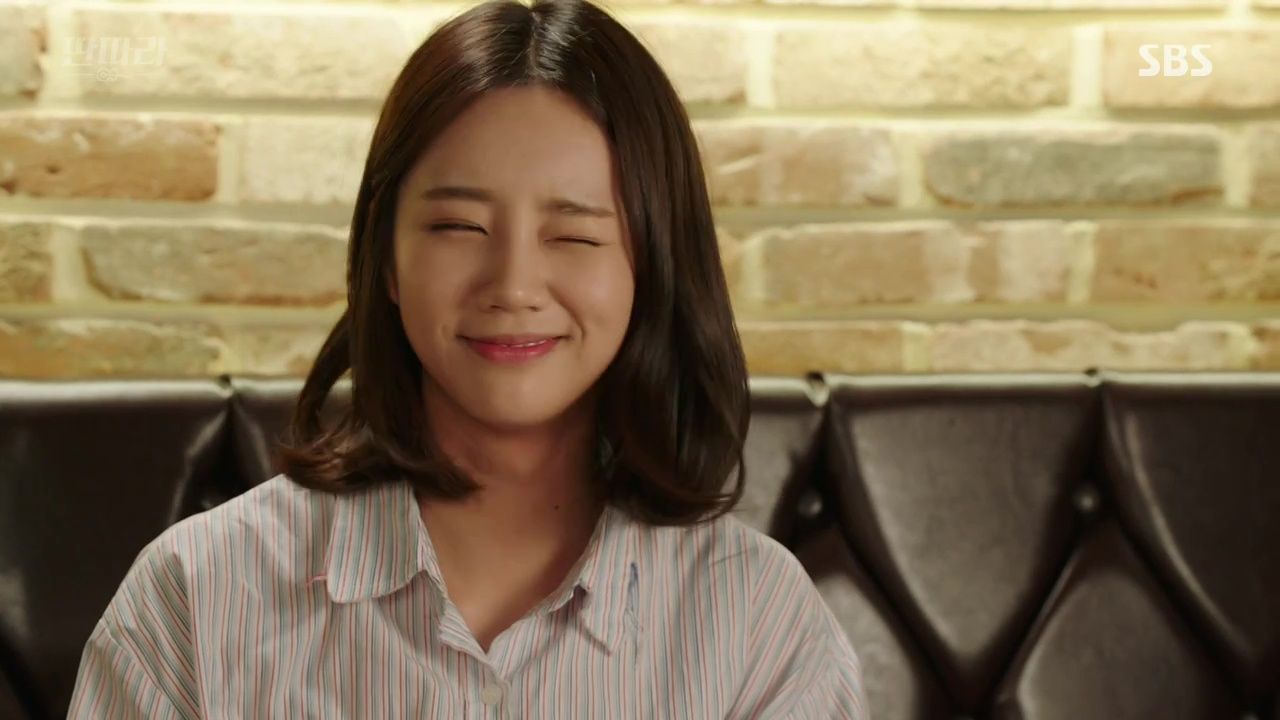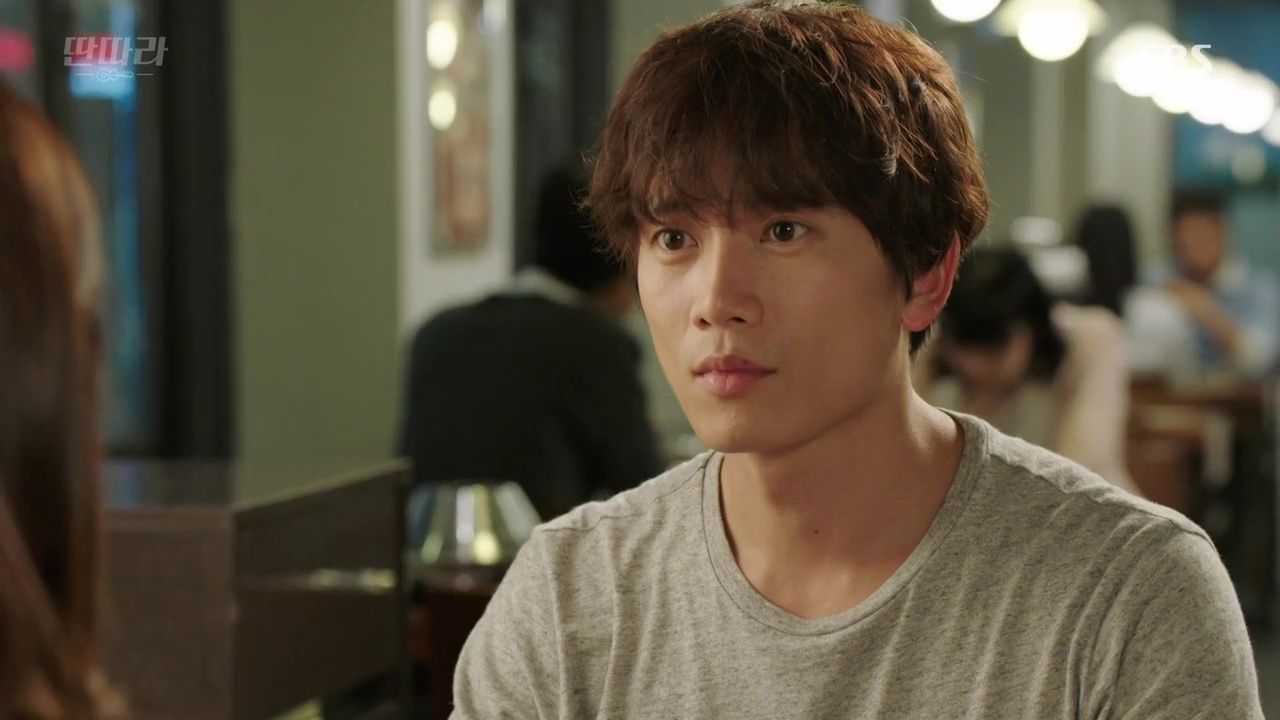 Ha-neul and Yeon-soo are recognized by some fans while having dinner at the restaurant, but they're so involved in their conversation that they don't even notice. Ha-neul asks if Yeon-soo would rather see his ex happy with another man, or if he'd rather be with her even if her love has faded.
Yeon-soo admits that he was angry at first, but because he loved her, he prefers that she be happy even if it means she's with another man. He asks where Geu-rin is tonight since this was obviously all for her, and Ha-neul sadly says, "She keeps talking about another man."
When she talks about him she seems happy, and he can't bring himself to take that away from her. Ha-neul tries to smile, but his eyes tear up against his will.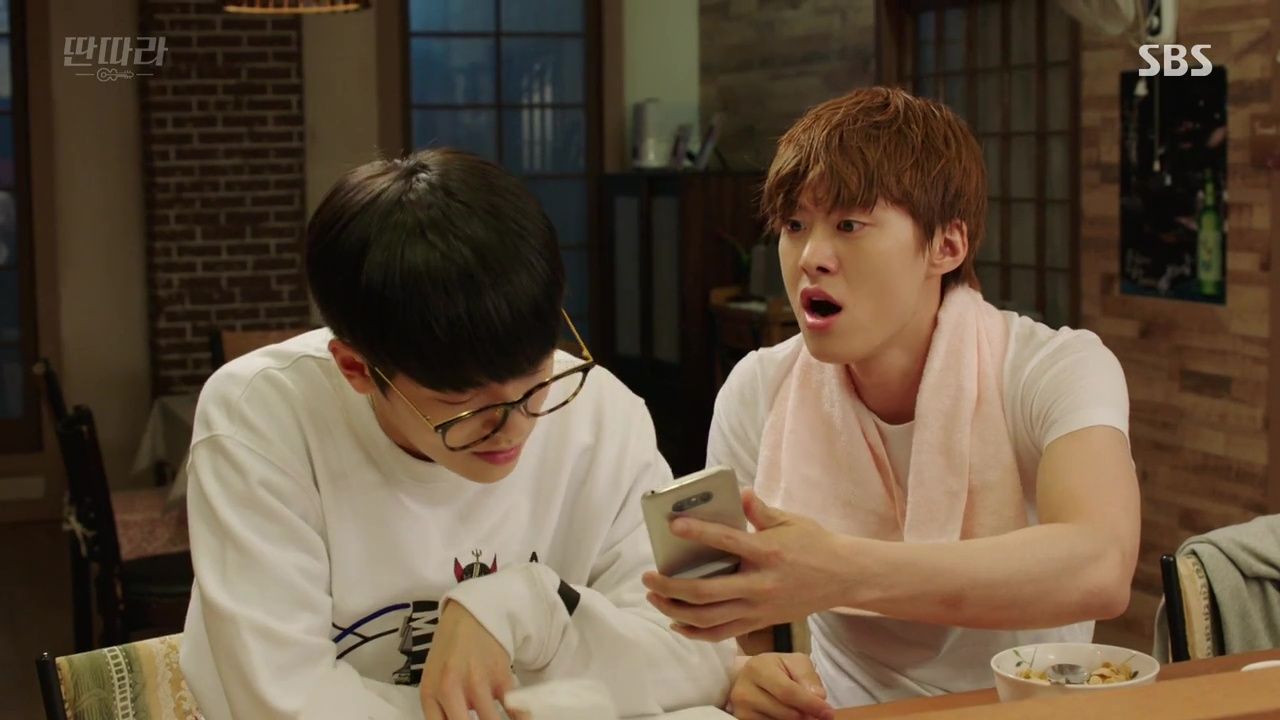 Mr. Byun drinks alone, thinking about the cruel twist of fate that has Ha-neul singing his brother's song without even knowing it. He talks to Sung-hyun's memory, asking if he's making this happen out of anger. He's afraid Ha-neul will get hurt, but as he's talking, he seems to get an idea.
The fangirls post the pics of Ha-neul and Yeon-soo at the fancy restaurant online, and Kyle runs across them and whines that they went out alone. Jae-hoon thinks they're there because Yeon-soo likes Min-joo and needed to talk, ha. Upset at being left out, Kyle sends the picture to Seok-ho.
Seok-ho shows the picture to Geu-rin, and when she sees the enormous basket of roses on the table, she remembers Ha-neul saying he was taking her to see the flowers. She puts the pieces together and figures out that the romantic dinner was meant for her.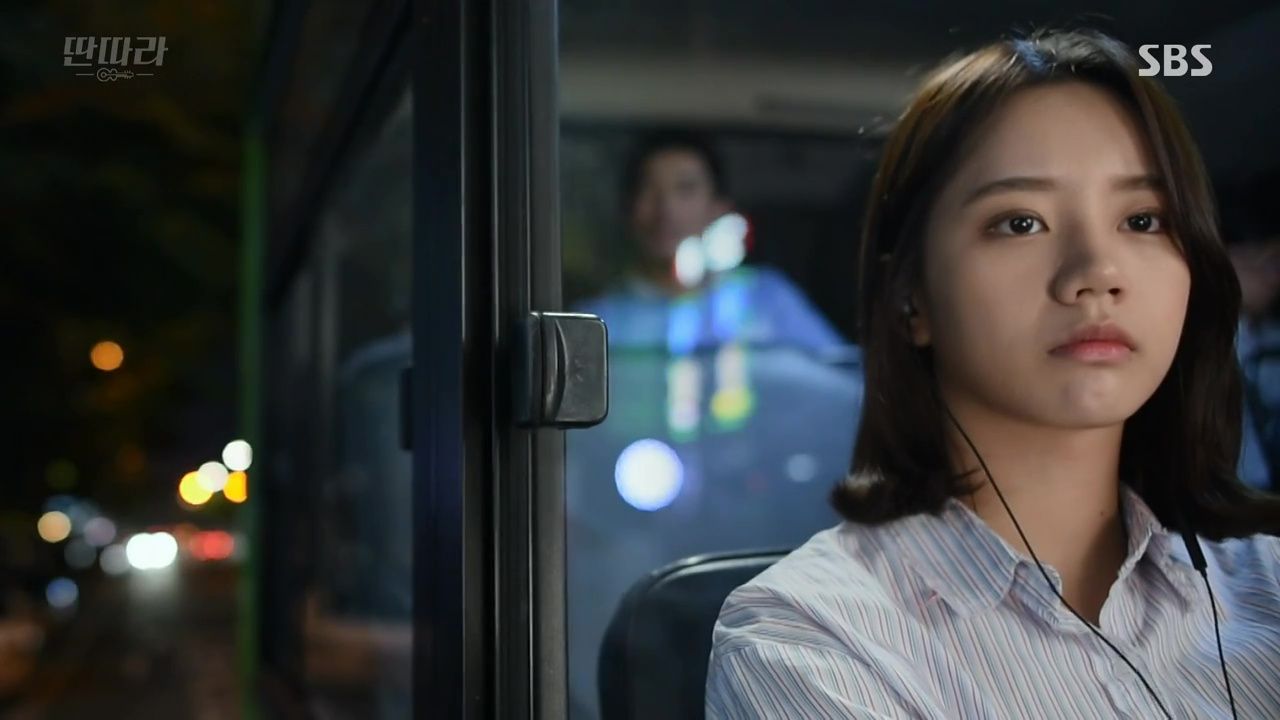 Seok-ho picks up Geu-rin's suddenly subdued mood and offers to drive her home, but she says she just ate too much. Shaken, she takes the bus home, trying to convince herself that Ha-neul can't possibly like her that way. But as she thinks about it, he's shown more-than-brotherly feelings for her for quite some time.
By the time Geu-rin arrives home and sees the huge flower arrangement in the house, Ha-neul has had time to concoct a story about getting it from a fan. She doesn't let him off the hook and asks if the roses and Flower Restaurant are what he meant by "looking at the flowers," but he just pretends it was no big deal.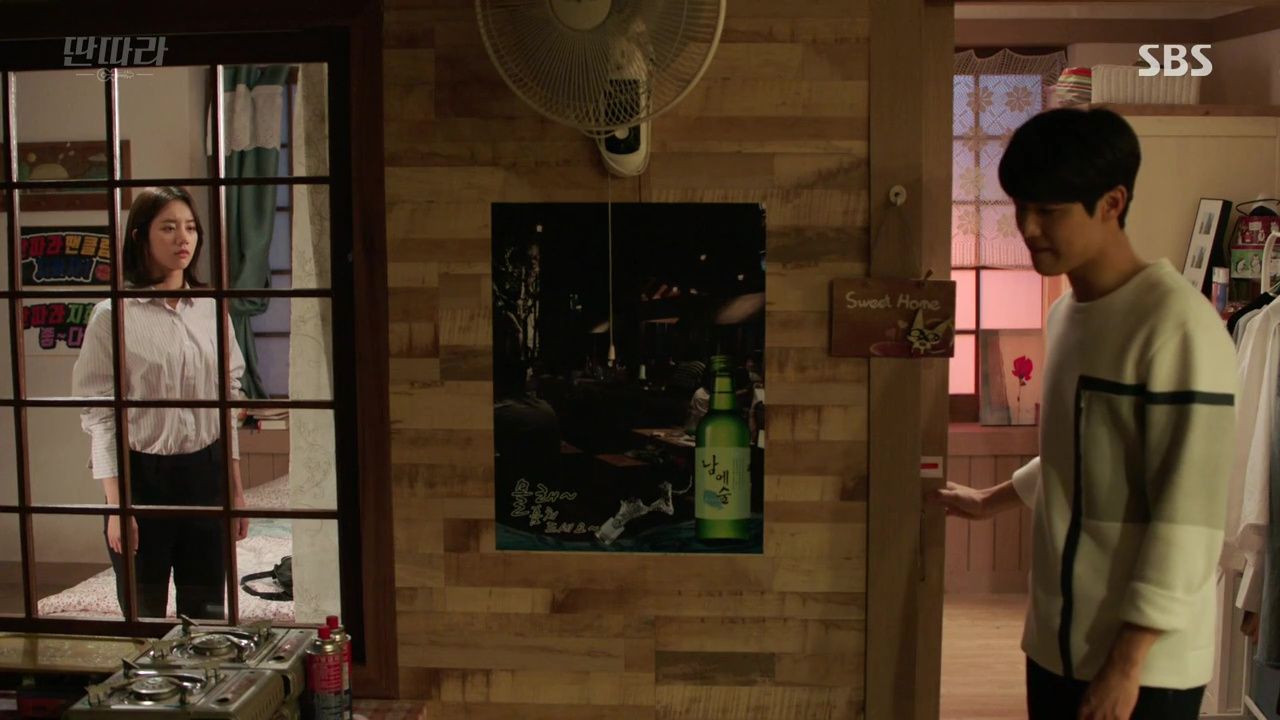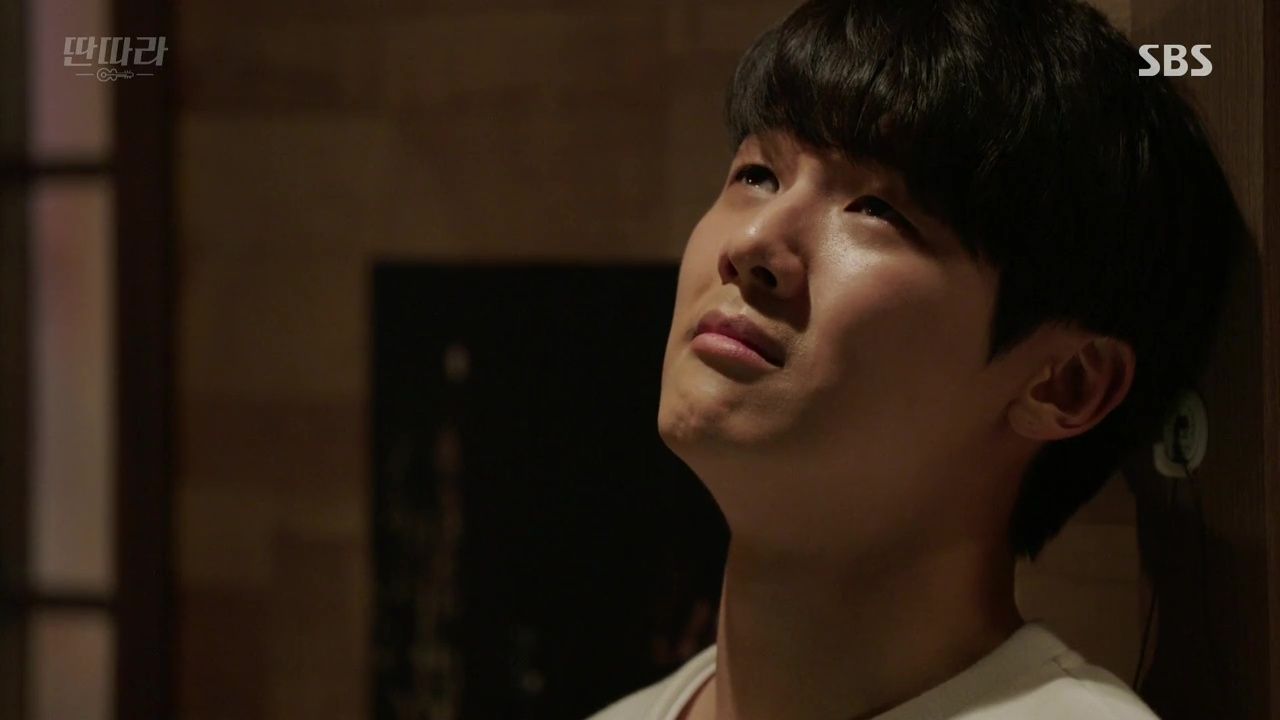 His smile falters when he turns to go, and it looks like it takes all of his strength to paste it back on when Geu-rin calls him back. Geu-rin asks, "Ha-neul, do you… like me?" He says that of course he likes her, as a sister, and gets out of there before she can say any more. He barely gets out the door before he starts to sob.
Mr. Byun asks Seok-ho not to let the band go on the television show, though he can't tell him why and asks him to just trust him. If they can't quit the show, then at least they should ask the producer to give them a different song.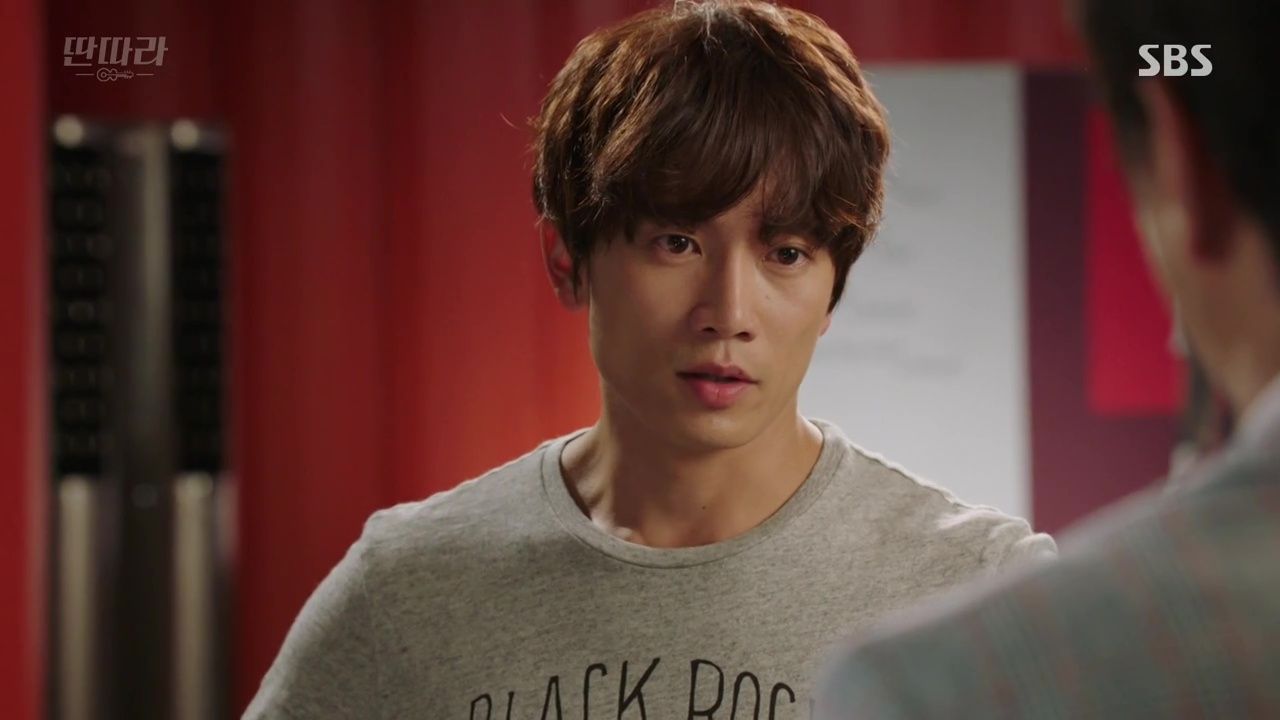 Seok-ho grows angry — rookie bands don't get this kind of opportunity very often, and he's worked so hard to get here. But Mr. Byun is frantic, and yells that Ddanddara Band won't fail just because of this one show. Seok-ho thinks he's objecting because the song was originally produced by KTOP, but he thinks that's all the more reason they should sing their own version, an even better one.
Mr. Byun screams that Ha-neul can't sing that song, and when Seok-ho screams right back, he yells, "Because it's Sung-hyun's song!!" Seok-ho is stunned, and demands to know what Mr. Byun means by that.
Mr. Byun says again that it's Sung-hyun's song — Ha-neul's brother wrote it. The full implication of what he's saying seems to hit Seok-ho all at once, and he asks what exactly happened while he was in Moscow that time.
Mr. Byun tells him, not that Seok-ho needs to hear the details to understand. He'd tried to stop CEO Lee, but he only found out what he'd done himself after the album was released.
With tears rolling down his face, Seok-ho asks, "Did Sung-hyun have a heart attack?" It's what he was told all those years ago, and it's what he's always believed. Mr. Byun just says that he tried to visit Sung-hyun after the album came out, worried about him, but it was too late. A neighbor had told him it was a heart attack.
Seok-ho demands the truth, and Mr. Byun remembers going to the police station, not believing the heart attack story. The police had confirmed that Sung-hyun's body was retrieved from the Han River, and that his death was deemed a suicide.
Now Mr. Byun tells Seok-ho the truth, and that Sung-hyun left behind nothing but his guitar and a copy of Choi Jun-ha's album. The horror of it fully hits Seok-ho, and he screams wordlessly, grieving all over again for his friend.
He grabs Mr. Byun, and in a bone-chilling voice, he snarls, "Lee Jun-seok, that bastard. I'll kill him."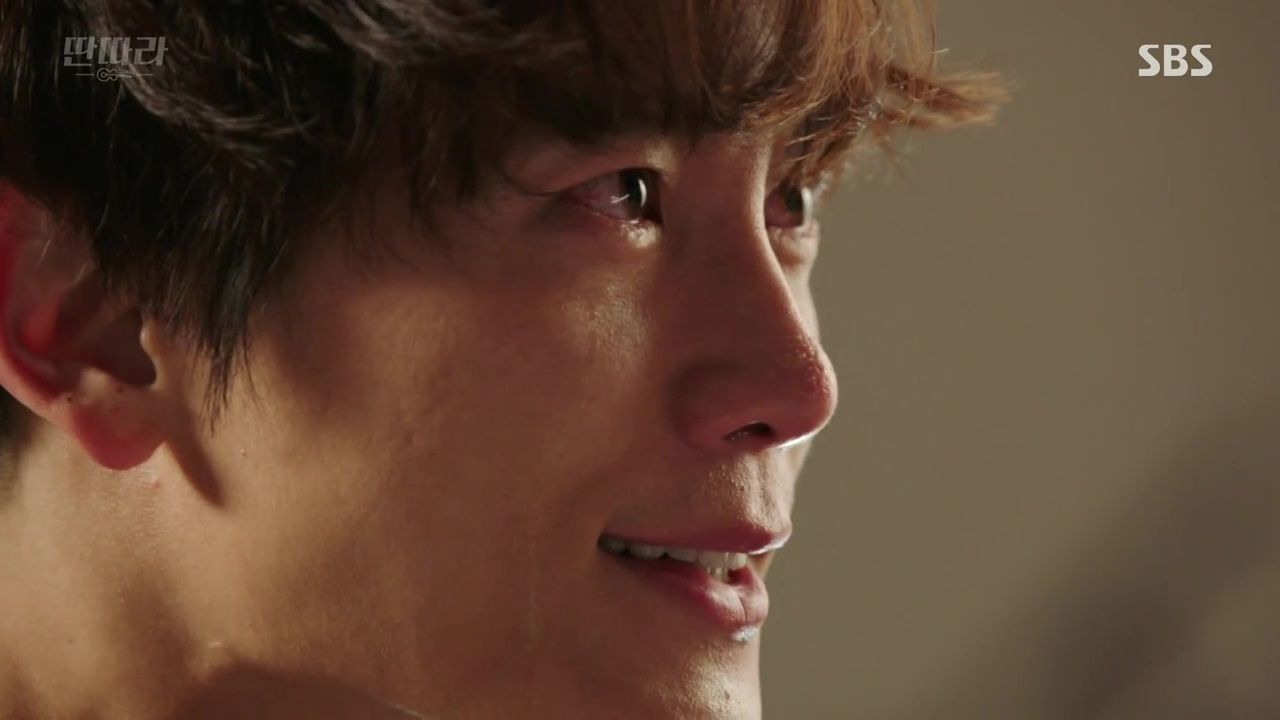 COMMENTS
I'm a little surprised with this week's episodes, which feel a little bit like a throwback to the uneven editing of the first week. A lot happened in Episode 13, so much that it felt rushed, with Ji-young and Joo-han's arrest and trial going by like a blur. Then we learned Sung-hyun's entire story and why he killed himself, which was tragic and heartbreaking, though at least that got enough time to get us emotionally invested. It was a great episode, but a lot of information was thrown at us all at once.
But then we have this episode, in which almost nothing happened to move the story forward. I think I would have preferred to see a bit more of the court case, since the show has focused so much time and attention to it, rather than just whiz by it so quickly. It would have been nice to see Ji-young and Joo-han deal with the consequences of their actions, at leas ta little bit. Then we could have spent some time in this episode learning about Sung-hyun's story, rather than have a whole hour of driver's licenses and talking about how rich Min-joo is. We did get some interesting tidbits what with Ha-neul's broken heart, but again, that's all we got in this episode. The content was there for the most part this week, but the episodes were definitely off-balance. The editing is still smooth, but the distribution of solid plot-moving moments and cute fun scenes was just very uneven.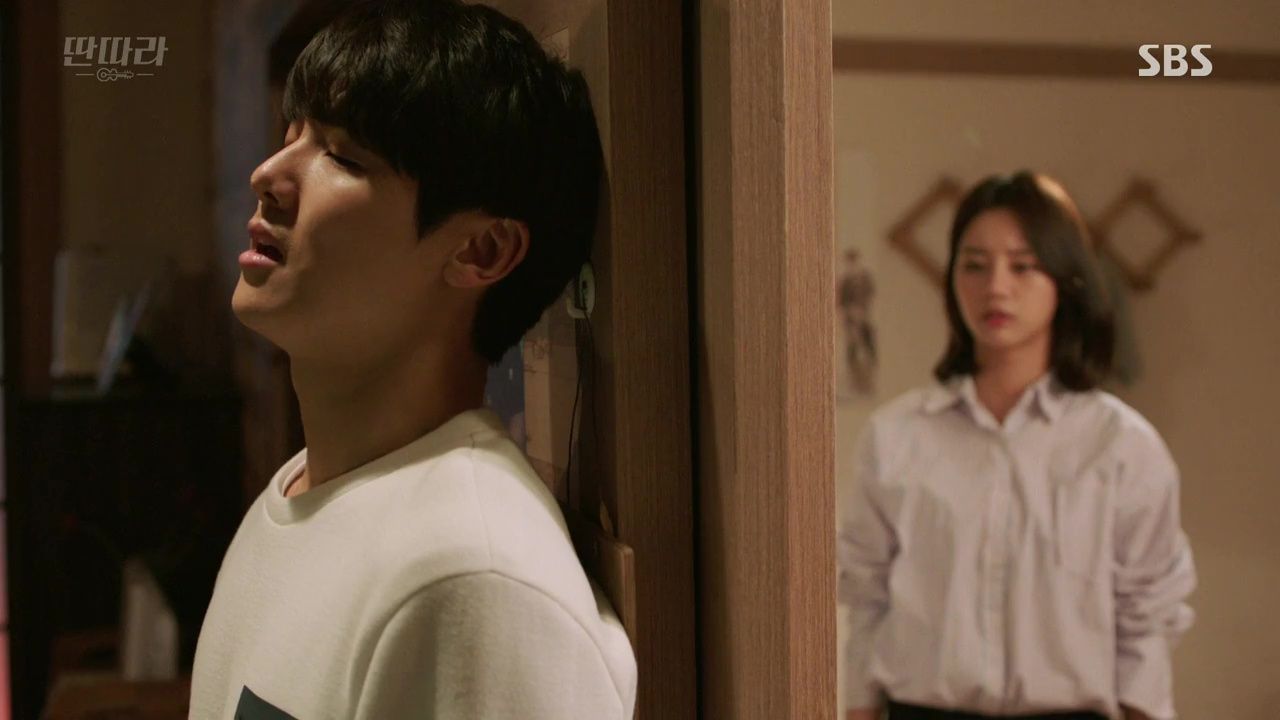 I like that Geu-rin figured out about Ha-neul's feeling for her on her own, because I've been scared that he would confess and shock her to bits, and that her reaction would hurt him. This way, Ha-neul is making the mature decision to back off on his own, because he's realizing that Geu-rin's happiness is more important to him than his happiness. And Geu-rin can think about how she feels about him without the pressure of Ha-neul waiting for some sort of answer. It's still painful for both of them, and they'll have to find a way to move past it since they're stuck together for the foreseeable future, but at least this way they can both work to salvage Ha-neul's pride and do what they can to mitigate his heartbreak as much as possible, without there needing to be an embarrassing rejection. Of course I'm assuming Ha-neul and Geu-rin won't be ending up together, but I still think there's still room for the show to make a big switch in that area.
Though, I'll admit that Geu-rin and Seok-ho are really growing on me as a couple. She's matured a lot, and he's never dated so he's immature in that area, which brings them to a closer level when it comes to dating in general. It's sweet to see how much even the tiniest gesture of Geu-rin's really gets to Seok-ho, you can practically see him falling for her. And I don't think Geu-rin has really thought about her feelings for Seok-ho, she just goes with whatever she's feeling at the time, and her reactions to him seem so genuine. It helps that Hye-ri's acting has been growing by leaps and bounds as the show progresses – she's still got a ways to go before I'd consider her "good," but it's obvious that Ji Sung has been a positive influence on her acting skills. I find her Geu-rin to be much more engaging and natural than I did when the drama started, and this week, for the first time, I could see them making a pretty cute couple. Until now I accepted the coupling as inevitable, and something I could tolerate if not get behind, but somehow the show, and Hye-ri's improved performance, are changing my mind.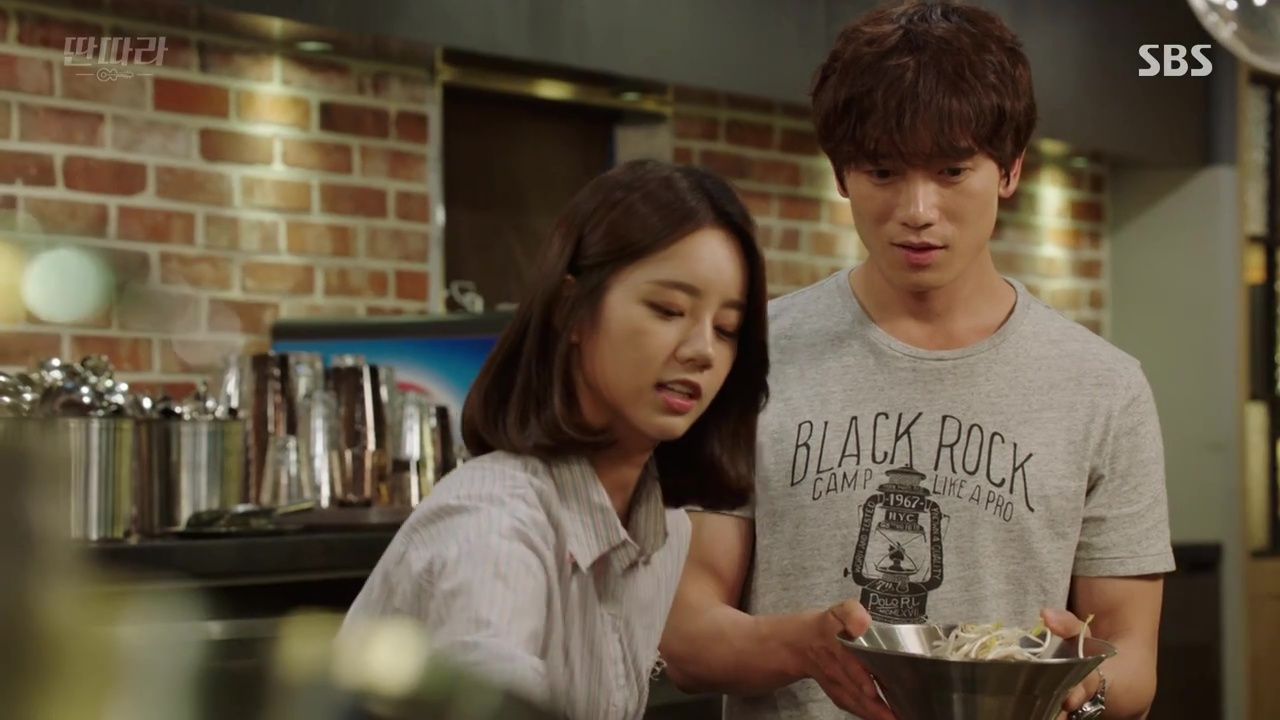 RELATED POSTS
Tags: Entertainer, Episode 14, featured, Hyeri, Ji Sung, Kang Min-hyuk