Entertainer: Episode 16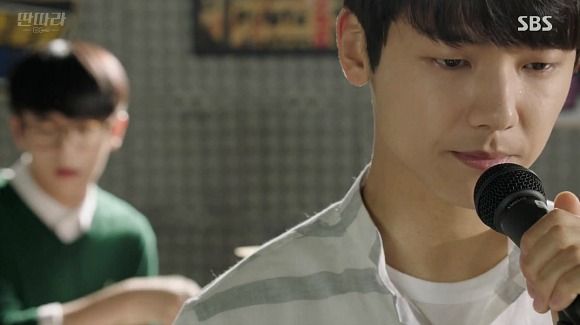 Ddanddara Band has one more obstacle to hurdle if they can hope to realize their dream, and it's turning out to be the most difficult they've faced. Bringing the truth of Sung-hyun's song and his death to the world will impact more than just them, and convincing others to help them won't be easy.

EPISODE 16 RECAP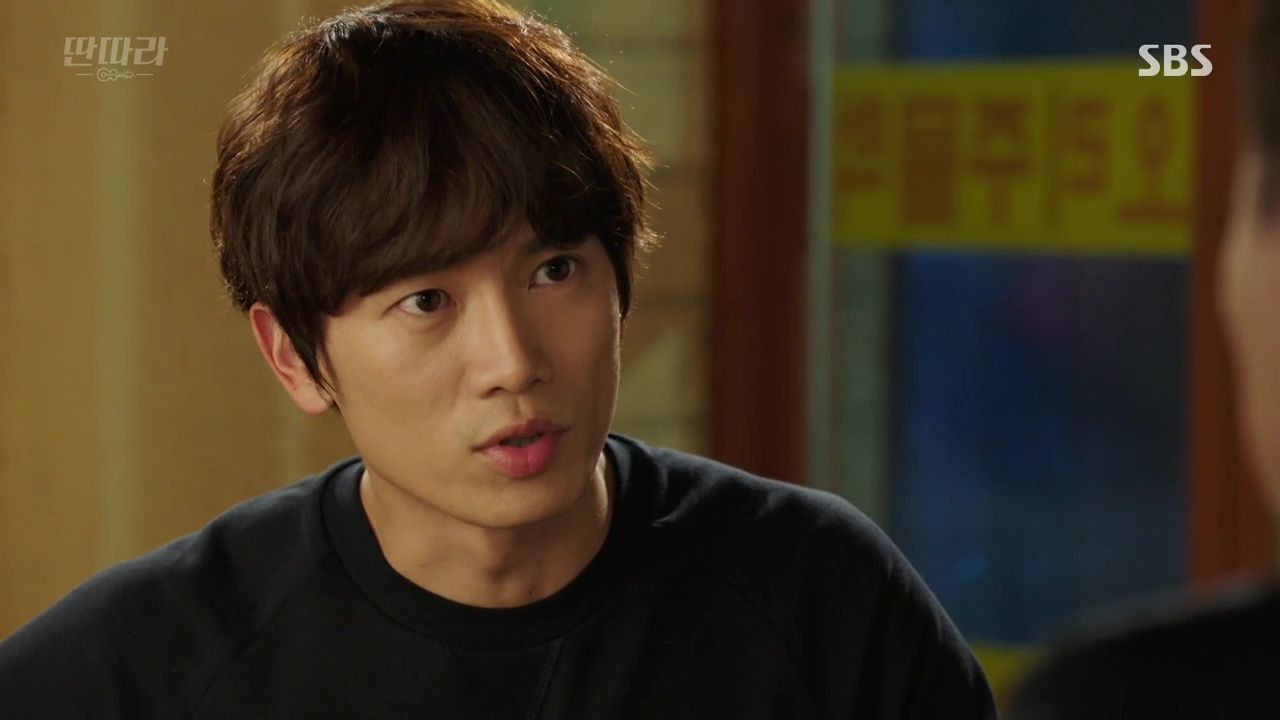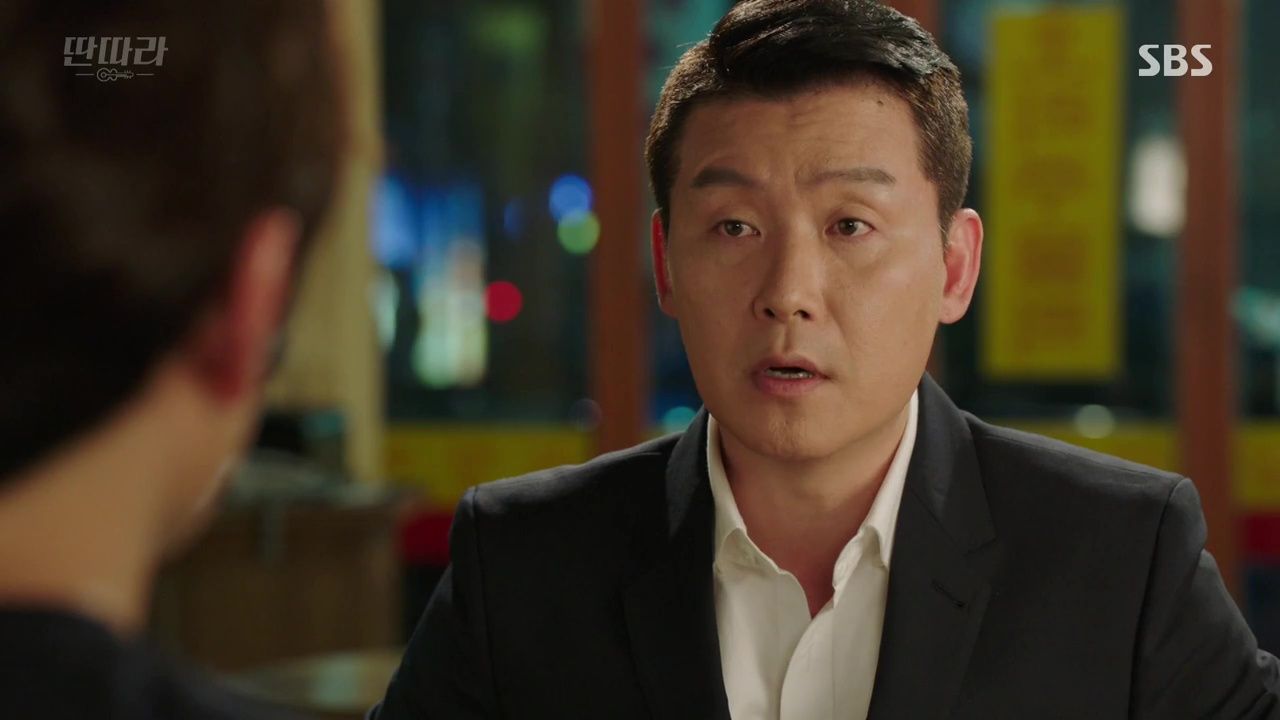 Choi Jun-ha had received Seok-ho's plea to meet with him, and spent the whole evening watching Seok-ho wait for him, too scared to go in the restaurant. But when he sees Seok-ho about to leave he works up his courage, and the two men sit to talk.
Jun-ha tells Seok-ho that he knows what he's going to ask of him (to tell the truth about the origin of his hit song), but says upfront that he can't do it. He admits that as much as he loved singing, that one choice made it impossible for him to ever sing again. But it would be worse if he came clean now, and dragged all that back up again.
Seok-ho begs him shamelessly, telling him about his promise to Ha-neul that one day, he'll sing his brother's song onstage. That promise has become his whole life, and he needs Jun-ha's help. But Jun-ha can't stomach the idea of his family knowing what he did.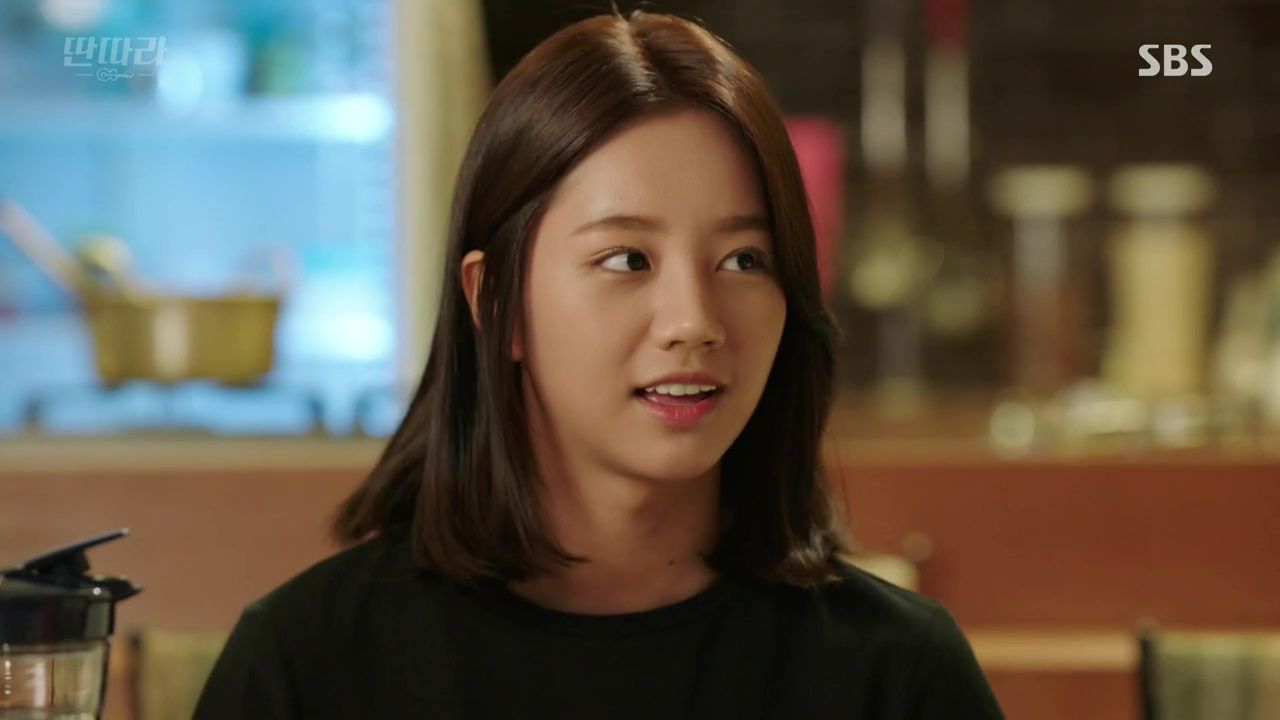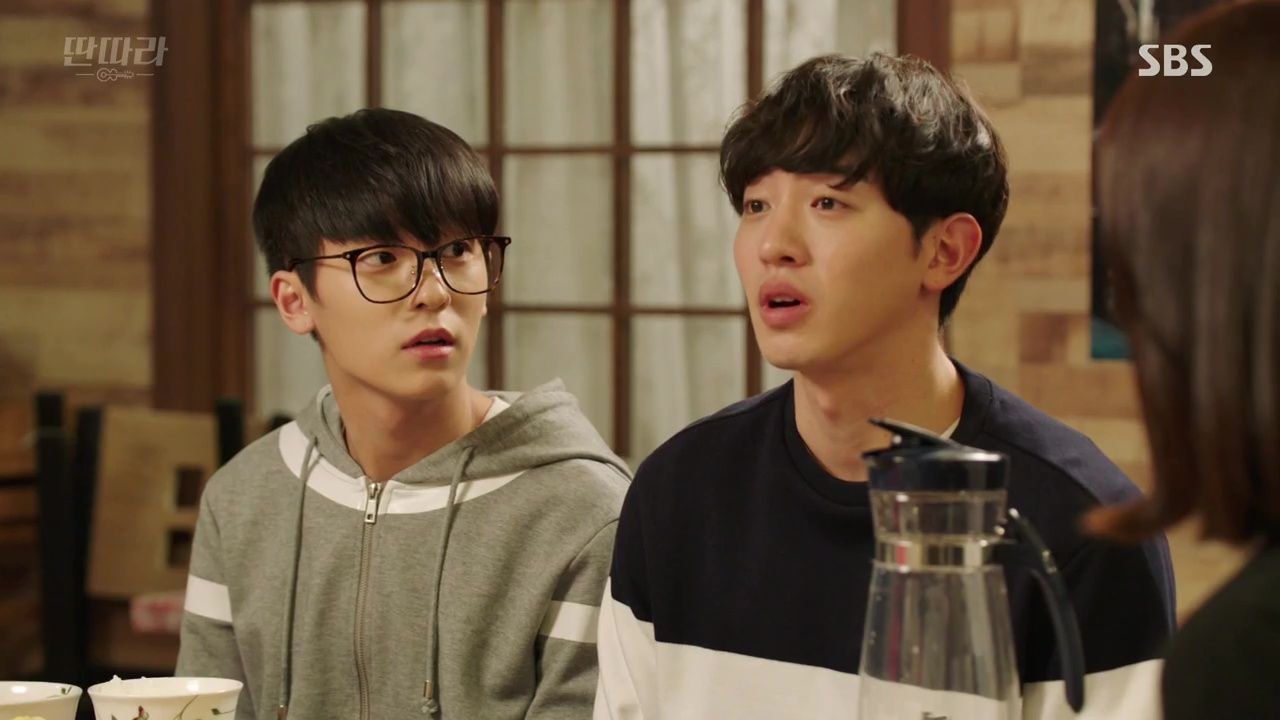 He hands Seok-ho an envelope containing every penny of royalties he's received from the song "Go Ahead, Cry," and says he wants Ha-neul to have it. Seok-ho gives the envelope back and tells Jun-ha to give it to Ha-neul himself — he wouldn't accept the money from Seok-ho anyway. But Jun-ha drops the envelope on the table and leaves before Seok-ho can stop him.
Geu-rin cooks a huge meal for Sung-hyun's memorial day, the same as she's done every year. The boys are disappointed that Ha-neul didn't take them to Sung-hyun's memorial spot, since they consider him their brother now, too, and decide they're going to meet Sung-hyun tomorrow. They're so damn sweet.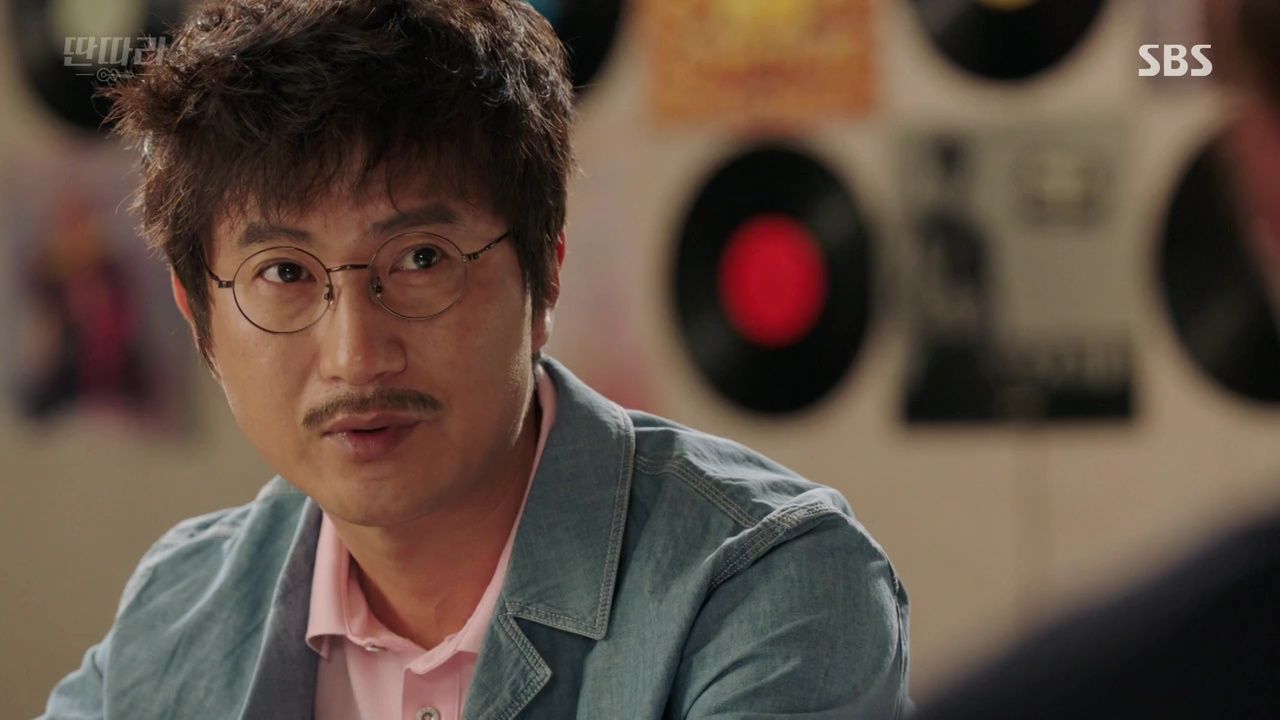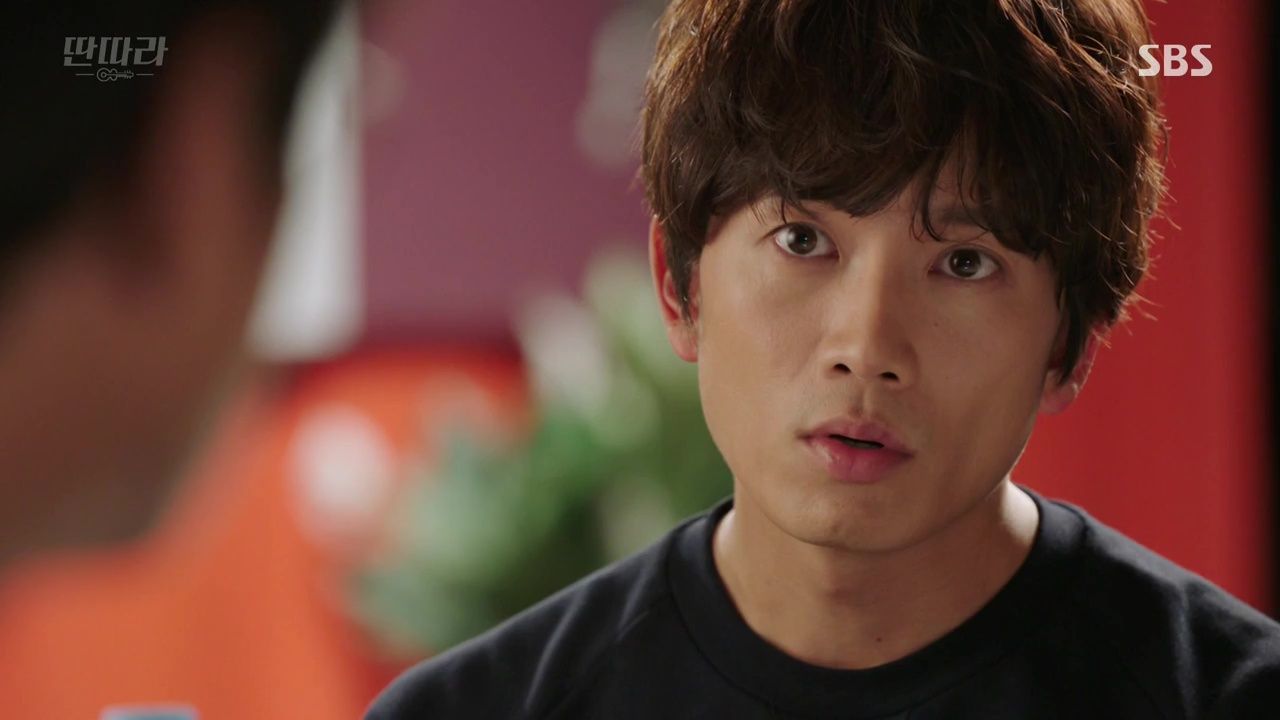 Seok-ho calls in the team to tell them of his meeting with Jun-ha, and that he refuses to help them. Min-joo says they can always tell the truth themselves, since they have Sung-hyun's original score, and Mr. Byun reveals that there's a way to prove its authenticity: He still has the original recording of Sung-hyun singing the song.
He's kept it a secret all these years, to keep CEO Lee from destroying it, and he apologizes to Seok-ho for never telling him the truth. The video is date- and time-stamped, which would prove that he owned the song before Choi Jun-ha ever recorded it.
Seok-ho looks angry and conflicted, but he decides that he won't use the video to prove Sung-hyun's ownership of the song. If they do, it will destroy Jun-ha's life, and it's not right to hurt him that way. He says that Jun-ha is in the country for one more day, so they just need to find a way to make Jun-ha want to live again.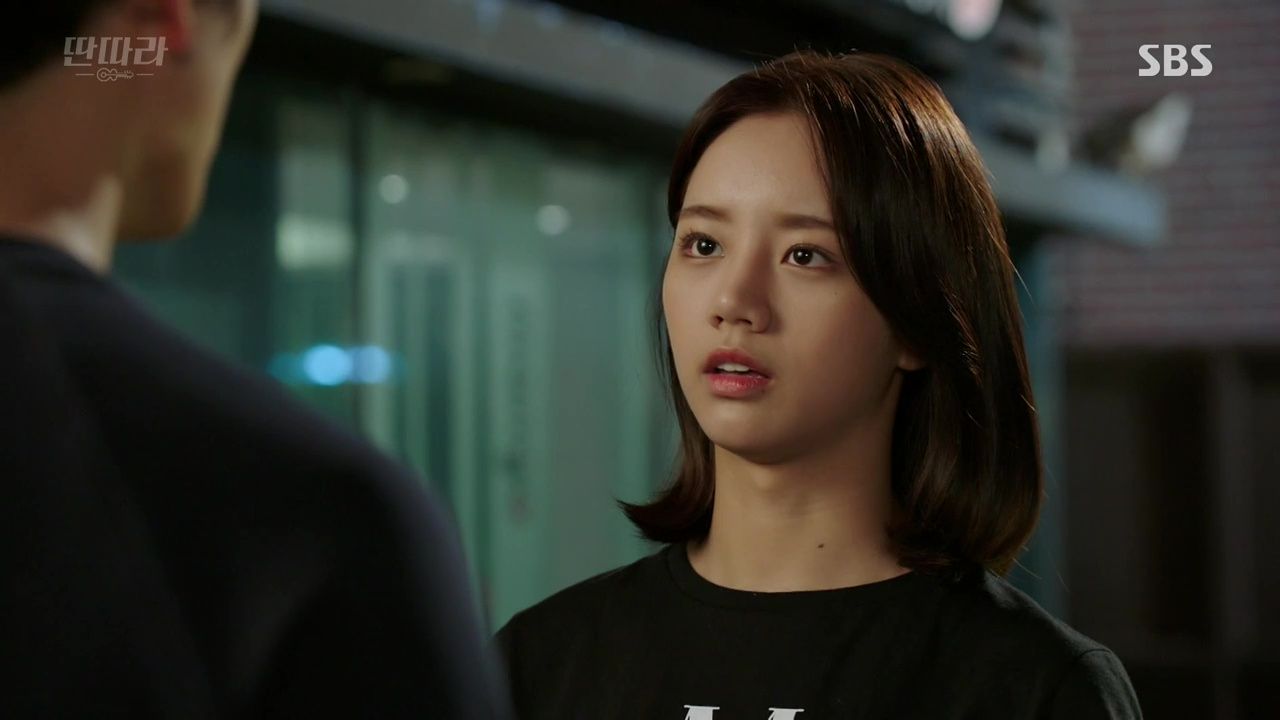 They key is to revive his love of singing, but how? Seok-ho orders the team to review every performance, every interview, every appearance Jun-ha ever made for a way to ignite Jun-ha's entertainer spirit.
But first he pulls Geu-rin aside, knowing she's disappointed in his decision. He explains that if they start acting like the ends justify the means, it will make them no better than CEO Lee. He sincerely asks for her help convincing Jun-ha, but she's worried about what will happen if they can't do it — will Seok-ho reconsider? He says that he will, and urges her to have faith.
He gives her the money for Ha-neul, and the team get to work researching Jun-ha. Mr. Byun gives Seok-ho Sung-hyun's recording of the song, remembering how beautifully Sung-hyun sang. He apologizes again for not giving it to Seok-ho sooner, and says that he thinks Sung-hyun helped them find each other again, so that they could meet Ha-neul.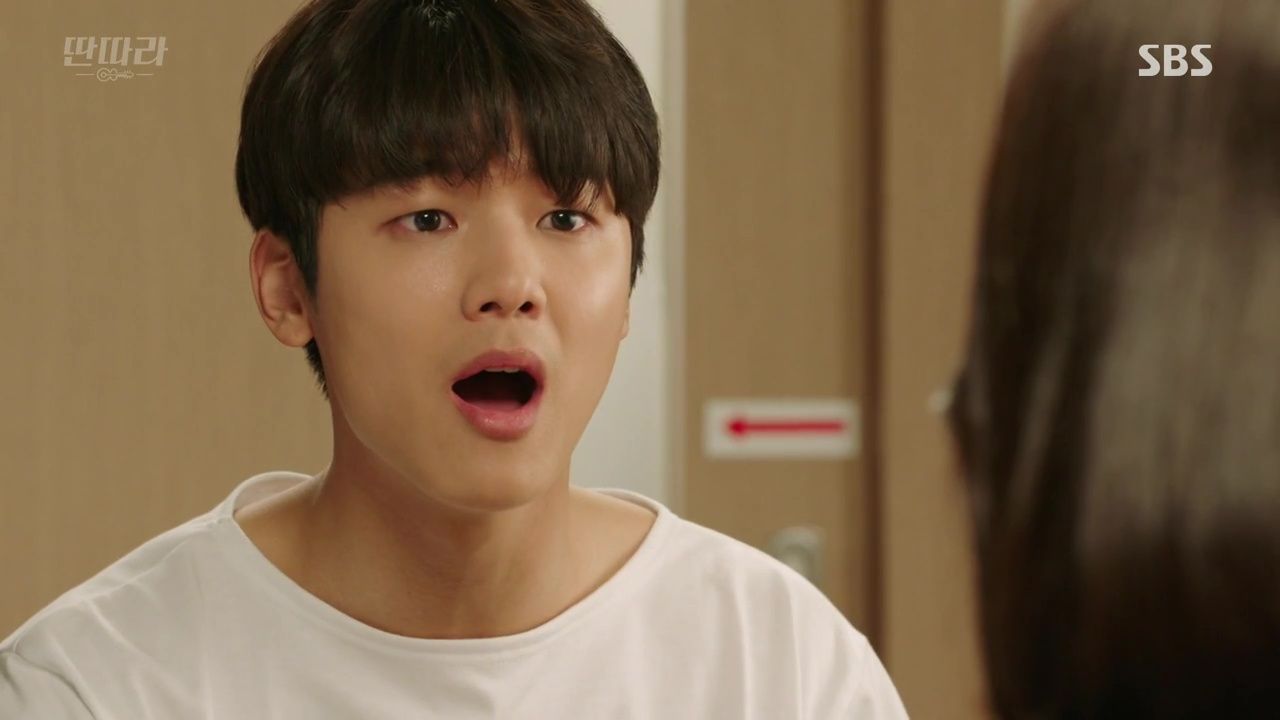 Geu-rin is the first to discover something that might help — an old interview about Choi Jun-ha's first performance, which had nearly been canceled because of a blizzard, and Jun-ha had been afraid people wouldn't come. He'd been moved to tears when every seat was filled, and he'd sung for hours that night for his fans in gratitude. Seok-ho thinks this information is exactly what they need, and he heads to the airport to intercept Jun-ha's flight.
Ha-neul is more interested in hearing about Seok-ho's meeting with Jun-ha than the royalty money, and hearing that Jun-ha refuses to help them has him crumpling up the envelope in anger. Geu-rin understands, but points out the fact that he didn't spend a dime of the money, which means this has been hard on him, too.
Ha-neul growls that everyone is so selfish, and it's the dead who suffer. He thinks Jun-ha only gave him the money to assuage his guilt, and his raised voice wakes up the boys. Geu-rin sends them back to bed, promising to explain later.
On the way to the airport Seok-ho watches Sung-hyun's video, and the sight of his old friend nearly breaks him. But as Sung-hyun's voice soars, Seok-ho starts to smile, then lets his tears fall again.
While Seok-ho and Man-shik stake out the outbound flights, Mr. Byun approaches the venue of Jun-ha's first concert to ask them permission to use the stage. The management allows it, but this is their last chance since the venue is being torn down later this year. So now all they need is to somehow get Choi Jun-ha there.
Looking determined, Ha-neul grabs the envelope containing the song royalties, and heads out alone to find Seok-ho. Seok-ho is still at the airport, and he finally sees Jun-ha arrive for his flight back to Australia. Jun-ha isn't pleased to see him, and says that he understands that Sung-hyun and Ha-neul are important to Seok-ho, but he's losing patience.
Seok-ho just gives him a piece of paper, and the USB containing Sung-hyun's recording of his song. Jun-ha promises to take a look, and Seok-ho lets him go. But suddenly Ha-neul runs past him to Jun-ha and introduces himself, drawing a crowd of fans that Seok-ho manages to hold back.
Jun-ha looks remorseful and says he's sorry, but Ha-neul just snaps back, "For what?" He demands to know if Jun-ha is sorry for what he did to his brother, or sorry for not setting things straight now. Jun-ha says he's sorry for both, and Ha-neul asks angrily if the money is his way of apologizing.
He doesn't want the money — he wants the song. As things stand, "Go Ahead, Cry" is still Choi Jun-ha's song, and will be even after he dies. "Why can't you return the song?"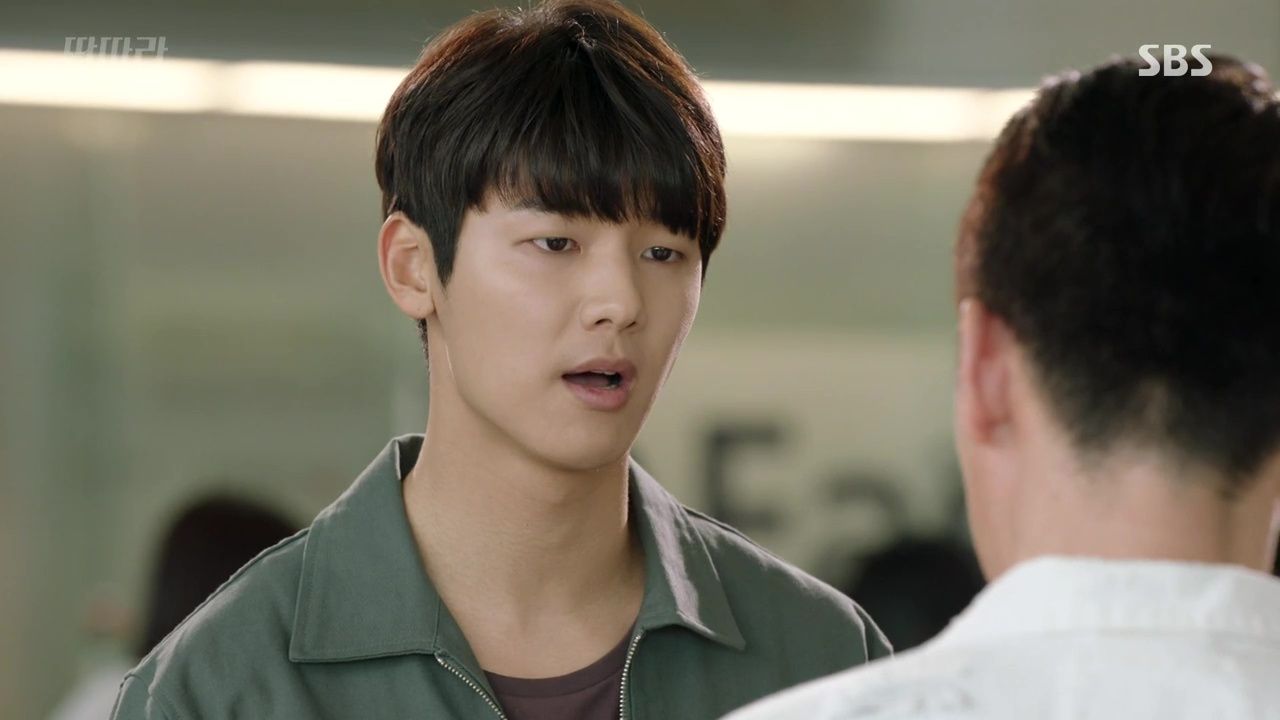 Jun-ha hangs his head and admits that he doesn't have the courage, and Ha-neul retorts that he's not asking for his brother back, and he doesn't even resent Jun-ha. "I blame myself for being too young and unable to help my vulnerable brother."
Jun-ha says again that he's sorry, but he can't help Ha-neul. Ha-neul says that he'll sing that song on Legend Again, and people will applaud thinking it's Jun-ha's song, but that he, and Jun-ha, and CEO Lee know whose song it really is.
He promises to pray until the last moment that Jun-ha will change his mind, and the song will find its real owner. "Please, prove that you're different from Lee Jun-seok." The mention of CEO Lee seems to rattle Jun-ha, but he doesn't say a word as he takes the envelope back from Ha-neul.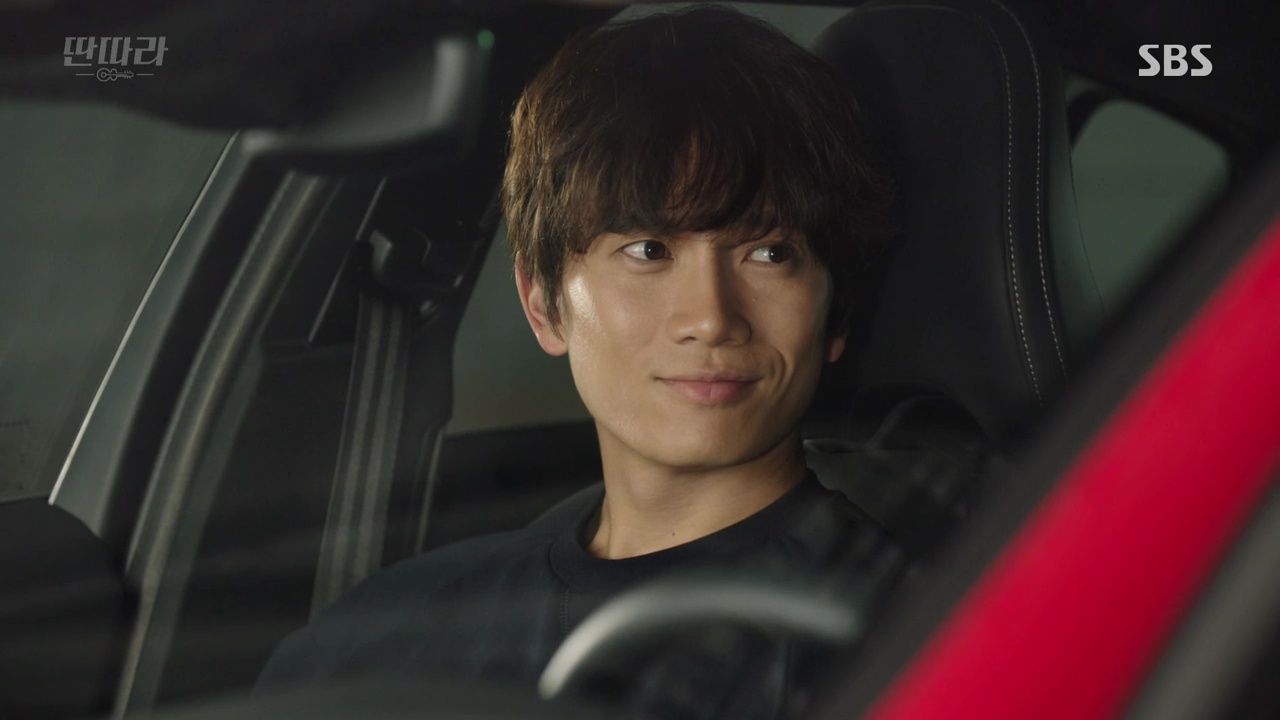 Seok-ho meets with Jinu, who tells him that he cancelled his contract with KTOP, but he refused the rest of Jackson's offer to leave with him. He thinks they can just find a new lead vocalist, though Seok-ho doubts that will happen. Jinu's plan is to study music in England, "the land of the Beatles."
Seok-ho has something to ask of Jinu — to give the song that they stole from the songwriter back. The idea makes Jinu nervous, since admitting that he stole someone's song and drove them to suicide could ruin any future music career he may pursue. Seok-ho tells him of Sung-hyun's song, and apologizes for burdening Jinu.
Man-shik lights up like a Christmas tree when Min-joo brings him a box of vitamin drinks, though she barks at him when he calls her a generous heiress, hee. She's brought some for Seok-ho too, but neither of them knows where he is at the moment.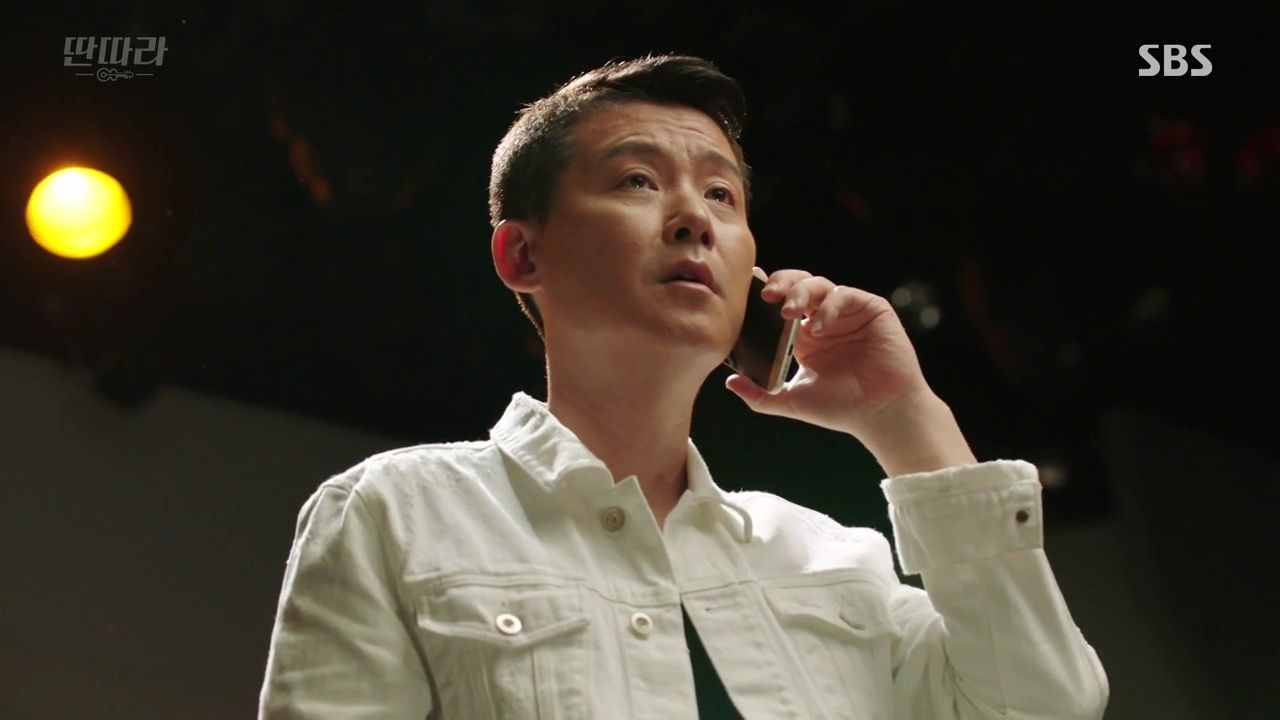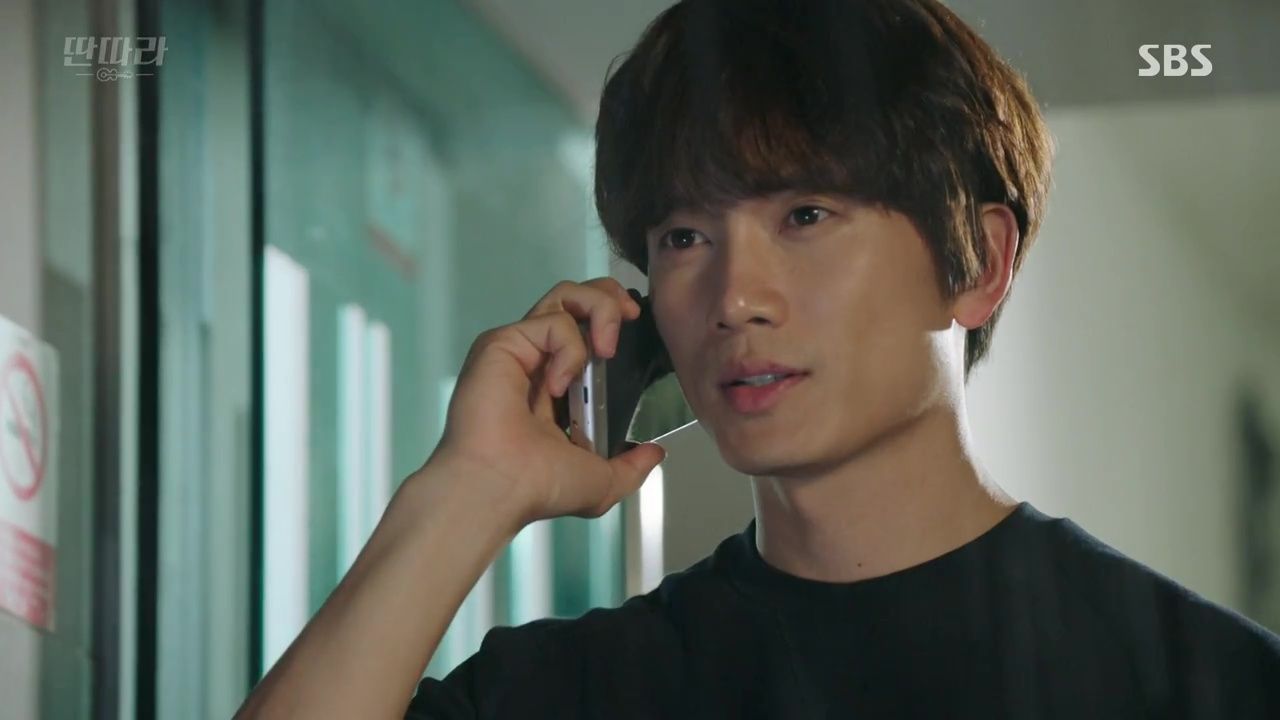 She wants to borrow an umbrella since it's raining, but Man-shik forbids her to take the green one — it's somehow precious to Seok-ho. He doesn't know why, he just knows that Seok-ho cherishes it.
Once he's alone Jun-ha does as he promised, and watches the video of Sung-hyun's performance. He goes to the venue of his first concert (which was on the piece of paper Seok-ho gave to him) and calls Seok-ho, saying that it hasn't changed.
He asks if he could hold a concert there before they tear the place down, and Seok-ho says he'd be honored to arrange it. "The fans who were waiting for you then, are still waiting for you."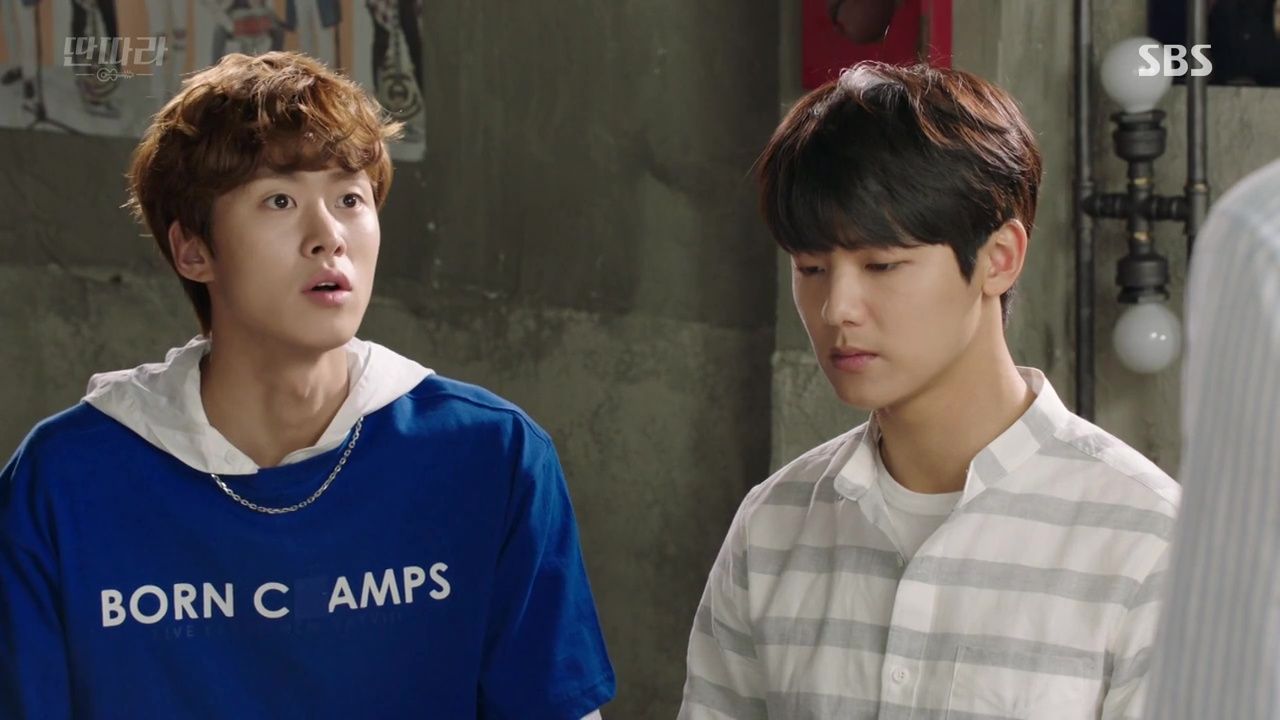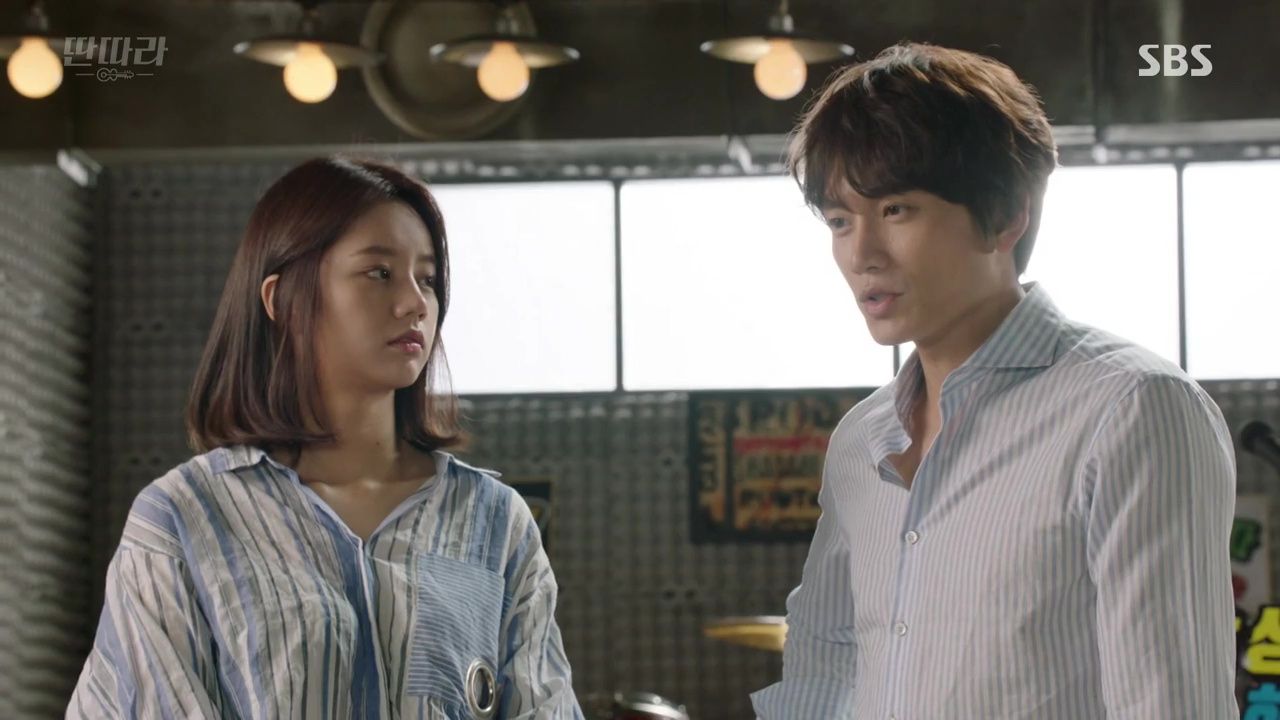 Seok-ho updates the band that Ha-neul convinced Jun-ha to help them, and says that the next step is issuing a statement detailing the truth about the song. Choi Jun-ha won't be interviewed about it, but the entire story will be revealed.
Seok-ho meets with his PD friend to tell her what they're going to do, and asks for her help in ensuring that Ddanddara Band is still welcome on the show. She says she won't need to — the whole country will be buzzing about it. She asks if Choi Jun-ha is really on board, and Seok-ho promises that he is.
Seok-ho calls his editor friend to offer Reporter Ma, who's still upset at being thwarted in scooping Ha-neul's story, a chance at an exclusive. He's grumpy, but ambitious, and meets with Seok-ho to find out what he wants.
He perks up when he hears the name Choi Jun-ha, and Seok-ho asks him to write this story, not as a scandal, but as an emotional confession from a remorseful man. Reporter Ma reads Seok-ho's notes, and practically does the Happy Dance of Joy in excitement.
The Ddanddara boys try to rehearse the song, which now sounds a lot closer to Sung-hyun's original version. But Ha-neul still struggles to sing the words, so Seok-ho calls Min-joo to bring over the USB of his brother's performance.
The USB is in the same drawer as Geu-rin's drawing of the green umbrella, which catches Min-joo's eye. She makes the connection to the green umbrella that Seok-ho treasures so much, and realizes that it's Geu-rin (whose name sounds like "green" in English) who's so important to him.
As Ha-neul watches the video of his brother, he cries, and reaches out to touch Sung-hyun's face through the screen. Soon all of the Ddanddara boys are sobbing, as well as Geu-rin and Min-joo, as Ha-neul calls out, "Hyung… hyung, why? Hyung!"
Seok-ho ignores Ha-neul's tears, and asks in a calm, firm voice, "Why can't you sing? Sung-hyun can, so why can't you? Sung-hyun's not here, but this song must be sung. Why can't you sing it?" He says that there's only one person who should sing this song — Ha-neul.
He reminds Ha-neul that once this press release is out, the song will no longer belong to KTOP, but to Sung-hyun and to Ha-neul. He says that it will hurt, and his heart will break, "But you must sing it well. Because it's Sung-hyun's song." The words aren't gentle but they're said with love, and Ha-neul takes a deep breath as his spine straightens.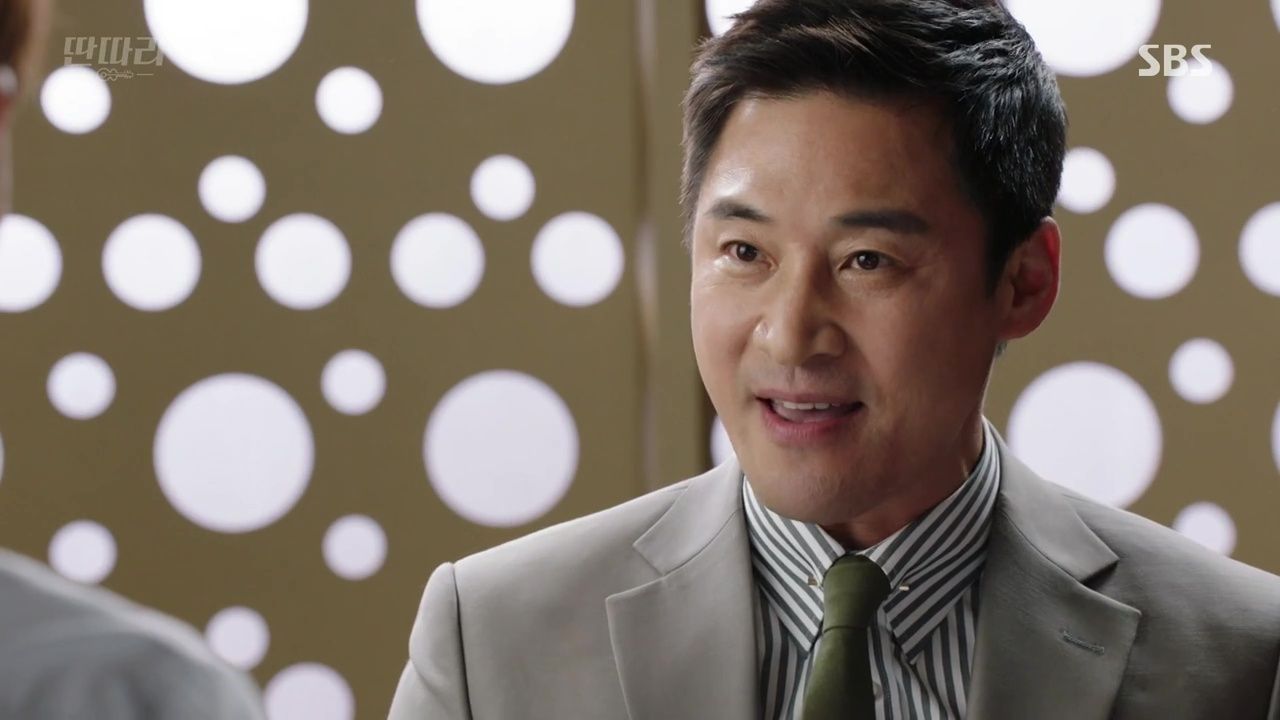 Later that night Jun-ha reads the angry words of the netizens, vilifying him for stealing Sung-hyun's song and claiming it as his own. Seok-ho invites him out to drink, and Jun-ha takes a fortifying gulp straight from the bottle before answering his wife's call.
Despite his fears, Jun-ha's wife is wonderfully supportive, and tells him he's done the right thing and his son is proud. Jun-ha texts Seok-ho back to say they can share a drink when Seok-ho visits him in Australia, and he asks one favor, which we don't hear.
CEO Lee trashes his office in a rage, having recently learned that all of the studios and television stations are blacklisting KTOP artists in the wake of the breaking scandal. He tells his assistant to do whatever it takes to get the contracts back, even if it means giving the bulk of the advantage to the other side.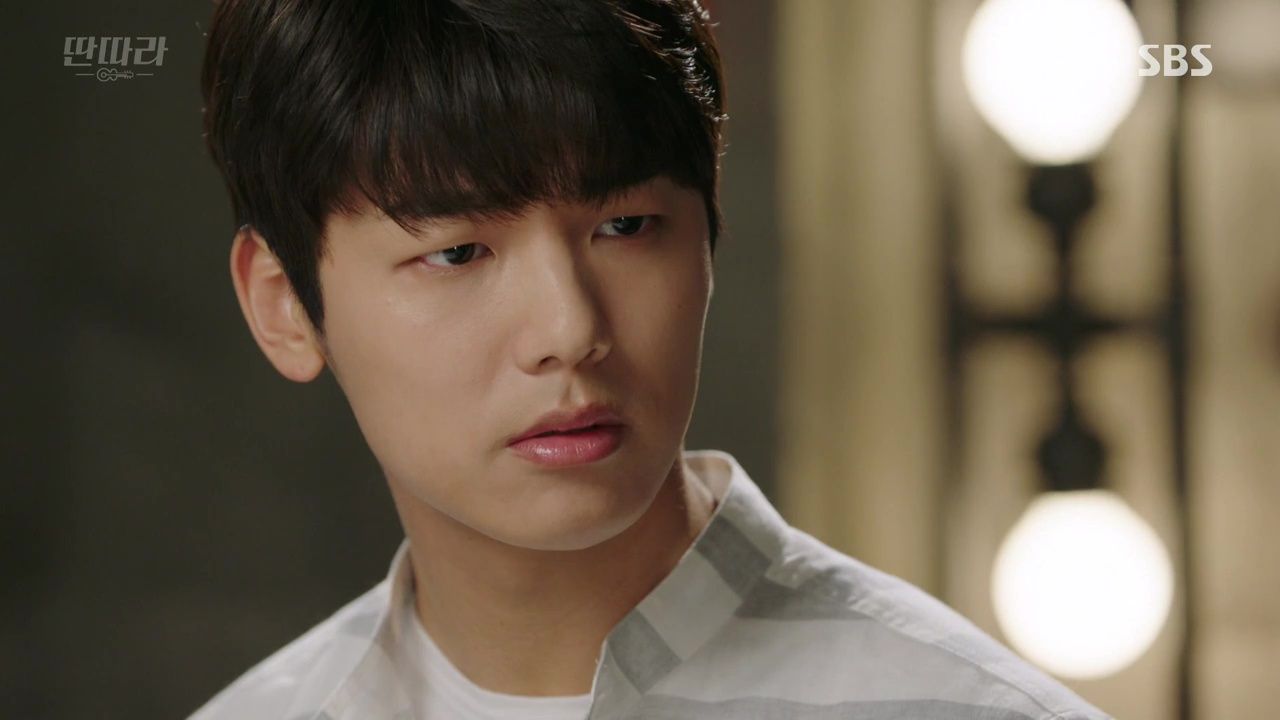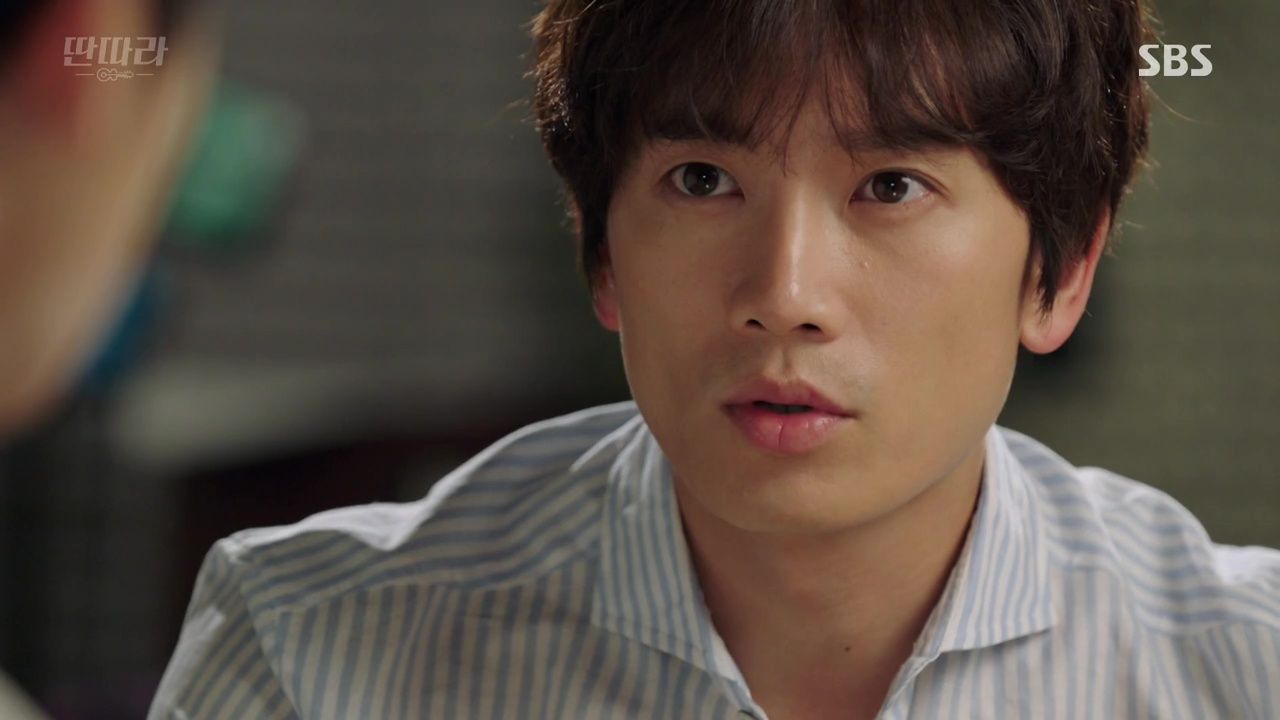 He orders Joo-han to help, but Joo-han says that as of now, he's finished with KTOP. He tells CEO Lee that he wants to start over like Seok-ho did, which sends Lee into another hissy fit. Joo-han leaves, and CEO Lee screams, then descends into that creepy demented laughter again.
Seok-ho mulls over Jun-ha's request, which was to appear on Legend Again. He heads to the studio to talk to the PD, who's thrilled at the idea. Even better, Seok-ho suggests they make the song a duet.
Seok-ho runs to find the boys, and tells them that the song is now a duet, asking if Kyle can write a new arrangement in the week they have left. Ha-neul is shocked at the idea of singing the song with Jun-ha, but that's not what Seok-ho has in mind — the song will be a duet between Ha-neul and Sung-hyun.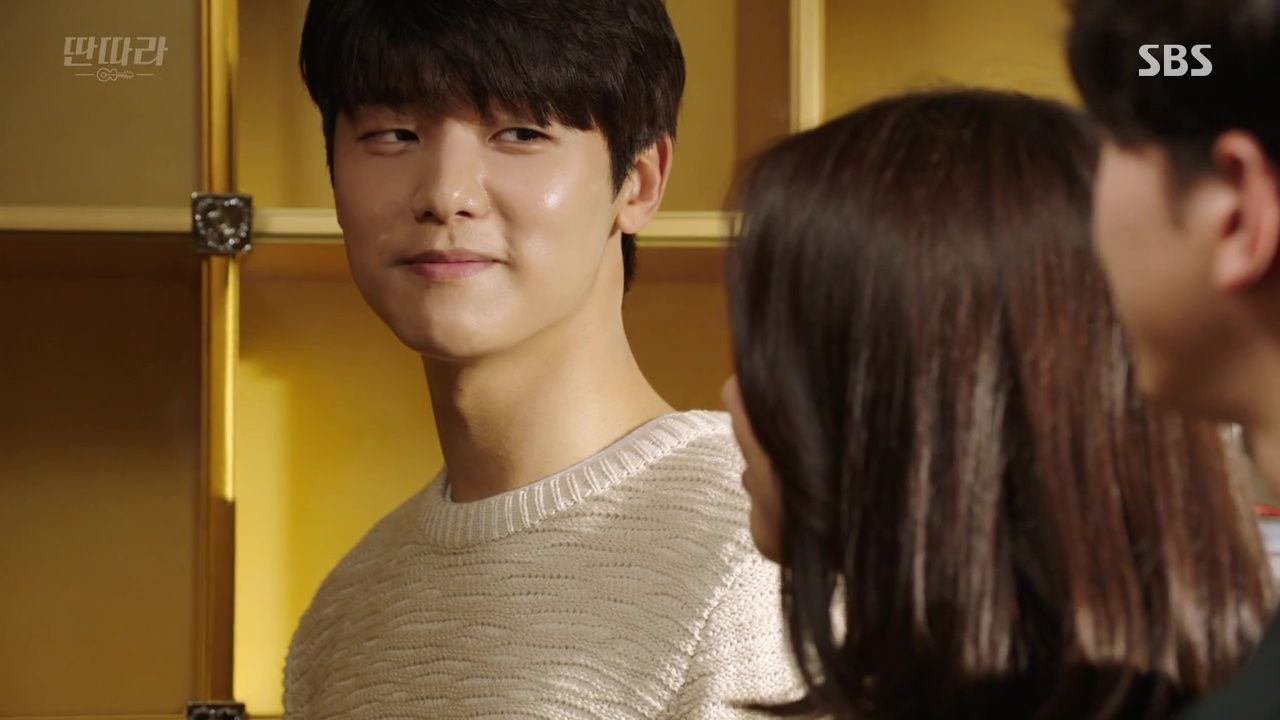 On the day of the show, the band visits Sung-hyun's memorial, and Ha-neul finally gets to introduce his friends to his big brother. They all talk to Hyung, joking and making each other smile (Jae-hoon tells Sung-hyun that Ha-neul is better-looking, hee), and even Geu-rin is honored to finally meet him.
The boys are surprised when Jun-ha joins them as they wait in their dressing room before the show. Jun-ha thanks Ha-neul for letting him be here and for helping his leave his self-imposed prison, and Ha-neul thanks him in return for giving back his brother's song.
Then it's time for Ddanddara Band to perform. Jun-ha goes onstage first and addresses the audience, apologizing for not coming back after his long hiatus for a happier reason. He explains that he disappeared because he was ashamed of what he did, and that he wants to apologize now. His confession is met with deafening silence, and after a long moment, Jun-ha introduces the true owner of the song.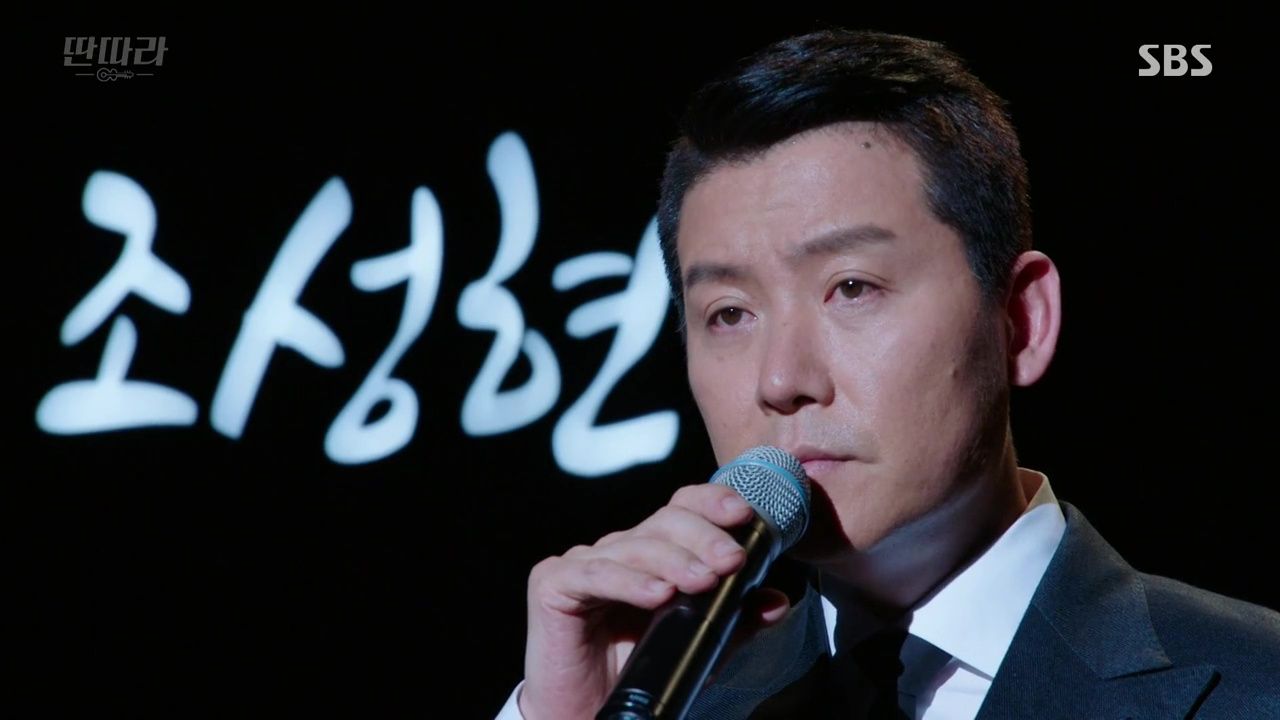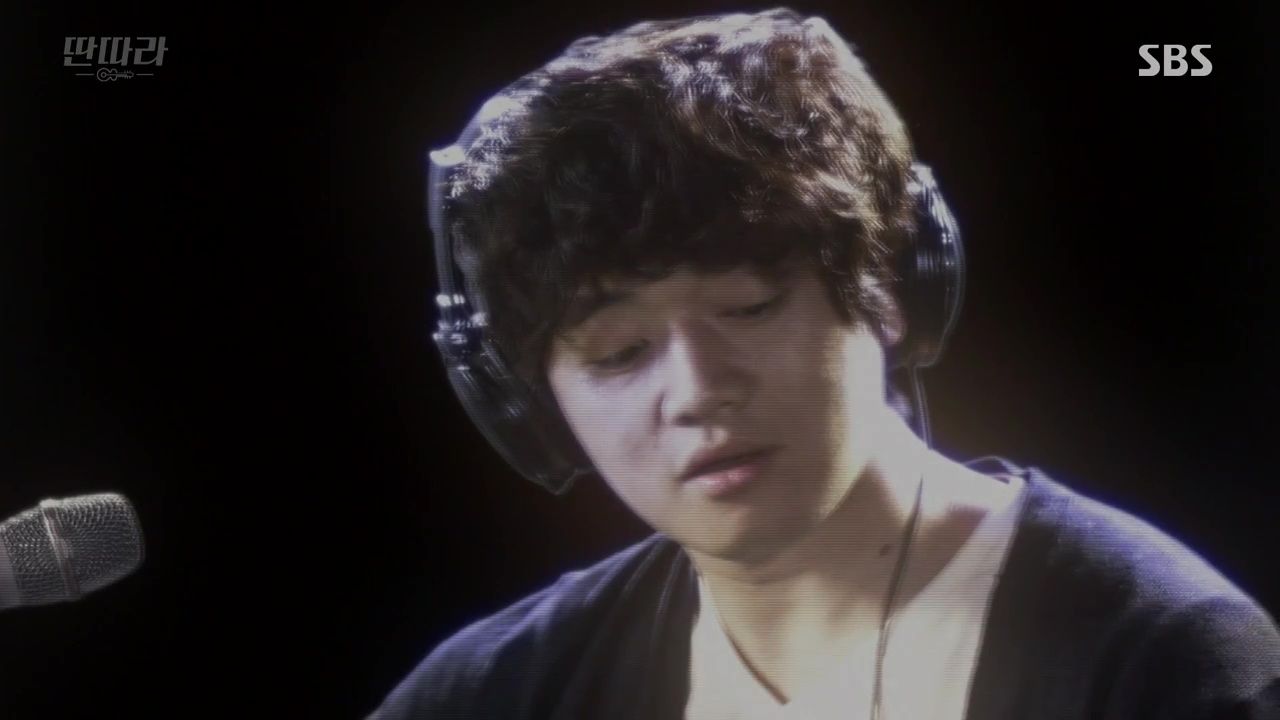 And suddenly, Sung-hyun is onstage, playing the opening notes of "Go Ahead, Cry." They've used the video to make it appear as though he's right there in person, and the effect is breathtaking. After Sung-hyun sings the first lines alone, the lights come up, and Ha-neul is there too, finally singing onstage with his brother.
It's almost as though Sung-hyun is looking at Ha-neul as they sing, and the band starts to play with Sung-hyun as his voice melds with Ha-neul's in the chorus. Ha-neul takes the lead in the second stanza, and Sung-hyun seems to watch him with a look of pride on his face.
Ha-neul sings to his brother, missing him, the lyrics taking on special meaning:
You must have been in a lot of pain
Like my heart that's all burned up
Now I know it all
The tears you held back
The times you struggled to stand
That you tried so hard to hide
You, who always stayed by my side
I won't let go of the hands I'm holding
It's okay if you can't hold back anymore
I will always hold you

It's okay to cry out loud
It's okay to cry louder for you
Your sad eyes are speaking to me
This dream-like love is speaking to me
It's okay, cry out louder
It's okay, cry all you want for me
Your sad eyes are speaking to me
This dream-like love is speaking to me
Backstage, Seok-ho simultaneously cries and smiles with pride, thinking, "I miss you, Sung-hyun-ah."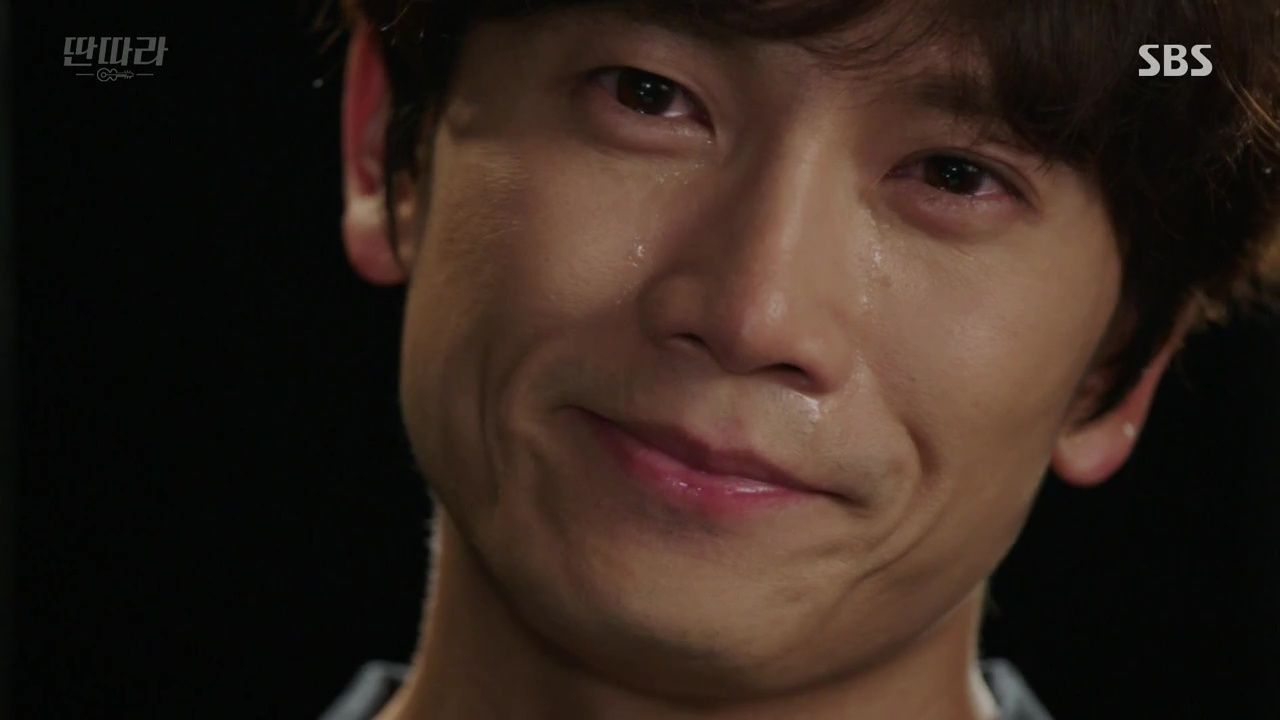 COMMENTS
That was so much better than I ever expected… I knew that Ha-neul's version of the song would blow us away, but I never thought about putting Sung-hyun's recording into the song so that the brothers could sing together. I've been looking forward to this performance, but it was so much more beautiful than I imagined.
I much prefer Hyung's plot line to Ha-neul's assault case, though I do understand the need for that background and the way it dovetails into the quest to redeem Hyung and his song. But this last couple of episodes has had me connecting to the characters in a way I hadn't before, because of the way Sung-hyun's betrayal and death has them all coming together to mourn, then pick themselves up and mobilize to make things right. I love how Sung-hyun's desire to make music meshes with Ha-neul's love of performance, and the idea that it's Sung-hyun's song that could propel the Ddanddara boys from a probably-fleeting popularity to stardom. It's saddening to think what could have been, if Sung-hyun had lived to write more songs, both for himself and for his younger brother.
With the direction the show has been going for the last few episodes, focusing on the grief of loss and the quest to make things right, it's like Entertainer has elevated itself several notches.The acting is improving in all areas, the story has gained a depth and piognancy that were lacking at the beginning, and I find this plot highly compelling and satisfying. And how beautiful is Hyung's song?? I well up every time it plays. I wish this drastic improvement could have happened sooner before people dropped the show, but for those of us who are still hanging in there, I believe it's been worth the investment.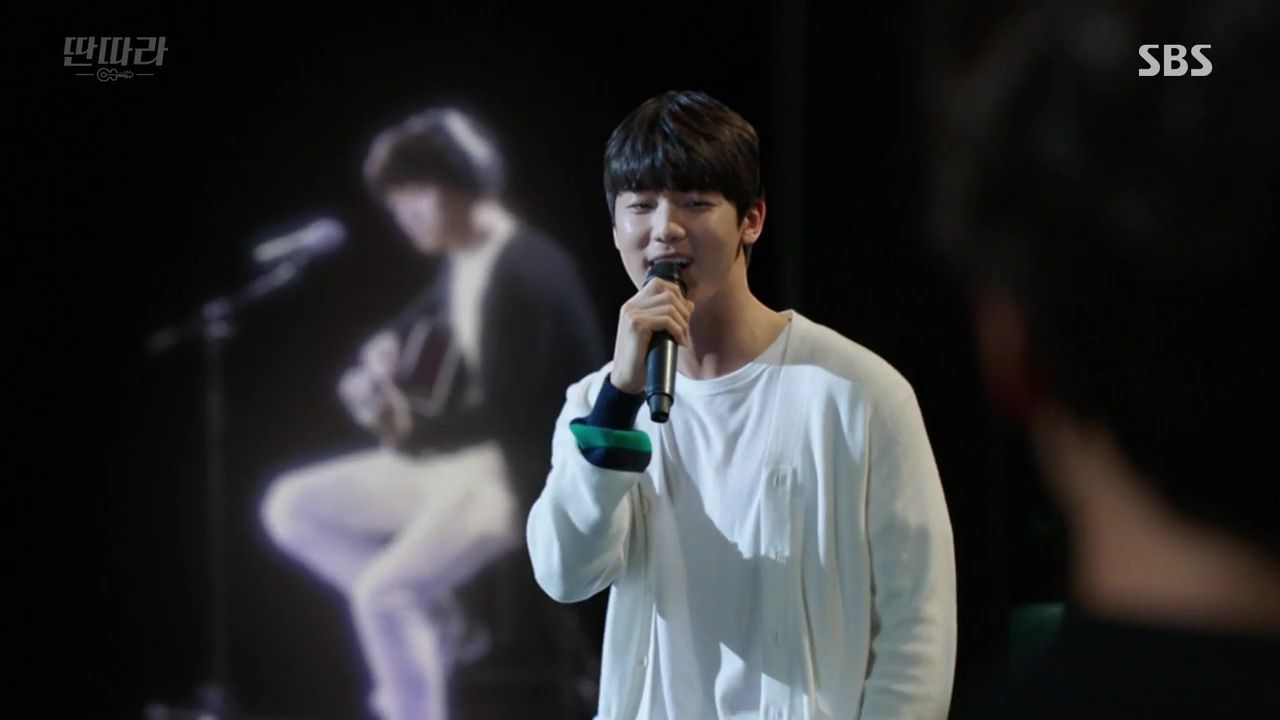 It wasn't apparent until recently, but I'm finally understanding the overarcing theme of Entertainer — that people can make terrible mistakes, but it doesn't make them evil or irredeemable. Ha-neul is a force that advocates forgiveness, and his influence is spreading to all those around him. He's been able to forgive anyone anything, as long as they show true remorse. Ji-young, Joo-han, Jun-ha, and especially Seok-ho have all found themselves facing Ha-neul and repenting the wrong they've done to him, and to his credit, Ha-neul pulls no punches. He's clear about what they've done wrong, and doesn't soften his words in letting them know they've disappointed him. But he also allows them to realize their mistakes, and when they do, he's the first one willing to say, "I forgive you, and now it's time to forgive yourself." He's a wonderful young man and an incredibly compelling character, and Kang Min-hyuk gets all the credit for playing him so perfectly.
The only person Ha-neul can't forgive is CEO Lee, which also falls in character, as Lee is the only person who not only doesn't regret his actions. In fact, not only does he not see his actions as wrong, but he continues to double-down every time he's given the chance to do the right thing. His hate and prejudice directly caused Sung-hyun's death, and yet he still sneers and calls him a "cripple" to Seok-ho's face. We did see CEO Lee struggle with what to do when he made the decision to betray Sung-hyun, and that one moment of humanity almost made me feel sorry for him. But he took the wrong road and never looked back, and over time he's even come to enjoy watching the suffering he causes. I don't blame Ha-neul for promising to make sure he suffers for what he's done.
It was wonderful to see Seok-ho pull himself together and be the manager that Ha-neul and the boys needed, when Ha-neul couldn't sing. I've grown so used to seeing Seok-ho give in to his emotional turmoil, and it was a shock, in a good way, when he got it together and said what needed to be said. He's been so many things for Ha-neul and the rest of the boys — friend, manager, hyung — but until now, he's not been a leader. And they desperately need a leader, as new as they all are to the entertainment industry, and facing so much opposition so early on in their career. They need someone to teach them and guide them, and I was starting to worry that Seok-ho couldn't be that for them because of his own demons. But he proved, when it really mattered, that he can be exactly the man they need.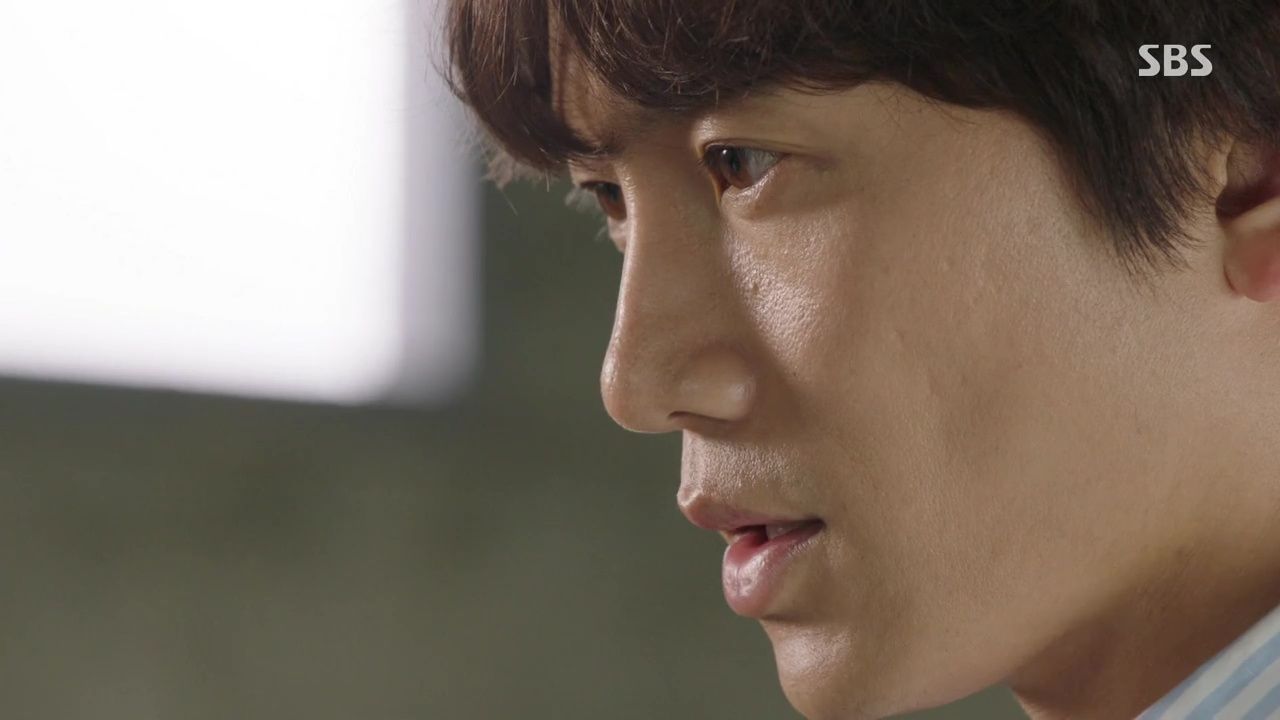 RELATED POSTS
Tags: Entertainer, Episode 16, featured, Hyeri, Ji Sung, Kang Min-hyuk