Entertainer: Episode 18 (Final)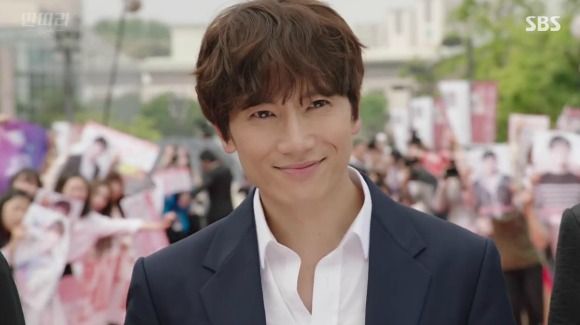 It's time to say goodbye to Seok-ho and his Ddanddara boys, which is a lot harder than I ever expected it to be. Entertainer has been such a fun little show, with characters I'll miss, and I'll remember Hyung and his story most fondly. It's been a sweet journey, with lots of laughs and tears, and a few lovely life-lessons along the way to remind us that no matter how hard life gets, if you lean on your friends, you can realize your dreams.

EPISODE 18 RECAP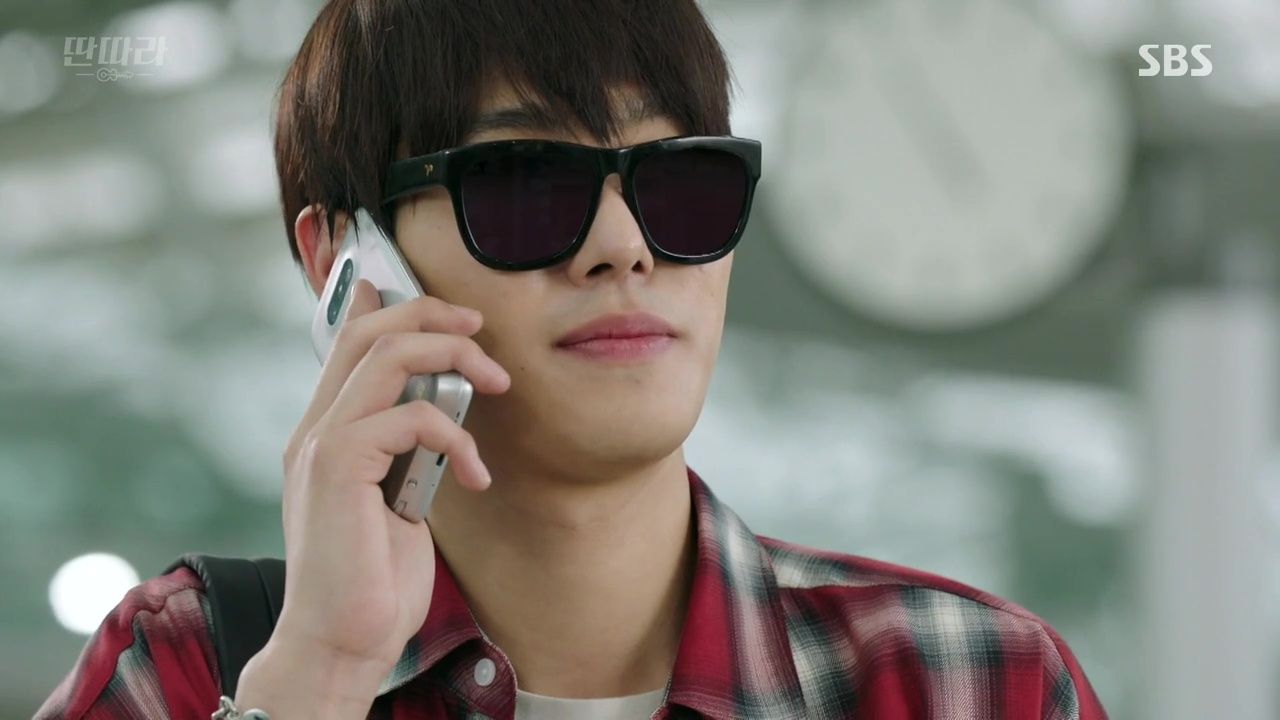 Now that he's noticed Ha-neul's feelings for Geu-rin, Seok-ho can't stop watching the two to see if Geu-rin returns those feelings. Mr. Byun checks his phone and sees that Jinu is at the top of the search engines, for an article he posted online confessing his part in the theft of a song.
He admits that he didn't know until after the song was released, but that he accepts all due blame. He apologizes to his fans, and announces that he's returning the song to its rightful owner and leaving to study abroad.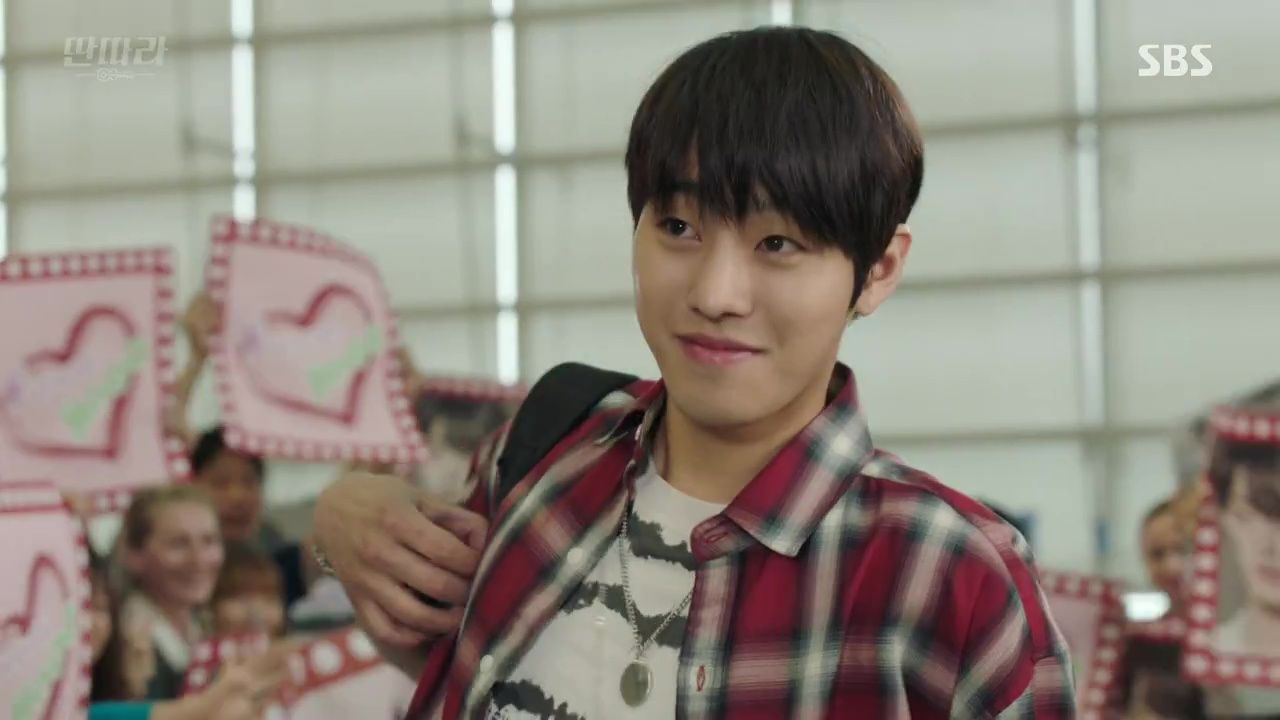 Seok-ho calls Jinu to yell at him, since he told him it was all taken care of. He's horrified to learn that Jinu is on his way to England right now, but Jinu seems happy for the first time in years. Seok-ho tells Jinu to keep in touch and let him know if he needs anything, and Jinu's voice goes thick as he thanks Seok-ho for everything, and says that he'll miss him.
And miraculously, there's a huge crowd of fans waiting for Jinu at the airport, chanting for him to come back soon. He's deeply moved and bows low to them, and leaves with his head held high and a smile on his face.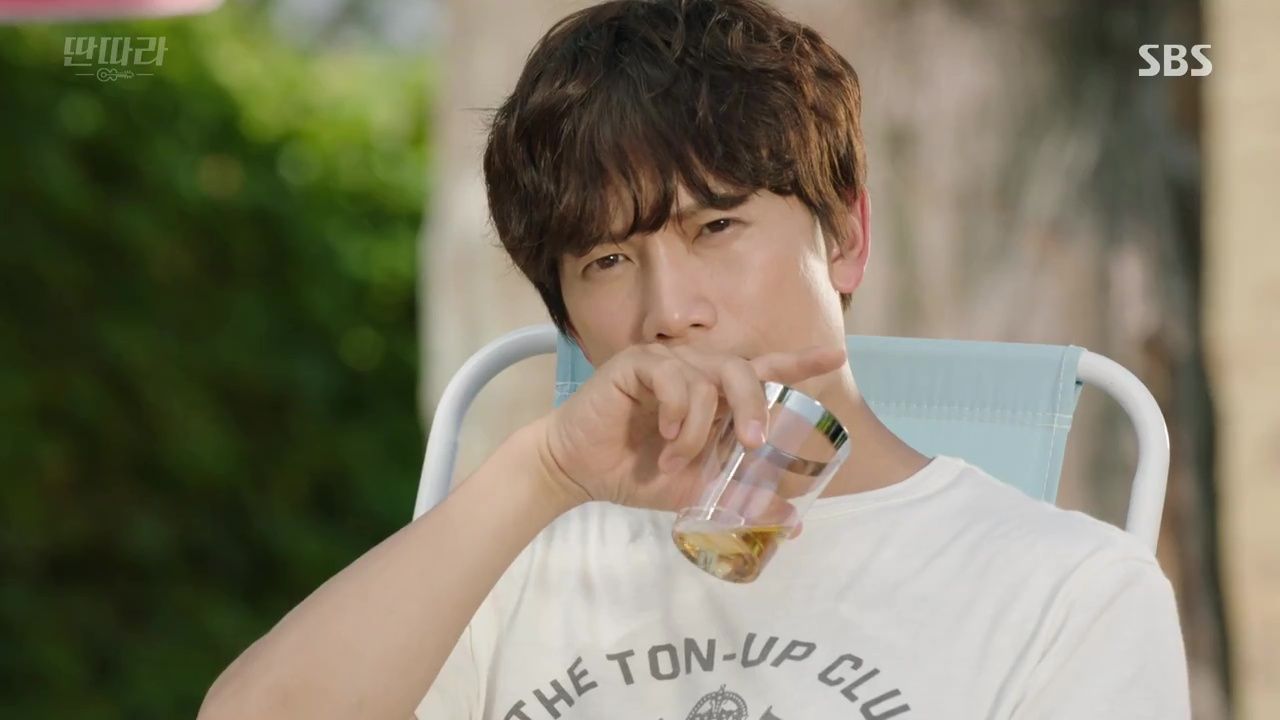 Ha-neul takes Geu-rin for a walk, and finally confesses his feelings for her. But he tells her like it's no big deal, and says that he's glad that her first love is as good as his was and that he's giving up. She tries to deny that she likes Seok-ho, but Ha-neul ain't buying it. They look awfully cozy when they get back to the house, which Seok-ho interprets as Geu-rin returning Ha-neul's feelings.
CEO Lee is notified that not one single artist from KTOP is on the list of nominees for the Asia Awards this year. Not only that, but he learns that his artists are prepared to leave KTOP unless a new CEO is appointed.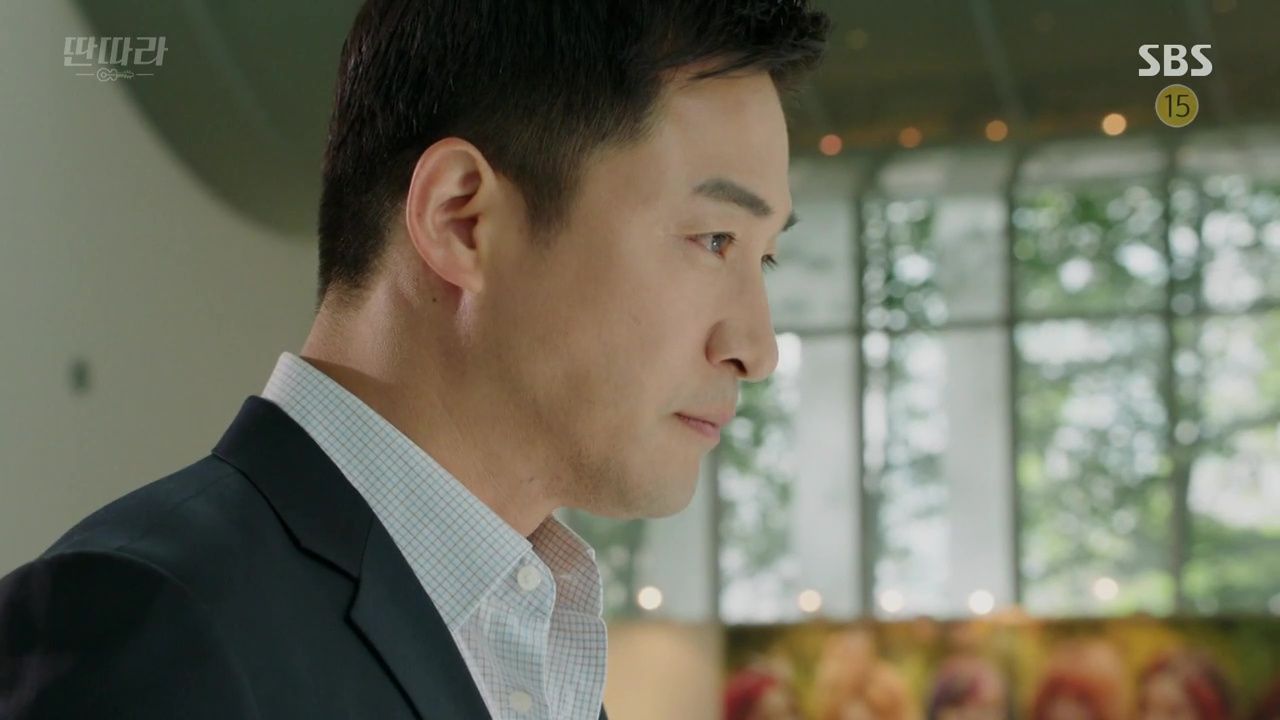 The CEO of Wild Company offers to buy KTOP, which would at least let CEO Lee recoup some of his money to support his family. Lee goes back to his office, realizing that he has no other choice, but it takes great effort to tip over his nameplate and leave the building in shame.
The offers are rolling in for the Ddanddara boys, and Kyle even gets the chance to appear on popular variety show "Running Man." Seok-ho finds himself standing in the rain next to a little girl who looks longingly at his frilly green umbrella, and though it goes against his every instinct, he gives it to the girl. Awww.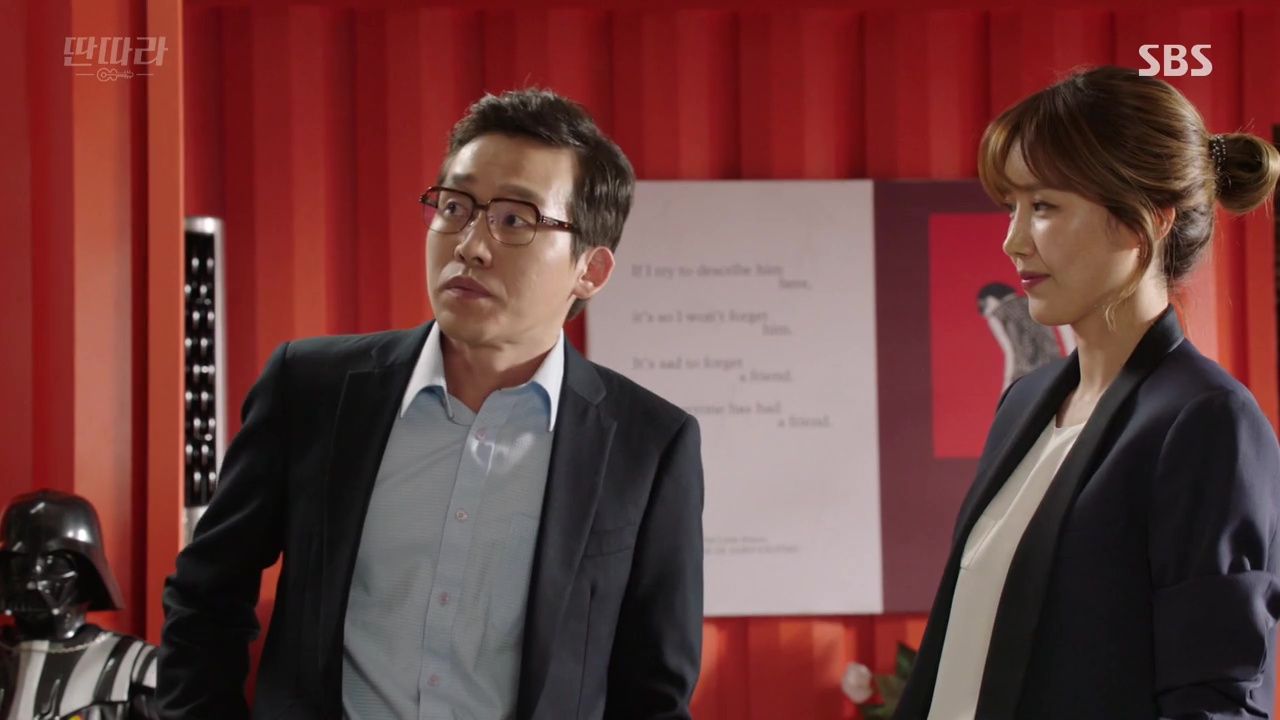 So he shows up at a television station soaking wet and cranky, where the boys are competing on a music show for the fourth week in a row. They win again, and get to perform a new song, which is upbeat and fun. Life is looking pretty good for the band these days.
There's an intense stare-off between Mr. Byun and Min-joo, who argue over whether to change Mango Entertainment's name (Min-joo wins, and the name stays). They also disagree over which of them is the rightful CEO, since they've each funded one of Ddanddara's albums, but this time they agree to be co-CEOs. It's also time to bring on more employees, and Min-joo has already hired someone — her old boss from Ocean Music, HAHA.
Ha-neul gets an offer to be in a drama, and he's confident that he can pull off a character who has an unrequited love. Good boy, that's how you make lemonade out of lemons.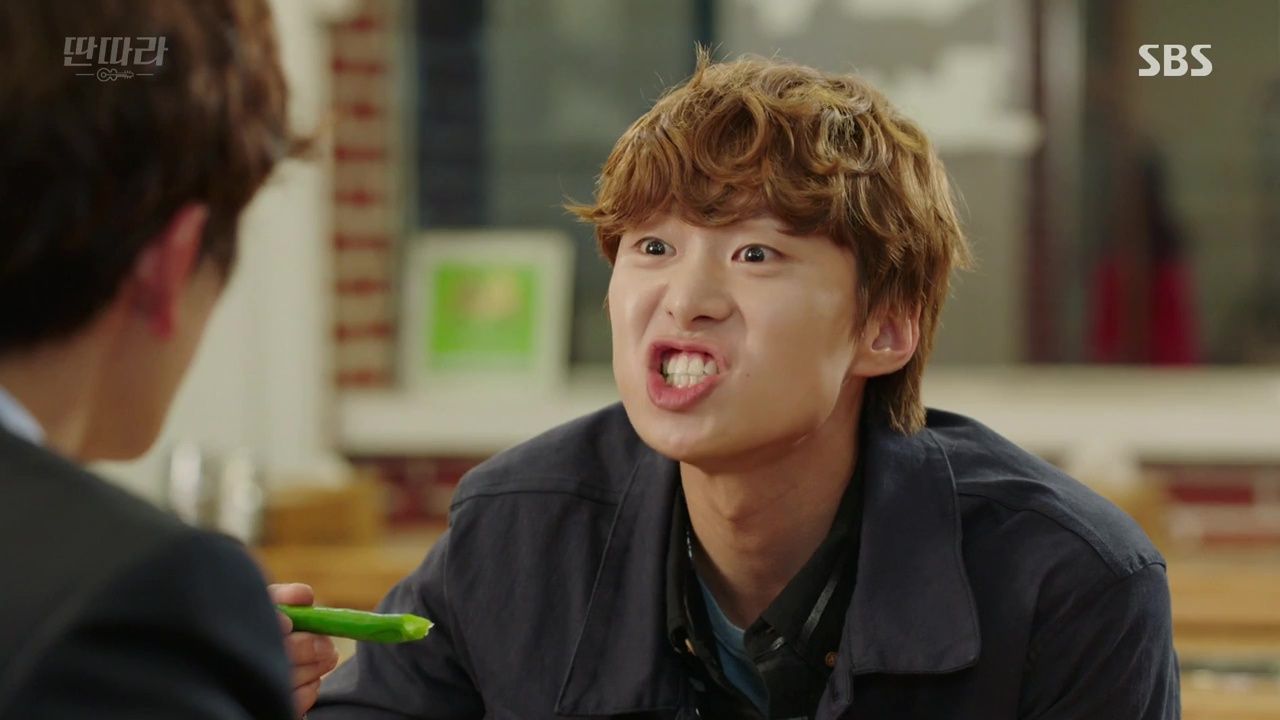 Seok-ho is furious when his new minion (who he yoinked from KTOP, where he was his old minion), who is now the band's manager, accidentally lets Kyle slip out to a dance club with Man-shik. When Seok-ho busts them, Man-shik slinks away and Kyle tries to act like nothing is wrong, but Seok-ho takes off his jacket to kill him. "Words don't work on you, do they?"
After a sound beating, Seok-ho takes Kyle to his family's restaurant to talk to him about his constant clubbing, and Kyle protests that he's just lonely. Seok-ho tells him to go be an idol if he likes dancing so much, and Kyle reluctantly agrees (though not until after throwing down plenty of sass) to stop going out every night.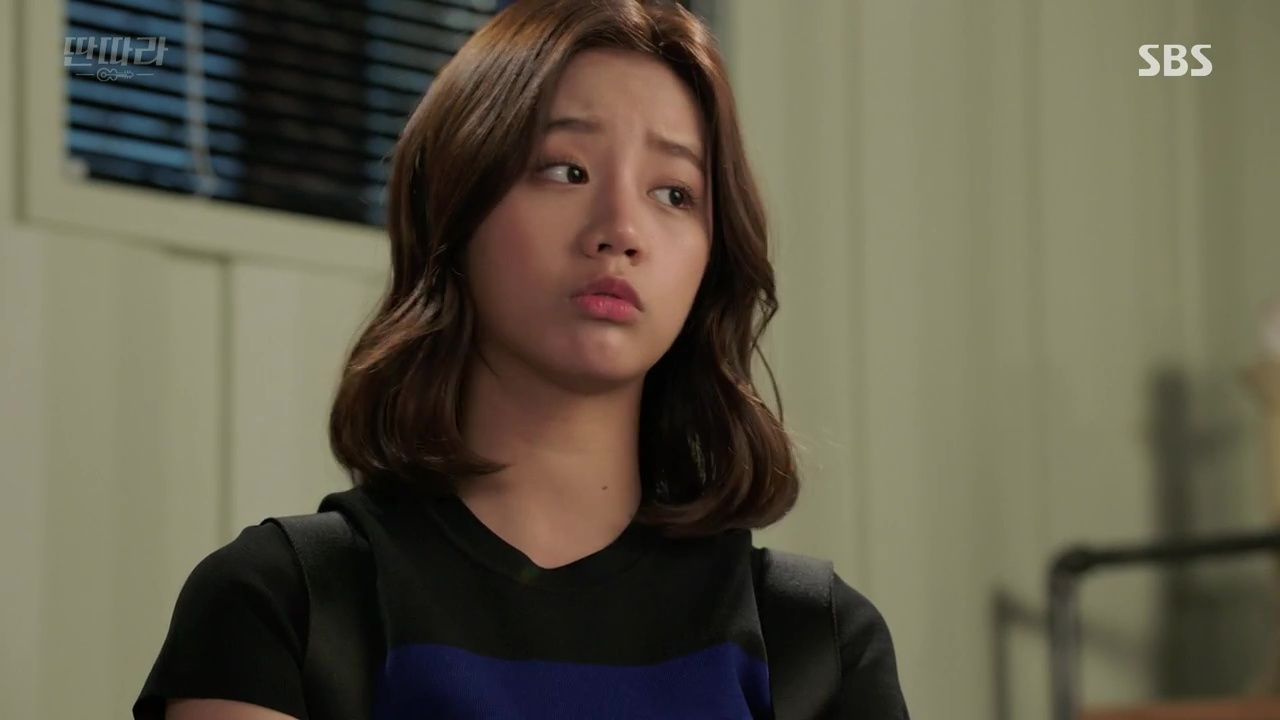 Geu-rin seems lonely too, as she watches her classmates at school make friends and go out to do fun things, but as a returning student she's a bit of an outcast. She ends up at the library and gets caught up in reading "Daddy Long Legs."
Seok-ho stays at the office late, reading Ha-neul's drama script, so he's still there when Geu-rin bursts in all excited. Seok-ho is grumpy at her since she apparently quit working for him while she's going to school. She gives him the "Daddy Long Legs" book and tells him to read the last page, and whines that she'll just go home and eat cereal for dinner, again, since Seok-ho is soooo busy.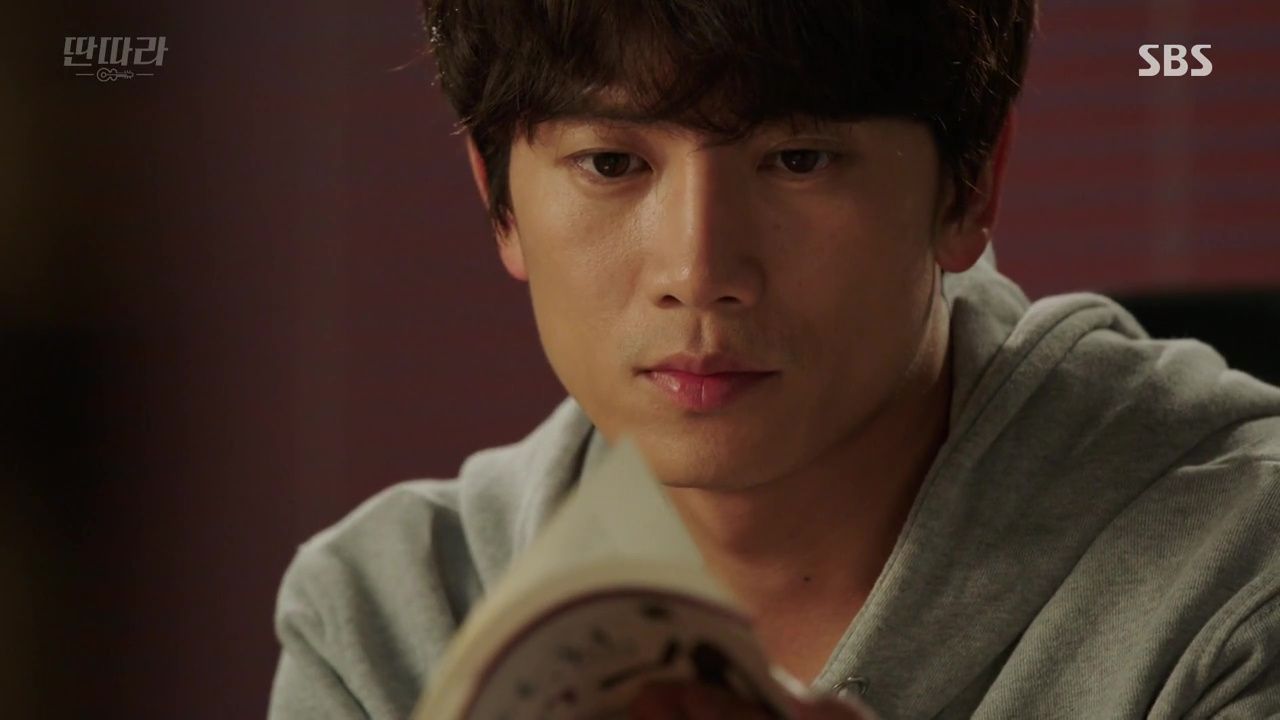 Seok-ho picks up her hint but tells her to just go, and reminds her that she needs to find an apartment since the boys are moving to a new place, and she can't go if she's not their manager. Once she's gone though, Seok-ho picks up the book and looks at the last page as Geu-rin requested.
She's highlighted one line: The two finally belong to each other. In the margin, she wrote that they get married and live happily ever after… "Just saying." Dude, that's your cue, go get her! But he doesn't, and just puts the book away in his desk and goes back to work.
He gets a call from Yeon-soo and goes to pick up Chan-hee from his parents' restaurant where they were watching him, and Seok-ho's mother says that it's good that Yeon-soo is successful but that his son misses him.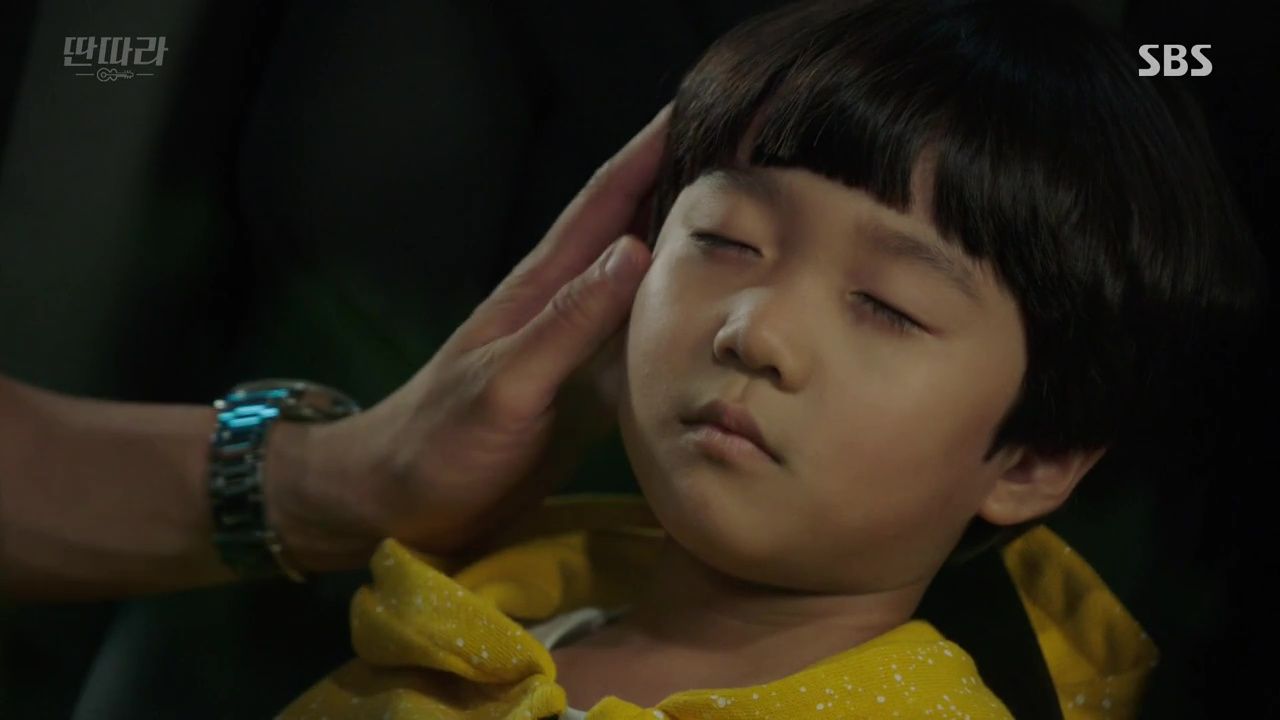 Seok-ho's parents half-jokingly order Seok-ho to get married and make them grandparents, and as he gently tucks the sleeping Chan-hee into the car and sighs, he actually seems to be thinking about it seriously.
Geu-rin treats the boys to smoothies, and they can tell she has something to say. She asks them to come to her school, but not for a gig — she wants her association with them to help make friends, ha. They hilariously give her a hard time about it (I dunno, did you ask our manager?").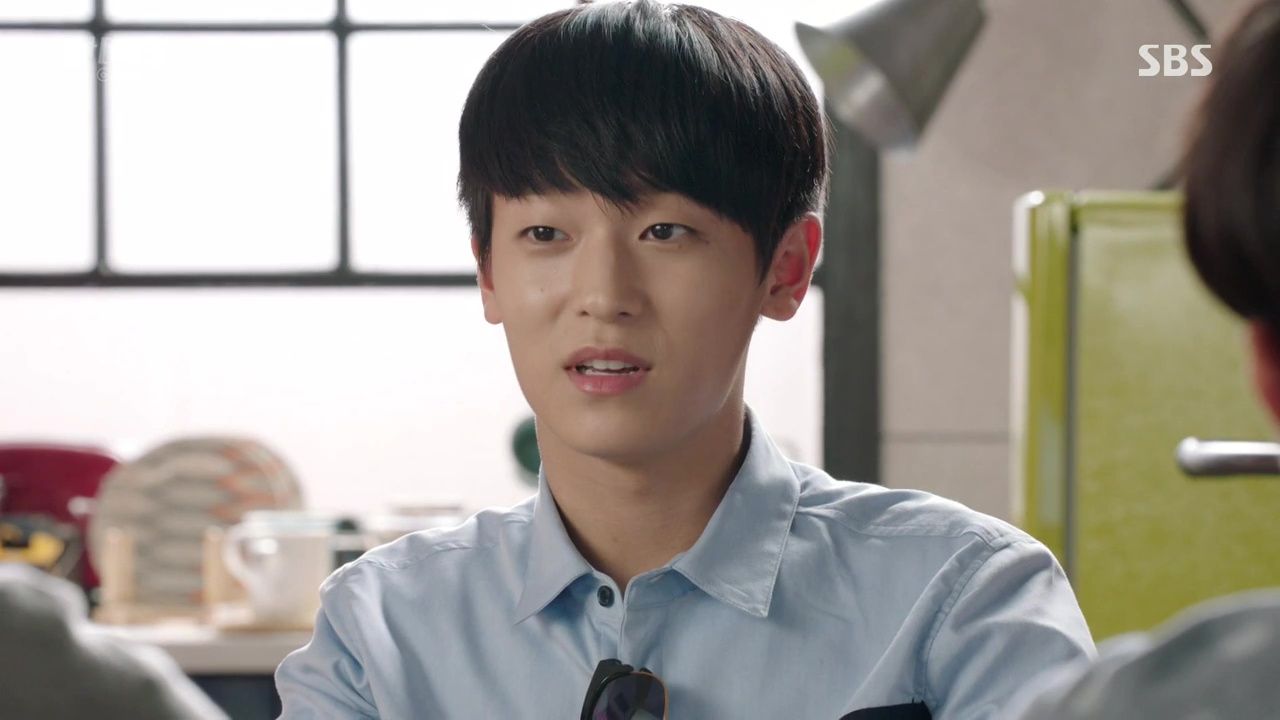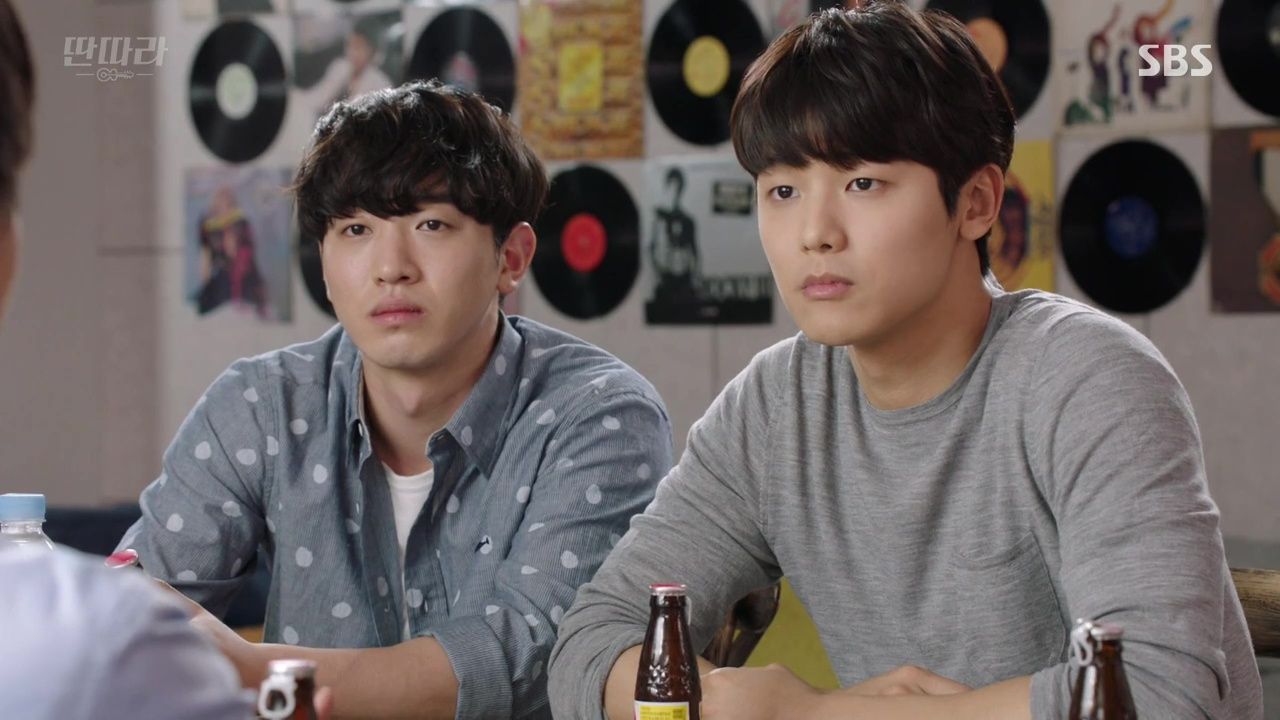 Seok-ho goes over the boys' schedules, but he tells Yeon-soo that it's time he took a break to be with Chan-hee. Being there for your fans is important, but if you don't have balance in your every day life, it won't last. He thinks they should all slow down and work on their third album slowly. He also says that Jae-hoon won't be with them for the third album.
Jae-hoon explains that he wants to focus on studying, since he promised his mother he'd keep his grades up and he hasn't been able to keep that promise. Soon, they'll be getting a new drummer.As a last bit of business, Seok-ho tells them that they're been nominated for an award at the Asia Awards. That's cause for celebration, and they give Seok-ho all the credit.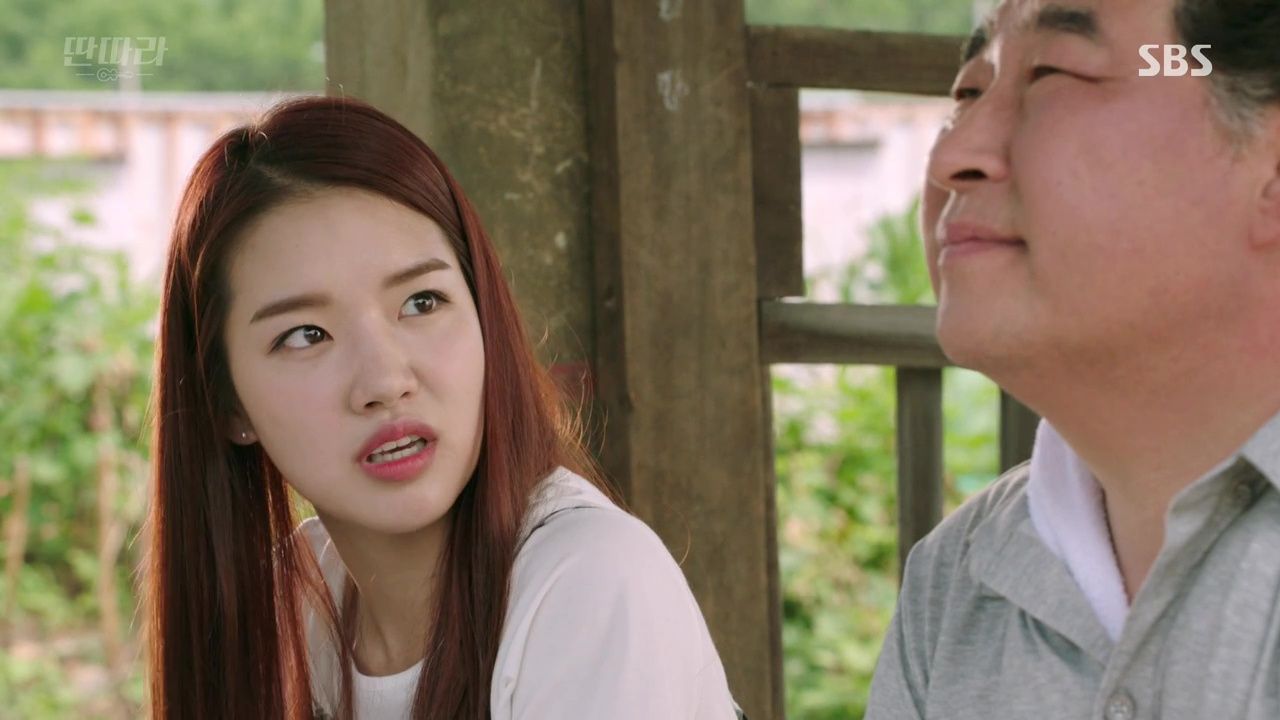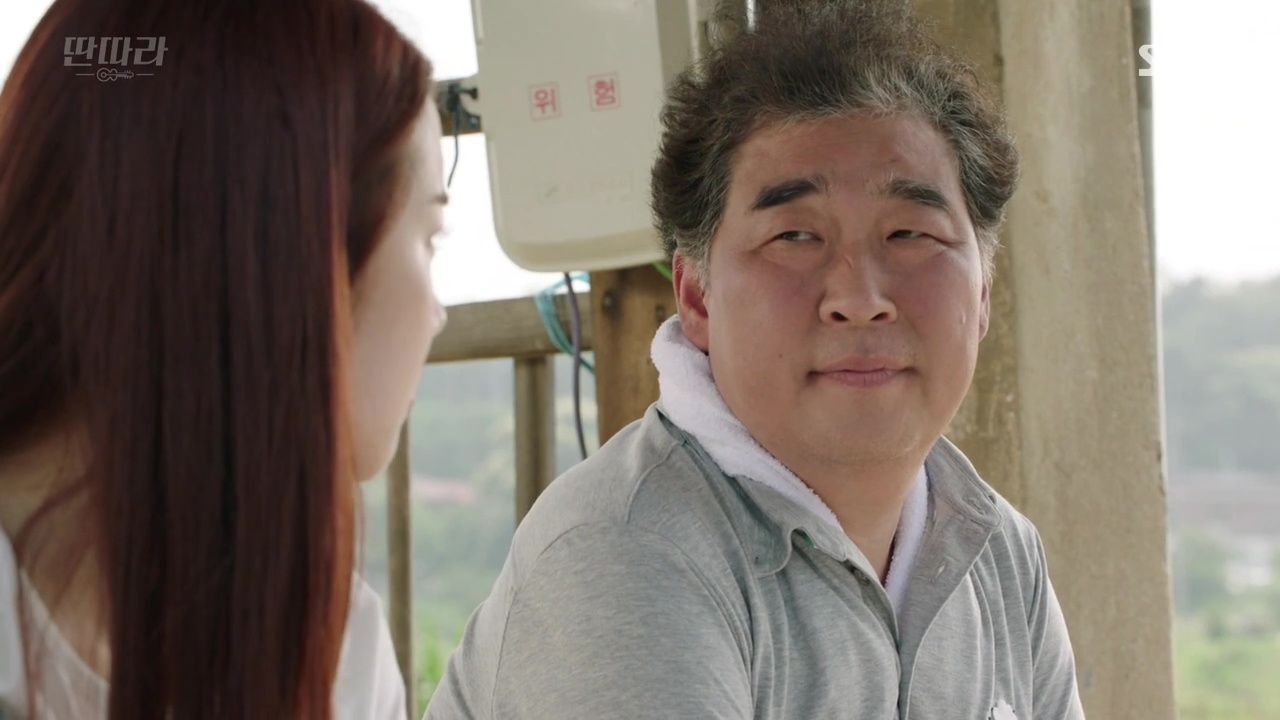 Seok-ho meets with the PD of Ha-neul's drama, and mentions that a movie he's working on is having a hard time finding a lead actress because it's a pretty harsh script. He thinks the lead female role of the movie should go to someone the country already hates, who has nothing left to lose, and makes a brilliant suggestion: Lee Ji-young.
Ji-young is currently back home with her parents, and their lives seem to be simple and happy again. Seok-ho calls her father to ask after Ji-young, and tells him about the movie offer. Her father agrees to talk to her, and discuss things with the director.
Ji-young takes the offer seriously, nervous to put herself back in the national spotlight again. But she asks if her father will stand by her if she does this, and he tells her that wherever she goes, he'll always be by her side. "Don't be afraid, and do whatever you want."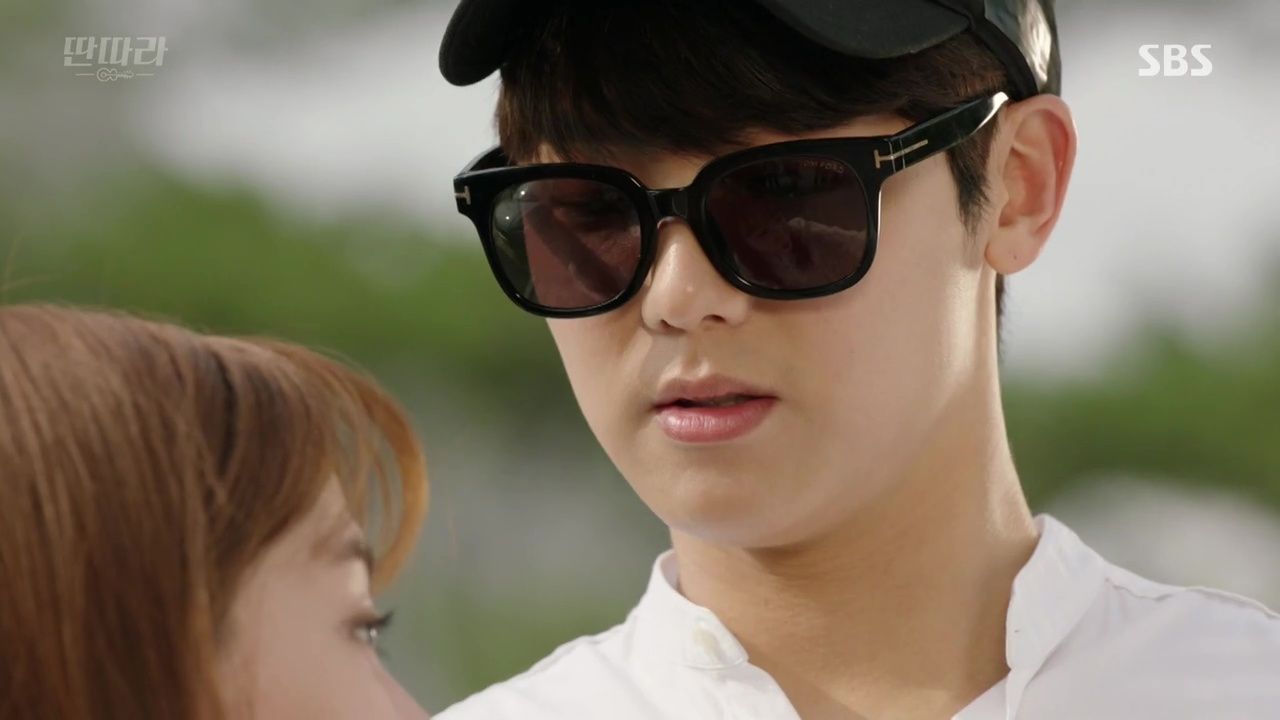 Ha-neul fulfills Geu-rin's request and shows up at her school, and he's struck speechless when he sees a pretty coed walking towards him (cameo by Park Eun-bin). He stops her to ask where Geu-rin's department is, and adorably stiffens up when she leans in close to point the way. HA, once he gets in the car, he realizes he didn't hear a word of her directions.
And then he's surprised by a knock on the window — she's back! She nervously asks for a ride to the building next door, and Ha-neul grins like a fool as he agrees. Then he has to admit he can't remember her directions, hee.
He drops the girl off (oh, he is so smitten) and makes a stir at Geu-rin's building when all of her classmates recognize him. Geu-rin goes overboard with her shrill HA-NEUL-AH!!!, and he laughs at her when she says she wishes she had a megaphone right now. Suddenly all her classmates want to be her friend — mission accomplished.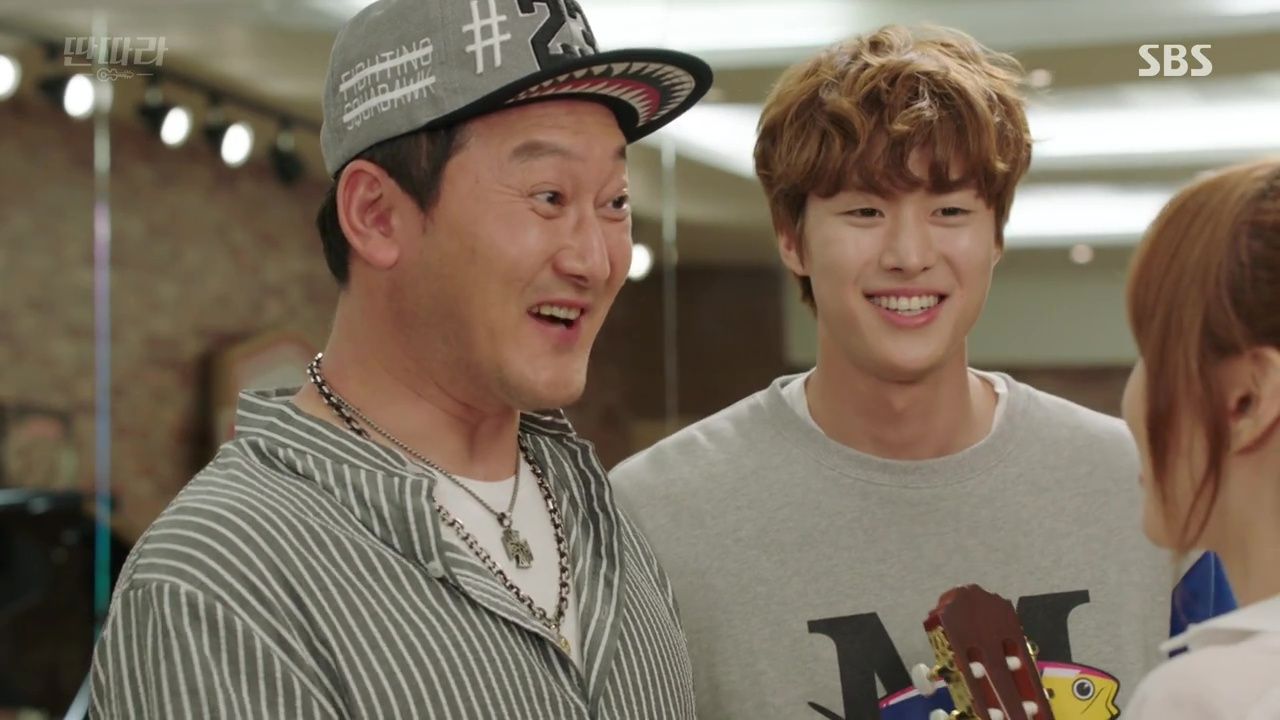 Geu-rin wants to see a movie, but Ha-neul says they're meeting their new drummer today. Kyle prepares to intimidate the new guy right off the bat, and he tries one last time to wheedle Jae-hoon into staying, but it doesn't work.
The boys are all shocked to see their new drummer — it's the pretty coed! Kyle suddenly changes his tune and welcomes her, and Ha-neul smiles when she finally sees him there. Her name is Soo-yeon, and she blows them away when she shows off her drum skills. Ha-neul actually has to wipe the happy grin off his face, hee.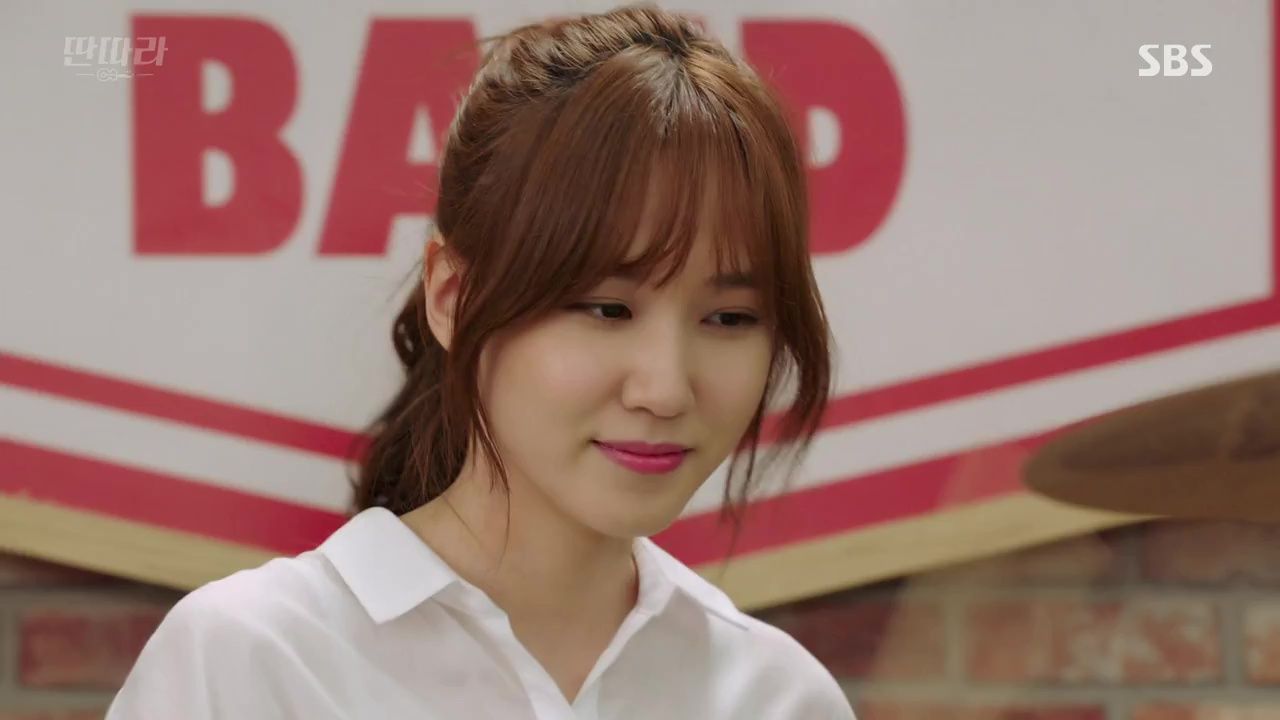 When she's done, she thanks Ha-neul for the ride earlier right in front of everyone, and he asks if she knew who he was. She says that a hat and sunglasses can't hide that handsome face, and heeey, girl's obviously as smitten as he is.
Min-joo stays at the office late, and she cheers up when Yeon-soo arrives with Chan-hee. Yeon-soo says that he missed her at the welcome dinner for Soo-yeon, so he brought her coffee.
Yeon-soo allows that the new drummer is pretty, but he still thinks Min-joo is prettier. Min-joo says that he shouldn't keep saying such things to girls, because it might start a scandal. Yeon-soo: "I wish!" Ha.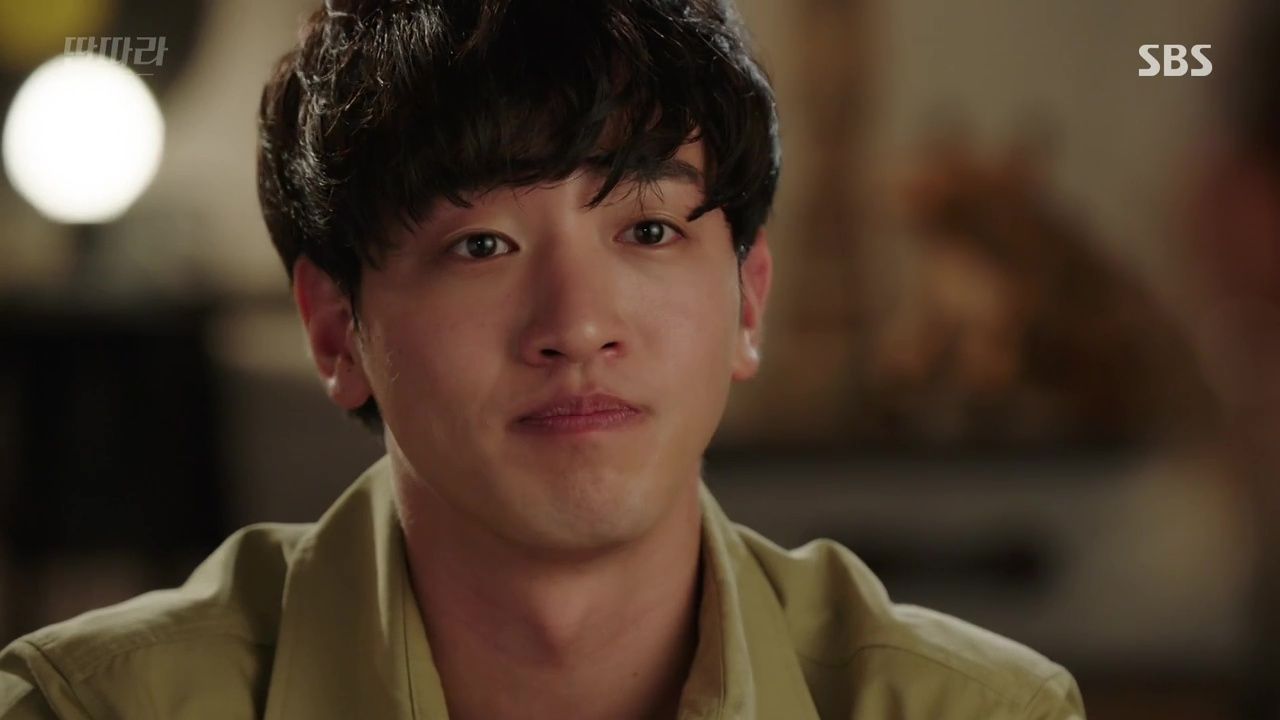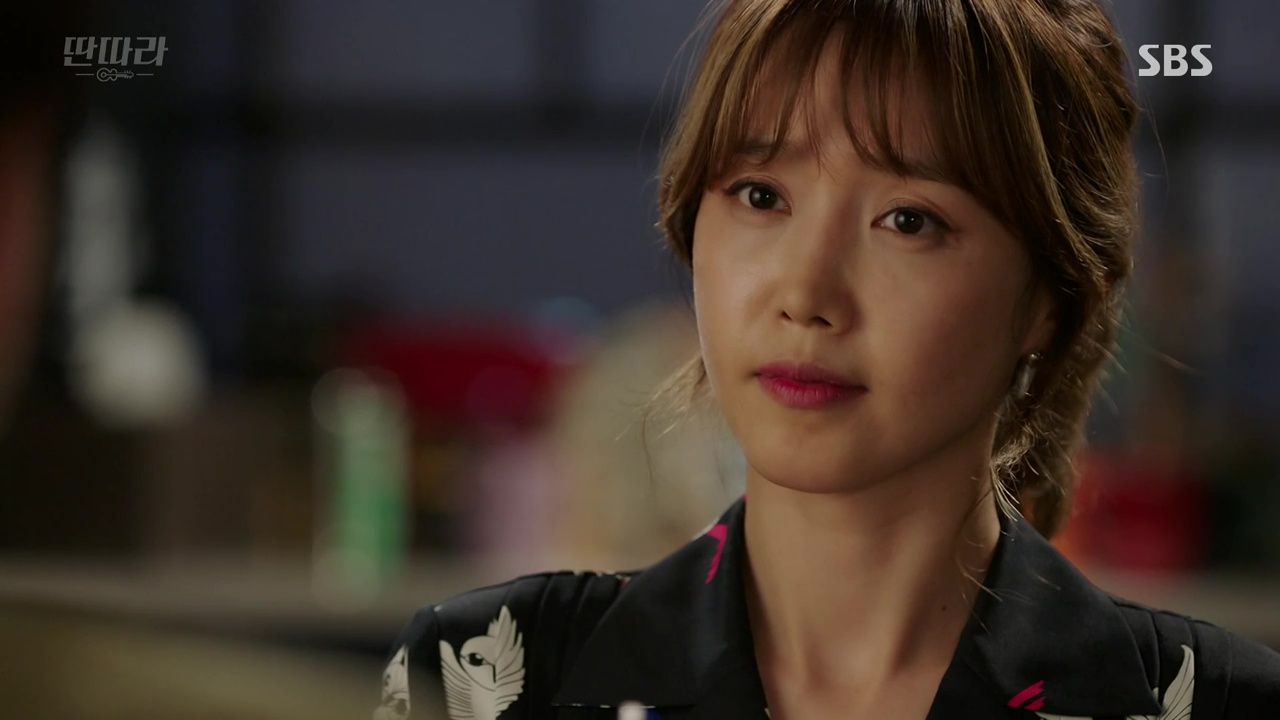 Min-joo can tell he likes someone, and chirpily asks him who it is. He says it's someone she knows, but she wonders who it could be if not Geu-rin or Soo-yeon. Yeon-soo says that he already told her that love is a fastball, so he's going to throw a fastball now… "I like you."
He says that once you confess to someone, it's no longer up to you, and he neatly puts the ball in Min-joo's court. He still thinks he's not worthy of her, being so much younger and a single father at that, but he couldn't keep his feelings to himself anymore.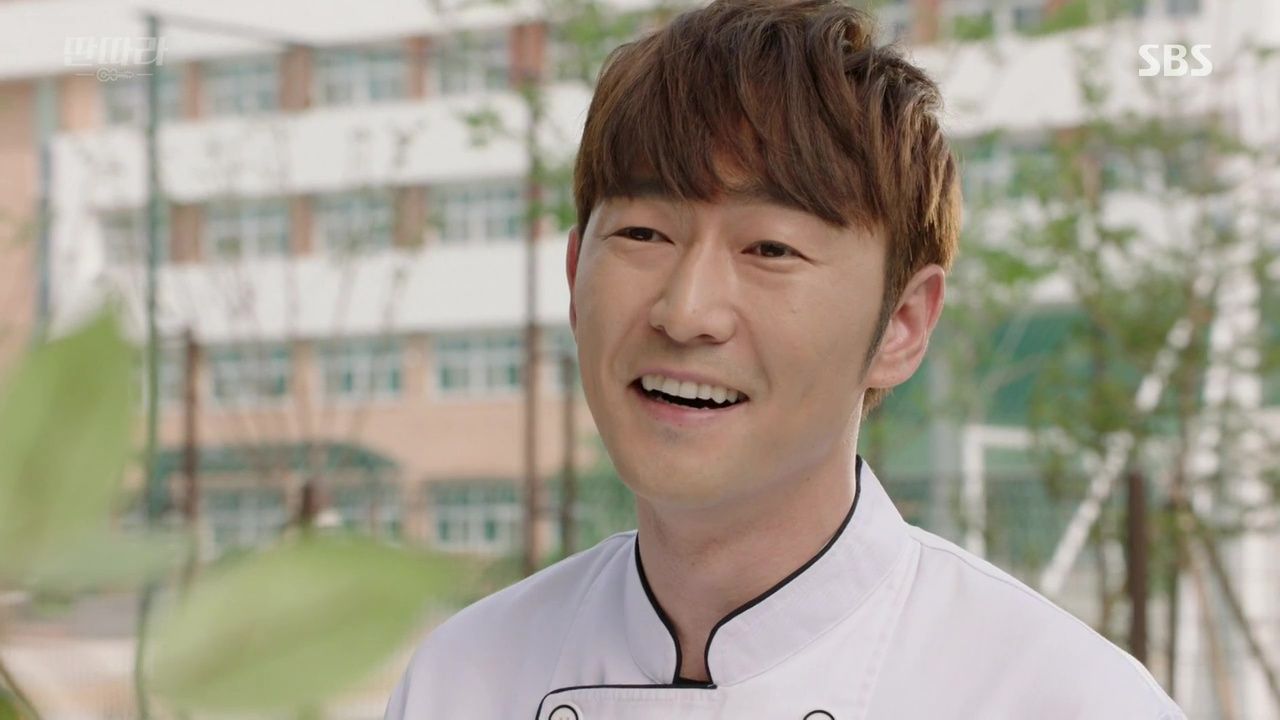 Min-joo brings up their age difference, but Yeon-soo doesn't care about that. He's not asking for a commitment from her, but he jokes that his youth is his strongest weapon, and he can wait for her. Min-joo promises to think it over, and Yeon-soo flirts that she shouldn't wait too long.
Joo-han has opened his own ramyun restaurant, and he seems happy. He's surprised and humbled when a giant flower arrangement is delivered on his opening day, from Seok-ho and Ddanddara Band.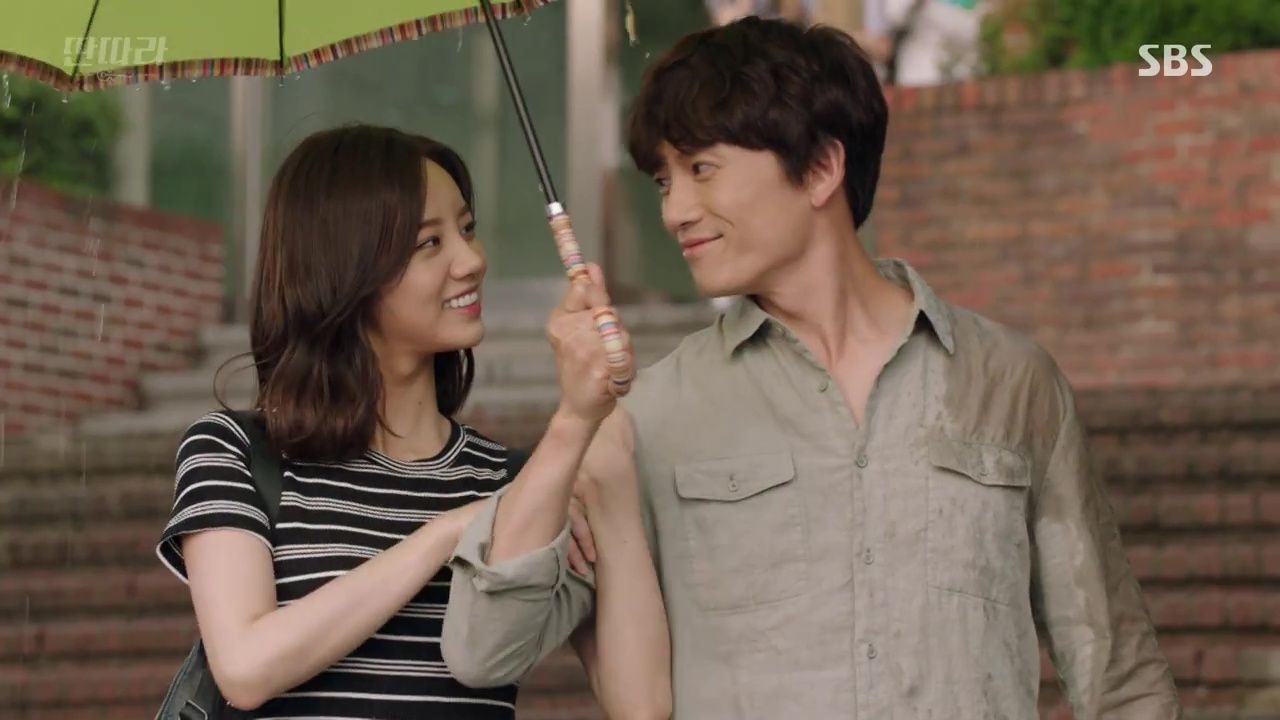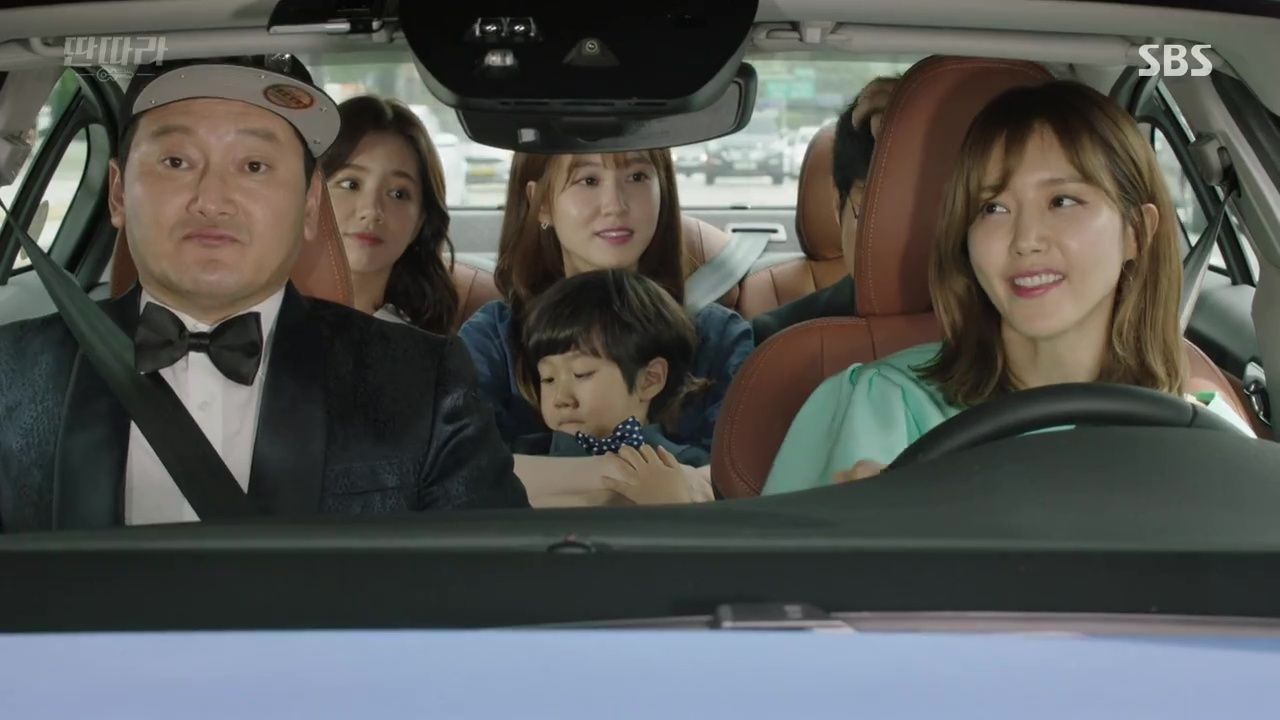 Geu-rin and her new friends are caught by a sudden rainstorm without umbrellas, but just as she's about to make a wet run for it, Seok-ho comes out of nowhere with her green umbrella. He offers her his arm, and as they go for a leisurely walk in the summer shower, he adorably denies that he read the end of "Daddy Long Legs." Not that she believes him.
Everyone heads to the Asia Awards, with Soo-yeon chirping that Ha-neul looks the handsomest in his tuxedo. Man-shik grumbles at all the dating that's going on within the agency, but Mr. Byun smiles that youth knows no hesitation. Min-joo adds that fastballs are nice, heh.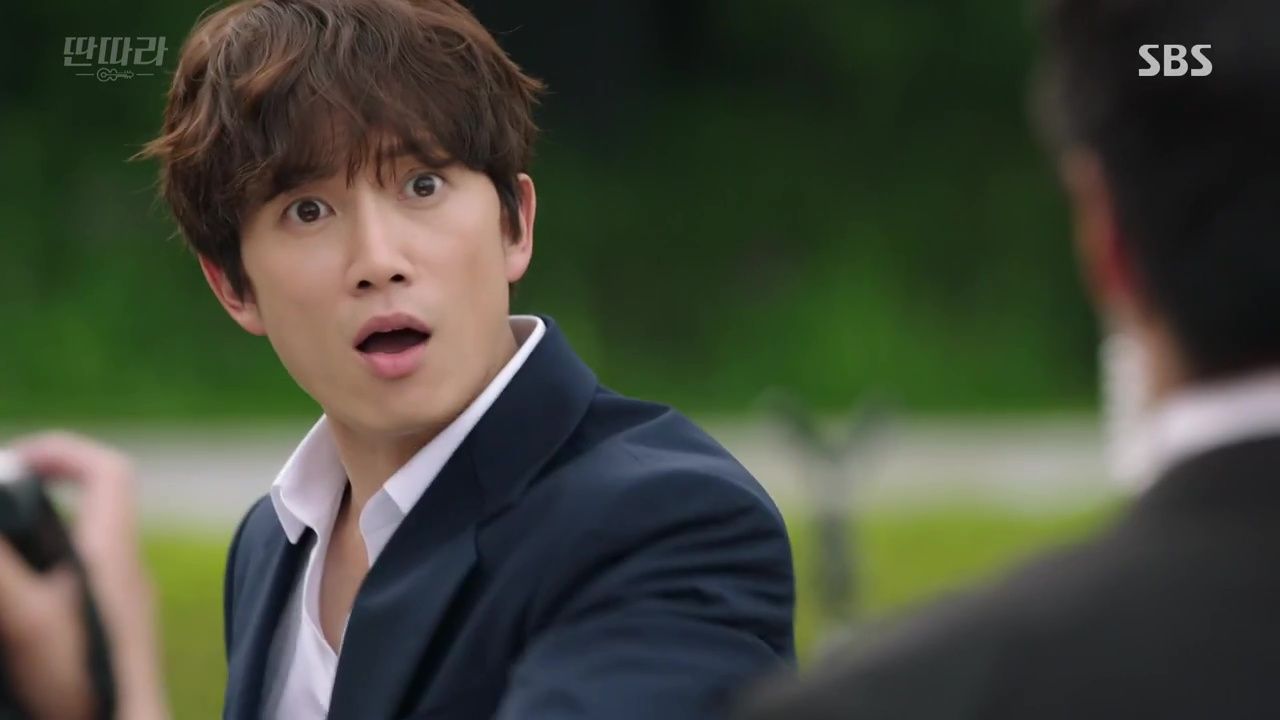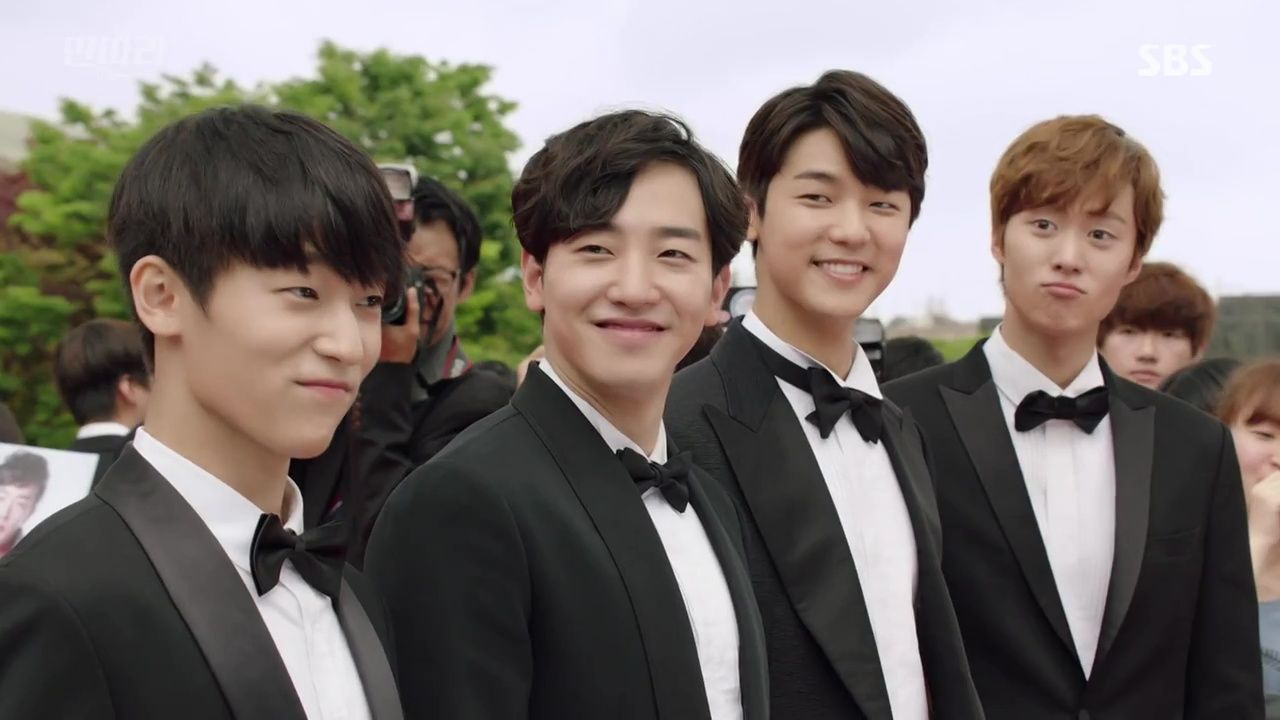 The boys arrive at the award venue, and step out of their van to a crowd of fans. Seok-ho sends them to walk the red carpet alone, but halfway to the steps, all four stop in silent agreement. They look to where Seok-ho is standing behind the cameras, and motion him to come over.
The refuse to move until he does, and Seok-ho humbly and gratefully steps out to join them. "You guys are idiots." "We're entertainers," retorts Ha-neul. And all together, exactly as they should be, they walk confidently into their future.
COMMENTS
There are dramas that you want to shock and surprise you, to send you on a wild exciting ride, and then there are dramas that you're perfectly happy seeing tied up with a nice neat ribbon and sent on its way with everyone happy. For me, Entertainer has always been the second type of drama, and I'm so happy to see everything set right and Seok-ho and his boys all getting their picture-perfect happily ever after. I appreciated that being famous wasn't necessarily everyone's dream, and that Seok-ho became a good leader who allowed the boys to captain their own fates.
It's sweet that everyone got their own little wrap-up, and at least if everything ended very pat, the pat endings were interesting. Seok-ho and Geu-rin got their chance to be together (I never really opposed the pairing, and I thought it was handled well), Ha-neul got his girl who shared his love of music, Jae-hoon was able to make his own choice between music and his studies, Yeon-soo got his shot at the lady of his dreams, and Kyle got to be famous (he's the only one who really wanted fame, ha). Even Joo-han got a restaurant, and Ji-young was given a chance to use her villainous reputation to earn a second chance. Yes, it was a little too perfect and fairy-tale-like, but as I said, sometimes it's nice to end things perfectly. Not every drama has to be earth-shattering and ground-breaking — sometimes a sweet story with a cute ending is enough.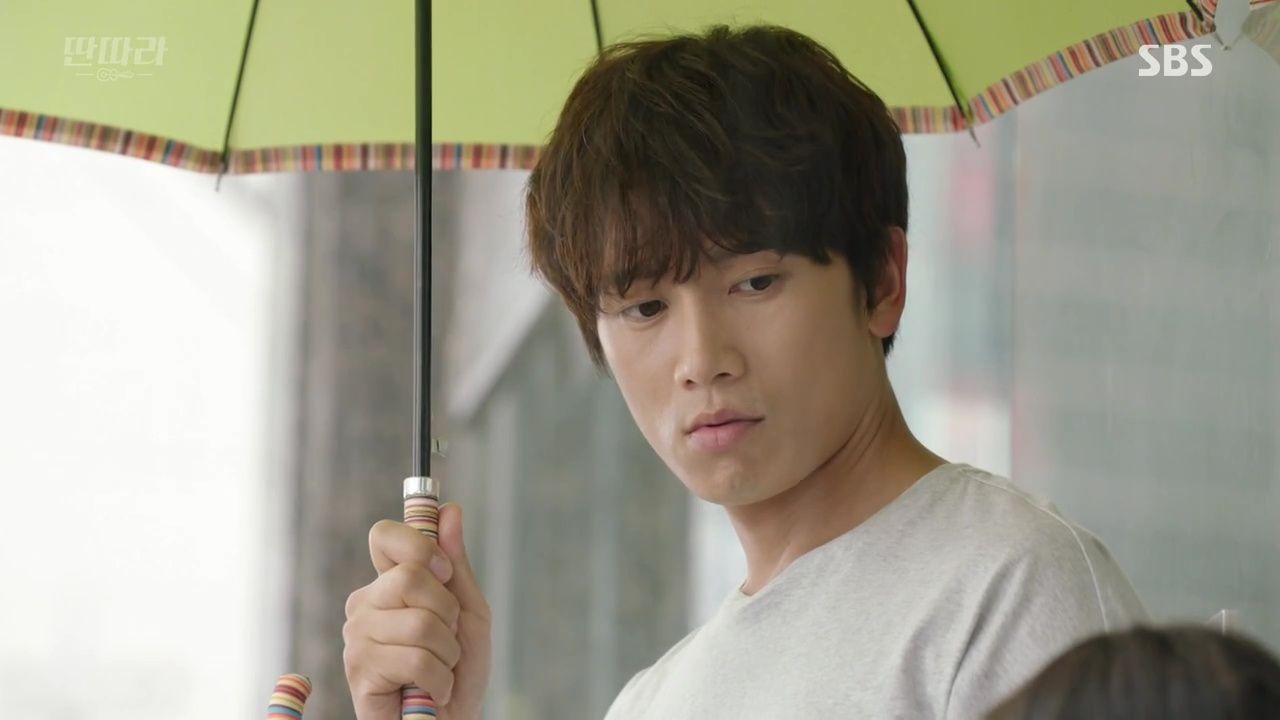 The best part of the drama was undoubtedly Hyung's storyline, and I'm happy that the show gave it as much attention as it did. I found Sung-hyun captivating in his early, short appearances, and the show kept the details of his death a mystery for just long enough that when we learned the truth, it landed hard. It's such a waste that he couldn't wait for Seok-ho to come home, that he didn't have enough courage and belief in his own talent to let his friend support and help him get his music back. But Sung-hyun's death served to teach some important lessons to a lot of people, and in the end, he went out with class and grace, finally getting to sing onstage with his little brother. I don't know about you guys, but that performance had me sobbing out loud — it was such a lovely tribute and sending-off of a beloved brother and friend.
While the show had its weaknesses early on (mostly in the editing department, which thankfully corrected itself well), and will never be remembered for being great, I still feel that it accomplished what it came to accomplish, and did it well. I do agree with many viewer's assessment that Ji Sung's incredible acting talent supported and elevated his costars, making them appreciably better as the show went on, but I have to give the cast credit for making their characters relatable and lovable in their own right.
Those of us who hung in there and gave the show a chance until the end were lucky to experience a sweet show about love, forgiveness, redemption, and perseverance. I know I'll remember it as one of my most purely fun shows to recap, because I always knew that no matter what, each episode would make me laugh, and really think about what it means to be successful. Success doesn't always mean fame or greatness — sometimes success is just doing your best with what you're given, and I think Entertainer did just that.

RELATED POSTS
Tags: Entertainer, Episode 18, featured, Hyeri, Ji Sung, Kang Min-hyuk