Jackpot: Episode 20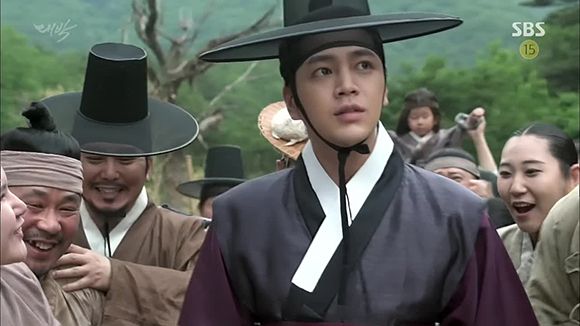 Things happen fast this episode, since we're nearing the end of the journey and the time for dallying about seems to be over. The good news is that the scheming at the forefront of the proceedings works on a basic level, and we can believe that the bad guys are gaining the upper hand without an undue amount of mental gymnastics. The not-so-good news is that things get a bit wonkier when it comes to the role our two brothers have to play in this chaotic new world, but at least this hour puts us on a much better track than the last one did going forward.

EPISODE 20 RECAP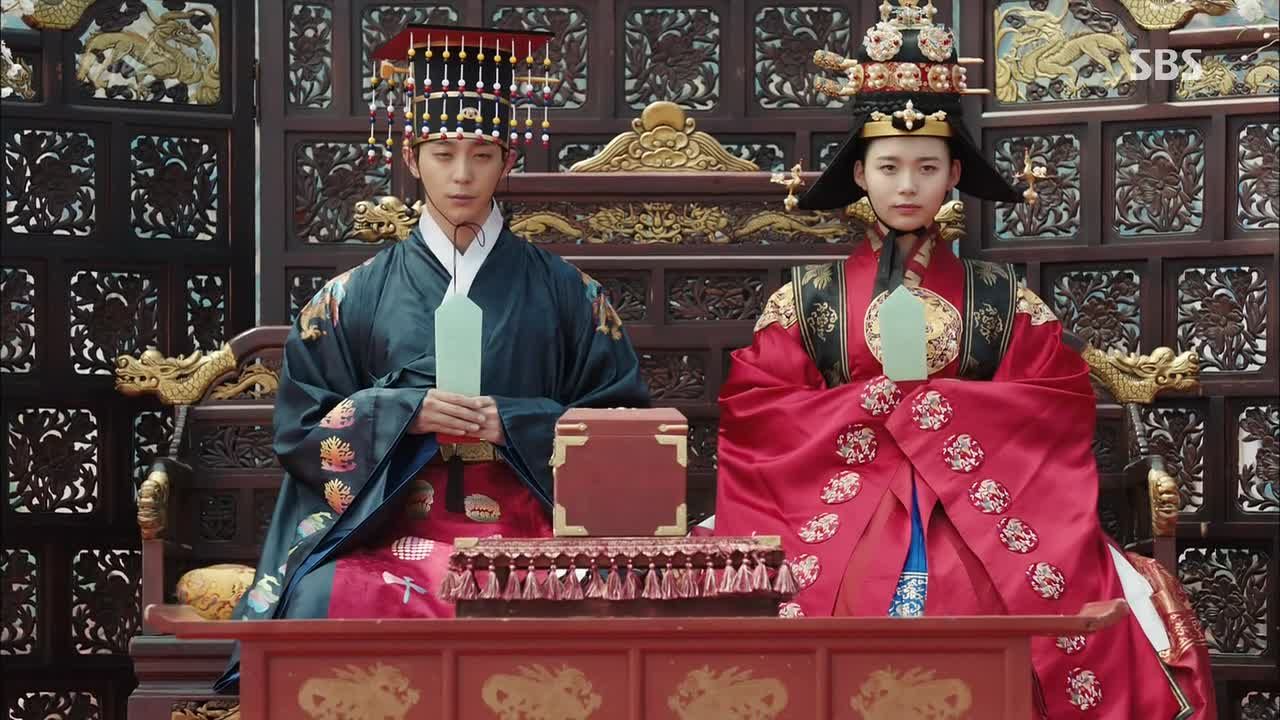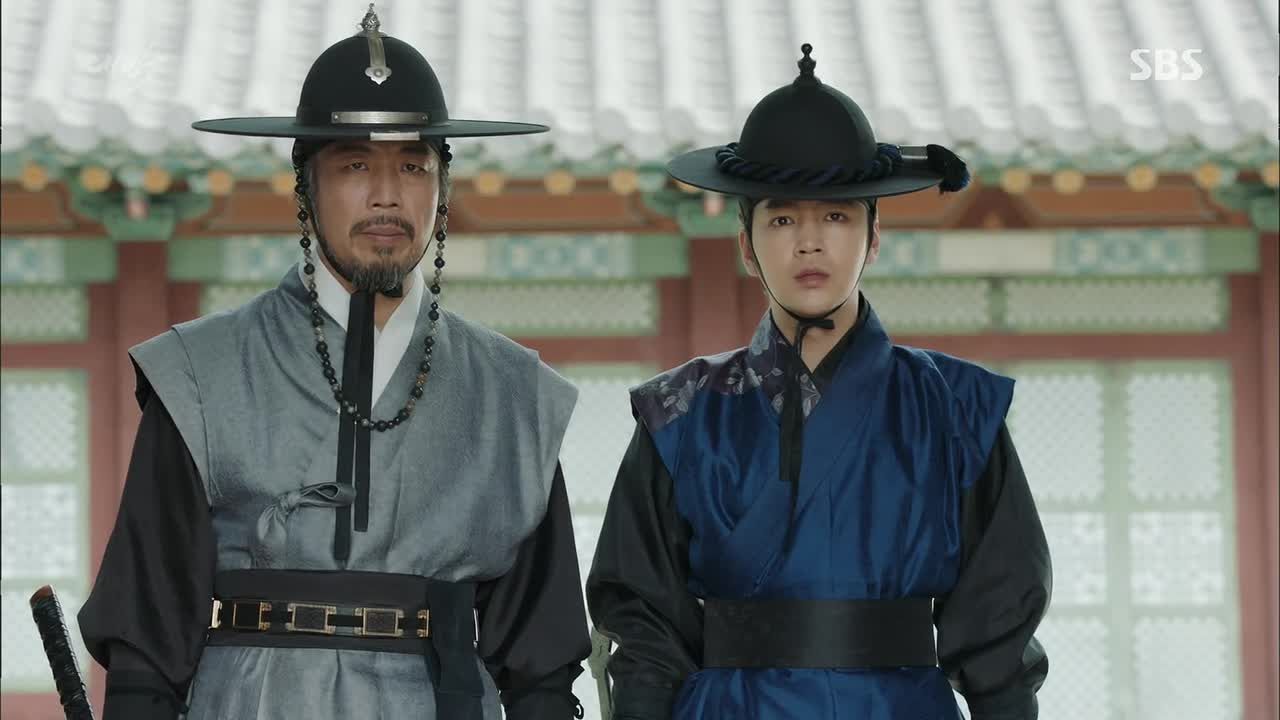 Stirring orchestral music plays as Crown Prince Yoon ascends the throne during his coronation ceremony, effectively becoming KING GYEONGJONG, the 20th king of Joseon. Chief State Councilor Kim Chang-jip reads the proclamation to all the ministers present, who respond with chants of: "Long live the king!"
After watching the ceremony, Dae-gil finds Traitor Jeong in prison to ask about the blood oath he signed with Injwa, which can be used to incriminate Injwa as a traitor. Jeong has no plans to give up its location, to which Dae-gil asks, "Shall we make a bet? Whether I will find it or not?"
Speaking of the devil, we find Injwa kneeling to the newly crowned King Gyeongjong, now sitting on his late father's throne. The king thanks Injwa for keeping his promise in getting him to this point, and Injwa humbly claims that he's just as devoted to the king as he ever was.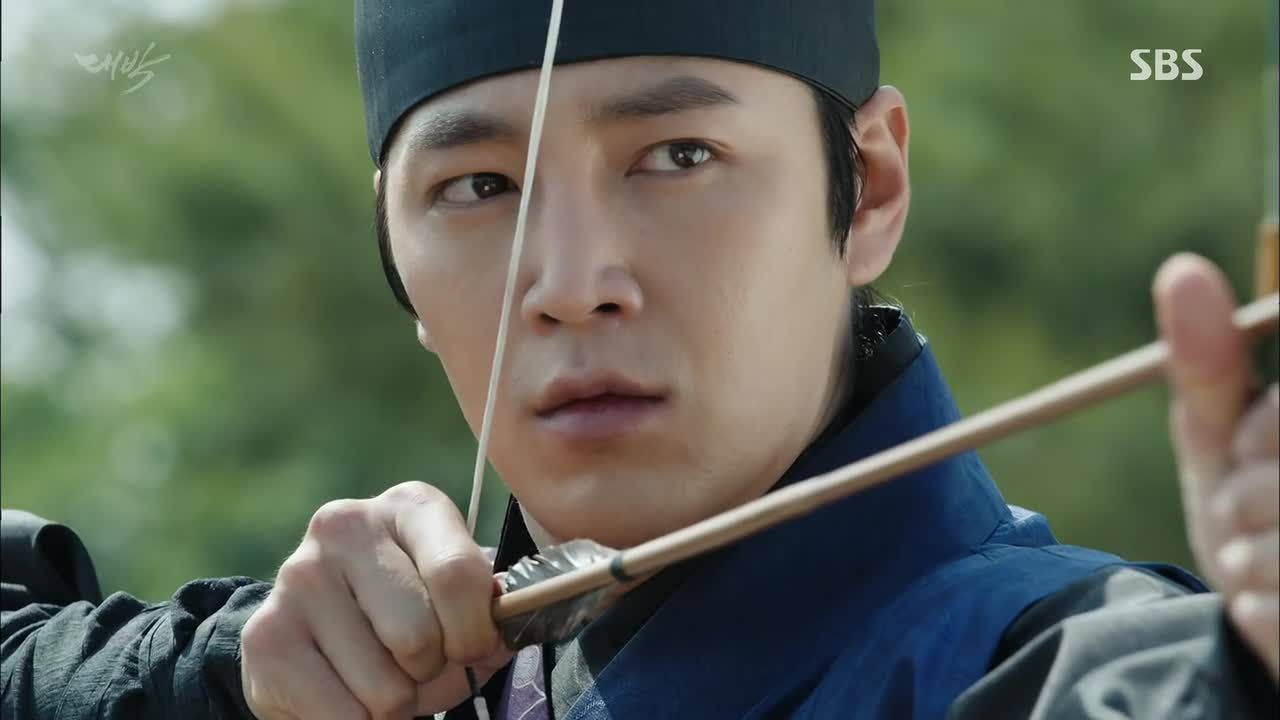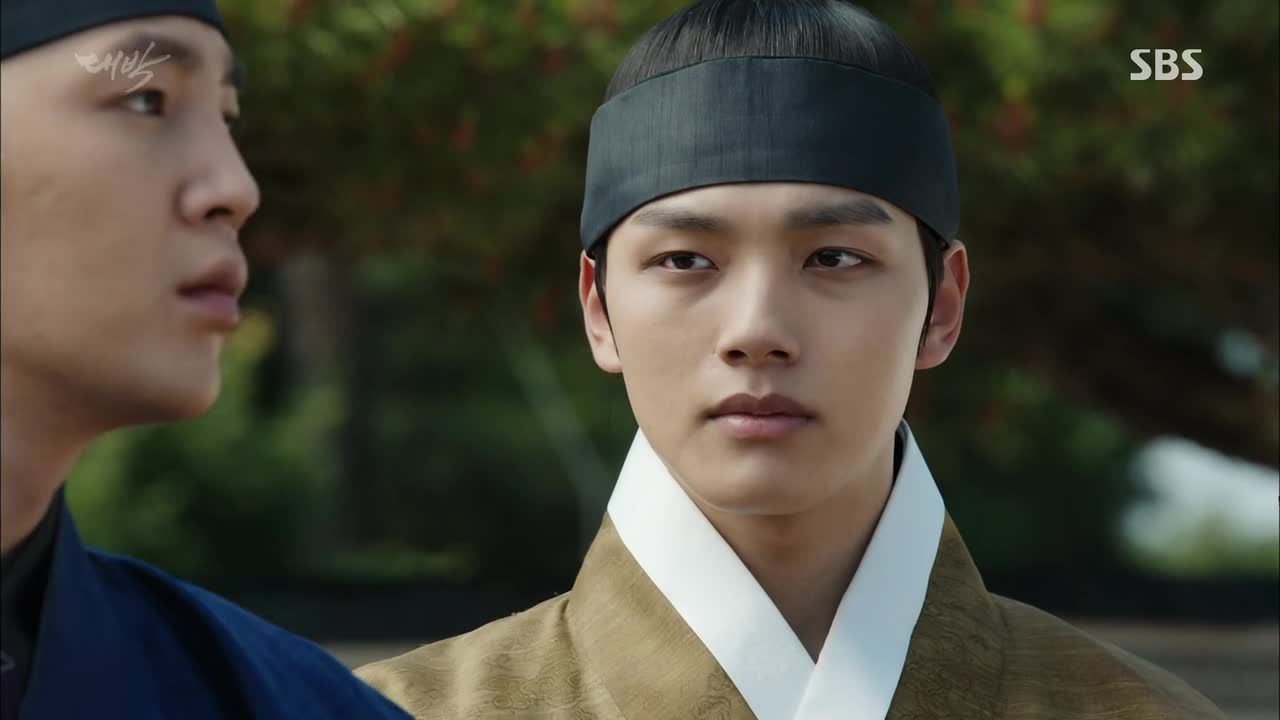 Having overheard the bet Dae-gil made with Traitor Jeong, Prince Yeoning asks if his brother would like to make a bet with him: If Dae-gil defeats him at archery, he'll buy him a drink and grant him a wish. But if Dae-gil loses, then he has to tell Yeoning how he really feels, and where his heart lies.
"Where did things start to go awry?" Dae-gil wonders, after they've left the archery range for a dinner table. "Do you really think I am interested in the throne?" Prince Yeoning is terse as he wonders if Dae-gil would be able to say no if the people wanted him to become king, a position he describes as being the foundation of their nation.
On this point, Dae-gil disagrees—the people are the root of the nation, and they're suffering. Even now, as they sit at this fine dinner table, the people of Joseon are starving, which is why Dae-gil says he can't partake of the meal.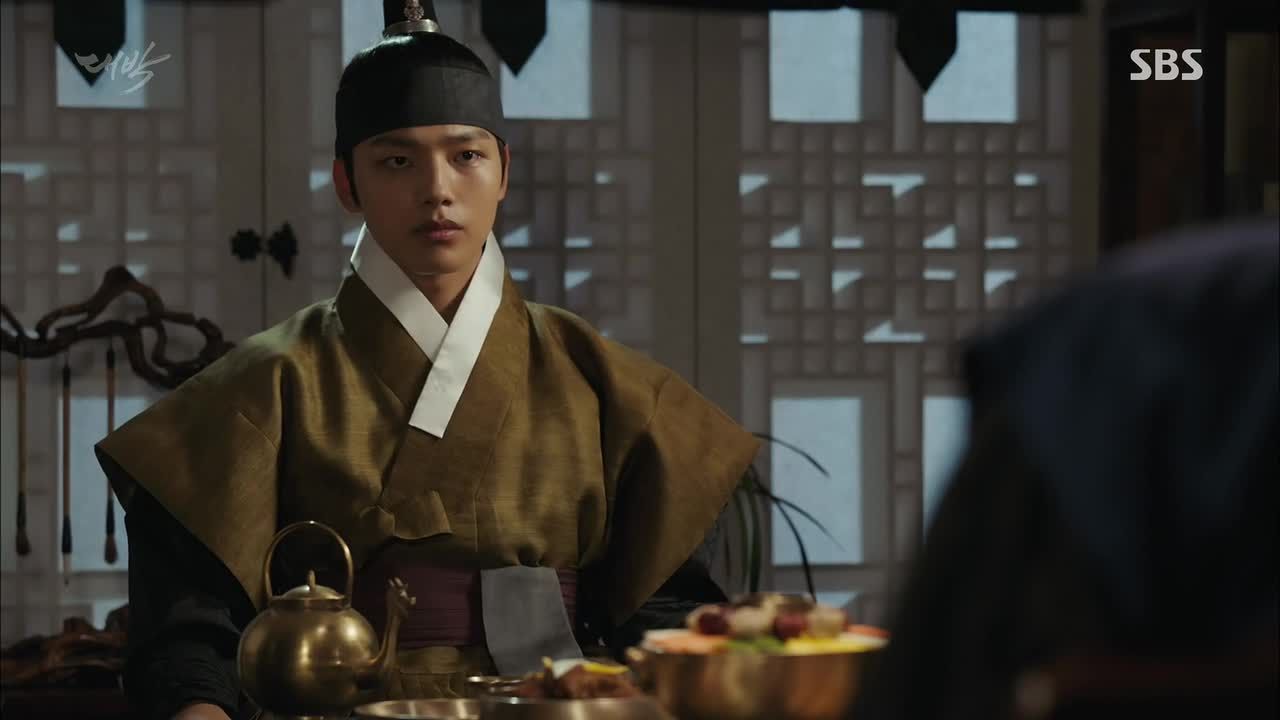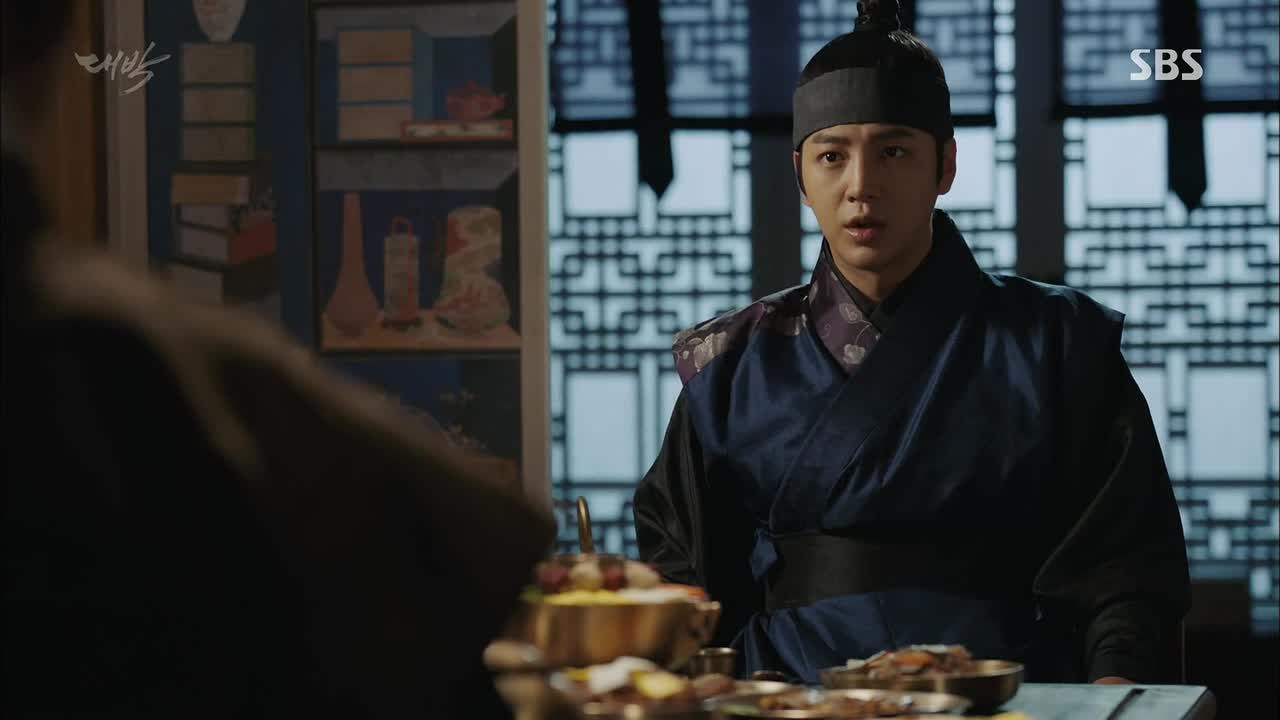 Prince Yeoning grows angry at this, reminding Dae-gil that it's the king's job to worry about the people. "Is that why you covered up Prince Yeonryung's death? For the people? For the stability of the nation?" Dae-gil fires back. He reveals then that he'd considered losing to Yeoning on purpose, but decided to win because he needed a wish granted.
That wish: "Trust me. Not for my sake, but for yours. That is my wish." After adding that he'll be using all proper formalities with Yeoning from now on, he leaves, and Yeoning thinks to himself that he can't grant that wish because he can't trust Dae-gil. Oy, Yeoning, when did you stop being rational? You used to be cool.
Chae-gun finds Dae-gil brooding, and cautions him about letting distrust fester in his heart. Dae-gil sighs that it's all fine and well for someone like him who has nothing to lose, but knows it must be different for Prince Yeoning, who has everything to lose.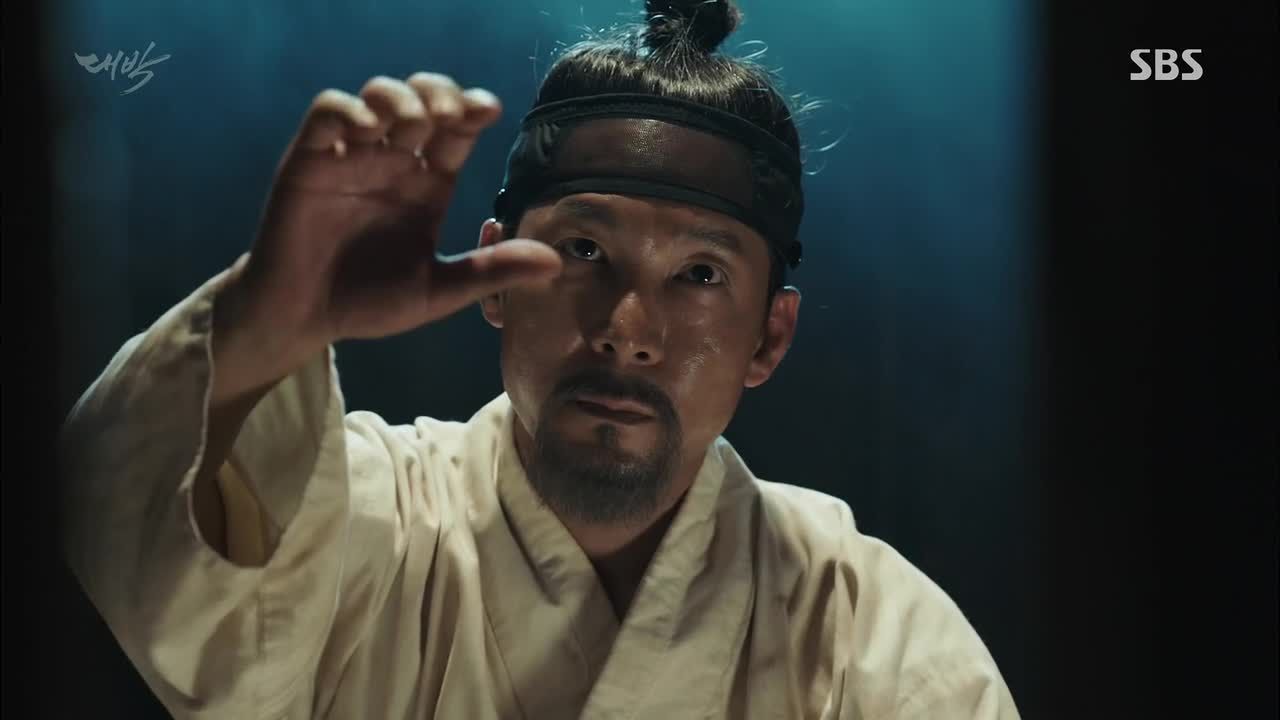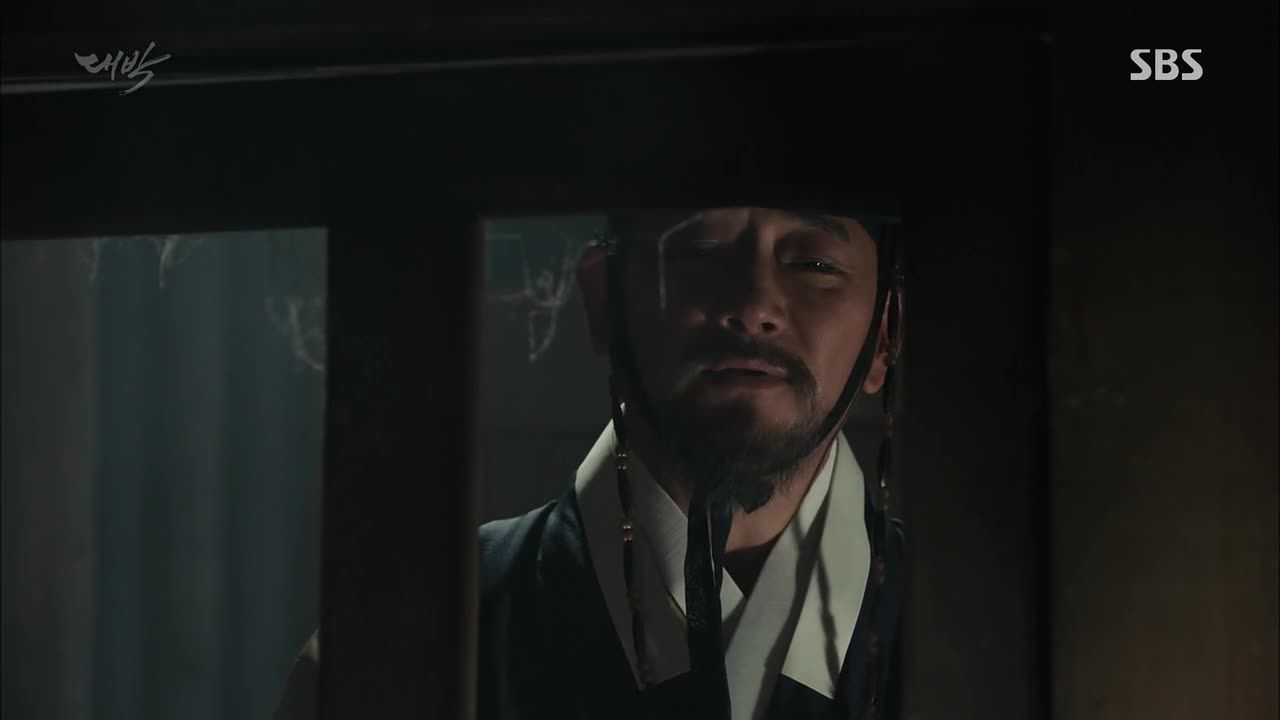 But for now, his only goal is to catch Injwa, who's currently enjoying a cushy new position underneath King Gyeongjong. Unable to find Traitor Jeong's blood oath, Injwa decides to ask him about it in person, subtly offering his release if only he gives him the blood oath. Traitor Jeong isn't that dumb, and won't hand it over so easily.
Dae-gil's father gave him a broken nyang, with the instruction that if he ever wanted to meet with him, all he had to do was give it to a specific beggar in the market. He does, and once the beggar sees that the broken piece matches the other half she has, she takes a note from Dae-gil to be covertly delivered to Man-geum.
Man-geum burns the letter after reading it, and we hear him give Dae-gil advice in voiceover to be wary of Madam Jeong more than Hong Mae, who's dim-witted, and to be especially wary of Injwa.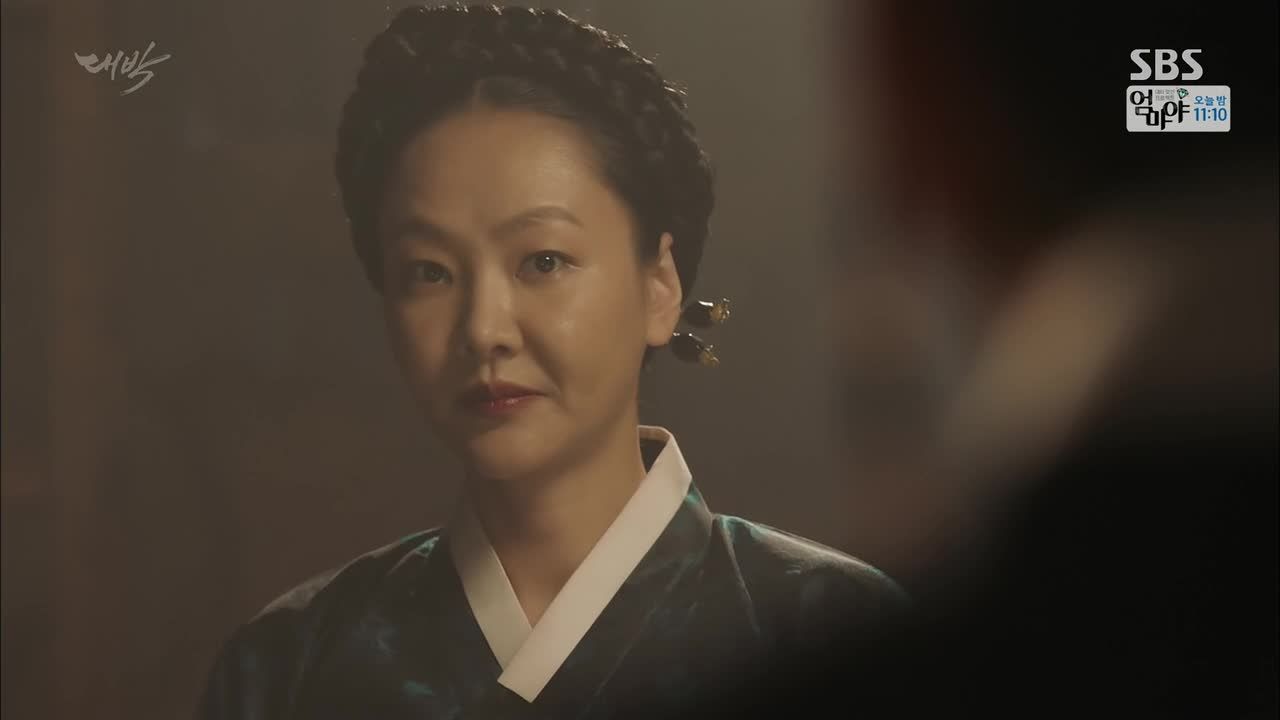 Injwa drops in on Hong Mae to call her out for betraying him to Dae-gil, reminding her that she vowed to complete three tasks for him in order to get her casino back. He knows she has Traitor Jeong's blood oath, and demands she give it to him now, something Jeong had specifically warned her about.
She tries to hold out, but Injwa just holds a sword to her neck to make his point. She has until tomorrow to produce the oath, though it seems a bit silly that he'd give her a day to come up with an alternate plan.
Their meeting is reported to Dae-gil via one of his father's minions (because he has minions now), who also gives him a slip of paper containing the location where he can meet his father once he's completed his business here in the capital.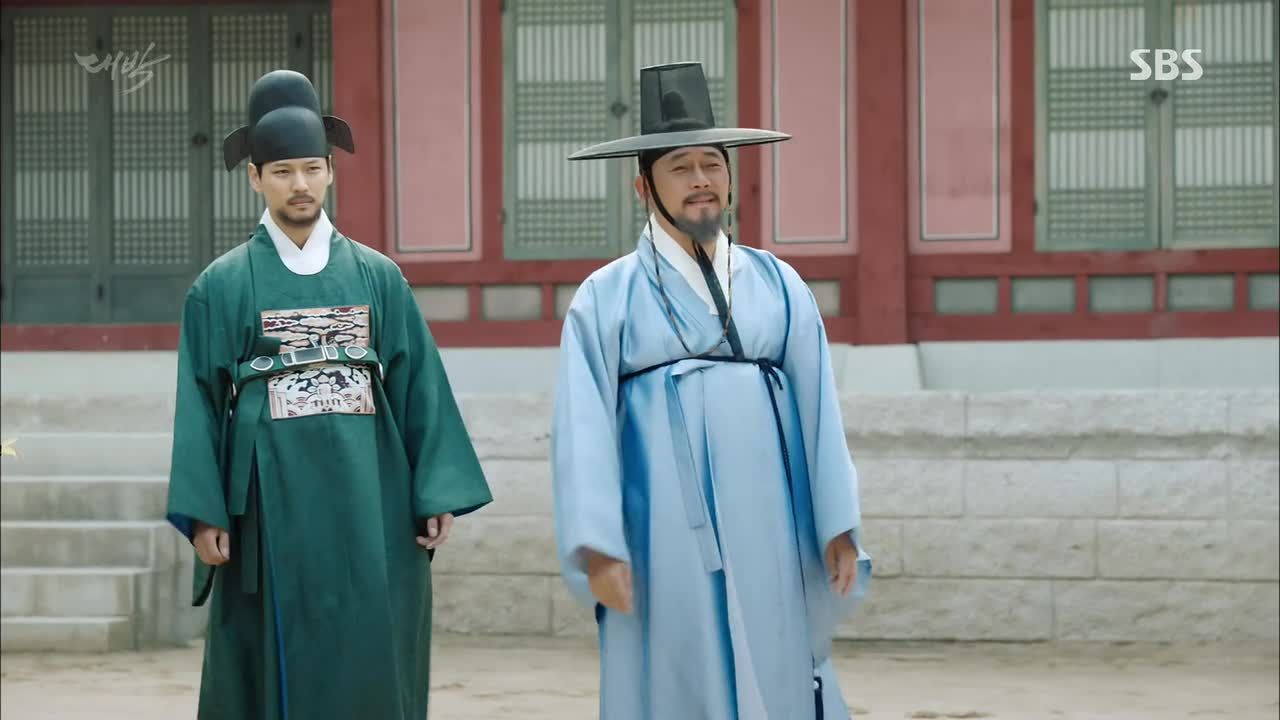 Injwa and Dae-gil run into each other in the palace, where they're both gainfully employed now. Dae-gil warns Injwa to enjoy it while he can, which Injwa doesn't seem to hear as he patronizingly pats Dae-gil on the shoulder. "Prepare yourself," he says with a smile. "Prepare to be king."
While Injwa uses Nameless to put his plan into motion, Dae-gil is called before King Gyeongjong, who wants to reward him for bringing Traitor Jeong to justice by awarding him a higher government post.
Dae-gil says he doesn't deserve it because he couldn't catch Traitor Jeong's co-conspirator, and clarifies that he is talking about Injwa. This comes with a dire warning from the king, who says that if Dae-gil can't back up his claims against his teacher Injwa, he'll pay dearly for it.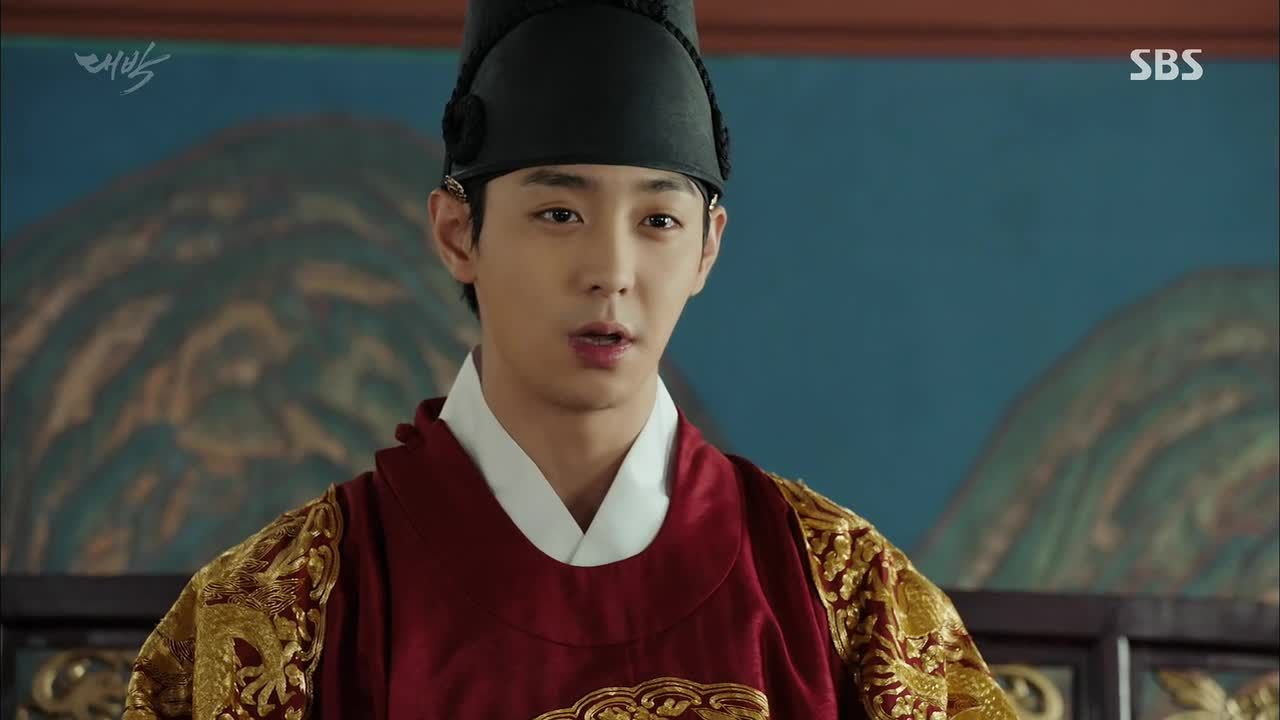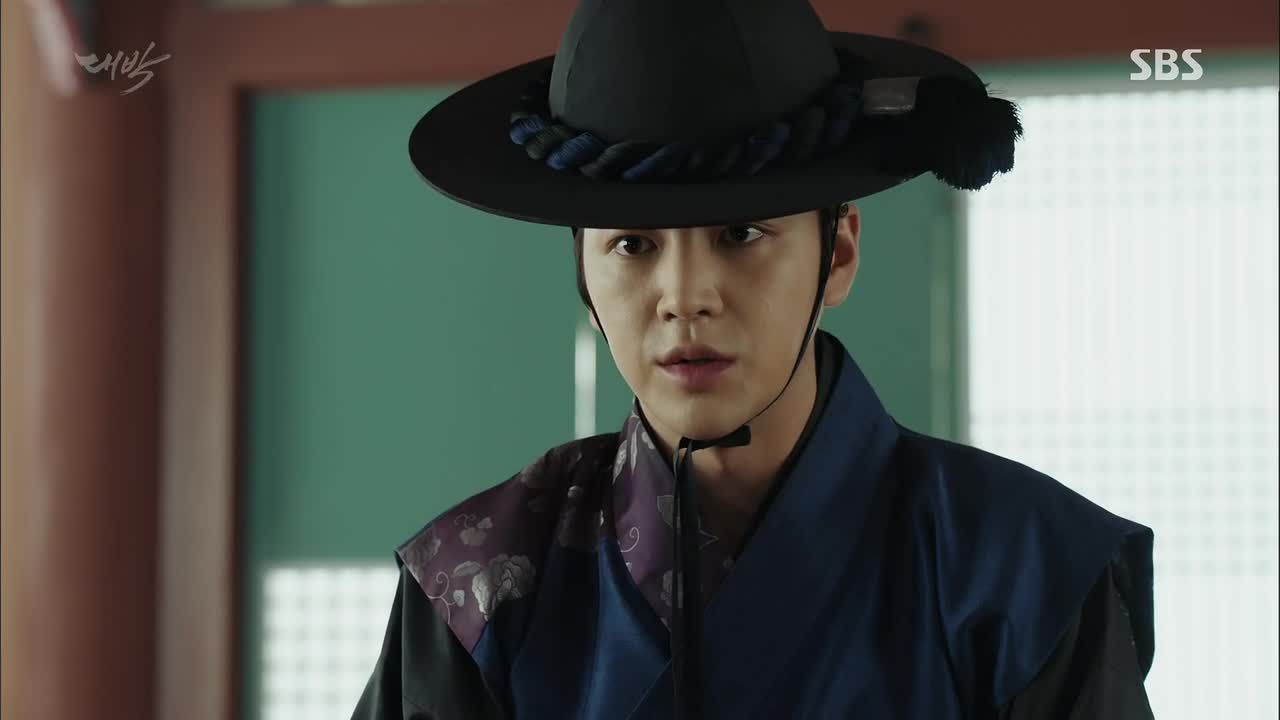 Agreeing to the terms, Dae-gil also adds a request of his own: that the king hold off on punishing Traitor Jeong for now, since his being alive will eventually cause Injwa to show his true self.
Injwa goes to the king to ask him to declare Prince Yeoning as wangseje, or Royal Prince Successor Brother, since he has no heir. The Norons would've called for it anyway, so if King Gyeongjong preempts them, he'll be in a better position to root out any potential enemies.
No sooner do the Norons think of this idea does Injwa arrive, acting all benevolent as he says they definitely should have Prince Yeoning installed as the crown prince successor, and that he'll even help them. His approval alone is enough to make Chief State Councilor Kim Chang-jip suspicious, as well he should be.
But the Norons agree that it wouldn't be a bad move, and bring it up at the next court assembly. Just as King Gyeongjong asks if Prince Yeoning would take the position, he conveniently has a coughing fit, which only cements the need for Yeoning to succeed him. Now it's no longer an option, it's an order, and Yeoning has no choice but to accept.
Nameless makes some kind of deal to get Hong Mae to hand over the blood oath, but with Injwa's instructions to kill her after. He's stopped by Dae-gil's intervention, which makes Hong Mae angry enough to burn the blood oath in front of them. It takes a long time, and they both just stand and watch, like there's no way to put out a fire.
Injwa's happy to hear that the blood oath has been burned before he's visited by Minister Kim of the Soron faction, who asks why Injwa would've backed the decision to make Prince Yeoning the crown prince successor. He's assuaged only slightly when Injwa claims that it's a trap set for the Norons, who will only end up wanting more.
Prince Yeoning is officially declared the Royal Prince Successor Brother, and is given the red robes of the crown prince successor. The burden of his new position weighs heavily on him, though the Norons try to encourage him as best they can.
Dae-gil goes to the secret village where he was told he could meet his father, filled with all the people he's helped so far, like the members of the merchant guild. Everyone rushes to greet their savior with smiles and cheers, and his father explains that they are all Dae-gil's people.
Man-geum tells him that these people look up to him as their savior, since he helped them when their country turned on them. This is what he meant when he said Dae-gil's life was no longer his own, he explains, only for Dae-gil to tell him that he has no intention of becoming king.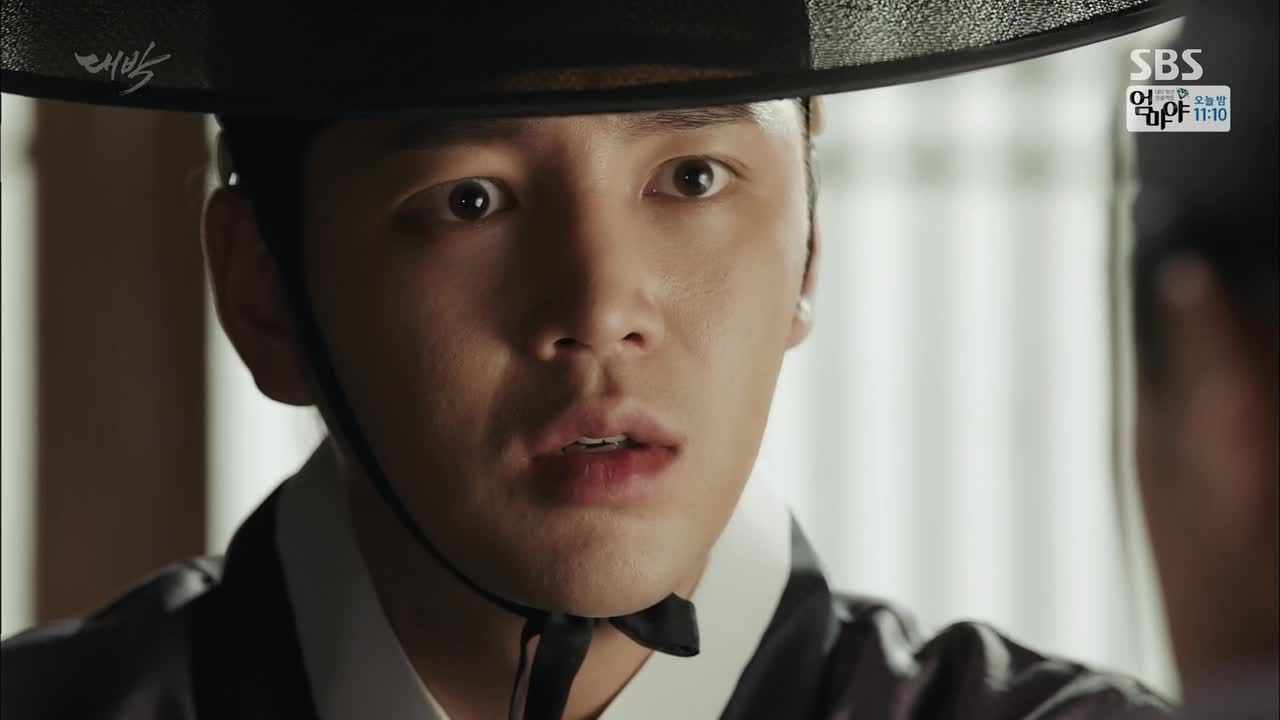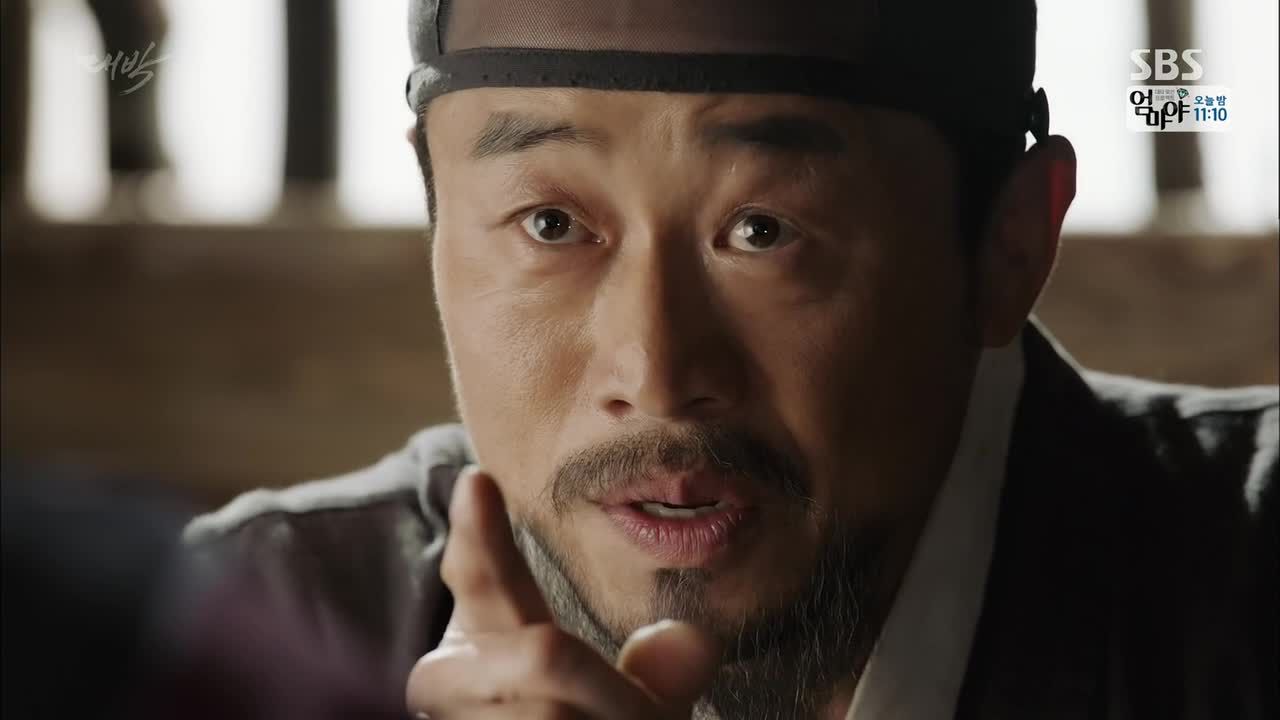 His father just smiles and shrugs, and much like Injwa, is of the mind that Dae-gil will become king—that's his fate, and he can't avoid it. As for why Man-geum's chief of the village, his father explains that he's head merchant of all eight provinces, and is currently after a man named Park in the Honam region.
He's talking about Park Pil-hyun, the man introduced last episode as Injwa's partner, though he bids Dae-gil to keep it a secret until Park Pil-hyun rears his head.
While Injwa's predictions come true about the Norons becoming greedy for more now that installing Prince Yeoning as the royal prince successor went so smoothly, Chief State Councilor Kim Chang-jip seems to be the only wary one among them.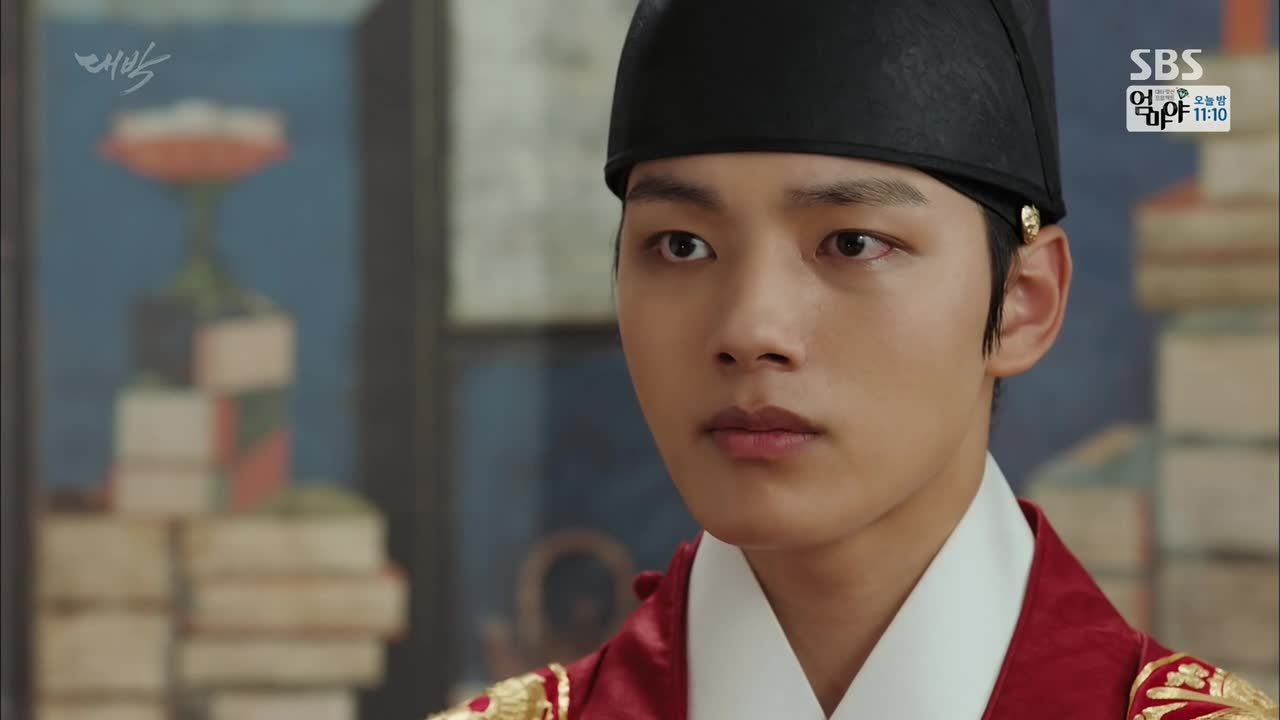 He brings their wishes for Prince Yeoning to be given the power of regent to the prince himself, who's uneasy enough as is. Luckily, Councilor Kim has no desire to go through with what the rest of his faction wants, though he believes wholeheartedly that Yeoning will become a great king one day.
And because he once promised Lady Choi that he would protect Prince Yeoning, Councilor Kim renews that vow in front of the prince now, declaring that he'll always stand by it.
Dae-gil meets with Prince Yeoning to answer the question he posed to him, about whether he would be able to refuse the will of the people. He says he wouldn't be able to reject a hand outstretched toward him, which sounds so much like "Yes, I would become king" that Yeoning even seems to sway a bit.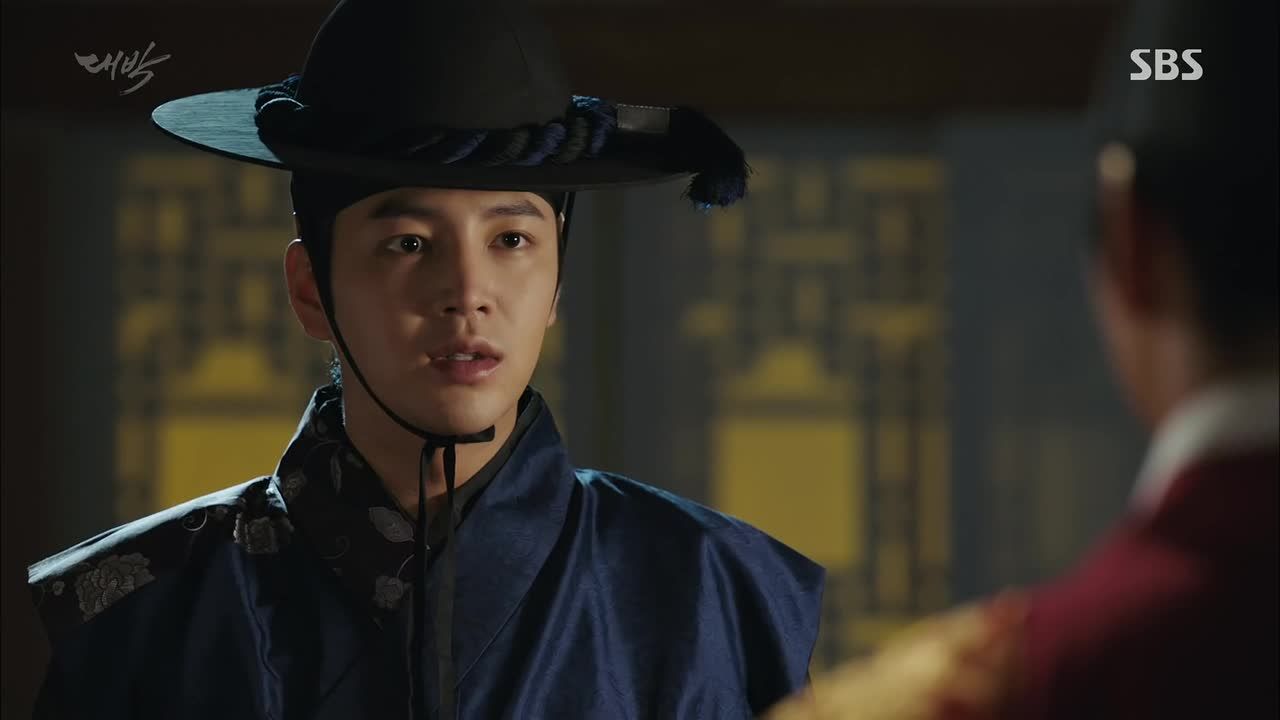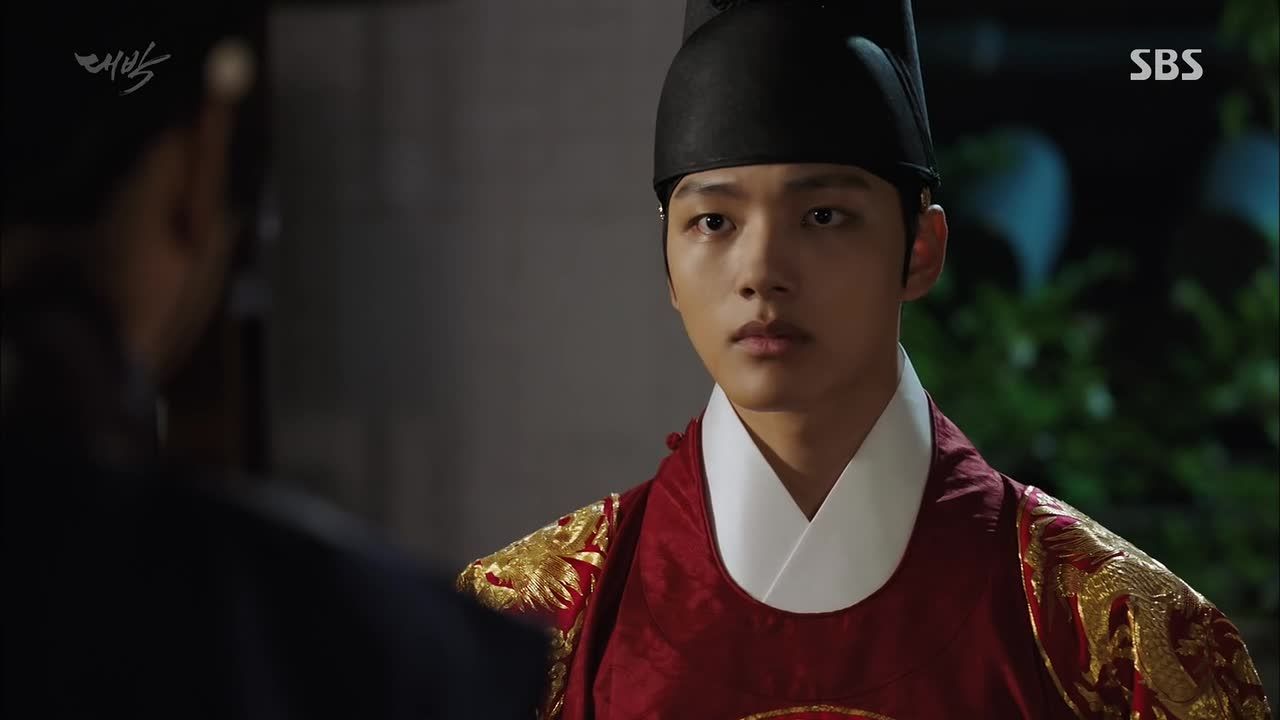 But, Dae-gil brings it back when he adds that he wouldn't need a throne to look after the people of Joseon, and that he'll do what he can for them with the position he has. "Is that all you want?" Yeoning asks uncertainly, only for Dae-gil to affirm it.
Only then does Prince Yeoning say that he'll grant Dae-gil's wish in return, and trust him. He can't help feeling bereft though, since Dae-gil's found a way to help the people while he hasn't. Outside, Dae-gil addresses the memory of their dead mother, promising her that he'll protect his younger brother. Aw.
Meanwhile, the Noron leaders go behind Councilor Kim and Prince Yeoning's back to deliver their wish that Yeoning act as regent directly to the king, which only serves to enrage him. Do they think him so impotent? They do, but claim that making Yeoning an acting regent would only benefit the nation.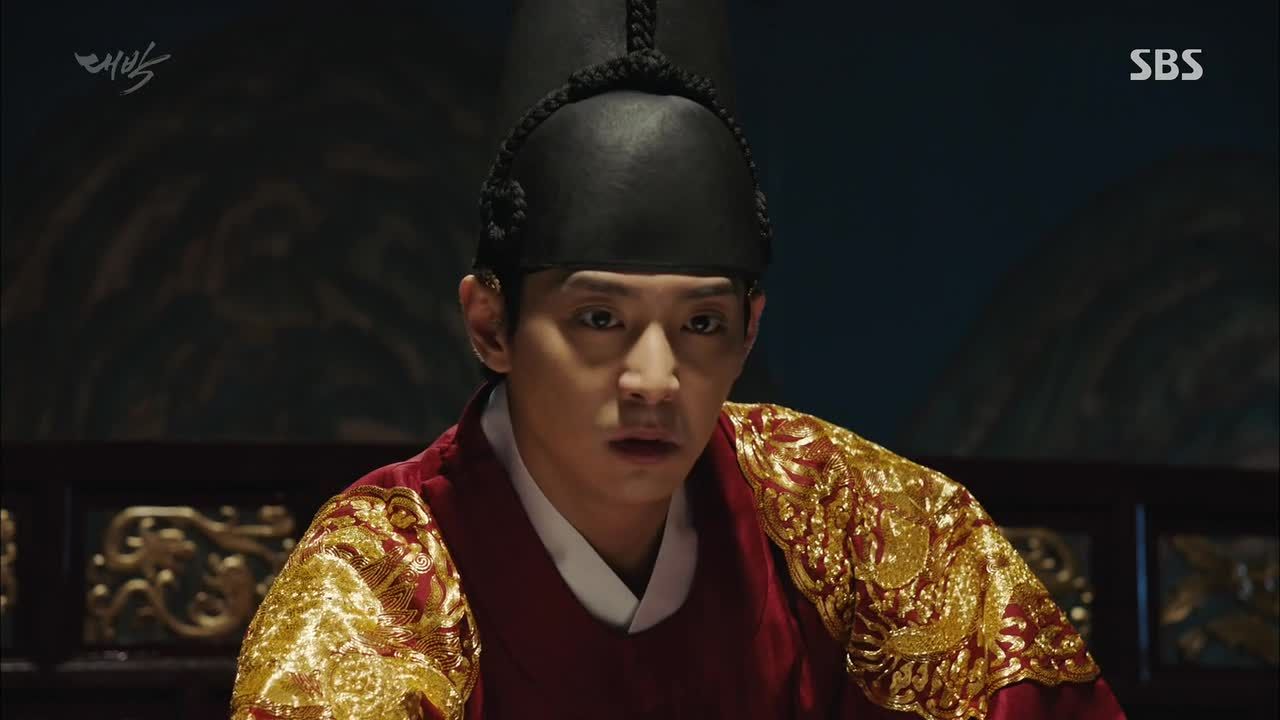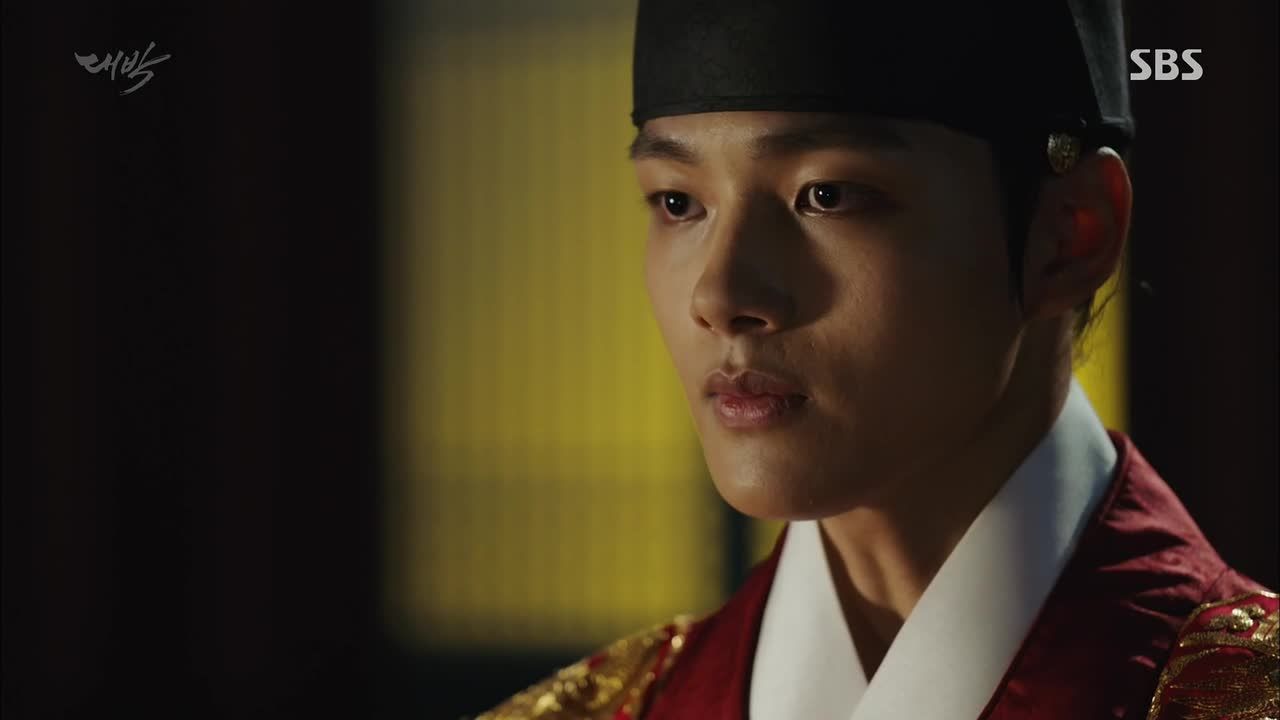 Councilor Kim takes the ministers to task for what they've done, calling them fools for playing straight into Injwa's hands. Prince Yeoning has to face the king's wrath over the Norons' proposition, and while he defends his innocence in being named the crown prince or even acting as regent, he defends where the Norons are coming from.
It's true that King Gyeongjong has no heir, he says, so the Norons are just trying to ensure the stability of the nation. The king really loses it with this, and demands to know whether Prince Yeoning wants his throne. We don't hear Yeoning's answer.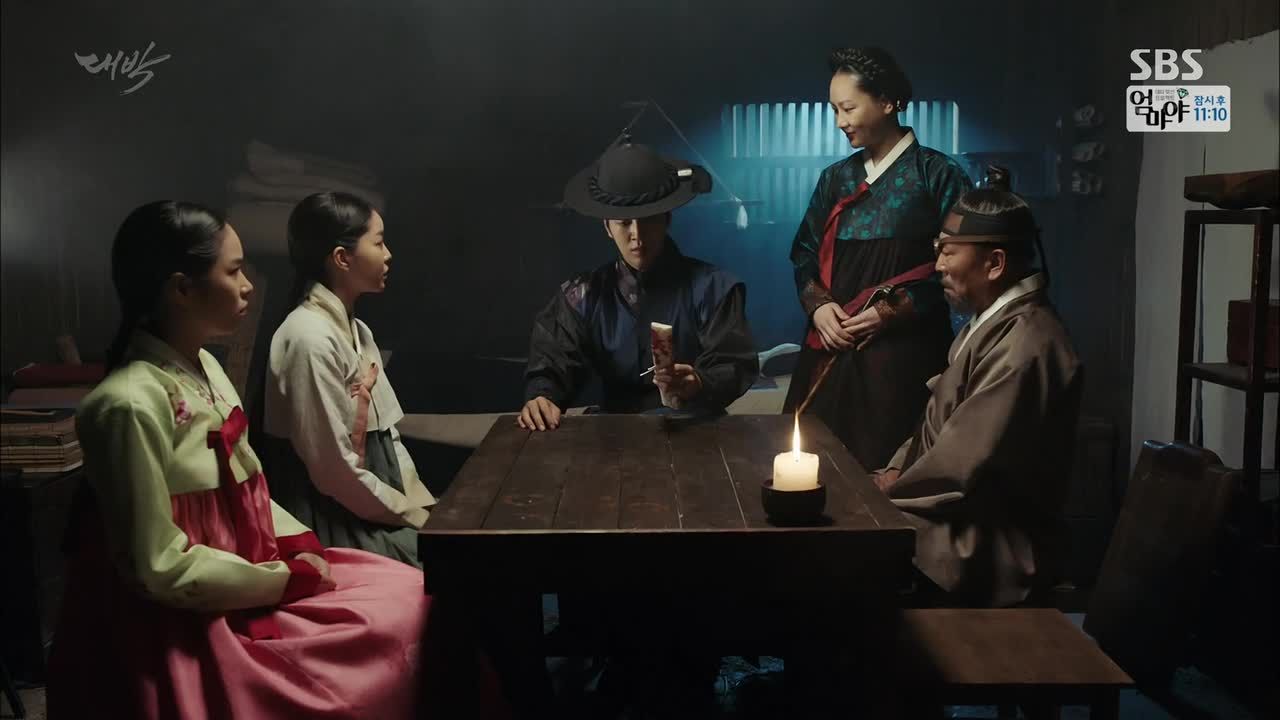 Hong Mae imposes on Dae-gil's humble home with a gift: the real blood oath, which didn't get burned (of course). In flashback, it's revealed that Dae-gil had warned her Injwa would try to kill her over the oath, and asked for it himself. But unlike Injwa, he claimed that he would never kill his own people.
Now that Dae-gil has what he needs to bring Injwa down, he takes all the time in the world. When Chae-gun updates him on all the upheaval in the palace, Dae-gil wonders if it's all Injwa's doing—and whether it is or isn't, Prince Yeoning won't be safe.
That night, Injwa shares his plan to get rid of the Norons with his fellow Soron ministers, and calls in a young Noron by the name of MOK HO-RYONG, who's agreed to stab his own faction in the back. He'll go to the king tomorrow as a representative of the Norons and claim that the Norons are planning a rebellion, which I'm guessing they hope will cause a purge.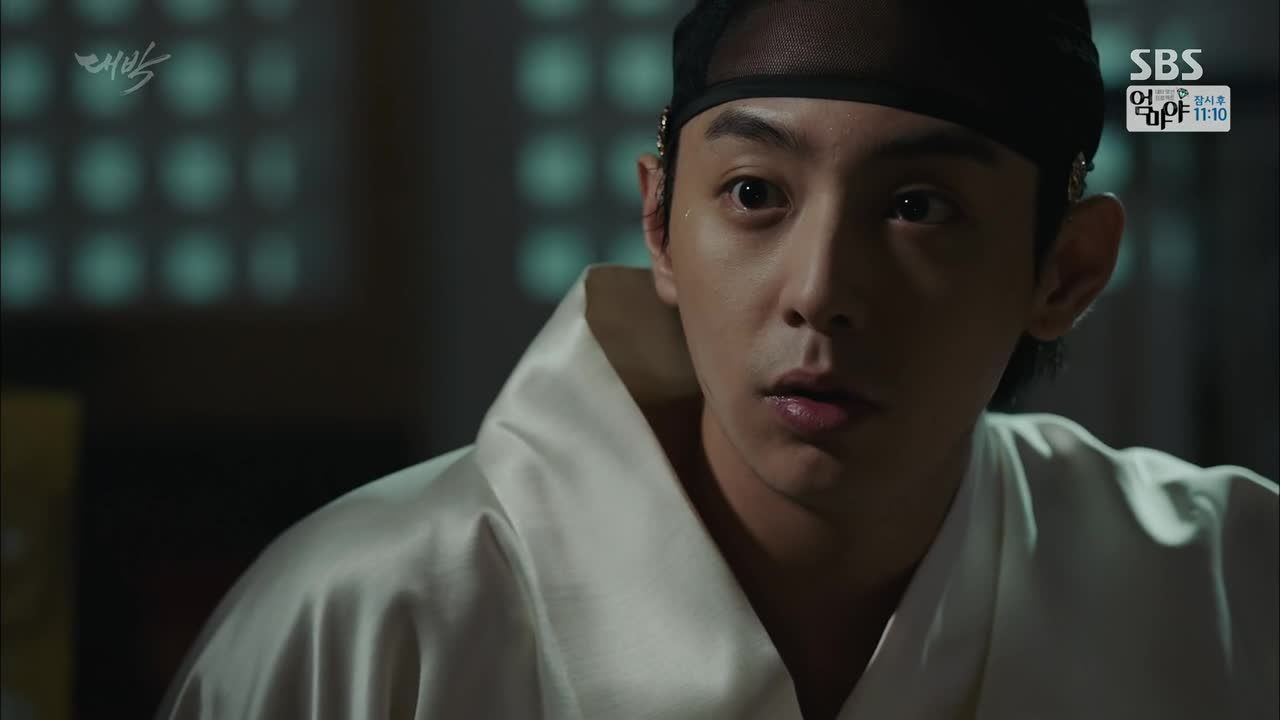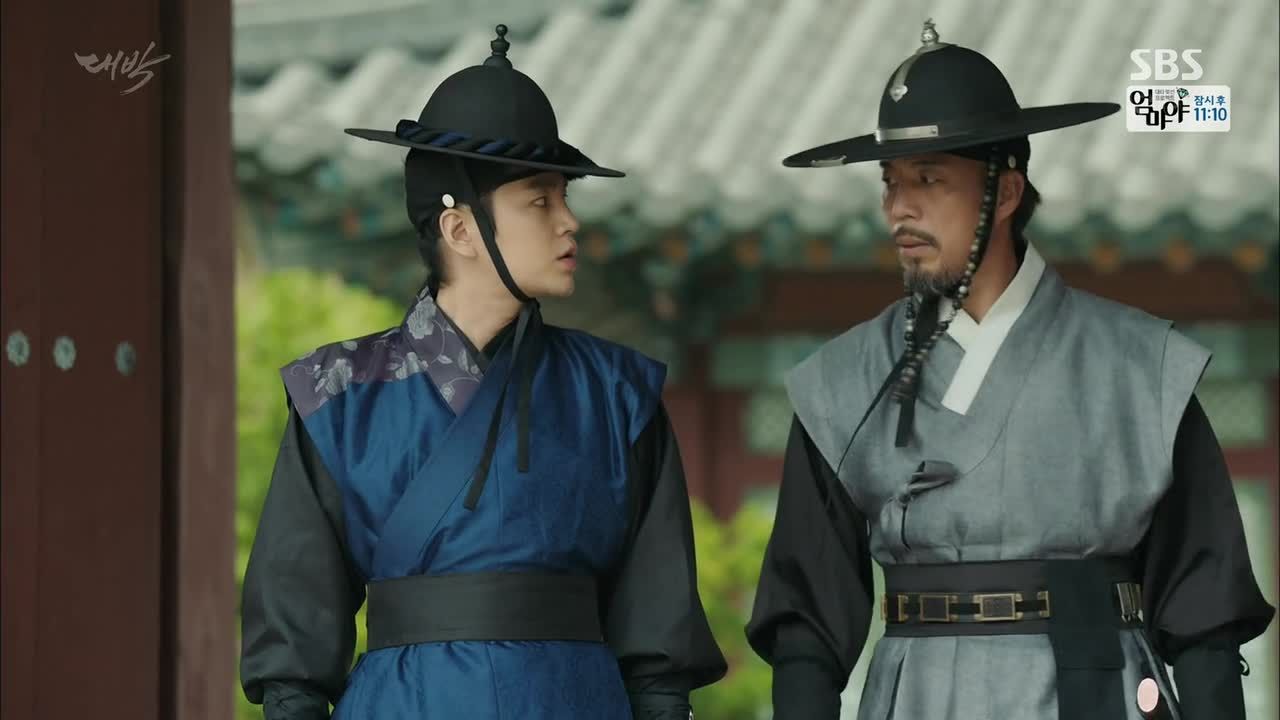 King Gyeongjong wakes in the night to see a vision of a man drawing a sword outside his quarters, but only his guards come in when he calls. He's extra tired and paranoid the next morning, helped in no part when the royal taster collapses from eating the poisoned food that had been prepared for the king.
This causes a stir within the palace, and great anxiety within Prince Yeoning. Dae-gil, away from the palace, stops suddenly with a hand over his heart, as if sensing the unrest. He's sure that it was Injwa who poisoned the king's food when Chae-gun tells him about the incident, and rushes off to meet the king right away.
He's prevented from gaining an audience because of the poisoned court lady, and Prince Yeoning is cautioned away from even approaching the king's quarters out of the Norons' fear that the poisoning could be blamed on him.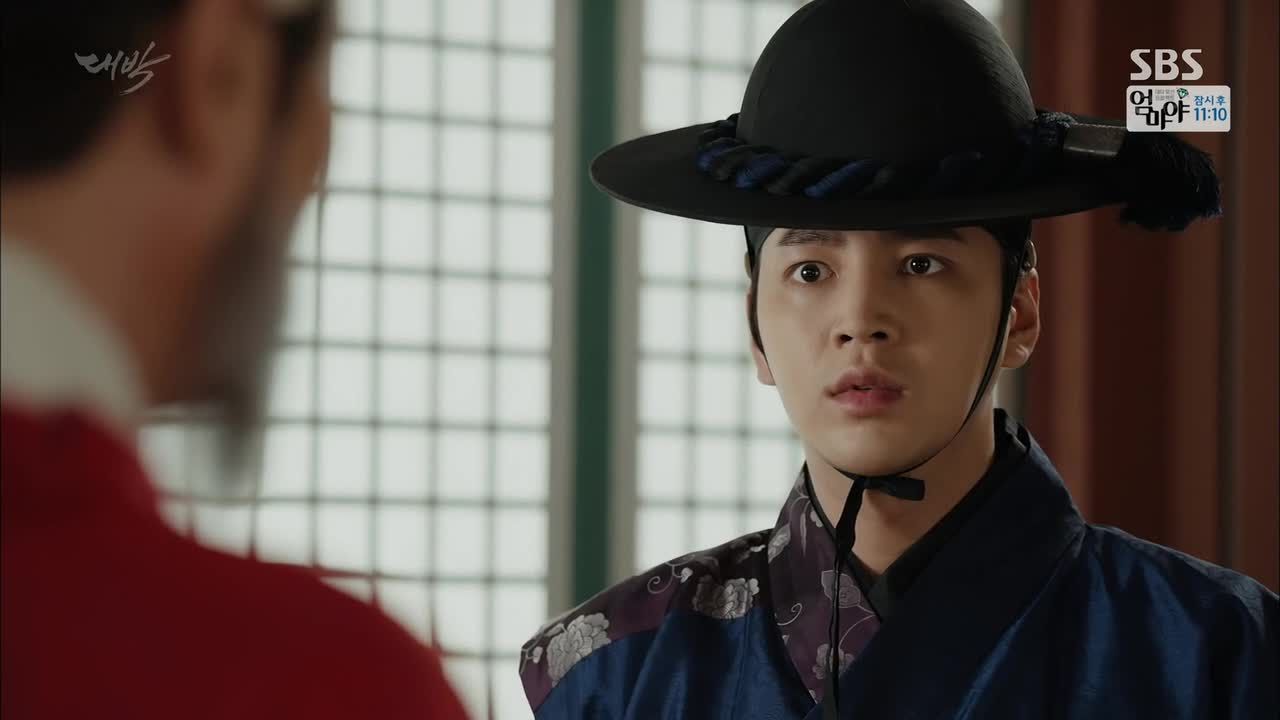 The only person Dae-gil can appeal to is Chief State Councilor Kim Chang-jip who, while believing what Dae-gil says about Injwa being behind everything, doesn't want Dae-gil to keep interfering. He and the Norons will protect Prince Yeoning, he says—Dae-gil need not concern himself.
Injwa's plan of scaring the prince with both the vision of an assassin and his poisoned court lady has worked, as Minister Kim notes, but what's the third step? Injwa coolly explains that rumors will take care of the rest, especially rumors of the late king naming Prince Yeoning as his successor before he died. (That rumor actually exists, since there was no historiographer present when King Sukjong supposedly gave Noron minister Yi Yi-myung the order to name Yeoning as the heirless crown prince's successor.)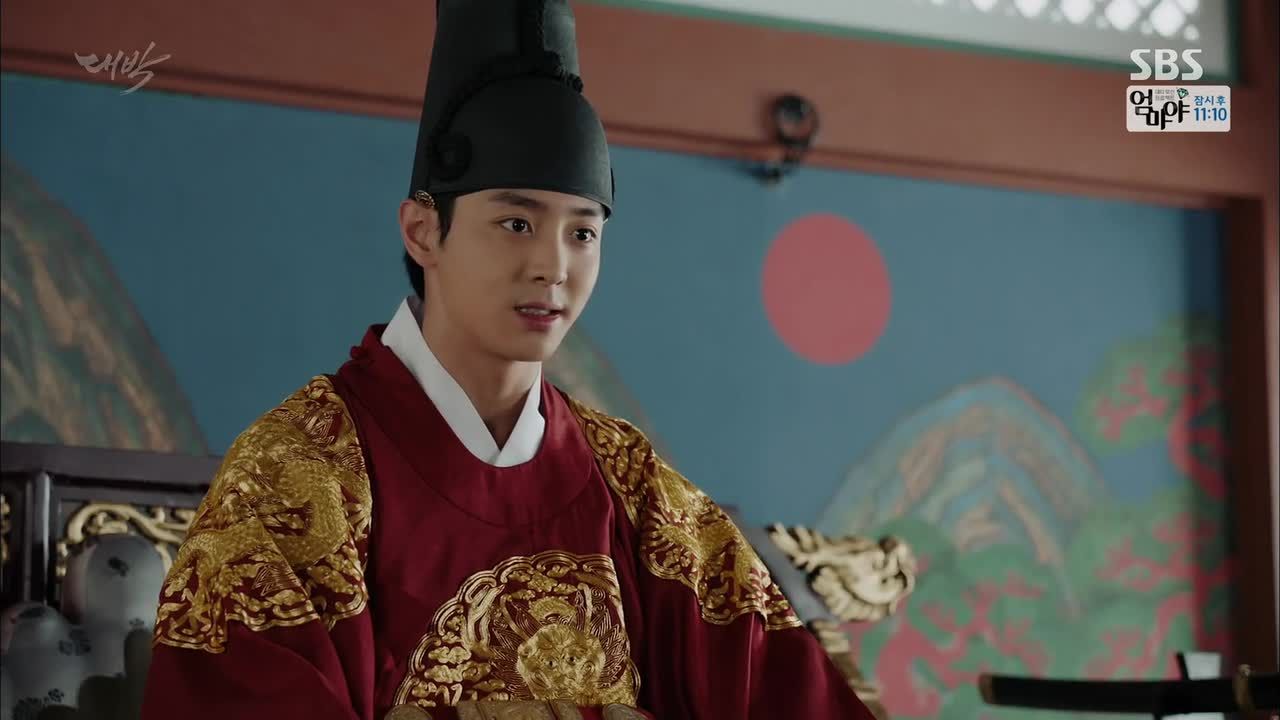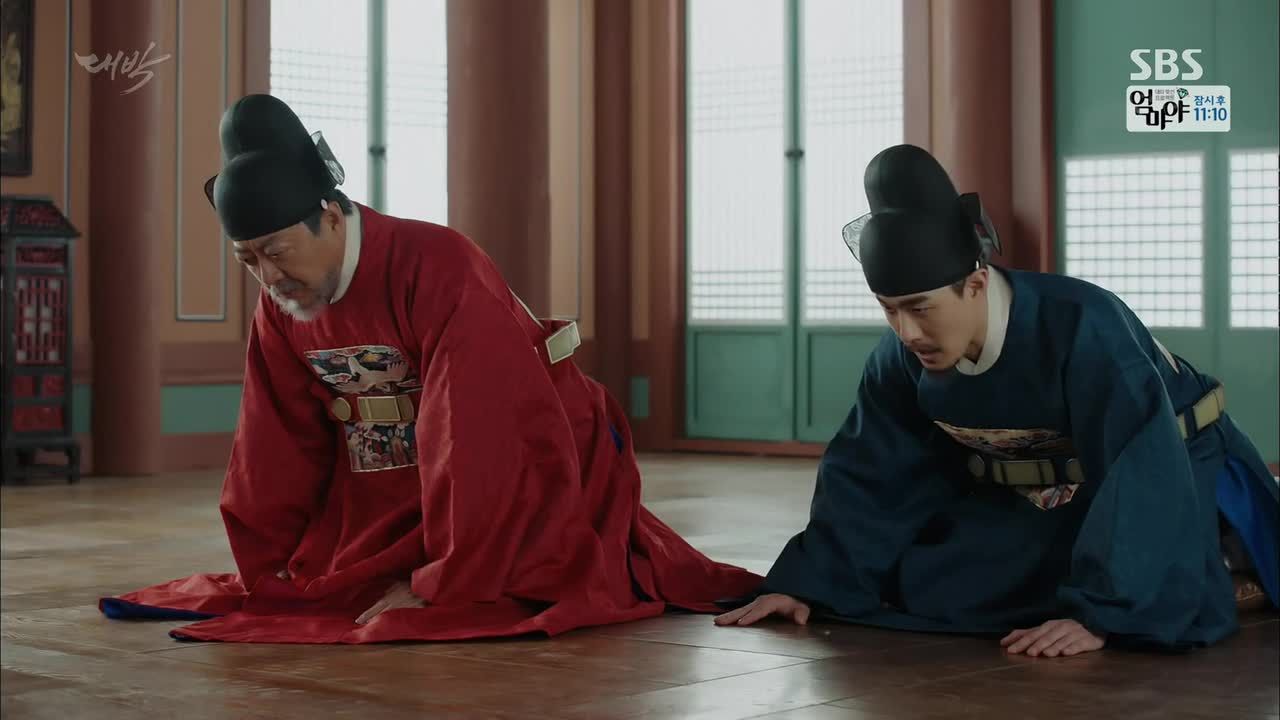 Now that the king himself has undoubtedly heard these rumors as well, they're ready for the next phase of their plan to take place. Minister Kim volunteers to accompany Noron traitor Mok Ho-ryong to visit the king, where he blames the Norons for the assassin, the poison, and even the rumors.
Mok Ho-ryong also claims Prince Yeoning is in on the rebellion, and Minister Kim echoes the sentiment that all the Norons should be arrested for treason. As for Prince Yeoning, King Gyeongjong grabs his sword and marches over to his little brother's quarters.
Dae-gil's stopped from intervening by Injwa, who claims to be acting on the king's authority to have Dae-gil arrested. But he assures him that nothing bad will happen to him as long as he goes quietly.
Luckily, Chae-gun arrives to free Dae-gil, and sends him to tell the king what he came to the palace to tell him. He's not convinced Injwa's acting on any royal command, but Injwa swears that he'll have vengeance for Chae-gun's interruption.
Prince Yeoning is unprepared when King Gyeongjong storms into his quarters with his sword drawn, demanding to know whether his little brother really does harbor treasonous thoughts against him. Tears fill the king's eyes as he says that it would put his heart at ease if Yeoning just told him he wants the throne, so he wouldn't have to feel so bad for killing him.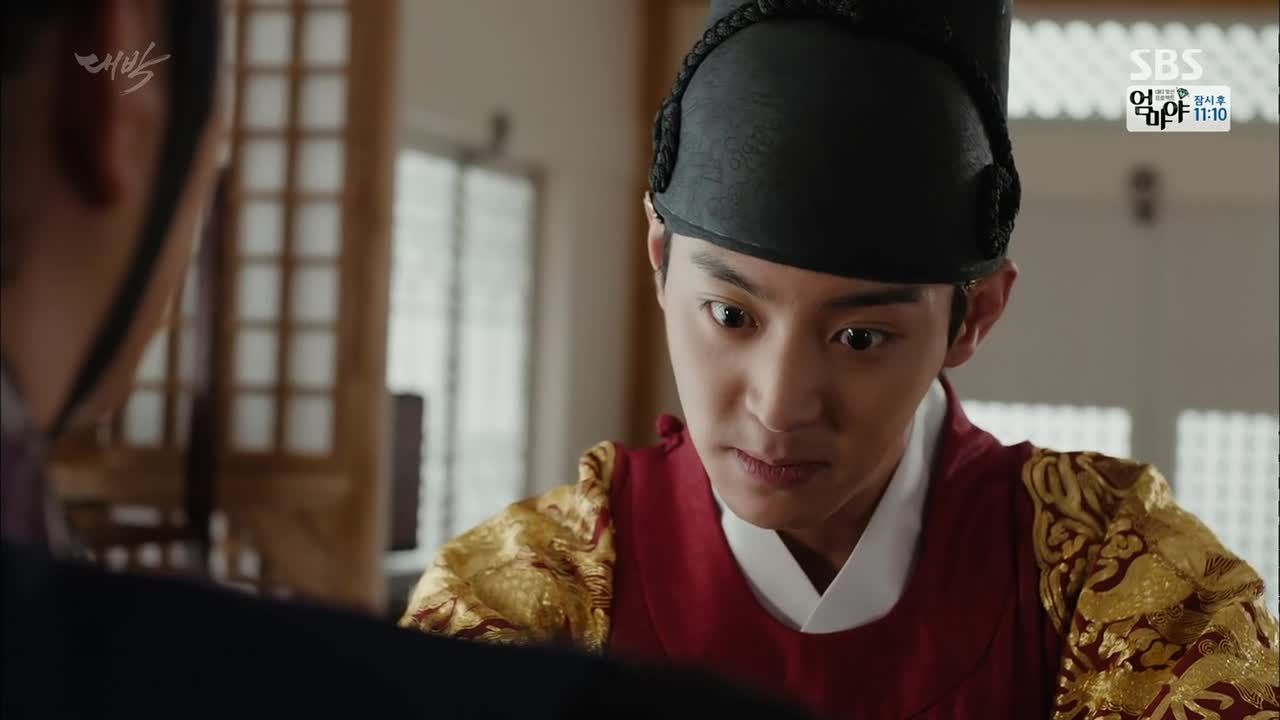 The king draws his sword back to cut down his little brother, only for Dae-gil to come into the room and beg that the king spare Yeoning. King Geyongjong only stops momentarily before attempting to strike again, only this time, Dae-gil magically appears in-between him and Yeoning.
If he wants to kill Prince Yeoning, he'll have to kill him first, Dae-gil proclaims. The king wonders if Dae-gil is protecting Yeoning because he's also a traitor, but in his anger, he reveals that he knew the two of them were blood brothers.
Vowing that he'll sever the tie between the two of them, King Gyeongjong pushes Dae-gil aside and lets out a roar as he prepares, once again, to cut Prince Yeoning down.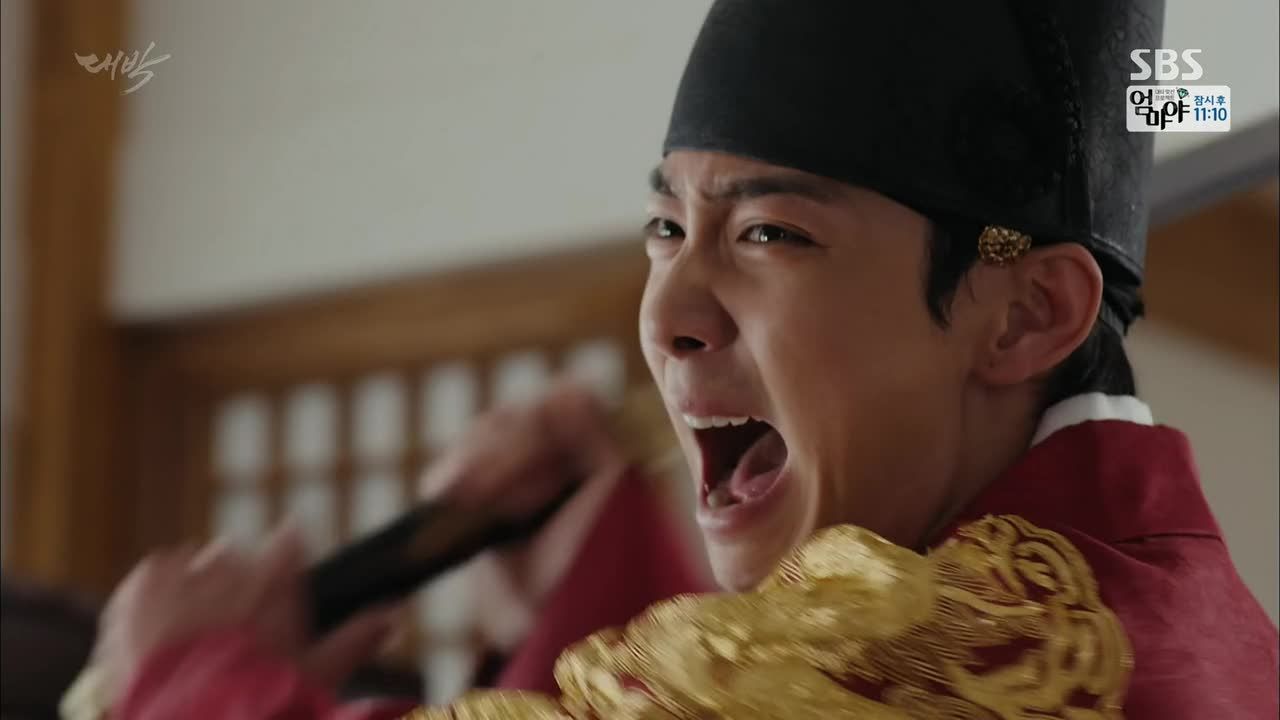 COMMENTS
It's easier to understand King Gyeongjong's insecurity when it's been sewn into his character from the beginning—he's always been afraid of being outdone by his more accomplished younger brother, and was always jealous of his father favoring princes like Yeoning and Yeonryung over him. So on a basic level, seeing him lose his mind with the events of this episode worked, because he was already on edge before any of this happened. All he needed was a push, which Injwa and his cronies provided.
What's less believable is Prince Yeoning's sudden paranoia and distrust of Dae-gil, which isn't only contrived, but just plain disingenuous to his character. Yeoning was set up to be one of the more capable characters in this show, with a level head and keen intellect that rivaled his father's, which explained the favoritism going on between the two of them. Father and son understood each other because they were very much alike, while it was much easier to see how Sukjong and then-Crown Prince Yoon were a bit more at odds.
The whole point of all the episodes spent establishing Yeoning as a person was to establish that he wasn't like other, typical royals. He chose a gambler as his best friend despite his father's disapproval and their differences in status, and came to cherish him so much that he openly defied his father and swore he'd die for Dae-gil. Then, when the brotherly reveal came, Yeoning put the pieces together before Dae-gil, which means that he technically kept the truth hidden longer. So why did we have him pulling a 180 when it came to distrusting Dae-gil and his motives over something consummate-liar-and-worthless-human-being Injwa told him? Where did our Yeoning go?
Moreover, when Yeoning was never set up as being greedy for power or worried about his position in the first place, it's really difficult to buy that he'd now be wary of Dae-gil because he's suddenly so sure that Dae-gil has his eyes on the throne. What happened to them working together, working as a team, to surmount the obstacles facing them? I'd understand if there had been an actual rift between them or even a slightly legitimate cause for mistrust, but it feels more like Yeoning had to lose everything he was in order to become insecure, fearful, and relatively helpless.
It gives Dae-gil a chance to be the older brother though, which I suppose might've been the point. Having Dae-gil as his brother's protector works much better than having Dae-gil be a revolutionary, which is the direction they seemed to be taking when he accused Yeoning of being no different than any other royal. I like this version of Dae-gil much better, even if I'm more than a little nervous about people like Injwa and his father being eerily sure that Dae-gil will become king. It's not so strange coming from Injwa, but it's absolutely infuriating coming from Man-geum, who's become the new Dam-seo in terms of vague purposelessness. If he's now actively working against Injwa and not with him, why is he still keeping secrets from his own (possibly adopted) son? Why are Injwa and Man-geum operating like Dae-gil isn't a person with a brain who can only be convinced of their cause if he's actually told something about it? Oy vey.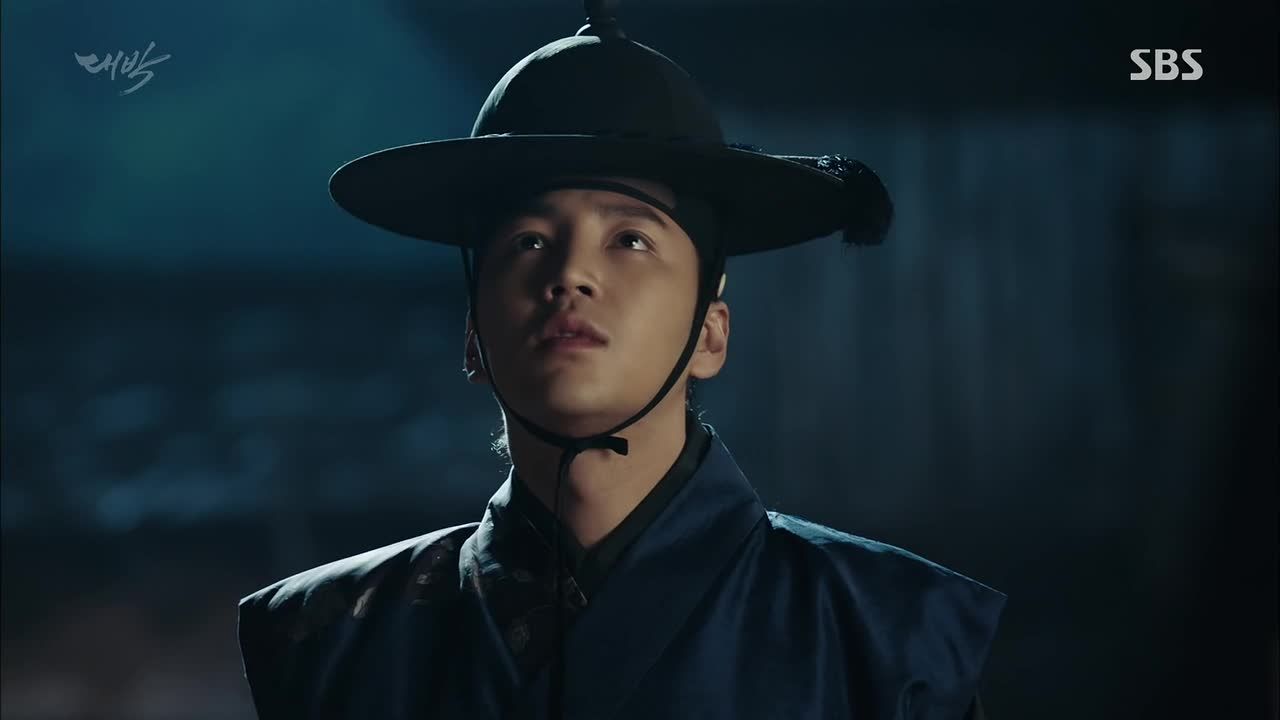 RELATED POSTS
Tags: Episode 20, featured, Jackpot, Jang Geun-seok, Yeo Jin-gu