Jackpot: Episode 24 (Final)
Oh, what could have been and wasn't. Or what wasn't, and should have been. But really, with Jackpot it's a lot of what was, and definitely shouldn't have been. But like every show must do, this one comes to an end. Of sorts. It's actually not that bad in the grand scheme of things—it hits most of the points it needs to, introduces a lot it doesn't, but at least it stays (mostly) sane. And that's saying something after a ride like this.

FINAL EPISODE RECAP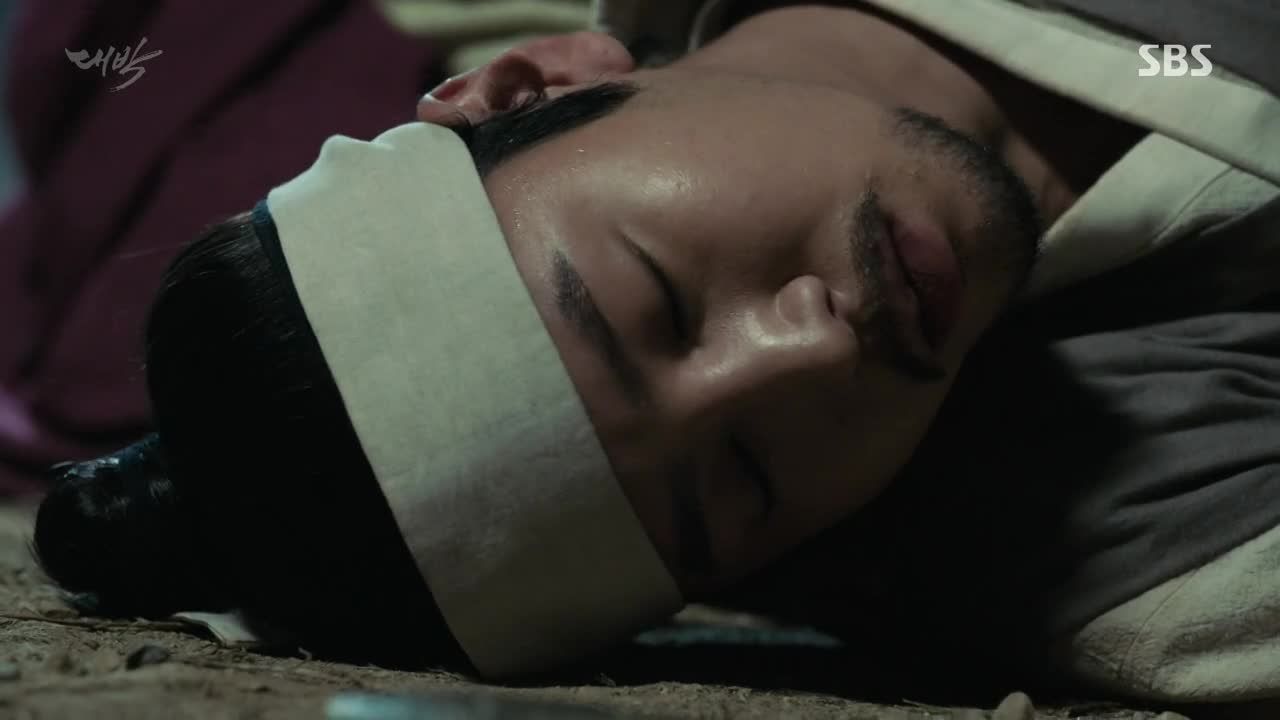 After Injwa has successfully been arrested, a still-wounded Dae-gil shuffles over to the king, bows, and then promptly passes out. Seol-im and Grandpa rush to his aid as King Yeongjo looks on unblinkingly.
It seems like it's King Yeongjo who flashes back to the moment Dae-gil rode out in front of the riflemen only to get shot in the process, but it's actually a nightmare Dae-gil has while recuperating, along with flashbacks of his gamble with Injwa.
He wakes and heads outside, where Seol-im and Grandpa tend to the former rebels. They all cheer for their savior Dae-gil, hailing him as a hero of the people. Though they acknowledge that it was the king's order that freed them from suffering any repercussions, it's Dae-gil who gets all the credit.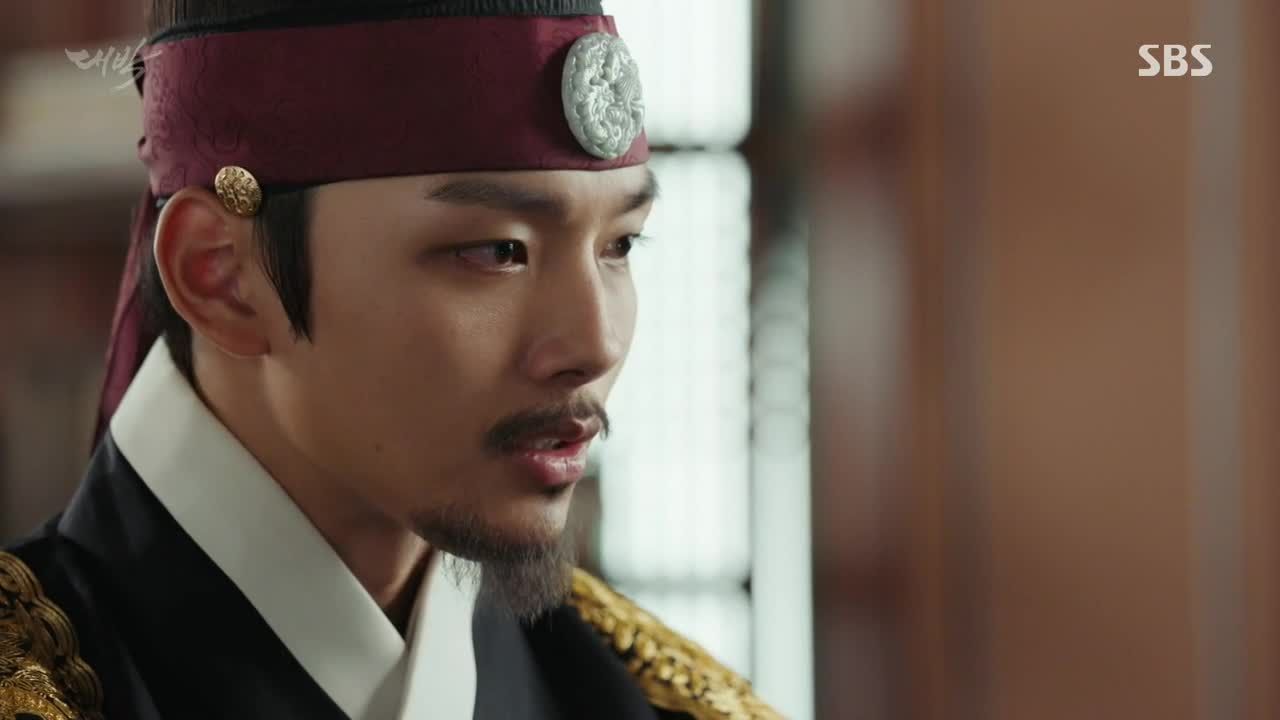 Mil Poong-goon drops to his knees in apology when confronted by King Yeongjo over his traitorous actions, and claims that while he joined the revolt for the people, he didn't realize that Injwa was only in it for greed.
King Yeongjo muses that Mil Poong-goon should be beheaded for his crimes, but since he helped them by turning against Injwa (and because Yeongjo made a promise to Dae-gil), he'll be allowed to live. But he'll have to live in exile, and never show his face in the capital again.
The king is hailed as the victor, and consults with the court to hear their opinions on what should be done about Injwa. The ministers who were formerly in cahoots with Injwa suggest execution, but look nervous when King Yeongjo orders two mysterious boxes brought in.
Dae-gil returns to the capital to find Yeon-hwa and Hong Mae, who's now part of their little family. (Aw, yay.) He finds his father there too, who assures him with his signature grin that their plan worked flawlessly—Park Pil-hyun and Traitor Jeong are no more.
Back in court, the two nervous Injwa supporters open the boxes at their feet, and recoil in horror. Inside are the heads of Park Pil-hyun and Traitor Jeong. I love how the king casually asks them their thoughts on his "gifts," seemingly enjoying this little bit of revenge.
Dae-gil finds out simultaneously from his father that both Traitor Jeong and Park Pil-hyun were killed and subsequently beheaded. All the leaders of the revolt are dead, Man-geum adds, which leaves Injwa with nothing. (The chyron tells us that Traitor Jeong marched on Yeongnam before being caught and beheaded, and that Park Pil-hyun of Honam failed in his plans, was arrested for raising an army, and also beheaded.)
Or not, since Injwa's Soron supporters wonder what to do about Injwa, and how best they can secure their own futures—do they cast him aside, or restore him to power? And why is the king keeping him alive?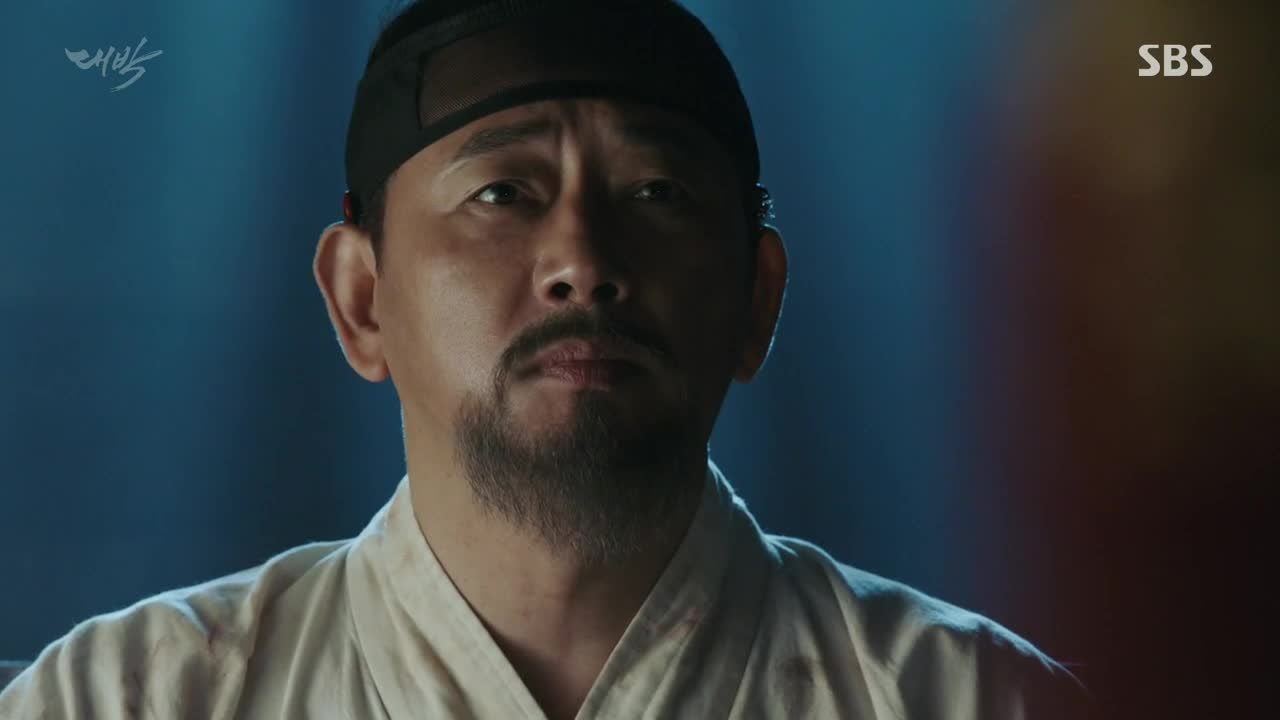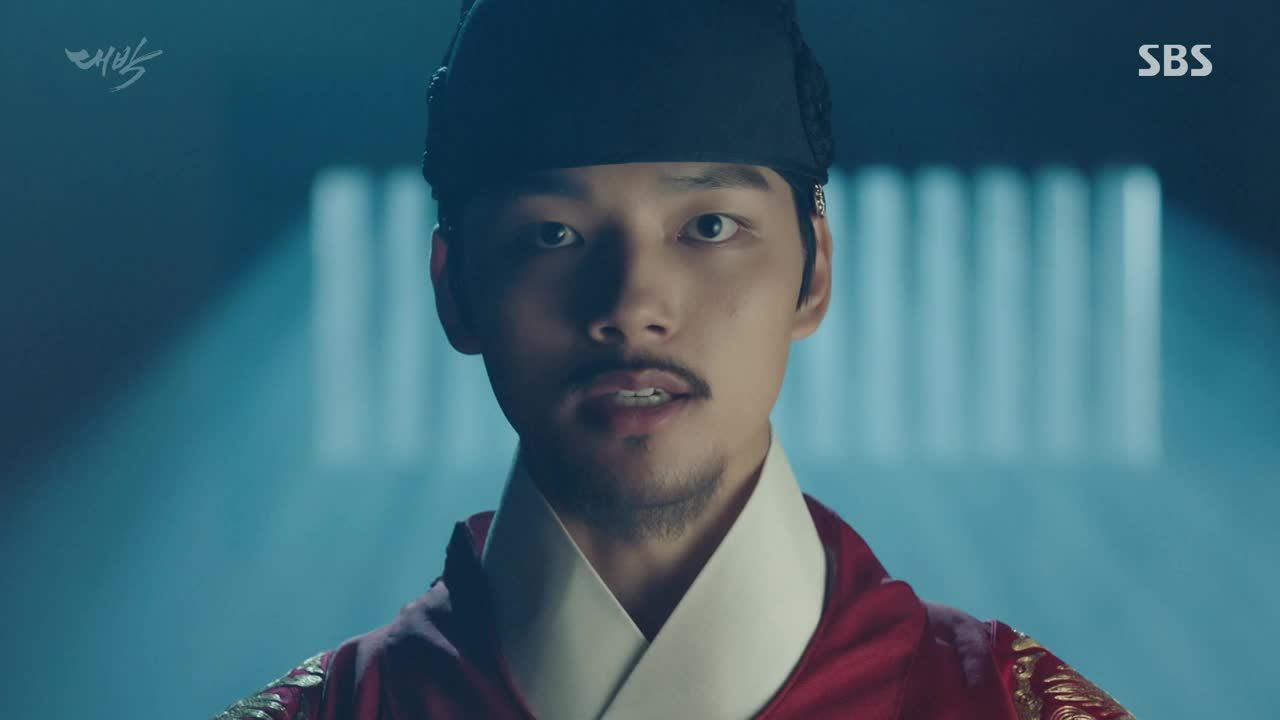 King Yeongjo answers that question when he's face-to-face with Injwa, and orders him to write down all the names of the government officials who conspired with him. Injwa sees no benefit in helping him when he's going to die anyway, so Yeongjo offers a deal: if he does as he's told, he'll allow him an easy, private death. If not, he'll have him drawn and quartered publicly.
Injwa chuckles that King Yeongjo's become the monster now, though Yeongjo chooses to take that as a compliment—his father was known as the monster with one hundred eyes and one thousand ears, and becoming like him is what he's always wanted. He leaves a dagger with Injwa and tells him that he has until tomorrow morning to make his decision. (Er, why wouldn't he just kill himself and give nothing up at that point?)
Dae-gil, restored to his official position, warns the king against letting Injwa die so easily—what if they don't get the names of the corrupt ministers from him? King Yeongjo isn't worried about them, but wonders if Dae-gil is. Even if they were to rise up against him again, he would just strike the rebels down.
He gives Dae-gil a lesson in politics while he's at it, adding that there's no such thing as a one-strike-kills-all in politics. If he cuts the tree but leaves the roots in tact, he can use those to his advantage, which he plans on doing tonight by revealing Injwa's location and waiting to see which treasonous ministers come to his aid.
Dae-gil doesn't understand the king, and Chae-gun tries to explain that Dae-gil will never understand the inner conflicts a king faces unless he were to sit on that throne himself. Chae-gun receives a message from Jin-ki requesting a meeting, but before he goes, Dae-gil tells him that Jin-ki managed to change his stripes in the end by turning against Injwa.
While the Sorons decide to take action now that Injwa's location has been revealed (just as King Yeongjo predicted), Chae-gun heads to the meeting place Jin-ki set. Jin-ki is still determined to fight and defeat Chae-gun, so they draw swords and do battle.
But once again, Chae-gun seems to be getting the best of his former junior, leading Jin-ki to smilingly admit defeat. He's repentant for his crimes with Injwa, and knows that trying to kill him doesn't wash his sins away. With tears in his eyes, Jin-ki says that he came to Chae-gun to pay for his crimes, since it would only be right if Chae-gun would be the one to kill him.
He lunges half-heartedly at Chae-gun, who stabs him non-fatally in the side. "Why… why did you not kill me?" Jin-ki wonders in shock. Chae-gun replies that there are two people in his life he needs to atone to—his wife, who's lived like a widow because of him (and probably so, since this is the first we've heard of her), and Jin-ki.
"Use the rest of your life to reflect on your wrongdoings," Chae-gun says, his way of making a deal for Jin-ki's life. Jin-ki understands, and thanks his friend and one-time senior with grateful tears brimming in his eyes.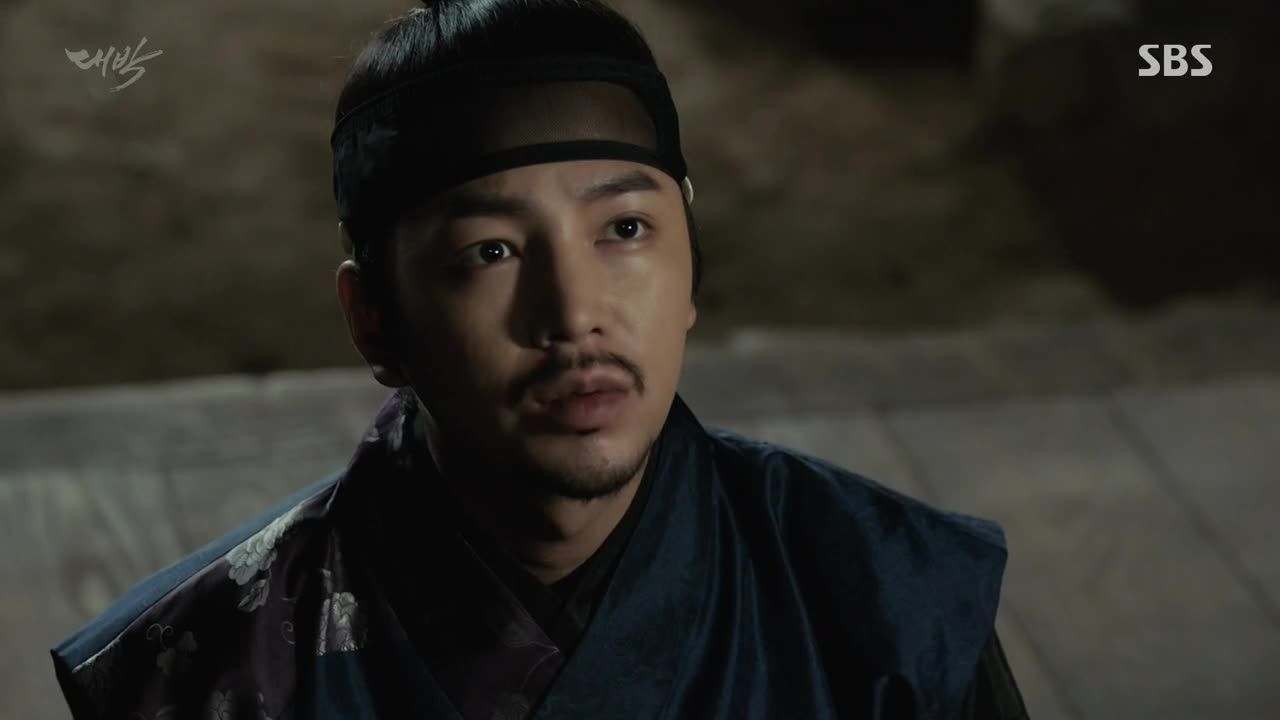 That night, Dae-gil asks Chae-gun whether the king might ever be able to return to the person he once was. Chae-gun basically tells him not to hold his breath—life is about making choices and bearing the burden of those choices.
Soron minister Jo Il-soo is able to pay a visit to Injwa as though he's just dropping in on a neighbor, only he's not there for a cup of sugar—he's brought an assassin to kill Injwa. But of course, before the assassin can strike, he's knocked down by King Yeongjo's bodyguard, who then takes him to the king.
Remembering Chae-gun's words about how he'll never understand the king's plight without sitting in his throne, Dae-gil meets with the king, who instructs him to watch and confirm that Injwa's upcoming execution goes smoothly.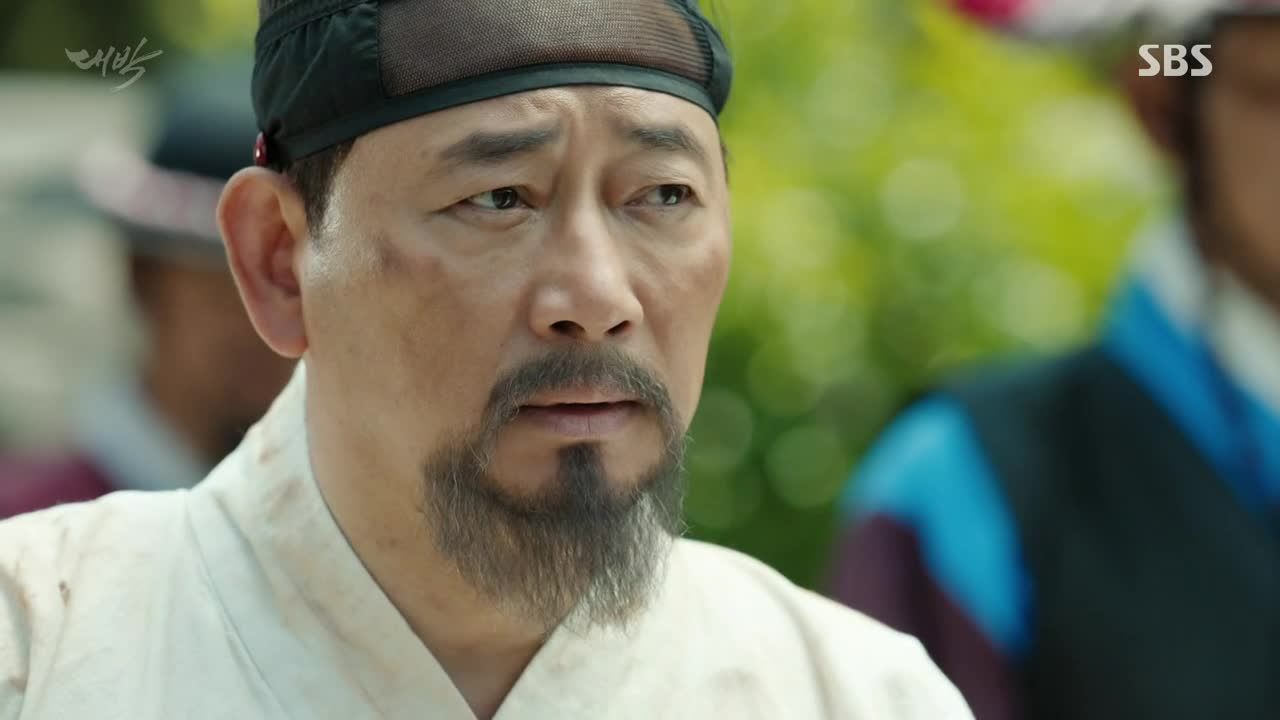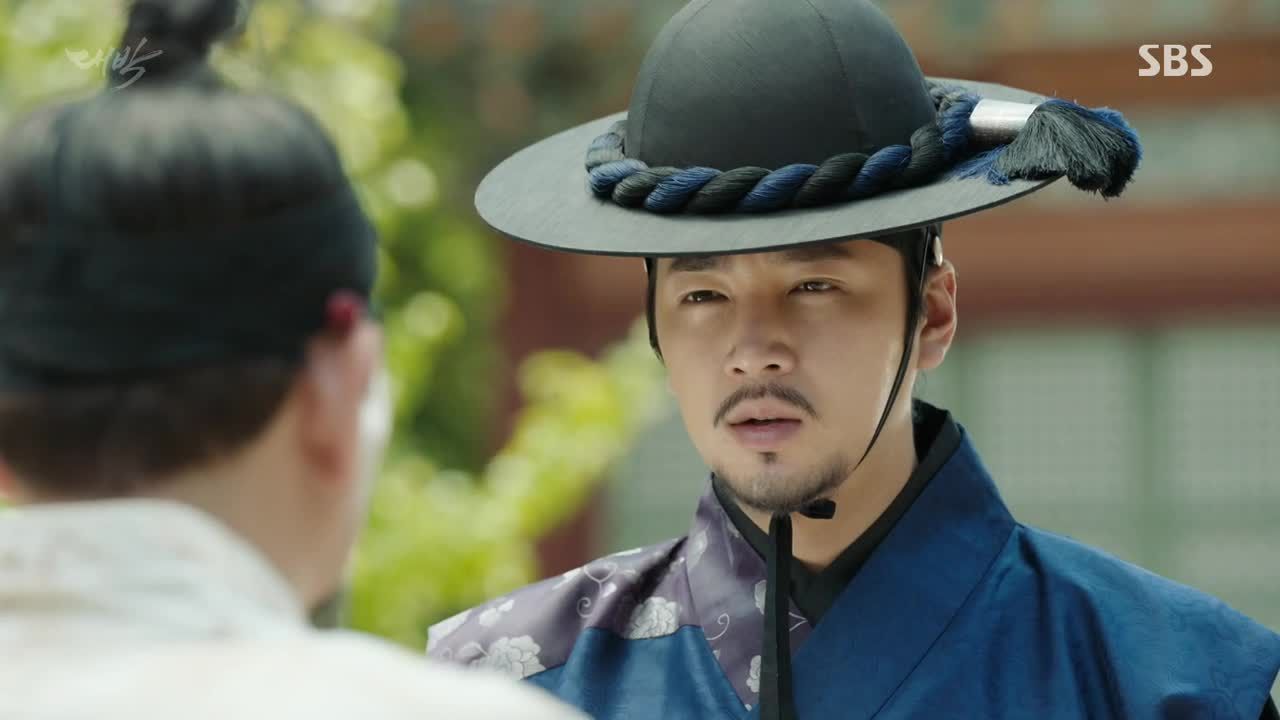 Dae-gil leads the way to take Injwa to meet his maker the next morning, but gives Injwa a chance to say his piece first. Injwa just says that he has no regrets except for choosing Dae-gil, which was the biggest mistake he ever made.
"Yi Injwa, you're full of contradictions," Dae-gil marvels. "Your words and actions don't line up." Injwa: "It is not I who is full of contradictions. It is the world that's full of them." This conversation pretty much sums up the entire show. We can literally just end it here.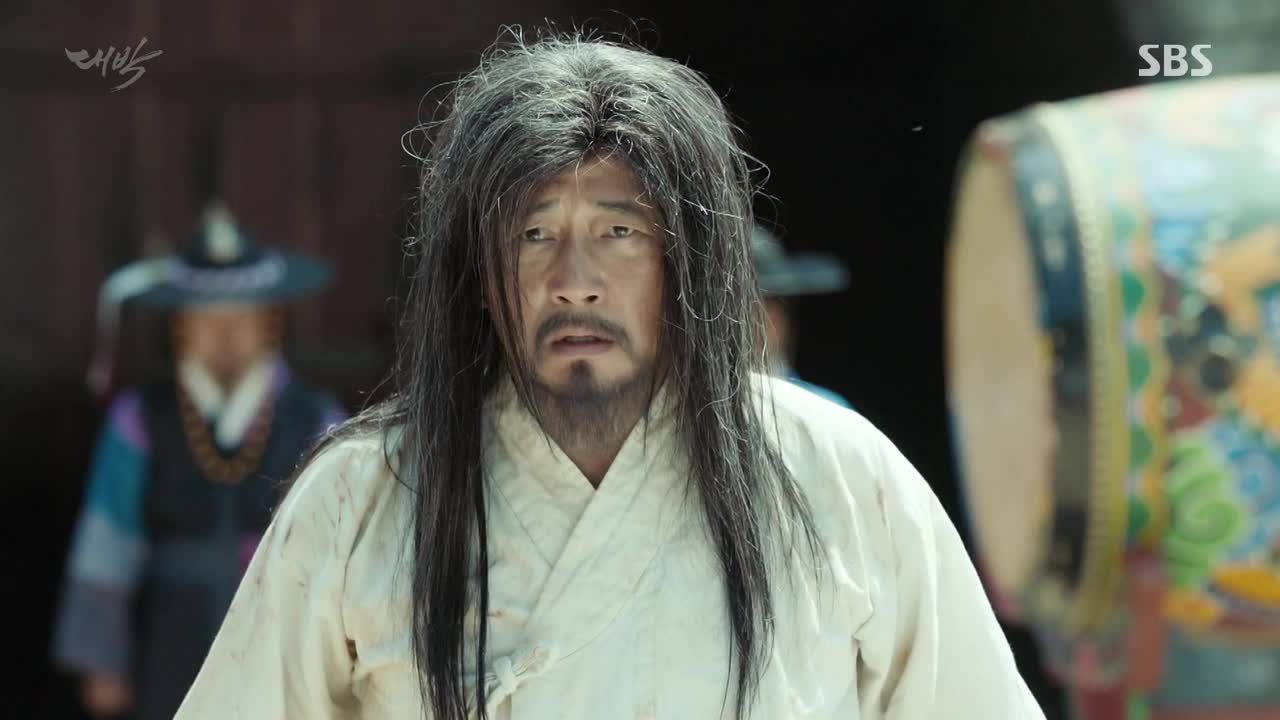 Injwa tries to get Dae-gil to end his life by cutting him down with his sword, but Dae-gil says it won't be so easy. He has to face the people, which means tying his arms and legs to four cows in the public square. He's to be drawn and quartered. But first, an empty speech:
"A man who has raised the people up in this nation of prosperity and military defense, in a nation where one need not suffer for his identity, in a nation where I've built the people to be masters of this land… under what justification must a man like myself die? Wait and see. I, Yi Injwa, will one day… one day!… be known as a necessary figure who will be better known a hundred, no, a thousand times over than any of you beings of this corrupt nation!"
The drumbeats sound, the steers led forward. Injwa screams as his arms and legs are slowly pulled in all directions. "I, Yi Injwa, will not die!" he roars. And then he dies.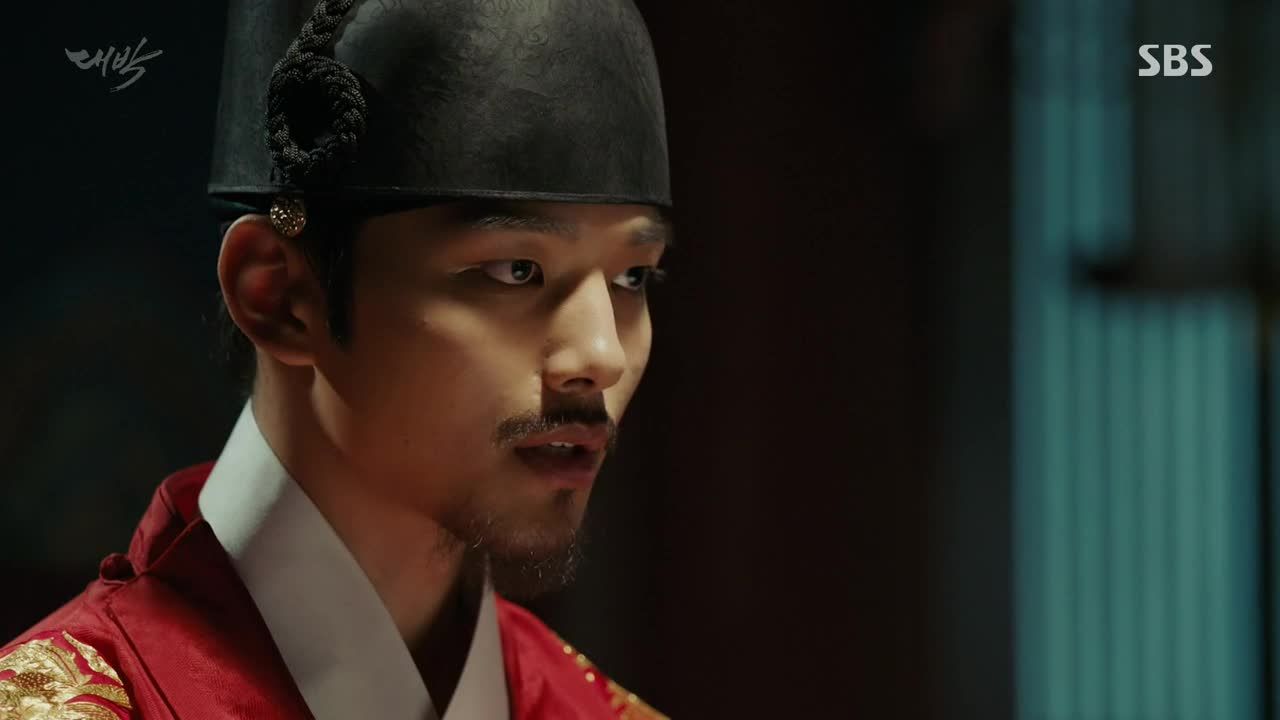 Dae-gil returns to the king to hand over the sword King Sukjong once gave him. He explains that the sword was given to him so that he could protect the people, but most of all, so that he could protect King Yeongjo, who he describes as both his friend and brother.
Only now, Dae-gil wants nothing more than to live a normal life outside the palace. He cautions the king to use wisdom in all things going forward, and to keep the tide of fickle public opinion in mind when making his decisions. "I hope you will become a good and wise king that all will remember," Dae-gil adds.
King Yeongjo acts cool on the outside, when he really wants to ask Dae-gil, "Are you really leaving?" But in the end, all he asks is that Dae-gil stay someplace where he can find him, should the need ever arise.
Now that Injwa is dead, the Sorons think that their biggest hurdle has been surmounted… until Madam Jeong makes a reappearance with proof of the deal they made with Injwa. Should they fail to honor it, she'll tell the king their dirty secret, and has failsafes in place should they try to kill her, too.
So Minister Kim Il-soo goes to Queen Dowager Seonui to ask her to make a potentially dangerous decision, while another minister goes to free Nameless from prison. Presumably, the decision has something to do with the new court lady they install to serve the king's meals.
King Yeongjo catches on immediately, and orders the planted court maid to taste his food again. Knowing it contains poison, she drops to the floor to plead for mercy, but runs away before she can tell him who ordered him to do it.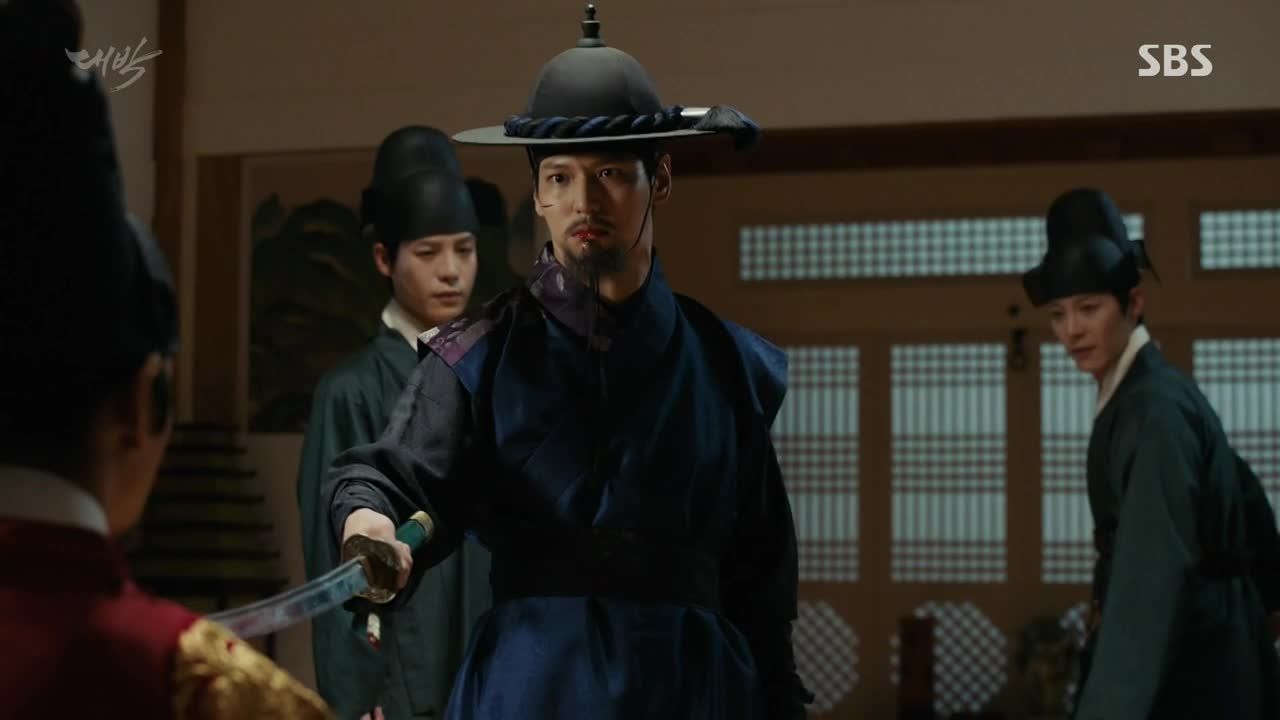 Just then, Nameless and a small group of other guards come in to the king's room, swords drawn. King Yeongjo's loyal bodyguard is left alone to face off against all of them, and performs admirably… until Nameless mortally wounds him.
Nameless claims that this is all for Injwa, and as he readies to bring his sword down on King Yeongjo, he's stabbed instead by the king's two spooky eunuchs.
The king rises to check on his faithful bodyguard, who can only gurgle an apology through the blood in his mouth before dying. Nameless isn't dead yet either, and tells the king that he'll live the rest of his life alone, and he'll die alone.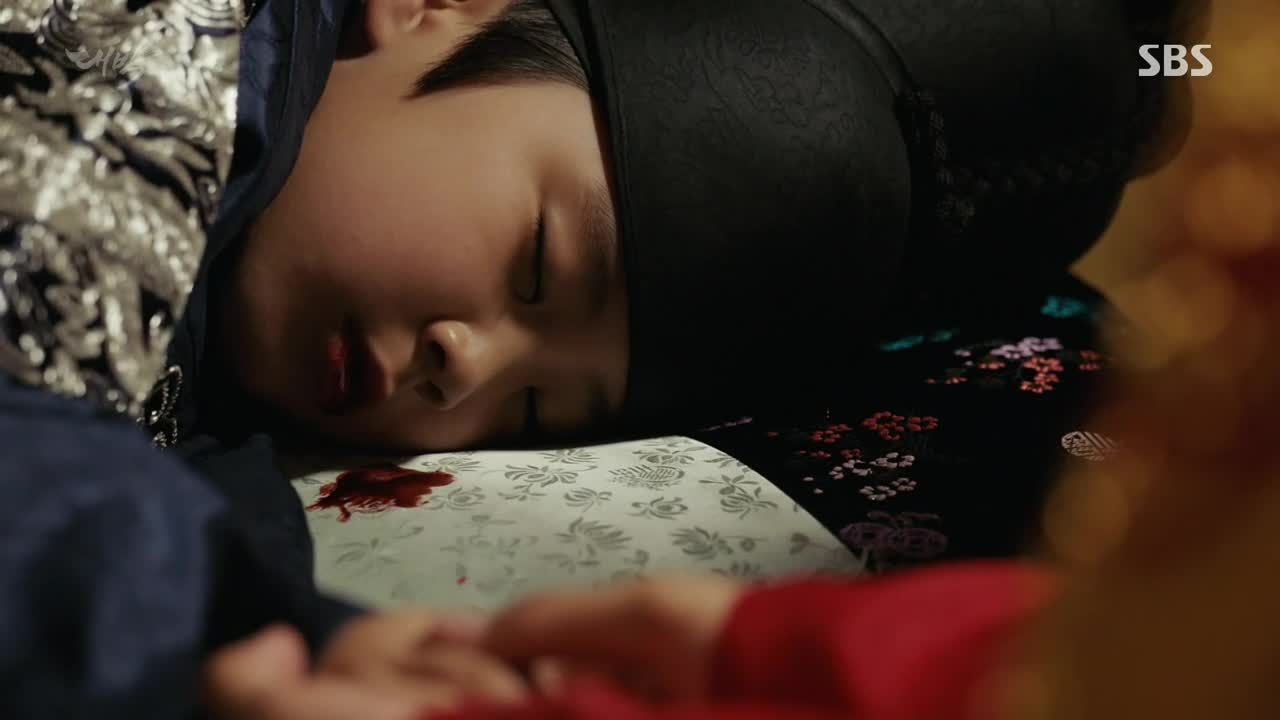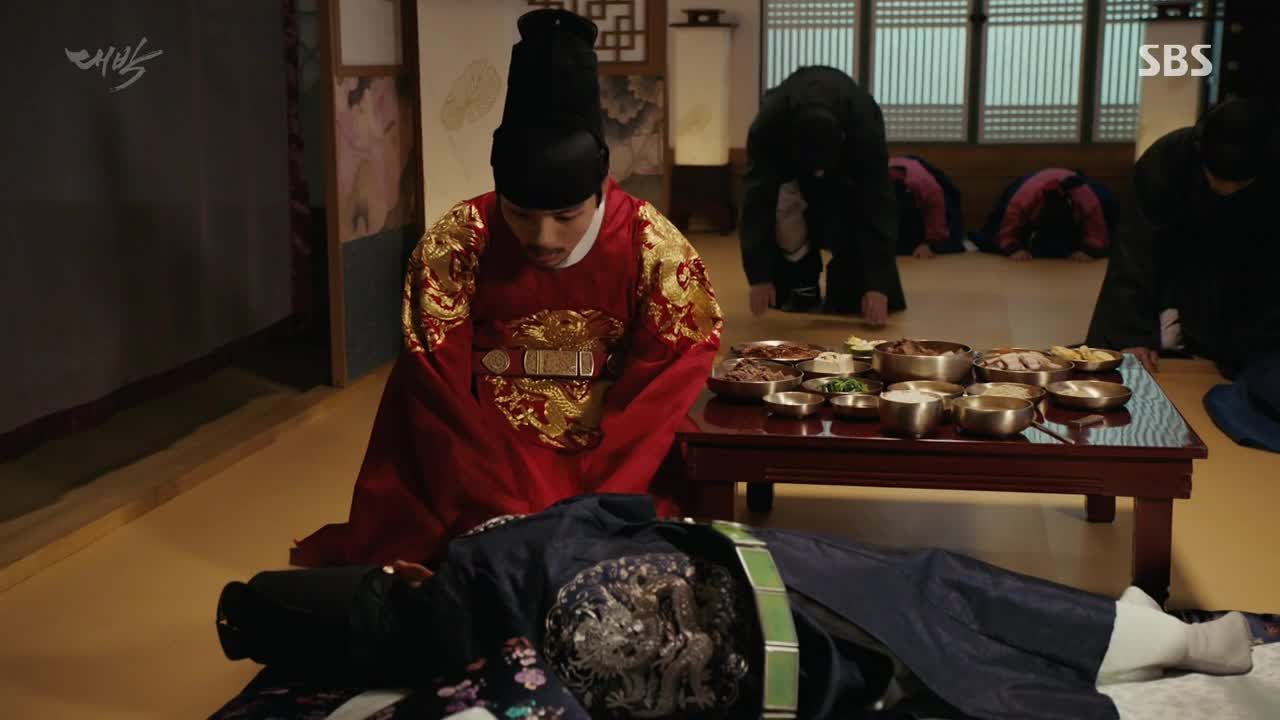 When he says that, the king immediately thinks of his son, Crown Prince Hyojang, who's currently eating a meal served by his court lady. We get an ominous shot of Queen Dowager Seonui as well as Minister Jo Il-soo, but by the time King Yeongjo makes it to his young son's room, he's already dead.
One of the spooky eunuchs tries to stop the court lady from poisoning herself, but is too late. (I feel like I'll miss these two the most, and I have no idea why.) King Yeongjo's legs give way as he registers what's happened, and it's heartbreaking to see him crawl to his son, take his small hand in his, and cry.
In retaliation, Minister Jo Il-soo and the other Soron leaders are arrested and interrogated the proper Joseon way. King Yeongjo personally oversees their torture, demanding to know which of them was behind the poisoning. He suspects the court lady who poisoned herself worked under the queen dowager, and claims that if they confirm the truth of that, he'll let them live.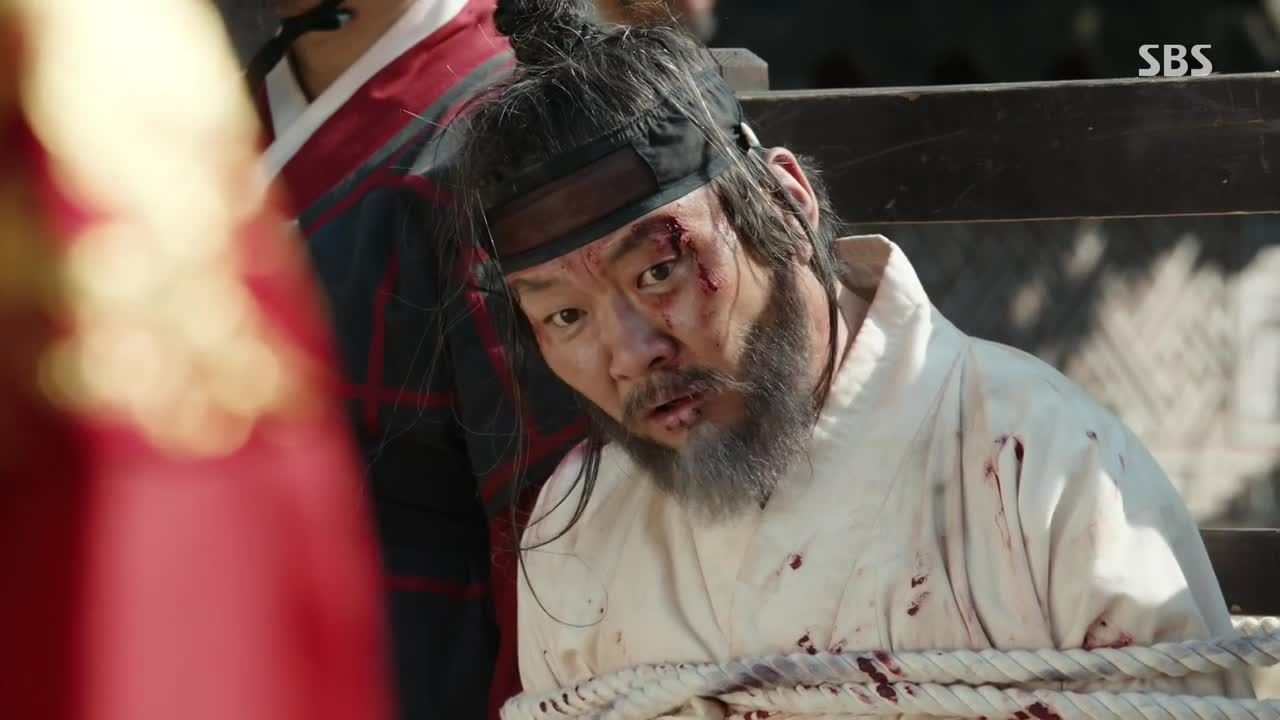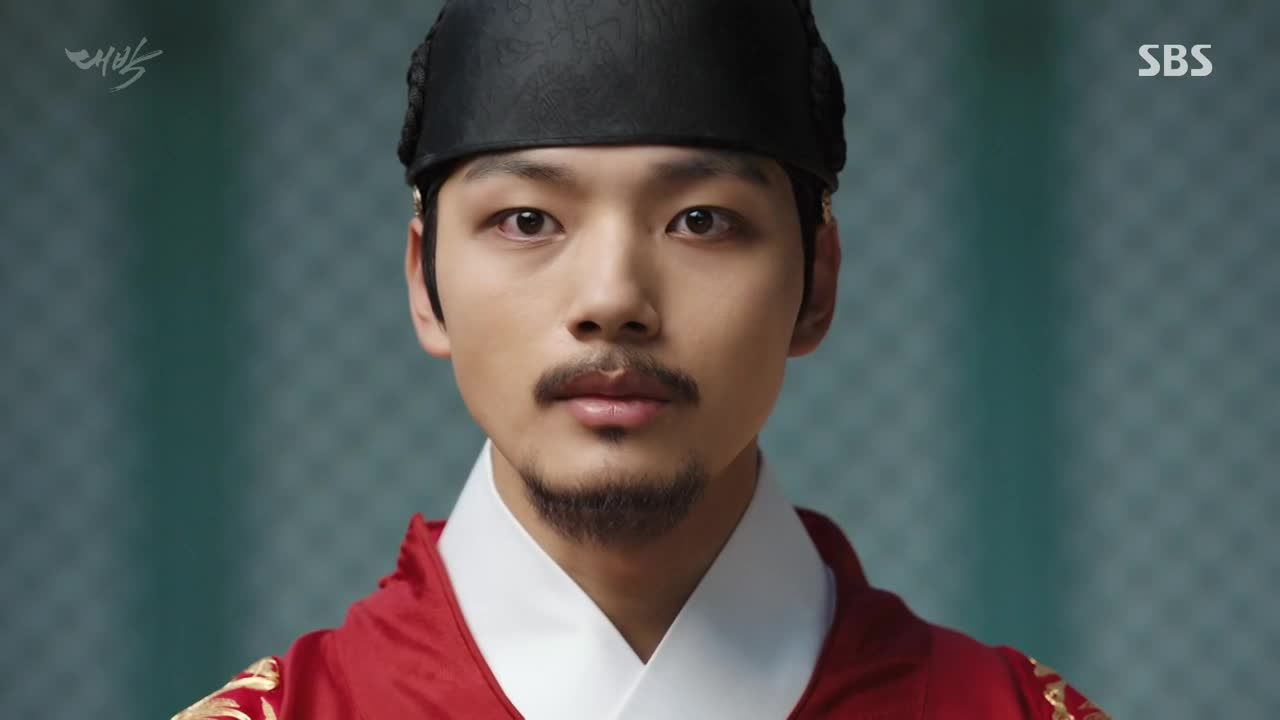 Minister Jo Il-soo shakily admits that he has seen that court lady around the queen dowager's quarters, leading King Yeongjo to the conclusion that the queen dowager was behind all this. He can only ask them why they did what they did—did they honestly think the queen dowager would be able to save them? The torture is resumed under the king's orders, and for good measure, he orders that even the most distant relatives of the ministers be gathered up and punished.
Madam Jeong kills herself before the king's guards can reach her, but it's the king himself who bursts into Queen Dowager Seonui's quarters with a sword in hand. When he asks why she killed his son, the queen dowager answers that it's payment for the pain of losing her husband. (She blames Yeongjo for his death.)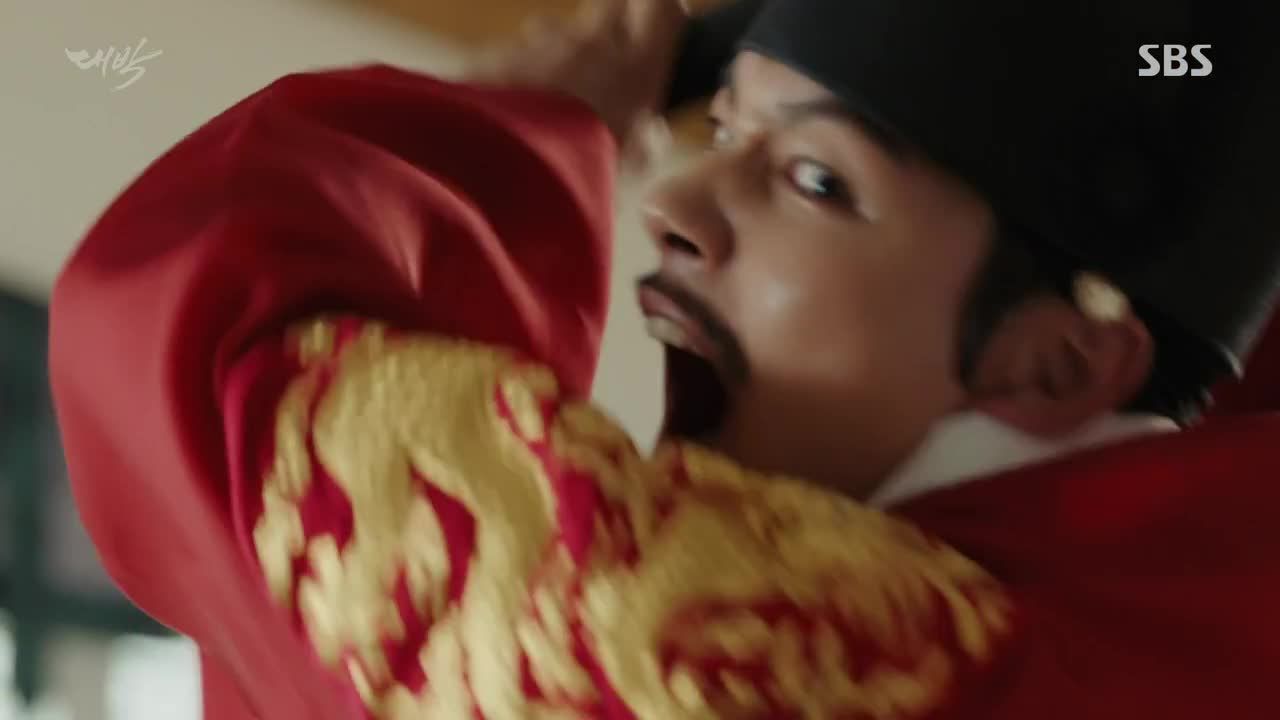 King Yeongjo wants very badly to kill her, but drops his sword and orders that she be exiled instead. If she ever steps outside her place of exile, then all bets are off.
Despite the strict laws governing the neutrality of the historiographers who were at that time compiling what would become the Annals of the Joseon Dynasty, King Yeongjo overrules their authority and personally burns all records of Yi Injwa and the rebellion. He wants no trace left behind that Injwa ever even existed.
Chae-gun has to again caution Dae-gil against taking action when it comes to the families of the Soron traitors being arrested, and tells him not to concern himself with political affairs any longer. Dae-gil doesn't know the pain of losing a child, he adds, so he can't do anything for the king.
King Yeongjo eats a sad, lonely meal, and thinks about how Nameless cursed him to a life of loneliness. But he also thinks about how he's not in a position to be sad, so he holds his sadness in and instead asks the spooky twins to update him on the nation's affairs. All's quiet, they say, except for one thing…
Cut to random citizens lauding Dae-gil, who's become like a superhero to the people, and who they now think should be king. They've heard the rumor that Dae-gil is actually the king's son, so why not?
The new ministers in King Yeongjo's court call on the king to have Dae-gil arrested, and so the king orders the arrest and execution of Dae-gil. When the ministers start shuffling around nervously in response, he deadpans, "What. Is that not what you wanted." (Is he punking them right now? I can't tell.)
Flash back to all the happy memories King Yeongjo and Dae-gil shared, as the king arrives in disguise at Dae-gil's village to meet with his brother. "I have come to kill you today," Yeongjo tells him, before adding that there's been talk of a man acting like a king when there's already a king on the throne.
Dae-gil just sighs that the king can stab him if he likes—he can't control the people's feelings. (Translation: "I'm sorry I'm so popular!") But the king wants him to say how he really feels, and whether he truly feels like a king.
With a shrug, Dae-gil admits that he doesn't know. Maybe things would be different if King Yeongjo wasn't his little brother, but Dae-gil knows that those same people who want him to be king now would be unhappy if he actually stole the throne away from Yeongjo.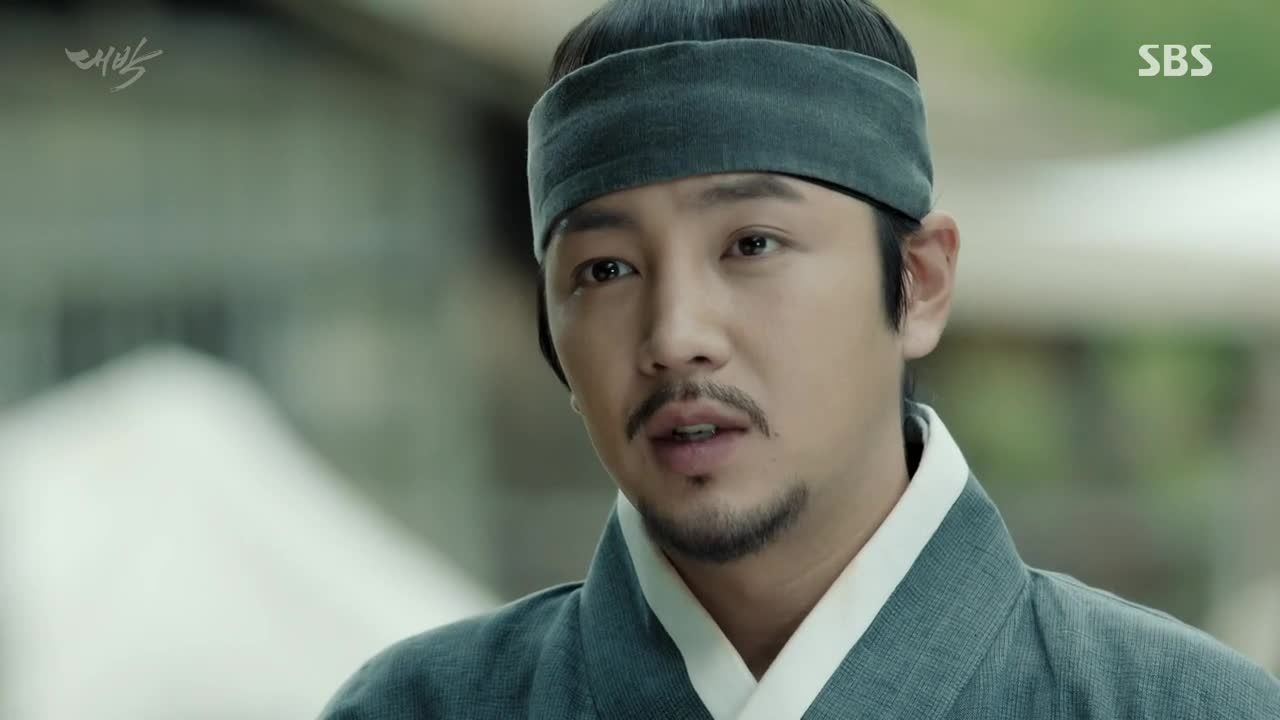 They like him now because he's one of them, and that's how things should remain. "You should have more confidence as a ruler," Dae-gil adds, which seems to cool the tension between them.
"What will you do now?" King Yeongjo asks, not as a king, but as his brother. "I am but one of many citizens of this land," Dae-gil replies with a sigh, as if he needed to sound more like a tool. He says he'll live simply, maybe play tujeon once in a while, but otherwise, he'll just live.
King Yeongjo smiles to see this side of Dae-gil, the side he remembers. "I miss those times," he says, and Dae-gil echoes the sentiment. "Will those times ever return? The times when we laughed, and gambled… times like that," Yeongjo muses. Dae-gil doesn't have an answer.
Chae-gun respectfully resigns from his post due to old age, leaving King Yeongjo to sigh that the throne has become an even lonelier place for him now.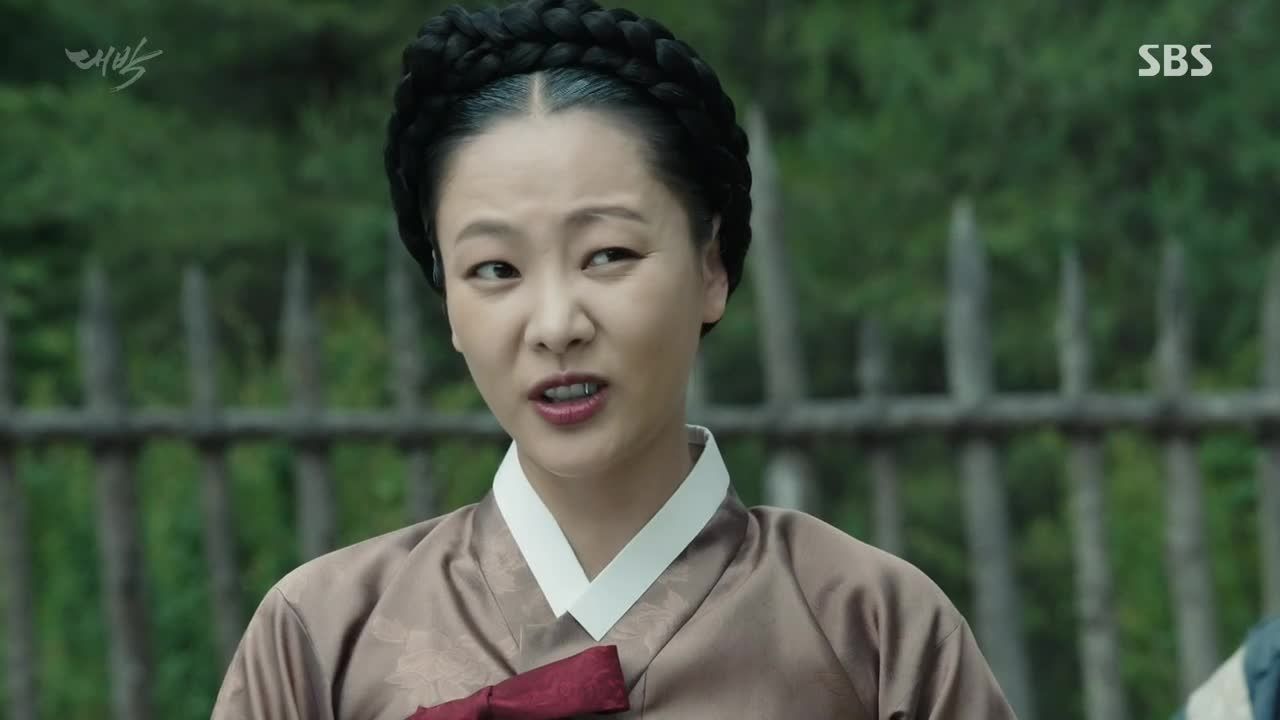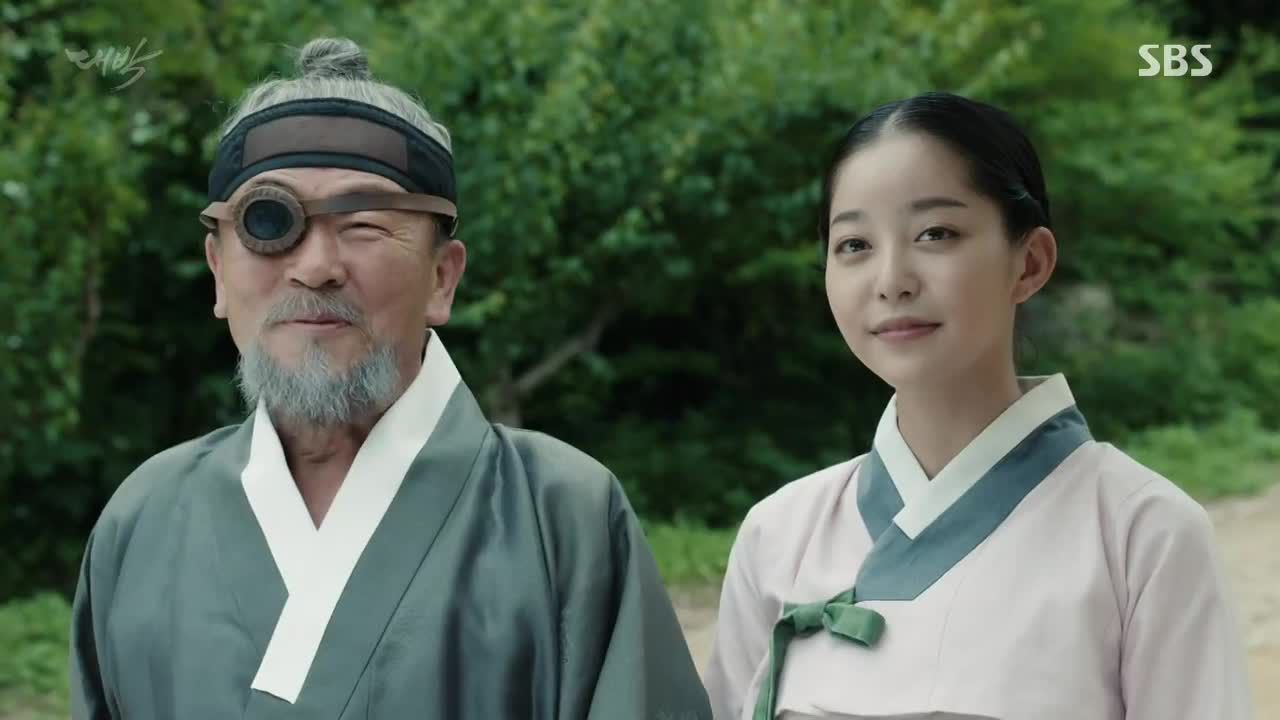 Back in Dae-gil's village, there's good times to be had for all. Grandpa and Man-geum can't help but wonder where Dae-gil's gone off to—he's supposed to get married to Seol-im tomorrow. Man-geum promises to find his errant son and drag him to the altar in time.
Hong Mae and Yeon-hwa come to the village bearing gifts and tidings for Dae-gil's wedding, but Grandpa says they have no need of all those things when they'll be leaving to a far-off place soon. They don't say where, or why, only that they can't keep living there for whatever reason.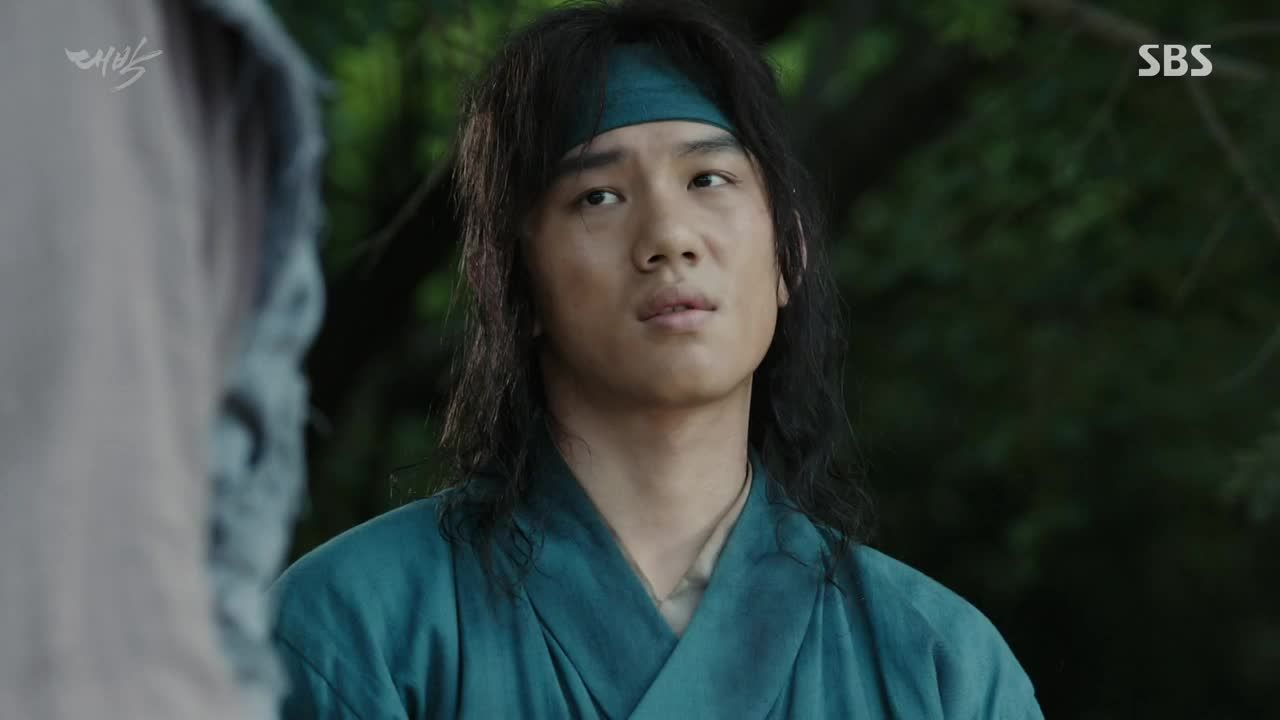 Despite his age, Chae-gun is still as sharp as ever, and takes particular pride in besting his own (very, very grown) son at archery. His son asks if his father has any pupils who managed to live through his training, and Chae-gun mentions Dae-gil.
"He became a great tiger," Chae-gun says of his former pupil. He was trusted by the king and beloved by the people, he adds, though he doesn't answer any more of his son's questions. He just chastises him like a father and smiles instead.
We find Dae-gil meeting King Yeongjo (in disguise) at the top of a hill overlooking the capital city of Hanyang—…

COMMENTS
That's it. The camera pans around them, they say nothing, end of show. Maybe they were trying to go for poignancy there, but at that point, it would've been nice for them to share at least one word so we'd know what the meeting was about. Instead, we got two characters overlooking a pretty vista just because, and it ended up being a scene for the sake of it. An unfinished one, at that.
But leave it to Jackpot to be vague until the bitter end, I suppose. It could be worse (it could be Sword and Flower, though I guess that's a pretty low bar), but it always gets me when a finale fails to do the one job it has to do. There is a certain amount of fun in leaving certain threads up to the imagination, since everything doesn't need to be tied up into a bow, but I don't understand why the show would go out of its way to introduce new plot threads only to leave them unresolved. It had nothing but time to resolve all the things when it resolved its central conflict in the first ten minutes.
For instance, what was the point of having Dae-gil & Co. plan this uber secretive move for equally secretive reasons? Why even introduce the idea that Dae-gil's absent a day before his wedding without offering even a hint of resolution? If the point was just to have a fanservice ending where Dae-gil ends up married to a girl he barely interacted with during the second half of the series, then it would've been more practical for them to have been married during the time skip, wouldn't it? It's not that it's such a big deal that we don't know whether he was going to show up to his own wedding—it's mostly just bizarre that it got thrown into the mix like it was supposed to mean something, only it didn't have the time to mean much of anything.
All told though, I'm half-surprised, half-thankful that the show didn't do something even crazier with its last moments, since it didn't exactly have a track record for making the most logical choices. But because Jackpot operated on its own internal logic, which it refused to let us in on and negated regularly, it was nearly impossible to watch with any sort of investment. I always felt like an outsider looking in, because while there's mystery, and there's intrigue, there's also just not knowing why anyone does any of the things they do. Having that constant worry, the why-is-this-happening kind, really does act as an impediment to the overall enjoyment of a show, and I just don't buy the argument that there's a level of brain cells needed to enjoy entertainment, like the height requirement on a roller coaster ride. In the end, it comes down to what worked versus what didn't, and there was honestly a confusing mix of both here.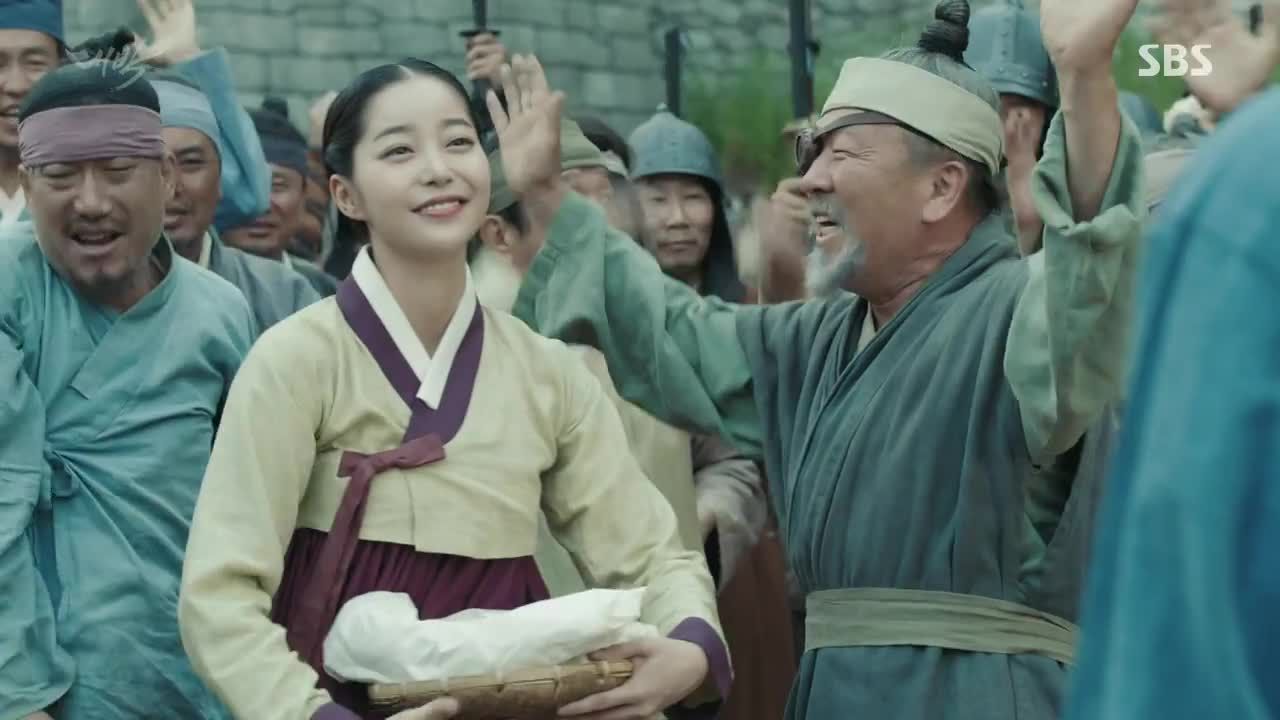 Even if we overlooked every single gap in logic, the story we'd be left with still wouldn't be a very engaging one, and I think most of that fault lies with how ambiguous Dae-gil turned out to be. Out of all the characters presented, King Yeongjo was the only one who seemed to get something resembling an arc, even if I really couldn't get a read on him threatening to kill Dae-gil for being too popular during that one scene. If it was that he actually believed Dae-gil was a threat and did mean to kill him, then I'd be sorely disappointed in him. If it was that he was just looking for an excuse to see Dae-gil and didn't believe all the nonsense, then it'd all be okay. Suffice to say, Yeongjo's got one hell of a poker face.
Luckily for Yeongjo, we were constantly getting glimpses of what was going on inside his head, and knew the kind of internal wars he was waging without Chae-gun having to constantly spell it out to a sometimes alarmingly clueless Dae-gil. Yeongjo was someone, even if that someone changed dramatically over the course of one series. The problem with Dae-gil was that he didn't feel like anybody, and the show did him a grand disservice by trying to make him into everybody. He was so much better off when he was an invincible youth and errant gambler, because he wore his heart on his sleeve and knew what he wanted. But somewhere in there, Dae-gil 3.0 emerged, a Dae-gil that was so by the people and for the people that he had nothing to call his own—not even a personality.
Which isn't to say anything about Jang Geun-seok's performance, which was admirable despite his character coming from a black hole of a script where action and consequence went to die. In the end, that's really what ruined the experience more than anything else: the idea that consequence is selective and based on the whims of the script. Not fate, not characters, not the world they live in—a character only faced the consequences of their actions when it was convenient for them to do so. Or maybe comeuppances were decided by coin tosses and we'll never know.
On the bright side, the performances were strong enough to elevate the material—it's just a shame that the material didn't do more with them. Yeo Jin-gu was a particular standout, and, like Choi Min-soo, frequently seemed to be adding more to the role than what was on the page. Jang Geun-seok's smooth velvet voice belongs forever in sageuk, and Ahn Gil-kang is one of those actors that makes anything that comes out of his mouth sound like perfect sense. Or, as Injwa would put it, "It's not that the script is full of contradictions, it's the world that's full of them."
R.I.P. Injwa. Rest in pieces.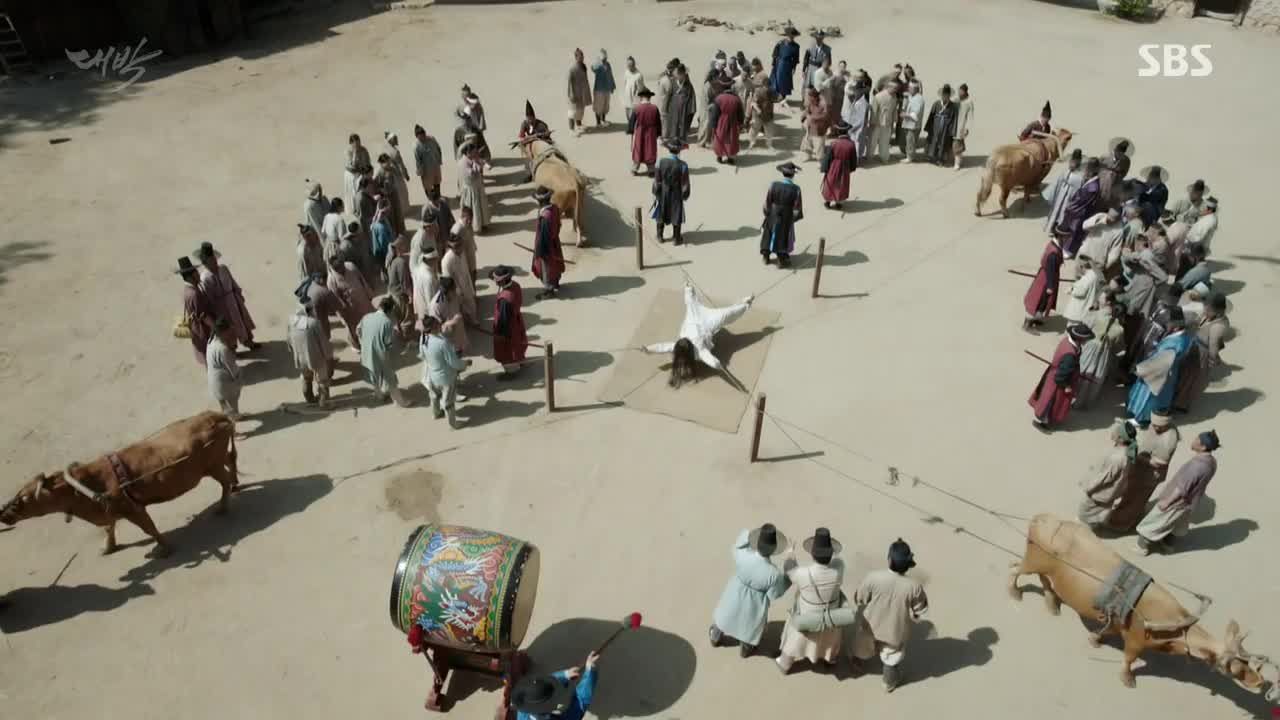 RELATED POSTS
Tags: Episode 24, featured, Jackpot, Jang Geun-seok, Yeo Jin-gu