Kim Myung-min fights corruption in crime movie Proof of Innocence
Kim Myung-min's (Six Flying Dragons) new crime action film Proof of Innocence (also called Special Investigation: Letter From a Death-Row Inmate) is coming out this week on June 16. In it, he plays former cop-turned-legal broker Choi Pil-jae, and Sung Dong-il (Answer Me 1988) plays his friend and sometimes partner, former prosecutor-turned-lawyer Pan-soo.
The plot goes a little like this: Choi Pil-jae was originally this law-abiding model policeman who was shattered by the betrayal of his closest friend, which resulted in Pil-jae leaving the police force in dishonor. Now, he's become a cynical crimes legal broker who hires out to the highest bidder without regard for true justice. Essentially, he helps criminals or those accused of crimes get out free or at least with a lighter sentence.
One day, Pil-jae and Pan-soo receive a letter in the mail that asks for their help solving a murder case. Not just any murder, but the horrifying death of the daughter-in-law from a prominent chaebol family. This letter is from death row inmate Kwon Soon-tae, played by Kim Sang-ho (Lucky Romance), who claims that he has been framed. Initially, Pil-jae just wants to take the case because he wants revenge against the head cop on the investigative team, who happens to be his old friend and arch nemesis.
However, as he delves more into the case, he comes to know and sympathize with the struggles of Soon-tae's daughter (played by Kim Hyang-gi, Queen's Classroom). So he becomes emotionally invested in discovering the truth behind the murder, and as he uncovers more layers of conspiracy, he finds that everything seems to be related to this one wealthy old lady. Kim Young-ae (Kill me, Heal me) plays the mysterious lady who keeps an elegant facade while hiding her greedy conniving heart.
Critics and reports have been comparing Proof of Innocence to last summer's Veteran that featured Hwang Jung-min as the little guy going up against the corrupt and wealthy system. In fact, lots of people are skeptical as to how Proof of Innocence is going to distinguish itself from the myriads of successful predecessors like Veteran and Violent Prosecutor that have tackled the same subject matter.
This is where I think Kim Myung-min's power comes in. No matter how recycled the plot, a story can find new life with a fresh cast that has great chemistry with each other. Knowing method actor Kim Myung-min, we can look forward to a spectacular performance; and with Sung Dong-il and Kim Sang-ho there to provide delightful comedic and dramatic highlights, we can hope to expect an underdog crime-legal film with a slightly different twist.
Proof of Innocence hits theaters June 16.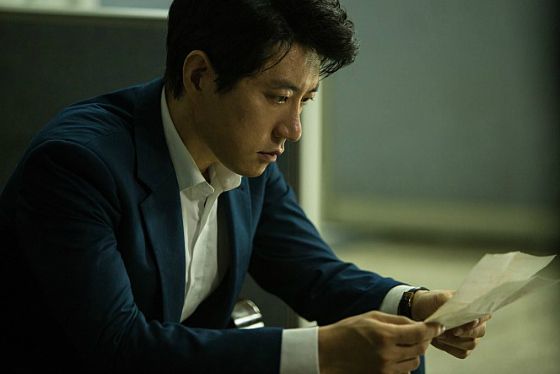 Via Segye Daily, KH Sports
RELATED POSTS
Tags: Kim Hyang-gi, Kim Myung-min, Kim Sang-ho, Lee Young-ae, Sung Dong-il