Lucky Romance: Episode 3
We wrap up the setup now and set the stage for the real conflict/scheme to get going, which means that I'm looking forward to tomorrow to kick us off on our heroine's comic foibles. It also means that this episode was still getting the characters where we knew they were heading all along, which felt a bit unnecessarily slow. On the downside, that means it's more of a perfunctory episode than a must-see comic romp. On the upside (I hope?), now that the table is set, we can turn our attention to the fun stuff.
Episode Grade: B-

EPISODE 3 RECAP
Tennis star Gary/Gun-wook shows up for his date with Bo-nui and knocks on her door, all smiles. Bo-nui, on the other hand, is all panic at the thought of being seen with another guy, fearing it'll ruin her date and lose her tiger man, so she shoves tech genius Su-ho inside and claps her hand over his mouth.
She yells out that she's not ready yet, and Gary says he'll be waiting outside. Meanwhile, Su-ho shakes her off and tries to leave, although Bo-nui grabs him back and frantically explains that this is a really important date and she can't have Gary misunderstanding the situation.
Su-ho finds the idea silly that they'd be mistaken for a romantic couple, and breaks down her argument with his cold logic before pushing his way out the door. But there's nobody in the hallway—just the bouquet of flowers Gary had brought.
Bo-nui slumps in dejection, blaming Su-ho for messing things up, pointing out that he could have just stayed quiet for five measly minutes. "Do you even know what opportunity I just lost?" she asks, thinking of her comatose sister.
Su-ho isn't exactly mean, but he certainly lacks for empathy, and he says that since her date is ruined, she could at least call her boss for him about that game. At her affront, he asks blankly what's wrong with his request, telling her to explain it logically.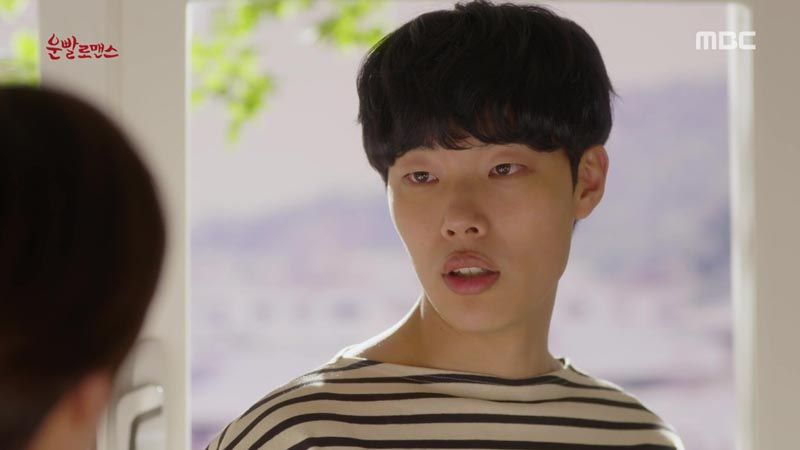 Bo-nui tells him not to nitpick logic with her, bursting out, "According to logic, I'm living absurdly anyway!" So she knows. She asks him to leave, shutting the door on him just as he's about to ask her to call her boss again.
Bo-nui hurries to get dressed and runs outside, but there's no sign of Gary. She thinks of Su-ho huffily and wishes for him to get struck by lightning on a clear day.
…and across town, a sudden clap of thunder sounds as a bolt of lightning flashes in the clear blue sky, over Su-ho's head. Heh.
Su-ho returns to his office and tells his team they'll be taking the sports game concept into virtual reality. His employees take to the idea with excitement, amazed that the genius could come up with such a great idea in so little time. Dal-nim beams up at Su-ho, happy that he recognized her friend's talents despite Bo-nui's quirky ways.
But he has no luck getting hold of Bo-nui's boss, President Won. Then his friend/stockholder/barista Ryang-ha complains about the stockholders meeting he just attended where everyone was up in arms about the company's dip in stock value. He assures Su-ho that he'd told the others that a really awesome new game is in the works. No pressure or anything.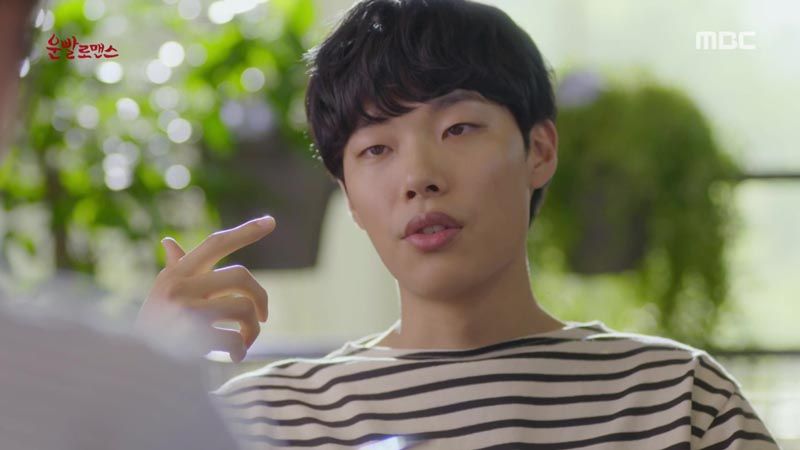 Su-ho complains about how his talk with Bo-nui went nowhere, since she's utterly lacking sense. Ryang-ha immediately guesses that Su-ho probably talked down to her and ranted about logic as he usually does, and asks how far he put his foot in it—did he go into an argument about astrophysics, or was it biology and DNA this time?
At least Su-ho seems to recognize truth when he's called out on it, and flashes back to his comments to Bo-nui about animals and mating, though he brushes them aside. Then when a reporter tries to ambush him in the lobby for an interview, he ignores her and asks for stricter security.
It turns out Gary had his own reasons for leaving the date, as he meets with a friend of his father's. A flashback shows us how they'd first met, when Dad's Friend had approached Gary after a winning match. At the time, Gary had been cool to the idea of his biological father, whom he hasn't spoken to in thirteen years. Dad's Friend had pressed an envelope into his hand, telling him that the contents would reveal his father's feelings. Gary had tossed the envelope in the trash in front of the man, but later retrieved it to find several CDs containing footage of his tennis matches.
Now, Dad's Friend explains that his father had asked him to send the footage to him since 2003, shortly after Dad had been forced out of his job. That's not the story Gary knows, but the friend says his father must have been unable to admit he'd lost his job while the family was living abroad in Canada.
That night, Su-ho watches over the If game simulation, and suddenly imagines Bo-nui's face in his opponent's mask. That flashes him back to that first night they'd met, when he'd helped her home and she'd refused to let go of him. The memory of Bo-nui lurching forward for a kiss has him recoiling in horror now.
Su-ho gets called to the lobby by security to deal with his drunk, belligerent father. When Su-ho shows up, Dad starts in on a tirade that seems to be familiar, insulting Su-ho for being rude and uppity. Su-ho tells him to pick one or the other: "If you're going to insist I'm your son, take money and go. If you're going to say I'm not, then erase me from the family register."
Su-ho stands there stoically while his father goes ballistic, slinging sarcastic insults and dramatically playing the victim.
It flashes Su-ho back to a childhood memory, when he'd grown up in a working-class seaside town and amused himself working out complex math equations on his own. His father hadn't liked seeing him taunted by other boys and had forced him out to sea, insisting he learn to swim. Su-ho had cried and begged, but his father had tossed him into the water alone, leaving him to flail and sink.
Now, Su-ho sits huddled on a dark staircase in the empty building, reciting multiplication tables to calm himself down.
Bo-nui waits outside for Gary all day, worried that he left feeling upset, so when he shows up and apologizes for leaving because of a sudden call, she brightens considerably. Then he gallantly offers his jacket to her and suggests going out now, and she thanks the gods for sending her such a wonderful tiger.
They walk along a cherry-tree-lined street with blossoms raining down on them, and Gary stares so intently that she gets unnerved. She stumbles in her nervousness and he catches her around the waist and leans in… though it's just to remove a flower petal form her face.
She's surprised when he uses her name, and it's now that he launches into a childhood chant and jogs her memory—it's Gun-wook, the little boy who used to live on the floor below hers. Calling her noona now, he calls it fate that he should return to Korea and find her still at the old house. He's so pleased to see her again that he gives her a warm hug.
Bo-nui remembers the little boy she used to watch over, and chides him for lying to her about who he was and his age. He explains not revealing himself right away because he was disappointed she didn't recognize him, and asks after her family. She explains how her parents died and her sister's unwell, and then tells him that while she's really very glad to see him, there's something she suddenly has to do.
She hurries away from a bewildered Gary and sighs to realize he isn't her tiger after all, since he's in fact two years younger.
The next day as Su-ho bikes to work, he runs through his options regarding his game launch problem, and the scenery around him lights up and works its way into his flowchart. He concludes that Genius II is not a feasible project to push, and that Bo-nui's "If" game is a good prospect. Unfortunately, things aren't looking good on that front either, and the street sign over his head switches to read: "I. Am. Screwed."
As he locks up his bike, a voice calls out from behind, and it's sports agent Amy/Seol-hee, smiling expectantly. Su-ho looks right through her and passes by, and she identifies herself in surprise, reminding him that they used to be such friends. Su-ho cuts her off to ask if there was anything worth remembering between them, and says that perhaps there was something terrible, because he makes it a point to forget bad memories quickly.
He stalks off coldly… and then breathes in big nervous breaths as he rounds the corner. He's so on edge he snaps at the person who taps his shoulder, only to find that it's President Won, whom he's been so desperate to track down.
President Won is willing to license If to Su-ho, with a catch: Bo-nui has to be part of the deal. Su-ho tries to decline, saying that they're willing to pay handsomely for the rights, but President Won insists that they won't be able to make the project work without her. He's not interested in moving forward if Su-ho rejects that condition.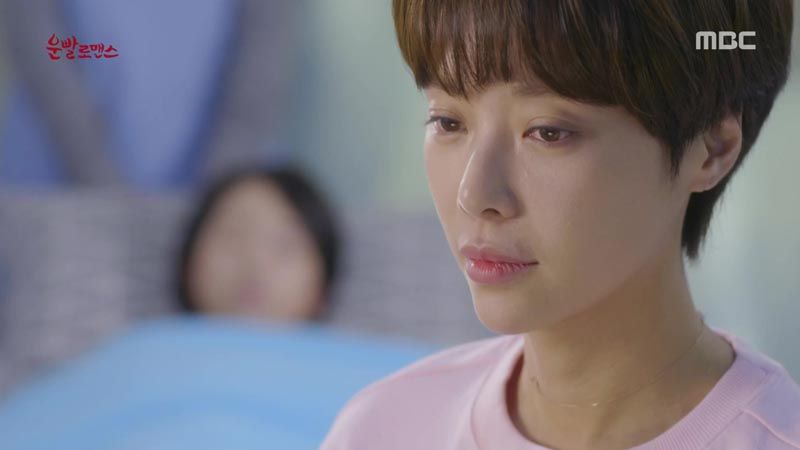 Bo-nui checks in on her sister from her rooftop, able to see into her hospital room via binoculars. She sees Bora being wheeled out of the room and runs for the hospital in a panic, only to be told she's just been taken for a routine test. Bo-nui keeps her eyes carefully averted and resists looking at or touching her sister, fearing bad energy will have an ill effect. Adding to her troubles is a bill for accumulated hospital fees, which is approaching 5 million won (just over $4,000).
While contemplating the condition to guarantee Bo-nui employment for three months, Su-ho looks down on the bicycle figurine on his desk, which sends him into a flashback. As a nerdy 17-year-old, he'd never learned to ride a bike, so it was Amy who'd taught him how. It looks like he'd had a crush on her, but one day when he'd gone over to her house with flowers, he'd found everything cleared out and emptied.
The memory is a sore one, and Su-ho tosses the bike figure into his desk drawer.
But he's not the only one resistant to the idea of bringing Bo-nui onboard at Zeze Factory, because she's just as reluctant. Her friend Dal-nim urges her to think of Bora's hospital bills and stick it out for three months, but Bo-nui reminds her what Zeze means to her.
A flashback takes us back to the day of Bora's accident, when Bora had urged her sister not to go to that job interview at Zeze—she'd had a bad dream the night before, just like the bad dream she had before their parents died. Bo-nui had waved it off, then ignored Bora's call while finishing up her debugging test. So Bora had started texting a response instead, and when she'd paused to retrieve her fallen umbrella in the street, she'd been hit by a car.
Bo-nui refers to her fortuneteller for advice, and on his recommendation, she agrees to the job but goes through a thorough purifying routine, which entails sneaking through the building at the crack of dawn to scatter salt and sneak a talisman underneath the CEO's desk.
What she doesn't know is that Su-ho sleeps in an alcove in his suite, and he wakes up to see a white-robed figure moving through his dark room. He squeezes his eyes shut and nervously tells himself he's just seeing things, muttering, "There are no such things as ghosts, there are no such things as ghosts…"
He musters up the nerve to take a look, just as Bo-nui looks over at the source of the muttering, and they scream. Su-ho ends up huddled over like a baby, and Bo-nui half-lies that she's just here early to get acquainted before her first day of work.
Later that morning, she's introduced to the rest of the team, who receive her warmly, albeit with some confusion over her massive collection of good-luck charms and piles of salt. Dal-nim urges her not to be so strange, just as coffee shop owner Ryang-ha lights up to see a new female face and gets hilariously smarmy.
Dal-nim hurries her friend away, telling Bo-nui that he's like that with all women, and Bo-nui pauses to ask how old he is. Ryang-ha puffs up at what he reads as interest and answers 33, at which Bo-nui immediately leaves. Ha. (Tigers would be 30 years old.)
Throughout the morning meeting, Bo-nui eyes the others, wondering if a tiger could be among them. The team struggles to find an appropriate subject for their game—they want a hot star whose personal and professional life would be a draw for players. They land on tennis star Gary Choi, and although he's deemed a tough sell because he's famously private, Su-ho makes the decision to go with him. They'll just have to make it happen.
That night, Su-ho works while watching clips of Gary's tennis game, and in his sleepy state, he doesn't realize what he's typing until he looks at the random text he's typed: "Shim Bo-nui, Shim Bo-nui, strange woman, she's a problem, strange strange strange…"
Bo-nui runs into Gary on her way in, and he insists on inviting her in, while agent Amy looks askance at both of them. The first thing Bo-nui notices in his apartment is the bad feng shui around his bed, and at her direction, they move it into a more favorable position, which Amy practically rolls her eyes at but which Gary takes to with enthusiasm, since he's pretty superstitious about his sports rituals. When he invites her to eat dinner, she excuses herself, though, saying she has things to do.
Amy advises Gary to be careful, thinking his old noona might angle for money. Gary replies that Bo-nui doesn't even know what he does, warning Amy not to talk that way of her.
Bo-nui's busy plans involve going online to a chat room to look for tiger men. She starts up a conversation with one and asks for proof of his tiger status… and gets back a NSFW pic instead. Ha. Well, in the perv's defense, it's not like her question doesn't sound suggestive.
The mood at the office starts out cheerful enough the next morning, until a chic older woman steps in and everyone snaps to attention. It's Su-ho's mother, and they're well aware that every time she drops by, she leaves him in a terrible temper.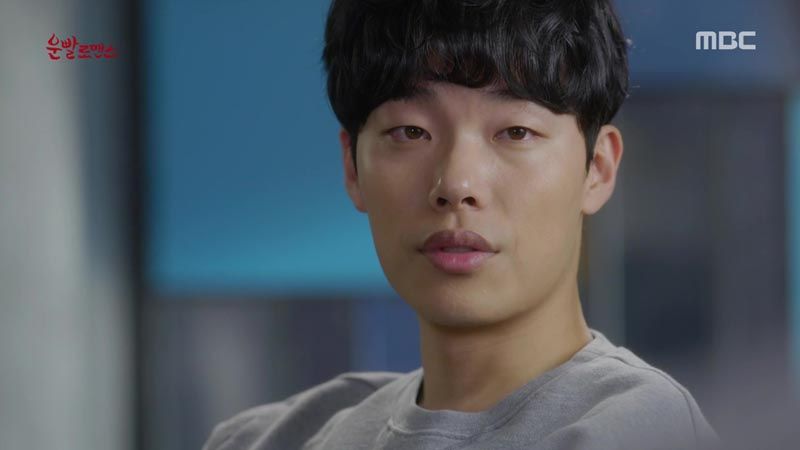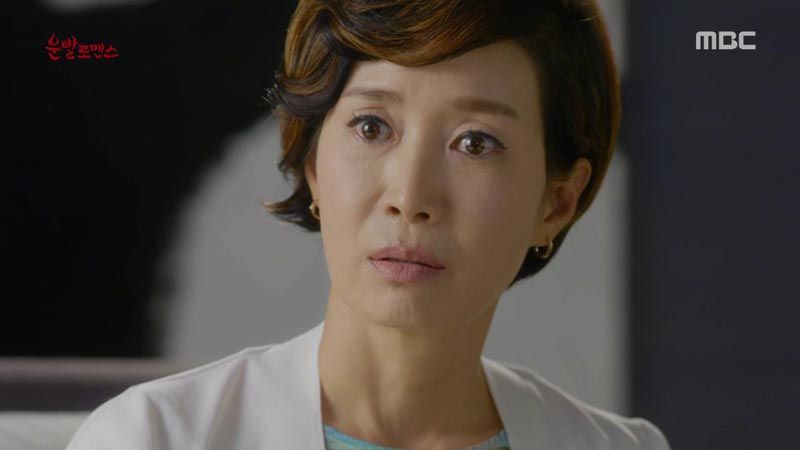 Mom starts out in a wheedling tone, telling Su-ho that she scolded Dad for getting drunk and causing a scene at the office. She mentions the Russian pirating of his game and says she's worried about him, but Su-ho has little patience for his mother and tells her not to come to the office. He hands over some bills and tells her to go shopping, and Mom looks hurt for a second before pushing that aside to take the bills and say she's used to his thorniness.
She also leaves him with a good-luck talisman, which makes him sigh in exasperation, though she tells him he's free to throw it away. He does at first chance.
Bo-nui gets busy right away by going around talking to all the employees, offering to read people's horoscopes and asking their birthdates. She finally finds a tiger and perks up with interest… until he talks about his teenage child who's giving him fits. Su-ho notices her empty desk and sees her chatting up the employees around the building.
The pesky reporter makes a reappearance and approaches Bo-nui, who shows her inside not knowing of her history of trying to sneak in for stories. The team grabs the reporter immediately and snatches away her phone, assuring Su-ho that they got her in time. Su-ho isn't pleased, however, to hear that Bo-nui fell for her excuse to get inside and accuses her of being without sense and not earning her job through her merit. He points out how her seat has been conspicuously vacant all day, and tells her she's here to do work.
She returns to her desk feeling chastened and maligned, and rips up her employment contract. That night, she goes to her fortuneteller to report that there are no tiger prospects for her at the company, although he insists that there is—and quite close, at that. He warns that she only has until the next full moon.
Bo-nui leaves the fortuneteller just as another customer arrives—Su-ho's mother. Ha, I love that her takeaway from this is that Zeze is successful because of Mom's efforts to bring it fortune.
Bo-nui lingers near the door and hears Mom sighing about her awesome son who's so picky that he hasn't met his match yet. The fortuneteller informs Mom that a raccoon has already attached itself to the son, and speaks in what sounds like a metaphor (poking from side, climbing on his back, getting dragged along) but which we see are literal descriptions of Bo-nui manhandling Su-ho that night she was drunk.
Mom interprets this to mean that this pesky raccoon is the reason a decent woman hasn't had the chance to get attached to Su-ho, and asks what should be done to rid the raccoon.
Su-ho, meanwhile, heads out for the night and pauses at Bo-nui's desk, taking in her menagerie of good-luck animal charms—and then seeing her ripped-up contract in the trash.
The fortuneteller flips through his book, while Mom supplies her son's birthdate. And there he is, the tiger. Bo-nui gasps.
At the next team meeting, Bo-nui stares at Su-ho, trying to convince herself to see him as not a person but a tiger. He reminds the team they have three weeks to pull off this game launch, and checking her calendar confirms that this coincides with Bo-nui's full moon deadline.
Dal-nim pulls her aside to ask suspiciously if Bo-nui's got something else up her sleeve. Bo-nui denies it, and asks for advice on what Su-ho likes, playing it off like she wants to make amends for their bad start. At that, Ryang-ha perks up and is happy to insert himself into the conversation, painting himself as Su-ho's "guardian angel" who pulled him out of hell.
Ryang-ha informs her that Su-ho's favorite moment is when his coding is going well (which he calls code-gasm); aside from that, Su-ho's essentially asexual, with no interest in women. That makes Bo-nui's mission rather tricky, but she tells herself to think of a way.
Su-ho surprises her by handing her a fresh copy of her contract, having seen the ripped version.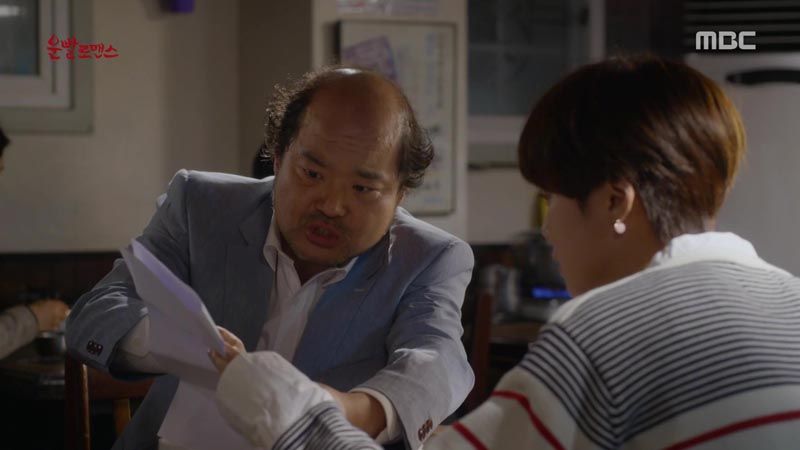 Bo-nui's boss drops by to take her to dinner, and it's only now that she realizes he had anything to do with her employment, since Su-ho didn't divulge the condition. Her boss adds that the back wages he owes her have also been settled, because he's signed over that amount to her in the contract. Which means that Bo-nui currently holds decision-making rights in the If licensing contract. Bo-nui's eyes light up with hope.
So she takes the contract to Su-ho to confirm the terms, and he listens impatiently as she goes through the items, pressing her to stop dawdling. Bo-nui indicates that if she fails to submit her employment contract, the If option contract is invalid. She does intend to sign, but with a condition. Su-ho yells at her to get to the point already, and she blurts, "Go out with me!"
She clarifies that she wants to date him for three weeks, just until If is released. Those are her terms.
Epilogue: Bo-nui leaves the fortuneteller in shock, now that she knows Su-ho is a tiger. She shakes her head, thinking she heard wrong, but looks over to see two children with a doll. The girl pulls the teddy bear's hood on and off, demonstrating how he goes from bear to tiger to bear.
That provides the kick to her memory she needs to remember that drunk night, when she'd run into Su-ho on the street and pestered him and climbed all over him, and he'd confirmed he was a tiger.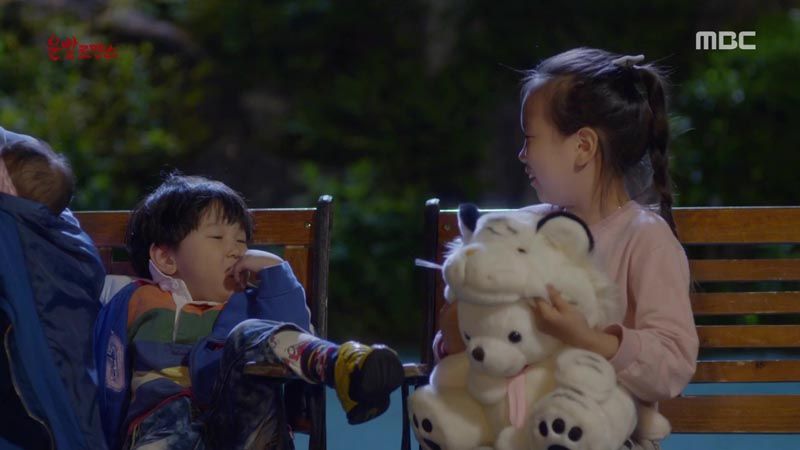 COMMENTS
I was trying to figure out all episode long why I felt so detached, because the show is very pretty look at, the colors are vivid and the lighting is strong and the directing pretty sharp. The actors are good, and the show has all of the elements of a funny, outrageous rom-com, with the cute graphic elements and quick camera work.
The problem is, it's just not very funny. I feel like it's such an obvious, easy comedic setup that it's kind of shocking that the show itself isn't very funny, but there you have it. I kept waiting for things to happen, and while rom-coms are often based on these kinds of premises, it's the romantic chemistry and the laugh-out-loud antics that keep you hooked… so when you have a drama with the trappings in place but not the laughs, it feels extra empty.
It's a shame, because I think the actors are doing a good job, adding more to the roles than perhaps is even there on paper. I'm intrigued by Ryu Joon-yeol's reading of Su-ho, who isn't a typical cold CEO boss and plays him with interesting flashes of vulnerability… and Hwang Jung-eum basically sells the show on her own, because she somehow makes Bo-nui feel genuine instead of nuts. But I feel like the directing is playing everything entirely too straight, too serious, and therefore we're taking this really entertaining comic idea and sucking the sparkle out of it.
It's not an acting problem—in fact, the acting is a notch above the material—but more of a storytelling issue, because I often really admire when the characters in a show remain fully invested in their emotions while the show itself is pulling off humor. I do hold out hope that Lucky Romance will get back around to comedy, because there were a few laugh-out-loud moments for me in the first episode, and I want us to get back to that now that the premise is essentially established. (Although: Why did it take so long to establish the premise? We were all watching for that premise, and it just took us forever to get there.)
If the tone finds itself again, I do think Lucky Romance has it in it to be a fun, light, and occasionally heart-tugging watch. (The fun and light comes from the setup, and the heart-tugging is all the actors. Sometimes I was even amazed that they could find what they did inside characters that could have been rather flat on the page.) I love the way it looks and the way it feels… now I just want the content to catch up. Be loud. Be weird. Be funny!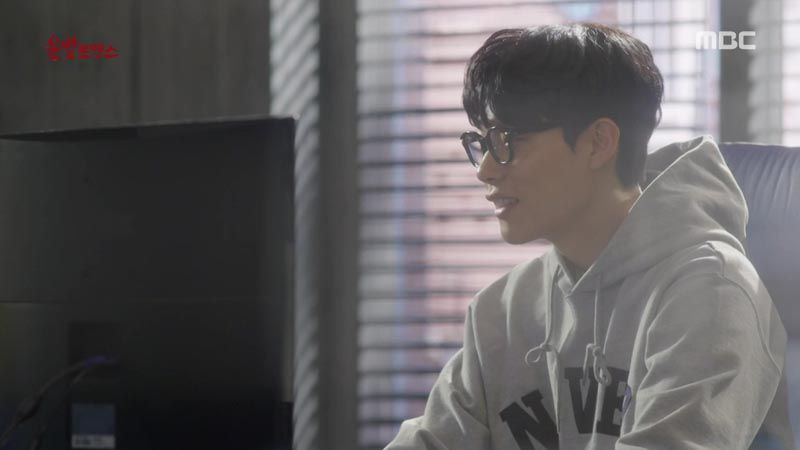 RELATED POSTS
Tags: Episode 3, featured, Hwang Jung-eum, Lee Chung-ah, Lee Soo-hyuk, Lucky Romance, Ryu Joon-yeol