Lucky Romance: Episode 7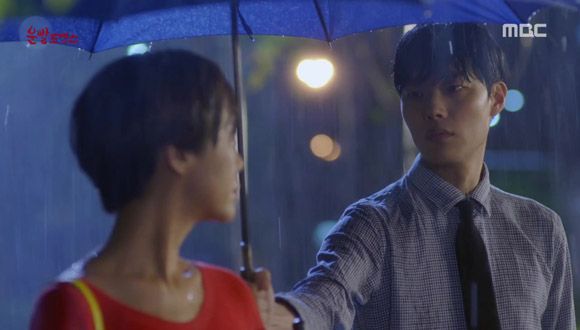 Today is a bit of a subdued affair, emotionally speaking, but it does give us some nicely rewarding moments of growth and understanding between characters. I do wish some of that growth and understanding would come on the part of our heroine, whose sweet character and personality makes me want to root for her, although her actions can be exasperating. This means most of the poignant moments come at the hands of our leading man, which makes for an unbalanced development but is, at least, still gratifying when we're talking about such an endearing hero.
Episode Grade: B

EPISODE 7 RECAP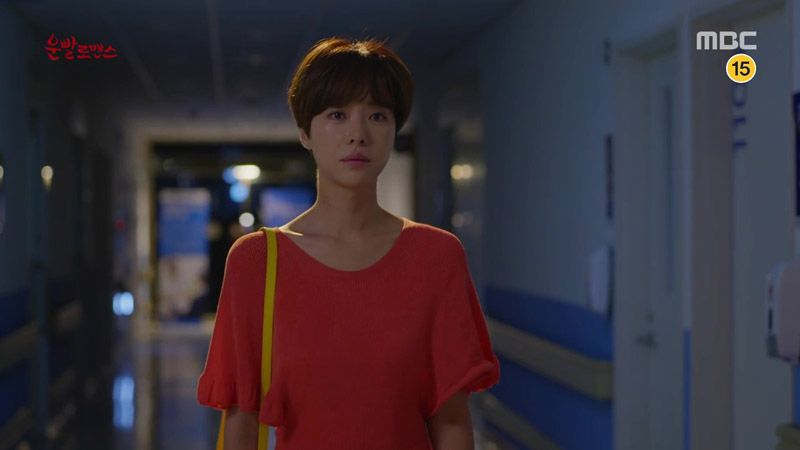 Bo-nui misses her deadline to snare her tiger and save her sister (by midnight), which sucks all the life out of her. She trudges to the hospital feeling bleak, where she finds Su-ho waiting for her, although she just turns away without acknowledging him.
She asks the nurse to be sure to alert her right away if her sister's condition changes in the coming days. Su-ho hangs back and overhears the exchange, then follows Bo-nui outside, looking on with sympathetic eyes. Bo-nui walks off in the pouring rain and thinks despairingly that she wishes everything were a dream.
Then, out of nowhere an umbrella appears over her head. It's Su-ho, who calls himself her walking, talking, umbrella-holding telephone pole (she'd called him that when drunk). Adding that he's a genius (because he can never turn up the opportunity to remind people of that), he says he has a lot of uses.
Bo-nui ignores him, though, and continues walking on listlessly. Su-ho just keeps following with the umbrella, a step behind.
Meanwhile, Gary waits at the bus stop for Bo-nui with an umbrella ready, worrying when she doesn't show. He knows tonight's her deadline and imagines her sleeping with Su-ho, a mental image that drives him crazy.
Bo-nui heads to a pojangmacha and drinks alone, while Su-ho takes a seat at the far side of the tent, keeping an eye on her as she gets increasingly drunker. When a group of office workers files out, one man hangs back and sizes up Bo-nui, joining her at the table.
She cuts to the chase, knowing where this is headed, and asks if he can handle her, slurring how she's got the worst luck in the world and that everyone close to her gets hurt. She declares that she's fine for a one-night stand if he's a tiger.
The man tries to escort her to a different location, which is when Su-ho steps in and pulls the man aside. Ha, I love that his answer to the "Who are you?" question is a matter-of-fact "I'm Je Su-ho, the genius."
Su-ho points out how the man isn't even trying to be careful picking up Bo-nui, noting his employee ID and wedding ring, and scares the guy into hurrying away. Then he peers over at Bo-nui and makes the funniest exasperated face at her.
Inside, she wonders drunkenly to herself where her tiger went. Su-ho stops her from drinking more and reminds her that her sister is alive, but Bo-nui asks if she's supposed to dance instead, while Bo-ra's still in a coma.
She stalks out into the rain and Su-ho chases after her with an umbrella. She knocks it aside angrily, saying that if he was going to help her, he should have done it when she begged. Su-ho fires back that it wouldn't have changed anything, and tells her to think reasonably now that midnight has passed. Furthermore, she should be relieved that she didn't get caught up in the secret sex tape.
Bo-nui's surprised he knows about that, and guesses that he reported the perps to the police. Far from being thankful, however, that angers her more; she asks why he keeps interfering, pointing out that it's none of his business, and that the downsides are nothing compared to the life at stake.
Su-ho takes this in, then grabs her wrist and starts pulling her along. "Let's go," he says. "The sun hasn't risen yet. I'll fulfill that wish."
Amy drops by to see Gary and is shocked to find him sitting in front of Bo-nui's door. He scoffs when she asks if he likes Bo-nui, saying that he's just worried about her.
Bo-nui protests as Su-ho pulls her along, and he stops to summarize the situation: She had to catch a tiger, but she didn't fulfill her crazy plan, and Bo-ra is alive. The logical conclusion is that her superstitious belief was wrong from the start, and he wants her to see reality.
Bo-nui replies that her reality is that the people she loves leaves. She explains how her parents died when she was sixteen, and now she's poised to lose her only sibling: "What am I supposed to do? I'm so terrified that I wish I could die first. Every day I'm on thin ice and I don't know when it'll shatter, so every single second is hell. This is my reality, get it? So she's alive today. Then it'll be tomorrow, or the day after."
She takes back her words from earlier when she'd blamed Su-ho, admitting that she was deflecting her own guilt. She tells him he'll never understand and asks him to leave her be.
Frustrated, he watches her go and exclaims that he wasted his time today, heading in the opposite direction… and then turns back to look for her again. He just can't seem to let her go off alone.
After a brief search of the area, Su-ho finds Bo-nui huddled over, humming to herself. He crouches with her and urges her home, but she says sadly that she doesn't want to go home and see all of Bo-ra's things. She doesn't have the right.
Su-ho ends up piggybacking Bo-nui to his place, and his attempt to set her down on the couch ends with her flopping to the floor. I love that he leaves her there, more because he doesn't know what to do than because he doesn't care, and then he runs around at a loss, gathering blankets and towels. He's so out of his element trying to take care of someone.
He pauses at one point to look at her tenderly, and reaches out toward her hand as though to touch it. Which is when, of course, he's interrupted by a phone call.
It's Ryang-ha, who's with the Zeze team, all of whom are wildly drunk from a night of celebrating. The team is insisting on crashing Su-ho's home, and Su-ho pleads with Ryang-ha to make sure it doesn't happen.
Turning back to sleeping Bo-nui, Su-ho pats her face dry with a towel and rests a pillow under her head. He peers down at her for a while, wondering what her life has been like.
In the morning, Bo-nui's the first to wake, and she looks over… to see Su-ho sleeping on the floor, next to her. Aw, did he fall asleep staring at her?
Su-ho wakes moments later, and immediately jumps into a nearby chair, as if he could somehow retroactively convince her he's been there the whole time.
In bits and pieces, Bo-nui recalls the events of last night with dismay. Su-ho tells her it's okay, but she insists there's no way it can be, understanding that she has upset and annoyed him repeatedly.
He starts to say that she can rectify it in the future, but she cuts him off to thank him, promising not to bother him again, even though it looks like he doesn't really mind so much anymore. She tells him to stay healthy in a tone of final goodbye and leaves.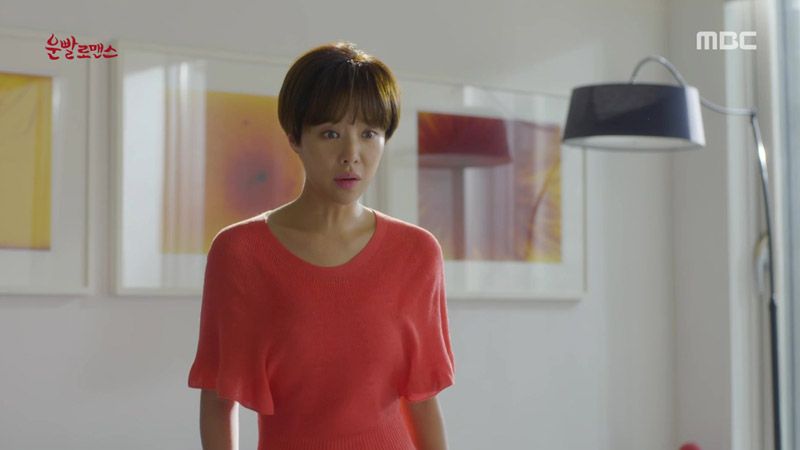 Su-ho cleans up after she leaves, muttering to himself about how strange she is, not even realizing that his distracted "clean-up" has resulted in all his furniture being pushed to one side in no reasonable order. Ha.
Bo-nui goes to see her fortuneteller, only to find that nobody's home, and is at a loss for what to do next.
Gary gets no response when he knocks on Bo-nui's door, but runs into her outside the building. Hearing that Bo-ra's okay but that Bo-nui didn't spend the night at the hospital, he puts two and two together and doesn't ask further.
But of course, he can't shake his curiosity, and wonders aloud whom Bo-nui spent the night with. He assures himself that there's no way Su-ho would have gone for it… then worries that Su-ho's baser instincts might have.
At the lobby coffee shop, Ryang-ha is his usual annoyingly teasing self with Dal-nim, who's huffy in response until Ryang-ha produces a pink diary and starts to read from it. Suddenly full of horror, Dal-nim makes ineffectual grabs to get her diary, which she'd dropped last night after drinking.
Ryang-ha gleefully reads her embarrassing entries, written with all the poetic angst of an emo teenager on Livejournal, full of flowery descriptions of her crush (Su-ho). Dal-nim insists the diary's not hers, then snatches it promising to find its real owner.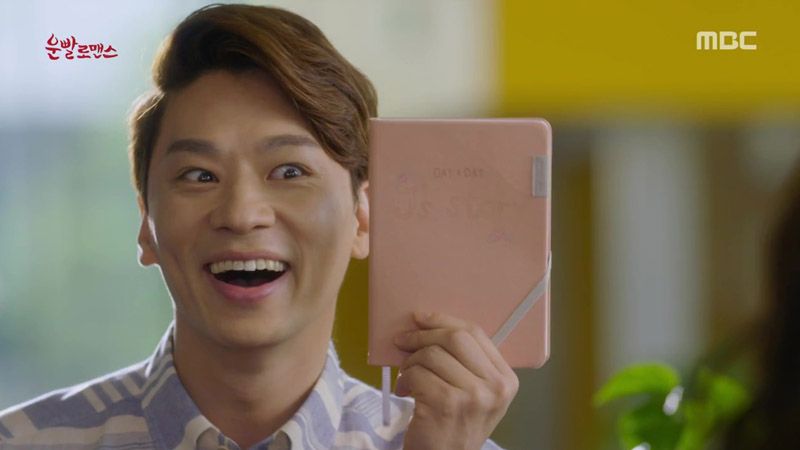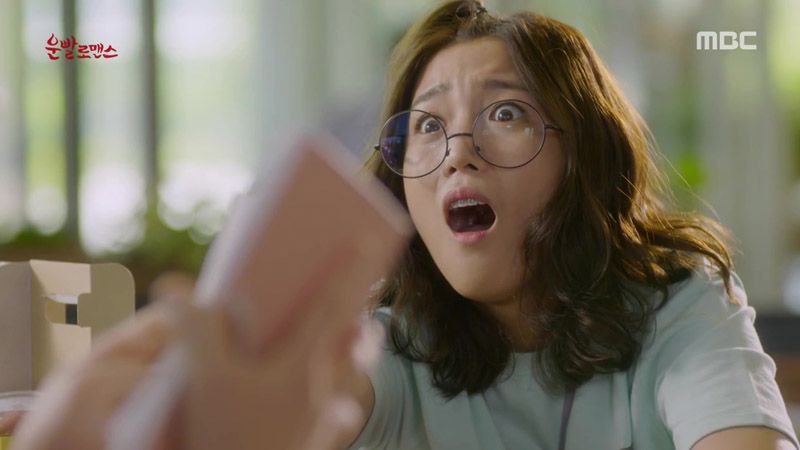 The countdown clock resets for the Zeze team, who now have 100 days to actually produce the game. They note that Bo-nui and Su-ho both skipped their party last night and are both absent now, wondering if something is going on. But as it turns out, Su-ho is already in the building—busy staring out the window, trying to catch Bo-nui's arrival. He heads out intending to go to her directly, mock-grumbling about how he's going to scold her, only to come face to face with Gary.
Ha, the mood is amusingly tense between the two men, who are both curious about the other but not willing to explain themselves. So Gary asks if Su-ho was with Bo-nui last night, acting the part of the concerned brother, and Su-ho replies vaguely about not talking about his employees' private lives. He says he knows about Bo-nui's sister and says that matters between him and Bo-nui will be taken care of between the two of them.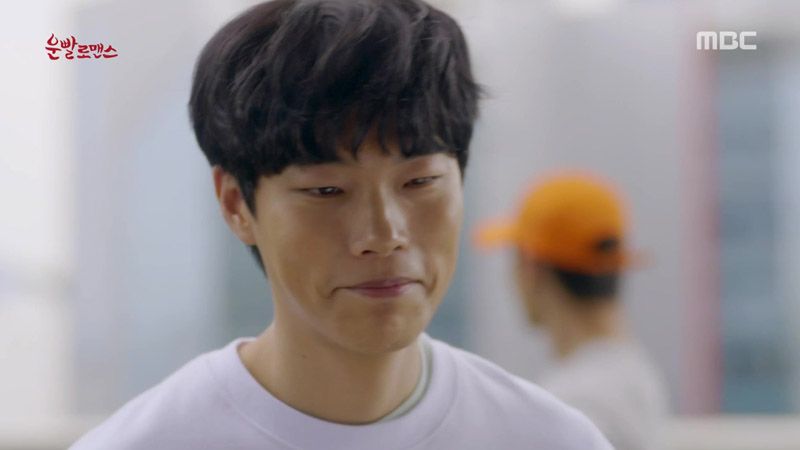 Su-ho tsk-tsks that Gary's image has just taken a hit right now, acting like a nosy kid brother. Then he walks away hiding a satisfied grin at getting in his dig, heh.
When Ryang-ha drops by, Su-ho asks what the phrase "Stay healthy" means. Ryang-ha replies that it's goodbye, laughing that Su-ho got dumped.
Su-ho perks up moments later when Bo-nui arrives, then actually checks himself out before heading out to talk to her, hee. But before he can say a word, Amy's arrival interrupts (grr) and she reminds him of his agreement to talk (given when he was distracted).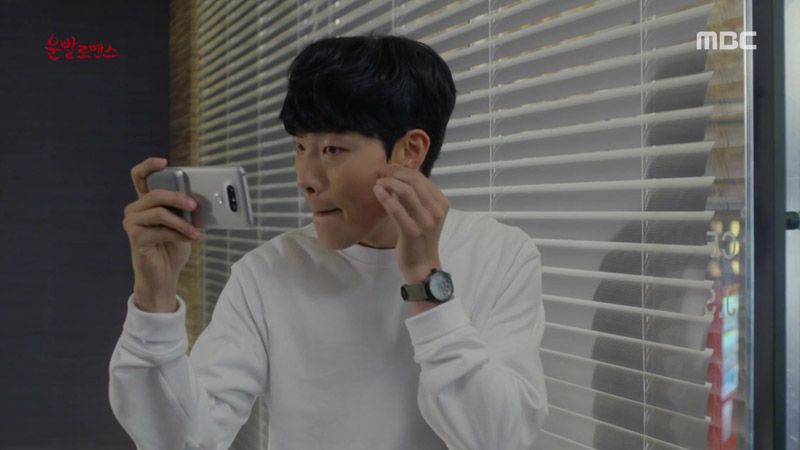 Amy, under the assumption that Bo-nui was out on a date with a boyfriend, mentions Gary waiting for her all night. The conversation seems to cross some wires, because to Amy it sounds like Bo-nui has a boyfriend, and to Su-ho it sounds like Gary might be that boyfriend, and to Bo-nui there's no boyfriend.
Then Ryang-ha interrupts and calls Amy the first love and Bo-nui a current special person, because he delights in creating awkwardness. Su-ho denies it and heads off, not getting a chance to talk to Bo-nui after all.
Su-ho's mother drops in on her Chicken Ajusshi Oppa, who greets her with pleased surprise. Mom tells him Su-ho's her son, and asks after Chicken Ajusshi's family. He admits he divorced and never had kids. I… don't really care about this storyline.
Amy and Su-ho have coffee outside, and he keeps his stiff demeanor with her, saying that people might think there was something between them from the way she talks.
In flashback, a college-age Su-ho finds Amy sleeping over her textbooks and takes a seat next to her. He types busily into her computer and drapes his shirt over her, and when she wakes, she finds a bunch of her work done for her.
So now, she admits that she ran away because she was afraid that she'd keep using him. She insists that she didn't purposely get close to him to help on her thesis: "I was just curious about the person my father chose over Oppa."
Su-ho's not familiar with this oppa of hers, and Amy explains that her brother wasn't a genius like Su-ho, but was quite smart. After an accident, Dad lost his son and student, and Mom fell into depression. As for Amy, she felt guilty and took up physics despite not being suited for the topic. Furthermore, she canceled her thesis right away, although Su-ho had already returned to Korea by then.
She asks him to understand her, even if he can't forgive her, calling her 2004 self immature and selfish. Su-ho merely corrects her: It was 2005, not 2004.
But it's cleared the air, and Amy returns to her office feeling freer. And Su-ho must understand, because he sends Dal-nim over with the access pass Amy's been pestering him for, although it looks like it pains Dal-nim physically to give it up. He even takes out the bicycle figurine he'd stuffed in his drawer.
Su-ho finds a small cactus plant on his desk, and his team explains that Bo-nui gave everybody one to ward off bad luck. He finds her with a team member, explaining the details of her game concept in detail, and asks her hotly if she's going to quit again.
He points out that Bo-ra is doing fine, and that all those fortunetellers they'd visited were wrong, but Bo-nui replies that those are things she believes in and finds support in. Is that so wrong?
He sighs that it is, and sets out with determination to counter all of her falsely held superstitions. He writes his name in red ink (which is supposed to be bad luck), and even writes his parents' names to prove how little stock he puts in them.
But that upsets her, and she entreats him to cut it out, snatching the paper away before he finishes his mother's name. She asks, "If your parents die because of you, do you know how hellish that feels?"
That at least lands with him, as he realizes, "Your parents died because of you?"
And then, Su-ho's father trips over firewood , falls over a wheelbarrow, and crashes to the ground. Su-ho's mother calls Bo-nui about it, and Bo-nui accompanies Mom back home to check on him. The moment she sees that Dad is fine, albeit a little bruised, Bo-nui slumps to the ground and cries relieved tears.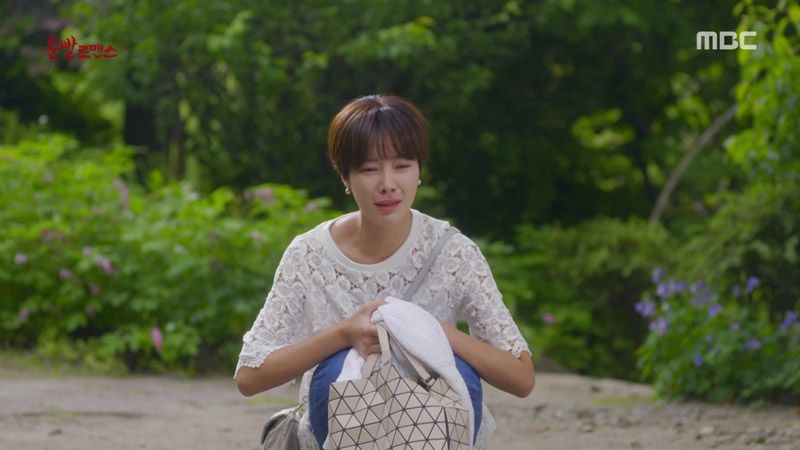 Su-ho's parents insist on feeding Bo-nui, touched by her thoughtfulness. Mom pumps her for information on Su-ho, asking if he's hot-tempered at work. She answers that he's an impressive person, taking care of his employees well—a description that has both parents cocking their heads in confusion.
Bo-nui says she plans to quit her job, and Mom protests that she has to stick close to Su-ho.
That night, Su-ho works on his couch at home… and looks down to see Bo-nui asleep at his feet, recoiling in alarm. It's his imagination, of course, and he shakes it off, trying to act like he totally isn't embarrassed by his reaction.
Bo-nui, on the other hand, imagines Bo-ra awake and well as she sits at home. Bo-ra encourages her to cheer up and smile, and as the vision fades, Bo-nui tells herself she has to protect her sister to the last.
The next morning, Su-ho finds Bo-nui's desk cleaned out, and his staff explains that she came by early to pack up and told them all to stay healthy.
Dal-nim helps carry her things home, and urges her once more to keep the job and its steady paycheck. But Bo-nui has made up her mind, and just asks Dal-nim to pass along a note to Su-ho, saying she feels very sorry toward him.
Dal-nim gives the note to Su-ho, who asks if Bo-nui acted differently from usual. Dal-nim says no, but confirms that Bo-nui did tell her to stay healthy.
Meanwhile, Bo-nui arrives at the hospital with Gary, though she refuses to go in to see her sister per usual, since she doesn't want to bring her any bad luck. So Gary visits with Bo-ra alone, urging her to wake up so her sister can resume living like a normal person.
Bo-nui speaks with the doctor about her decision to have Bo-ra discharged from the hospital. She says she wants to be with her sister through the end, whenever it happens. Oh no, is she giving up hope?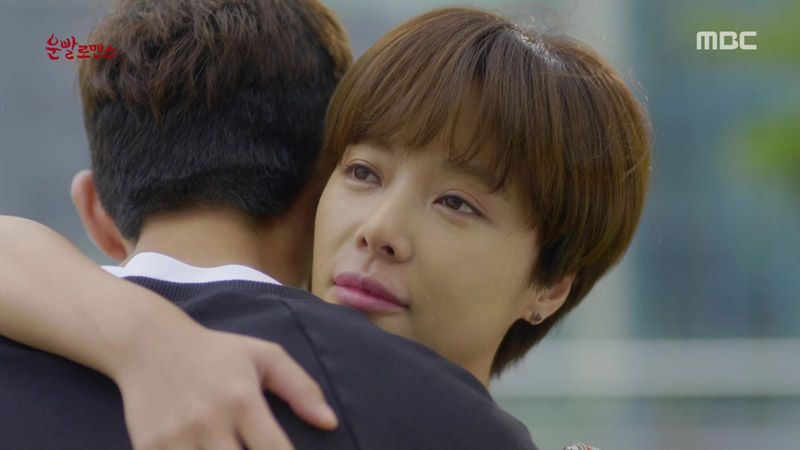 Gary reports that Bo-ra looks healthy and well, like she'd wake up at any moment, assuring her that it'll happen. Oh, he's still assuming that Bo-nui's tiger-catching was successful. She says ruefully that that would be nice, and gives him a hug.
Su-ho reads Bo-nui's letter, where she thanks him and apologizes for putting up with her. She says he's the first person who's held up an umbrella for her: "Thanks to you, I was a little less cold that night." She promises to cherish the memory, and again wishes him good health.
That spurs him into action, and he heads out right away, only to be waylaid by Bo-nui's ex-boss in the lobby, who's been trying to get in touch with her about money. Su-ho shakes him off and calls Bo-nui repeatedly, though she ignores her phone while riding the bus somewhere.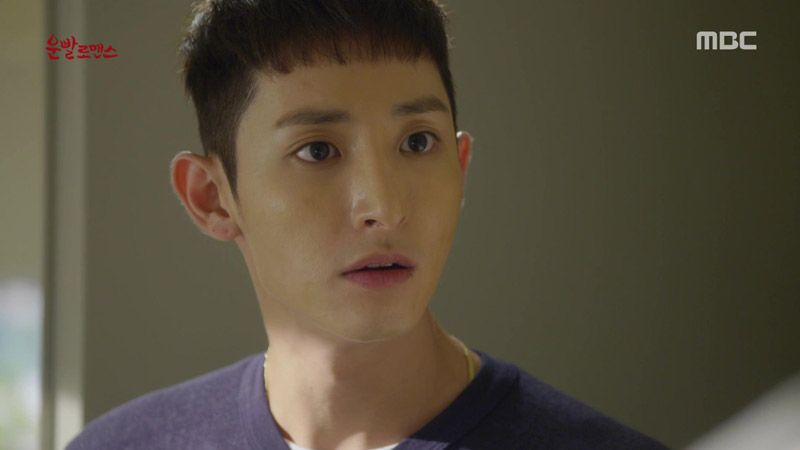 Su-ho pounds on her front door, which brings Gary into the hallway. Gary's taken aback at Su-ho's panic over finding her right away, pointing out that she looked fine earlier. Su-ho asks, "Would a person who's going off to die advertise that they're going off to die?"
Confused but alarmed, Gary protests that Bo-ra will be fine now, and that Su-ho even went to extremes to help make that happen. Su-ho corrects his misconception, saying that nothing happened that night—which is why Bo-nui's convinced her sister will die.
At the hospital, Bo-nui hangs back as her sister is wheeled out to be transferred to a long-term care facility. She turns away just as Su-ho and Gary rush inside, and while the nurse refuses to divulge patient information, she does tell them that Bo-nui said she was going to a place with a good view, to spend her last moments together.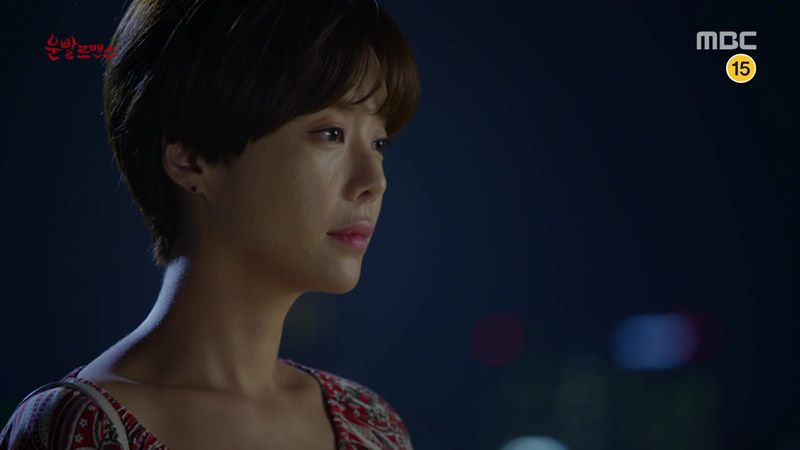 Filled with dread, the boys head out.
Bo-nui finds herself at the water's edge, and stars to walk toward the river…
Epilogue. We're back to that night when Su-ho had taken Bo-nui home. He lays down next to her on the ground, inching closer and settling down to watch her sleep. He finally falls asleep, his hand dropping to the ground, barely touching hers. And at that moment, Bo-ra's hand twitches in the hospital.

COMMENTS
Hm, so Bo-ra is saved after all? And the tiger prediction was fulfilled by their one night spent together?
It's a sweet twist on the initial interpretation of that sleep-with-a-tiger directive, although there's a serious downside to the realization, which is that it makes our heroine seem extra foolish for jumping to a conclusion that, as we saw, put her in direct pathway of dangerous, disastrous situations. I could actually find a point of sympathy for Bo-nui's insistence on sleeping with a tiger man because I did at least buy that she was fully invested in fortuneteller's readings and felt that her desperation was real. I found her recklessness exasperating in the way that Su-ho did, but she didn't make me angry about it.
Except now, I kind of feel like throwing my hands up in the air over her, because if "spend a night" with a tiger meant something other than having a sexual encounter, then I'm confused at all the ruckus. She took things to a strangely dire place and then the drama pulled back and gave us something much simpler. And if that weren't bad enough, the moment she fails her tiger mission, she just… gives up? On herself, and her sister? Before hearing about the tiger task, she was so determined to do everything she could to save Bo-ra, but one prediction goes bad and all of a sudden she wants to die? I just don't think the writing is doing her character service. I don't want to be annoyed at my heroine, but it's hard not to be at this point.
And that's coming from someone who finds her general predicament compelling and somewhat understandable, given the setup of Bo-nui being a perpetual bad luck charm to everyone she loves. It's sort of the weird twisted rom-com version of the Mirror of the Witch curse, where the heroine is unwilling to let anyone else die on her account and keeps her distance from those she loves. It works with Mirror of the Witch because that world has an airtight mythology and a rock-solid sense of tone and pathos; Lucky Romance has its moments, but is rather more uneven so my sympathies often swing in and out.
That aside, I do think this drama does something a little different with the standard opposites-attract dynamic, probably because it's not treating it as a point of humor. I like that Su-ho's trying to understand Bo-nui, even if he does come to certain points that defy his comprehension, and his pestering of her seems to be partially to get himself to understand, as much as it is about trying to get her to renounce her views.
I'm curious about this conflict, because it's almost like he's trying to have a debate with her, and at every step she's agreeing with him (in acknowledging that her beliefs are absurd to the logical mind). But they can somehow agree on A, B, and C, and Bo-nui will still walk away with a conclusion that defies Su-ho's logical brain, and it's interesting to watch him try to get through to her out of a sense of caring. But it almost feels like an atheist trying to talk someone out of religious faith; logic can't be used against faith, because there's a fundamental difference wherein faith almost by definition has to leave behind logic. And in that sense it feels like barking up the wrong tree, and I worry that in trying to get her to see "reality," he might end up breaking her. There's gotta be a common ground they can find somewhere, surely, and I mean something deeper than video games.
RELATED POSTS
Tags: Episode 7, featured, Hwang Jung-eum, Lee Chung-ah, Lee Soo-hyuk, Lucky Romance, Ryu Joon-yeol