Lucky Romance: Episode 9
Okay, he's gonna have to stoppit with those smiles, my heart can't take it! There's only one thing better than smitten and confused Su-ho, and that's smitten and aware Su-ho. He's jumping into the wooing waters feet-first, though he obviously has no clue what he's doing, and the result is as endearing as it is awkward. But as insecure as he is, his interest doesn't go unnoticed, though maybe not by the person he's hoping for.
(I'll be stepping in and covering Lucky Romance for the remainder of the show, to give our beloved Overlords more time to take care of the really important stuff. I hope I can do the show half as much justice as they have!)

EPISODE 9 RECAP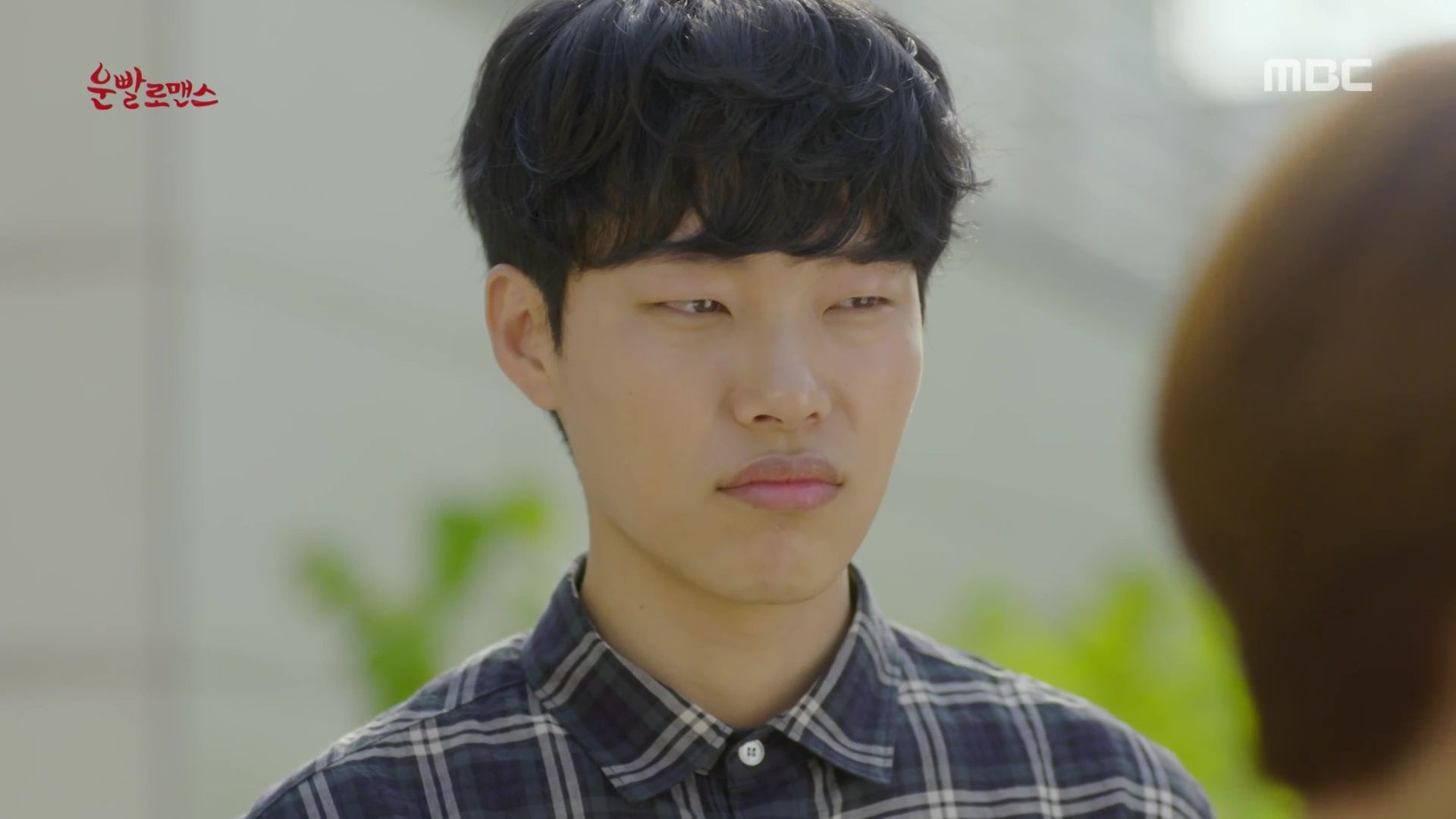 After supporting Bo-nui in her first visit with her sister, Su-ho follows her back out into the hall and tells her, "See? It's okay." Bo-nui turns grateful eyes up to him and thanks him tearfully, and Su-ho pulls her into a hug. He breathes for her to tell him any time she wants to see Bo-ra, and he'll come with her.
Outside the hospital, Bo-nui is excited that she got to see Bo-ra waking up, so Su-ho says he'll bring her a thousand times, once for every time she dreamed it. His own cheesiness makes him shy, but Bo-nui says that she doesn't expect it of him, which has him frowning again.
He offers her a ride, wanting just a few more minutes with her, but Bo-nui prefers to walk. He runs after her, offering to take her to lunch and whacking his head on a tree branch. HA, I love how flaily she makes him. He pretends to be offended that she just dumps him when she's done with her lucky charm, acting as if it's payback for his generosity.
He heads to the nearest restaurant before Bo-nui can object, though she balks when she sees that it's all seafood. He eats anyway, willing to do anything to keep her here, and she asks why his mother said he loved seafood as a child. He looks at her blankly for a moment, then admits that he nearly drowned in the ocean.
He says that he remembers the salt taste in his throat and the scent in his nose, and that he hasn't been able to eat anything fishy since then. Bo-nui gets emotional, but Su-ho says for her to eat up, because they're going for coffee next. Cute.
Bo-nui springs for the coffee and carries it to where she left Su-ho on a park bench, and finds him looking very comfortable and with an actual smile on his face. She leans over to yell BOO in his face, but he just calmly opens his eyes, and the sight of her so close makes them both freeze.
They sit companionably, and Su-ho asks about her parents' death, if she really thinks that's her fault because of her fate. She tells him how they died getting concert tickets for her, and that until that moment, she'd thought all her bad luck was just coincidence. If she'd known, she would have given Bo-ra up for adoption, but Su-ho objects — she gave up her life for her sister.
Bo-nui catches Su-ho staring at her with a pensive look on his face, and she assumes he's thinking how pathetic and stupid she is, but all he says is, "It must have been hard." She was a young girl trying to raise an even younger girl, and he knows it was difficult.
Bo-nui shies away from the intimate conversation, saying that she's taken up enough of his valuable time. Su-ho just follows her like it's no big deal, like he's got all the time in the world for her.
That night, Bo-nui tries to pray, but she can't stop thinking of everything Su-ho did for her today. She reminds herself to think of Bo-ra and nothing else. Su-ho is also too preoccupied to sleep, and they both toss and turn all night. In the morning, Su-ho wants to text Bo-nui, but he can't decide which morning greeting sounds the least dorky.
Bo-nui turns up at the hospital full of energy, ready to record everything Bo-ra does, but her nurse friend tells her that Bo-ra is extremely busy right now with her handsome caller. It turns out to be Gary, who regretfully reports that Bo-ra hasn't moved her fingers for him.
Bo-nui happily tells him that she's finally visited her sister, and her, "Thank to Director Je," sounds awfully swoony. She rattles on about how Su-ho promised to be her lucky charm even though he doesn't believe in superstition, and how she's starting to like him now that she's getting to know him, and Gary just gives her a wan smile.
Gary gives Bo-nui a ride home, and when they see Su-ho waiting on their doorstep, Bo-nui actually primps a little. Gary grumbles that Su-ho hung around all night on the evening that Bo-ra first started waking up, which is news to Bo-nui.
Gary is determined to tell Su-ho to back off, but when he confronts him, it's not Su-ho at all — it's a reporter who's heard that Gary is looking for his father. His hidden photographer snaps a couple of pictures of Gary and Bo-nui, while Gary tries to fend him off.
Amy thinks that it must be the detective agency that Gary hired that leaked the information, but Su-ho warns that trying to fight the media will only result in worse scandals. Gary seems remarkably unconcerned, and just says that he'll go on television and tell his whole story. It's the only way for this not to affect the game.
Amy advises against it — the slightest mistake could get him labeled in a way he wouldn't like. But Gary is resolved to do anything that will help find his father. Su-ho points out that his celebrity will help spread the word, so Amy reluctantly agrees so long as she can control the tone.
Su-ho holds a meeting with his employees, determined to finish the game before Gary leaves Korea in thirty days. He instructs Bo-nui to write the story of Gary's search for his father into the game, which makes her smile.
The crew is disappointed that they'll have to skip their upcoming workshop, assuming they won't have time, but Su-ho decided they'll go anyway. It's worth it to him to see Bo-nui happy, and he unconsciously grins back.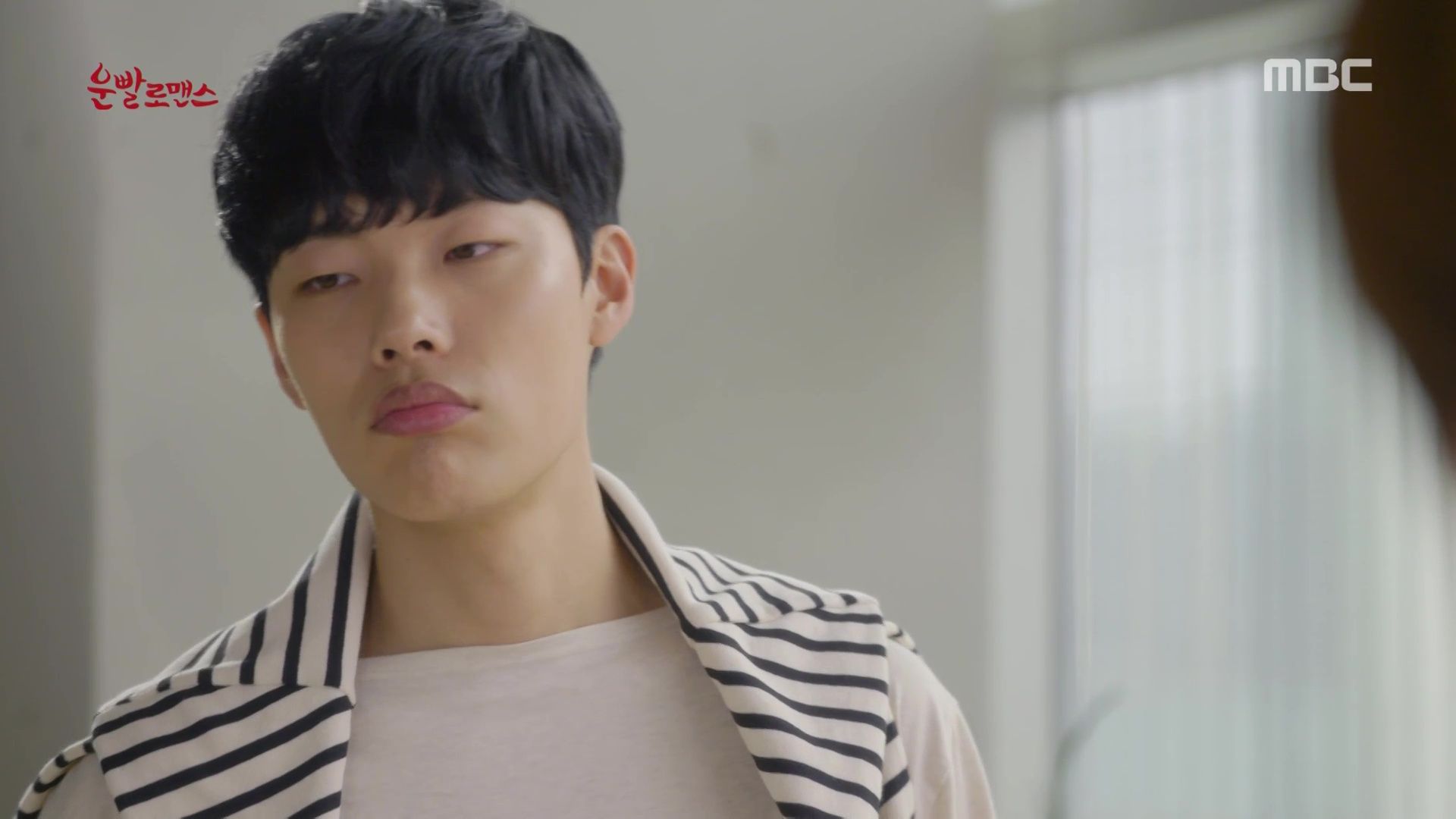 He follows her when she excuses herself to take a call, trying to listen in and pretending he was totally going this way anyway. Bo-nui thanks him for being considerate of Gary, saying that he should just admit that he's a nice tiger, but he grumps that he doesn't want to be a nice tiger to Gary.
She thanks him anyway and turns to go, but Su-ho yells, "STOP! Let's have dinner." Smooooth. He pretends it's no biggie when she says she has plans, but Bo-nui wonders why he's always inviting her to eat lately.
Bo-nui runs into Su-ho's mom outside her fortune teller's place, and Mom offers to pay for her fortune today. She's surprised that Bo-nui already knows the fortuneteller, while the fortuneteller gives Bo-nui a hilarious squint.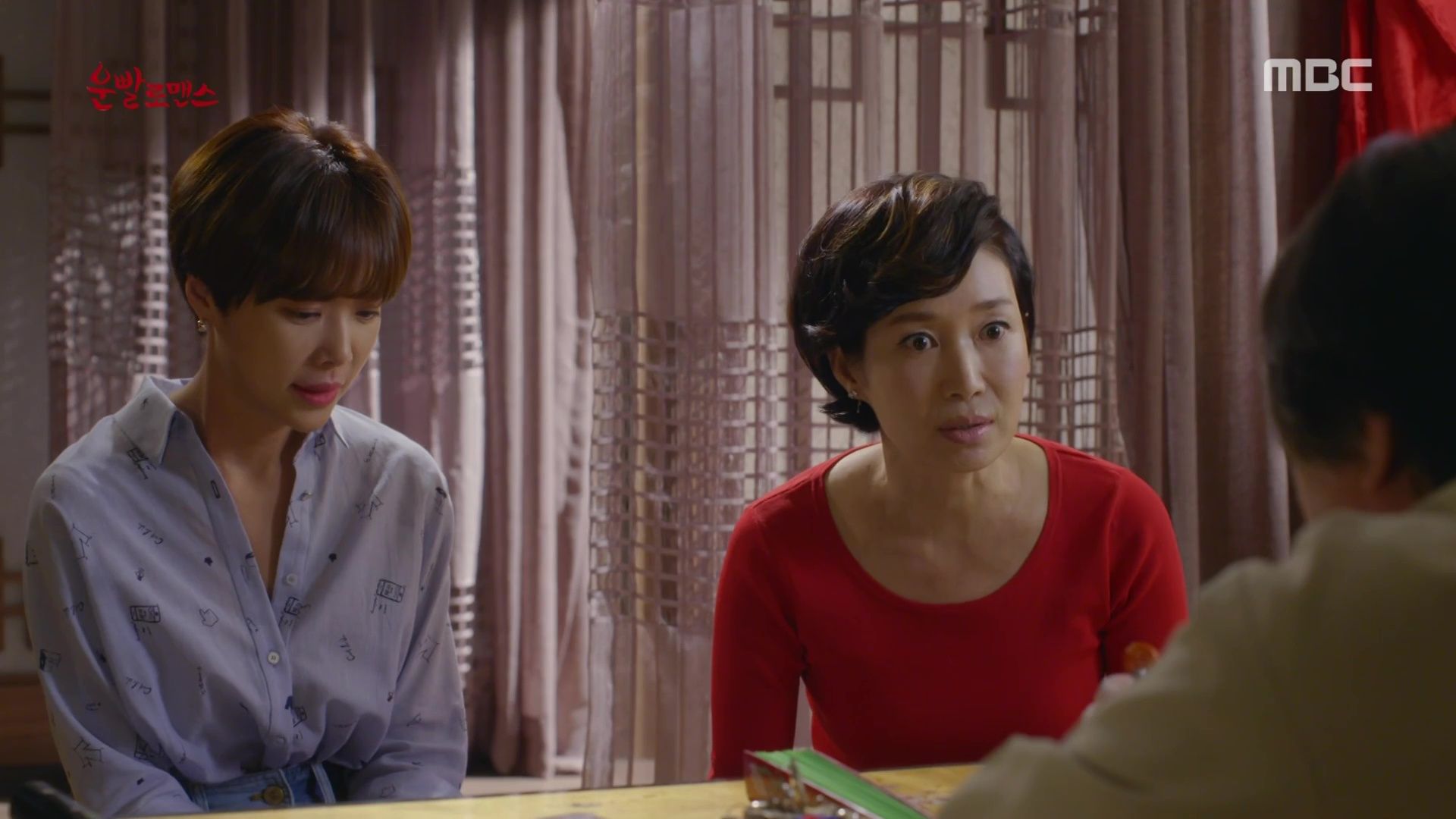 Mom asks if the raccoon has been chased away from her son, and he shoots a look at Bo-nui, who silently begs him not to tell that she's the raccoon. He reads in his rice that he sees rolling waves around Su-ho's ankles, and we watch as Su-ho hides the cactus and bottle of salt in his desk, then pulls them right back out again and grins at them. "Before he knows it, he'll be under the waves."
Mom interprets this literally, and tells Bo-nui that they need to keep Su-ho away from water. Bo-nui pretends not to know he almost drowned as a child, but she's genuinely shocked to hear that his father actually threw him into the ocean. Mom presses a new talisman on Bo-nui to give to Su-ho, and when Chicken Ajusshi shows up to talk to Bo-nui, the two awkwardly pretend to be meeting for the first time.
Dal-nim gasps when she finds that Gary's avatar face suddenly looks melted — HAHA, did Su-ho do that out of jealousy? Yep, he did, and he's still crushing Gary's head on his tablet as he crouches behind Ryang-ha's coffee counter.
He freezes when Dal-nim and Bo-nui stop to talk right on the other side of the counter, and learns that Bo-nui plans to skip the workshop so she can stay near Bo-ra. She says that the day of Bo-ra's accident, she was one minute away from fixing the bug at her interview, but she feels like the delay of Bo-ra's surgery caused her coma. She sighs that she'd love a break, but she can't be greedy.
After work Bo-nui meets up with Boss Won and offers to help him pass out restaurant flyers. One rude pedestrian knocks the whole armful to the ground and Bo-nui is surprised to look up and see Su-ho helping her pick them up.
Bo-nui reflexively explains that she's helping to pay her Boss Won back for the water, but Su-ho just grumbles that he didn't ask. He takes some flyers, griping at her for being a pushover, but before he can mention the workshop, Boss Won calls out to him.
He starts to pitch a get-rich-quick scheme to Su-ho, but Bo-nui yanks him away. He asks why Su-ho is here anyway, sensing something going on, the way Su-ho is awkwardly hanging around her. Bo-nui swears there's nothing like that going on, but Boss Won insists there's nothing wrong with it.
Su-ho's mom calls Chicken Ajusshi to apologize for pretending not to know him, but he says it was fine. Su-ho's father overhears his wife calling someone "oppa" over the phone and telling him to drink the carp juice, and jumps to exactly the right conclusion.
Chicken Ajusshi hangs up and finds Su-ho glaring at him, and Su-ho skips over the soda he's served and goes right for the beer… then immediately spits it out, hee. He sighs that Bo-nui is a problem, but Chicken Ajusshi just grins that she's worried abut Su-ho.
He points out the talisman she left on the ceiling, and tells Su-ho how she always did the dangerous jobs, refusing to let her "bad luck" hurt Chicken Ajusshi. Su-ho realizes that she took the blame for Boss Won's business failing, too, as Chicken Ajusshi says that he feels bad that she can't just enjoy her life.
The next morning, Bo-nui is surprised to find Boss Won in uniform, greeting visitors to the building. Aww, did Su-ho give him a job? Boss Won beams proudly, and Bo-nui chirps that she can stop worrying so much about him now.
Su-ho slinks past them, trying not to draw attention, but he sneaks little peeks at Bo-nui in the elevator. He casually says that it's strange — she thought she was the cause of Boss Won's bad luck in losing his job, but he just got a new job because of her.
That evening Gary finds Bo-nui on the roof watching Bo-ra, and expresses surprise that she's not going to the workshop tomorrow. She wishes him luck on his television interview, and he asks her to go with him. Bo-nui worries that she'll bring him bad luck, and even his strongest puppy-dog-eye game can't convince her to agree.
Gary calls Amy to cancel his training tomorrow to rest for his television interview, which she strangely seems to have forgotten. She lets him out of training, saying that she has something else to do anyway. Ugh, she's planning to crash the workshop, isn't she?
The next day, Su-ho primps in his mirror while Gary sets the stage to ask Bo-nui out to a picnic. We see them both arrive at her apartment (Su-ho yet again stumbling out of his car like the enormous dork he is), but when Bo-nui answers her doorbell, we don't see who it is that makes her eyes widen like that.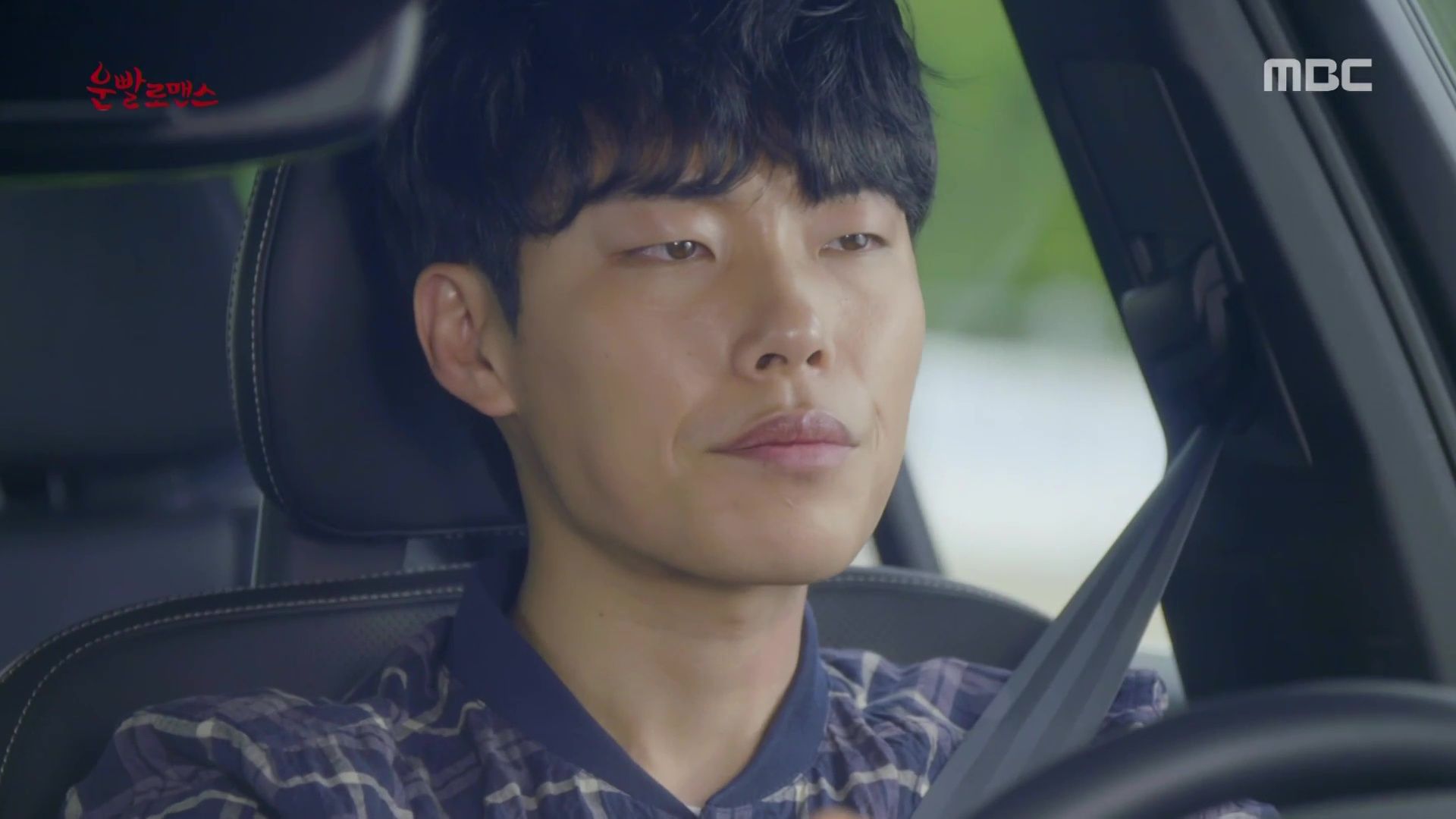 Yay, it was Su-ho who got to Bo-nui first, and he smirks to himself as they ride in his car. He'd asked her to go to the workshop with him, and when she asks why since he never goes, he just says there's an employee he has to keep an eye on. It's a biiig sacrifice on his part, you know.
When Gary calls to see where Bo-nui is, she promises to treat him later to make up for missing him. She sprinkles salt and red beans all over Su-ho's car, to his annoyance, claiming that he's enough of a lucky charm. He gets adorably flustered when their hands bump reaching for the radio… so cute.
When Su-ho hands Bo-nui a pair of sunglasses, she asks him flat-out if he's interested in her, nearly making him skid off the road. She lays out all the clues — his constantly asking her out to eat, showing up on her doorstep, even hiring Boss Won — and his voice gets all shrill as he swears she's just a bug that he's trying to fix.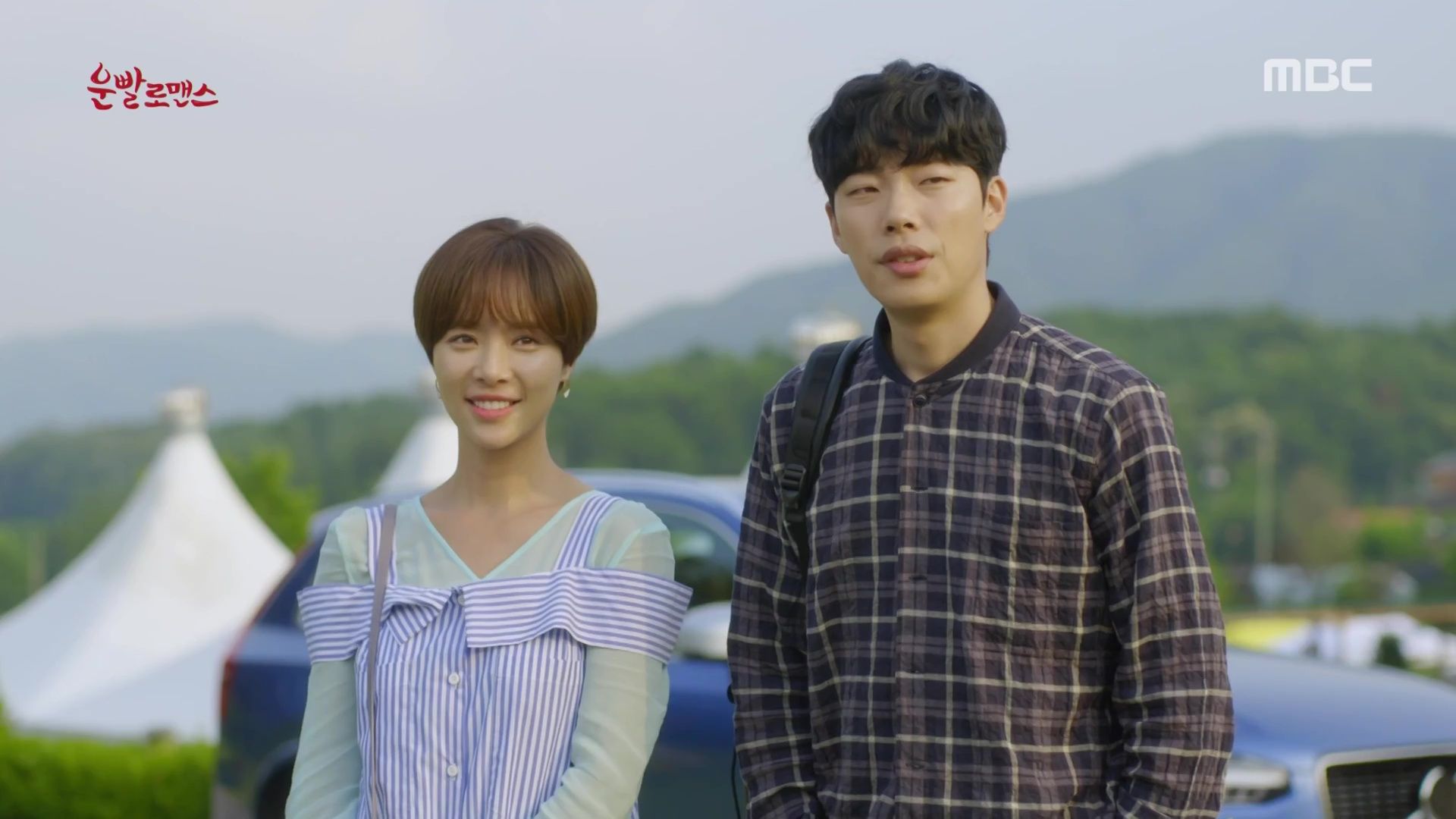 She accepts his explanation, but Su-ho doesn't let it drop. He asks if she likes him or hates him, watching her closely, and finally squeaking Never mind! when she takes a few seconds to answer.
Amy does crash the workshop, and when Ryang-ha surprises the team at the workshop location, Amy just wants to know where Su-ho is. They're all surprised when the car that pulls up isn't Su-ho but Gary, who gives Amy the hairy eyeball when she claims she's just here to support the game.
Dal-nim literally runs Ryang-ha over when Su-ho pulls up, then stops short to see Bo-nui get out of his car. She's so sweet though — she's genuinely happy to see her friend. She and Ryang-ha shove each other all the way back to the house… those two should just kiss already. The only ones unhappy are Gary and Amy, who frown to see Su-ho and Bo-nui arriving together.
Bo-nui pulls Gary aside to ask why he's here, worried that something could happen as he drives back and forth to his interview. He asks her again to go with him, claiming that he's only had good luck since reconnecting with her. He walks away when she declines, genuinely upset, and Su-ho witnesses her sighing after him.
Su-ho busies himself with the video recorder, perking up when he gets Bo-nui in his lens. Everyone prepares to ride four-wheelers, and Amy tries to forbid Gary, though he completely blows off her concern.
Su-ho gets cranky when he notices Bo-nui watching Gary, and reluctantly slumps on his four-wheeler. Bo-nui stops everyone to sprinkle salt on their machines, giving Su-ho a nervous look, and smiling when he just tells her to hurry up.
Gary suggests that he and Su-ho make a bet — whoever finishes first gets a wish. Su-ho struggles to drive his four-wheeler, but he's determined not to lose to Gary.
When Bo-nui arrives back at base camp, Su-ho is on the back of her four-wheeler, looking quite pleased with himself. But he remembers where he is and jumps off, demanding to see Bo-nui's driver's license, and she retorts that at least she didn't drive her machine into a ditch.
Amy watches them bicker, as Bo-nui insults Su-ho in such a roundabout way that he grins at her "compliment." Gary comes screeching in last, worried about Bo-nui, sighing when he sees Su-ho crinkling at him triumphantly. I guess he technically did come in first, ha.
Gary sends disappointed looks at Bo-nui during dinner, still upset that she won't go with him to his interview. Amy chirps that she saved a seat for Su-ho, but he pointedly sits at the other end of the table… ouch.
The group decides to play Truth or Dare, rigging the game so that Bo-nui goes first. She answers their questions truthfully until she's asked if she's dating anyone, and when she says she's not, both Su-ho and Gary wilt a little.
Amy asks nastily if she likes someone, and Su-ho especially looks uncomfortable until she says she doesn't have time for that. One coworker asks if Bo-nui is dating Su-ho, and she looks almost offended when she denies it. HAHA, people start paying out bets all around the table.
Later that evening, Amy finds Su-ho walking alone, and she asks why he's still single at his age. He doesn't answer, and she stops him: "What about me? I used to be the only one for you." Su-ho just looks at her blankly.
Gary calls his mother to reassure her that he'll be careful during his interview, and she tells him that she knows he's looking for his father. She's not at all happy about it, worried that he'll throw away his fame and success, and she blames Amy and threatens to cancel his contract.
Bo-nui sits with him, and asks what time she should be there tomorrow. Bolstered, Gary offers to take her back with him tonight, but she wants to stay. She promises to be on time, worried that if she rides with him, something bad could happen.
Amy clings onto Su-ho, scared of a moth, but Su-ho just asks why she came to the country if she hates bugs that much. Her shrieking draws Bo-nui's attention, and Gary notices how Bo-nui deflates to see Su-ho and Amy all close.
Amy goes back to the city with Gary, promising to handle his mother. Bo-nui escorts a drunk Dal-nim back to their room, and the male employees look like they have something up their sleeves in regards to Su-ho.
They pick him up, planning to toss him in the pool. Bo-nui sees them and runs, knowing how scared Su-ho is of the water. The employees only mean it as a harmless prank, and they don't realize that Su-ho is genuinely panicking.
They throw him in and laugh as he flails in the water, and Bo-nui is there to help him out and yell at them. She turns to Su-ho, who shakes off her arm and says not to overreact, though he's obviously upset.
He keeps it together until he gets to a secluded area, when he finally collapses to the grass. Bo-nui follows him, and he says in a deceptively calm voice for her to go, he'll be fine.
Bo-nui does no such thing, and actually yells at Su-ho for pretending he's okay. "Why are you trying to deal with it alone? You offered me your umbrella, became my talisman, and offered me a hug. Please, let me do the same for you."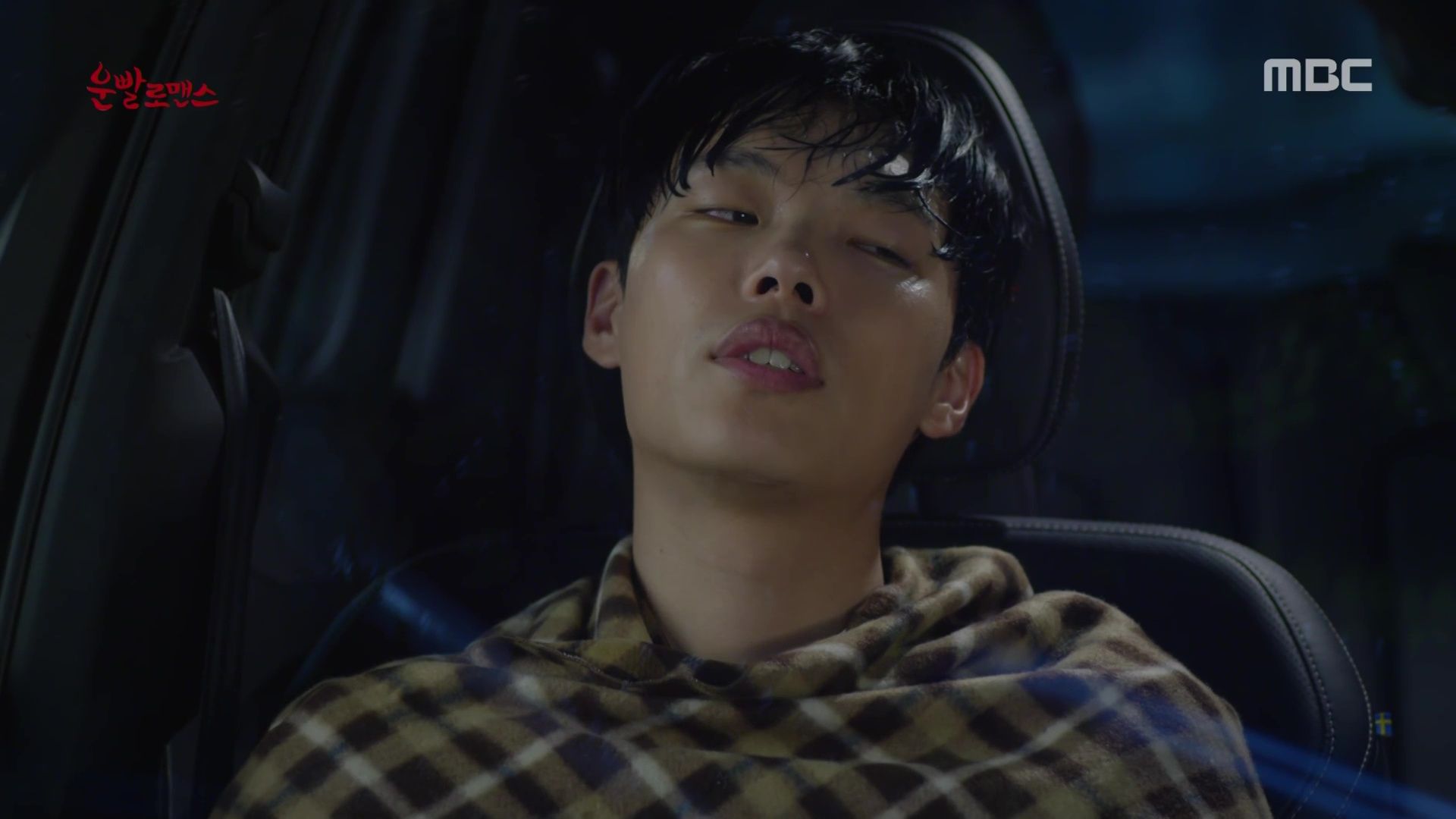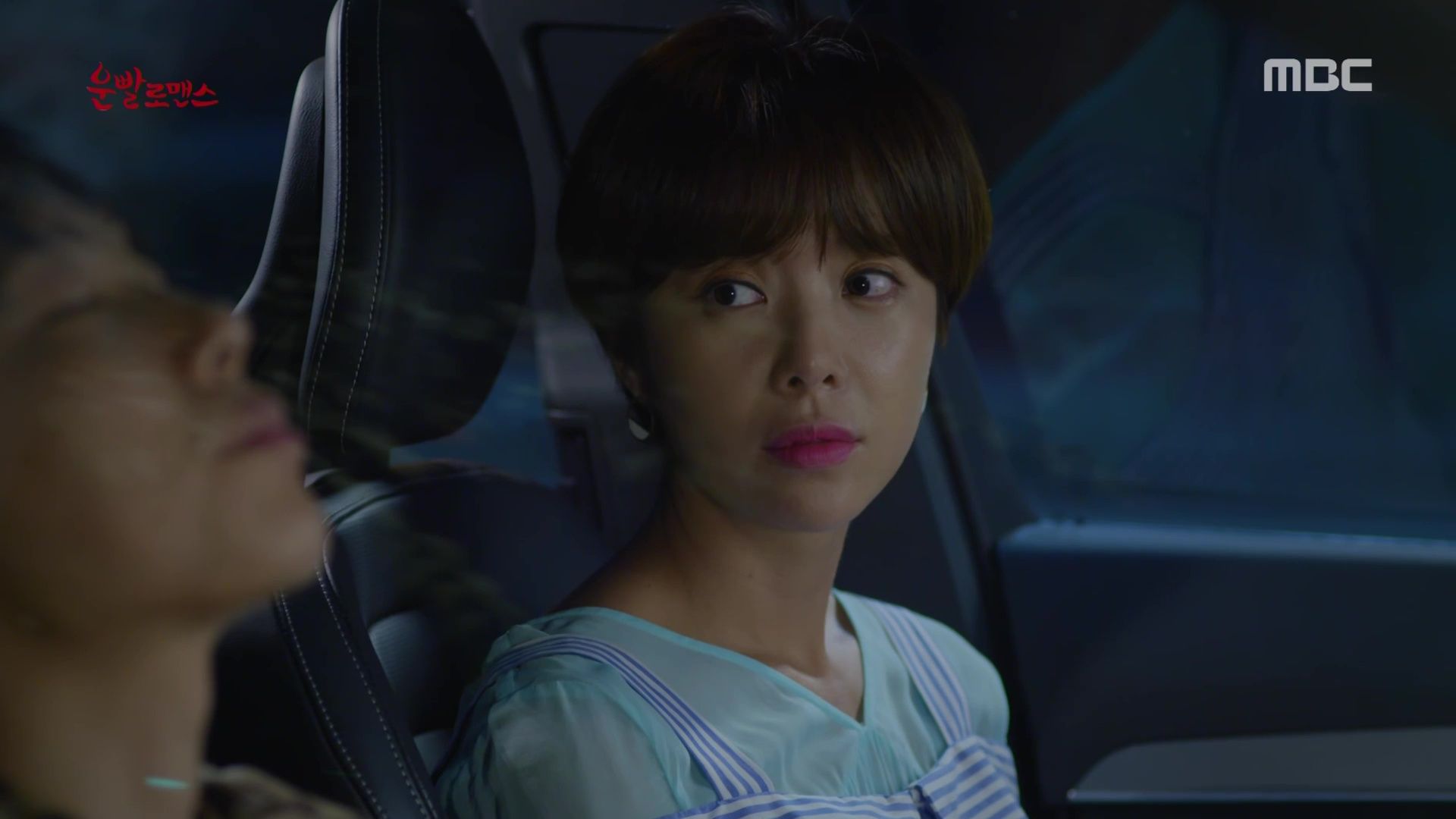 Completely disarmed by her request, Su-ho lets Bo-nui take him to the hospital, though he tells her that this is his trauma and has nothing to do with her. Bo-nui asks if he resents his father, feeling bad that she unknowingly told him to be a better son.
Su-ho says that he went to study abroad at the age of eleven, so he only lived with his father for ten years. Even before that incident, he never spent enough time with his father to form a real attachment. Bo-nui is surprised he went away alone so young, but he says that no matter where he was, he never fit in because of his genius.
He claims he was fine with it — he doesn't like people anyway, how they smile to your face and talk about you behind your back. Bo-nui says it must have been lonely, but Su-ho scoffs that he's fine.
Bo-nui muses that she always thought he lived a charmed life — smart, competent, and charming, with healthy parents. Su-ho gives her the sweetest look… right before he starts to heave. He gets out of the car and crumples up on himself, trying to wave Bo-nui away, but she says it's okay since she's already vomited in front of him.
That actually makes him laugh, and he laughs again when she says they're even now. She takes him home and puts him to sleep on the couch, then draws some more protective charms on his hand. As she does, she softly thanks Su-ho for doing so much for her, and says this is all she can do for him.
As she watches him sleep, she answers his question from earlier, "I don't hate you. You're such a good person, how could I hate you? No matter what anyone says, you're a friendly and warm-hearted person to me. I wish I could be someone like that for you, too. But I can't, and I shouldn't."
She stands to leave, but he reaches out and grasps her hand, and Bo-nui realizes that he heard every word she just said. Su-ho whispers, "Don't go. Stay with me." She turns to look down at him, and he opens his eyes, looking right at her.
EPILOGUE. When Su-ho had driven his four-wheeler into the ditch, it had died on him completely. He'd called out for help, but when nobody came, he'd looked up at the sky. "If fate really exists, please send me help." He'd immediately laughed that he caught Bo-nui's virus, but right then, he'd heard a four-wheeler approaching. It was Bo-nui, and Su-ho had gaped at her, shocked.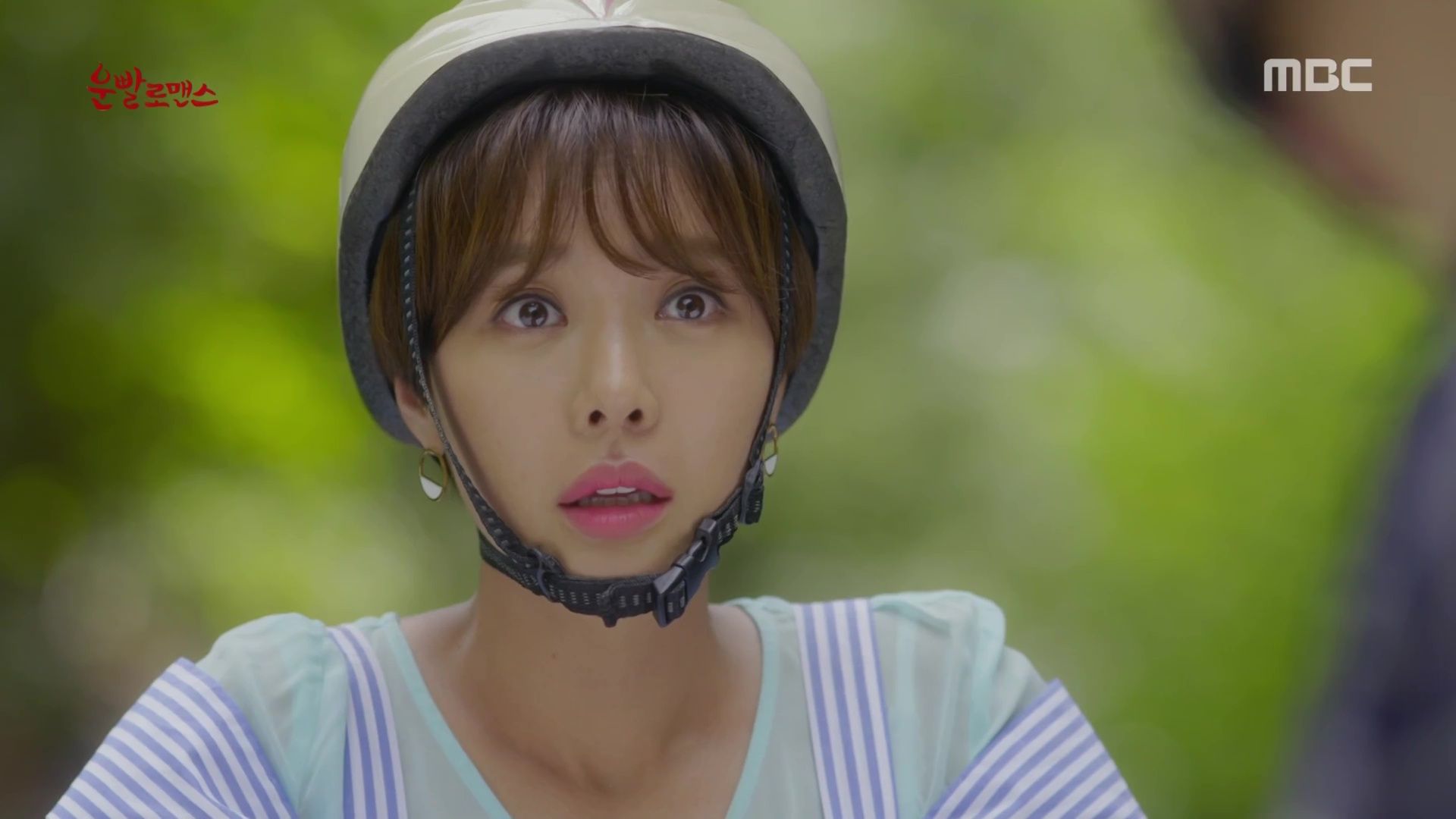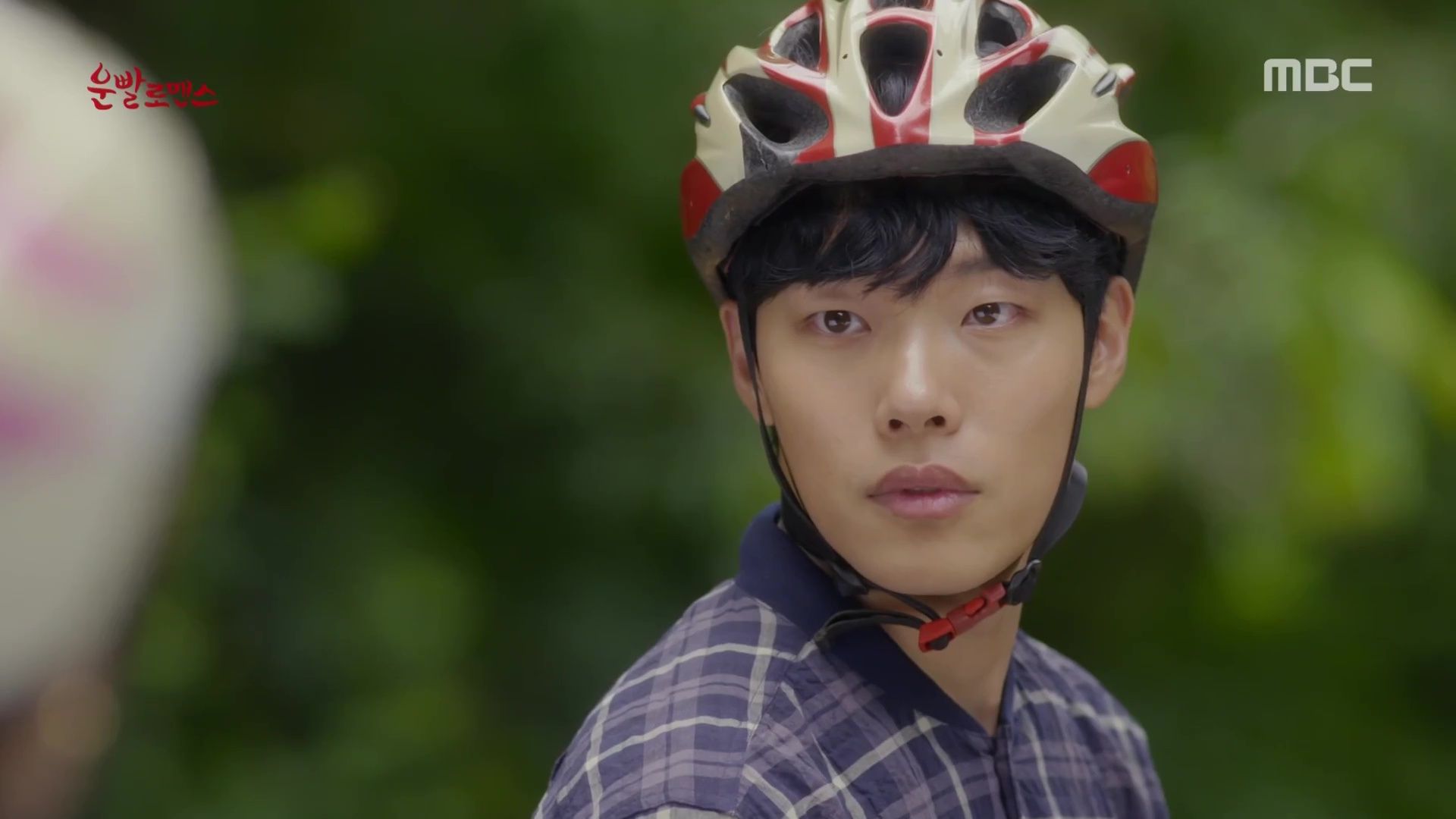 COMMENTS
I love this new closeness between Su-ho and Bo-nui, the way they're acknowledging their budding friendship at the very least. It's so obvious that Su-ho likes Bo-nui — mostly because he has no clue how to hide it — and it's becoming more clear that Bo-nui feels something on her end, too. I like that things are moving slowly though, that they each know they have their own issues to address before they can move towards another person in that way.
Watching Su-ho admit, if only to himself, that he likes Bo-nui might just be the greatest thing ever. I'm loving all of his little smiles, his pouty faces when he gets jealous, and his awkward attempts to ask her out, even if he keeps couching them as payback for his generosity. He still has no clue how to be cool about it, but I find myself hoping that he never learns to be suave, because seeing him run into trees and stumble over his own feet is way too fun. I adore the way he's doing things for her just to make her life easier, like giving Boss Won a job so she won't have to worry about him, and not even taking any credit for it. It's strong evidence that he doesn't just want to be around her, but that he truly cares enough about her well-being to work in the background just to make her happier.
I've been frustrated with Bo-nui's complete lack of concern for her own well-being in the past, and now we learn that it goes deeper than just throwing herself at random strangers in the hopes that her sister will wake up. Chicken Ajusshi's revelation that she always takes on the dangerous tasks and jobs shows that this is a longtime habit of hers, to face potentially harmful situations to spare her loved ones. That's a commendable trait to have, but Bo-nui takes it to the far extreme, actively drawing harm to herself. At some point though, doesn't it cease to be "fate" and just become a self-fulfilling prophecy? She thinks she's a bad luck charm, so she willingly takes on all hints of danger, which brings harm to herself and reinforces the idea that she's a bad luck charm.
In that sense, I hope that Su-ho's willingness to pretend to be a good luck charm will snap her out of that mindset. If Bo-nui sees that it's not necessary to put herself in that position so willingly, and have a little concern for her own well-being, maybe she'll realize that she was orchestrating her own "bad luck" all along. It's a good sign that she wants to be the same comfort to Su-ho when he needs it as he's been for her — because he wont' allow her to put herself in danger to do it. Su-ho is in the perfect position to show Bo-nui that loving someone doesn't mean sacrificing your own safety.
I don't really understand Amy's insistence on pursuing Su-ho, when he's made it crystal clear that he's not interested. I guess she's a typical second lead in that sense, but I'm always confused how a person can convince themselves that if they just keep throwing themselves at someone who is obviously not into them, that eventually they'll wear them down (and who would want a relationship like that anyway?). They have history, yes, but as children, and for years they had no contact whatsoever. She wasn't interested in Su-ho back then, so it's odd how fixated she is on rekindling his crush on her. She doesn't even seem particularly interested in him, more like it's a blow to her ego that he's moved on, like she liked that boost of having him noona-worship her and wants that feeling back.
I can understand Gary's similar pursuit of Bo-nui's much more easily — yes, he had a childhood crush, but he came back to the country in part just to find her. He's taken the time to get to know Bo-nui again, to be her friend and support her. He's not pushing the romance so hard, taking Bo-nui's hints and backing off when she draws boundaries (though he's obviously not happy about them). Amy, on the other hand, keeps pressuring Su-ho even when he pushes her away, and I find her interest in Su-ho more annoying and less sympathetic than Gary's crush on Bo-nui, for that reason.
I'm glad to see Bo-nui starting to notice Su-ho's attention for what it is, because I was starting to worry that her inability to see anything beyond her own problems would cause him to stall out. He's making more of an effort than I imagined at this point, but if she continued to be completely unaware, he could easily misinterpret that as disinterest and lose heart. Now that she sees his attentions for what they are (and his hilariously ineffective protests are doing him no favors), maybe she'll let herself consider him a possible prospect. If there's anything Bo-nui needs right now, it's someone who supports her in spite of her low sense of self-worth, especially since I'm not as convinced as she is that a twitching finger means that Bo-ra is awake. I don't think Bo-ra is out of the woods, not by a long shot, and that Bo-nui is soon going to need that support in a very real way.

RELATED POSTS
Tags: Episode 9, featured, Hwang Jung-eum, Lee Chung-ah, Lee Soo-hyuk, Lucky Romance, Ryu Joon-yeol