Mirror of the Witch: Episode 10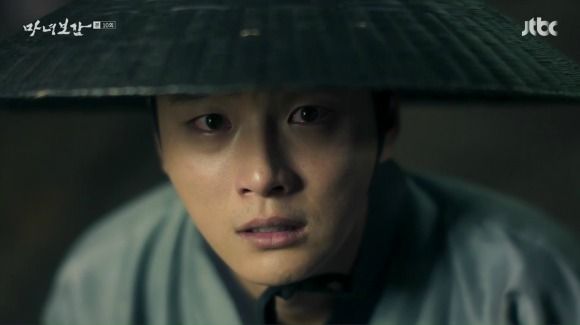 Seo-ri and Jun continue to become a support system for one another, and Seo-ri even starts to open up a little to him. But just when things finally start to go right, when it seems like our good guys are finally all working together and on the same page, the villain kicks things up a notch to keep the game interesting.

EPISODE 10 RECAP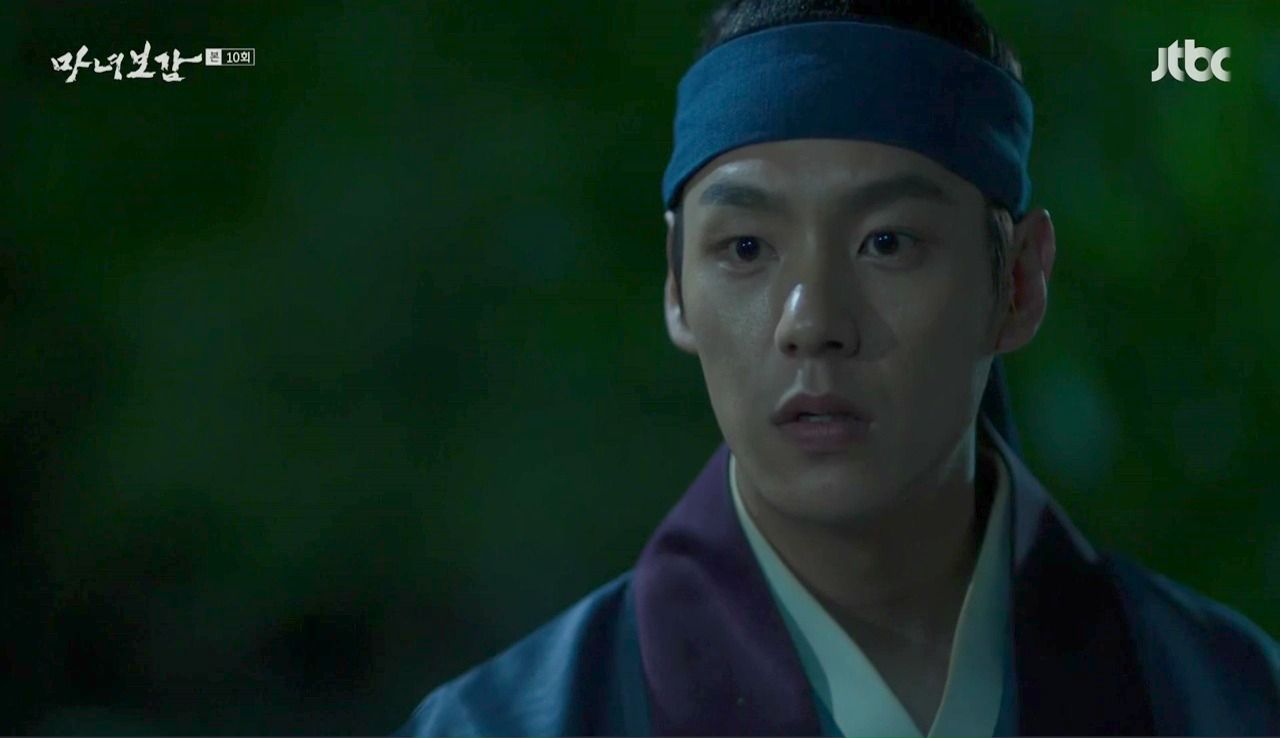 Looking for the latest wish-maker, Seo-ri and Jun cautiously approach the meeting place. Suddenly, swords fly out at their necks, and out walk Poong-yeon and Sol-gae.
Poong-yeon falters upon recognizing his sister and calls out to her, but she recalls the time Poong-yeon had called her a monster, and quickly runs away. Jun chases after Seo-ri while Poong-yeon is momentarily frozen in shock. When Poong-yeon finally snaps out of his daze and follows, he runs into Yo-gwang instead.
Jun stops Seo-ri, advising her to tell Poong-yeon the truth. Seo-ri lashes out, asking what she should tell him — that she's a cursed witch? Or that he could die if he stays by her side? As Seo-ri points out that she doesn't even know why she's been cursed, Sol-gae approaches. Has she overheard their conversation?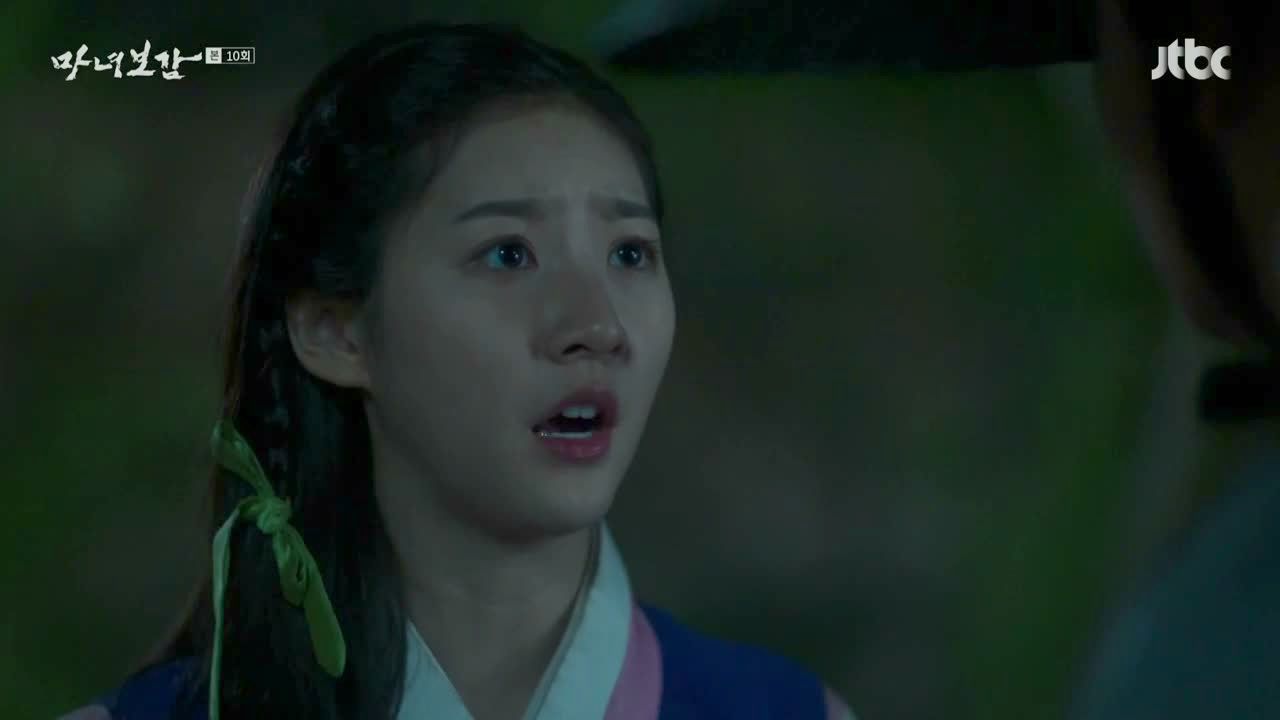 Jun notes that he can't do anything if Seo-ri doesn't want Poong-yeon to know about her curse, but tells her that Poong-yeon would want any kind of explanation from her, gently reminding Seo-ri that she promised not to run away anymore.
Nearby, Yo-gwang tries to explain to a frustrated Poong-yeon that it's best for him not to know too much, but Poong-yeon is sick of not being allowed to meet Yeon-hee/Seo-ri without knowing why. Poong-yeon declares that from now on, he'll be the one to decide whether or not he sees her.
When Poong-yeon sees Seo-ri walking back, he grabs her in a tight hug. Cradling her head, he tells her how thankful he is that she's alive, and a tear trickles down Seo-ri's face.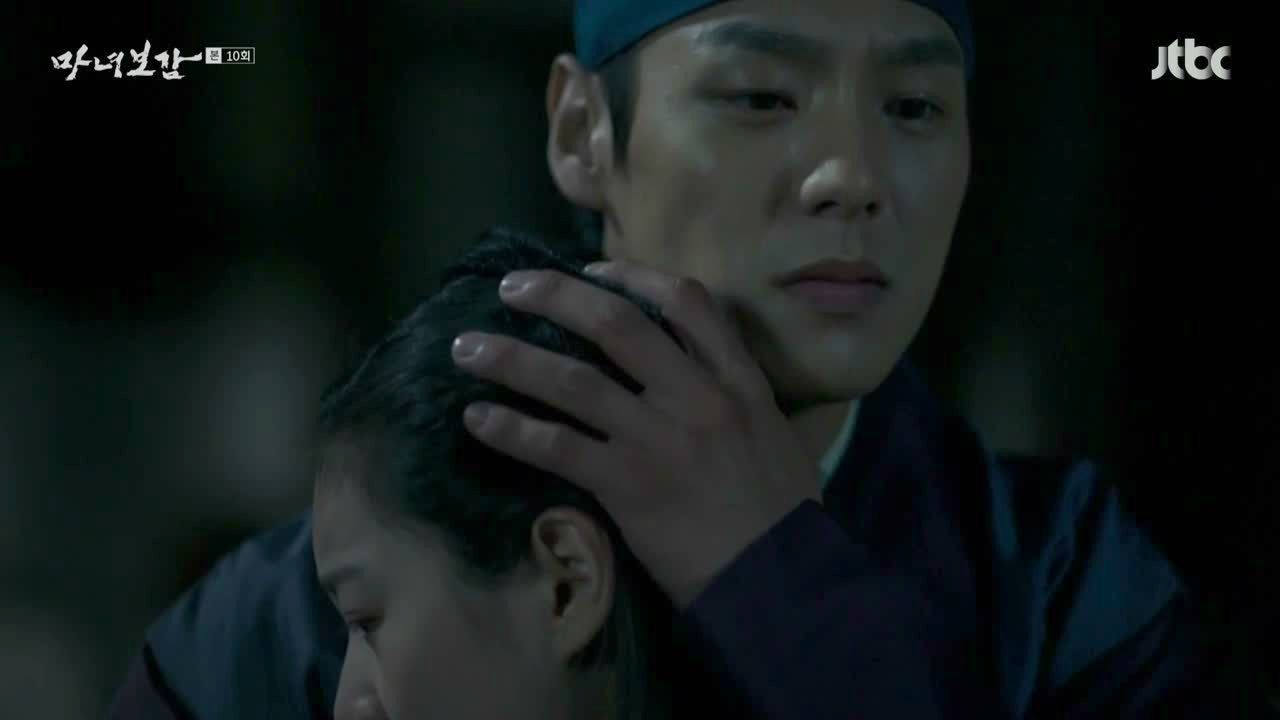 Taoist master Hyun-seo watches as the royal guards rush into the shaman hall to arrest Hong-joo's minions. Speaking with a pretense of concern, a eunuch explains to Hong-joo that the queen dowager was shocked to hear about the armed shamans and has provided the guards for Hong-joo's protection.
Facing him with a frightening smile, Hong-joo feigns gratitude for the queen dowager's concern. The queen dowager scoffs at Hong-joo's insolence when she hears the message, and reiterates that they must watch Hong-joo closely.
At a riverbank, Yo-gwang, Sol-gae, and Jun give the two siblings some privacy to catch up. Poong-yeon asks Seo-ri if she's here because of Jun, but Seo-ri corrects her brother, explaining that she has her own matters. She asks after their father and when Poong-yeon can't answer, she begins to blame herself for Dad going missing.
Poong-yeon catches the slip, and asks what happened the day they disappeared. Seo-ri can only stare dejectedly downward, so Poong-yeon tells her comfortingly: "Slowly, tomorrow, the day after tomorrow, and the next, you can meet me and tell me, from the beginning to the end."
Their reunion is cut short when Poong-yeon hears that the king's been looking for him. Poong-yeon asks Seo-ri to meet here tomorrow, and looks pointedly in Jun's direction, telling him he'll be questioned for his crime the next time they meet. Jun responds that he has no crime to speak of.
At the palace, the king explains to Poong-yeon that he heard the queen dowager had given birth to a cursed princess, and that this princess is the cause of his illness. The king wants Poong-yeon to find the princess and cure him; afterwards, the king will finish off the queen dowager.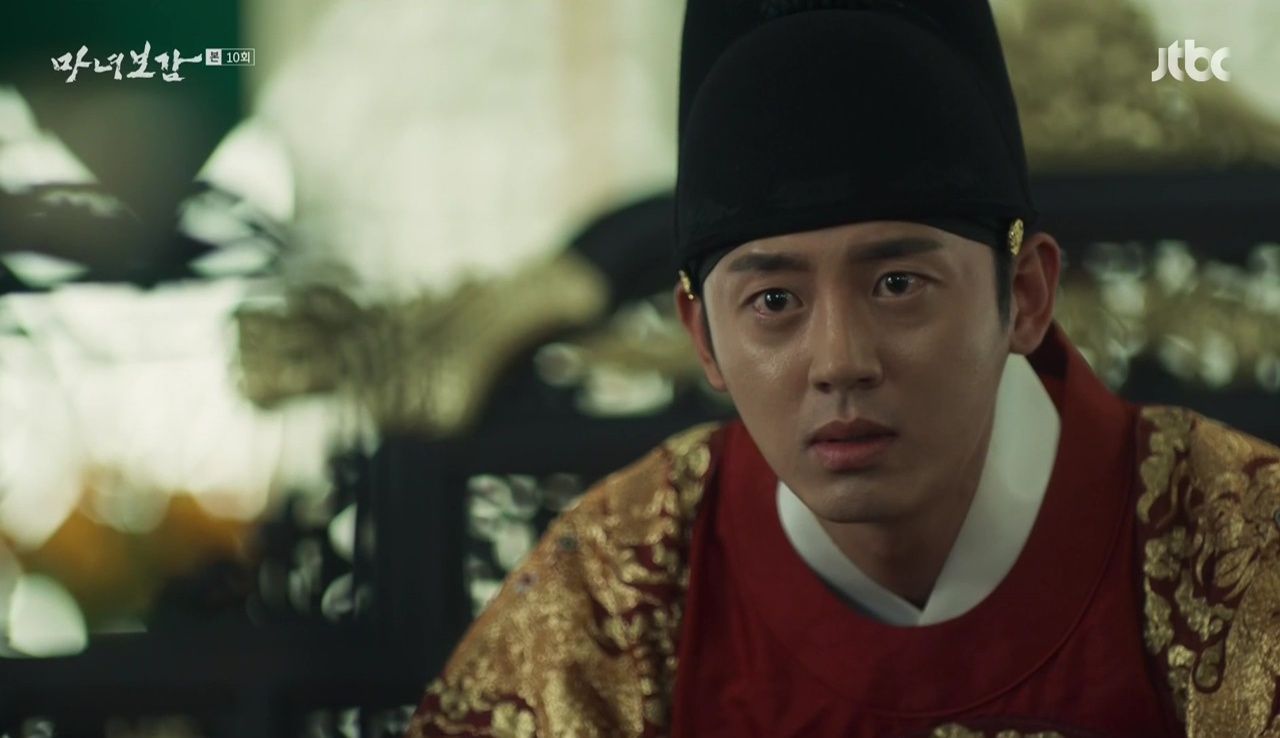 Poong-yeon takes the story in with skepticism, and asks the king if this is what Hong-joo told him. Growing defensive, the king asks if he looks pathetic for believing a mere shaman and Poong-yeon answers honestly that the king seems to be blinded by Hong-joo's words.
The king tells Poong-yeon that Hyun-seo was the one who saved the princess when he was supposed to kill her, and informs him that Hyun-seo also convinced the queen dowager to revive the Taoist temple.
This is news to Poong-yeon and he's surprised to hear that his father is back. The king guesses that Hong-joo and Hyun-seo must have returned to the palace because of the princess, and asks Poong-yeon, "If my life were at risk, what would you do?"
Poong-yeon immediately responds that he would sacrifice his own life. Satisfied, the king makes his request to Poong-yeon, to cut ties with his father and investigate him. If what Hong-joo said is true, Poong-yeon is to find the princess and bring her to the king.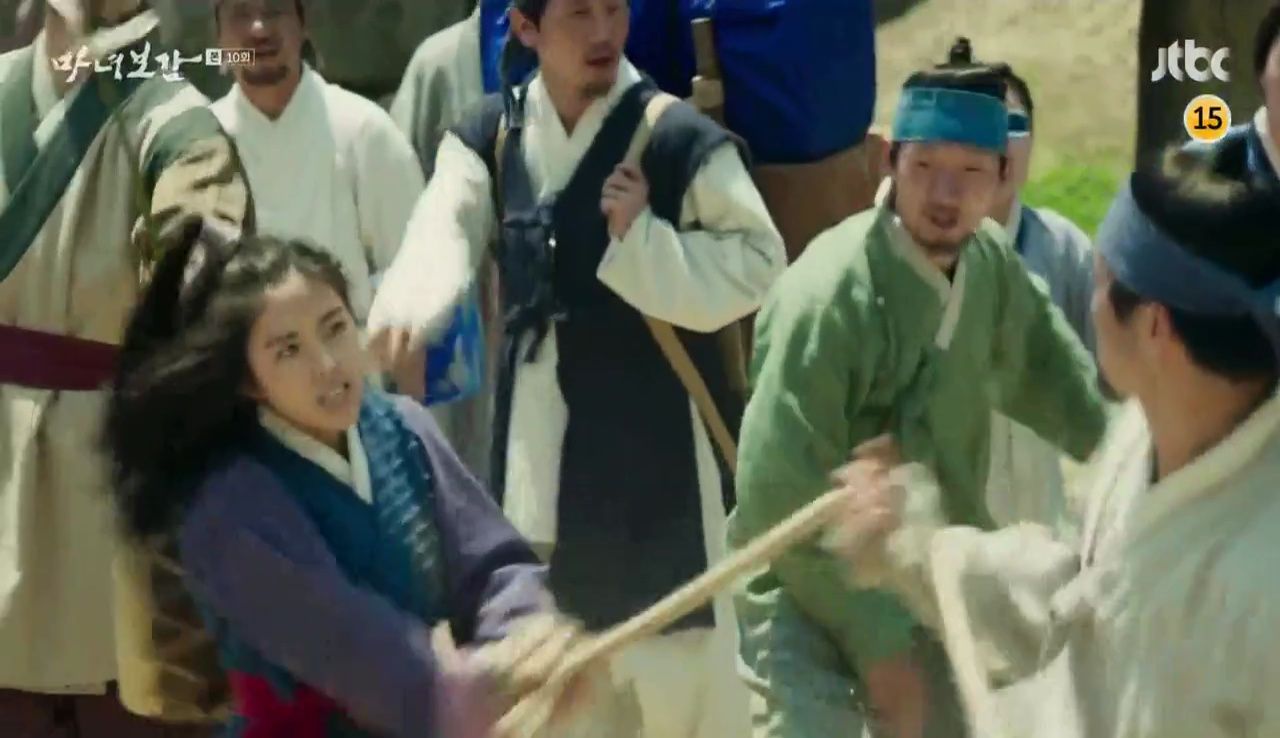 As Jun, Seo-ri, and Yo-gwang walk across town, they hear a loud drumbeat and townspeople clamoring around. A man announces that a thief is coming, and forcibly drags Soon-deuk through the streets, with her hands bound by ropes.
They tie her to a tree, and Soon-deuk struggles against the ropes and insists that she did nothing wrong. She demands to be untied but Jun's half-brother Ok just scoffs, and announces to the crowd her crime of having contempt for a noble.
The townspeople all cower in fear but Soon-deuk's a feisty one, and she boldly takes the chance to curse Ok out. "Before I take a spoon and carve out all your intestines," she warns, "untie me immediately!" Ok stammers in response to her nerve, and Soon-deuk continues, mocking Ok for thinking that Jun will come for her.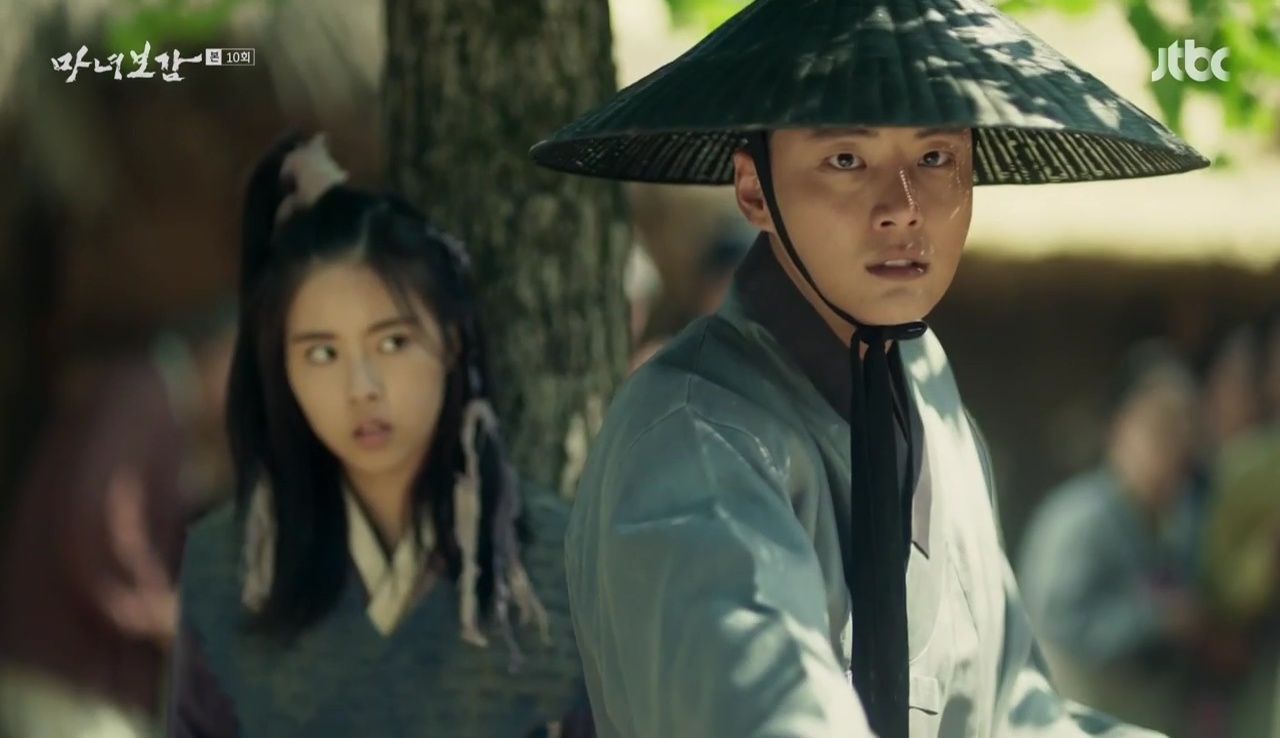 Ok laughs in disbelief at Soon-deuk's audacity, and points his sword at her, telling her he doesn't know how long his patience will last. In the crowd, Jun hides his face, and the trio turn to leave, but then Ok loudly remarks that lowly people only realize their place when their parents have been punished. This strikes a nerve with Jun, and he angrily rushes through the crowd, knocking Ok over and freeing Soon-deuk.
Jun thrusts his sword at Ok, and our trio plus Soon-deuk make a run for it. When the four of them reach a hiding place, Yo-gwang chides Jun for being so brash, but Jun tells Yo-gwang that he's not finished yet, immediately turning to go back.
Ok and his assistant are still stumbling around, wondering where the group ran off to, when suddenly, Jun approaches them from behind and knocks them out.
Ok wakes up on a barn floor, groaning. Jun stops Seo-ri from coming in and tells her not to look. He slams the door closed, and unsheathes his sword as he walks over to Ok.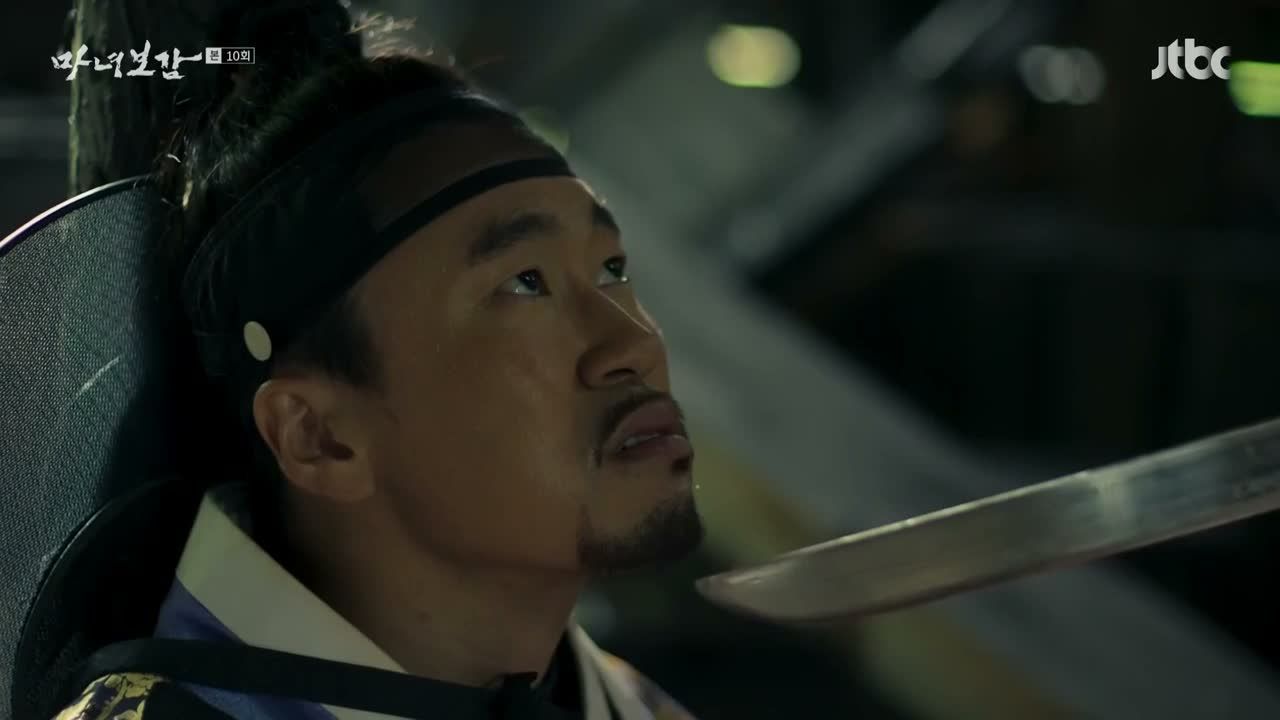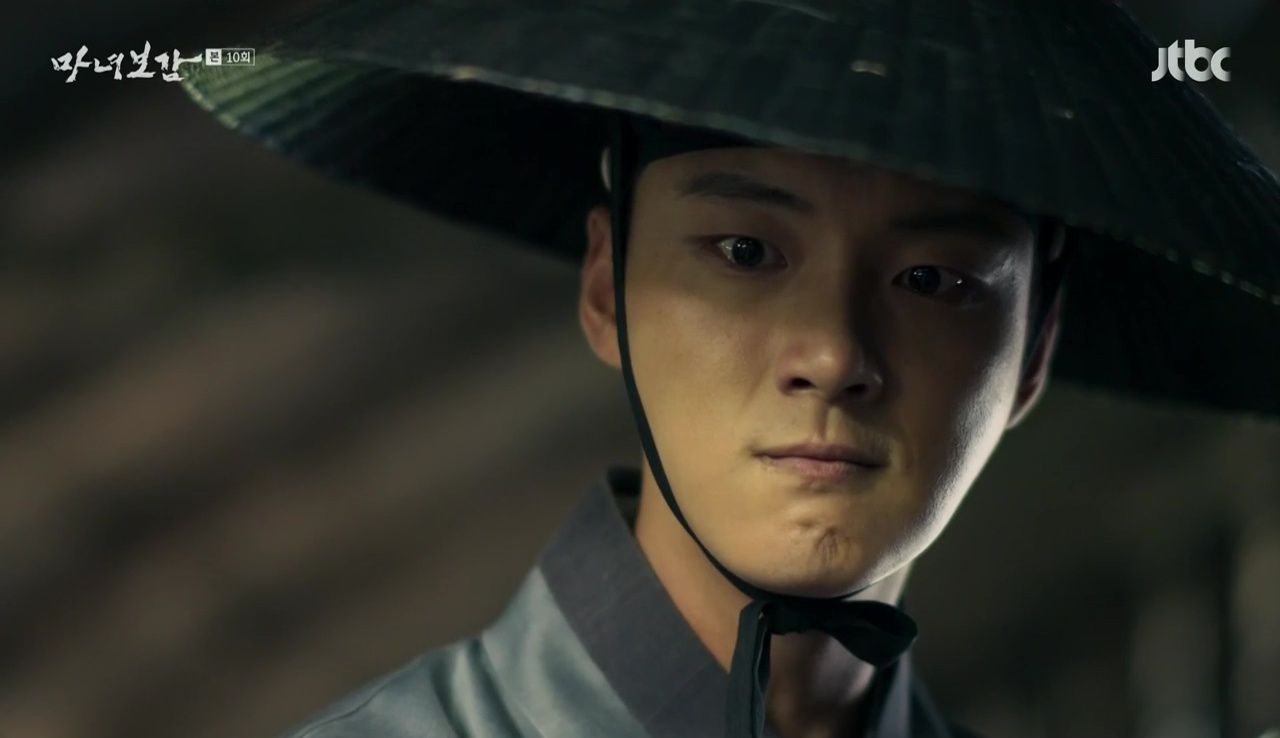 Complaining that it's Jun's fault for making him like this, Ok spins a sob story about how unfair it was for him to always be compared to Jun. Angrily, Jun asks if Ok killed his mother just because he didn't like Jun.
Ok claims that Jun's mother crawled into the fire herself — after all, he asks, does it make sense for a runaway slave to continue living? He goes on, suggesting that it's Jun's fault his mother died because Jun was the one who convinced her to run away.
Jun lowers his sword, and thinks sadly that Ok is right, noting that he couldn't protect his mother because he didn't have any power. Jun remarks that in the end, this is the only way to stop Ok, and asks Ok if he recognizes this place.
It's the same barn where Ok had left Jun's mother to die, and Ok finally seems to recognize the direness of his situation. Ok pathetically demands that Jun calm down, but Jun just looks at him with determination, angry tears threatening to spill over.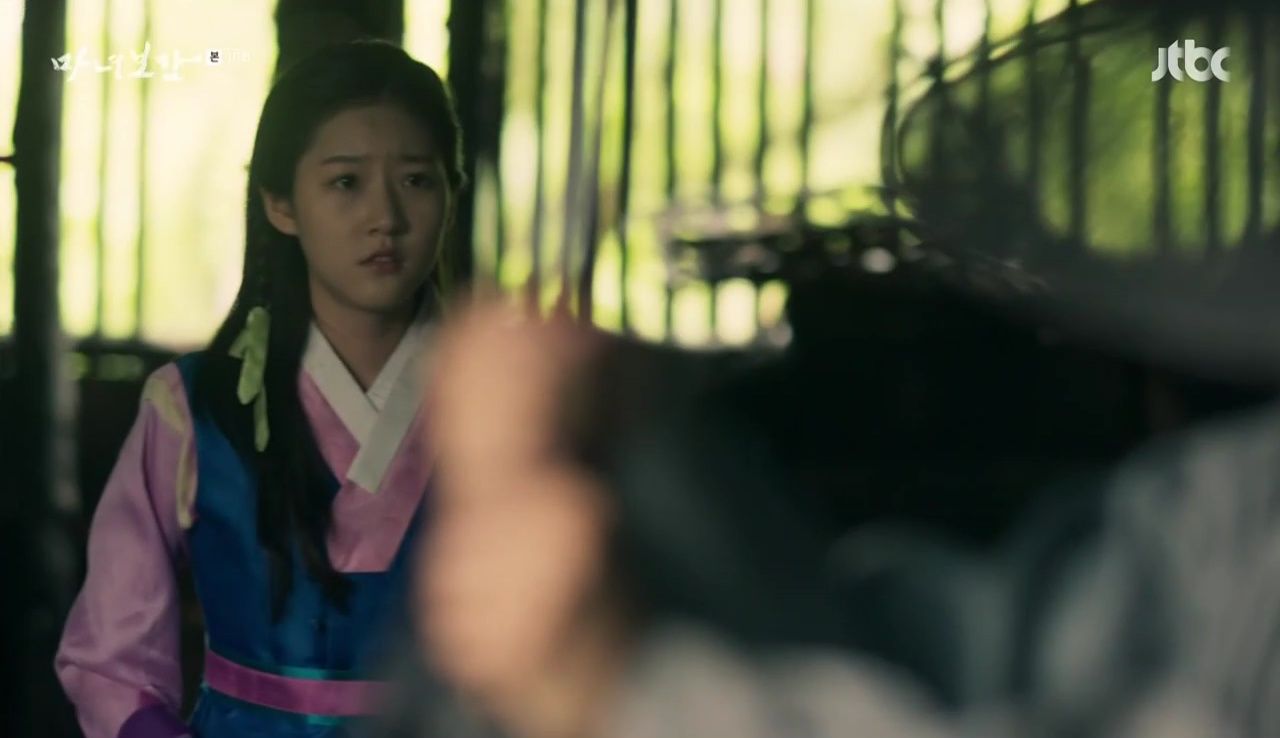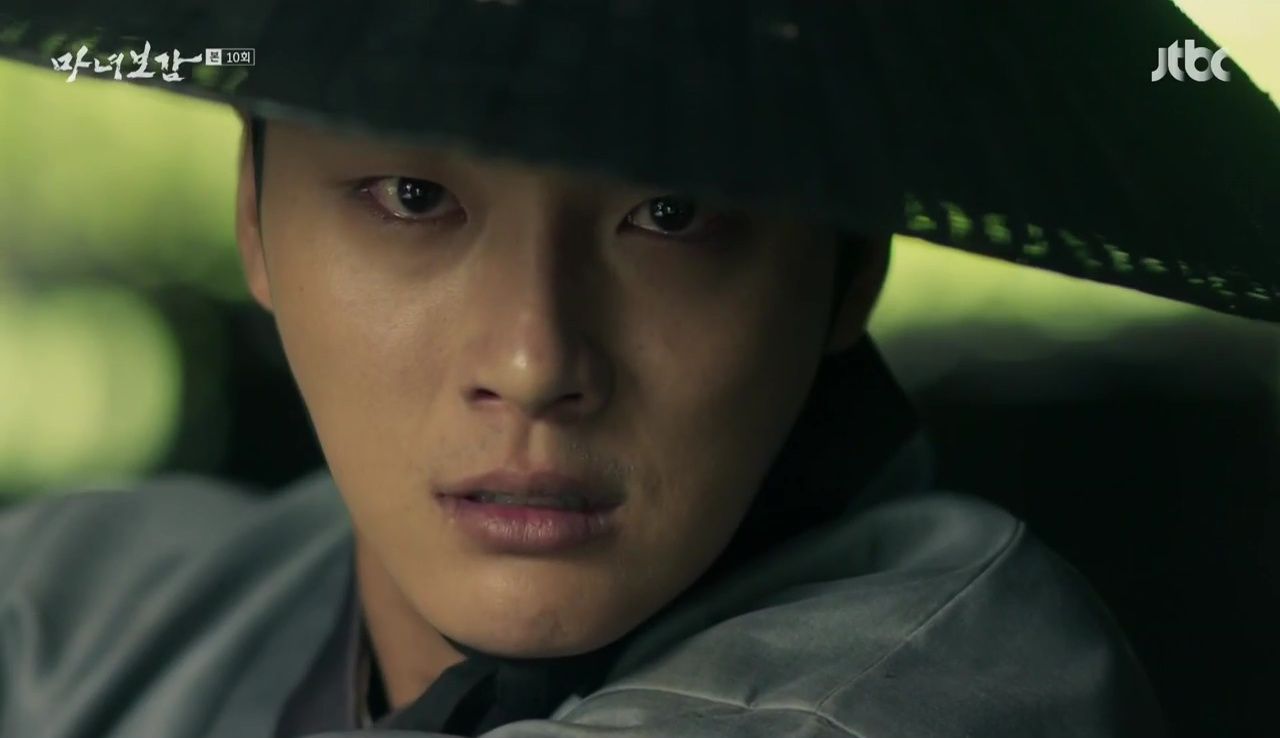 Jun raises his sword to strike, when suddenly, Seo-ri rushes in and cries, "Don't do it!" Jun pauses in mid-air and glances back at Seo-ri, who fervently shakes her head no, begging him not to be like this. Ok repeats Seo-ri's plea, and that incenses Jun, who swings his sword.
After meeting with the king, Poong-yeon rushes over to the Taoist temple to find his father, who greets him with a rueful smile.
In the barn, Ok slowly turns his head, realizes he's still alive, and dashes out, screaming in terror. Jun falls to the floor and beats the ground, and then he notices someone standing before him.
It's the ghost of his mother, and she watches Jun with a pained expression. Jun breaks down, apologizing for being unable to take revenge for her, but his mother just wipes his tears away, as if to reassure him that he did nothing wrong.
She gets up and turns back one last time to look at Jun, before disappearing in a glimmer. The ghost-seeing tattoo behind Jun's ear glows and vanishes. Jun looks around in shock, and Seo-ri walks over to put a hand on his shoulder and comfort him as he cries.
In Cheongbing Temple, a candle suddenly lights up by itself.
Meanwhile, Hong-joo is performing her rituals when suddenly, she collapses to the ground, wheezing and panting. She pulls herself up only to vomit blood, and she looks around in horror.
Inside the Taoist temple, Hyun-seo asks Poong-yeon if he's met with Yeon-hee, and Poong-yeon affirms it with a smile. Poong-yeon excitedly begins talking about her, but Hyun-seo interrupts, asking Poong-yeon if his feelings for Yeon-hee haven't changed.
Poong-yeon answers that his feelings have indeed changed — it's no longer childlike innocent love. He won't ask anymore why Yeon-hee had to be isolated, or what happened in the forest that day, because he no longer needs any reasons to know that he won't let go of her. Hyun-seo asks Poong-yeon if he'll love her even if he dies because of that love, and Poong-yeon confirms it.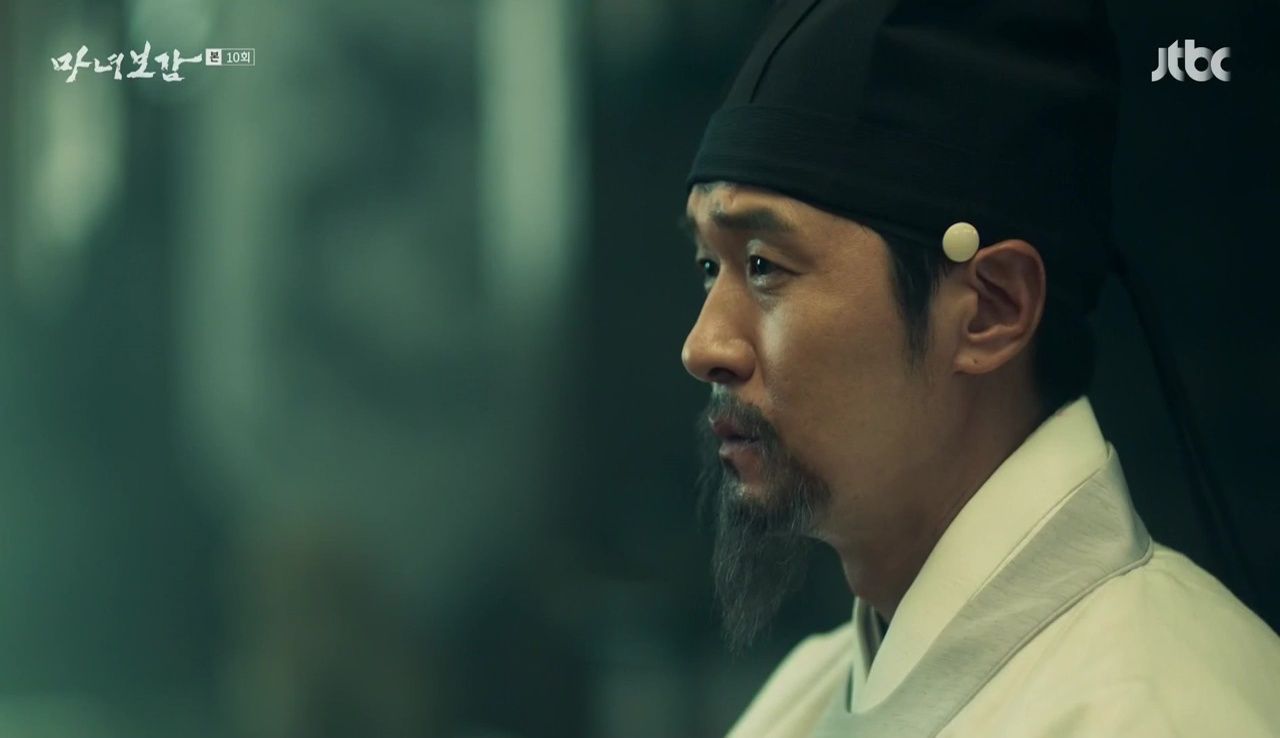 Red Cloak easily sneaks into the shaman hall to take Hong-joo's next order. Now that a candle's been lit by itself, Hong-joo says, she needs to meet the princess as soon as possible.
As our trio plus Soon-deuk make their way back to town, Jun asks Soon-deuk if she's really going to be okay. She tells him no, she won't be okay, and jokingly asks for 300 nyang.
Soon-deuk notes that Jun's found some friends, and stares directly at Yo-gwang as she tells Jun she doesn't want to be involved in any dirty business again. Yo-gwang sputters indignantly, while Jun asks Soon-deuk if she has a place to hide from Ok.
Jun begins to offer their place at Cheongbing Temple, but Yo-gwang cuts in, saying absolutely not. Looking at Soon-deuk, he snidely tells her that Cheongbing Temple isn't some welfare center for the poor.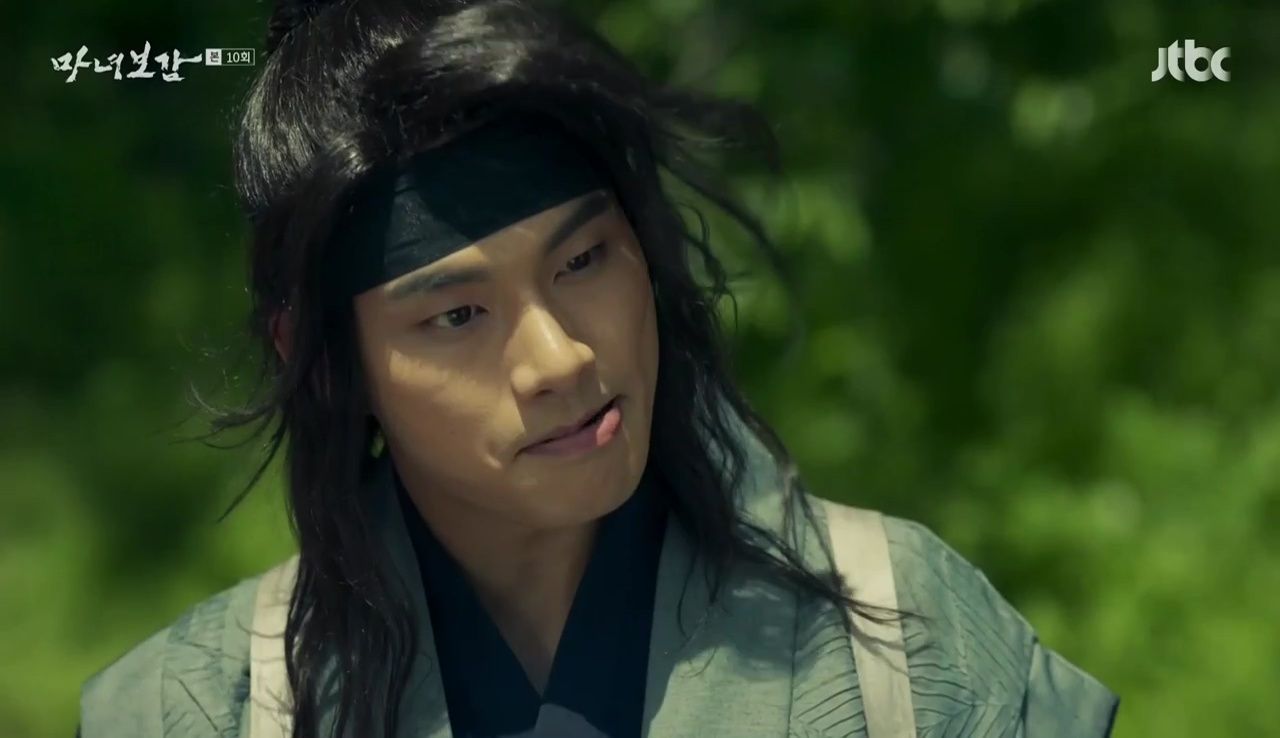 Annoyed, Soon-deuk counters that Yo-gwang shouldn't be talking when he's the one with the beggar-like hair, and tells it to him straight: He needn't worry because she might rob people, but she'll never be indebted to someone.
She gives Yo-gwang a good thump, and tells Jun that if he ever really needs her help, he can talk to the barmaid at the tavern. She walks off, leaving Yo-gwang to huffily complain about "that little thing."
At night, Hyun-seo is still in the Taoist temple, examining the torn page of the Mauigeumseo, when suddenly, all the candles go out.
A dark spirit creeps through the palace hallways and Prince Sunhoe walks into the queen dowager's room. She instinctively calls out to her son, but remembers that he's just an illusion, and she orders him out.
He begs his mother to save him, and unable to restrain herself, the queen dowager follows him into a different room. The prince cries that he's in terrible pain when Hong-joo steps into the scene, carrying the jar where she stores Prince Sunhoe's soul.
With a wave of her hand, Hong-joo strangles the prince with an invisible force, and asks the queen dowager if she hasn't already forsaken the prince. Resolute, the queen dowager says she won't let Hong-joo mess with the royal bloodline anymore, and Hong-joo asks irately if that's why the queen dowager joined hands with Hyun-seo.
As Hong-joo continues to choke Prince Sunhoe, Hyun-seo arrives and demands she stop immediately. He points his sword at Hong-joo, but his hand suddenly blackens and he loses his grip on the sword. Hong-joo tells him not to come near her if he's not joining her, and strangles Prince Sunhoe even harder. Hyun-seo picks up the sword again using all his strength, and this time his sword glows with light. He strikes at the prince, whose figure dissipates, forcing his spirit back into the jar.
Hong-joo holds the jar forward, and mockingly eggs Hyun-seo on. "Do it," she says, "try making the crown prince's soul float around without a place to stay." Hyun-seo prepares to strike but Hong-joo calls his bluff. She holds the jar precariously with just one hand, and the queen dowager screams for her to stop.
The queen dowager pleads with Hong-joo, and agrees to remove the guards and release the shaman minions. Hyun-seo drops his sword in defeat, and Hong-joo tells him that if he had only killed the princess back then, such a horrid thing would not have happened now. Hong-joo turns to the queen dowager, and says menacingly that she ought to think carefully about who is truly trying to save Prince Sunhoe.
At Cheongbing Temple, Seo-ri and Yo-gwang are stunned that a candle has lit itself. They realize that it's because Jun's wish was granted after drinking the ghost-seeing potion and they rush over to thank him.
Yo-gwang wraps Jun in a bear hug, and doesn't even mind when Jun pushes him off, while Seo-ri just squats there, grinning. Jun sees Seo-ri's cheery smile and breaks out in one himself, telling her that he's glad he was of help.
Yo-gwang wonders how they'll receive wishes from now on (since the Hundred Year Tree is now marked as the Murderer's Tree), but Seo-ri suggests that they worry about it later.
Alone in his room, Poong-yeon worriedly thinks back to the king's order to investigate his father and bring forth the princess.
At the Taoist temple, Hyun-seo astrologically calculates the relationship between the births of the king and Prince Sunhoe. He concludes that the energy of the two souls and two bodies fit with the same date, and realizes what Hong-joo's plan was all along.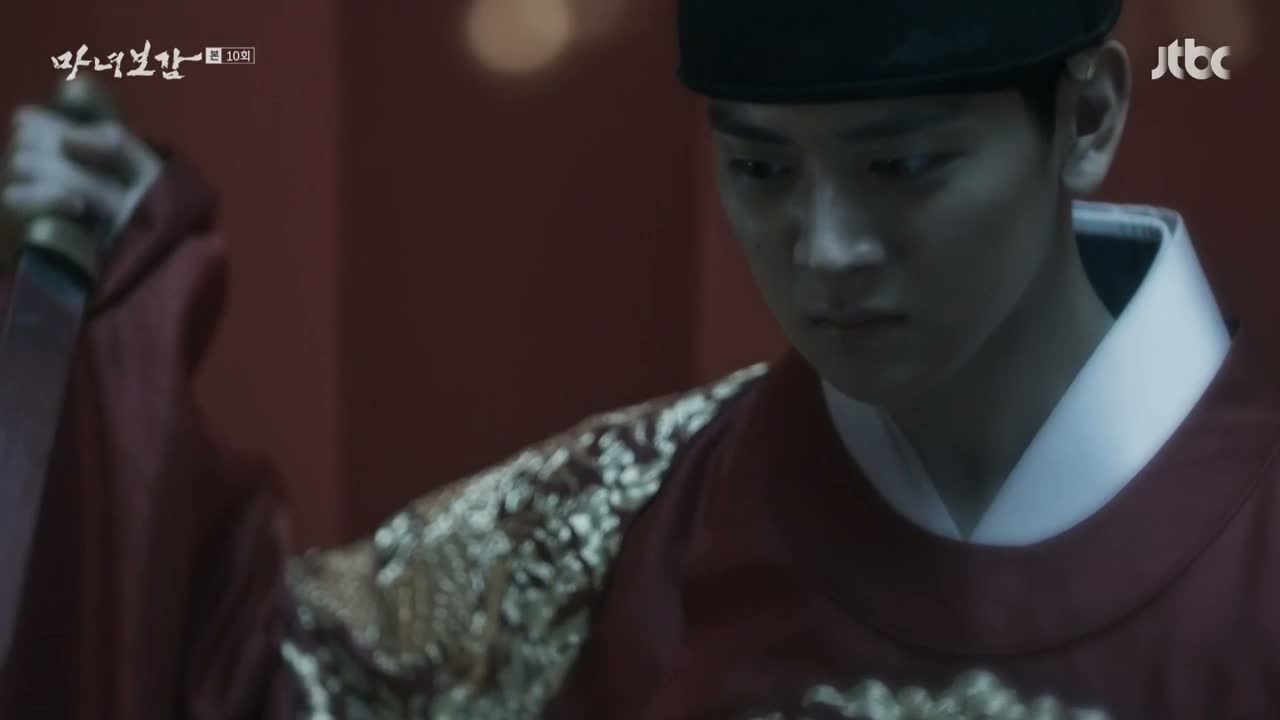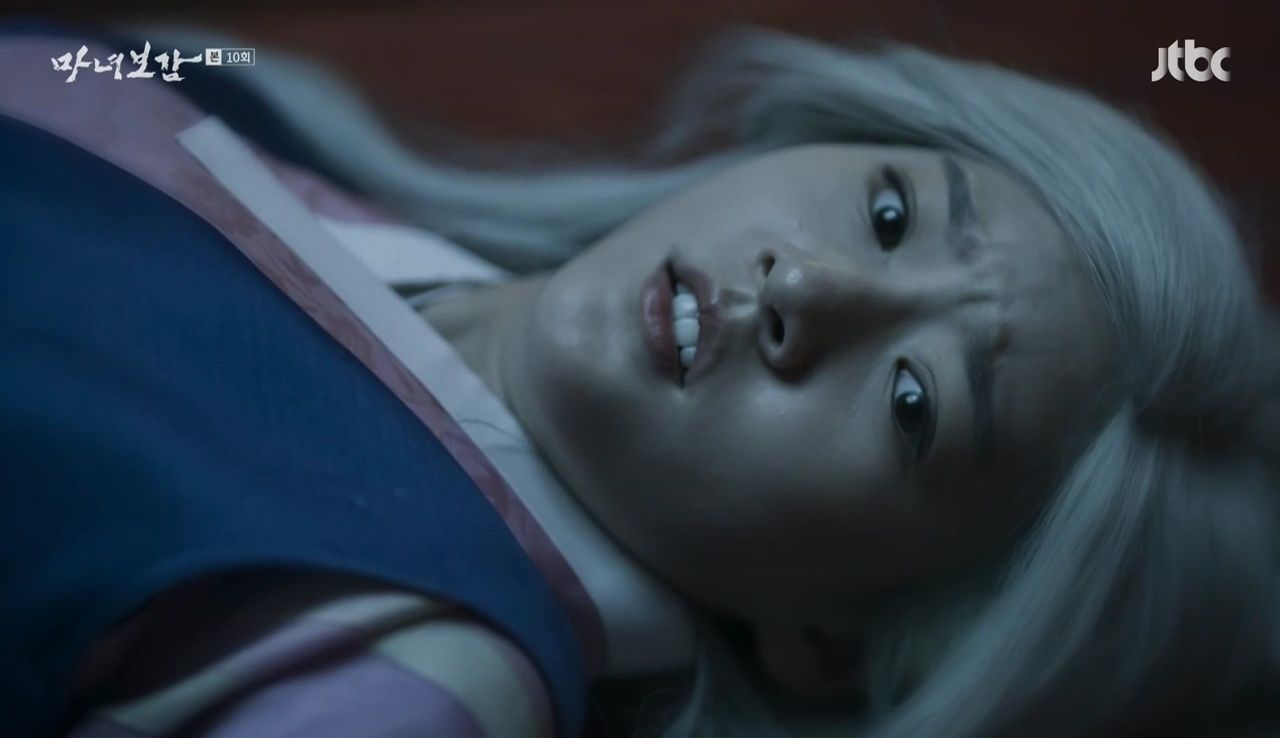 In the shaman hall, Hong-joo suddenly pushes past a pair of red curtains and smiles evilly at a sleeping white-haired Seo-ri, who's been strapped down to a table in the hall.
Seo-ri wakes up when she hears someone calling her "sister," and another figure walks down a hallway of the same red curtains. Seo-ri struggles against her ropes, and suddenly, we see the current king, Seonjo, appear behind the curtains.
The camera switches angles, and then we see Prince Sunhoe instead. He looms menacingly above Seo-ri and takes out a large dagger. He raises it above his head and slices right into Seo-ri's heart.
Seo-ri wakes up screaming, and her irises briefly glow purple before turning back to their normal hue. Thankfully, it was just a nightmare, and she's still at Cheongbing Temple.
In the morning, Seo-ri ponders over her bell charm, thinking of Poong-yeon. When Yo-gwang tells her that he's going to Taeil Temple to figure out how to light the candles again, Seo-ri tells Yo-gwang that she plans on bringing Poong-yeon to Cheongbing Temple today.
In the marketplace, Poong-yeon stops to look at some hairpins for his sister and holds one up to Sol-gae to see how it looks, making her flustered. When he asks Sol-gae to help him pick one, she nonchalantly passes a pretty flower hairpin over to him.
While Poong-yeon is buying the flower hairpin, he notices Sol-gae looking at the one he'd first picked up and asks her if she wants it. Sol-gae denies it, telling him she wouldn't have any use for it anyway.
As Poong-yeon is looking at hanboks for Seo-ri, the storekeeper asks him what size he wants. He coughs awkwardly and then remembers that Sol-gae is approximately Seo-ri's size, and tells the storekeeper that the clothes just have to fit Sol-gae.
At Cheongbing Temple, Seo-ri asks Jun why he's suddenly unable to go with her to meet Poong-yeon. Seo-ri practically rolls her eyes when Jun tells her he's afraid of ghosts, reminding him that he himself said that the effects of the ghost-seeing potion were disappearing.
Caught, Jun fakes a stomachache, but Seo-ri sees right through him and insists that he help her. He reluctantly gives in, but then adds a request; cutely tapping Seo-ri, he asks her to speak informally to him, just like she used to. She shuts him down, telling him they're not that close, and he pouts.
At the riverbank, Sol-gae tells Poong-yeon that she'll pick up the hanbok for Seo-ri and starts heading back to town. Poong-yeon calls out to her and hands her the hairpin she was looking at earlier, telling her that there'll be a day when it'll be useful. She's touched, but clearly unsure how to react.
The storekeeper insists that Sol-gae try the clothes on before leaving. As she undresses, we see that her back is marred by scars and the camera pans to a tattoo on her right shoulder — the same marking that Man-wol's ghost had pointed Jun towards. Sol-gae lifts her arm to put on the hanbok, and we see an especially deep slash just below her shoulder, exactly where Poong-yeon had cut Red Cloak.
Sol-gae tries on the hairpin that Poong-yeon had given her, and she smiles happily at her reflection, seeing herself all dressed up and pretty. Suddenly, she pauses and takes it out, as if she's reminding herself that she can't be like this.
In the palace, Hyun-seo tells the queen dowager that the fates of the current king and Prince Sunhoe are aligned by their birthdates. The queen dowager realizes that Hong-joo just wants the throne for herself by putting Prince Sunhoe in the king's body, and Hyun-seo explains that in order to accomplish that, Hong-joo has to make Prince Sunhoe kill the princess with his own hands.
Only the crown prince can kill the princess successfully, and if he does, the curse of the princess will be brought onto the royal family. The queen dowager is incensed at the thought of her son going through such horrors, and Hyun-seo agrees that they must stop Hong-joo.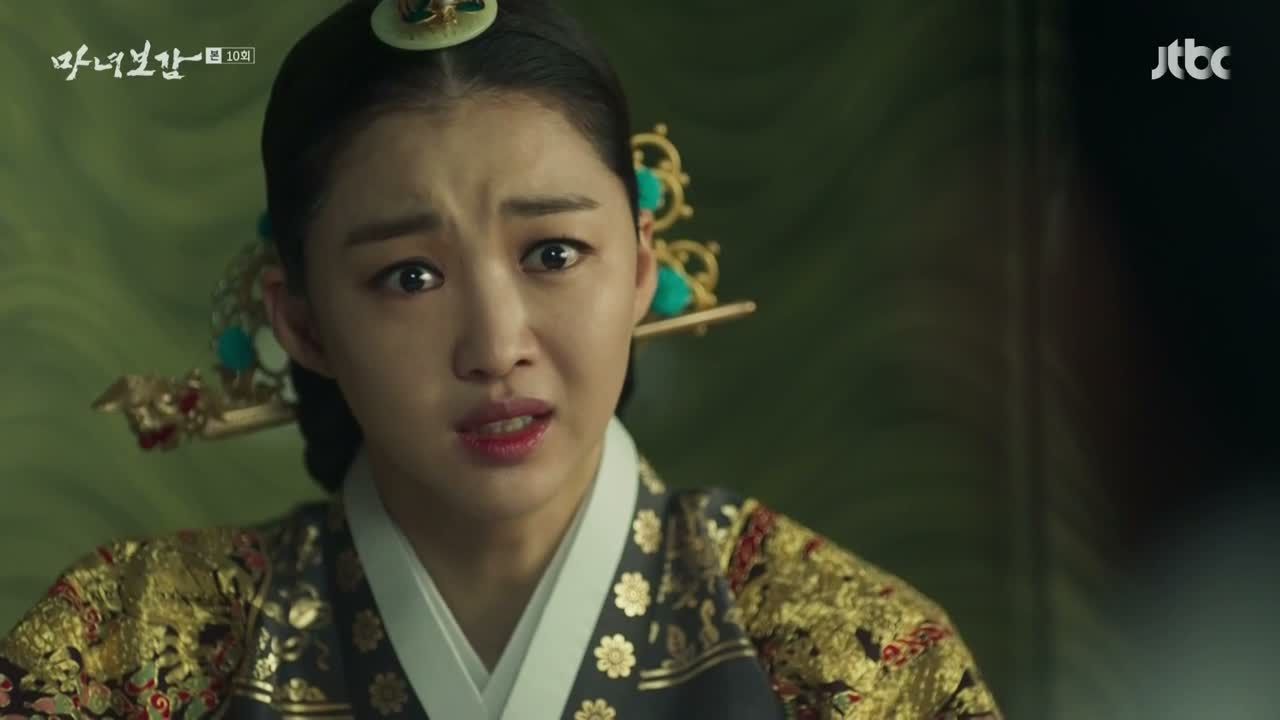 The queen dowager asks if Hyun-seo can stop Hong-joo with his weakened body, and Hyun-seo tries to brush it off. He adds that he's found someone who would sacrifice his life for the princess, and explains that this person will help lift the curse.
Hong-joo and the king are having their own conversation, and she tells him to leave his body to her during an upcoming ritual. She advises him to just think of it as sleeping and assures him that if he does this, his pain will soon be gone.
At Taeil Temple, Yo-gwang finds a hidden letter and realizes that Hyun-seo is back. He rushes inside, and Hyun-seo thanks him for keeping Seo-ri safe all this while.
Yo-gwang apologizes for letting the talisman barrier at Cheongbing Temple break down, but Hyun-seo informs Yo-gwang that he was the one who broke it. Hyun-seo tells Yo-gwang that it's great fortune that Jun is Seo-ri's human shield, and asks Yo-gwang to do something for him.
On the way to meet Poong-yeon, Jun is still sulking over Seo-ri's comment that they're not that close. She takes a hint, and speaking informally, asks if he wants some rice balls later.
It catches him by surprise and she continues talking about food, turning to smile at him. Jun can barely hide his smile, and when she asks if he feels good after thinking about food, he agrees, saying he likes it a lot. Something tells me he's not talking about the food anymore.
Suddenly, a dagger comes flying at Jun's shoulder. Jun jumps in front of Seo-ri to shield her, and grabs her to start running as the daggers keep coming. From afar, Poong-yeon sees that they're being attacked and chases after them. Sol-gae walks onto the scene with the bag of clothes and clocks everything that's happening.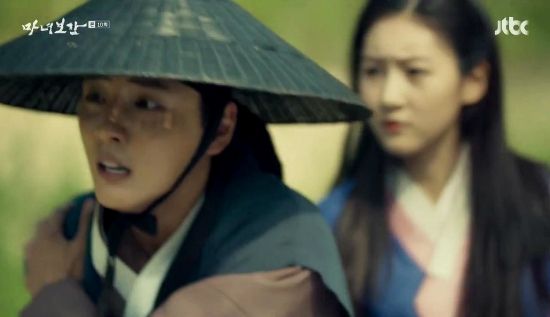 A smoke bomb separates Jun from Seo-ri, and the masked attacker pushes Jun down a hill, leaving Seo-ri all alone. Jun struggles to climb up the hill, while the attacker runs back up and pulls down his mask — it's Yo-gwang.
Hyun-seo had requested that Yo-gwang momentarily separate Seo-ri from Jun, so that Poong-yeon would be able to see Seo-ri's curse with his own eyes. "If his heart doesn't waver even after seeing her in her cursed state," Hyun-seo says, "then he's the last person who can undo her curse."
Seo-ri scrambles through the forest, desperately calling out for Jun, but it's Poong-yeon who arrives before her.
At Taeil Temple, Hyun-seo thinks that only a true love's sacrifice can light the last candle. Hyun-seo had hidden this to protect Poong-yeon, but if this is Poong-yeon's destiny, Hyun-seo remarks sadly that he cannot go against it, and he will lead his son to death.
In the forest, we see Red Cloak's mask lying next to the bag of clothes that Sol-gae had picked up for Poong-yeon. We see the same tattoo on her shoulder as she dons her Red Cloak disguise and heads out on her mission.
Poong-yeon grabs Seo-ri's hand and asks her to go down with him, but she flings his hand away. The curse tattoo behind her ear begins to glow and her hair turns white. Poong-yeon looks at her in shock, while his curse mark begins to glow, too.
He backs away from her, scared, and Seo-ri looks heartbroken that he's rejected her again. Poong-yeon sees Red Cloak approaching them and unsheathes his sword, but the activation of the curse has weakened him too much and he falls to the ground.
Red Cloak takes out her sword, preparing to attack. But suddenly Seo-ri's eyes glow purple and in one angry look, she uses her telekinetic powers to send Red Cloak flying, making her struggle for breath as she floats in mid-air. That only terrifies Poong-yeon more, who crawls away from Seo-ri and tells her to get away from him when she approaches, trying to help.
Taking advantage of Seo-ri's momentary distraction, Red Cloak throws a dagger right at her back. Seo-ri falls to the ground, shedding another tear.
By the time Yo-gwang and Jun make it to the scene, they only see Poong-yeon writhing on the floor. Jun spots Red Cloak carrying Seo-ri off in the distance and they give chase. Poong-yeon's curse tattoo flickers a few times before disappearing, and he grabs his sword to follow them.
Seo-ri wakes up tied to a table, in a room surrounded by red curtains. It's just like her nightmare. She struggles against the ropes as Hong-joo walks into the room. Hong-joo says it's been a long time, commenting that it seems like Seo-ri hasn't forgotten her.

COMMENTS
NOOOOO. Not Sol-gae! Narratively speaking, Sol-gae turning out to be Red Cloak was a great plot twist, but she's just been such a wonderful character that it pains me to see her on the dark side. I loved how the writers had portrayed her as this outward badass with a soft innocence on the inside, from the way she stood up for Poong-yeon at the gisaeng house last week, to the way she's delighted over something as simple as dressing up this week.
She's definitely not the heartless killing machine that I expected Red Cloak to be, but that makes me feel all the more conflicted for liking her. I know Sol-gae's got blood on her hands, and it'll be hard for the show to redeem a serial killer, but I can't help but pity her, especially when she's so affected by Poong-yeon's warmth. I can only hope that Sol-gae's unconscious growing attachment to him comes in handy later on.
As for Poong-yeon, I can't imagine how distraught he'll be when he learns that there's really no one, not even Sol-gae, on his side. The king wants him to betray his own family. Hyun-seo seemed sorry about leading his own son to death, but I found it a little disturbing that he's relatively unemotional when weighing the importance of his family against the well-being of the state. And now, it turns out that Sol-gae's the very enemy that Poong-yeon's searching to capture.
If Poong-yeon's going to suffer heartbreak later, though, Seo-ri's definitely the one who's going through the most heartbreak right now. Considering that Poong-yeon tried to defend Seo-ri from Red Cloak even after seeing the transformation, and chased after them when he recovered from the curse, I don't think Poong-yeon completely rejected Seo-ri; nevertheless, freaking out and crawling away from her wasn't exactly the best reaction either.
It just broke my heart to see Seo-ri's worst fears come true, and I can't help but compare Poong-yeon's reaction to Jun's. Jun had accepted Seo-ri and pitied her, whereas Poong-yeon had reacted as if Seo-ri were a monster. I'm sure that Poong-yeon means well, and will eventually be able to see past Seo-ri's curse, but in this case, his immediate reaction was the one that mattered and once again, we see that only Jun truly understands Seo-ri.
I also can't believe that Yo-gwang and Hyun-seo would hatch such a half-brained plot to test Poong-yeon's love for Seo-ri. It's bad enough that they didn't think it necessary to consult Seo-ri and Jun about their plan, but the fact that Yo-gwang didn't take any precautions to keep danger at bay is what really annoys me. At the very least, Hyun-seo or Yo-gwang could've stationed themselves with Seo-ri in case something happened, and Seo-ri wouldn't have been as easily kidnapped.
I'm terrified of what's to come for Seo-ri, and I really hope our good guys save her before she's emotionally or physically damaged by Hong-joo. Can this please be Sol-gae's chance to come back to the good side?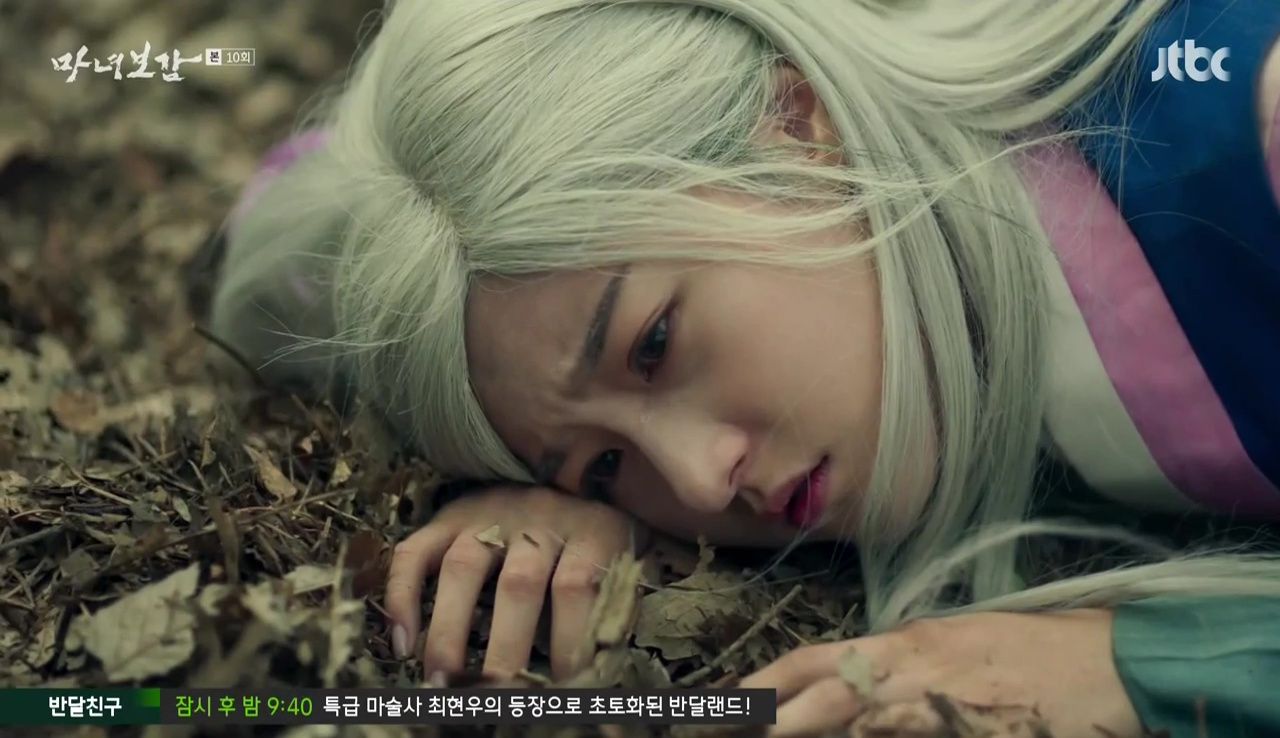 RELATED POSTS
Tags: Episode 10, featured, Kim Sae-ron, Lee Sung-jae, Mirror of the Witch, Yeom Jung-ah, Yoon Shi-yoon