Mirror of the Witch: Episode 13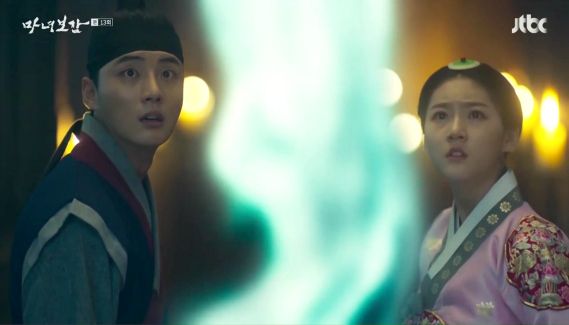 We finally come down to the culmination of the Battle for Prince Sunhoe's soul, and our hero and heroine display some kick-ass fighting and witching skills, as they join forces to combat forces of evil working through both their friends and their foes. Many of our other characters, meanwhile, come to a crossroads where difficult choices hang in balance — gray just doesn't cut it anymore. When it comes down to action, it's time to choose between black and white.

EPISODE 13 RECAP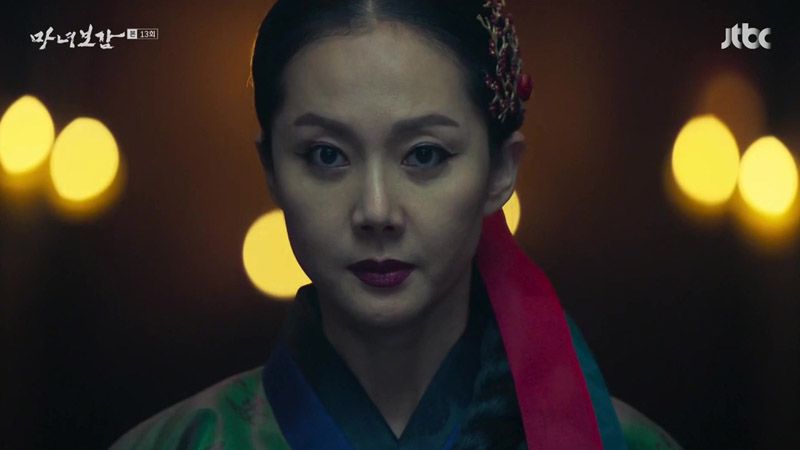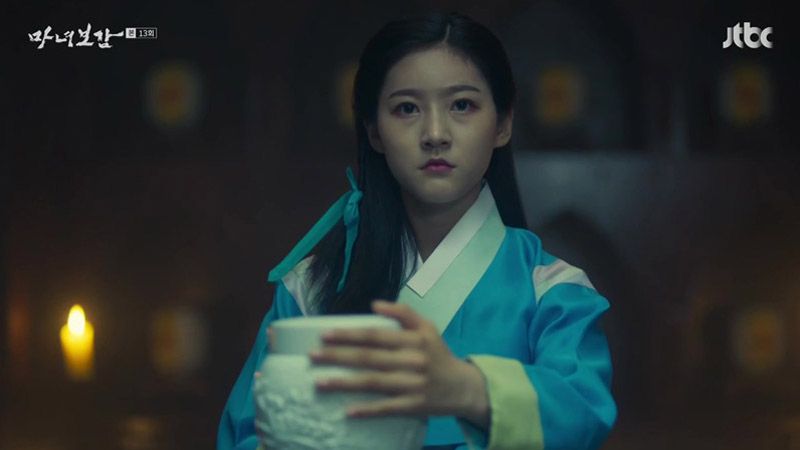 Yeon-hee, freshly moved into the palace, confronts Hong-joo and asks if she's happy to see her. Hong-joo, grinning like a cat with the cream, says of course she is — she has worked hard to find Yeon-hee, and asks if she has come to see her twin brother Prince Sunhoe.
Both ladies glance at the white urn in which the prince's soul is imprisoned, and Yeon-hee asks if that urn holds her brother. Hong-joo just smiles, and asks how she can be so cold.
Yeon-hee reaches out and summons the urn, which flies through the air into her hands. Hong-joo's eyes widen with alarm, and Yeon-hee tells her she can no longer bear to stand by and watch Hong-joo's evil deeds play out. Holding the urn at arm's length, she lets it totter precariously.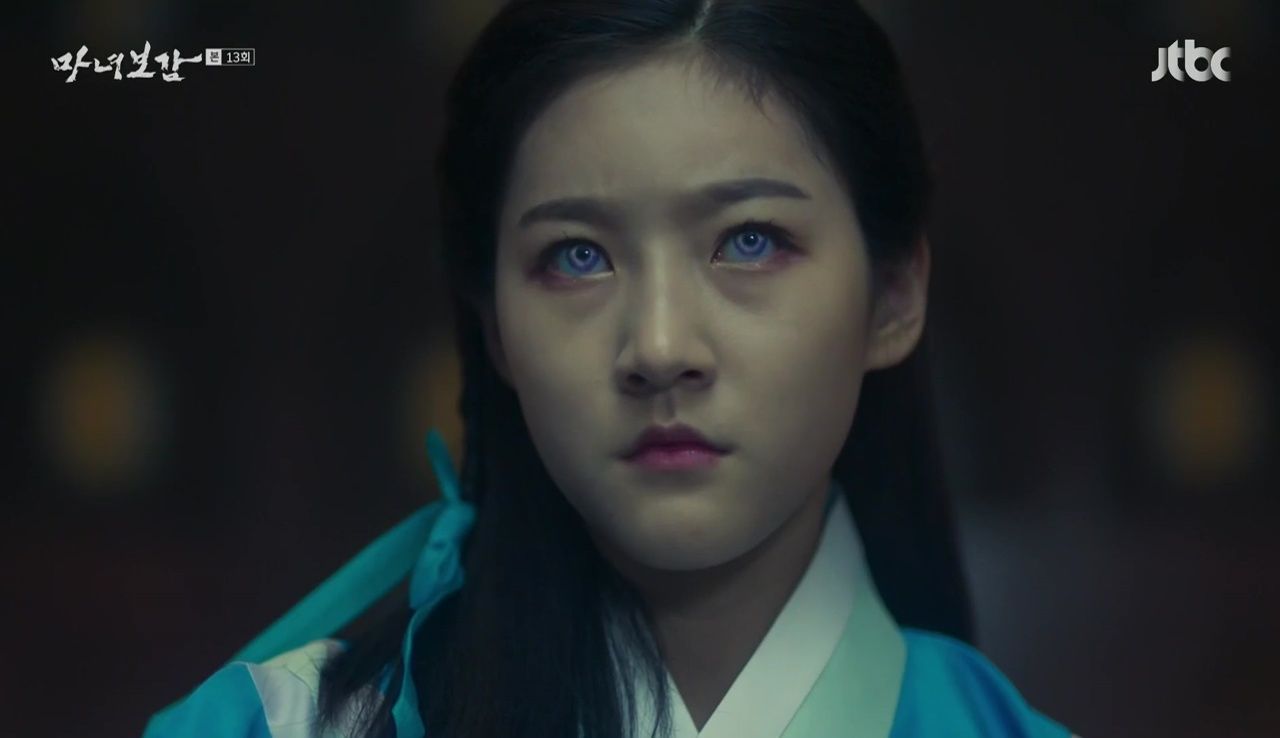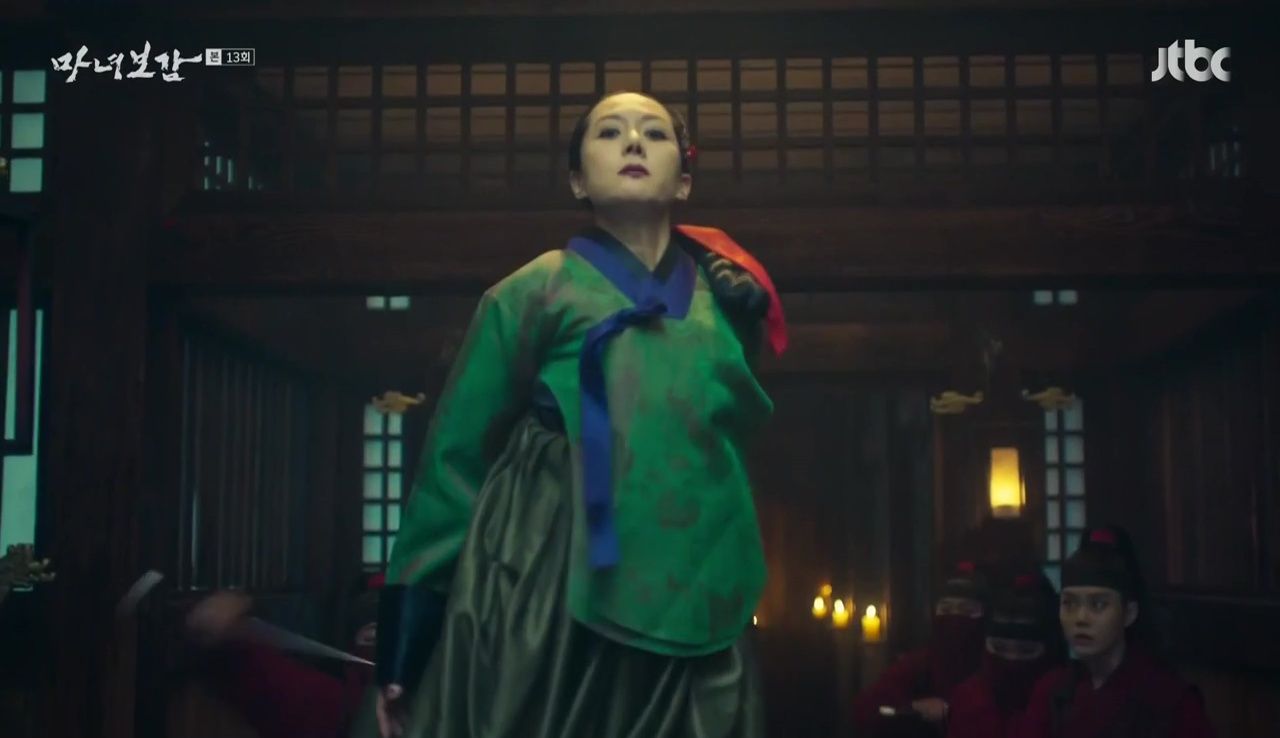 Hong-joo plays it cool, commenting that Yeon-hee will ultimately be the one to kill her brother, and asking what the queen dowager will feel when she learns that Yeon-hee killed him. Yeon-hee coolly asks in return that if one of the twins must die, shouldn't the currently living one survive?
As the urn tips on the end of Yeon-hee's fingers, Hong-joo orders Yeon-hee to put the urn down. She snarls that she created the twin siblings, and so she decides who lives and dies.
Hong-joo begins to approach, but Yeon-hee's eyes glow bright blue, and Hong-joo is violently dragged up into the air. When the shamaness soldiers move towards her, Yeon-hee's eyes glow, and she generates a force that shoves them away.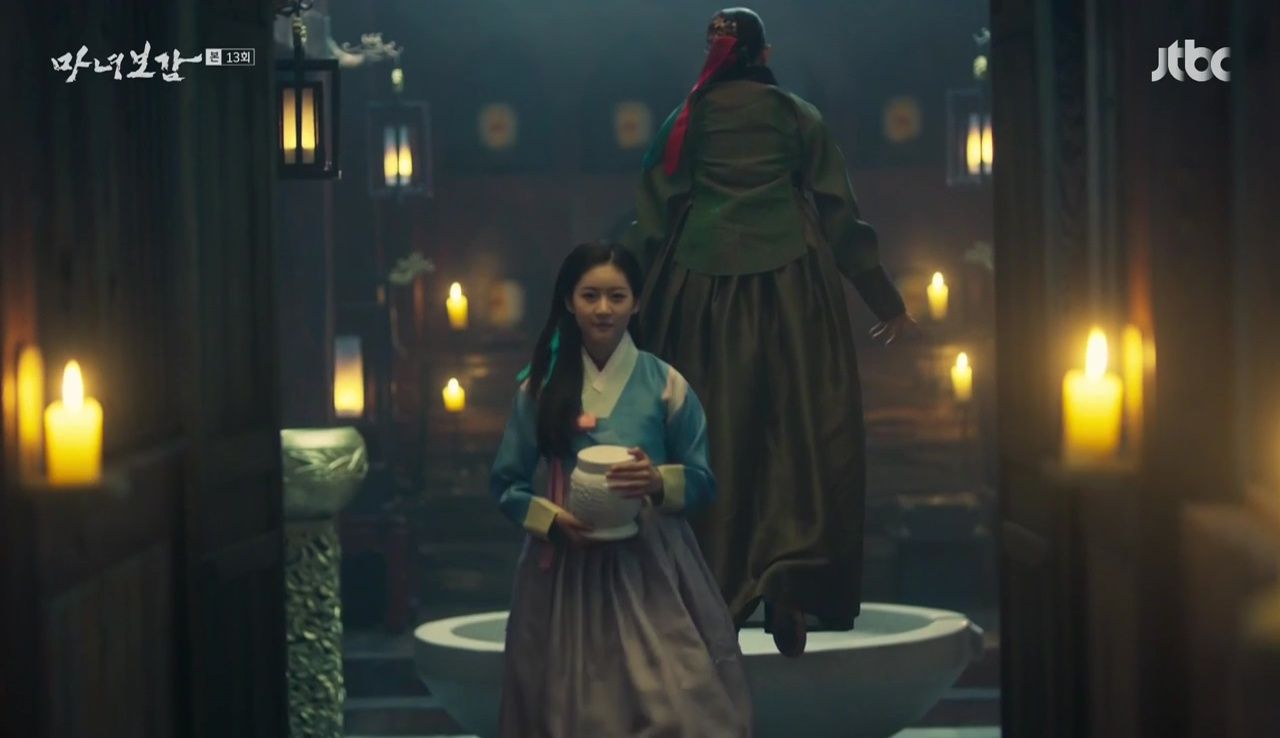 In complete control now, Yeon-hee flies over to Hong-joo, who is still dangling in the air, and angrily asks if Hong-joo knows how many innocent people have died because of her terrible deeds. She knows that Hong-joo will try to force the prince to kill his sister again, and again raises the urn up high.
Hong-joo can only gasp out that this isn't the only way for her to kill Yeon-hee. Yeon-hee replies that she can find that out, takes the urn, and walks resolutely out.
Released from Yeon-hee's magical grasp, Hong-joo crumples to the floor, and her face hardens.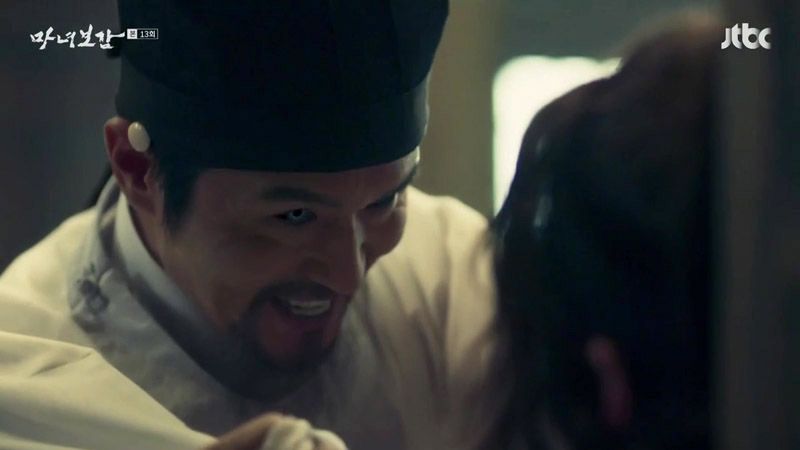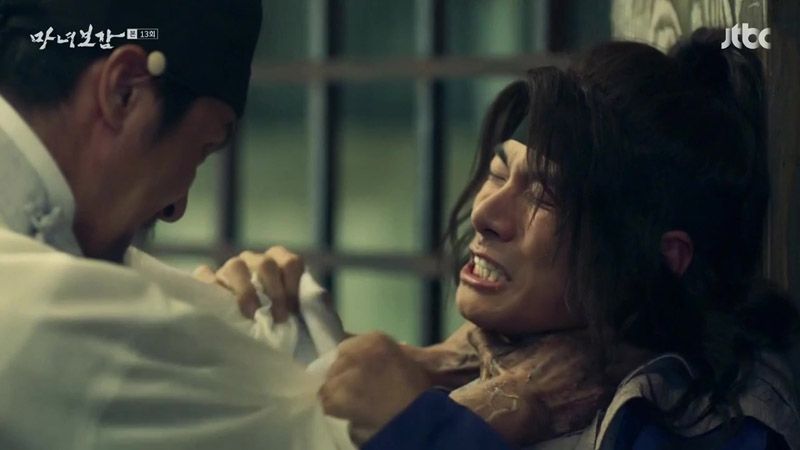 Hyun-seo, possessed by Hong-joo's dark power, points a sword at Yo-gwang and demands that Yo-gwang bring him to Yeon-hee.
Yo-gwang is utterly confused and beg his master to come to his senses. Hyun-seo grips Yo-gwang's throat, choking him and tossing him across the room before he runs out.
Hong-joo faces off against the queen dowager, asking if she was the one who brought Yeon-hee to the palace. She adds that she will have to hide Yeon-hee very carefully, considering Hong-joo has searched the entire country for the princess. In the palace, she might as well be in Hong-joo's hands.
After Hong-joo leaves, the queen dowager quietly leaves the room through a hidden door behind her screen. She goes to see Yeon-hee, who is hidden in a room past the concealed hallway.
Hong-joo informs the king that the princess has been concealed somewhere in the palace by the queen dowager. Fixating on Hong-joo's promise that finding and eliminating Yeon-hee will heal his mysterious illness, the king orders Hong-joo to bring the princess to him.
She asks for permission to "hunt" Yeon-hee down in the palace. His eyes get a little crazy, as he turns this request down — only to say that the hunt will be more fun if he does it himself. Hong-joo smiles that she will just watch.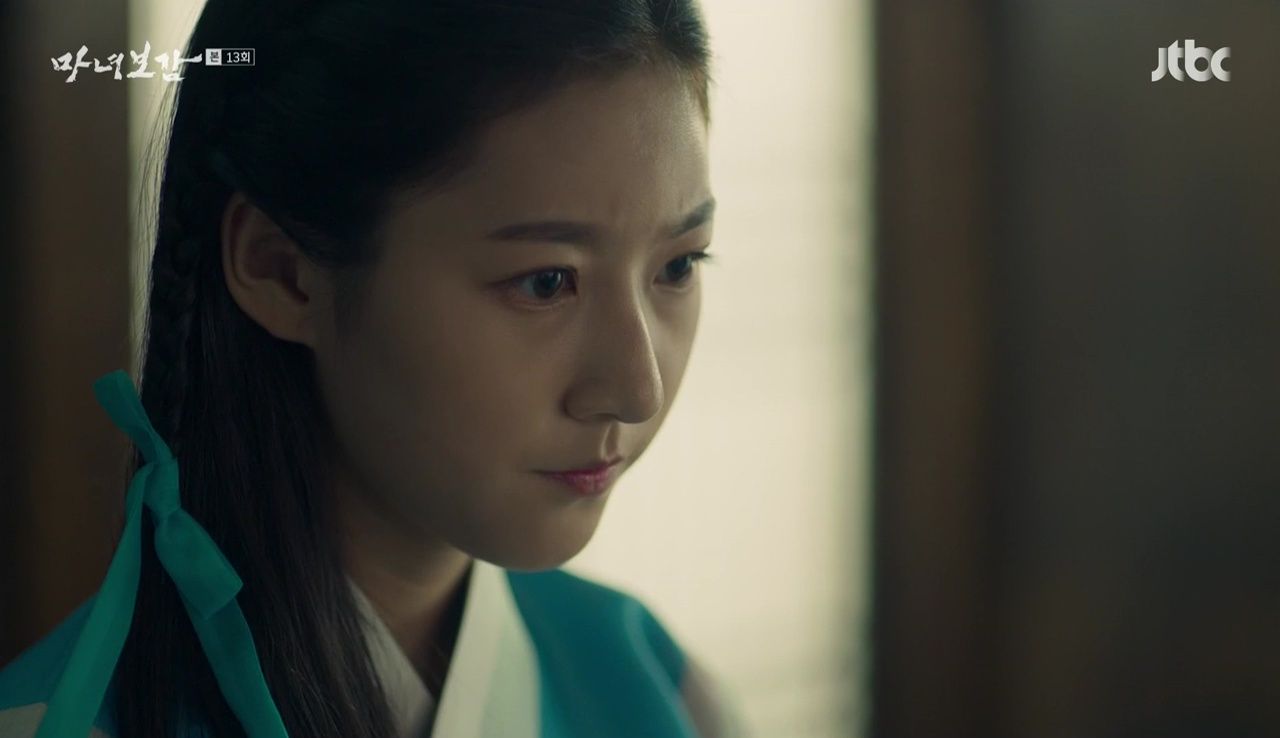 Yeon-hee tells the queen dowager that it would be best to release Prince Sunhoe's soul as soon as possible. She plans to ask Hyun-seo to perform the cleansing rite immediately.
The queen dowager looks pained and suggests that they can move slowly — she needs a little time. Yeon-hee, knowing that waiting will prolong the danger to her life, gently agrees to wait.
The queen dowager almost immediately changes her mind, since she knows that Hong-joo has already started planning to capture Yeon-hee again. She sighs that she doesn't know if the ritual can be performed safely. With that, Yeon-hee says there is something the queen dowager must do on her behalf.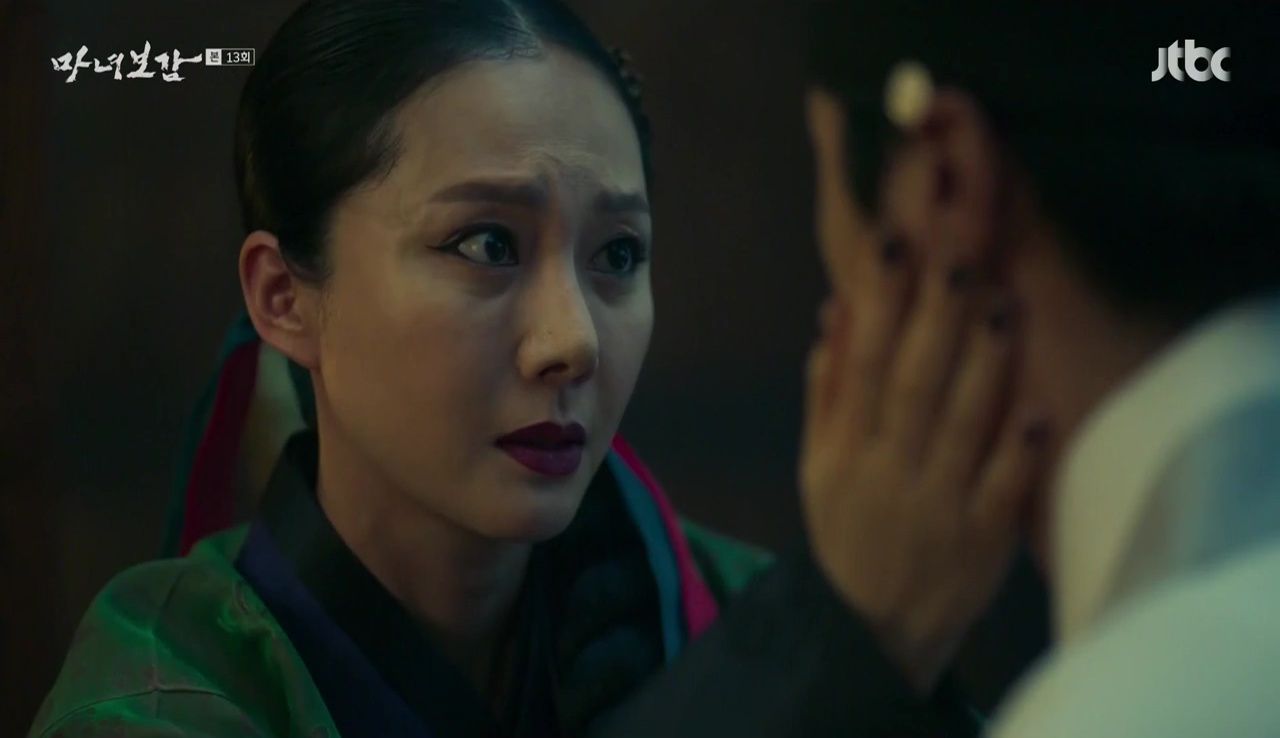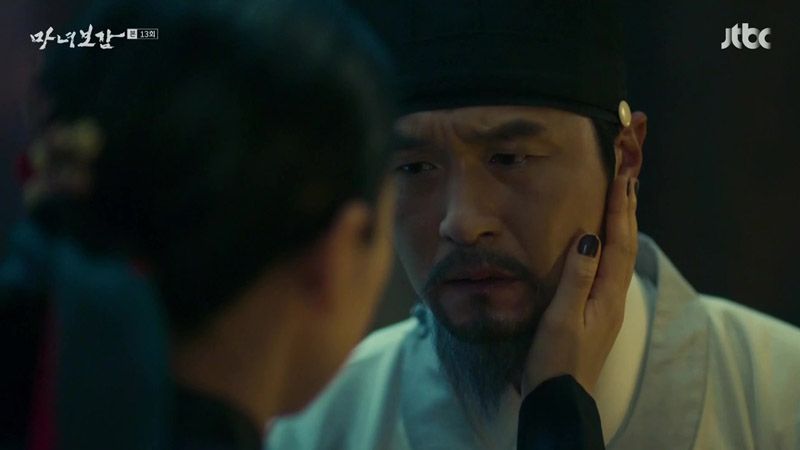 Hong-joo enters her rooms to find a tormented Hyun-seo painfully gripping a knife in front of his heart. He seems to be back to his old self, but is unable to actually stab himself. She rushes to his side and admonishes him that his body and soul now belong completely to her — he can't move or abandon her as he wishes anymore.
She grabs the knife away, and Hyun-seo slumps in defeat. Gently taking his face in her hands, she tells him not to fall into despair and to live as he always has — at least he's alive. Hyun-seo, in a broken voice, begs her to let him live "like a person."
Hong-joo only responds that there is much he has to do for her, and when she reaches out her hand, he slowly puts his hand in hers. Hong-joo smiles.
Jun visits Poong-yeon to thank him for his help in Banchon (where Yeon-hee escaped kidnapping). Poong-yeon says brusquely that it was only for Yeon-hee's sake.
Jun's raises his suspicions about the identity of Red Cloak, asking if Poong-yeon always brings Sol-gae around with him, and how much he trusts her. Poong-yeon replies that he trusts her with his life.
Jun asks what Poong-yeon would do if Jun found Red Cloak. Gaze intense, Poong-yeon declares that though he is no longer a palace guard, he would help Jun expose Red Cloak in order to protect Yeon-hee and the king. Jun reveals that he has a certain someone in mind, and promises to let him know once he has confirmed his suspicions.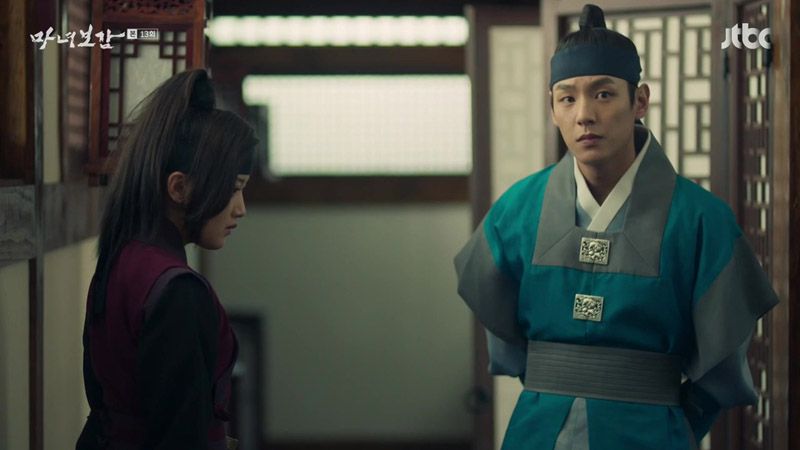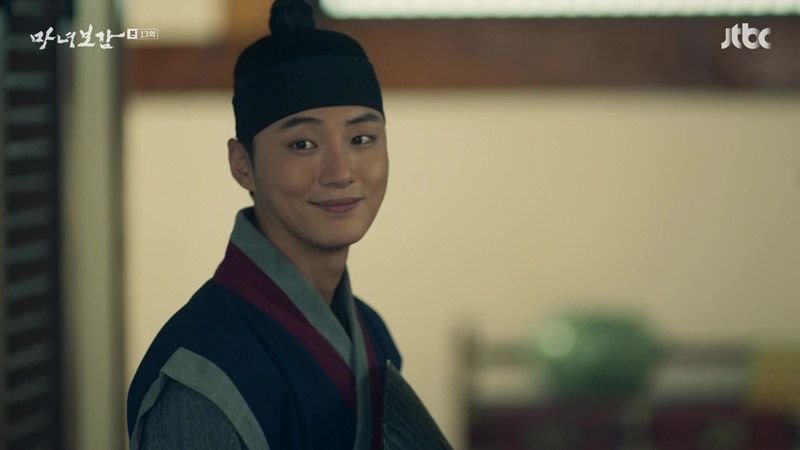 As he leaves, Jun crosses paths with Sol-gae and pauses to watch their interaction. Poong-yeon thinks she looks unwell and notes a fever, which makes her uneasy (since she's still hiding the injuries sustained as Red Cloak).
Jun calls out, "Red Cloak!" It's clearly directed at Sol-gae, who tenses while Jun finishes his sentence, telling Poong-yeon that he'll follow up with him about the identity of Red Cloak.
Heo Ok reports to the king that Yeon-hee eluded their attempted abduction in Banchon. He swears he did his best, leaving no leaf or household unturned.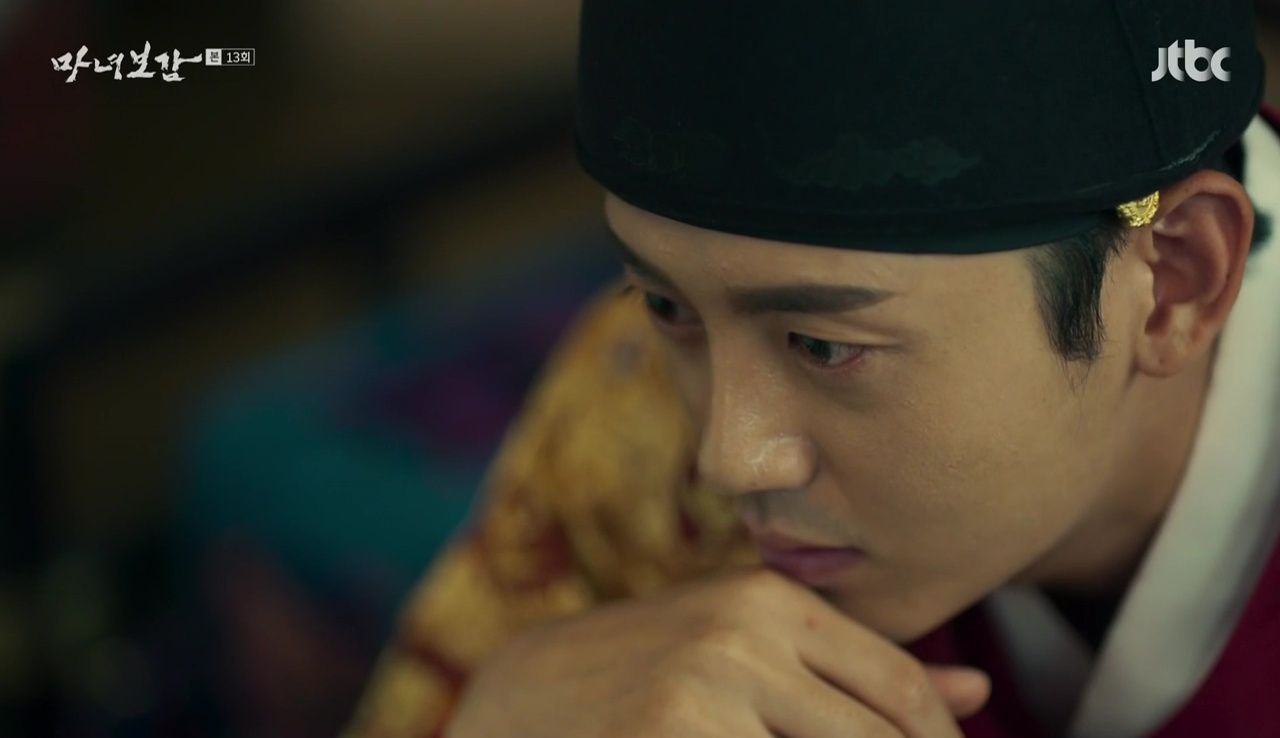 The king smiles darkly, saying that it's fine, asking for Ok's description of Yeon-hee. Ok hilariously describes her poetically as looking ice-cold, frail, with big liquidy eyes. The king wryly says he was very observant, and Ok agrees he's always had good eyes.
Poong-yeon visits the queen dowager to ask to meet Yeon-hee, presumably to gift her with new clothes, and says that she's in danger here in the palace. He wants to take her with him.
The queen dowager reminds him that Yeon-hee is a princess who has a job to do in the palace, but Poong-yeon asks if she cares about Yeon-hee's safety at all. Deeply offended, the queen dowager barely has time to register her displeasure before the head eunuch runs in.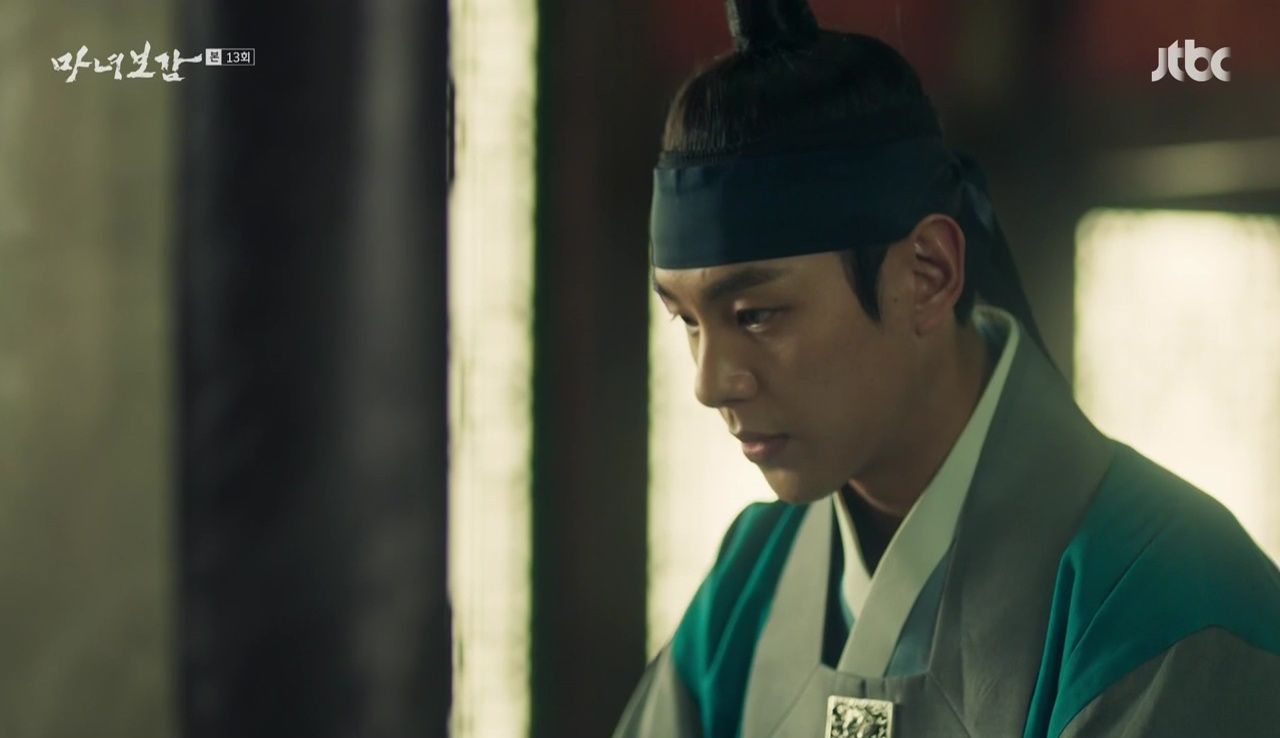 He's followed a moment later by a contingent of armed guards — and the king, here to hunt Yeon-hee down. As he steps forward, the king pauses to accuse Poong-yeon of betrayal.
The queen dowager takes him to task for daring to intrude her quarters, but the king smirks and says he's here to protect her from rumors of a witch loose in the palace. Ok jumps in to describe Yeon-hee as the witch, saying that he saw a girl matching the description entering the queen dowager's chambers.
The queen dowager snaps at the king to just declare her as a traitor if he wants to dethrone her. The king shrugs this off, saying there's no point since once he's healed from his illness, she will be as good as powerless. He orders his men to search her chambers in the name of protecting her, wearing a smug smile.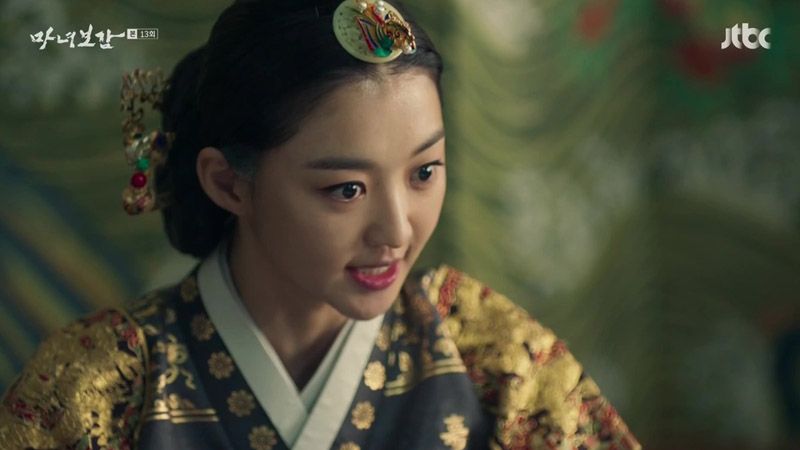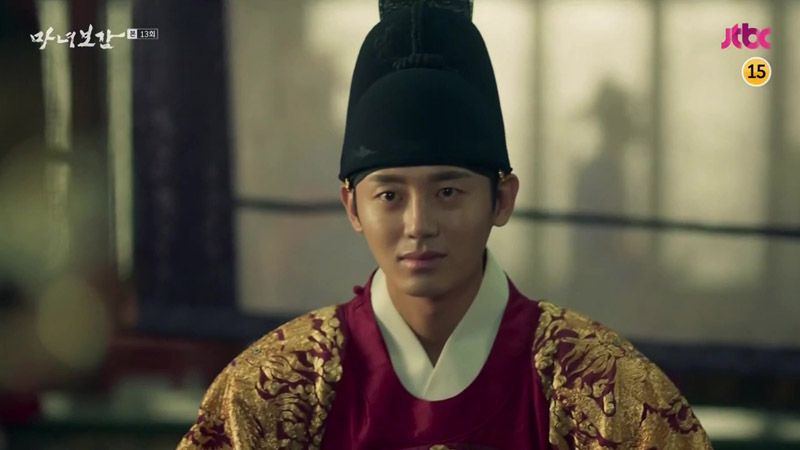 Ok moves aside the folding screen, and the king looks triumphant as the queen's expression becomes trapped. But when the soldiers find the hidden pathway and come upon an empty room, the queen now smiles as the king grows angry. A eunuch runs in to tell the king that his presence is requested by his council.
The king storms in — and finds Yeon-hee standing there. The king asks who she is, and the queen dowager enters behind him, calling Yeon-hee a princess and Prince Sunhoe's sister. Yeon-hee bows and formally greets the king.
The king scoffs, demanding to know how a princess suddenly appeared from nowhere. The queen dowager calmly explains that she believed the princess dead, but recently found her alive. She declares that as of today, she is giving Yeon-hee her rightful title as a princess.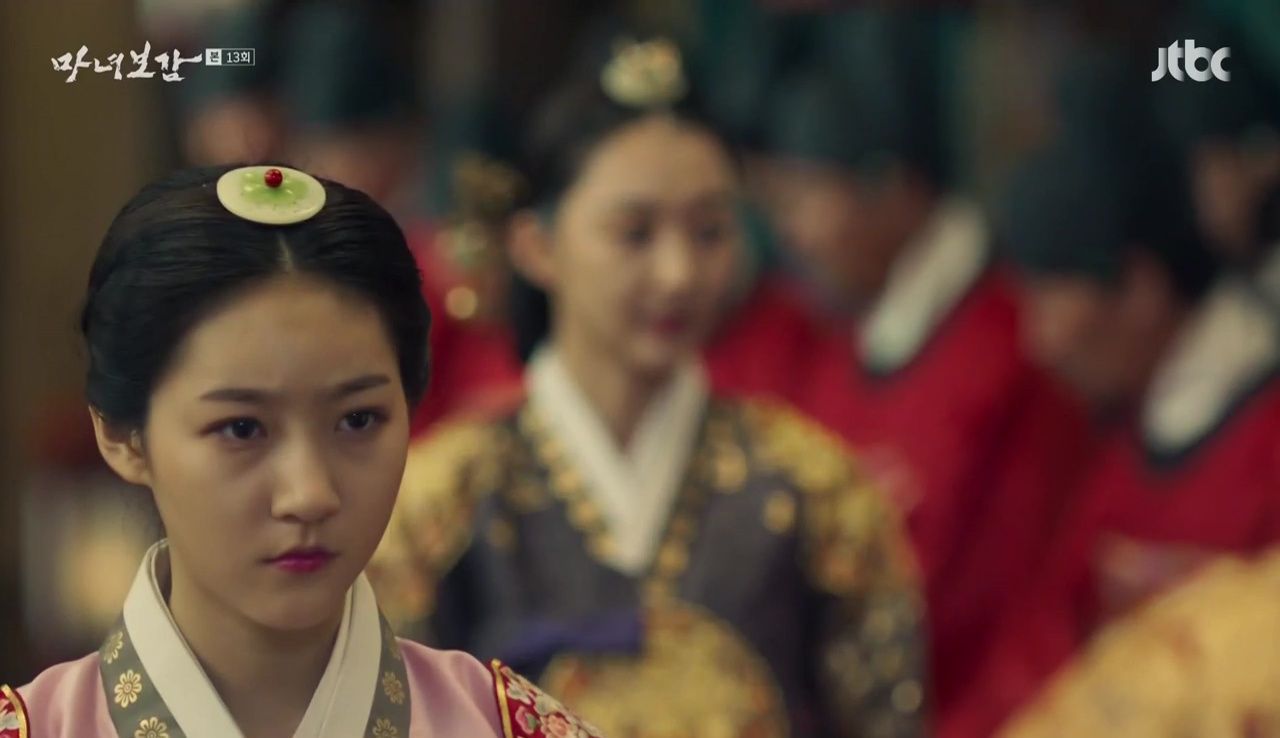 Thrown by this twist, the king accuses the queen of having had twins through evil methods, and twins are considered to be evil/unlucky to begin with. The queen dowager tells him not to slander the royal family, and that having twins was the will of the heavens.
The king bursts out that the princess has been the cause of a royal curse and unending suffering, adding that he has heard — just a rumor — that he himself is a victim of the curse through a mysterious illness. The queen dowager promises to take responsibility if this is the case, which the king says could mean dethronement.
The queen dowager agrees, but challenges the king to prove that Yeon-hee is the origin of the curse. The king shoots back that if it's true, the curse will be fulfilled anyway.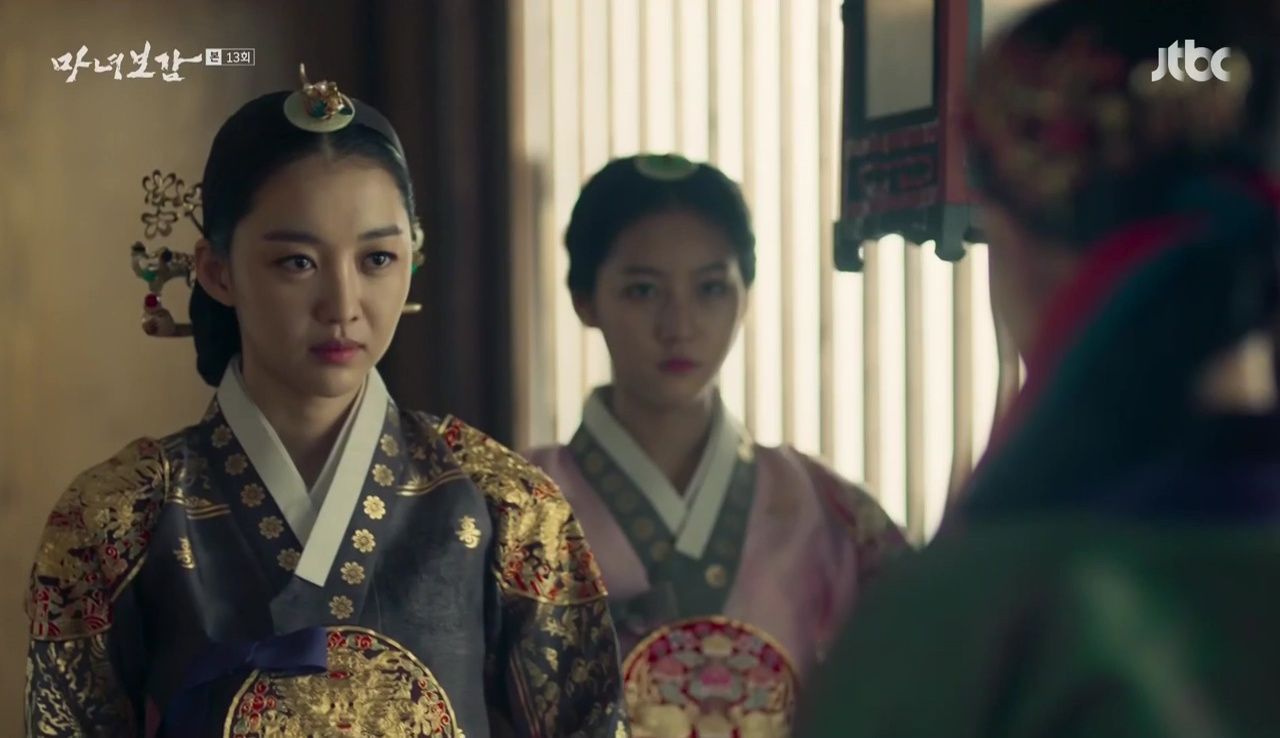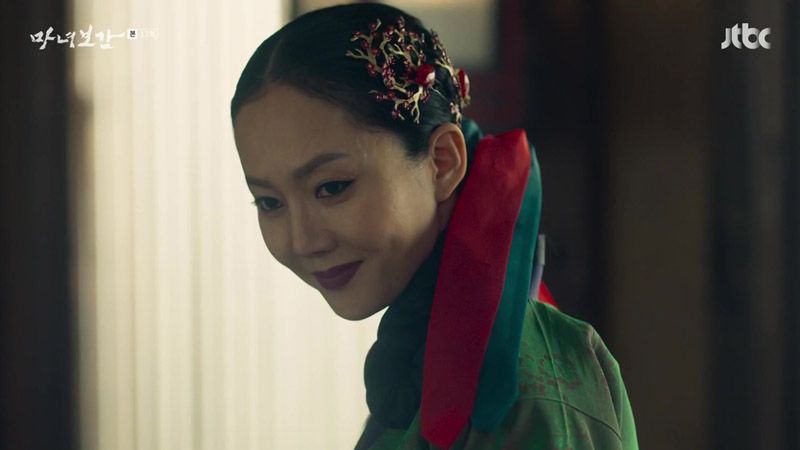 Yeon-hee and the queen dowager run into Hong-joo on their way back, and the queen dowager orders her to always show respect to the princess. She warns that if anything happens to Yeon-hee, she will hold Hong-joo accountable regardless of the circumstances, which Hong-joo finds unfair.
Yeon-hee adds an order for Hong-joo to be present at the ritual for Prince Sunhoe's cleansing. Hong-joo promises to be there, but her face grows dark as she turns away.
Hong-joo returns to her rooms and confirms that Red Cloak has the real urn — Hong-joo has switched it with a fake. Red Cloak is to return only during the specific hours that Hong-joo can use to kill Yeon-hee with the Crown Prince's soul.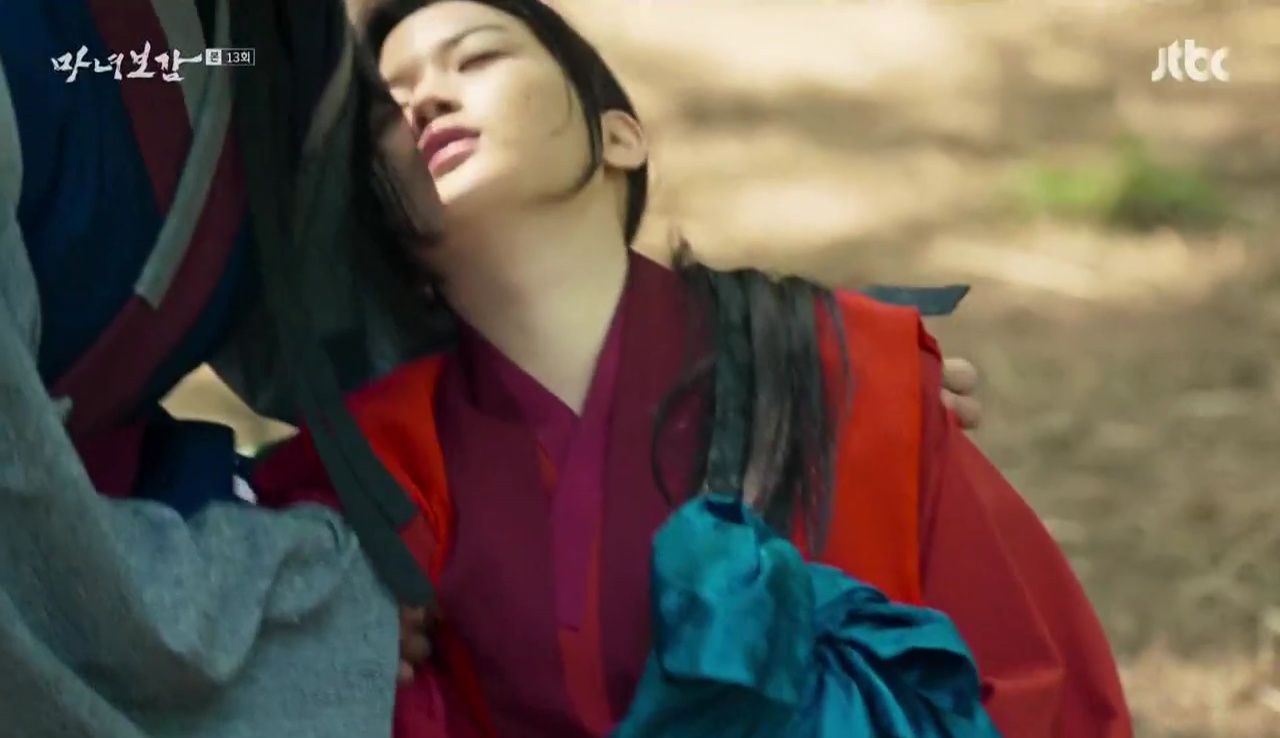 We meet up with Red Cloak as she moves swiftly through the forest with the urn — and so does Jun, who strolls into her path. She attacks, but Jun fights her off — and today she's slower and less effective than she usually is, which Jun notes. He asks if she didn't apply the medicine as he advised, and easily defeats her in her injured state.
Jun unmasks Red Cloak to reveal Sol-gae. She weakly threatens to kill him if he reveals her identity to Poong-yeon, just as she collapses. Jun catches her.
Yeon-hee arrives at the Taoist temple with the white urn to perform the rites. The queen dowager instructs Hong-joo to say a fond farewell, reminding her how close she was to the Prince Sunhoe. Hong-joo assures them that her heart aches as well. Yeon-hee asks why, if her heart hurts so much, Hong-joo stole the real urn containing the prince's soul.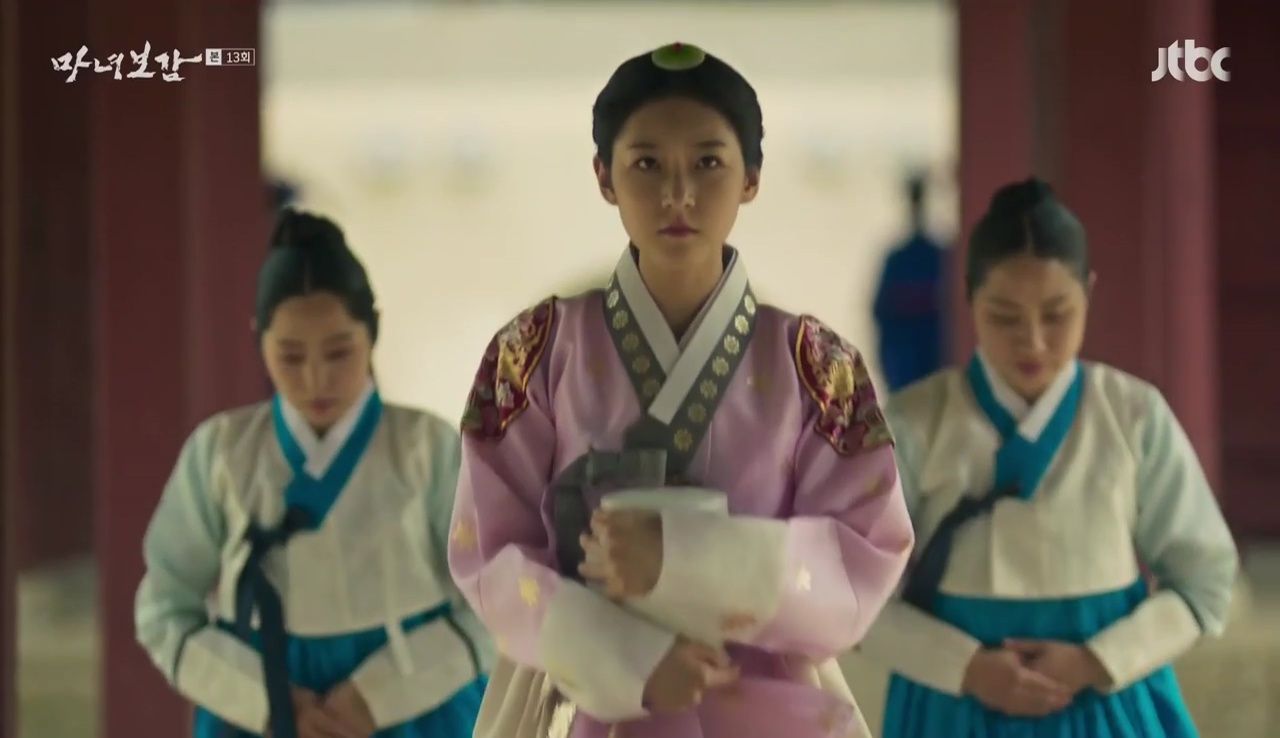 Hong-joo's eyes widen as Yeon-hee calls the prince's name, and the urn — the real urn! — begins to rattle and emit black smoke. Hong-joo reluctantly bows her head to bid farewell to the prince. The queen dowager angrily swears that this isn't the end — Hong-joo will pay further for her evil actions.
Hong-joo leaves abruptly, and the queen dowager exits to get some fresh air. Then Jun emerges from behind a screen, revealing he has been there all along.
In a flashback, we see that Jun arrived first at the Taoist temple in time to present Yeon-hee with the real urn that he took from Sol-gae. Yeon-hee smiles at him with gratitude.
Then Yo-gwang arrives, and is relieved to hear that all is well with them. Hyun-seo strolls in looking perfectly well and suggests that they begin the cleansing ritual to release the prince's soul immediately. Yo-gwang eyes him warily.
Yo-gwang sends Yeon-hee out with Jun, remaining alert as he watches Hyun-seo carefully. staying behind along with Hyun-seo, who reassures him not to worry. As Hyun-seo reaches for the urn, we see his expression growing hard. Uh-oh.
Jun teasingly asks if he has to call Yeon-hee "your highness" now. She tells him that the princess arrangement is just a safety precaution, and not to feel uncomfortable. Jun replies that it's not uncomfortable, just scary. He isn't referring to her witchy powers, though — he's afraid to be separated from her again. Yeon-hee gives him a searching gaze, and Poong-yeon walks up just in time to see it.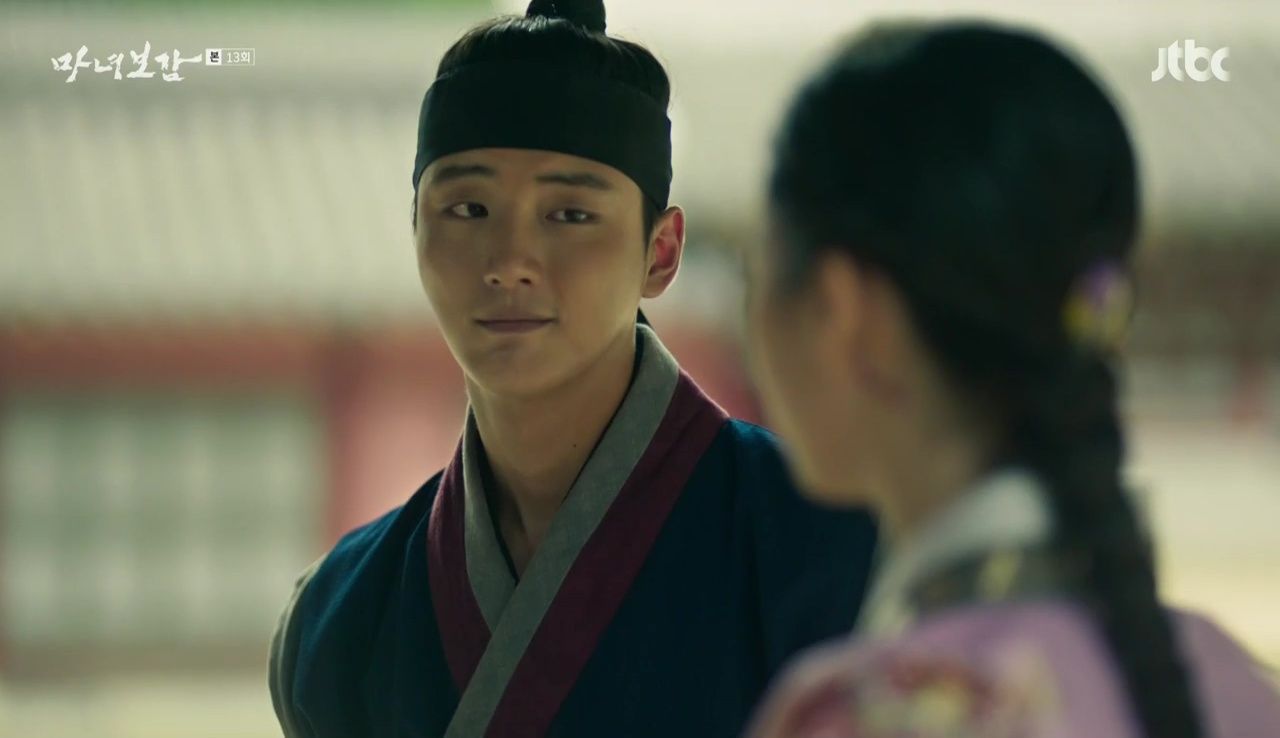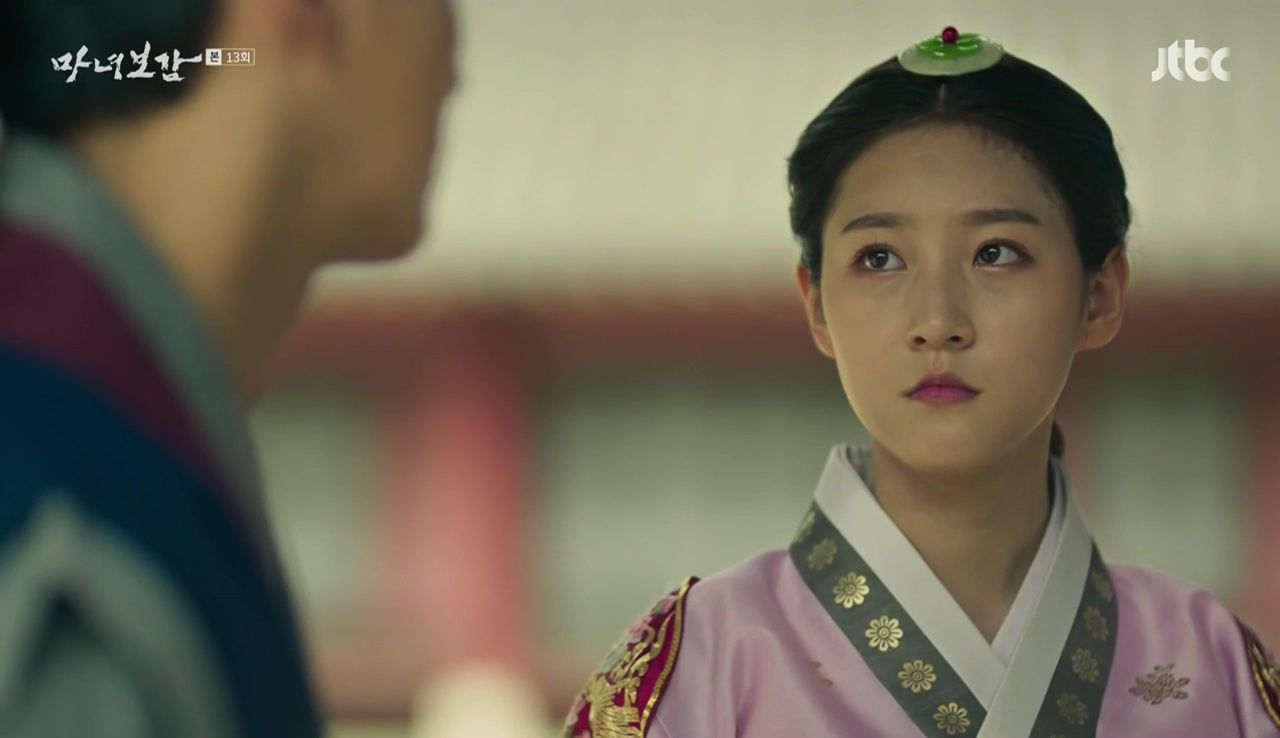 Poong-yeon grabs her wrist to drag her away, warning Jun not to follow since he has something to say to her in private. Then he shoves the bag of clothes he brought at her and tells her to change so they can leave, insisting that she's not safe here, near the very people who want to kill her.
But Yeon-hee is determined to keep her enemies close, so she can have a fighting chance to thwart their plans. She apologizes that she doesn't have the luxury to worry about his feelings right now.
Poong-yeon says he wasn't trying to avoid her cursed self — he just had to overcome his fears. Now he wants to protect her as a man and not a brother, but she won't give him a chance. Yeon-hee returns the bell charm that he gave her, saying that it's the only answer she can give.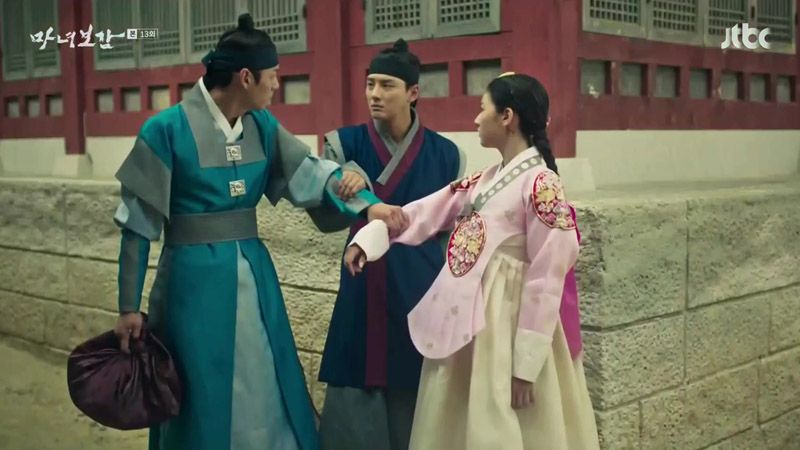 Poong-yeon grabs her wrist again, hard, but Jun steps in this time and orders him to let go. Yeon-hee asks Jun to let go, and he reluctantly does. She then asks Poong-yeon the same, and when Poong-yeon warns her that letting go now means she will never see him again, she pulls her wrist free and says she will go with Jun. Poong-yeon's face twists in anguish as he watches her go.
As Hyun-seo and Yo-gwang prepare the cleansing ritual, Hong-joo begins chanting a spell, and Hyun-seo's eyes flash. He's gone when Jun, Yeon-hee, and the queen dowager return to the temple, with only Yo-gwang there, crumpled on the floor bleeding from his head. The white urn is gone, too. Yo-gwang lies that Hyun-seo was not in the room when he was attacked.
Hyun-seo has brought the urn to Hong-joo, of course. The queen dowager rushes out, knowing exactly who is to blame.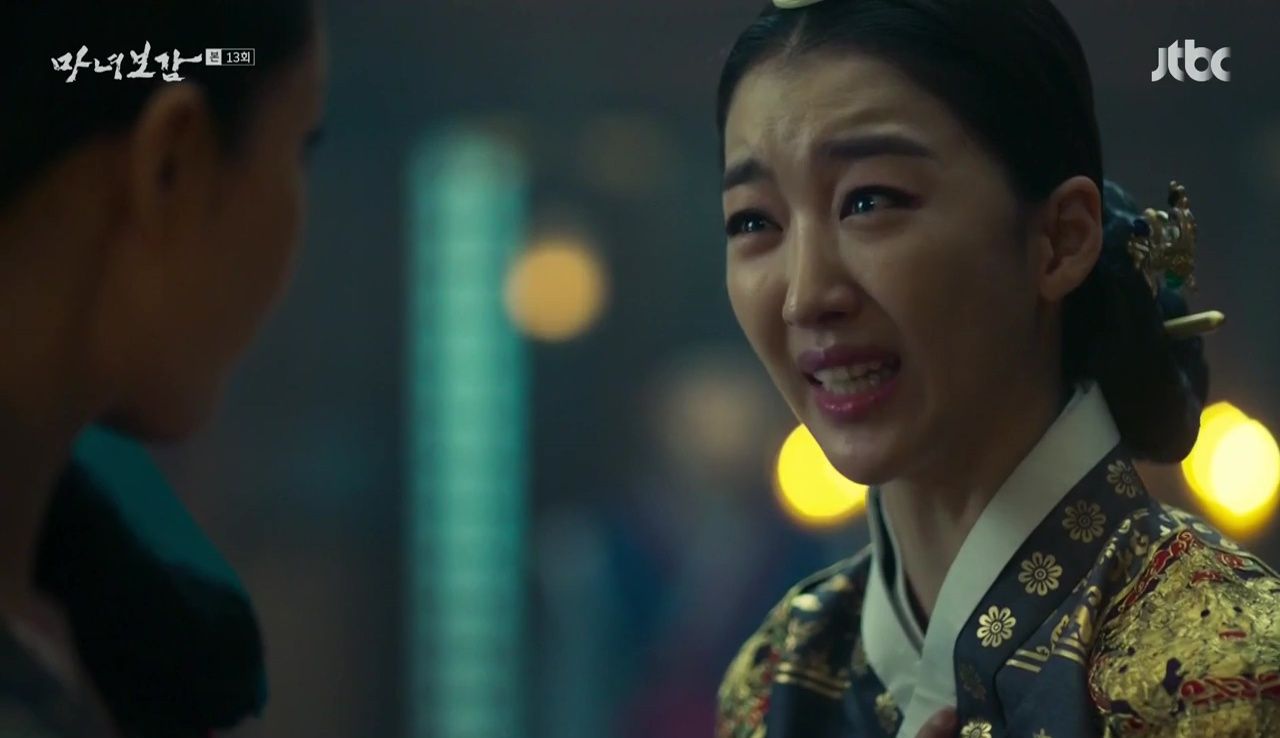 The queen dowager angrily confronts Hong-joo, who counters that the queen dowager chose to save Yeon-hee over her son — so Hong-joo is going to do as she will with the prince.
The queen dowager asks what will happen to her son, and Hong-joo just says it's none of her business — she's given up on him anyway. The queen dowager says shrilly that she has never, ever given up on her son. Hong-joo snarls back that she should have let her kill Yeon-hee to save the prince. Completely carried away, the queen screams that if Hong-joo had just killed Yeon-hee properly the first time, her son would still be alive. Ouch.
Yeon-hee looks devastated, and Hong-joo is triumphant as she asks Yeon-hee if she understands now who was supposed to live and die. It dawns on queen that Yeon-hee has heard everything that just happened, and Yeon-hee stares at her horrified mother with a pained expression.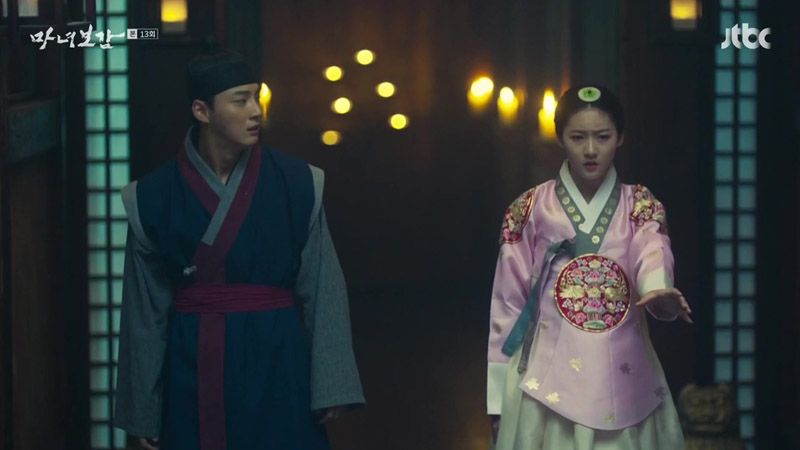 Jun grabs a nearby object and throws it at Hong-joo's hand, forcing her to drop the urn. But instead of breaking, the urn hovers in mid-air, kept safe by Yeon-hee's power. Tears in her eyes, Yeon-hee summons the urn to herself.
And unbelievably, she hands it over into the queen dowager's hands. Yeon-hee looks up at her mother with eyes full of hurt before walking away.
Jun tells the queen dowager that even though she abandoned Yeon-hee, Yeon-hee has protected her. The queen dowager starts to cry, and so do I.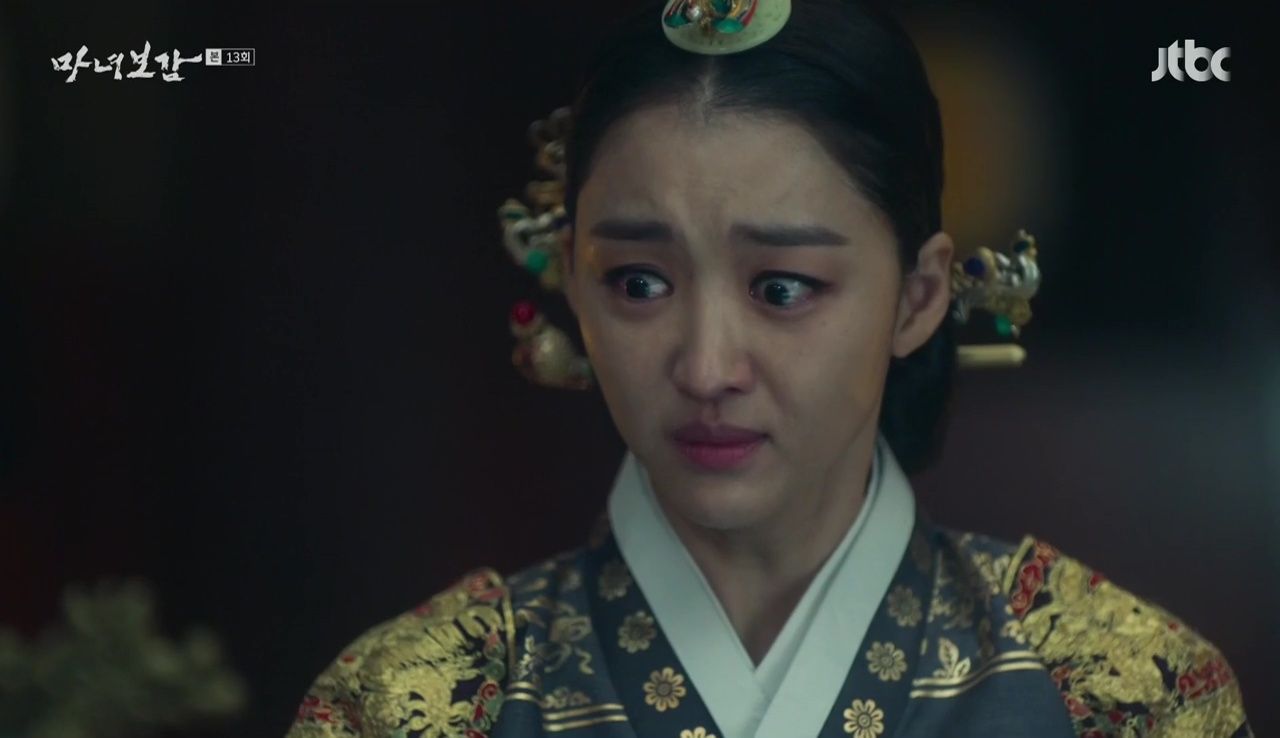 As Yeon-hee and Jun turn to leave, the queen dowager's anguished face twists, and with a sudden wrench, she hurls the jar to the ground. Hong-joo gasps, and everyone watches the black smoky tendrils of the prince's captured soul turn into white strands of light and vanish into the darkness.
In a low, furious voice, the queen dowager orders Hong-joo to never touch her children — either of them — ever again. She walks out, leaving Hong-joo on the ground in shock.
Jun and Yeon-hee return to her room and begin concocting a potion together, which Yeon-hee then brings to the queen dowager. Yeon-hee kneels by her mother's bedside and gently tells her to drink it before she sleeps. It's a dream potion, which will allow her to meet the person she wants to see most in her dreams.
As the queen dowager sleeps that night, her dreams take her to happier times, as she watches a puppet show with her son. Another scene shows Prince Sunhoe painting a lovely portrait of his mother.
In a voiceover, the prince says that if he could keep one day of his whole life, he would hold on to the mundane times he passed with his mother, just talking and laughing. The prince promises to wait to meet his mother again, though he hopes it will be a long time before it happens. The queen dowager cries, in her dreams and in her sleep — and in the temple, another candle is lit.
Hong-joo returns to her lair and collapses to the ground. Clinging to Hyun-seo's robes, she gasps that he is her only remaining recourse, as the only one with the power to kill Yeon-hee. She tells him he must help her burn with spiritual force when that fateful day comes.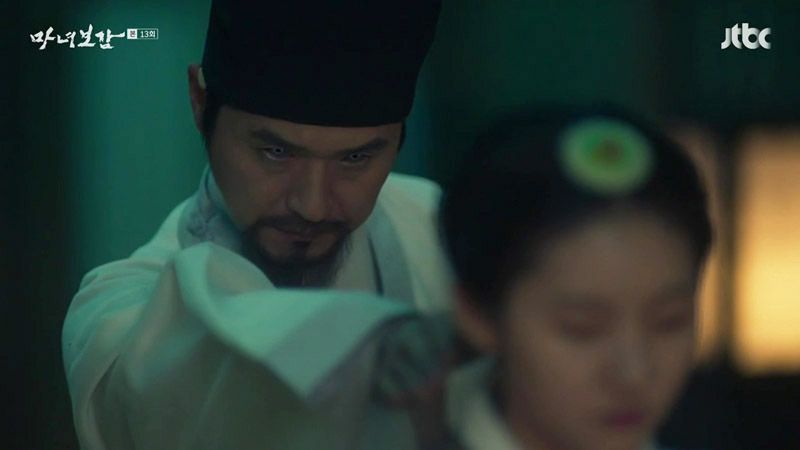 Possessed Hyun-seo approaches Yeon-hee later that night as she prays, reaching out a black hand towards her throat. His eyes flash silver a few times before he regains control of himself, registers what he's about to do, and pulls away in horror.
Yo-gwang has seen this, and Hyun-seo takes this chance to hand over the the last page of the Mauigeumseo that he'd torn out. He tells Yo-gwang that only the sacrifice of a person who truly loves Yeon-hee will be able to light that last candle — and Jun will be in danger if Hong-joo finds out.
Hyun-seo urges Yo-gwang to kill him the next time he becomes a danger to Yeon-hee, overriding Yo-gwang's refusals. He wants to die before causing her harm, and before Poong-yeon and Yeon-hee can see him being possessed by an evil spirit.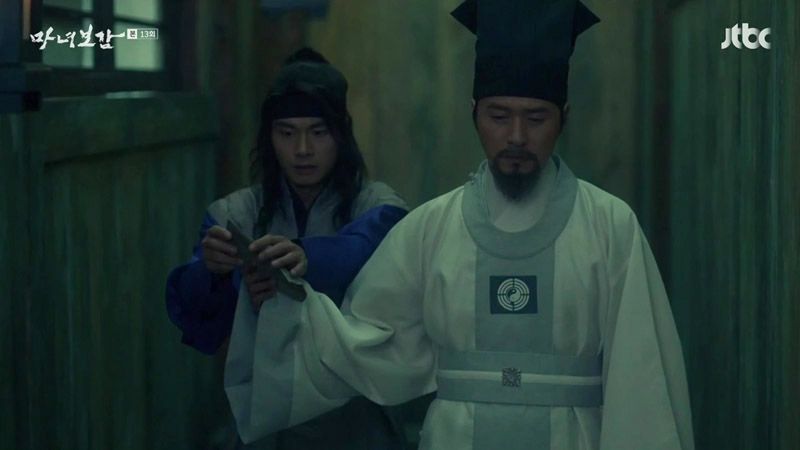 Poong-yeon trudges alone down a road late at night, and hurls away the clothes he bought for Yeon-hee. He almost reconsiders, but leaves the bundle on the ground, where it suddenly starts to burn.
Jun arrives at Hong-joo's temple, rushing past her guards and holding his sword at Hong-joo's throat. She waves her guards away and asks Jun what he wants. He smiles broadly as he asks if he would be crazy to ask for an apology.
Hong-joo tells him that people seek her out either to threaten her or make requests. Jun says he's curious — if Sol-gae had failed to find Yeon-hee, what would Hong-joo have done?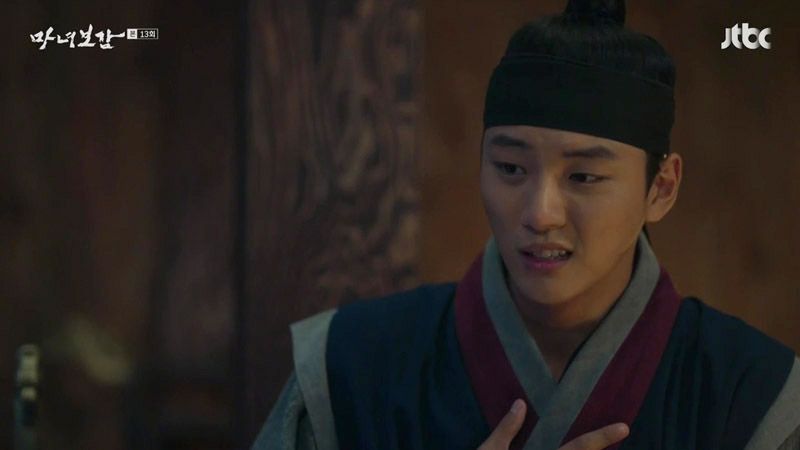 Hong-joo notes he was the one who took the urn from Sol-gae. Jun replies that he is holding an important card, and all he wants from her is to stop killing people, and to leave Yeon-hee alone. Hong-joo says she'll consider it. After he leaves, she tells one of her shamans that Jun has Sol-gae, and tells her to go follow him. Ah — so that's the card Jun's holding.
Soon-deuk slurps some beef soup at a tavern, gaping when Jun joins her and starts eating her food. He quietly tells her to keep eating, having clocked his shaman followers.
Hong-joo visits the king, who grumbles that he underestimated the queen dowager. Now that Yeon-hee's been revealed as the princess, it will be very difficult to capture her. Hong-joo is steely, reminding him that without sacrificing her, he will continue to suffer thorns erupting from his body. She suggests that he deals with the thorn in his side that is the queen dowager first.
The king turns on Hong-joo in disbelief — is she telling him to kill the queen dowager? He tells her he will pretend he heard nothing. But, if something were hypothetically were to befall the queen dowager — well, he would know nothing of it. Hong-joo smiles, understanding his meaning.
Hong-joo arrives at the queen dowager's side with an ornate urn emitting wisps of black smoke. She tells the sleeping queen that she will soon see the son that she misses so much.
Arriving back in her lair, Hong-joo finds Poong-yeon awaiting her. His expression blank and unfocused, Poong-yeon asks in a half-daze if it is possible to use her magic to possess a heart.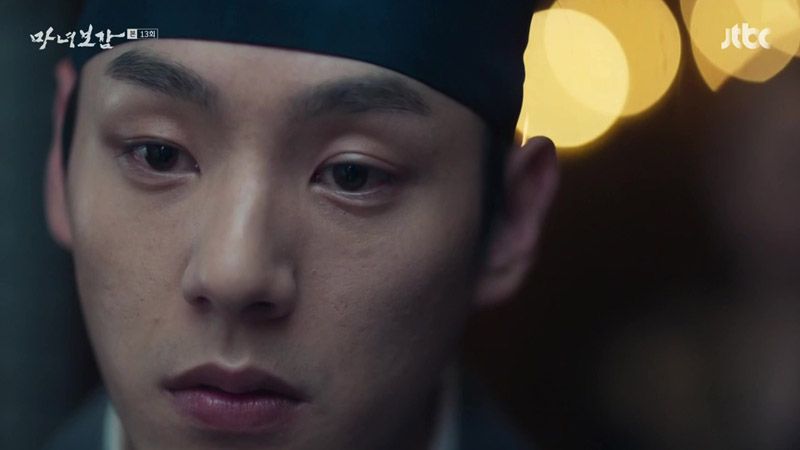 COMMENTS
Methinks Hong-joo has found her next puppet. I think we all know the answer to that last question — all together now, NO! Just ask your dad! I was starting to feel sorry for Poong-yeon, who in the course of this series has lost most of his loved ones, but this is crossing a line. His request, though, draws an interesting parallel between him, a man we knew to be a kind and loving brother, and Hong-joo, who asked the exact same thing of Hyun-seo way back when. Driven to extremes, his sense of a loss of control seems to have brought him to the edge, just as the attempted rape drove Hong-joo to want revenge, and to have all that was taken from her by the royal family.
It's this sense of loss and uncontrollable desire to possess and take back what they see as rightfully theirs that has led both of these characters down darker paths. It's an interesting common thread between them that suggests that this particular kind of evil is not innate, but generated from their own self-centeredness in difficult circumstances.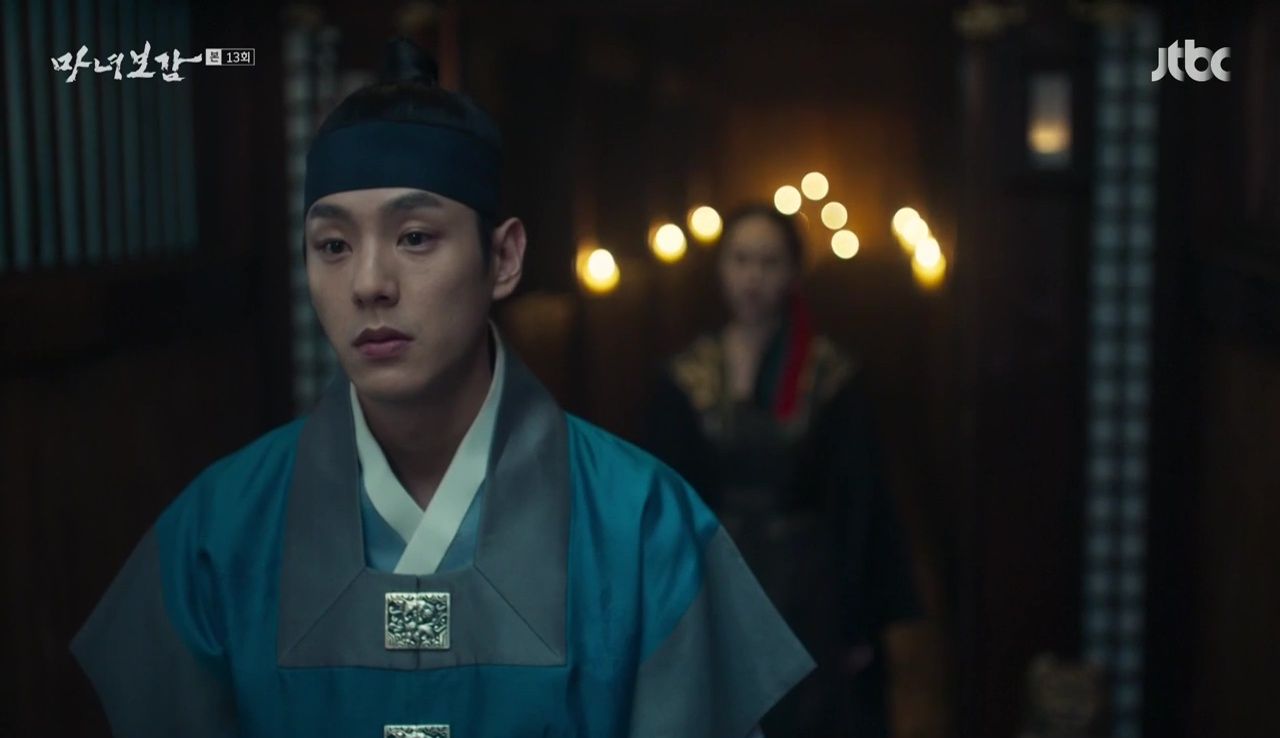 Yeon-hee and Jun, meanwhile, are completely opposite: They're completely unselfish in their relationships, and hardly need to speak to express their support and love for each other. I love how they step up for each other when they need it most. Their scenes alone were sparse this episode, but they were so moving. The way Jun just silently returned the real urn to her, and the way she smiled back at him — there was so much unspoken. Throughout the episodes we can see Yeon-hee almost unconsciously checking in with Jun, and vice versa — they move as a unit, united but independently capable. He doesn't feel the need to chest-thump or be a Man with a Capital M to protect, own, or control her, like Poong-yeon seems to. He puts her first, through his actions and not just his words.
I also appreciate Yeon-hee's growth — she's gone from being a shy, timid girl who's only lived in a hut in the middle of nowhere, to a gorgeous princess who literally parks herself in Hong-joo's domain to protect her loved ones. It helps to have magical witchy powers, but I feel like Yeon-hee's true power comes from her loving and unselfish nature — like when she returns the urn to the queen dowager. That's a choice that not many would have made, but in terms of how the queen would have felt about losing her son and living with her daughter, the way it happened makes a world of difference. No manipulative magic required — besides making the urn fly, I guess.
Yeon-hee instinctively seems to understand that the path she takes to accomplish things matters, and I admire that she never sinks to Hong-joo's level to defeat her. The queen dowager's conflict was great, too — the struggle to let her son go, the grief combined with guilt and fear when faced with the daughter she left to die. I'm glad they're not brushing over it — she's neither outright bad, nor all that good — just flawed.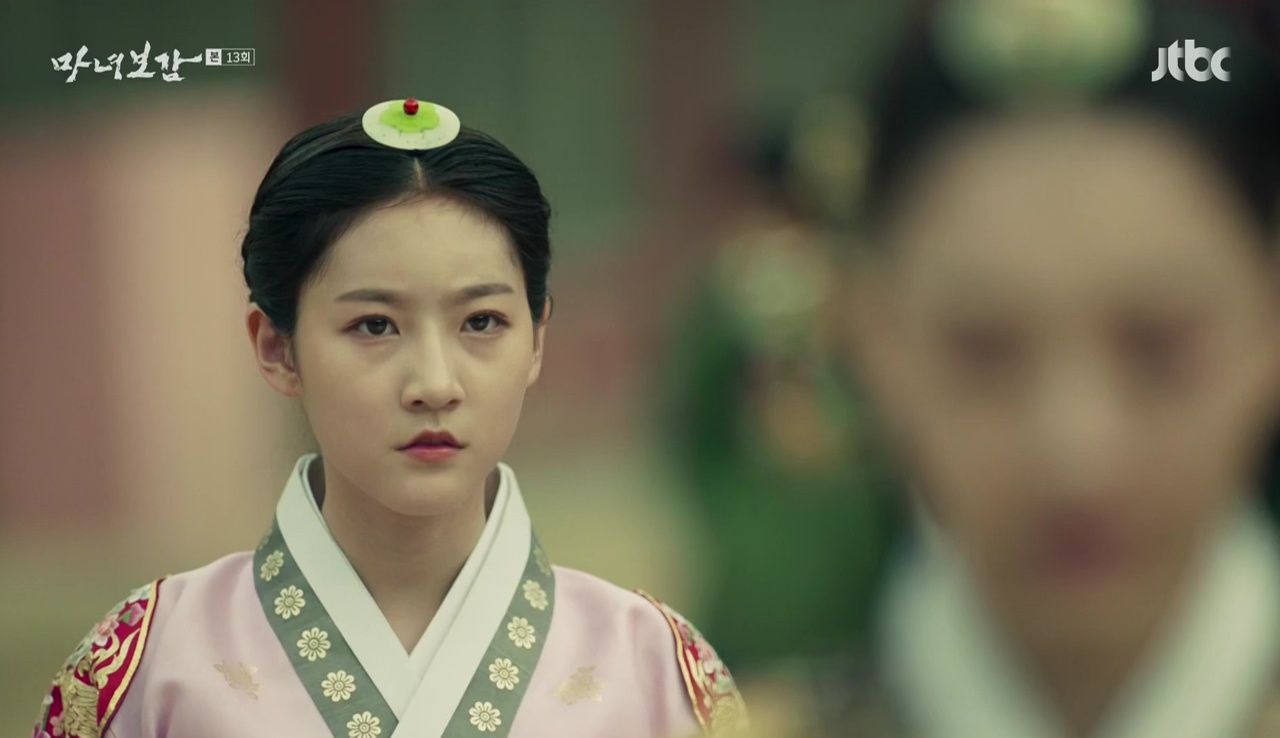 And Yeon-hee's generosity with her mother's failings draws a direct contrast with Hong-joo's selfishness. I like that Hong-joo doesn't fall into the stereotype of the scorned woman, and that she seems truly satisfied to have Hyun-seo's body and soul belong to her through dark magic. At this point, I think she clings to him living on, in any form, because he's the last surviving link to the woman she once was. That, and the fact that apparently he's now her last resort for killing Yeon-hee.
And ultimately, we see that Hong-joo's actions spin out of control the tighter she tries to manipulate the people around her — I have a strong feeling that this whole using Hyun-seo thing is not going to work out the way she intended, partly because he seems to love Yeon-hee deeply enough to sacrifice himself for her (possible Jun-saving plot device, anyone?). I would like a more clear understanding of whether Hyun-seo has control over himself — it seems to turn on and off, like a switch, when Hong-joo wants it. But during the scene where he reached out for Yeon-hee's throat, his eyes switch from possessed to normal several times, which might imply that Hyun-seo is able to fight the possession.
As great as this episode was, I kind of feel like the plot has been going pretty steady for the last few episodes, since there's been a lot of fighting back and forth over this urn. Now that it's out of the way, I want to see our heroine and hero take Hong-joo on, mano-a-mano, or womano-a-womano. It's about time.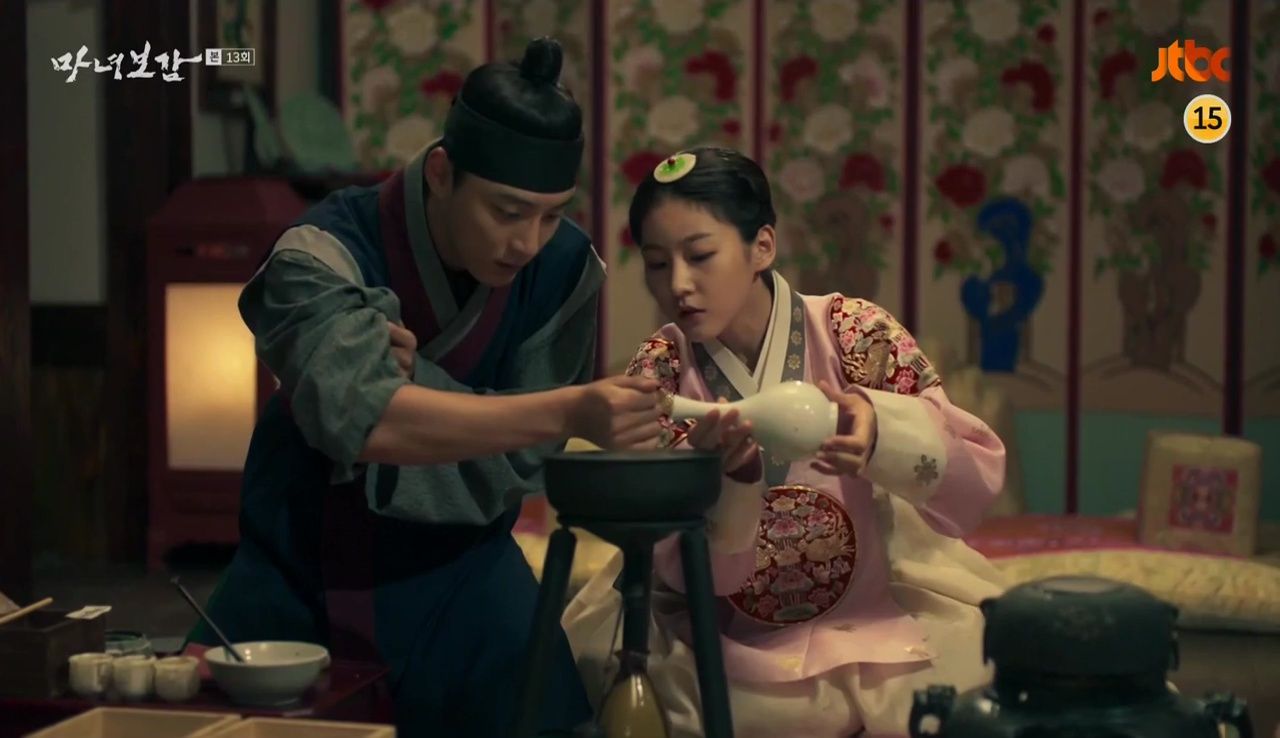 RELATED POSTS
Tags: Episode 13, featured, Kim Sae-ron, Lee Sung-jae, Mirror of the Witch, Yeom Jung-ah, Yoon Shi-yoon