Mirror of the Witch: Episode 8
This villain has always been sly and manipulative, and this episode shows exactly how she preys on a desperate victim's vulnerabilities to get what she wants. Everyone knows she's evil, but when she gives just a sweet taste of what she has to offer, all resistance crumbles and it's hard not to succumb to the temptation. It's almost like she's the devil. Meanwhile, our good guys all struggle with their personal agendas, making us wonder if they even have a chance against Hong-joo's well-calculated plans.

EPISODE 8 RECAP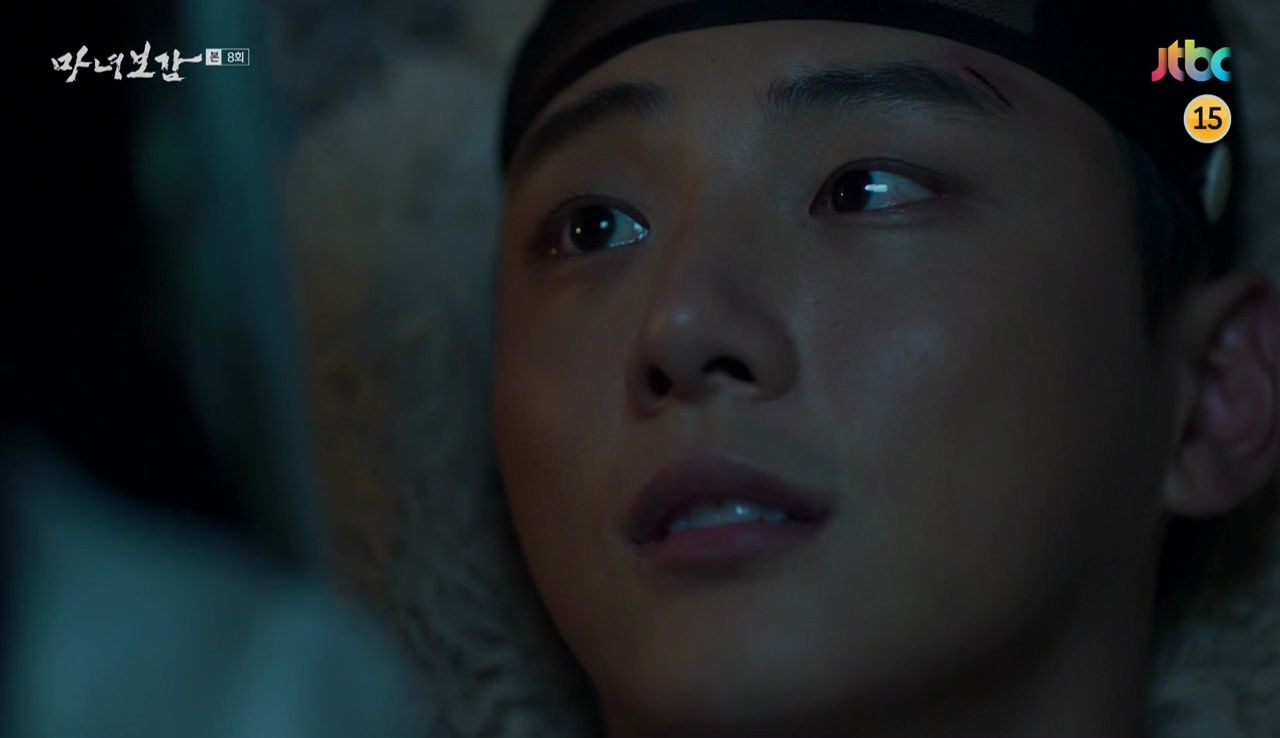 Watching Jun's sleeping figure, Seo-ri hesitatingly leans forward in a move to caress his face. She thinks better of it and pulls back, when suddenly, Jun grabs her arm and opens his eyes — looks like he wasn't asleep after all. Eyes glistening, he asks her, "You're Persimmon, right?"
Seo-ri, however, maintains her cold attitude and tells Jun that he's mistaken her for somebody else. Undeterred, Jun asks her what happened, and even offers to help her, but she cuts in sharply, reminding him that he's in no position to help others. She tells him that she just wants him to finish documenting the Mauigeumseo, and with that, he relents and apologizes for confusing her with someone else.
Seo-ri rushes back to her candlelit alcove within the Cheongbing Temple, and once she's out of Jun's sight, she finally lets her emotions come to the surface. She recalls that fateful night five years ago, when evil shaman Hong-joo had told her that everyone she loves and everyone who loves her, will die.
Just then, Yo-gwang interrupts her thoughts to announce that Jun has finished transcribing the contents of the Mauigeumseo. Yo-gwang asks Seo-ri for the Oblivion potion to make Jun forget he was ever here, and she reluctantly passes the bottle over.
Moments later, Jun drops by the alcove and wordlessly places the finished Mauigeumseo behind Seo-ri. He follows Yo-gwang out of Cheongbing Temple and Seo-ri watches them leave.
Yo-gwang and Jun stop for a rest while passing through the forest, and when Jun sits down to appreciate the view, Yo-gwang quickly pours the Oblivion potion into his water bag. He offers the "water" to Jun, who politely suggests that Yo-gwang drink it first. Taken aback by Jun's unexpected courtesy, Yo-gwang frantically insists that Jun drink first and practically forces the water bag into Jun's hands.
As soon as Jun opens the water bag, though, he gets a whiff of the potion and recognizes the scent. He asks Yo-gwang if this is what Seo-ri wants, and explains that he knows what the potion is because all of the Mauigeumseo's contents are in his head. Yo-gwang looks away, not wanting to answer the question.
In a flashback, we see that Jun had long confirmed that Seo-ri was Yeon-hee when he had spotted her kite in her little alcove. In the present, Jun looks off in the distance where Seo-ri's kite is flying over the temple. He asks Yo-gwang to tell Seo-ri that he drank it, and proceeds to drink the potion all at once.
Yo-gwang returns to Cheongbing Temple and asks Seo-ri if she's feeling regretful over Jun, but Seo-ri just answers that she's glad Cheongbing Temple will finally be quiet now, and that it doesn't really matter because she'll never see him again anyway. Yo-gwang knows she doesn't mean it, but lets the subject rest for now.
At the palace, the king thinks back to his meeting with Hong-joo, who had asked to be restored to her position as the head of the palace shaman council. An uneasy expression crosses his face.
Elsewhere in the palace, the queen dowager finds out that the spy she had planted in the king's entourage is missing. The eunuch tells her that the king doesn't seem to have realized that there was a mole, but that only confuses the queen dowager more and she wonders who else would take down her spy. Suddenly, a servant rushes in to relay some shocking news: The king has decided to reconstruct the shaman council.
At court, the king defends his decision as a way to restore peace to the country. The ministers plead for him to reconsider his decision, reminding him that the queen dowager is the one who abolished the shaman council in the first place, but the king just retorts that he's the king of this country, not the queen dowager.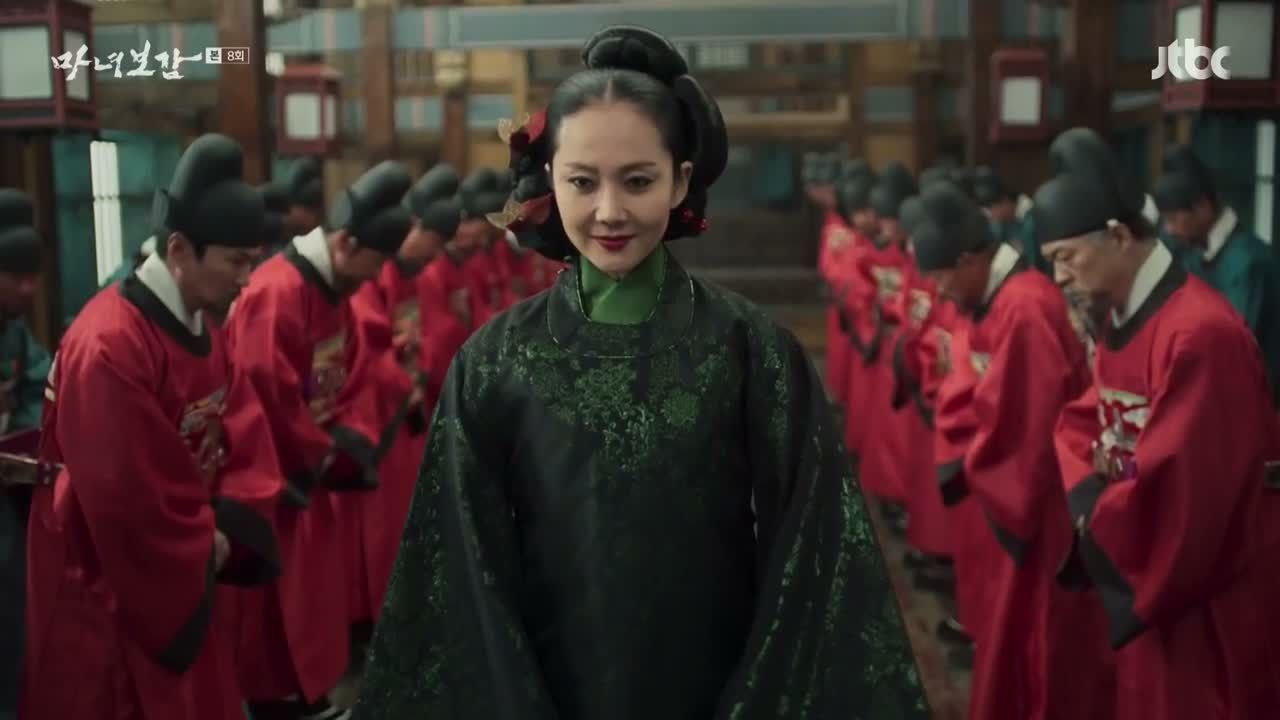 He calls for Hong-joo to enter, and she walks past the ministers with a smirk on her face. The king announces that she will be the head of the shaman council, and the ministers immediately fall to their knees, begging him to withdraw his order. Hong-joo simply laughs to herself and comments that she's enjoying their welcome greeting.
Outside the court, Poong-yeon runs into Hong-joo and demands to know what she did to the king. She replies that she simply asked for the shaman council to be restored in return for curing the king's illness, and that knowing the king was sick is all a part of her job description. Poong-yeon warns her that he'll kill her if she ever harms the king, but the threat has no effect on Hong-joo — she merely mocks him in response.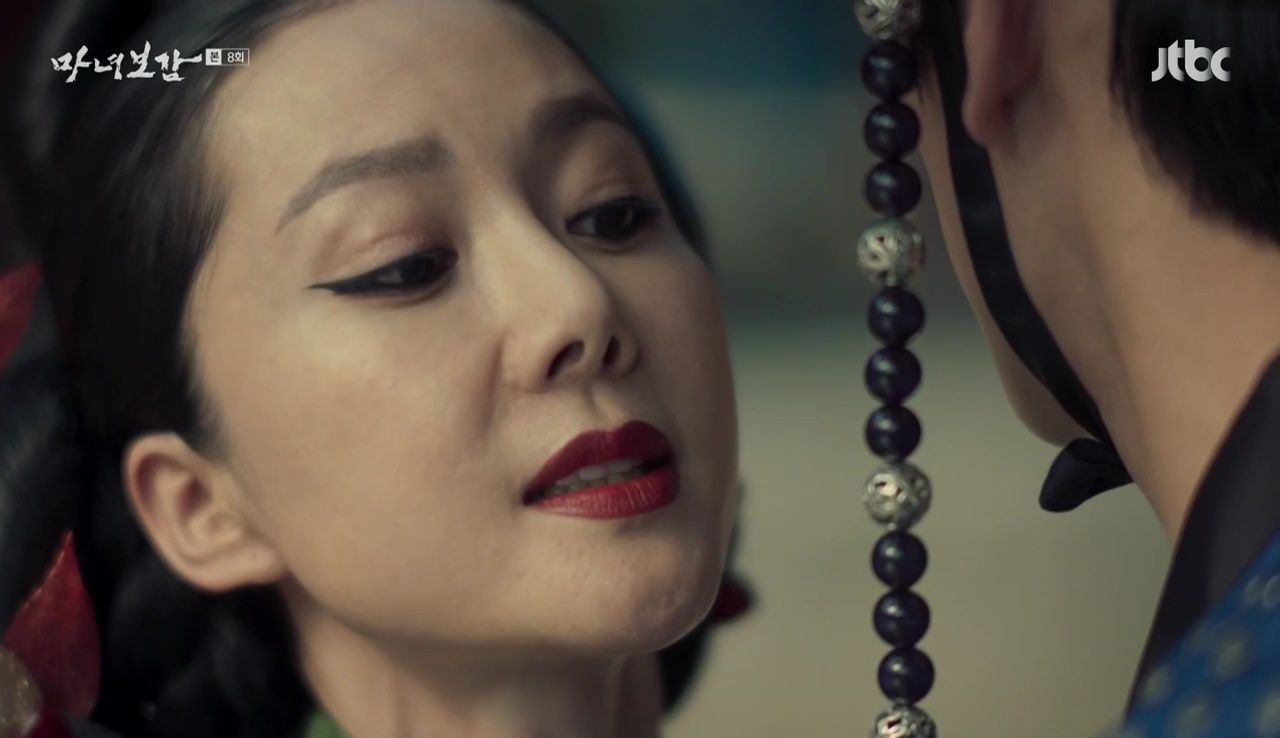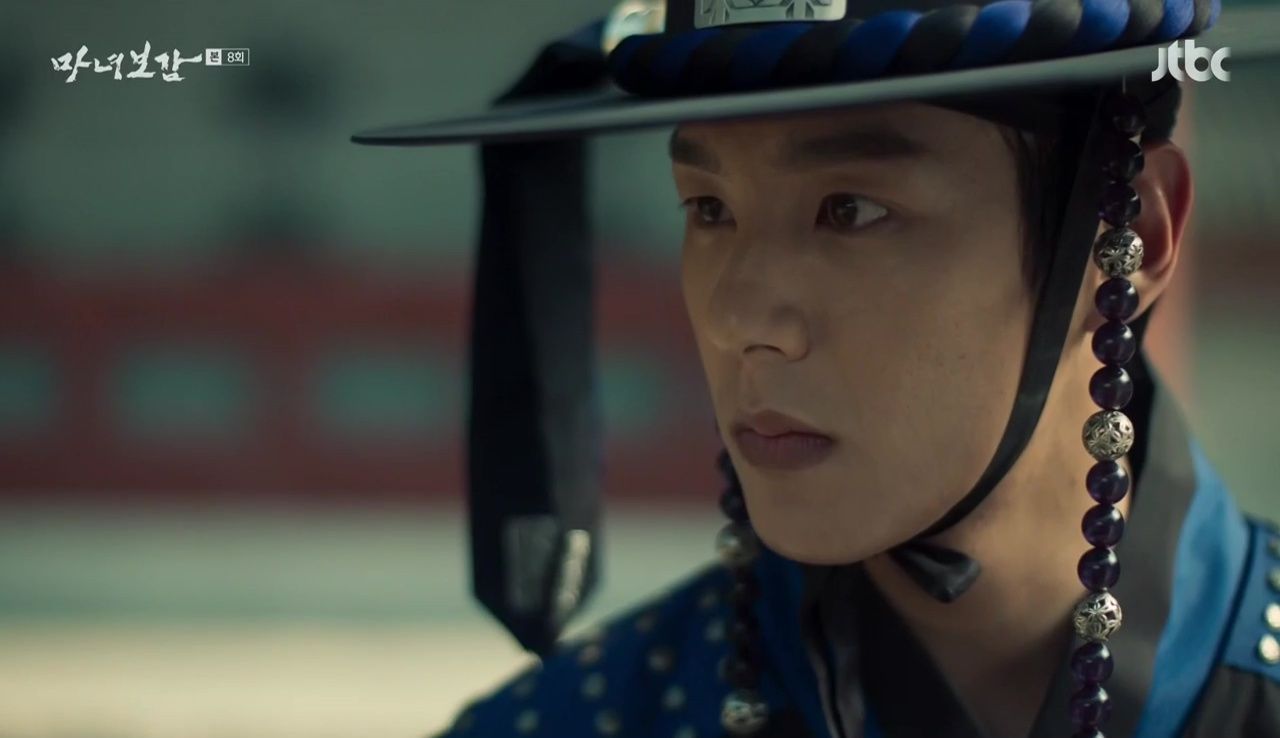 Back in the city, Jun spots the dismembered corpse dangling in the town square and realizes that it's supposed to be him. He quickly hides his face behind his hat and takes his leave. He walks to his mother's grave, and he's startled to find that it's been desecrated by signposts calling her the mother of a murderer. He tears the signs out and trembles in fury, and runs back to the city.
At the gambling den, Jun plays with his face hidden so that nobody recognizes him — not even Soon-deuk, who's back to her old tricks, standing behind Jun and signaling his cards to the other gamblers. Jun easily outsmarts them again and wins the jackpot, but to Soon-deuk's surprise, he dumps the money into her hands before leaving. The other gamblers look at her accusingly, and she chases after Jun for clarification.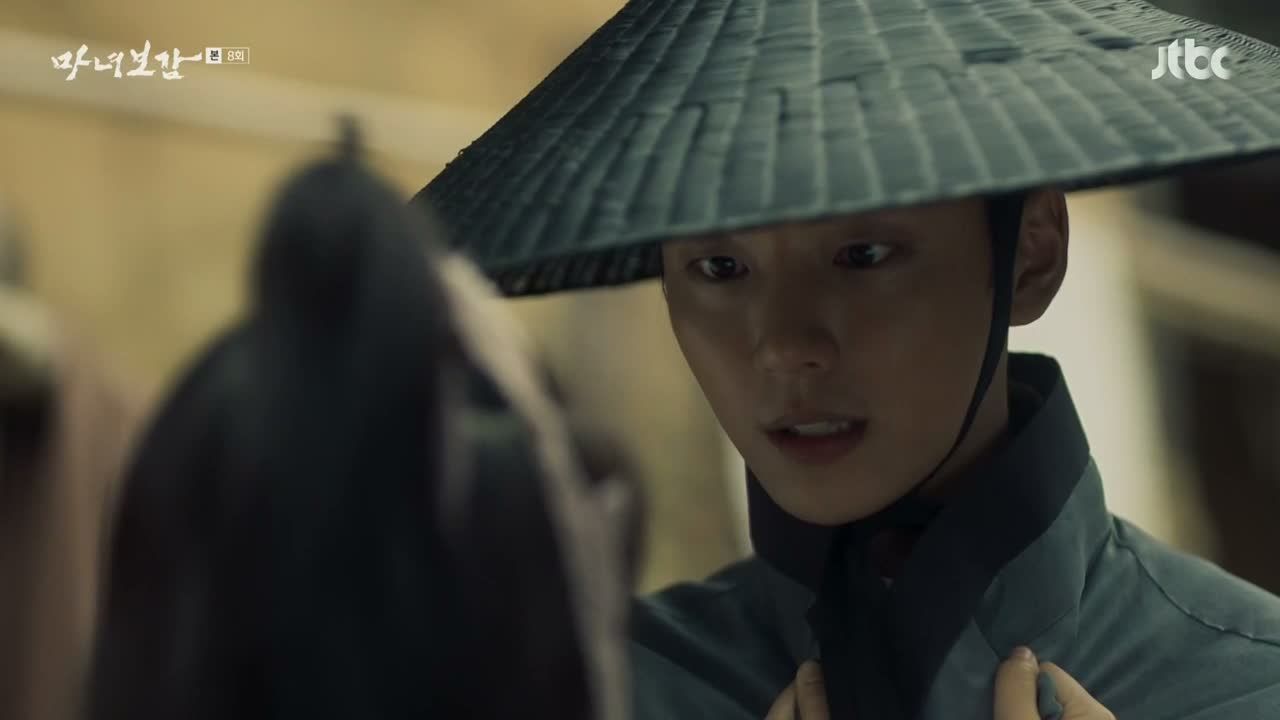 Jun reveals himself to her, and Soon-deuk immediately grabs his collar, demanding to know why he killed her gisaeng friend Man-wol. He asks Soon-deuk to do him a favor, and argues that he would never kill Man-wol when she was the only friend he could talk to. Soon-deuk realizes that Jun has been falsely accused, but still refuses to help him, not wanting to be associated with Red Cloak anymore.
Jun offers her double the amount he just gave her if they succeed, and asks her to find just a few people for him. At first, Soon-deuk looks unconvinced, but Jun's earnest plea for help moves her and she agrees.
At the gisaeng house, a drunken Heo Ok demands to be sent home on a palanquin. On his way home, the foot-bearers exchange places with four masked men (one of them is Jun), and Soon-deuk comes out of hiding to pay the foot-bearers for their help.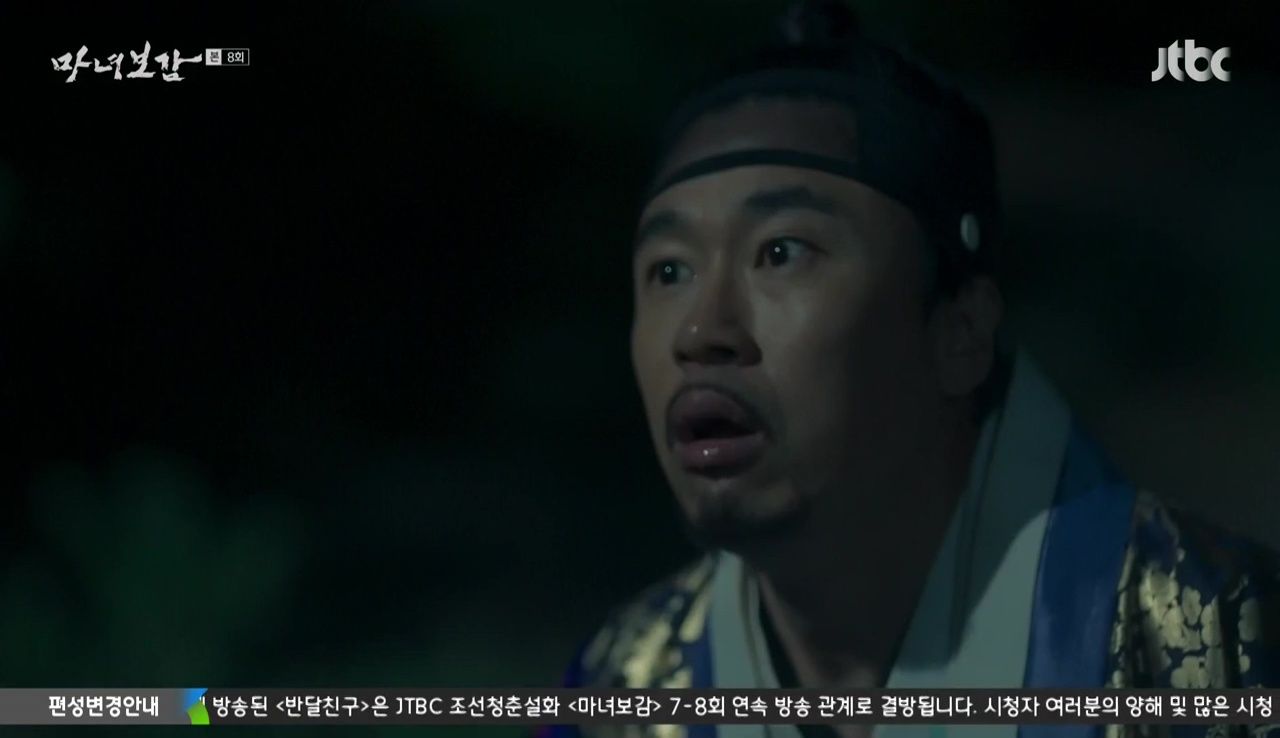 Ok is woken from his sleep by creaking noises outside and opens the door to see what the problem is, only to realize that the palanquin is placed precariously above a rocky riverside cliff. He panics and screams for help as the palanquin begins sliding down, when Jun, still in his masked disguise, jumps in to save him.
Traumatized by the near-death incident, Ok thanks his savior and angrily whines that the foot-bearers don't know who they're messing with. In a nonchalant tone, Jun sarcastically wonders aloud who would dare touch the captain of the royal guard.
Jun pulls down his mask and Ok backs away in shock, stuttering as he tries to form a comprehensible sentence. Jun comments that it seems like Ok has seen a ghost, and says that he's just here to escort Ok, even as a ghost. Jun tells Ok that he'll always be around to check on Ok's safety, though it sounds like more of a threat than an offer of protection. Jun warns Ok that he'll do everything he can to clear his own name, and walks off, leaving Ok to scream in fury behind him.
At the palace, the queen dowager kneels outside the king's chambers on a straw mat and begs him to reconsider, reminding him that Hong-joo will only bring misfortune to the palace. Despite the concern of her servants, she refuses to get up until the king gives in to her, and demands that everyone leave the premises.
Inside the king's chambers, Hong-joo brings out her jar containing the black spirit and puts the king in a trance. She mutters a spell, and when the king begins convulsing, she guides the spirit into his body.
Outside, the queen dowager continues her exhausted cries for him to renounce Hong-joo. She lifts her head, only to stare aghast as she watches Hong-joo coming down the stairs from the king's chambers. The queen dowager is in disbelief that Hong-joo would have the audacity to return to the palace after what she did to her son the crown prince, but Hong-joo responds that she is back to correct her mistakes.
The king lumbers sleepily out of his room, and the queen dowager rushes over to kneel in front of him, repeating that Hong-joo cannot return to the palace. The king seems to slowly regain his senses and when he sees the queen dowager, his eyes widen in recognition. Bending down, he calls her "Mother" and claims to be her son, Prince Sunhoe. At first, the queen dowager thinks the king is playing a cruel joke on her, but when he breaks down in tears, she hesitantly asks if he's really the crown prince.
The king's face morphs into Prince Sunhoe's, and the queen dowager cups his face with her hands, overwhelmed that her son is back. She throws her arms around him, weeping, and Hong-joo stands in the background, smirking knowingly.
In the midst of their tearful reunion, the king suddenly lets go of her, and solemnly addresses her as the queen dowager. The queen dowager pulls back in shock, and the king asks if she's okay, only to faint and collapse to the ground. As the servants carry the king away, Hong-joo steps behind the queen dowager and promises to return her son to her.
In the king's room, the queen dowager now completely changes her tune, asking the king to rebuild the shaman council. The king is suspicious at this turn of events, and asks the queen dowager why she has changed her mind. She simply responds that the will of the king ought to be the will of the palace, and gets up to leave.
As she makes her way out, the king demands to know if she's familiar with Hong-joo, and the queen dowager denies it. She adds that the king ought to be careful, and warns him, "If you are blinded by desperation, you will lose many things." Seething in rage, the king chucks a book at the floor, but the queen dowager simply ignores him and walks out.
Outside the room, the queen dowager meets with Hong-joo and reminds her of their promise: If the queen dowager allows Hong-joo to return to the palace, then Hong-joo must help the queen dowager meet Prince Sunhoe again.
The queen dowager questions if Hong-joo can truly bring back her son, and Hong-joo explains that currently, Prince Sunhoe has a soul, but no body. The queen dowager balks at the plan to use the king's body for Prince Sunhoe's soul, but Hong-joo reminds her that the throne originally belonged to Prince Sunhoe anyway. As the queen dowager walks away uneasily, Hong-joo smiles, knowing that she's got the queen dowager wrapped around her finger.
Hong-joo flashes back to when the previous king, Myeongjong, had been on his deathbed, and his advisors had begged him to choose an heir. We see that Hong-joo had been controlling the former king's movements from her lair, and made it so that the current king, Seonjo, would be chosen. That is, Hong-joo had expressly chosen the current king because his body was a good fit for Prince Sunhoe's soul.
After being revived by Hong-joo, Taoist master Hyun-seo returns to his home. He quickly hides when he hears people approaching and overhears his wife telling the maid that they don't know when he'll come back, so they must keep "it" safe.
Hyun-seo sneaks into his study and opens a box on his shelf, taking out a torn piece of paper. It has a drawing of a symbol that looks like the tree mark on Jun's chest, and a flashback reminds us that Hyun-seo had ripped this last page out of the Mauigeumseo.
At the palace, Hong-joo walks back to her shaman hall, and comments that everything is back to its start again.
At the watermill, Jun investigates the scene where gisaeng Man-wol was killed. He kneels down to see the traces of Man-wol's blood still there, and suddenly glances up. Behind the creaking gate doors is Red Cloak, who advances towards Jun and unsheathes his sword. Jun attempts to deflect the blow, but Red Cloak mercilessly cuts him down.
Jun stammers out, "Man-wol," and then we see that this was merely a figment of Jun's imagination — he was picturing what happened to Man-wol the night she died. Horrified by how Man-wol was killed, he asks aloud, "Red Cloak… Who exactly are you?"
At Cheongbing Temple, Seo-ri flips through the copy of the Mauigeumseo and smiles when she notices that Jun had added cute doodles of the time they first met on the corners of each page, like a flip book. She hugs the book tightly, and elsewhere in the forest, Jun sleeps soundly in a cave.
Poong-yeon and Sol-gae are back to investigating Red Cloak, and Poong-yeon explains to Sol-gae that the people are still in danger if the real Red Cloak is at large, and the only thing he can do for the king right now is to catch the true culprit. Sol-gae asks Poong-yeon if he will really be all right, and we see what she means when the scene cuts to Poong-yeon at the gisaeng house, looking mighty uncomfortable as the gisaengs flirtatiously tease him.
He's here to find out more about Man-wol, but the gisaengs refuse to tell him a thing until he drinks his cup of wine. Poong-yeon insists that he doesn't drink alcohol and the gisaengs nearly force it down his throat until Sol-gae comes to his rescue and downs the cup in one shot. She tells the gisaengs to stop fooling around and tosses the cup onto the table with a loud clang, her glare scaring the gisaengs into talking.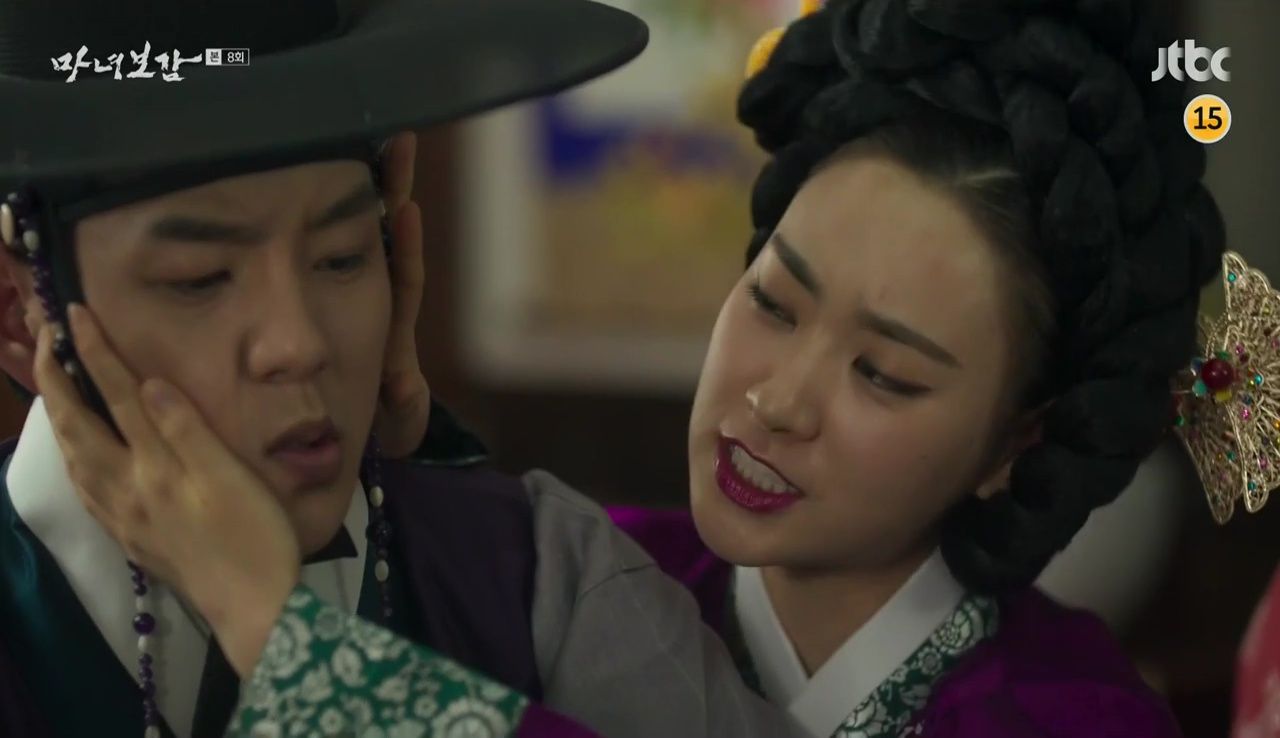 One gisaeng (the one who was the first to see Man-wol's transformation) explains that Man-wol was quite ugly, and no one ever asked for her except Jun. The gisaeng is shocked that he turned out to be Red Cloak, and Poong-yeon presses for more information — did anything strange happen to Man-wol before she died? The gisaeng recalls how Man-wol became beautiful after visiting the Hundred Year Tree, and sighs in pity that she died right after.
Conducting his own investigation, Jun sneaks into Man-wol's room to look for evidence. Suddenly he hears Poong-yeon and Sol-gae discussing how all the Red Cloak victims are connected to the Hundred Year Tree, and is forced to think of a way to escape.
Poong-yeon opens the door to Man-wol's room and coughs in embarrassment to see a gisaeng getting dressed. Poong-yeon apologizes for the mistake, and Jun rushes past him wearing the women's hanbok with his face hidden, but not before Poong-yeon takes note of Jun's black boots.
As Jun makes his way out, the other gisaengs stop him for failing to greet them, which allows for Poong-yeon and Sol-gae to catch up. Sensing something strange about him, Poong-yeon stops Jun in his tracks and clamps a hand on his shoulder. Jun grimaces and tries to resist, knowing he's been caught. But he's forced to show his face, and the moment Jun turns, he pushes Poong-yeon into the gisaengs and makes a run for it.
Just when Jun thinks he's in the clear, Poong-yeon grabs him from behind and pushes him against a wall. He peels back Jun's clothes to look for the scar that should be on Red Cloak's shoulder, but Jun's shoulder is unmarred. Nevertheless, Poong-yeon doesn't let go and tells Jun that he needs to be thoroughly investigated because he could still be an accomplice.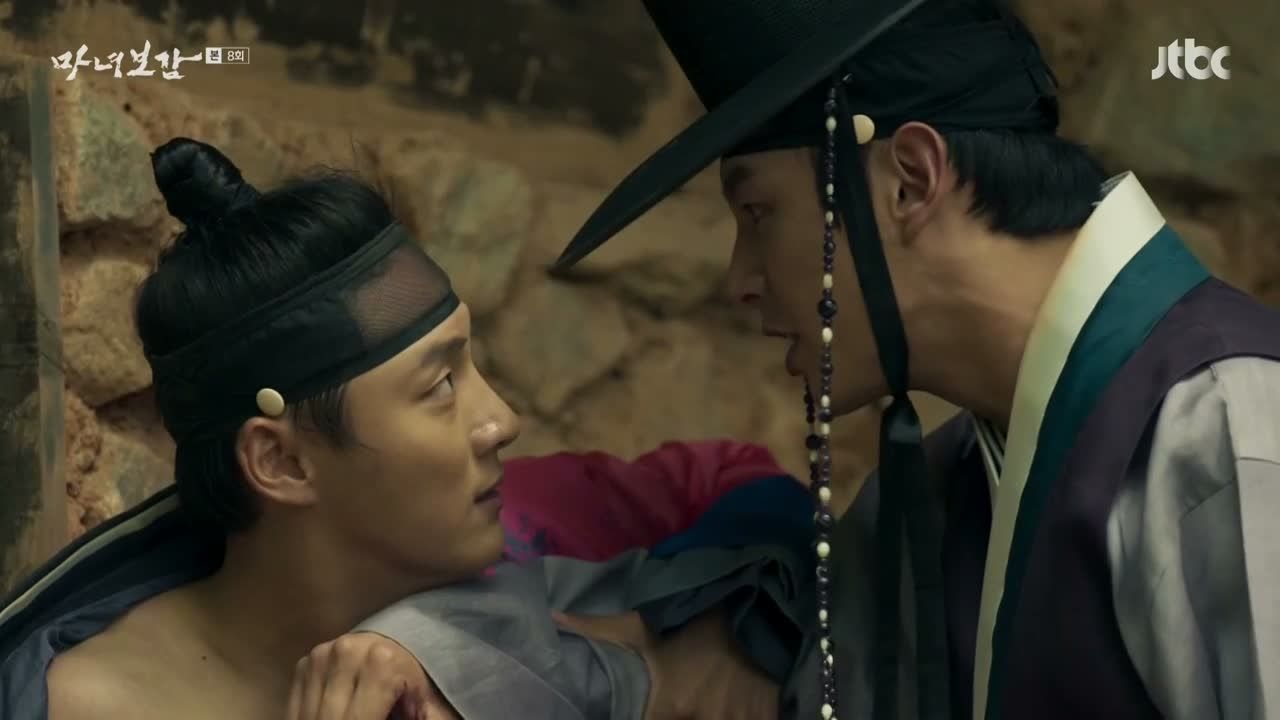 Upon hearing that, Jun tries to free himself from Poong-yeon's grasp, but Poong-yeon keeps his hold. Poong-yeon demands to know where his golden bell is, and Jun responds that he has no idea what he's talking about.
Taking advantage of a distracted Poong-yeon, Jun pushes him off and runs away, only to be stopped by Sol-gae. Poong-yeon ties Jun's hands together for good measure and Jun is brought to the jail cell, where he pleads his case to Poong-yeon. Poong-yeon, however, doesn't waver and simply answers that they'll find out the truth during the interrogation tomorrow.
At the temple, Yo-gwang is sent into panic mode when he sees that the talismanic shields are starting to burst into flames again. He hears Seo-ri calling for him and he hurriedly blocks her from seeing the vanishing talismans. Seo-ri tells him that she's ready to make the potions again and asks him to bring her the wish-tags from the Hundred Year Tree.
Yo-gwang makes his way back to the now abandoned Taoist temple. He frantically flips through books, searching for a method to prevent the talismans from burning away. Just when he's starting to think it's all a lost cause, he spots the symbol on the metal shield that the Taoists had once used to defend against the black spirits.
He recognizes it as the same symbol that Jun had on his chest. After digging through more books, he learns that Jun is a human talismanic shield. He groans in frustration that he made Jun drink the Oblivion potion, but now he knows that Jun is their only hope for keeping Seo-ri hidden.
In the forest, Hyun-seo makes his way towards Cheongbing Temple and stares at the large talismanic shield posted at the entrance.
Jun fiddles with his lock in jail, but it's no use. He jokingly wonders if he ought to call a shaman to get rid of his bad luck, but suddenly one of the guards unlocks his cell. It's Yo-gwang, who's disguised himself with a talisman, and he rushes in to free Jun. Yo-gwang hurries through an explanation of everything that happened with Seo-ri at the temple, cursing himself for insisting that they give Jun the Oblivion potion.
Meanwhile, Hyun-seo puts his hand on the large talisman and causes a ripple of effects — the large talisman burns away, the candles in Cheongbing Temple flicker out, and the smaller talismans surrounding the temple burst into flames.
Inside the alcove of Cheongbing Temple, Seo-ri takes out a bowl of potion, and in flashback we see that she had hesitated after making the Oblivion potion for Jun. She'd turned back to empty the contents from the bottle, replacing the Oblivion potion with water before handing it over to Yo-gwang. As she examines the remnants of the Oblivion potion now, the entire temple suddenly begins to shake as if there's an earthquake.
In the shaman hall at the palace, Hong-joo tells one of the shamans that she can feel the princess's spiritual presence.
Back at the temple, Seo-ri looks around in alarm and tries to keep the place from falling apart. Suddenly, she's overwhelmed by the familiar screeching sound of the black shadow spirit and she holds her head in horror. We see that her curse mark has returned below her ear. Meanwhile, Poong-yeon is walking with Sol-gae when he too hears the screeching, and faints.
Hong-joo's shamans rush through the forest and Hyun-seo comes out of hiding, watching them carefully.
At the entrance of Cheongbing Temple, Yo-gwang hears Seo-ri's screams and rushes inside. Seo-ri flails around frantically as the spirit lifts her in the air and turns her hair white. She suddenly goes limp and begins falling towards the ground; although Yo-gwang goes forward to catch her, it's Jun's arms that she lands into.
The earthquake inside Cheongbing Temple abruptly stops, and Seo-ri wakes up briefly to see Jun. He manages a smile and says, "We meet again," before she faints in his arms. Seo-ri's hair turns back to black and the dark spirits appear to leave her.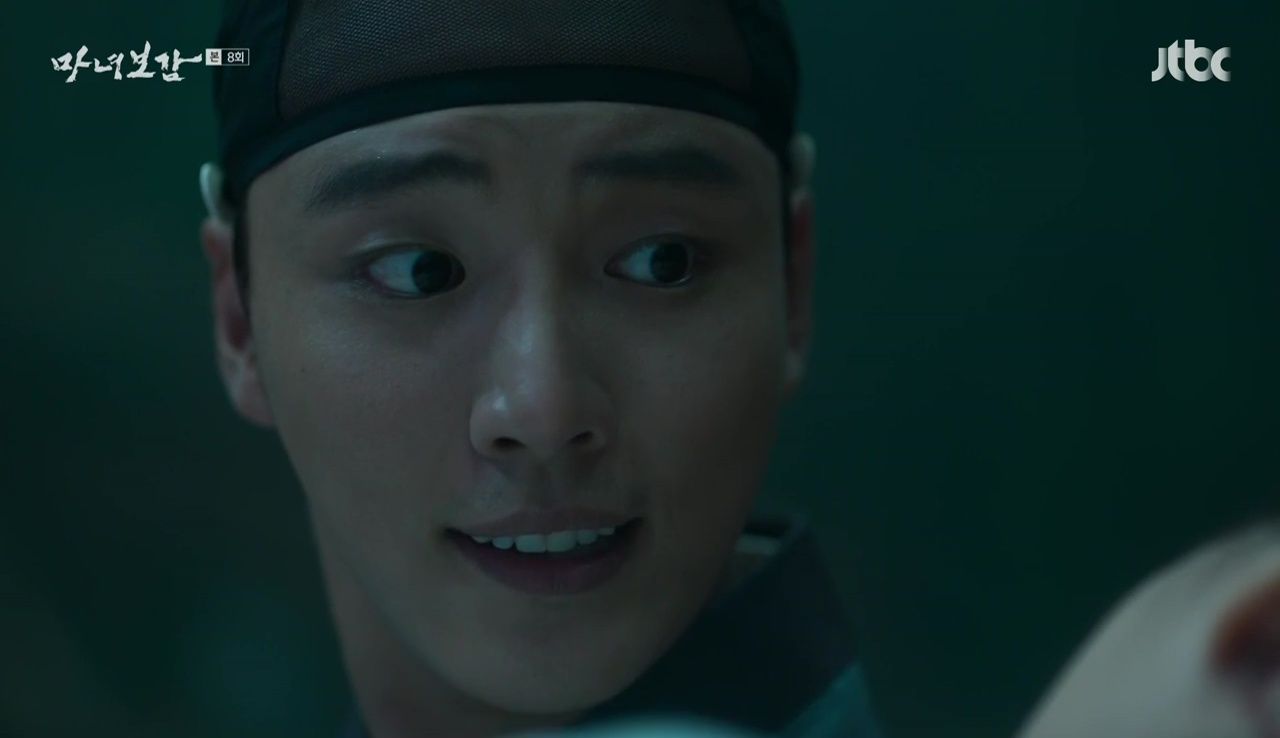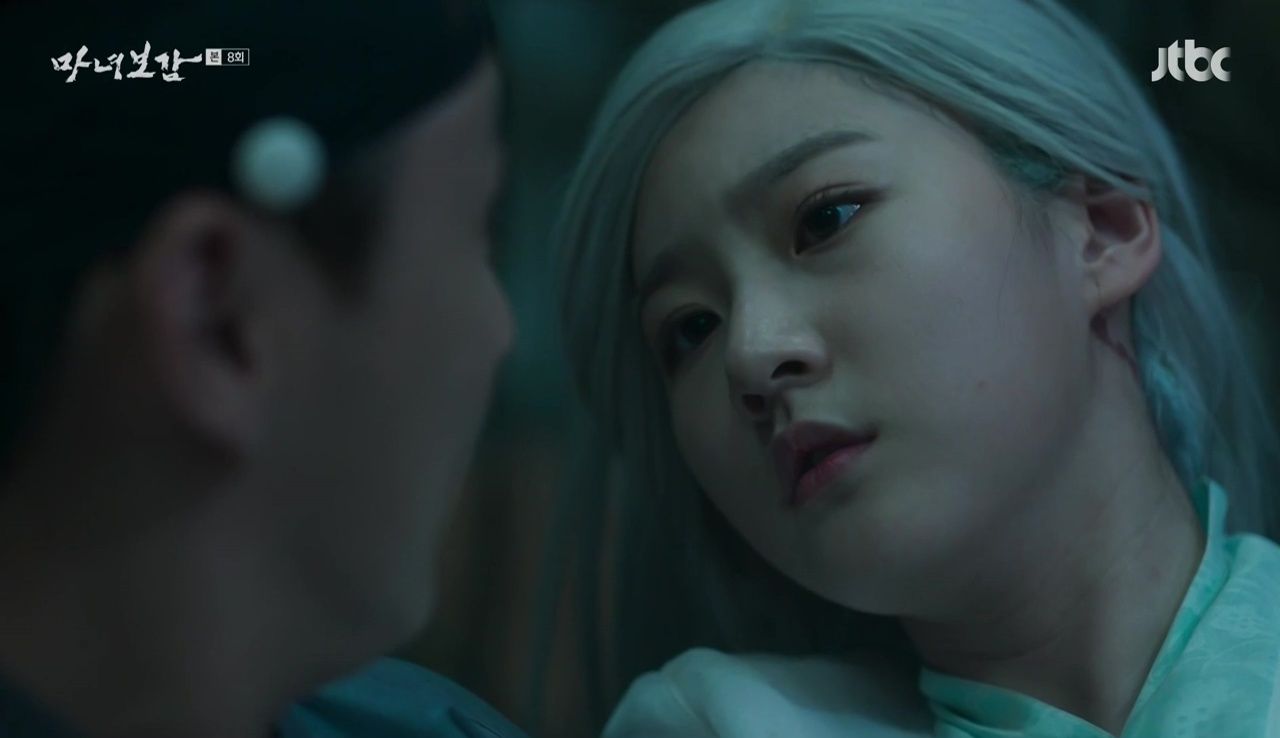 COMMENTS
Although I'm still not entirely sold by the romantic chemistry between Seo-ri and Jun, I think they have a wonderful rapport as friends and I'm so excited that they're finally ready to work together. With Seo-ri's constant confinement and Jun's confession that Man-wol was his only friend, it's clear that both of them are rather lonely characters, and that very loneliness really helps them understand one another in ways that others just can't.
I love that Seo-ri trusted Jun enough to switch the Oblivion potion with water because she had an understanding of Jun's personality that Yo-gwang didn't, and I love that Jun knew just how to cheer her up and show that he remembered her when he doodled those drawings in the Mauigeumseo. He's just so thoughtful and sweet, and besides, how many episodes has it been since we've seen Seo-ri's adorable smile?
I desperately want Poong-yeon to team up with the trio, but I'm worried that his dedication to serving the king (who's slowly becoming Hong-joo's puppet) will put him at odds with his love for Yeon-hee/Seo-ri. Poong-yeon acts as an interesting foil for the king — Poong-yeon is morally upright and a stickler for the rules whereas the king is more willing to deceive the public and do certain things for personal gain — but I'm curious to know what Poong-yeon would do if he's faced with a conflict where he's more personally involved.
Considering the clues about the potion bottles and the Hundred Year Tree, I'm starting to think that the show is setting things up for Seo-ri or Yo-gwang to be framed as Red Cloak once Jun clears his name. If Poong-yeon were to think that Seo-ri was involved with Red Cloak, what would he do? Would he continue to stick to the rules, or would he find some leeway in his book for Seo-ri?
When the king breaks the rules for personal gain, I actually find his reasoning quite understandable — he's hiding the truth about Red Cloak to keep the public satisfied (perhaps not the best way to do things as Poong-yeon had pointed out, but I can sympathize), and he's restoring Hong-joo to her position, thinking he can save his own life. If Poong-yeon were put in a similar position, as he might be with Seo-ri, what would be his course of action?
With that being said, it's interesting how our alliances are all over the place at this point. Seo-ri, Yo-gwang, and Jun will be working together against Hong-joo; Poong-yeon is wary of both Jun and Hong-joo at the moment; the queen dowager and the king are under Hong-joo's control even if they don't realize it; and we have no idea what side Hyun-seo is on, or if he's been contaminated by the shadow spirit. So many characters are still so ambiguously aligned, and here's one instance where the saying, "The enemy of my enemy is my friend," does not apply (yet?).
RELATED POSTS
Tags: Episode 8, featured, Kim Sae-ron, Lee Sung-jae, Mirror of the Witch, Yeom Jung-ah, Yoon Shi-yoon