Oh Hae-young Again: Episode 11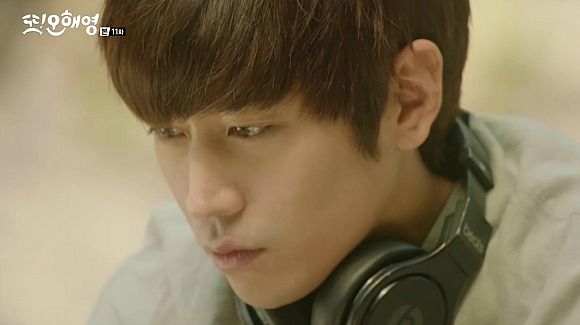 Not that it's ever been easy having the same name as her rival/frenemy, but the complication takes on extra consequences for Hae-young today, leaving emotions running high as pride and love battle it out. We always knew this coil of a misunderstanding would be a challenge for Do-kyung to work out, but the more time starts running out on him, the more worried I'm getting…

EPISODE 11: "In pain, in pain"
Do-kyung wakes during the drive back to Seoul, and smiles to see Hae-young sleeping with her head in his lap. He shields her eyes from the morning sun, and makes his decision and thinks to himself, "Let's go. Let's go all the way."
Tae-jin is waiting at Hae-young's parents' house when they arrive home and he bows deeply, but they both move to walk right past them. He says that Hae-young isn't answering her phone, and when Mom barks, "Why would she answer your calls?" Tae-jin gets on his knees right there in the street.
He apologizes, but Mom has no intention of accepting his apology and tells him to leave. Dad feels sorry for Tae-jin and urges him up, asking how all this happened to him. He tells Tae-jin about Hae-young's other apartment, and that he assumes she spent the night there.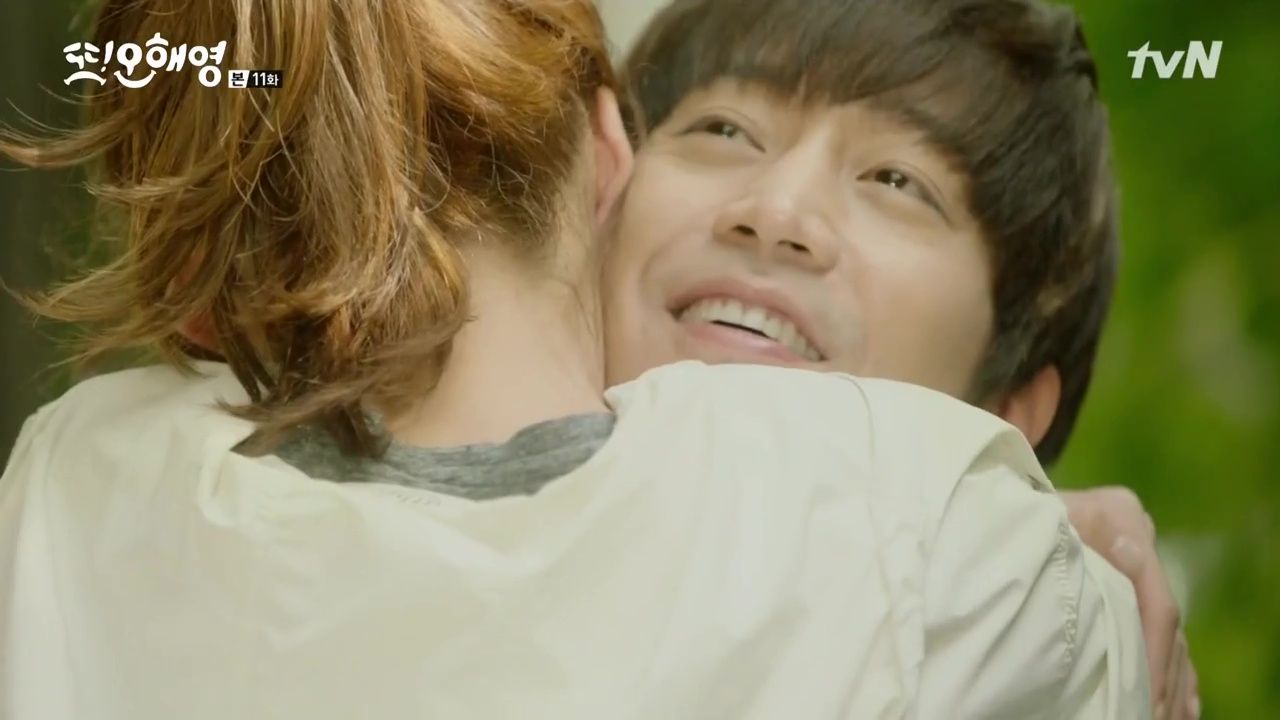 Do-kyung and Hae-young arrive home, and she rushes up the stairs to get ready for work. Halfway up she stops and turns, and Do-kyung smiles, knowing exactly what's coming because he saw it a long time ago — Hae-young runs to him, and he happily catches her in his arms.
Nobody is having a good morning at the family house — Jin-sang has somehow lost his phone and his car, and Hoon is having some sort of crisis involving his right hand. He ends up splattering Do-kyung with jam trying to use only one hand, and he's forced to show Do-kyung and Soo-kyung that in his sleep, An-na gave him very bright, very permanent fake nails. HAHAHA.
He complains that he had grand plans to pick a fight with Do-kyung and leave the house, but now he can't with such fabulous nails. Do-kyung invites him to go ahead, but Hoon wants to look cool while flouncing, I guess. He'd planned out every move, including his facial expressions, and ominously warns Do-kyung to just wait.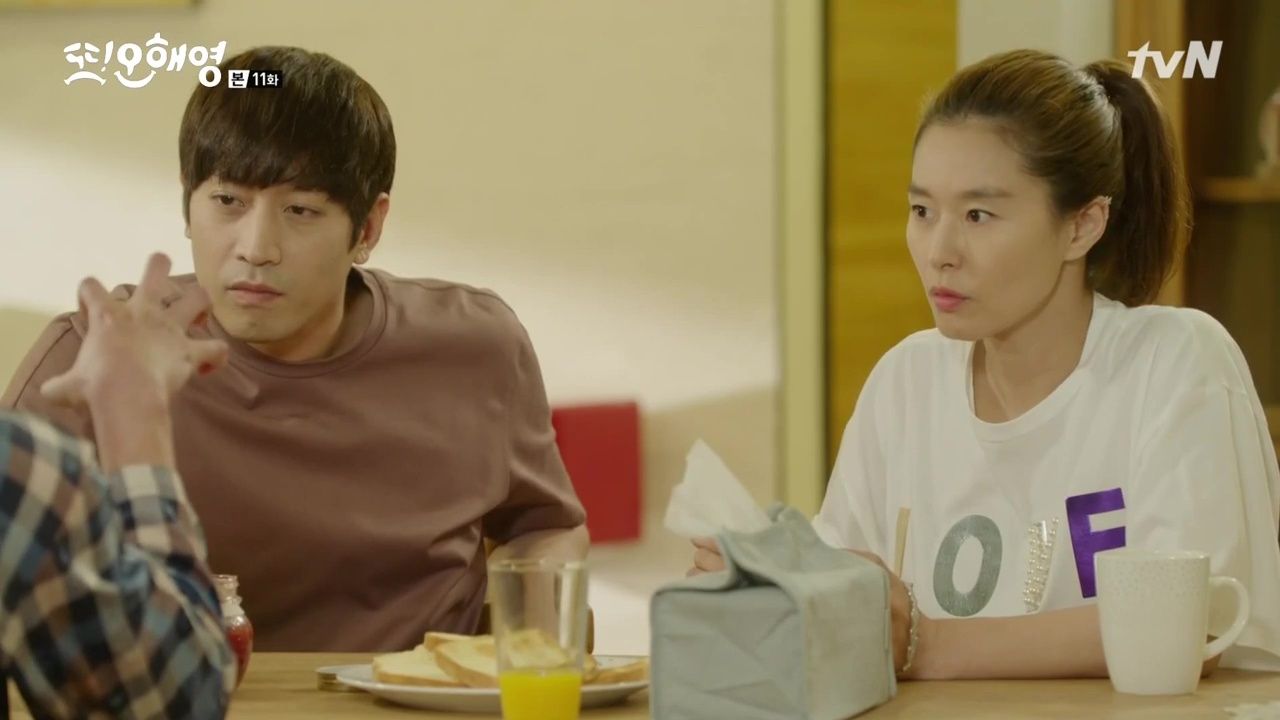 Soo-kyung grows alarmed that she actually feels jealous when she hears about Jin-sang's hot night with a woman, and she orders him to go back to his own home. He retorts in French that she's not so squeaky-clean — she had an affair with a married man. They argue back and forth in French, and HA, Do-kyung just rolls his eyes and walks off.
Tae-jin tries to find Hae-young at work, but she's not there yet. He runs into a friend of Hae-young's who recognizes him, and the other Hae-young seems surprised to hear that our Hae-young used to be engaged to him.
Our Hae-young hides when she sees Tae-jin getting in his car, not anxious to see him. Later he texts her asking if she's angry with him, and he promises to keep apologizing until she forgives him. She texts back asking him to meet with her tonight, because she has something she needs to tell him.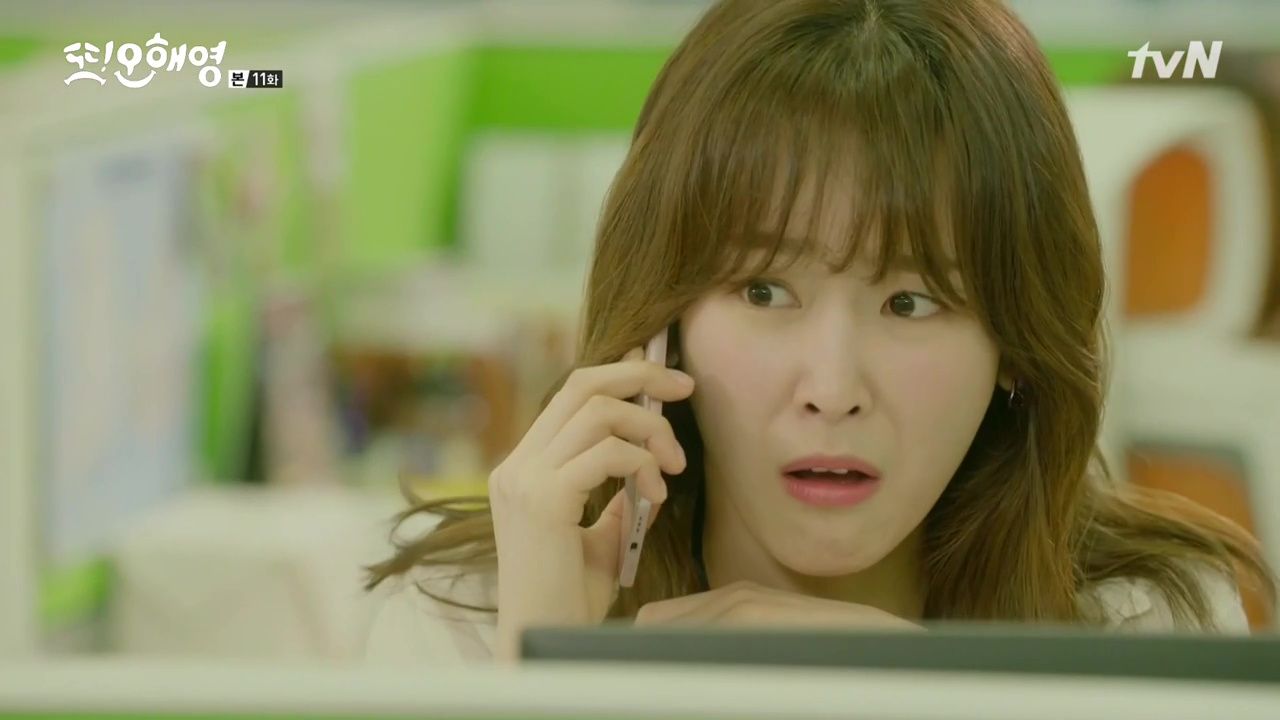 When Do-kyung calls to ask Hae-young out for tonight, she says it will have to be later, and she honestly tells him that she'll be seeing Tae-jin. They did see each other recently, though they didn't get back together as she'd told Do-kyung, but she wants to end things cleanly.
Do-kyung insists on seeing her first, before she meets with Tae-jin, and Hae-young doesn't pick up on his urgent energy. She jokes that maybe she should have dressed up fancier today, and warns him not to bring her flowers at work or get on his knees or anything embarrassing like that.
On his way to Hae-young's office, Do-kyung talks to himself as if he's speaking to Hae-young: "I won't push you away anymore out of guilt. I just want to love you. No matter what I tell you, please don't abandon me. Please hold onto me tightly." Awww.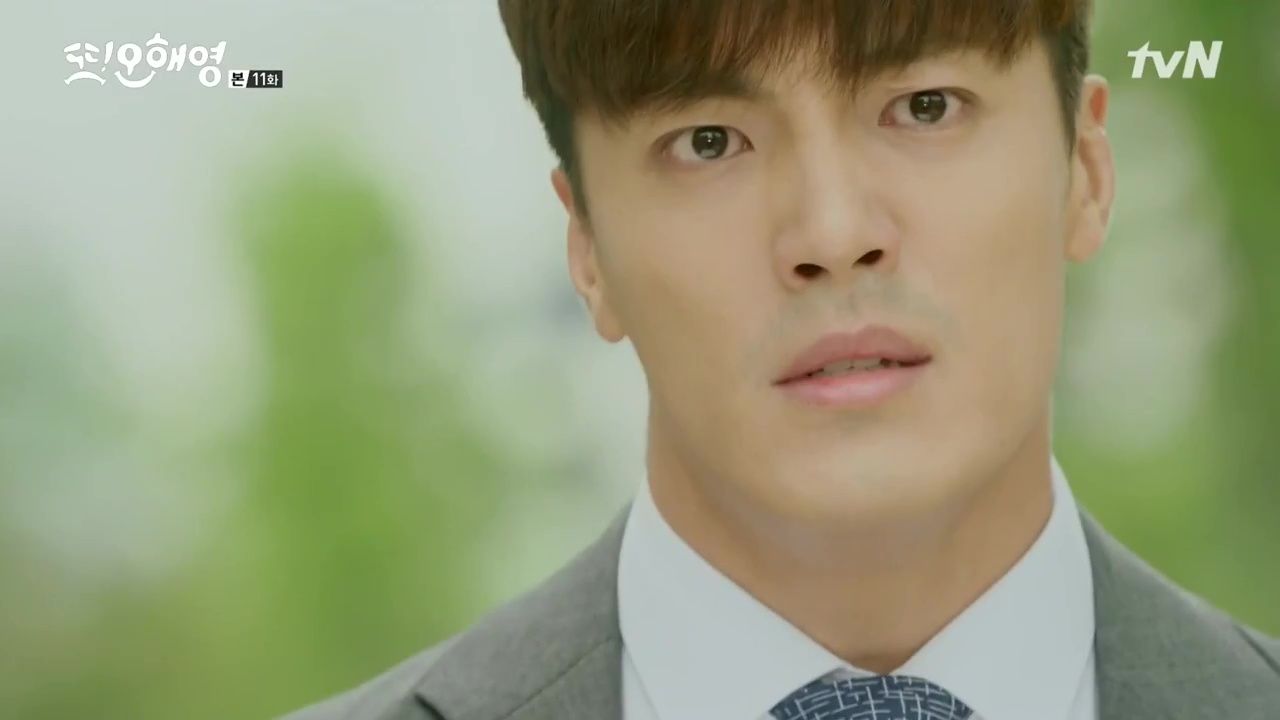 Tae-jin doesn't understand why Hae-young is canceling plans with him two days in a row, but she promises to see him the next day. He's disappointed, but he accepts her apology. But he's gotten several dozen roses and has a ring, and he decides to head to her office anyway and surprise her. Oh, this is gonna be bad.
Tae-jin sees Hae-young across the street, and she smiles and waves… but at Do-kyung, who is standing at the corner. When Tae-jin sees him, it hits him like a ton of bricks — his ex-fiancee is seeing the man who ruined his life. And without knowing the true story, the only thing Tae-jin can conclude is that Do-kyung did it all to get Hae-young.
Tae-jin sees red and lunges at Do-kyung, punching him so hard he hits the pavement. Tae-jin picks Do-kyung up and moves to punch him again, but Hae-young runs across the busy street and puts herself between the two men. Tae-jin orders her away from Do-kyung, but she rounds on him and asks who he thinks he is — she's not his fiancee anymore. Tae-jin tells her, "This is the bastard who ruined my business. He ruined my business and sent me to jail!"
Hae-young turns shocked eyes to Do-kyung, and Tae-jin asks him if he did it because he liked Hae-young. Crying now, Tae-jin violently smashes the roses, but Do-kyung never says a single word.
Hae-young gives Tae-jin a chance to explain, and he tells her how he learned about Do-kyung's involvement from Chairman Jang. He never could figure out what Do-kyung had against him, but while he was in jail Jin-sang told him that Do-kyung did it because he was getting married to Oh Hae-young.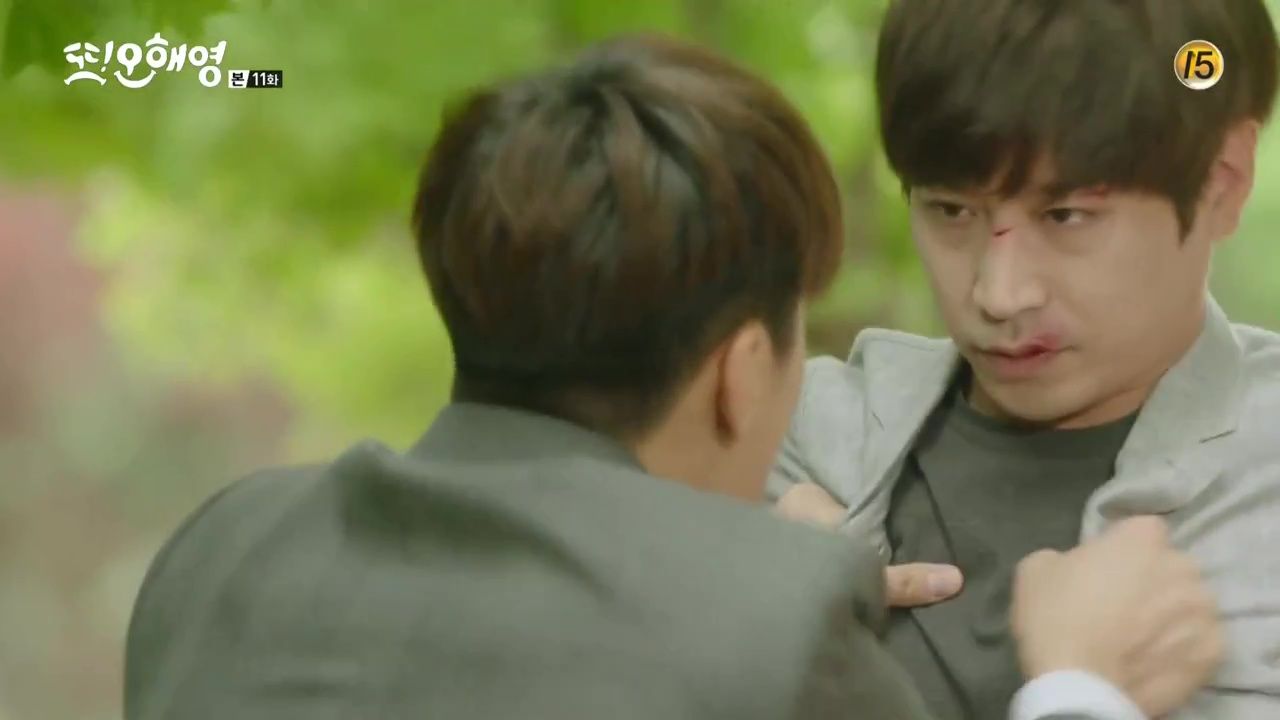 Our Hae-young makes the connection that Do-kyung must have thought Tae-jin was marrying the other Hae-young, and she says in a dazed voice, "It wasn't me." Do-kyung tries to take Hae-young away so he can explain everything, and for a moment she follows him. But she stops, and he drops her hand, and she walks away from both men.
Tae-jin turns and punches Do-kyung again, then kicks him in the stomach several times, and drags him up to yell in his face. How could he steal another man's woman like this? He delivers several more vicious kicks and punches, and Do-kyung doesn't even try to fight back.
Hae-young stands in the subway station for a long time, lost in thought, as trains arrive and leave without her. She thinks about everything that's happened to her since Do-kyung caused Tae-jin to break off their engagement, and realizes that once again, all of these things happened to her because of the other Oh Hae-young, because Do-kyung loved her.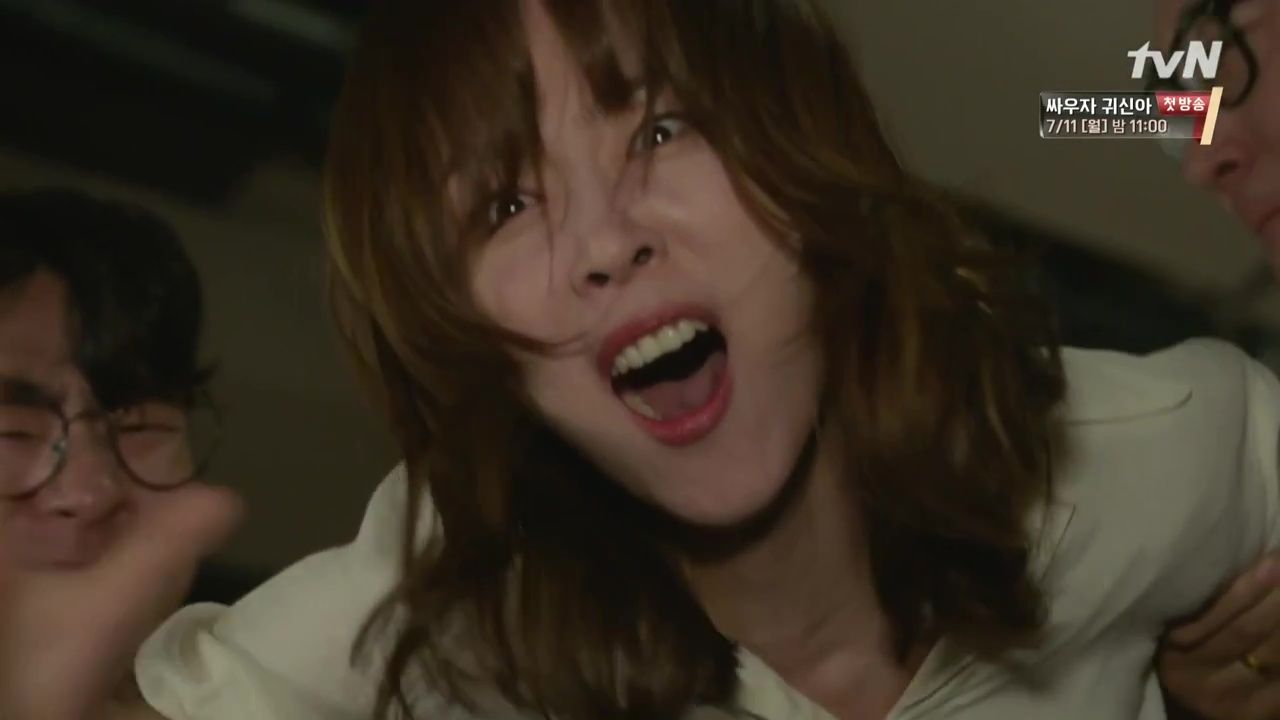 She thinks to herself that if he'd told her everything, that night that he'd been in a fight and she'd asked him who he fought with and why, she might have been able to accept it easily. But he hadn't, and since then she'd fallen in love with him, and now it's too late.
Hae-young goes to the pub that she knows the other Hae-young is at tonight, and pushes her out of her chair and to the ground. She screams, "You. You! YOU!!" while their coworkers struggle to pull her off the other Hae-young.
Do-kyung is mentally beating himself up, and he walks the streets with loyal Jin-sang trailing behind him. Hoon sees them and falls in line, and they even pick up Do-kyung's three employees along the way — I love the image of these men following along, loving their brother and friend so much that they're willing to just be with him, even if they can't help ease his pain or even know why he's hurting.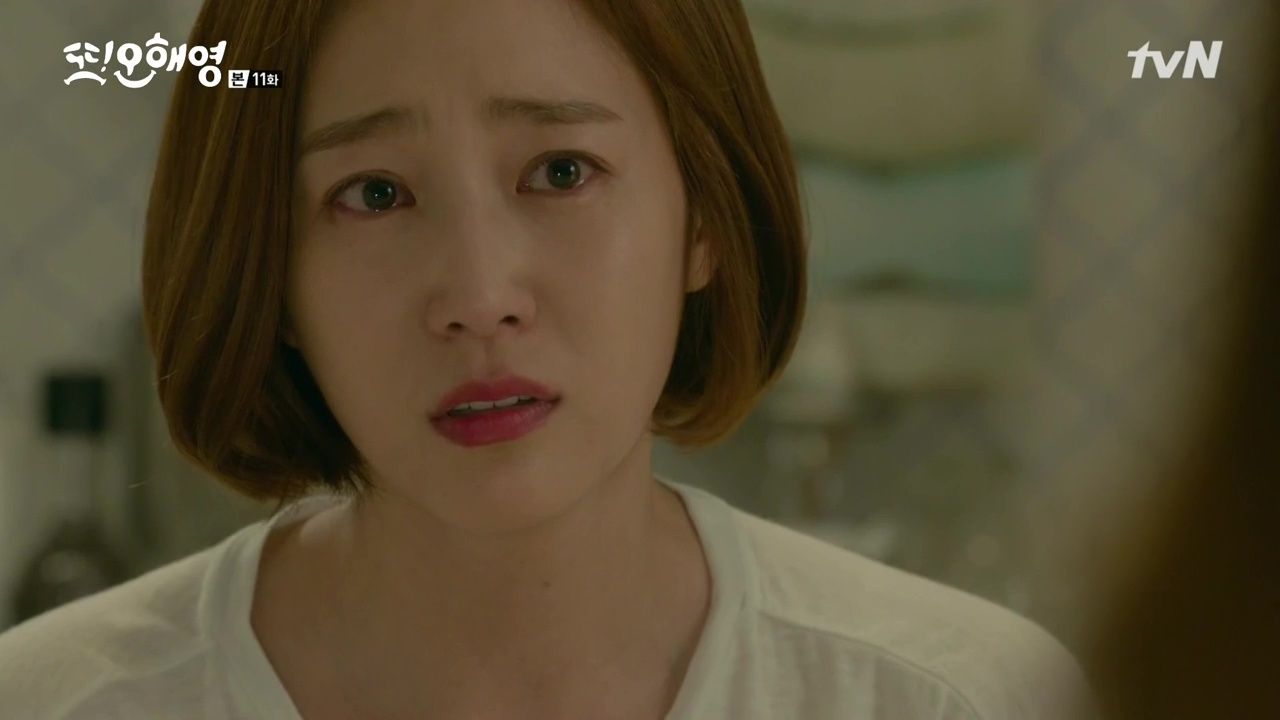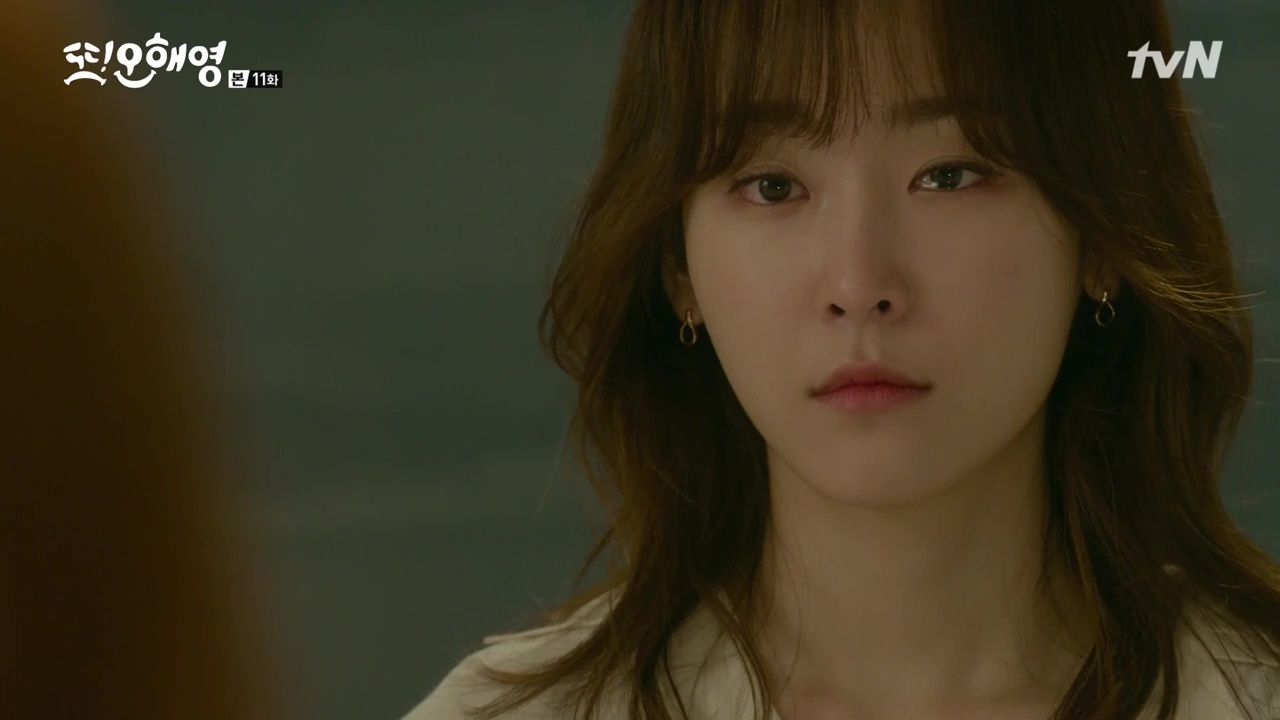 Eventually the other guys grab a car and continue following Do-kyung, while Jin-sang fills them in as to what's happened. They're super confused at the idea of two Oh Hae-youngs, and are shocked to hear that Do-kyung has fallen for the new Hae-young.
Later that night, Hee-ran admits to Hae-young that she thinks she started this whole thing by telling Do-kyung that "Oh Hae-young" was marrying Tae-jin. She didn't realize that Do-kyung thought she meant the other Hae-young, and she feels terrible that she wasn't more clear.
Do-kyung's friends decide they need to find Hae-young for Do-kyung, but they find the wrong Hae-young first and quickly drive away. They catch up to Do-kyung and hustle him into the car, and drive all night, finding themselves at the beach the next morning. They're trying so hard to cheer up Do-kyung that they're coming off extra perky, which is pretty sweet.
The guys frolic in the waves while Do-kyung broods on the beach, threatening them with death if they dare touch him. But they grab him and throw him in the ocean anyway, which has got to sting on his poor cut-up face, but they do manage to snap him out of his funk a little bit.
Some pretty girls draw Jin-sang's attention (Do-kyung: "You're such an animal") and he runs over to present his friends to them. But all conversation screeches to a halt when one girl says her name is Oh Hae-young, and all six guys just walk away. Ha. They resume their single-file support train, having accomplished nothing.
Hae-young's office rumor mill is in full swing, with everyone wondering why our Hae-young would attack the other Hae-young out of the blue like that. The other Hae-young seeks out Soo-kyung, insisting she didn't do anything to provoke the attack, and she's hurt that Soo-kyung seems to take our Hae-young's side, in this and in everything else.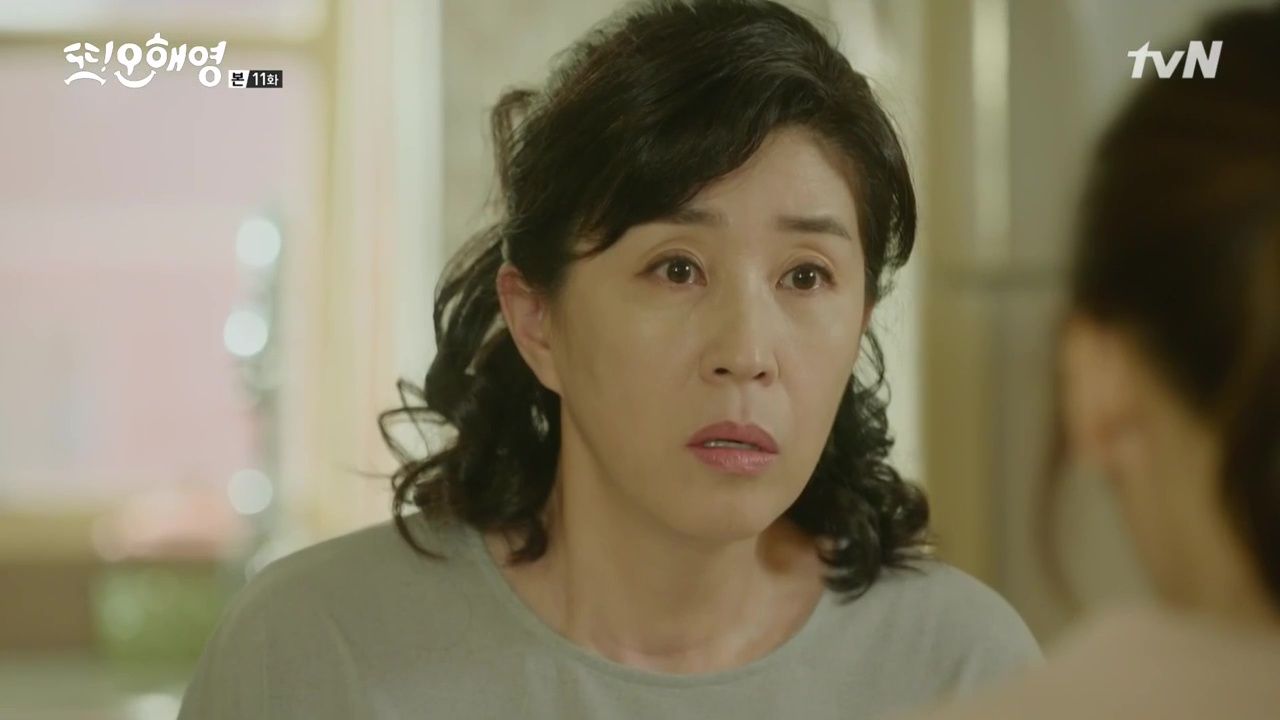 She goes back to her desk and texts our Hae-young, who isn't at work today, asking why she pounced on her that way. Our Hae-young is at her parents' house in a funk and barely responsive to anything.
Mom gets fed up and demands to know what's happening, but Hae-young just asks if Mom remembers the other Hae-young from when she was in school. Mom does remember her, and also how their windows would get smashed in by jilted boys getting the wrong house. Hae-young also remembers that she never got flowers or candy by mistake, only rocks — she feels like she was born to shoulder all of both Hae-youngs' bad luck while the other Hae-young got all the good luck.
Hae-young wants to move, somewhere where nobody is better than her, so she can at least feel normal. Mom begs Hae-young to say what's wrong, but Hae-young just sighs.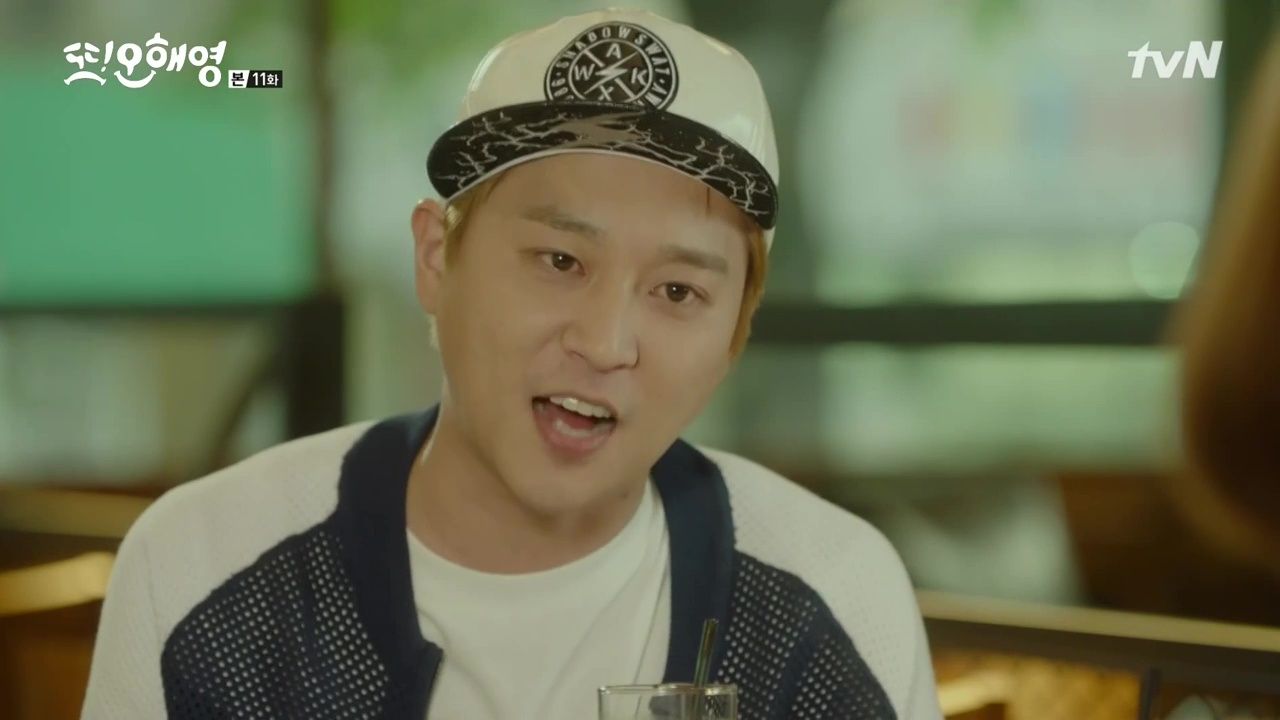 Hee-ran meets with Hoon regarding his movie script and tells him that it's not terrible, but she doesn't feel comfortable working with him considering their connection to Do-kyung. He hurt her friend, and Hee-ran wants to be loyal to Hae-young.
Hoon cringes when he realizes the situation, but Hee-ran starts running at the mouth about how she told Do-kyung about the impending marriage, but it's not her fault he didn't think there might be other Oh Hae-youngs. Hoon admits that he was shocked to learn what happened as well, and lies with bravado that he ordered Do-kyung to beg for Hae-young's forgiveness.
Hee-ran spots Hoon's fake nails and tells him to take them off, and he realizes that they actually pop off easily. One falls to the floor and he leans over to pick it up just as she crosses her legs, giving him an accidental eyeful, hee.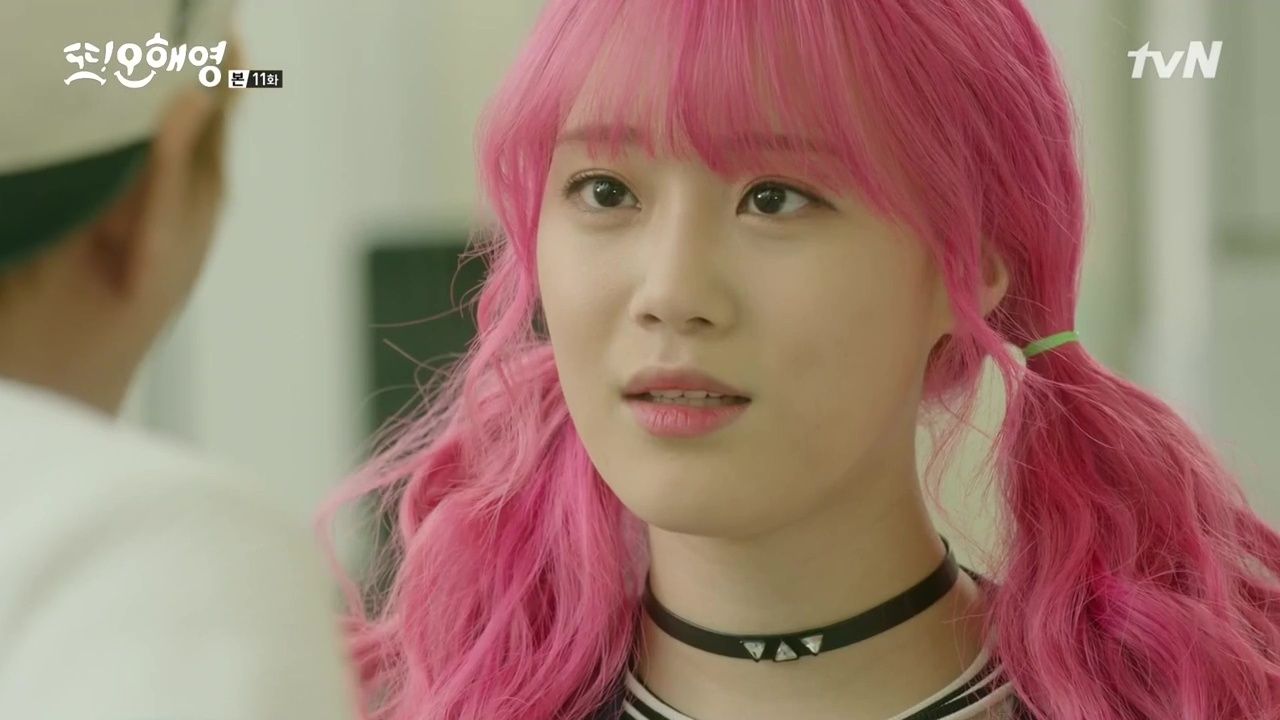 An-na chases Hoon around the convenience store when she sees that he took the nails off, but he fights back for once and yells at her that it's humiliating to go around with fake nails. She says they're proof he has a girlfriend, but he argues that it should be good enough that he tells everyone about her.
He asks if he really looks like a cheater, and An-na says that yes, he does. Hoon is fed up with her demanding ways and wants to break up, screaming that he won't put up with being treated this way. Good for him — that was long overdue, if you ask me.
Hoon storms out of the store but An-na follows him, yelling that he shouldn't walk away from her that way. She tells him to come back or else, but Hoon keeps going, and An-na calls out that she knew something was going on with him. That does stop him and he wonders what she meant by that, but when he turns around she's already gone.
Do-kyung goes out to record some sound, and he stares at his phone, but in the end he doesn't call Hae-young. He finally sends a simple text, "I'm sorry," which Hae-young glares at for a long time as she sits at a cafe, inexplicably dressed in a skimpy skirt with way too much makeup on.
She finally calls to say that she's disappointed he didn't say anything else, and asks if he's gone insane. He asks where she is and comes to find her, to say that he's sorry to her face.
Hae-young's eyes are cold and she's not inclined to accept his apology, and when he tries to take her somewhere to talk, she asks if he's embarrassed to be seen with her in public (because of the way she's dressed). She admits that she feels gullible and stupid to have let herself be caught in the middle of his love spat, so she wanted to look like someone else. And all he can say is he's sorry?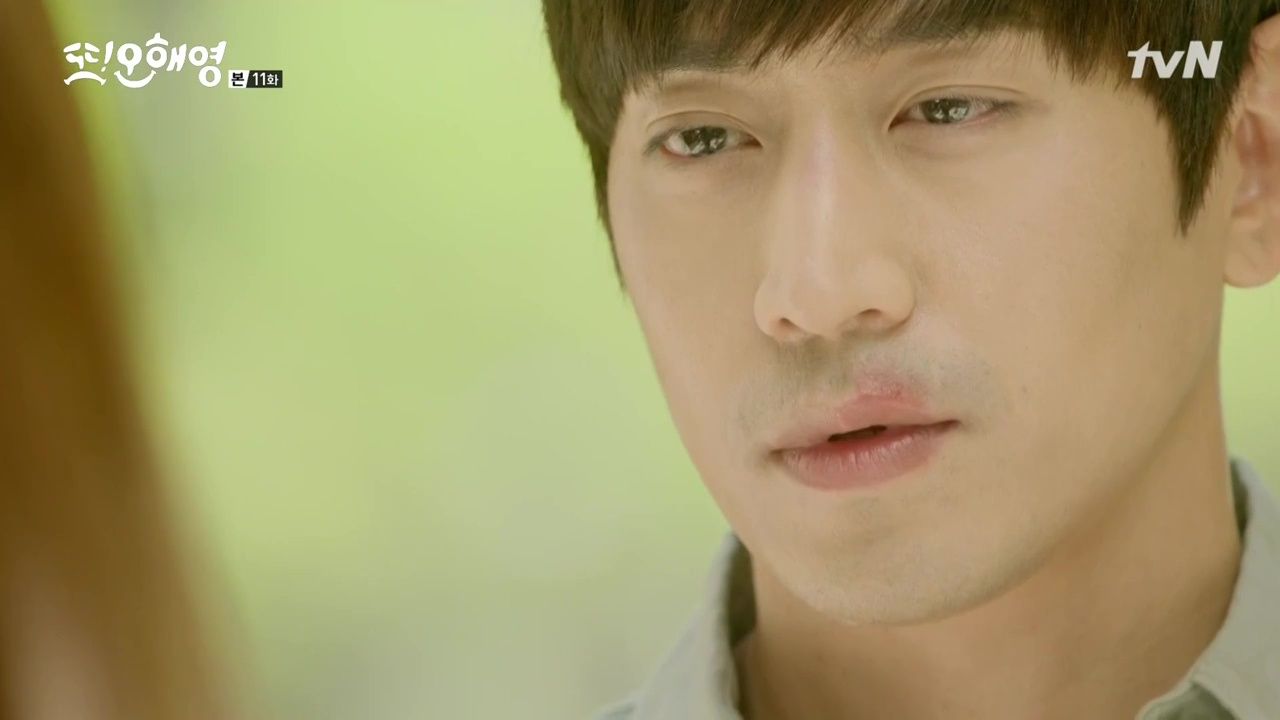 Do-kyung says he's very sorry, and Hae-young laughs ruefully. She wants to know why he's sorry, and for what, and why he didn't tell her sooner. Do-kyung replies that he wanted to, but he didn't want to hurt her even more when she was already in pain.
But Hae-young says that the worst part is that he still loved the other Hae-young so recently that he wanted to break up her wedding. Once again, the rock meant for the other Hae-young hit our Hae-young instead. He let things go so far that she even confessed her feelings to him, not knowing how much he still loved the other Hae-young.
She spits that he should have told her the moment he knew she had feelings for her, so she could have walked away sooner. Do-kyung can only say he's sorry again — he doesn't know what else to say. His voice rises and he notices that they're drawing a crowd, and he says again that he's very, very sorry.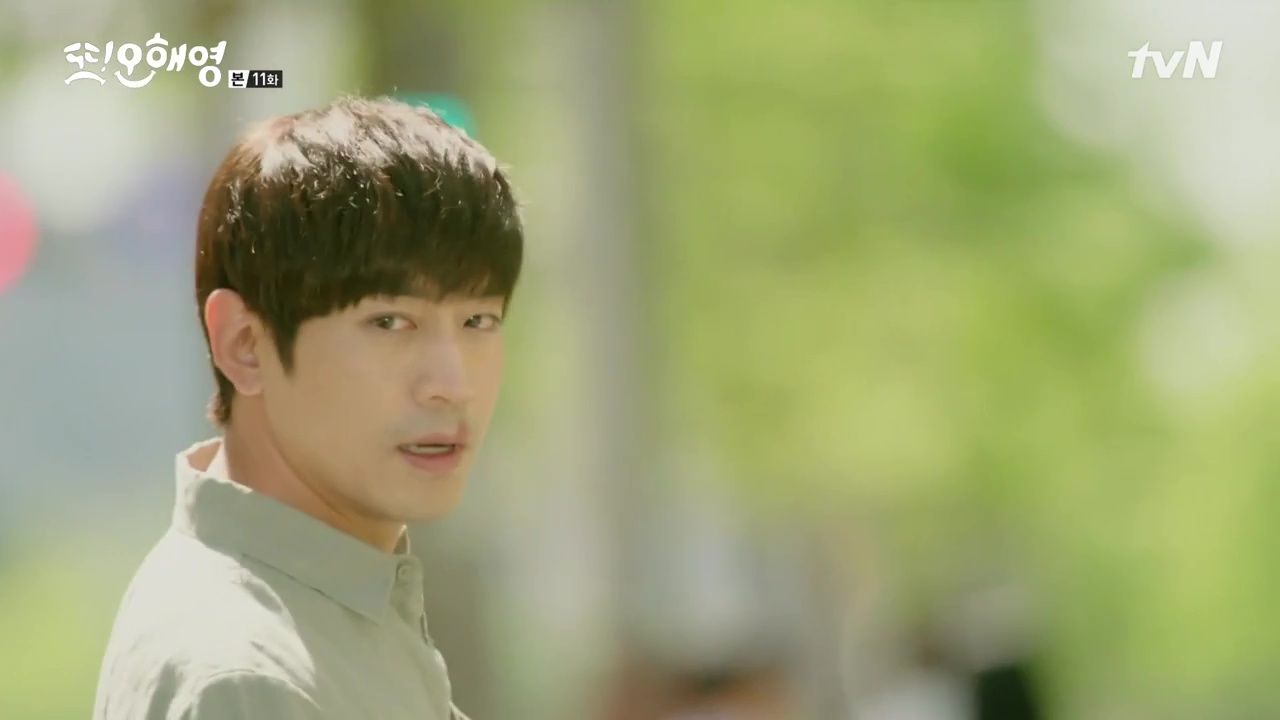 Hae-young in response, "Beg. Beg on your knees." But Do-kyung can't, and he turns away. Hae-young screams at his back, "Come back and beg!!" but he doesn't stop.
Do-kyung doesn't get far before he stops and goes back, like he always does when Hae-young is concerned. He turns back away, then stops again, seeming upset that she didn't follow him. Finally, he walks away. Hae-young staggers around aimlessly, thinking to herself that he never got the chance to say he loved her, and it hurts to know that he said those words to the other Hae-young.
The other Hae-young is currently having lunch with Chairman Jang, who says that it would be strange to keep spending time with her once he marries Do-kyung's mother. He draws a line, admitting that he's being harsh, but he asks her not to call him anymore, and tells her to end her feelings for Do-kyung.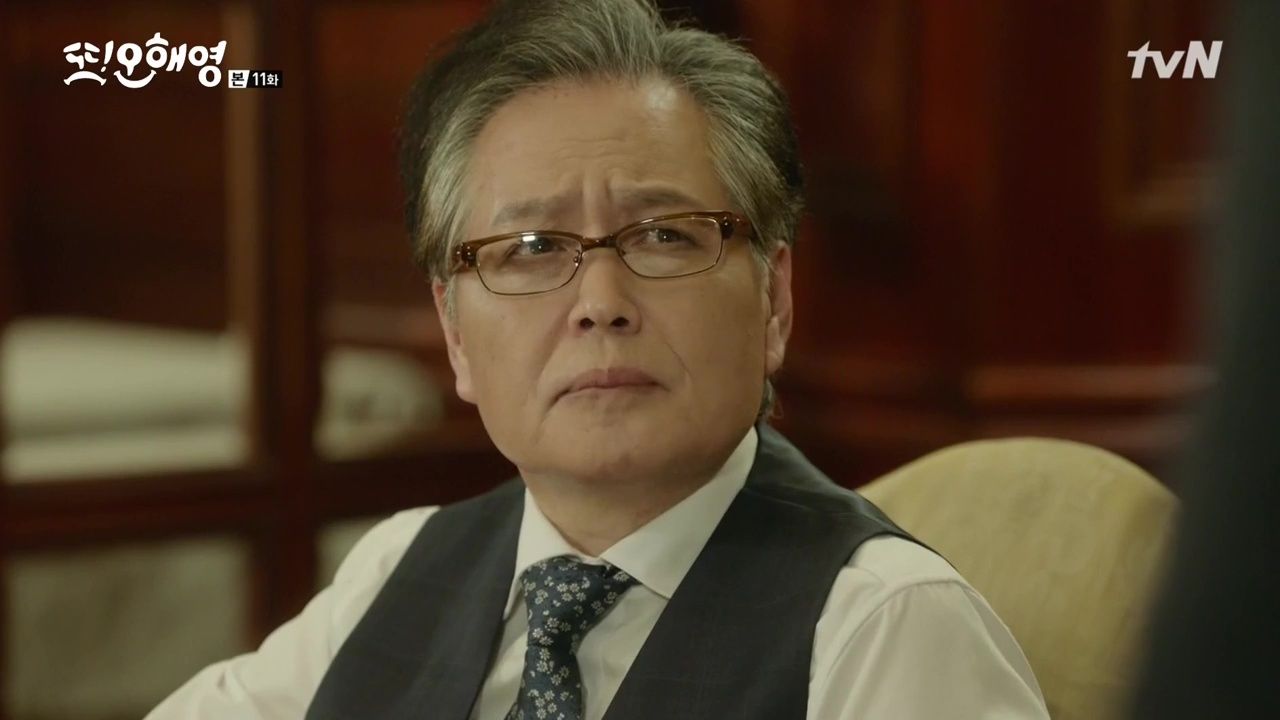 Their lunch is interrupted by Tae-jin, who wants to talk to Chairman Jang. He has to remind the chairman who he is, and tells him that Do-kyung asked him to cancel his investment because he was after Tae-jin's fiancee. He makes a veiled threat that it would be bad for Chairman Jang if word got out that he helped such a thing happen.The other Hae-young is stunned by Tae-jin's story, and cries on the way home.
That night, Jin-sang wonders why Do-kyung didn't just get on his knees when Hae-young told him to, even demonstrating how easy it is. He's shocked Do-kyung didn't do it when just yesterday he looked like he'd do anything to get Hae-young back, but Do-kyung just mutters that he said he was sorry a million times. Jin-sang counters that he should have gotten on his knees and said he loved her: "Are you sure you like her?"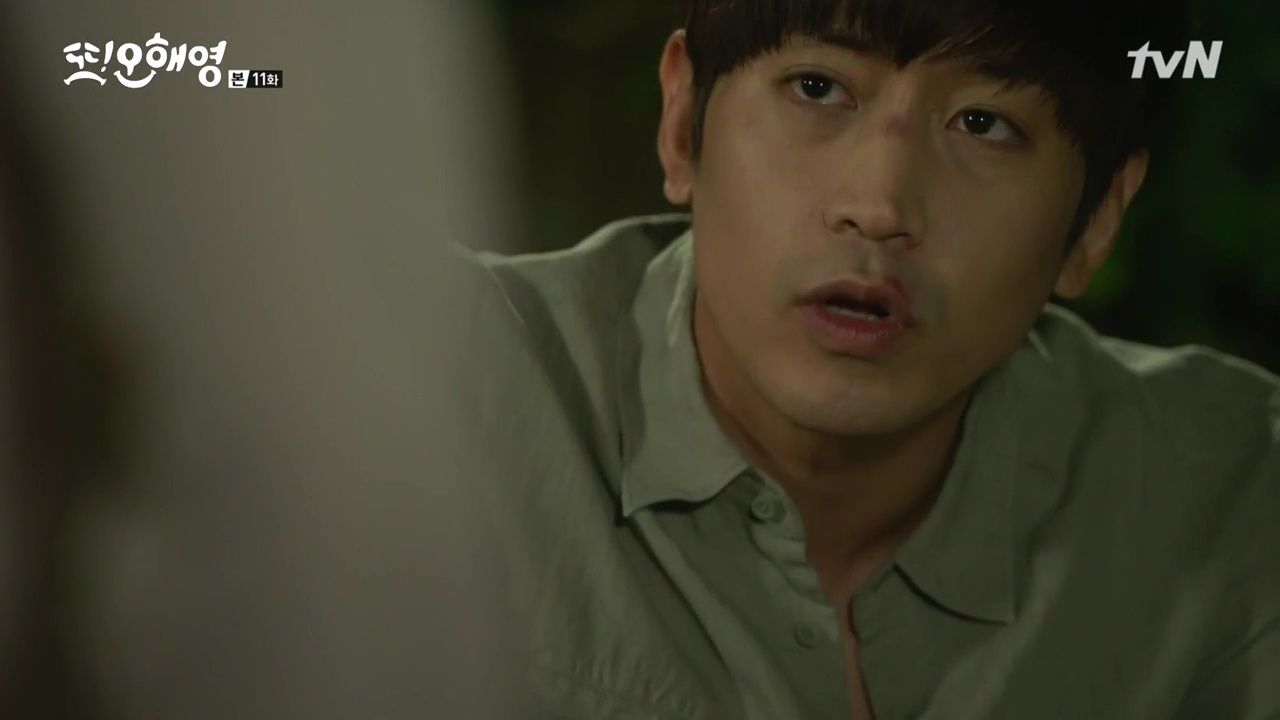 Do-kyung thinks it's obvious, but Jin-sang rightly points out that he wouldn't know unless Do-kyung says so. He asks why Do-kyung can't just give a straight answer (preach, friend) and sighs that Do-kyung isn't capable of letting Hae-young in.
Jin-sang and Do-kyung both roll their eyes when the other Hae-young approaches them. Jin-sang leaves and Hae-young tells Do-kyung that when she left him, she was heartbroken that he never once even emailed her, even to say he hated her. To her it felt like their breakup meant nothing to him.
She says that she knows what he did to Tae-jin because he thought she was marrying him, and actually thanks him. Now she knows that he did hurt when she left him. But her words infuriate Do-kyung, who ruined someone's life because of her, but Hae-young actually says that she doesn't care, since he did it because he loved her.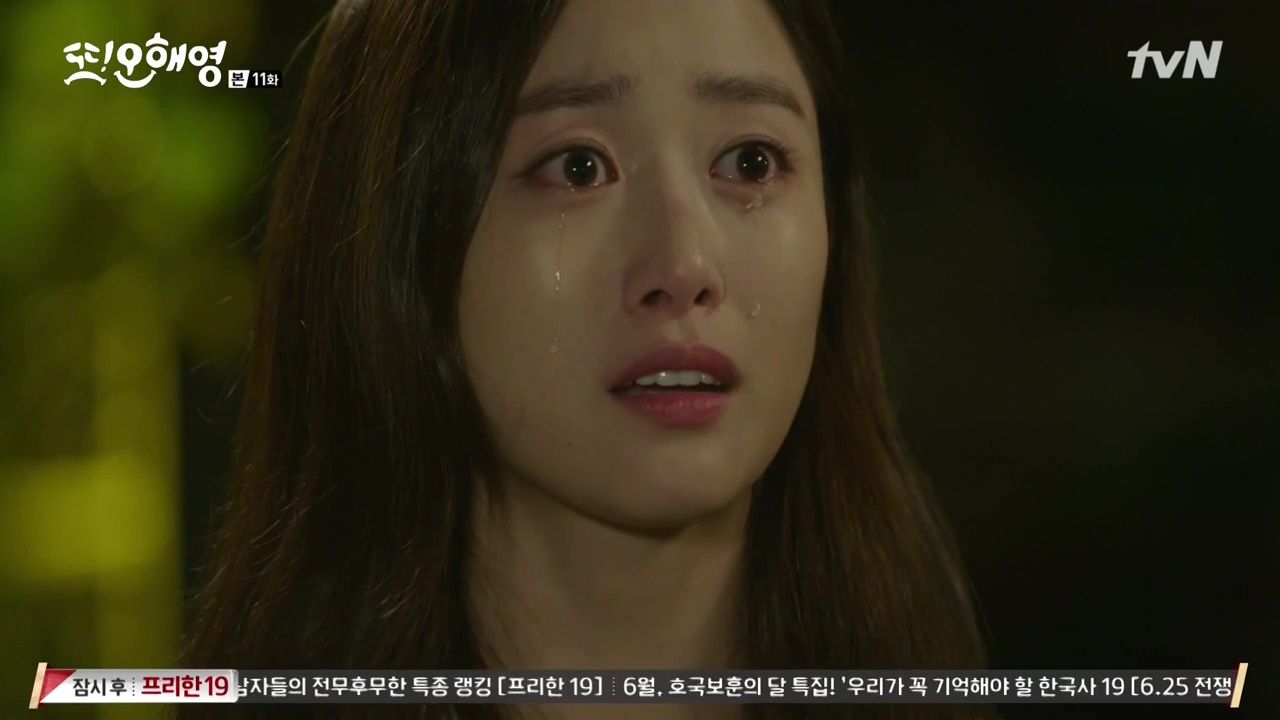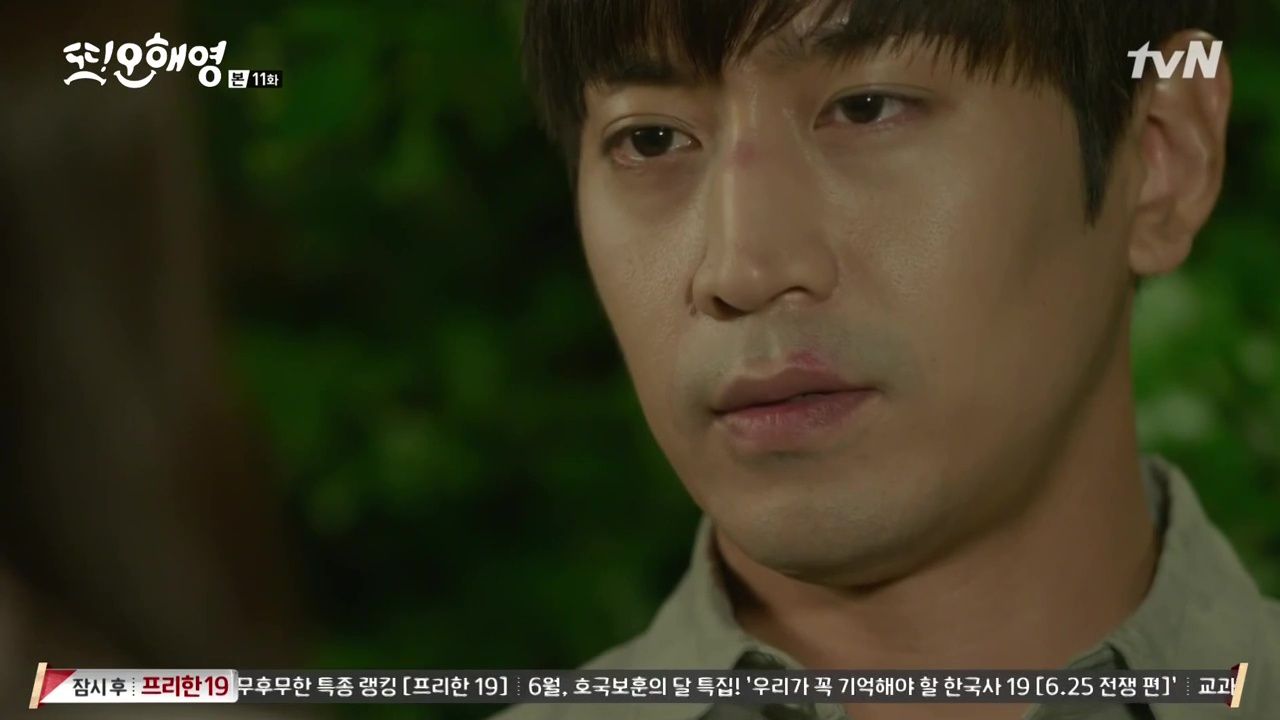 She starts to cry, and tells Do-kyung, "I still love you. I love you so, so much." She moves to take his hand and Do-kyung recoils, and leaves after shooting her a look of disgust.
Tae-jin spends the night sitting in his car by the Han River, remembering his interruption of Chairman Jang's lunch with the other Hae-young. She'd quickly gotten up and left, and the chairman had told him that her name was Oh Hae-young, and that she'd been engaged to Do-kyung.
He remembers our Hae-young saying, "It wasn't me," and he finally puts the pieces together himself. He laughs at the absurdity of his life being ruined over a case of mistaken identity, and his unhinged laughter turns to agonized screams.
Do-kyung goes for a walk and finds himself on a street corner, looking at himself on the other side of the intersection. Vision Do-kyung just stands there, unmoving and unemotional, while a car smashes into him.
It's hard to say if it's a memory or a vision, but next we see Do-kyung in Dr. Park's office, and he calmly gazes out the window as he says, "With that woman, I think it's right to end it this way." Then he's lying in the street, bleeding and broken, then back in the office and he repeats his words: "I think it's right to end it this way. For her. I will die anyway."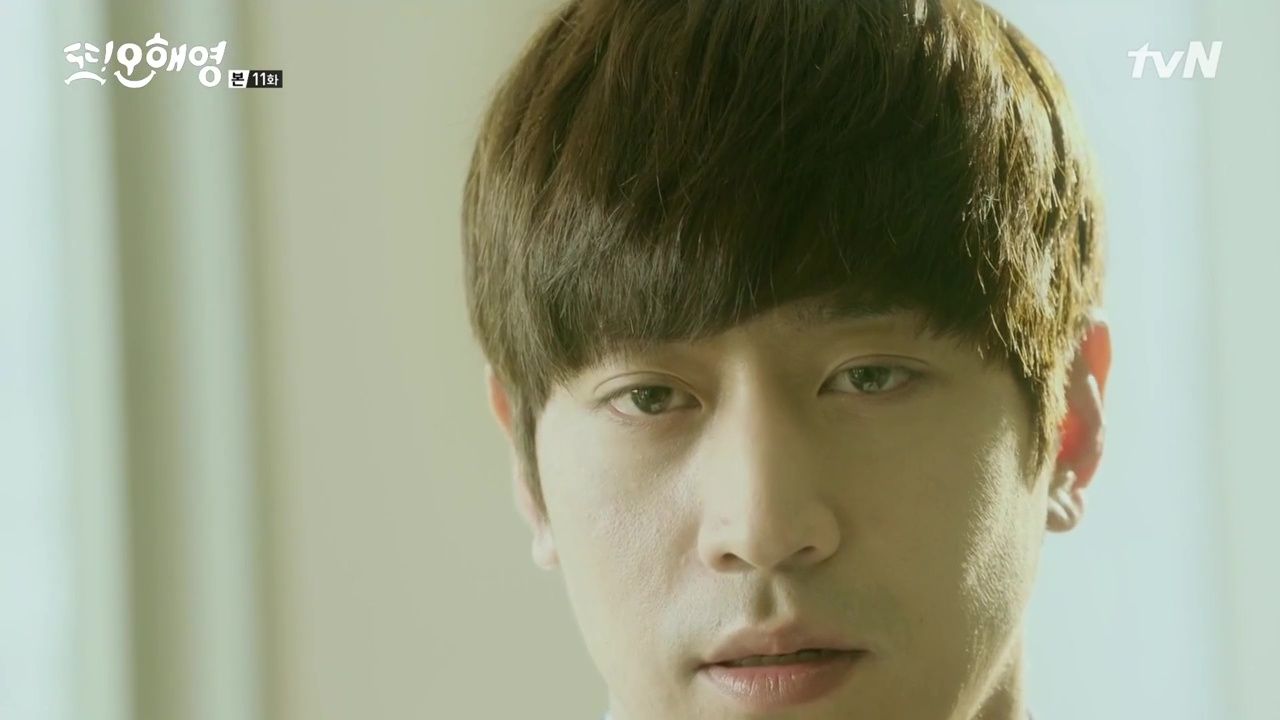 COMMENTS
Okay Show, you're genuinely scaring me now. I love how the show is doling out information so slowly regarding Do-kyung's visions and what they mean, but I'm really starting to get frightened that Do-kyung could actually die. There's this shivery feeling of something big, and dark, and ugly getting closer and closer, and it's scaring me to death even as I'm impressed with the execution of the sensation of impending doom. I still hold out hope that the death vision is just a warning of some kind, based on the pattern of blood on Do-kyung's face matching the blood on his father's face when he died. But I'm starting worry that I'm wrong.
Aside from that, WOW, I'm floored by how self-centered the other Hae-young was in this episode. I can understand that she's relieved to know that Do-kyung did care about her, but to say that she doesn't care whose life he ruined as long as she knows he loved her? Is she even serious?? She doesn't even realize in that moment that Do-kyung is in serious pain, and that saying that to him right then is like twisting the knife. All she cares about is that, after she left him, and after she crushed all of his dreams and broke his heart, at least now she knows he was hurting. I knew she was self-absorbed and spoiled, but that just takes the cake. She doesn't even care that he and two other people are in extreme pain right now, their lives and hearts in tatters and that it was all set off by her leaving Do-kyung without a word of explanation, so long as she knows Do-kyung was hurt when she left. What a bitch.
I'm trying very hard not to be a Do-kyung apologist, because I very much think he did wrong to harm Tae-jin's business, no matter what his reason. But I do believe that it was never his goal to completely ruin Tae-jin's business and send him to jail and make him cancel his wedding — I think Do-kyung only meant for one investor to pull out and make things difficult for Tae-jin. His intent wasn't complete ruin, just inconvenience. So I find it hard to completely condemn Do-kyung, because while what he did was absolutely wrong, something Tae-jin was doing was shady enough that it snowballed on him. Most of what happened to Tae-jin was because of his own immoral business practices, and I didn't miss that glimmer of malevolence when he threatened Chairman Jang. There's definitely more to Tae-jin's story.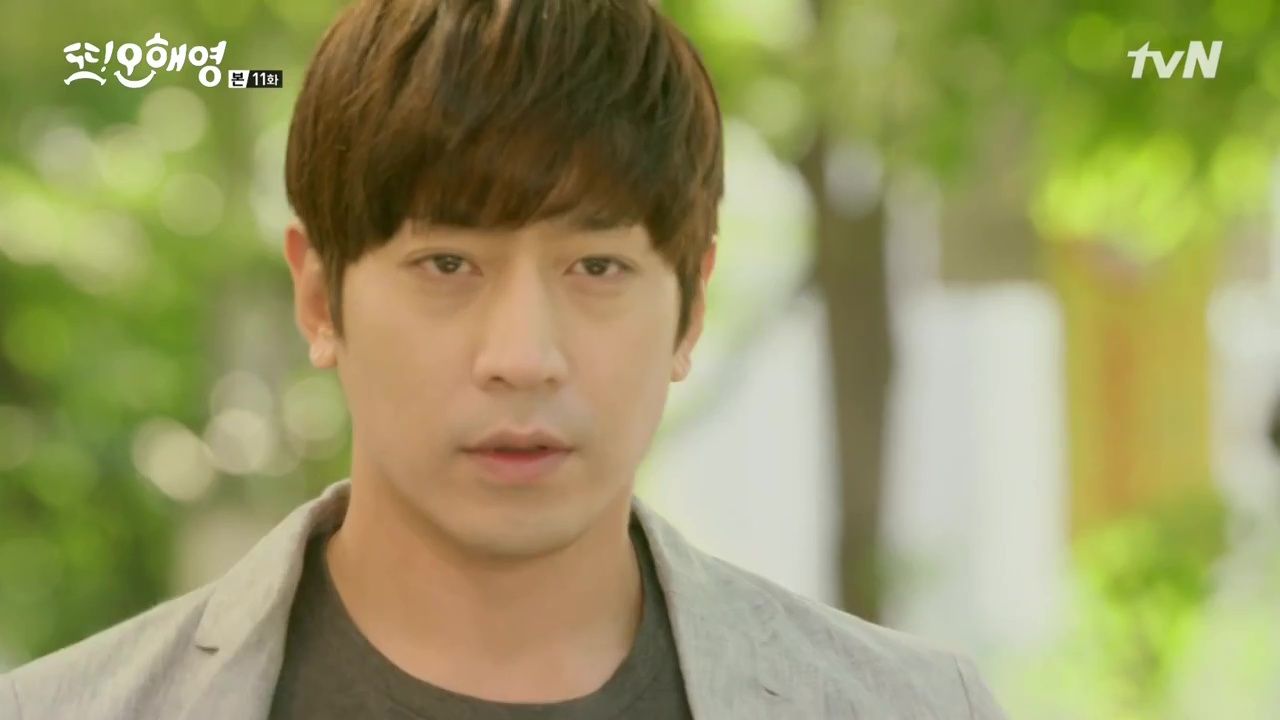 It was interesting to me when Hae-young thought that if Do-kyung had told her the truth sooner, she could have accepted it, because while I completely agree that he should have been honest with her sooner, I also understand why he wasn't. He's been trying so hard not to fall in love with Hae-young that he never really thought it would matter when he told her, because either way she would probably cut off contact with him. So if telling her meant losing her, and he was trying so very hard not to fall for her, it really made no difference when he told her. But then he went and fell in love, and decided that he did want to be with her. In his defense, he was going to tell her right away, but it was his bad luck that Tae-jin got there first.
He made a mistake, no argument there. But it wasn't Do-kyung's fault that everything blew up for Tae-jin the way it did, and I do think Do-kyung felt terrible when he realized his mistake, and the extent of what happened to Tae-jin was a complete surprise to him. Because he felt guilty about it, he tried to mitigate the damage by having Jin-sang help get Tae-jin out of jail as soon as he could. And the very day he decided that he wanted to make a go of things with Hae-young, he intended to tell her everything. So for those reasons, I'm not seeing Do-kyung as a terrible person.
As for our Hae-young, I find it fascinating that she immediately blamed the other Hae-young when she found out the truth of what Do-kyung did to Tae-jin, causing him to cancel their wedding. On the one hand, it's not like the other Hae-young did anything intentional to hurt our Hae-young, she was just living her life and a mistake was made. But on the other hand, hasn't that always been the case? The other Hae-young has never intentionally or directly done any harm to our Hae-young, but yet her life has been profoundly impacted in very negative ways just by the fact of the other Hae-young's very existence. So while I don't think our Hae-young was right to attack the other Hae-young, I can see how she just finally snapped when she learned that once again, just by sharing the same name, her life was irrevocably altered. So it makes sense that she's not so much angry at what Do-kyung did, but the fact that she got hurt again by being mistaken for the other Hae-young. I can't blame her for feeling like she gets all the bad luck, and now it's happening again, just when she thought she'd finally moved past that part of her life.
RELATED POSTS
Tags: Episode 11, Eric, featured, Jeon Hye-bin, Oh Hae-young Again, Seo Hyun-jin