Oh Hae-young Again: Episode 15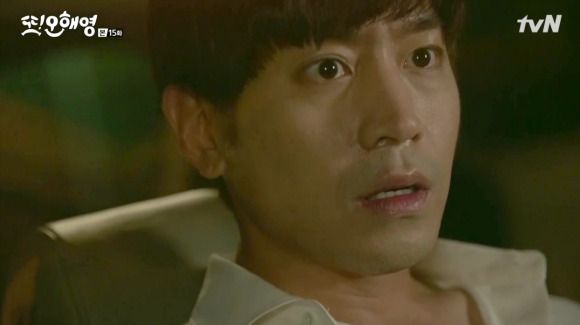 At what point does protecting someone from the truth begin to backfire, and cause them pain? Do-kyung is in a bind, torn between whether to hide his visions or reveal them, and either way comes with a downside. He'll have to choose which way to hurt Hae-young, when all he really wants is to spare her any pain.

EPISODE 15: "Those past days I coulnd't give you more, more love"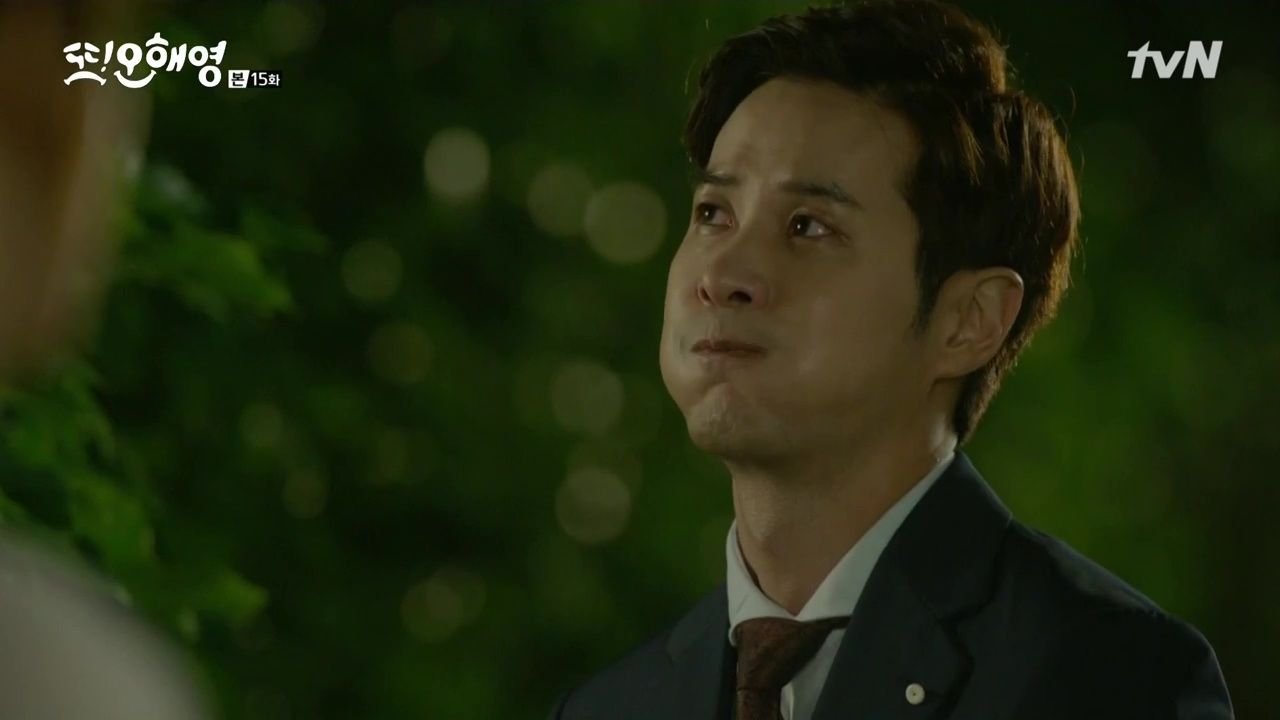 Hae-young tries to act casual as she waits outside Do-kyung's house, and she happens to witness Hoon and An-na's usual enthusiastic greeting. An-na pretends to "scan" Hoon, and pronounces him clean — he hasn't fallen for that seductive woman (Hee-ran).
They finally spot Hae-young, and soon after Soo-kyung also comes stumbling home. Her hair is down as it is when she's drunk, and Hoon immediately assumes the worst, but Soo-kyung tosses her hair back and says she's only pretending out of boredom. Hoon wants to know what Jin-sang has said to her, but her avoidance proves that he hasn't even called.
Jin-sang is actually hiding in the bushes, and Hae-young eventually sees him there. He waffles back and forth on whether to go inside, until Hae-young notes that he must have done something wrong. Something very wrong. Jin-sang finally just runs away, too scared to face Soo-kyung.
Hae-young hides like a little kid playing hide-and-seek when she sees Do-kyung's car, but just as she's about to jump out and scare him, he turns the tables and yells BOO right in her ear. HA. He enjoyed that, you can tell by the giant grin on his face.
Do-kyung has finally converted the space Hae-young vacated into a work space, just as his own father used to have it. Hae-young asks what it feels like to use his father's space as his own, which is eerily similar to what Jin-sang said in Do-kyung's original vision, before he changed things.
She hesitantly asks when his father died, and this time he answers that it was when he was only eight. He tells her the basic details — that they were out recording sounds, and his father died in an accident. He says that he's glad he was there, so that his father didn't die alone: "Wouldn't dying be less frightening if there's someone who could hold your hand as you die?" Awww.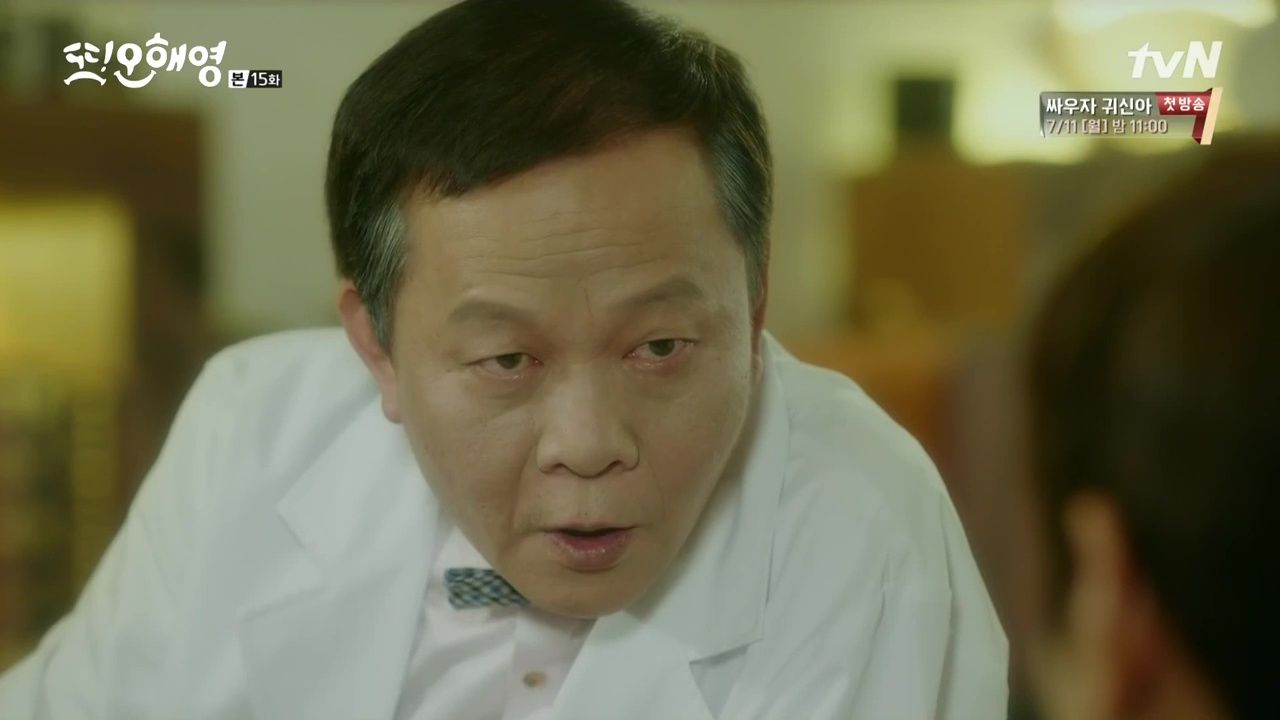 He plays Hae-young an old recording of himself as a child, singing while Soo-kyung plays the piano. Hae-young laughs at his little voice, saying that it feels like the little boy is right here, and Do-kyung points out that he is right here. She smiles that he's singing so happily, not even realizing how sad the song's lyrics are.
We see that Do-kyung had gone with Dr. Park to visit a colleague and get his opinion on Do-kyung's visions. Do-kyung told him about his vision of dying, and how he's regretted every moment since he met our Hae-young. "Why couldn't I give her more, more love? Because that feeling of remorse is so strong, maybe it's pierced through time and revealed itself in the present."
The colleague had asked if Do-kyung has heard of the theory that we achieve enlightenment at the moment of death. He said that human emotions are really either love or fear, and only one of them is real. He said that Do-kyung finally realized which one was real, and when he decided to turn away from fear and towards love, his circumstances changed.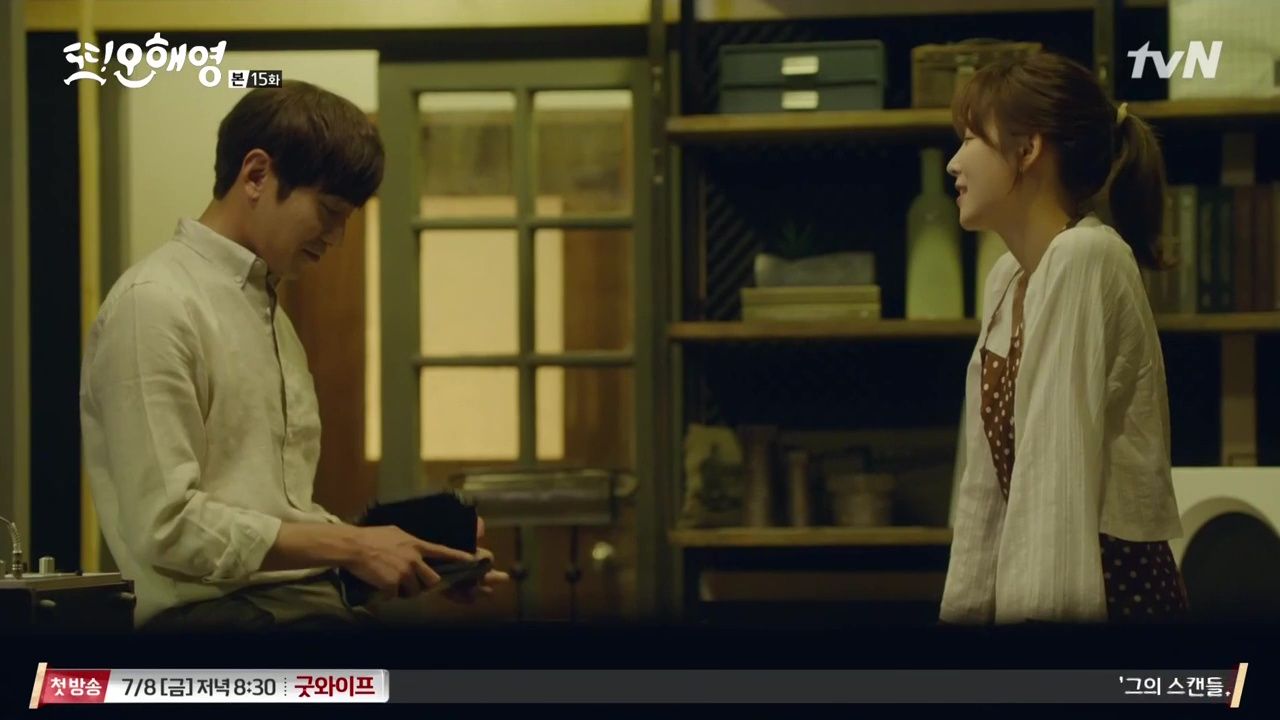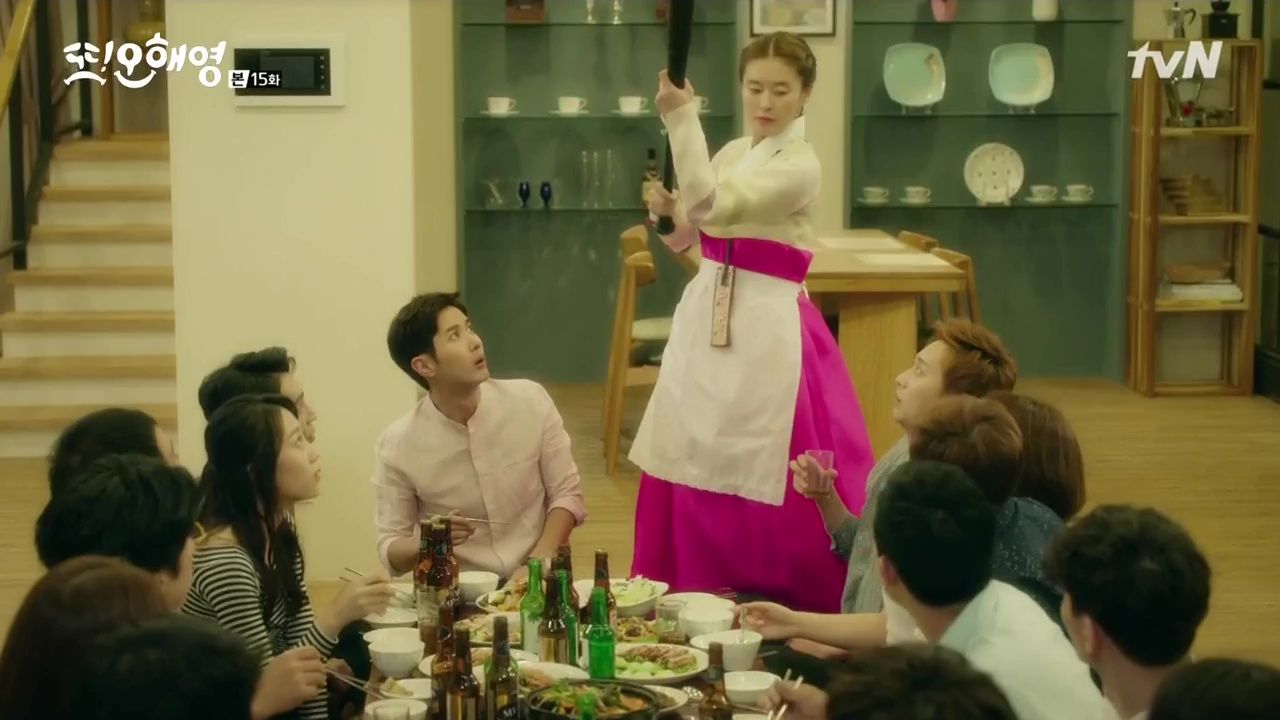 But if so, he asked, then why is Do-kyung still hesitant? He thinks that Do-kyung already knows what he needs to do, but he's just scared.
Do-kyung plays another recording for Hae-young, this time of young Soo-kyung singing. Downstairs, Soo-kyung hears it and wonders where her young, innocent self went.
Jin-sang is also feeling thoughtful, but his thoughts run more towards a wedding, where bride Soo-kyung clings to him and he tries valiantly to look happy. Then a housewarming party, where everything goes fine until Soo-kyung (in hanbok, heh) threatens everyone with her baseball bat that in this house, you sit to pee. Later she makes him act as a prop for her martial arts practices as she kicks an apple off his head, then puts a cherry tomato in his mouth and then just kicks his face, hee.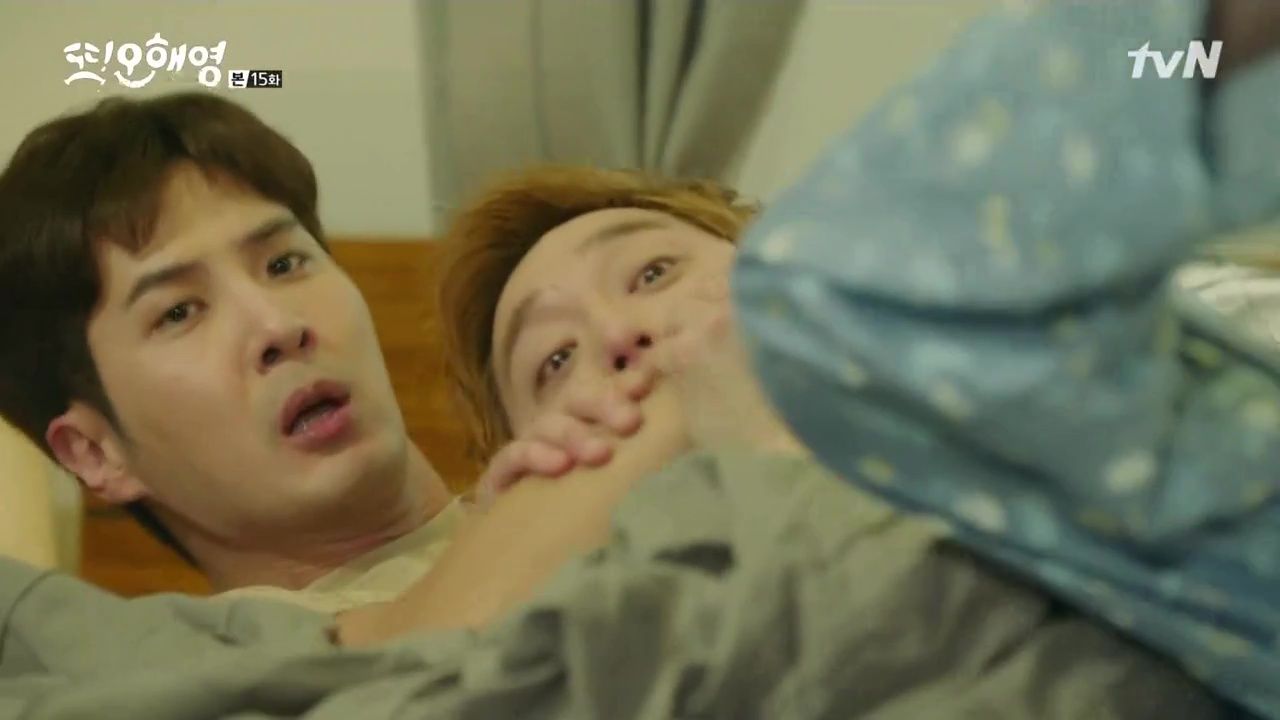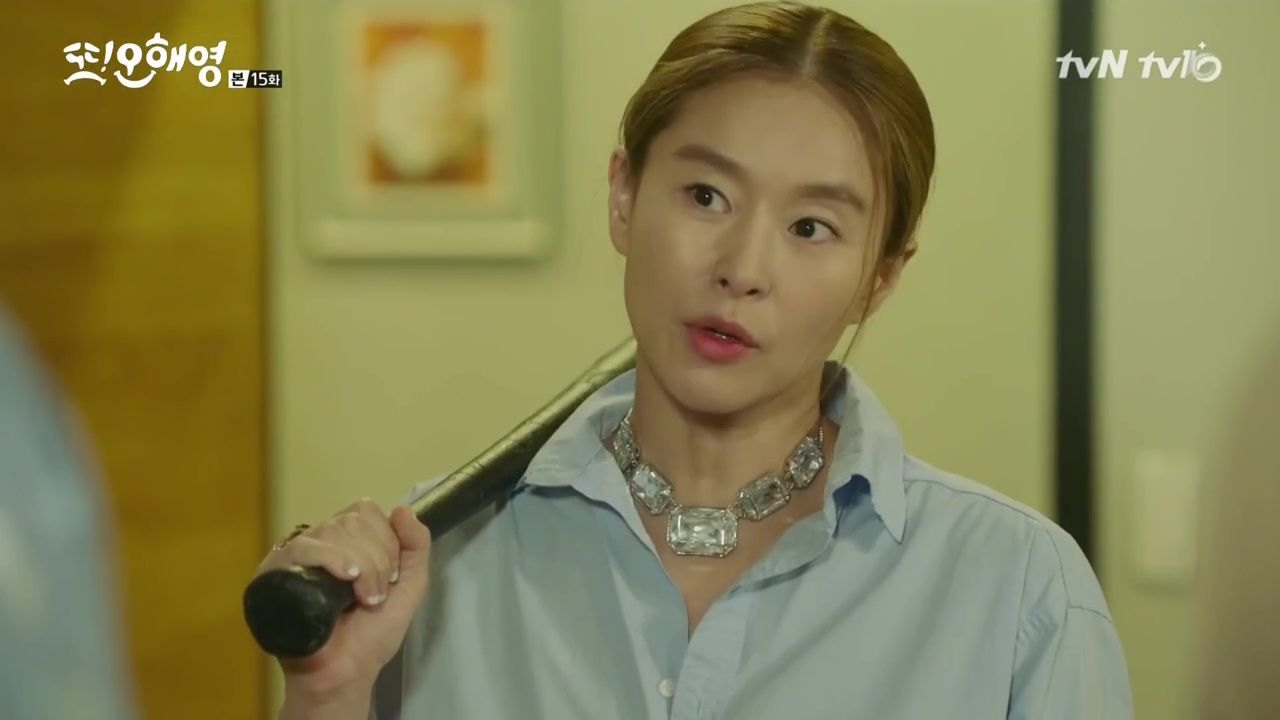 Hoon comes to tease Jin-sang, but Jin-sang can't even remember the night when he impregnated Soo-kyung. Hoon assures Jin-sang that he's on his side, advising him to "just do enough" then leave. To his credit, Jin-sang takes offense that Hoon would talk this way about his own sister, and Hoon snaps that he's just mad because he guessed what Jin-sang was thinking.
They end up in a hair-pulling fight, and Soo-kyung bursts in to remind Hoon that he's to respect Jin-sang from now on. She turns to Jin-sang and orders him to "kill" Hoon, or he can't leave his room. After she leaves Hoon contritely calls Jin-sang "brother-in-law," and Jin-sang shoves the bat up his tushie, ordering him to call him Hyung.
Later Jin-sang hangs his head in Soo-kyung's room, who says that he's not the only one feeling awkward.
She reassures him that they'll never get married, since they've been like brother and sister for most of their lives. She still plans to move to another country, and he can keep living his life as he wishes. She tells him to pack and move back to his own home.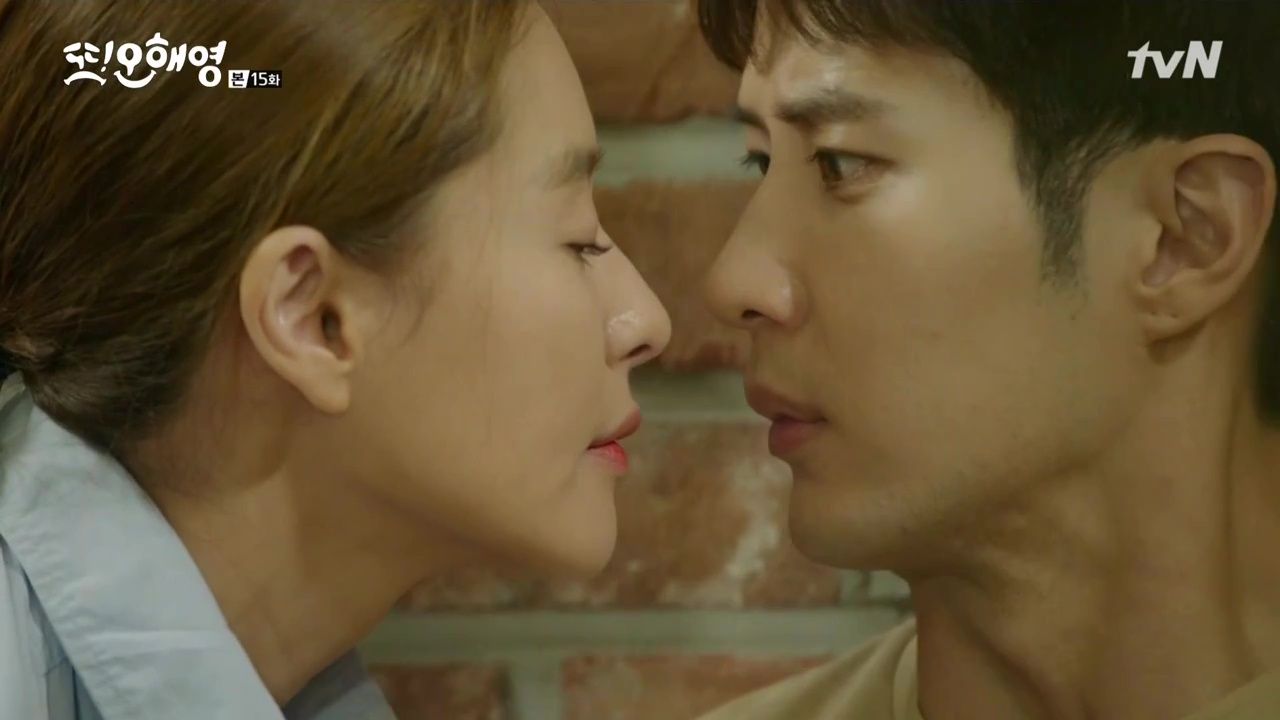 But Jin-sang just says softly, "It's my baby," and looks at her with these tragic puppy dog eyes. Soo-kyung leans in veeery close, and asks if he could kiss her. He does give it a try, but at the last second he turns his face away. Soo-kyung tells him to think about it for a day, and he'll have his answer.
Do-kyung and his team end up at a cozy coffee house after work. Do-kyung's been here before, and he flips through a photo album of past customers expecting to find a picture of himself and the other Hae-young. Instead the photo has been torn in half, and only Do-kyung's picture remains, with a note beside it: "Thanks for your love." The picture is two years old, but the note is dated just a few days ago.
The other Hae-young is currently on a second date, and the guy seems giddy that she agreed to see him again. Hae-young is distracted by a text from Do-kyung that simply says "Thank you."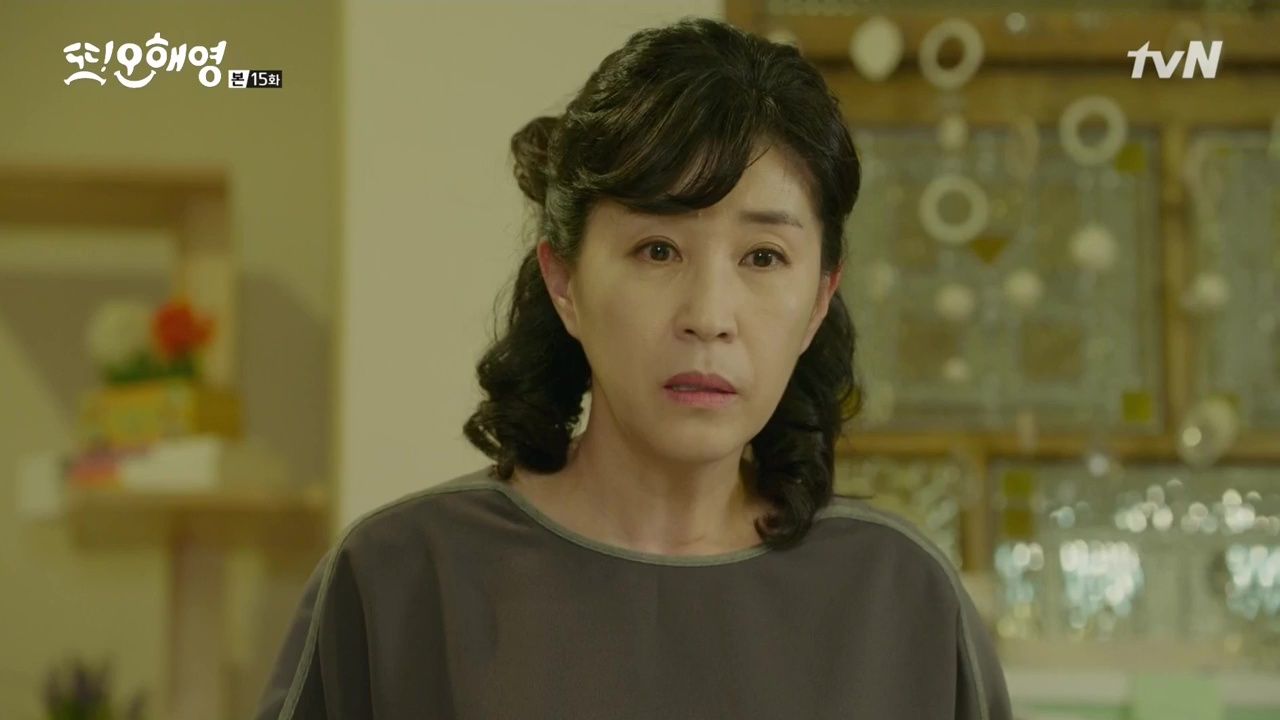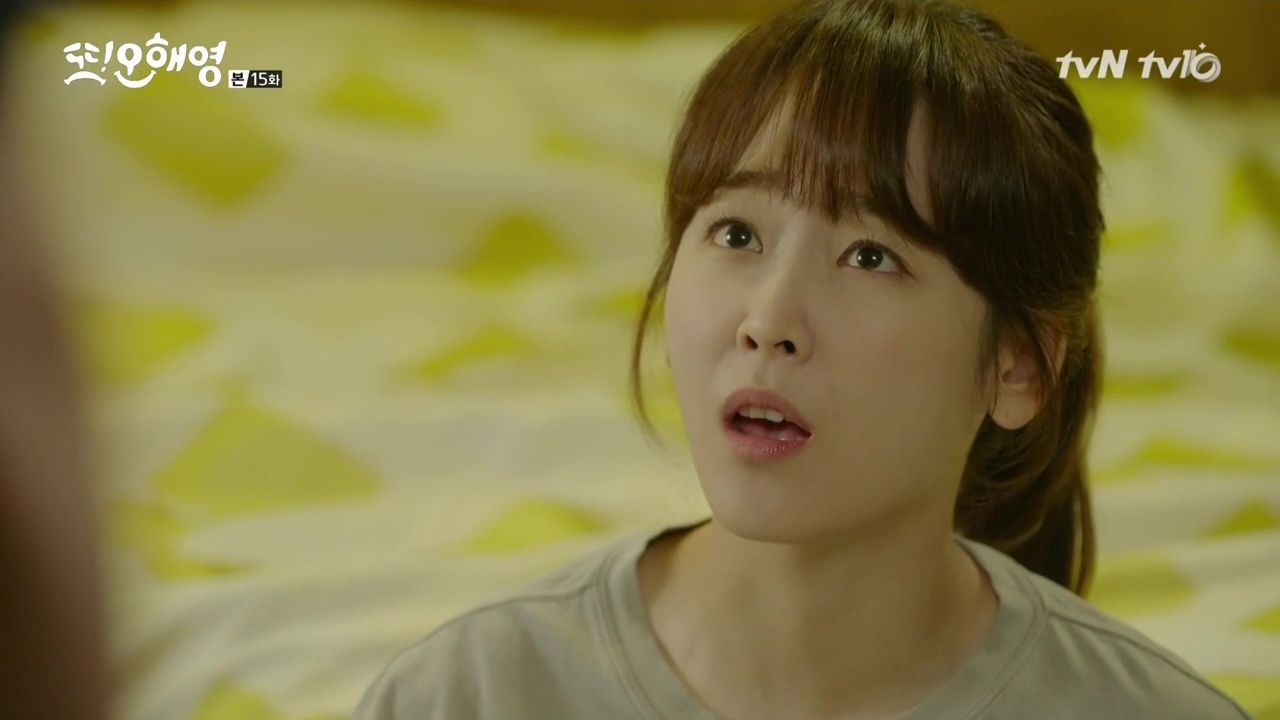 Hae-young texts her cousin who's getting married tomorrow (cameo by Seo Ye-ji), and she's nervous enough that she's thinking of breaking it off like Hae-young did. Hae-young corrects that she got dumped, and offers to catch the bouquet since the friend who was supposed to just broke up with her boyfriend.
They're in a family chat room, and Awful Aunt chimes in that she didn't think Hae-young would want to come, so Hae-young defiantly tells everyone that she's now dating the man who ruined her wedding. She scandalizes them by saying she'll bring him to the wedding tomorrow, and Mom stomps into her room, having read the whole conversation.
She's worried what people will say if they know Hae-young is dating Do-kyung, but Hae-young asks Mom to cut him some slack. He feels worse than anyone about what he did, and she wants to show him that her family can accept him. But Mom disagrees, and tells her daughter to date him a while then break things off.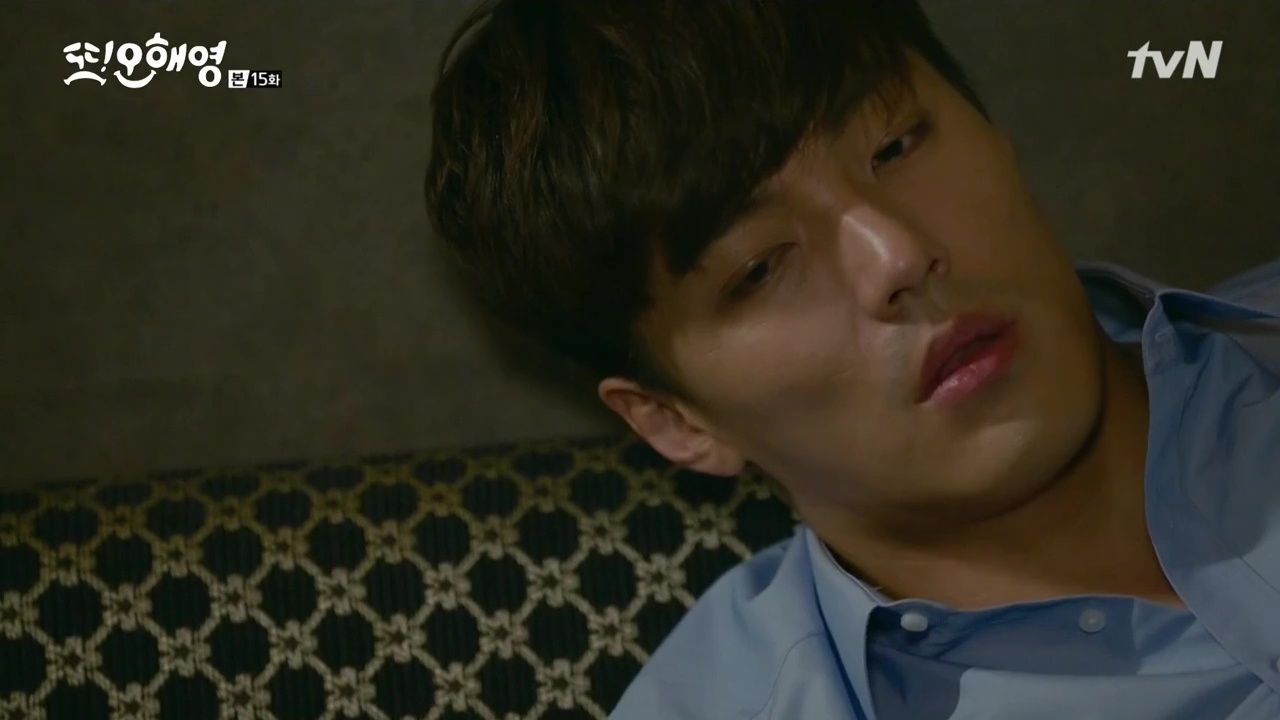 On their way back to town that night, Do-kyung and the guys are rear-ended and Do-kyung hurts his neck. But he quickly realizes that it didn't really happen — it was another premonition. He immediately has another, of the accident that takes his life, only this time instead of standing and letting the car hit him, he seems as if he's trying to get out of the way.
Tae-jin seems to be on a downward spiral — he gets drunk and finds the waiter who told him to tell Hae-young he couldn't stand to watch her eat, and he puts the guy in a headlock. The waiter shakes him off and says that it worked, which was what he wanted,and asks if he regrets breakup up with her now.
Do-kyung is home now, and thinking about how his premonition changed. He's surprised to see Hae-young's mom at his door, but he tells her that he hasn't been invited to the wedding yet. She says that Hae-young thinks dating always leads to marriage, but Mom knows Do-kyung is just testing the waters, so to speak.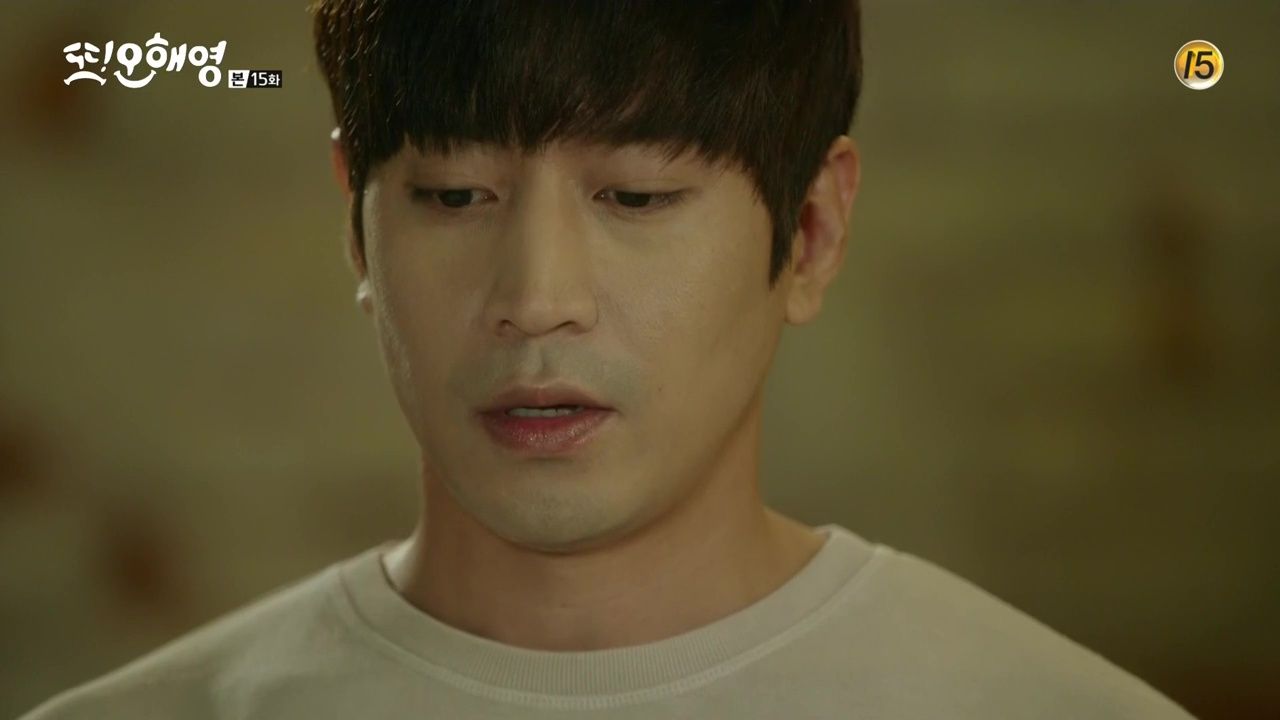 Do-kyung only says that he likes Hae-young, and Mom takes that as confirmation that he's not thinking marriage. She tells Do-kyung that if he meets the elders at the wedding tomorrow, that will confirm to the family that they're heading towards marriage. So he should only come tomorrow if he's prepared to marry Hae-young.
She leaves, and we see that Dad was waiting outside for her. He asks how it went, and Mom just says, "He's not the one."
When Hae-young calls Do-kyung that night, he lies that he's working tomorrow. He invites her to his place after the wedding and he'll make her dinner, which makes Hae-young light up, and she realizes that she's been so happy lately that she hasn't had a drink in over a week.
When Hae-young tells Mom that Do-kyung can't come to the wedding after all, Mom knows that means Do-kyung isn't thinking of marriage.
Jin-sang tries to sneak out to work in the morning, but Soo-kyung busts him. She's wearing a slinky dress and asks in a husky voice if he's ready to kiss her now, backing him up against the wall. But he's not ready, so she tells him to let her know when he is.
At the wedding, Hae-young catches the bouquet as planned, jumping like a pro in her high heels. Mom throws fiery glares at everyone she sees gossiping about Hae-young, which is most of the family.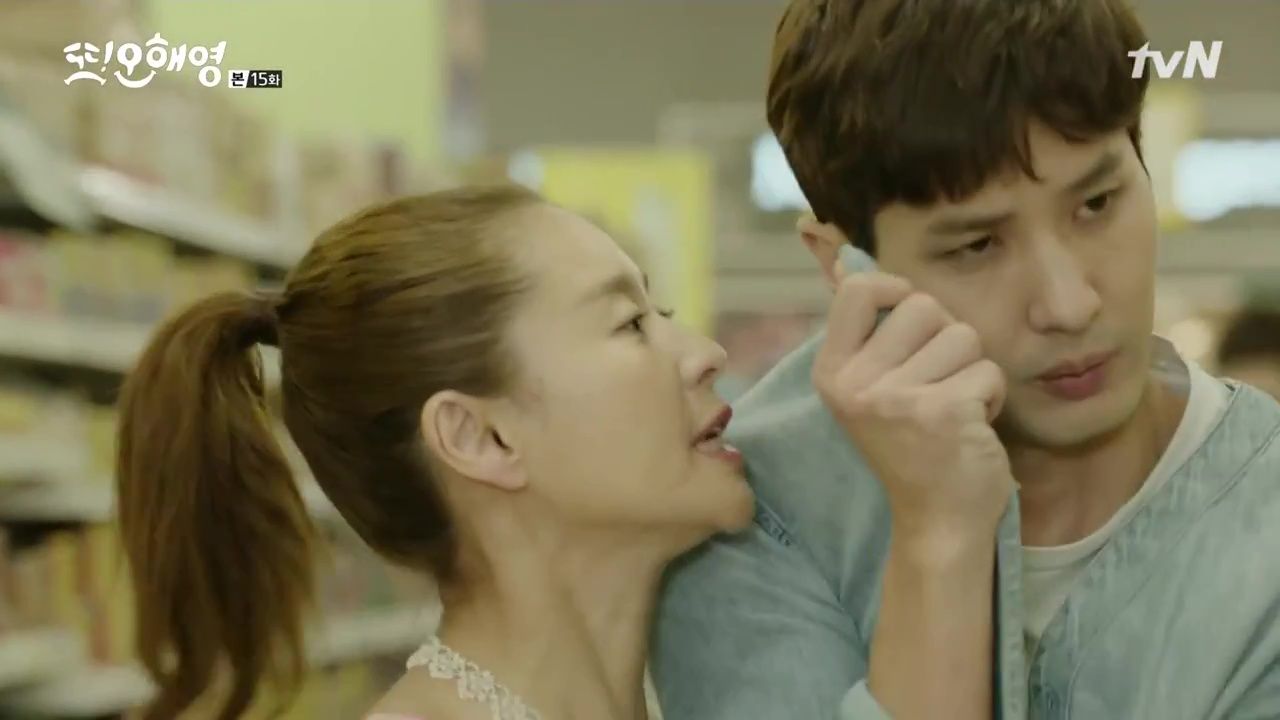 Do-kyung tells Jin-sang not to take too much time deciding what he should do regarding the baby, but whatever he chooses, he and Soo-kyung won't resent him. Jin-sang moans that he can't kiss her because she's too much like a sister, so clearly that's his answer, but it just doesn't feel right.
He distracts himself by giving Do-kyung advice on how to cook for a woman, saying that it doesn't matter what he cooks, just that he looks good doing it. Then he makes himself sad thinking that he might not be able to impress a woman that way ever again. Do-kyung just tosses Jin-sang a melon, saying that Soo-kyung likes them.
Speak of the devil, suddenly Soo-kyung is right next to him asking if he's ready to kiss her, practically jumping at his face, hee. She runs off as suddenly as she came, leaving Jin-sang all flustered.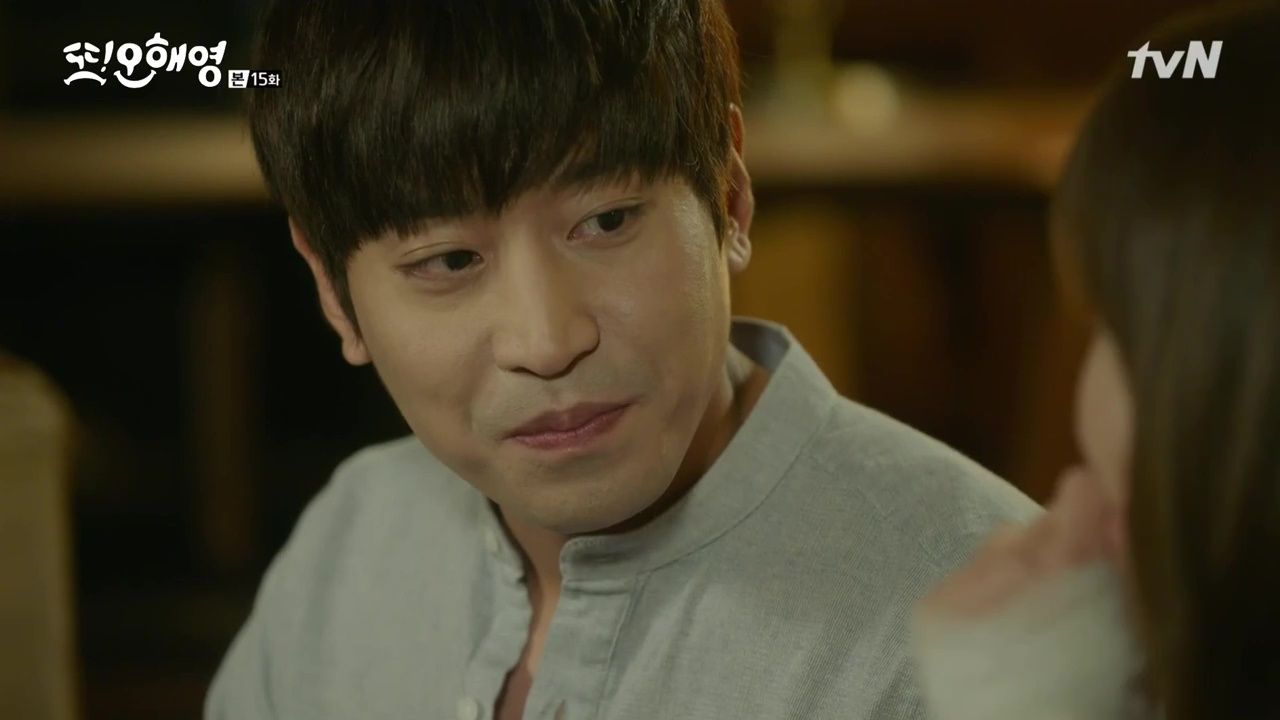 Hae-young is impressed with Do-kyung's cooking skills, and says that the only thing he can't do is be cute. He grins that he'll take a shot at it later, then makes her squeal with happiness when he tells her again that she's pretty when she eats.
Jin-sang's time is up, and he still hasn't kissed her, so Soo-kyung packs his bags. He balks hard, insisting that he has to be here for the baby, but she tells him not to feel pressured about it. She asks him not to come by until after she leaves the country, but Jin-sang just asks, "Noona, could you possibly kiss me?"
Soo-kyung breathes that she could, so they give it a genuine try. When Soo-kyung attempts to pull Jin-sang's face closer, he holds back for a minute, asking her to be less aggressive. She lets him take the reins, and it's hilariously awkward, since their lips keep almost touching — but not quite.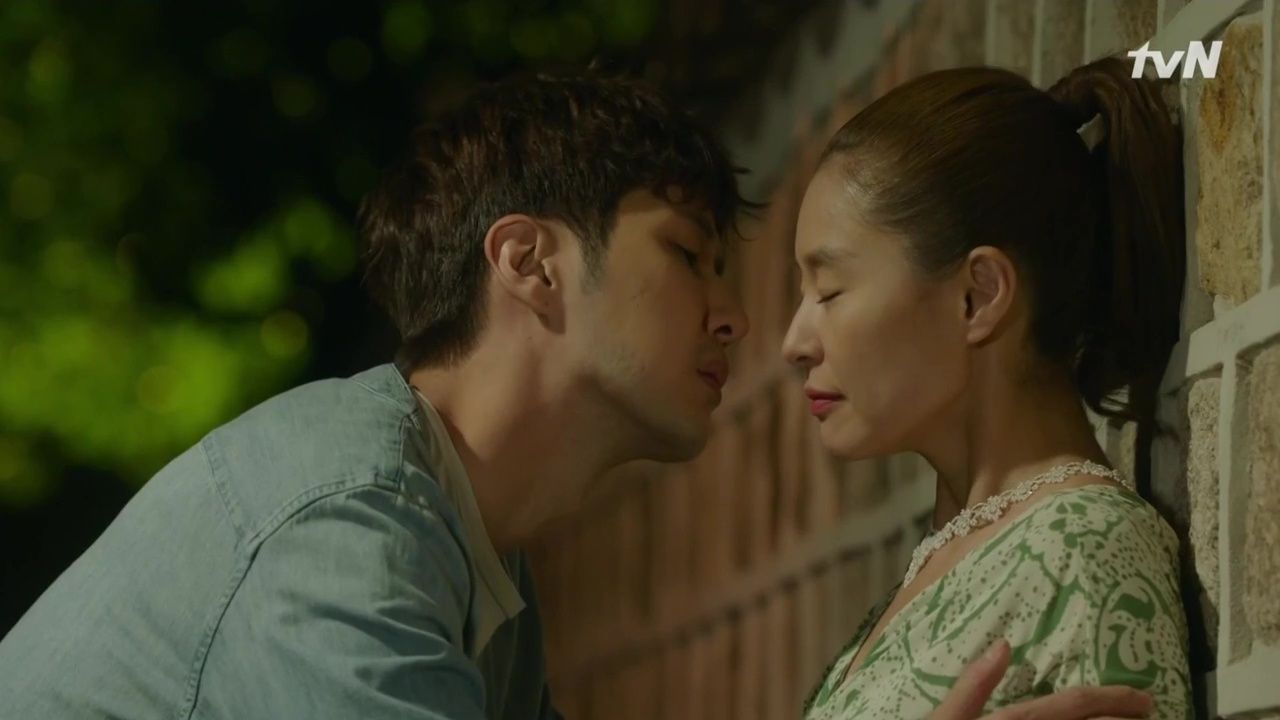 After dinner Hae-young reads Do-kyung a letter she got from a boy in high school. He'd seen her crying on the way home from school but didn't want to interrupt, so he'd followed her home to make sure she was okay. Despite Do-kyung's cool insistence that he won't be jealous of a kid, he's all Who is this boy?! Tell him I want to meet him. HAHA.
As it turns out, Hae-young only recently saw this letter, since it had been sent to the other Hae-young by mistake. The other Hae-young had returned it, saying that she always knew it wasn't hers, but she didn't want to return it because she'd still been feeling jealous of how much love our Hae-young got from her parents, and hadn't wanted her to have the love of a boy, too.
Now she says she's sorry, and that she also feels bad for the boy who was cheated because of her actions. Our Hae-young is floored by the idea that the other Hae-young might have compared herself to our Hae-young and been jealous. But knowing that doesn't make her happy, as she'd always thought it would. Now she wonders if the boy who threw the rock through her window all those years ago had actually been there for her.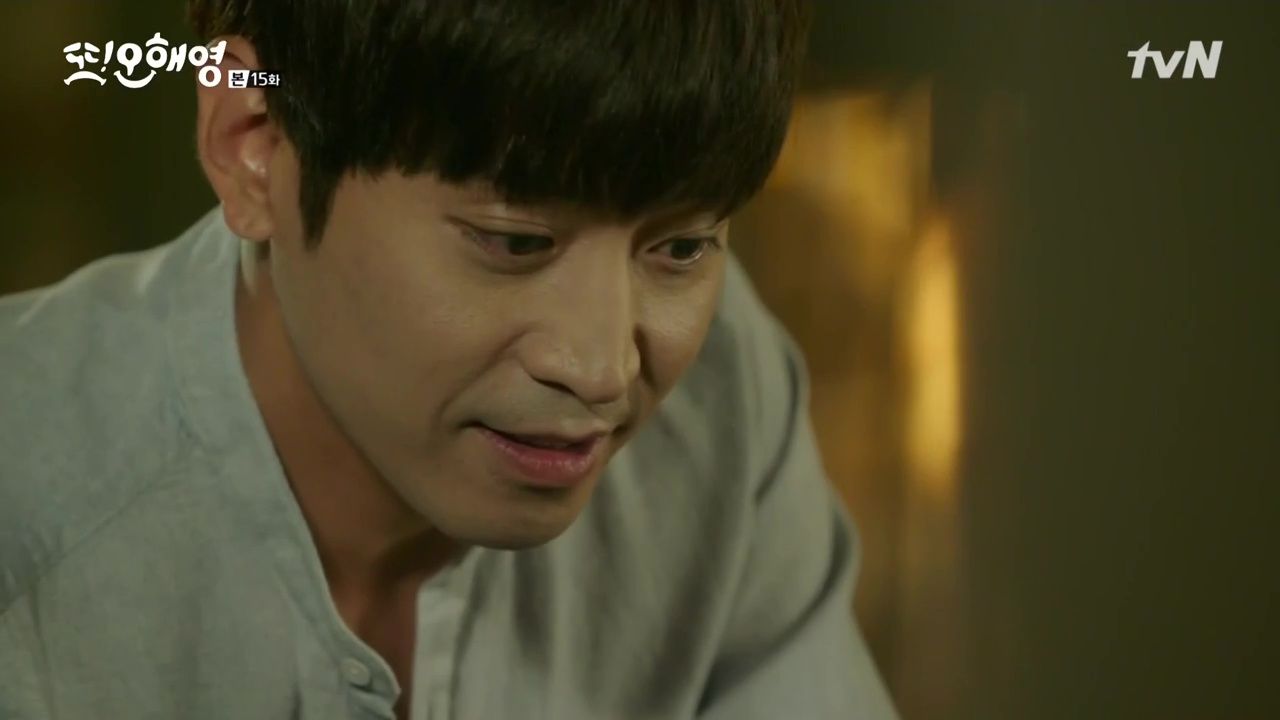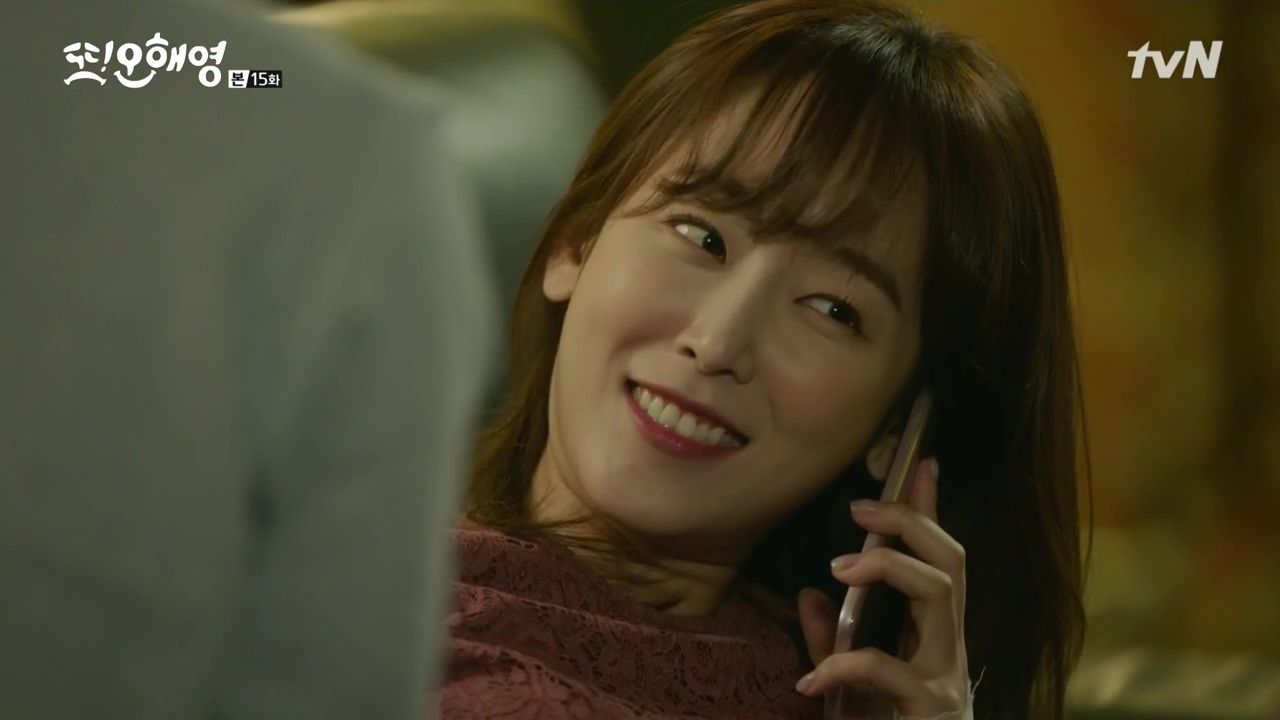 She asks Hee-ran to look him up in their yearbook, but it's not him. The boy is kind of nerdy, and now that she sees him, she hilariously tries to hide the picture from Do-kyung.
When Mom calls, Hae-young fibs that she's at Hee-ran's and planning to spend the night. Mom knows her daughter is lying, but Hae-young argues that she's a grown woman who can stay out if she wants. Mom threatens to come get her if she doesn't come home.
She does, like a tornado, furious that her mother is treating her like a child. She argues that she can do "those things" during the day too, it doesn't matter if she stays out or not, and Mom yells at her to keep her love life private. She's really angry about Hae-young telling the family she's dating Do-kyung, and offers to kill Hae-young if she keeps seeing him.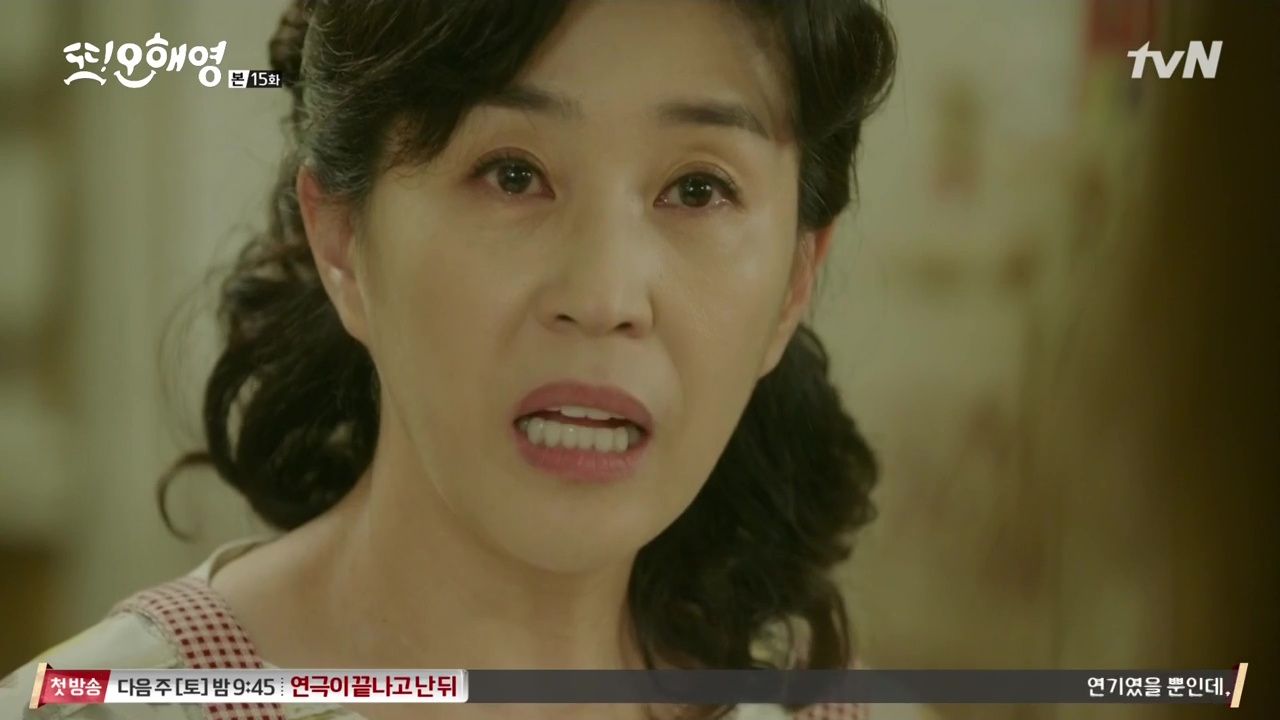 She screams that they're going to break up soon anyway, so why spend so much time with him, but Hae-young wants to know why Mom thinks they're breaking up. Um, oops? Mom boldly says that she told Do-kyung to go to the wedding if he ever plans to marry Hae-young, so since he didn't, she knows he's not thinking in that direction.
Hae-young is stunned, and just stands there with hurt tears welling up in her eyes. After she cries it out in private, she confronts Mom, asking why she pressured Do-kyung that way. She cries that she knew everyone would be talking about her, and thought that bringing Do-kyung would help squash the rumors. "If he had come, you wouldn't have had to feel so ashamed!"
Do-kyung can hear the tears in her voice when he calls a little later, but she says that her mom hit her because she lied about being at Hee-ran's. That sets her off again, and Do-kyung sweetly says not to cry, but she hangs up and lets herself sob.
Soo-kyung and Jin-sang are still outside trying their damnedest to kiss, and failing completely. They've been trying so long they both have muscle cramps, hee. Soo-kyung sort of crumples and calls a stop to this, and Jin-sang apologizes for not being able to do it.
But he still doesn't want to get out of her life when she's carrying his child, and when she begins to hobble off, stiff and sore, he's had enough. He confidently strides to her, whirls her around, dips her dramatically, and kisses her face off.
In the morning, defying Mom's threats, Hae-young puts on her Dance of Defiance music. But instead of dancing, she shoots Mom a rude gesture and stomps out of the house.
Hae-young drowns her sorrows in fried chicken, while Hee-ran asks what happened to cause this black mood. Hae-young wonders why she didn't care if she loved him more before, but now she feels different.
Hee-ran doesn't understand why Hae-young was already thinking marriage, and Hae-young explains that she just falls in love all at once and wants to do everything. She doesn't answer when Do-kyung calls, playing hard to get.
Do-kyung gets a letter that his mother quickly runs in and tries to hide, but he saw enough to know that she defaulted on a private loan. Mom swears this has happened often and the loaner has never taken legal action before, and Do-kyung calmly tells her to just leave it.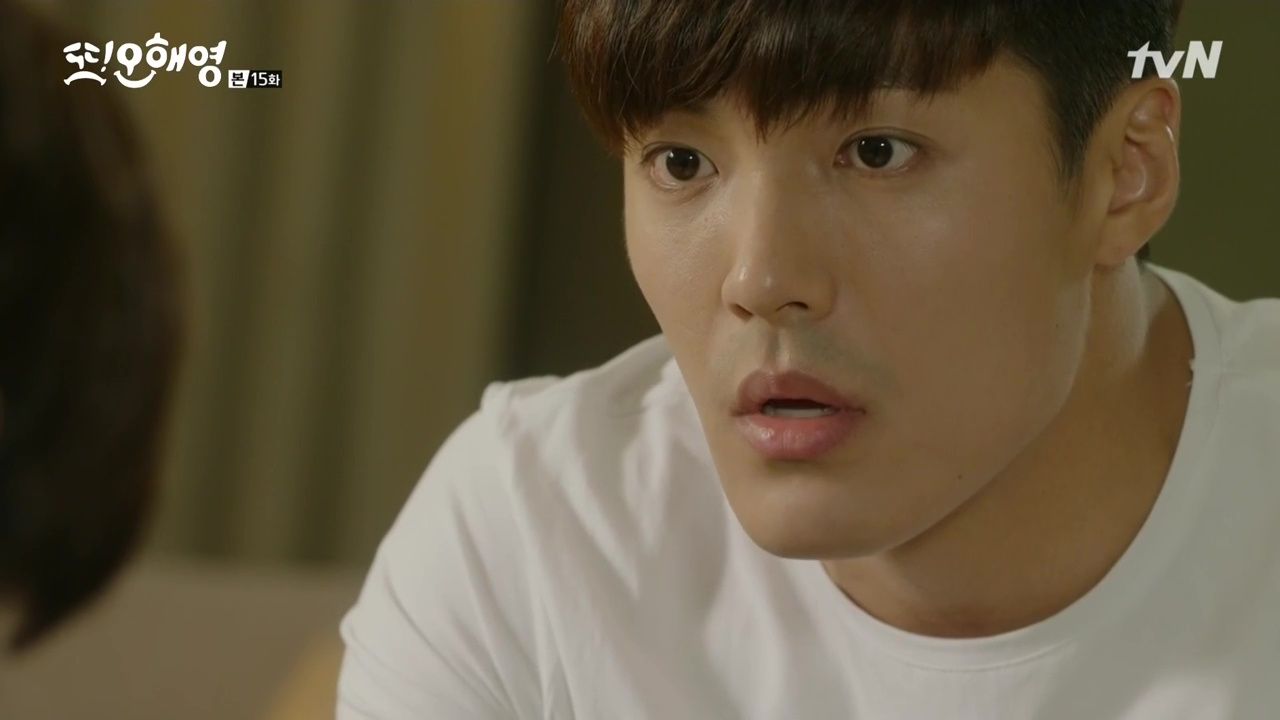 Do-kyung finds Hae-young dejectedly kicking a can home, and walks with her. He asks why she ignored his calls, and Hae-young pouts that she's mad at him. All in a rush, she says that she feels like he doesn't like her like she likes him, but he swears that he does.
She grouchily grants his request for a hug, then Do-kyung goes to see Tae-jin. He tells Tae-jin to take everything and he'll let it happen, "Just let me live." Does he think Tae-jin will be the one who runs him down in the street?
Tae-jin invites him in to avoid the CCTV cameras, and right away kicks him hard enough to send Do-kyung to his knees. He's obviously drunk, and pours another drink while telling Do-kyung that one day, he was walking along in his favorite suit, when suddenly some guy kicked him in the knee. He asked why, and the guy saids it's a mistake.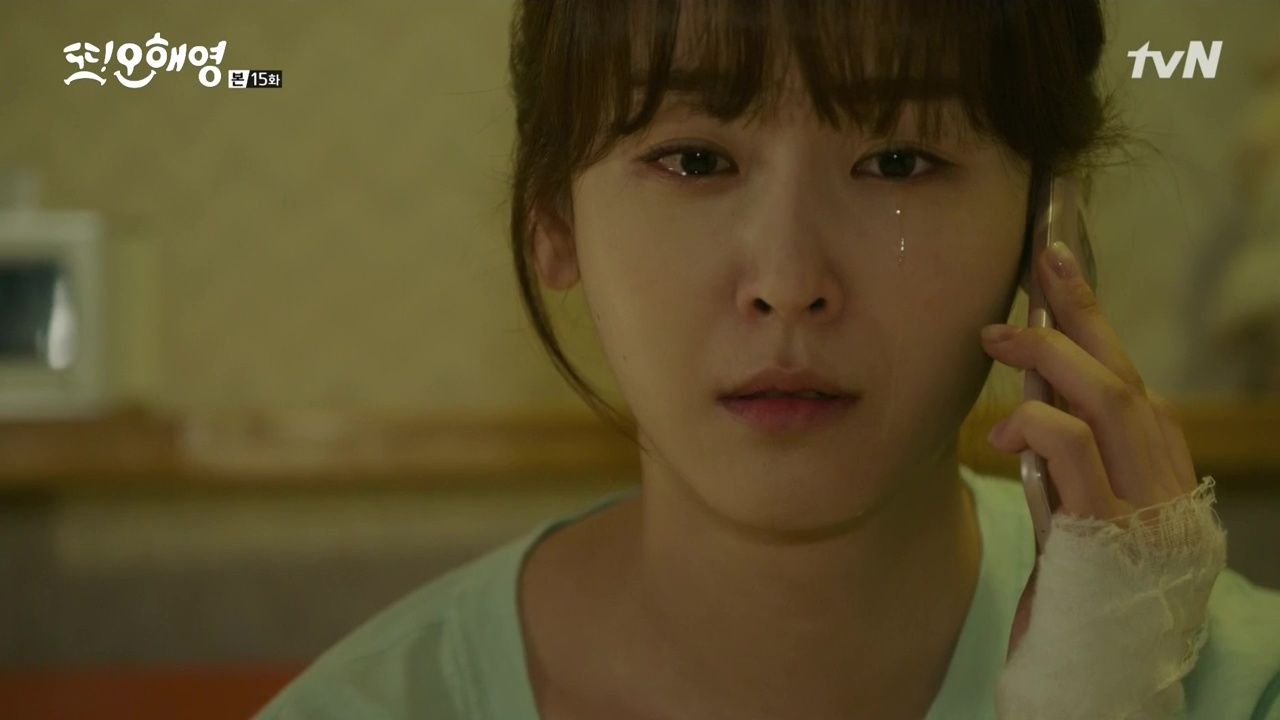 Now the guy is wearing his favorite suit, isn't that strange? Tae-jin asks Do-kyung what he would do in that situation, but Do-kyung only asks again for Tae-jin to spare his life. Tae-jin smashes his glass, and begins to beat Do-kyung viciously.
Hae-young tosses and turns that night, and finally gives in and calls Do-kyung. She apologizes, saying that she was angry, but she misses him and wants him to come over. He can't, because he's a bloody pulp, and Hae-young takes his rejection personally.
Do-kyung walks, thinking how he regretted not loving Hae-young with all his heart while he lay in the street dying. So he made another decision, and this time if he dies, he'll probably regret this moment when he couldn't be honest and hurt Hae-young.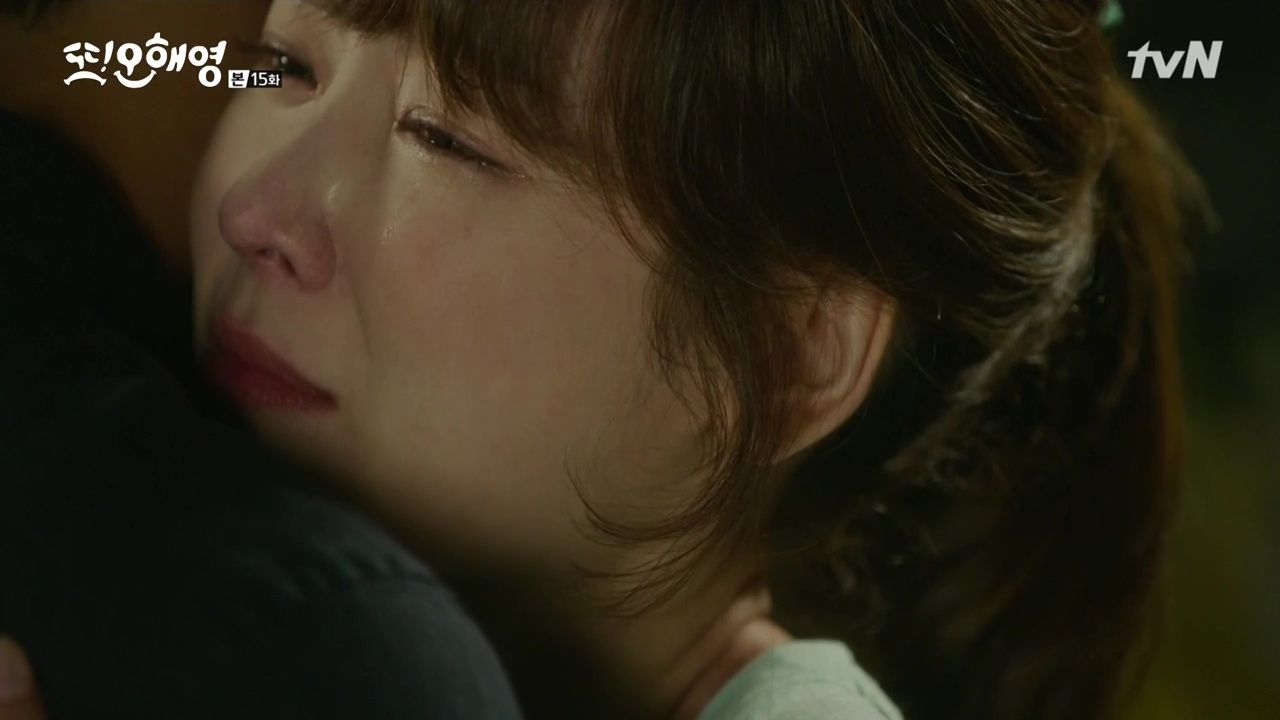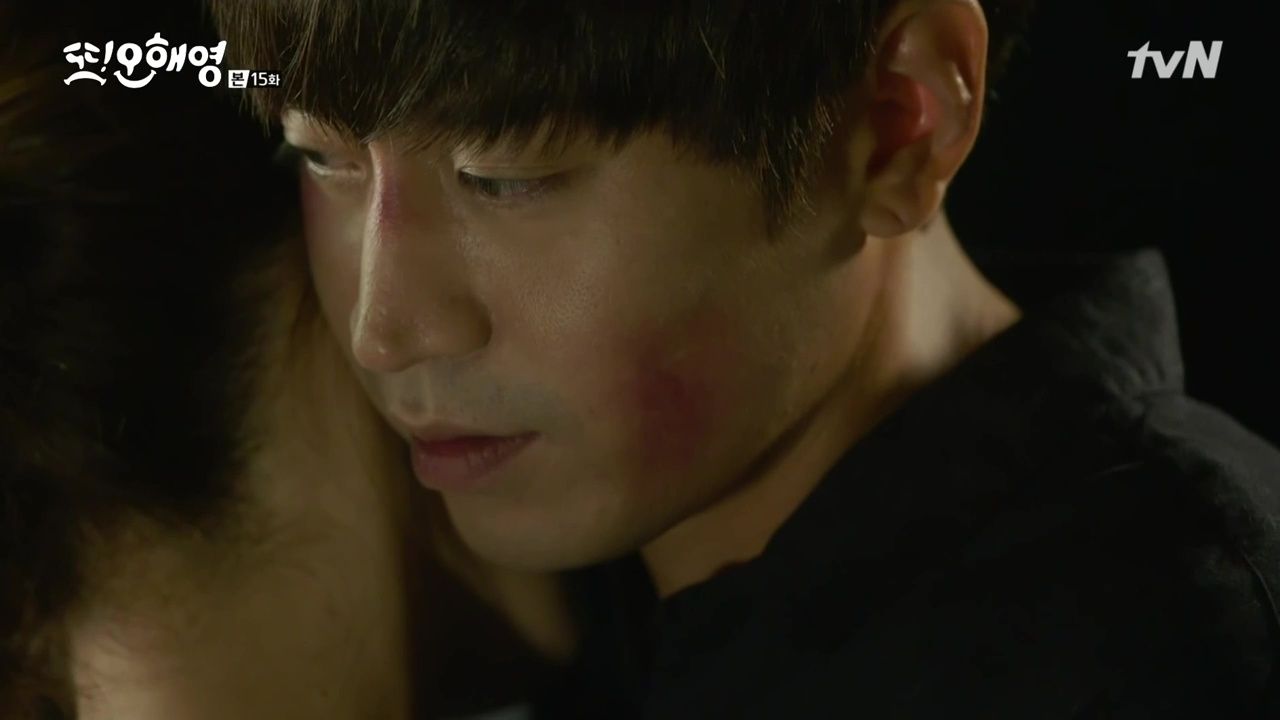 He wonders if he's making the same mistake Tae-jin made, when he deliberately made her misunderstand and hurt her feelings. He wonders if he should tell the truth, since he might die soon. But if he tells the truth, will they lose the happiness they have now? Will she still be happy if she knows he may die soon?
When Hae-young sees his face she demands to know who did this, knowing already who it must have been. Do-kyung says that he expected at least this much, and gives her a comforting hug. He says that, considering what he did to Tae-jin, he should expect to take the abuse.
He whispers that he's sorry he didn't come to the wedding, just saying that he had his reasons. "Until I die, I won't leave you."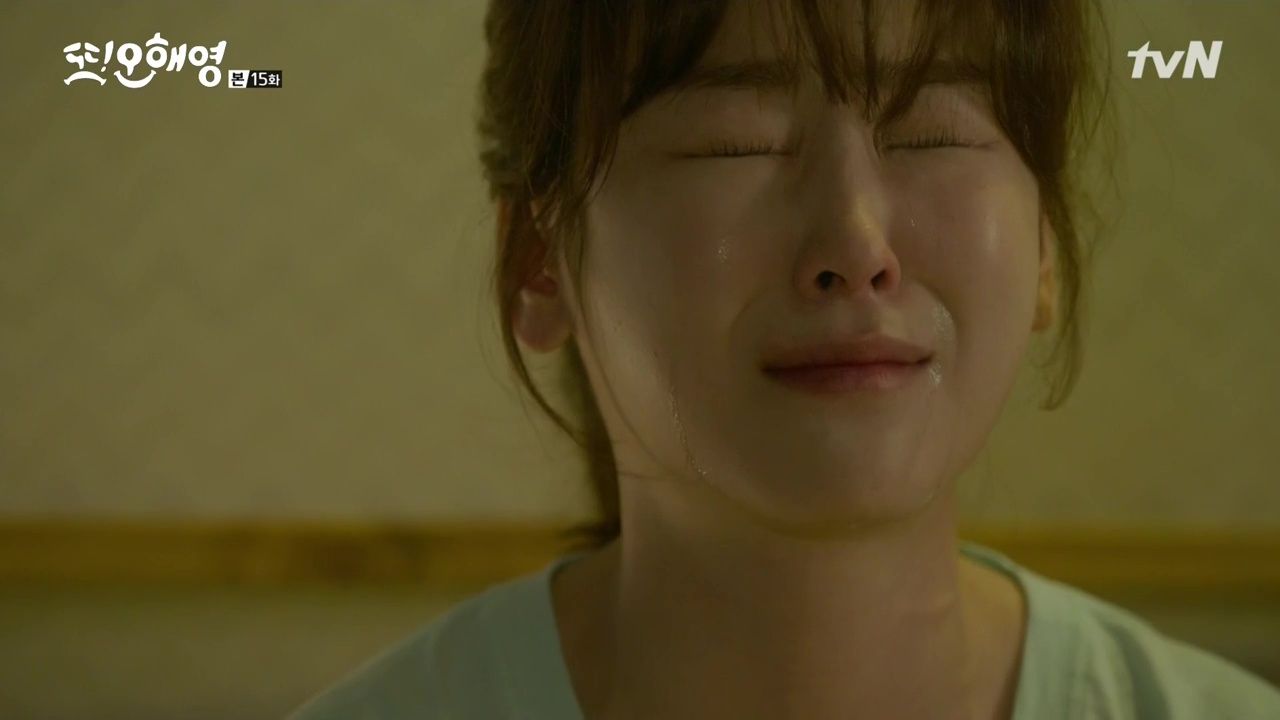 Hae-young is still crying when she goes inside, wishing that Tae-jin's wounded heart could be healed somehow. She fervently wishes that nobody would be hurt, and goes to bed despondent.
Do-kyung walks home, wanting to see Hae-young happy and smiling again. He breaks into a run, and has another vision — this time he's actively running from the car attempting to run him down. In the driver's seat, he can clearly see Tae-jin.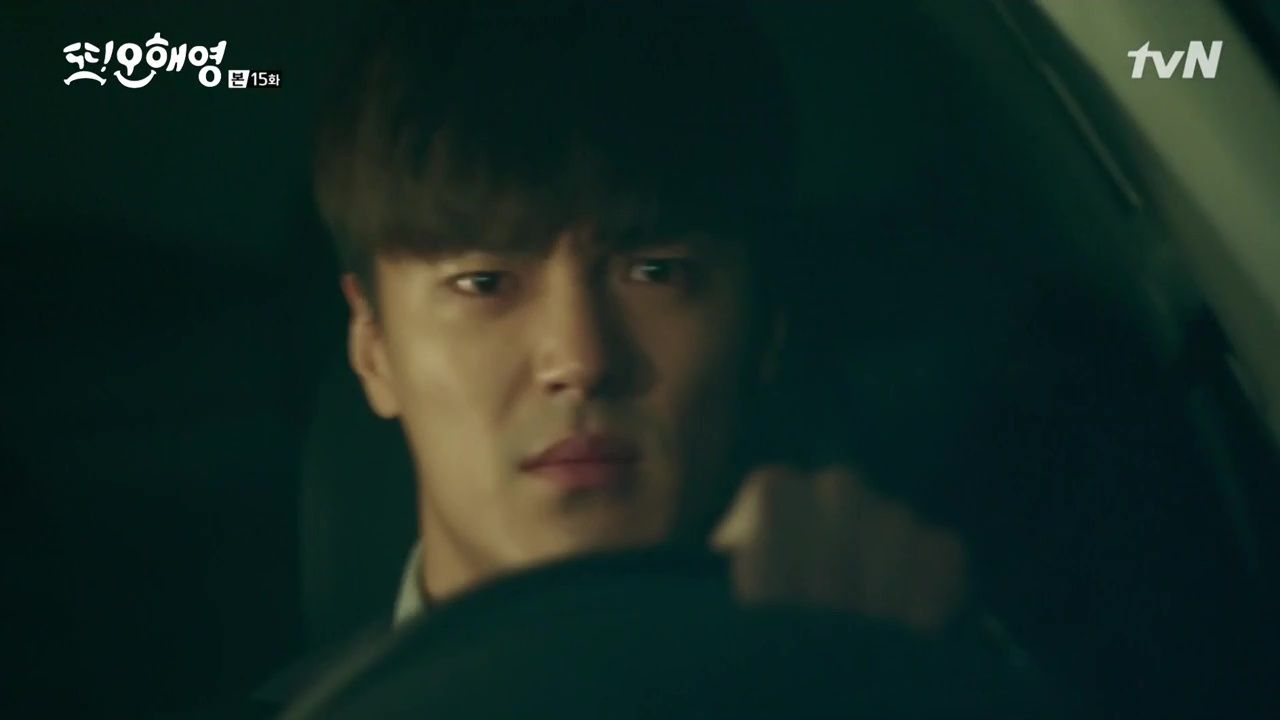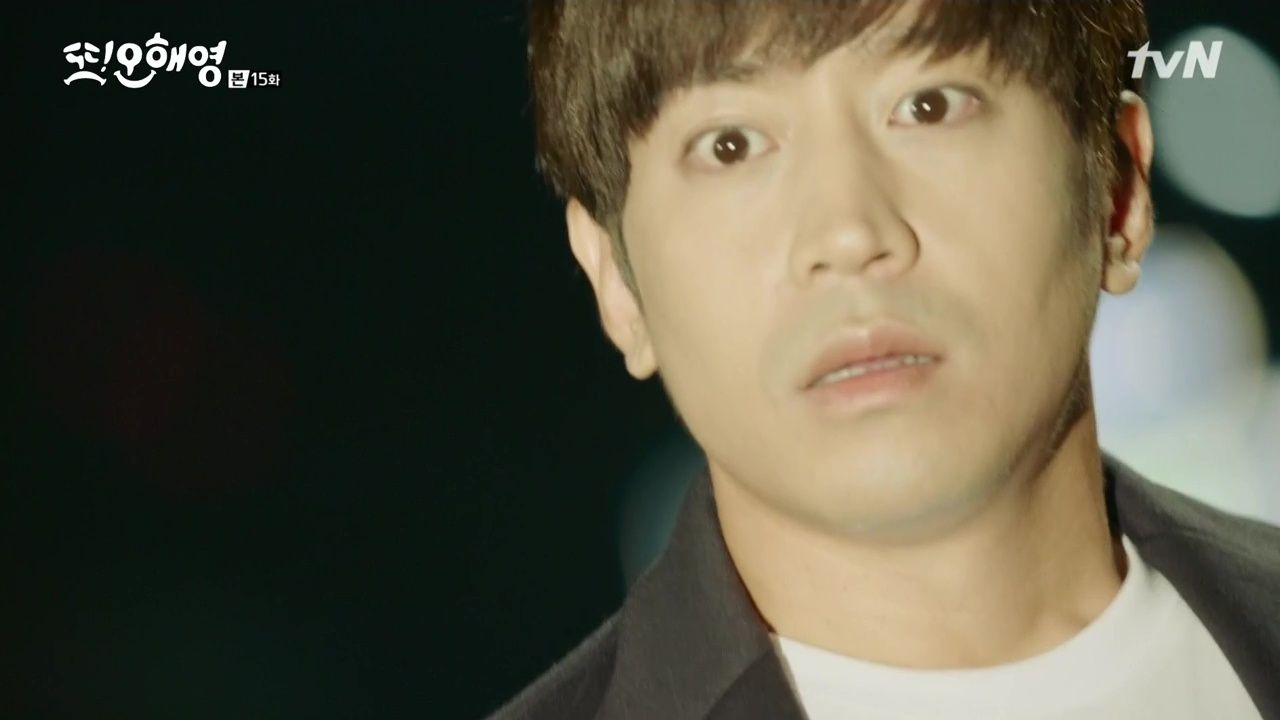 COMMENTS
Oh no, I was so hoping it wasn't true. I've been giving Tae-jin the benefit of the doubt, but his increasingly violent tendencies and inability to move on from situation were worrying me. And now we have definitive proof that Do-kyung's accident is no accident — if he dies, it will be murder.
I really liked the new doctor's take on Do-kyung's visions and why he hasn't managed to change his fate, even though he was able to change the way things ended with Hae-young. The way I understand it, he was building off Dr. Park's hypothesis that Do-kyung is reliving his most important moments as he lies dying, and those all involve Hae-young. But he goes on to say that what Do-kyung did by changing his fate with Hae-young was to choose love over fear. He's always lived in fear, and he was going to die in fear. But he made a conscious decision not to die that way, and that allowed him to choose love, and be with Hae-young.
But he's still not completely convinced, there's something he's still afraid of that's holding him back from fully embracing love. That's why, even though his time before his death has changed, he is still going to die. I'm going with that last moment being his death and not just a bad accident he'll live through, simply because that's the scenario the show has given us — that Do-kyung is having visions during the last moments of his life. I do still think he can change his fate and avoid death, but for now, as long as he's having the visions, his fate is eventual death.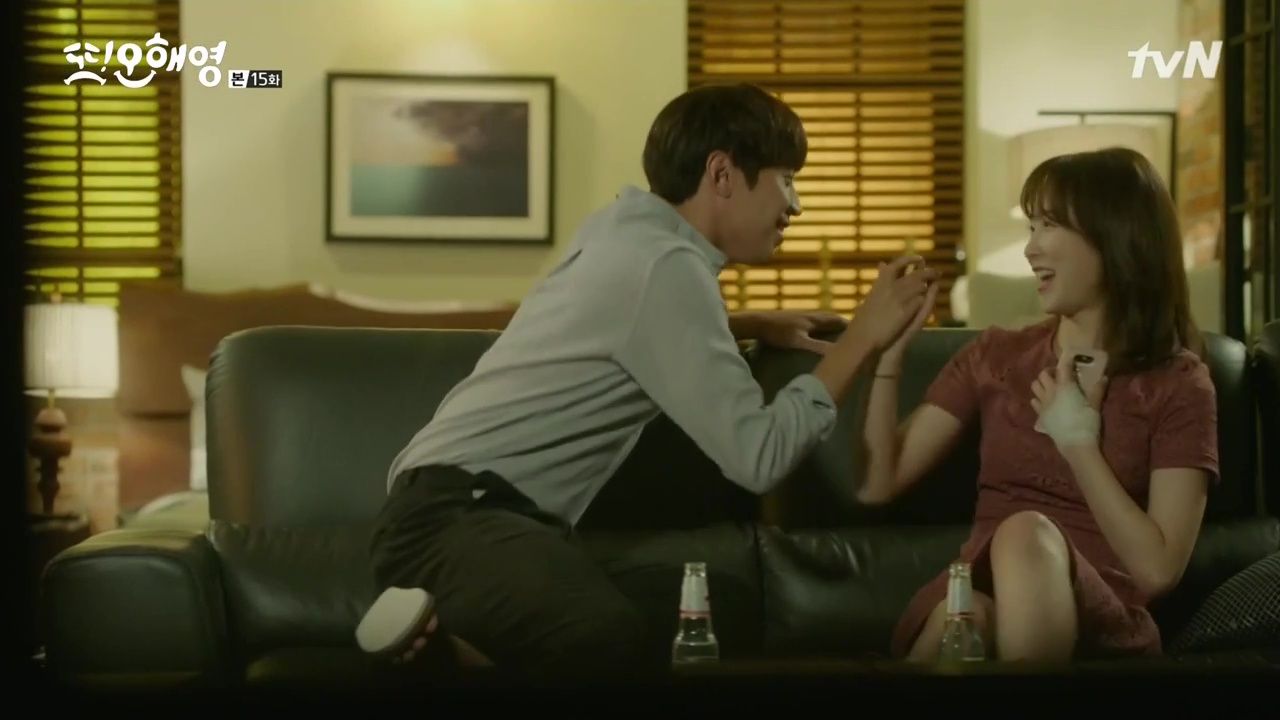 I want to mention the disagreement I've seen among viewers about Mom, and whether she's the best drama mom ever, or the worst. The biggest argument against her seems to be that she worries more about what others think than about what her daughter wants, and that she's pretty violent about letting her feelings known. While I could do with less head-smacking from her, I actually think her constant concern about what others will say comes from a place of deep concern for Hae-young — she doesn't care what people think, only what they say. She knows that Hae-young had a difficult childhood because of what others would say about her, and it's naturally made Mom more than a little sensitive about people saying nasty things about her daughter. She's scared that the ugly words will hurt Hae-young, which is the one thing she can't control.
I do think that Mom wants nothing more than pure happiness for Hae-young, and anything that threatens that is to be destroyed immediately, and if she can't make people stop thinking bad things, at least she can fight against them saying them. So she does that by going after the gossipers when a rumor is being spread, but also by trying to make sure Hae-young doesn't do anything to draw negative attention to herself. Unfortunately, her love and concern for Hae-young's happiness often go too far, and she can go to extremes trying to protect her. It's a situation where Mom's extreme love for her child sometimes comes out in unhealthy ways, but isn't that the case with all of our characters? This whole drama is about people acting out in unhealthy ways, being flawed and human but ultimately loving each other so much they'd do anything for one another. In that sense, I'm voting Best Mom Ever, because while her love may be a little overly aggressive sometimes, you can't ever say that she doesn't love Hae-young with her entire being.
I'm glad that Do-kyung is finally thinking about whether or not to tell Hae-young the truth about his visions. It's a difficult decision, because really, there are cons with telling and not telling. If he continues to keep it from her, he'll have to continue to lie about certain things, and she'll continue to think that it means he doesn't love her completely. But if he tells her the truth, even though it would convince her of his love, it would mean letting her in on his impending death. Either way, he's taking away happiness from Hae-young — but is one sort of happiness is worth preserving at the expense of the other?

RELATED POSTS
Tags: Episode 15, Eric, featured, Jeon Hye-bin, Oh Hae-young Again, Seo Hyun-jin