Oh Hae-young Again: Episode 16
This might be my favorite episode yet, as we finally start seeing significant character growth all across the board. Old rivalries are soothed, old feelings are addressed, and new bonds are forged from the threads left over. Things seem to be looking up, but Do-kyung isn't out of the woods yet, and he's still faced with the threat of his own mortality — but at least he's learning to appreciate the time he's got left, however long that might be.

EPISODE 16: "Through you, I live"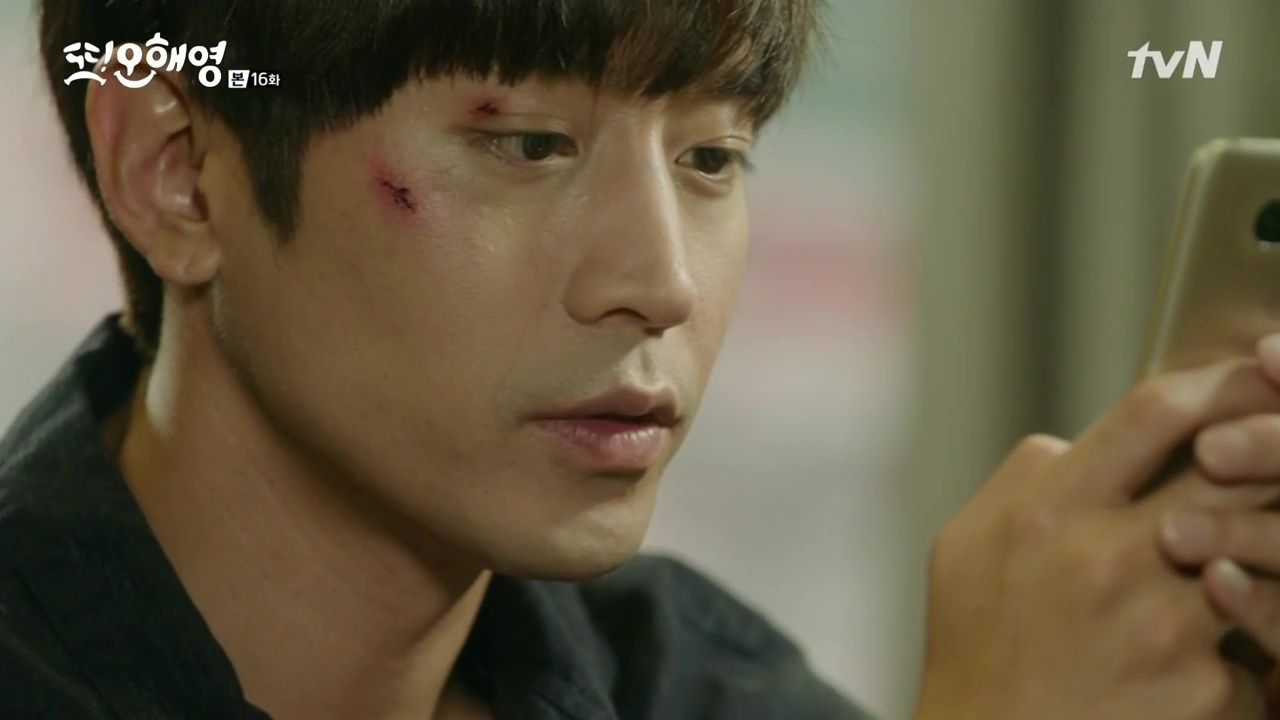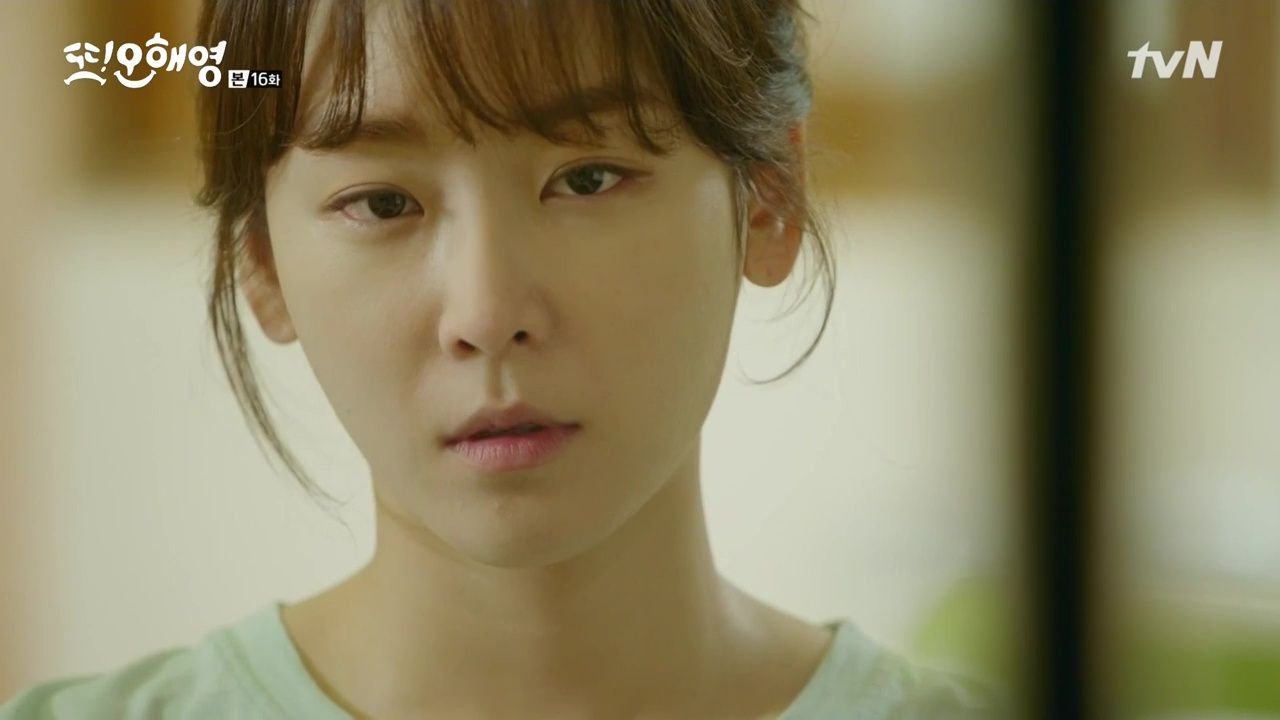 After Do-kyung lets Tae-jin beat him up and sees how much it upsets Hae-young, he wonders to himself if it he should tell her the truth about his visions. Telling her about his impending death will hurt her, but she's already being hurt, so wouldn't the truth be better?
As he thinks that he just wants her to be happy, another vision hits him. This time he sees the car that will strike him as actively gunning him down, with Tae-jin behind the wheel.
He wakes the next morning in his home studio, which used to be Hae-young's apartment. The first thing he does is text Hae-young that he'll drive her to work, and her cheerful response belies her own melancholy mood after an emotional night.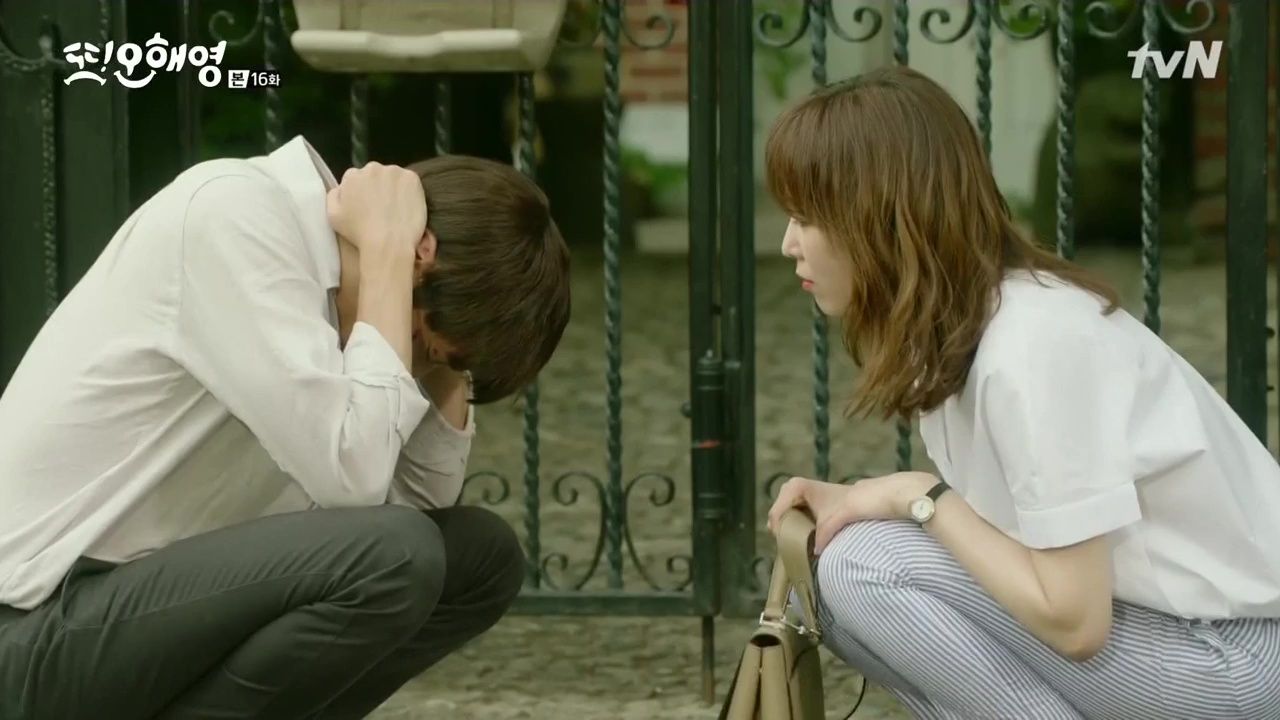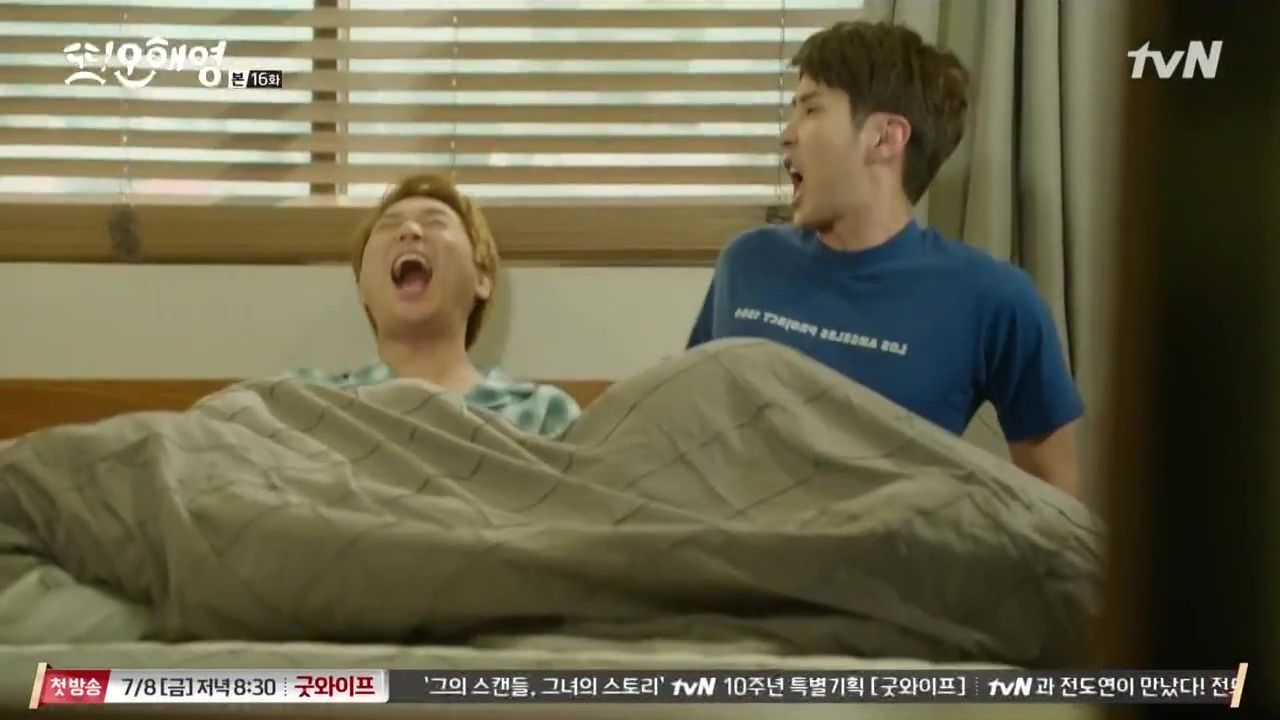 She nearly startles him to death by popping up in his face as he's leaving his place, and he crumples to the ground, holding his head. She kneels in front of him to apologize, but he smiles and says that he just can't stand up, he's so touched. They cutely make up, though Do-kyung warns Hae-young never to scare Soo-kyung like that.
Speaking of Soo-kyung, Jin-sang can't stop thinking about their kiss, which had quickly gone beyond his making a point and into grabby-hands territory. He realizes that someone is climbing under his covers, but HAHA, it's just Hoon playing a joke on him. He says that he saw Jin-sang kissing his noona, and notes that it sure was a long one.
He starts calling Jin-sang "brother-in-law," but Jin-sang says you don't just marry every woman you kiss. He says that he's trying to think calmly and rationally about the situation, which is funny because he's pretty much hysterically screaming at this point.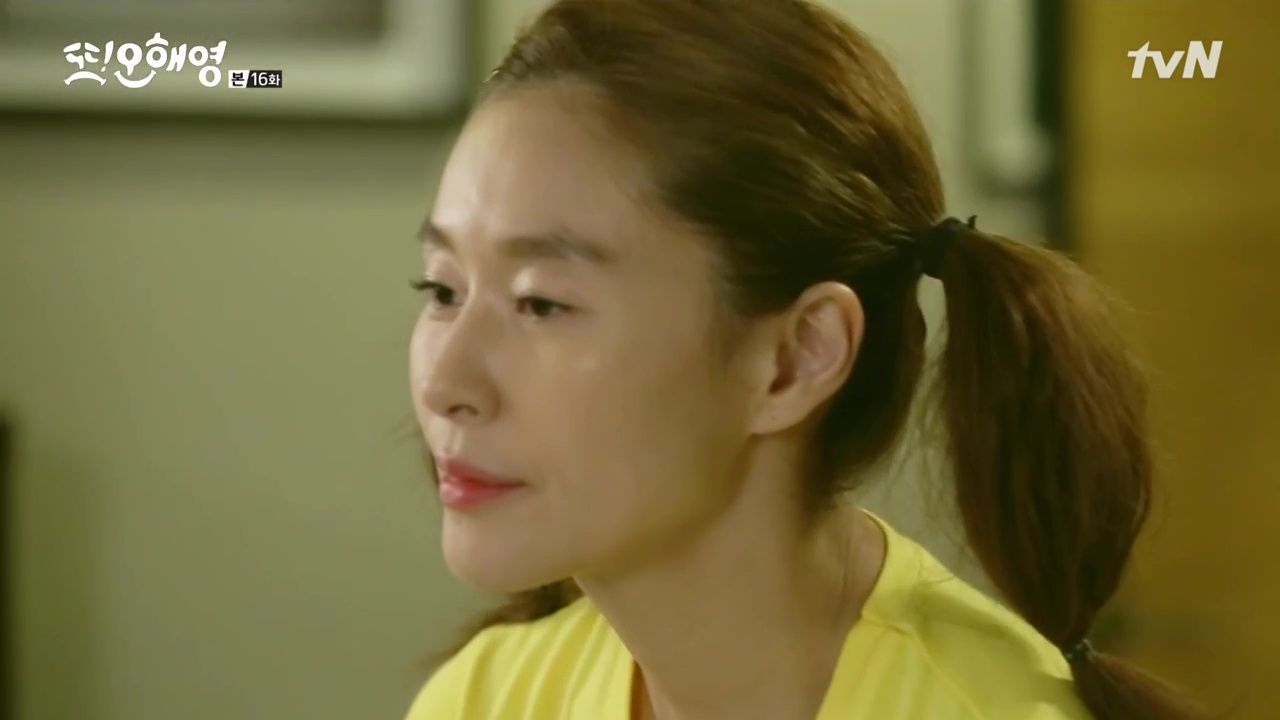 Soo-kyung opens the door, interrupting Hoon's victory dance, and tells Jin-sang that he may still be thinking, but she's done. When he decides what he wants to do, she invites him to a talk, and they can lay out all their plans to each other.
Dr. Park urges Do-kyung to tell Hae-young about his visions, so that they can team up and make a plan to try to save his life. It's his idea that they pretend to break up, and just get back together after the danger has passed.
The second doctor seems to just poof into existence in the office (more on this later) to say that that makes no sense. In the original vision they had broken up, yet Tae-jin still tried to kill him. When Do-kyung says that he's feeling surprisingly at ease, the doctor thinks that's a sign that he's going down the correct path.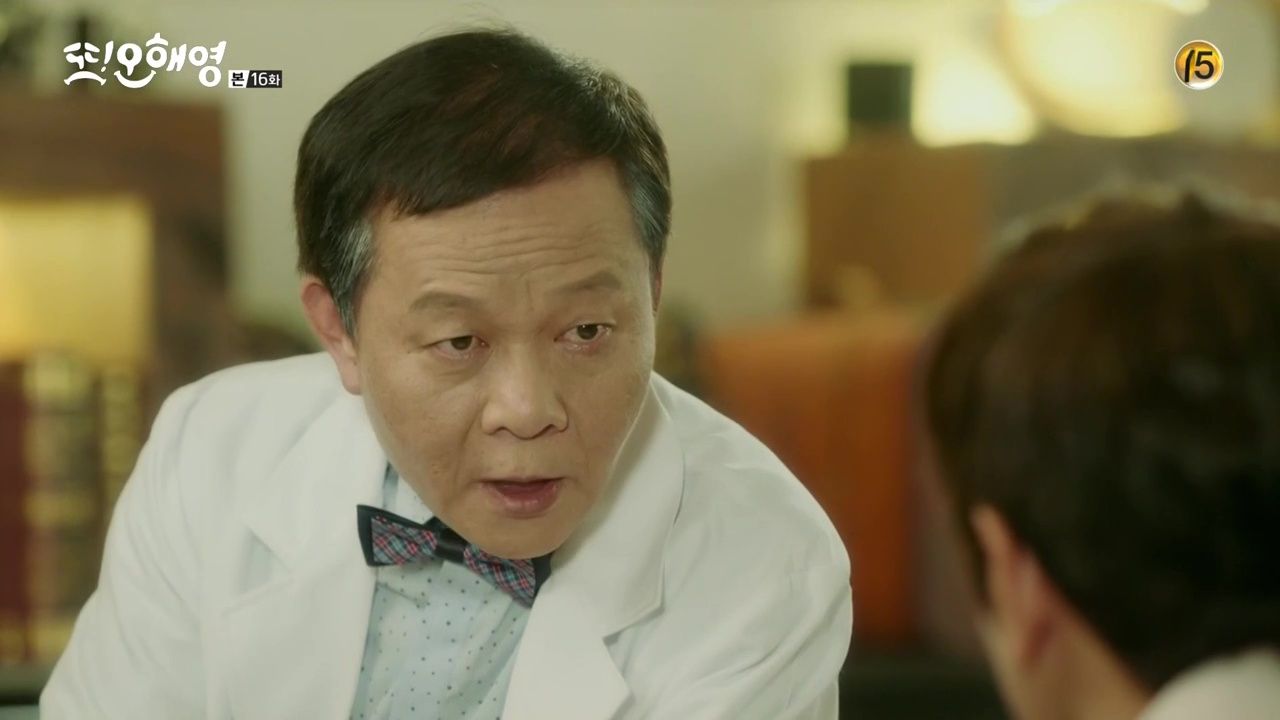 He tells Do-kyung that his current situation is really the result of past decisions he's made, and that they'll repeat unless he turns to love. Once he does that, it will erase those negative situations, which is why his scenario is changing now. He tells Do-kyung not to turn back to fear — he should relax, and commit himself fully.
On his way home, Do-kyung buys a pretty bouquet of flowers, which he takes to Hae-young's office. The other Hae-young sees him first and grumbles that he used to say he hates a woman who cries, but our Hae-young cries all the time. But she also admits that a fearlessly honest person like her is perfect for him, and congratulates them.
Do-kyung leaves the flowers on Hae-young's desk and starts to leave, but he turns back when he hears her coworkers saying that she's not that pretty. Then he sees that she's right there and they're just teasing, and he smiles to see her smiling.
A bit later, Hae-young eyes the flowers on her desk suspiciously, assuming they must be for the other Hae-young. But they do sort of feel like hers (aww, poor Sung-jin looks grumpy), and she gets all fluttery when she realizes that without a card, they must have been dropped off personally.
Just then Do-kyung texts her (saying that he's better than that kid from high school, hee) and hearts practically fly out of her eyes. Then she whacks her knee on her desk and has to freeze until the pain passes, heh.
Tae-jin reports to Chairman Jang that he's somehow arranged for Do-kyung's studio to be seized, but that's all he's been able to do since his house isn't on the market yet. Jang ridicules him for giving up so easily, and Tae-jin vows to find something else to stick it to Do-kyung.
Once Tae-jin leaves, we see that his former partner was in the restroom the whole time, listening in. Chairman Jang reminds him that he didn't revoke his investment because he'd been doing something shady — he did it because Do-kyung asked him to.
Hae-young bustles around the kitchen and Mom figures out that she's cooking for Do-kyung again, which sets her off. She goes out for a walk, thinking about Hae-young and how much she's like her mother: "I hate her because she takes after me. And I love her because she takes after me."
She worries that Hae-young will have a difficult life because of the way she is, but she buys the burdock Hae-young is missing for her dish, and takes it home reluctantly. "That crazy girl who's pouring her heart out after falling head over heels in love with this guy. I don't know why it makes me tear up. Will I feel less sad if I take her side and cheer her on?"
Do-kyung picks up Hae-young, who's loaded down with the food her parents helped make. Jin-sang calls to whine, and Hae-young says she made enough food for everyone, though Do-kyung warns him to stay downstairs and not come upstairs no matter what HAHA, Hae-young's face — not that I blame her.
Hoon and An-na work on the sound effects for a movie (hi there, Jung Yumi!) in the studio, and Hoon gets the same call from Jin-sang, who's too scared to go home and be alone with Soo-kyung. Hoon warns Jin-sang not to treat his sister like he's treated all those other women.
On their way out of the studio, Hoon and An-na run into Hee-ran, who immediately adopts a frosty expression. An-na hangs on Hoon, aware that this is the woman Hoon's been upset over, and the two ladies exchange barbed comments while Hoon tries to spontaneously combust.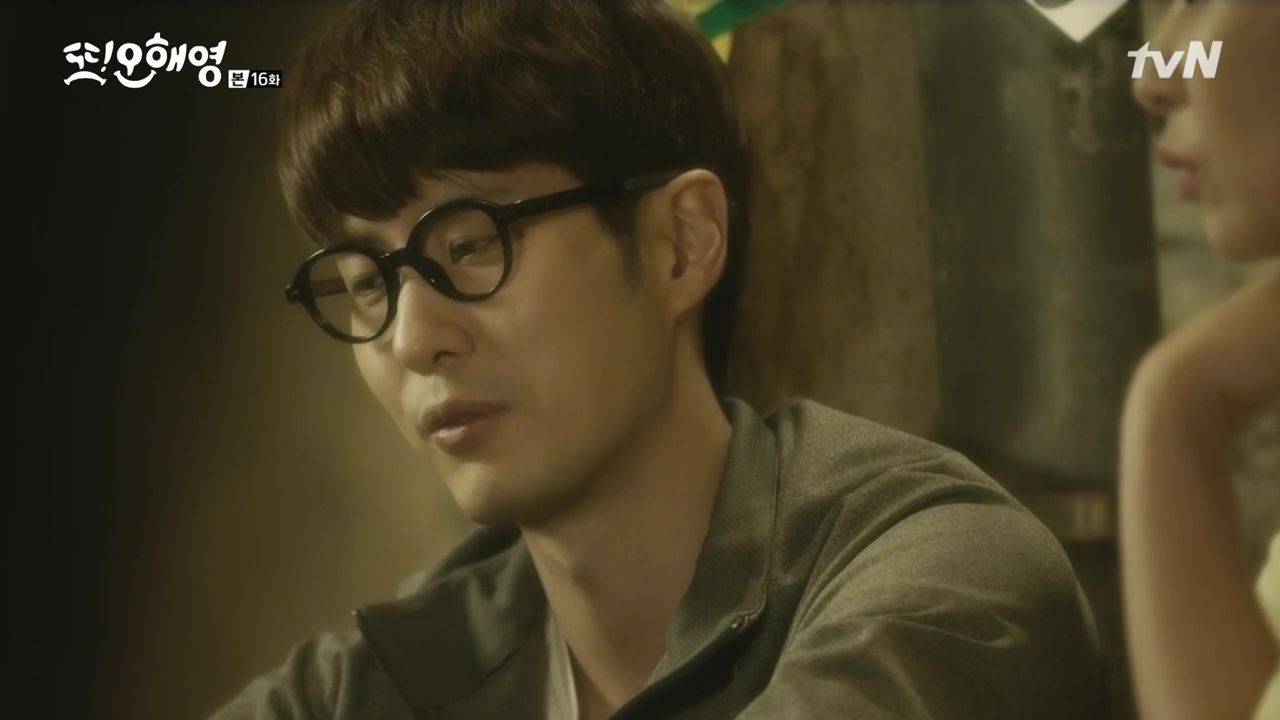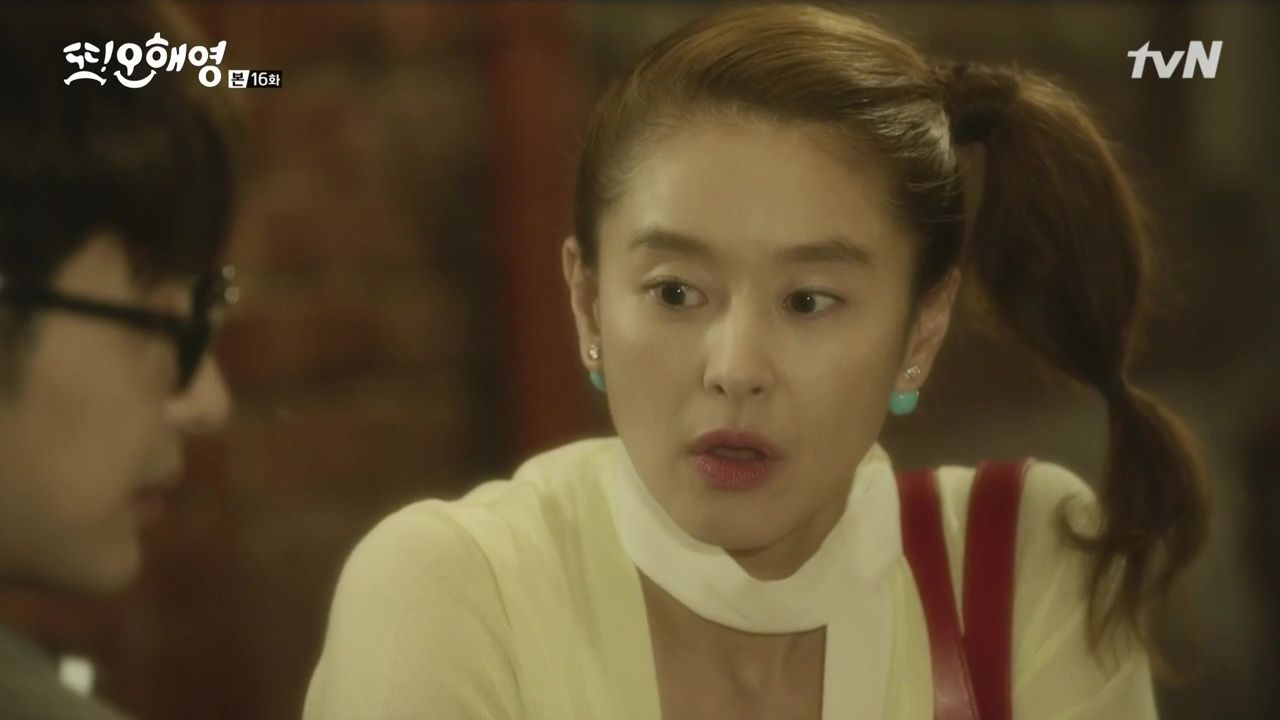 An-na reminds Hee-ran that it will look bad if she stops working with Hoon after trying to seduce him, defending her man fiercely. Hee-ran grudgingly admits that An-na is a pretty good girlfriend.
Even though Jin-sang is scared to go home, it's sweet that he bought a melon, remembering that Do-kyung said Soo-kyung likes them. He remembers a time when he would artistically broods under a street light, but Soo-kyung found him anyway. She thought he was upset because he failed the bar exam, but he'd been informed it was time for his army duty.
He'd been worried that he'd be away for two years before he could take the bar again, and that he'd forget everything he learned in law school. Exhausted, he'd collapsed on Soo-kyung's shoulder. Now she watches him under that same street light, burdened by equally heavy thoughts… but this time, instead of going to him, Soo-kyung walks away.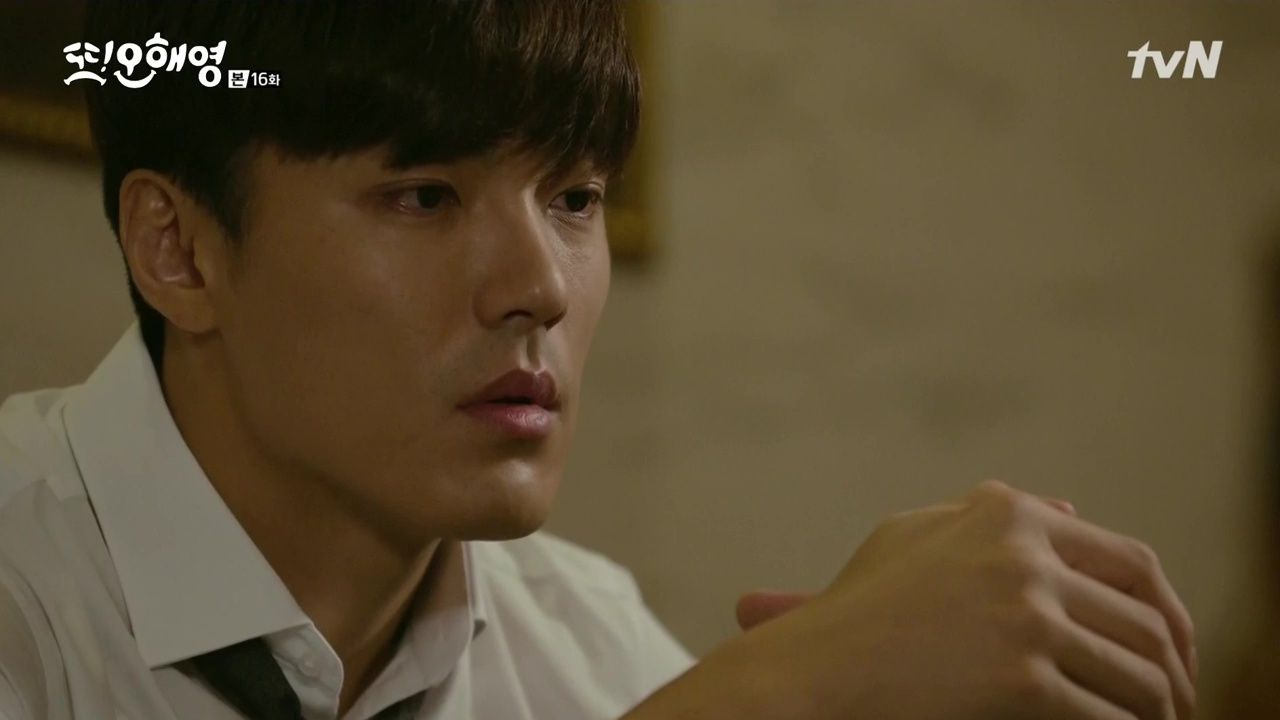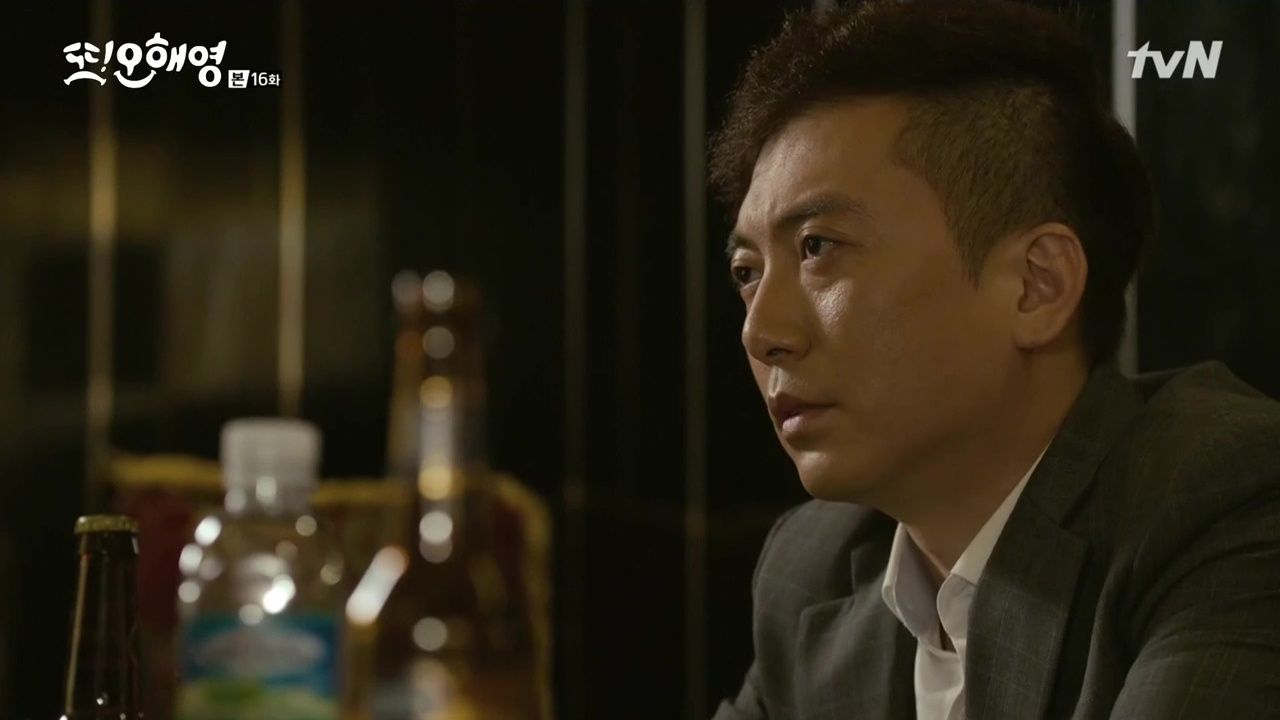 Drunk again, Tae-jin tells his partner that he's getting his revenge, but he doesn't feel excited about it. His partner says he should stop then, but Tae-jin slurs that he can't, since everyone knows he went to prison and Hae-young is now dating the guy who sent him there. He feels like people are watching him to see what he'll do.
Do-kyung still has Hae-young's night light and music box, and she cringes that giving them back was childish of her. She hugs his neck for the flowers he brought today, then flirtatiously says she's going to brush her teeth. Do-kyung joins her, which is adorably domestic of them.
Do-kyung gets a text from Tae-jin, warning him that today is his last day of happiness. He hides it from Hae-young, and takes her to his studio to play some music for her. Do-kyung asks why she fell in love with him at first sight like she says, but she doesn't know. She just feels like she recognized him.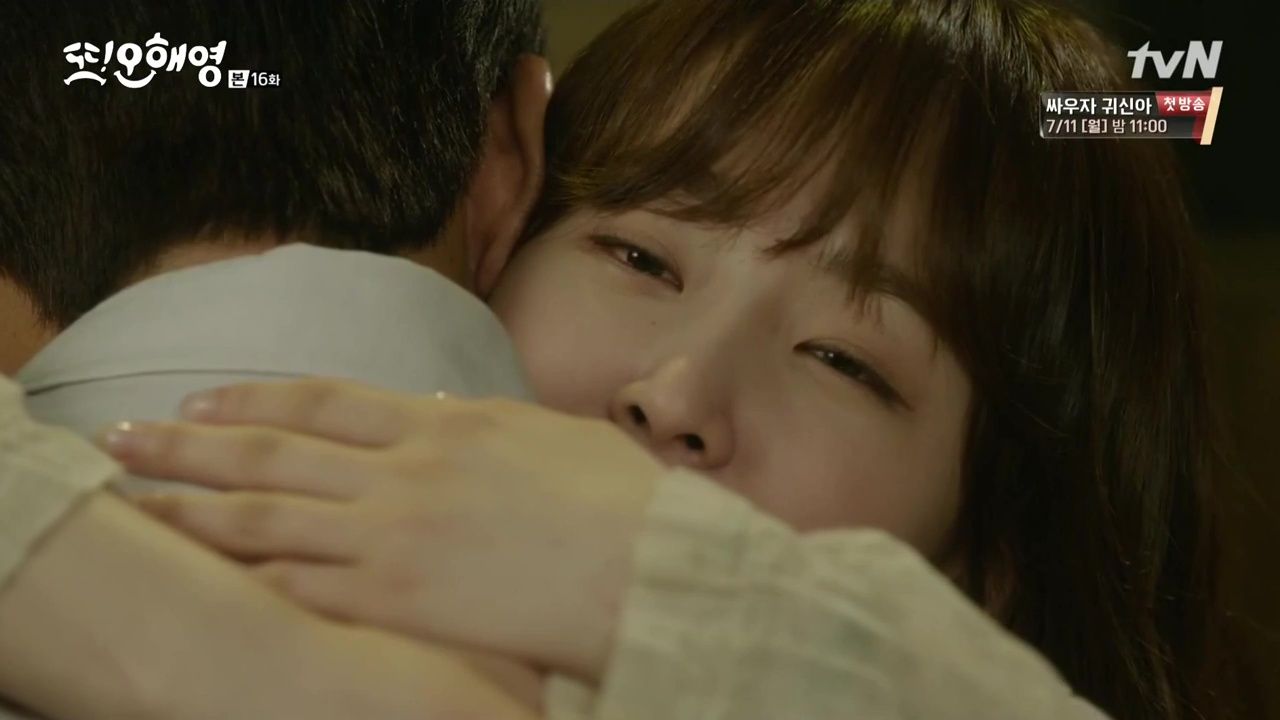 She says that the moment she saw him, she wanted to just barge into his heart and remove anything making him unhappy. He asks if he seemed that unhappy, and she says that he did. She thinks that she must have been unhappy too, but that they can be happy together.
She teases him for playing hard to get, which makes him break into the biggest beautiful unguarded smile. He stands to hug her, and Hae-young wishes for him to grow old and gray so that she can be the only woman who finds him attractive. In return, Do-kyung wishes for her to get fat, ha.
The next day, Do-kyung's team finds their office covered in red repossession stickers, and it's obvious from his demeanor that Do-kyung knew this would happen. He calls a friend to try to get jobs for all four of them, even throwing all of his equipment into the deal.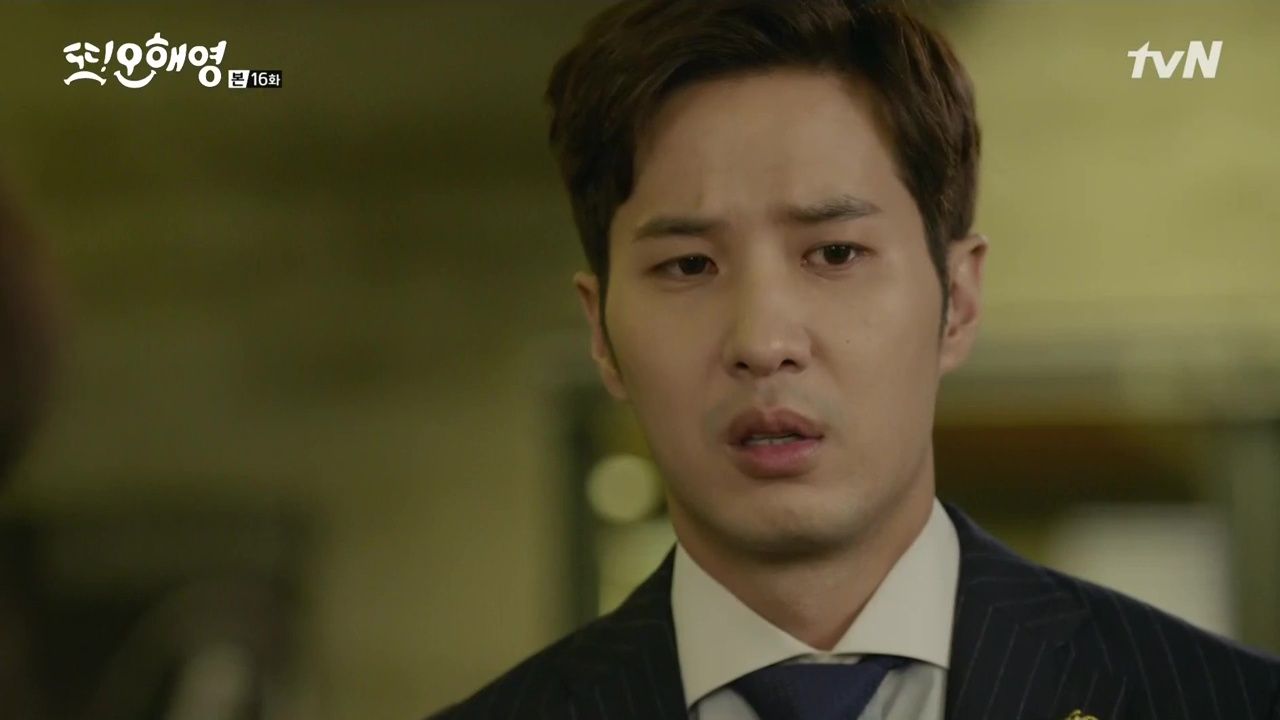 When his mother shows up looking shocked and disheveled, Hoon growls at her, "It's you, isn't it." Ah, this is about her defaulted loan. She confronts the loan shark, reminding him that she's always paid him eventually, but he says that he sold the debt to someone else. He mentions that it has something to do with Oh Hae-young, and she flies into a rage.
Jin-sang comes over as Do-kyung's lawyer, promising to appeal this, but Do-kyung says it's only right that he lose everything after what he did to Tae-jin. Besides, Tae-jin is working with Chairman Jang, whose power is greater than anything a mere lawyer can do.
Jin-sang feels responsible, since he was the one who talked Do-kyung into trying to ruin Tae-jin in the first place. He apologizes, but Do-kyung says that if they hadn't done that, he would never have met Hae-young.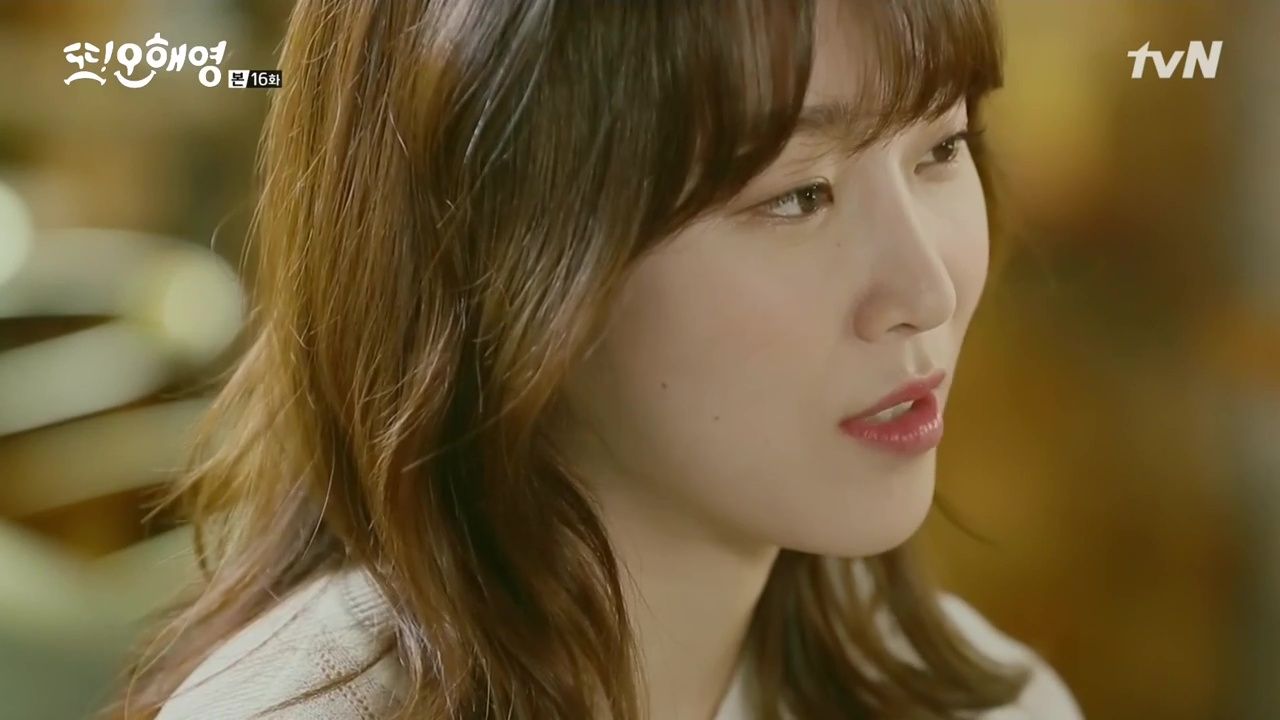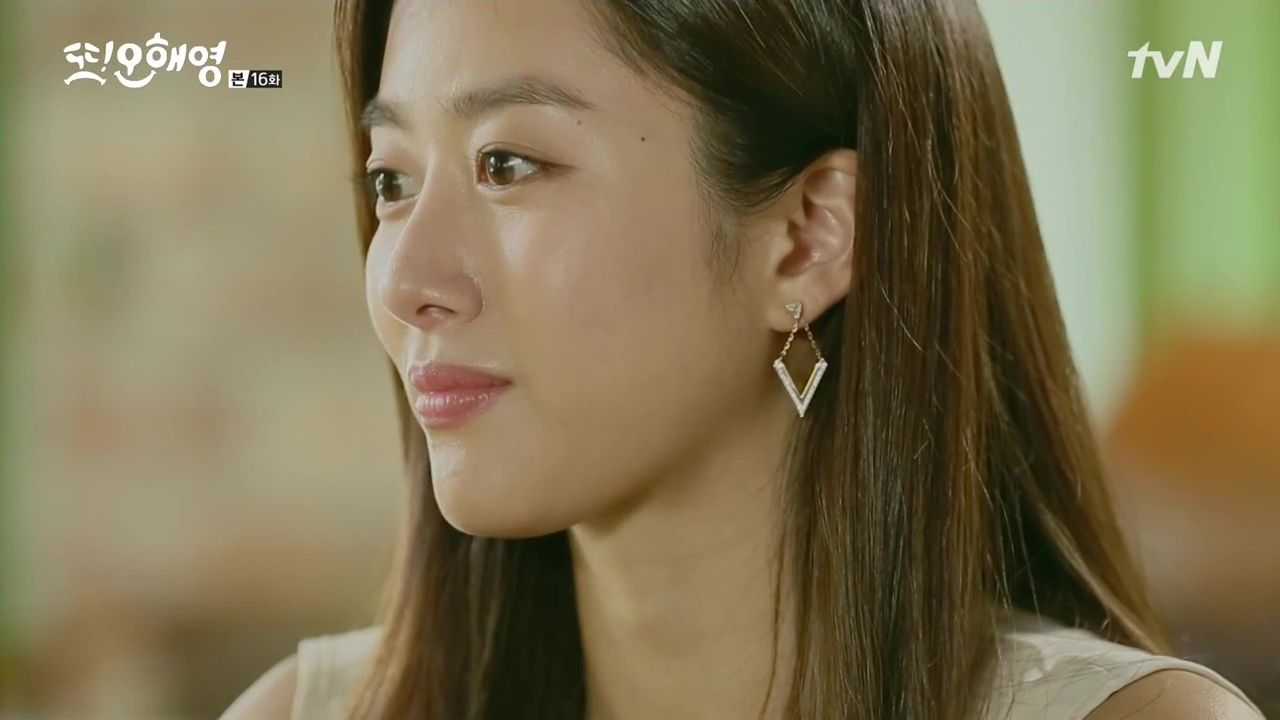 Our Hae-young takes the other Hae-young to lunch, to thank her for saving that letter from the boy. She apologizes for hating the other Hae-young, realizing now that she never personally harmed her — it was the fault of others that they compared the two.
They walk and chat after eating, and out of nowhere, Do-kyung's mother appears and smacks the other Hae-young with her purse. She starts screaming that she ruined her son's life, and our Hae-young pushes her away and threatens to call the police.
When Mom screams Do-kyung's name, that's when our Hae-young realizes who she is, and that she has the wrong Hae-young. She jumps in and says it's not her that's causing Do-kyung's problems, that she's the one seeing him now.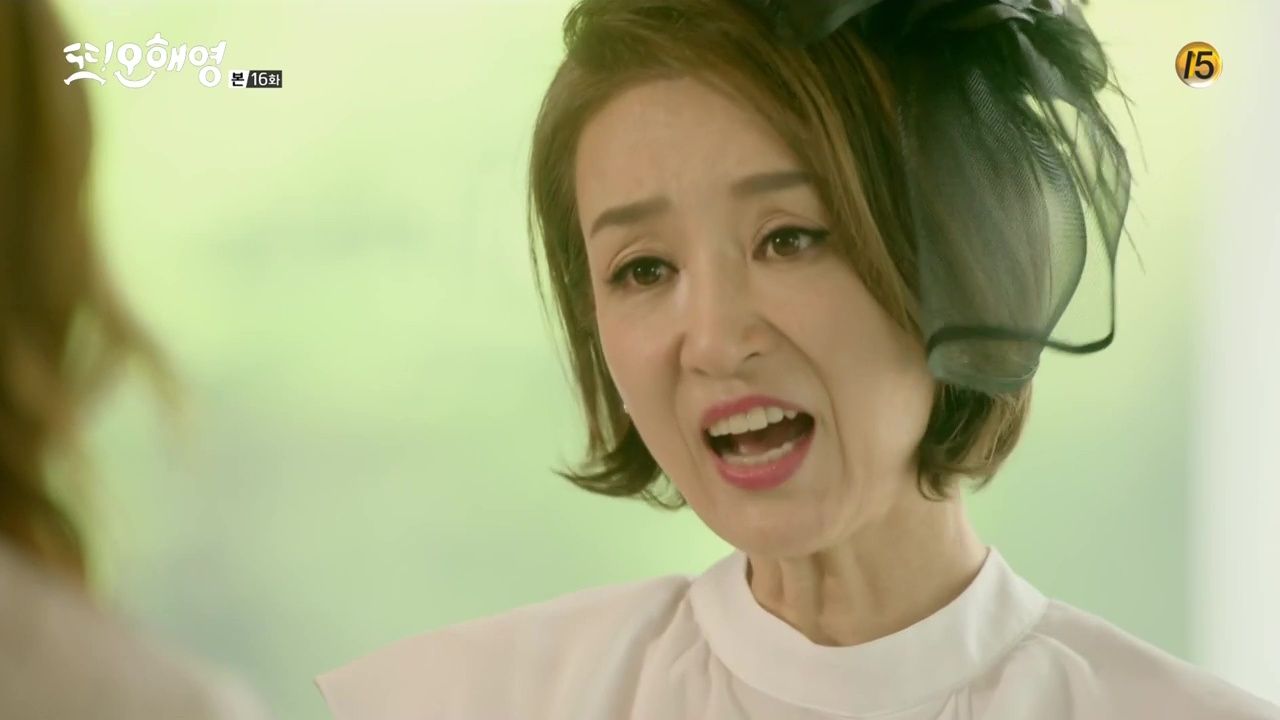 Mom has to draw a diagram to get it all straight, and she immediately turns all her vitriol on our Hae-young. She accuses Hae-young of pitting two men against each other, and tells her to date within her own league. She somehow manages to hit every nerve Hae-young has, and you can practically see her shrivel into herself.
She harangues Hae-young to leave Do-kyung for his own good, and go back to Tae-jin where she belongs. She claims that it's best for everyone, though in truth, she's just hoping Tae-jin will stop his assault on Do-kyung if he gets her back.
As Mom leaves, the other Hae-young confronts her and tells her to stop. She says that a lesser son would have ditched his mother long ago, but Mom just spits that this is all her fault. Hae-young takes the responsibility, but only half — the other half belongs to Do-kyung's mother.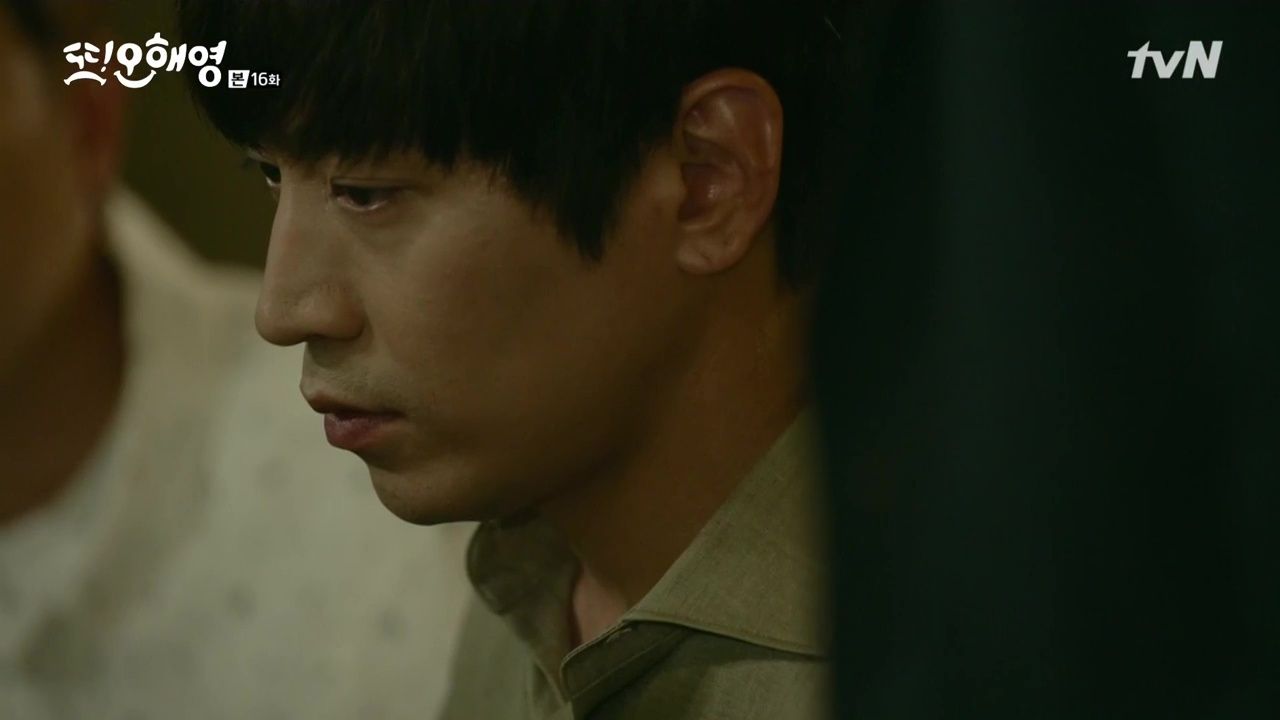 Do-kyung defends his mother to Hoon and his team, saying that it's not her fault they're losing the studio. He tells them that he found them jobs, but to them, that's not the point. They stayed because it was him, because they wanted to learn from him even if he was difficult to work with. Hoon wants to start over with a new studio, but Do-kyung says he won't be able to work for a while.
They don't see Tae-jin watching them drinking from his car, scoffing when he sees Do-kyung laughing. Do-kyung finally spots him, and sees his vision of Tae-jin trying to run him over.
Just to be creepy, Tae-jin comes in and pays triple their bill, then comes over to pour Do-kyung a drink. He tells them to have a nice evening on his dime, and the boys thank him, unaware that he's the reason they're losing their jobs.
Jin-sang grows nervous when he gets home to find Soo-kyung waiting for him, saying that he hasn't made his decision yet. He promises to give her his decision tomorrow, and she says that no matter what it is, she wants to tell him her decision first, and invites him to sit.
She says that anyone can kiss, but no couple will only sleep together once. They've only slept together once, so that means they don't have a shot of making it. She demurely says that she doesn't think she could do it again either, and urges him to go back to his place. She's good, but I'm starting to think she's playing Jin-sang like a fiddle.
She pushes him out with his luggage, and admits that she saw him smoking under the street light yesterday. She doesn't want to force him into fatherhood, and reassures him that she's been planning to raise the baby alone anyway. Jin-sang gives her the saddest puppy dog eyes, but she says that they'll never be a couple just because of one night's mistake.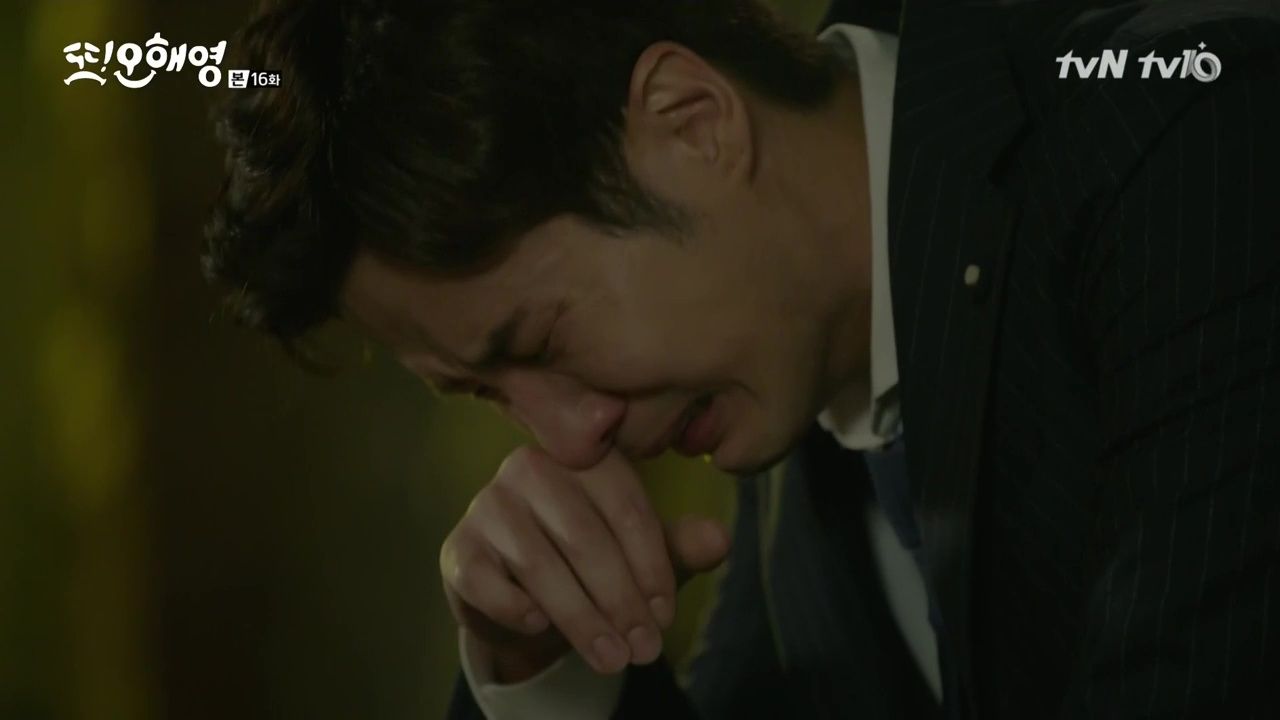 She officially absolves him of responsibility, and actually pushes him away, but he plants his feet and refuses to go. She yells at his back for him to go, now, hurry, but instead Jin-sang starts to cry. He sobs that he's sorry and walks away, though it looks like each step is killing him.
Soo-kyung encourages him the whole way, refusing to let her own tears fall until he's gone. The moment he turns the corner, Jin-sang drops his luggage and really breaks down.
Tae-jin arrives at his hotel room to find Hae-young waiting for him. She refuses to go inside with him, but he pushes the issue, and she needs to say something. She reminds him of how he said he couldn't stand to watch her eat, and says that he gave her a death sentence that day.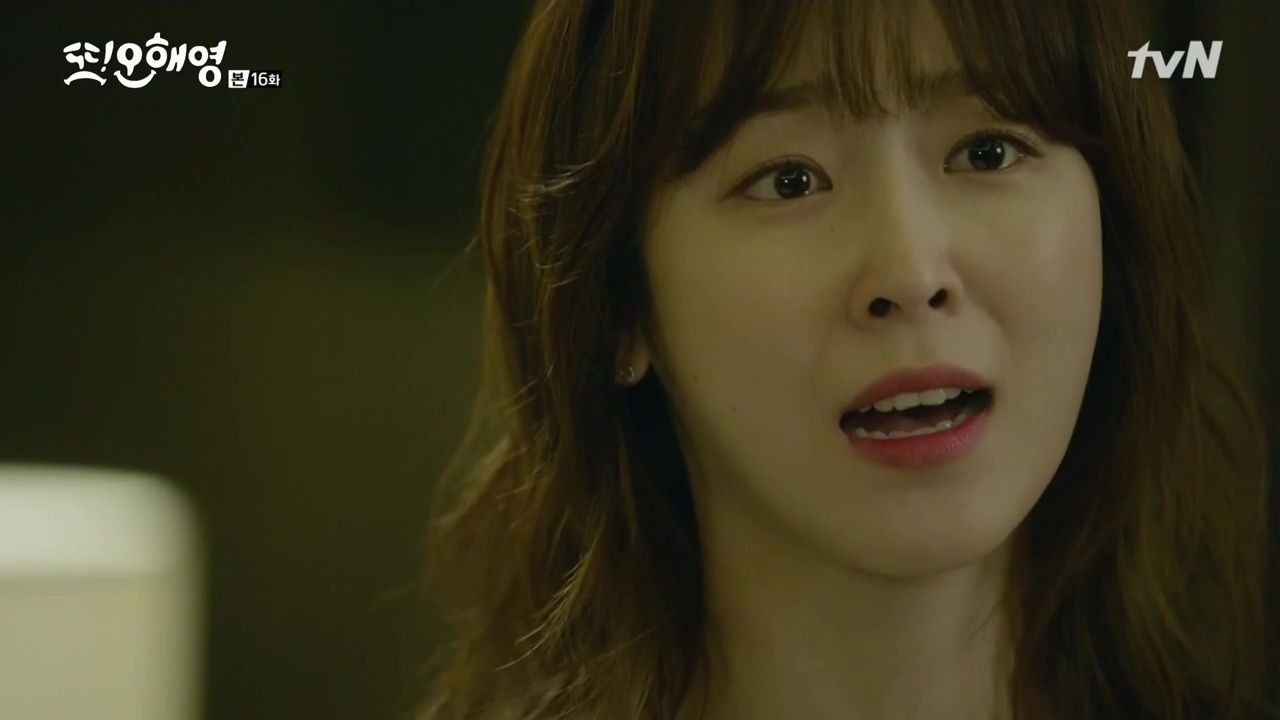 She'd wanted to die, and thought about how to kill herself, deciding to make it an accident so that nobody would know she did it on purpose. But then she thought he'd tell everyone the truth about their breakup at her funeral, so she tried her best to stay alive.
She rejects his claim that he did it for her, because she had to even force herself to breathe afterward. Tae-jin says that she would have insisted on waiting, but Hae-young insists that it was her right to decide for herself. He says he didn't want to pressure her, but she points out that he hurt her badly anyway.
She says that she actually felt relieved when she learned he was in prison, because it meant that she wasn't undesirable. "Don't say you're having your revenge on him because he took away the woman you loved. You never loved me. When I was struggling, he took care of me. I was able to go on because of him. I'm still alive because of him!"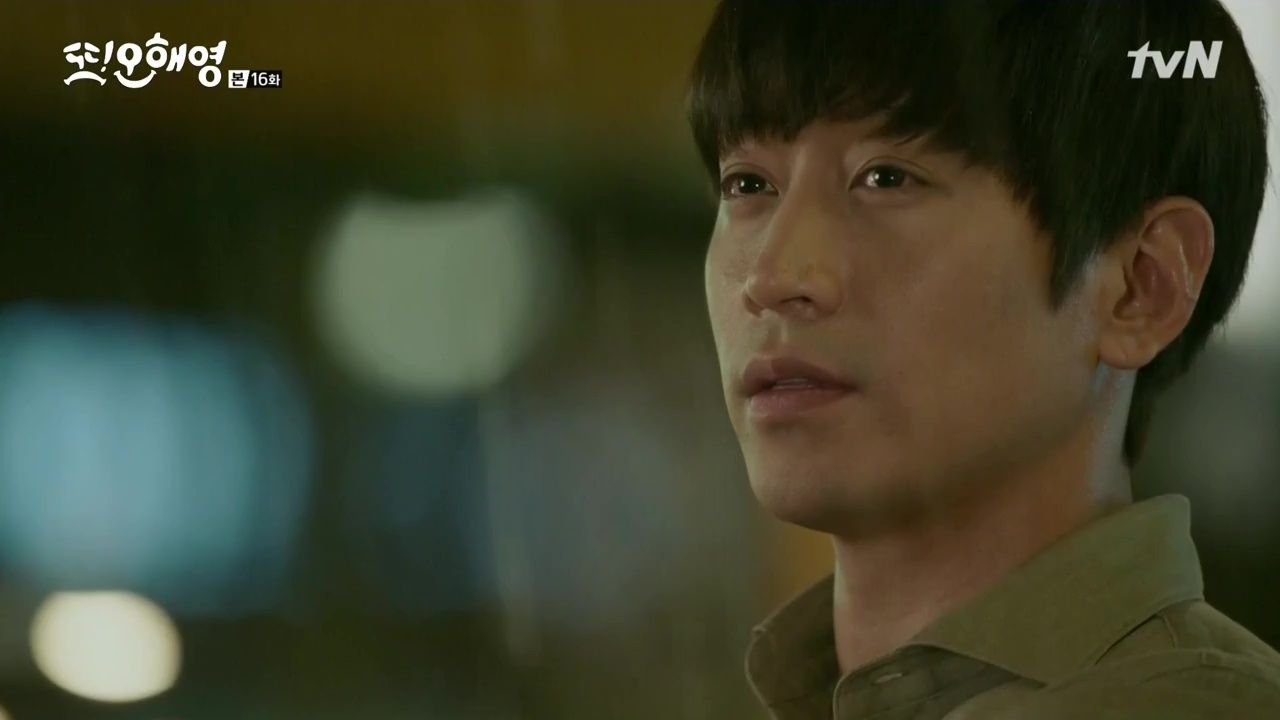 Tae-jin spits that Do-kyung only took care of her out of guilt, but Hae-young already knows she fell in love first. She was the one who begged him to like her back, and she was the one who forgave him for ruining Tae-jin's business.
Tae-jin scoffs at Hae-young, calling her crazy, and he tells her to leave. But before she goes, she says that he can make Do-kyung bankrupt and get his revenge, but tells Tae-jin to stop hitting him. Tae-jin looks chastened for once.
Do-kyung and the boys are still drinking, and there's lots of drunk crying going on by this point. Do-kyung just laughs at them and heads out into the rain, buying a couple of umbrellas then waiting outside Hae-young's building to walk her home.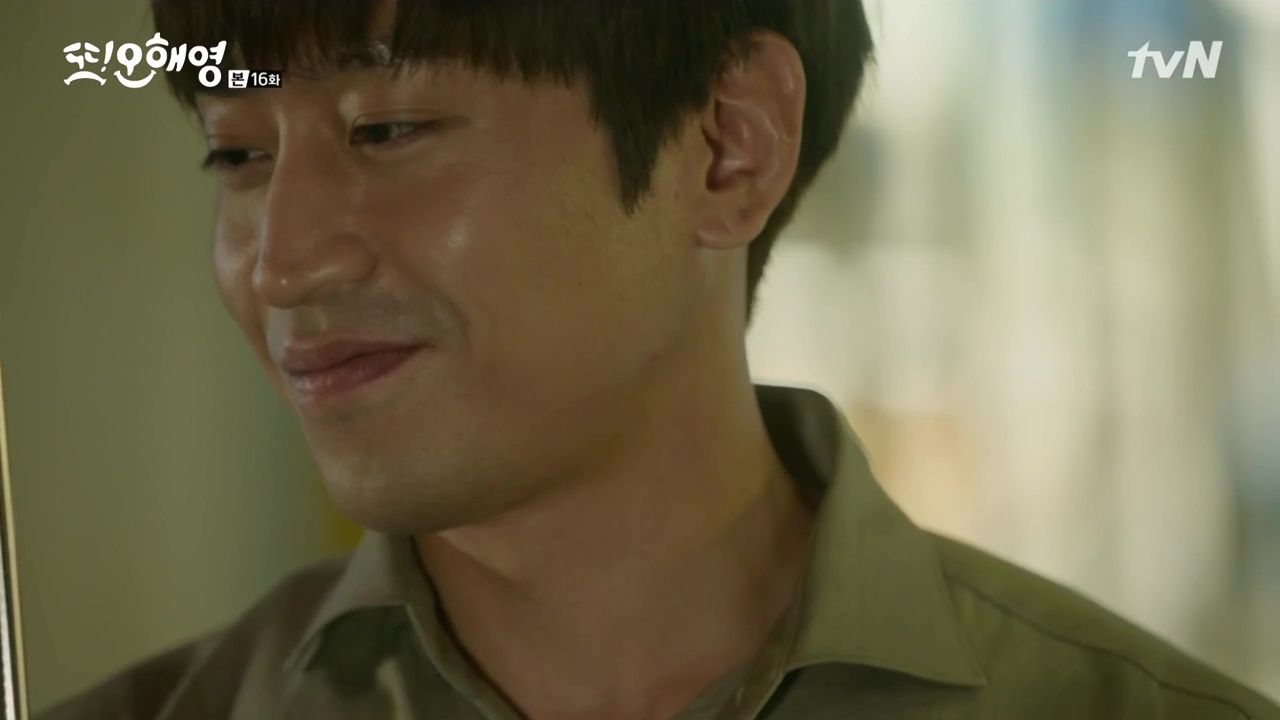 Hae-young has her taxi drop her off at the rear entrance since Do-kyung thinks she's working late, and she gets grumpy when she sees that he brought two umbrellas. Do-kyung doesn't say anything, but he gives his umbrella to an older man who needs one, and comes back to share hers. Hae-young jokes that he just saved himself from being beaten up with an umbrella tonight, ha.
Do-kyung interrupts to ask if he can speak, but it takes him a moment to get the words out. "I love you." Hae-young stops and stares at him, then she smiles at him. He snuggles her closer and they keep walking, as Hae-young thinks that they finally have their happy ending.
But Do-kyung doesn't look as happy, as he thinks to himself, "Let me be happy a little bit longer. A little bit longer."
COMMENTS
This episode brought a lot of character growth, from almost all of its characters. Hae-young and Do-kyung especially impressed me, and for the first time I felt like they could actually come out of this the better for being together. Do-kyung is stepping up and accepting the punishment for what he did to Tae-jin, realizing that whatever Tae-jin does to him, he deserves it. He may not know yet that it wasn't actually his request that caused Chairman Jang to pull his investment (and no, I don't believe Jang's flip-flopping on the subject at all), but the facts are that it was Do-kyung's intent to ruin Tae-jin. No matter how it actually happened, he still acted to make it happen, and for that he deserves to suffer the same.
Hae-young also showed growth, in the way she reached out to the other Hae-young. I actually think they could be friends eventually, if they both want to give it a shot. It was big of her to recognize that the other Hae-young carrying that letter around for so long was an act of contrition, and how much it had to pain her to return it and admit her jealousy. I don't think that our Hae-young is glad the other Hae-young was jealous, but I do think that knowing the jealousy went both ways is helping her resentment of so many years cool down.
I don't really blame Jin-sang for taking a while to decide what to do about Soo-kyung and his baby, to be honest. Being a parent is a huge change, especially for someone who is used to living a carefree life. He's being offered the chance to turn down the responsibility with no negative consequences, and I can see how that's a very attractive option for him. Not only am I not condemning him for taking a lot of time to think, I actually respect him more for it — he could have just grabbed the easy option and gotten away scott-free. Instead, he's really considering what's right for everyone, giving the decision the appropriate thought it deserves, and not jumping to grab the easy out. It's easy to say that he's being immature and wishy-washy, to interpret his hesitation as him being indecisive and unwilling to accept responsibility. But I feel the exact opposite about it — I think he's being very responsible, by making sure that once he makes a decision, he's fully committed and ready to accept whatever consequences his decision brings.
On the other hand, I think I'm onto Soo-kyung — she's not really letting go of Jin-sang, she's just playing a long game. She keeps playing it so coy, that if they have hope of raising a child together they should kiss. And if they kiss, they should be able to sleep together. She's not testing them both like she claims, is she? She's leading Jin-sang gently into a relationship. I think she knows that any direct approach would send Jin-sang screaming into the night, and she knows that the best way to convince him to commit is to sneak up on him sideways. So instead of trying to push him, she's applying reverse psychology, slowly but surely maneuvering him into a place where he realizes how empty his life will be without her. It's actually pretty brilliant.
Until recently, I've thought the theory that Dr. Park is a figment of Do-kyung's imagination to be interesting, but I didn't really think it was true. Now I'm changing my mind, because as I think about it, who else have we seen Dr. Park with? Only a nurse and another doctor, who could also be people Do-kyung's mind conjured up to lend validity to Dr. Park's existence. When he went out of his office to find Do-kyung, there wasn't another soul either on the street or in the restaurant with them. And isn't it interesting that Dr. Park has the same family name as Do-kyung? I've also noticed that in their so-called sessions, Do-kyung rarely talks… Dr. Park "repeats" what Do-kyung supposedly just told him, but we never see Do-kyung telling him any new information. Almost as if he already knows.
And the more I think about it, one thing really stands out to me as inconsistent — for a man as intensely private and unwilling to talk about his problems as Do-kyung, doesn't he seem like the last person who would seek out therapy? More likely, he would bottle up his worries so much that he actually creates an internal persona to help him "talk" about his problems. And when that persona gets stumped, here comes another one to help him work things out, and it's interesting that that person just accepted their theories so easily and kept saying that Do-kyung already knew what to do. How would he know, if he'd only just met Do-kyung? Do-kyung is already seeing visions, it's not that much of a stretch to think that Dr. Park is just a different sort of vision, especially if none of this is real and just something Do-kyung is reliving as he's dying. The more I think about it, the more it seems possible that the good doctor is just Do-kyung's way of moving deeper into his own psyche to try to figure out what's happening, and how he can solve this riddle. Of course, I could just be full of it, but the more I think about it, the more I think the show is almost certainly Fight Clubbing us.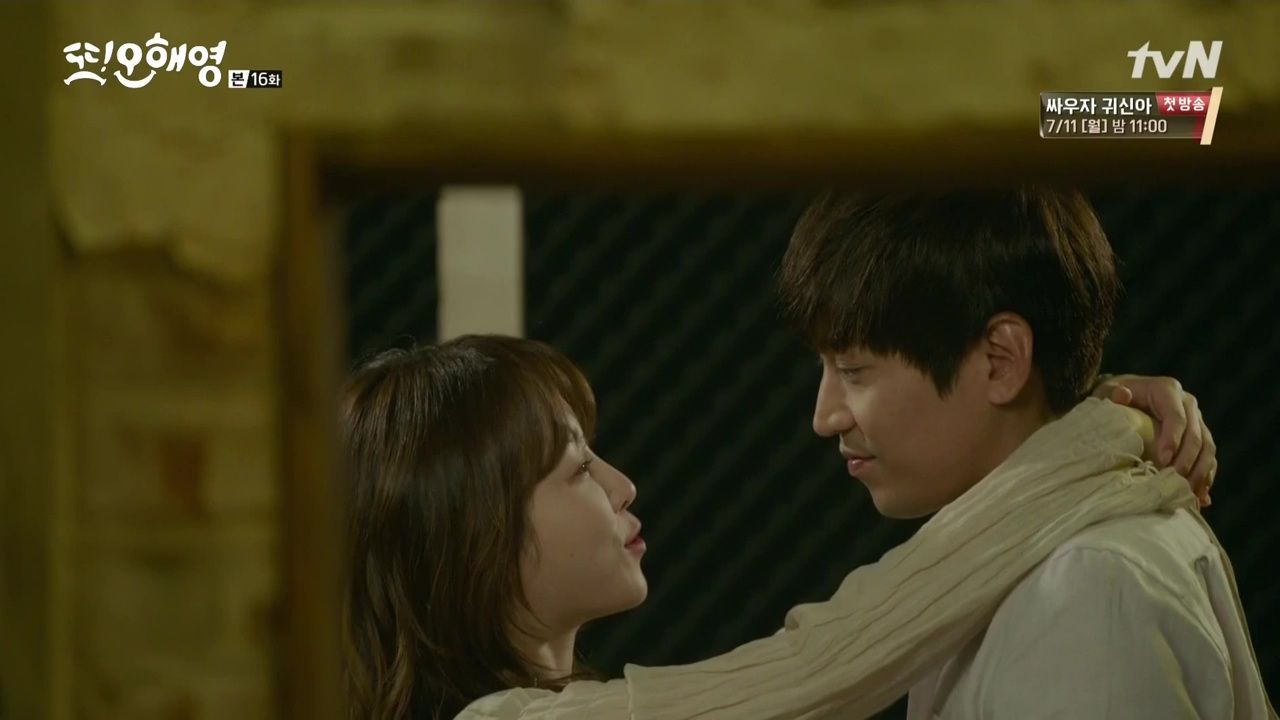 RELATED POSTS
Tags: Episode 16, Eric, featured, Jeon Hye-bin, Oh Hae-young Again, Seo Hyun-jin