Oh Hae-young Again: Episode 18 (Final)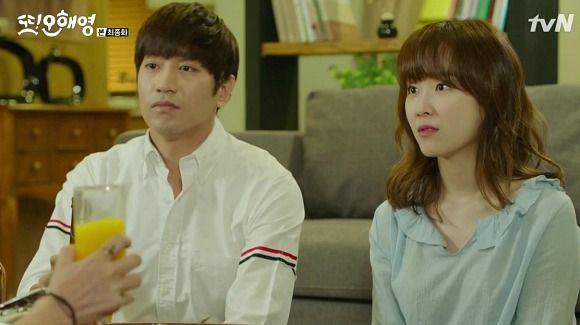 Do-kyung has learned some very important lessons in his journey, the most important being that happiness is a decision you make, and that every choice has consequences. The choices aren't necessarily right or wrong, but the decisions you make determine what kind of life you will live. You can choose fear, or you can choose love, but which will you regret as you lay dying?

EPISODE 18 RECAP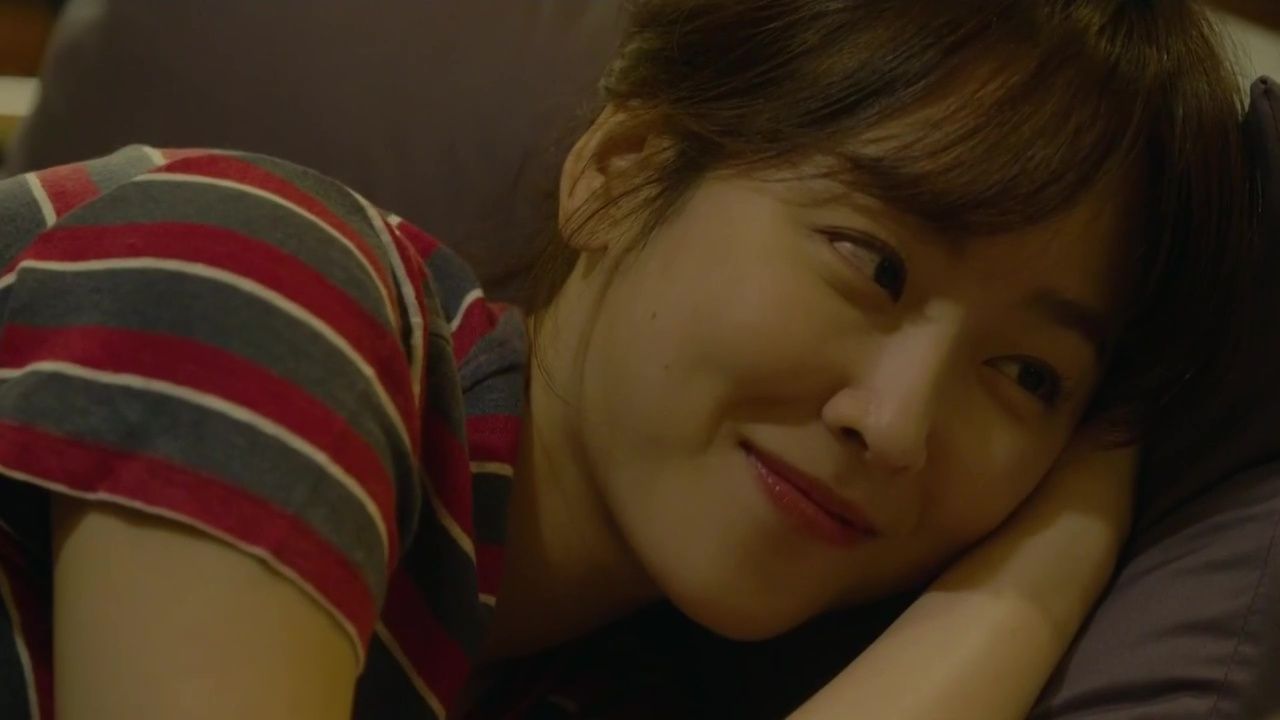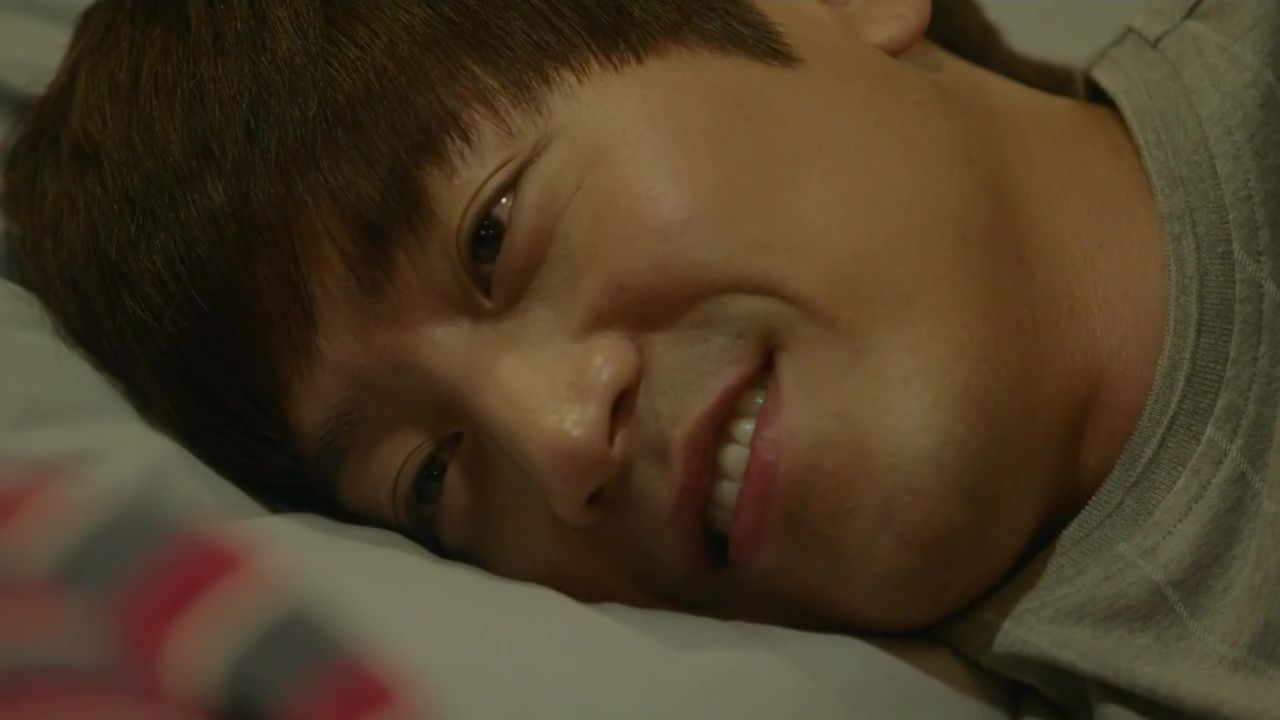 Do-kyung and Hae-young spend all of their time at Do-kyung's place, basking in their love, and Hae-young narrates that now that she believes him, she feels at ease. Knowing that the world she sees isn't all there is makes her feel part of something bigger, and it comforts her.
At one point they watch a television interview of Lee Byung-joon, the singer who was slated to die the same day as Do-kyung. He's asked to say something to his fans, and he looks directly into the camera as he says, "I'm alive because of you. Thank you."
They don't leave Do-kyung's house until June ends, and they go directly to Dr. Park's office. He's a little overwhelmed to meet the woman from Do-kyung's visions, and he tells Hae-young that everything Do-kyung experienced was true.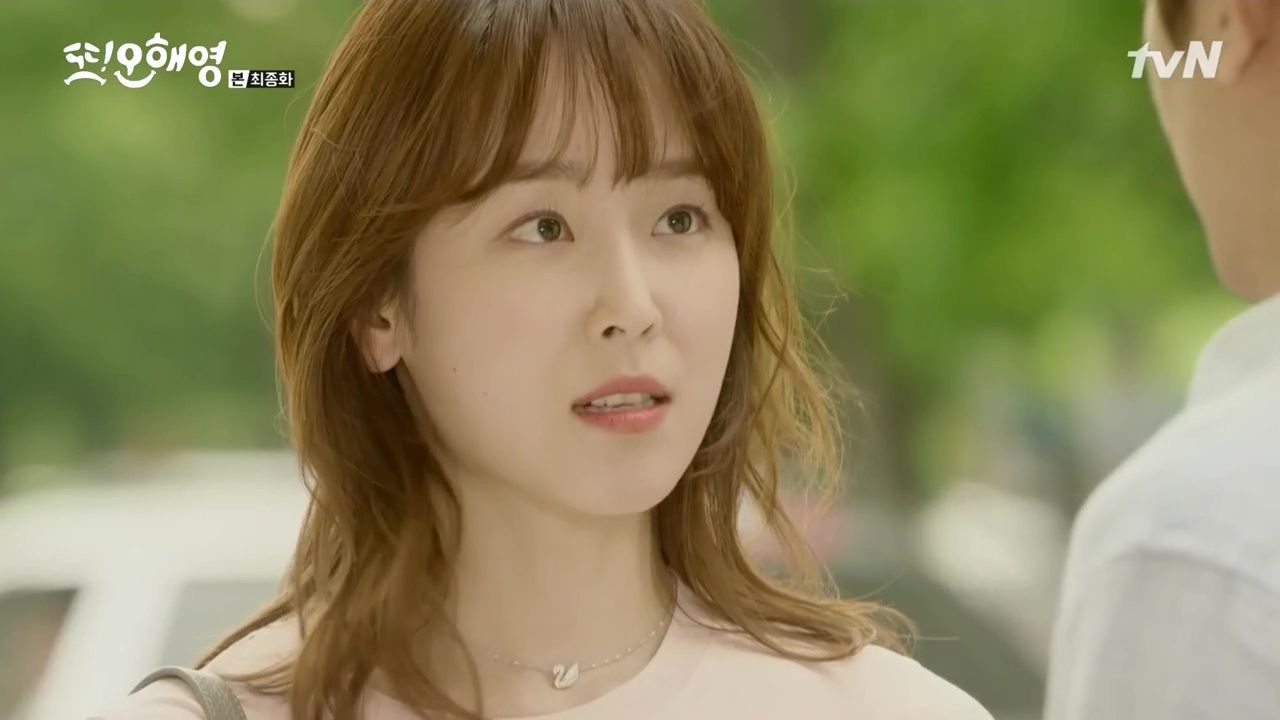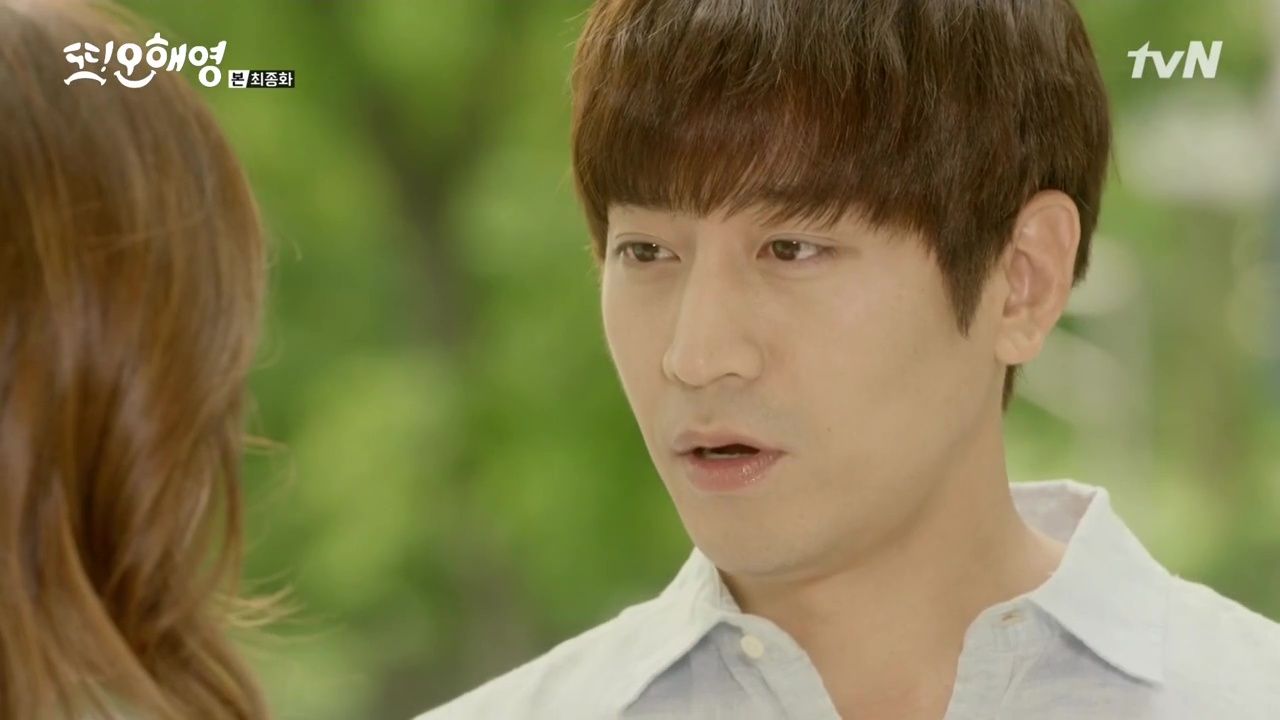 They also visit the older doctor, who says that seeing the future is possible, but it doesn't mean all visions come true. Do-kyung reports that he's not having visions anymore, and Hae-young is hopeful that they can relax that he won't die soon, but the doctor says that nothing is ever sure. Everyone dies eventually.
On their way out, Hae-young proposes that she and Do-kyung move in together. She hates knowing that he's been living in fear, alone, and wants to be with him all the time. Do-kyung says that he was never scared, and promises that instead of moving in, he'll propose to her.
Just as Hoon and the ducklings are finished moving their equipment to the new studio, they get the call that the old studio has been released back to them. They're thrilled, but they whine when they realize they have to move all that heavy stuff again, ha. Hoon is so relieved he looks ready to cry.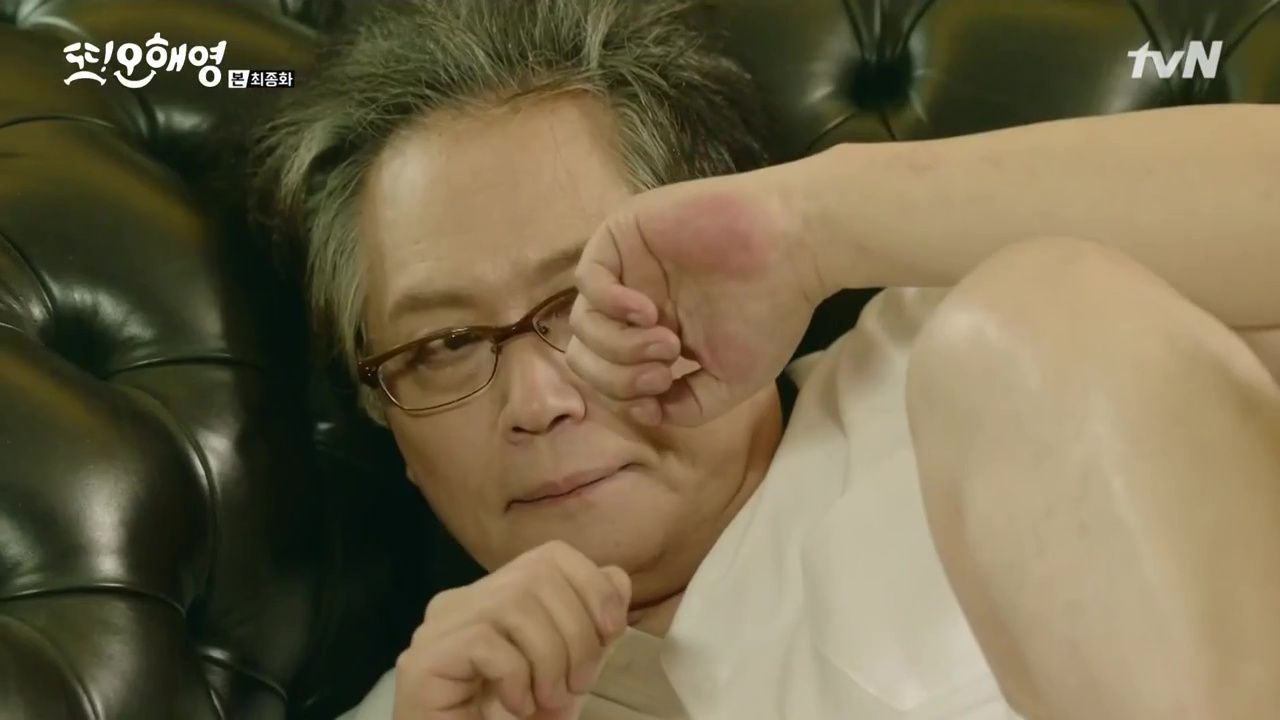 As Do-kyung watches the red stickers being removed from his property, he gets a text from Tae-jin. It says that he's done nothing wrong, and wishes him to live with ease and stay away from Chairman Jang.
Tae-jin also breaks ties with Jang, who calls after him that he's not suited for business. Tae-jin sees Do-kyung's mother forcing her way into the building, but he doesn't interfere.
She goes up to Jang's suite to yank on his hair for messing with her son, and she's so terrifying that even Jang is a quivering lump in front of her. She says that his money is useless when he never even leaves the house, and entertains himself manipulating young people. She threatens him not to give her a reason to come back here again, and he meekly agrees.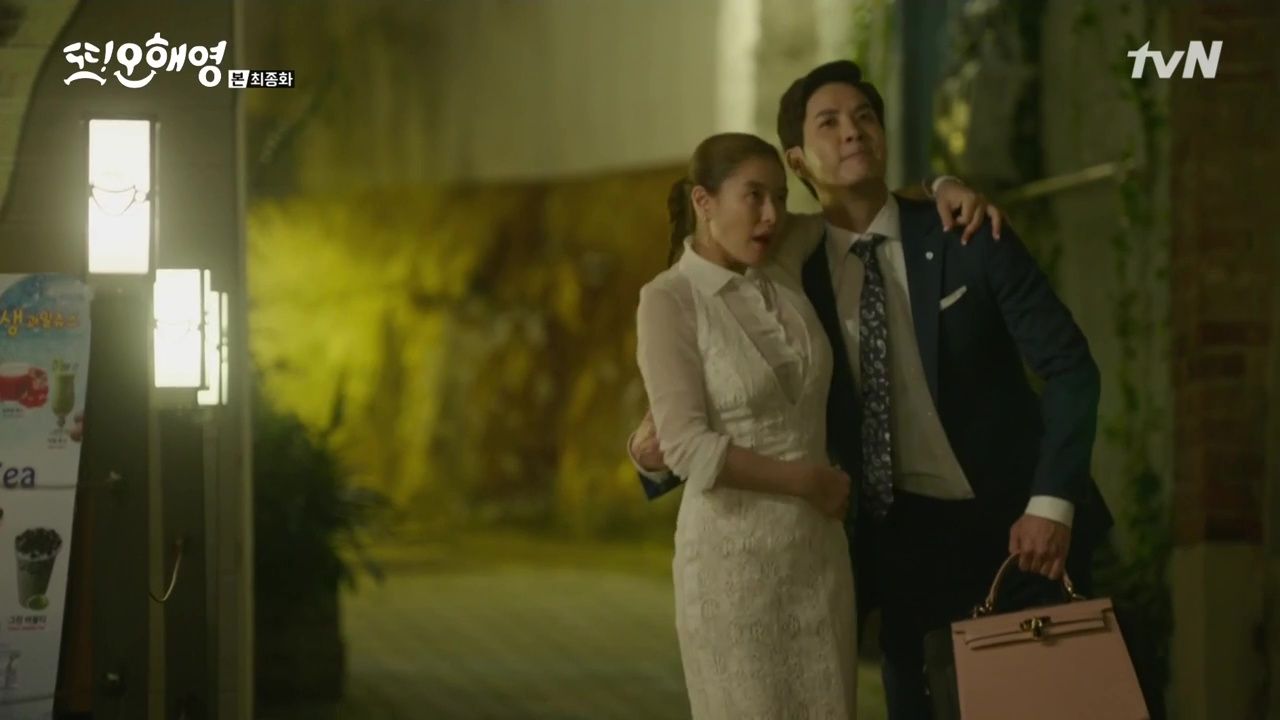 The neighborhood ladies are happy to see Soo-kyung step off the bus these days, but their job has been usurped… by the baby's father. They're a little shy around each other, but Jin-sang walks Soo-kyung home, slowly, even carrying her purse for her. So cute.
Jin-sang is dying to put his arm around Soo-kyung, but he can't bring himself to touch her, so he just ends up flailing his arm around uselessly. He finally takes her by the waist, and she nervously returns the gesture, but they both look painfully awkward.
Still, they're reluctant to let go when they arrive home. Soo-kyung starts to head to her room when Jin-sang gets a burst of courage, and he grabs her hand, spins her around, and into his arms. Then he looks like he has no idea what to do with her, ha.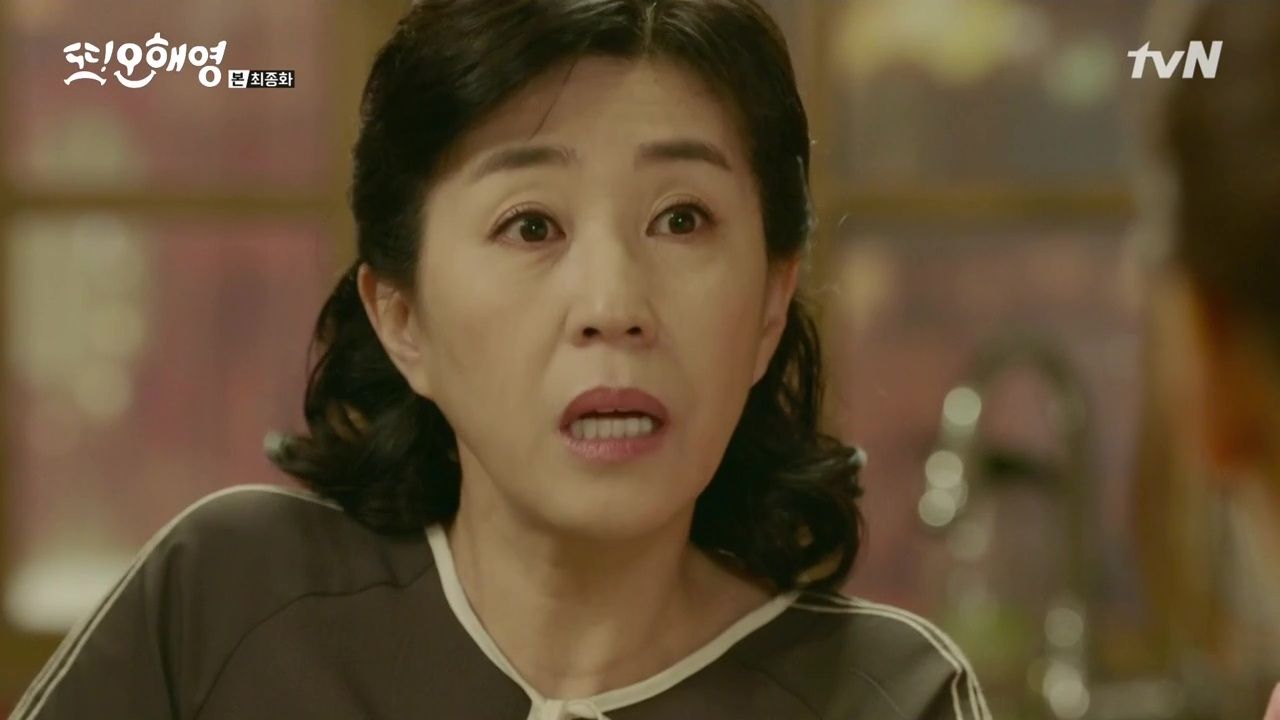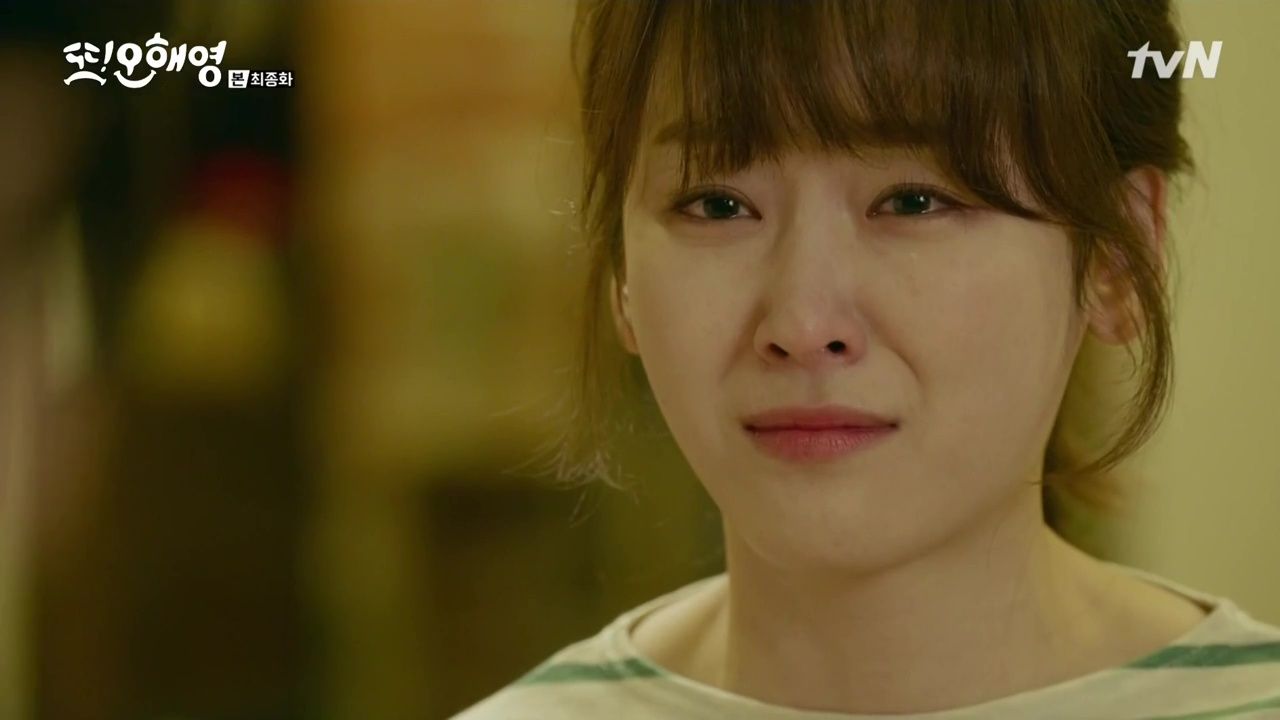 He ends up half-dumping her on her butt, and when she finally makes her way to her room, Jin-sang spends the evening wondering why this thing is so difficult. He storms over to Soo-kyung's room, yells out a Goodnight!, and stomps back to his room to sulk.
Hae-young gets teary-eyed at dinner and tells her parents that she wants to marry Do-kyung. Mom just waves at her to go, now, and starts to clean up her dinner before she's even finished. Hae-young packs her things, and poor Dad looks torn between his two girls.
Hae-young begs her parents that they have to tell Do-kyung she has their consent, or he'll never agree to this. Mom finally relents and Hae-young jumps up before she can change her mind, and they all head over to Do-kyung's place.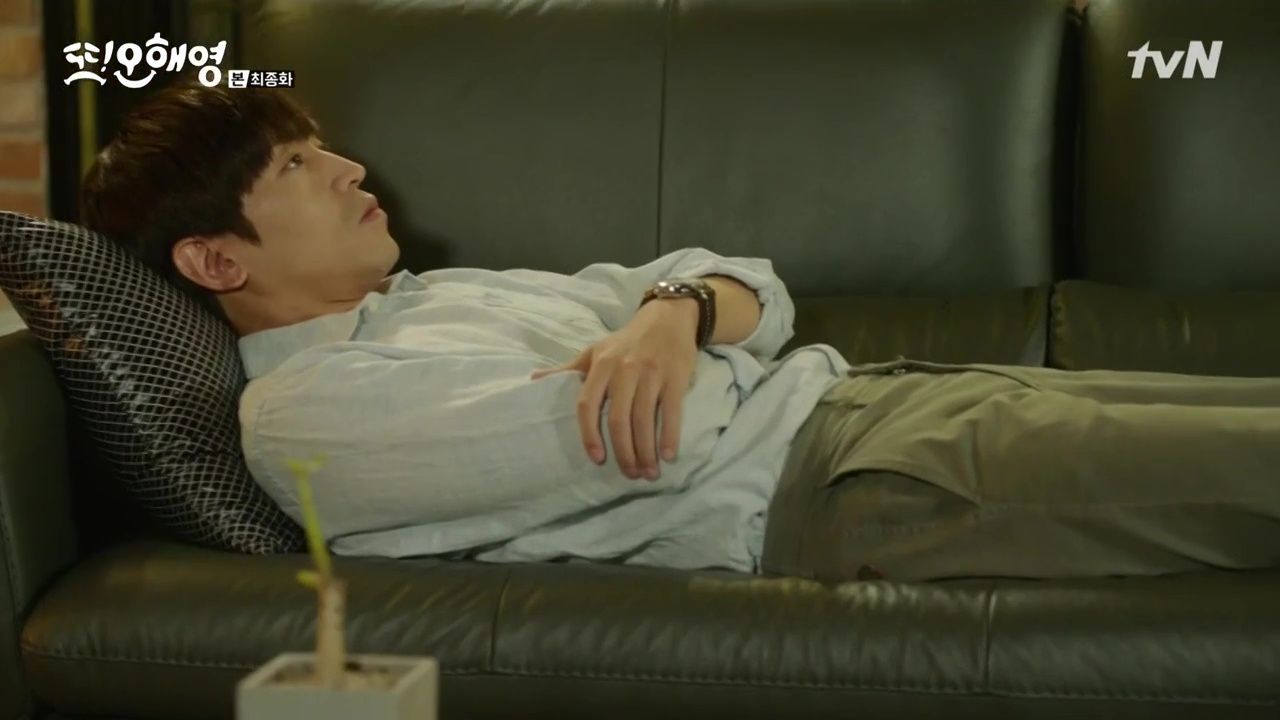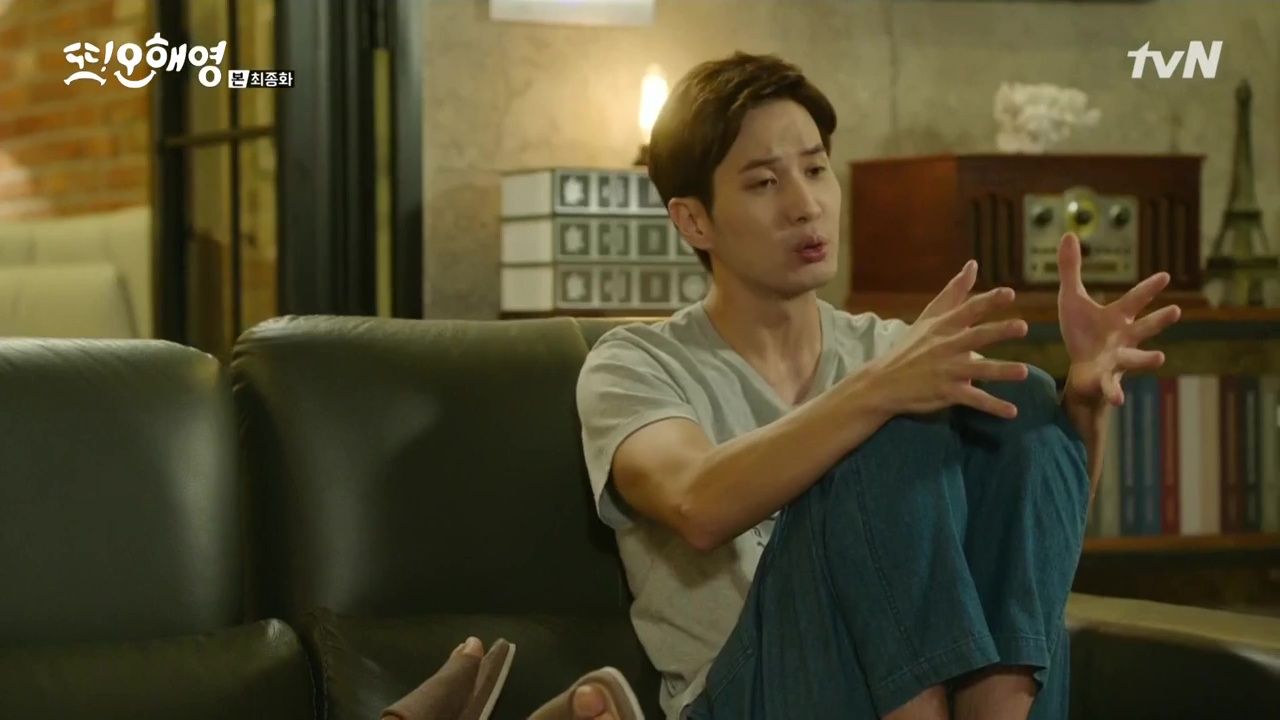 He's currently listening while Jin-sang explains that he finally realized how he feels about Soo-kyung… he respects her. HAHA, he says this like it's the most upsetting thing ever. The problem is that he respects her so much he feels awkward even touching her.
Do-kyung just starts berating himself for telling a woman who wants to live with him that he'll propose instead. He didn't really mean it — he wants to live with her, but he's sliding back into his old ways, saying things he doesn't mean. "How many times do you need to come back from death to come to your senses?!" He jumps in his car to go after Hae-young.
She and her parents are on the way to his place, Hae-young begging Mom to look happy about this. Mom just mutters that Hae-young is being ridiculous, making her cry again.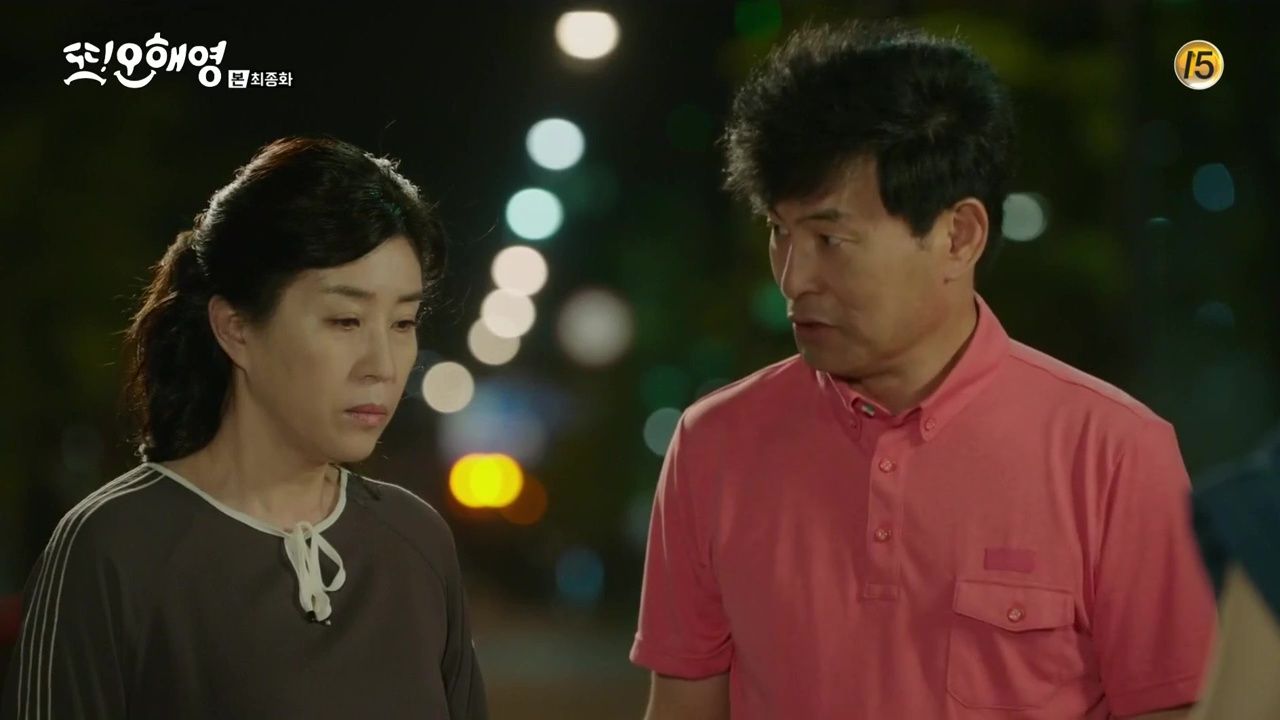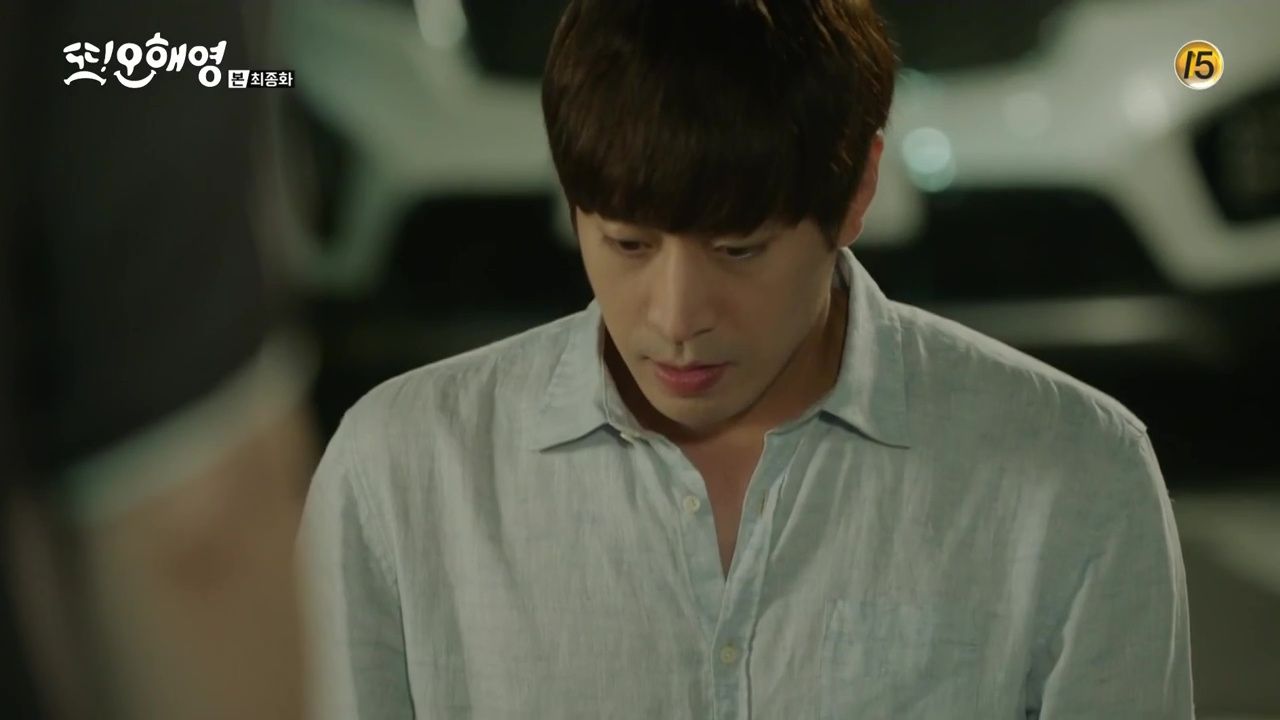 Do-kyung accidentally turns down a one-way street and finds himself in front of the family's taxi, but luckily Dad recognizes him. They all step out of their cars, but before anyone can say anything, Do-kyung hits his knees in front of Hae-young's parents and asks their consent to marry her. Whoa.
Dad gratefully thanks him for speaking up first, and says that they've already given consent. Mom tells them to go live together from now on, and not to wait too long to get married. She urges Do-kyung up, and gives him a hug. Awww, Mom.
As Do-kyung backs out and the taxi moves forward, Dad looks at Hae-young with so much love in his eyes, it's lovely. Hae-young silently begs Mom to look at her, and she finally does just as they're driving off.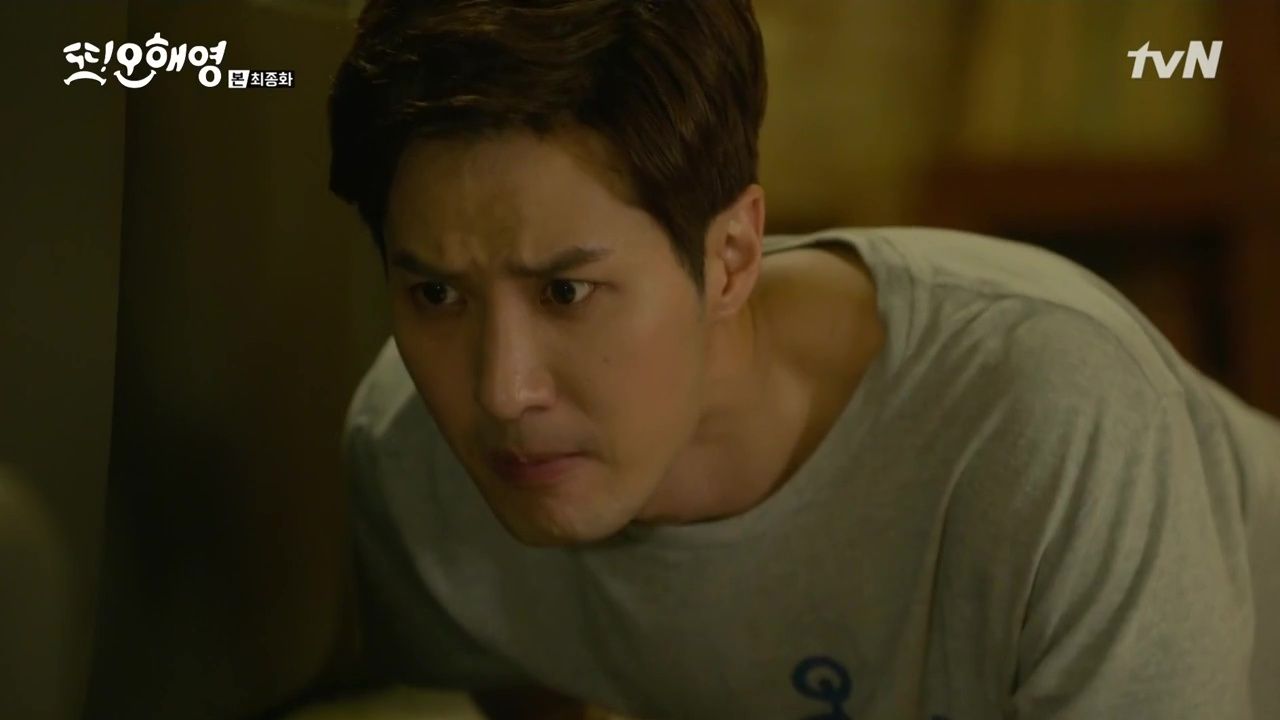 Hae-young wastes no time attacking Do-kyung once they get home, and she jokes about how frustrated she's been sleeping alone at her parents' place every night. Ha, as they canoodle on the couch, we see that Jin-sang is still there, hiding and looking for a way out.
He'd been there waiting for Do-kyung to return, and had scrambled around as Do-kyung and Hae-young necked all over the house, barely avoiding being seen. He texts Do-kyung that he's stuck behind the couch, but Do-kyung's phone fell out of his pocket while Hae-young was ravishing him, and poor Jin-sang is stuck.
They're interrupted when Soo-kyung knocks on the door, and Hae-young pretends to be just leaving — they'll tell her about their new arrangement tomorrow. Soo-kyung is looking for Jin-sang, and points out that his shoes are here, which is when they realize that he heard and saw everything.
He sheepishly stands from behind the couch and slinks out with Soo-kyung. Before he goes he congratulates them, then says that starting tomorrow they're going to… something. But it's okay, because they have consent. HAHA.
Do-kyung warns him not to sneak over here again, but Jin-sang defends that he was here from the beginning! Um, that's not better. He gets upset and says that he saw everything, everything, and starts to describe it all to Soo-kyung. OMG, please stop talking.
Soo-kyung takes Jin-sang out for a walk and advises him to reveal himself sooner next time. She uses him as a post to stretch on, which makes him way uncomfortable, especially when she slings a leg onto his shoulder.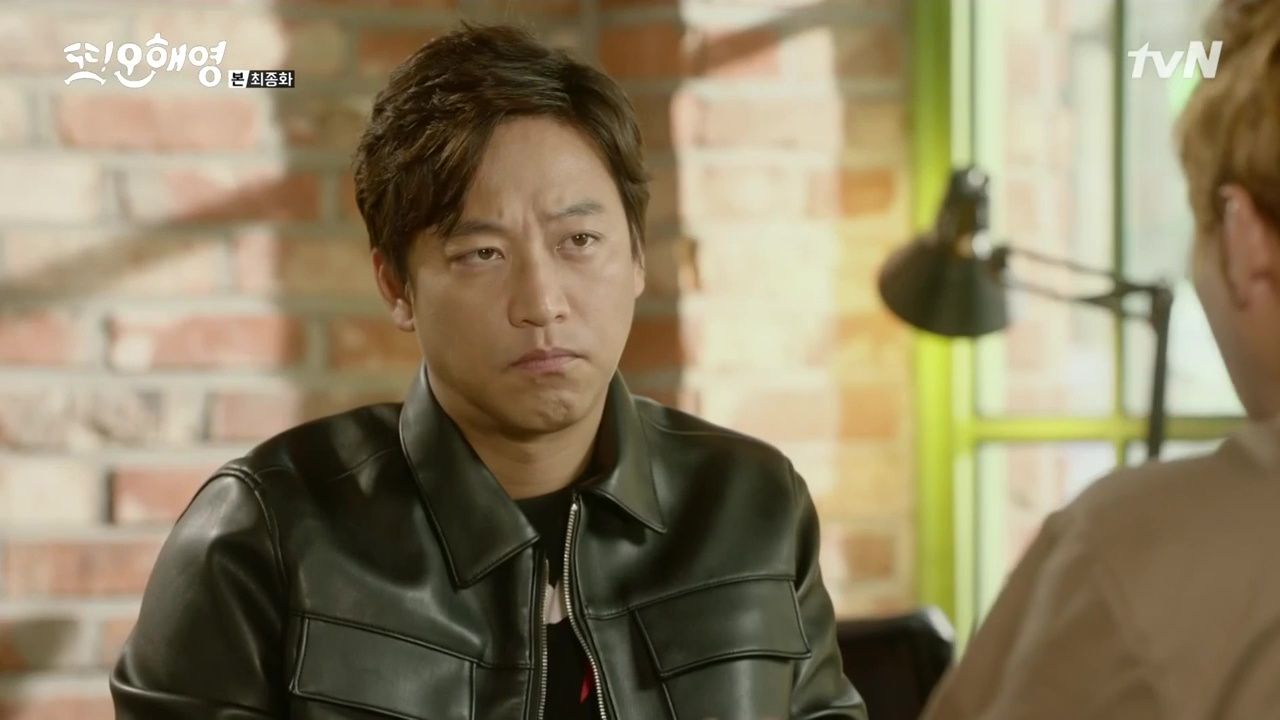 An-na nervously waits for a regular customer to come into her coffee shop, and hey, it's Oh Man-seok! An-na rattles off his complicated coffee order, and calls Hoon over with his script. Man-seok tosses the script on the table and tells Hoon to just describe it, and he'll see that way if he's good with words.
Hoon takes a deep nervous breath, and totally kills it. His eyes are fiery and he grows emotional as he tells Man-seok the story, and it works. Man-seok says that Hoon and his girlfriend seem full of energy, and agrees to star in the show. Hoon: "You're so awesome." Oh Man-seok: "I know."
Hae-young calls Mom to ask if she'll be there when Hae-young formally meets Do-kyung's mother, but Mom says she's thrown her away — why should she care? Hae-young asks why Mom can't just be nice, and Mom is all When was I ever? Good point.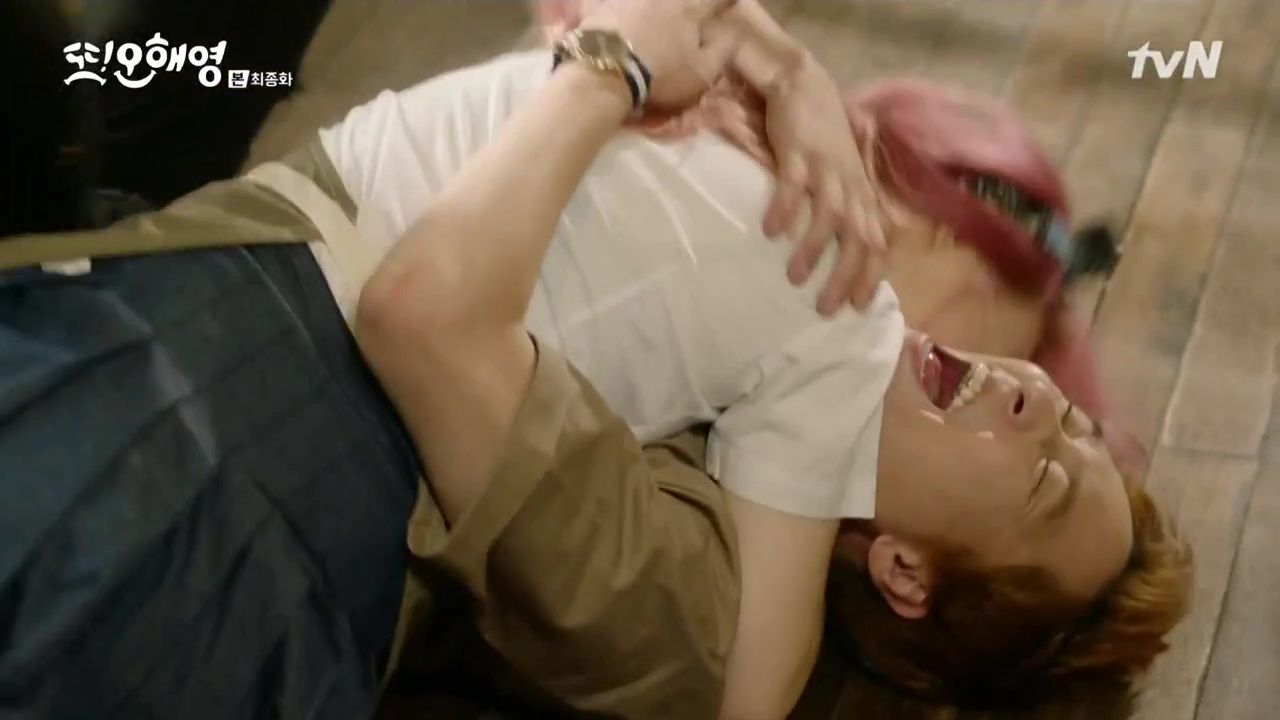 Mom may not be ready to come around, but Dad calls Do-kyung, who hilariously stands and bows even though he's just on the phone. He has Do-kyung write down a list of ingredients which are good for your health, and hangs up. Hee.
Hee-ran meets with Hoon, and An-na takes over the conversation, making Hoon blush with her compliments. Once they're alone Hoon announces that he has something really embarrassing to say… "I love you." An-na returns the sentiment with a squeal, and Hoon dramatically leaps into her arms. So silly, these two.
Do-kyung and Hae-young officially announce their marriage plans to Soo-kyung and Jin-sang, not that it's really a surprise. Jin-sang makes his own announcement, that he and Soo-kyung are dating, and Hae-young does a spit-take to learn that Soo-kyung is pregnant.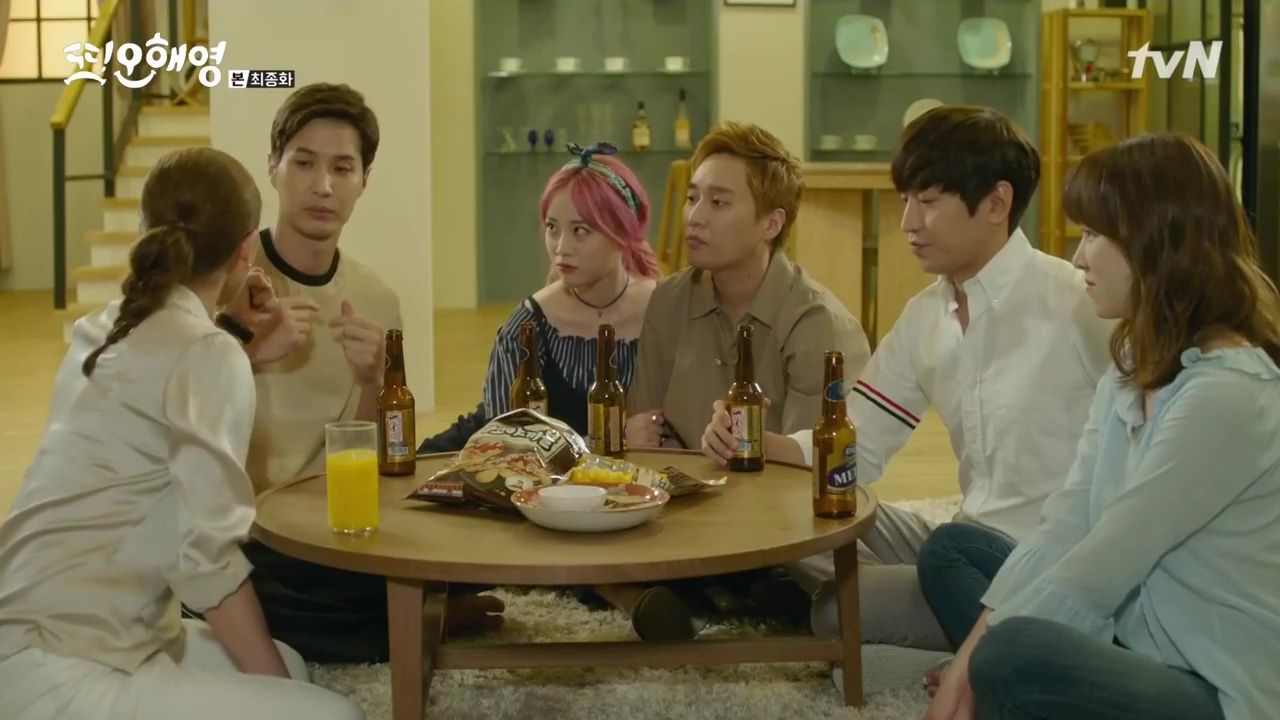 Soo-kyung is surprised that Hae-young has her parents' permission to live with Do-kyung, though Hae-young points out that she and Jin-sang are living together too, technically. An-na and Hoon come sailing in to tell everyone they love each other, and An-na is mostly excited that Hoon can now fart openly in front of her, heh.
Jin-sang wonders how that's a thing, and Soo-kyung narrows her eyes at him, telling him there are steps to follow. Jin-sang pouts that he and Soo-kyung are the only ones in the room who haven't declared their love, but Soo-kyung tells him not to say it until he feels it.
Jin-sang deflects attention by throwing Do-kyung and Hae-young under the bus, announcing that they're living together, which is their cue to go upstairs. They find a care package of food from Mom, with a note "To my future son-in-law." Awww.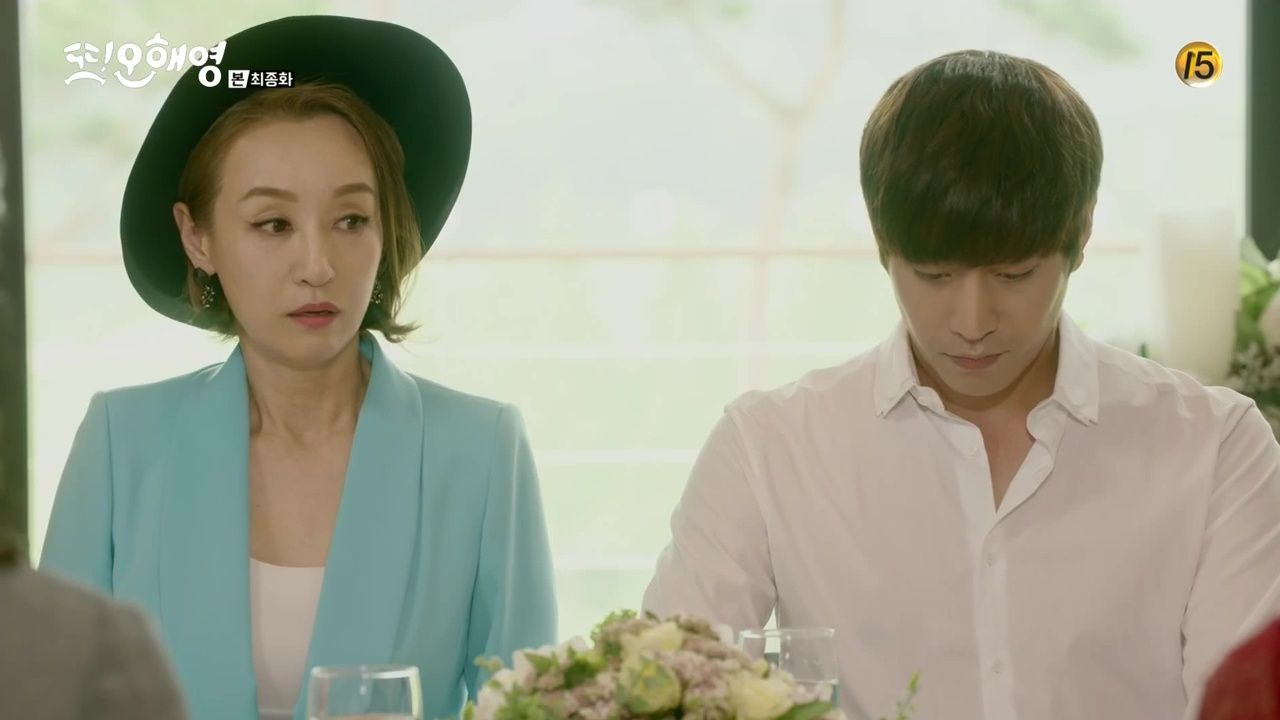 She apologizes for not eating with him more often so she'd know what he likes, but she remembers what he ate those two times they did have a meal. She made all of those side dishes for him, which is so sweet. The note goes on to say that she thinks people marry out of loyalty more than love, but she hopes that they stay together for a very long time.
Mom does show up for lunch with Do-kyung's mother, who immediately tattles that they're living together. Mom deadpans that she's the one who dropped Hae-young off, and Do-kyung betrays a tiny smile. Do-kyung's mom snarks that Mom is "so American-minded," but Mom says that they won't always feel as in love as they do now, and some people never get to feel that.
She looks at Do-kyung as she says that she doesn't want them to be embarrassed, and just to be happy. Do-kyung's mom gets nasty as she says that people won't see it that way, especially considering how they met, and Do-kyung finally speaks up that he asked Hae-young to move in.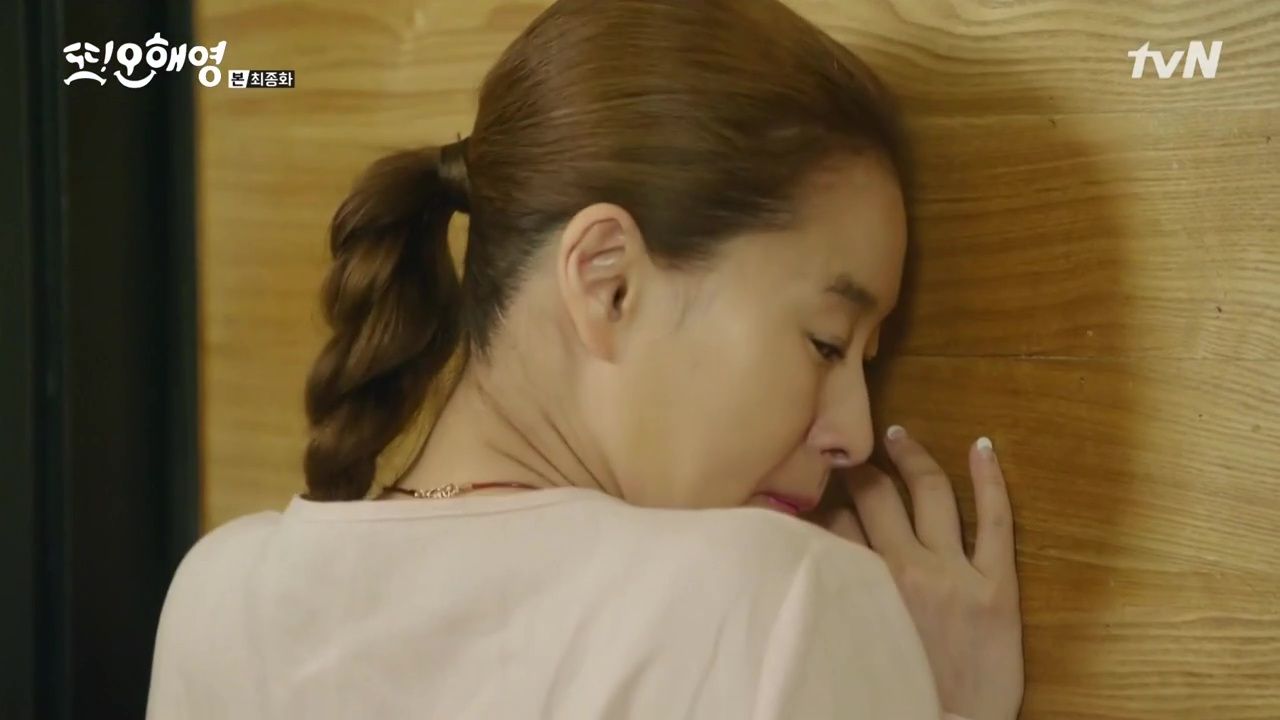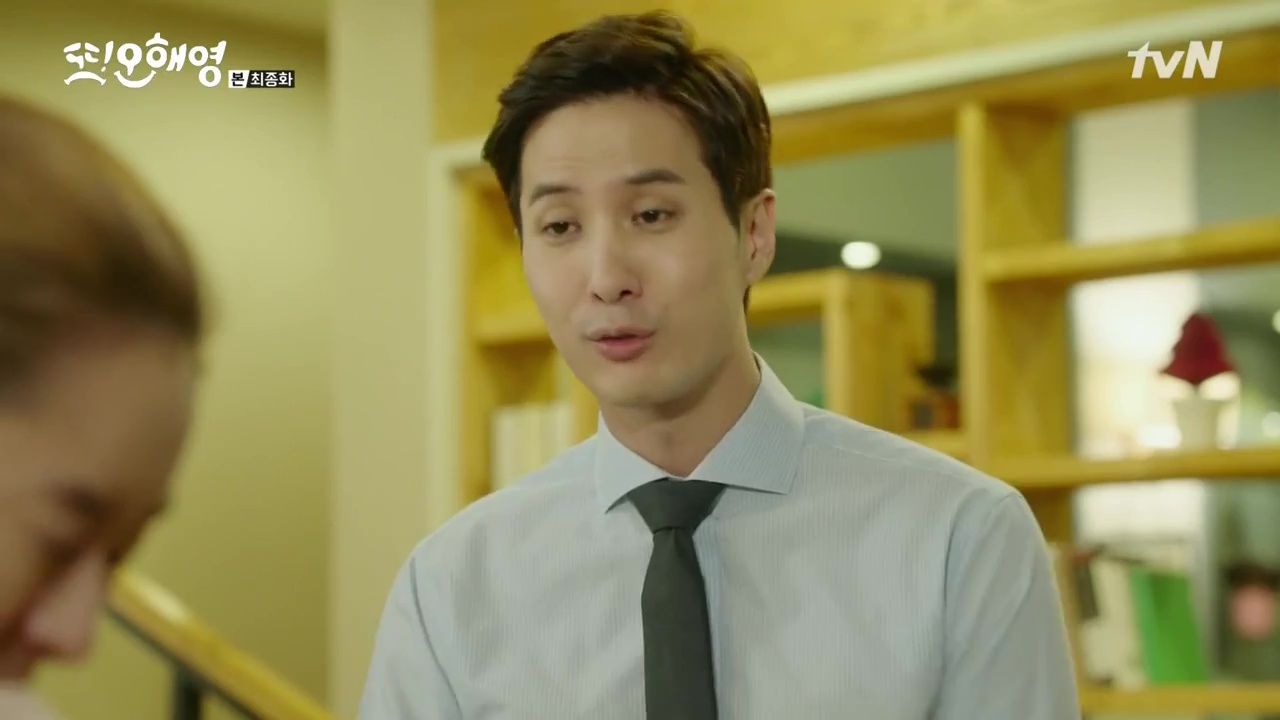 When his mother starts screeching about "taking the proper steps," Do-kyung tells her that Soo-kyung is pregnant. That shuts her right up, and Hae-young and Mom both look like they're trying not to laugh, ha.
As they leave, Mom says that Do-kyung's mother isn't that tough, and she should be easy to manage. Do-kyung's mom asks if Soo-kyung really is pregnant, and who the father is, and her demeanor totally changes when she learns that Soo-kyung landed a lawyer. Ugh.
The delicate pregnant flower in question manages to clog the toilet so badly she's ready to just sell the house, and Hoon calls Jin-sang to come fix it. He shows up with a plunger and an air of determination, assuring Soo-kyung that it's okay, and he goes into battle for his lady. That's love right there, folks.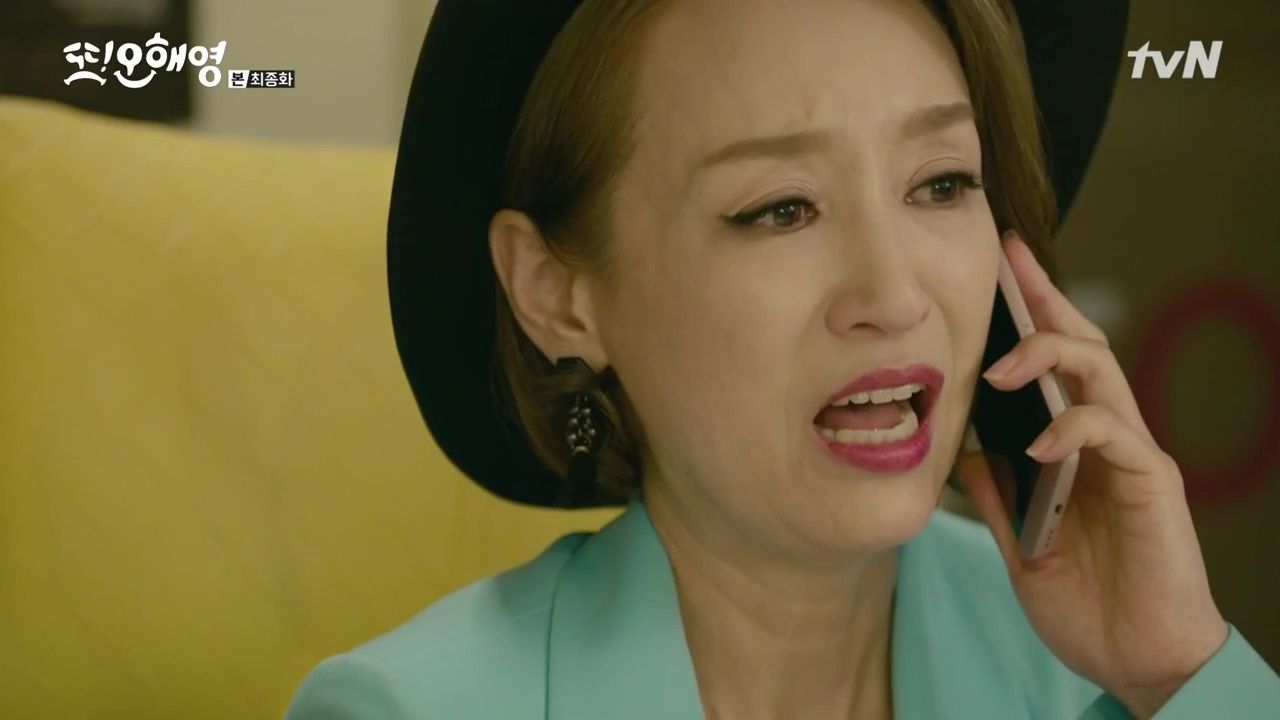 The director of the movie Do-kyung's been working on introduces him to some colleagues, praising his excellent work. Hae-young texts Do-kyung to bring home dinner, then remembers he has plans. Halfway through the meal he excuses himself, and brings Hae-young the pork belly she was craving.
His mom calls Soo-kyung to grouchily congratulate her on the baby, though she seems to genuinely be happy about it. She tells Soo-kyung not to worry about Jin-sang straying, since he's gotten that all out of his system, though Soo-kyung complains that things aren't romantic with him. She's upset that they can't even hold hands or say "I love you," and wails that he even touched her poop. Awww.
Hoon is thrilled to have a new sister-in-law, and he asks Do-kyung why he left his meeting early tonight. He'd told Hae-young the meeting ended early, and she's touched that he came home just for her.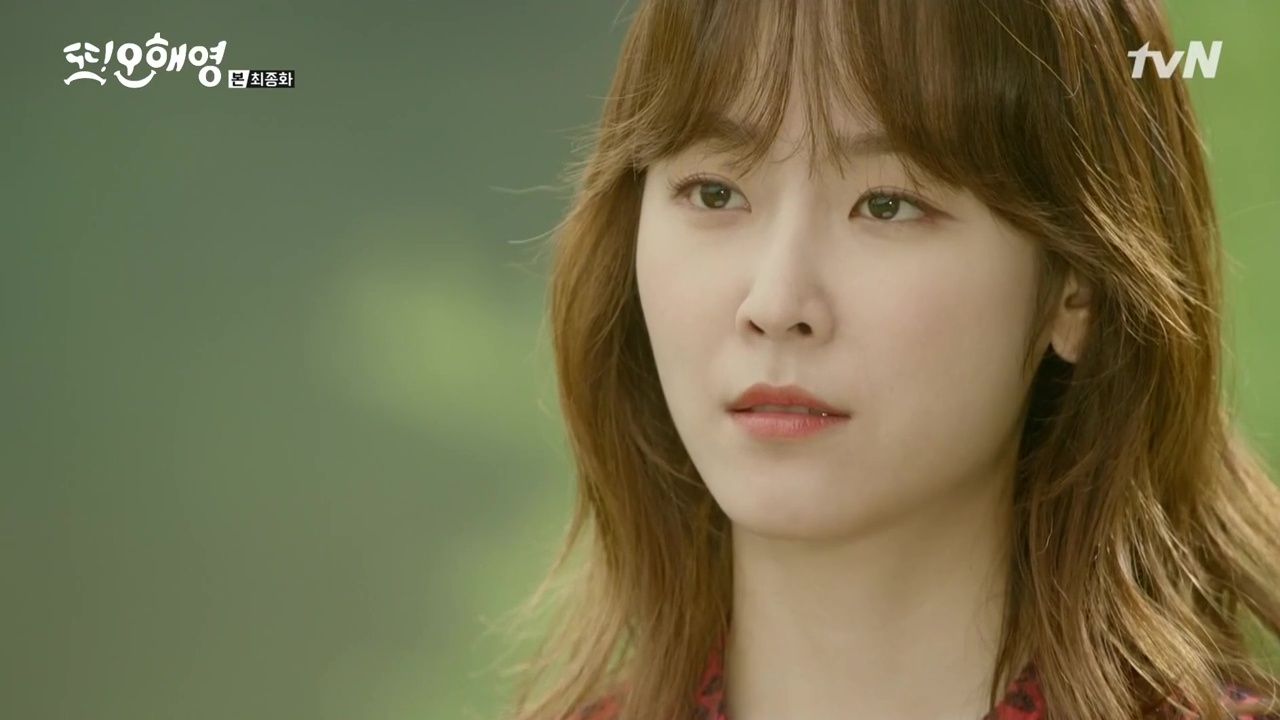 The singer Lee Byung-joon has a small concert, and the older doctor comes by to check on him. Byung-joon asks if he's trying to save him or the other guy, and the doctor says that it's both.
Hae-young thinks about her last meeting with Tae-jin, who'd asked how he should explain all this when he eventually meets someone new. She'd said that there's only one part he should leave out, and he apologizes to her. He thinks now that he was meant to say that mean thing to her, so that she could meet someone better for her. He sincerely wishes her happiness, and she tells him that he really was good to her.
When An-na learns that Jin-sang unclogged a toilet for Soo-kyung, she sighs that it means he'll stick around for life. She wonders how he could do that when he hasn't even said "I love you," and Hoon quips that they're going through the steps in reverse — baby, then dating.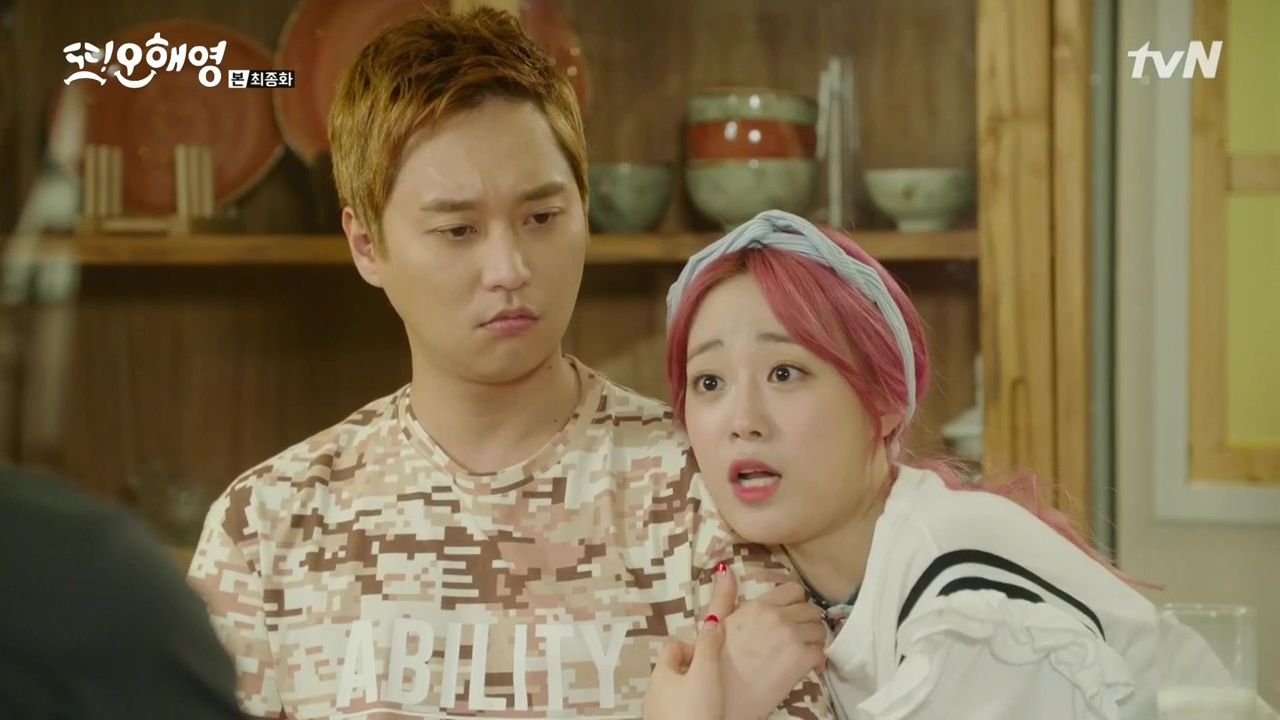 This is the first An-na's heard about a baby, which she thinks is terribly romantic. Now they can wait until the perfect time for the love confession. She says that they'll know the love is sincere, and overhearing that, Soo-kyung starts to relax.
HAHAHA… turns out, Hoon and An-na staged that whole thing to help Soo-kyung feel better about the way things are going with Jin-sang. Not only that, but Jin-sang actually pays them for their little performance. An-na gives Hoon the eye, and says that it is pretty cool to do things in reverse. Hoon's in trouble.
The two Hae-youngs finally go out for that drink, and our Hae-young asks the other if she hates her. She says that she does, ha, and our Hae-young retorts that she's hated her since school. The other Hae-young says that our Hae-young is the winner, and our Hae-young thinks they shouldn't decide winner or loser based on a guy. Good girl.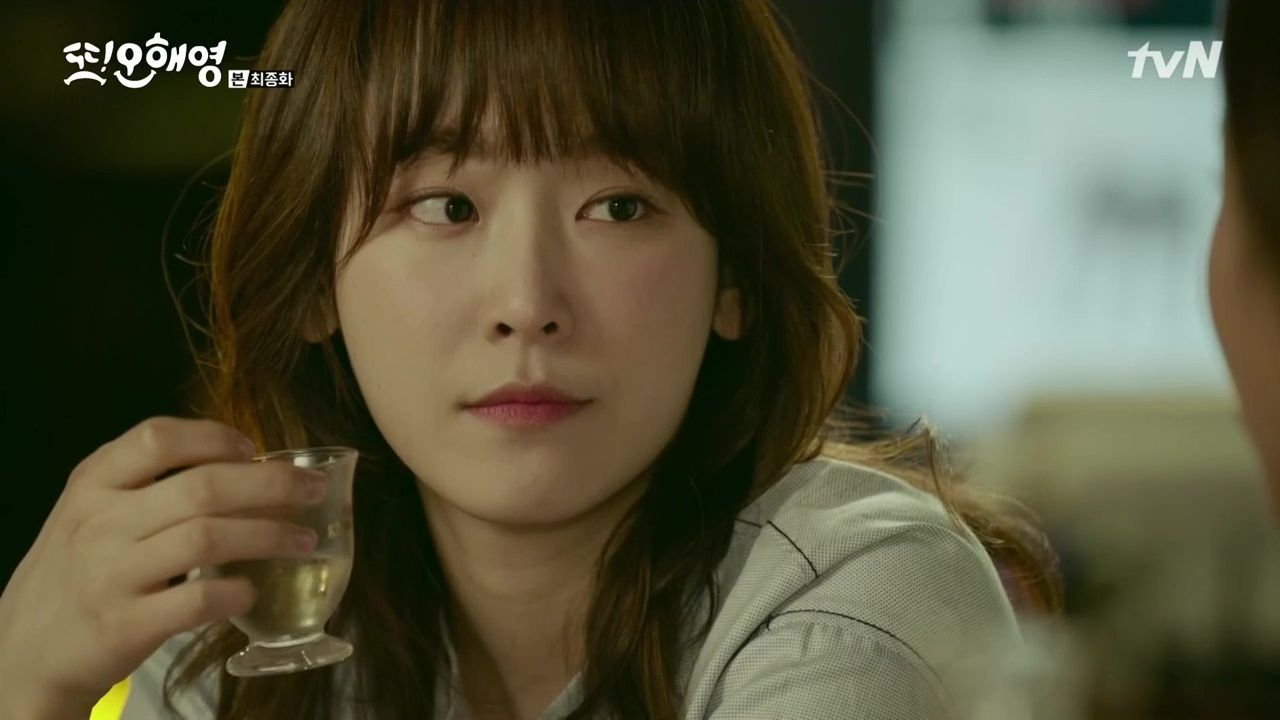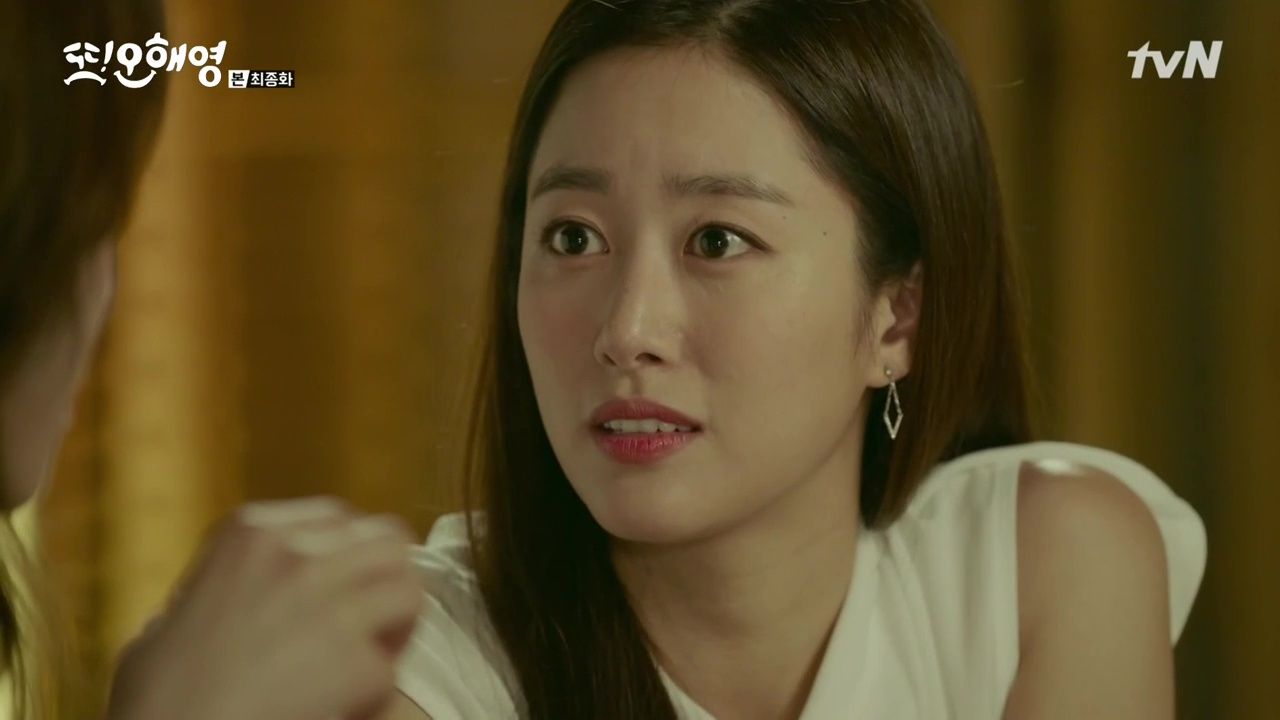 The other Hae-young says that she won't be coming to the wedding, and she also plans to find another job. She sincerely wishes Do-kyung and Hae-young happiness, and as she leaves, our Hae-young calls out to her to be happy herself.
Jin-sang and Soo-kyung spend their evening crazy-dancing in the street, until the mood hits them and they lean in for a kiss. Jin-sang's knee goes out, but he gets back up when Soo-kyung mocks his "rooftop party" booty dance, and he wonders what their baby will be like. Awesome, I'd say.
Hae-young knows that Do-kyung is planning a fancy proposal and tells him not to try too hard, though it's obvious she's looking forward to seeing what he'll do. Do-kyung narrates that he used to live closed up, as if he was determined to be unhappy. Even Hae-young knew he wasn't capable of feeling emotions, and he never even knew if he was happy or not.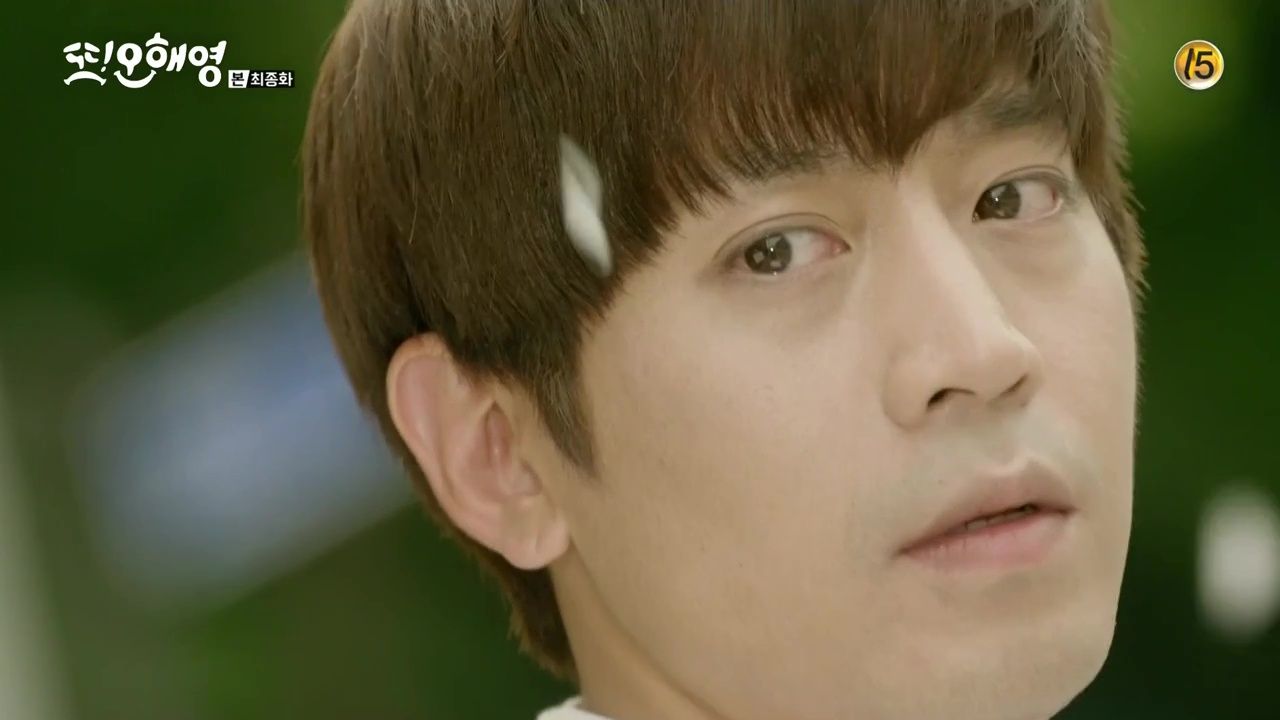 He thinks that's why he was shown his dying moment, so that he could have the chance to change and live differently. Even after being hurt herself, Hae-young wasn't afraid to love him, and to ask him to love again. Her lack of fear made him want to be with her, and he wanted to be like her. Now it's his turn to love her fearlessly.
As he waits outside the restaurant for Hae-young, a car chase comes screaming toward his location, and Do-kyung hears the horns honking as the cars grow closer. Flower petals start to fall around him, and he looks up to see a drama scene being filmed on a rooftop. Just below, a billboard announces that singer Lee Byung-joon has died. Oh no, no no no.
Do-kyung barely has time to register that this is the moment he's been fearing, when a car comes around the corner and crashes straight into him. The car plows into the curb, and we see that it's Chan-soo, Tae-jin's ex-partner, who was driving. Do-kyung thinks that he let his guard down, and that the only difference between reality and his vision is that it's daytime instead of night.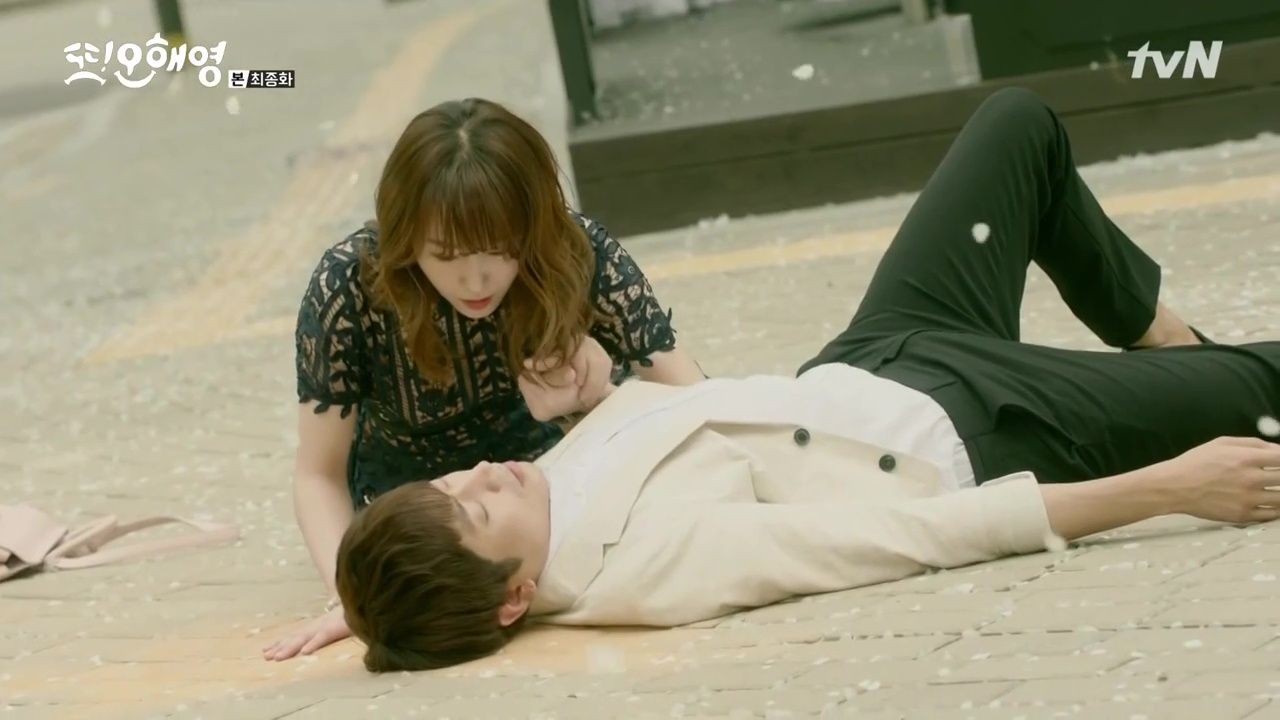 He thinks about Hae-young, but this time he can remember her happy face rather than a sad one. He wishes for her to hurry to him and hold his hand as he goes, understanding now why characters in movies always struggle to touch each other before they die. It's not knowing where he's going, and the fear of being alone. The touch of the one he loves will reassure him that he's not alone as he dies.
As she dances to her lunch with Do-kyung, Hae-young sees the ambulance and notices the billboard announcing the singer's death. She immediately realizes what this means and runs, calling silently to Do-kyung to wait, that she's coming, that everything will be alright.
She reaches him just as he closes his eyes, and takes his hand, telling him over and over that it's okay. Do-kyung's last thought is that now, he's relieved.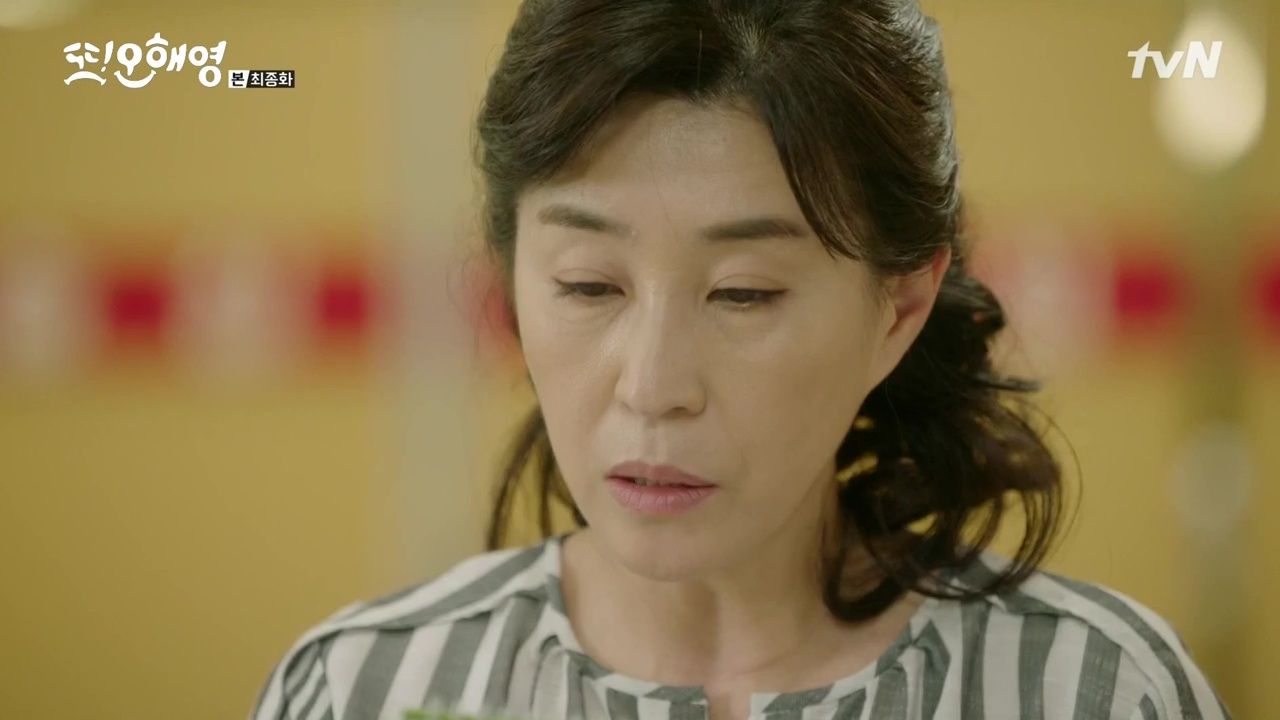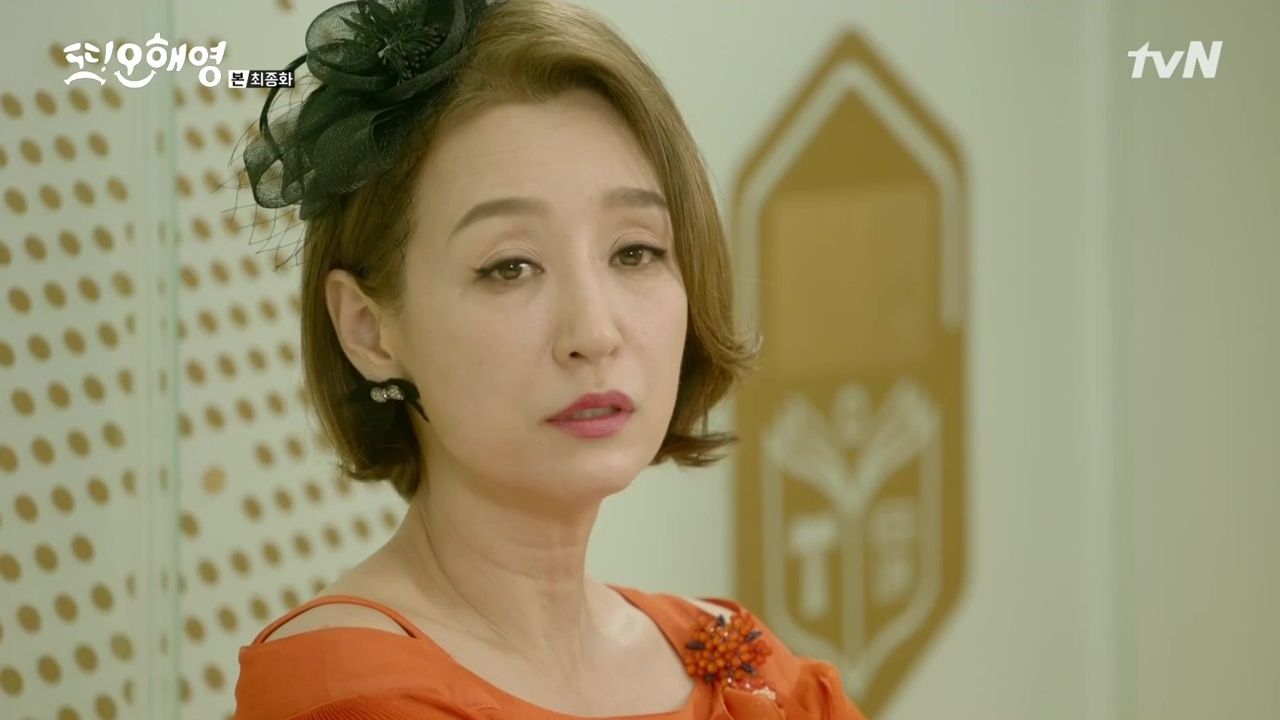 He's rushed to the hospital and into surgery, where everyone they know comes to wait. Hae-young's parents, Do-kyung's family, even Hee-ran and the ducklings are there. The waiting room is deathly silent despite all the people, until Hae-young's mom checks a calendar and says they should set the wedding date for September third.
Everyone looks uncomfortable, but then Do-kyung's mom says calmly that it might still be hot, and suggests October. Jin-sang argues that he and Soo-kyung should marry in October since she'll be showing soon, so they all agree on September third.
Do-kyung's mom says to keep her wedding gifts simple, and Hae-young's mom is all, What wedding gifts? She loses her temper when Do-kyung's mom asks for a mink coat and an alligator purse, asking what the alligator and mink did to deserve it, heh. Suddenly everyone is yelling, everyone but Hae-young, who can't decide if this is funny or crazy.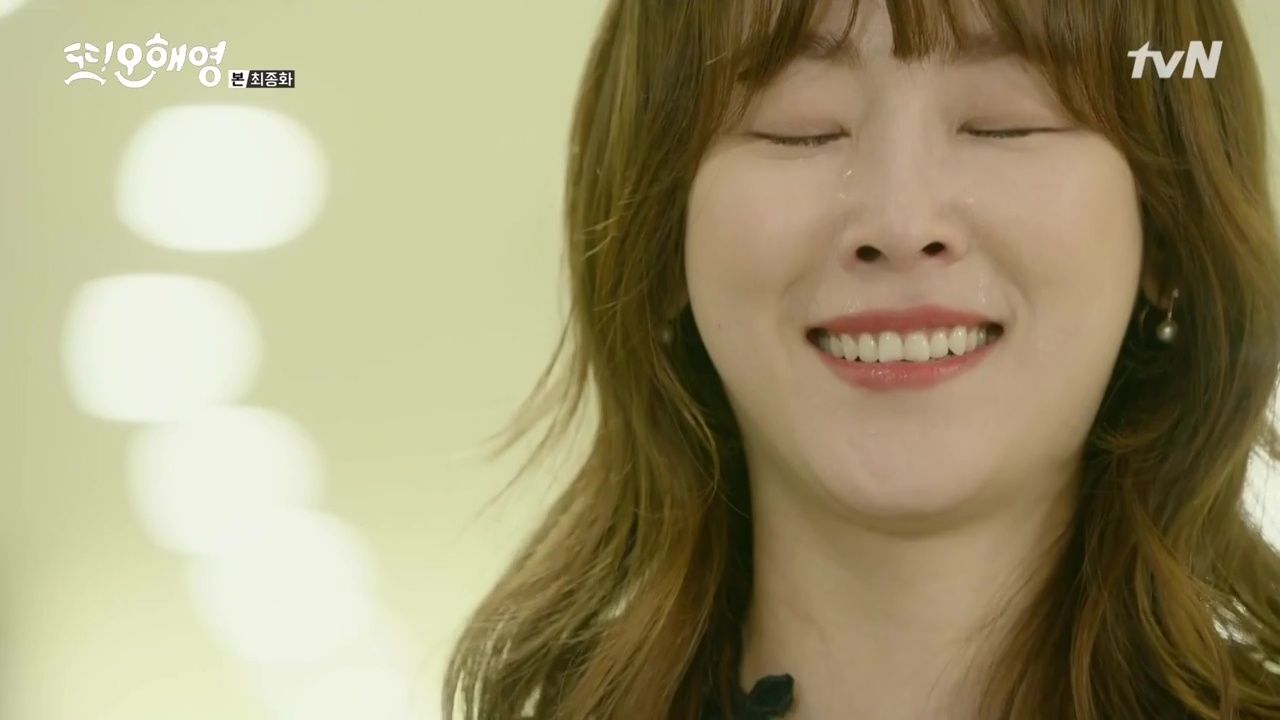 But looking back, she found that moment comforting, because they went past praying for Do-kyung's life and just assumed he would be saved. She's also sucked into that energy, and she thinks about the beautiful wedding dress she'll wear when she marries Do-kyung.
In the corner of the waiting room, the television reports that singer Lee Byung-joon isn't dead after all, and has regained consciousness.
Do-kyung and Hae-young's wedding day is perfect, and the ceremony goes off without a hitch. They exchange rings and kiss on command, and walk down the aisle hand-in-hand under a shower of flower petals.
Do-kyung narrates that after you have a near-death experience, you live life differently. You know what's important, and happiness is all that matters. "Right now, I'm as happy as a person can be."
Hae-young adds that with Do-kyung, the time they spent crying and laughing, the bitter and sweet times, the times they fell and got back up, are the times she'll look back on when she dies. "And I will say this… everything was perfect."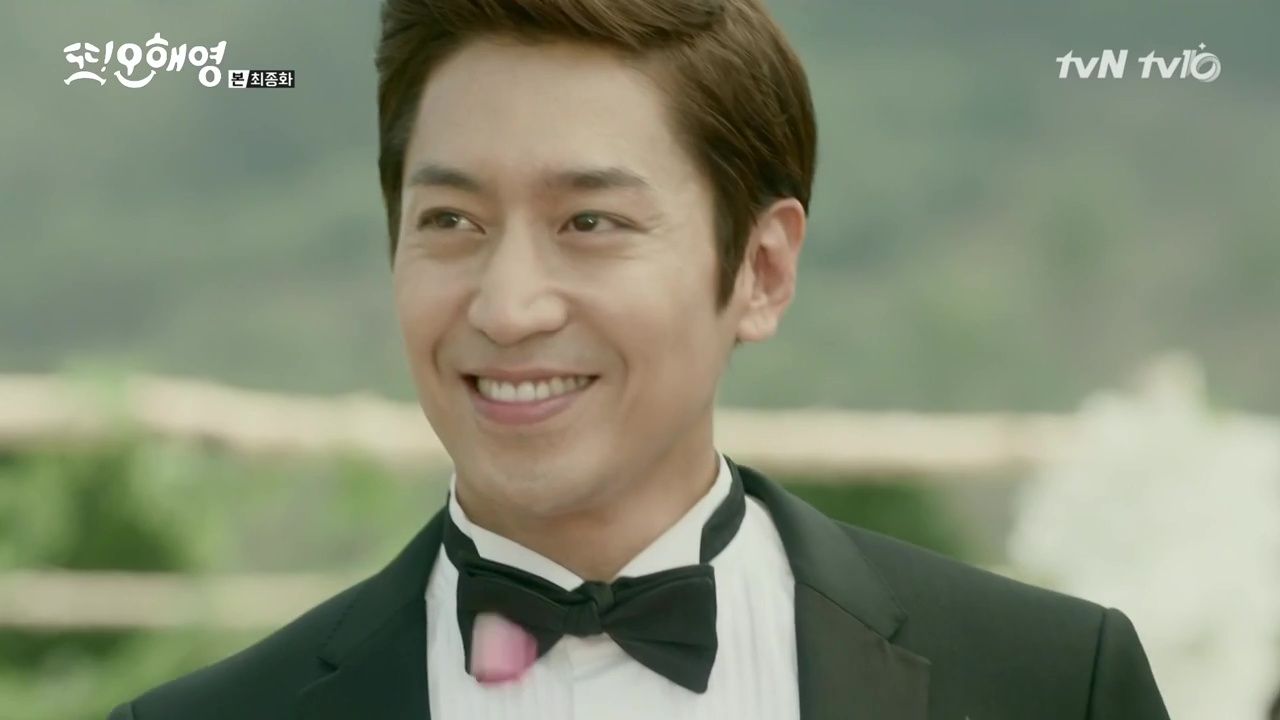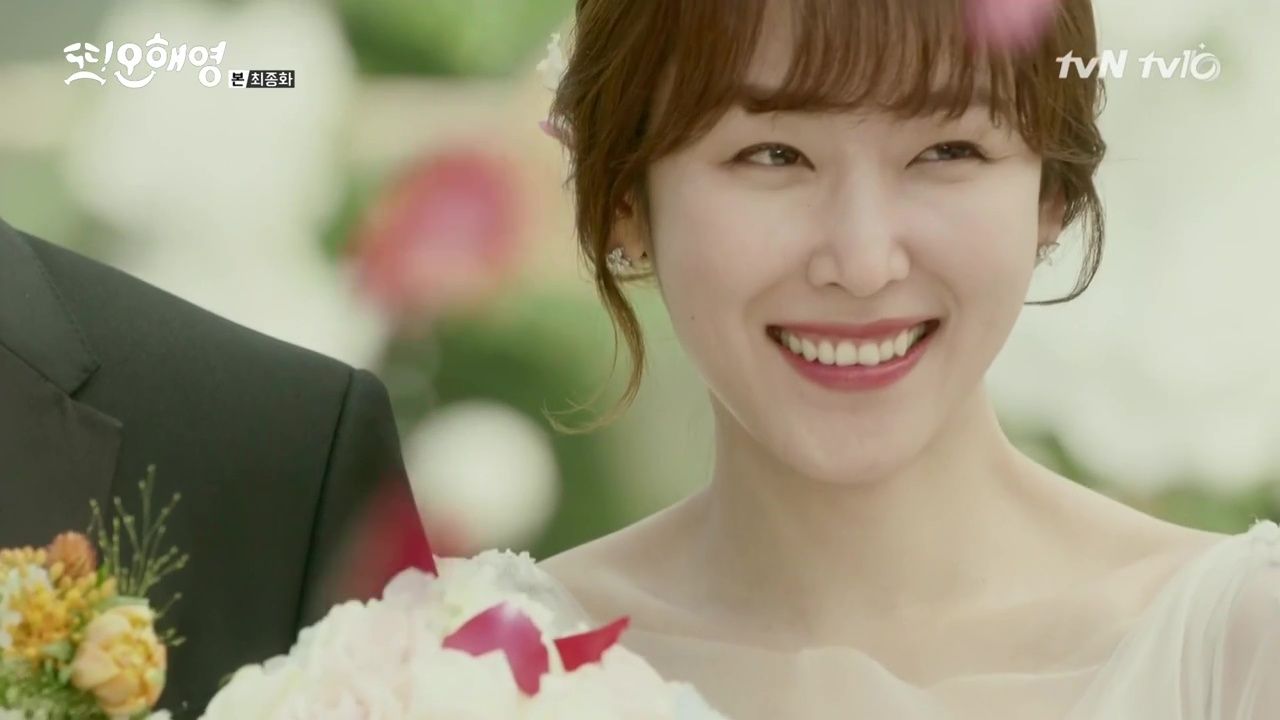 COMMENTS
Hang in there for the wedding party dancing to the theme song, it's adorable!
I really liked the ending, because I really had been lulled into a sense of complacency just like Do-kyung. I think that he wasn't able to avoid his accident, not entirely, because as the good doctor said, you can't change everything. But because he was able to change the date and circumstances, Do-kyung was able to alter events to just an accident instead of his death. And this time, if he had died, he would have died knowing he loved and was loved, and with Hae-young beside him. There's not much more that you can hope for in life.
At first I felt like resolving the whole "will he die or won't he" issue happened too soon, but now I appreciate where the show was going with that. Do-kyung didn't just have to decide to live in the present for that small bit of time until he could change the circumstances of his death… he has to keep doing it, every day, as long as he lives. It took so little time for him to backslide and start taking the safe path again, telling Hae-young that he'd propose instead of living with her. I like that the drama explored how easy that could happen, and how Do-kyung had to remind himself not to live that way anymore. Habits of a lifetime don't resolve so easily, and you have to consciously decide, day after day, to live differently. Because you never know when you'll die, and as it turns out, his avoiding one accident didn't necessarily mean he'll live a long life. Now he knows that you never stop showing that love, and making the best choices you can.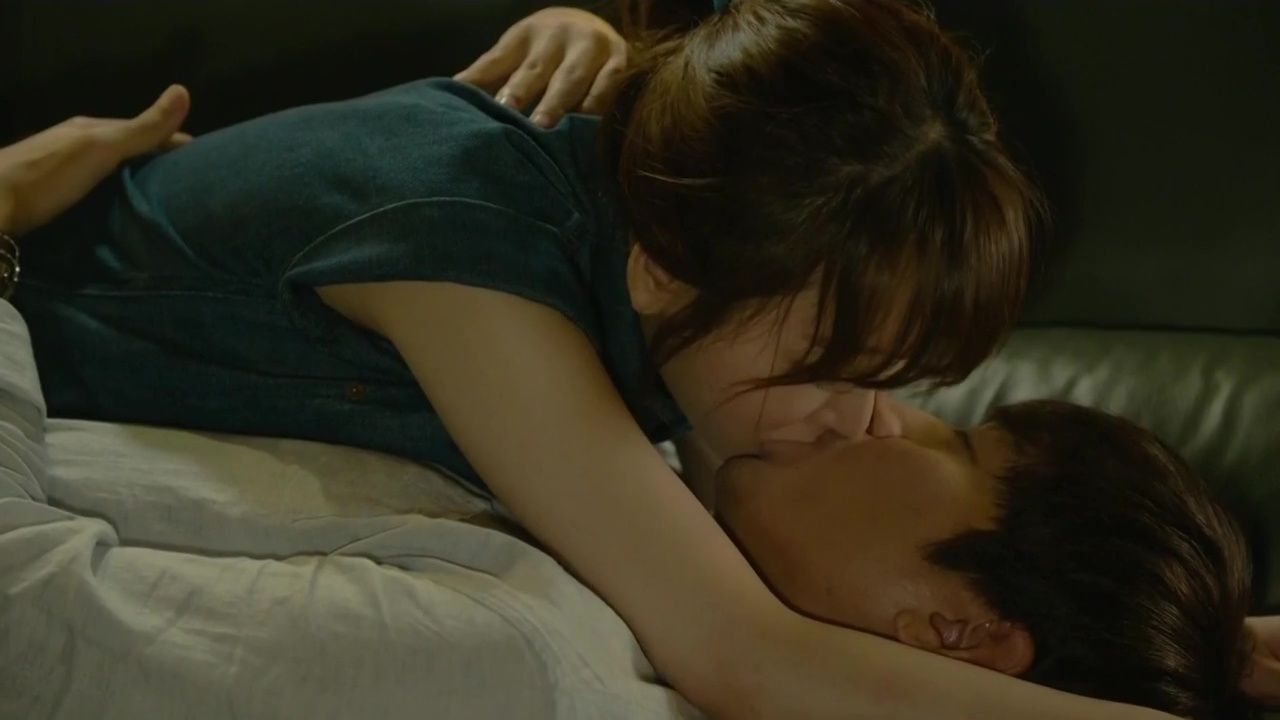 So I'm still unclear whether Do-kyung was seeing the future, or seeing the past, in his visions — I liked the theory that he was looking back on life as he died, but now it seems more as if he was simply seeing possible future events and was able to change them. It makes more sense if he was seeing the future, because if he was seeing the past, he wouldn't have been able to change anything. And I'll admit I was a bit disappointed to find that both doctors exist, but it was a fun mind-bendy way to watch the show, unsure of whether they were real or simply figments he invented to help him cope.
I really adore how the show explored so many different kinds of love, and how they're all valid and worthy. There was Do-kyung's love for the first Hae-young, based on his pity for her background and desire to make up for the lack of love in her life. His love for our Hae-young was different, more passionate and tempestuous, but in the end it was the love that made him want to change and be a different person. Jin-sang and Soo-kyung's love was more tentative and awkward, but Jin-sang really came through for her in the ways that mattered in the end. Hoon and An-na had the cutest love, silly and scatterbrained, but no less true than what Do-kyung and Hae-young share. We also got to see different kinds of parental love, with Hae-young's parents especially, but even Do-kyung's mother showed her love for her son by threatening the man who was endangering his well-being. At least in the end, she chose her child over herself and is making an effort to be a better mother, so there's always hope.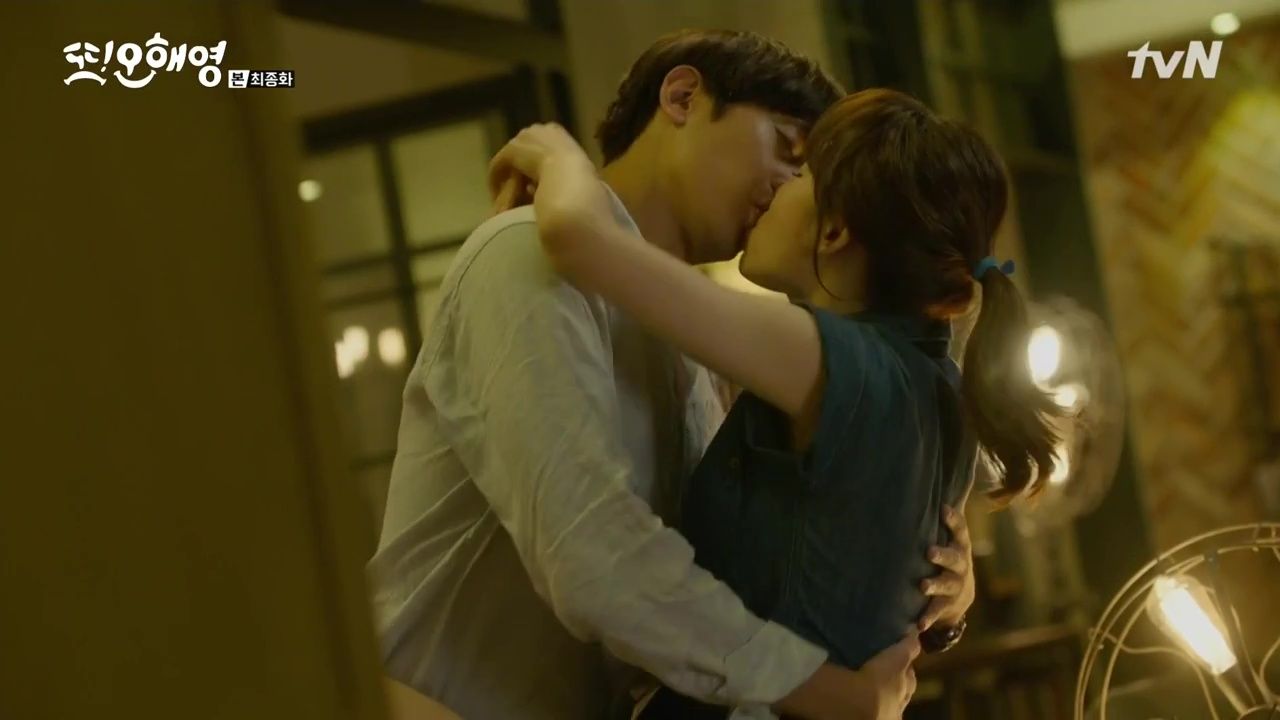 Speaking of, I can't help it — as prickly and harsh as she can be, I just loved Hae-young's mom so much. Everything she does, even the mean things, are because she loves her daughter more than anything in this world, and wants her to be happy. She can't always express her love in words, but she always comes around, and at the end when she packed all the foods she remembered Do-kyung eating I just couldn't stand it. Even when she was against them, she knew this was the man for Hae-young, and made an effort. That's real love, right there.
This really has been a show where there's no clear-cut "good" or "bad" characters, and it's one of the reasons I've enjoyed it so much. In real life, very few people are so clearly defined as those in dramas, and it makes these characters so much more interesting. The good people do bad things, and the bad people are sometimes good. Neither Do-kyung nor Tae-jin were Hae-young's fated-to-be one and only love, and I have no doubt that if she's married Tae-jin, she would have lived a happy life. It's just the way things turned out, that she fell for Do-kyung while Tae-jin was gone (and in her defense, it's not like she knew he would come back for her — she thought he broke up and moved away). It's made the characters frustrating and sometimes hard to understand, but ultimately their faults and shortcomings are what have made me fall for them so hard. Because they're not cookie-cutter characters that are easy to categorize, but they're just like real people who make mistakes and sometimes do the wrong thing, even if they have the best of intentions. It's been the wonderfully written, realistic characters that have made Oh Hae-young Again such an incredible journey.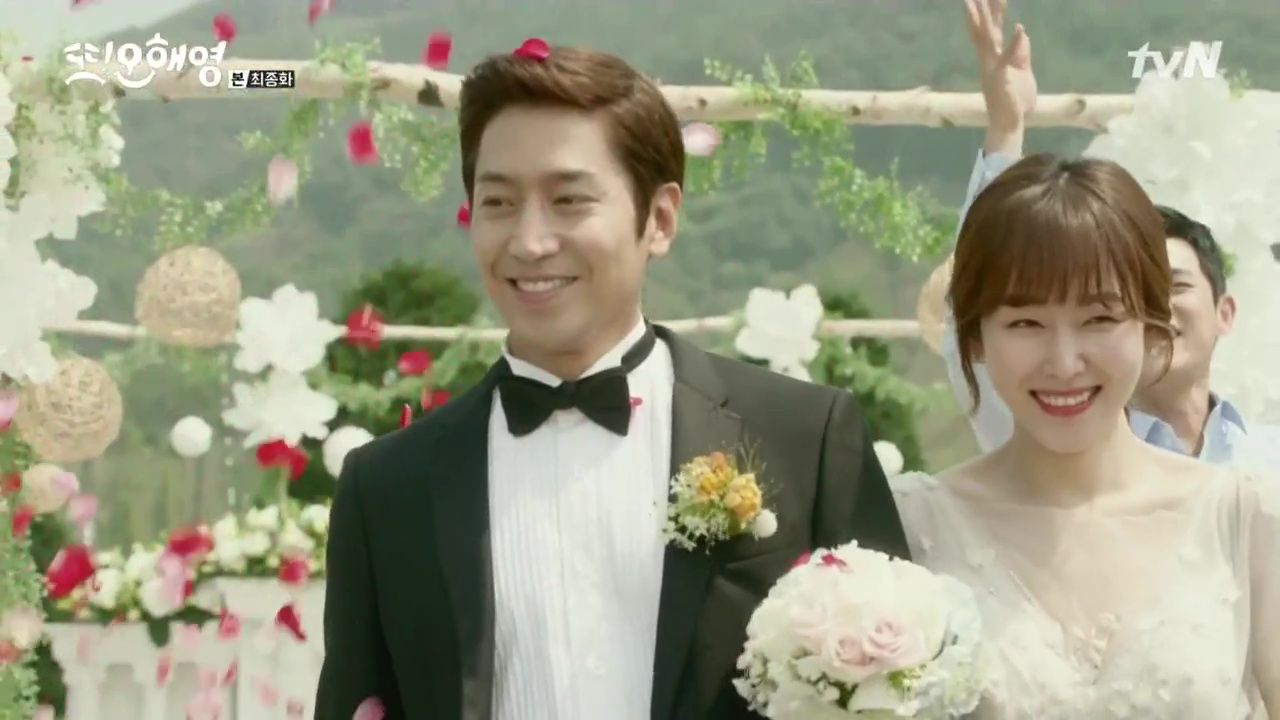 RELATED POSTS
Tags: Episode 18, Eric, featured, Jeon Hye-bin, Oh Hae-young Again, Seo Hyun-jin