Team Dramabeans: What we're watching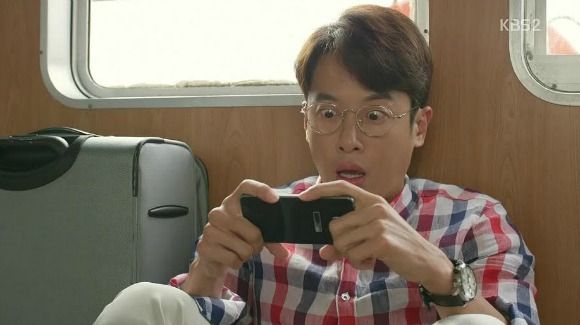 More drama-watching updates from Team Dramabeans! We're winding down with a few shows and gearing up for a new batch of dramas to start up soon, and I'm looking forward to a change of pace. No matter how much I love a drama, I'm usually happy when one ends and make way for a new selection, because I suppose years of drama-watching have whittled down my attention span to precisely 20 episodes. Or 16 episodes. (Okay, if we're being honest it's probably really 12 episodes, plus some impatience. Sometimes it feels like we're hanging on by our fingernails, doesn't it? That can't be just me.) –javabeans
Currently recapping: Lucky Romance

Mirror of the Witch: I don't have much to add about this, since I feel much the same as I have in prior weeks — it's still gorgeous and intriguing, and I'm still in love with Yoon Shi-yoon (especially after seeing his oddball quirks emerge in 1 Night 2 Days).
Dear My Friends: If only all "cameos" were as full of emotion and impact as Jo In-sung, who really should just get supporting cast billing at this point. As for the grandmas and grandpas, they're as frustrating and exasperating as ever, though in the most lovably hilarious way. I still want to clobber Shin Gu halbae over the head with a shoe most days, though.
Beautiful Gong Shim: This show is like a happy pill. It's simple and the characters tend to be on the flat side (in the way of many a weekend family drama) aside from the main trio — but since the main trio is what makes this show so delightful, I'm still satisfied. Namgoong Min keeps finding new ways to make me laugh, Ohn Joo-wan is extra-adorable when being pouty, and through Minah's unpretentious take on Gong Shim, I can understand why both guys are smitten with her.
Oh Hae-young Again: One of my favorite aspects about this show was the melancholy, slightly forlorn tinge to it — it gave a realism and pathos that makes it feel more than a standard (if very well-produced) rom-com. It has departed a little from that earlier magic recently, but I appreciated the return of the funny this week, which was a welcome break from the heartache. I don't quite feel Eric is as wholly immersed and emotionally present as Seo Hyun-jin, but she's a rare gem so maybe we can't hold that against him.
Monster: I'm finally caught up! I thought this show started off strong, but it seems to have been dozing for 18 episodes and finally woke up and started to get down to bizness. Normally I wouldn't wait that long (a full series' worth!) to get interested, but it made for decent background noise while working. I won't say I didn't laugh at the silly comedy moments earlier, but I much prefer the storyline in its non-funny revenge mode if it means we're finally being driven by plot twists and new developments. Why did they take so long to get to the point?
Baek-hee Has Returned: A well-written mini-drama makes for an interesting comparison watch, because at four episodes, this unfolds more like a movie (that's plotted fully from the start) than a drama series that starts with a loose roadmap whose outcome isn't necessarily fixed. Baek-hee unpeels its layers in onion-like fashion, starting relatively simply but growing more complex as it continues. It's not quite my type of show tonally, but it is a well-executed, refreshing small-town story with strong performances and mix of levity and heart, and I can see how it claimed the top ratings spot in such a short period of time.
Currently recapping: Beautiful Gong Shim

Oh Hae-young Again: You know it's true love when you have to stage a kidnapping to spend more time with your significant other. I was cringing all over, but it was worth it to see happy Do-kyung and Hae-young be so darn cute. Everything seems wonderful, but Show is implying that the visions and Fate won't help Do-kyung cheat death. It's deeply troubling.
Dear My Friends: Wan is surely following her heart, though I'm with Yun-ha on his caution. She left once, and it won't be any less painful the next time around. Wan does seems serious about her promise to return, so I'm taking her word for it. I loved part 1 of the Aunties' revenge because that means shit is hitting the fan for part 2. Revenge only gets sweeter with age.
Signal: Yes, I am on a tvN marathon and yes, I am late, but wow, this was good. Real good. I was engrossed by the expertly paced story, attention to detail, and the fluid use of the time jumps. I finished the show wanting more, and I can't think of any reason not to attempt a second season. But of course it would have to be holy trinity: Jo Jin-woong, Le Je-hoon, and Kim Hye-soo. Free up your schedules, you three!
1N2D: The boys are at Ewha Womans University, and the beautiful campus isn't quite the reason for their sustained smiles. They get so excited about their female student mentors, and their performance reflects their excitement. Of course, it's not equally reciprocated from the student body, especially when you've got Joon-young and Dong-gu. Ever so energetic and optimistic Dong-gu is so into the mission that I almost thought this was Running Man with the VJ unable to catch up to him. I hope he never loses that energy.
Currently recapping: Oh Hae-young Again, Entertainer
Dramaworld: I watched this all in one go, and it's a sweet little show if you don't look too closely. The characters were fun, the world building interesting, and I laughed out loud at the meta jokes more than once. Definitely a fun afternoon watch for a day when you feel like just enjoying something cute and fluffy.
Beautiful Gong Shim: When I finally got a chance to watch something I wasn't recapping this week, it was Gong Shim and Dan-tae that I was most excited to catch up with. Seeing Gong Shim go from annoyed to bashful around Dan-tae is so cute, and Dan-tae's wide-eyed crush is just the sweetest thing in the world. I wasn't as into the chaebol family as I was the sweet little romance — that is, until Dan-tae learned about his past and his emotions got involved. Now I just want to see him go scorched earth on everyone but Grandma.
Mirror of the Witch: As much as I love this show and think it's probably one of the slickest productions I've seen in years, I have a hard time keeping up with it. So much happens so quickly, and you can't blink or you'll miss something! What keeps pulling me back are the characters, which are so rich and full of life, and I'm riveted by the story and the knowledge that nothing is predictable. Such a gorgeous breath of fresh air.
Lucky Romance: While it's not exactly what I anticipated, this is another show whose characters consistently keep me coming back for more. Only Bo-nui could make us feel that her getting laid is so importantly urgent, and Su-ho's confused bumbling when it comes to Bo-nui is the cutest thing I've seen in forever. I'm curious to see where the story takes us now that Bo-nui's lost her window, and Su-ho is forced to think of new excuses to be around her.
Currently recapping: Dear My Friends

Vampire Detective: So… it's over. Yeah. That's probably the nicest thing I can say about the finale. I've been trying to give the show the benefit of the doubt since the beginning, but wow, the ending did nothing for me. Instead I'm bitterly disappointed by the waste of an amazing cast and the failure to live up to such an intriguing concept.
Baek-hee Has Returned: The drama went from cute-and-heartwarming to serious-and-heartbreaking within a nanosecond, but I'm not complaining because it was a chance for Kim Sung-oh to show off his intense acting (like, super scary intense). The quirky charm returned in the final episode, and I couldn't help but cheer as Baek-hee took back control of her life (and took down her weaselly husband). Becky's Gang, forever!
Monster: I keep trying to figure out what to write about this week's episodes and all I can say is they've at least found new fodder to keep the angst going a little longer. Also, Park Ki-woong is still pretty.

Oh Hae-young Again: I'm all caught up, and yay, the happy is back! Shows don't need to be love and laughter all the time, but I'm relieved the push-pull angst didn't last too long. These two flawed but lovable characters make my heart happy when they're together… but I'm also nervous about where the next four episodes will take us.
Page Turner: I'm still catching up on shows I missed, and I loved this KBS mini-drama TOO MUCH. Feel-good without being trite, with solid performances from always reliable Kim So-hyun and cuties Ji-soo and Shin Jae-ha, it was a present in a near-perfect three-episode package.
Currently recapping: Beautiful Gong Shim

Dear My Friends: I watch a show like this, and it further cements my view that there's absolutely no excuse for ageism and sexism in Hollywood. It has probably my favorite female cast ensemble of any TV show ever and SURPRISE! most of them are veteran actresses with beautiful wrinkles. The performances are so strong, and I'm either tearing up because my heart is heavy or because my heart is full from all the life truths. A shining gem of a show. Excuse me, while I Kakao my grandma again.
Oh Hae-young Again: Still need to catch up on this week's episodes and have narrowly dodged spoilers. I don't have an Eric bias — trust me, I fully understand why many do! — and I'm still conflicted on whether Hae-young and Do-kyung are right for each other after all the volatility they experienced in their respective lives. I really think they need some time to heal and clear their heads. Maybe after I catch up, I'll be able to see why they belong together? Anyway, I've been constantly impressed by the beauty of this show, especially the fragile beauty that is Seo Hyun-jin's Oh Hae-young. Oh, and Soo-kyung is my spirit animal. Elle est très bizarre et je l'aime beaucoup. Chocolat. Pamplemousse. Fromage.

All's Well With a Happy Home: Is it wrong for me to root for both the male leads? They're both so pitiful in their own ways. They're also both so very attractive in their own ways… Hae-ryung really has all the luck.
Five Kids: I watch this solely for the second couples. The bromance (Tae-min and Sang-min) hit a rocky patch this week, but the results were adorable. I'm always a fan of cute jealousy antics.
Oh Hae-young Again: This week made me happy again. After the heartbreaking will they-won't they drama of last week, I'm super glad we're back to smelling the roses. At this point, I don't mind the two episode extension because I want to keep on seeing all of Eric's swoony moves. So don't you dare die on me, Park Do-kyung!

RELATED POSTS
Tags: 1 show to rule them all, Beautiful Gong Shim, Dear My Friends, Entertainer, Mirror of the Witch, Monster, Oh Hae-young Again, What We're Watching