Team Dramabeans: What we're watching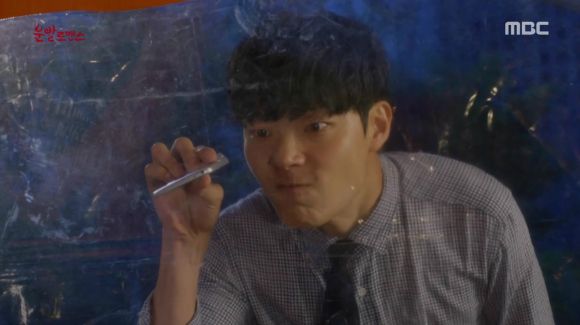 We've got several new entries to add to our What We're Watching list(s), since this week saw the premieres of a few new dramas. And not a moment too soon — we've been hearing about them for ages and it was almost starting to feel like they'd never premiere. There are only so many teasers you can watch before you're done with the tease. On to the main event! –javabeans

Mirror of the Witch: I love how all of the characters have a purpose and motivation, and the show doesn't waste anyone by relegating them to mere set dressing or sidekick status. I'm intrigued that Red Cloak is driven by an internal motivation, for instance (though we aren't privy to the story yet), and that our primary villain has moments of real pathos. All of the actors are killing it, and the mythology just works for me.
Dear My Friends: Every episode makes me cry for some reason, although not necessarily with overt sadness. It reminds me of the descriptions of Misaeng in its heydey as being the saddest drama without a single sad scene in it — it's all about twisting the heart and tugging emotional threads found in ordinary life, rather than building a sad story. Although, man, the Shin Gu/Na Mun-hee marriage and history sure feels bleak sometimes.
Beautiful Gong Shim: I miss the cute weird bizarre comedy feel, which was what made this show stand out, since without the quirk of Dan-tae and Gong Shim, it's a simple standard family drama (on the breezy, light-hearted end of the spectrum). I'm not too upset that the drama is spending a little more time on the non-romance elements, because the show was set up with that to be a major story component, but I do want it to squeeze in more of the oddball humor that made it a must-watch for me.
Oh Hae-young Again: I think everyone probably feels the slowdown at this point, and things are feeling much more dire in Hae-young's world, with less of the everyday struggles and small character moments. It's still one of the shows I look forward to every week, but I'm just a little less addicted than I used to be. Here's to hoping the ending is satisfactory in its last week!
Beautiful Mind: I'd worried that with the time crunch leading into this drama, it would be a mess, but it is thankfully a lot better, more suspenseful, and more intriguing than its lack of prep time might suggest. I like that it's a murder mystery more than a hospital drama, and am reminded of last year's underrated thrillerI Remember You. Not a bad point of comparison.
Lucky Romance: Much thanks to LollyPip for stepping in to cover this, just as girlfriday and I headed off for KCON this week! (Recaps would have had to been pushed till early next week otherwise, so we owe her thanks!) This week was all about Ryu Joon-yeol, and god he can elevate anything. He has a way of finding tiny elements in the character or drawing out unexpected moments, and those nuances of interpretation make all the difference between a cookie-cutter character and a one-of-a-kind drama hero.
Wanted: It does feel a whole lot like God's Gift — 14 Days, but I do find the reality-show twist to be just the thing to keep it fresh and unpredictable. This is a slickly produced mystery-crime thriller with good actors and interesting characters, and I have high hopes that it'll be a gripping nail-biter of a show.
Oh Hae-young Again: Shouldn't have gotten that extension.
Beautiful Gong Shim: This keeps happening where I finally catch up to the current episodes of a super cute show just in time for the angst. Is it me, or is it you, Show?
Lucky Romance: Behind on this because of KCON NY, and have been jealous that from the looks of it, LollyPip's gotten the cute courtship phase of the show. Curses!
Mirror of the Witch: This is the drama that's making me swoon these days. I
know it's so obvious, but to me there is no greater declaration of love than when a hero accepts you—witchy curses and all—just as you are.
Dear My Friends: Still awesome, still making me cry ugly tears.
Police Unit 38: The first episode had a slow build, but as soon as Seo In-gook shows up as the slick con man, everything picks up and there's a fun heisty, capery feel to it. Definitely up for more of that.
Doctors: Only just started this one, and still verrry iffy on the relationship. But I kind of like Park Shin-hye as a sullen teenager, probably more than I'm going to like her as a doctor.
Beautiful Mind: This one was a surprise, but it's a very intriguing mystery
that's clearly going to have layers and delve into interesting character work, which is exciting.

Mirror of the Witch: Still thrills me.
Doctors: Kind of chills me?
Beautiful Mind: Kills me. In a good way. (Seriously, I thought this was going to be a hot mess, but I'm kind of in love with it so far.)

Jackpot: To this day, I still can't believe I sat through this entire series. Why anyone did anything in this show is beyond me, and I counted the days wishing for Yi Injwa's demise. Still, I'll never regret the opportunity to see Yeo Jin-gu onscreen… even if it was on 1.3x speed. If you ever decide to watch Jackpot, do yourself a favor and keep a stiff drink by your side. It makes the ride surprisingly more entertaining.
Oh Hae-young Again: I'm still a few weeks behind (Episode 10), but this show just reminds me of how magnetic Eric's charm is. I love Seo Hyun-jin playing Oh Hae-young to pieces, and I love her family even more. A family who sings together and cries together stays together.
Doctors: No matter how much I love Kim Rae-won as an actor, watching his character, a teacher, flirt the line of appropriate conduct with a minor leaves an unsettling feeling in my stomach. Maybe things will change once they're both legal adults, but for the time being, can someone sound the alarm for Stranger Danger on Hye-jung's behalf?
Currently recapping: Dear My Friends

Monster: Wow, things have really picked up steam! Too bad it took 26 episodes to get there, but hey, we're only halfway through, so anything can still happen. This seems to be even more true now that there's a sudden time jump and who knows what's happened in the intervening year. Maybe it's something good, like a mysterious tragic accident that means Do Kwang-woo no longer gets any attention because seriously no one cares about him anymore. Well, no one except for his scarily intense mother.
Police Unit 38: I love everything about this show. The concept, the cinematography, the script, the characters. Everything. Okay, maybe not everything — after all, I do have to wait a whole week for the next episodes to air. That's just so long. Even though I'm a fan of the con/heist genre, it's really Ma Dong-seok's fantastic portrayal of the prosaic-yet-idealistic everyman that's stolen my heart and makes me want all the episodes, now.
Doctors: I'm happy Park Shin-hye has returned to Dramaland and I especially love her character in this show. But I'm also not really a fan of medical dramas or this screenwriter, so I'm not sure if I'll be watching beyond the first couple of episodes.
Empress Ki: I'm in Japan for the summer with unreliable wifi, which means spending time with backlogged dramas—and boy, am I sorry that I missed the hype on this one. I don't usually watch sageuks and Empress Ki isn't without faults (uneven pacing being the biggest), but with its stellar cast, high-budget scenery, feminist commentary, and addictive promise of heart-wrenching romance and revenge, it's easy to see why it was such a hit. Also, Ji Chang-wook in this role? Yes.
Juhan Shuttai!: I know DB is primarily a Korean drama site, but this Japanese dorama has really captured my heart recently. Aside from my obsession with Sakaguchi Kentaro (especially in this role!) it's right up my alley with lovable characters, an interesting setting in the manga business, and powerful commentary about the power of humanity—I was already crying by episode 2.

Awl: I finally finished Awl and it probably goes to the #1 spot in my list… of Difficult To Watch dramas. It's so hard watching the bad guys win again and again because they're less scrupulous and know the law better and have all the money and power to crush the heroes. It was too uncomfortably real. I would've dropped this a long time ago if it didn't feel like a betrayal to Robot Manager of Justice Lee Su-in and his cause. I guess if a drama can make you feel guilty for abandoning someone else's fight, then it's a really good show. It just needs a Pain Warning in the label.
Signal: Finally had time to pick this back up and I love it. I love everyone. Even the characters I'm supposed to hate, I love to hate them. Can't imagine watching this while it was airing because those cliffhangers are torture. But watching late also means I have no one to talk to about it (can't go to recaps in case there are spoilers in comments). So now I watch with a notebook and pen to take notes and figure out the timeline.

RELATED POSTS
Tags: 1 show to rule them all, Awl, Beautiful Gong Shim, Beautiful Mind, Dear My Friends, Doctors, Jackpot, Lucky Romance, Mirror of the Witch, Monster, Oh Hae-young Again, Police Unit 38, Signal, Wanted, What We're Watching